Today, marketers are leveraging the power of email marketing to get in touch with their target audience, encourage them to make a purchase, and more.
According to HubSpot, 37% of businesses are all set to increase their email marketing budget. Moreover, 77% of marketers accepted that they saw an increase in their email engagement with the help of effective email marketing strategies.
Whether you are a business owner or someone simply looking for a job in the digital marketing industry, learning email marketing is a smart decision. It will open doors to exciting opportunities, and you will be able to scale your business or get the job of your dreams.
In this article, we will introduce you to eight powerful email marketing courses that can make you an awesome marketer in 2023.
Read on!
1. Think Outside the Inbox: The popular email marketing course by Google

When it comes to learning about digital marketing tactics and strategies, Google is undoubtedly the industry leader. Google creates and offers some of the finest and most valuable digital marketing courses. The tech giant's name is enough to attract hundreds of aspiring marketers and learners.
Google even established its own learning program – the Google Digital Garage – where people can learn in-demand digital marketing and coding skills for free.
However, Think Outside the Inbox is not a part of the Google Digital Garage. Instead, it is an extensive course that Google published on the popular e-learning platform, Coursera.
The course is basically a part of Google's Digital Marketing & eCommerce professional certification program. It is taught by skilled Google employees.
What does this course cover?
In Think Outside the Inbox, you will get the chance to learn various important email marketing concepts including the following:
Introduction to email marketing
Different types of email marketing
Tools for email marketing campaigns
How to analyze and measure email marketing campaigns
It is a beginner-level course and so you can take it even if you know nothing about email marketing.
➡️ Learn more about this course here.
Read also: Mailchimp vs Drip — Which Is the Best Email Marketing Platform?
2. Email Marketing Essentials – a reputed email writing course on SkillShare

Are you just getting started with email marketing and looking for a super simple and engaging course? If yes, then Skillshare's Email Marketing Essentials course is for you.
Skillshare is a reputed online learning platform that makes learning more fun and engaging. You will get hands-on training and the latest tips and tricks about email marketing in this course.
It is designed and taught by the industry leader and email marketing specialist, Kate Kiefer Lee, who is a writer and editor at Mailchimp.
The course basically focuses on writing impactful emails that will leave a mark on the readers. You will learn the art of writing different types of emails along with top-notch editing tips.
What does this course cover?
Beginner-level introduction to writing effective emails
Core principles of writing effective emails
More information about writing elements
The right voice and tone
Editing tips and more
Since Skillshare is a subscription-based platform, you can subscribe to it and start taking your classes any time you want. It is a super short course that can be completed in less than 30 minutes.
The only downside of this course is that you won't get any certification after completing it.
Thus, it is ideal for people looking to gain knowledge and simply upskill themselves without any certificate. The course also has another part where you can learn the art of designing effective emails.
➡️ Learn more about the course here.
Read also: 17 Fab Ideas for eCommerce Business in 2023
3. Email Strategy and Optimization Course offered by LinkedIn Learning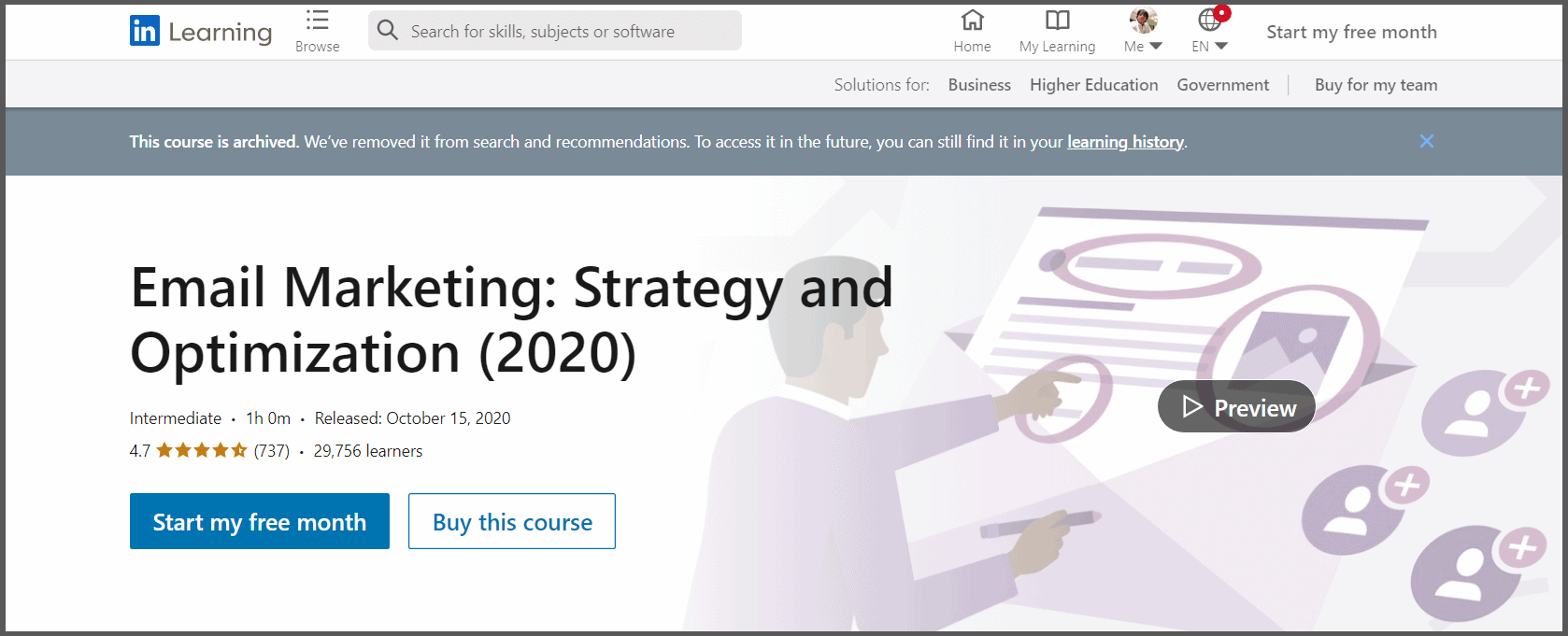 LinkedIn Learning (previously Lynda.com) is emerging as another top platform for online education and training. Like Skillshare, LinkedIn Learning is also a membership-based platform. It offers engaging courses in the form of bite-sized videos that are super easy to watch and remember.
The best thing about this course on LinkedIn Learning is that almost all the videos are not more than four minutes long. Thus, you can watch them on the go without having to sit for long hours.
In this course, you will be able to get a deep understanding of advanced email marketing topics like email optimization, email design and delivery, and more.
What does this course contain?
In-depth information about your ideal customers and customer personas
How to prepare a marketing calendar
How to identify and avoid common email marketing mistakes
Email newsletters
How to optimize email timings
Writing effective email subject lines, and so much more!
'Email Marketing: Strategy and Optimization' course is an intermediate-level course. Thus, it is only suitable for people who have basic knowledge and experience in email marketing.
It is also a relatively short course, and you will be able to finish it within 1 hour.
➡️ Learn more about the course here.
Read also: The Surprisingly Easy Guide For Email Drip Campaigns
4. ClickMinded Email Marketing Course – an excellent email marketing and automation course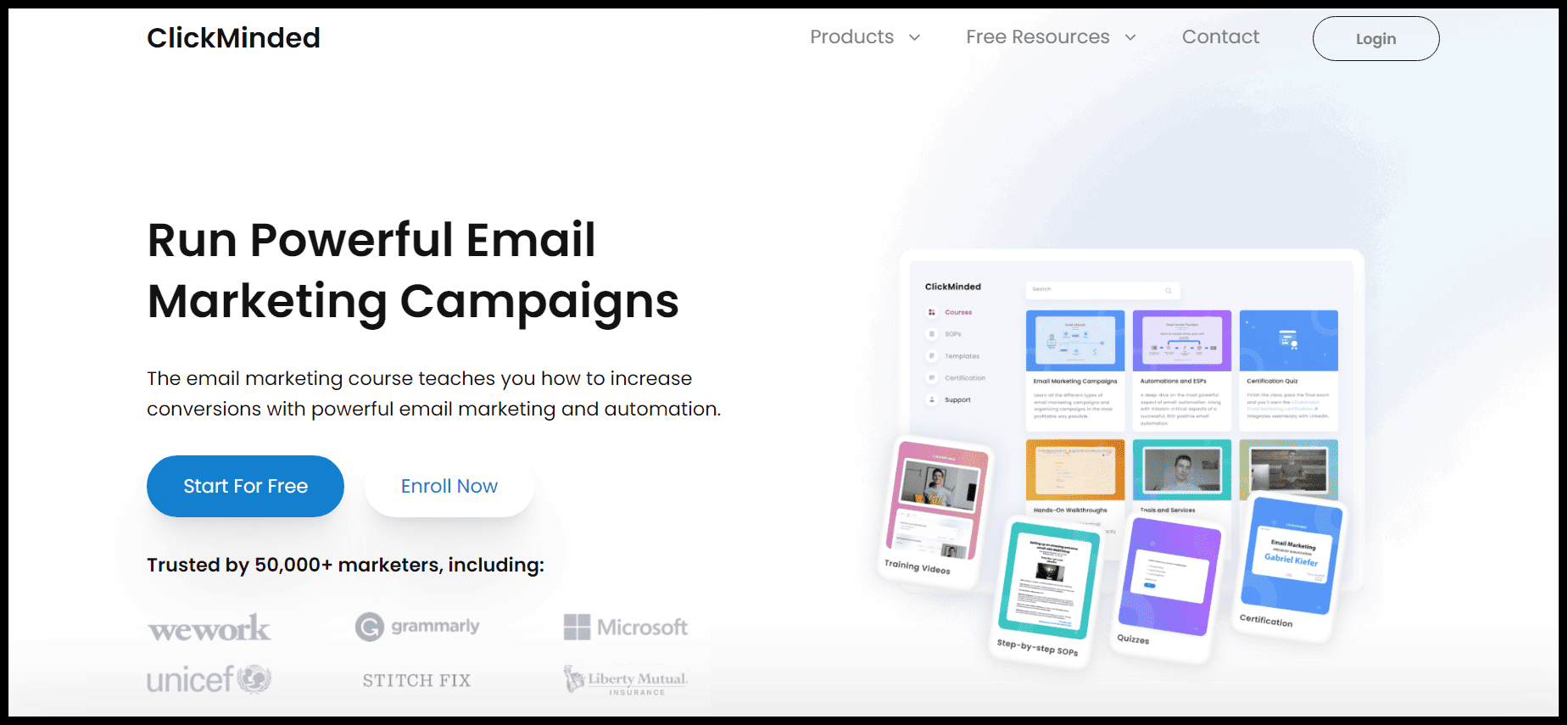 ClickMinded's Email Marketing Course focuses on effective email marketing, management, and automation. In this course, you will be able to learn the art of designing the best emails, automating them, and tracking metrics.
The course is taught by email strategist Lucas Chevillard who works at Airbnb. It is meant for industry professionals with intermediate or expert-level of knowledge of email marketing.
What does this course contain?
How to create a powerful email funnel
Step-by-step instructions on email copywriting
Tips for writing better subject lines
How to track important metrics effectively, and more
It is a paid course that is offered as a part of ClickMinded's online bundle of seven digital marketing courses. However, you can also purchase it separately.
➡️ You can learn more about this course here.
Learn Email Acquisition From These 6 Strategies And 5 Examples
5. YourPrimer Free Email Marketing Course – an excellent free course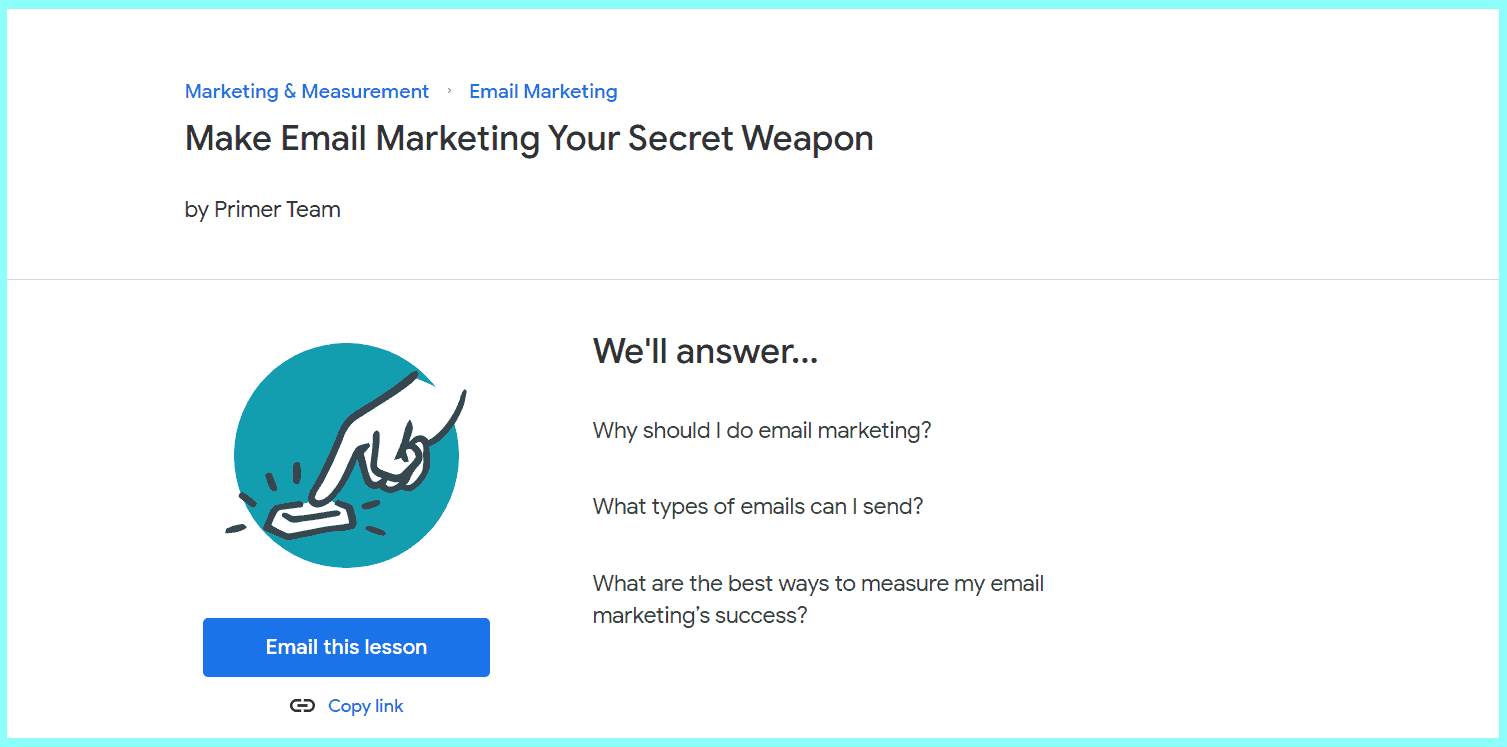 YourPrimer is owned by Google and offers a large number of app-only courses and training programs. The platform basically specializes in tech and marketing-related courses, and you will be able to find something on almost every topic related to these domains.
This free email marketing course is an excellent choice if you want to build a solid basic understanding of the topic for free.
What does this course contain?
How to write effective emails
Email A/B testing
Best practices to build a subscriber list, and so on
Since it is a free course, it will only offer you knowledge and information. You won't get any certificate of completion for completing this course.
It is a short course that you can finish within one hour and it contains text-based modules.
➡️ Learn more about the course here.
Read also: 2023 Guide to Email Marketing for eCommerce
6. Reliablesoft Email Marketing Course – simple but comprehensive

If you are looking for a comprehensive course that will walk you through the entire email marketing journey from the beginning to the end, check this course out.
Just like its name, the Reliablesoft Email Marketing course is a super reliable and effective training program. In this paid course, you will be able to learn everything about email marketing.
From the introduction to complicated topics like email design and optimization, the course will teach you a little bit of everything.
What does this course contain?
How to get started with email marketing
How to create and grow your email list
Ways to increase email engagement while reducing cost, and more!
This course is a part of Reliablesoft's Digital Marketing Course Bundle which has 10 courses in total. If you purchase the entire bundle, you will be able to access advanced training on various digital marketing topics.
➡️ You can check out the course here.
Read also: Top 8 Product Manager Certifications
7. The Complete Mailchimp Email Marketing Course – available on Udemy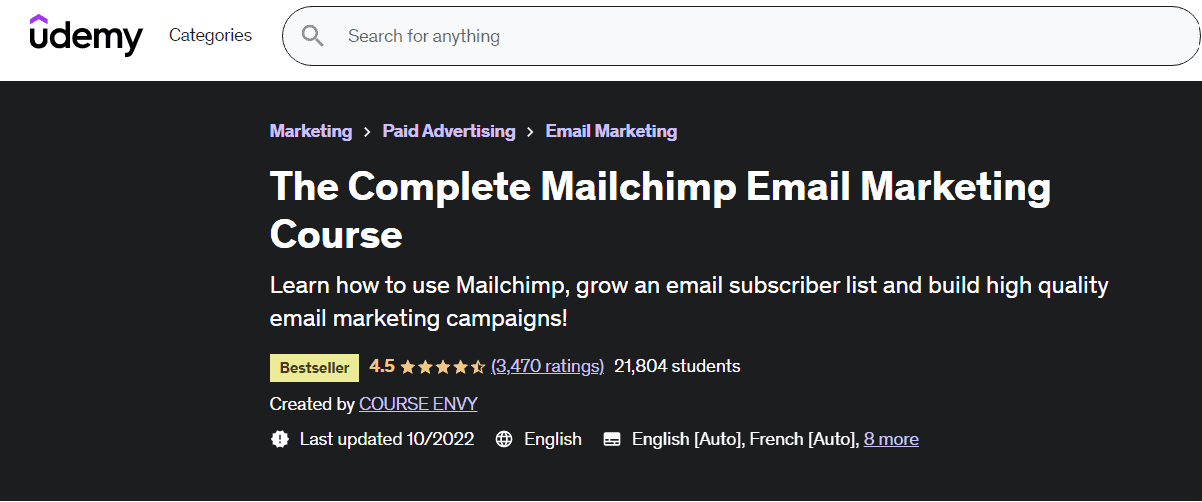 Udemy is one of the most popular and learner-friendly online learning platforms. It offers a vast variety of courses on almost every topic. From learning Excel basics to email marketing, there is no shortage of courses that you can take on Udemy.
So, if you want to learn email marketing, learning from an industry leader like Mailchimp can be the smartest choice. Mailchimp is one of the most reputed email marketing platforms that offers you features like email automation, free email templates, and other marketing strategies.
The best thing about this course is that you can learn about email marketing along with how to use the Mailchimp platform.
What does this course cover?
How to use and navigate the Mailchimp platform
Setting up, managing, and organizing your audience on Mailchimp
Tips for A/B testing campaigns with Mailchimp
Tips and tricks for creating engaging email marketing campaigns
How to create effective subject lines that can increase your email's open rate
With this course, you will be able to learn everything about the Mailchimp platform and become a pro at it.
➡️ Learn more about this course here.
Read also: Email Blast Examples From Popular Brands to Inspire You
8. Simplilearn Advanced Email Marketing Certification Training – an advanced email marketing course for professionals

This is the most advanced course on this list. If you have complete basic knowledge about email marketing and want to take the knowledge even further, this course is for you!
Simplilearn offers a variety of online certification and training programs. All of the courses are of the highest quality and this one is no different.
Simplilearn's Advanced Email Marketing Certification Training will teach advanced email marketing strategies like how to create ads, grow brand awareness, boost customer loyalty, and so much more.
What does this course cover?
Driving more traffic through emails
Email list building
Creating email marketing campaigns
Email rules and regulations
Multiple online tests and 5 hands-on projects will help you test what you have learned
The certification training is of 20+ hours, and you will need to have a proper understanding of email marketing to be able to take this course successfully.
➡️ Check out this course here.
Read also: The Ultimate Guide to Creating Lead Magnets
The Bottom Line
Taking excellent online courses for email marketing can be the best place to start your journey in this domain. These courses help you understand the nitty-gritty of email marketing through video-based lessons and practical assignments.
The best thing is most of these courses are taught by email marketing experts who have been in the industry for years. This ensures that you are in good hands.
Further, receiving your email marketing training from industry leaders helps you build a good reputation in the industry. After completing the courses, you can find a job or get your own clients with the help of your course certificates and portfolio.
All of the above-mentioned courses offer exceptional learning value, and you will be able to develop excellent email marketing skills with them.
So, check out all of them, analyze your requirements, and sign up for the email marketing certification that impresses you the most.
If you'd like to try the world's most affordable all-in-one email marketing solution, check out EngageBay.
Explore the most impactful marketing strategies on the market in our comprehensive guide – revolutionize your campaigns now!