With an ROI of $38 for every $1 spent, there's no arguing the effectiveness of email marketing.
But while you probably already utilize your email list to drive revenue throughout the year, you may not realize just how much potential the holiday season offers.
According to data from RJ Metrics, the holiday months of November and December drive over 30% more eCommerce revenue than any other month.
And while this certainly makes sense, many businesses aren't using the necessary email marketing content ideas to take full advantage of the holiday spending surge.
To ensure you're able to take full advantage, and substantially increase your revenue, let's dive into a few ideas and holiday email marketing tips that can take your holiday email marketing strategy to the next level. Here are some holiday email marketing ideas for small business owners, among others.
1. Come Up With a Theme
Themes are important for one reason…they work.
As Experian outlined in a 2016 study, holiday themed email messages led to a 25% increase in transaction rates and an 18% increase in revenue per email when compared to non-themed emails.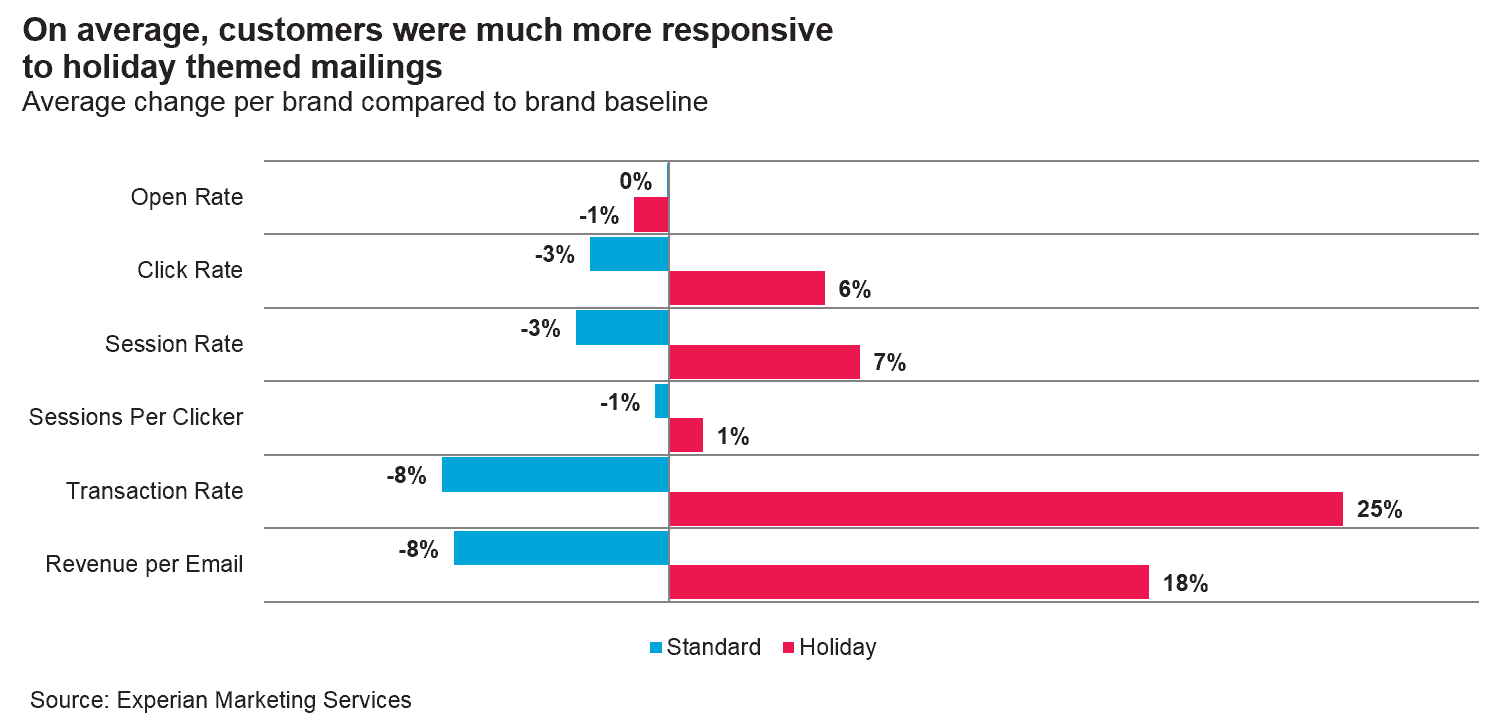 While the theme that works best for your brand will depend on what you're selling, there are a variety of options at your disposal.
Some of the most popular include:
Large Discounts. The average consumer spends $967.13 during the holiday season. By creating a theme built around heavy savings, you can help your customers make the most of their budget.
Free Shipping. Consumers love free shipping, even more so than fast shipping. And, not only does complimentary shipping increase transaction rates, but it significantly cuts down on cart abandonment rates as well.
Gift Card Bonuses. By offering a gift card bonus to customers who spend a certain amount, you're encouraging a sale now while increasing the likelihood that they, or the person they give the card to, purchases from you in the future.
For more great theme ideas, check out Constant Contact's post outlining 30 Creative Ideas for Holiday Email Marketing.
2. Plan Your Email Series & The Resources You Need
Effective planning is essential to the success of any marketing strategy.
With content marketing, 62% of organizations that document their content marketing strategy judge it to be effective. Only 32% with an undocumented strategy hold the same belief.
Email marketing is no different.
When it comes to planning your email series, there are a few simple steps that you'll want to follow.
They include:
Identify Your Objective. What is your goal and what metrics will you use to determine success?
Define and Segment Your Audience. What do your customer personas look like and how will you segment your list to target those personas effectively?
Develop a Plan for Email Content. How long will your email series be and what will your email content look like?
Identify Resources Needed to Execute Plan. What email tools and resources will you need to execute your plan?
As you go through the planning process, it's important that you don't over complicate things.
Keep it simple by identifying your goal, developing a plan, and sticking to it.
3. Segment Your List and Use Urgency
When it comes to maximizing the potential of your holiday email marketing campaign, segmentation is crucial.
In fact, according to DMA, campaigns that utilize email segmentation generate over 760% more revenue than those that don't.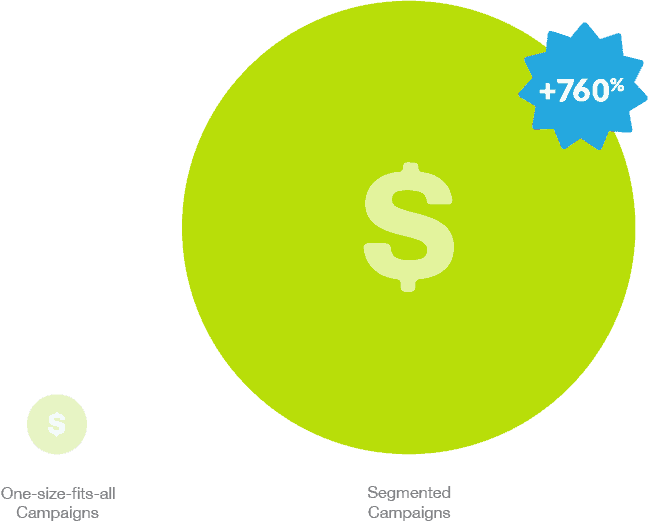 Let's take a look at a few email marketing ideas for how you can segment your holiday email list:
International vs. US Customers. It's highly likely that a portion of your email list doesn't celebrate Christmas or Thanksgiving. And while it may be difficult to segment based on religious affiliation, utilizing location information for segmentation can increase the likelihood that you're not targeting the wrong subscribers with holiday themed messages.
Abandoned Carts. Cart abandonment is an issue for all online businesses. By retargeting those subscribers with action based emails that include urgency (where you offer a coupon or even free shipping for a limited time), you can increase your success rate by as much as 29%.
Inactive vs. Active. With the right email marketing tools, you can segment your list based on their past history with your brand. Segmenting by open rates, purchase history, and/or website activity can all lead to increased transaction rates.
While there are dozens of ways you can utilize email segmentation, this is another instance where it's best to simplify things.
Choose a segmentation strategy that you feel is most likely to help you accomplish your objective and stick to it.
4. Schedule Your Emails
Scheduling is one of the often forgot about email marketing ideas.
But while it may have been difficult to maintain a consistent email series schedule in the past, marketing automation tools have substantially simplified the process.
And, with 91% of successful marketers claiming that marketing automation is "very important" to their overall success, there's plenty of reason to jump on board if you haven't already.
But, when utilizing automation tools for email scheduling, the question still remains what days of the holiday season, and times, lead to the highest transaction rates.
Fortunately, a holiday email study from Experian helps us answer this question.
After analyzing data from 2014 holiday email campaigns, they came to the unsurprising conclusion that Cyber Monday was the day with the highest transaction rate.
Here's a look at the nine other days that topped the list: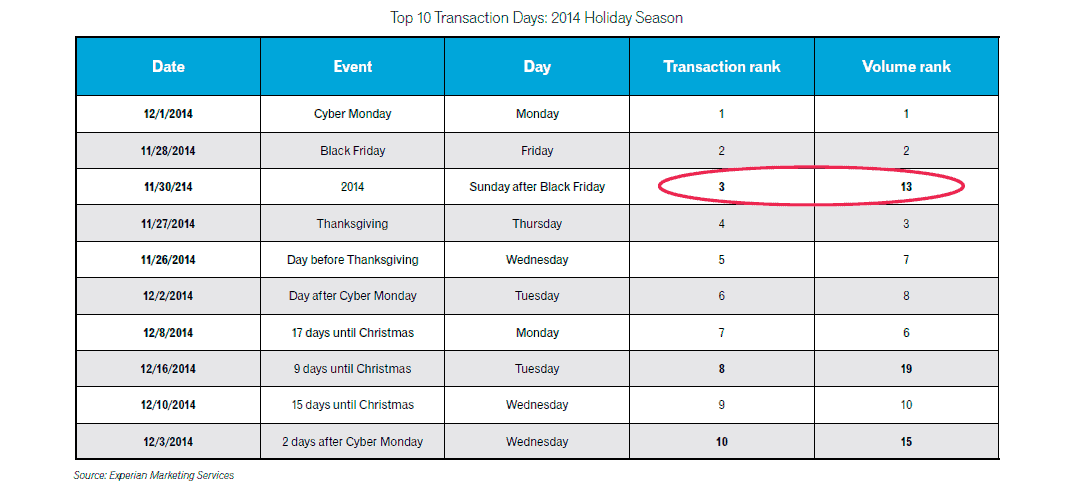 But what about the best time to send your emails?
Well, according to the same Experian study, weekend emails sent between 4AM-12PM had the best revenue performance.
As for when to send on weekdays, MailChimp's own study on optimal email send times showed that the morning hours between 8AM-12PM were preferred by subscribers.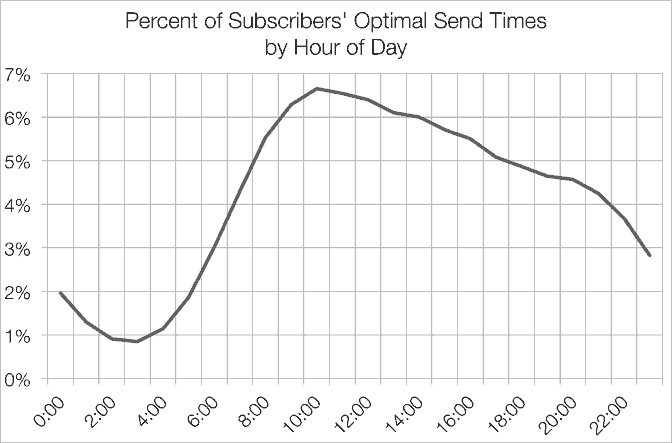 As you can see, there's no definitive data showing us exactly what days and times you should be sending your holiday emails.
Hopefully, however, the data above can help you come to a satisfactory conclusion on what will work best for your business.
5. Theme Your Subject Lines
47% of subscribers open emails based solely on the subject line.
And, since high open rates are necessary to high transaction rates, nailing your subject line is essential.
During the holiday season, one of the best ways to nail this is by getting creative with the theme you've chosen for your email series.
For inspiration on how you can do this, check out this post outlining 75 Email Subject Lines to Light up Inboxes This Holiday.
6. Use Coupons and Giftcards Wisely
While coupons and gift cards are common offerings for every business throughout the year, they're especially popular during the holidays.
In fact, according to Giftcards.com, gift card buyers purchase an average of 3.4 cards during the holiday season.
And, with 65% of those gift card owners spending an additional 38% beyond the value of their card, there's plenty of reason to utilize them in your email marketing campaign.
Let's take a look at a few ideas for how you can use coupons and gift cards wisely in your campaign:
Encourage Current & Future Spending. By offering coupons or gift cards after a customer spends a certain amount, you're encouraging more spending now while helping increase sales for the future as well.
Use Them to Earn Referrals. To increase your email list, and generate more customers, offer coupons and/or gift cards in exchange for subscribers referring their friends and family.
Target Last Minute Gift Buyers. Offer last-minute shoppers that are still looking for gifts the opportunity to purchase e-gift cards at a discount.
7. A/B Test
Regardless of whether it's a landing page, email series or social media advertisement, the average conversion rate for most businesses sits between 1-3%.
Fortunately, by combining conversion rate optimization tactics with A/B testing, you can help increase this number for your holiday email campaign.
When it comes to A/B testing and emails, there are a variety of different things you can test. Some of the best options include:
Personalized Subject Lines
Long Form vs Short Form Email Content
Changing CTAs Within the Email
Changing the Number of CTAs Included in Your Emails
Using Images vs No Images
Using Different Colors
Once again, it's important that you keep things simple. Avoid sending radically different emails and focus on testing one or two conversion optimization tactics within each email.
8. Bundle and Upsell Items
According to Entrepreneurs, it's 68% more expensive to acquire a single dollar from a new customer than it is to upsell your current customers.
With this in mind, upselling should be a top priority for your business during the holiday season.
One way to do this is through bundle sales. If you've ever tried to purchase something through Amazon, you'll recognize this tactic: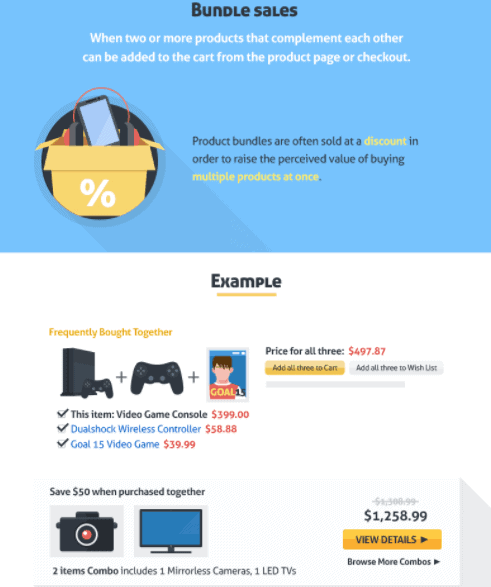 For more on this topic, check out Copyblogger's post Bundle Like a Boss: How to Put Together Irresistible Product Packages.
9. Stay Focused
As you're putting the above tips and ideas into place, your success will almost certainly depend on your ability to stick to a single objective until completion.
It's easy to develop a sense of analysis paralysis as you're trying to work in tips and strategies from the never-ending resources available on developing an effective holiday email marketing campaign.
Make a decision on how you want to move forward. Develop a process to complete it. Work step-by-step to make it happen.
Using this strategy will help ensure successful execution.
Dominate Your Holiday Email Marketing!
Armed with the email marketing ideas outlined above, you should be well on your way to dominating with email this holiday season and help your subscribers to make their holiday shopping experience a memorable one.
Get started today and discover just how powerful these ideas and tips can be for your own holiday campaign and enjoy enhanced holiday sales.
Here are a few other EngageBay blogs to help inspire some email marketing tips: