In 2011 Filip Tysander launched a small startup that by 2015 had revenues of over $180 million. He did this in a crowded market by bypassing traditional marketing methods. Instead he invested (and continues to invest) in a low-cost marketing strategy that facilitates growing engagement and a following that rivals major brands.
Daniel Wellington, the watch brand that Filip started, regularly posts content like the one below.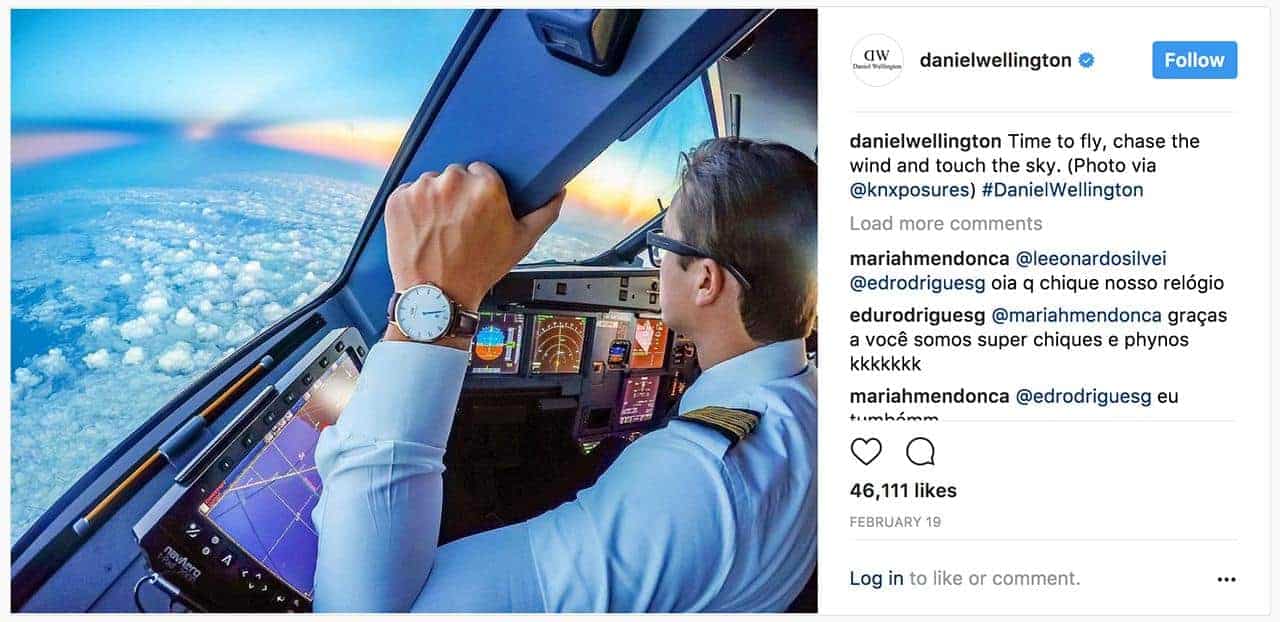 With its sole focus on influencer marketing, the brand has gained sponsored posts from celebrities and has gifted watches to micro-influencers. In exchange, they post photos of themselves wearing the watch and provide a unique money-off code for followers.
This simple formula of beautiful images featuring a minimalistic watch promotes not just a brand but a lifestyle and has worked very well for Daniel Wellington. At the time of writing, they have over 1.3m Instagram posts using the #danielwellington hashtag. The brand's main Instagram account has over 3.4m followers.
You know that the rise of social media influencers has opened up a world of possibilities.  Businesses and brands can now connect with potential customers directly, organically and at scale.
But how does a virtually unknown brand like Daniel Wellington scale so rapidly with influencer marketing?
How can a "nobody" or a new brand with little or no budget stand a chance of getting promoted by influencers, especially when starting out from scratch today?
In this post, we'll dive into how new brands can get themselves promoted by influencers to boost their marketing. This is a long article so you can use the menu below to find sections that are of interest to you or read through the article if you prefer.
To kick things off, let's be clear about what influencer marketing is.
What is influencer marketing?
Influencer marketing is a form of marketing wherein brands identify and then work with certain individuals (influencers) who have influence over potential customers, to engage them and build increased brand awareness. Influencer marketing usually entails a mutually beneficial outcome for both the brand and the influencer.
Until recently, influencer marketing has been conducted as one-off campaigns. But with the decline in the effectiveness of more traditional marketing methods, influencer marketing has become a more regular method of engaging new audiences and is something that companies are investing in on a continuing basis.
Why use influencer marketing?
According to a study by Twitter and Annalect, as much as 49% of people say they rely on recommendations from influencers when making purchase decisions.
The increasing amount of engagement on social media platforms has made it easier for people to seek and find information from those they like and trust. This also makes them more likely to buy products recommended by those they like and trust.
Here are some other reasons.
It's trendy
The topic shows a continuing upward trend over recent years. In other words, a number of brands the world over are looking to use influencer marketing to gain access to new audiences.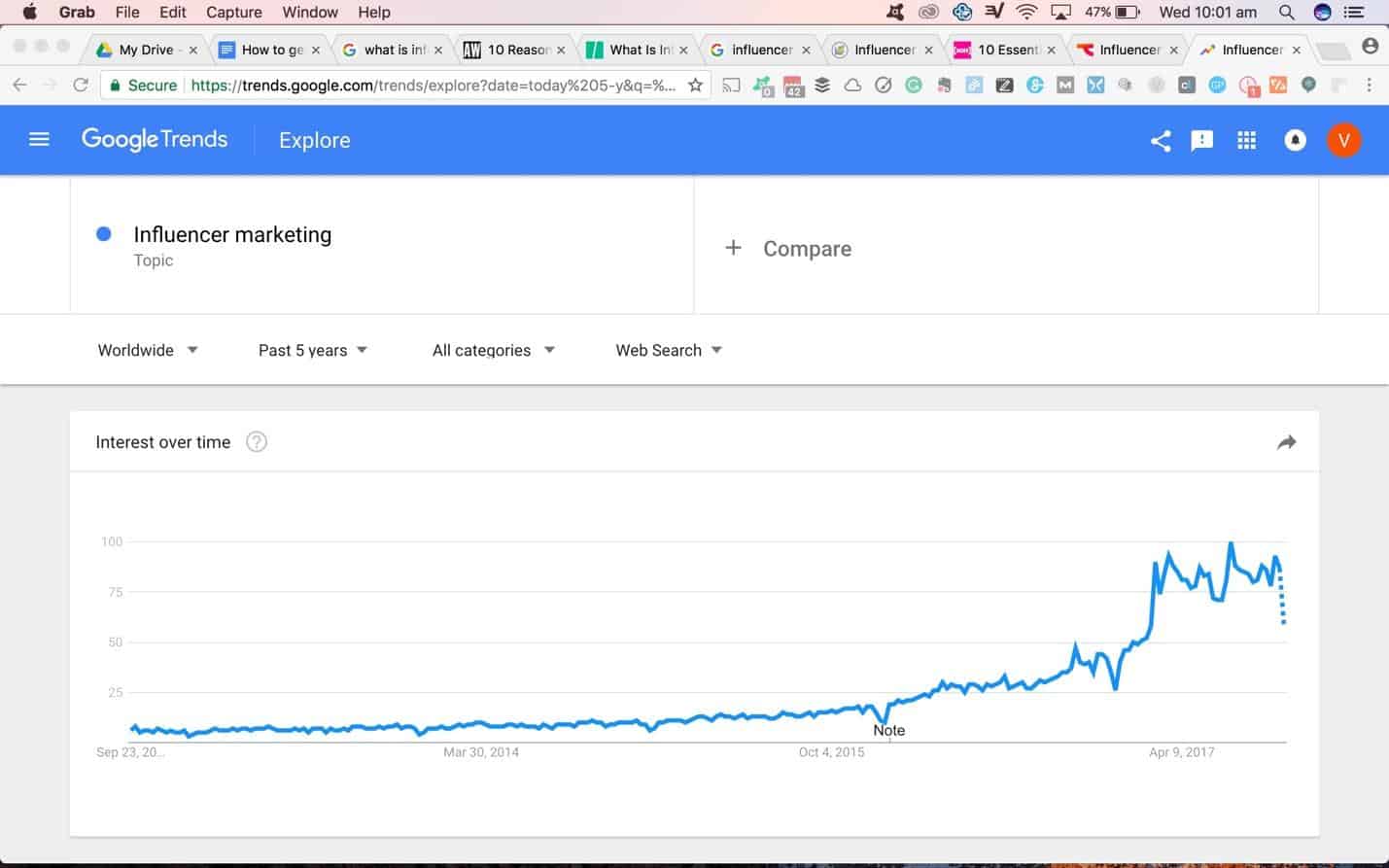 It's social
In this day and age, people expect brands to talk with them rather than at them. In fact, according to a Sproutsocial study, they also expect brands to entertain and inform them without selling to them.
With potential customers having such expectations, it is only natural that influencers are in a key position to engage with them on behalf of a brand. Consider the following statistics, for example.
According to an Ogilvy Cannes study, 74% of people turn to word of mouth recommendations from their social networks for purchase decisions.
According to eMarketer, 87% of millennials recommend a product or service because of good experiences or because they feel a responsibility to guide friends, peers or family towards smart decisions.
It helps with SEO
Influencer marketing provides the chance to build a diverse set of new links to a brand's site. According to a study conducted by Moz, links from sites of perceived quality and authority are among the top search engine ranking factors. This isn't easy to acquire, but links from an influencer's site are more likely to fit the criteria.
Having new and fresh content is another ranking factor. Influencer marketing allows for new and fresh content to be created. After all, an influencer's role is to create captivating and shareable content with the potential to improve a brand's content profile.
When you partner with influencers, you're using a trusted source to add credibility to your content. This, in turn, has the potential to increase engagement while sharing your brand message in a natural way. According to the Moz study, engagement and traffic are the fifth most important ranking factor from an SEO perspective.
It allows for audience targeting and is measurable
Like most marketing endeavors of a digital nature, the results of influencer marketing campaigns can be easily tracked and monitored.
It's more effective than traditional advertising
Take a look at these numbers.
According to a Nielsen Catalina study, influencer marketing content delivers a higher return on investment than traditional forms of digital marketing. In fact, it is 11 times higher.
A study by Tomoson showed that businesses were making $6.50 for every $1 spent on influencer marketing.
A study commissioned by the 4A's found that 96% of people believe that the advertising industry does not act with integrity, and 69% of them said that integrity meant always keeping promises.
How to define success
While influencer marketing may be a hot topic, engaging in it with the hope of seeing a similar outcome to Filip Tysander's would be a mistake without first assessing your current capabilities and planning for it.
Philip Brown advocates setting your marketing objectives before engaging influencer marketing.

Sebastian Jespersen, CEO and president of Vertic, advocates starting with the audience you wish to target, and then identifying influencers who have something unique and interesting to say. He suggests using the 5W model which he outlined in an interview.

A suitable first step in determining if this is a good fit within your overall marketing strategy would be to conduct an audit.
Why conduct an audit?
Because understanding what needs to be achieved and how influencer marketing fits into the overall strategy will prevent mistakes from being made and will minimize the waste of resources down the track.
An effective audit should of course consider whether potential influencers are actually driving their audiences' behaviors, such as making purchases. Also assess your internal capabilities, to determine whether you have the support and resources you need to support continued influencer marketing.
The Onalytica graph below shows some of the questions that are worth asking.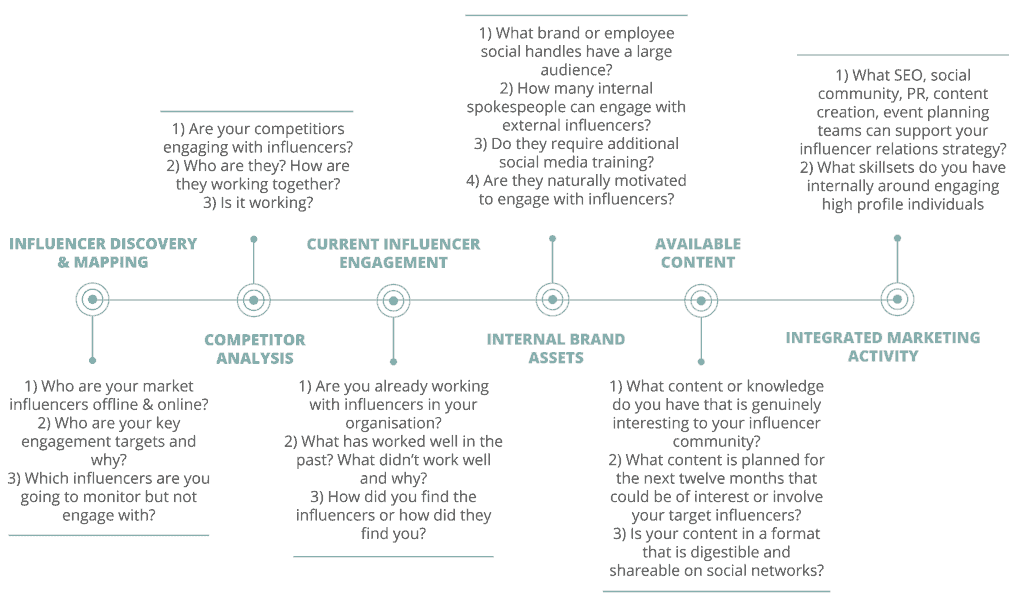 Perhaps one of the most fundamental aspects to any influencer marketing endeavor is the need to define what success should look like for a brand. To do that, you will need to define your S.M.A.R.T campaign goals. In other words, you need to know from the beginning how you will track, measure, and judge campaign effectiveness.
While sales are the primary goal of most businesses, influencer marketing campaigns can have other goals such as visibility, engagement, content production and brand awareness.
With visibility, for example, the objective would be to increase the number of potential customers who become aware of the brand through the campaign.
With engagement, the objective is to increase the number of engagements. CPE or cost per engagement is used as a metric. Other metrics typically used include likes, shares, comments, and click-throughs. Why is this an important measure? Because it focuses on a potential customer's interest in the brand.
With content, the idea is again to measure engagement and gain social proof through influencers and possibly consumers as well.
With brand awareness metrics such as strength, sentiment, passion and reach can be measured with tools like SocialMention or Trackur.
How to identify influencers
A critical part of your influencer marketing campaigns is to find and follow as many experts as you can in your niche or industry.
This is where tools like Buzzsumo, Followerwonk or Brand 24 can help.
While these tools can help to identify potential candidates, you will still have to sort through them to find people with a voice and online presence that is somewhat aligned to your brands.
You go about that by determining their relevance, engagement, and quality of content.
In other words, determine their:
relevance by determining whether the content they share is in some way related to the issues that your brand addresses.
engagement by examining their posts and the kind of engagement they attract from their audience. The frequency of interaction and the shares will give you an idea of how engaged the audience is, and how likely they will be to act on a call to action made by the influencer.
quality and reach by examining their content and site to see how visible they are and what sort of influence they have on social media and the search engines.
Philip Brown says: Analyze an influencer's engaged audience and make it an important criterion within your influencer selection process.
Analyse an influencers' engaged audience and make it an important criteria within your influencer selection process #influencermarketing

— Philip Brown (@philipvdbrown) August 28, 2017
Where to look for the right type of influencers
Now that you have identified the kind of influencers you would like to work with, it becomes easier to find such individuals. Here are a few ways to do that.
Social media monitoring
Social media monitoring allows you to find influencers who are already talking about your brand or industry. These are people that you would want to engage with and potentially expose your brand to. Buzzsumo is a tool that can help to identify such influencers and provide some insight into how effective their engagement is on their content.
If you were to look for influencers in the dog training space, for example, you would see a list like the one in the image below. Use it to follow each of the influencers and gather more information.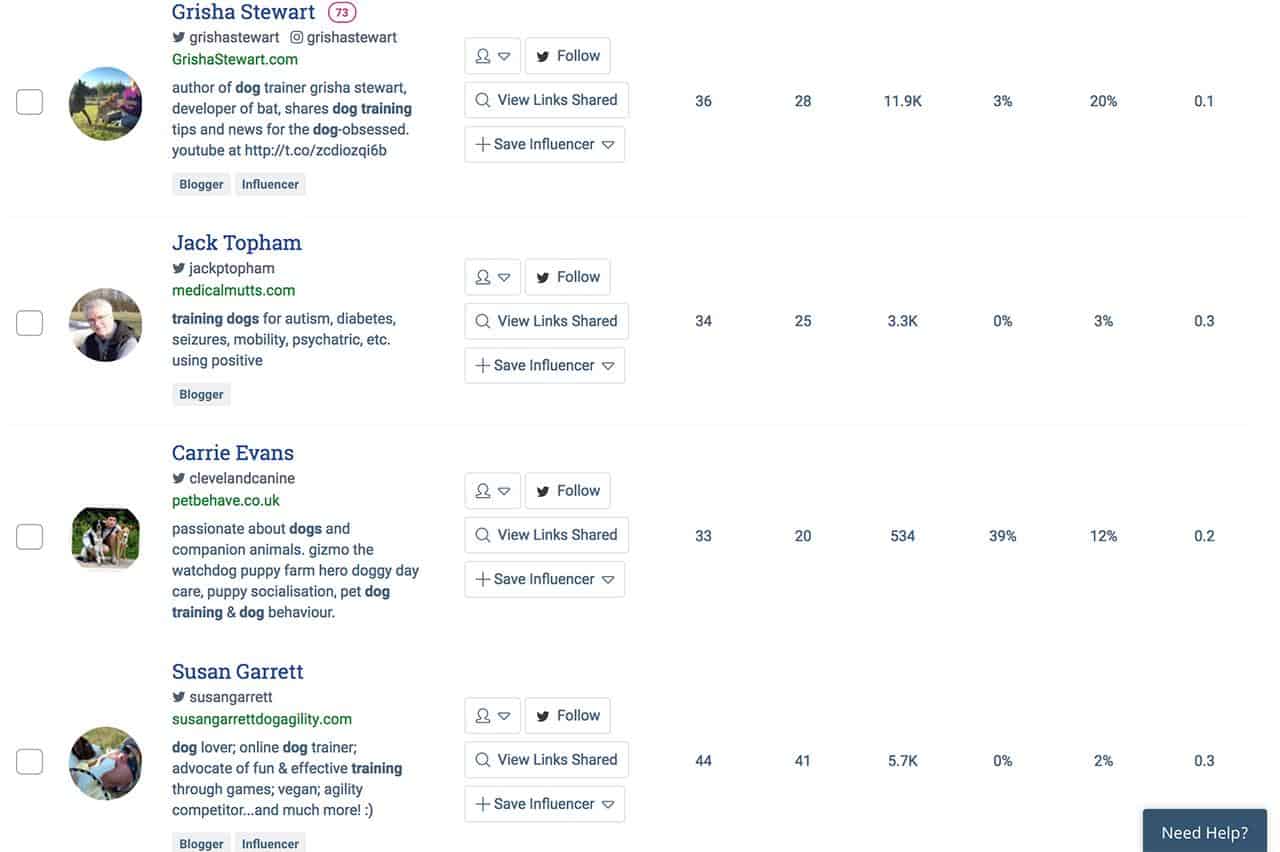 Monitor hashtags
One of the easiest ways to identify influencers is to look for conversations that include hashtags relevant to your brand and industry. This is also a great way to identify topics worth producing content around, as well as active communicators who could be considered as influencers.
Tools like Brand 24 and Mention can help.
Google Alerts
You can set alerts for keywords related to your brand or industry, so as to identify people talking about such topics.
On the Alerts page you can enter the terms you wish to monitor, enter the frequency of alerts, sources you wish to monitor, as well as the region. You will then receive the alerts via email.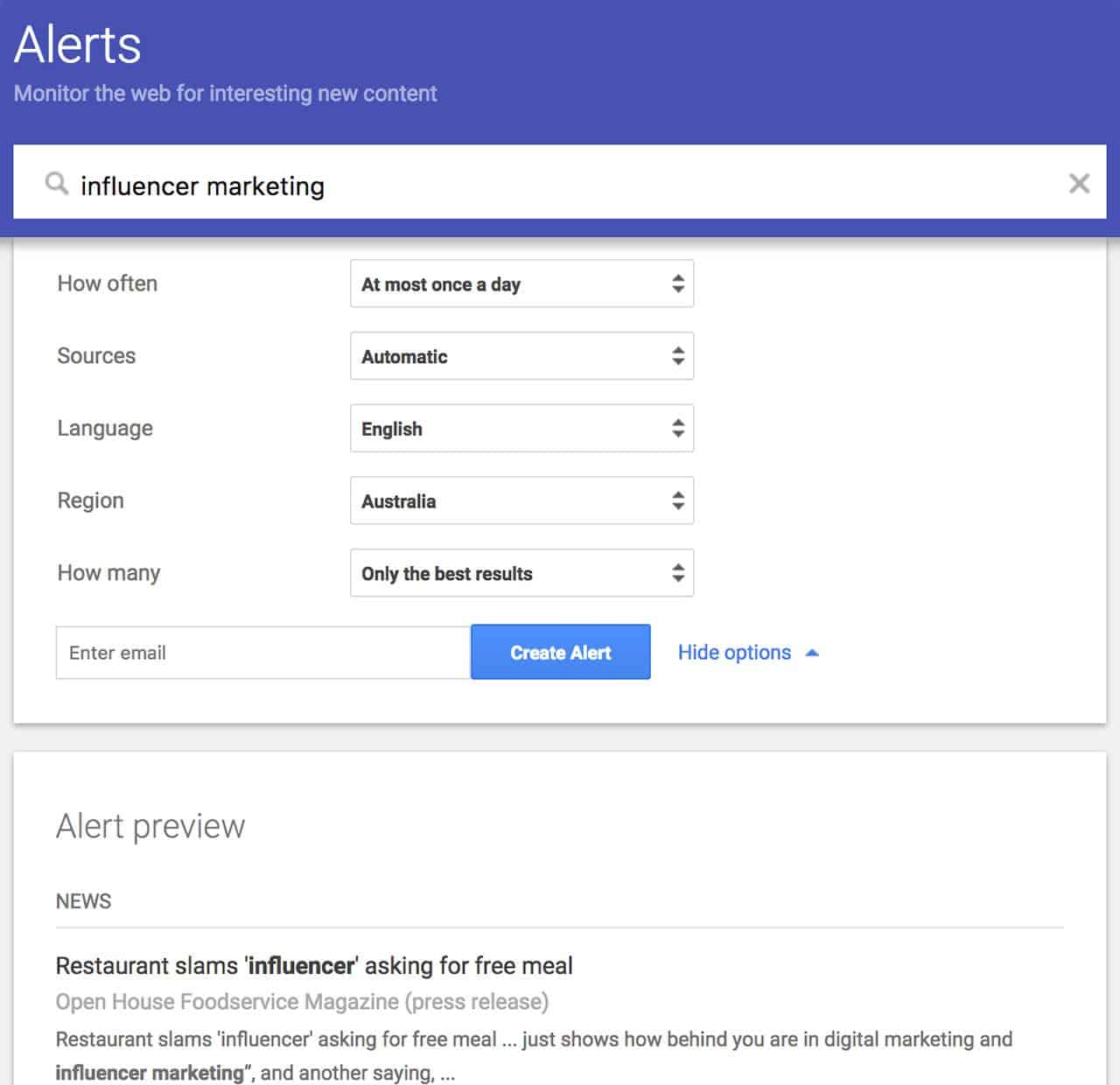 Blogger outreach
Having identified influencers, you might want to scale your outreach efforts via email and/or social media. This is where tools like Buzzstream, Mailshake, Nimble and Outreach.io can help.
Watch the video below for a review of Mailshake.
https://www.youtube.com/watch?v=wQZh5HpSA54
How to reach out and be memorable
Which school of thought do you belong to?
Outreach to influencers is a numbers game. If you throw out enough requests, a few will stick.
A strategic personalized approach to selected influencers would be better, and would allow you to engage the influencers who are best aligned to your brand.
If you belong to the first school, you are unlikely to get much of a response for the effort you put in. If you belong to the second, then the following will be useful to you in building genuine, deep relationships.
Here are what a few experts recommend as a process to follow when approaching influencers:
Brand yourself
Before approaching influencers you need an online presence, especially on social media channels. In order for people to quickly get to know your brand and what it is that you do, branding each of your social channels is essential. Make sure that you are communicating the same message across all channels.
Build a reputation
One of the most valuable things you can invest in is your reputation. So ask yourself: Do people know who you are, and do they want to spend time with you and your content?
Often, reputations are established with content and then maintained with relationships. If you are known to publish good content and known to be honorable, the chances are that your reputation will grow.
Here is what a few experts recommend:
Be genuine
Here is what a few experts recommend:
Establish contact and provide value
One the best ways to make influencers aware of you is to follow them on social media and keep an eye out for opportunities to engage them. For example, they might ask for an opinion, or ask about a tool. Or they might ask for a referral, like Mari Smith did with this Facebook post:
Follow all your target influencers on all their active social media channels.
Keep track of your social media influencers by creating a list – "a notice me list" as Alexis Grant puts it. This is essentially a private Twitter list of people with whom you would like to engage, and who can help to get you where you would like to be. Facebook interest lists can also be used for similar purposes.
Chances are that your target influencers will publish content on platforms such as LinkedIn or on their blogs. Be sure to subscribe to their updates or follow them on platforms like LinkedIn.
Why? So that whenever they publish, you always know about it. This gives you the opportunity to interact with them on topics which are of interest to both of you.
Some influencers and brands value their subscribers and will invite new subscribers to interact with them upon signing up. Like the one below.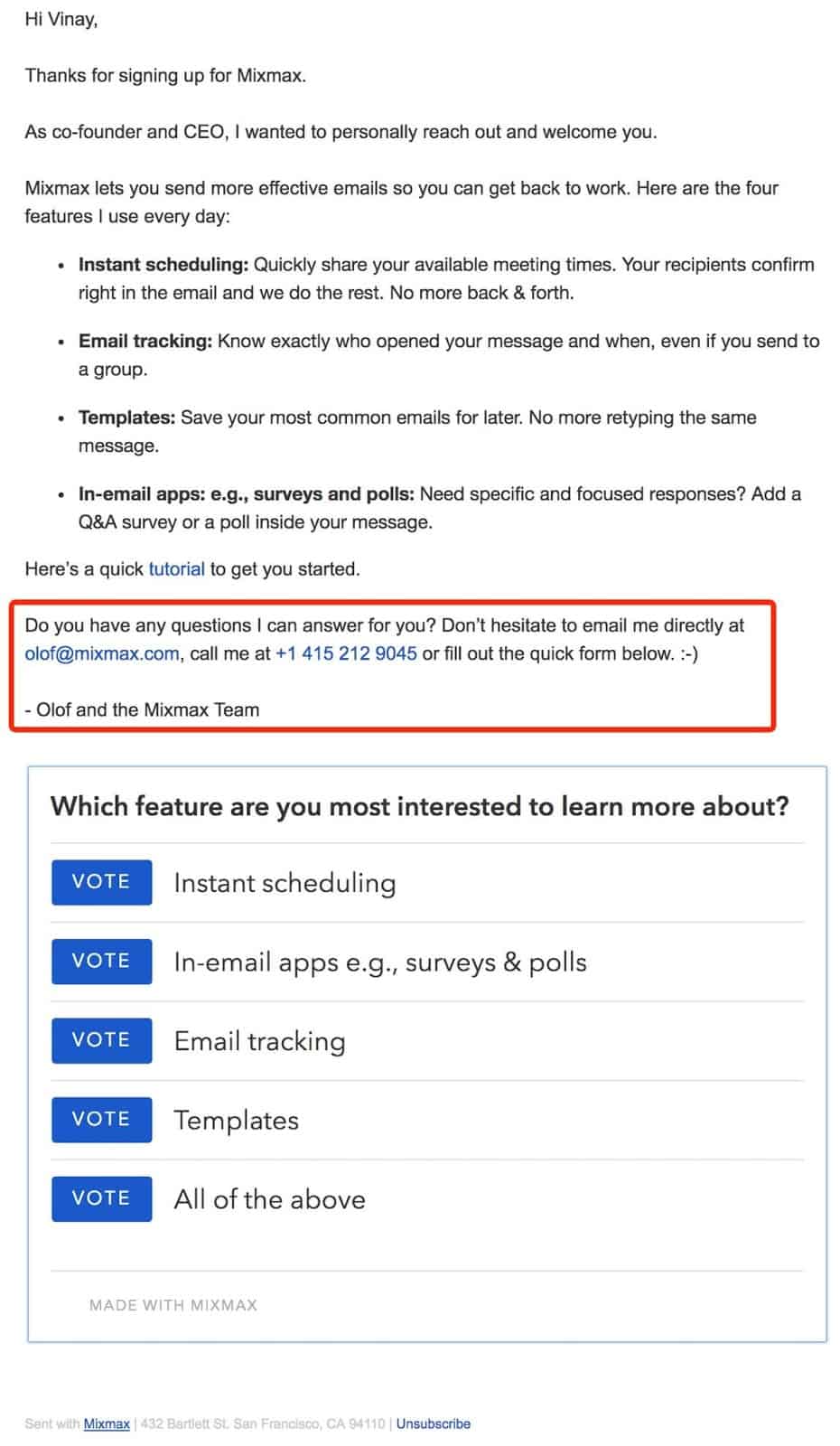 Here is what a few experts say on the topic:
Influencers, like everyone else, cannot possibly be experts on everything. So, chances are that from time to time you will be able to contribute or add value, to help make their strategies more complete or comprehensive. To start with, you might provide your tips by email, social media comment, blog post comment, etc.
For example, in this post by Aaron Orendorff I mentioned a strategy that he hadn't covered but which would be useful to his readers.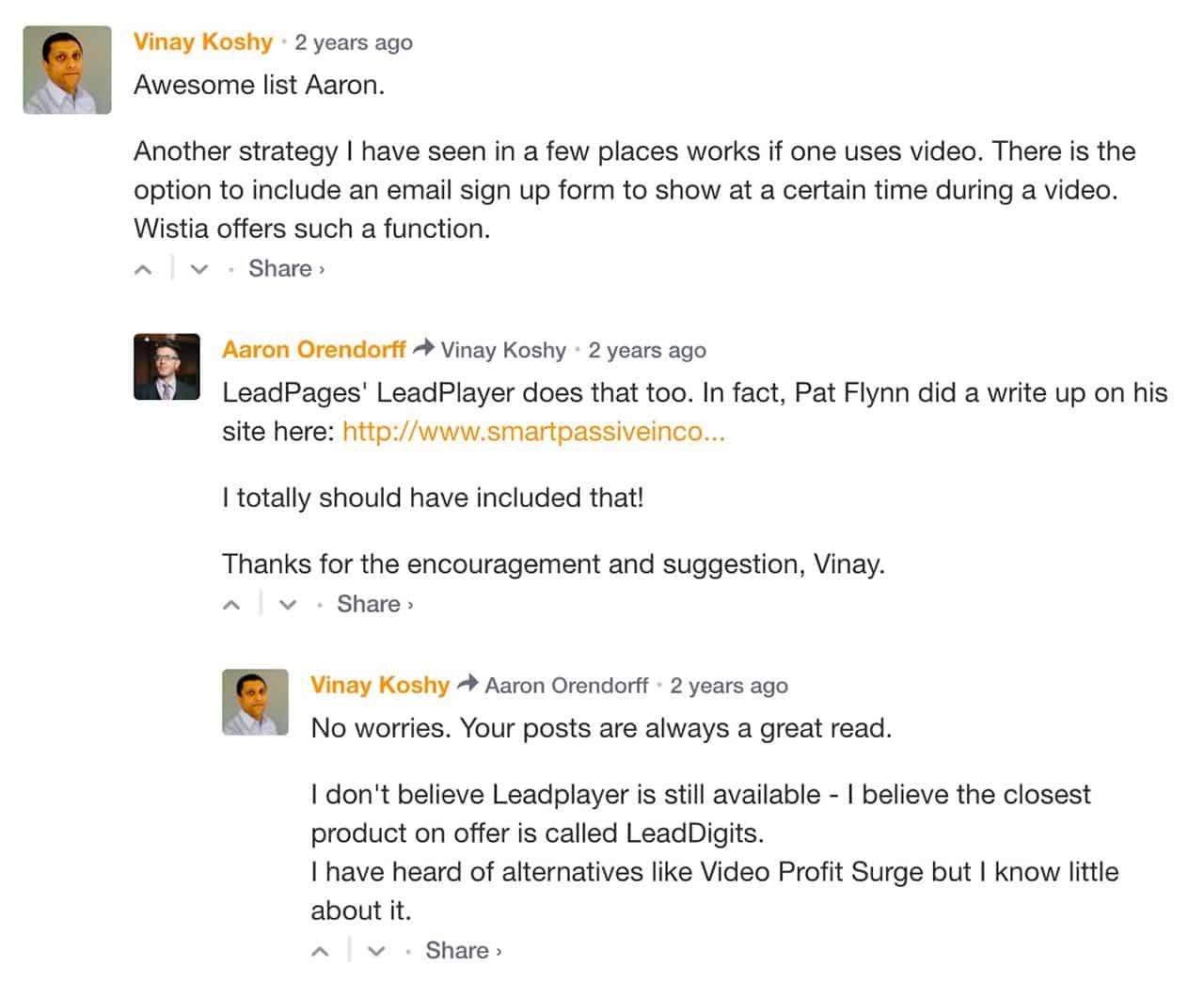 Here is what a few experts recommend doing:
Display expertise
The first step in positioning yourself to pitch an influencer is to create value for them. To help you to see how to do this, put yourself in their shoes and think about what would be valuable to them.
Assuming monetary compensation is not an option, here are a few options.
Create a downloadable resource. Just one example: a guide that the influencer's audience would appreciate and that would encourage more sign-ups to the influencer's email list.
Consider providing a free consultation to help them improve their online presence. For example, Derek Halpern carried out a few website reviews, for people such as Amy Porterfield.
People are generally open to connecting with others whom it might be beneficial for them to know. You could act as a networker and connect two or more influencers together.
Highlight a community or a promotional angle that they haven't yet touched upon. Offer to help them get it started.
Here is what a few experts have to say:
Do something special
To get the attention of influencers, consider doing something that not many others do.
For example, Ana Hoffman lists those who acknowledge her weekly marketing skinnies, like she does in this edition. This has caught the attention of a number of influencers and has helped her to grow her audience over time.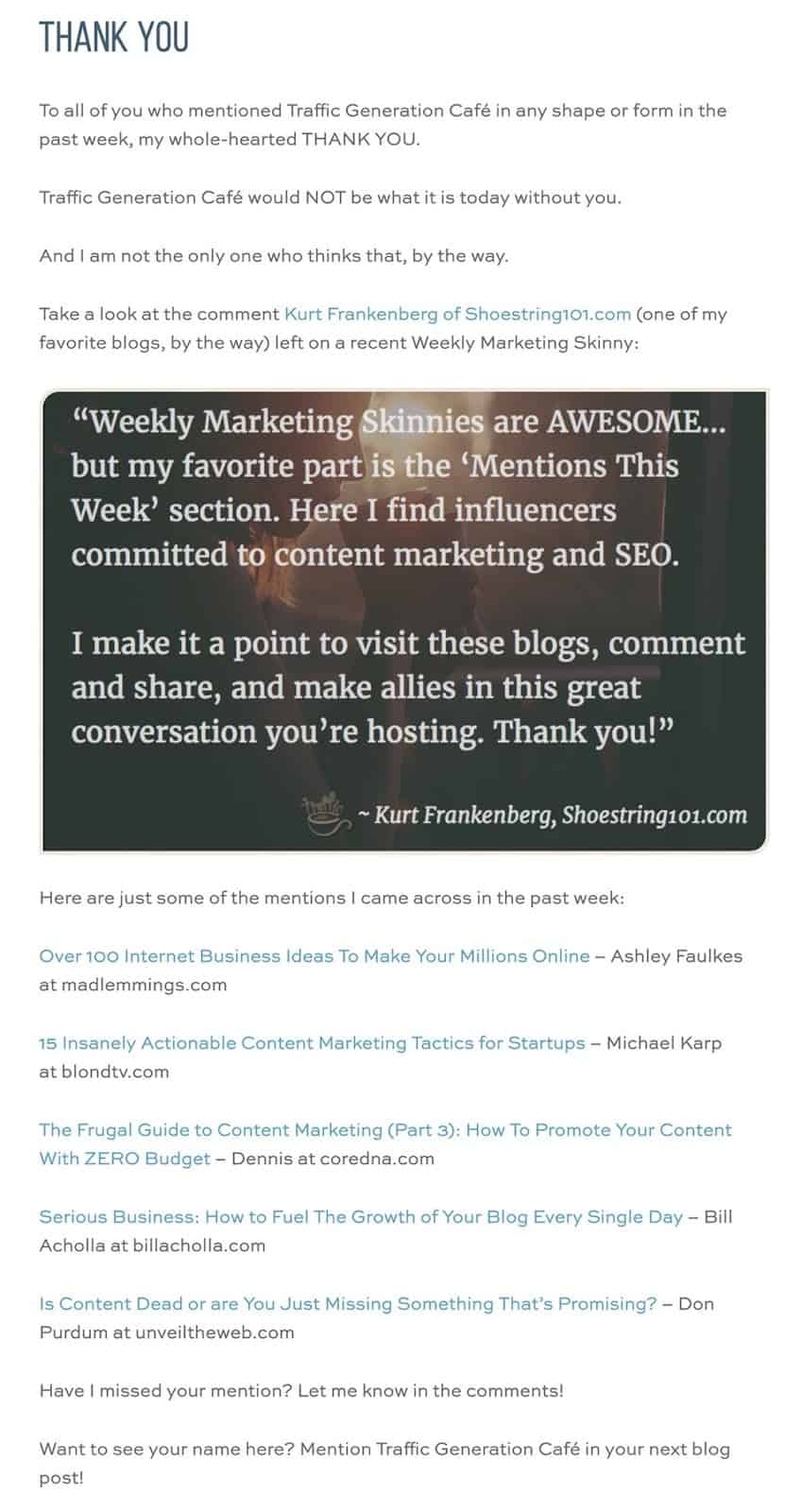 Here is what a couple of experts recommend:
Seek to connect in meaningful ways
Commenting on influencers' blog posts or social media posts is a great way to get on their radar. This works especially well if you can respond quickly. The longer you take to make a comment, the less likely the author will notice it.
Influencers, like everyone else, are keen to gauge the response of their content and to connect with others.
Consider for example, this Facebook post by Dennis Yu.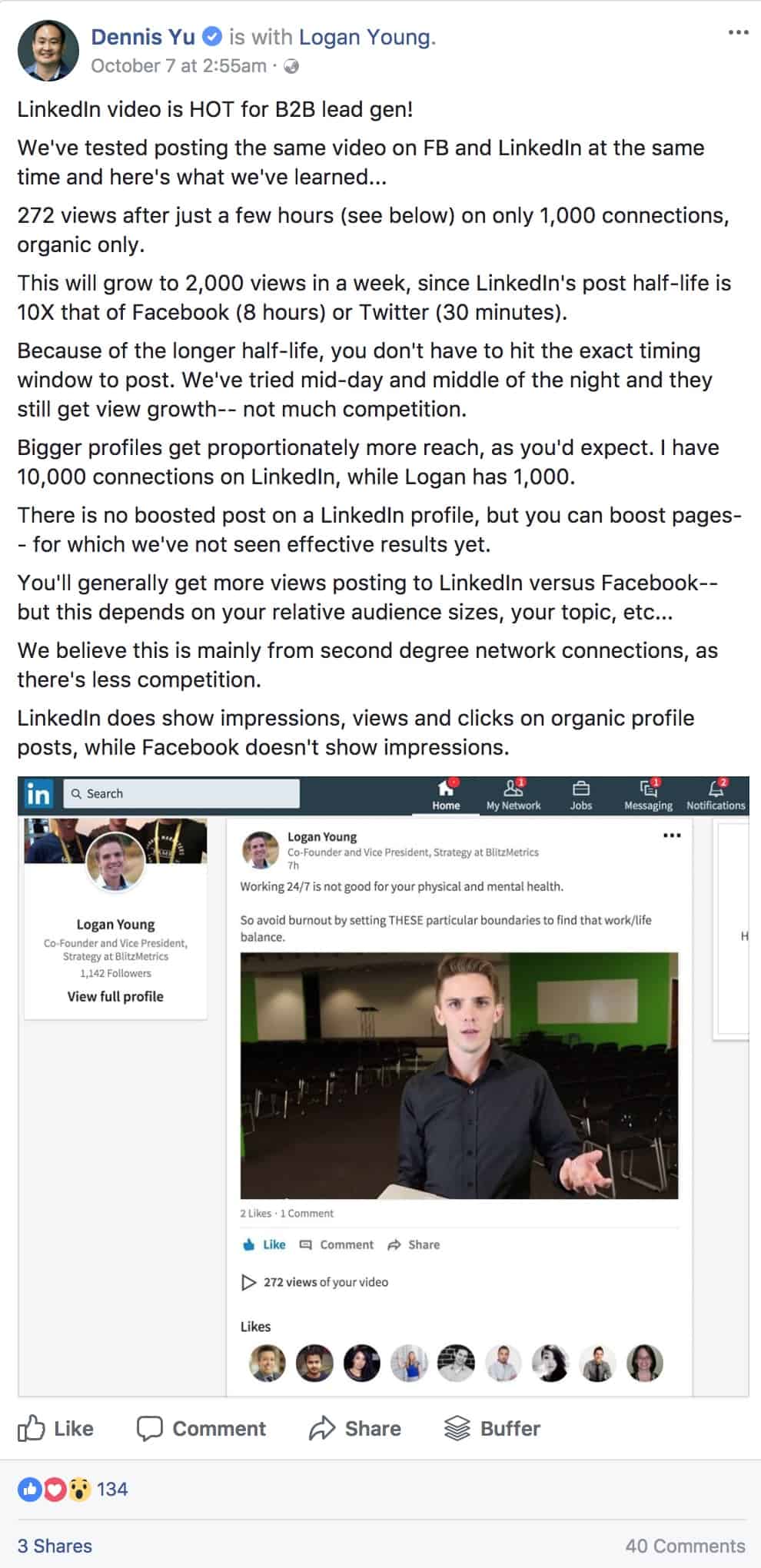 Here is what a few experts have to say about connecting in meaningful ways:
Show 'em you love 'em
You may already be sharing your target influencers' content on social media, but doing so from the shadows won't get you noticed. So how do you promote yourself?
Simply add mentions of them and namedrop, like Brittany Berger does in this tweet, in which she mentions Jason Miller.
"The real swindlers are those making a reputation by trashing content" –
@JasonMillerCA https://t.co/t6RmUEFK1a pic.twitter.com/JLUKUCbdBm

— ? Brittany Berger (@thatbberg) September 20, 2017
Link to your influencers' posts from your own blog posts. Then be sure to tag or mention them when you promote your posts on social media. After all, you linked to them because they inspired you, right?
They might take notice and thank you. Better yet, they might notice the traffic from your blog in their analytics.
A very natural way to be genuine and get on an influencer's radar is to compliment them. Saying thank you or complimenting someone is such a simple thing to do, yet it is often overlooked. A word of thanks or a compliment encourages the recipient and lets them know that what they are doing is worthwhile.
For example, Pat Flynn mentions in Ask Pat #413 that he keeps the handwritten thank-you notes and emails he receives.
Here are some more ways to express your thanks.
Buy their products or services.
Spread the word, either in person or via social media.
Tweet out your appreciation.
The most important thing is to be specific. When thanking anybody, mention the resource, post, podcast or book that you benefited from.
Here is what a few experts recommend:
How to work with them
Make a plan
You have now identified potential influencers to work with you to engage new audiences and generate leads for you. But before you engage any potential influencer, you should have a plan with sufficient detail to help you and your influencer to achieve the objectives of any campaign.
What details should a plan include?
Content creation
One of the best ways to engage your target audiences is via content creation. A true influencer for your brand is passionate about it and can convey that passion via the content they produce. This in turn engages their audience and generates leads. One the best ways an influencer can help is to encourage content from happy clients.
How do you do that? Here are a few ways.
Ask clients to upload videos or photos of themselves using your product or service.
Run a competition on submissions of user-generated content, with a free giveaway or a discount on your products or services.
Ask people to take part in interviews which can be used as case studies. As an incentive, consider rewarding them for their time.
Ask the influencer to join you in activity on social media platforms and discussion forums, to encourage and engage with their audience.
Consider sending free samples or trials to influencers and micro-influencers, without any expectations. They might review and recommend your product if they like it enough.
Consider exchanging guest content with one or more channels.
Set the right expectations
Having identified the right influencers for your campaigns, you need to set expectations. Draw up a brief that includes all relevant information, including goals, copy suggestions, and proposed schedules.
While you need to communicate expectations clearly and concisely, avoid controlling the specifics of the campaign. Leave the influencer to decide how best to incorporate your product or service into their content. After all, they have spent a lot of time engaging their audience and will know better than you what will work with their audience.
Negotiation and contracts
Once agreement has been reached, and to keep all parties on the same page, you can draw up and sign a legal contract that includes deliverables, compensation, publishing schedule, and other relevant details.
Checking campaign content
Before launching a campaign, you may want to review and approve content, to ensure it touches on essential copy points or the brand messaging, as well as with any local laws.
You may also want to ensure that you have tracking measures in place before launch.
Once the campaign is given the go-ahead you will want to keep an eye on its performance, engagement, and other metrics worth noting.
Boost reach
In addition to campaigning across your brand social media channels, you can also ask the influencer to share the content across other platforms, and invest in paid options to boost the reach of the campaign.
To take the campaign still further you can invest in options such as publishing related content around the campaign and testing calls to action.
Analyze results
To determine the success of your campaign you will want to collect as much data as possible and compare the metrics against your KPIs or goals.
This will allow for an objective analysis of how well such content performed compared to an influencer's non-sponsored content.
Over to you
Regardless of the kind of product or service you offer, your brand will need the support of an audience that is usually influenced by people outside your business. Tapping into this sphere of influence, like Daniel Wellington, can only help to accelerate your marketing efforts.
At the heart of any paid or earned influencer campaign, what matters is the building of long-term relationships. It is therefore worth investing the time and effort to nurture long-term, mutually beneficial outcomes.
Influencer marketing benefits and impacts are best measured over time, but in the short term, influencer marketing can bring about mass awareness very quickly. This awareness, combined with a compelling product and experience, can drive sustainable promotion growth by influencers for a new brand.