Are you considering a career in sales? There is more to sales than just becoming a sales rep.
With a background in sales and marketing, you can choose to become a sales analyst, a financial analyst, an account manager, or a sales operations manager.
In this blog post, we will discuss who a sales analyst is, their roles and responsibilities, and what a sales analyst's job description looks like in the top 25 companies worldwide.
What Defines a Sales Analyst?
A sales analyst helps boost the revenue and sales of a company. Sales analysts typically work with multiple teams, including the marketing team, to execute campaigns successfully or with the supply chain team to ensure that production runs smoothly and efficiently.
They usually use competitive analysis and sales forecasts to predict revenue and profits for the future. This helps them provide suggestions to the sales and marketing teams on how to better design and implement campaigns and address any roadblocks.
And in the current market, the job of a sales analyst is very lucrative. On average, the annual base salary for a sales analyst is $62,858, with an additional cash compensation of $3887. And the base income can fall anywhere between $38,000 and $76,000 per annum which is one of the highest paying jobs in the industry.
If you are a senior sales analyst, you can expect to earn an annual salary of $89,654, according to Indeed.
Before you are tempted to apply for a sales analyst job, let's find out the day-to-day responsibilities of a sales analyst.
---
Sales Analysis: Definition, Types and Why It's Important for Business
---
Roles and Responsibilities of a Sales Analyst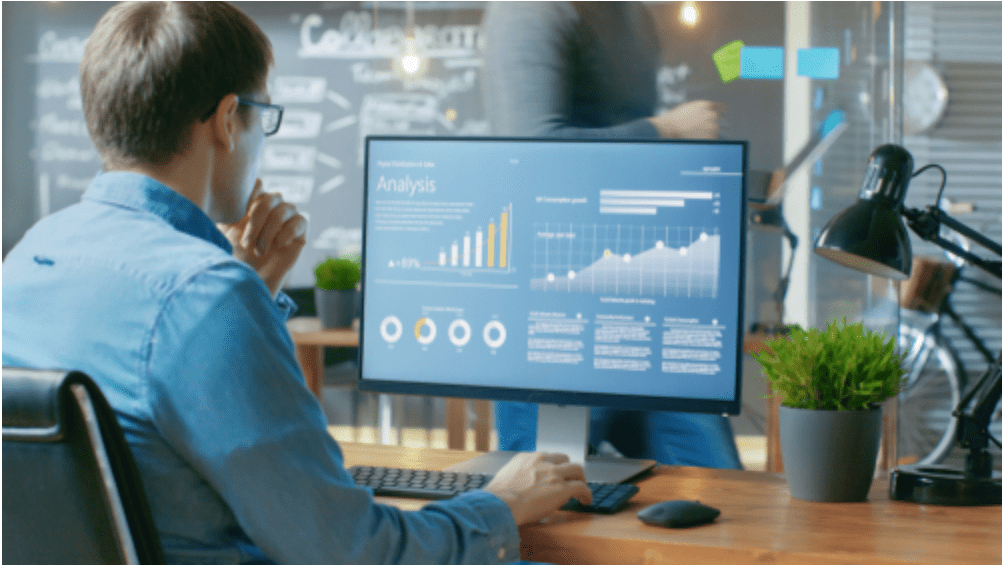 #1. Create Forecasts and Projections
One of the primary roles of a sales analyst is to build forecasts and predictions.
Usually, sales analysts make use of competitive analysis, past performance metrics, and other indicators to predict future growth and trends.
This helps the marketing team and other stakeholders determine the next course of action, address any issues, and implement strategies better.
#2. Keep a Close Track of Sales Performance
A sales analyst is also responsible for monitoring and evaluating sales performance.
By closely tracking sales performance, sales analysts are in a better position to determine whether the company is going in the right direction or not.
In addition, sales analysts monitor market data, consumer metrics, and competitor activity to identify how the company can scale its efforts and in which areas.
#3. Communicate With Company Leadership
The job of a sales analyst is not a cakewalk. They are responsible for answering the stakeholders why the company has underperformed in certain areas and what steps have been taken to resolve them.
They have to constantly update their managers about the progress of the sales and marketing teams and provide reports on various sales metrics.
At the same time, they are expected to lead staff meetings and present information on new sales trends or strategies, competitor analysis, and condense technical data into easy-to-understand reports.
#4. Guide Marketing and Supply Chain Strategies
The role of a sales analyst is not limited to increasing revenue and profits but also extends to coordinating and working with multiple teams.
For instance, they might get involved with the marketing team as a consultant to design campaigns or work with the supply chain team to ensure that the inventory and production are running smoothly.
This helps bring an alignment amongst various departments, resulting in the smooth functioning of the organization.
Sales Analyst Job Description
Have you wondered what the sales analyst job description looks like? Here's a reference image for you.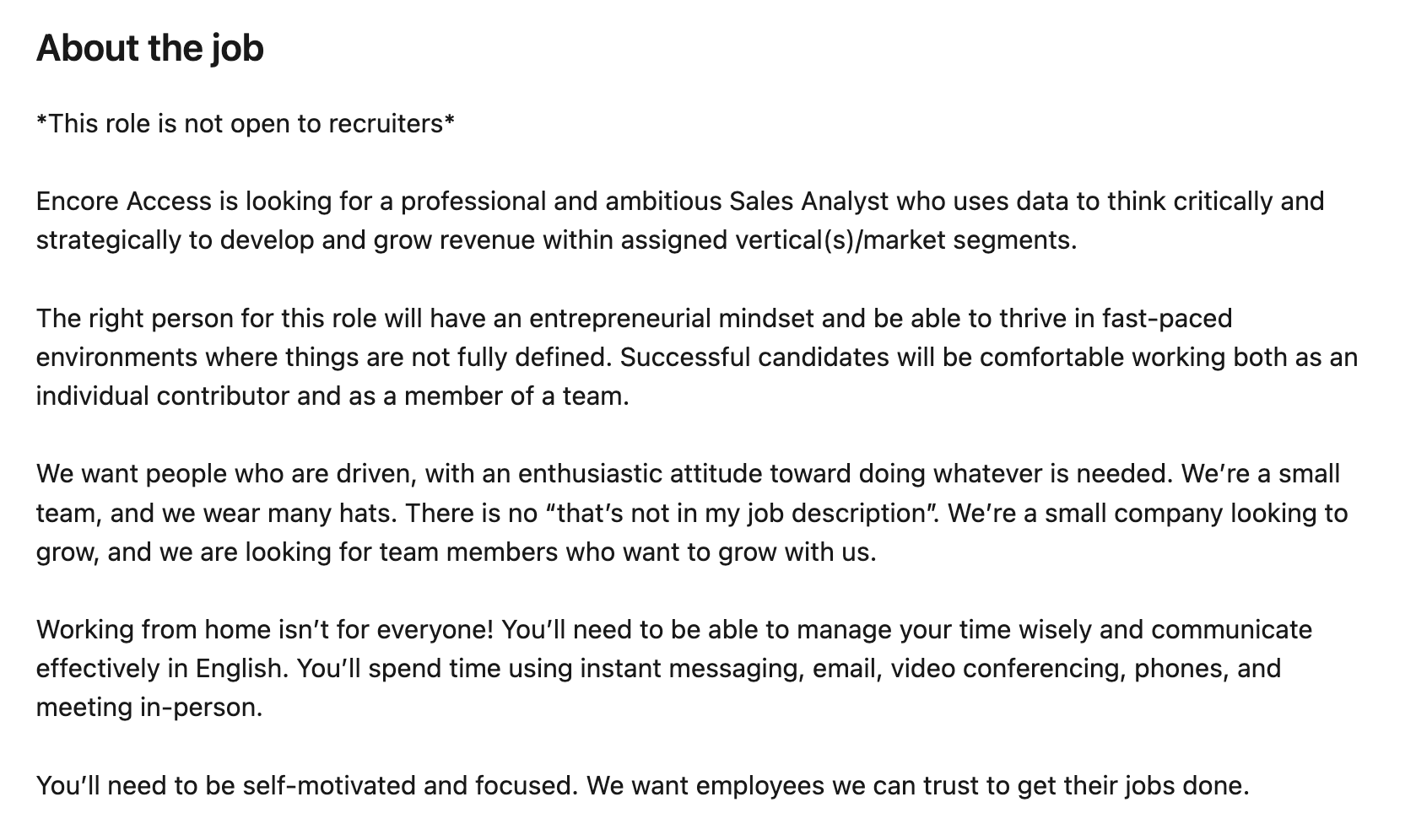 Of course, it may vary from company to company. But certain checkboxes need to be taken care of while writing a sales analyst job description.
Skills Required
Typically, a sales analyst job description requires specific skills, including advanced knowledge of Microsoft Excel and familiarity with statistical modeling software such as NetSuite, Tableau, and Demand Caster.
Additionally, good presentation and writing skills are a plus as one of the key responsibilities of a sales analyst is reporting sales performance to the company's leaders.
Sales analysts also need to possess strong communication skills and be team players as they need to coordinate with multiple teams at a time.
Educational Qualifications
In terms of educational background, sales analysts should have at least a bachelor's degree in marketing, sales, business administration, accounting, or finance. Many employers prefer candidates with a master's degree, preferably for senior position roles.
Besides, having prior work experience ranging between three and five years can amp up your salary package.
Roles and Responsibilities
As a sales analyst, you will be responsible for gathering and analyzing data to measure the success of the marketing and sales efforts of the company.
You will need to generate reports on what areas the company is doing well in and which areas require improvement.
In addition, you will be asked to keep track of prevailing and future market trends, monitor sales metrics, and modify strategies as and when appropriate.
Apart from that, you will be in charge of creating and following up on innovative business development ideas across various verticals in the organization and framing sales strategies.
The job also entails keeping your colleagues updated about any changes that may alter the demand and supply of your company's products, evaluating competitor marketing and pricing strategies, and any other relevant findings.
Lastly, as a sales analyst, it's crucial to know how sales CRM software works and how you can make the most of it. In today's time, every business process is automated and streamlined, which results in the use of various business applications.
---
Read also: 10 Top Sales Analysis Software for Small Business Owners
---
Top Sales CRM Tools for Sales Analysis
Now, let's look at some of the top sales CRM tools you should familiarize yourself with.
EngageBay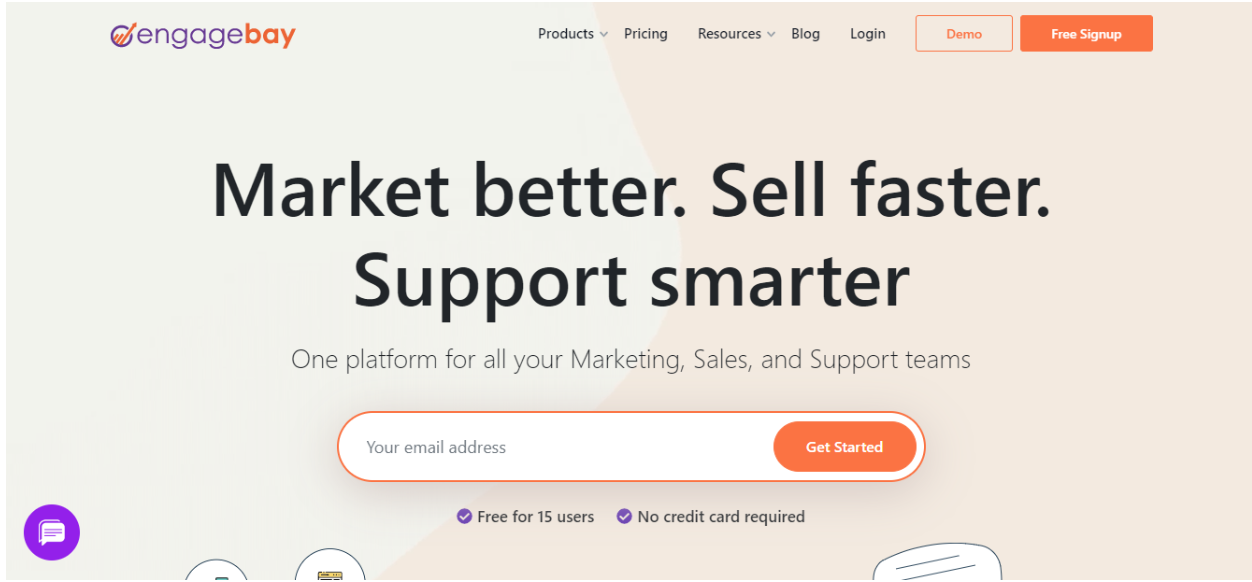 EngageBay's sales CRM is an end-to-end management platform that allows you to carry out every sales activity. It saves you the trouble of switching from one application to another and accessing all required information from a single dashboard.
From contact management to data analytics or getting a holistic view of your sales pipeline, it offers 50+ features with a rich interface for ease of use. Besides, it's free to sign up to get your hands familiar with this tool before applying for your dream job.
HubSpot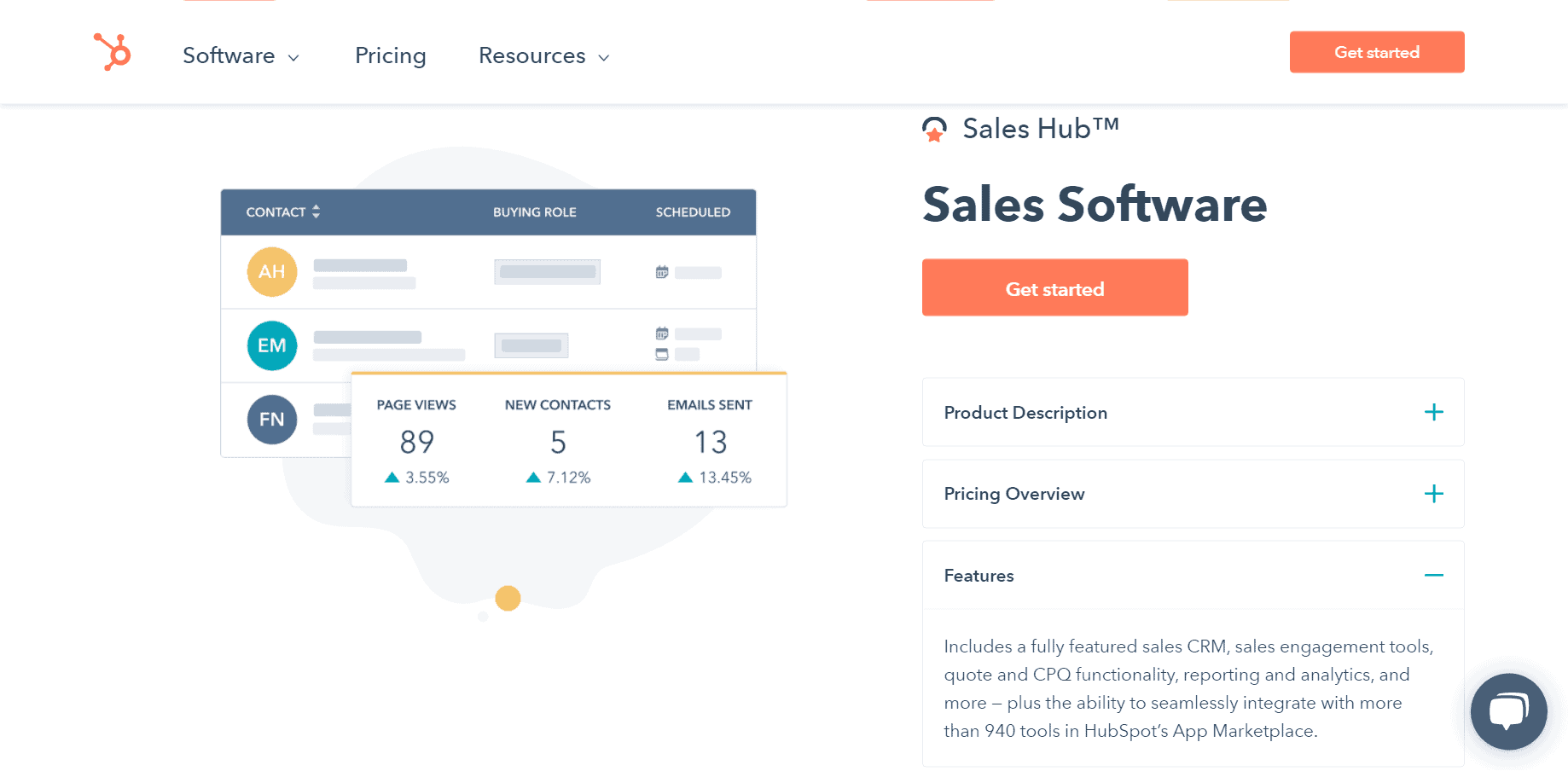 HubSpot's Sales CRM is designed to eliminate any friction at every step of your sales activities and smoothly manage your sales teams.
You can easily keep track of each of your sales reps' activities and determine the performance rate. Besides, it gives full visibility into your sales process so that you can forecast and deliver results.
Salesforce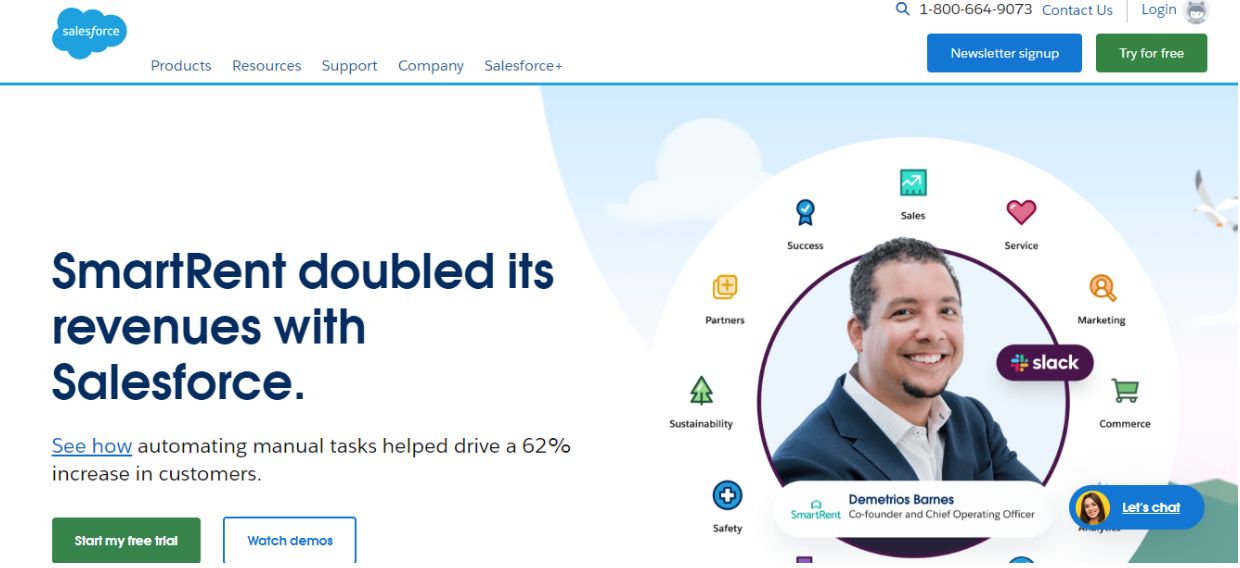 Salesforce is another sales CRM platform that is widely popular amongst small businesses. It aims to ease your job as a sales analyst by providing free on-demanding materials to amp up your sales reps' performance.
Furthermore, its sales forecasting tool compare data from different period and study the current market trend to help you generate near-to-accurate numbers.
---
Read also: What is Sales Planning? Tips & Downloadable Templates for Beginners
---
What Does a Sales Analyst Job Look Like at Top Companies?
If you are interested in a sales analyst job, we have analyzed the job description of the top 25 companies (in no particular order or ranking) worldwide.
These will help you better understand what the company seeks while hiring a sales analyst.
#1. Adobe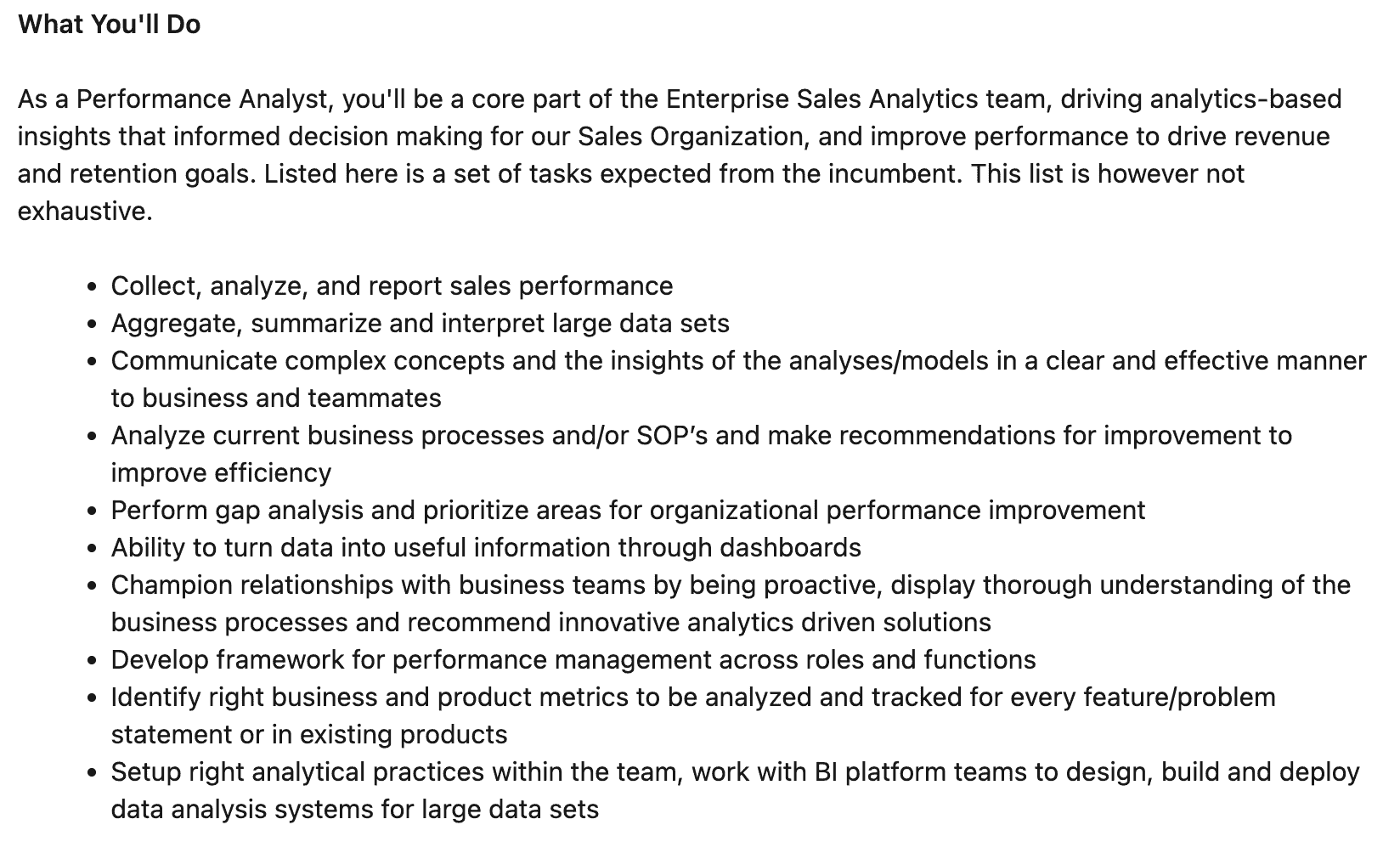 Adobe is a tech-based company that aims to provide a digital experience like no other. Currently, the company is looking to recruit a senior sales performance analyst.
As a senior sales performance analyst, you need to have at least 8-12 years of experience along with a master's degree in analytics or an MBA. In addition, you should have expertise in Microsoft Office, Tableau, Python, R, and SQL.
Here, you will be extracting and analyzing datasets, reporting sales performance, developing a framework to track progress, and identifying gaps within teams.
#2. Invesco Ltd.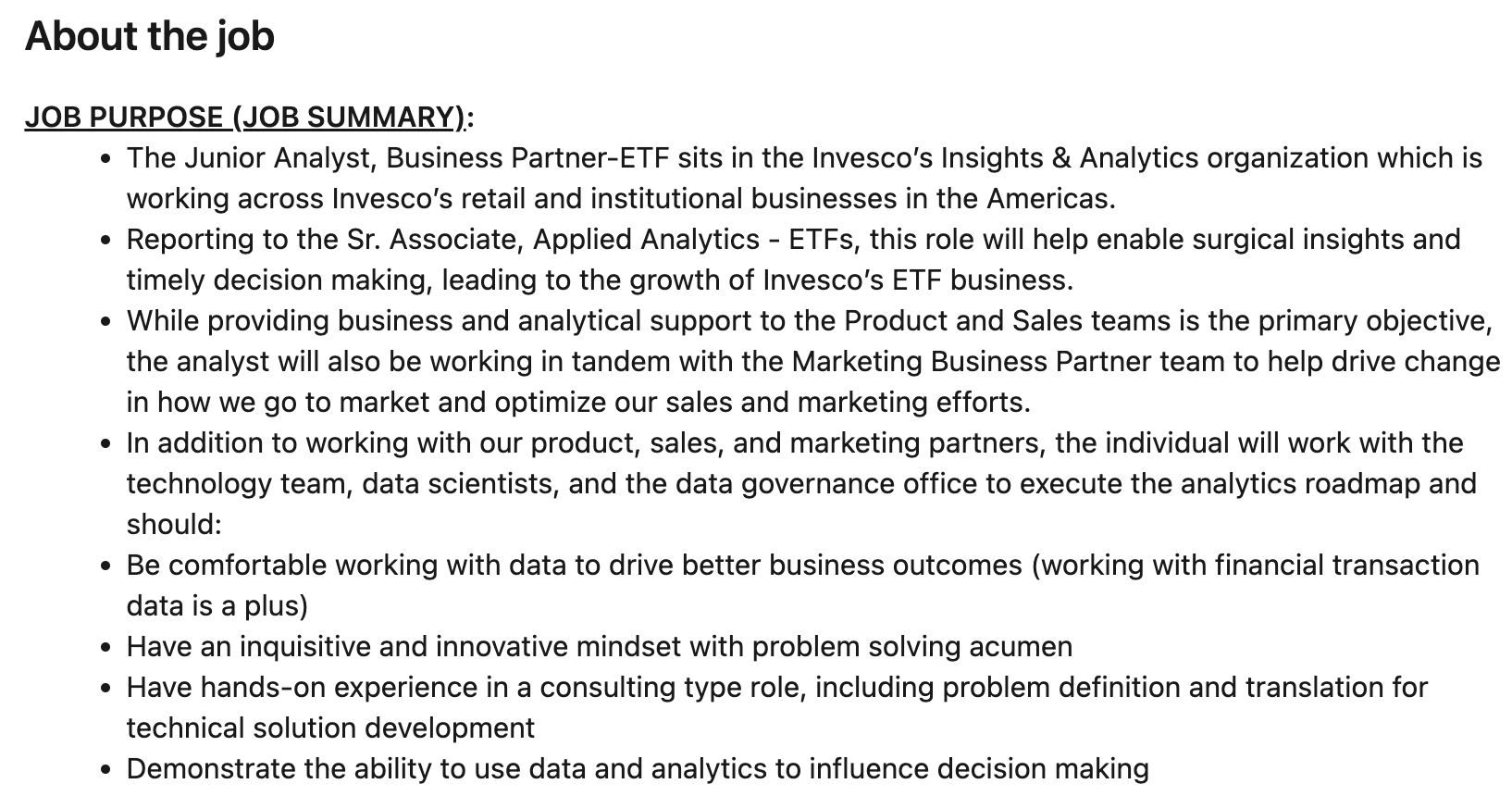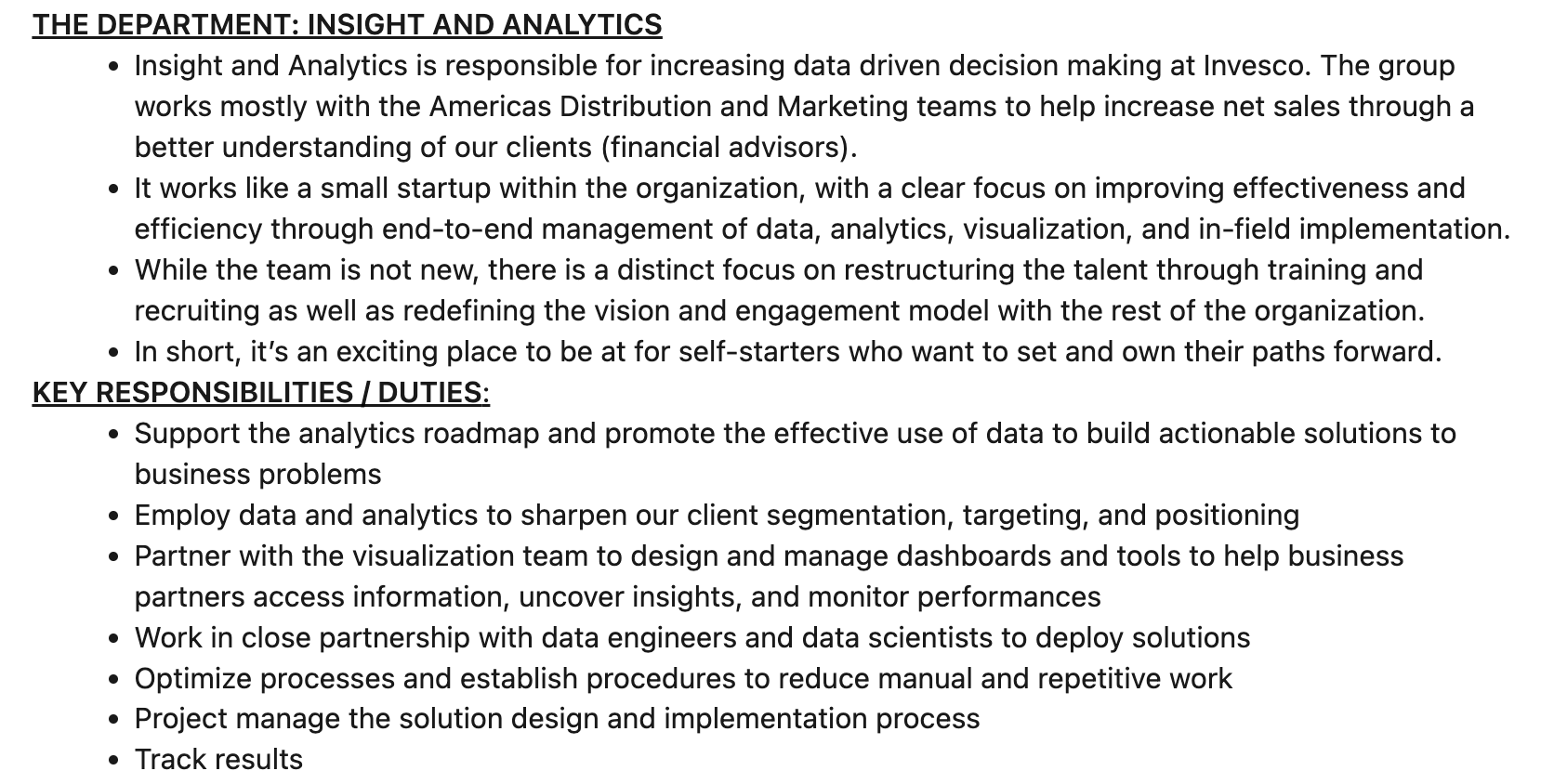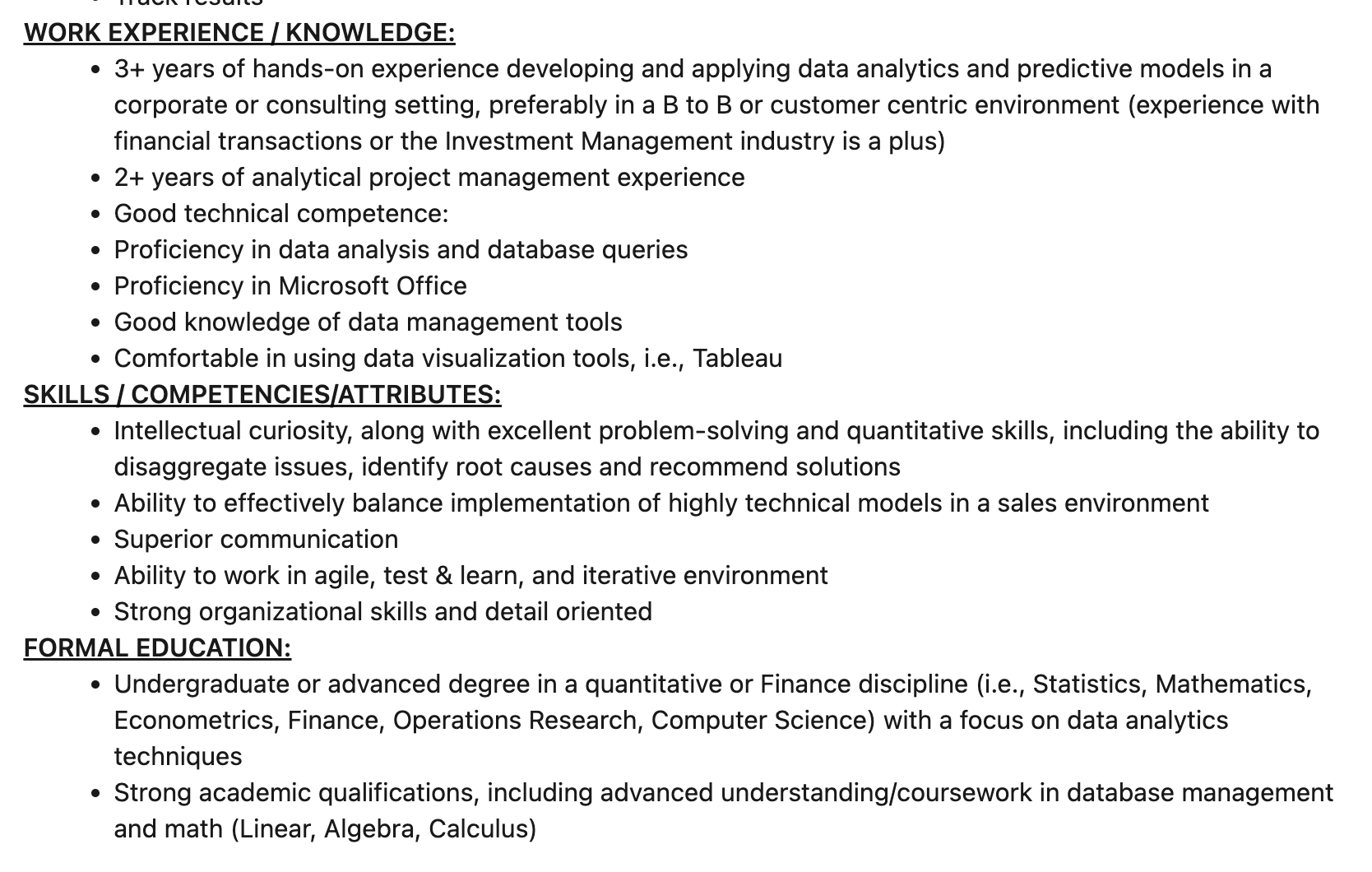 Invesco is an American investment management company based out of Atlanta, Georgia. The company expects its sales analyst to be able to work in an agile and iterative environment. The sales analyst will be reporting directly to a senior associate in the applied analytics team about the decision being made and the growth progress.
At Invesco, you will have to use data and analytics to deliver effective client segmentation and targeting solutions. Besides, you will be responsible for finding ways to streamline and make the sales process more efficient.
Ideally, you should have two or more years of experience in project management and be skilled in database analytics and management and Microsoft Excel.
#3. MoEngage Inc.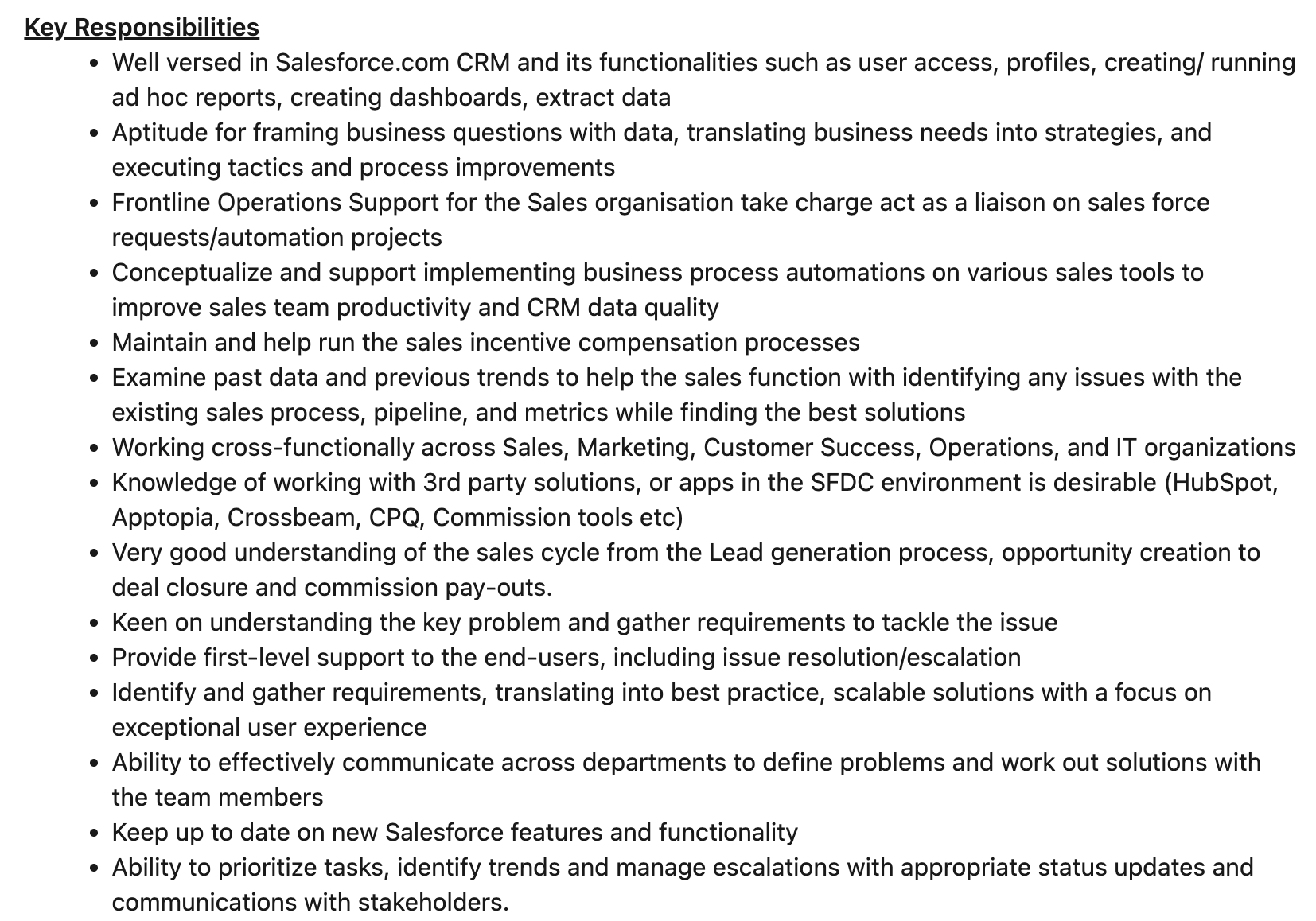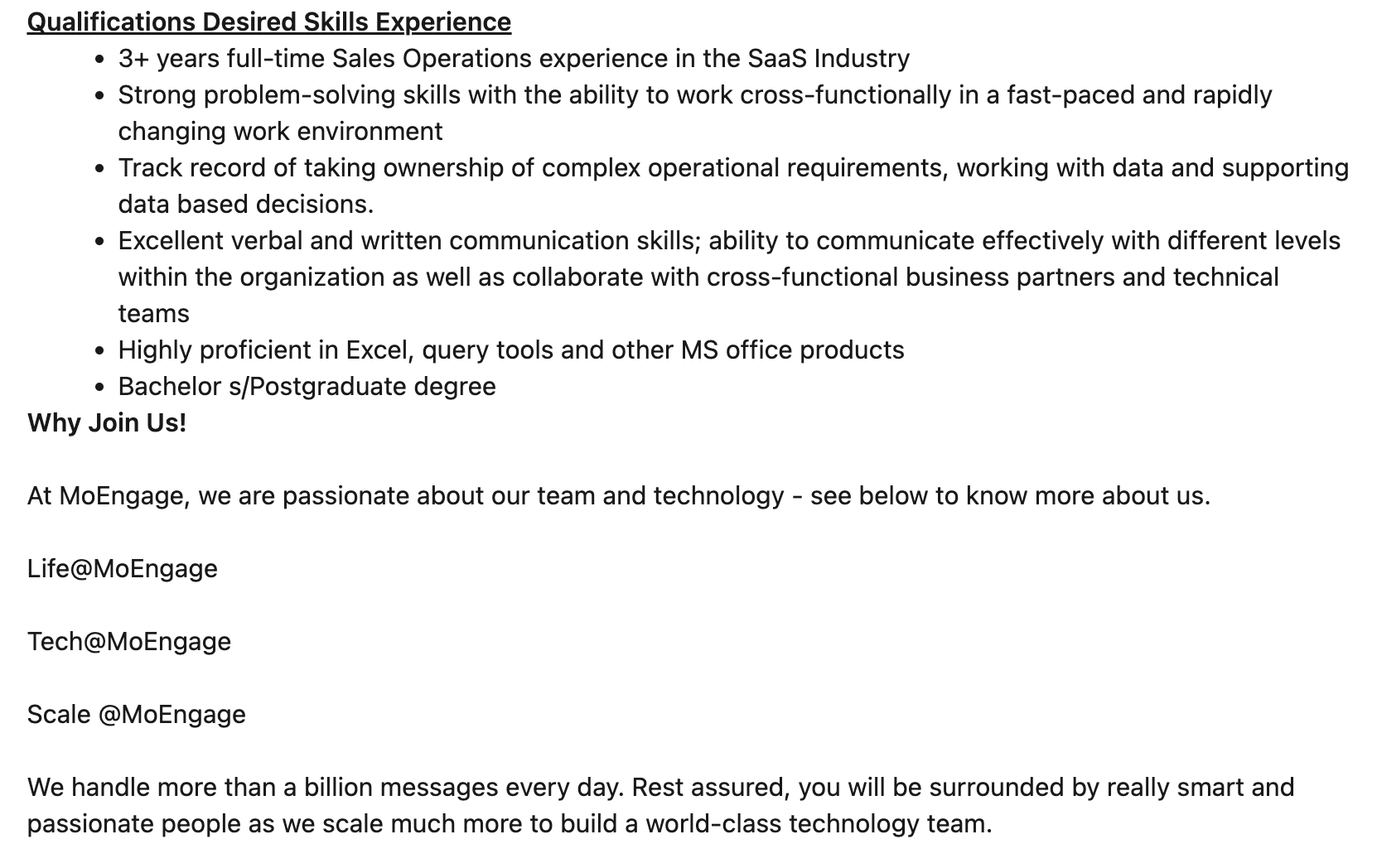 MoEngage is an intelligent customer engagement platform that helps brands gain deep insights into customer behavior.
The first thing they mention is how one needs to be well versed with a sales CRM platform – Salesforce, in this case. Using the software, you should be capable of automating various business processes to improve sales productivity.
Besides, a sales analyst role at MoEngage requires at least three years of experience in the Saas industry, along with a high degree of proficiency in Microsoft Office, particularly Excel. You should be good at problem-solving and working with data.
Some other responsibilities include ensuring that the sales pipeline is working smoothly, monitoring market trends, and effectively communicating progress across teams.
---
15 Sales Prospecting Tools For a Tight Budget
---
#4. Honeywell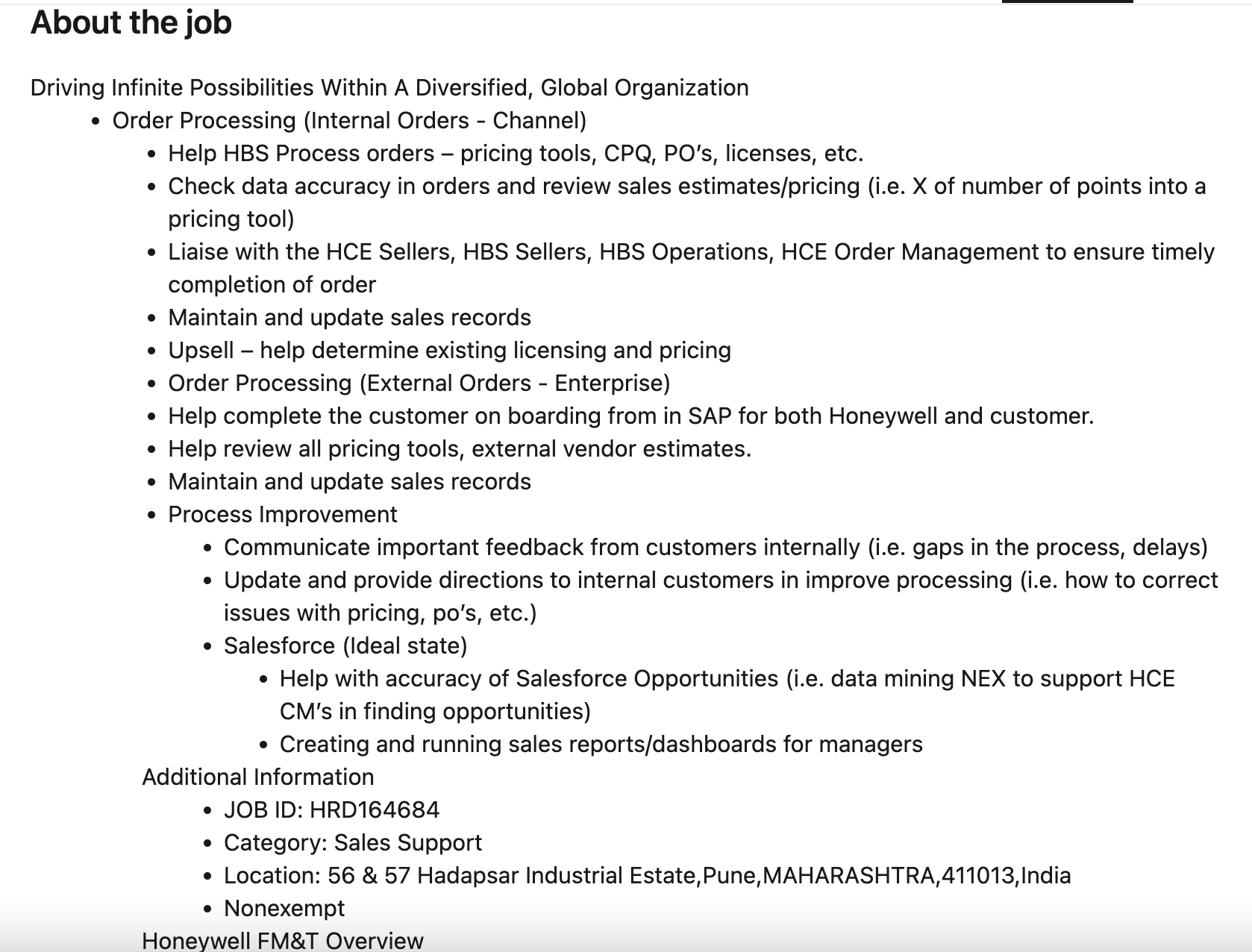 Honeywell is an American multinational conglomerate based out of Charlotte, North Carolina. Here, you will be working as a global sales analyst at the associate level.
While the job description does not mention any prior work experience requirement, candidates should know how to negotiate with clients and vendors, review sales estimates and pricing, process orders, and communicate any feedback from customers to improve the products.
#5. Experian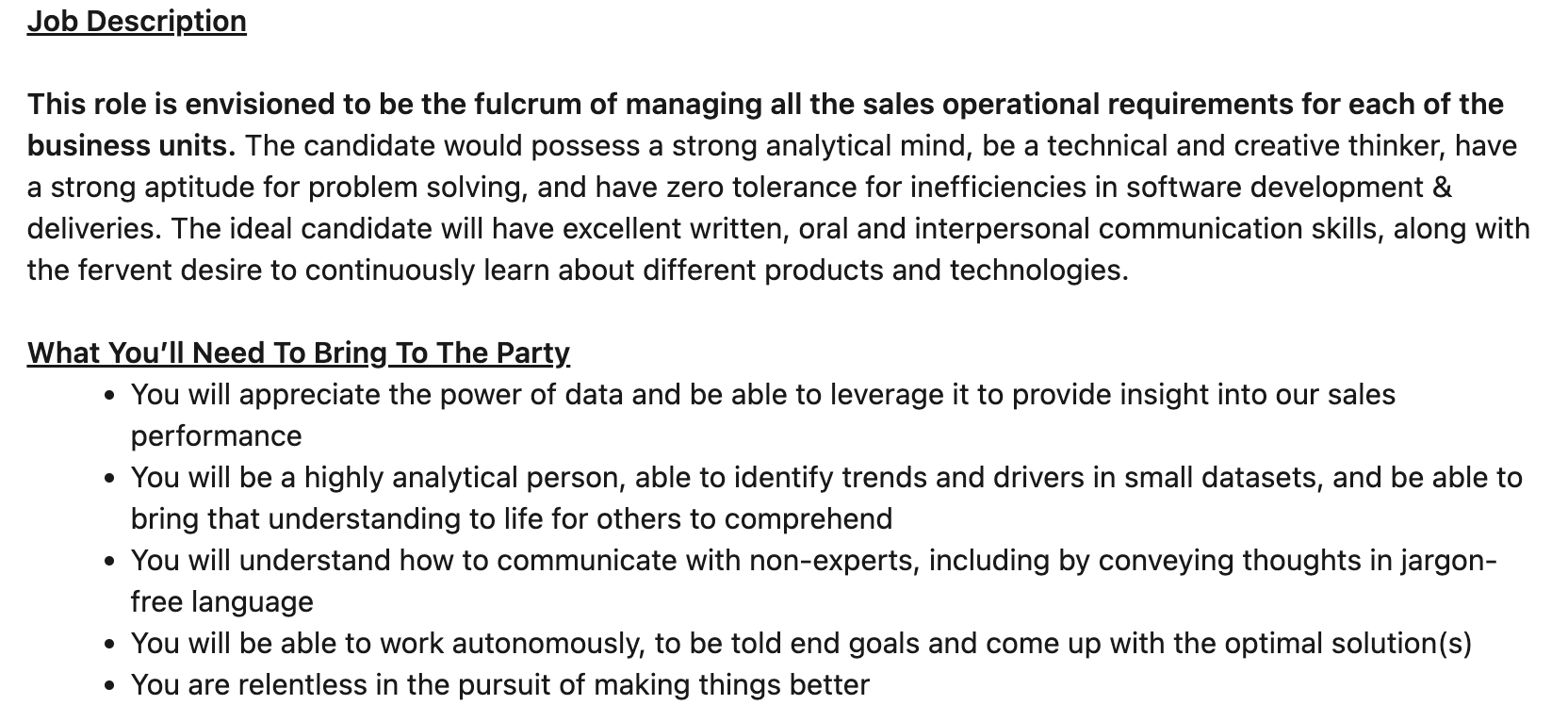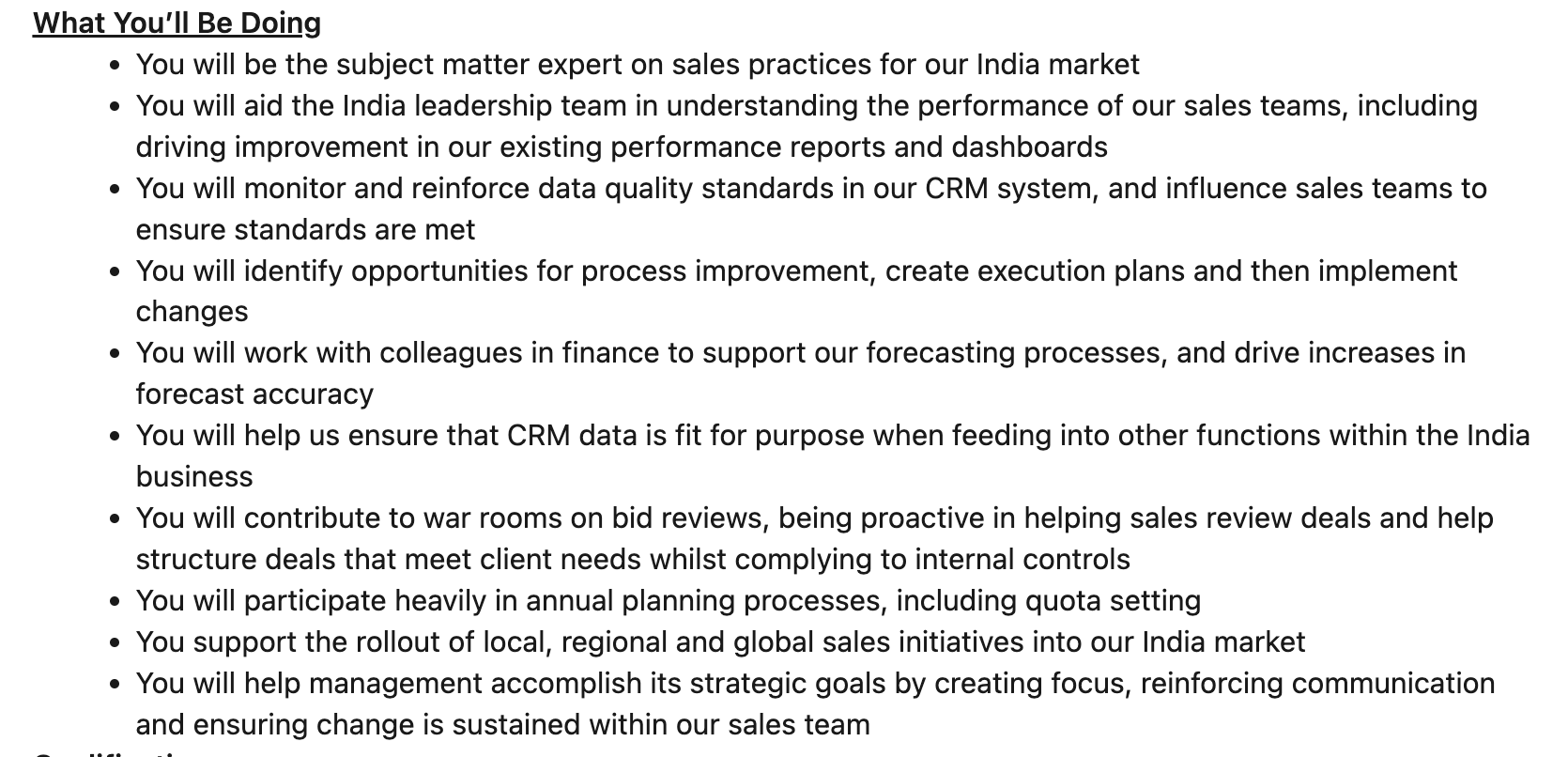 Experian is an American-Irish consumer credit reporting company with operations spread all over the world. It lists out a very detailed sales analyst job description, clearly describing the expectations from a sales operation officer in the company.
To begin with, you need to have high analytical skills, along with good communication skills.
Being a financial services company, you should have an experience of 5-8 years of working in the banking, investing sites, financial services, and insurance industry. As goes without saying, you should be familiar with various CRM systems, particularly Salesforce.
An ideal candidate will know how to forecast sales accurately, identify and address areas for improvement, and be aware of the different methods to drive sales.
#6. Zscaler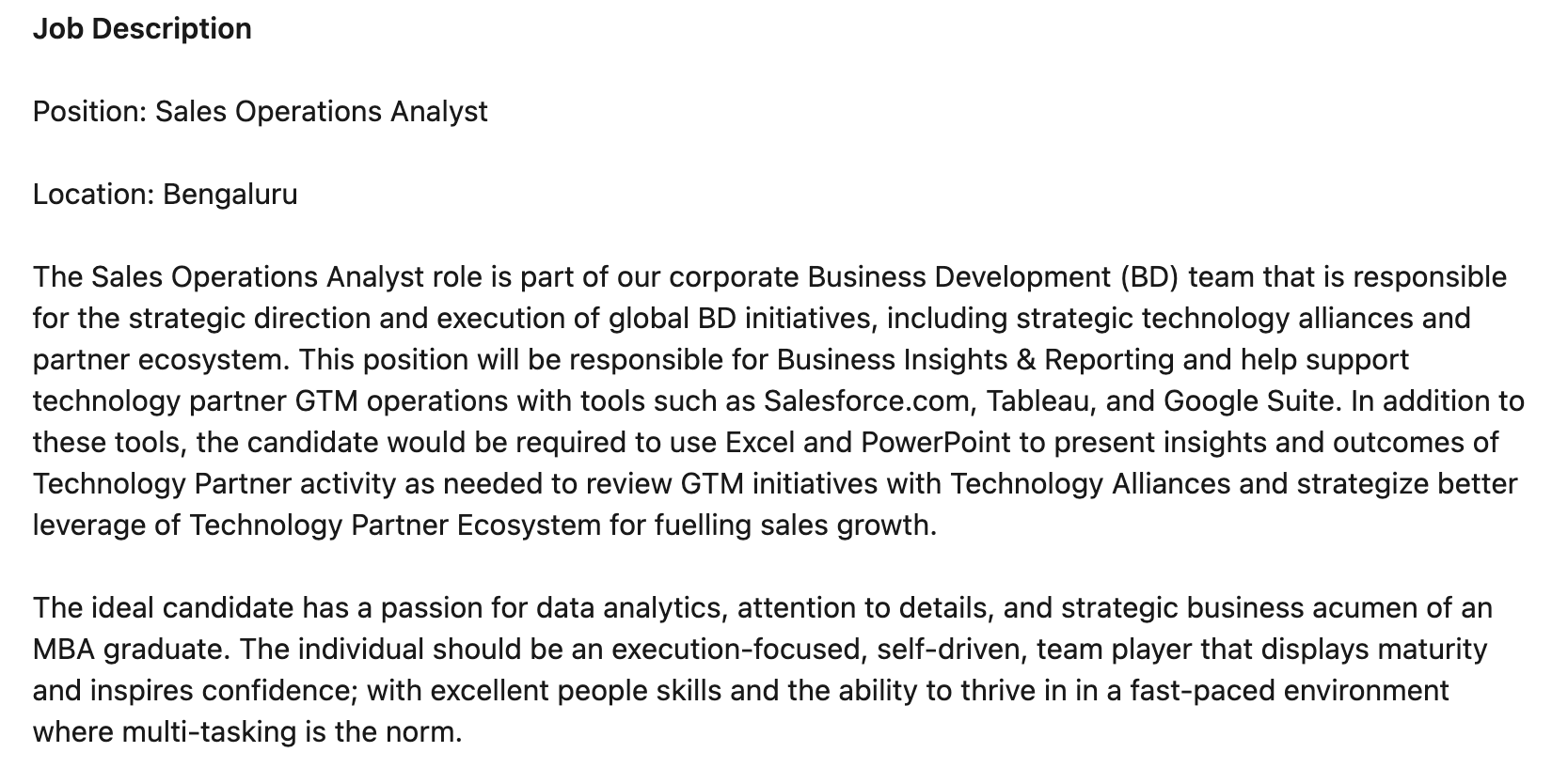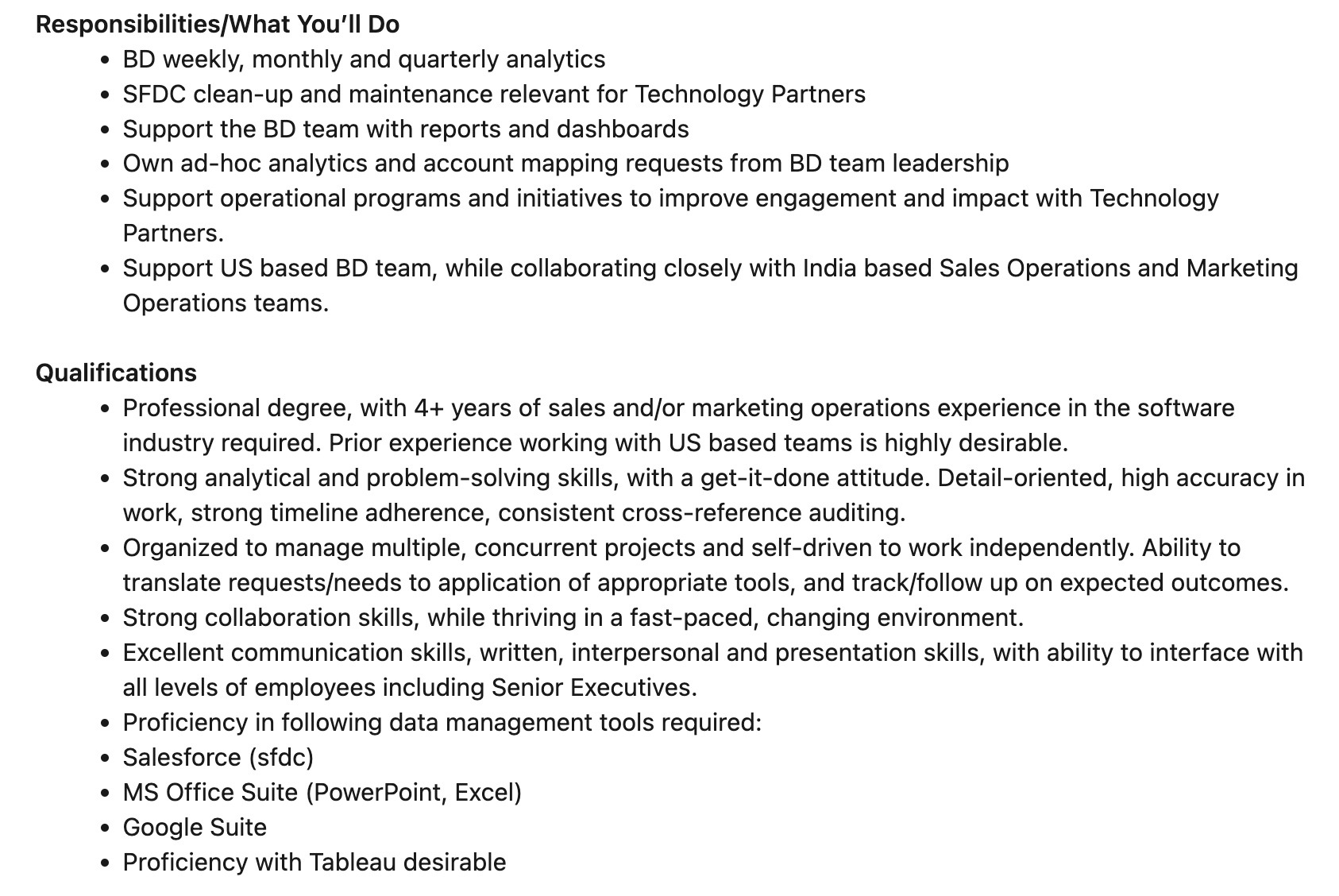 Zscaler is a cloud security platform headquartered in San Jose, California. To work as a sales analyst at Zscaler, you need to be familiar with various CRM tools like Salesforce, Google Suite, and Tableau.
You will be in charge of assisting your sales team by running business analytics and reporting to generate actionable insights.
You will be responsible for handling multiple projects. Thus, a strong team player and good time management attributes are a must. Moreover, proficiency in business communication is another skill you can't ignore. You will manage various teams where you will need to communicate every responsibility in clear terms.
And if you have an experience of over four years in the software industry, you get an extra brownie point.
#7. Hewlett Packard Enterprise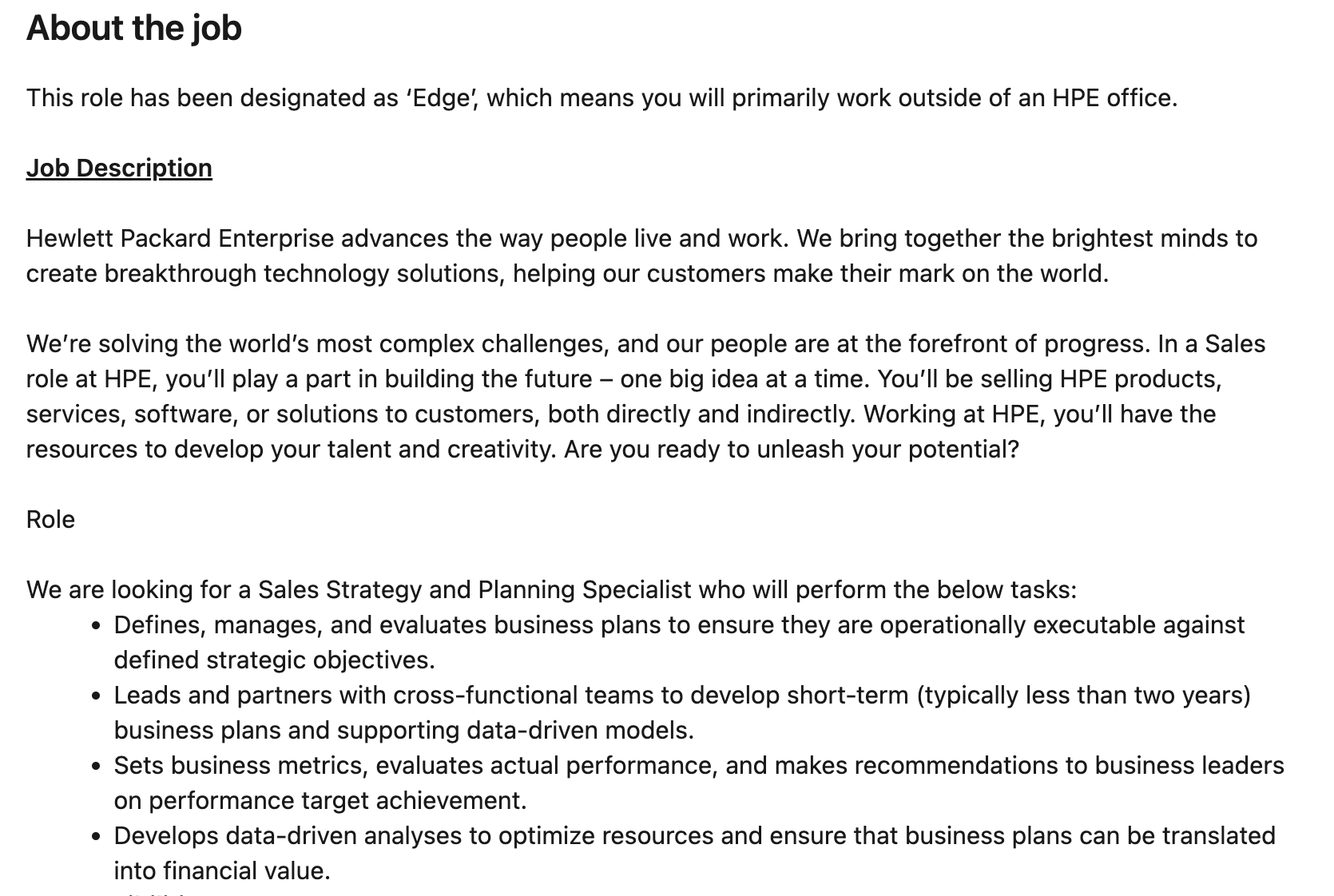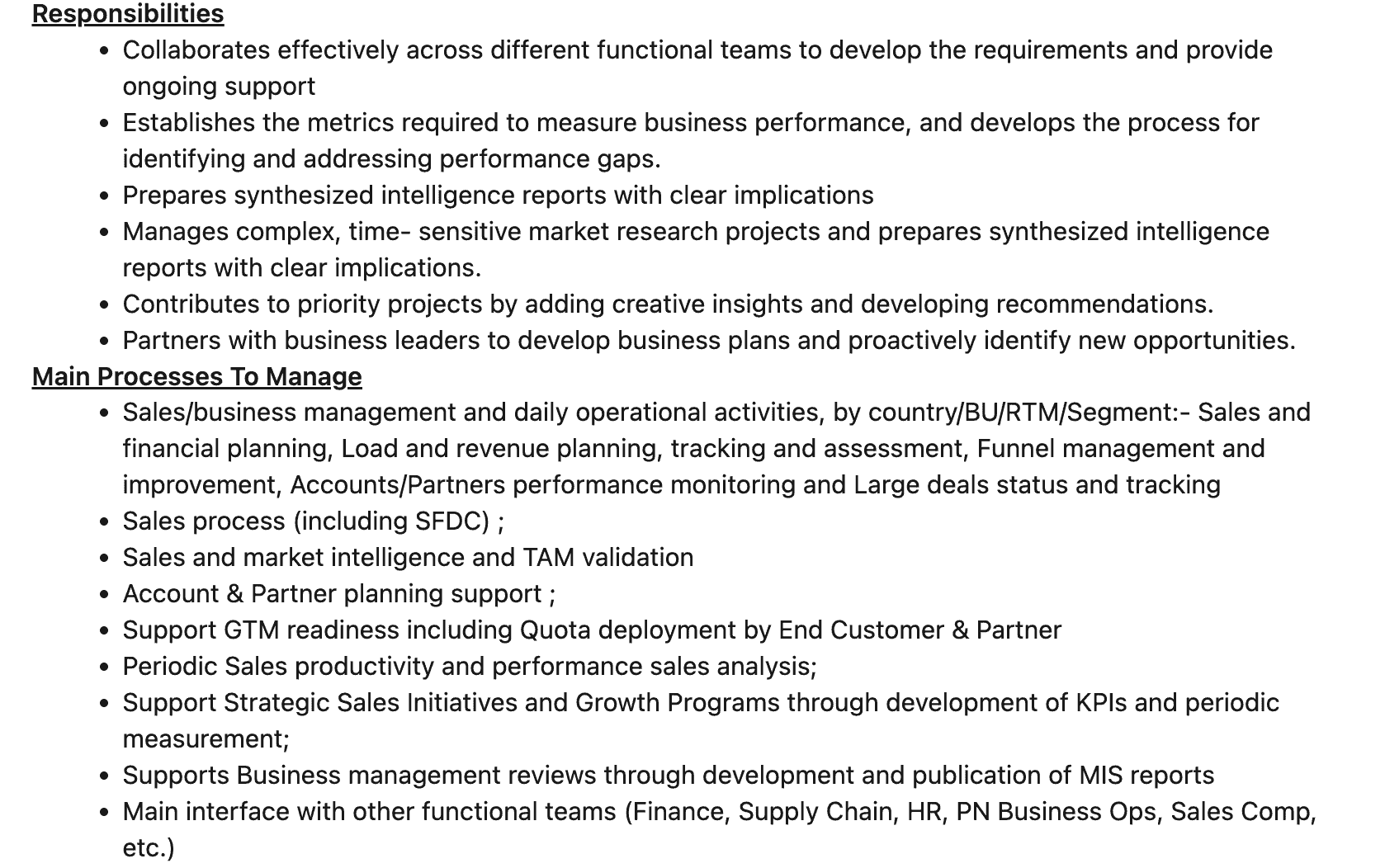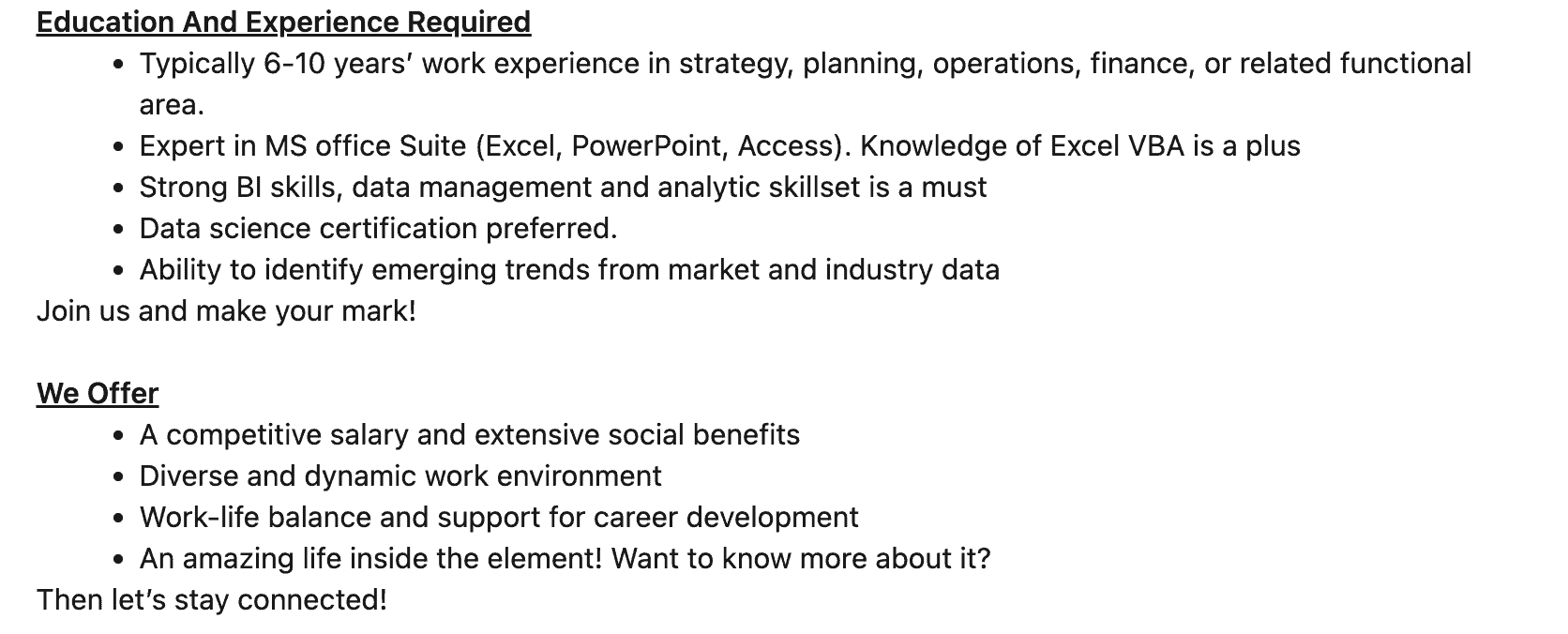 Hewlett Packard Enterprises is an American technology conglomerate headquartered in Palo Alto, California. The company is looking to hire a sales strategy analyst.
Here, a sales strategy analyst will take charge of multiple departments, including supporting the strategic sales initiatives and growth programs, providing sales and market intelligence, supporting business management reviews, and acting as the primary interface across various teams such as the finance team, human resources, supply chain, and operations.
Ideally, someone with 6-10 years of experience in strategy, planning, and finance would be a suitable candidate.
They should be proficient in data science, business intelligence, and Microsoft Office.
#8. NetApp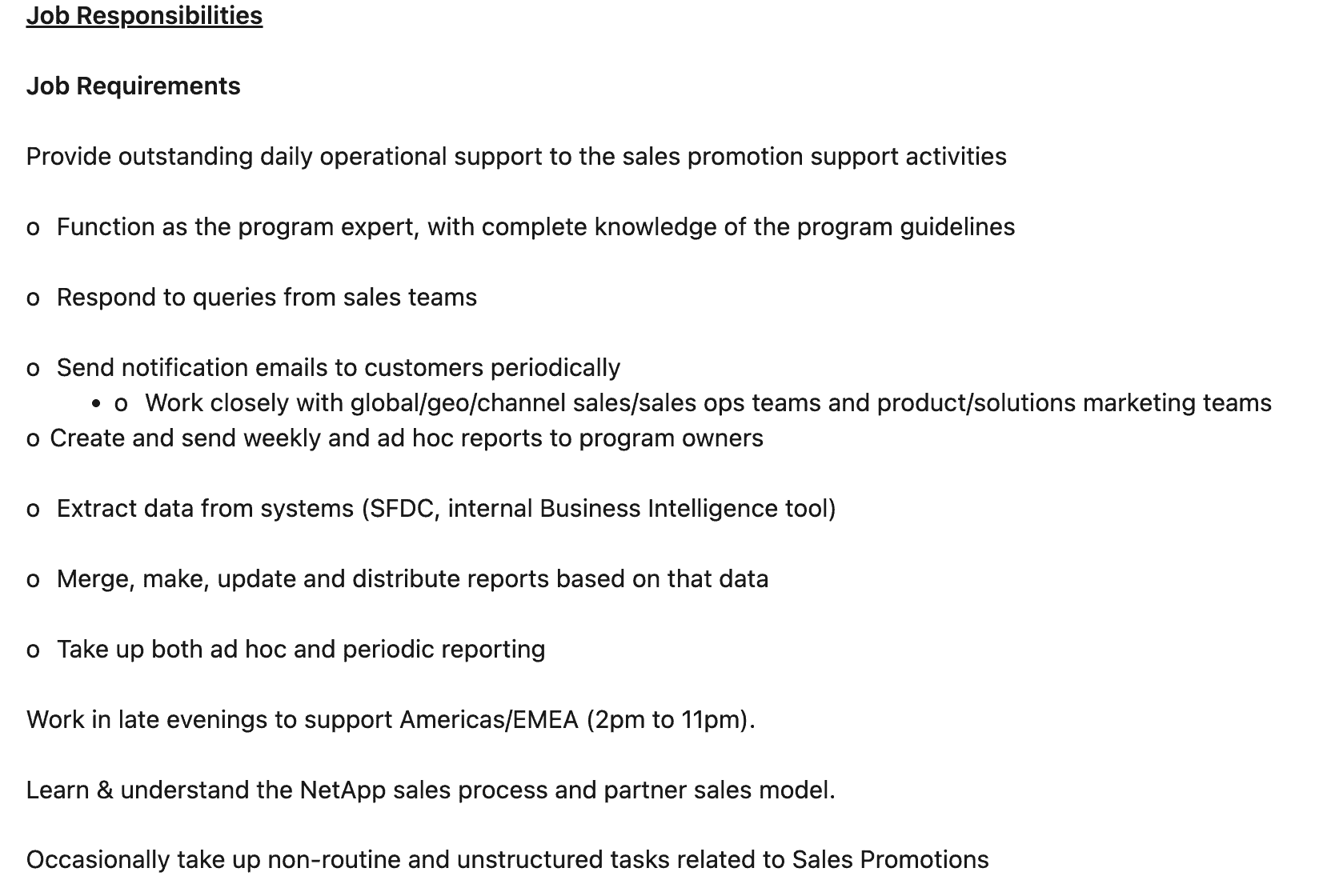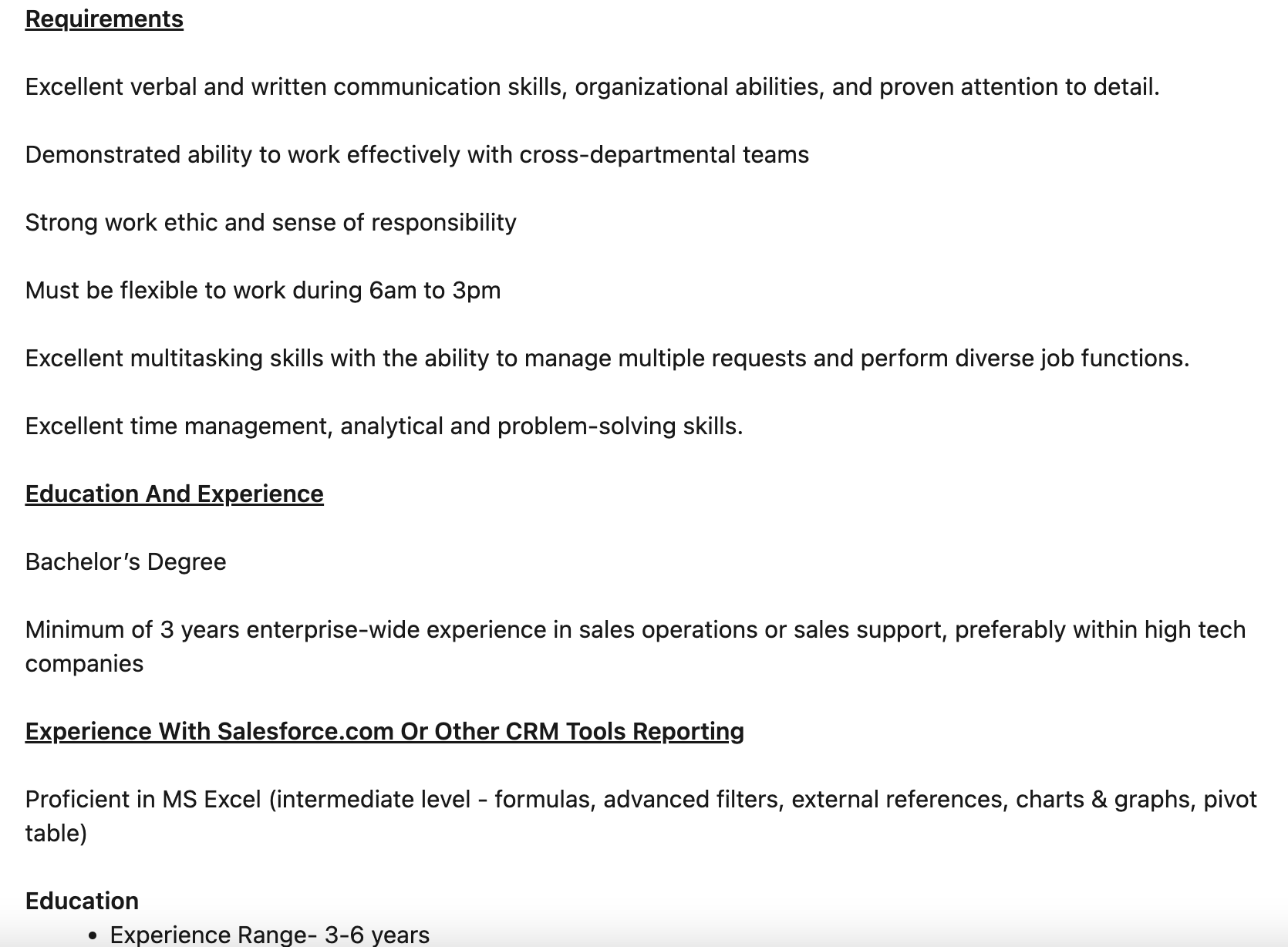 NetApp is a cloud data services and data management company based in San Jose, California.
As a sales analyst, your role will entail working closely with the marketing and the operations team. You will have to create and send weekly sales reports, support promotional marketing activities, and address queries from the sales team.
You should have ideally worked for up to three years in sales support, have at least a bachelor's degree, and boast strong communication and time management skills.
#9. Moody's Analytics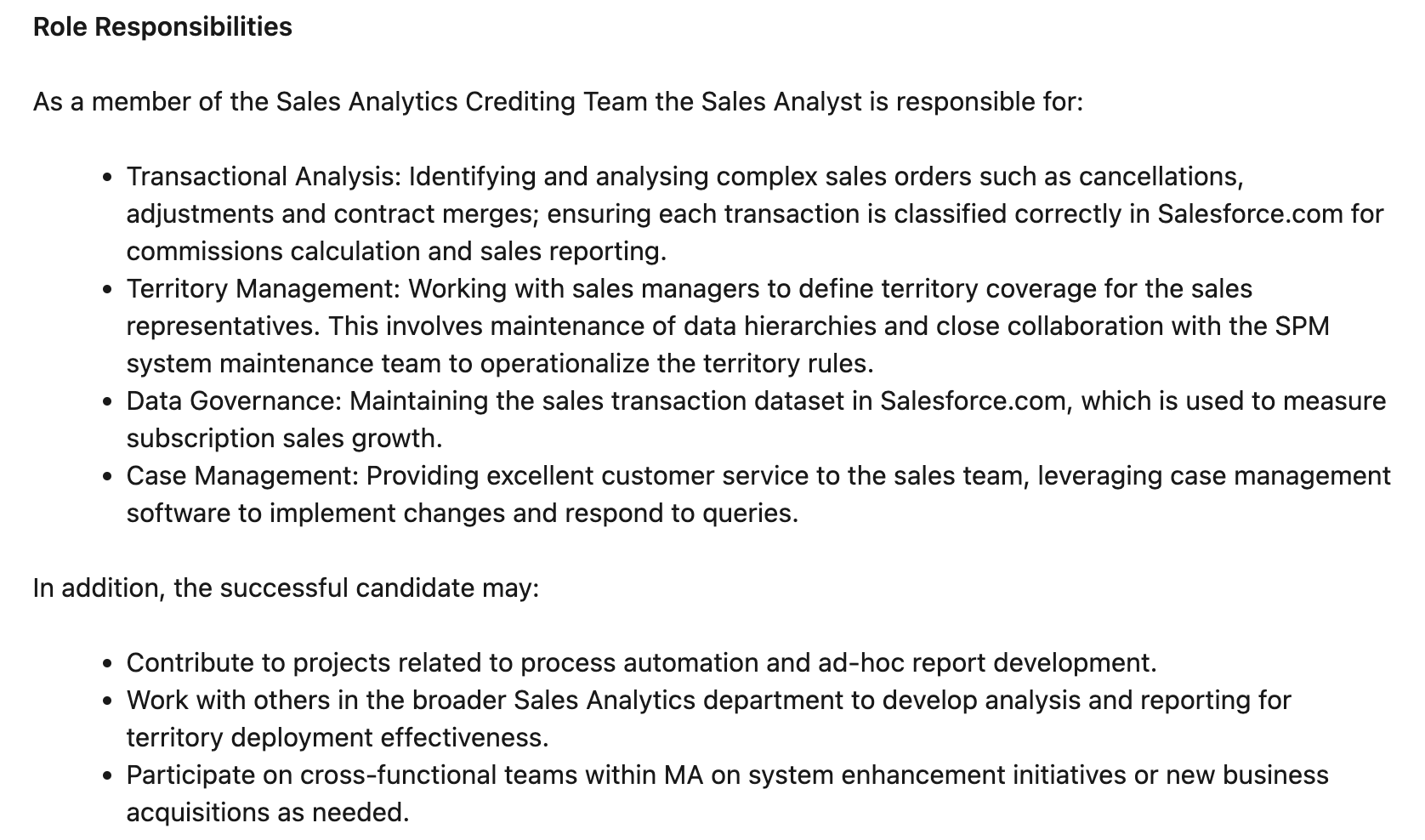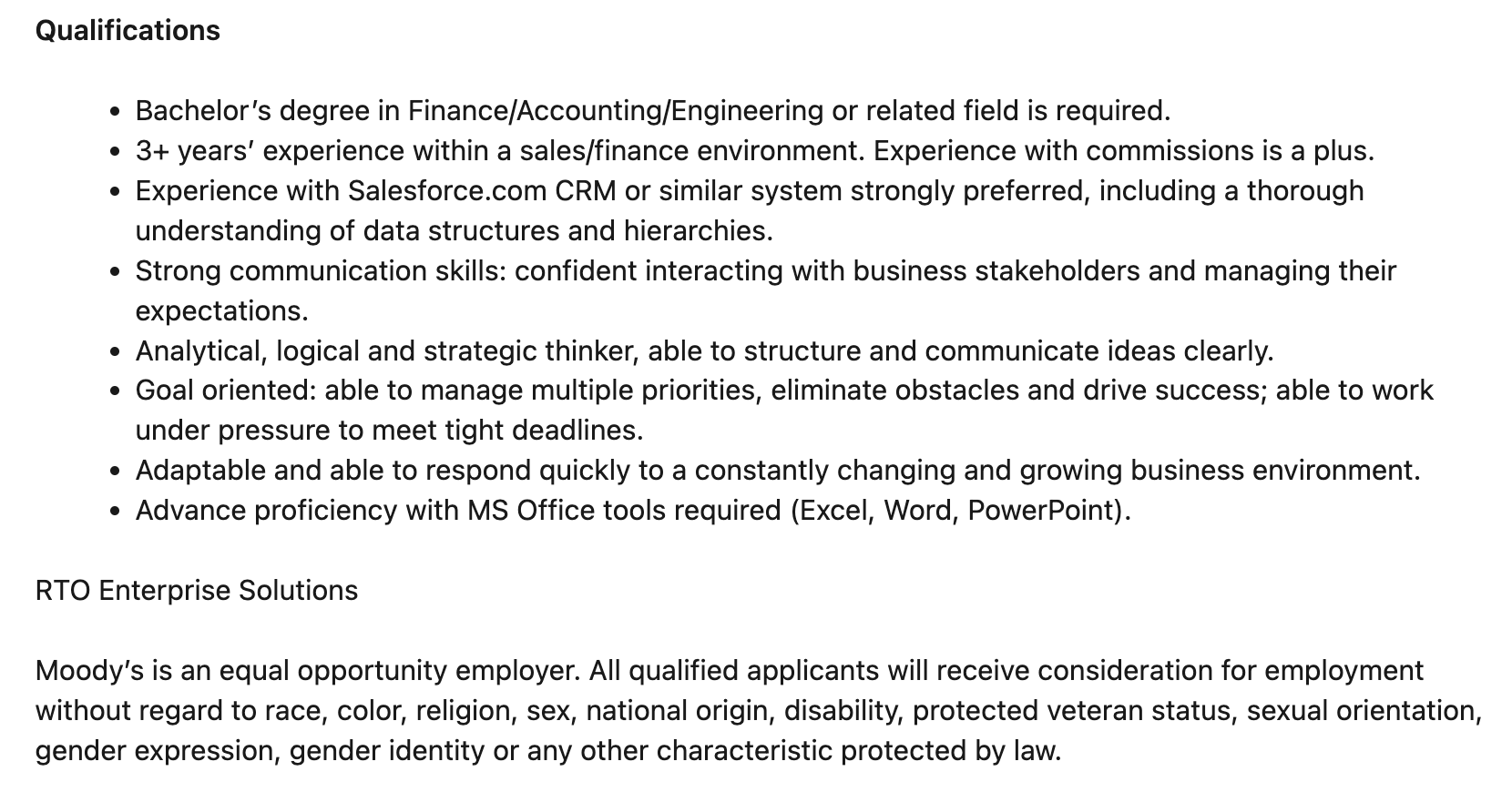 Moody's Analytics is a financial services company headquartered in New York City. Moody Analytics has clearly mentioned each role a sales analyst needs to perform. You will be doing more than just tracking sales performance and creating reports.
You will need to ensure that all the transactions are recorded correctly on Salesforce's platform, determine what regions sales reps need to cover and provide excellent customer service for the sales team.
Moreover, you should have knowledge of Salesforce's CRM platform and a bachelor's degree in accounting, finance, or engineering.
#10. Gartner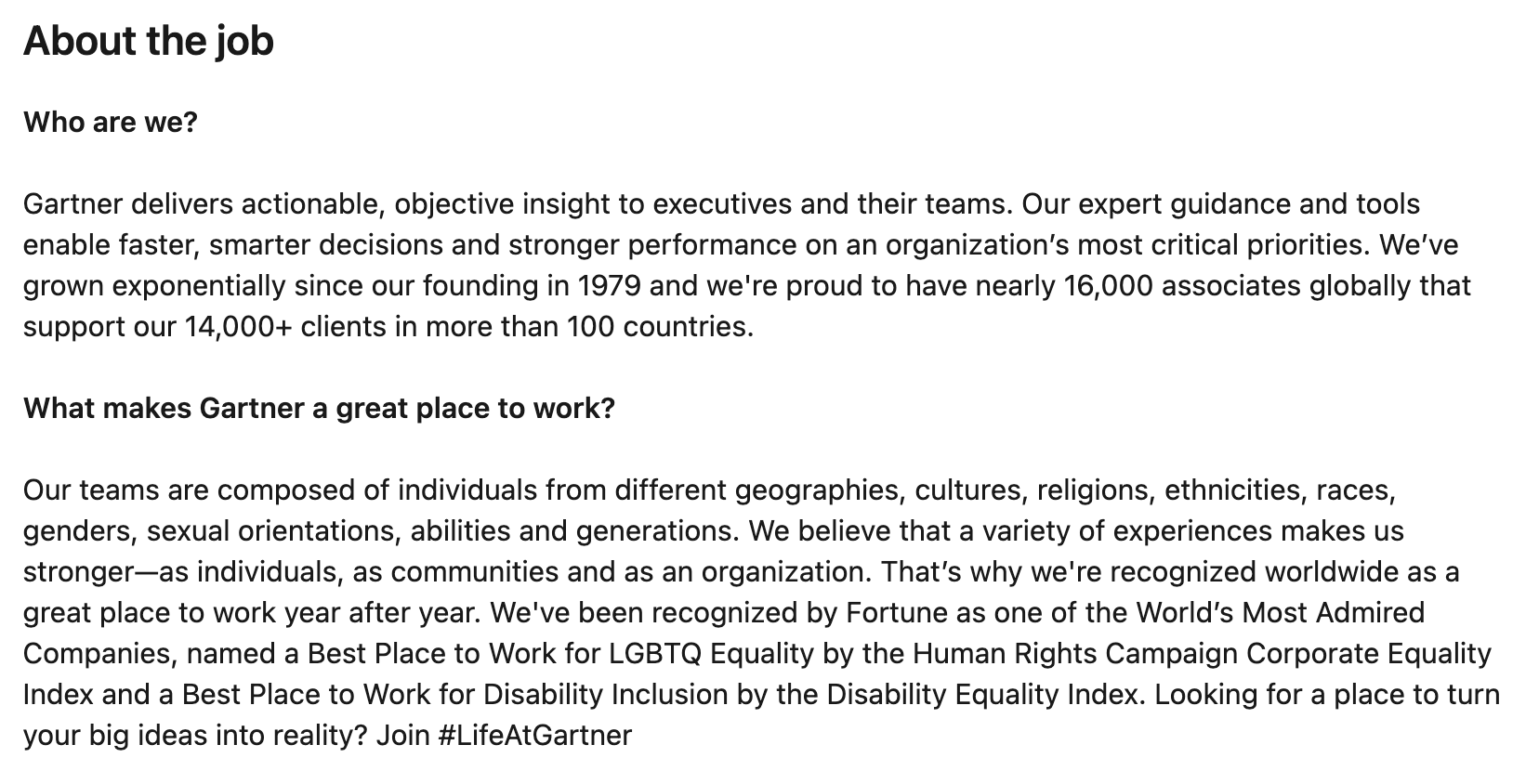 Gartner is a consulting firm based out of Connecticut, USA – hiring for a sales business analyst role.
While the sales analyst job description does not mention anything regarding the educational qualifications, work experience, or the skills required, they are not very different from what is typically required by companies.
You will have to monitor and evaluate sales metrics, track company performance, and address areas of improvement. It will also include providing support to the marketing, operations, and supply chain teams and knowing how to juggle multiple projects at a time.
You should have strong verbal skills, negotiation skills, and ideally, prior experience working in a tech or data analytics firm.
#11. Accenture

If you are proficient in digital marketing, this role is for you. Accenture, a technology-based company, is hiring a sales analyst with a niche in digital marketing and customer service management.
You will need to have a degree in marketing or advertising. This degree will train you to solve lower-complexity problems, constantly communicate with your peers, and find ways to improve customer experience.
#12. Enphase Energy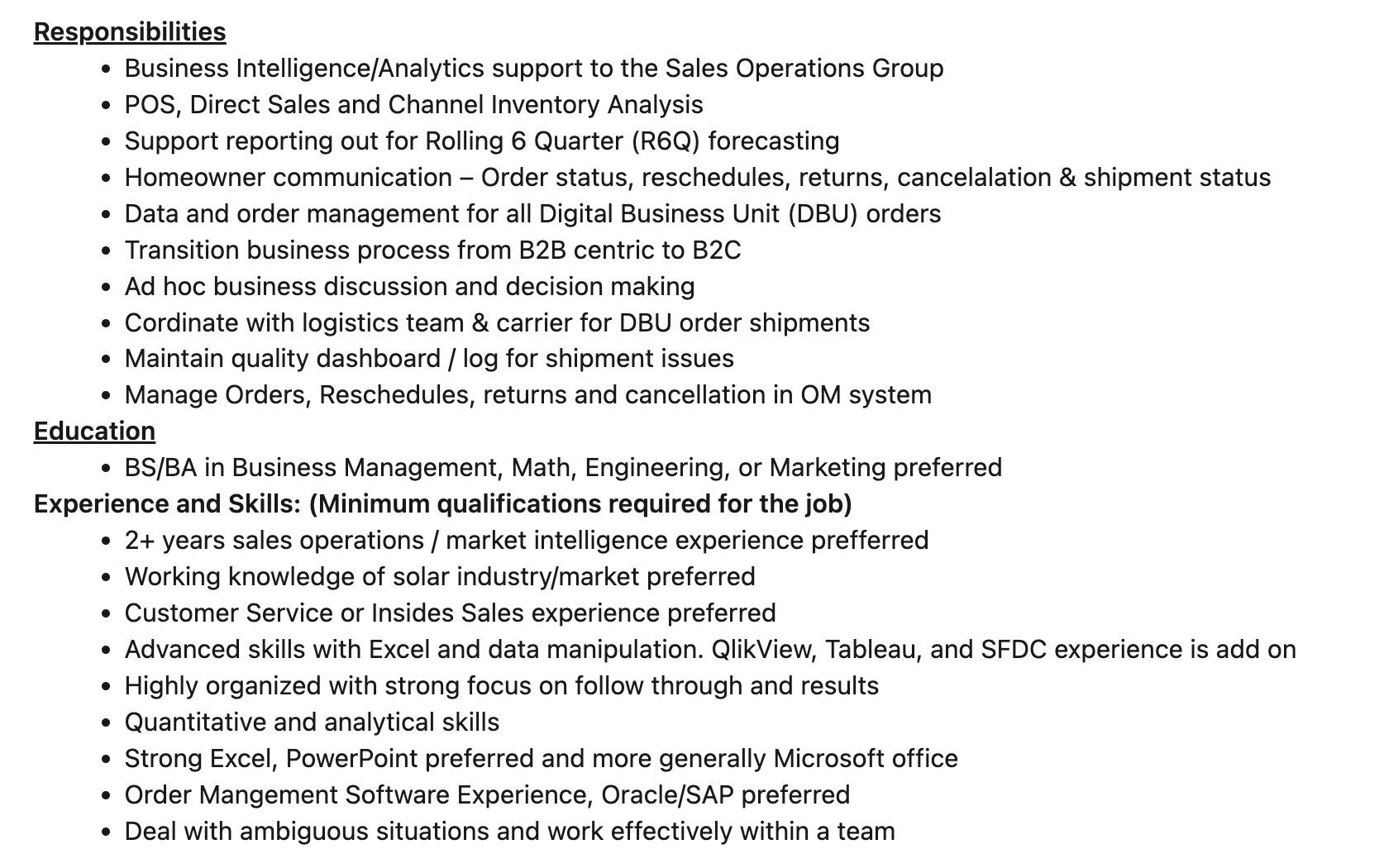 Enphase Energy is an inverter company seeking to hire a sales operations analyst.
As a sales operations analyst, you will mainly be in charge of managing orders. This includes receiving and placing orders, rescheduling them, and keeping track of any returns and cancellations. You will have to coordinate with the logistics team to ensure that the shipments get delivered on time.
The ideal candidate must have at least two years of experience working in sales, operations, and market intelligence. They should know Excel, Tableau, and be highly analytical. In addition, strong presentation skills, quantitative skills, and time management skills are a must.
#13. Aptiv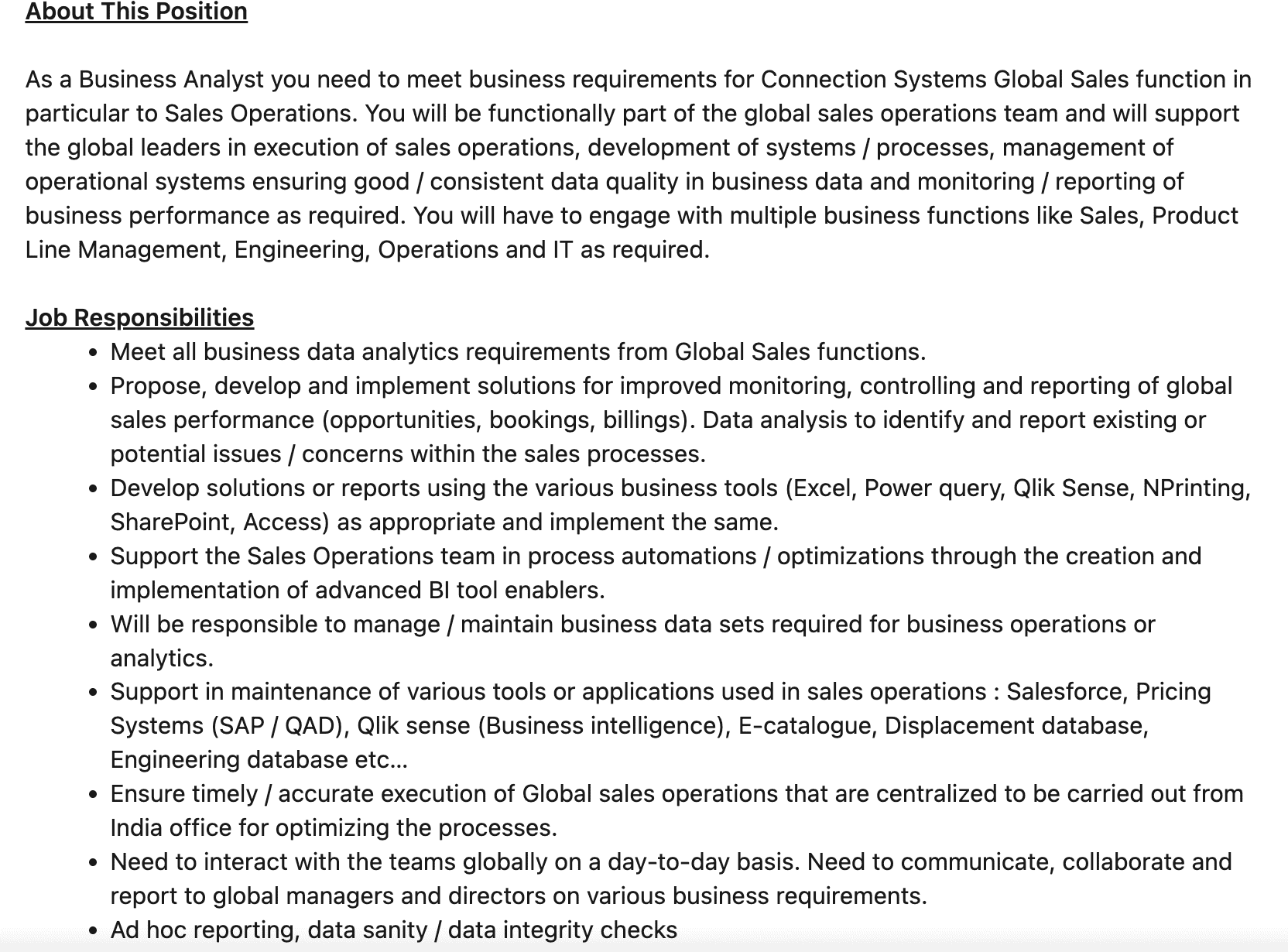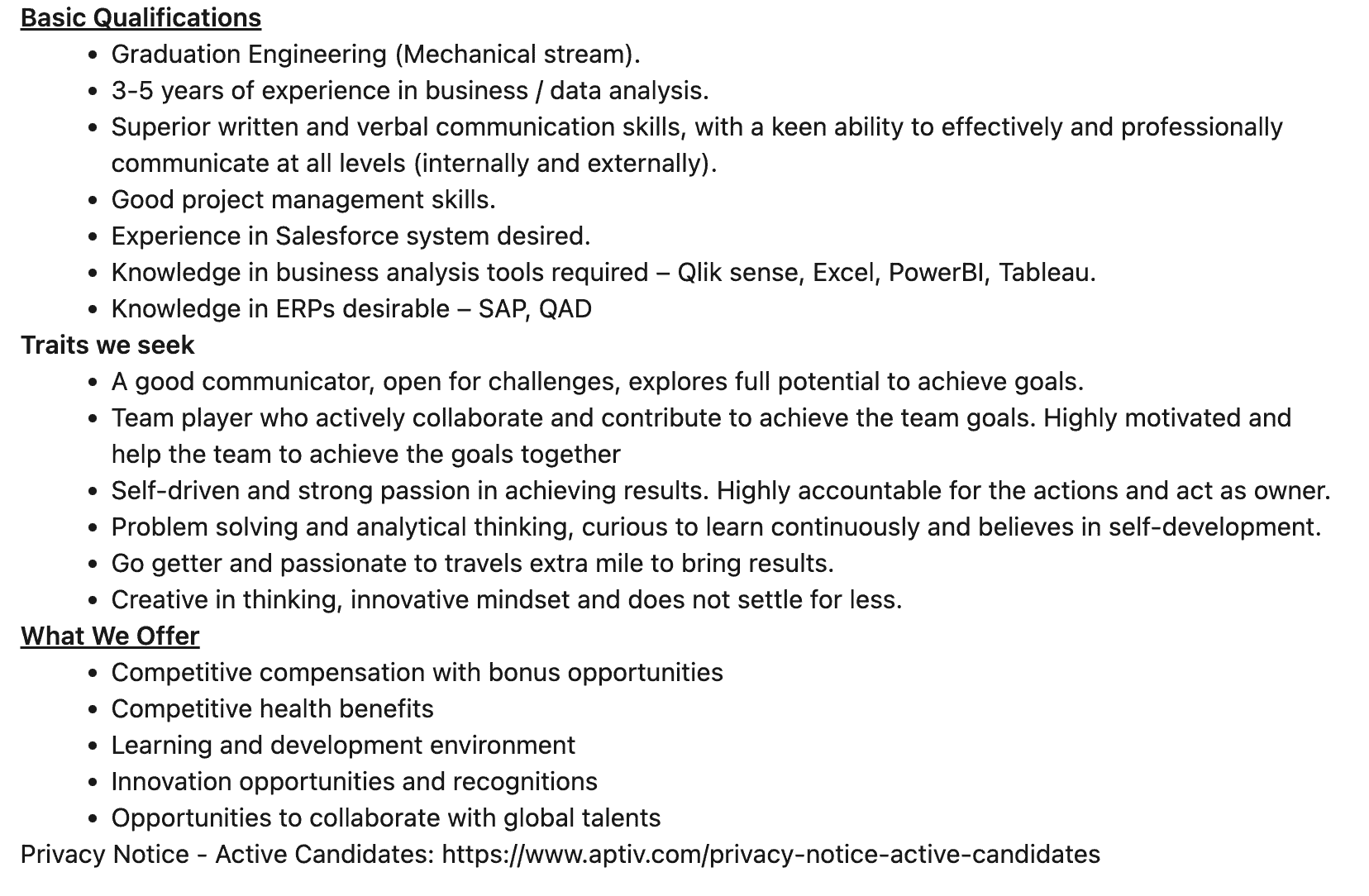 Aptiv is a global technology company headquartered in Dublin, Ireland. The company is hiring a sales operations analyst or a business analyst.
First of all, as a business analyst, you need to be self-driven and take ownership of your work. You will act as a support for sales operations, IT, and business analytics.
You will need to manage various business datasets, monitor the company's sales performance regularly, and create reports and solutions based on the same.
Besides, you will act as a contact point between your brand and the global branch sales teams.
#14. Red Hat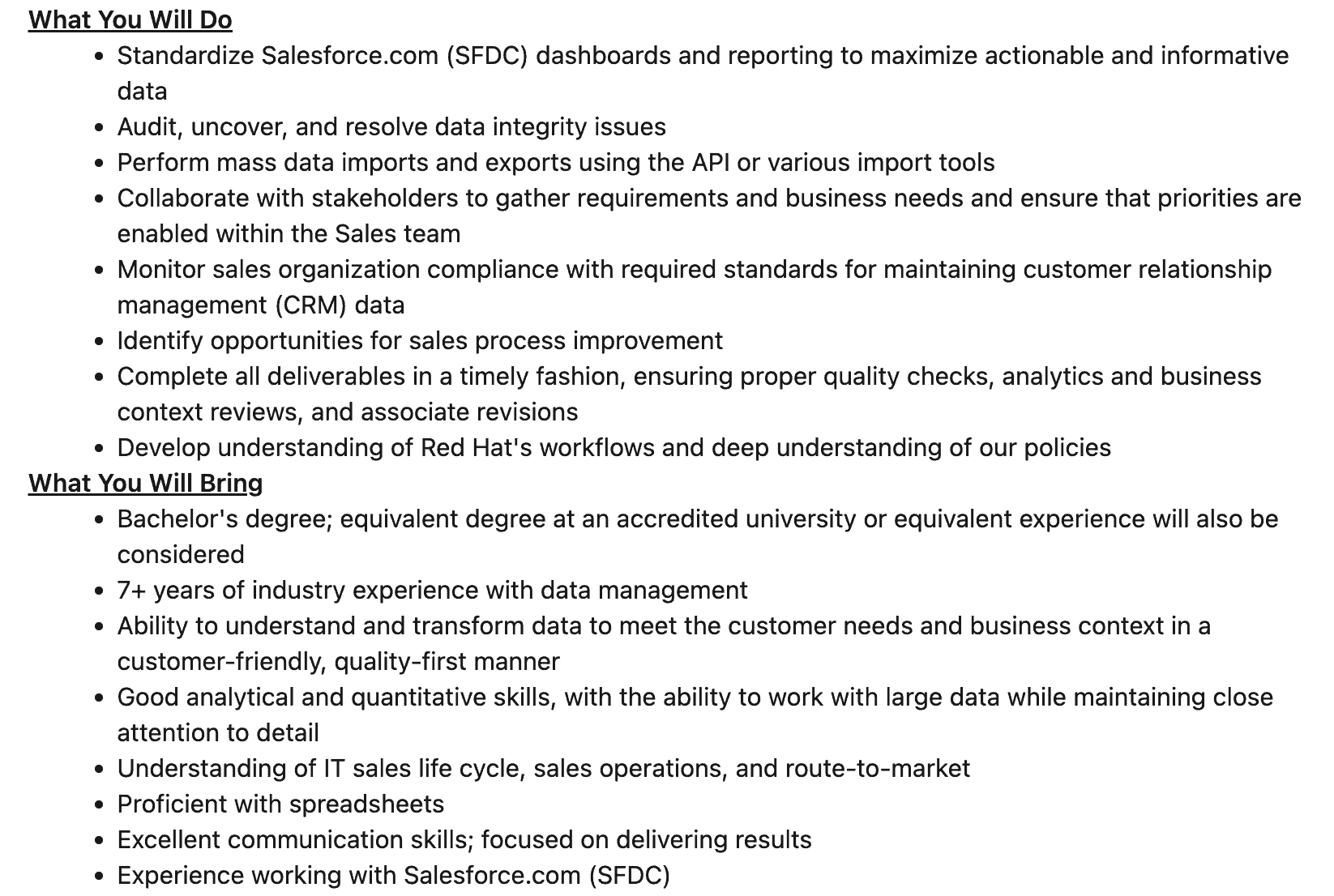 Red Hat is a software company based in Raleigh, North Carolina. The company is currently looking for a senior sales operations analyst to join its unit based in India.
The company demands the use of Salesforce, whereby you will streamline your processes and create and identify sales-related opportunities. You will also be responsible for designing workflows for efficient sales operations while ensuring all policy compliance.
Moreover, you should be highly proficient with data analysis, have attention to detail, and be able to understand customer needs.
#15. Horizontal Talent


Horizontal Talent is a technology-based company specializing in recruitment for IT, digital and creative, and business and strategy markets.
At Horizontal Talent, a sales operations analyst should be capable of understanding and communicating the needs of the clients to the company. In addition, they should know what problems customers face and design strategies to address them.
As a sales analyst, you will stay in constant touch with the sales reps, vendors, and other teams within the company and ensure all the installed systems are working effectively. In other words, you are also responsible for managing the customer service team to maximize customer satisfaction.
#16. Studio 52 Media & Technology Group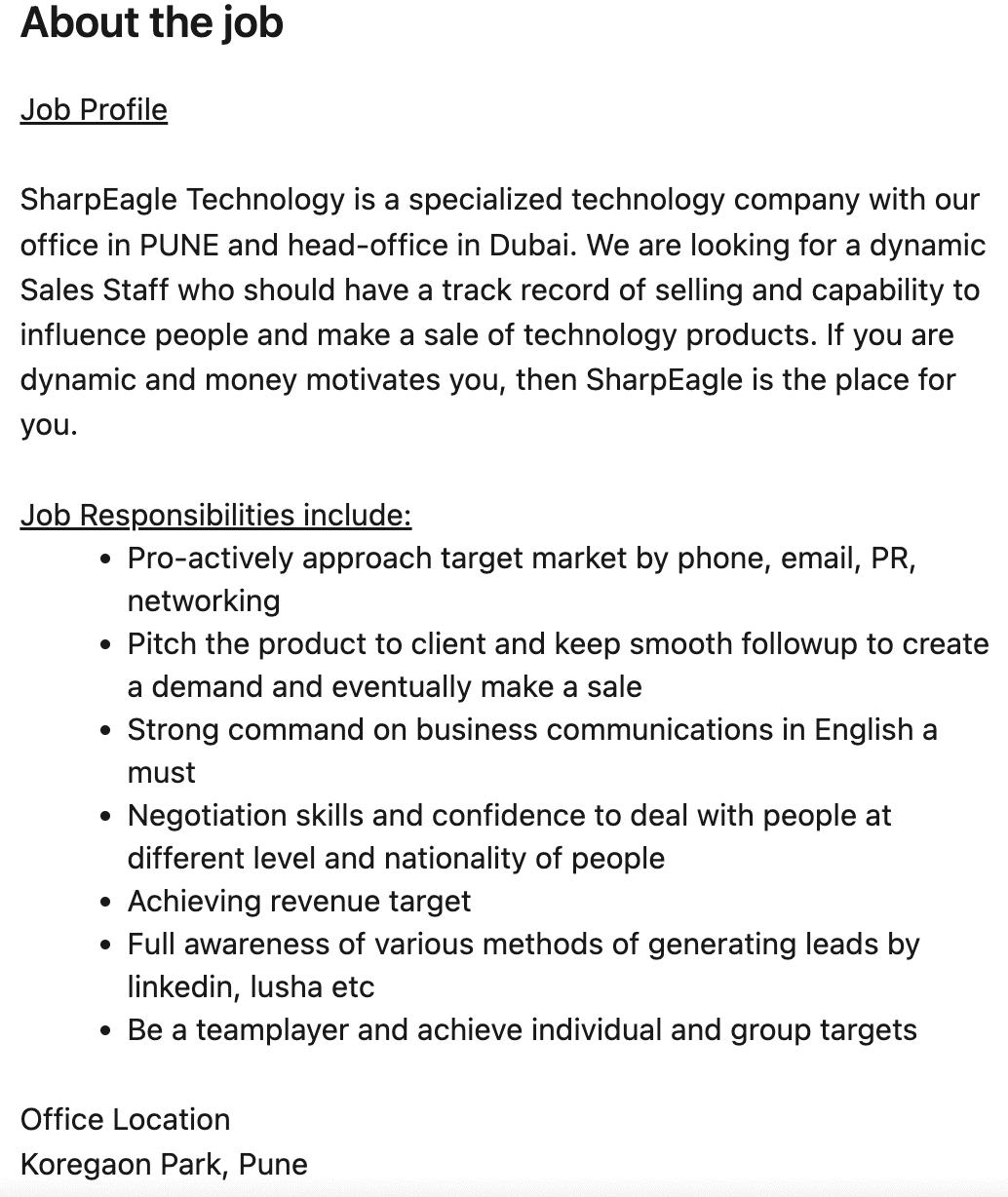 Studio 52 Media & Technology Group is a technology company headquartered in Dubai, UAE. It has operations in India, Saudi Arabia, and Oman, and focuses on photography, video production, and specialized CCTV technology.
The company is currently looking to hire a sales analyst for its operations based in Pune. Although the job description shown here does not mention how many years of work experience are required, an ideal candidate should have anywhere between 3 to 5 years of experience working in marketing and sales.
A sales analyst in Studio 52 Media & Technology Group will need to manage multiple client touchpoints, including emails, phone, and networking.
With strong communication skills, they need to be aware of the different ways of lead generation from various channels. And have a good command of English, as they will be involved in a lot of negotiations with clients on a regular basis.
#17. Eightfold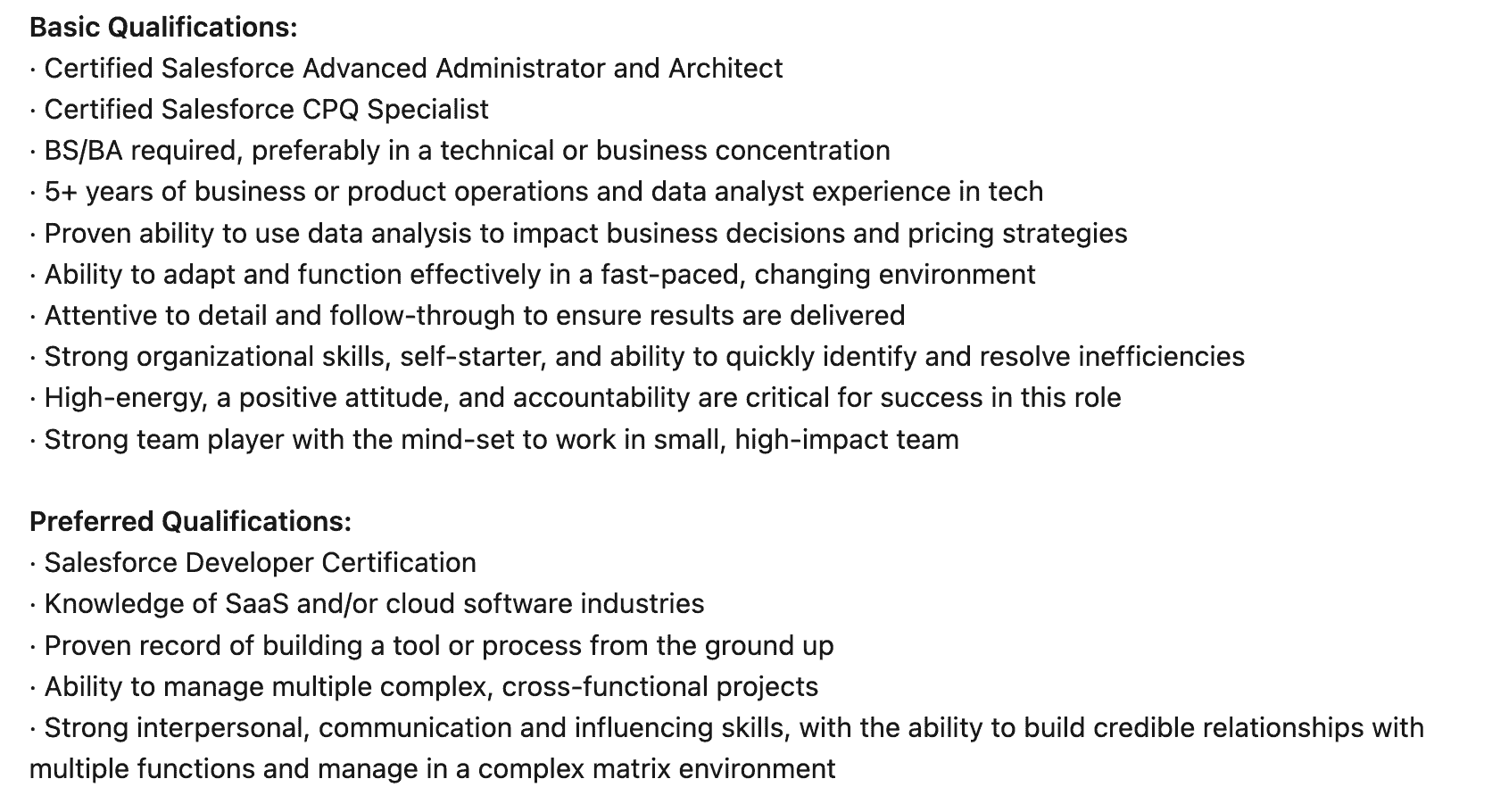 Eightfold is a US-based company that aims to leverage the use of artificial intelligence to help companies and individuals change the way they perceive and approach employment and jobs.
It offers the world's first AI-powered Talent Intelligence Platform to transform how organizations plan, recruit, train, and retain a diverse workforce.
To qualify as a sales operations analyst at Eightfold, one needs to possess strong data analytical skills. Their job description clearly entails extracting, analyzing, and synthesizing large datasets and finding insights.
Besides, one needs to be aware of the latest market trends and consult secondary market research to enrich data and generate reports using the same.
Given that Eightfold is a tech-based company, they prefer candidates with a degree in technology or a related subject.
Ideally, candidates should have over five years of experience working in sales and are expected to be certified Salesforce Advanced Administrator and Architect and certified Salesforce CPQ specialists.
#18. Agoda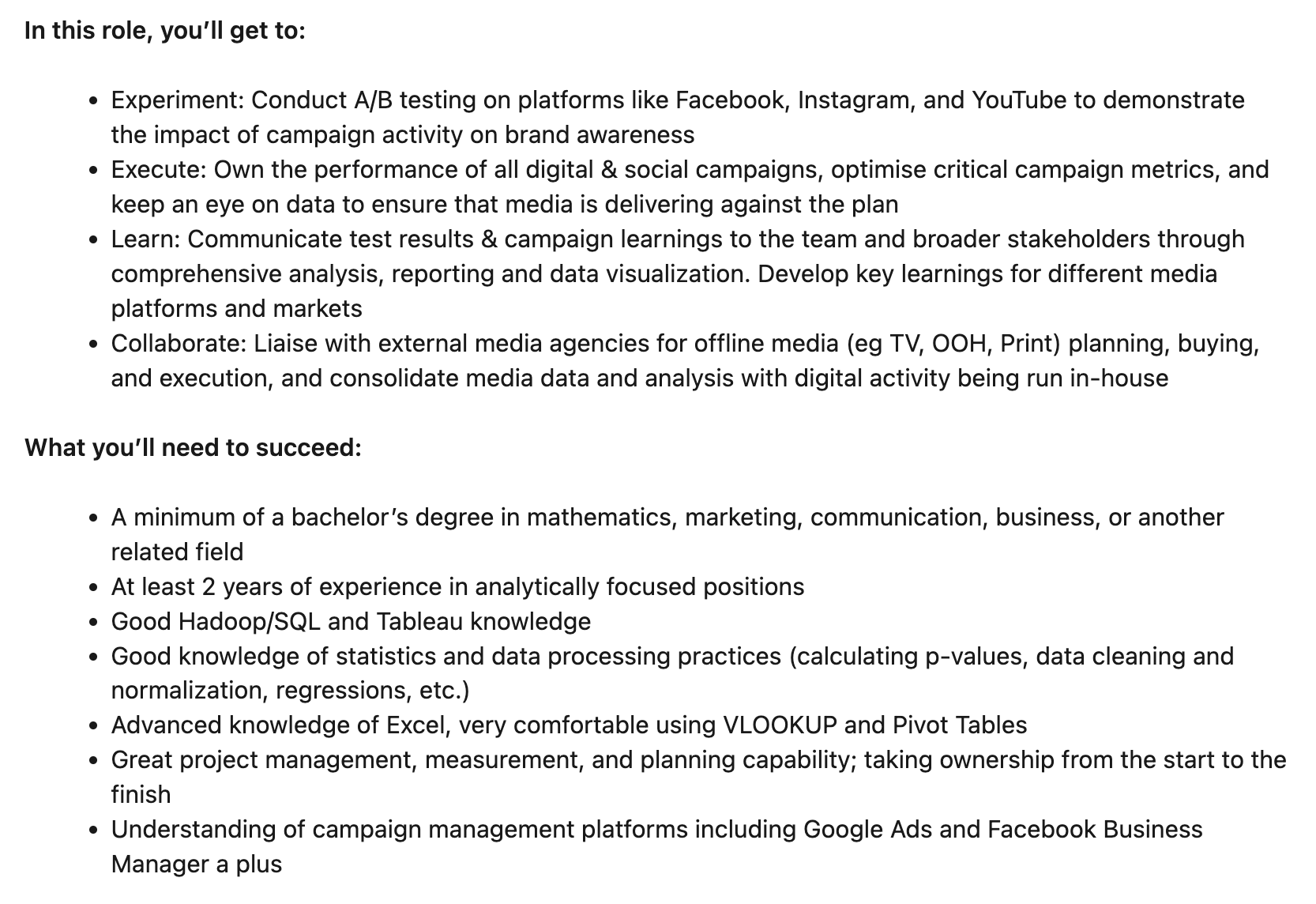 Agoda is a Singapore-based online travel platform with operations all over Asia.
At Agoda, you will be expected to have not only good communication and teamwork skills but also proficiency with Excel, Tableau, SQL, or Hadoop. These tools are essential for carefully analyzing data to arrive at a sales number for every quarter. This is why you also need to be well versed with statistical modeling and data processing, such as data cleaning and calculating regressions and p-values.
In addition, sales analysts at Agoda will be in-charge of increasing brand awareness by carefully studying various campaign performances, using platforms like Google Analytics and Facebook Business Manager. They will require to experiment with digital marketing campaigns across various channels and communicate the results to the stakeholders.
Lastly, they need excellent project management skills to ensure the timely and proper completion of various projects at hand.
---
Read also: What is Sales Velocity and How Do You Measure this Metric?
---
#19. DIAGEO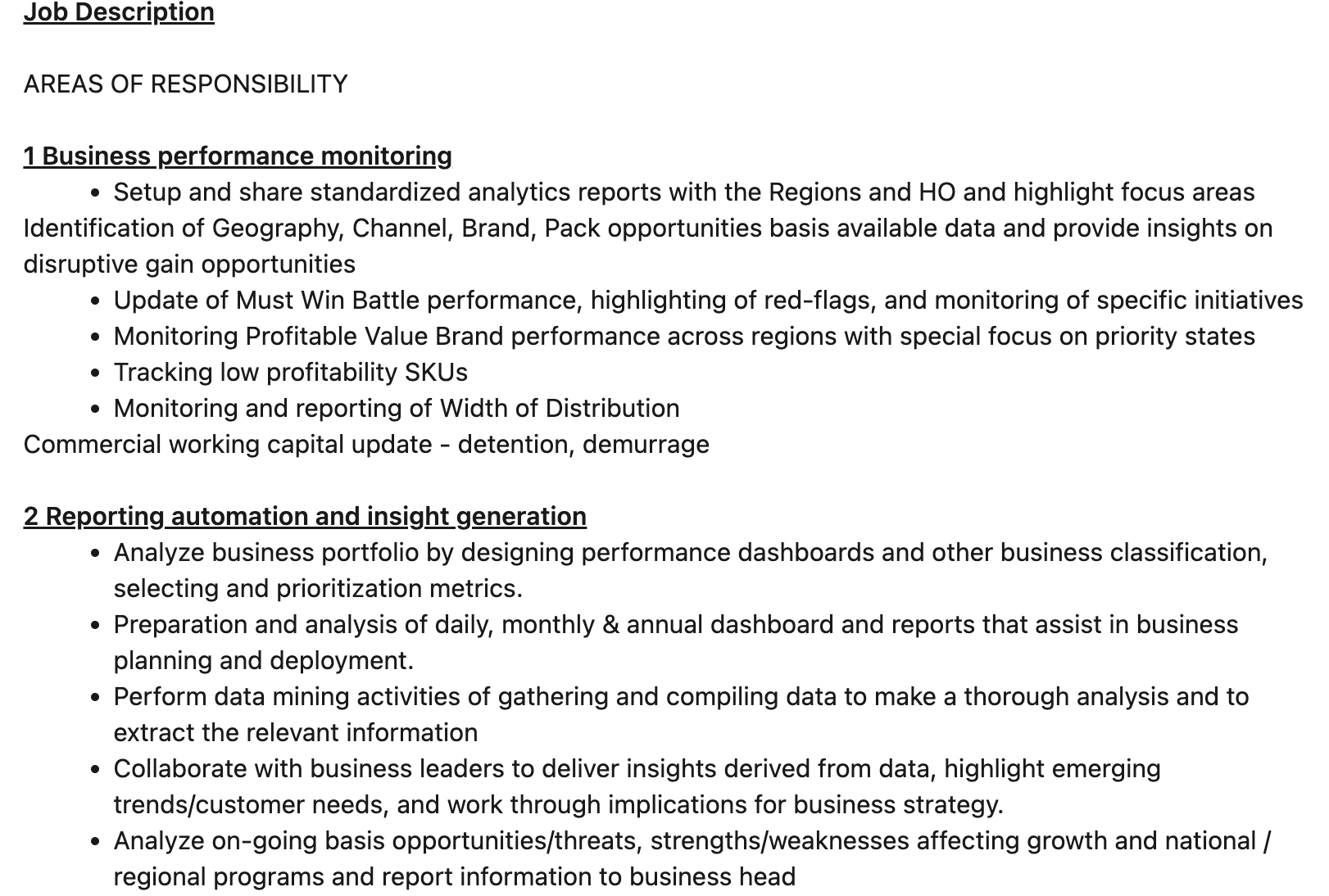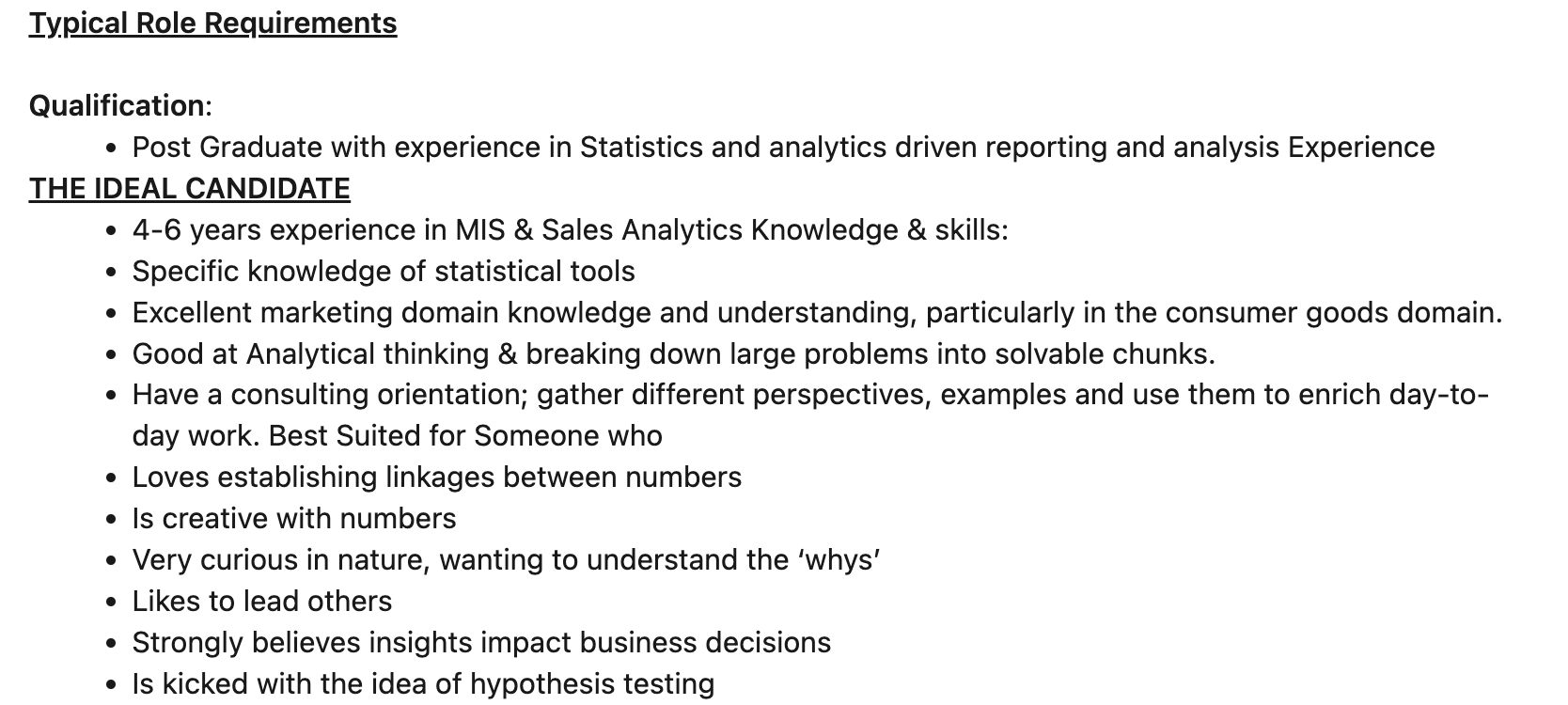 Diageo is a multinational beverage company headquartered in London, England. At present, the company is looking to hire a Cluster Sales Analyst.
At Diageo, you will have many more responsibilities in addition to what's expected of a sales analyst. Not only will you need to keep track of prevailing market trends and constantly monitor sales performance but also focus on how to improve sales in certain regions or states.
You should boast strong analytical and communication skills, be good with numbers, have a consulting approach towards sales, and preferably have prior experience in the consumer goods domain.
#20. AlphaSense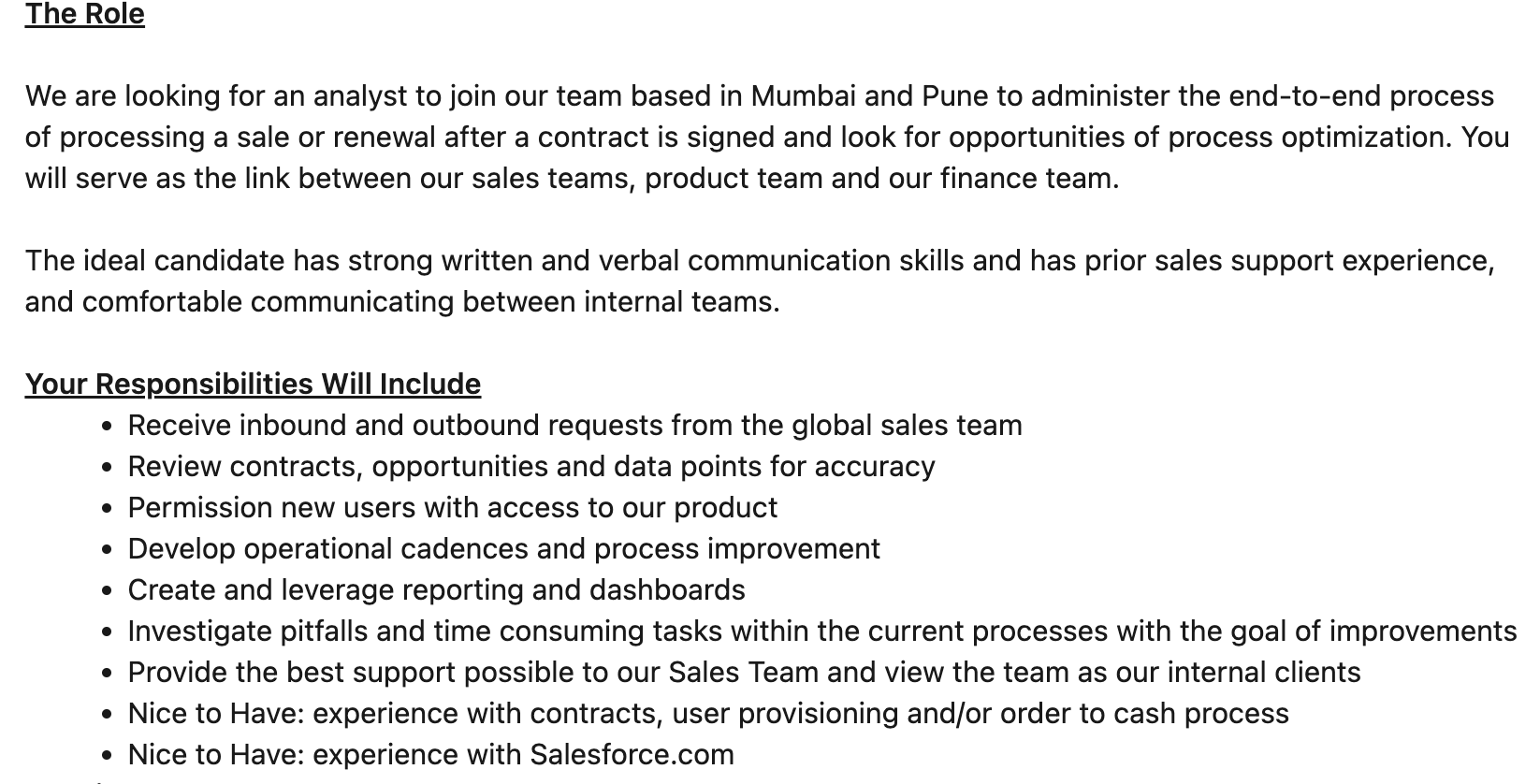 AlphaSense is a market intelligence platform headquartered in New York City. The company also has operations in the UK, India, and Finland.
You will be working as a Sales Operations Analyst at AlphaSense and will serve as the link between the company's finance team, product team, and sales team.
Besides having strong written and communication skills, applicants should have worked in a client or sales support role before. They should be proactive, take full ownership of projects, and know-how to organize and prioritize tasks.
Ideally, you should be experienced with the Salesforce platform, create and generate reports, and receive inbound and outbound requests from the global sales team.
#21. ServiceNow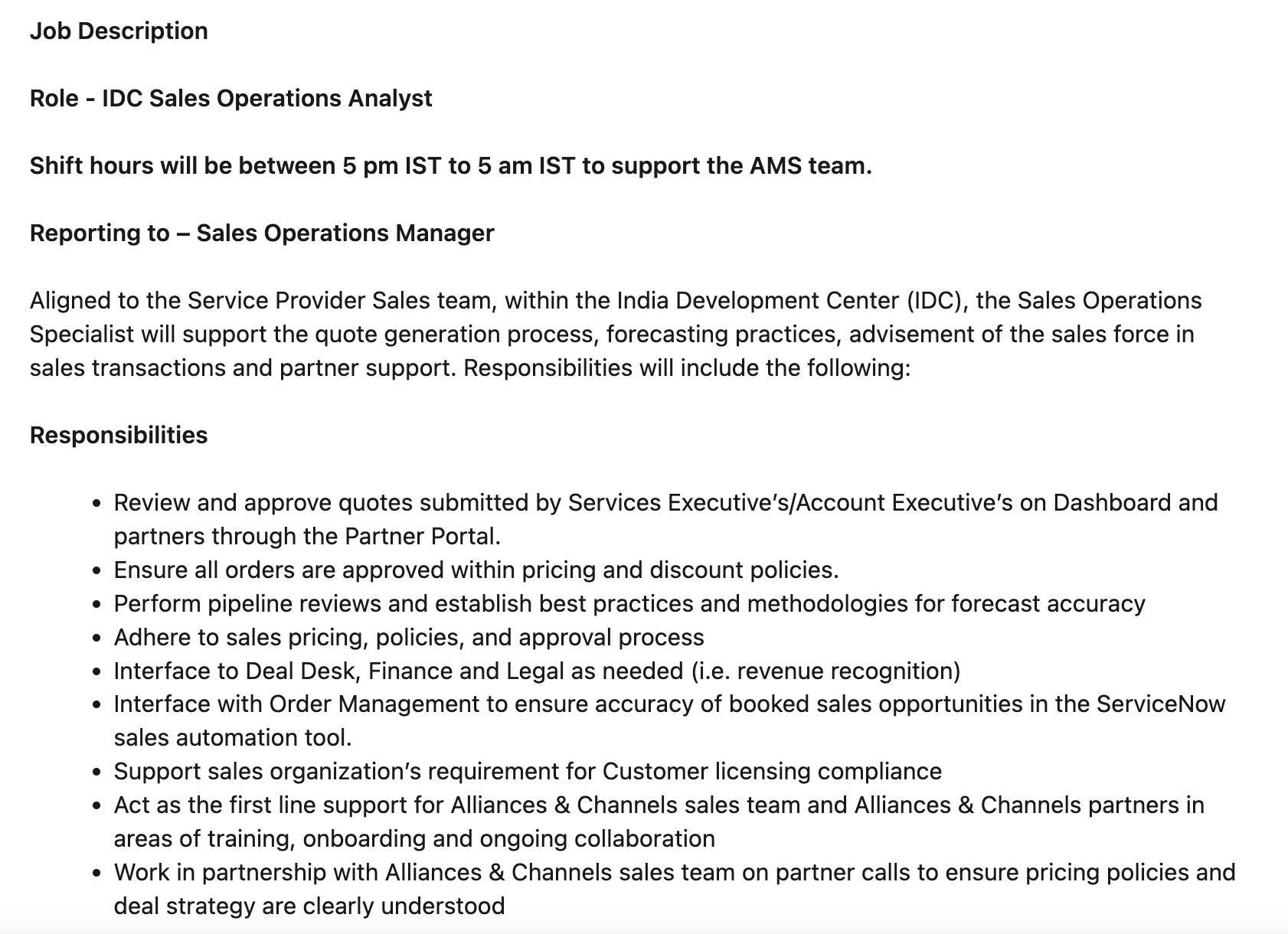 ServiceNow is a technology company with open positions for a sales operations analyst. Its sales analyst job description includes all the basic responsibilities that are expected of a sales analyst. Some of these include reviewing whether the company's sales pipeline is moving in the right direction, being familiar with at least one sales operations management system, and having attention to detail.
Apart from that, you should be able to establish best sales practices and methodologies for maximizing output.
#22. System Soft Technologies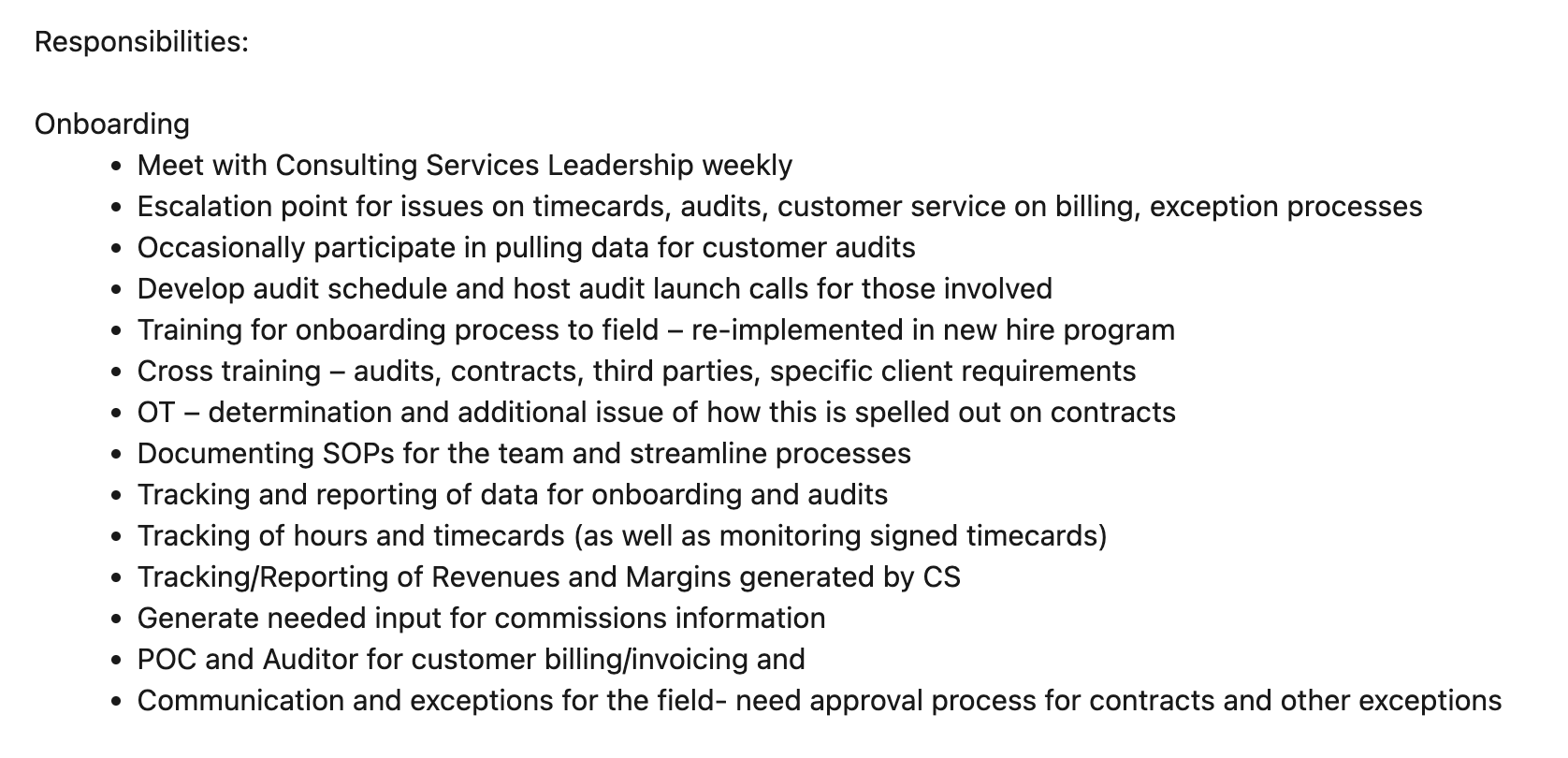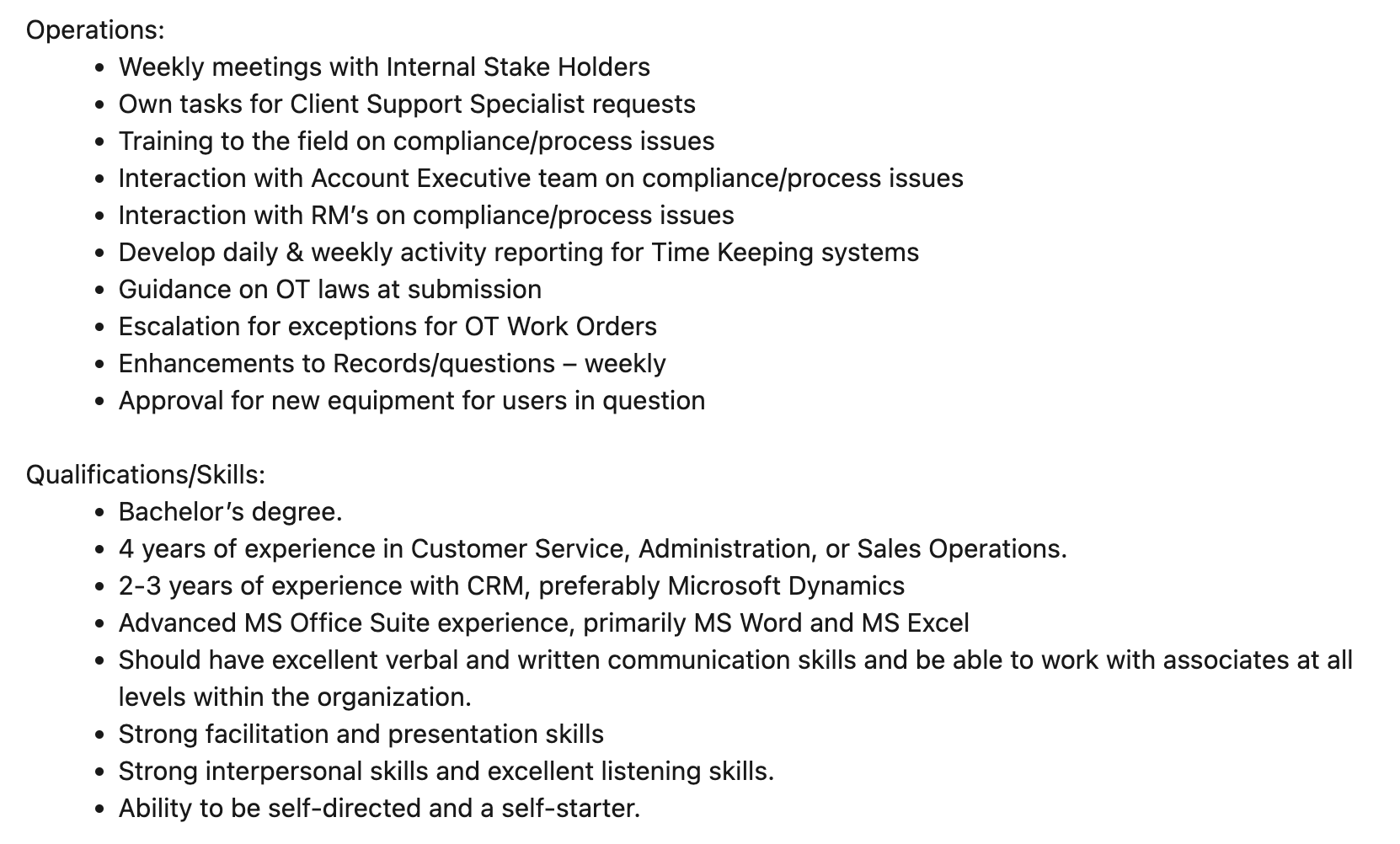 Let's look at the sales operation analyst job description at System Soft Technologies – a technology and consulting services company.
To become a sales operations analyst at System Soft Technologies, you need to have at least four years of experience working in customer support, administration, or sales operations. You should be familiar with Microsoft Office and be well-versed in CRM software such as Microsoft Dynamics.
Here, you will be responsible for creating daily and weekly sales reports, addressing client queries, and ensuring that the inventory moves smoothly.
#23. VMock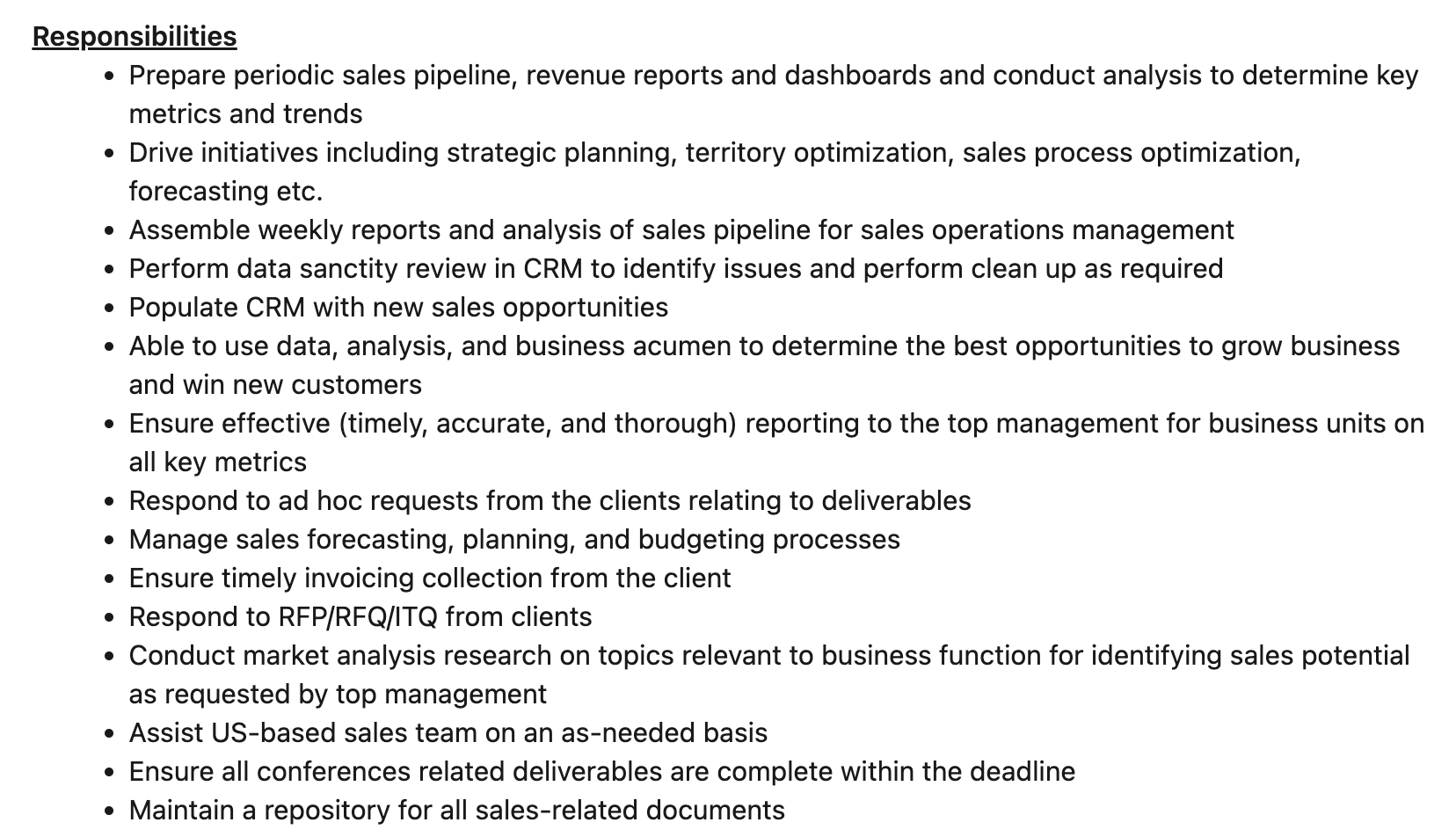 VMock is an e-learning company that uses artificial intelligence to empower students. It is looking for a sales operations analyst with at least 1-3 years of experience in the high-tech industry.
You should not only have a go-getter attitude and strong verbal skills but also knowledge about various emerging technologies. As a sales operations analyst, you should manage sales forecasting, planning, and budgeting, conduct market research to capture current trends, identify any new sales opportunities, and present reports on sales performance on a regular basis.
#24. Renesas Electronics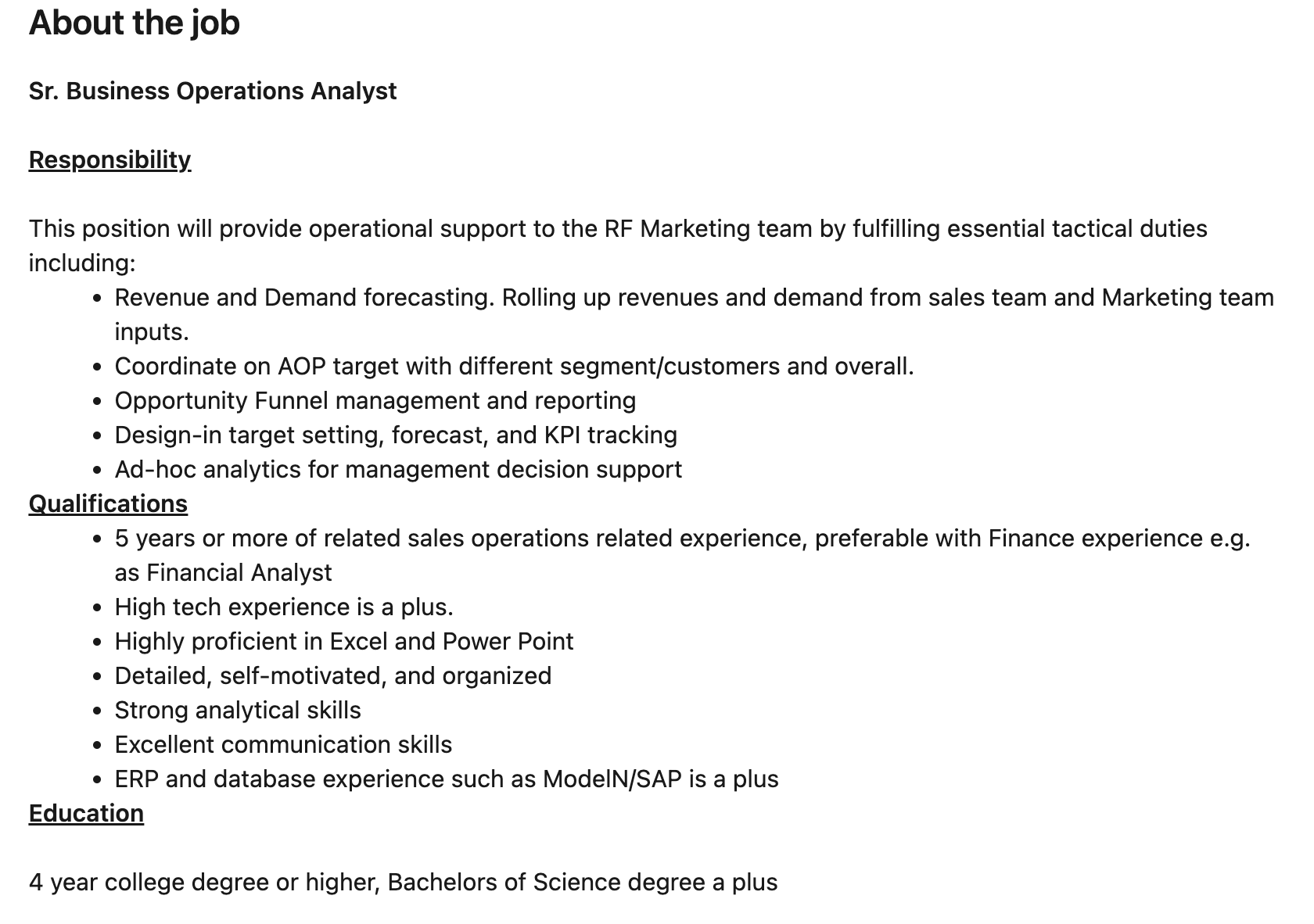 Renesas Electronics is a company specializing in producing and selling electrical appliances.
It provides a short and crisp sales analyst job description. As you can clearly see, your job role would be to track key sales metrics, identify areas of improvement for the company, and forecast revenue, along with other relevant indicators.
It also emphasizes the fact that one should be self-motivated, driven, boast strong analytical skills, and be an expert in Microsoft Excel and PowerPoint.
#25. Plivo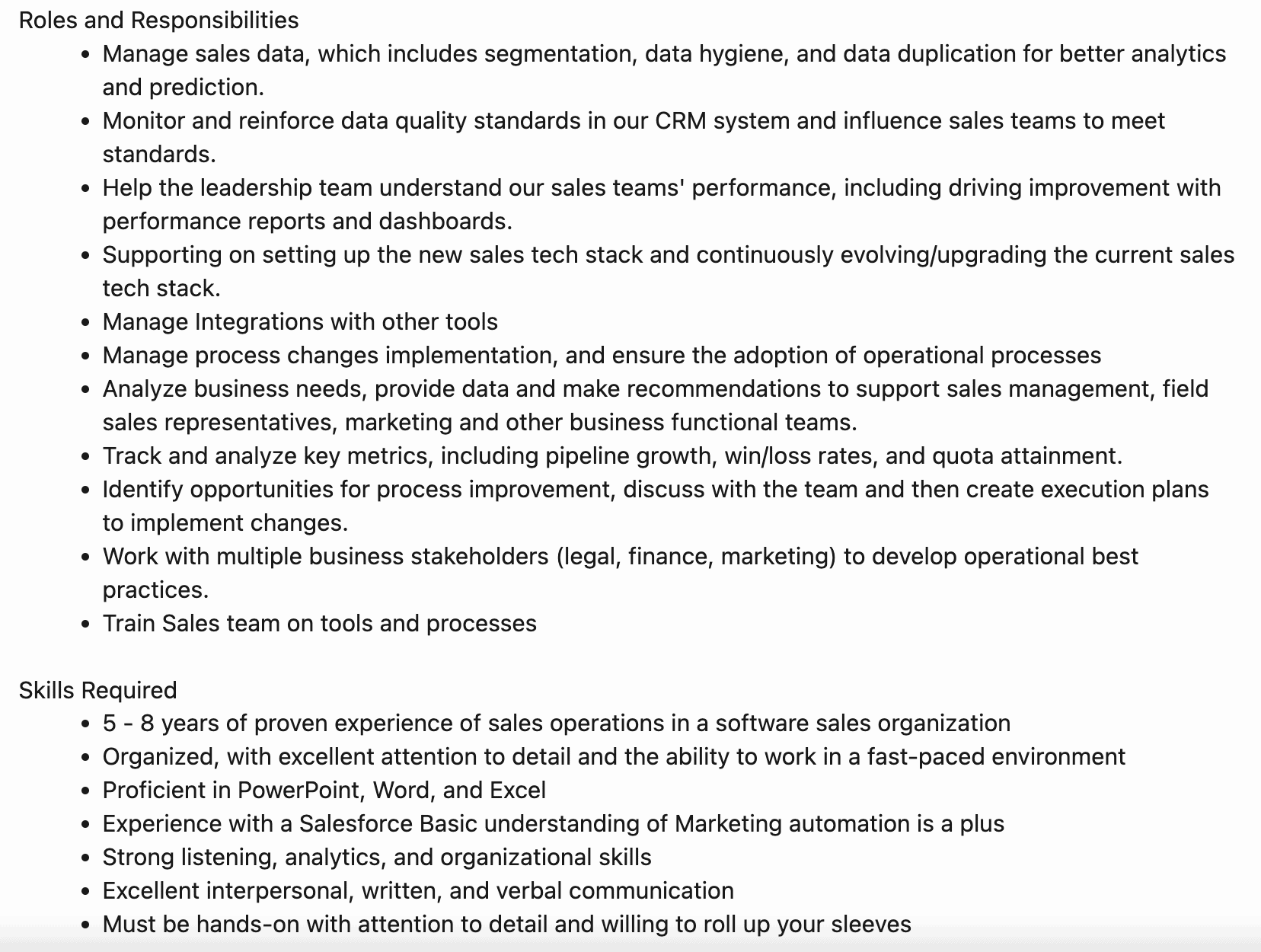 The last on our list is Plivo which offers a detailed sales analyst job description. Plivo is a global platform that helps businesses connect and engage with their customers in a more meaningful and efficient manner.
If you want to work as a sales operations analyst at Plivo, you must be capable of managing multiple teams. You will need to monitor sales performance, segment the target audience, analyze business needs, and make recommendations to support and improve the sales process in the company.
Thus, you should have strong communication and analytical skills, be attentive to detail, and can work in a busy environment alongside multiple teams.
The Process of Finding the Perfect Sales Analyst Job Description
You will find several companies that advertise jobs online, but not all of them catch the eye.
All the jobs listed here were found on LinkedIn by simply searching for 'sales analyst jobs.'
The search showed results for 'sales analyst,' 'sales operations analyst,' 'business analyst,' 'senior sales analyst,' and so on. All of this falls in the same category as the job requirements are more or less similar in terms of skills and experience.
The above-mentioned 25 companies made it to the list because of their detailed description.
They clearly mentioned what the company does and where it's located, the expectations from the job role, and the skills they are seeking in the candidate. It leaves no room for any confusion for you to decide if you will be a good fit for the role.
Conclusion
The role of a sales analyst can entail multiple things depending upon the needs of a company.
While some may expect you to monitor and report sales performance, others may expect you to deal with clients directly, identify their needs, and develop strategies to improve customer relationships.
In the prevailing market conditions where every company is competing to attract customers, a sales analyst position is a demanding job.
If you want to secure a job as a sales analyst at a top company, it would help to get your hands dirty with sales CRM tools, so you can make customized sales reports and understand how sales automation can be a gamechanger for sales teams.
If you'd like to know how EngageBay can help you do all this and more, just sign up for free and we'll guide you through it all.