Web + Seminar = Webinar = A bamboozling opportunity for lead generation!
Webinars have become powerful tools for B2B marketers. Research reveals that 73% of B2B marketers claim that webinars are incredibly vital in generating high-quality leads.
Hosting webinars also adds value to your existing customers or potential customers while mining golden leads.
This article discusses webinars, why you must consider them, tips on successfully leveraging webinars, and a few popular webinar tools.
Ever wondered how you can score leads?
What Is a Webinar?
Take a seminar and host it on the web to get a webinar. That's pretty much how you can define webinar.
A webinar consists of an online held event attended exclusively by those who have a specific ID or a pass or link.
Some other popular alternative terms for the webinar include online seminars, web lectures, virtual even, and webcasts.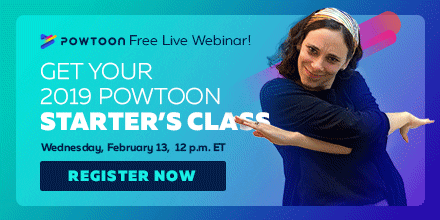 You could also create a webinar as an online conference using the internet to connect an individual or a group of individuals to the host (those conducting the event). Hosts can live-stream themselves speaking or demonstrating or more popularly screen recording specific tasks to explain concepts better.
Additionally, hosts can also run slideshows and even collaborate with other guests to add more value.
Here are a few standard features of webinar platforms:
Note: Some platforms have all of them, whereas some others have reduced or increased functionalities of a particular function.
Multiple presenter facility

File sharing

Live Chat

Screencast

Live Q&A options, voting and feedback forms

Calendar scheduling
These features help deliver a personalized and unique experience to your customers. This way, you not only add value but better understand how you can serve your client base better.
More advanced webinar platforms also enable CRM and other email marketing tools integration.
Benefits of Hosting Webinars
Webinar platforms boast of several features that help you connect better to your audience. A more personalized connection translates to a stronger relationship embedded in trust.
Additional benefits of hosting webinars include:
1. Specific Targeting
Webinars help you reach out to a particular and narrow niche of customers. Consequently, you can focus more on the right customer segments.
Interactive sessions allow attendees to raise questions. As a result, you gain valuable insights into what your customers expect from the products or services you offer.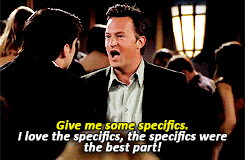 Unlike inefficient physical meetings and demonstrations, webinars bring in a new interactability aspect, thus eliminating passiveness.
2. To Live and Beyond!
Webinars help convey your message both live and even afterward. Mostly, webinars get recorded while streamed live. As a result, you can reach out to larger masses down the road.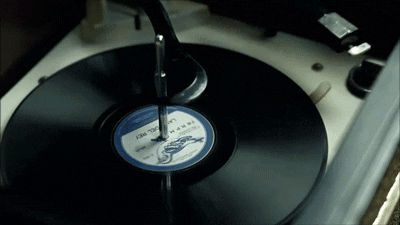 However, it's crucial that you sharpen your SEO game. Excellent content but poor SEO does nobody any good.
3. Time and Cost-Effective
Think about it. Back in the day, demonstrations and meetings require tons of planning and resource allocation: be it money, snacks, rent, equipment, etc.
Webinars help you to impart just as a practical experience but from the comfort of your living room. Thus, you eliminate the need to travel. Organizing costs get slashed too.
4. Boost Credibility
One fantastic advantage of hosting webinars is that you get to present yourself as an industry leader. While conducting webinars, you will share valuable information. Along the way, if your content does add value, the attendees will have a great first impression.
If you highlight specific pain points of customers and present a viable solution, the attendees will love you.
Consequently, your credibility grows. In a highly competitive business ecosystem, a little added credibility does go a long way.
5. Generate Hot New Leads
Well, leads are pure gold for any business. Growing your lead list has to be amongst your top five priorities.
Webinars are amazing to generate new leads, thus paving the way for more customers.
Webinars require registrations with forms to fill: a name, an email address, and so on. BOOM! There you go, you just added a few leads.
Again, before the registrations happen, you have to put the news out there. You could use paid advertising or plan out a comprehensive SEO approach.
<< 9 Data-Driven Marketing Trends You Can't Ignore
<< 9 Key Trends To Focus On In Your 2019 Marketing Strategy
6. Do More Than Just Generate
Generating leads is great, but what if you could do more? Hosting webinars help you paint a vivid picture of what your audience likes/dislikes. You can then use this crucial information in catering to clients better.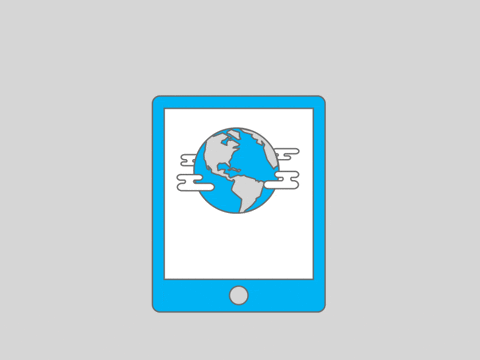 Webinars enable you to nail that first impression with potential clients. You also tend to connect with leads on a personal note rather than automated cold emails.
👉Discover the most effective sales lead management strategies that will transform your sales process in our detailed article! 📈
Why Use Webinars for Lead Generation?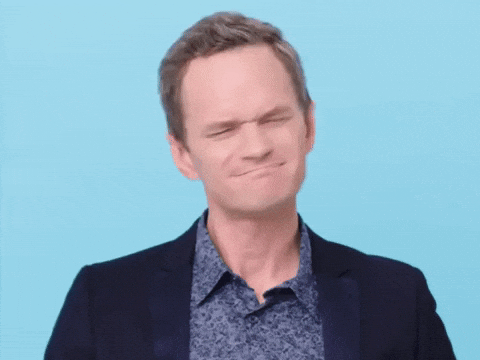 That's a great question because there are tons of different ways to generate leads. Why should you select webinars amongst the ones available?
Cold email

Targeted advertising

Word of mouth marketing

Referral Systems

Telemarketing

Promotions and special events

Old fashioned brochures

Newsletters

Exhibitions and trade shows

Testimonials
and the list never ends.
<< The Ultimate Lead Generation Guide
Here are five compelling reasons why webinars are your trump card:
1. Solid Intent
If someone registers for your webinar, they already believe to some extent that you can help them with something. This is an excellent opportunity to cement that trust by indeed providing great value.
Over time, you can leverage this trust and eventually convert potential clients into actual clients.
2. More Information
Unlike most lead generation strategies, webinars help you attain a more comprehensive database of information.
As you have already won your attendees' trust, they prefer to share more personal details. It's almost like they don't mind sharing more information in return for some real value.
3. Beyond the 7 Seas
You aren't bound by geographical barriers, which is the case with several standard lead generation services.
You have to define your geography, demographics, and conduct tons of research before rolling the ball.
However, webinars allow users from anywhere to tune in and thus add an international touch to your leads list.
4. Increased Credibility => More Leads
You read earlier that webinars help build credibility. Interestingly enough, including a registration counter (along with a countdown) instigates curiosity and credibility.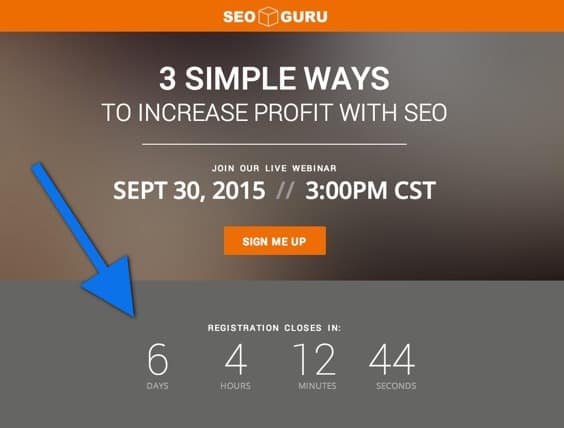 Thoughts like "Woah! 7000 have registered for this digital marketing webinar. This bloke must really know what he's claiming," and bam you get more registrations. There's something called FOMO (Fear of Missing Out). 
When you highlight social credibility, the FOMO kicks in and more register for your event.
5. Have a Genuine Excuse to Follow Up
You can follow up a few weeks before the webinar and a few days before the event. You are essentially buying a legitimate excuse to follow up. As a result, your email open rates will increase.
<< Improve Your Email Campaign's Open Rates Through A/B Testing
<< 25 Best Email Subject Lines to Boost Open Rates
Moreover, try including some free content related to the webinar a particular person attended. Overall, you will strike as a genuine value-generating business.
How to Run Successful Webinars for Lead Generation?
Hopefully, you are convinced about the usefulness of webinars in lead generation. Webinars, similar to several online gimmicks, have tons of ways to implement. Here's a plan that you could follow.
Note: What works for one company might not necessarily work for you. View this plan as a generalized framework. Moreover, feel free to tweak wherever possible to best suit your requirements.
Alright, here we go:
1. Define the WHY and WHO
Objectives: Pinpoint the reason why you are embarking down the webinar journey.
Audience: You have to be crystal clear on who your target viewers or audience are.
Now, specific segments of your audience might have signed up from a Facebook ad or word of mouth.
These leads require some extra care in terms of "warming up" and getting your brand's message across. A brand story is a great way to build valuable rapport.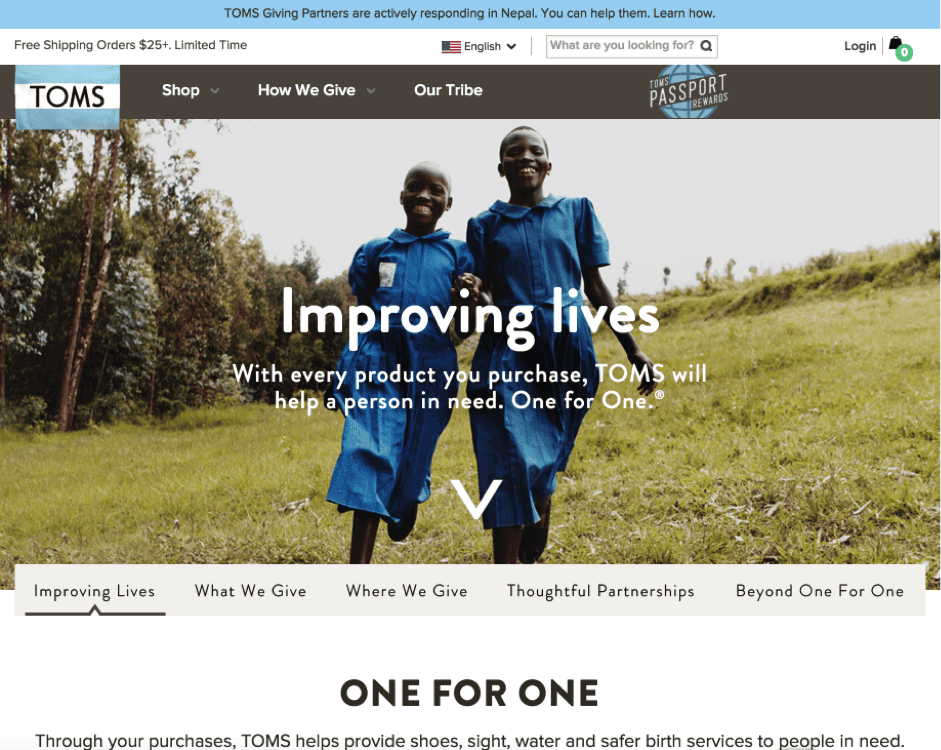 On a different note, your attendees could be existing members of your newsletter or email list. Additionally, these viewers are already familiar with what you offer.
Therefore, it's wise to run a crisp introduction and dive straight into the real stuff with any further ado. The key is to grab your viewers' attention ASAP by providing real value right at the start of your webinar.
A buyer persona serves a blueprint of your ideal customer. Additionally, buyer personas also help in segmenting your viewer base, thereby facilitating better content creation.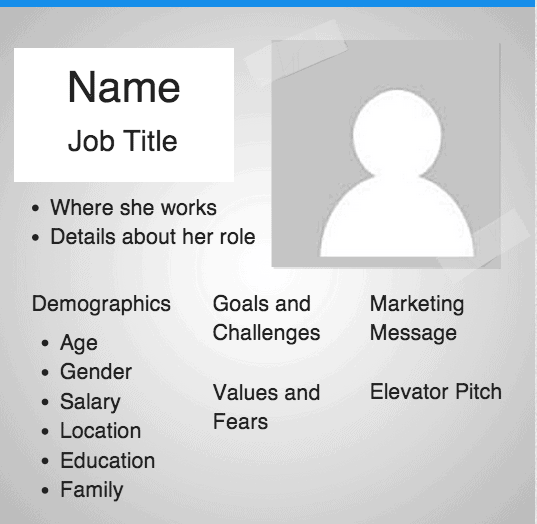 Furthermore, the customer journey is another fascinating method to determine to curate perfect content that hits right away.
For a lead generation motive, most of your attendees will belong in the early or awareness stage.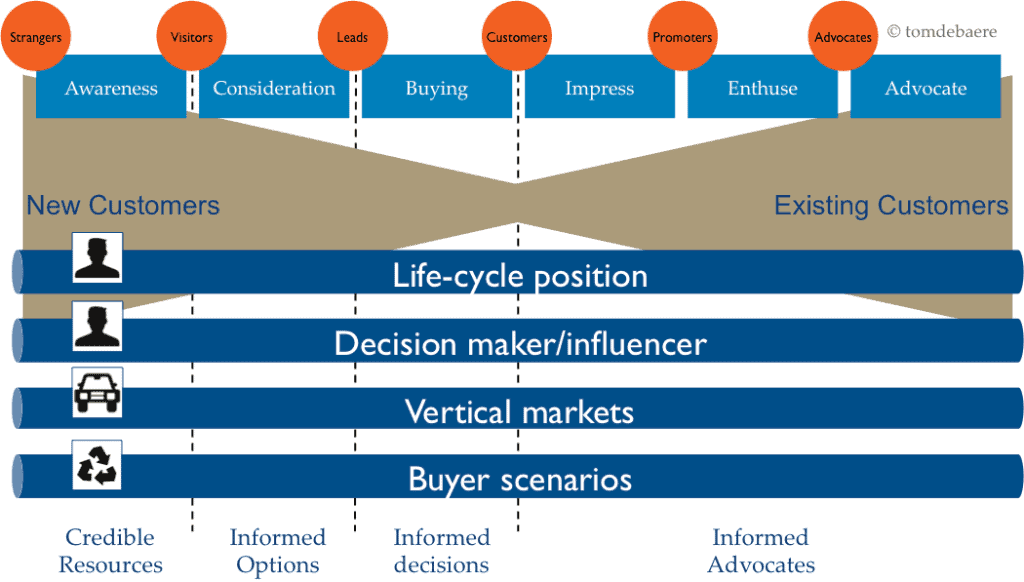 2. Partner Well
Collaborating with businesses sharing common interests or target audience is mutually beneficial and is a huge yes for lead generation.
Strapping along a partner not only adds a fresh new perspective but also increases exposure to your partner's audience. Therefore, you reach to more significant masses and generate more leads.
Choose your partners smartly. Ensure that both of you share the same objectives.
Moreover, look to it that both of you don't compete but rather complement each other in the offered products and services. Think of it as an ecosystem, where both your companies help each other via the webinar partnership.
Reputation is important but often ignored. Partnering with another brand puts your reputation at stake. Therefore, it's crucial that you consider a potential partner's status and quality before making a choice.
Do your homework by digging into potential partners' blog posts or recorded webinars. Consequently, you gain a pretty good picture of how your services are connected to that of somebody else's business.
3. Notch Up a Killer Landing Page
A landing page is quintessential in lead generation. Registrants enter their names, email addresses, and the sorts.
The landing page isn't merely a data collection page but a short browser version of an elevator pitch.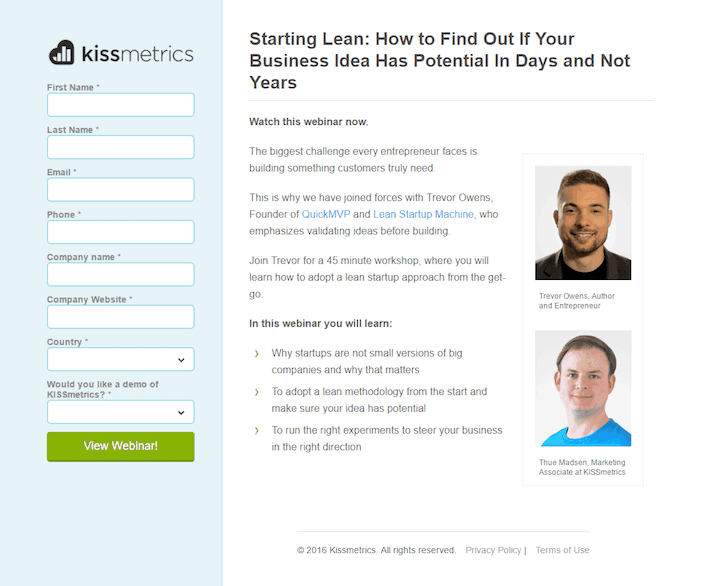 You have to strike with viewers almost immediately and give them a compelling reason to register for your webinar.
Kissmetrics does this well with a summary of the webinar and crystal clear deliverables offered by the hosts.
Potential attendees take registration quite seriously. It's added emails and notifications to their already populated inboxes. Therefore, you have to nail that first impression.
Here are a few handy tips for chalking a useful landing page:
Write an engaging and convincing page title. Also, write a relevant meta description to drive the SEO juice and boost click-through rates.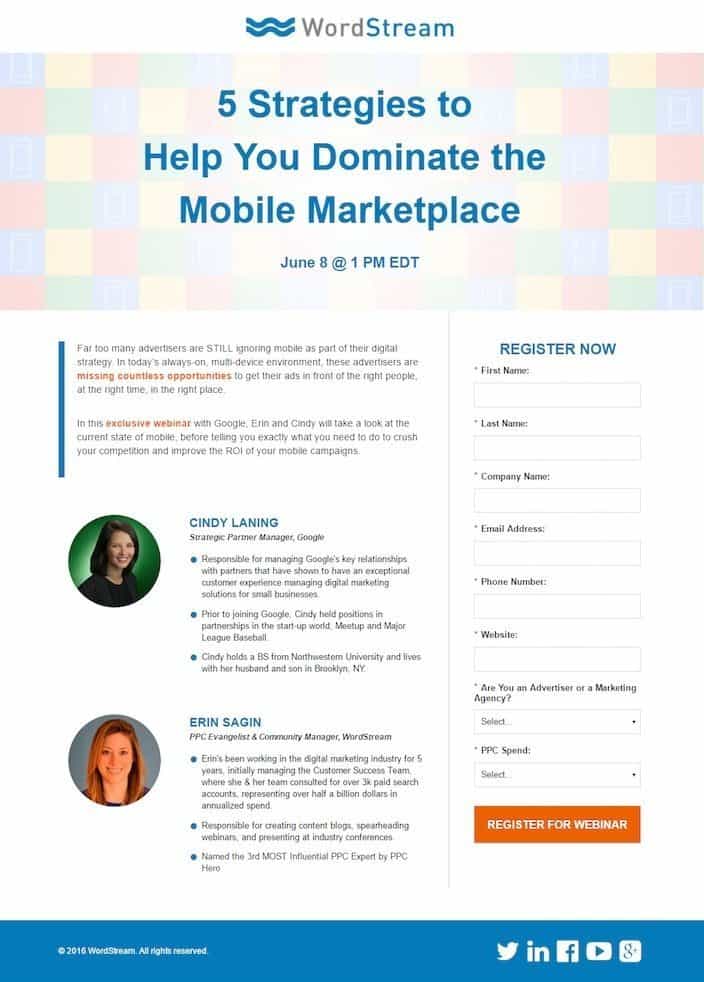 Include a

short video

that explains in a nutshell what you do and why you're fantastic at it.
<< 17 Tips for Video Marketing Success (Updated)
Keep your copy short and simple. Moreover, define your CTA with the utmost clarity.

Use numbers or social media proof that add credibility to your claims.

Subtly brag about the speakers to get your audience hooked.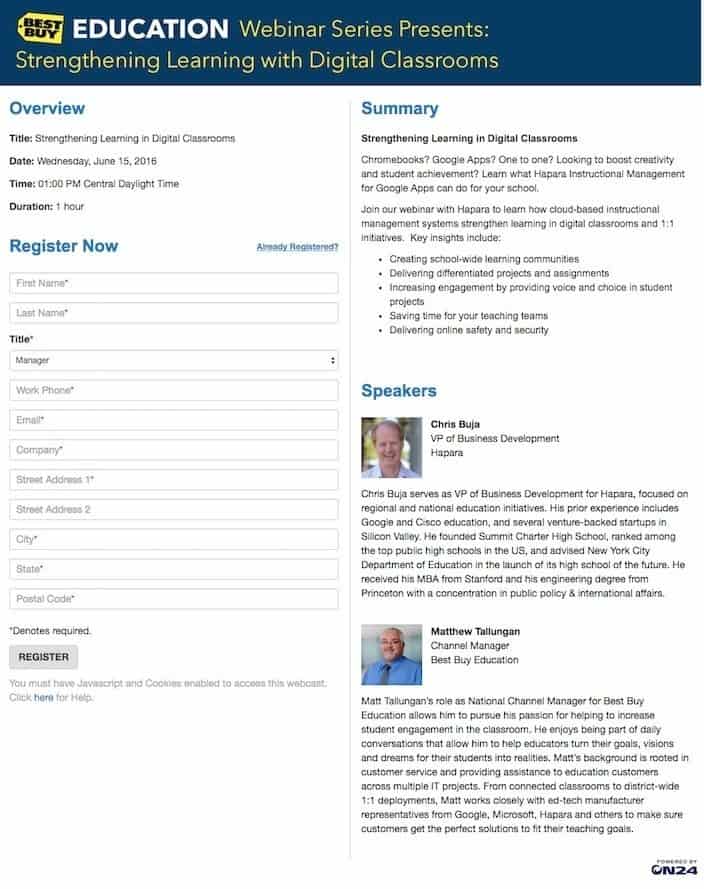 Create scarcity and urgency. Include a countdown or a limited registration count. Such small gimmicks drive visitors into taking action ASAP.

Since lead generation is the objective, your webinars are free, of course. Subtly tell your audience that they would receive a ton of value at the low, low cost of free.
4. Promotion in Motion
A webinar isn't all that easy in terms of content creation and editing, and so on. Therefore, try to get the maximum bang for your buck.
Promotion helps rake in more high-quality leads and generates more returns for your efforts.
Here are some brilliant promotional ideas:
Orchestrate email blasts targeting your subscriber and partner's lists. Emails with content tailored to reflect the webinar's benefits tend to generate the maximum ROI.

Scribble out a short and crispy blurb entailing your event in newsletters, social media posts, and even blog posts. Additionally, you could include a link to the registration page.

Analyze your target audience and put out specific ads on newsletters.
5. Instigate Anticipation and Excitement
While planning out a webinar, don't space out the actual event and promotion too close to each other.
Keep a good buffer time between the last date for registration and the event.
This time in between helps build curiosity and excitement. Consequently, those who failed to register might turn up next time or even view the recorded webinar.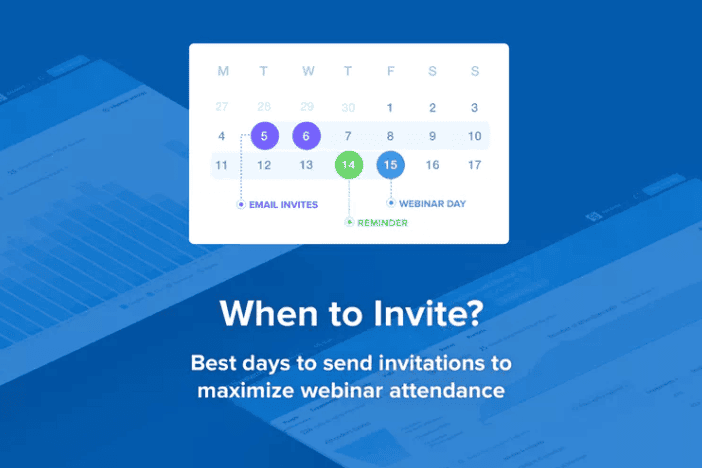 Schedule a string of reminder emails scheduled for a week, few days, and even a few hours before the email broadcast.
Here are some unique ways to build anticipation:
Allow your registrants to

add the event to their calendar apps.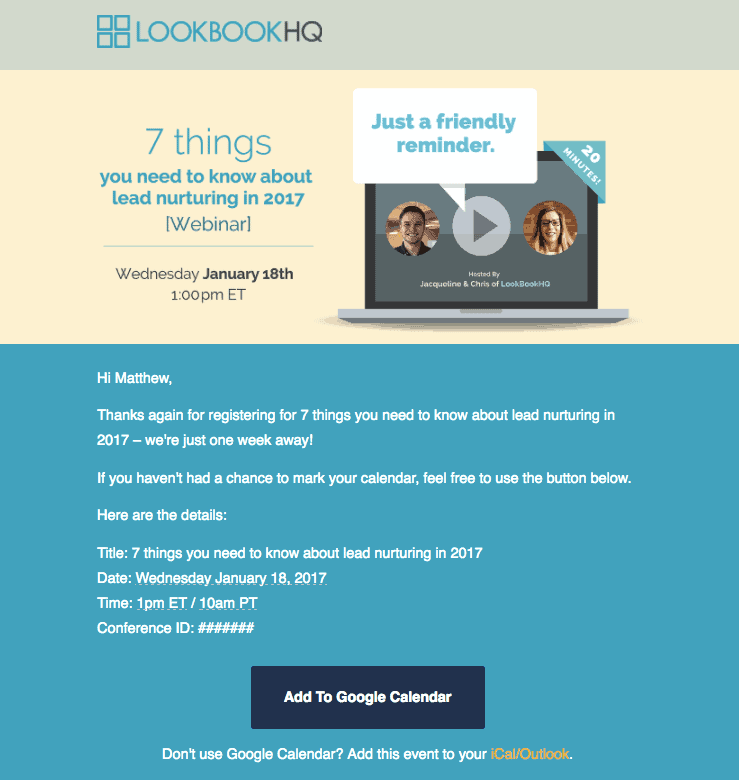 Highlight what users will gain from the webinar.

Throw light on what users will miss if they fail to turn up

Share additional resources (like bonus starters) before the event to give attendees a gist of what's ahead
6. Decide the Webinar Type
After dealing with factors surrounding the webinar, it's time to drill down to the webinar itself.
There are quite a few types of webinars out there:
Masterclass

These are knowledge-centric webinars.

The content consists of comprehensive plans addressing particular pain points. Additionally, the speaker lays out a detailed plan to improve a certain something.

Demo

SaaS companies love demo webinars.

The speaker delivers the content and solutions in a way that closely resembles the company's actual offerings.

For lead generation, the general plan is to highlight the existing problems. Then, present the solution through your product or service.

Q&A sessions

These webinars allow you to engage and interact with your audience.

The questions you witness help learn more about the target audience.

Additionally, these questions by themselves can serve as content ideas for future webinars.
7. Make Your Presentation
Try to create a central framework for the webinar.
Check out this typical structure for an hour-long presentation.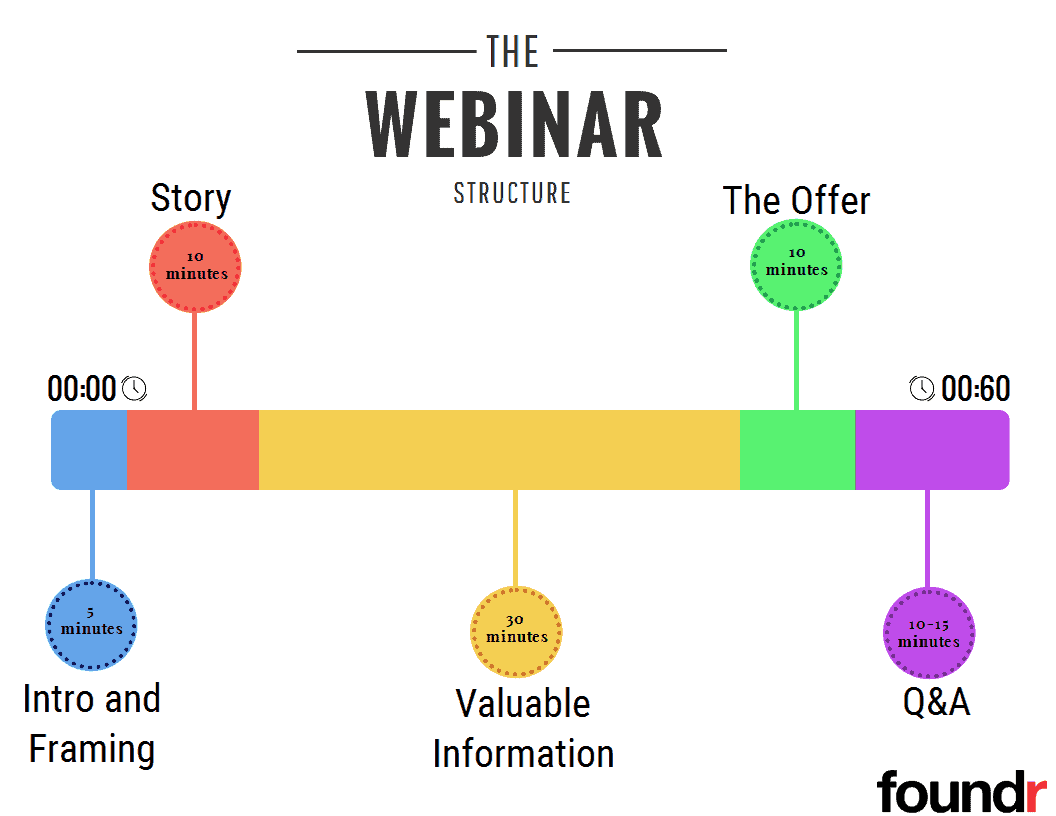 Intro and framing: Avoid fluff and get to the point right away! Convince your viewers that the next one hour will indeed add real value to their lives.
Valuable Information: Provide easy to understand and clear takeaways for your attendees. Try to leer away from technical jargon and convey your message most concisely.
Note that your buyer persona matters here. If your attendees are already technically equipped and have used your services, you could go all Einstein.
Offer: You need to be extremely careful about what you offer to your audience at this point.
If you offer something irrelevant, you could come off as a hoax.
Design the offer first and then reverse engineer your presentation from here.
Create urgency to your CTA to encourage attendees to take quick action.
Q&A: Add more value by addressing real queries by real people. You could also present solutions to their problems by "highlighting" features of your company.
If you're wondering how long the webinar must last: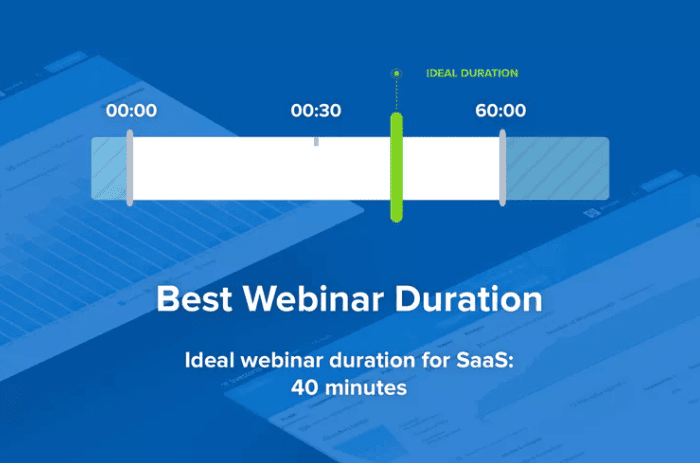 8. Choose Your Webinar Software
There are tons of choices, and it can get overwhelming zeroing in on one option. Here are some popular ones with their pros and cons.
Side note:
Irrespective of which software you choose, invest in a fast and reliable internet connection.

Lags or disturbances disrupt the flow and in turn create avoidable annoyances.

Buy or rent a premium quality microphone to ensure the best audio delivery.

Recording your webinars and allowing new users to view them is fantastic for lead generation.

Since the webinar will continue to "live" even after the event, investing in excellent recording facilities is wise.
1. WebinarJam
WebinarJam is one of the most straightforward webinar solutions on the market right now.
The back end developmental aspects of WebinarJam find it's roots embedded in Flash, HLS, RTMP, and WebRTC. These are just fancy terms for intricate technologies that help build a versatile and robust webinar tool.
WebinarJam comes with a notable live YouTube broadcast feature that's scintillating. Here are the pros and cons:
Pros:
Super easy to use – You can set up a webinar in 60 seconds or less

Advanced chat features like moderator messaging and private messaging

Maximum of 6 co-presenters can present the webinar simultaneously

Temporarily grant the status of "presenter" to an attendee

Versatile – works smoothly in all browsers, devices, and OS having recent web technologies

YouTube or Facebook live streaming is a breeze

Throw pop-up offers during the webinar

Automatic webinar recording

Extremely helpful support team
Cons:
Some have complained about video and sound delays up to a couple of seconds

Larger organizations could complain about the absence of integration facilities with other third-party AV tools
2. EverWebinar
If you are looking for automated or evergreen webinars, EverWebinar is the one.
EverWebinar is perfect for small and even medium businesses. You can replay existing webinars for potential customers and new attendees.
Using existing content removes the hassle of creating new content, and the lead generation process becomes so much easier.
You can literally host a webinar while sleeping. Everwebinar does it all. You can get the feel of an original webinar without actually hosting it.
Everwebinar also takes care of the engagement from reminders to pop-ups to chat simulation.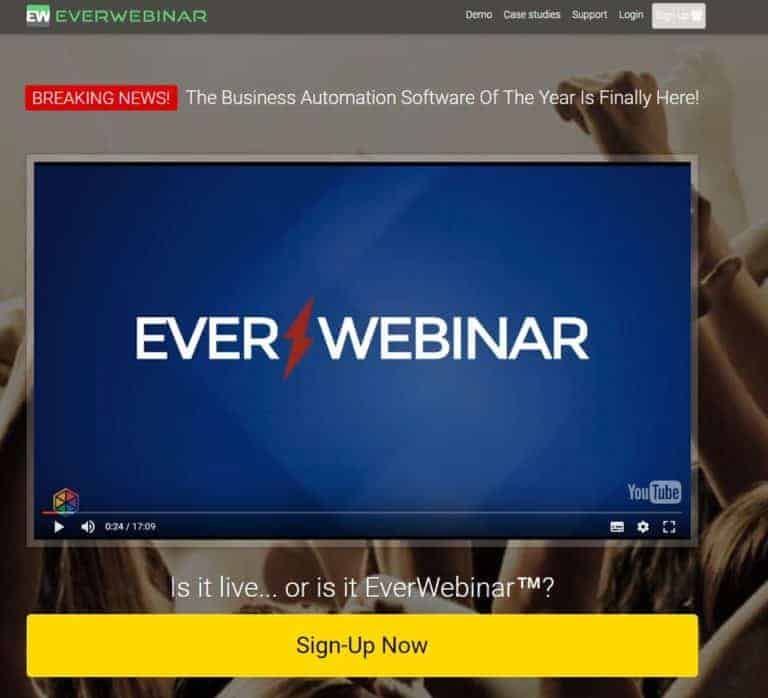 Pros:
You can fake the attendee counter (helps boost credibility)

The "ask a question" feature instead of the conventional regular chat sends questions directly to your email

Three webinar types are available: automated, live, hybrid (pre-recorded content with live chat)

Awesome statistics for future analysis
Cons:
Few witnessed mobile streaming issues

If your pre-recorded content isn't very compelling, the overall result could be dull and boring
3. EasyWebinar
Presenting EasyWebinar – a fantastic all-in-one solution for automated and live webinars!
Here's how you can integrate EasyWebinar and EngageBay marketing without a single line of code.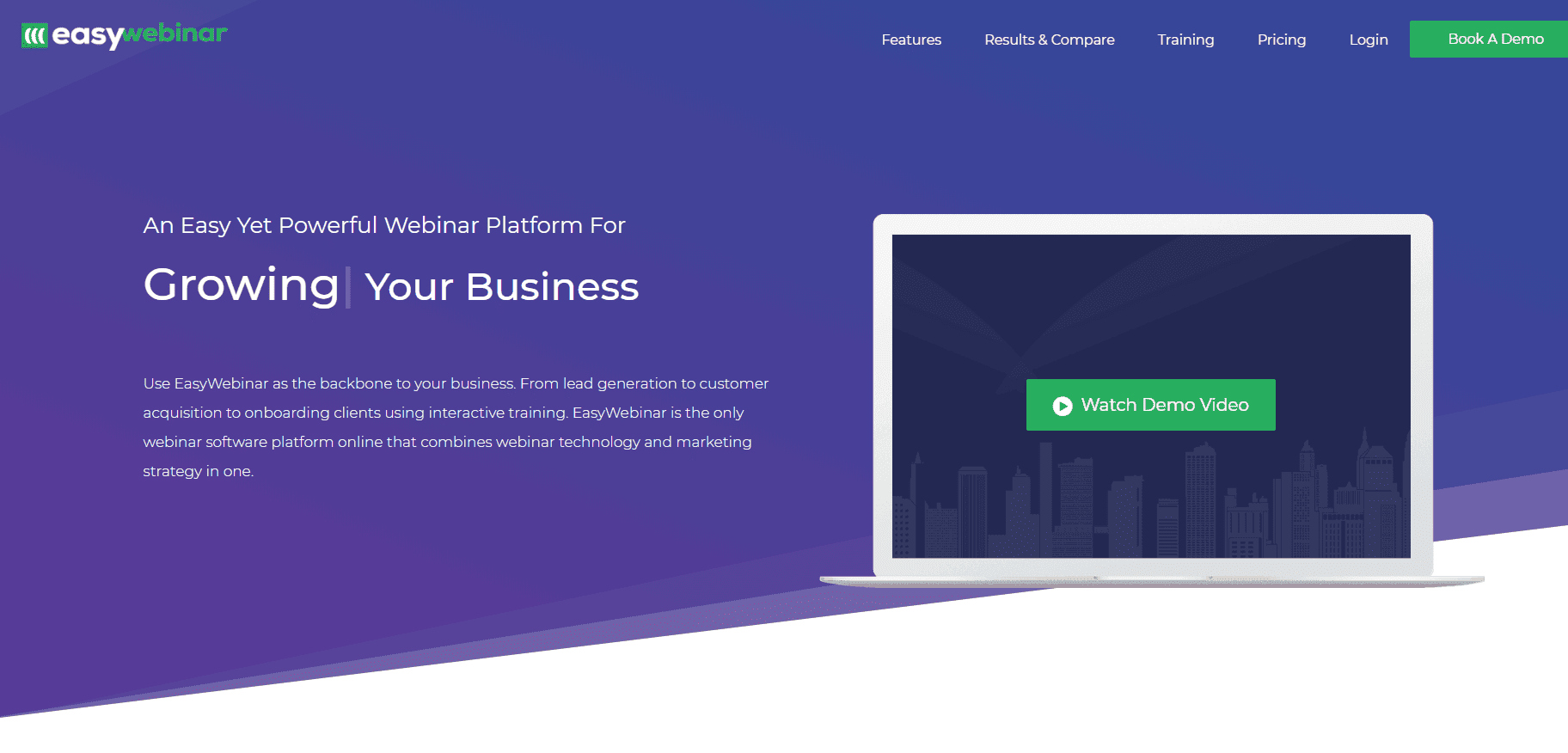 Pros:
Analytics and sales funnels help create better content

Can host up to 100 attendees as per the basic plan

Screen-sharing, multiple presenters, live chat and Q&A are some top-notch features

Integrations with platforms like GetResponse and MailChimp

8000+ satisfied customers
Cons:
Bit pricier than the alternatives
4. Demio
If you are looking for a smart webinar tool, Demio has got you covered.
Demio has powerful tracking features: Tracking, retargeting, or even conversion pixels can be added on the thank you or the registration page.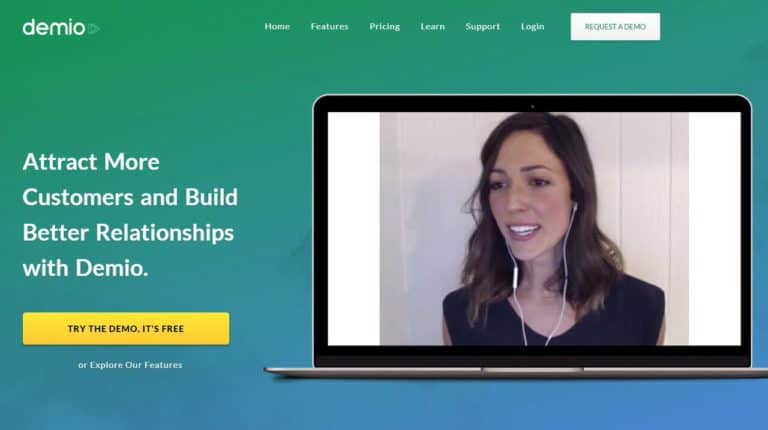 Pros:
Super easy to setup

100% browser-centric: no additional software required to download and install

Up to 15 event coordinators can host

Hassle-free one-time registration for future webinar series

File sharing and downloading features
Cons:
Limited compatibility across OS, browsers and mobile devices
5. GetResponse
If you want a bigger package to take care of all marketing aspects, get GetResponse.
The mega package consists of the webinar platform, tons of different marketing tools, custom emails, autoresponders, and even a list segmentation feature.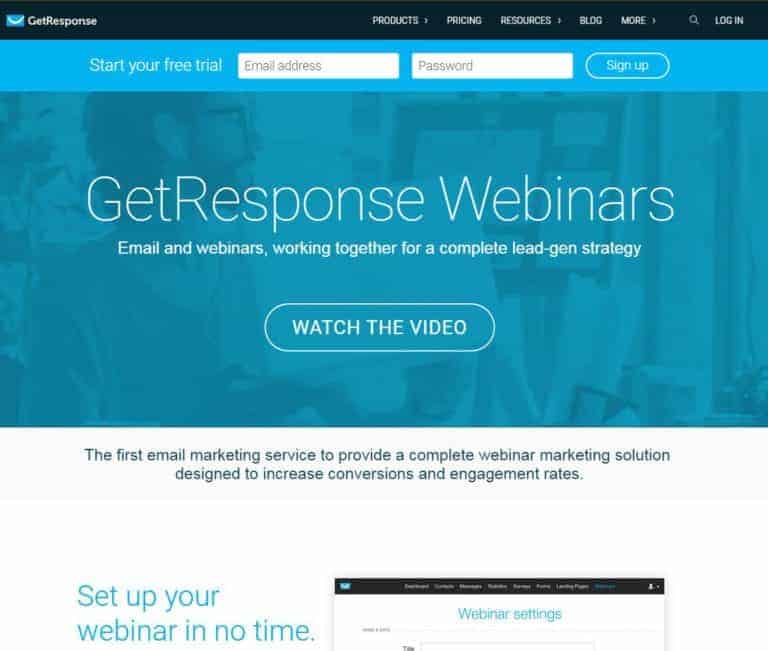 Pros:
YouTube integration for watching videos

Integrated whiteboard for drawing and making notes

Surveys and polls for immediate feedback

AB testing

Blog to email / RSS functionality

CRM provision for managing customers better
<< The Case for a Unified Marketing, Sales and Service Platform
Cons:
Complicated pricing structure

Lack of phone support
6. ClickMeeting
A user – friendly interface is the major USP of ClickMeeting.
There are comprehensive guidelines on setting up webinars. Therefore, getting used to the platforms would be a breeze.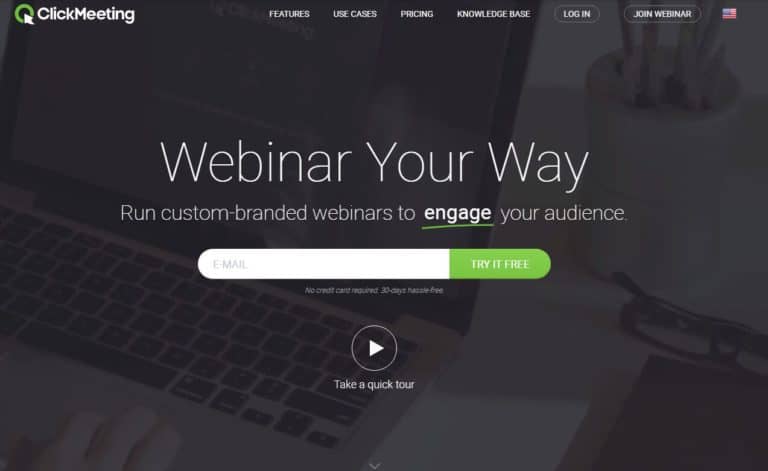 Pros:
Easy to understand and step by step guidelines are available

Duplicate option (for events)

Translation of chat messages

Availability of templates suiting different businesses
Cons:
Absence of break-out sessions

Inability to schedule recurring meetings
Those are six popular webinar platforms. Now it's up to you to decide which features matter to you more.
Again, it all boils down to your research regarding the target audience: Are they tech-savvy or prefer chat? Do they need translation or probably a white screen feature?
Additionally, the price ranges for each of these webinar platforms fluctuate. So, choose one that's appropriate given your budget.
9. Rehearse and Practice
Conduct some demo tests of your webinar (from start to finish) to create the best webinar. This helps in getting acquainted with the webinar platform.
Additionally, if you can make somebody "attend" the test webinar, he/she can spot holes or redundant information.
It's crucial that you deliver your message most convincingly and briefly.
Practice other features like chat, screen sharing, and poll. It's always better to know how to react in a given situation than fumble over the buttons while broadcasting live.
10. It's Game Time
Lead generation webinars require confidence and trust as results. Therefore, you have to appear confident and do everything you can to emit confidence.
Through your webinar, you can communicate credibility and professionalism.
Set up your environment for a smooth webinar hosting session.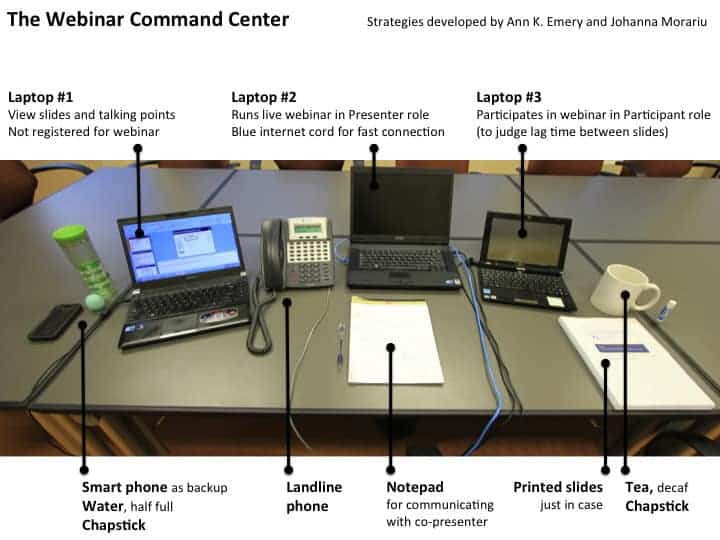 11. Follow Up
The lead generation is essential, yes, but unless they convert, they add very little value to you.
Plan a detailed follow-up strategy to send emails to your newly acquired leads about upcoming webinars. Additionally, you could also include details of specific offers or holiday sales.
You can also add a link to the recorded version of your webinar.
Also, pass these leads to your sales team so that they can keep the ball going. Lead generation through webinars is just the beginning of tons of new relationships.
You have to be consistent like in any relationship to witness real benefits.
EngageBay has tons of marketing tools that you are super easy to use. Be it email marketing or email automation or an efficient CRM system; we have it all.
Hop on to our platform to check out the myriad of ways we can help skyrocket your online presence.