Among the different marketing strategies, email marketing remains one of the most classic yet the most effective ways to reach prospects, promote your brand and build relationships. According to statistics, emails have the highest return on investment. For every $1 spent on email marketing, there is a return of $32. Over the years email marketing has been a favorite among marketers because it is easy to plan, implement and improvise. If you are a beginner and want to know more about the nuances of email marketing, this will be definitely a good read for you.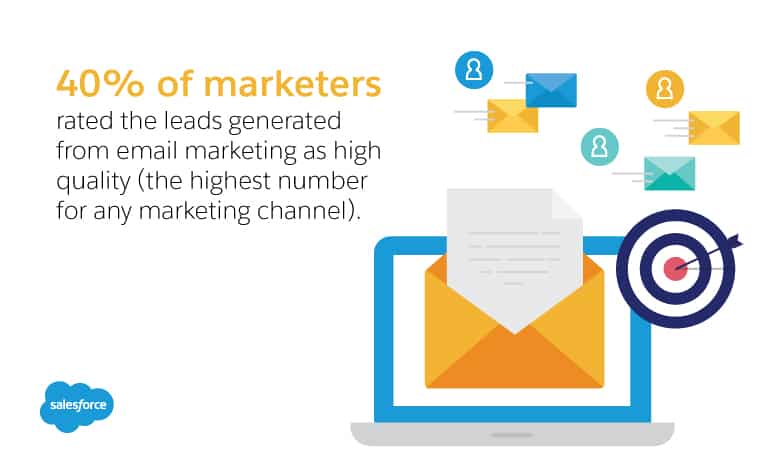 Image Courtesy: https://www.salesforce.com/products/marketing-cloud/best-practices/bulk-email-software/
Email Marketing is not a stand-alone entity; there are many aspects to it like Segmentation, Personalization, and others. It is also related to Content Marketing, Relationship Marketing, Affiliate Marketing, and others.
There are various factors which impact the success of different email marketing campaigns such as Open Rates, Personalization, Bounce Rates etc. One of the most important factors which email marketers are interested in is higher Open Rate.
What is Open Rate?
Email open rate is the percentage of the total number of subscribers who have opened an email campaign. These rates depend on various factors including the subject line, relevancy for subscribers, personalization, content etc. However, a value in 20-40% range can be considered as a healthy open rate. There are various factors which impact open rates and Subject Line is one of them.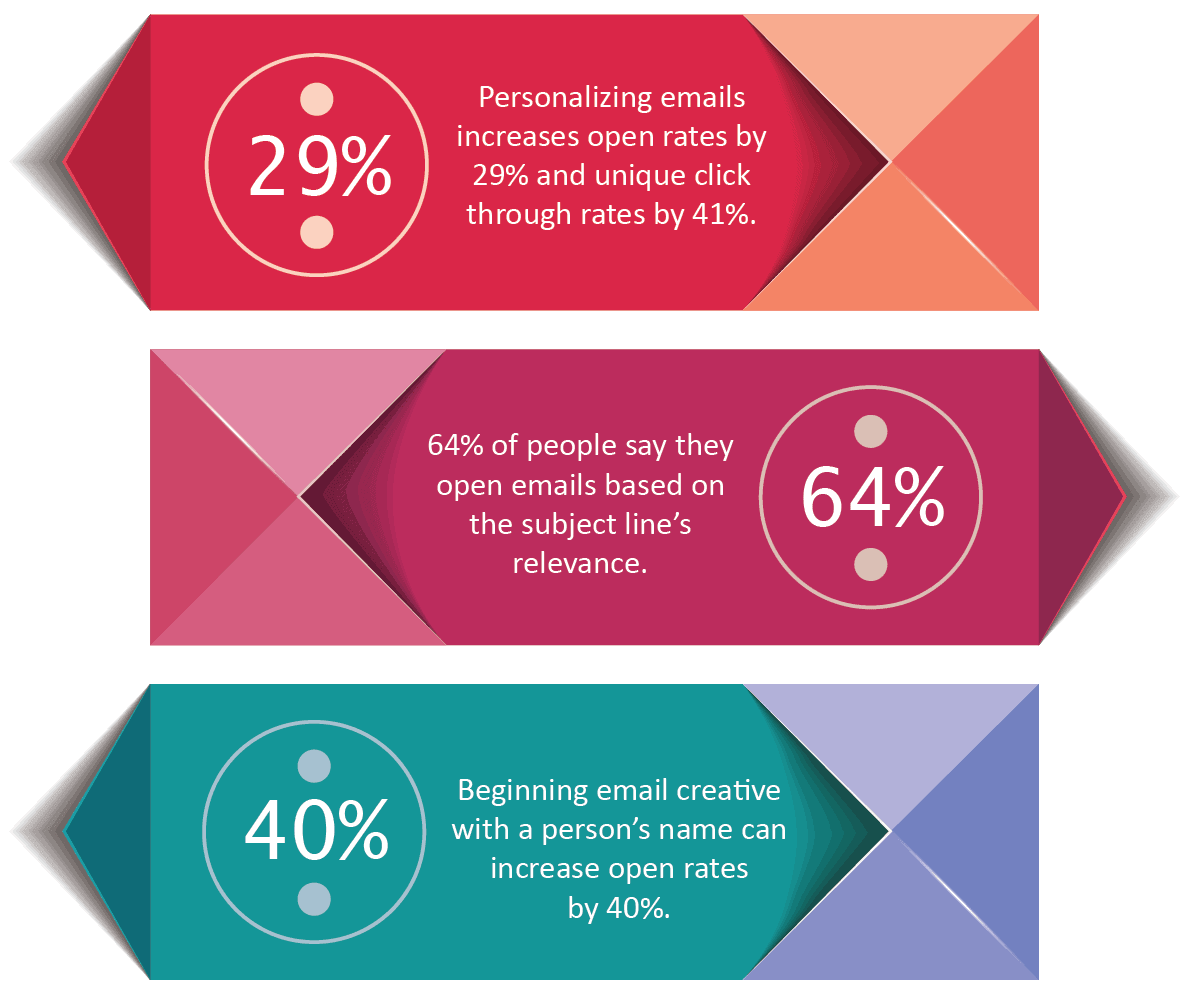 Image Courtesy: http://www.anchorcomputer.com/index.php/2016/04/19/personal-email-marketing/
 Email Subject Line – A Defining Parameter
Email subject lines are as important as the body content. Did you know that 47% of email recipients open email depending on the subject line whereas  69% of email recipients report email as spam based solely on the subject line?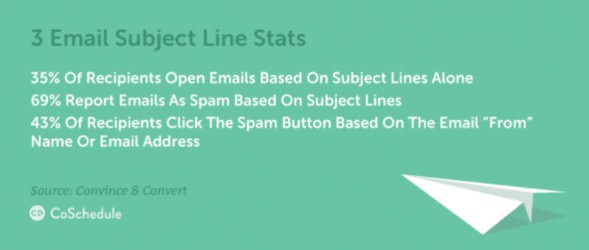 Image Courtesy: https://www.fairangle.com/great-email-subject-lines/
So, you can see how subject lines directly impact email open rates. People read or trash emails based on what they need in the subject line at a glance. It is surprising that emails with no subject at all have an open rate of around 8% more than those with a subject line. However, when you add personalization to subject lines, there are 22% more likely to be opened. Here is one more statistic: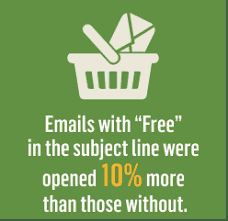 Image Courtesy: https://www.sparkemaildesign.com/email-subject-line-knight-in-shining-armour/
Subject lines are not only important to increase your open rates, but also to summarize the content of emails. It shows urgency and relevancy of the email for the subscribers. Sp, the more eye-catching it is, the more people will feel like opening and reading the entire email.

Image Courtesy: https://www.emailmanager.com/en/blog/1/2247/creating-the-best-email-subject-lines-for-higher-cto.html
Email subject line is as important as the email body content. Now that you know about the importance of that 'one line' that has the potential to grab the attention of the email and urge them to open your email, let us take a look at some of the best email subject line examples from the industry in 2020.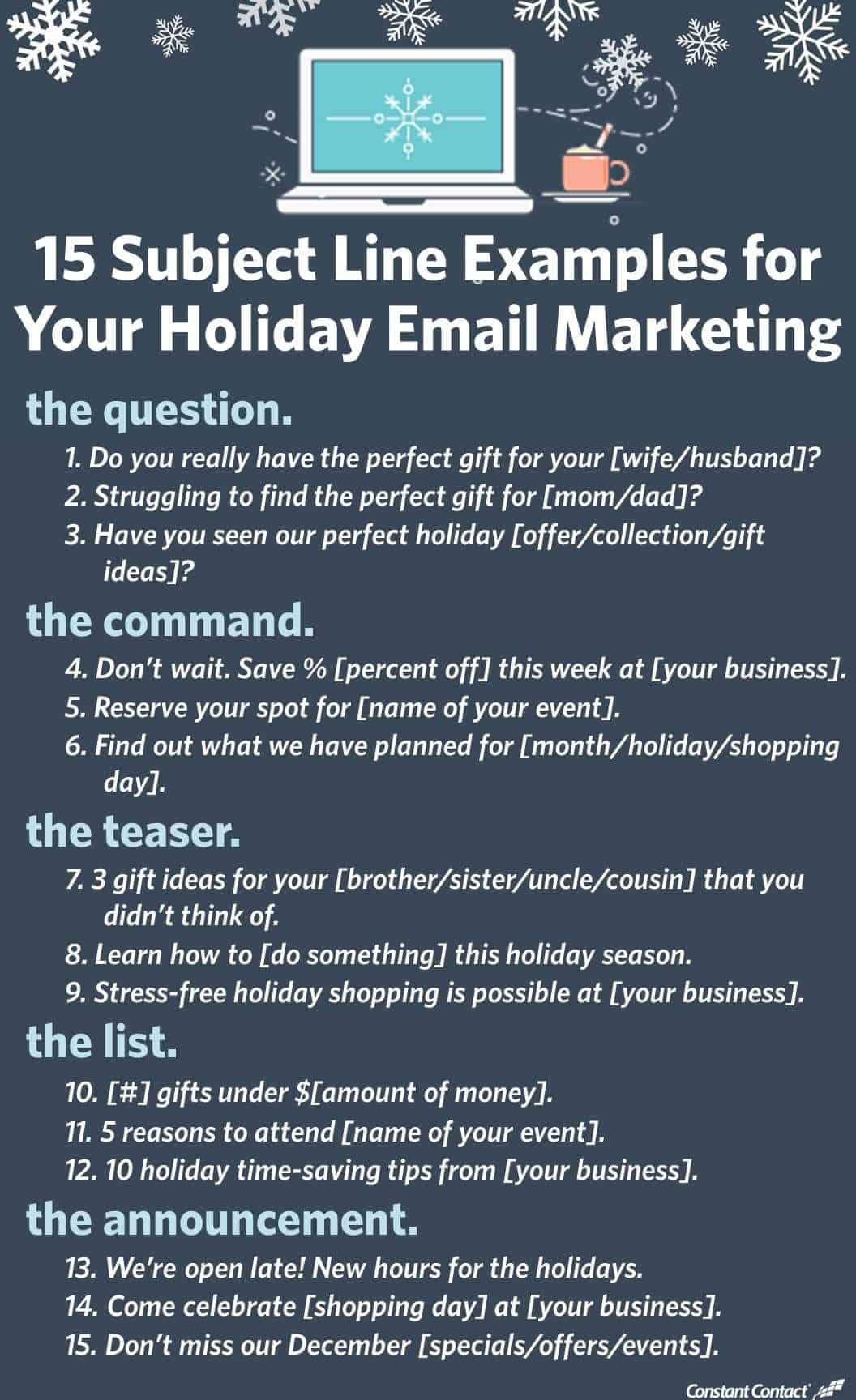 Image Courtesy: https://www.pinterest.com/pin/82542605646146210/?lp=true
Here are some more on Holiday Email Subject Lines.
25 Catchy Email Subject Lines That Have 'Nailed It'
1. "Google sees smartphone heroics in Oreo. It's The Daily Crunch." – TechCrunch is a newsletter which keeps people updated about the latest news and developments from the world of technology. So, the usage of the words 'daily crunch' that keeps you abreast with updated information about technology, so you know you gotta read it.
2. "Where to Drink Beer Right Now" (Sent at 6:45 am on a Wednesday) – Could have been better timed by Eater Boston. After a busy day midweek, this can be the perfect thing to wake up to and ease out a bit.
3. "Uh-oh, your prescription is expiring" – Using conversational words like "uh-oh invokes the fear of missing out and Warby Parker used it to attract you to the fact that you probably need new glasses.
4. "Best of Groupon: The Deals That Make Us Proud (Unlike Our Nephew, Steve)" – It is very likely that a humorous or sarcastic subject line works the best. And Groupon uses this strategy to the best. It is like using the unexpected to compel the recipient to read on. This kind is best suited for typical Thanksgiving email subject lines or even Christmas email subject lines.
5."*Don't Open This Email*" – When we are told not to do something, we tend to be more curious to open the content and read. This is what Manicube used in their email subject line.
6. "What They Eat In Prison", "DO NOT Commit These Instagram Atrocities" – A catchy language always urges the reader to look forward to some interesting stuff. Thrillist uses such eye-catching words in their subject line so that people open the content to read.
7. "Black Friday shoppers are the worst customers" – This came in a LinkedIn Pulse newsletter, promoting an article one of its users wrote on the topic of holiday marketing. Giving intriguing facts or sometimes figures to make the reader want to read more. Now while these kind of subject lines are clear attention grabbers, they are absolute no-nos as Black Friday email subject lines.
8. "10 bizarre money habits making Millennials richer" – Subject lines that are leading will always urge the recipient to know more about the subject. Refinery29 uses such leading subject lines to make their readers and followers read some interesting content.
9. "Not Cool, Guys" – BuzzFeed is known for its unique and interesting content. Sometimes they use a combination of the subject line and preview text to make it conversational and friendly. For example, the preview text that followed this was "Okay, WHO left the passive-aggressive sticky note on my fridge. Honestly, who acts like this?"
10. "Is this the hottest career in marketing?" – Digital Marketer used this curiosity-inducing subject line to let readers know what's interesting inside. Something that is fresh, something that is trendy definitely needs a great subject line like that.
11. "? Free (Cool!) Clothes Alert ?" – Clover uses visual content like emojis to lure readers to open the email. We all 'like' those tiny images and if it is something that you 'love', then definitely it will make you look for some offer or freebies inside.
12. "you free this Thurs at 12 PM PST? [guest blogging class]" – Mary Fernandez used personalization to reach out to new people and also existing followers. Personalization can really work wonders and urge the recipient to open the email as it makes them feel special.
13. "1,750 points for you. Valentine's flowers & more for them." -If you love to travel, then this email from JetBlue might not just be a random number to you. And since it also has an extra added bit, you might want to read it through. Instead of, saying that "20% your next return flight of 1,000 miles or more," this subject line implies that you get 1,750 points, and all you have to do is buy flowers for your loved one. Here is one more from JetBlue- "You're missing out on points."
14. "Rock the color of the year" – Etsy, the e-commerce website was able to promote a product solely based on color. With such an intriguing subject, it is unlikely that you would want to know the 'color of the year'.
15. Sometimes, straightforward subject lines also work best. For example, "[Company Name] May 2005 News Bulletin!" or "Eye on the [Company Name] Update (Oct 31 – Nov 4)" etc.
16. "As You Wish"- UncommonGoods knows its buyer persona and send them mail according to their wish list or interests. This comes as a reference from the movie The Princess Bride.
17. "Everything you wanted to know about email copy but was too afraid to ask" – CopyHackers uses one of your fears or pain points to urge you to take a quick look into the email.
18. "The price dropped for something in your cart" – These retargeting email subject lines can prompt you to visit your cart once again or complete some unfinished purchase. One more example–  "Hey, forget something? Here's 20% off." by Bonobos.
19. "Tonight Only: Get this NOW before it's gone…" – It is difficult to resist the fear of missing out. Violet Grey used this with an added incentive inside to increase email open rates. Alternately, "Weekend Only: Get this …" or "Last Day to Get…" can be used for promoting special product offers or freebies.
20. "New Video: (Topic)" – An effective email campaign is not only to increase sales or revenue, but also to provide some value to the customers. This email from Beardbrand promotes useful content and information. Some video or tutorial inside needs to be advertised with a catchy email subject line.
21. "Yes, this is a fundraising email" – Al Franken
23. "Hey" – Barack Obama
These straightforward and "boring" subject lines performed the highest out of 40 million emails, with open rates between 60-80.
24. "Products the celebs are wearing" –  Sephora used this celebrity branding and vanity subject line to hit the emotional quotient of readers and make them open the email.
25. "Learn a language with only 5 minutes per day" – Offering a solution to a problem or trying to address a pain point is a good strategy when writing an email subject line. Duolingo gave a great offer while trying to solve a problem.
Steps for Writing Good Email Subject Lines
Here are some of the factors which contribute towards a good subject line.
Curiosity: Curiosity is something which works wonders. Add text or content which will invoke interest in the reader's mind. However, do not be too obscure that the email gets reported as spam.
Urgency: Using urgency is a classic approach and generally works because it compels the reader to take immediate action or at least gives the feeling that something is of utmost urgency. However, there are more subtle ways to express urgency and that is how it should be.
Relevance: One of the most important thing for subscribers is to receive timely and trendy information. This needs to be leveraged while designing subject lines as well. Trendy topics or trendy headlines should be used in subject lines to keep your readers interested.
Personalization: Personalization always works because different people have different preferences. Personalization gives a feeling of importance and is liked by subscribers. It is one of the best strategies in Content Marketing that not only helps to retain good relationships but also in lead generation.
Here are some examples: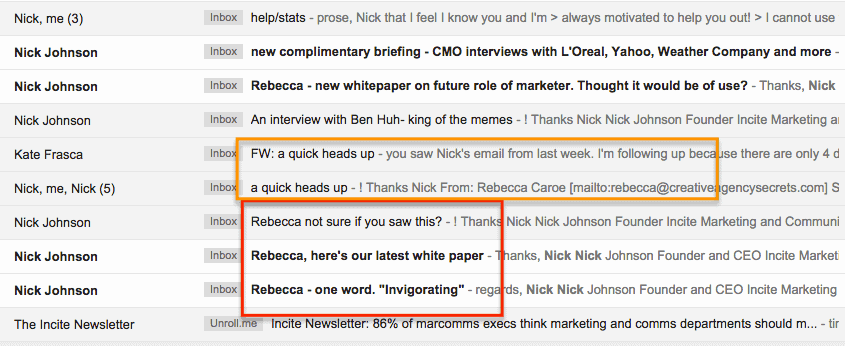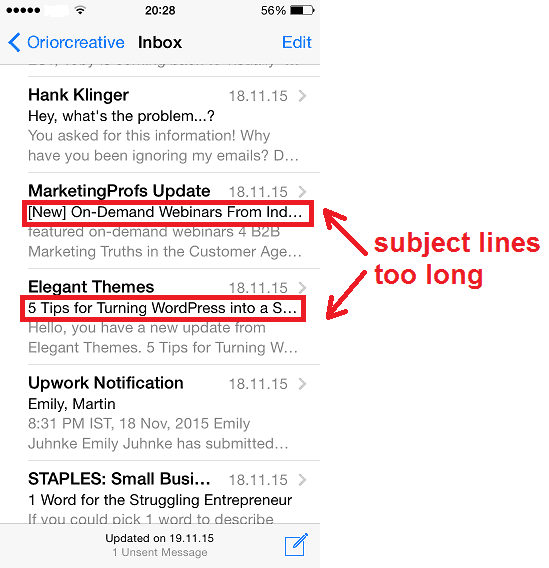 Celebrity Branding: Use a familiar name with which people can identify. Personality traits of celebrities can invoke curiosity in the recipient to open the mail.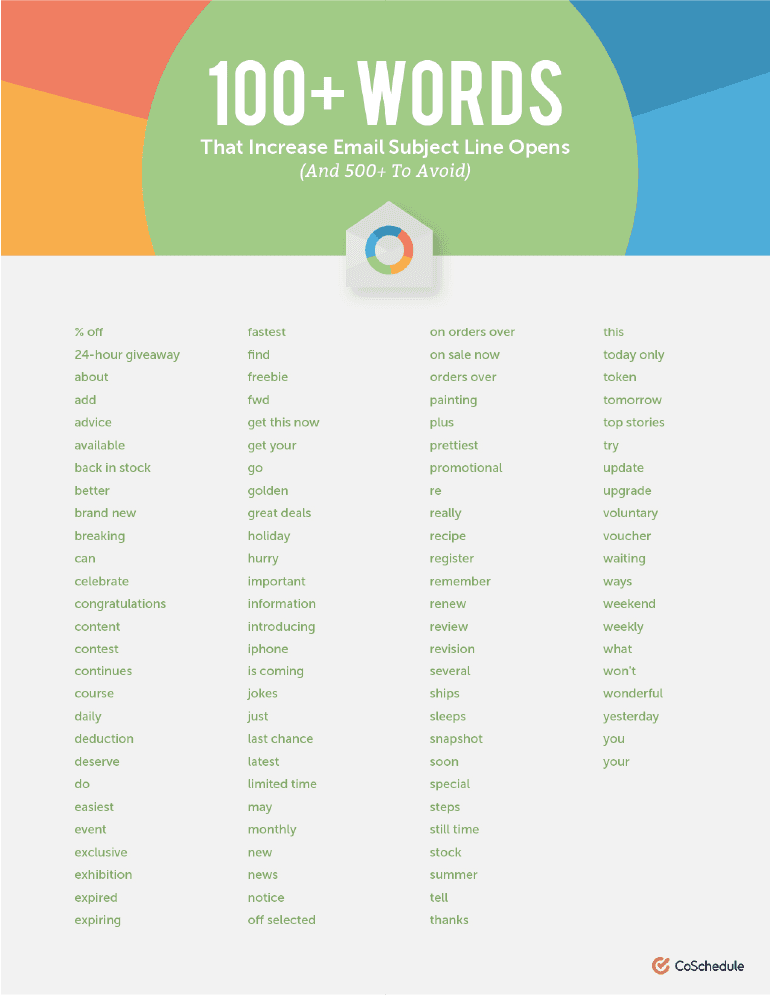 Image Courtesy: https://media.coschedule.com/uploads/words-increase-email-opens.png
Email Subject Line Best Practices
1. Keep it short and simple. Use concise language. Almost 77% of emails are read on phone, so if the subject line is too long, it might get cropped. The reader might overlook important information or might be disinterested to read the whole thing. So, it is advised to keep subject lines within 50 characters so that they read the entire subject. Think about the words which matter the most and exclude unnecessary details. For examples, instead of writing 'Order No #XXXX is being processed', you can simply write 'Your order is being processed.' Also, words like 'Update' or 'Newsletter' should be avoided as readers tend to ignore such emails.  Also be concise as recipients will not take much time to read. For example, use 'Increase your sales by 60%' rather than 'How to increase your sales'.
2. Avoid 'no-reply' sender name, rather keep a familiar name: It is very important to familiar sender address than only just a Company email address. A person's name like  Roger@yourcompany.com will be more acceptable to an individual than just the Company name email. It is also important never to sent emails with a no-reply sender name as they directly go to spam and ignored. A familiar name sender id also gives a feeling that they are dealing with an actual person rather than an abstract entity.
3. Avoid using ALL CAPS: Study shows that 85% of recipients prefer subject line in lower case. ALL CAPS subject line looks spammy and mostly ignored. It gives the feeling of being directed at and over-emphasizing which recipients might not like it. Rather use simple, delightful catchy language to get their attention.
4. Segment your lists: It is always better to send emails relevant to the recipient for better success rate. Hence, personalization is the key. Segment your email list according to their previous action so that everyone receives what they are expected to. List Segmentation is a major aspect of email marketing and will help you send the right content to the right person. You can read about how online CRM can aid in better list segmentation here.
5. Avoid making false promises: Do not make false promises in the subject line and deviate from it in the email body content. Tell them precisely what they can expect inside. Make it clear in the subject line because confusing and false subject lines can lead to lower open rates and higher unsubscribe rates.
6. Use numbers and values: A subject line with contains numbers will get more attention than the one which is vague. Try to add numbers and values wherever possible, so that the recipient knows where they stand. You can mention the discount value or use numbers to refer to the title of your listicle or a numerical benefit of the resource or service that you are providing.
7. Make the recipient feel special: Over and over again, the aspect of personalization has been stressed upon because it brings in positive result. Personalization can happen at various levels. From it comes to subject lines, choose words which instantly grabs the attention of the recipient and makes then feel special. Some examples are:
"You're invited!"

"For our beloved customers only"

"An exclusive offer for you"
8. Give an engaging pretext: A pretext is not a part of the subject line, but in the Inbox, it appears right next to the subject line. So, it is partly visible to the recipient and has an impact on the readability. Preview text gives a bit more details about what is inside. If you do not set the content, then email clients like Gmail, Outlook, etc. will fetch on its own and display. So, to keep it precise and engaging, it is better to set the pretext to suit your recipient.
9. User personalization token: Research has shown that marketing emails that included the first name of the recipient in their subject line had higher click-through rates. Including their first names in the subject line can be a great start. Also offer them something very specific according to their needs. For example, a dog walking company Wag! does so with dog names.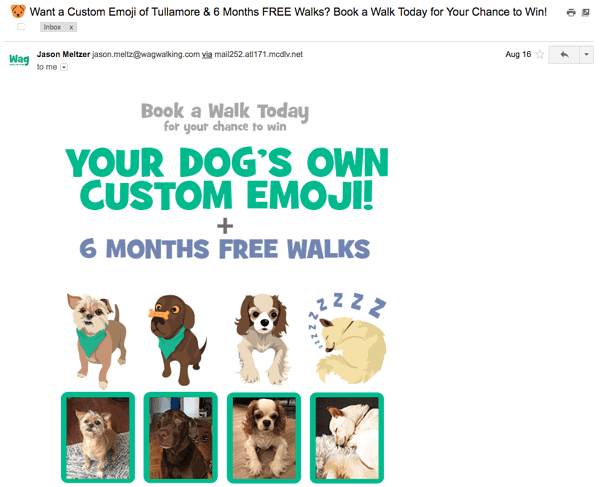 Also, you can include recipient location in the subject to get them interested. However, it is limited rather than going overboard with it.
10. Use either a question or an exclamation at a time: Asking a question in the subject line can be an attention-seeking strategy. On one hand, it will give the reader an idea what they can expect in the mail and also compel them to think and read. May be it can read, "Are you making these SEO mistakes?" or "Do you know what went wrong with your website?"Here is an example from DocuSign. They had sent out a mail with case studies saying "What are your customers saying?" Prospects who were down the funnel were rather interested in customer testimonials. Use either a question or an exclamation at a time.
11. Start with action-oriented verbs: Subject lines can be made similar to call-to-action. So, including an exciting action verb, in the beginning, will entice the reader as well as motivating them to click. For example, while inviting people to a hockey legend dinner, the email subject line can be, "Dine with Bruins legend Bobby Orr" rather than a generic one.
12. A/B test your subject lines: Though these tips and tricks are useful, but it is always better to A/B test your subject lines to know what works best for your audience. Email A/B testing will help you understand what language will make people click on your emails so that you can improvise according to the result.

Image Courtesy: https://media.coschedule.com/uploads/write-better-subject-lines-six-steps.png
To know more about other email marketing tips on effectiveness and reach, read this.
As a marketer, it is very important to know how to improve and increase the efficiency of all your marketing campaigns. For good ROI on Email Marketing by improving open rates with apt subject line and other marketing strategies, take a look at our value-added deliverable.
EngageBay is a comprehensive Customer Lifecycle Management (CLM) software for growing companies. CLM covers all aspects of customer management across sales, marketing and support. Check out EngageBay's offerings – a powerful CRM, Marketing Automation and Customer support software to grow your business.
There's lots of advice out there on email marketing. Here are a few resources to check out: