Small businesses need a powerful email marketing tool to reach their customers, and ConvertKit is one of the most popular options.
However, it's not the only one.
There are many other email marketing tools available, and they each have their own strengths and weaknesses.
In this blog post, we'll discuss 13 ConvertKit alternatives that make more sense for small business owners.
These are:
EngageBay
Mailchimp
AWeber
GetResponse
ActiveCampaign
Sendinblue (Brevo)
HubSpot
Campaign Monitor
Drip
Constant Contact
Moosend
Sendpulse
MailerLite
We'll go over each alternative to ConvertKit one by one, covering their features and pricing.
By the time you're done reading, your small business or startup should have the right email marketing software solution for your budget.
What is ConvertKit?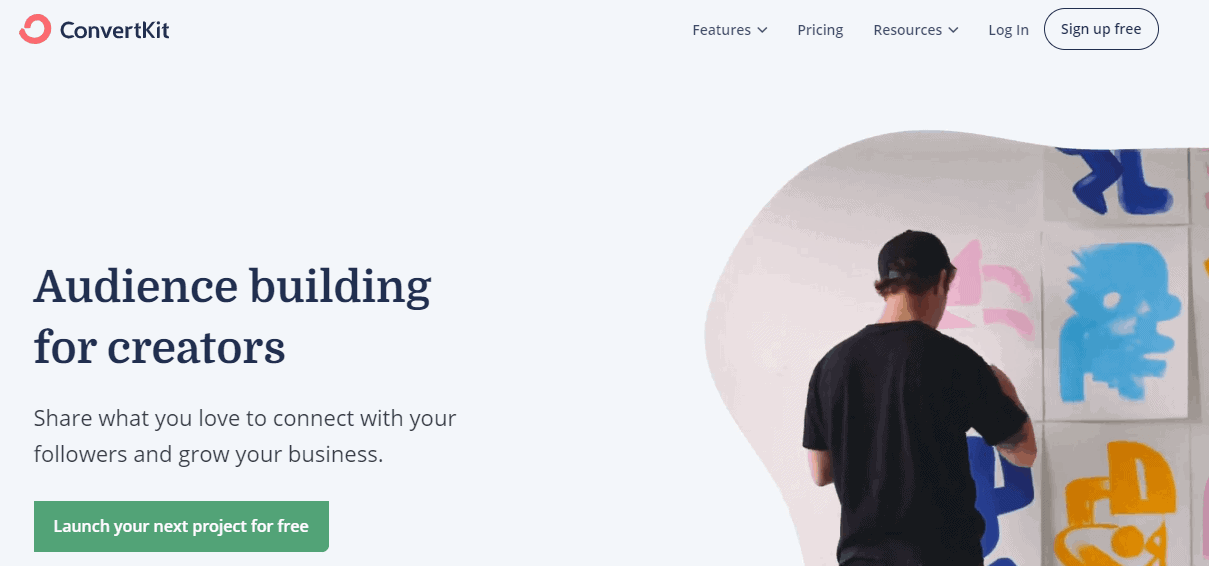 Let's begin by discussing ConvertKit, including the service's own features and pricing. This way, we can make an accurate comparison against the above-mentioned ConvertKit competitors.
ConvertKit is an email marketing automation software that caters to online creators. That's a rather open-ended term that means ConvertKit's services are supposed to fit a myriad of users.
To determine whether that's true, let's examine the product features.
Features
The following features are included with a membership to ConvertKit:
ConvertKit Community: As part of the ConvertKit Community, you can link up with other ConvertKit users to ask questions, discuss milestones, and stay motivated.
Live training every week: With weekly workshops, you can learn more about how to use ConvertKit efficiently for your business.
Free integration: When getting started with ConvertKit, you can switch from your previous software with free integration on their part.
Automation: Automate areas of your business such as selling services, webinar hosting, product launches, and audience surveys.
Email automation: With automated RSS feeds that take into account subscriber targeting and digest timing, your audience could grow.
Email builder: Create emails using CTAs and instant images with or without custom coding.
Sign-up form builder: Make as many sign-up forms as you wish with lead magnets, custom fields, and customizable designs. The forms are all compliant with GDPR.
Landing page builder: Choose and edit your favorite landing page templates or automate them.
Integrations: Many tools and services integrate with ConvertKit, including Shopify, Teachable, Crowdcast, Zapier, Stripe, Gumroad, and CourseCats.
Pricing
Next, let's more closely examine ConvertKit pricing.
You can choose from three plans: Free, Creator, or Creator Pro. The Creator and Creator Pro plans do have two-week free trials before you commit to one.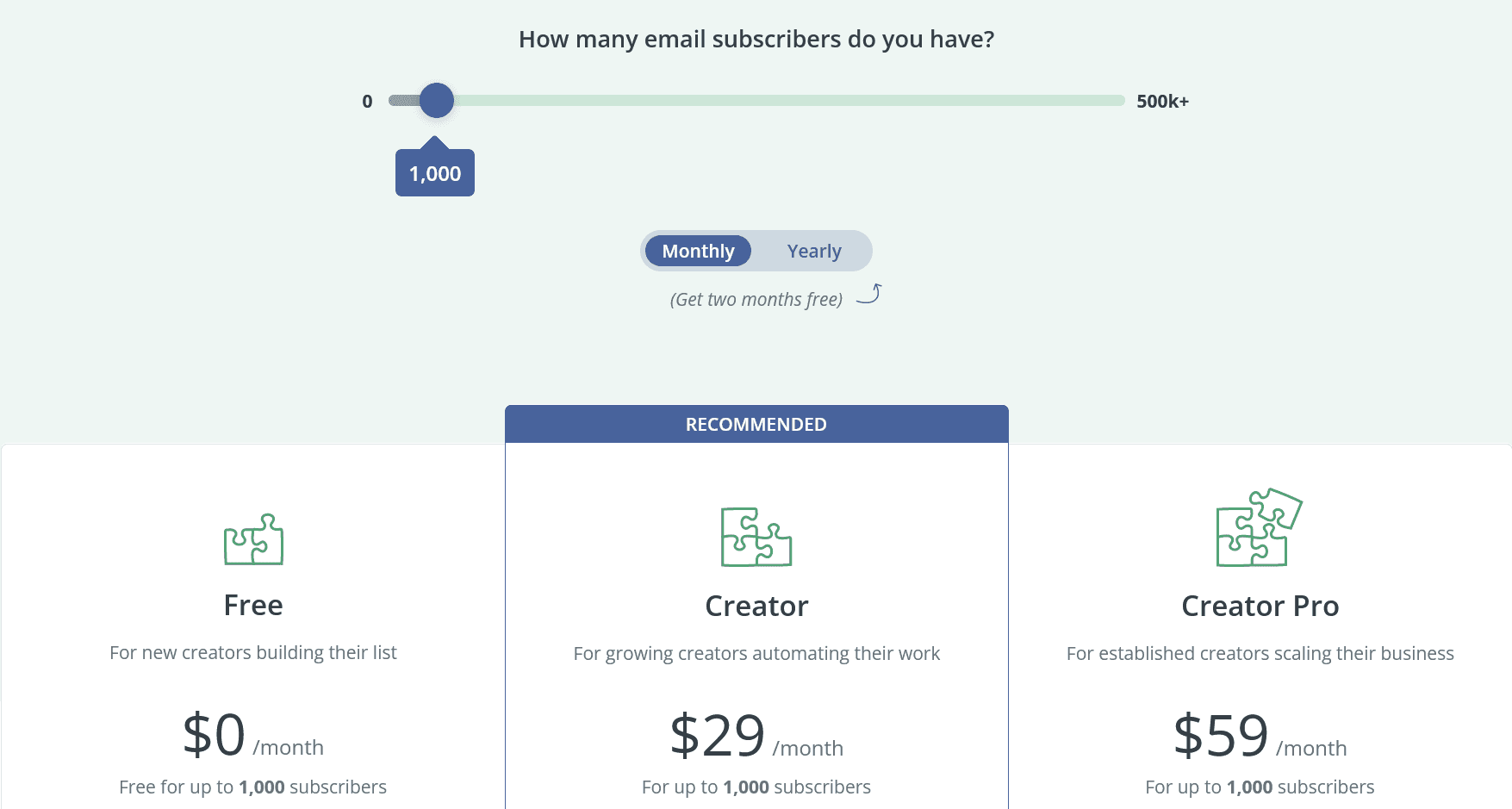 Some of the features available with the Free plan, which is $0 a month, include:
1,000 subscribers
Subscriber tagging
Customizable web domain
Unlimited sign-up forms and landing pages
Email broadcasting
Unlimited traffic
You are missing integrations, premium support, and automation for email sequences and marketing funnels with the Free plan.
The Creator plan adds those missing features.
When billed monthly, the Creator plan is priced as follows:
1,000 contacts – $29 a month
3,000 contacts – $49 a month
5,000 contacts – $79 a month
10,000 contacts – $119 a month
15,000 contacts – $149 a month
20,000 contacts – $179 a month
You can see how even the Creator plan from ConvertKit gets pricy fast.
The last plan is Creator Pro. You get every ConvertKit feature, including these:
Priority support
Subscriber engagement scoring
Team invitations
Newsletter referral system
Email broadcast redirect links
Deliverability reporting
Facebook custom audiences
Free migration
Here's the price breakdown for the Creator Pro plan by the number of contacts when billed monthly:
1,000 contacts – $59 a month
3,000 contacts – $79 a month
5,000 contacts – $111 a month
10,000 contacts – $167 a month
15,000 contacts – $209 a month
20,000 contacts – $251 a month
👉Get a handle on ConvertKit's pricing with our detailed breakdown, and find the perfect plan or solution for your small business.✌️
User Reviews of ConvertKit
ConvertKit is a cool tool for content creators, and it has its fans. But there are also people unhappy with the software. Take a look at some user reviews: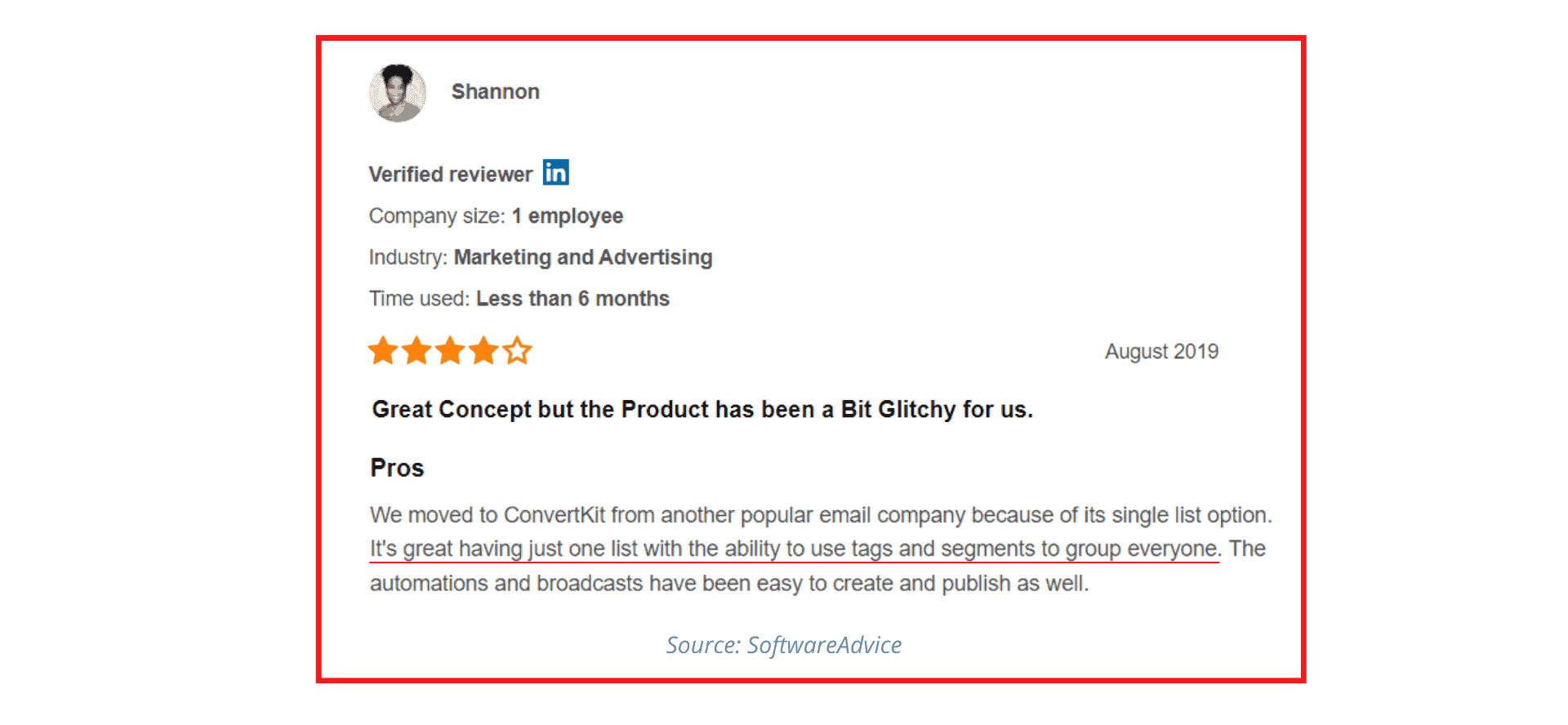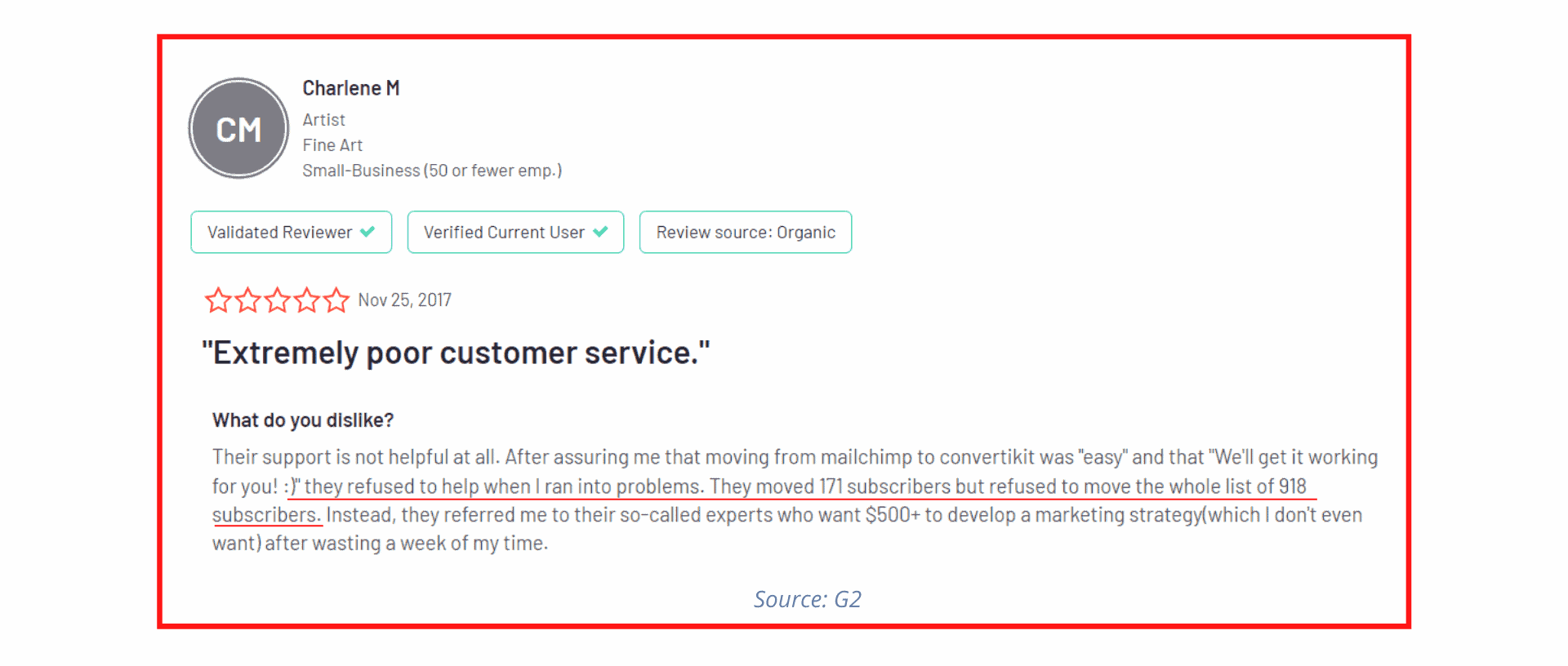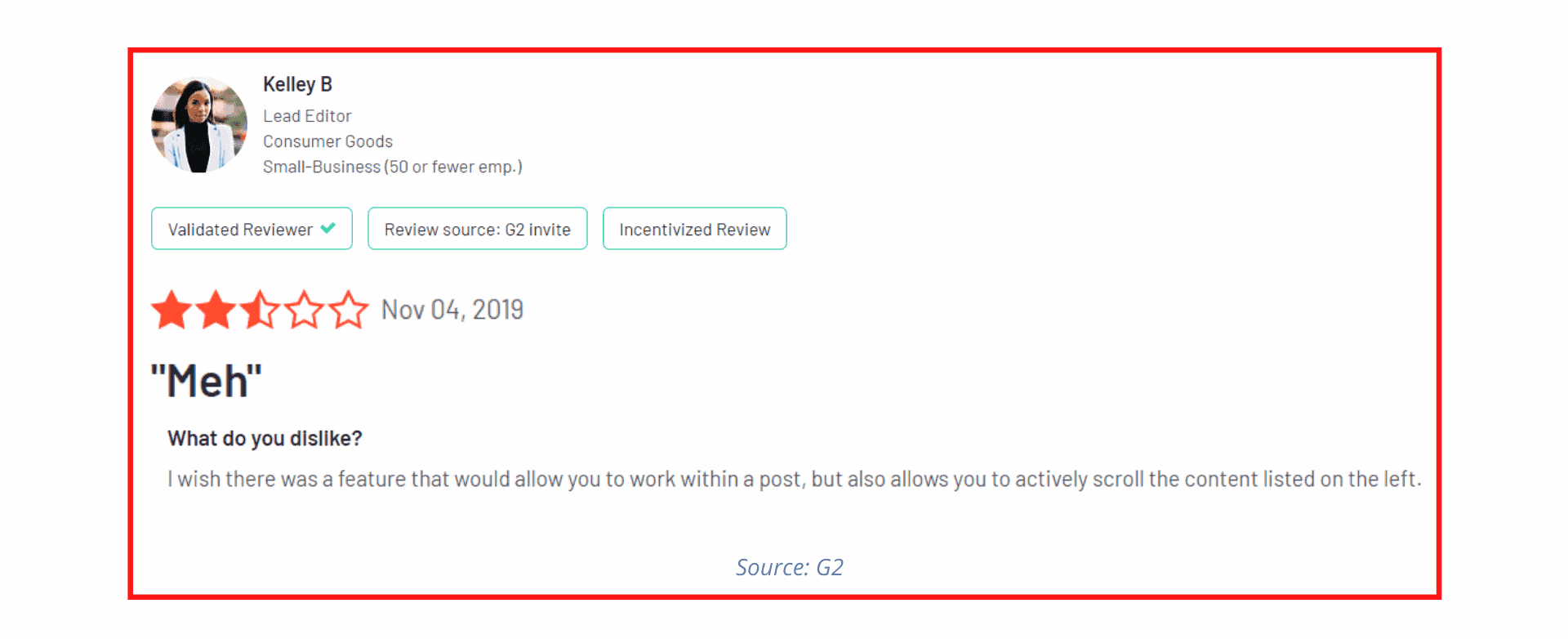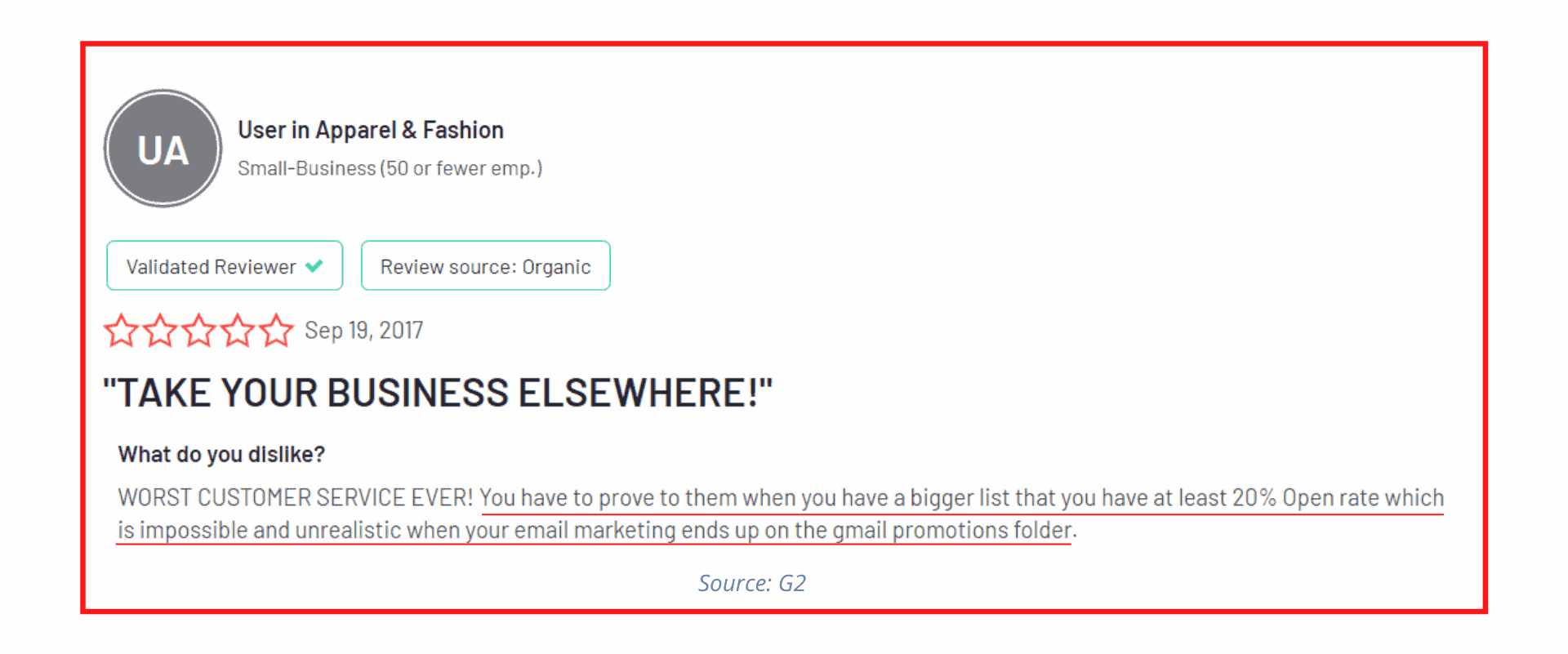 If you want to watch a video to learn more about some robust alternatives to ConvertKit, we recommend this one:
13 ConvertKit Alternatives for Small Business Owners
At 20,000 contacts for ConvertKit's most comprehensive plan — Creator Pro — you'd pay more than $250 a month. That's way outside the budget of many a startup and small business.
So, let's look at some really awesome ConvertKit alternatives that can help your business grow.
#1. EngageBay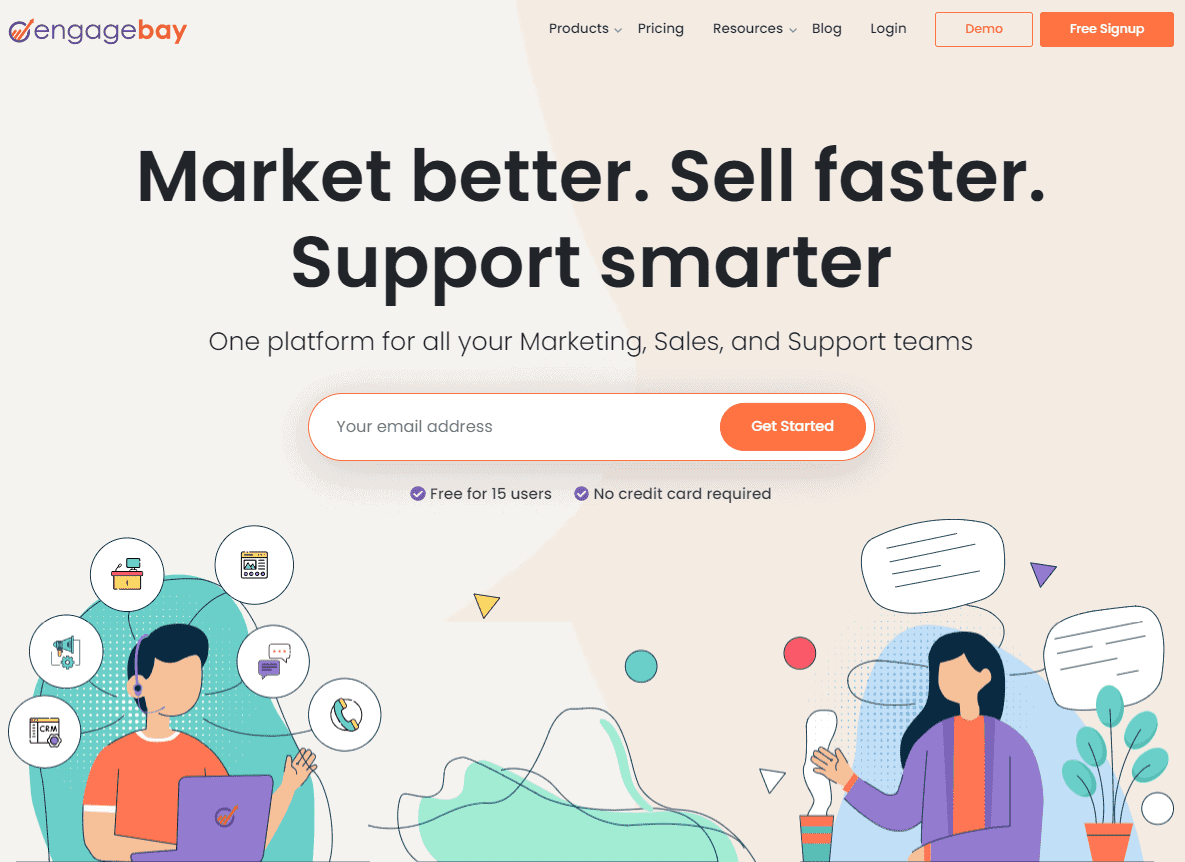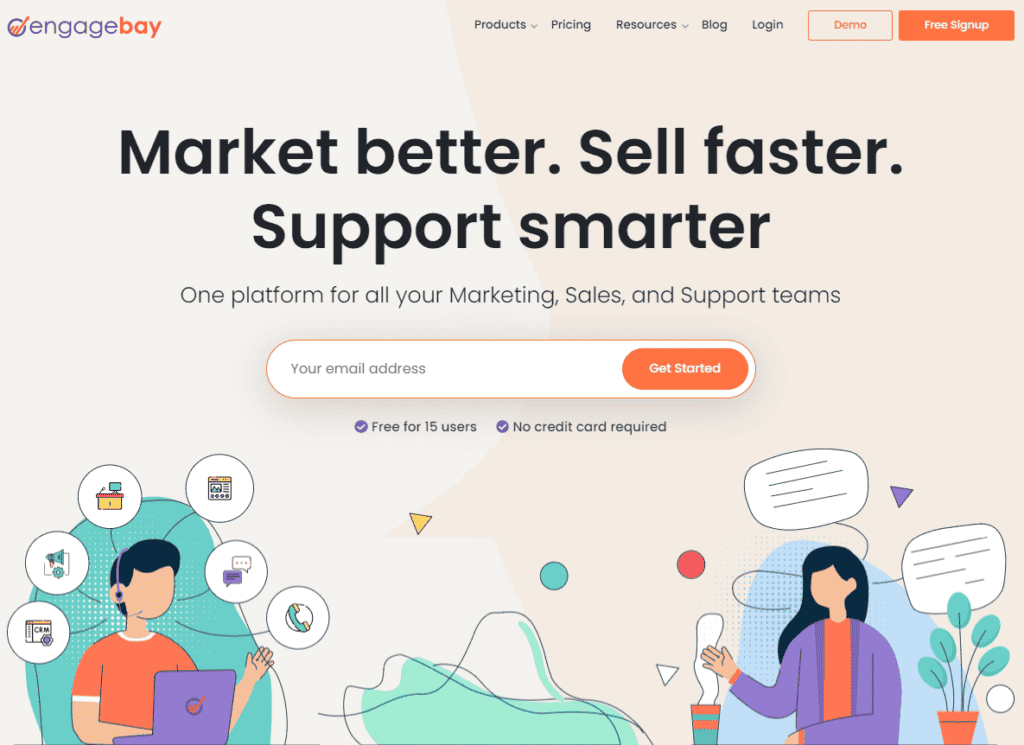 The all-in-one sales and marketing suite that is EngageBay is designed to address the need for affordable CRM software that can do it all from one place
Although originally started as a HubSpot competitor, EngageBay is more reliable and affordable than ConvertKit as well.
The Marketing Bay has all the features your startup or small business needs. You can also use EngageBay's CRM for free forever.
Features
Here are the features available in EngageBay's Marketing Bay:
Marketing automation: The advanced marketing automation EngageBay offers lets you create full marketing funnels, and often in just a few minutes, not hours. You can now more easily engage with and nurture your growing audience. You can also automate tasks like lead segmenting, email or SMS marketing, lead management, CRM, and live chat.
Landing page builder: The simple drag and drop landing page builder lets you put together enticing landing pages that'll increase your conversions. You can customize all parts of your landing page, including headers, footers, content, CTAs, pop-ups, and more.
Email broadcasting: Send the right emails to your audience segments, including newsletters, welcome emails, offers, promotions, thank-you emails, and more with EngageBay.
Email builder: EngageBay's rich variety of responsive, appealing email templates look great, and all are customizable if you so desire. You may even like using the templates as-is.
Lead capture form builder: You can also customize the pop-ups that appear on your website with EngageBay's lead capture form builder. These pop-ups will grab the attention of your audience segments.
Subscriber targeting: To automatically segment your contacts in EngageBay, use filters. This will let you instantly go from one audience group to another. Sort through your filters by tags, source, date created, and country.
Email personalization: Make your communications with customers even more tailored through email personalization features. Your audience will feel like you're writing emails just for them!
Site messaging: Post announcements or simply greet your audience with site messaging. Take this feature further by segmenting your audience and personalizing interactions with leads and customers.
Email sequences: Create winning drip email sequences for the betterment of your campaign, automating when necessary to free up more of your valuable time — making EngageBay a great ConvertKit alternative.
Video Marketing Templates: The unique Video Marketing Templates through EngageBay let you select thumbnails from your Vimeo or YouTube content and then embed these thumbnails right into your emails or other communications with your audience.
Pricing
EngageBay's Marketing Bay includes four pricing plans. These are Free, Basic, Growth, and Pro plans. You can also try a free trial.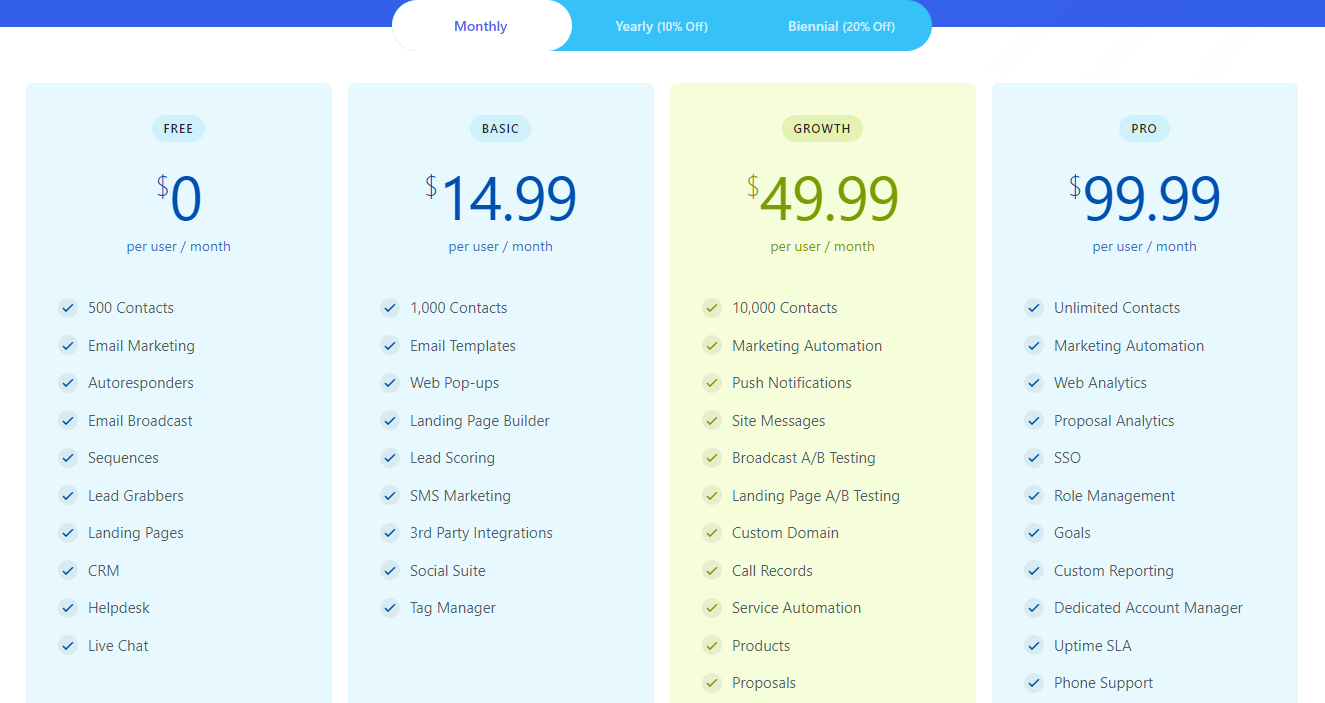 The Free plan is $0 forever. Here are the available features of this plan:
1,000 branded emails
500 contacts
Segmentation and lists
Embedded forms
Predictive lead scoring
Email sequences
Newsletter sending
Landing page builder
Email broadcasting
Facebook Ads
SSL-enabled landing pages
Desktop notifications
Video marketing
Tag management
Email templates
Autoresponders
Social suite
Reporting dashboard
Integrations
Live chat
Custom fields
File storage up to 1 gigabyte
Chat and email support
The Basic plan costs $14.99 a month when billed monthly. Besides the above features, you also have 1,000 contacts and 3,000 branded emails.
If your small business continues expanding, you'll need the Growth plan, which starts at $49.99 a month. You get even more exclusive features, such as:
25,000 branded emails
10,000 contacts
Web rules
Push notifications
Site messaging
A/B testing
Automation and workflows
SSO
Email delivery based on the time zone
5 gigabytes of file storage
EngageBay's most expansive plan within the Marketing Bay is the Pro plan starting at $99.99 a month. Now you can use every EngageBay marketing feature, including:
Role management
Web analytics
Custom landing page domains
Phone support
Chat and email support
Free onboarding
Team hierarchy
20 gigabytes of file storage
50,000 branded emails
Unlimited contacts
Also, users are loving EngageBay!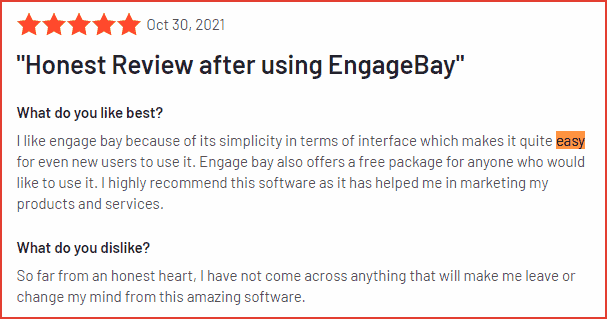 Read also: 7 ConvertKit Drawbacks and What to Do About Them
#2. Mailchimp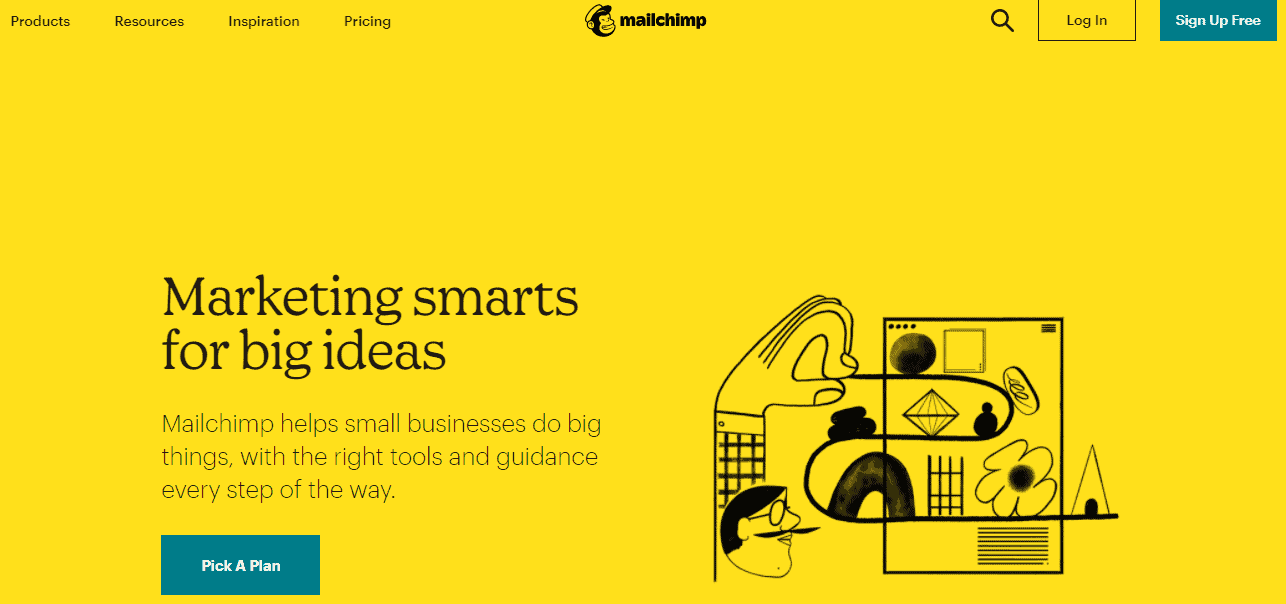 A ConvertKit alternative that's really popular is Mailchimp. This well-known email marketing platform was founded in 2001.
You can also use other integrated marketing services through Mailchimp, so let's take a closer look.
Features
Mailchimp's features are as follows:
Business card scanning: Since business cards are still in use today, scan them instantly and save the contact info for later.
Lookalike audience finder: Grow your audience with this feature that combs through your social posts and interactions for other audience groups to target.
Landing page builder: Mailchimp's landing page builder includes mobile landing page design as well.
Sign-up form builder: Make individual pop-ups or embed them on your site for more traffic and growth.
Insights and predictions: From current analytics to predicted demographics, you'll learn more about your audience and your campaigns than ever before.
Behavioral targeting: Send tailored content based on the behavior of your customers to drive more engagement — making EngageBay one of the best ConvertKit alternatives.
Pre-built segments: Mailchimp will build audience segments for you if necessary, such as if you're just starting out.
Marketing CRM: Organize, personalize, and review customer interactions within this CRM.
Integrations: Mailchimp integrates with nearly any service, including WooCommerce, Stripe, Calendly, and Zapier.
Pricing
Mailchimp's marketing platform has four pricing plans available: Free, Essentials, Standard, or Premium. Keep in mind transactional email services are priced separately.
The Free plan is $0 and includes these features:
10,000 emails a month
2,000 contacts
Basic segmentation
Contact profiles and tags
Audience dashboard with campaign engagement, surveys, and behavioral targeting
Basic templates and a creative assistant
Website publishing and analytics
Mailchimp domain or custom domain
Landing page, email, social, and pop-up marketing
Single-step automation
Basic reports
Campaign insights like subject line helper, next best action, and product recommendations
Basic support, including tips, a marketing glossary, and email support for a month
The Essentials plan starts at $9.99 a month with these additional features:
50,000 contacts
Access to every template
No Mailchimp footers
Custom Journey Builder
A/B testing
Chat and email support (24/7)
Starting at $14.99 a month (to start), the Standard plan has everything above as well as:
More audience insights, including behavior-based automation, customer lifetime value, lookalike audience finder, predicted demographics, purchase likelihood, and address finder
Custom-coded templates
Retargeting
Social media post scheduling
Multiple starting points for a customer journey
Delivery by time zone and send time optimization
The Premium plan is the costliest, starting at $299 a month. You can use every Mailchimp feature with this plan, including:
Advanced segmentation
Comparative reporting
Multivariate testing
Phone support
Read also: ConvertKit Vs Mailchimp And Other Email Tools
#3. AWeber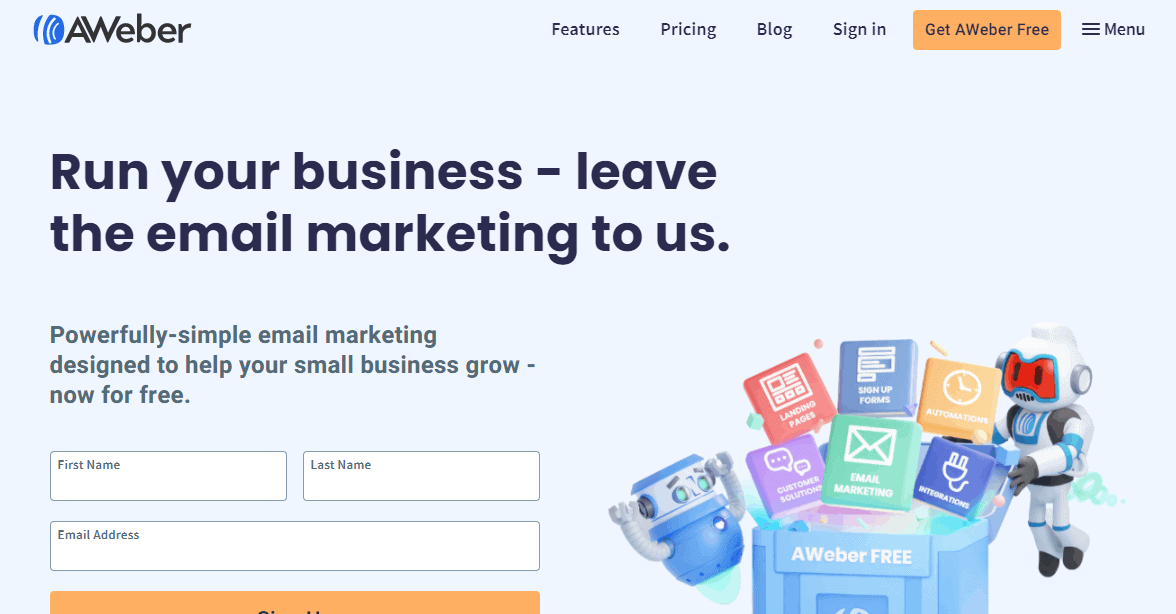 Our third ConvertKit alternative is AWeber. Founded in 1998, AWeber is known mostly for its automation, which is catered to small businesses.
Another service AWeber gets acclaim for is its email marketing, even more so than ConvertKit.
Features
Surely, you'll want to take a closer look at AWeber's features, so let's do that now.
Smart Designer: When designing emails, AWeber uses artificial intelligence to craft email templates that should suit your small business or startup.
Templates and drag and drop builders: For everything else, including newsletters templates and landing pages, you can use drag and drop and even some automation. Templates also simplify the process.
Marketing automation: Select the flows and triggers that activate your automation workflow, like tagging contacts, personalizing emails, or sending those emails to specific audience segments.
Analytics and reporting: The best practices included in AWeber's reports help you improve. You can even view data and KPIs on the go with mobile reports.
Subscriber management: Segment your audience within AWeber by category or list, even both.
Mobile apps: Use AWeber Stats, Curate, or AWeber Atom to do more marketing tasks even if you're away from your computer and the office.
Integrations: The breadth of integrations from AWeber includes GoToWebinar, PayPal, Raven Tools, Clickfunnels, Facebook, and
Pricing
If you'd rather not pay for AWeber, you can opt for their Free plan, which is $0. You can only add 500 subscribers, but until you reach that point, this is a good plan. Here are the features:
3,000 emails a month
Newsletters
Drag and drop email creation
Image library for building newsletters, emails, and more
HTML emails
AMP emails
Email and landing page templates
RSS to email
Hosted broadcast archives
Video landing pages
Facebook Pixel tracking
WordPress plugins for sign-up forms
Automation, including email
Segmentation features like basic segments and subscriber tagging
Basic analytics
Integrations
AWeber's Pro plan lets you add unlimited contacts and send as many emails as you wish. You also unlock these exclusive features:
No AWeber branding
Behavioral automation
A/B testing for emails and landing pages
Branded click-tracking links
Custom segments
Webpage tracking, advanced audience data, and advanced messaging analytics
Sales tracking
Web-push messages
How much does the Pro plan cost? That depends on how many contacts your company has. When billed monthly, here's what the pricing looks like:
500 contacts – $19 a month
2,500 contacts – $29 a month
5,000 contacts – $49 a month
10,000 contacts – $69 a month
25,000 contacts – $149 a month
Read also: All the Basics of Omnichannel Marketing (+ Examples)
#4. GetResponse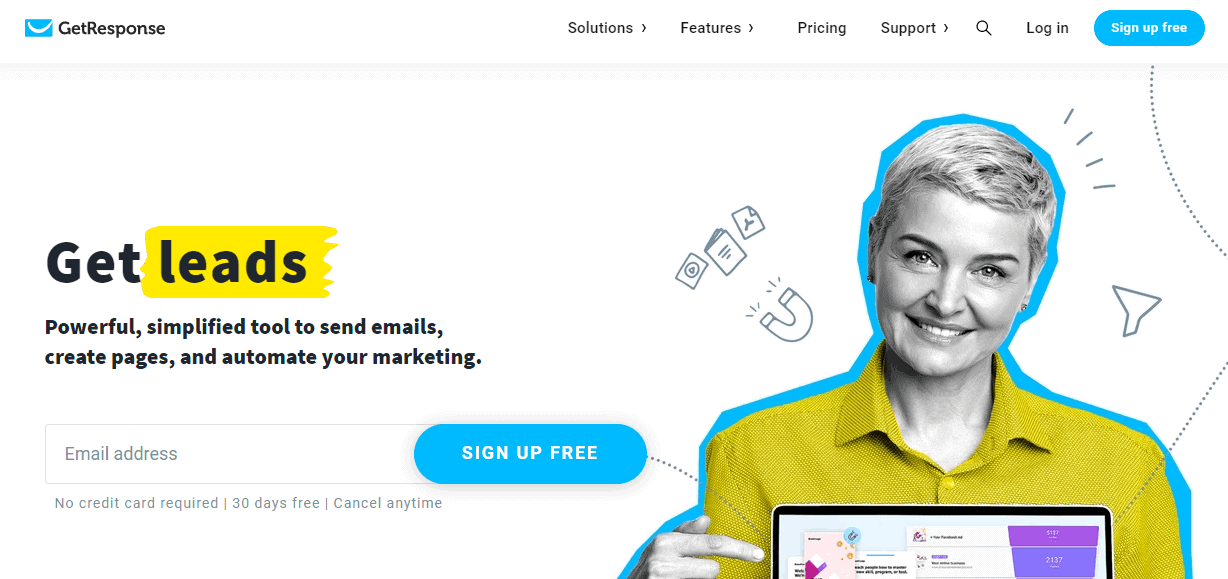 The last ConvertKit alternative on our list is GetResponse, an inbound marketing, and email marketing software. Founded over 15 years ago, GetResponse has grown to offer its services in more than 180 countries.
Features
If you're thinking of using GetResponse, here are the features you'd get:
Marketing automation: Automate by filters, actions, and conditions, setting up a customizable workflow.
Webinars: Host webinars with up to 1,000 attendees, and all through GetResponse.
Landing pages: Create landing pages with mobile responsiveness and an included image editor with photos courtesy of Shutterstock.
Email marketing: Segment your audience, send automated blog digests, schedule your emails, automate marketing tasks, and mail autoresponders and newsletters through GetReponse's email marketing services.
Paid advertising: Post compelling banners and video ads across social media, especially Facebook and Instagram.
Conversion funnel: Connect your sales team to your marketing efforts with list-building funnels, lead magnet funnels, and sales funnels.
Pricing
GetResponse lets you try their software free for a month. After that, you can select from the Basic, Plus, Professional, or Max plan. None are free.
The Basic plan starts at $15 for 1,000 contacts and $65 a month for 10,000 contacts. This plan earns you the following features:
E-product selling
Facebook Ads
Unlimited lead funnels
One sales funnel
Unlimited automation templates and landing pages
Autoresponders
Basic email marketing
The Plus plan starts at $49 a month for 1,000 contacts and $95 a month for 10,000 contacts. Here's what your money gets you:
Email marketing features such as inbox previews, email timing, A/B testing, visual email editing, RSS-to-email, autoresponders, and newsletters
Landing page custom domains and A/B testing
5 webinar funnels and 5 sales funnels
100 attendees for webinars and 3 hours of recorded storage
Form surveys
Automation, including contact scoring and 5 custom workflows
Ecommerce tools like e-product delivery and custom order forms
You might also look into the Professional plan, which is $99 a month for 1,000 contacts and $165 a month for 10,000 contacts. This plan includes the above features and:
Unlimited sales funnels, lead funnels, and webinar funnels
300 webinar attendees and 6 hours of recorded storage
Unlimited custom workflows and automation like segmentation, event tracking, and contact scoring
Ecommerce tools like payment gateway integration and abandoned order recovery
Facebook Ads and Instagram Ads
The last plan, the Max plan, features customizable pricing, and these features:
Unlimited landing pages
500 webinar attendees and 10 hours of recorded storage
On-demand webinars
10 teams
5,000 stock photos
40 funnel templates
700 form templates
180 landing page templates
220 email templates
Read also: Email Deliverability — 7 Tips To Get More Clicks, Sells & Signups
#5. ActiveCampaign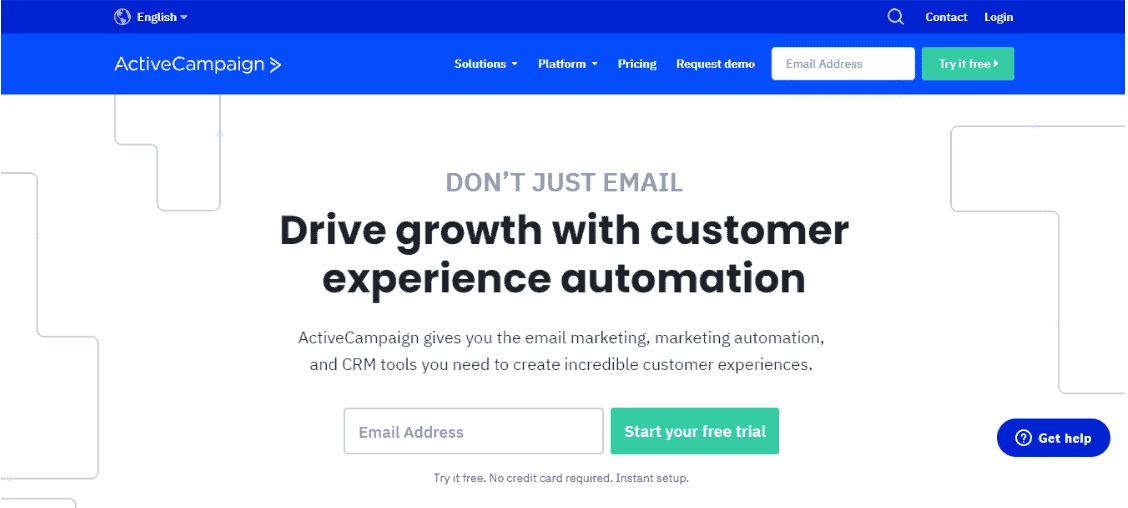 ActiveCampaign is an all-in-one platform that provides you with a range of services, including email marketing, CRM tools, and marketing automation.
It is considered a good ConvertKit alternative since it provides customized services depending upon whether you have an e-commerce, B2B, or B2C business.
Features
Here are some of the key features offered by ActiveCampaign:
Personalized Email Marketing:

Using the personalized email marketing feature, you can send customized messages and newsletters to your clients. What's more, the feature helps you segment your customers and send targeted emails using its built-in email templates.

Marketing Automation:

With ActiveCampaign's marketing automation feature, you can automate all your repetitive and administrative tasks, simplify your workflows, and segment your contacts.

Smart CRM: ActiveCampaign's CRM platform helps automate functions such as lead generation and scoring, keeping a track of your sales pipelines, estimating the win probability, and tracking the performance of your sales team in real-time.
Website Messaging:

Using website messaging, you can send personalized and targeted messages to your customers through SMS, emails, Facebook, or site messages. Moreover, you can address any client queries, make product recommendations, or request feedback when your customers are most engaged.

Advanced Reporting:

To help you understand how you can improve your sales and marketing strategies, the advanced reporting feature provides you with information on what's working and what's not.

Migration Services:

You can import all your data from any platform to ActiveCampaign quickly and hassle-free, free of cost.
Not happy with HubSpot? Take a look at our blog post introducing the top HubSpot competitors.
Pricing
ActiveCampaign offers four types of pricing plans, Lite, Plus, Professional, and Enterprise. The pricing depends upon the number of contacts you have, ranging from 500 to 25,000, as well as whether you are a B2B, B2C, or an e-commerce firm.
The Lite Plan starts at $9 per month and includes the following features:
Email marketing

Marketing automation

Drag and drop email builder

Subscription forms

Segmentation

Site and event tracking

Campaign and automation reporting
The Plus Plan costs $49 monthly and comes with additional features such as:
50+ landing page templates

Facebook custom audiences

Contact scoring

SMS marketing

Advanced performance reporting

Custom branded forms and landing pages
The most popular plan, the Professional Plan is priced at $149 per month, and offers key services like:
Website personalization

Predictive sending

Predictive content

Split automation

Attribution reporting

Marketing attribution

Site messages
For those looking for a customizable plan, the Enterprise Plan works best. This plan comes with all the features under the Professional Plan, plus:
Custom reporting

Custom mailserver domain

Free design services

Social data enrichment

Custom objects

Unlimited email design testing
Read also: 5 of the Best ActiveCampaign Alternatives (Features, Pricing)
#6. Sendinblue (Brevo)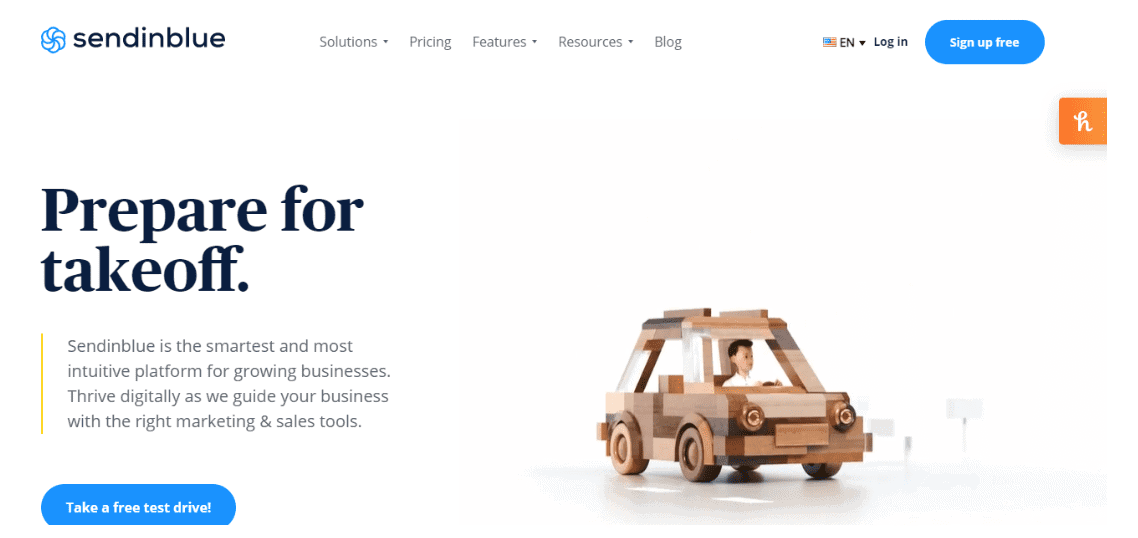 If you have a growing business, Sendinblue (Brevo) is one of the best email marketing platforms for you. It is an all-in-one marketing platform that helps you attract the right clients and nurture long-lasting relationships.
Features
Some of Sendinblue's (Brevo) key features include:
Email Marketing:

With Sendinblue's (Brevo) email marketing tool, you can send personalized emails to your clients, schedule when to send them, and choose from a range of built-in email templates to send targeted messages.

SMS Marketing:

If you wish to communicate with your customers immediately and inform them about any time-sensitive deals, the SMS marketing feature helps you do that. Using SMS marketing, you can address customer queries and update them about any discounts or deals on offer.

Shared Inbox:

Sendinblue (Brevo) helps you organize your emails by maintaining a shared inbox. The inbox can be shared among multiple teams, helping them remain organized and keeping track of your customers' email history.

Transactional Emails:

A key feature of Sendinblue (Brevo) is transactional emails, that help ensure the deliverability of your campaigns. Using transactional emails, you can set up email templates for order confirmation, password reset, email verification, and so on.

Facebook Ads:

Using Facebook Ads, you can retarget your contacts and reach out to more people, based on your contact lists. This will help you boost revenue and convert a higher number of leads.

Segmentation:

With Sendinblue (Brevo), you can segment and categorize your contact database into multiple lists, helping you send targeted emails and convert them faster.
Pricing
Sendinblue (Brevo) has four categories of plans, Free, Lite, Premium, and Enterprise.
Under the Free Plan, users can avail of the following features:
Unlimited contacts

Send up to 300 emails daily

Email marketing campaign

Email and SMS personalization

SMS marketing

Mobile-friendly email designer

In-built email templates
The Lite Plan starts at $20.75 per month and includes additional features like:
Optional A/B testing

No daily email sending limit

Advanced statistics

Email support
The Premium Plan is Sendinblue's (Brevo) most popular plan and is priced at $52.37 per month. Some of its important features are:
Send time optimization

Facebook Ads

Landing pages

Marketing automation

Multi-user access

Telephone support
For businesses looking for advanced features, the Enterprise Plan works best. The plan is customizable and comes with services such as:
Priority sending

Over 20+ landing pages

SSO

Customer success manager

Priority support

Unlimited landing page builder
Read also: 12 Creative Small Business Marketing Ideas That Work
#7. HubSpot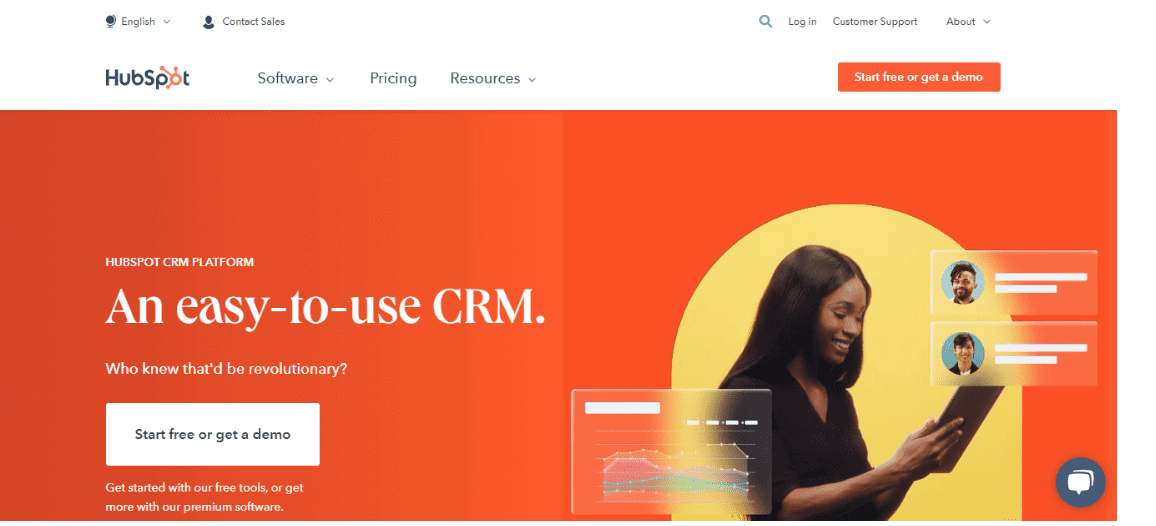 HubSpot is an inbound marketing, sales, and service software solution that makes for a popular Convertkit alternative.
HubSpot CRM suite has a wide range of tools to accelerate your sales and marketing journey. With HubSpot, you can choose from its Marketing Hub, Sales Hub, Service Hub, Operations Hub, and CMS Hub.
Features
Some of the key features under HubSpot's Marketing Hub are:
Social Media Management:

HubSpot helps you monitor and prioritize your conversations on social media channels and publish important posts at the right time. You can stop worrying about letting customer interactions go unnoticed and focus on improving engagement with your followers.

SEO:

With the search engine optimization (SEO) feature, users can increase their search authority and increase clicks on their posts and blogs. The feature helps improve the ranking of their website, plan content, and optimize it.

Live Chat:

If you want to connect with your users in real-time, HubSpot's live chat helps you do the same. Using the live chat feature, you can resolve any customer grievances, answer any questions, and keep them updated about any newly launched products or services.

Ad Tracking and Management:

HubSpot helps you manage your ads on Facebook, Instagram, LinkedIn, and Google within the platform itself. You don't need to switch between tabs, as HubSpot's ad tracking feature allows you to track your marketing campaigns on the platform itself.

Video:

Improve the quality of your content and social media posts using HubSpot's video feature. The video feature enables you to enhance the quality of your videos and easily embed them in your blogs, web pages, and social media posts.

Blog: HubSpot helps you publish targeted content with blogs that contain the desired keywords to improve your search rank. It also allows you to add a call to action to convert visitors into customers.
Pricing
HubSpot offers three types of plans under the Marketing Hub, Starter, Professional, and Enterprise.
The Starter Plan begins from $45 per month and consists of the following features:
Email marketing

Landing pages

Live chat

Forms

Email and in-app chat support
With the Professional Plan, you need to pay $800 every month and avail of key features like:
Omni-channel marketing automation

Dynamic personalization

Social media

Video hosting and management

Contact and company scoring

A/B testing

Ads optimization events

Campaign reporting

Salesforce integration

Phone support
For more advanced features, go for the Enterprise Plan, which costs $3,200 per month. It includes additional features including:
SSO

Field-level permissions

Adaptive testing

Multi-level revenue attribution

Predictive lead scoring

Behavioral event triggers and scoring

Permission sets
Read also: What is HubSpot? Definition, Features, Pricing, Who it's Best for
#8. Campaign Monitor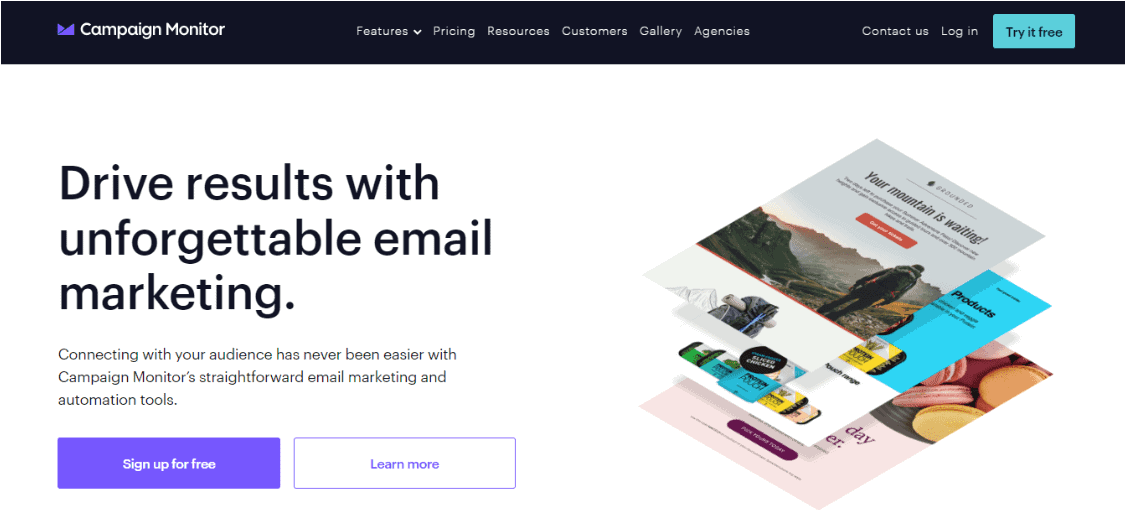 Campaign Monitor is a great platform for those who are looking for an email marketing platform. Its easy-to-use tools help you create targeted emails that drive sales and increase your customer base.
Features
Some of Campaign Monitor's important features are:
Email Marketing:

Campaign Monitor's email marketing feature helps you craft engaging emails that reach your desired audience. With a range of built-in email templates, you can create targeted emails that will captivate your readers.

Segmentation and Personalization:

To ensure that your emails are reaching the right customers, Campaign Monitor helps you segment and personalize your contact database. This helps you determine which emails need to be sent to which customers, helping you target them better.

Link Review:

With the Link Review tool, you can automatically search through your emails and flag any broken or outdated hyperlinks, and address them immediately.

Transactional Emails: Using Campaign Monitor, you can trigger automated emails as and when a user takes an action on your website. Be it an order confirmation, shipment status, or payment, transaction emails are sent automatically whenever an action is triggered.
Signup Forms:

To expand your mailing list, signup forms provided by Campaign Monitor help you record visitor information. This helps you introduce yourself to new people and keep them informed about any discounts or promotional offers.

Analytics:

To get an overview of the success rate of your email marketing campaigns, use Campaign Monitor's analytics service. This feature gives an aggregate view of your emails such as geography, acquisition, and engagement per campaign.
Pricing
Campaign Monitor has three plans on offer, Basic, Unlimited, and Premier.
The Basic Plan starts at $11.32 per month and includes the following features:
Unlimited users

Two-factor authentication

User roles and permissions

Drag-and-drop builder

Custom coded templates

A/B testing

Real-time reporting analytics

Campaign tags

Custom fields

API access

Landing pages
With the Unlimited Plan, you can get additional features at $36.46 per month. These features include:
Countdown timer

Time-zone sending

Template sharing

In-app billing management

User roles and permissions

Client dashboard
For advanced segmentation, choose the Premier Plan. The plan costs $174.77 per month and has the following key features:
Send time optimization

Email section locking

Advanced link tracking

Private labeling

List management

Lifecycle marketing
Read also: 16 Superior Flodesk Alternatives for Slick Email Marketing
#9. Drip

Drip is an excellent ConvertKit alternative for small businesses that want to reach more customers and grow their business.
Features
Some of Drip's key features include:
Contact Segmentation:

With this feature, you can deliver direct messages based on collected data to a group of people. It combines this marketing data to help you create behavior and engagement-based segments to foster good customer relationships and increase sales.

Marketing Automation:

Helps you run multi-channel marketing strategies automatically. You get to free up time by automating your marketing tasks.

Point-and-click store builder:

This allows you to add your store products directly to your email campaigns, promote top-selling content and send cart URLs for improved sales.

Email Marketing:

Drip's email marketing feature, built-in email template, helps you design and send out stunning emails that convert. Also, you can automate your email responses, send outbound emails and manage email deliverability.

Lead management:

This feature includes tools that help you score and nurture leads, track customers' online behavior, and manage customer data effectively.

Onsite feature:

This feature helps you design onsite journeys that guide first-time visitors toward becoming potential customers and then actual customers. It helps to collect and connect with your visitors where your email cannot.

Advanced reporting: helps you adjust and improve by analyzing the impact of your marketing strategies through the detailed dashboard, to gain you better engagements.
Pricing
Drip has just one pricing plan in addition to a 14-day free trial. The basic plan costs $39 per month and gives you access to the following features:
2,500 people

Unlimited email sends

Onsite campaigns

Email support

Free Migration

Dynamic content
Read also: 19 Great Nimble Alternatives: Finding the Best Fit for Your Business
#10. Constant Contact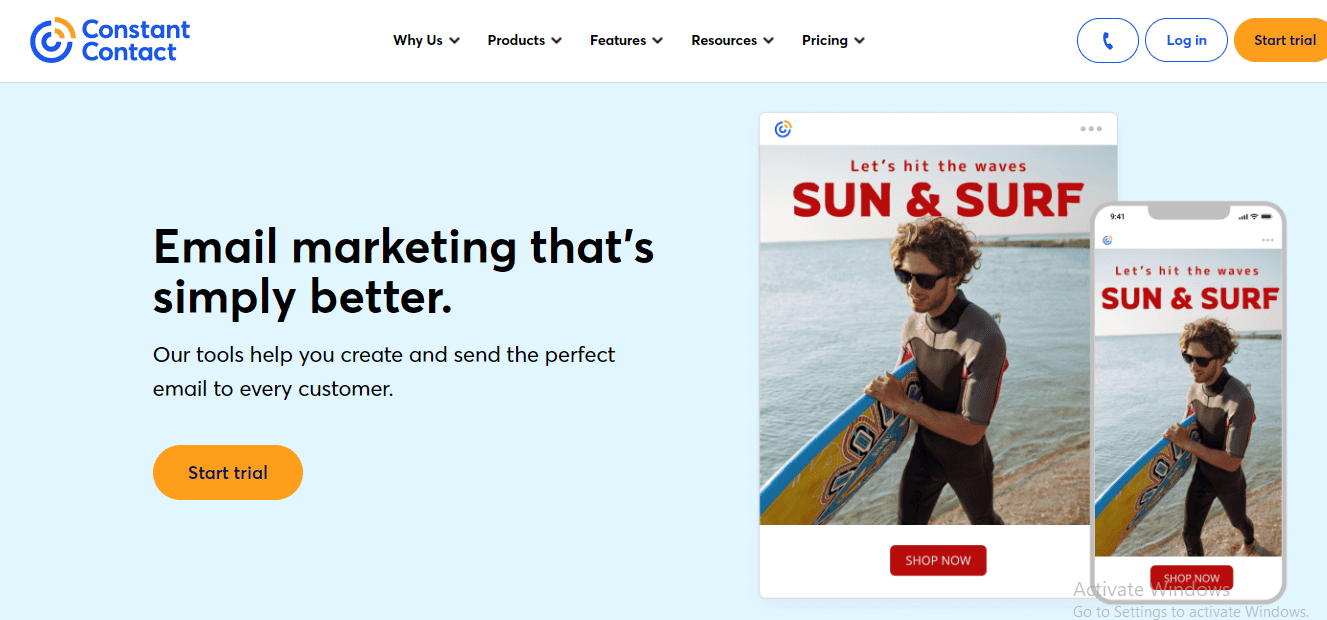 Constant Contact is a digital marketing company that caters mainly to small businesses. Established in 1995, it enables business owners to automate and monitor email marketing campaigns, build online stores, and utilize social media marketing.
Features
Constant Contact has impressive features for startups and small businesses that make it a great alternative to ConvertKit, and they include the following:
A/B Testing: This feature helps you test various subject lines to optimize your email open rate.
Email Builder:

Constant Contact provides you with a drag-and-drop email builder, which helps you edit the layout of your email designs and allows you to incorporate different design elements into your emails, such as text, images, and buttons.

Segmentation:

The segmentation tool allows you to create segments using stored data. This helps increase email relevancy and sending volume, thereby saving costs.

Email Analytics:

This feature gives you real-time insight into your email marketing data enabling you to track your success and see what is and isn't working.

Reporting Dashboard:

This is the first place you will be directed to once you log into your constant contact account. It shows your most recent and active campaigns helping you track your total number of contacts, contact growth, and social audience growth.

Social Media Integration:

Create ads, know how well your social campaigns bring engagements, and respond to social media comments and messages with this tool.

Data Integration and Storage:

This Constant Contact tool helps you collect and store customer data, which enables you to segment and send personalized emails. The collected data is organized into data fields like address, anniversary, and birthdays.

SMS marketing:

This feature helps you increase email deliverability and customer engagement in addition to email campaigns.
Pricing
Constant Contact has three pricing plans in its email and digital marketing tool bay.
The Lite Plan is ideal for startups and small businesses looking to get started with visibility through their email list. It starts at $12/month for 500 contacts (price goes up depending on the number of contacts), and the features include:
Email Marketing

Social marketing

Automated email welcome for new contacts

AI content recommendations
The Standard Plan costs $35/month for 500 contacts and gives access to the following additional features:
Subject line A/B testing

Resend emails to non-openers

Pre-built automation templates

Contact segmentation

Social media ads integration
The Premium Plan starts at $80/month for 500 contacts. It includes everything in the standard plan plus:
Advanced email marketing with dynamic content

Custom Automation

Constant contact segmentation

Search engine optimization

Advanced ads with a dedicated ad manager
Read also: Constant Contact Competitors: Features, Pricing, Pros and Cons [Tables]
#11. Moosend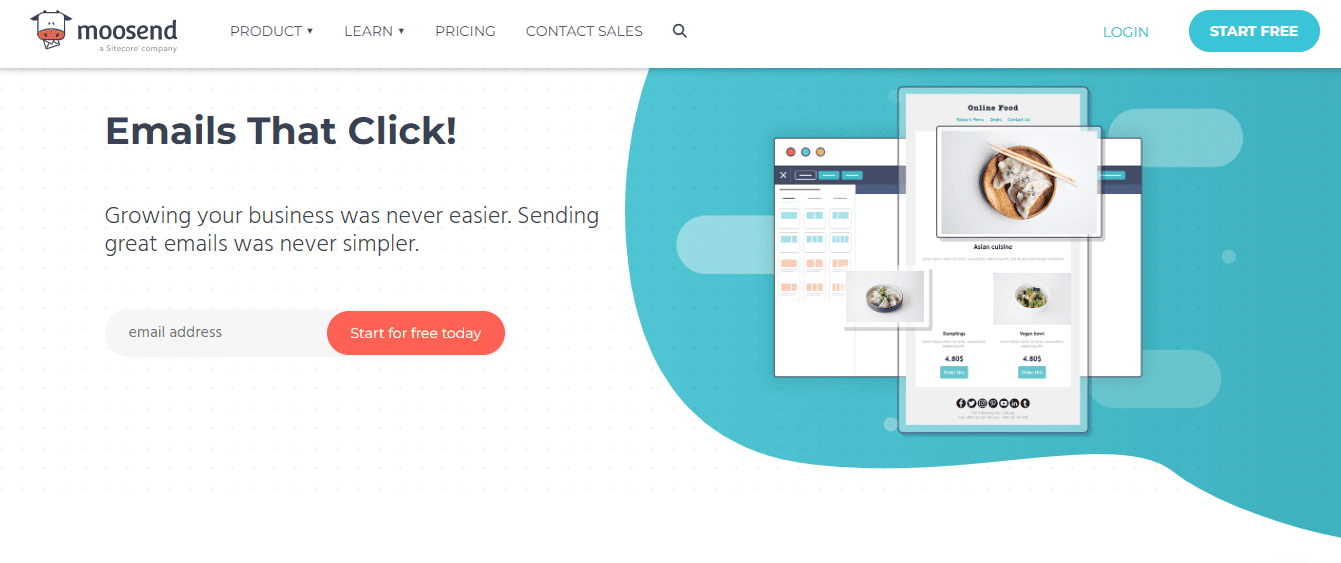 Moosend is a cloud-based email marketing platform for small businesses to drive growth. Its easy-to-use user interface, A/B testing feature, and email marketing automation make it an excellent ConvertKit alternative for small businesses.
Features
Some of Moosend's key features are:
Built-in Email Templates:

Moosend offers 40+ free built-in email templates with visual editors that help you personalize your email campaigns without coding.

Segmentation: Send different emails to the right audience by dividing your mailing list into unlimited segments with any criteria you desire.

Marketing Automation: Put your marketing campaigns on autopilot with Moosend's email marketing automation. You can automate abandoned cart emails, reminder emails, or welcome emails.
Subscription Forms:

Increase your subscriber list by adding user-friendly forms to grab visitors' attention.

Hyper personalization:

Powered by artificial intelligence, this feature helps you send ultra-specific emails, such as product recommendation emails based on customer behavior.

CRM Tool:

This helps you connect, manage, and interact with your subscribers. Thereby increasing engagement and driving sales.

Customer Tracking:

Find out how your customers interact with your website, ecommerce store, and blogs with Moosend's analytics.
Pricing
Moosend offers a 30-day free trial and two paid plans; Pro and Enterprise plans.
The Pro plan costs $9/month for 500 subscribers and gives you access to the following features:
Unlimited emails

Automation workflow

Landing page

Sign up forms

SMTP server
The Enterprise plan is customizable and offers the following additional features:
Account Manager

SSO and SAML

Priority Support

Dedicated IP
Read also: 13 Moosend Alternatives That Can Boost Your Marketing
#12. Sendpulse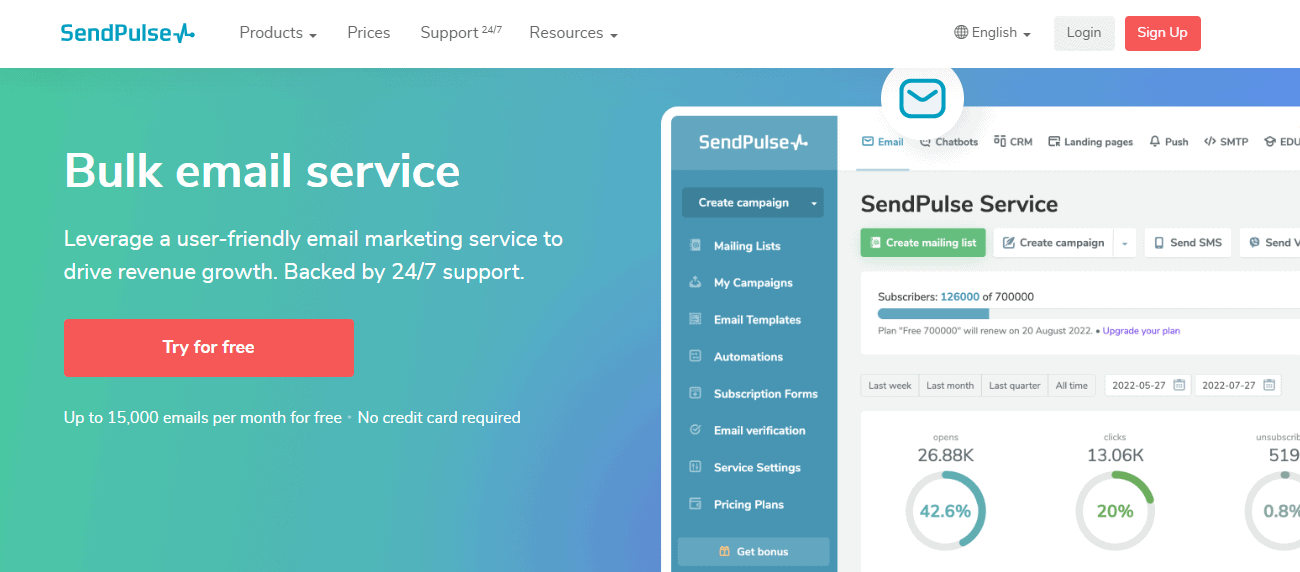 Sendpulse is a bulk email delivery service for businesses that want to scale their email send volume without inflating the costs.
Features
Here are some features that make Sendpulse a great ConvertKit alternative.
Transactional emails:

Send subscribers automatic messages following their actions like order updates, subscriptions, and notifications.

Drag-and-drop Editor:

You can easily drag any element you want to appear on your email template. This helps you create adaptive and beautiful email templates without coding.

Email Verifier:

This feature enables you to verify email addresses before sending messages for better email deliverability and open rates.

SMS Marketing: Connect directly with your audience and accelerate your business growth by triggering messages using SMS Marketing
Smart Pop-ups:

You can create pop-up messages that convert your website visitors to subscribers and, eventually, customers.

Campaign Analytics:

Provides readable graphs and reports to track your mail success. For example, you get to know your open and click rate to be sure of your marketing strategy.
Pricing
Senspulse has four plans, Free, Standard, Pro, and Enterprise.
With the Free Plan, you get access to the following:
500 email subscribers

15,000 emails per month

100 MB of image storage

3 sender email addresses

1 domain

100 verifications with the email verifier
The Standard plan starts at $9.99 monthly for 500 subscribers and offers the following features:
Unlimited email sends

3 Landing pages

5 saved segment

Full A/B email testing suite

3 users per account

5 saved segmentation

200MB Storage space
The Pro Plan costs $11.40 per month for 500 subscribers and offers:
10 Landing pages

Unlimited tags

1000 verifications with email verifier

500MB image storage

10 users per account

10 landing pages
The Enterprise plan starts at $16.78 for 500 subscribers and gives access to the following:
Unlimited number of users

Unlimited number of tags

Unlimited number of flows in A360

Advanced segmentation options
#13. MailerLite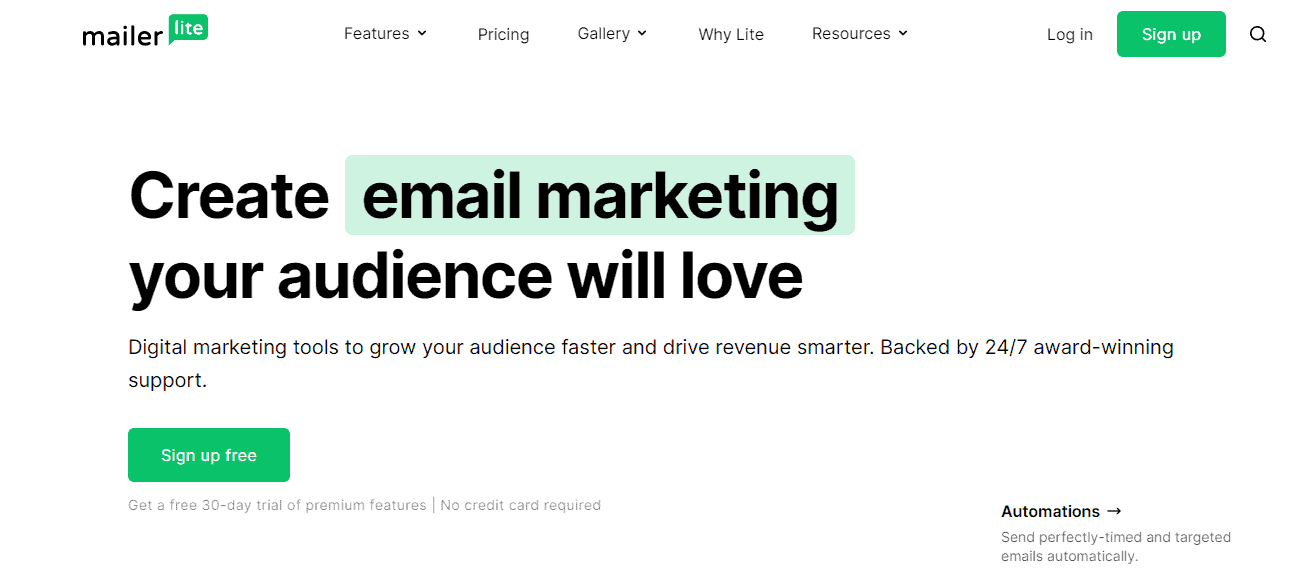 The last ConvertKit Alternative on our list is MailerLite. MailerLite is a cloud-based email marketing software that helps you design, send email campaigns, manage your subscriber list, and track results.
Features
Here are some of MailerLite's key features:
Email Automation:

Enables you to guide your subscribers or customers through every step of their purchase journey with automated emails, which saves you time and also reaches your target destination

Email Verifier:

This feature enables you to filter and optimizes your email addresses for better deliverability.

Landing Page Builder:

With the free and easy-to-use drag-and-drop builder, pick and customize a template to attract and convert visitors.

Ecommerce Store Integration:

You can integrate your online store with email marketing for increased sales.

Signup Forms:

Increase your mailing list and showcase important messages with embedded forms.

Blog:

Leverage the built-in marketing tools to easily create your blog to share knowledge, drive engagement, and expand your audience.
Pricing
MailerLite offers four pricing plans Free, Growing Business, Advanced, and Enterprise.
The Free Plan allows you to send 12,000 monthly emails to up to 1000 subscribers and gives you access to the following features:
Email automation builder

24/7 chat and email support (for the first 30-days)

Drag and drop email editor

Websites

10 landing pages

Signup forms & pop-ups
The Growing Business plan starts at $10 monthly for 1000 subscribers. In addition to the features in the free plan, you also get access to the following:
Dynamic emails

Unlimited Monthly emails

Unlimited templates

Auto resend campaign

Unsubscribe page builder

Sell digital products

Unlimited websites & blogs
The Advanced Plan starts at $21 per month for 1000 subscribers. The additional features in this plan include the following:
Facebook integration

Promotion pop-ups

Custom HTML editor

Preference center

Multiple triggers in automation

15% off Google Workspace
The Enterprise plan comes with a custom price and is ideal for businesses that want to scale up their marketing journey. It allows for over 100,000 subscribers and comes with all the features in the Advanced Plan, plus the following:
Dedicated success manager

Custom landing page design

Dedicated IP & deliverability consultation

Custom newsletter design
Read also: What is MailerLite? Reviews, Pricing, Pros and Cons, Alternatives
Conclusion
So, which email marketing tool is right for you? It really depends on your needs and what you're looking for.
If you're looking for a powerful tool that offers a lot of features, HubSpot is definitely a good choice. However, if you're just starting out with a small budget and don't need all the bells and whistles, EngageBay may be a better fit for you.
With EngageBay, you get an easy-to-use email marketing tool that's perfect for small businesses. EngageBay's drag-and-drop editor makes it super easy to create beautiful emails that look great on any device.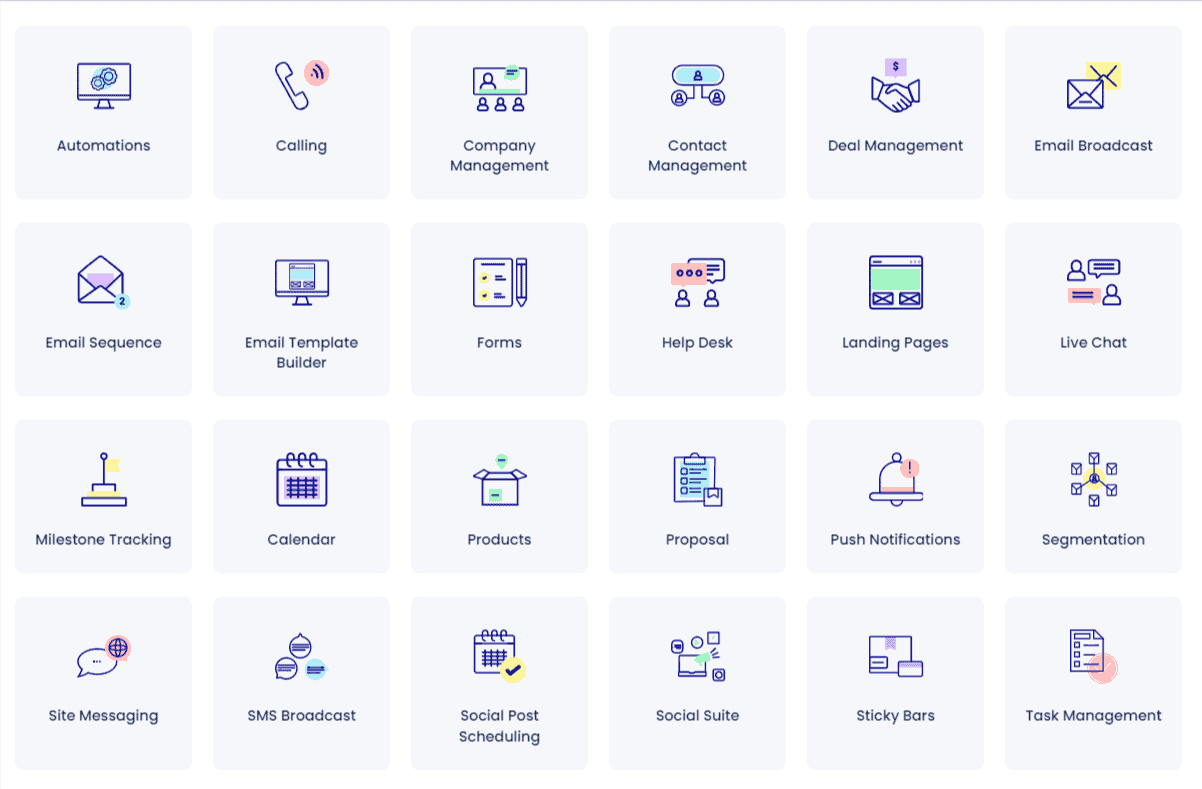 EngageBay also offers a wide range of templates and integrations that make it easy to connect with your customers.
Sign up for EngageBay's free plan, or speak to our experts at a time of your convenience.