EngageBay is proud to announce its mention in Capterra Value Report: A Price Comparison Guide for Customer Service Software.
The report features and compares the top Customer Service Software to have received high ratings from users in terms of Value for Money and Functionality, along with the breakdown of the starting cost and relevant pricing details for each product.
EngageBay is recognized as an outstanding product with a Value For Money rating of 4.7 out of 5 and a Functionality rating of 4.6 out of 5.
Starting price: Starts at $13.80 per month, billed annually. Up to 500 contacts included. 
Features available at a higher price: Advanced version includes unlimited contacts.
Check out our incredible placement here: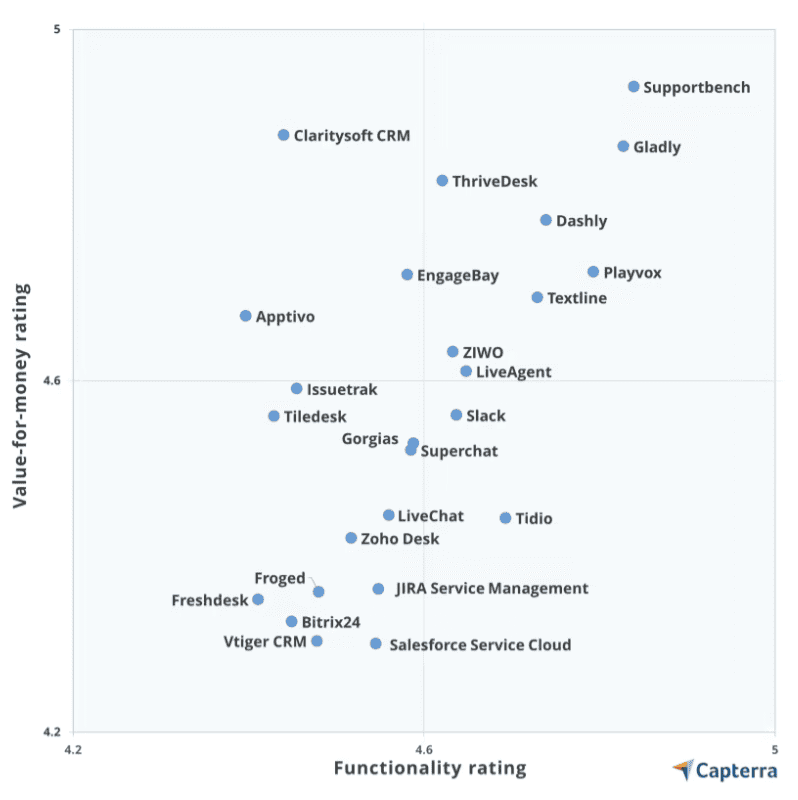 And, that's not all! EngageBay also got recognized in Capterra's Flagship Shortlist report under various categories:
Giving an overall rating of 4.6 out of 5, here's what Capterra users have to say about EngageBay:
"The tool is very simple to use. It integrated with our own platform easily. We have really utilized all the features such as the email marketing, CRM, automation, and social media engagement. For me, the best in nurturing and closing leads!" ~ Kentall S.

"Needed a cost prohibitive plan form that has every thing to market my fitness business along with the automation. I was using multiple pieces of software well over 300+ a month and Engagebay has replaced all of them at a fraction of the price." ~ Stephen G.

"What I like the most about EngageBay is that it's an inclusive platform where Sales, Marketing, and Support can be able to work together on the same platform and helps these different but intertwined departments to be always in sync." ~ Brendan C.
Have you tried EngageBay? Write your review for Capterra here.
About Capterra: Capterra is a software reviews and selection platform that connects businesses to the right technology. Compare software, read and leave reviews, and access objective insights that empower business growth.
Disclaimer: The graphic above shows help desk products that have the highest value-for-money and functionality ratings based on user reviews in Capterra's customer service software directory. Products are arranged in increasing order of their value-for-money rating (bottom to top) and functionality rating (left to right).