Whether you are a freelancer, a small business owner, or run a multinational corporation, using a CRM platform has become essential these days.
A customer relationship management, or CRM, platform enables companies to streamline their business processes and improve customer experience. CRM software helps organizations improve workflow efficiency, automate repetitive tasks, and manage relationships with stakeholders.
Although primarily designed for sales, marketing, and customer support teams, everyone can benefit from a good CRM platform.
Based on its functionalities, CRM can be divided into various categories. In this article, we cover the best free CRM app category-wise that can help meet different business needs.
5 Best Free Contact Management Apps
The first in our category is the contact management application that acts as a centralized database for gathering, storing, organizing, and managing your contacts details.
Depending on the type of information you collect, these details could be anything, including name, phone number, address, behavioral pattern, and others.
It makes it easy to access your contact details, segment them based on various categories, and run targeted campaigns to capture more leads.
Let's look at the top five best free contact management apps for your business.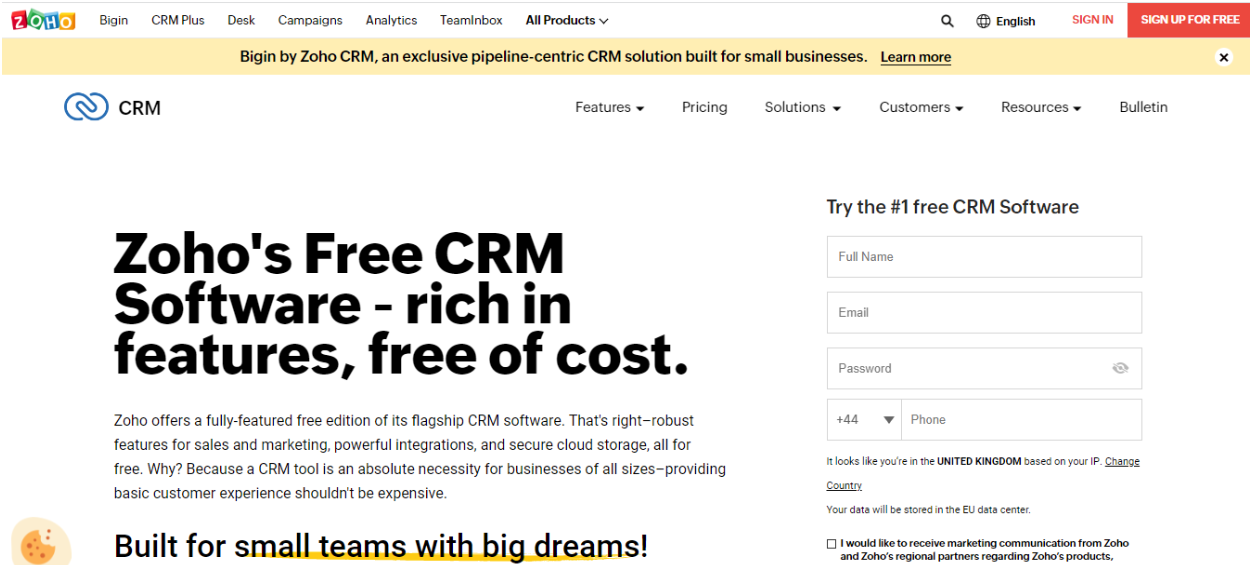 Zoho CRM is a powerful free personal contact management software that helps nurture customer relationships by improving engagement, increasing conversion, and reaching them through multiple channels.
Features
Account Management:

With the account management feature, you can manage contacts better and faster, as Zoho helps you place all deals associated with a particular organization under a single category.

Check-in Feature:

Zoho's contact management system makes it easy to record your meetings with customers on the mobile app. You can then even notify your colleagues about a new lead generation.

Multiple Touchpoints:

It makes it easy for your customers to reach out to you through various channels, including social media, website, calls, live chat, etc. Zoho collects information from all integrated channels and creates a single database.

Analytics:

Zoho's CRM tool helps you make smarter and informed decisions using its reporting analytics tool. The analytics feature lets you know the best time for calling your leads, the best day to send emails, and so much more.

Conversational AI:

Zia, Zoho's conversational AI assistant, provides you with intelligent alerts whenever a deal closes, identifies high-quality leads, and gives you reminders on when you should contact your prospects.

Canvas Design Studio:

Want a customized CRM for your business? Zoho helps you do exactly that. Its Canvas Design Studio allows you to create a stylized CRM dashboard with a variety of built-in templates and a drag-and-drop feature that helps you see only the features and tools you want.
Pros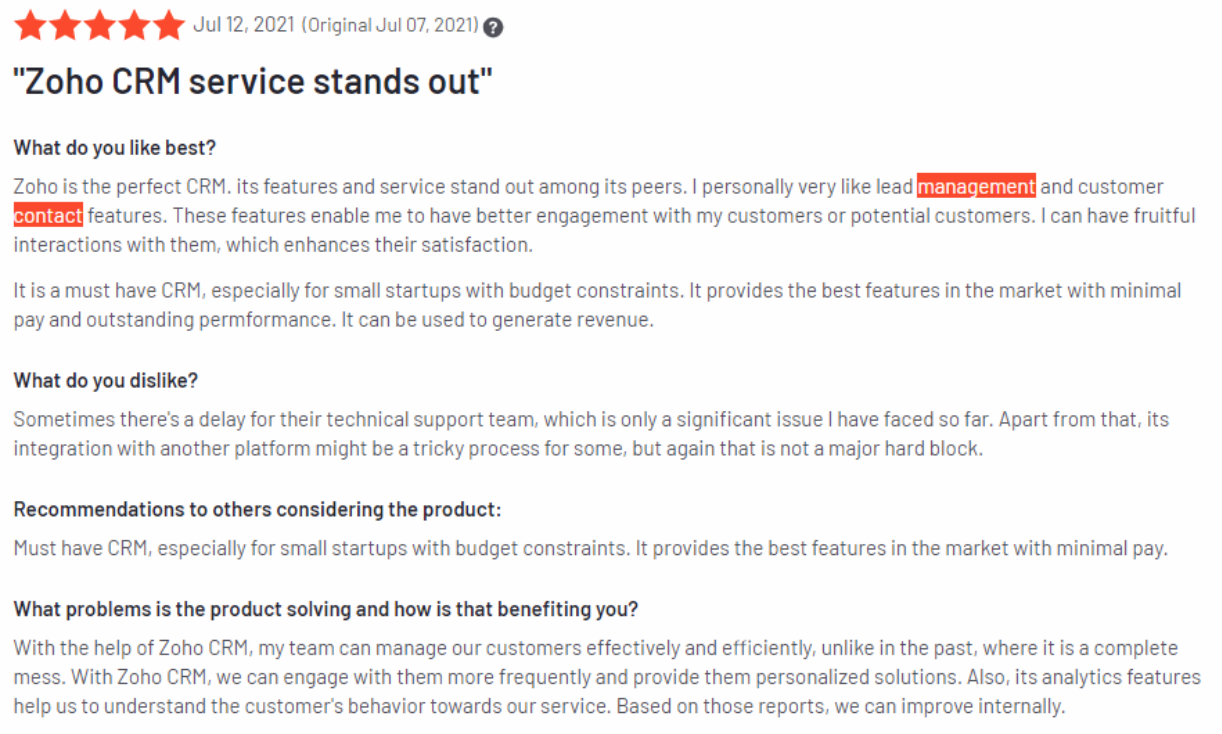 A key advantage of Zoho CRM is that it helps businesses improve client engagement. Its contact management and lead management features have enabled companies to have better interactions with potential and existing customers, thus enhancing their satisfaction level.
Cons
Although Zoho performs well in terms of CRM features, it can take time to understand and navigate. Moreover, some clients have also found its customer support to be slow at times.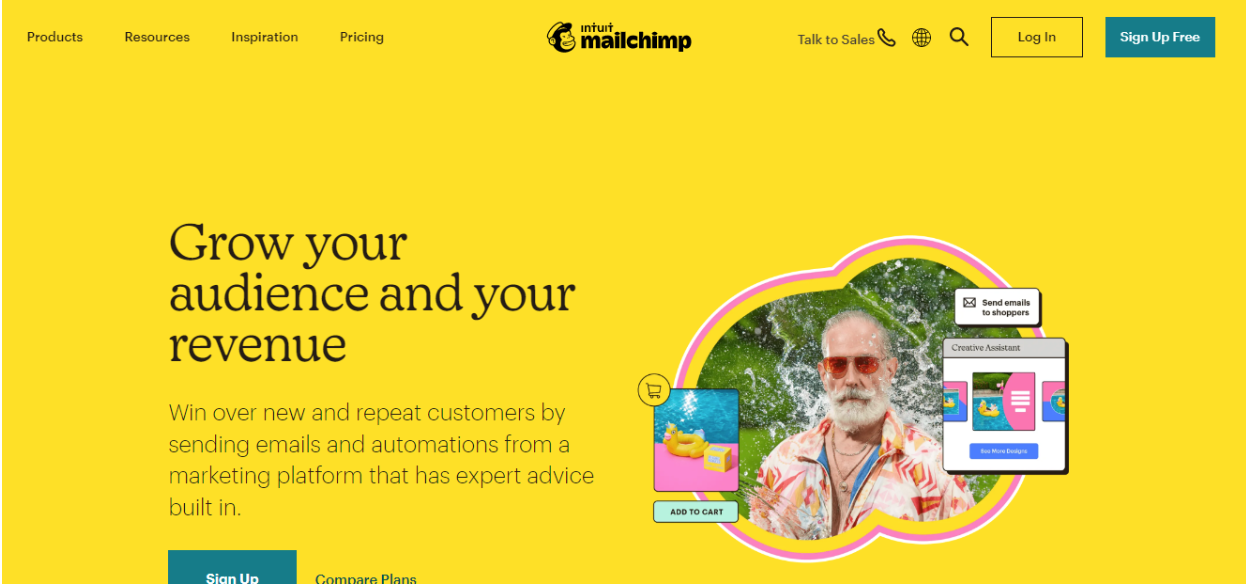 If you are looking for simple contact management software, look no further than Mailchimp. With over 300+ app third-party integrations and a range of features that help you boost sales, Mailchimp is considered one of the best free contact management software today.
Features
Predictive Segmentation: Mailchimp helps you segment your audience using various tools such as age, location, and even behavioral traits. This allows you to send targeted and personalized content, helping convert leads faster.
Audience Dashboard:

Mailchimp's audience dashboard provides you with a holistic view of your clients. Using this feature, you can track customer performance and preferences and target them with customized campaigns.

Behavioral Targeting:

Mailchimp's behavioral targeting and personalization tool let you get deep insights into your buyer's persona. It helps you send the right message at the right moment and make personalized product recommendations.

Signup Forms:

Mailchimp provides users with unlimited signup forms to help collect the data they need. You can then use this data to send your customers more personalized content. You can embed these forms on your website or add them as a pop-up window.

Mobile App:

The Mailchimp mobile app helps you keep in touch with your customers anywhere and anytime. The mobile app provides real-time data metrics and shows alerts on the progress of your marketing campaigns.
Pros
What makes Mailchimp stand apart from its competitors is its free plan. Its free plan is enough for companies that are just starting out and looking to grow their email list.
Once your email list is of decent size, that's when you can switch to its paid plan if need be.
Cons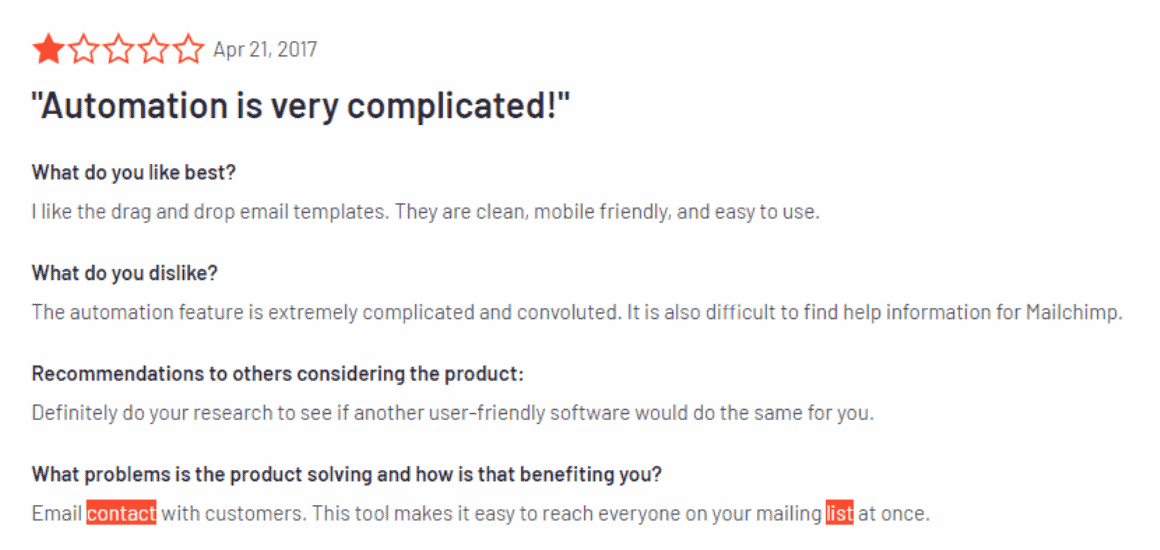 Mailchimp's automation feature is quite complicated for many users, as they often have difficulty finding the information they require.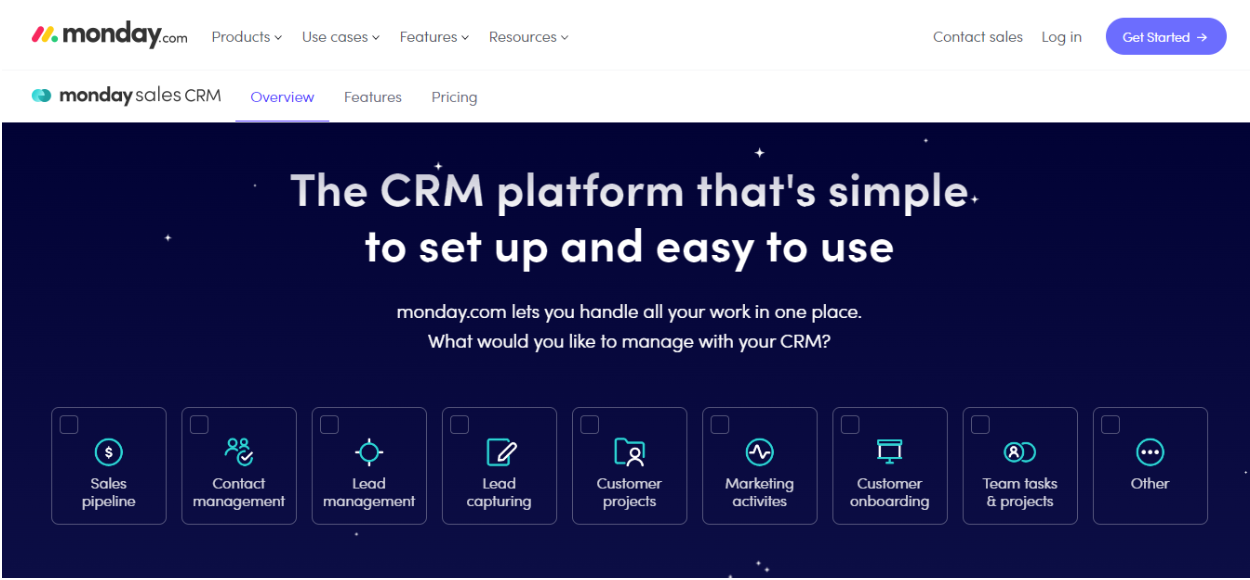 Monday is a simple contact management software that helps you identify, collect, and centralize all leads on a single platform.
Features
Lead Management:

From your contact database,

it helps you identify high-quality leads and automatically score them based on various parameters.

Deal Management: With deal management, you can customize your sales pipeline and track the progress of your deals as they progress through the sales funnel.
Account Management: Account management gives you a 360-degree view of your customers and maintains a record of all your interactions with them.
Post-sales Management:

Improves customer relationships by helping you stay on top of client projects, tracking progress, and onboarding.

Task Management:

This allows you to automate workflows and automatically assign leads to reps.
Pros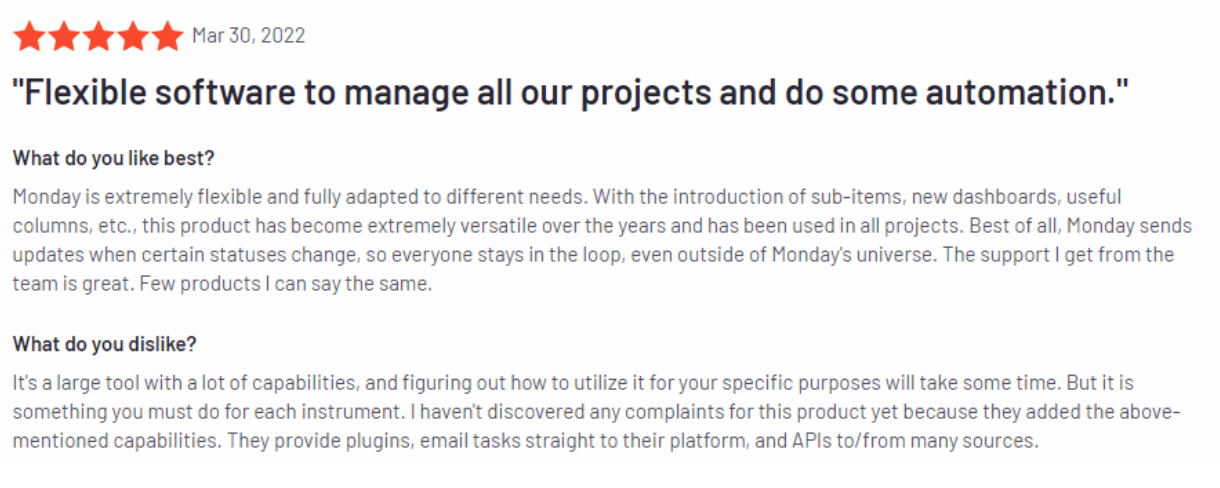 What most users like about Monday is its ability to adapt to various business needs. With its customizable and versatile dashboard, you can prioritize your requirements and arrange features that best suit your style.
Cons

Despite its positives, Monday has certain drawbacks that include slow customer service. Furthermore, once you decide to upgrade your plan, it can get expensive compared to similar alternatives.
Read also: The 5 Best CRM for Startups (Pricing, Features)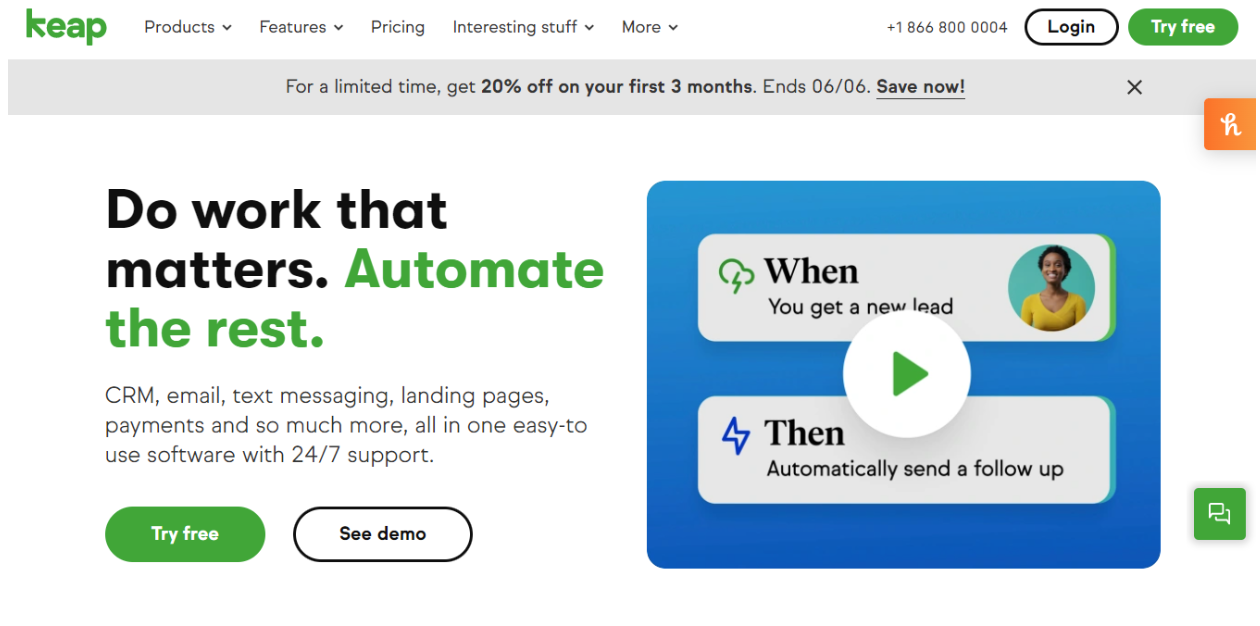 Keap is a CRM platform that boasts a free customer database app and helps you send emails and texts, make payments, and create landing pages on a single platform.
Features
Lead Tracking:

Helps boost sales by identifying good quality leads and tracking them as they move through the different stages of the sales funnel.

Data Enrichment:

Ensures that all data is up to date by adding or removing customer information. Up-to-date reporting also helps you check the status of every lead by tracking their sales activity and behavior.

Lead Scoring:

Allows you to assess a prospect's level of interest based on their levels of engagement. This helps you differentiate between active and inactive leads as well as understand which leads are more likely to convert.

Appointment Scheduling:

Helps you create or schedule appointments and meetings based on availability and follow-ups with clients.

Sales Pipeline:

The sales pipeline feature enables you to move leads faster by identifying and addressing any roadblocks, close more deals, and get real-time updates as they progress through different stages.
Pros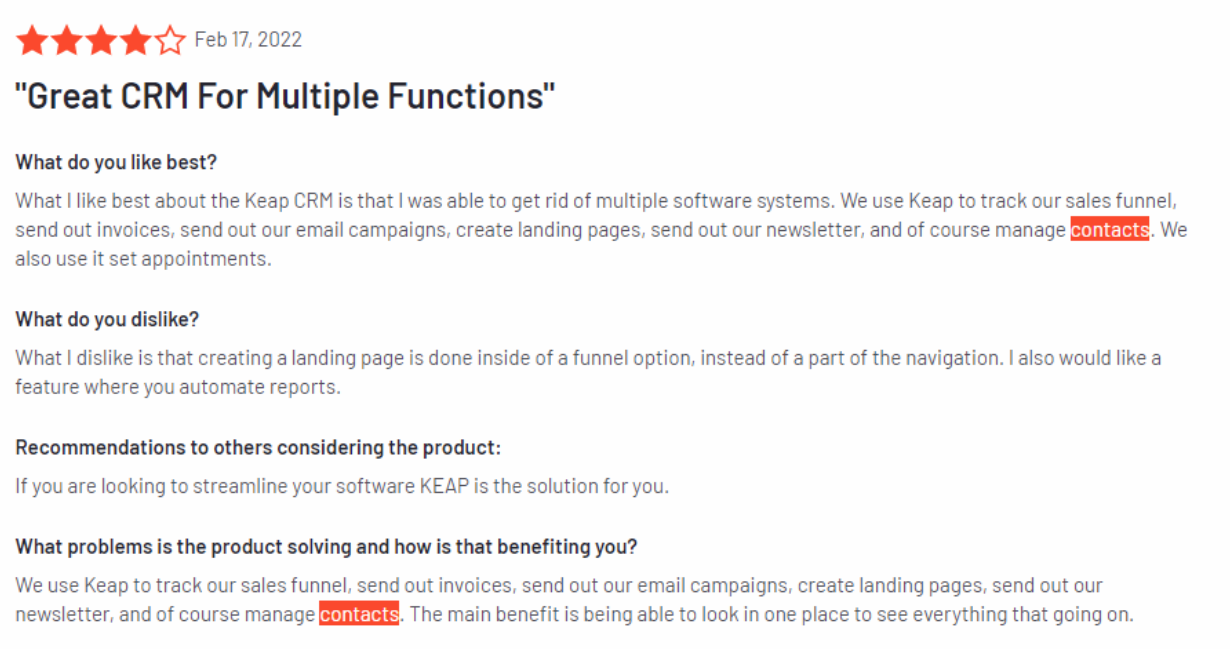 Keap is known to make the sales process efficient by helping businesses generate and mail invoices, send out newsletters, create landing pages, and manage contacts, all on a single platform. This has helped boost productivity and ultimately improve customer satisfaction.
Cons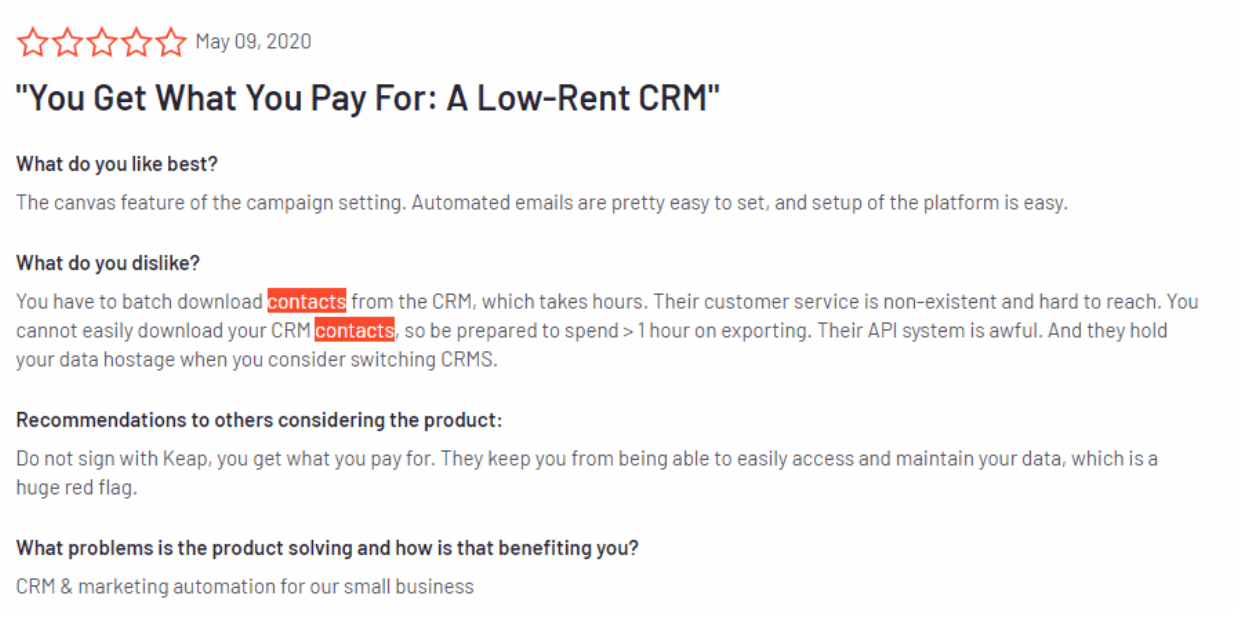 While Keap's email automation feature might be easy to use, you need to batch download contacts from the CRM, which is time-consuming and affects the productivity of sales teams.
Read also: Yo Kart And Other Cool Marketplace App Platforms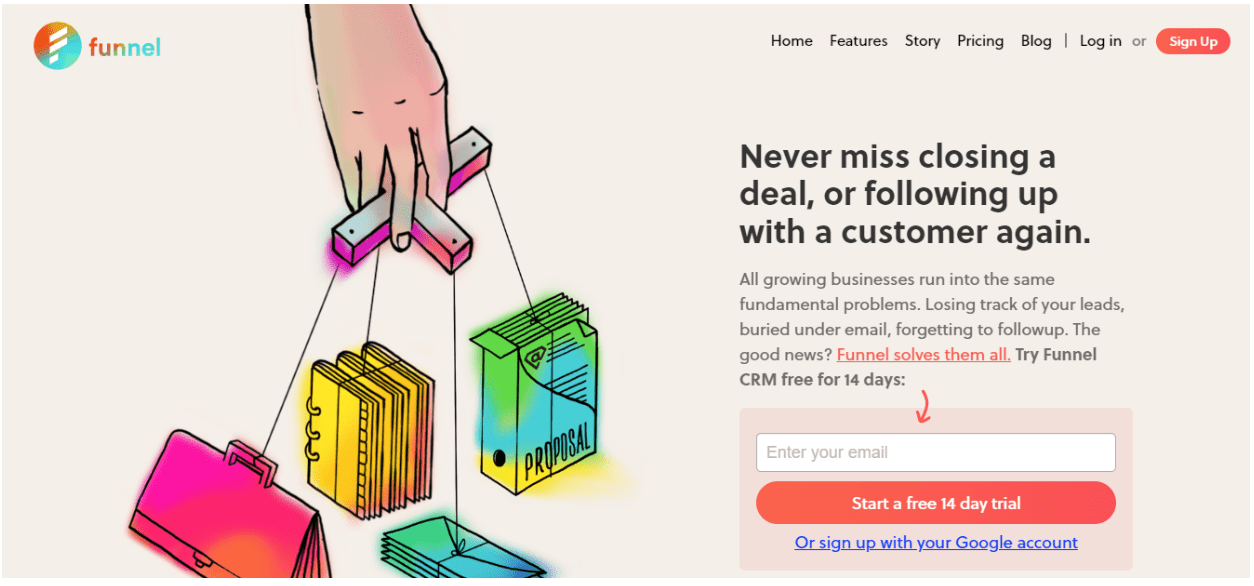 Funnel is a CRM platform that helps you track leads, manage follow-ups, and stay updated on customer progress so that you don't lose any deals. You get access to this contact management software free of cost.
Features
Contact Forms:

Helps code and create your own forms that you can embed on your website to capture visitor information and expand the subscriber base. Its free customer database app keeps all your contact information organized.

Deal Management:

With deal management, you can segregate prospects using various filters and the stage of the sales process they are in.

Contact Management:

Helps automatically build a profile of potential clients based on information provided on contact forms.

Proposals:

Funnel enables you to create rich sales proposals according to buyer persona to help you capture as many leads as possible.

Task Management:

Helps you organize, assign, and prioritize tasks on a single platform, set deadlines, track progress, and set goals.
Pros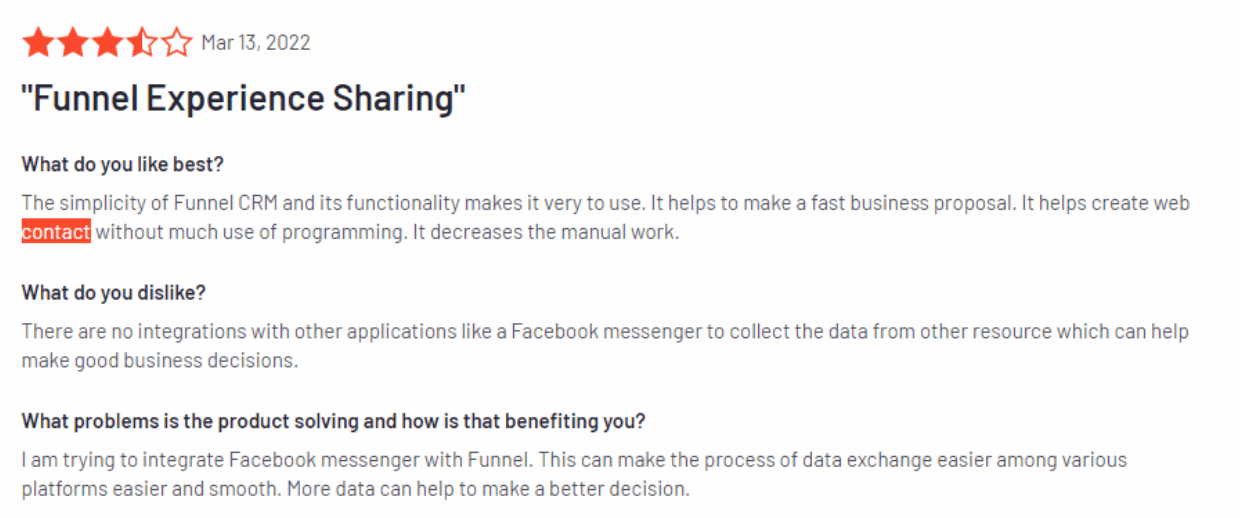 One of the best features of Funnel has been its ease of use. It has a user-friendly interface, helps create web forms without much coding, and automates manual tasks.
Cons

The lack of integrations with well-known apps such as Facebook Messenger has made it difficult for Funnel users to contact prospects and collect information about the target audience.
Read also: 7 CRM Automation Functions to Generate More Revenue
Best Free CRM for Gmail
With six million businesses using G-suite to run their companies, it's only feasible to have a CRM that operates in and out of Gmail. It makes it easy to send and receive emails from a single account, keep all interaction history in one place, and create deals with your contact.
Let's look at the five best free CRM with Gmail integration that you can consider using.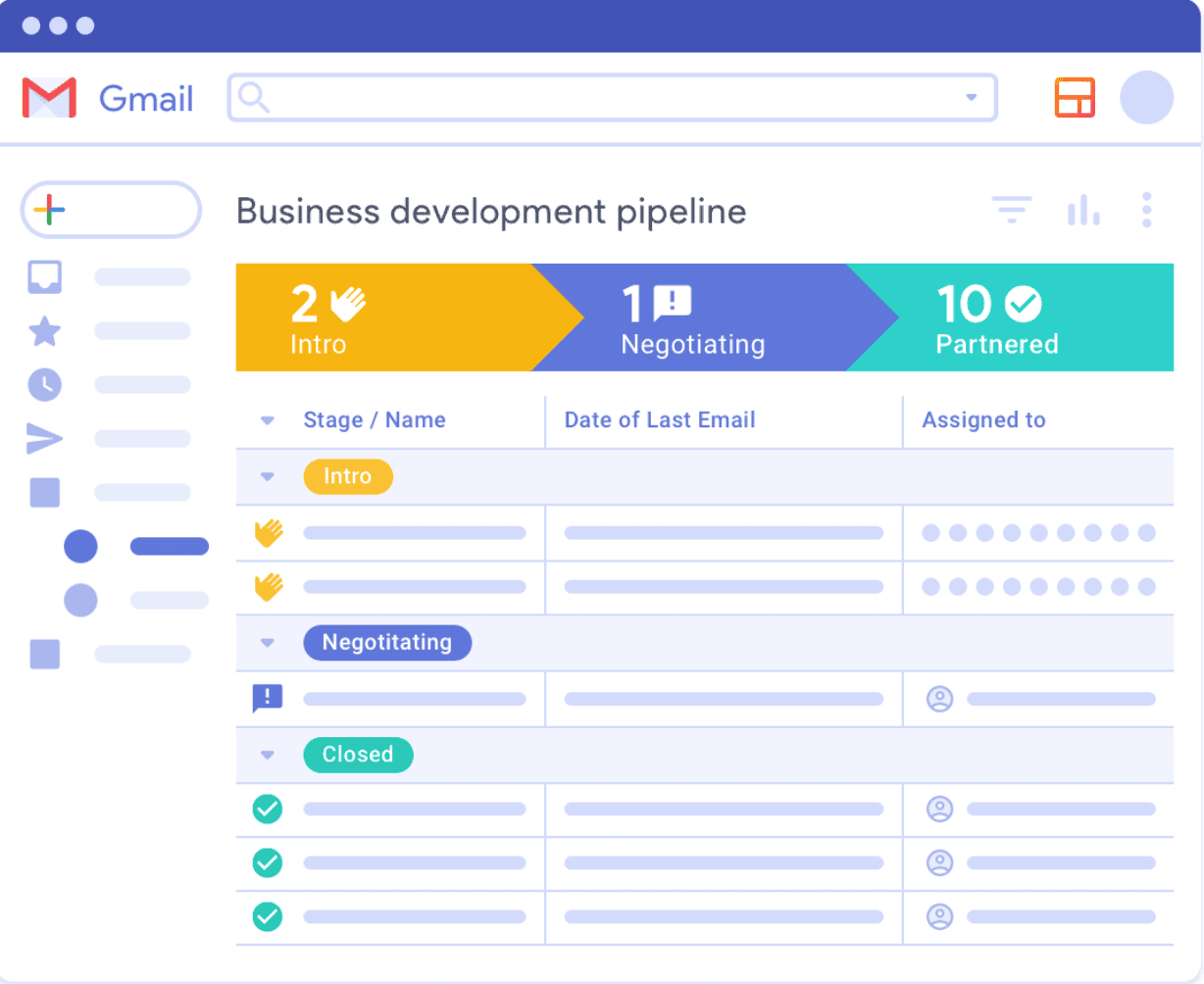 Streak is one of the best free CRM for Gmail that helps generate leads, support tickets, and manage investors – right from your Gmail. In fact, it was awarded the Google Technology Partner of the Year for a fully functional Gmail-integrated CRM. It seamlessly integrates with all of G Suite, including calendar, drive, and sheets
Features
View Tracking:

Instantly know whenever someone opens and views your email. You receive a notification for the same, allowing you to follow up with those who may have missed it.

Scheduling:

You can schedule sending of emails directly within your Gmail. You can even edit or cancel your scheduled messages.

Personalization:

Streak lets you personalize mass emails with recipient names, company details, or any other data from your pipeline. You can preview your messages before sending them.

Contact Management:

Easily generate contact groups from your pipeline or import CSV file and send emails in bulk.

Snippets:

Insert canned responses and save time by avoiding rewriting emails. Create email templates, shareable across teams.
Pros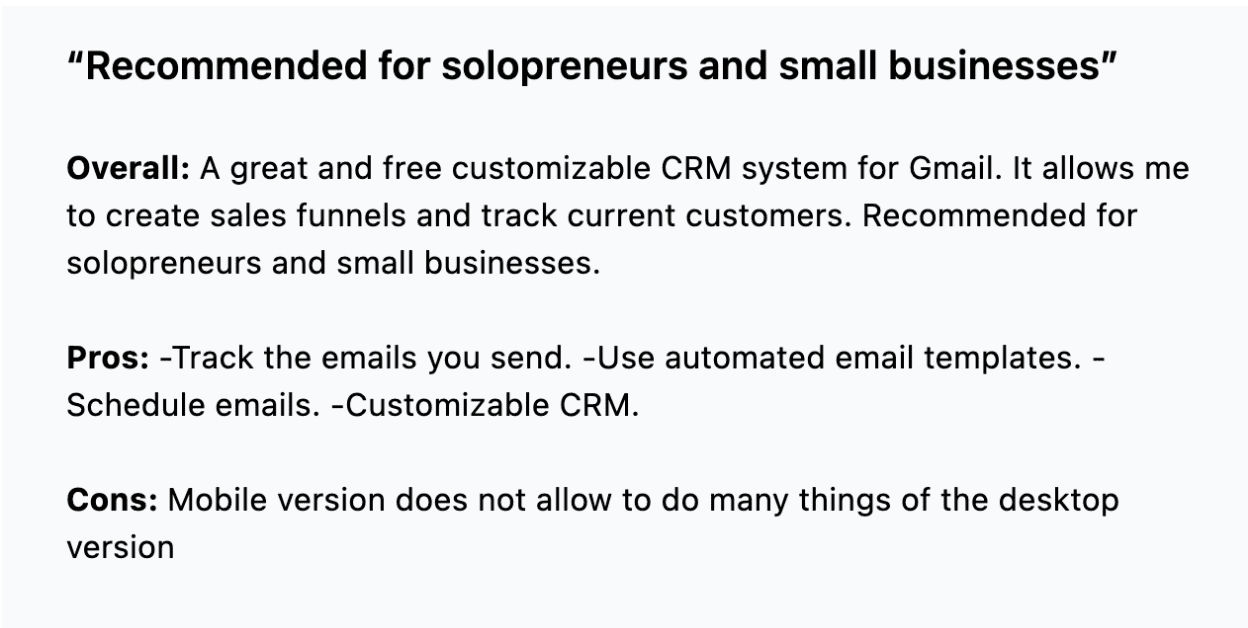 What makes Streak the preferred choice is its ability to deliver all the features it promises– tracking emails, automated email templates, or customizable CRM.
Cons

One drawback about Streak is that you don't get accessibility to all its feature from the mobile version.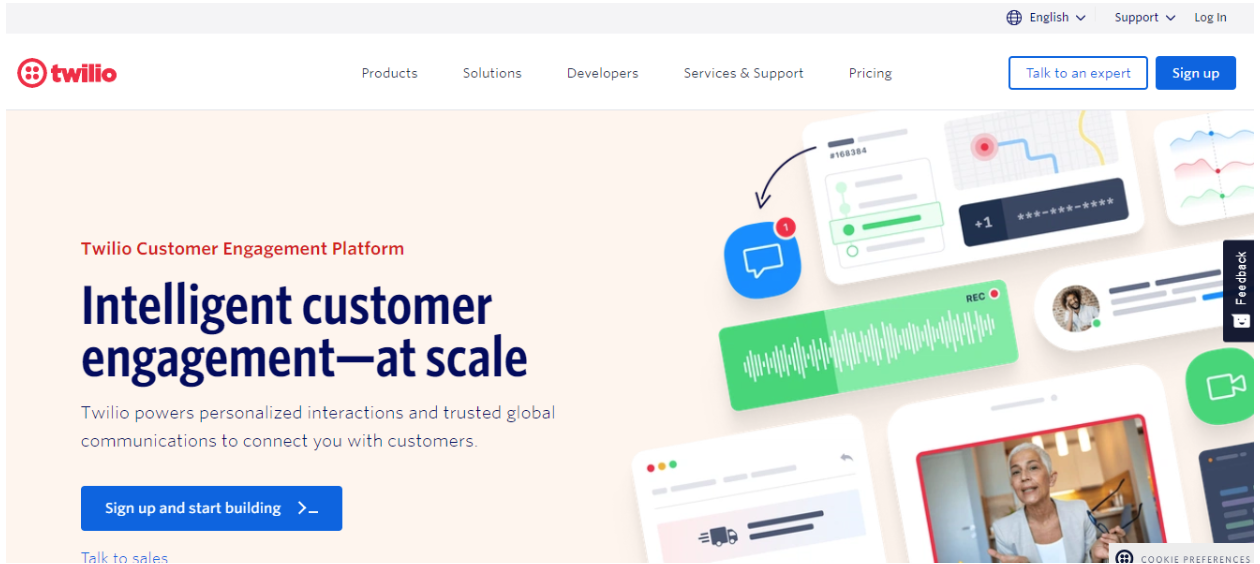 Twilio is a customer engagement platform that provides flexible APIs to help you engage with your customers across multiple channels and build personalized marketing campaigns.
Features
Contact Management:

It helps you build segmented client lists by engagement events, add contacts using CSV or signup forms, and connect to CRM data using Contacts API.

Campaign Set-Up:

Helps automate sending of emails and SMS by creating a schedule. Campaign setup also allows you to track the reach of your campaigns over time and follow up with leads that have interacted with your content.

Testing and Analytics:

Integrated email testing and analytics enable you to run A/B tests, track engagement data using metrics like open rates and bounce rates, and view dashboards for real-time performance tracking.

Email Design: Helps build customized email templates using drag-and-drop content modules, edit HTML codes, and use dynamic content for personalization.
Lead Generation:

Allows you to identify high-quality leads through various channels such as newsletters, sales and discount codes, promotional offers, and product launches.
Pros

Twilio is known to connect seamlessly across different third-party apps such as Gmail, WhatsApp, and social media channels, helping companies reach out to a wider customer base. Moreover, Twilio helps seamlessly import customer data from other platforms to its CRM tool.
Cons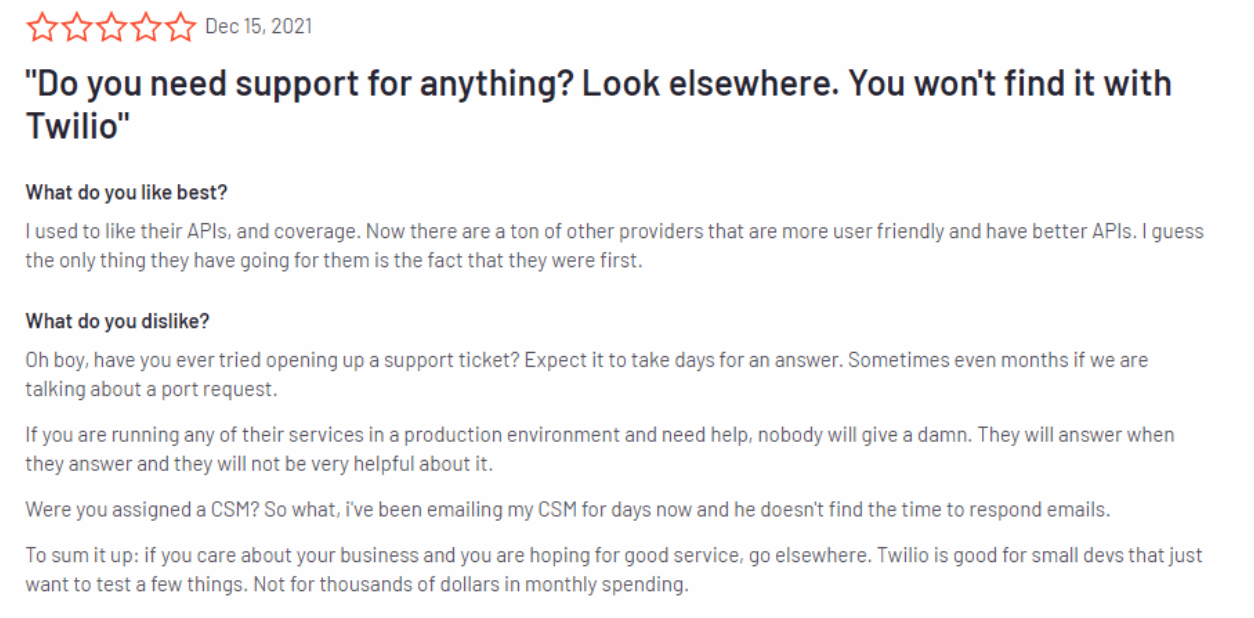 Unfortunately, Twilio has poor customer service as users often face delays in resolving their issues. Moreover, even after the support team gets in touch, clients have said their problems were not addressed correctly.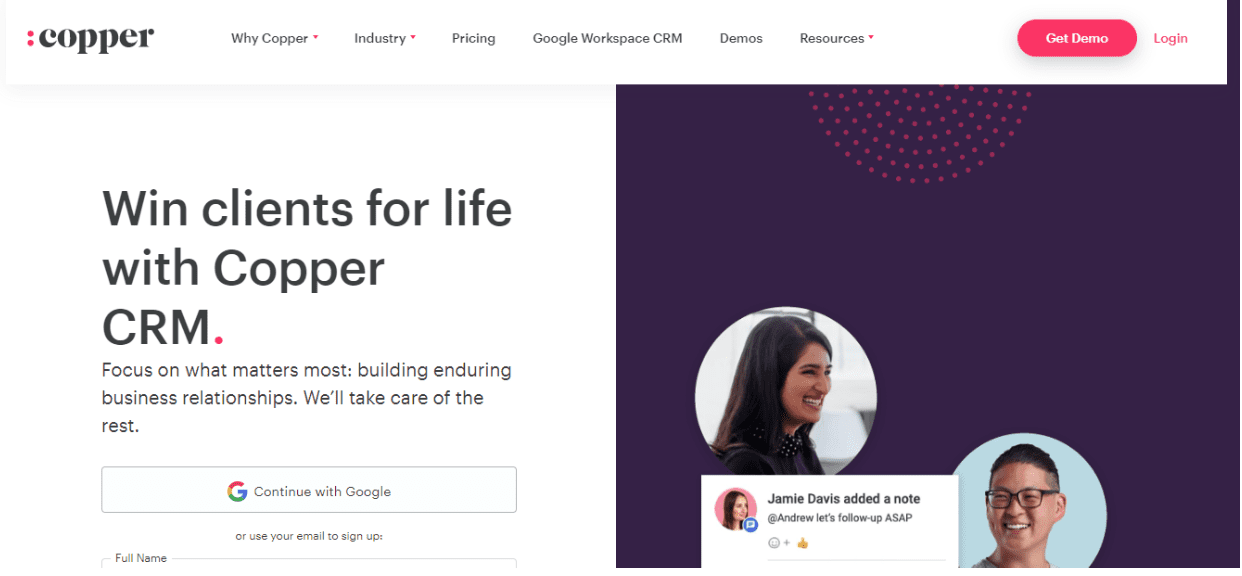 Copper is a sales and marketing platform that boasts a free CRM with Gmail integration. It is completely integrated with Google Workspace and provides complete visibility into your sales pipeline, helping you close deals faster.
Features
Google Workspace CRM:

Copper's integration with GSuite allows you to seamlessly navigate between Gmail, Drive, and Calendar. This helps you add contacts, schedule appointments, collaborate across teams, and access documents on a single workspace without switching between tabs.

Mobile App:

Copper's mobile CRM app helps you access your customer database from anywhere, anytime. Using the mobile CRM application, you can nurture new leads, track the real-time status of deals, and record notes by speaking into your phone.

Report Generation:

Helps provide a 360-degree view into your sales and marketing campaigns, customize insights using Copper's data, and schedule report creation and delivery. It also includes built-in reporting templates to allow you to create reports with just a few simple clicks.

Project Management:

Helps collaborate between teams, automates workflows, assigns tasks according to individual deals, and provides insights into revenue generated.

Sales Automation:

Automates task creation and allocation, updates contact profiles and deal statuses, sends real-time notifications whenever a deal requires attention, and provides built-in email templates to send personalized messages to clients.
Pros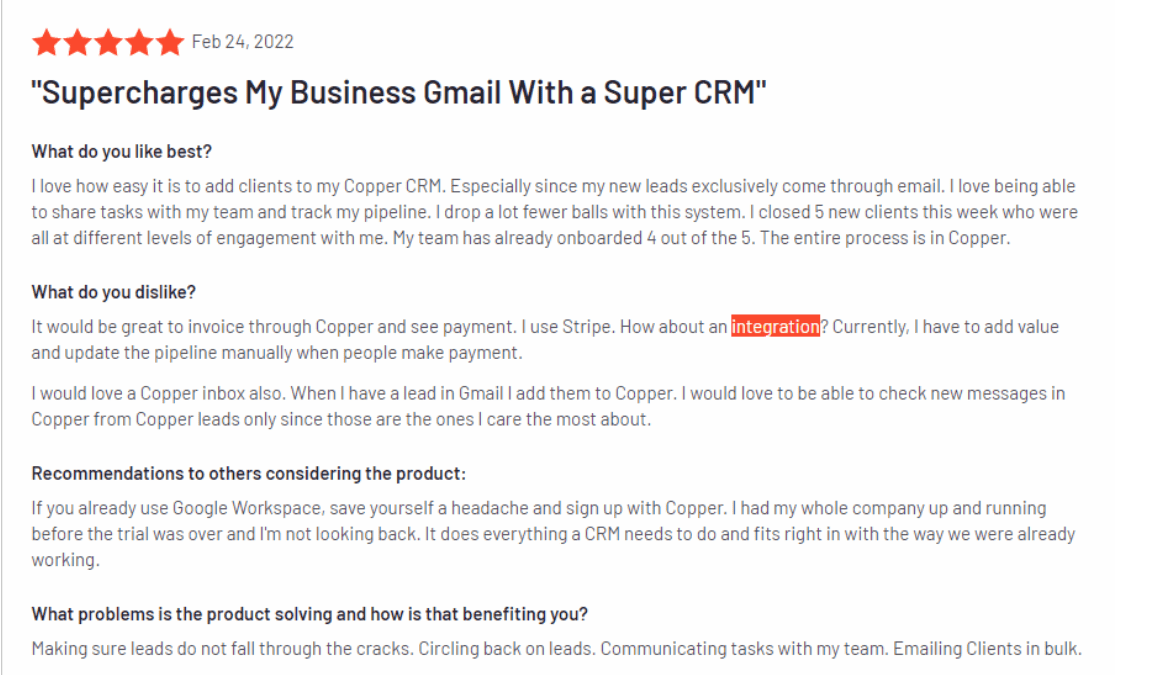 Copper's integration with Gmail makes it easy for organizations to add clients, share tasks with the sales team, and track the sales pipeline. With the free CRM for Gmail feature, companies can automatically add customer data, update or remove information, and collaborate seamlessly in real-time.
Cons

While integration with Google Workspace allows for seamless functioning, whenever someone creates a task on Copper, it is difficult to edit in case of a mistake. As a result, you have to delete the task entirely and create a new one, which is time-consuming and inefficient.
Read also: The Best CRM Tools for Small Business Owners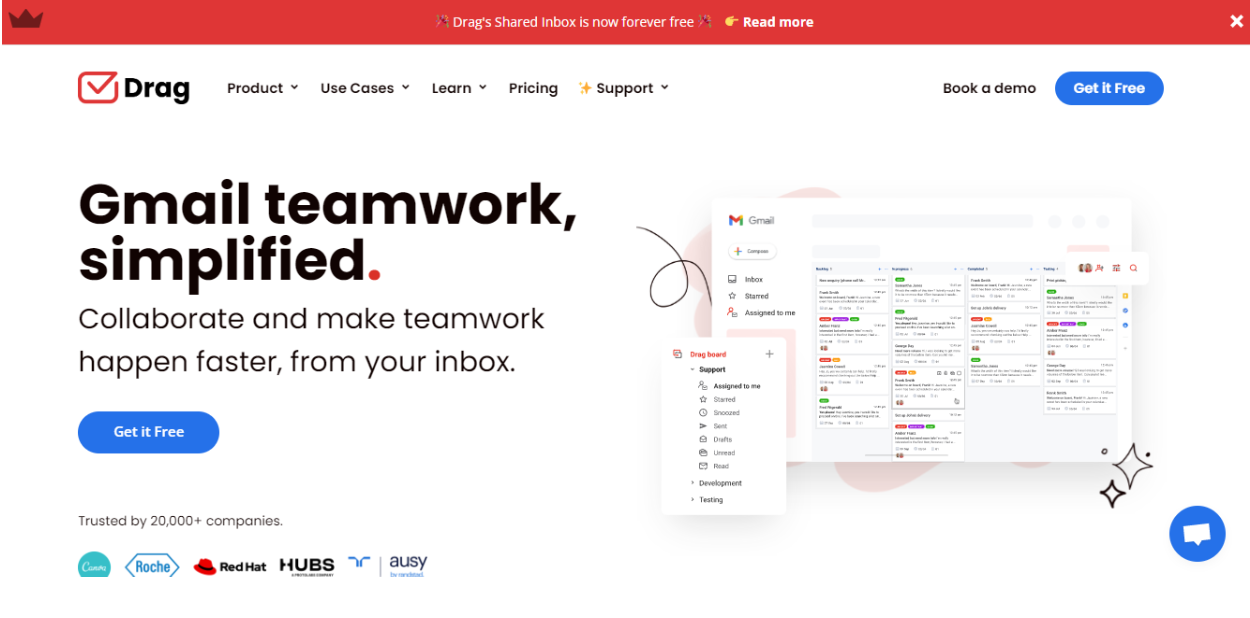 Drag application is a CRM platform that helps you run sales pipelines within Gmail. Using Drag, you can collaborate across teams, schedule appointments and meetings, and close deals, all within Gmail.
Features
Shared Inbox:

Helps you create real accounts or Google groups to the Drag board and share them with your sales team. It also helps you customize and determine the information each team member should have access to.

Personalized Boards:

Drag boards allow you to share information between employees, assign tasks to team members, and provide real-time updates on the status of each task.

Automate Teamwork:

Helps categorize and segregate emails according to the priority and sender list, create rules on what tasks to complete first, and automate workflow organization.

Merge Cards:

This allows you to declutter the Drag board and streamline workflows by grouping related projects and conversations together.

Automated Follow-Ups: Enables you to increase response rates by automating follow-up replies, scheduling email sequences, and adding custom fields automatically to personalize communication.
Pros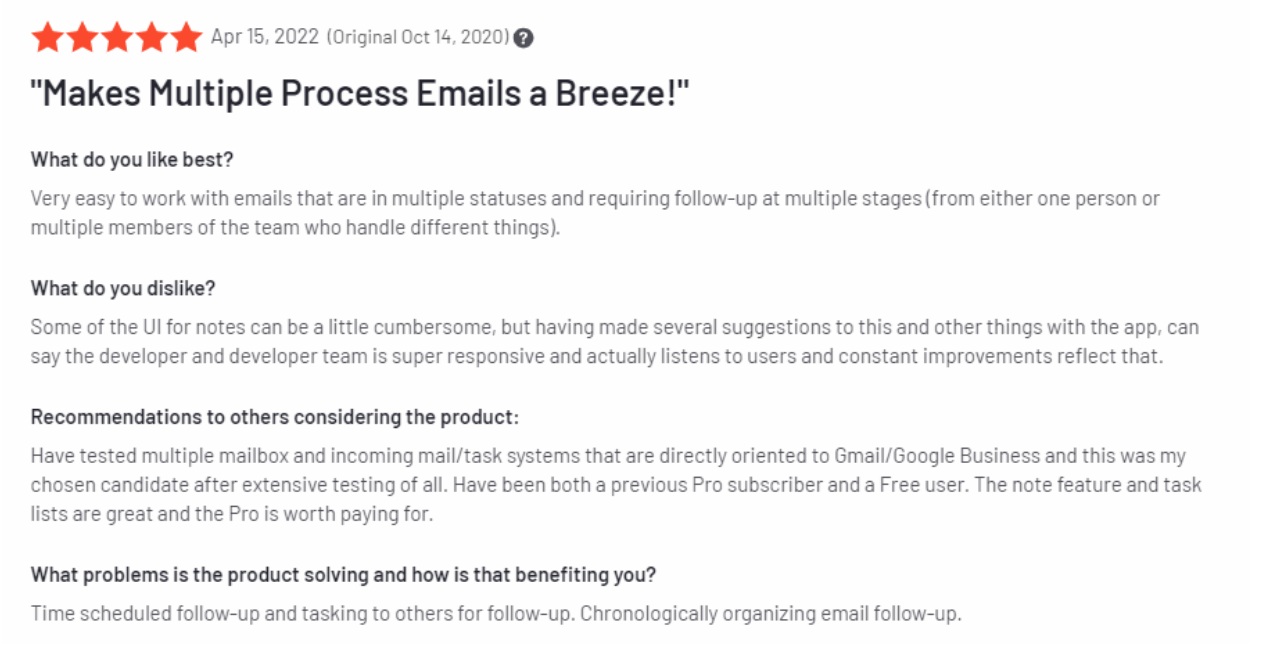 Due to Drag's integration with Gmail, companies have found it easy to send bulk emails and improve response rates by automating follow-ups.
Cons

Despite allowing teams to work better and more seamlessly, Drag has a steep learning curve. This makes it difficult for teams that have not used CRM software before to understand how Drag works.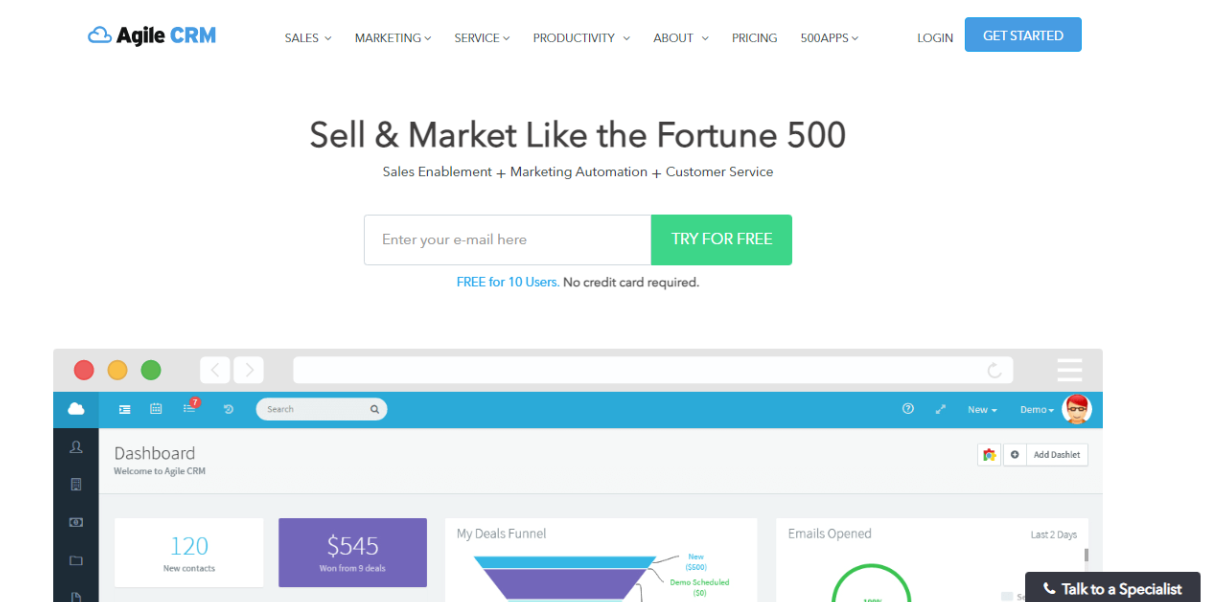 Agile CRM is an all-in-one software that automates your sales, marketing, and customer support, on a single platform. It boasts a cloud-based SaaS service that helps you access your CRM dashboard and database even when you are not in the office.
Features
Telephony:

Allows companies to make calls from the CRM platform, record conversations, and automate voicemails.

Email Client Software: Provides features like spam filtering, virus protection, and encrypted email access that maintain the privacy of organizations and customers while sharing information.
Multichannel Campaigns:

Enables businesses to execute their sales and marketing campaigns across multiple channels such as email, social media, telemarketing, and SMS, at the same time.

Content Management:

It provides insights into what content they should create, how to create it, and tools for scheduling content posting on different platforms. Moreover, users can even collaborate for content creation and distribution on the same platform.

Push Notifications:

Improves customer engagement by sending real-time alerts on when to contact users by informing them about the times when they are active or interact with your content.
Pros

Besides its ease of use, Agile CRM has a user-friendly and clean interface, making it convenient for users to navigate the platform and its tools.
Cons

At times, emails sent by companies are not received by their clients, resulting in losing clients, which, in turn, affects revenue and brand reputation.
Read also: Say Goodbye to Agile CRM: 11 Alternatives to Consider
Overall Best CRM App
It's good to choose CRM designed for specific functionalities when you have your needs properly defined.
But, in the case of small businesses with limited resources wanting to achieve the maximum efficiency without having to invest in many business applications, an all-in-one CRM app that caters to various departmental needs can be the best choice.
EngageBay can be the best choice for a free overall CRM app. Why? Let's dive into it.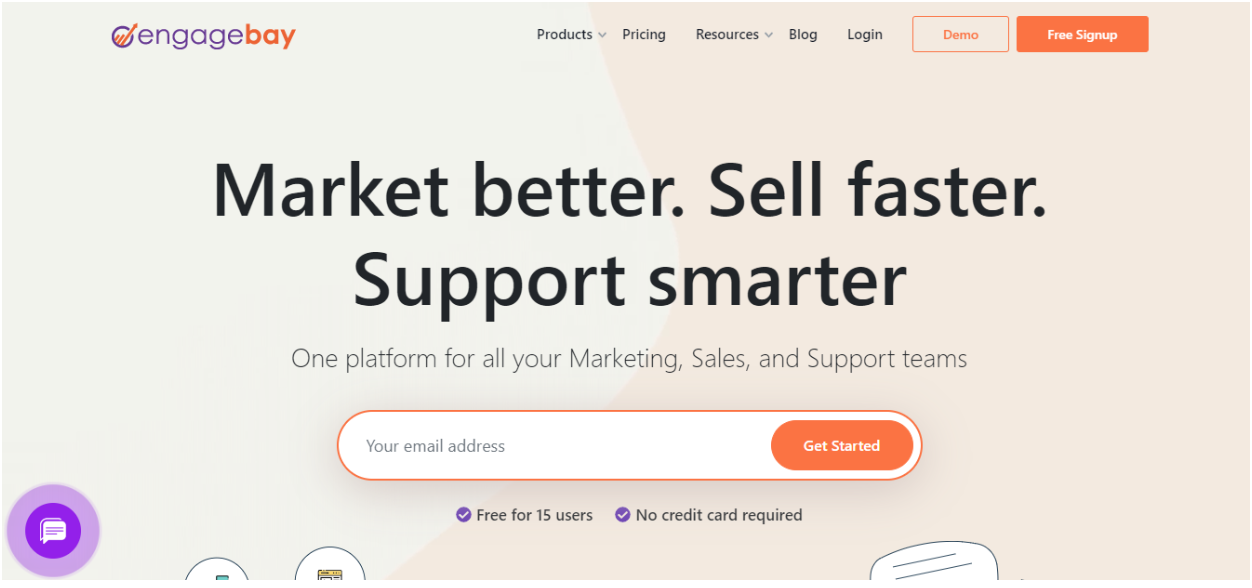 To begin with, EngageBay is an all-in-one CRM tool that serves all your marketing, sales, and customer support needs.
It has four types of tools, including an All-in-One Suite, Marketing Bay, CRM & Sales, and Service Bay. You can go for a separate bay or choose the all-in-one to streamline your entire business process using a single platform.
Some of its vast functionalities include, but are not limited to, running ads on multiple channels, attracting the target audience with its built-in landing page and email templates, automating workflows, and giving a holistic view of your customers.
In fact, EngageBay is recommended by leading marketers such as Neil Patel, Jeff Bullas, and Shane Barker. Here's what Neil Patel has to say: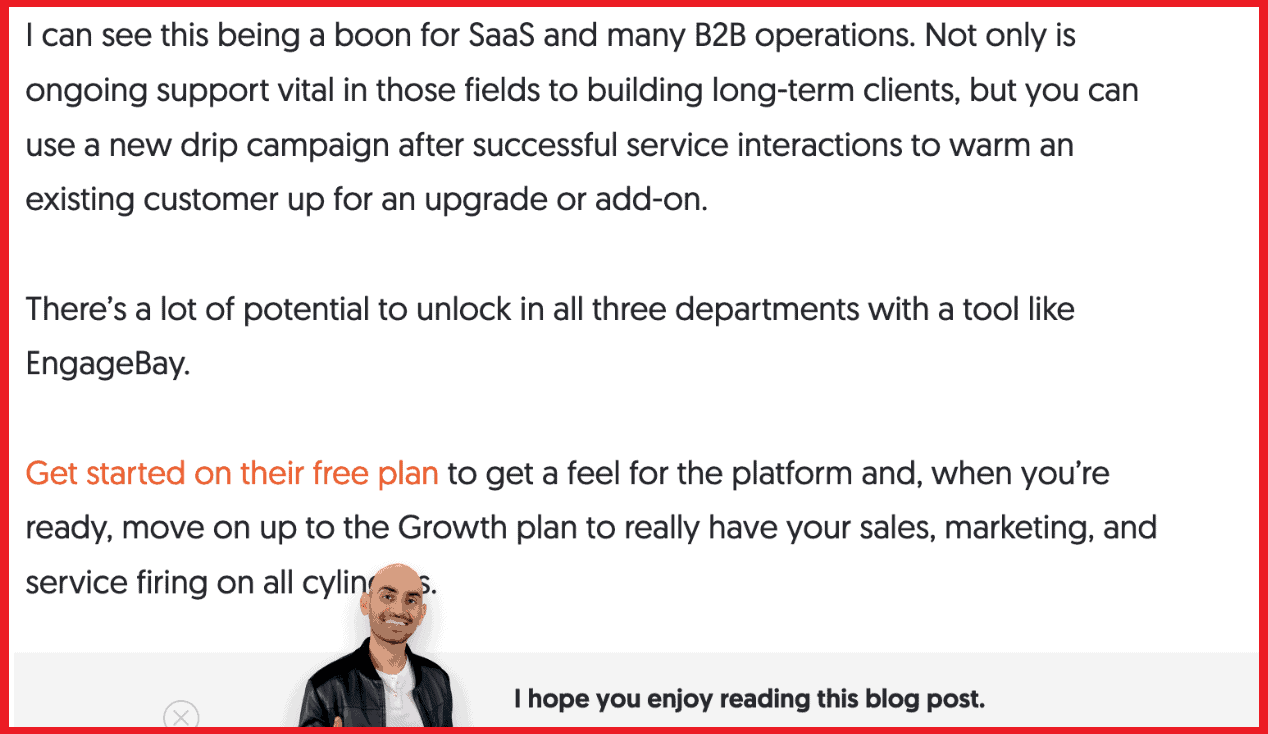 Moreover, it integrates with over 150+ apps, including Zapier, Mailgun, Shopify, Stripe, QuickBooks, DocuSign, LinkedIn, JustCall, CallHippo, and so on.
EngagBay has bagged many awards from top rating websites such as Capterra, G2, GetApp, SoftwareWorld, SourceForge, and SoftwareAdvice.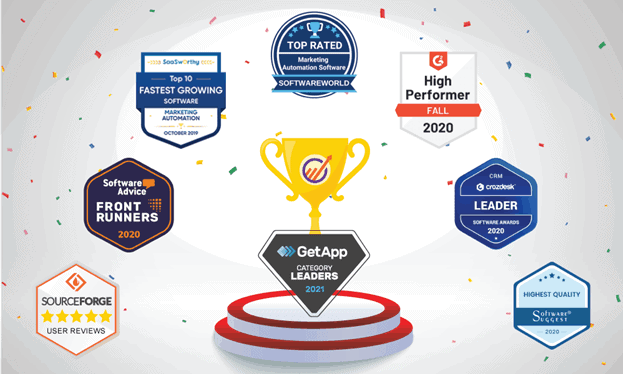 Features
Segmentation:

EngagBay lets you segregate your customers into different categories based on various filters, including age, demographics, likes, dislikes, and so on. Segmentation helps you target customers as you can then personalize the content according to your needs. You can also create time-specific segments to send emails at specific time periods.

Deal Management:

EngageBay's deal management feature helps you capture the right deals, track them in real-time, and trigger automated workflows whenever a deal is won or lost. Using the drag-and-drop feature, you can assign deals to different milestones and monitor their progress.

Proposals: It helps you create the proper sales proposal that enables effective targeting of clients. You can perform better competitor analysis, provide deep insights into buyer persona, and boast built-in templates that inform whether a customer has accepted your proposal.
A/B Testing:

An important feature of EngagBay's CRM software is A/B testing. Using the feature, you can conduct multiple landing page trials to understand what works for your audience and what doesn't. You can either choose from EngageBay's in-built landing page templates or code your own website, group your clients to maximize conversions, and get insightful reports on which version of your landing page works best.

Email Broadcast:

To ensure that your emails maximize conversions, use EngageBay's email broadcast feature. With email broadcasting, you can target clients better through contact list segmentation and track your campaign performance using metrics like email open rates, link clicks, and bounced emails. Moreover, it enables you to schedule time to broadcast emails and use A/B testing to understand how to execute email campaigns more effectively.
Pros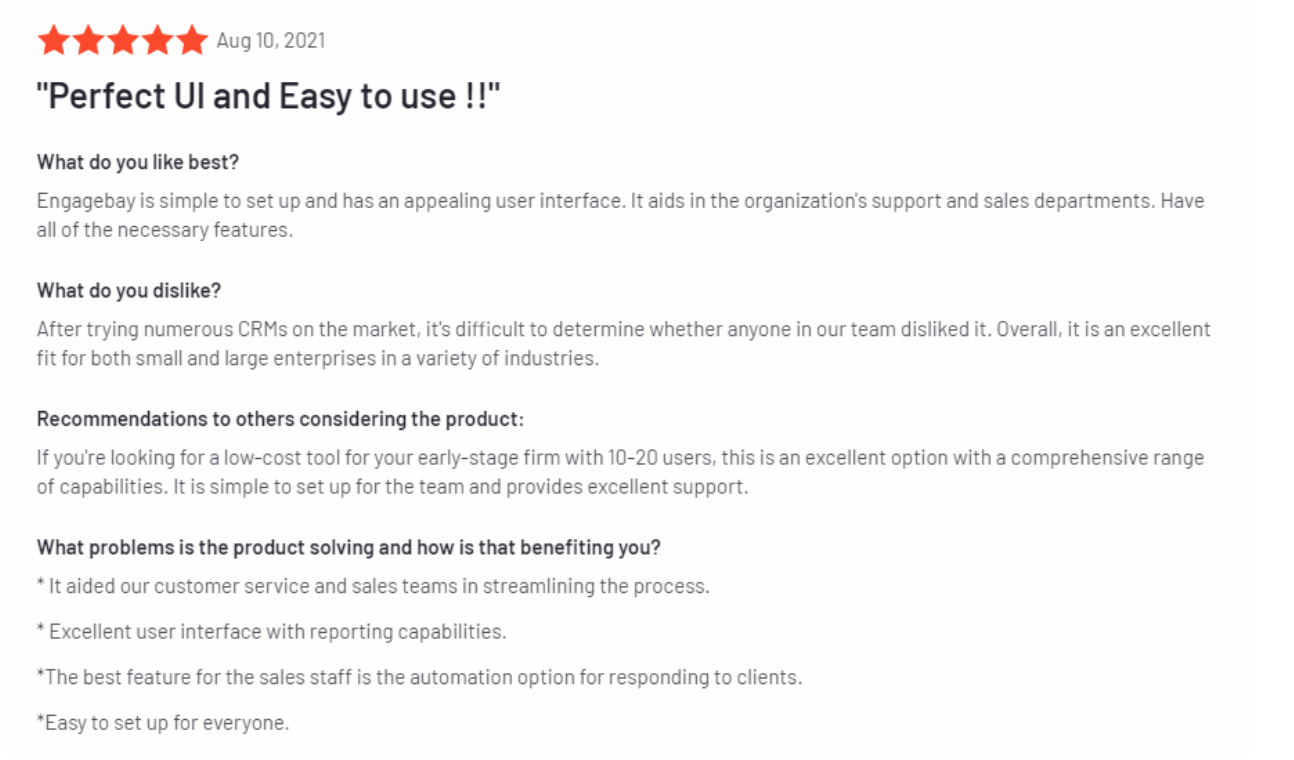 One of the major advantages of EngageBay's CRM platform is its excellent UI. The user interface is easy to set up and navigate and helps streamline workflows, helping organizations serve clients better. Moreover, its low-cost pricing model makes it a suitable tool for both small and large businesses.
Cons

A drawback of EngageBay is its conversational mailbox. A lack of autofill feature makes it time-consuming for sales reps to reply to messages that have already been sent to a contact. They need to manually enter the email address of a prospect or client rather than it being filled automatically in the 'To' field.
5 Best Free Sales Management Software
Free sales management software provides a single dashboard for sales managers to keep track of every sales activity, identify future trends, and manage sales reps' performance.
Here are some of the best free sales management software for your business.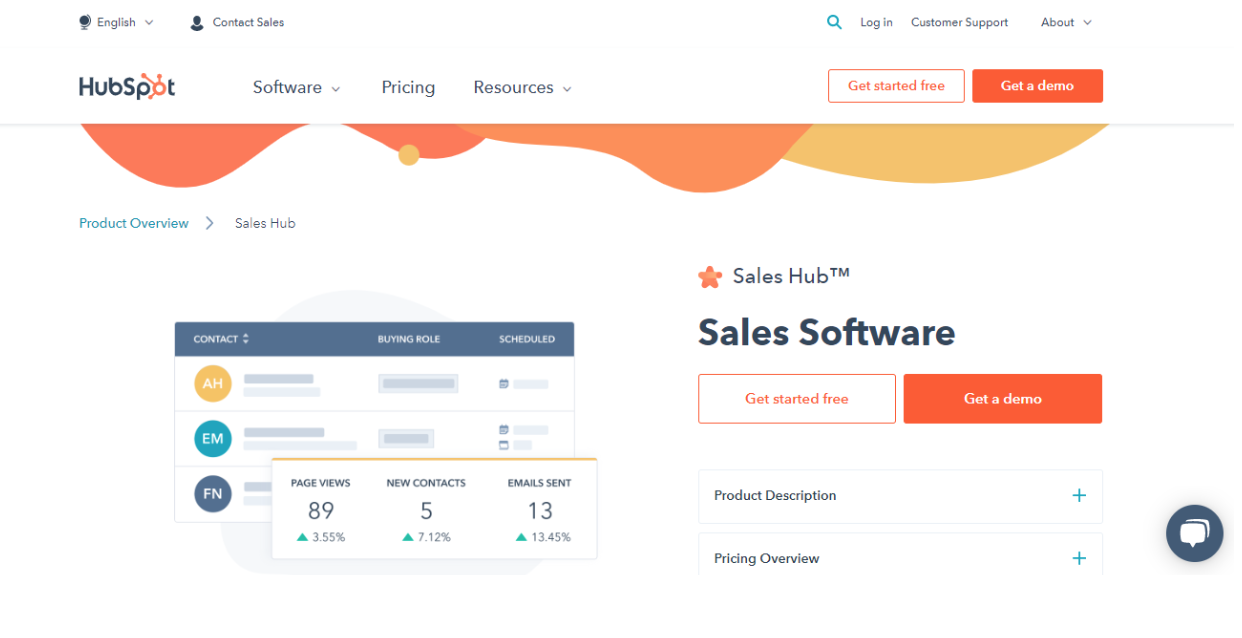 HubSpot's Sales Hub offers a dedicated sales management platform to run your sales department friction-free. It helps businesses nurture client relationships, close more deals, and manage their sales pipeline more effectively.
Features
Conversation Intelligence:

Provides deep insights from recorded client conversations and captures details from calls to help you target prospects better.

Call Tracking:

Helps you prioritize which calls to make, records calls directly from the browser, and automatically logs them on the CRM dashboard.

Sales Automation:

Enables you to create a sequence of personalized emails, schedule when to send them, and create a list of follow-up tasks so that you are in constant touch with prospective and existing customers.

Document Management and Tracking:

Allows teams to collaborate on documents in real-time and share them directly from Gmail or Outlook, and provides insights into the content that maximizes deal closing and engagement.

Email Templates:

Provides built-in personalized content to improve engagement with leads and existing clients, helping improve sales performance.
Pros

One of the key benefits of HubSpot's sales management platform is that it makes it convenient for teams to automate day-to-day sales and marketing tasks, helping them focus on more important projects and improving productivity.
Cons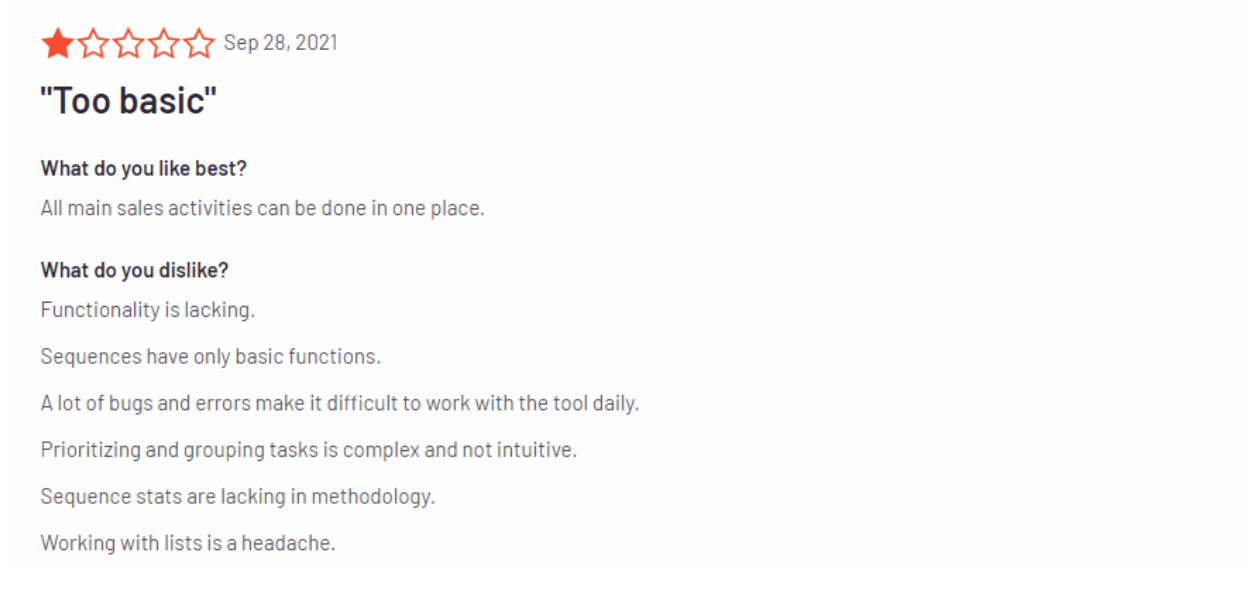 The drawback of HubSpot's Sales Hub is the lack of advanced features in its sequencing tool. The tool is also faced with several bugs and errors, making it difficult for a sales team to prioritize and group tasks.
Read also: 8 Surprisingly Awesome HubSpot Alternatives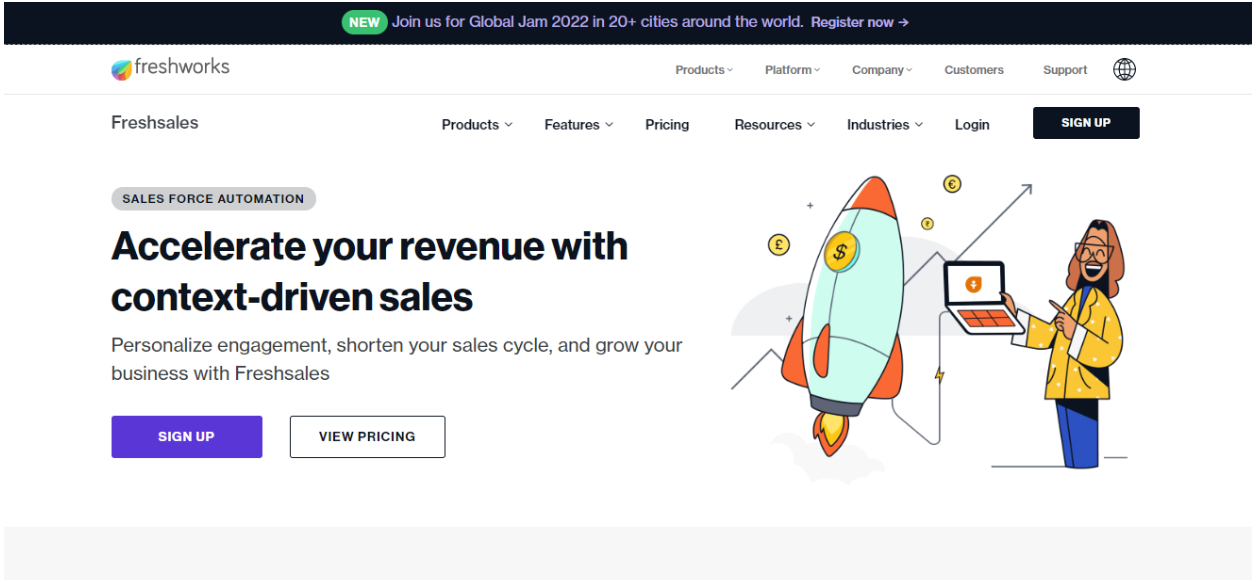 Freshsales CRM is one of the well-known and best free sales lead management software suited for small businesses. Freshsales helps you personalize client engagement and fasten your sales cycle, thereby boosting revenue.
Features
Auto Profile Enrichment: Helps you add relevant data from your contacts' social media handles and public information directly to the CRM database.
Territory Management:

Enables you to categorize and assign contacts to sales team members based on multiple filters.

Sales Sequences:

Automates sales and marketing campaigns by scheduling when to send emails or contact prospects, tracking their interactions, and following up.

Sales Goals:

Helps you improve sales performance by settings goals and milestones to accomplish. This can be done on a daily, weekly, monthly, or quarterly basis.

Deal Insights:

The Freddy AI feature allows companies to identify high-quality prospects and predicts the success probability of deals in your sales pipeline.
Pros
One of the best features of the Freshsales CRM is that it helps improve client management and acquisition. By tracking customer interactions and adding information about them from various channels, sales teams can better understand what their target audience likes and accordingly sell products and services to them.
Cons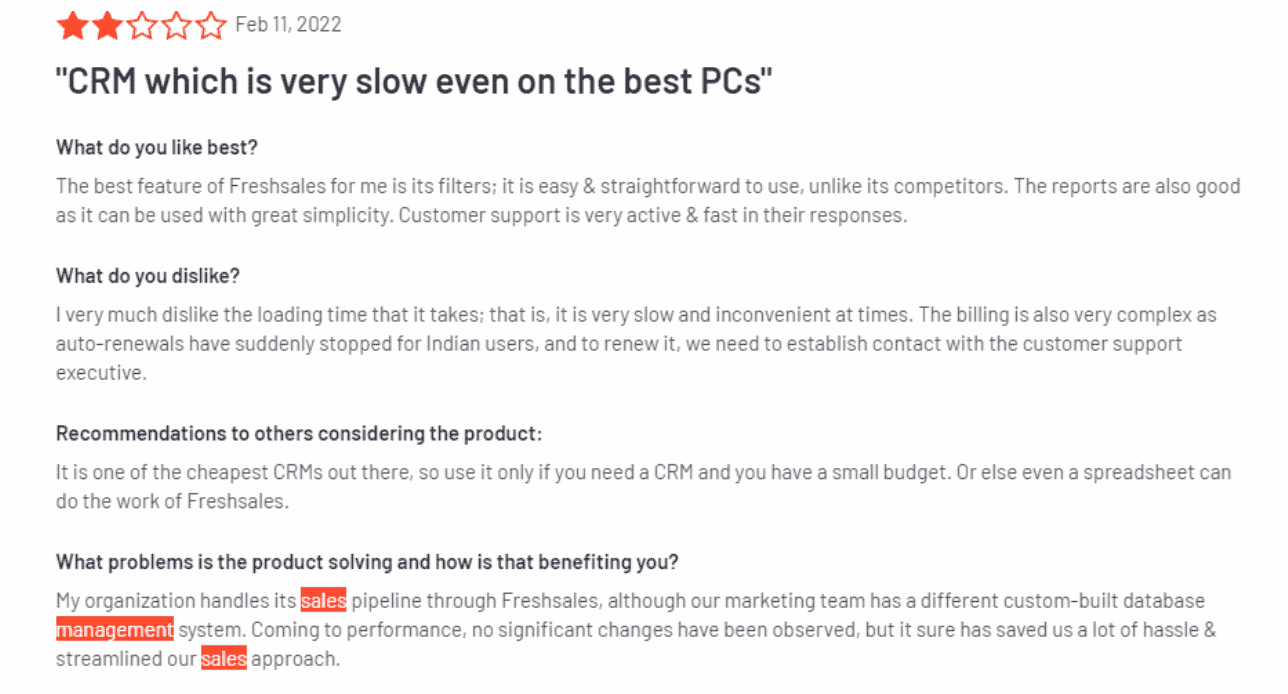 Although Freshsales is quite easy to use, its dashboard can sometimes be slow to load. Moreover, some users have encountered payment issues, as the auto-renew feature has been disabled.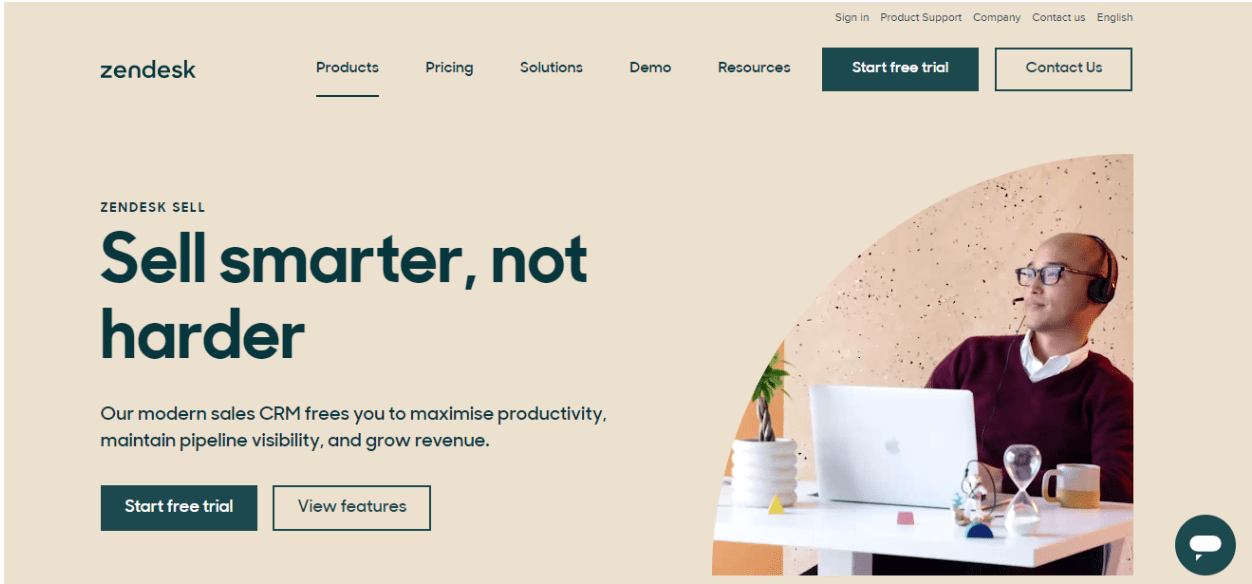 Zendesk (formerly known as Base CRM) helps you maximize revenue and growth by providing 360-degree visibility into the sales pipeline and closing deals faster.
Features
Smart Lists and Templates:

Helps you segment and filter your leads and deals in real-time to help you send targeted content and maximize conversions.

Sales Triggers:

Helps automate workflow based on actions taken by prospects, allowing you to save time and boost the sales team's productivity.

Power Dialer:

The custom call list feature helps you save time dialing numbers by automatically identifying and contacting clients based on information provided by them.

Pipeline Analysis:

Enables you to track the sales pipeline and identify and address any bottlenecks, allowing deals to progress faster.

Mobile App: Zendesk's best free sales tracking app allows you to access your sales dashboard even outside the workplace, stay connected with existing and prospective clients, and track your sales pipeline.
Pros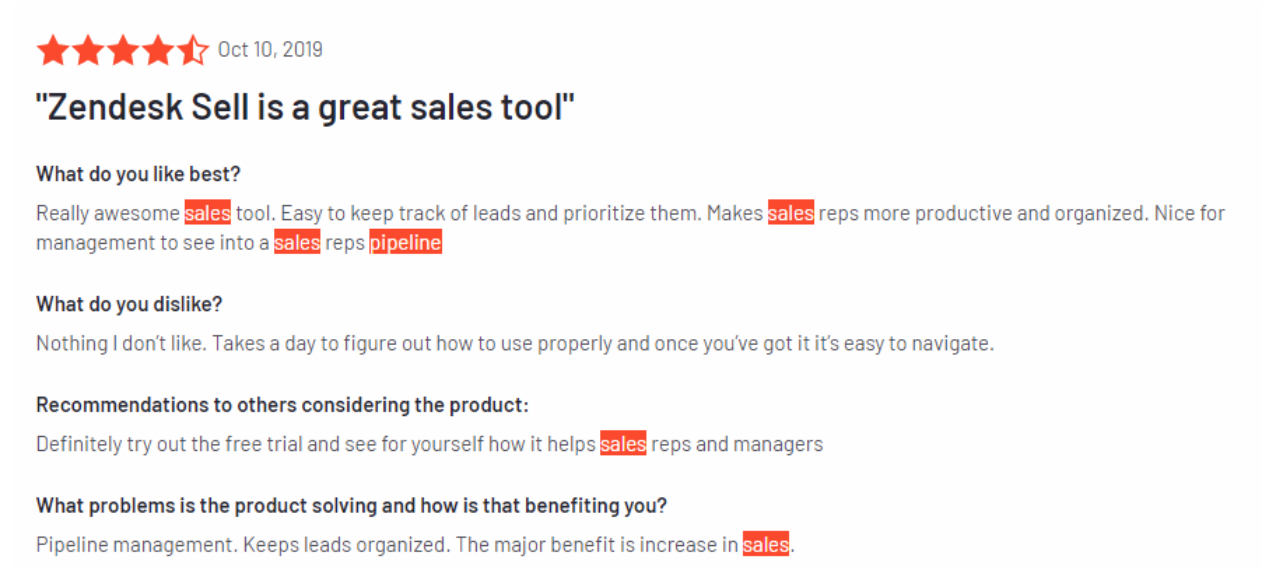 Zendesk's sales management tool is easy and convenient to use, as it helps track leads, prioritize them, and gives full visibility into the sales pipeline.
Cons

Despite being user-friendly, Zendesk's interface is not very flexible and difficult to customize. This becomes an issue for large businesses that require advanced reporting and business intelligence features.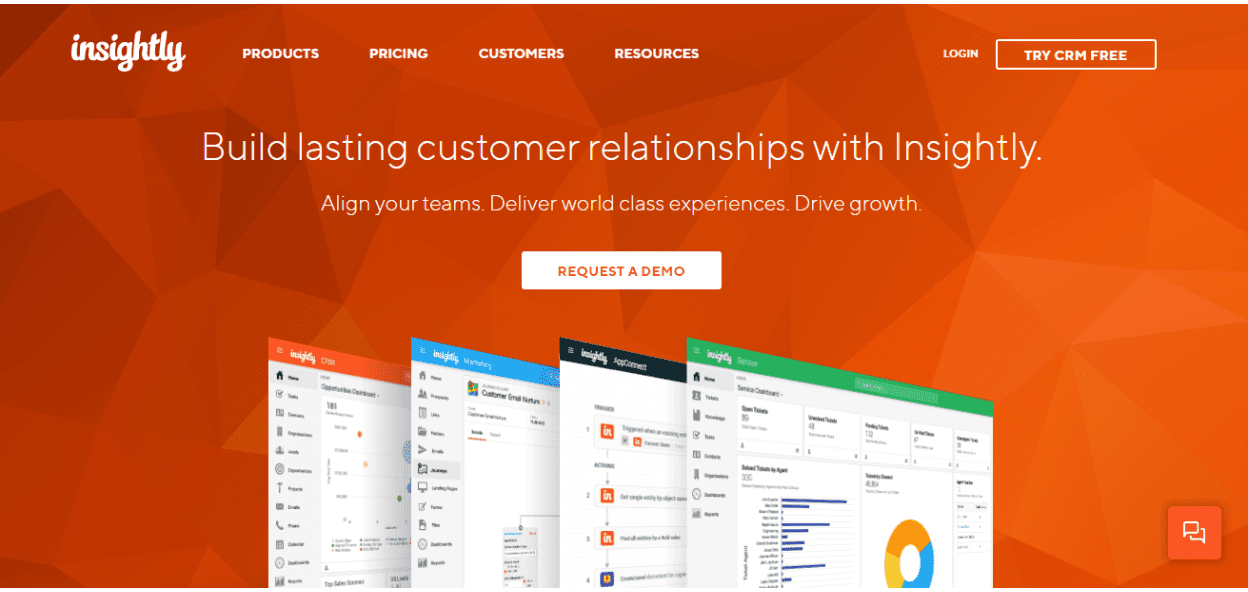 Insightly CRM is a platform that provides a range of services to help you boost conversions and increase growth, including marketing, sales, customer support, project management, and various third-party integrations.
Features
Lead Routing:

Helps identify active leads and assigns them to the appropriate sales leads to increase conversion probability.

Workflow Automation:

Allows businesses to create multi-step business processes, create and assign tasks to team members, update client data, and schedule emails.

Email Marketing:

Allows you to send bulk emails for nurturing leads, and track engagement and other metrics such as open rates, bounce rates, and clickthrough rates.

App Customization: Enables businesses to create customized apps as per needs by adding validation rules, workflow automation, and reporting analytics.
Database Management:

Helps capture, store, and update customer data automatically and sets controls on who can access the client database.
Pros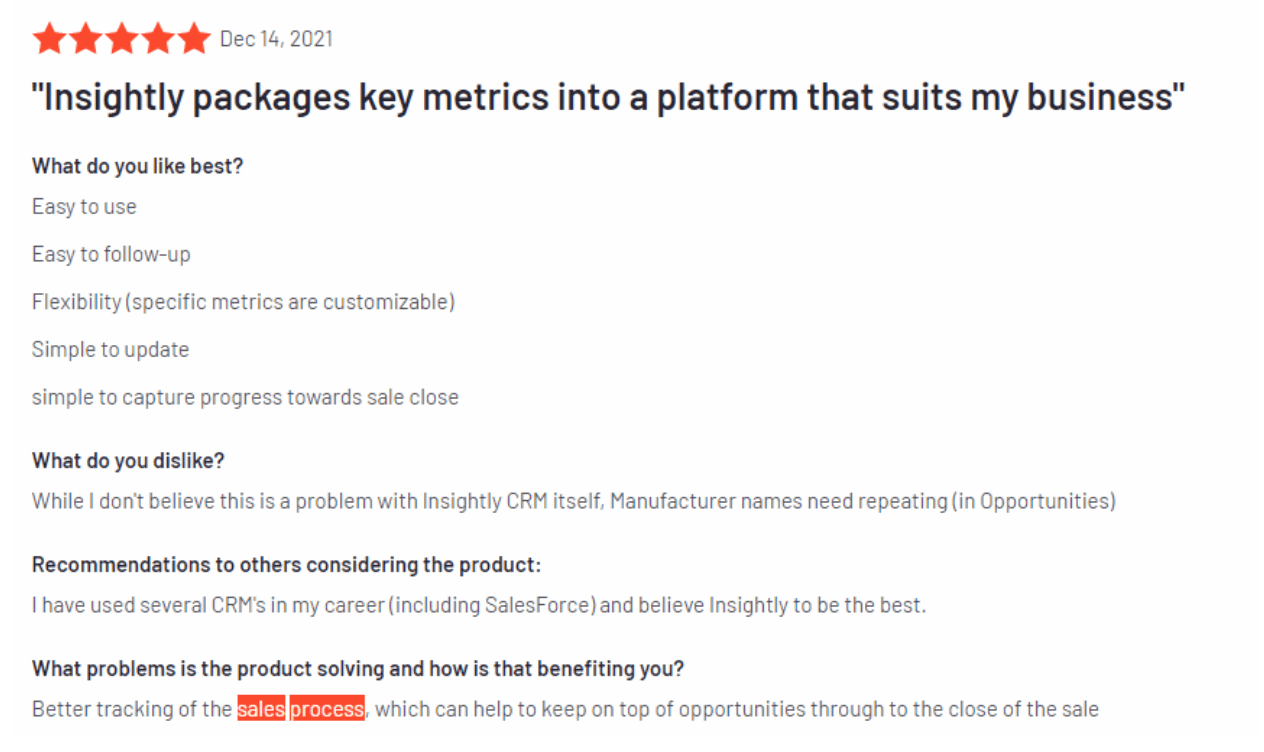 With Insightly CRM, you can automate the updating of client information, customize sales metrics, and easily navigate the interface. This has boosted the productivity of sales teams and helped close deals faster.
Cons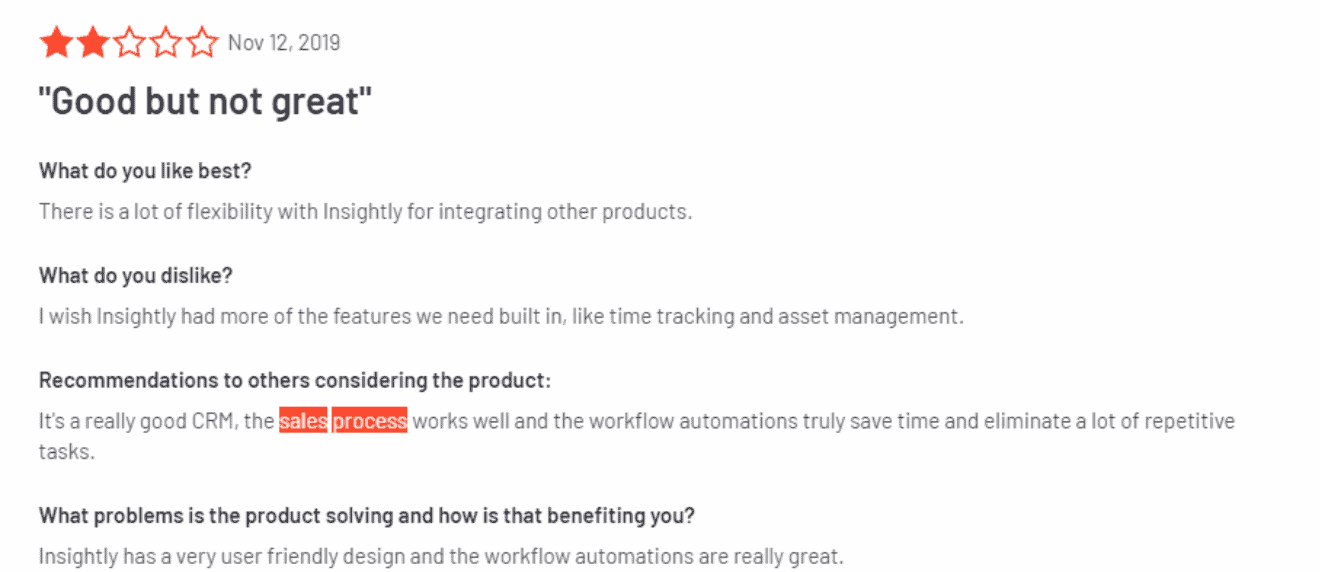 Insightly's sales management software can improve by adding more features such as time-tracking and asset management and more third-party integrations.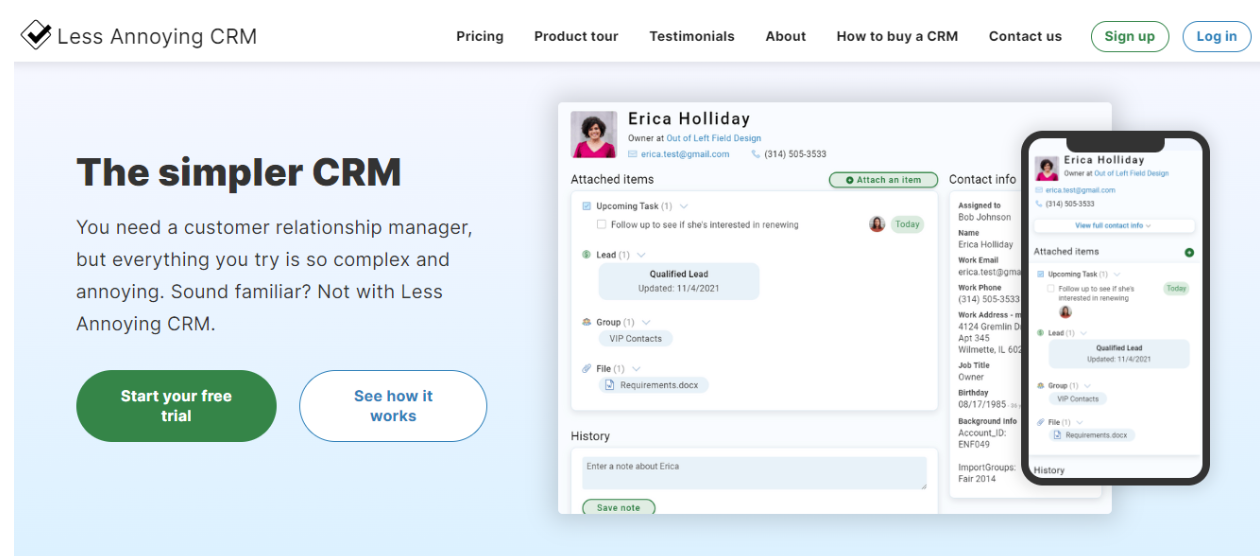 If you are looking for a sales CRM platform that is easy to set up and use, Less Annoying is your best bet. With Less Annoying, you can close more deals, maximize productivity, and improve customer experience.
Features
Contact Management:

Helps you store all your contacts on a centralized database and access all your notes, documents, and other important information related to a contact in one place.

Calendar and Tasks:

With an in-built calendar, you can schedule meetings, appointments, and tasks on the CRM dashboard, saving you the hassle of switching between platforms.

Leads and Pipelines:

Enables you to stay on top of your sales pipeline by providing real-time status of your deals, their progress in the sales funnel, and past conversations with them.

Customization:

Allows you to create custom fields for your contacts, helping you understand their persona better and targeting them accordingly.

Mobile Access: Helps you access your CRM dashboard anywhere, anytime, and from any device so that you don't lose contact with your prospects.
Pros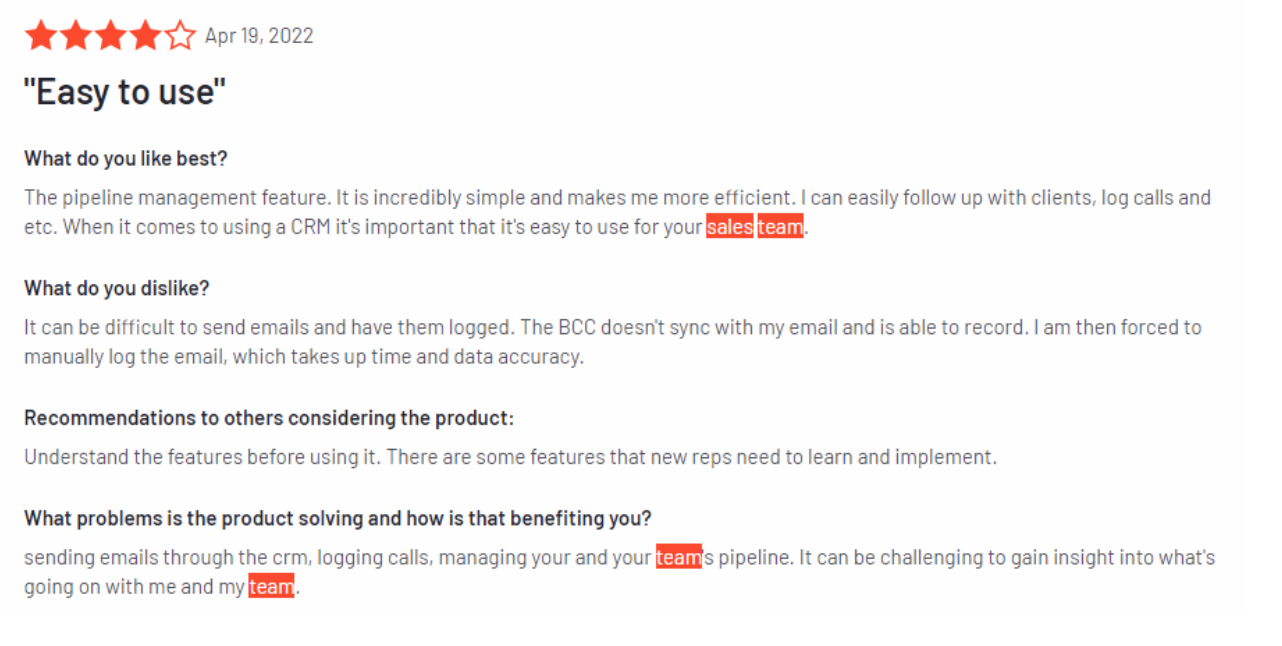 Less Annoying CRM's major advantage is that it is easy to use. Its simple and user-friendly interface has helped teams become more efficient and do better follow-ups with clients and prospects.
Cons

At times, it can be challenging to send bulk emails and log them on the CRM platform, owing to difficulties with the syncing feature.
Read also: A Comprehensive Guide to Less Annoying CRM Alternatives
5 Best Free Client Management Apps
A client management platform is essential to nurture and build a good relationship between a business and its customers. It keeps track of every individual relationship, indicates when it's time to re-engage with your inactive customers, and so much more.
Here are the five best free client management apps with robust functionalities to help build a loyal client base.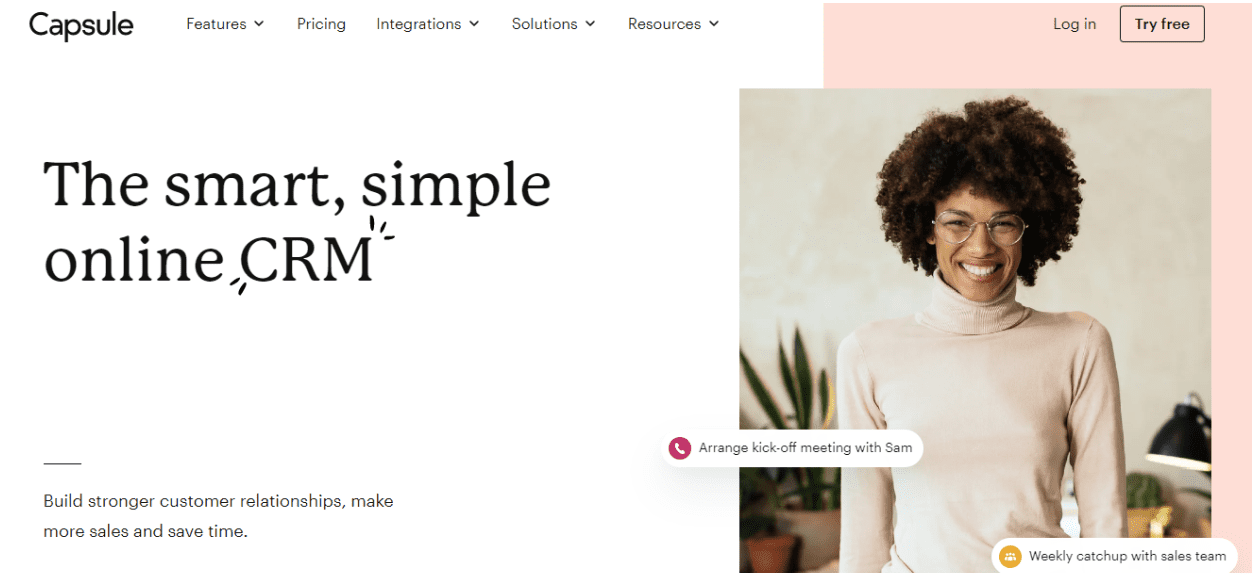 If you are looking for a CRM platform that helps build and improve customer relationships, look no further than Capsule CRM. Its powerful CRM tool allows you to track clients, close deals faster, and make informed sales decisions.
Features
Contact Management:

Helps nurture customer relationships by recording and tracking past interactions that enable sales teams to understand buyer persona.

Sales Pipeline:

Allows you to track deals as they move through the sales funnel and address any roadblocks.

Sales Analytics:

Helps generate reports based on various sales metrics to help you evaluate performance and determine which areas need improvement.

Tag Management:

Enables you to assign tags or categorize clients into different groups based on multiple filters. This allows you to target them better.

Task Reminder Emails:

Keeps you on top of your daily workflow by sending emails on the tasks that need to be completed each day.
Pros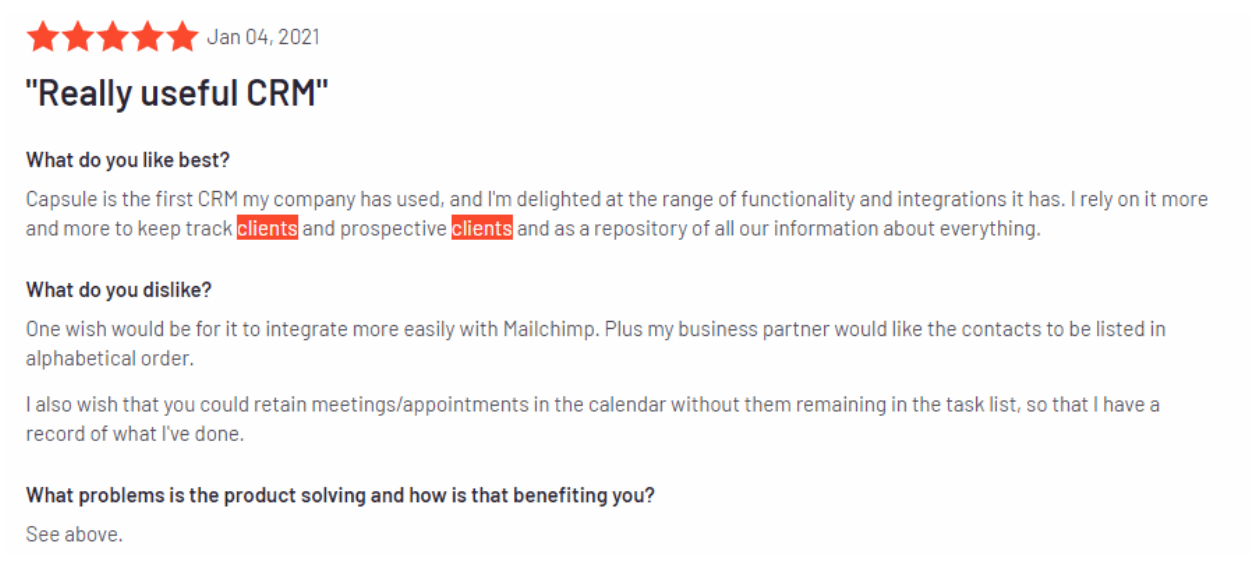 Capsule CRM is impressive in terms of its ease of use and the range of integrations and tools it offers. This helps companies provide a better and improved customer experience.
Cons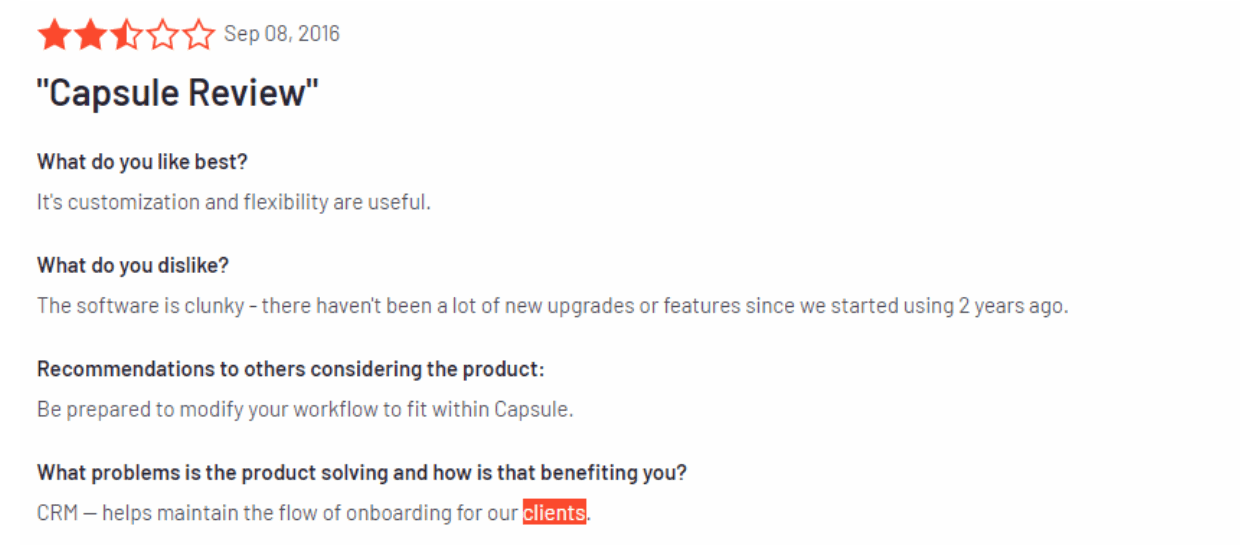 A drawback of Capsule CRM is the lack of upgrades. As a result, it can be difficult for large companies to use Capsule as they often require advanced functionalities to serve customers better.
Looking for a more flexible solution to Capsule CRM? Our article on the top Capsule CRM alternatives will help you find the perfect fit.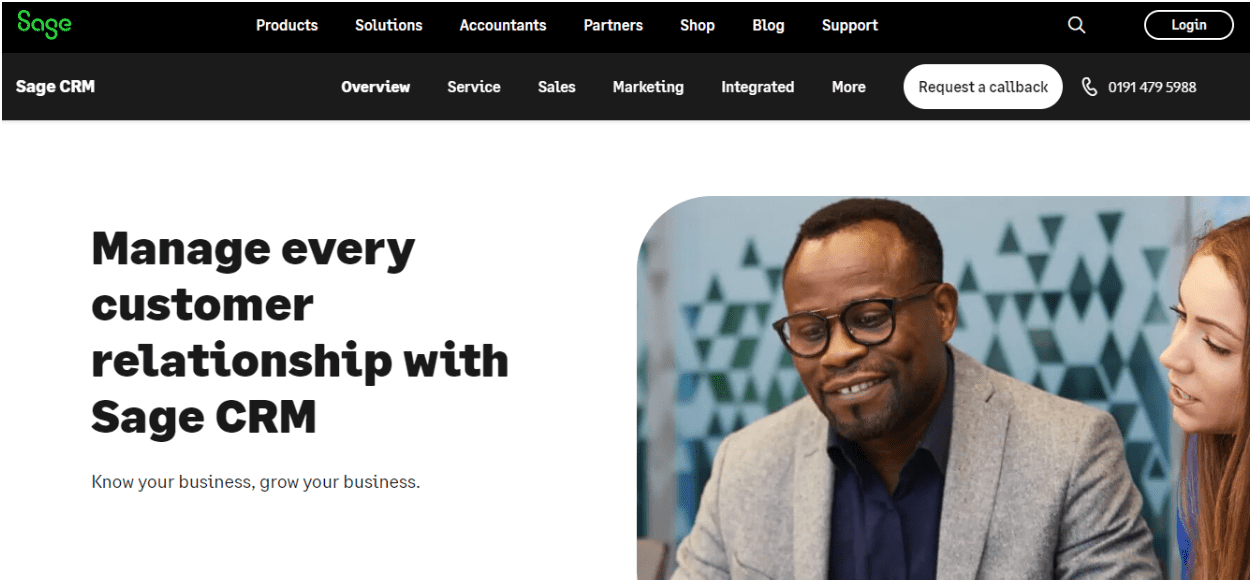 Sage CRM is a tool that allows you to manage customer relationships and gain impactful insights into what works for your clients.
Features
Real-time Insights:

Provides real-time updates on customer interactions and tracks expenses and payments.

Campaign Tracking:

Integration with Mailchimp helps create email marketing campaigns and track them to see what works and what doesn't.

Customer Service: Provides an end-to-end view of the customer life cycle based on certain metrics, helping make better product recommendations and cross-sell.
Collaboration:

Helps avoid duplication of work and effectively collaborate across teams in real-time by sharing documents and updating information.

Business Processes:

Helps automatically create invoices, schedule payments, send reminders to customers, and record revenue in the books.
Pros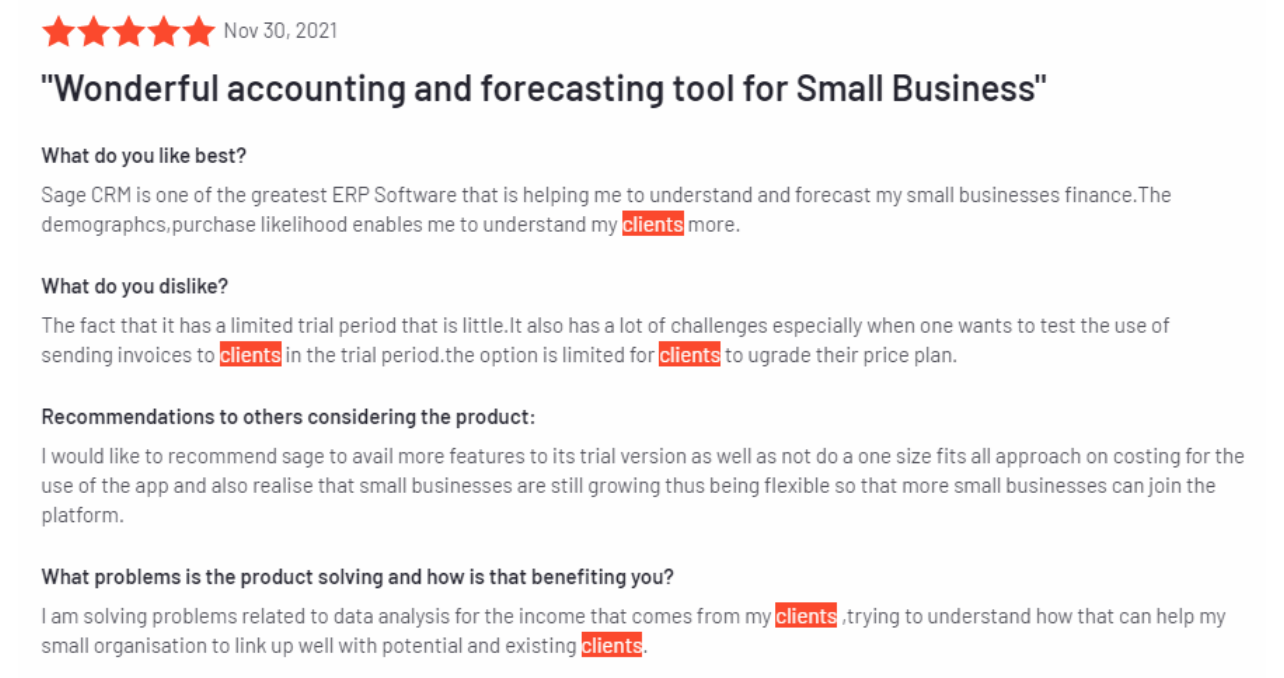 With features like automated invoice creation, revenue recording, and payment schedule, Sage CRM makes it possible to better understand their clients and forecast sales.
Cons

A lack of a mobile CRM app makes it difficult for teams to collaborate remotely and keep in touch with clients at all times.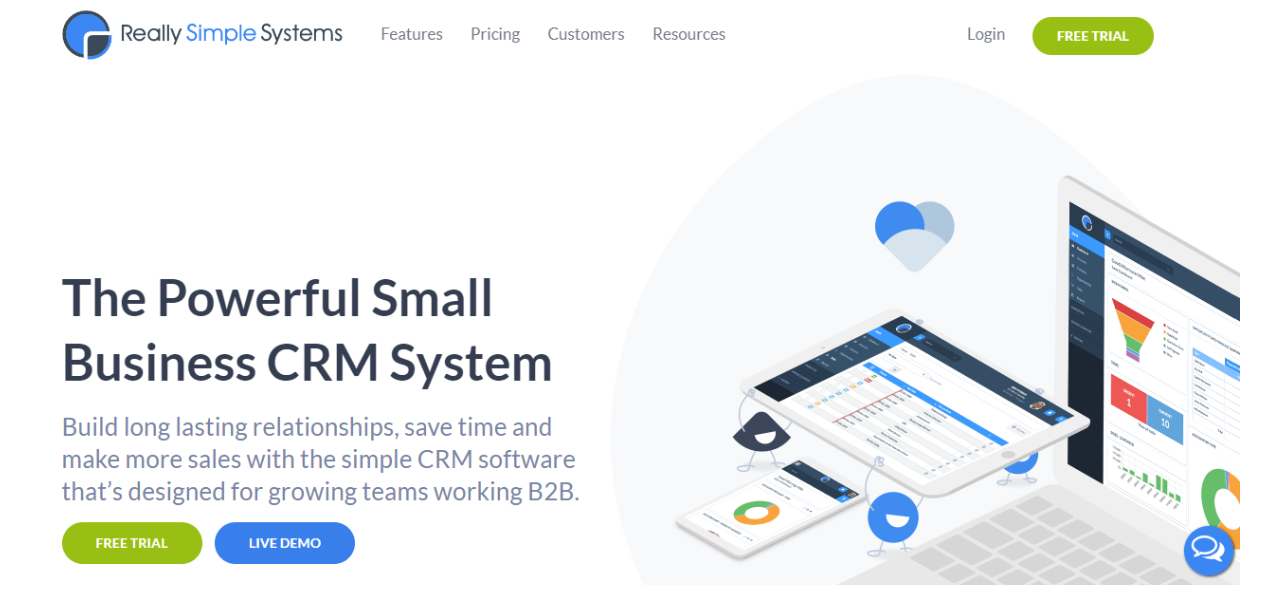 As the name suggests, Really Simple Systems CRM is a tool that is easy to use and helps you build long-lasting relationships with your clients and generate more sales.
Features
Contact Management:

Provides a 360-degree view of your contacts, keeps a record of your conversations with customers, and captures all emails sent and received from them.

Analytics & ROI:

Provides real-time insights into customer behavior, records sales metrics, and assigns leads to sales team members.

Reporting:

Helps generate customer and sales reports based on certain metrics and also enables you to create customized reports using the drag-and-drop tool.

Web Forms:

Allows you to create forms that can be embedded on your website to capture user details and target them accordingly.

Lists & Segmentation:

Enables you to segment contact lists based on various filters and send targeted emails and marketing campaigns to maximize conversions.
Pros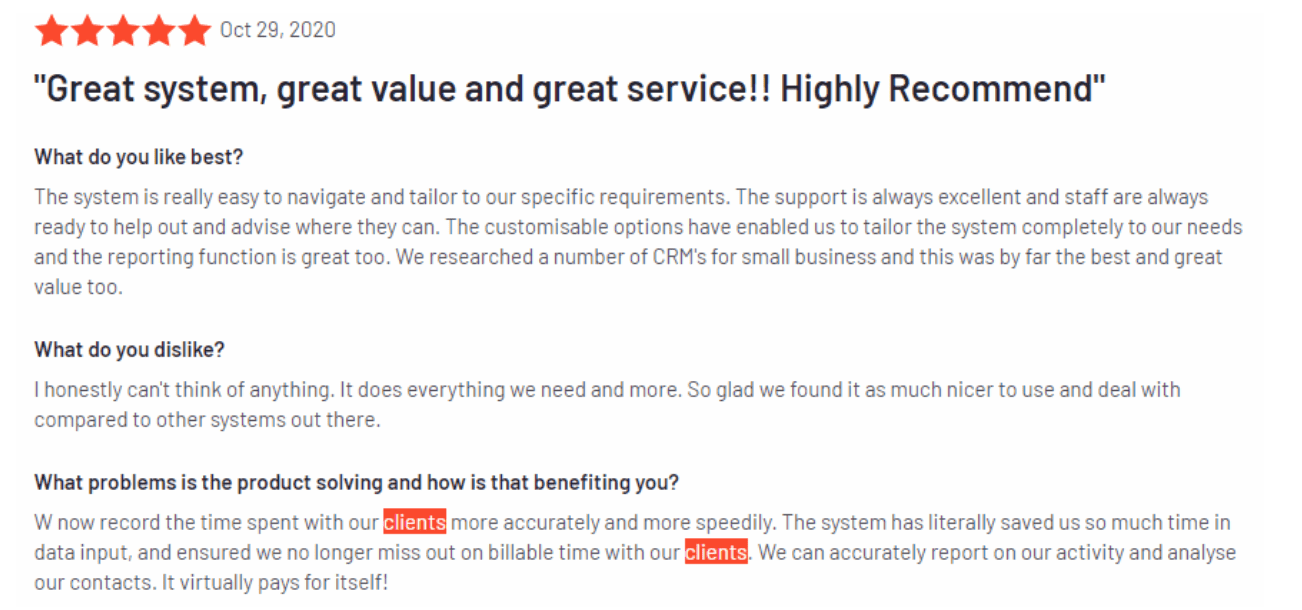 The CRM platform is quite user-friendly and easy to navigate, and has a highly responsive customer service team.
Cons

A lack of integration with Android, Gmail, and Google Chrome has made it difficult for businesses to expand their CRM functionalities seamlessly.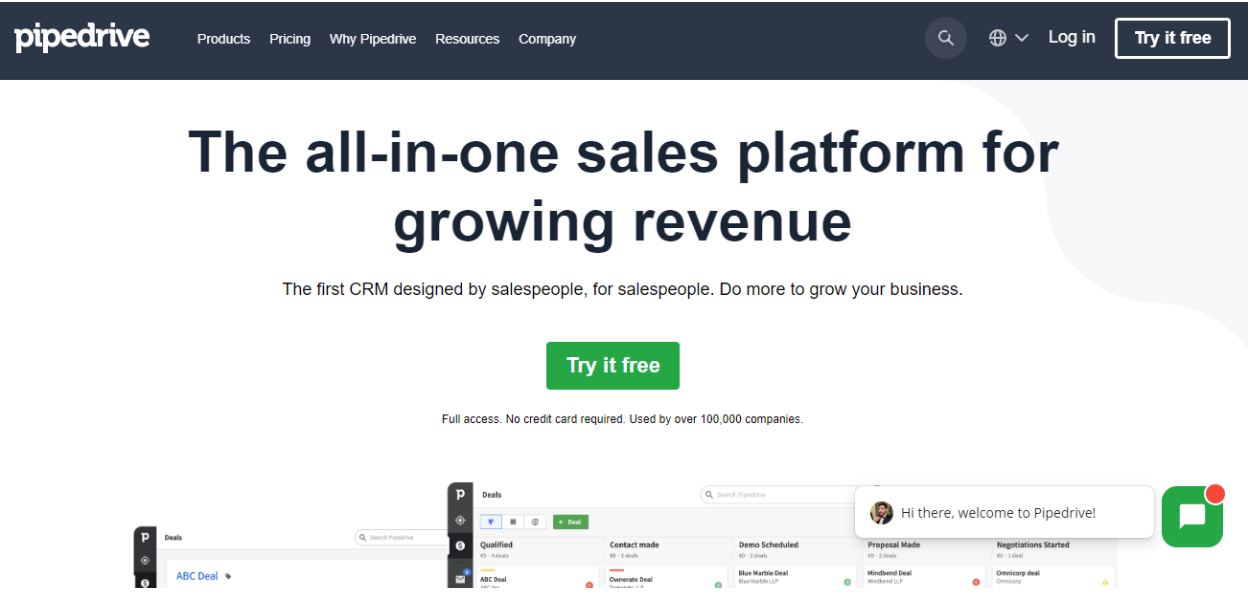 Pipedrive CRM is an all-in-one sales platform that helps drive revenue and nurture customer relationships at an affordable cost.
Features
Pipeline and Deal Management:

Helps add or remove deals, calculate win probability, and track and organize them according to the stage of the sales funnel they are in.

Sales Automation:

Enables you to automate administrative sales tasks, auto nurture leads, and automate personalized email templates.

Insights and Reporting:

Helps track team and individual sales performance, visualize data, and add custom performance metrics to understand progress.

Email and Communication Tracking:

Manages sales by automatically linking them to deals and contacts so that you are aware of past conversations and get real-time notifications of customer actions and insights into an engagement.

Lead Qualification:

Helps capture leads and qualify them based on certain parameters to understand which deals will close.
Pros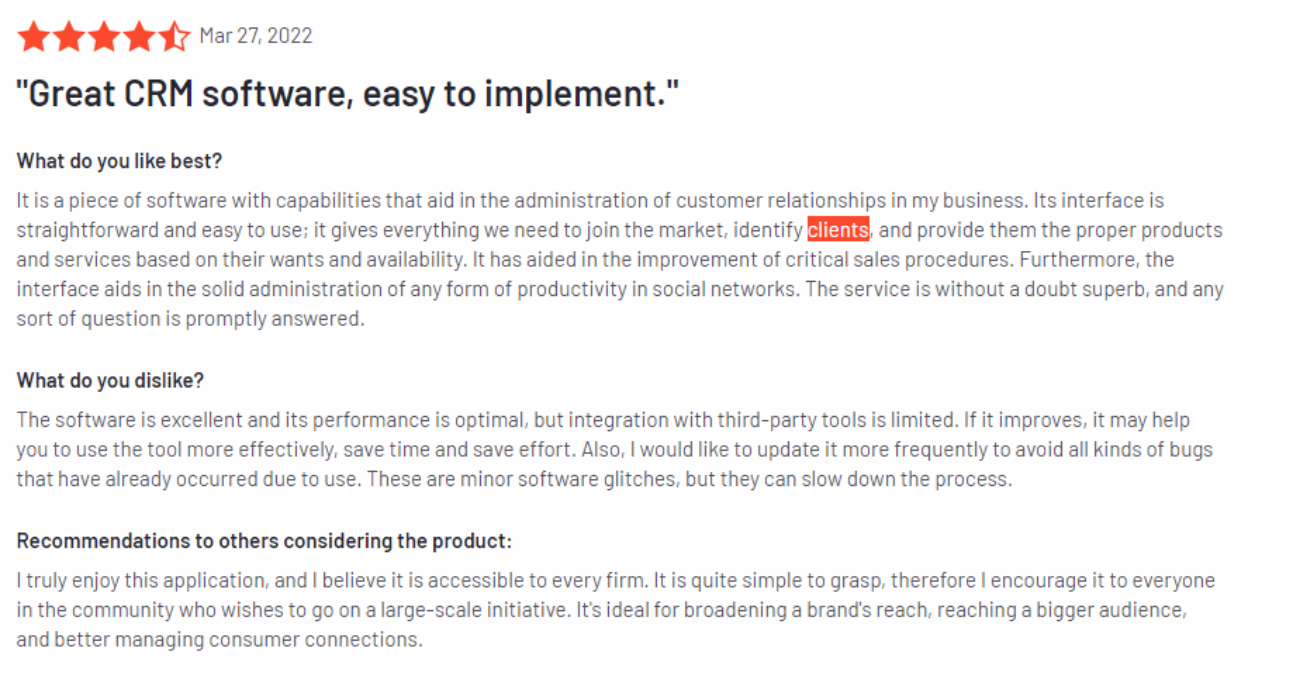 Pipedrive is an easy-to-use CRM tool that helps identify and qualify leads, helping businesses target them better and provide the right product recommendations.
Cons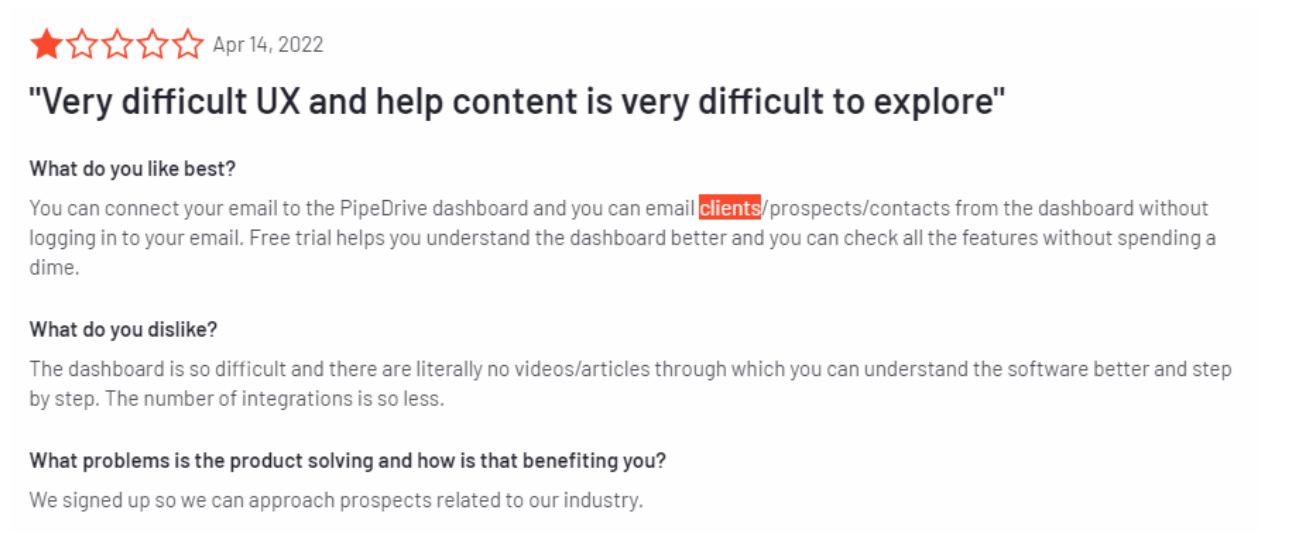 Although Pipedrive's interface is user-friendly, a lack of good customer support and the absence of tutorials can make it difficult for people to understand how the software works.
Read also: Pipedrive vs HubSpot vs EngageBay — Which CRM is Smarter & Better?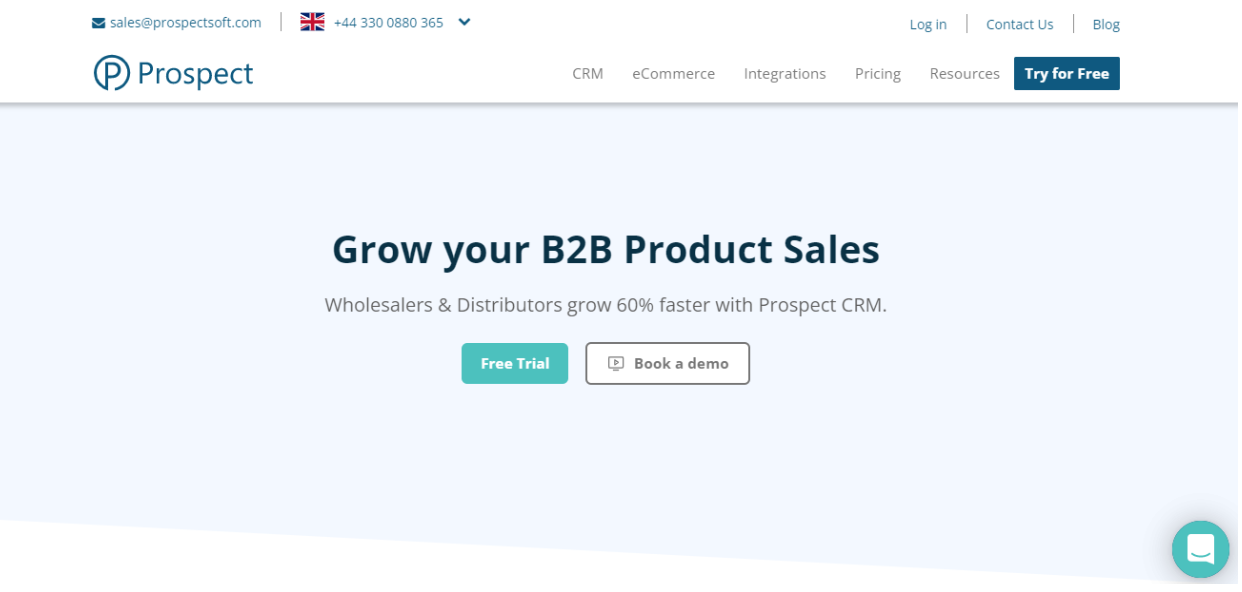 Ideal for small businesses, Prospect CRM helps companies to grow faster by targeting the right customers at the right time.
Features
Magic Matrix Analysis:

Helps increase customer lifetime value by making improved product recommendations to clients and cross-selling.

Shared Goals:

Helps set goals and targets for teams and individuals, boosting productivity and sales performance.

Opportunity Tracking:

Provides tools like customizable pipelines, leaderboards, and sales reporting tools, all in one place. This helps you avoid losing deals and track their progress in real-time.

Problem Tracking:

Helps address client issues immediately by raising tickets and passing them to the customer service team or the most appropriate departments, thus, saving time and improving customer satisfaction.

End-to-End Reporting:

Gives a detailed breakdown of your business performance, right from sales to orders to payments and opportunities. This helps you understand how to deliver better customer performance and build long-lasting relationships.
Pros

Prospect helps you easily track customer progress in terms of the amount spent by them on your products and their engagement levels. This helps you further understand how to make them purchase more and improve their experience.
Cons

At times, the client information recorded on the database has missing details like email and phone numbers, making it difficult for businesses to get in touch with their customers. This can have a negative impact on sales and brand reputation.
Read also: 10 Top Sales Analysis Software for Small Business Owners
Best Open Source CRM
Open source CRM is preferable amongst businesses of all sizes for its ability to integrate with any other software seamlessly. The best part is that you can easily customize the CRM to fit your current workflows and make changes as your model evolves.
Let's look at some of the top open source CRM you can consider using.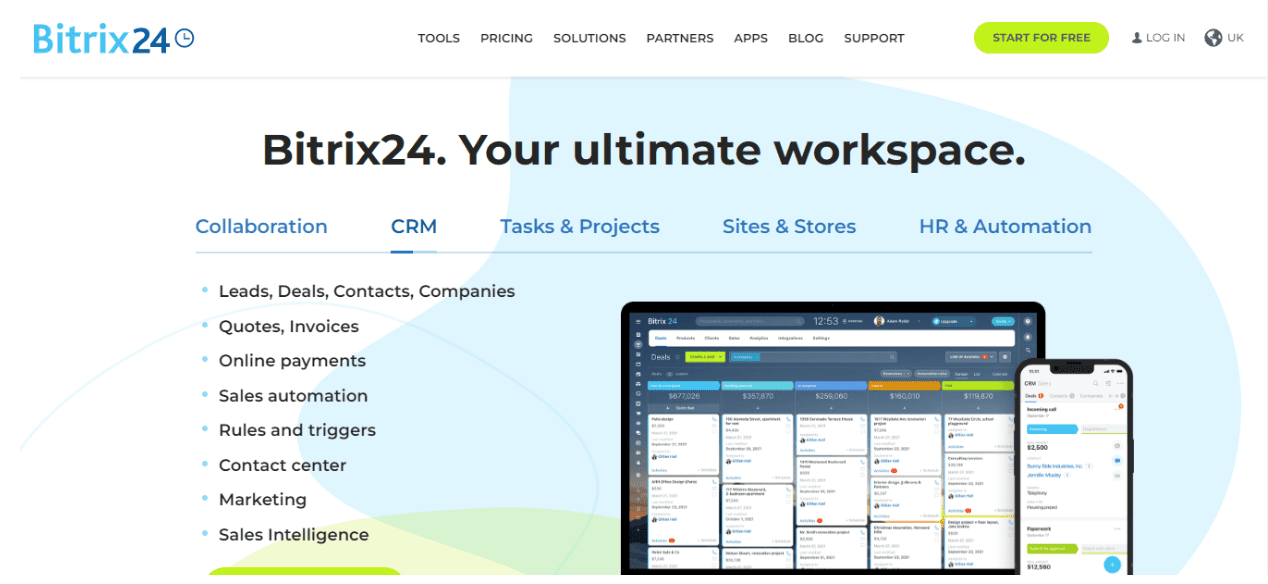 Bitrix24 is one of the best open source CRM suitable for all business types and sizes. It helps you generate high-quality leads, create invoices, automate your sales process, and collaborate across teams, all on a single platform. Most importantly, you can customize the workflow as per your business needs.
Features
Lead Generation:

Helps identify and collect leads using customizable web forms and automatically adds prospect details to the CRM dashboard.

Omnichannel Marketing:

This allows businesses to run marketing campaigns, create custom landing pages, and track key performance metrics, all on a single platform.

Project Management:

Enables automated task allocation among team members and tracks their performance in real-time.

Live Chat:

Provides instant support to customers and immediately addresses any queries regarding products or the website.

Sales Intelligence:

Provides all the information you need to improve your sales process, including tracking client progress, calculating ROI on marketing campaigns, and generating performance reports for each employee.
Pros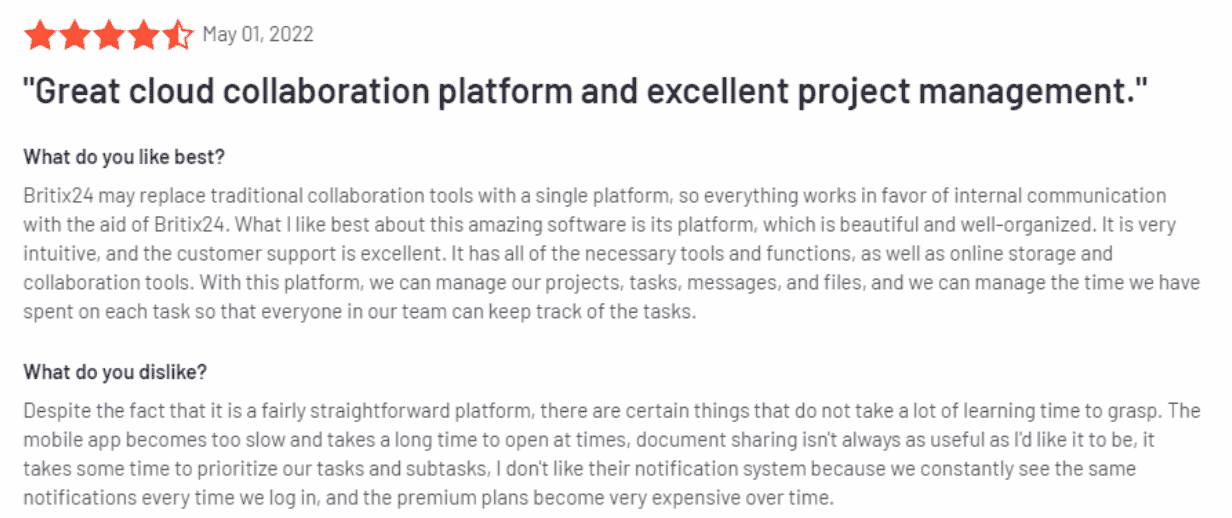 Bitrix is popular as one of the best cloud collaboration platforms as it makes it easy to share, manage, and track your tasks and documents. Besides, it streamlines internal communication, which directly impacts overall work productivity.
Cons

Despite its advantages, Bitrix24 has a steep learning curve and may not be suitable for those unfamiliar with CRM software.
Creatio is a open source CRM that can be easily customized and makes it easy to simplify the entire workflow. Further, it provides a wide range of tools for integration with third-party applications, including OData protocol, REST API support, SOAP services, and more.
Features
Collaboration:

Helps align your marketing, sales, and service teams with a unified CRM Creatio workflows and single-source database.

Multichannel Marketing Campaigns:

Easily manage multi-channel marketing campaigns using its analytics to evaluate and optimize campaigns.

No-code Tools:

It comes equipped with no-code tools to create new applications to adapt to changing consumer needs.

360-degree Customer View:

Get full visibility into the customer's profile, interaction history, and AI-generated insights for better strategizing.

Real-time Reporting:

Get real-time insights into your business activities and their impact to yield better results and increase your revenue.
Pros

Creatio has been able to garner appreciation for its flexibility and its robust functionalities that not only serve as a CRM but also enable users to structure and evaluate processes.
Cons

Creatio CRM still needs some improvement in its integration abilities.
Odoo offers a suite of open source applications that easily integrates with its CRM too. You can easily simplify, automate, and optimize your entire workflow process with ease and take your business to new heights.
Features
Custom Dashboard:

Design your dashboard as per your requirements to get a picture of your business at a glance.

Real-time Insights:

Get deep insights into your business activities and their performance to better control your operations.

Scheduling:

Improve work productivity by scheduling activities based on your sales scripts: calls, mailing, meetings, and quotations.

Easy Collaboration:

Share ideas and files in real-time, track the changes made, and catch up on things you missed.
Pros

Users have direct praise for it being an open source CRM. Besides, its active community support makes it a popular choice.
Cons

While it may be one of the best open source CRM, the same user believes that if the software was written in JAVA, it could have been much more useful.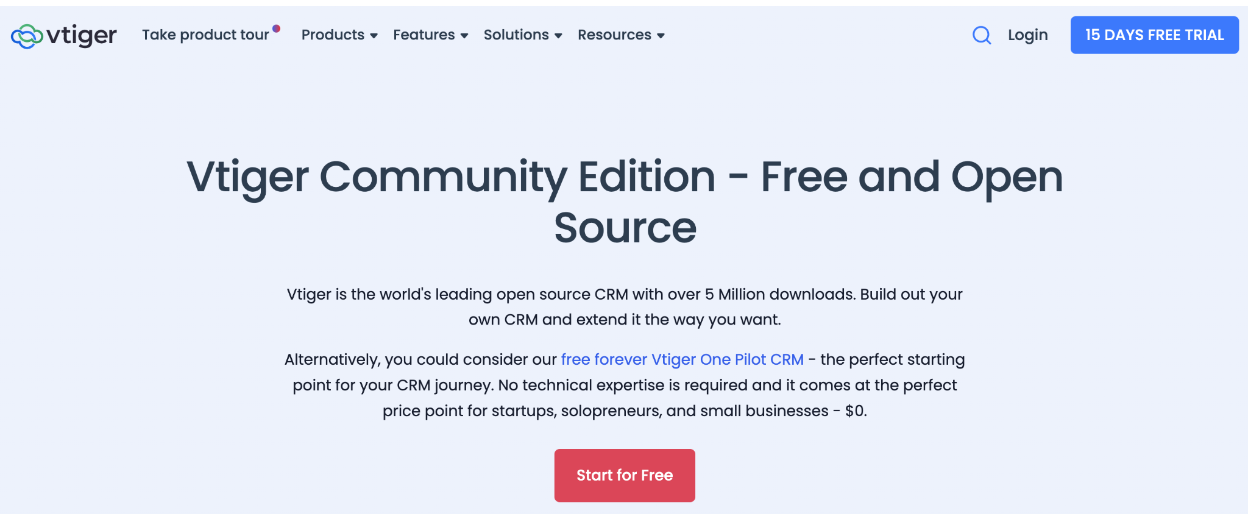 Vtiger is one of the leading open source CRM that has more than five million downloads to date. It offers enough flexibility to make changes to the core product and make it fit your unique business needs.
Features
Contact Management:

Acts as a centralized database for all your contact details and interaction history. You can access it from anywhere.

Help Desk Management:

It automatically converts emails to tickets and will link them to the respective contact for easy tracking.

Inventory Management:

Easily manage your stocks and services with ready price books for different markets.

Reporting:

Enables you to create tables and charts to easily understand data and take necessary actions accordingly.

Pipeline Management:

Gives clear visibility into all your active deals at various stages, and you can set up reminders for timely follow-up.
Pros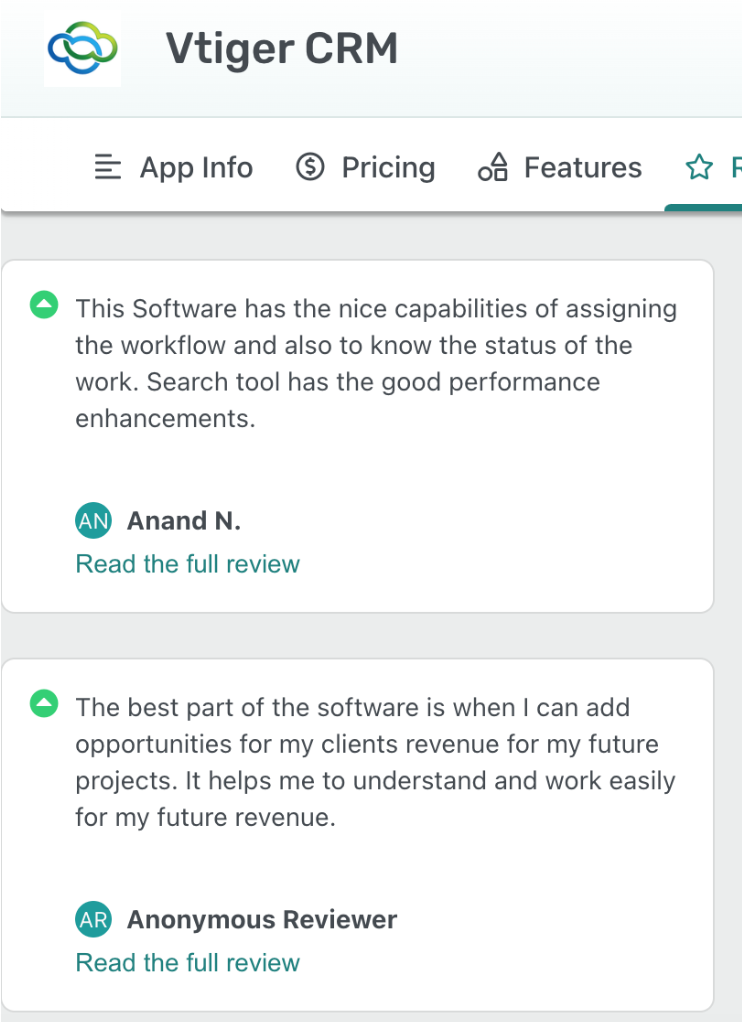 Users have a lot of good things to say about Vtiger CRM, especially highlighting its workflow management functionality.
Cons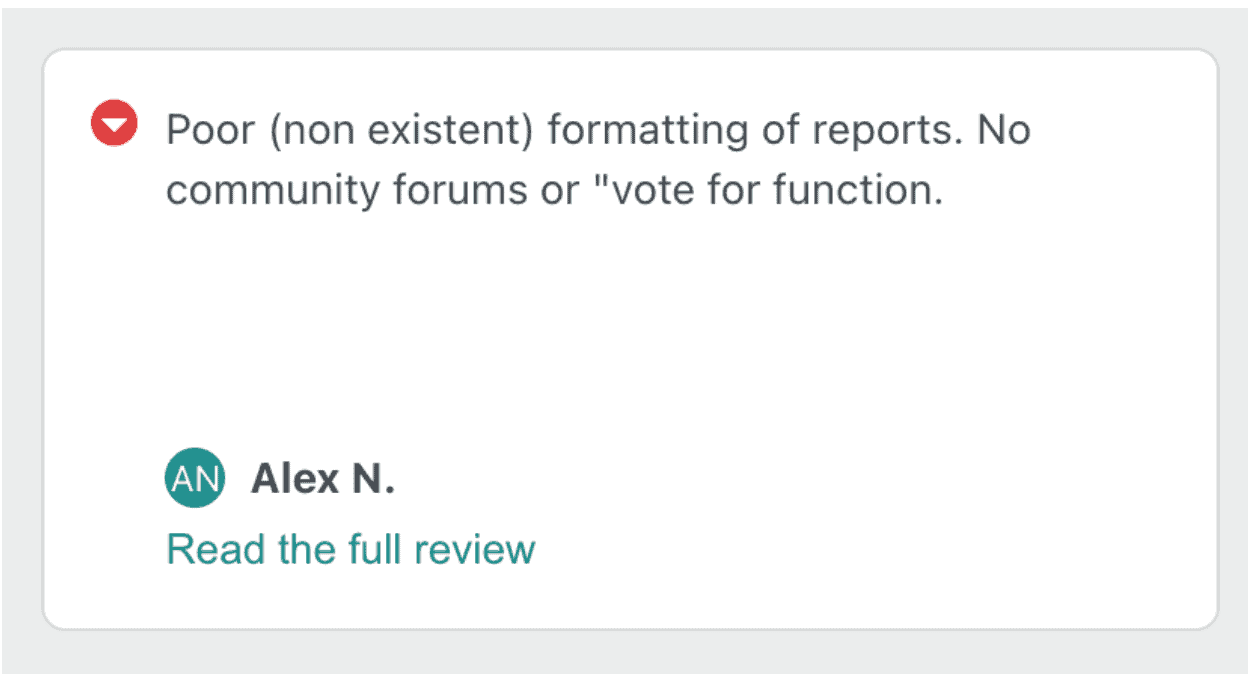 Vtiger CRM requires a bit of improvement in how it formats all its reports. Besides, it lacks an active community of developers.
Read also: 24 Vtiger Alternatives: Boost Your Business Growth
Conclusion
CRM apps cater to various business needs, ranging from contact management to sales management and customer service.
They help businesses of all sizes drive revenue and profits. They improve customer satisfaction, manage relationships, and make your workflows more organized and efficient.
If you'd like to try the most affordable all-in-one CRM software on the market today, just sign up for EngageBay! Our experts will guide you through the many tools within and show you how EngageBay can help you grow your business.