When your small business first sought out a CRM, Keap–formerly known as Infusionsoft–may have caught your eye.
You tried their product demo, liked it enough, and so you started paying for the software.
At your startup level, Keap's monthly prices don't really gel with your budget.
You're looking for a comparable CRM that's more affordably priced but doesn't skimp on features.
Does such a CRM exist?
Most definitely!
We found 5 great Keap alternatives to consider that we want to talk about today.
They are EngageBay, HubSpot, ActiveCampaign, Freshworks, and Pipedrive.
In this article, we'll start by going over Keap, including some convincing reasons to incentivize you to switch from Keap to another CRM.
Then we'll dive into our awesome Keap alternatives, touching on features, pros and cons, and pricing for each software.
We'll even have a section on selecting the right Keap alternative for you.
You're not going to want to miss it!
What Is Keap (Infusionsoft)?
Once known as Infusionsoft, Keap is a marketing, sales, and CRM software provider that also specializes in automation.
They were founded in 2001.
Their software includes email marketing, appointment-scheduling, sales pipelines, CRM, and analytics and reporting.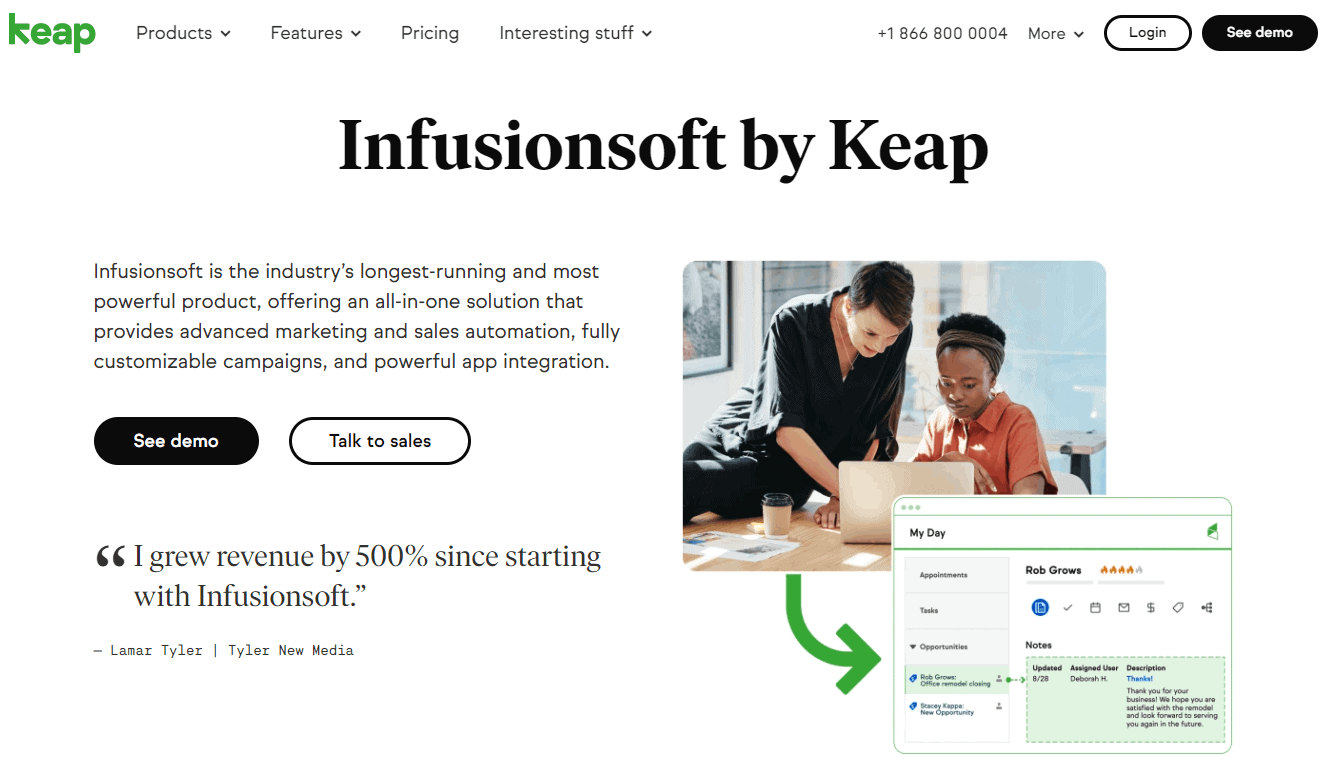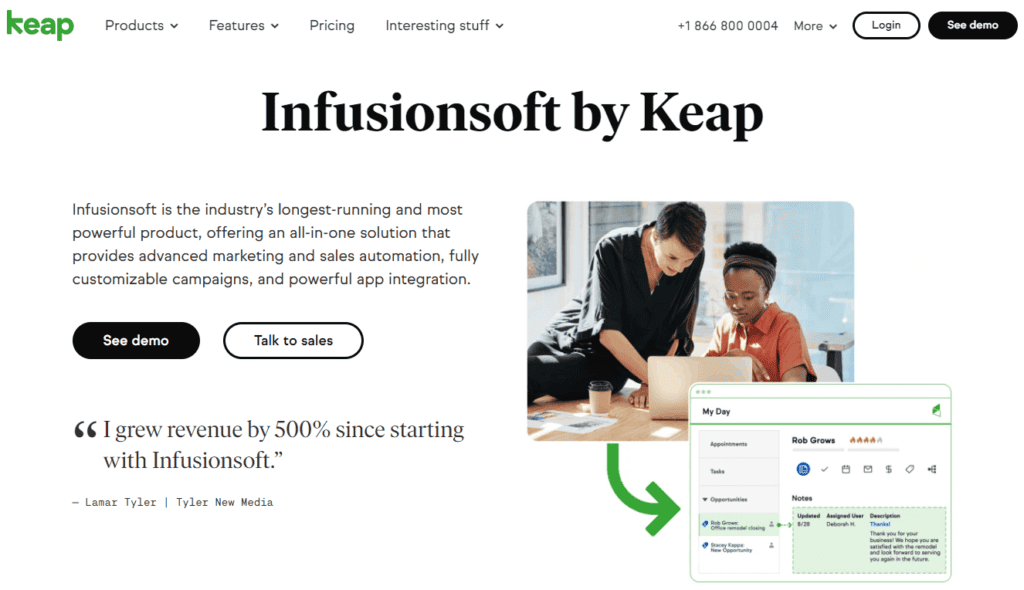 Since we're focusing on Keap as a CRM today, here are the features of its CRM.
Automated data collection: Keap's internal CRM forms use automation so you can add more leads to your ever-growing list quickly and without effort.
Email templates: Select from a variety of Keap email templates and then add personalization so your emails connect with your various audience segments.
History tracking: A full communications log within Keap's CRM displays such information as past emails, conversations, quotes, payments, and meetings with leads and customers alike.
Documents searching: Do a quick search for documents like proposals, contracts, images, and files and send them to relevant parties.
Full lead profiles: Fill in all the relevant details on your leads and customers, including their birthday, home or business address, social media handles, email address, phone number, and more.
Email automation: To augment Keap's email templates, you can select from a variety of pre-written emails and then automate email sending.
Integrations: Keap integrates with lots of other marketing and sales software solutions, including Outlook, Zapier, AppointmentCore, Gmail, WooCommerce, Shopify, Microsoft Excel, and Xero.
Why Start Looking for Keap Alternatives?
Keap certainly sounds like a suitable CRM, and for some businesses, it is. Yet those are more mid-sized businesses than startups.
Here are some reasons to consider looking outside of Keap for your startup's CRM needs.
Expensive Pricing Plans
Although Keap's CRM is comprehensive, it comes at a high cost.
Their three pricing plans are the Lite plan starting at $79 a month, the Pro plan starting at $149 a month, or the Max plan for $199 a month.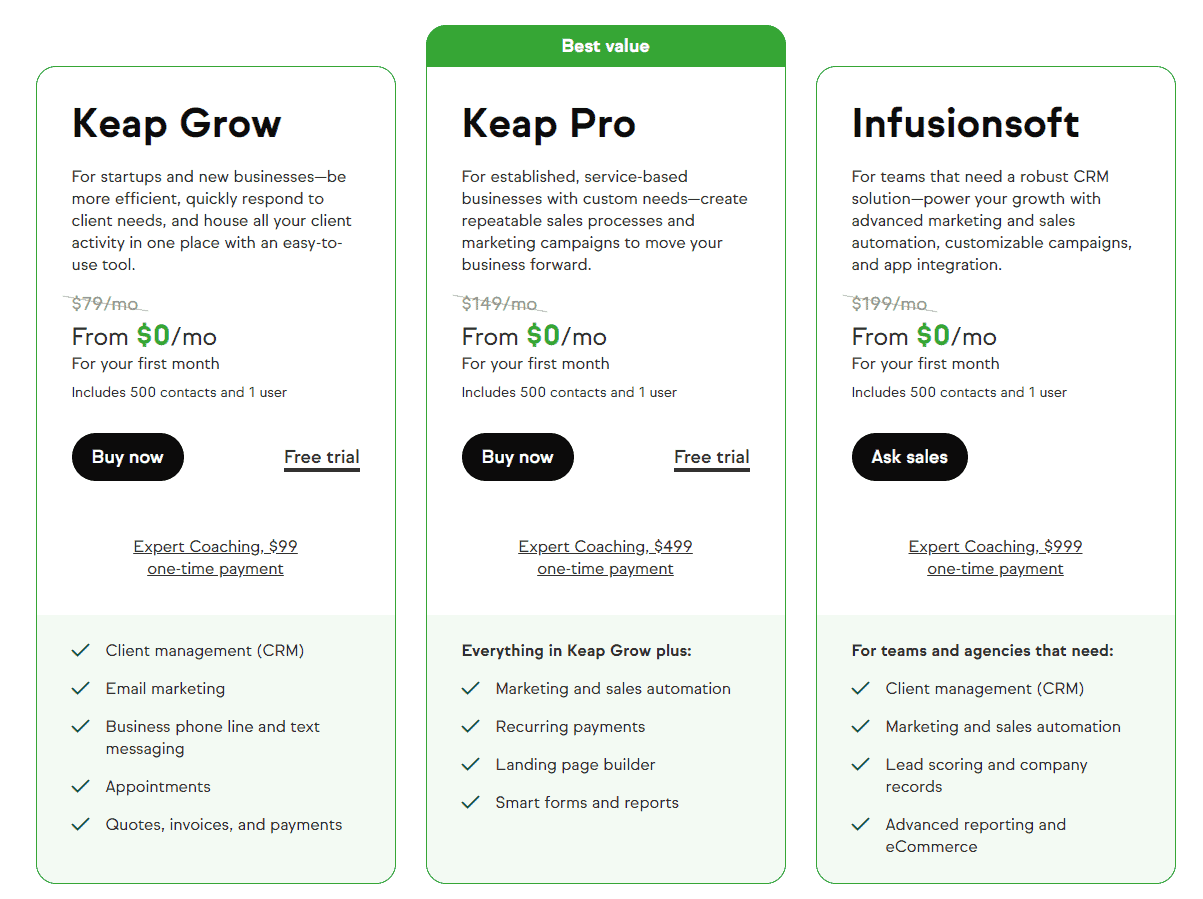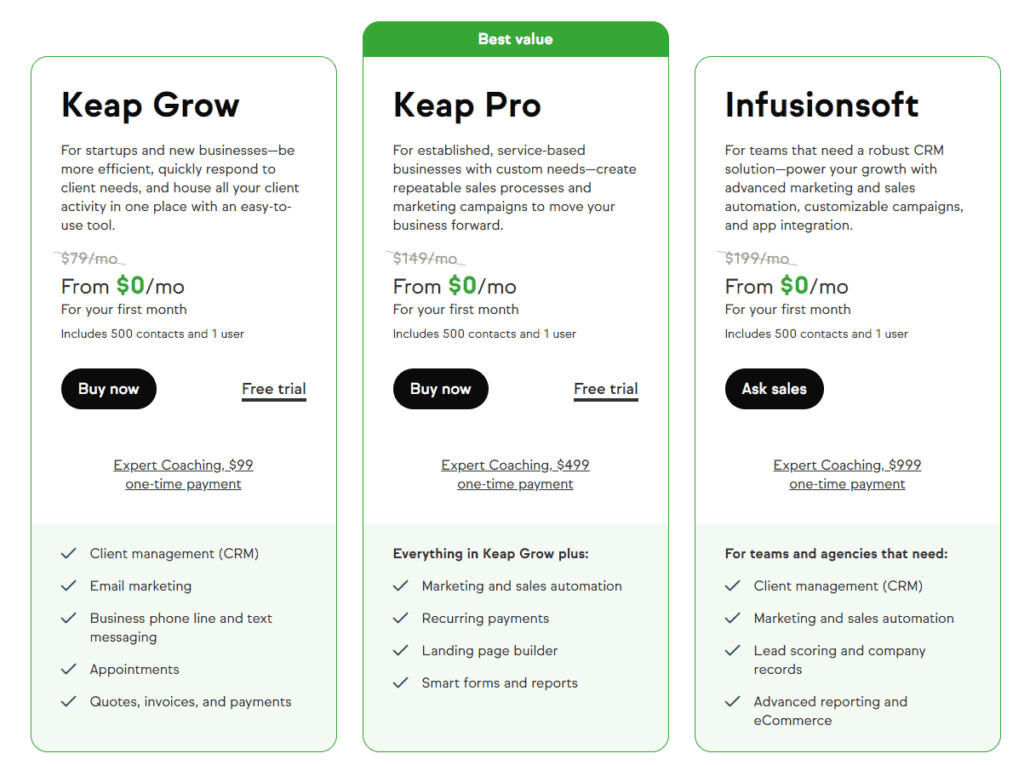 Keap does offer a three-month pricing discount on all their plans, but after those three months end, you're back to paying full price.
For a small business, Keap's pricing is already pushing it, especially for the Max plan.
Yet paying for lesser plans means skipping on features your startup might need to grow.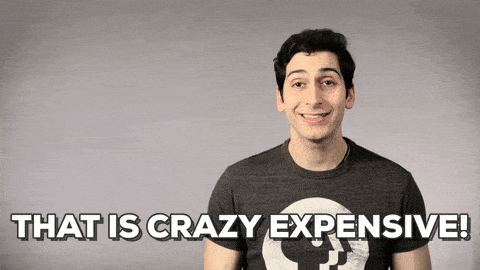 Not Scalable
The pricing for each of Keap's plans starts you with only 500 contacts, insinuating that as you add more contacts, you're going to spend even more for Keap.
On top of that, you only get one user per pricing plan.
Neither of these features is very conducive to growth.
You need a CRM that will scale with you as your small business evolves, and Keap isn't really it.
Email Templates Are Lacking
Keap's email templates make sending emails quick and convenient. You can even use pre-written emails so all your efforts are hands-off.
Yet some users have complained that Keap's email templates are unattractive, even downright ugly.
This is something that will come down to personal preference, of course, but enough users have mentioned it that we felt like we had to as well.
It's no secret that leads and customers appreciate a visually appealing email.
This 2019 article from Campaign Monitor found that engagement increases by 650 percent with visuals, but they have to be nice visuals.
Stock photos, Campaign Monitor found, don't always hit the mark.
Ugly email templates won't either.
If you look through Keap's range of email templates and don't take umbrage to any of them, then that's fine.
However, if the templates look bad to you, think of how your customers and leads will feel.
They won't want to open or look at your emails, which is bad for your business.
Data Presentation Leaves Something to Be Desired
Beauty is in the eye of the beholder, so the last point is negligible, as we said.
Yet even outside of their sometimes-lacking email templates, Keap's data presentation isn't the greatest according to many users.
It's not that the data Keap collects is inaccurate. Instead, the way that data is displayed can be a bit confusing.
You might have to do more math to make sense of some of the numbers, which defeats the purpose of using automated analyses, as they're supposed to save time.
Our Top 5 Keap Alternatives
For what you're paying, you deserve a flawless CRM in Keap.
If you have qualms about proceeding with their software, allow us to introduce you to 5 viable Keap alternatives.
EngageBay
Our first on our list of Keap alternatives is EngageBay.
Founded in 2017 as a more affordable sales and marketing software solution, EngageBay has four products that encompass their various services.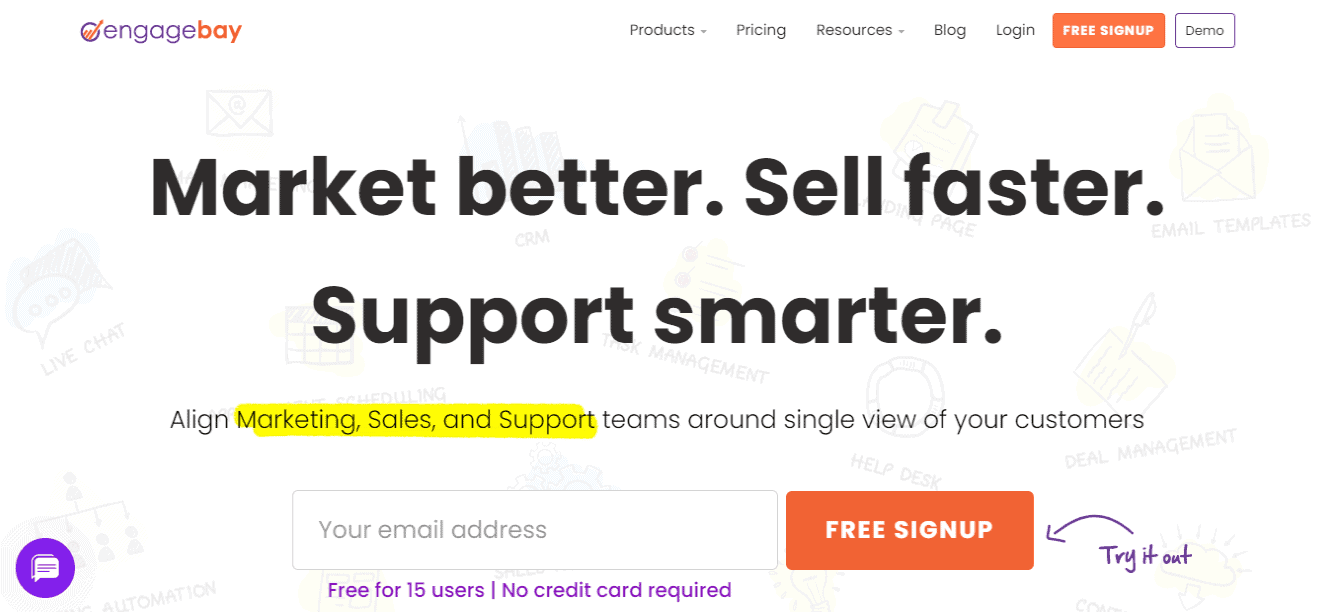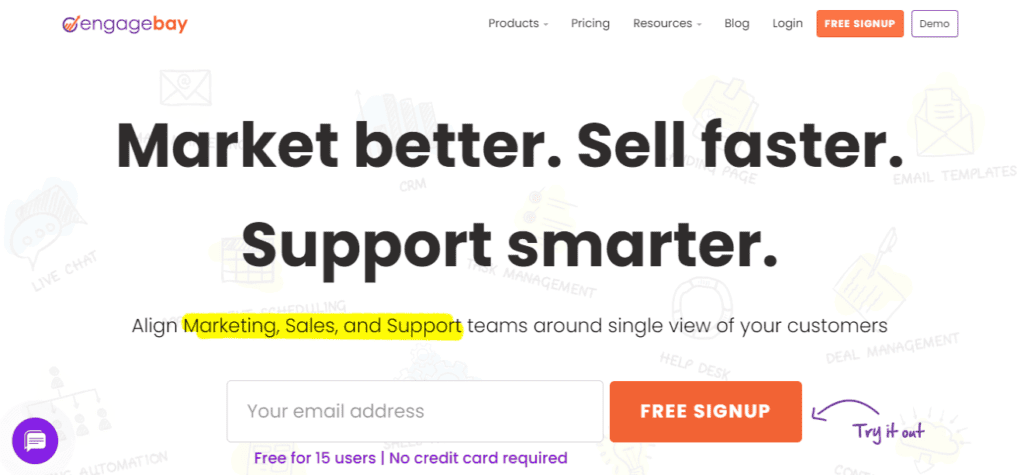 These are the Marketing Bay, CRM & Sales Bay, Service Bay, and the All-in-One-Suite.
EngageBay's CRM as part of the CRM & Sales Bay is always free and includes:
CRM Telephony: Create more context with every phone call using EngageBay's CRM Telephony. You can even integrate your favorite sales tools with the CRM Telephony to take your phone calls further.
Lead scoring: Determine which of your sales and marketing leads are the most qualified with lead scoring as part of EngageBay's CRM.
CRM email integration: From now on, each email you send gets doubled so you have a copy within EngageBay's CRM for your records. This helps you create a comprehensive customer log.
Automation: Use EngageBay's CRM to automate more of your everyday processes, including appointment scheduling, email sending, and task management. You'll enjoy the spare time for sure!
Reporting: The depth of information in EngageBay's CRM reports rivals what you'd find in Keap. You can create deal reports, growth graphs, and more using EngageBay. Customize and automate your reports so they work for your small business, not the other way around.
Learn more about EngageBay's CRM here:
Who Is It For?
For small businesses and startups or even mid-sized companies that need to scale back budgetarily (or don't have a big budget, to begin with), EngageBay's CRM and software as a whole makes for an affordable solution.
| | |
| --- | --- |
| Pros | Cons |
| EngageBay's CRM is always free, the same of which you can't say about Keap. | For more automation features, you need to use a costlier paid plan like the Growth or Pro plans. |
| Through EngageBay, you get sales, marketing, service, and CRM features in one affordable platform. | |
| EngageBay's monthly prices are lower than Keap's by a good margin. | |
| EngageBay scales up as you do; you can add up to 30,000 contacts. | |
Monthly Pricing
EngageBay's CRM is free forever.
The CRM & Sales Bay includes the Free, Basic, Growth, and Pro plans.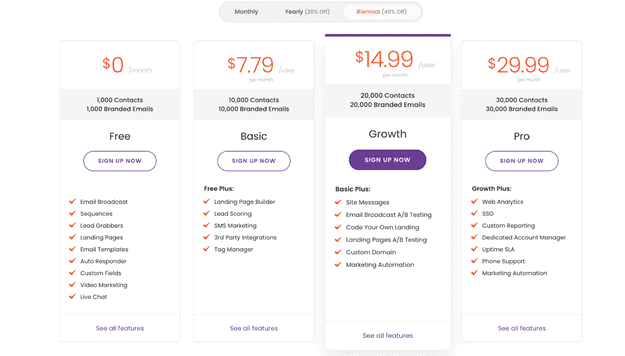 Free ($0): 1,000 branded emails, 1,000 contacts
Basic ($12.99): 10,000 branded emails, 10,000 contacts
Growth ($24.99): 20,000 branded emails, 20,000 contacts
Pro ($49.99): 30,000 branded emails, 30,000 contacts
HubSpot
Since 2006, the inbound marketing, service, and sales platform HubSpot has inspired growth in 100,000+ customers' businesses.
Their HubSpot Academy has certified 330,000 professionals, their software is available in more than six languages, and the HubSpot App Marketplace features more than 650 integration options.
HubSpot's free CRM includes features that a small business can get a lot out of.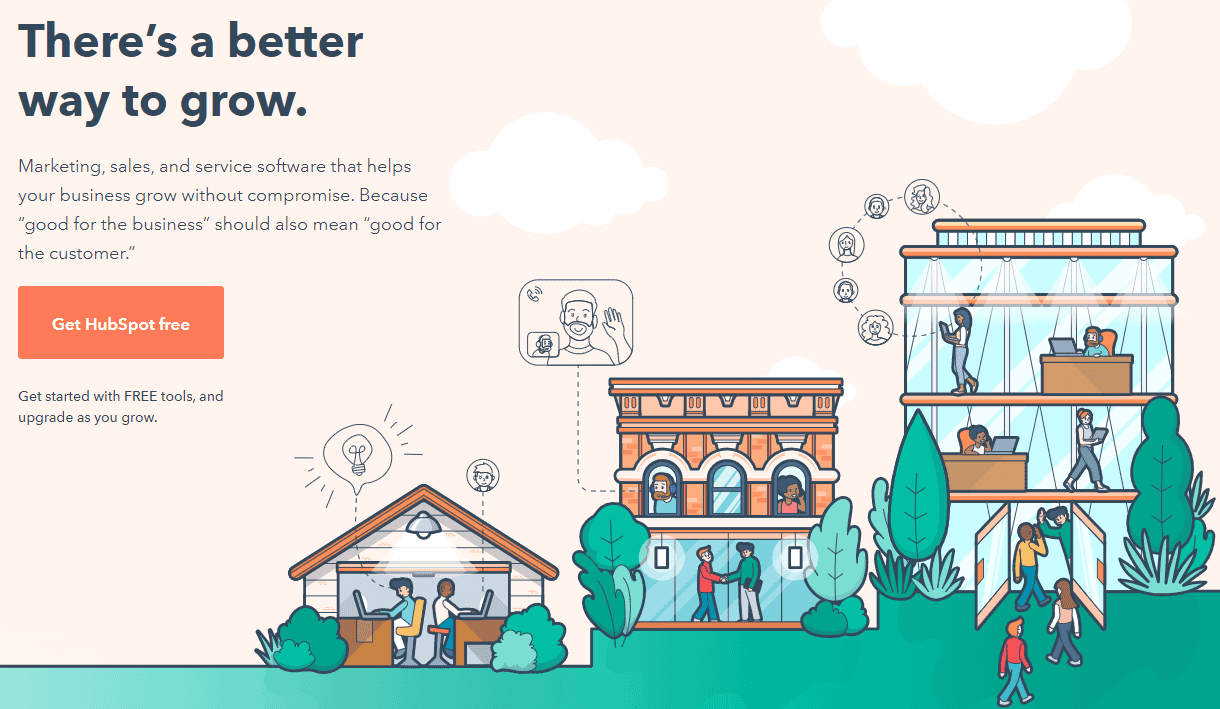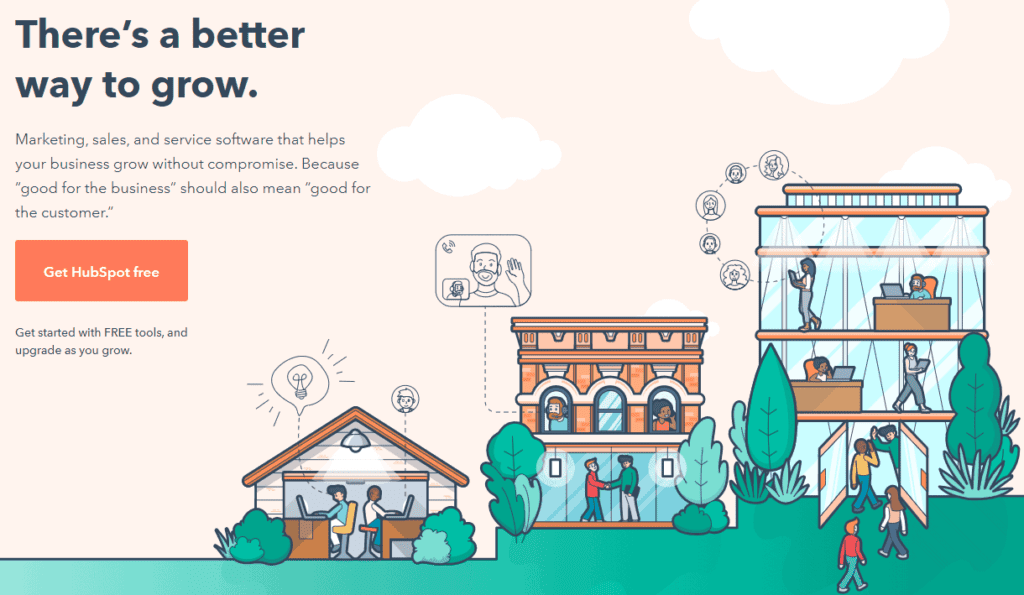 With live chat, you can engage with your customers in yet another meaningful way.
Prospect tracking lets your sales team understand and leverage a lead's process through your small business sales funnel.
Use auto meeting scheduling so the appointments process is more seamless and takes less time on both ends.
Once your emails go out to a sales lead's inbox, you can track the email's success from beginning to end.
HubSpot even notifies you when the lead or customer opens an email.
For marketers, you'll appreciate HubSpot's contact management, which tracks leads and customers so you don't have to.
Even their reporting dashboard is surprisingly intuitive for a CRM that costs you $0 per month.
Who Is It For?
For startups and small businesses who only need a CRM and can't afford to spend much if any money on other software, HubSpot's CRM will fill in the gap nicely.
It's their only free tool though!
| | |
| --- | --- |
| Pros | Cons |
| For spending $0, HubSpot's CRM is quite impressive. | Besides its free CRM, Hubspot's services are assuredly too pricy for startups and small businesses. |
| HubSpot includes features for business owners, operations managers, customer service teams, marketers, salespeople, and sales leaders in their free CRM. | As your company starts to grow, you might find HubSpot's CRM limiting. That would mean switching to a paid service. |
| Team email lets your various teams stay connected to continue engaging with and nurturing the leads or customers that need it most. | |
| Live chat and chatbots take the pressure off your customer service and sales teams. | |
Monthly Pricing
HubSpot's CRM is $0, but if you want to use their other services, those plans include: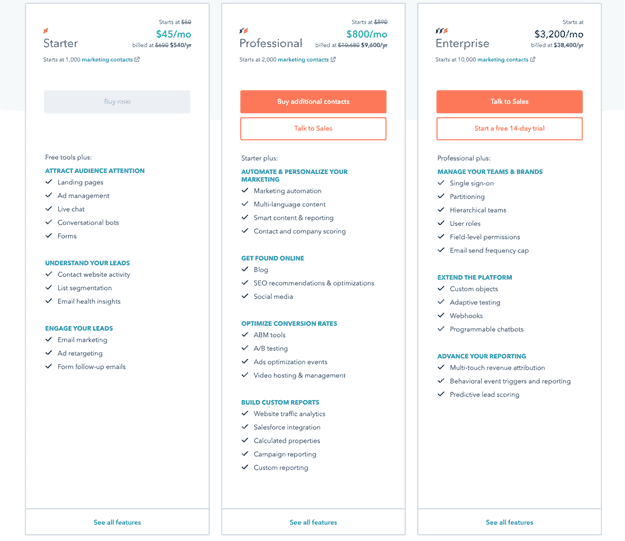 Starter ($45): 1,000 contacts
Professional ($800): 2,000 contacts
Enterprise ($3,200): 10,000 contacts
ActiveCampaign
The customer experience automation service known as ActiveCampaign is another on our list of Keap alternatives.
Created in 2003, ActiveCampaign's software includes CRM, sales automation, marketing automation, email marketing, and support.
ActiveCampaign lets you use all your favorite CRM features on the go with their Deals CRM app, which you can download for free.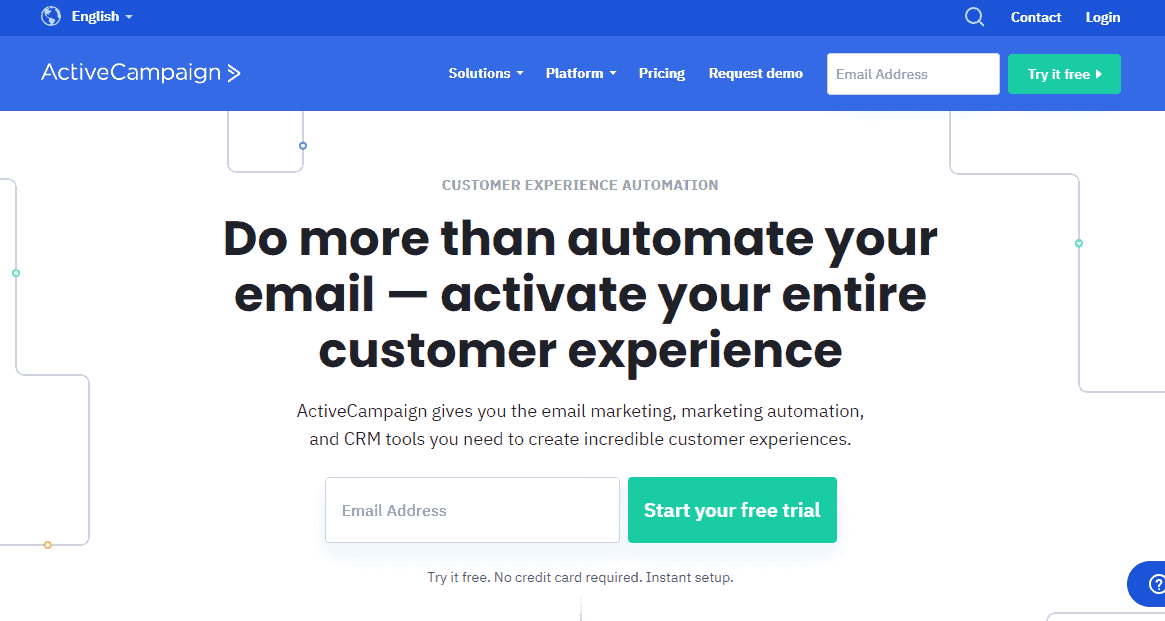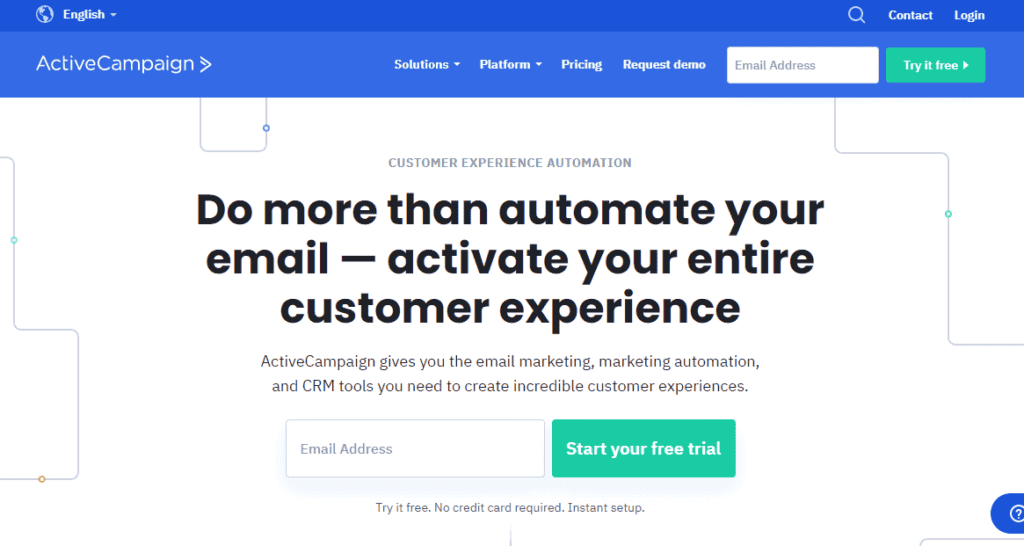 In the app, you can update active deals, call leads or customers, make new tasks, and complete current tasks.
Sync up ActiveCampaign's CRM with your other sales and marketing tools, as the software has hundreds of integrations.
Some of them include Outlook, Gmail, Zendesk, Calendly, Unbounce, and Facebook.
Who Is It For?
For small business owners who travel a lot, ActiveCampaign's mobile features will certainly come in handy.
| | |
| --- | --- |
| Pros | Cons |
| ActiveCampaign's sales CRM includes automation for scheduling meetings, closing deals, sending emails, and more. | ActiveCampaign's Deal CRM app is only available for iOS. |
| The ActiveCampaign Deal CRM app lets you work wherever your job happens to take you. | ActiveCampaign offers no free plans. |
| ActiveCampaign color-codes their CRM dashboard so you can see at a glance whether you added a note, logged a phone call, or had a meeting with a client. | Their CRM is more sales-minded than intended for marketers. |
| ActiveCampaign will first segment then score your leads so only the most qualified ones get through. | |
Monthly Pricing
ActiveCampaign has four plans: Lite, Plus, Professional, and Enterprise.
Each plan starts with 500 contacts and can have up to 100,000 contacts.

For 2,500 contacts, here is the pricing for each of the four plans:
Lite – $55
Plus – $125
Professional – $159
Enterprise – $279
Freshworks
Freshworks–formerly known as Freshsales–specializes in CRM.
Theirs is AI-driven, using a smart mascot dog named Freddy to guide you through your tasks.
You also get sales and marketing CRM features.
For instance, with contact management, you can track all your active leads and customers at any one time.
Salespeople will use the deal management feature in Freshworks' CRM often, as it includes Pipeline Management 2.0.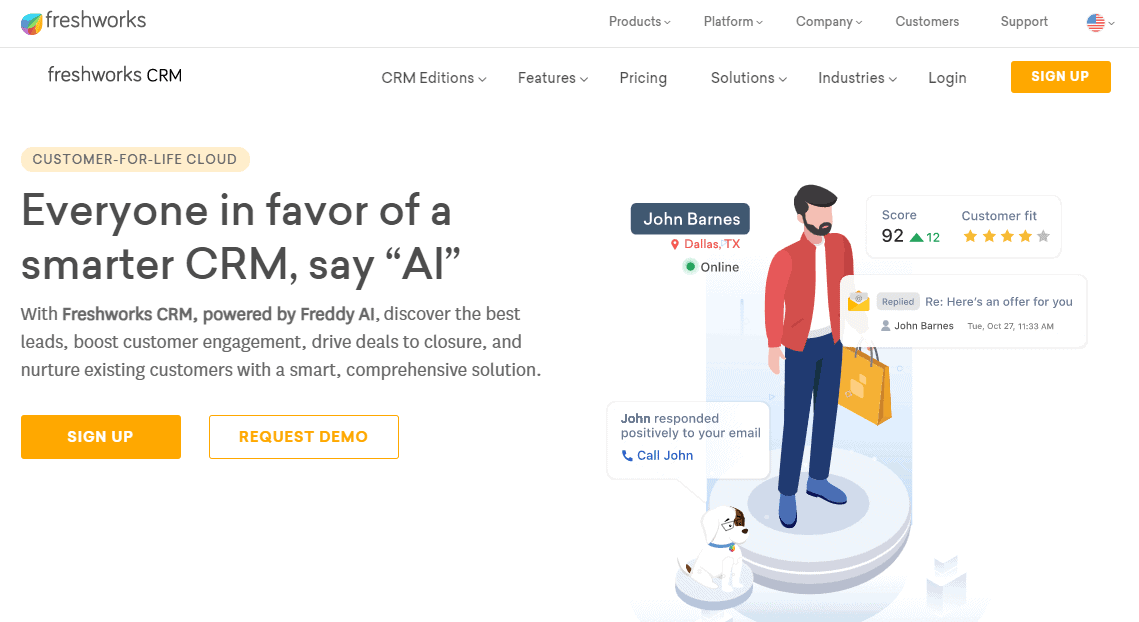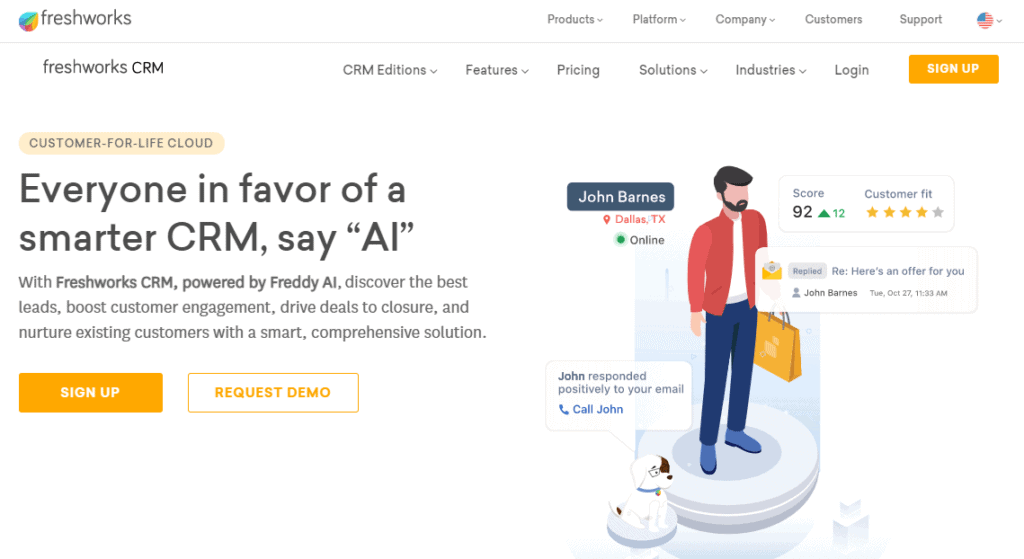 This visual pipeline with AI can create revenue projections, suggest new means of lead engagement, and track the performance of each deal.
Freshworks helps marketers with their email campaigns in many ways.
You can make and personalize emails using drag and drop features, mobile-optimize your emails, schedule communications, and review email success with detailed analytics.
Another standout feature in Freshworks' CRM is Configure, Price, Quote or CPQ.
This automation add-on lets you produce contracts, onboarding docs, quotes, and invoices that are free of human error.
Who Is It For?
For companies with sales and marketing teams that demand a CRM that works for both, the intersecting features of Freshworks' CRM should be a good fit.
| | |
| --- | --- |
| Pros | Cons |
| Freshworks uses AI with automation for even easier and accurate sales and marketing functions. | Freshworks doesn't have a free plan. |
| Build chat campaigns and email campaigns in addition to Freshworks' marketing campaigns. | Beyond the Growth plan, some of Freshworks' plans might be too expensive for small businesses on a budget. |
| With customer journeys, understanding and connecting with your customers through Freshworks builds better professional bonds. | |
| Freshworks' Marketplace includes tons of integrations, among them BigCommerce CRM, WooCommerce, Mailchimp, HubSpot, and Asana. | |
Monthly Pricing
Freshworks offers the Growth, Pro, and Enterprise plans.

Here's the pricing for each:
Growth ($29): 1,000 contacts
Pro ($69): $3,000 contacts
Enterprise ($125): 5,000 contacts
Pipedrive
The last of our Keap alternatives is Pipedrive, a sales CRM solution.
Pipedrive is mobile-friendly with an app for iOS and Android users.
Create a full sales pipeline in Pipedrive, then add new deals or custom fields, as many as you want.
As your pipeline becomes data-rich, Pipedrive generates visuals that outline the entire sales cycle.

You can customize your sales pipeline so it better suits your business.
You may also filter pipeline data per team or sales rep.
Build a full contacts timeline through your current contacts or those you import from other CRM software options like Keap.
You even get email features in Pipedrive's CRM, such as email syncing, group emails, email templates, and open rate and click-through rate tracking.
Pipedrive's reports and insights are customizable and include details on your leads, sales activities, revenue, and deals.
Who Is It For?
For small businesses or startups with a growing sales team that need to streamline tasks and better understand the customer journey, Pipedrive is the answer.
| | |
| --- | --- |
| Pros | Cons |
| Schedule phone calls, record calls, and auto-book meetings through Pipedrive to save more time. | If you're looking for a full marketing and sales CRM, Pipedrive is much more the latter than the former. |
| Pipedrive's encryption, two-factor authentication, and security certificates make theirs a very safe CRM. | Pipedrive has no free plans. |
| Although it's mostly a sales CRM, you do get a few marketing features as well. | Beyond the Essential plan, the monthly pricing may be a bit high for startups and small businesses. |
| Pipedrive includes automation within its CRM for saving time and effort. | |
Monthly Pricing
Pipedrive offers four pricing plans: Essential for $12.50, Advanced for $24.50, Professional for $49.50, and Enterprise for $99.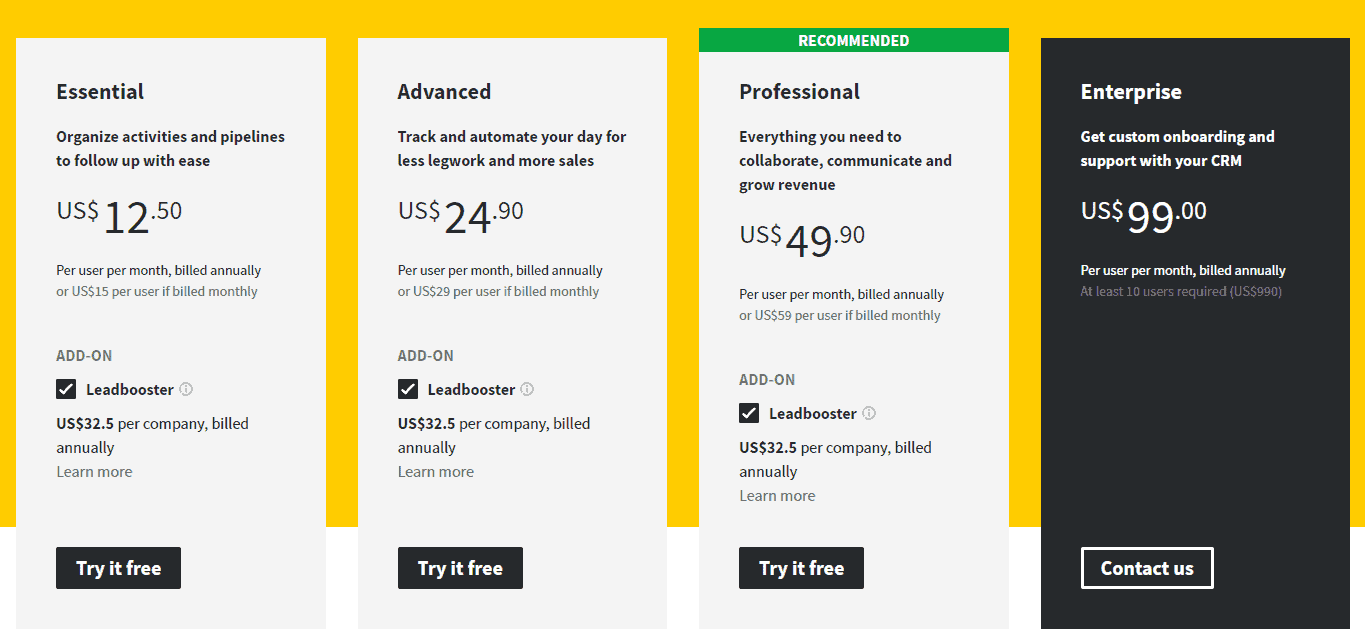 You can also pay for a Leadbooster add-on for $32.50, which is a one-time fee.
Which Keap Alternative Should You Choose?
Now that you're familiar with all 5 Keap alternatives, which one is right for your small business or startup?
We recommend EngageBay.
EngageBay was founded for startups and small businesses on a budget.
That's why their monthly pricing plans are affordable, even if you get into the more expensive plans.
Well, that is, if you have to pay at all. EngageBay's CRM is always free, and their CRM & Sales Bay has a free plan as well (as do all EngageBay products).
You get a surprising number of awesome CRM features without paying a cent.
All your favorite features of Keap are in EngageBay and more.
Plus, those features are more intuitive, less expensive, and totally appealing.
Why not try EngageBay today?
Checkout our latest article: