No one wants to lose site visitors, but sometimes that's what happens. Maybe a user lands on your page accidentally. Perhaps they visit intentionally but something happens like a.) they realize your products/services don't suit their needs, b.) they discover you're too expensive for them, or c.) they read about you and decide they don't need your products/services at this time.
When these would-be customers disappear off your site, what can you do? Are you forced to watch them go or do you have another option?
You do indeed have another option, and it's known as the exit intent popup.
What Is an Exit Intent Popup and How Does It Work?
An exit intent popup is one that's designed to appear at a specific time on your website. In this case, it's right when the user is about to leave your site. The goal of this pop-up is to incentivize the user to give you a second chance.
That means the offer you make in one of these pop-ups needs to be pretty much perfect. It must align with the user's needs and problems. If it doesn't, then they'll continue what they were doing, which was leaving your site.
You must also decide whether to include images, what your CTA button will look like, and what your headline will be. These are major decisions that can sway the site visitor either way. Again, if they like what they see, then maybe they'll stick around. If they don't, they'll continue on their merry way.
When exactly do exit intent popups, well, pop up? Most commonly, the pop-up will generate right when your user is pressing that X on the screen. The pop-up must appear then as if it's even a second too late, you'll have missed your chance.
The benefit of using exit popups
According to a 2017 article on marketing resource Venture Harbour that was updated for 2019, exit intent popups can be very advantageous. For one, you can see a decent conversion rate of at least five percent. Some companies have boosted conversions by 10 percent using these pop-ups.
Yes, there are those glowing case studies and articles from companies that claim to have achieved high conversion rates of more than 300 percent with exit intent popups. Sadly, they're not indicative of real results.
That doesn't mean you should refrain from using these pop-ups. They can be a great last-ditch means of converting a reluctant lead.
If you want to implement exit popups but you're not sure how read on. We'll provide 12 great examples for you.
1. Write a Strong Headline
First impressions truly are everything, and when it comes to your exit pop-ups, that's triply true. The content of your pop-ups is almost as important—if not more so—than the offer itself. After all, before the user ever gets to the offer, they're going to read over your pop-up.
The headline should always be tested (more on this later). You also want to ensure it's written to be brief. Coschedule says sticking to the range of 16 to 18 words is ideal.
Not only does your headline need to be short, but it needs to captivate attention, too. We've written a lot about ways to make your headlines sing. You might add emojis or inject a dose of personalization. You could even pepper your headline with stats and numbers, such as this one from Search Engine Journal.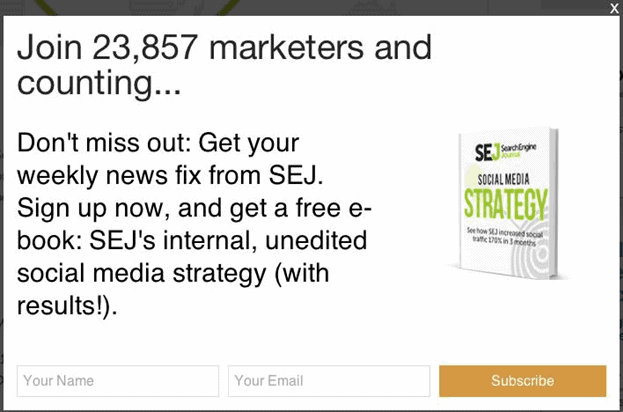 2. Always Have a Call to Action
Like you would at the end of a blog post or opt-in form, your exit intent popup needs a CTA. This might be a button or it could just be a line of text.
Short, sweet CTAs are best here, especially if it's a button. Also, if you do go the button route, you need to carefully select the font, button color, size, and placement. The font needs to be clear and legible. As for the button color, it's best to go with a hue that stands out.
Just look at the example from Search Engine Journal above. The color scheme is black and white with a bit of green. That orange "subscribe" button really catches your eye.
The size of your CTA button shouldn't be huge. If your copy is short and your button is a good color, then it will grab attention without being overly large. While there are fewer places to put your CTA button on a pop-up, you still want the button somewhere convenient and visible.
Here are a few examples of great CTA buttons to inspire you: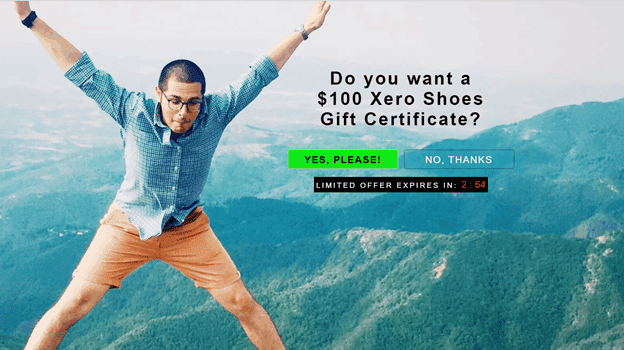 That green CTA button demands attention, even with a vivid background image.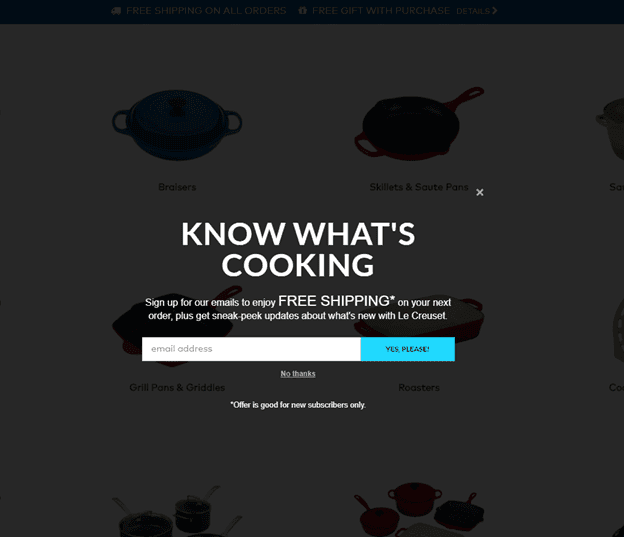 The enthusiastic "yes, please!" button is short and sweet: a real winner.
Sometimes simple really is best, as this CTA proves. It just says "Enter."
3. Use Advanced Segmentation
The exit popup examples we've shown you thus far are fantastic, but you shouldn't just blindly recreate them. Your company probably won't get the same results.
That's because you have to know your own audience inside and out. Whether you create buyer personas, do lead-scoring, or rely on other forms of segmentation, you must divide your audience into buckets.
Then, you want to create exit popups that appeal to each audience segment. When a user visits your site, they'll see a pop-up that's relevant to them. This increases the chances of them interacting with your exist popup, be it signing up or even visiting your pricing page.
If your lead is already disengaged enough to click the X button, you need to hook them in big. Advanced segmentation will help you do it.
4. Add Signup Forms
The goal of an exit intent popup, as we mentioned, is to prevent the user from leaving your site. That's what you want to do short-term. When it comes to long-term goals, you'd ideally like to convert this reluctant lead to a loyal customer.
One way you can do that is by adding signup forms to your pop-ups. A few of the examples we've shared implemented opt-in forms. Let's go over a few more examples now.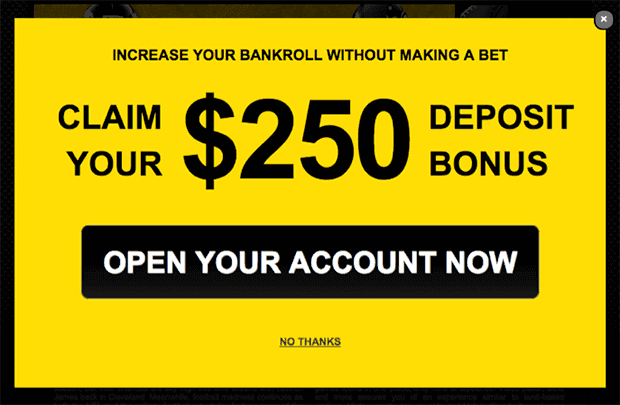 The above example is a two-step opt-in exit pop-up. The user has to sign up for an account and then they can get their hands on their $250 deposit bonus.
Is a two-step opt-in mandatory? Not at all. That said, it's certainly worth considering, especially for exit popups. After all, if a user is ready to leave your site, it's reasonable to assume they're on the fence, right? Definitely.
They're probably reluctant to make a commitment, even if that is sharing their email address and opting in. By adding a two-step opt-in to your exit pop-up, you're filtering out those leads that are unlikely to make a move. Those that do fill out both steps of the opt-in show they're committed.
5. Make a Strong Offer
Okay, by this point, you've worked hard on your exit pop-up. You have a great headline, awesome copy, and a nice CTA button. Now it's time to move on to the offer itself.
What does the user get if they give you their email address? This is where advanced segmentation comes in handy. Your offer is not going to be a one-size-fits-all deal. What appeals to some people will not for others. For instance, a resources list about running a bricks and mortar company won't be of much use to a freelancer.
So you know your deal has to be targeted to your audience segment's respective needs. It has to address their pain points and make their lives better and/or simpler.
Now you have to present your offer clearly yet concisely in your pop-up. Remember, you don't get a ton of room here. Every word counts. To that end, we recommend writing an exit intent popup script. Then A/B test it.
Here are some examples of how you can frame your offer: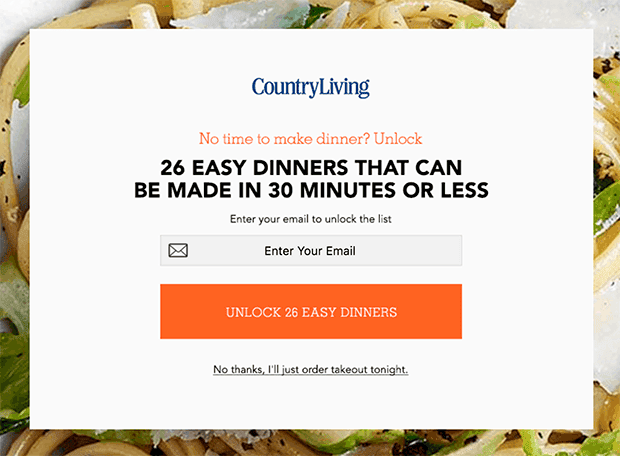 If your audience includes strapped parents and busy business people, they'll love an offer like this. It makes their lives easier, which is what they need.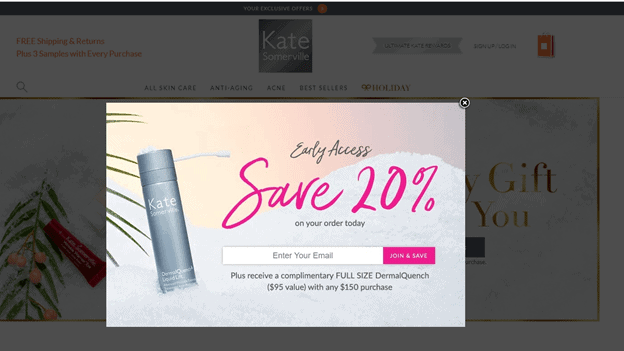 Coupons, discounts, and deals are always a great approach to take. Offering a freebie, like "if a customer spends X amount of money, they get this for free" is also a smart offer. It's hard to resist.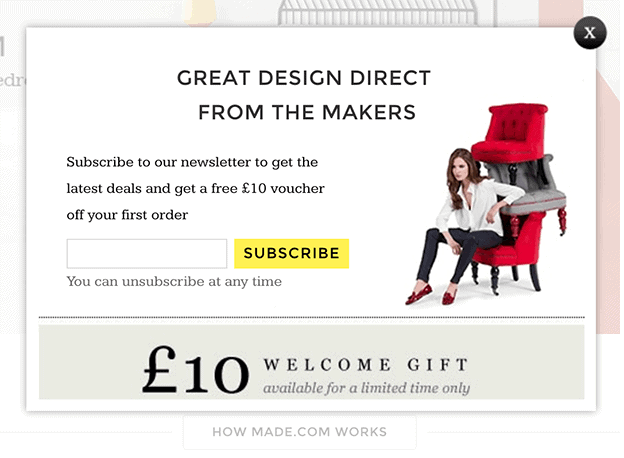 We love that the customer has freedom here. Yes, they get a welcome gift that lets them save money off their order. However, what might matter more long-term is that they can unsubscribe when they want to.
This company is implying they won't harass the customer with "please come back" and "we miss you" emails. That might make a lead more likely to subscribe.
6. Have a Privacy Policy
Another important element to squeeze in somewhere in your exit pop-up is your privacy policy. As you likely know, the General Data Protection Regulation or GDPR went into play last May. We have a great writeup of the rules here.
Consumers value their privacy today more than ever. If they're going to give you their email address, they want to know what you're going to do with it.
Spelling out your whole privacy policy in a pop-up might not be possible. You probably don't have the room. In that case, you can always follow in the footsteps of this educational example: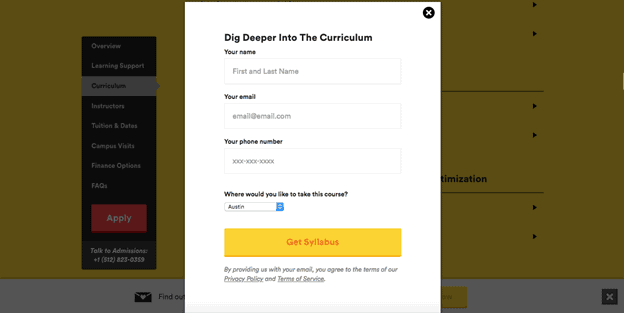 Instead of sharing their whole privacy policy in this pop-up, they link to it at the bottom. They also include a link to their terms of service. You might want to do the same to cover all your bases.
7. Introduce the Element of Surprise
Who can resist a good surprise? Hopefully, your site visitors cannot. By harnessing the power of surprises to your advantage, you could craft a great exit pop-up that will increase your conversions.
Just take a look at what URL-shortening company Pixelme.me did for their pop-up. They're willing to send the user a surprise in exchange for their email address. The addition of the curious monkey emoji makes for a nice touch.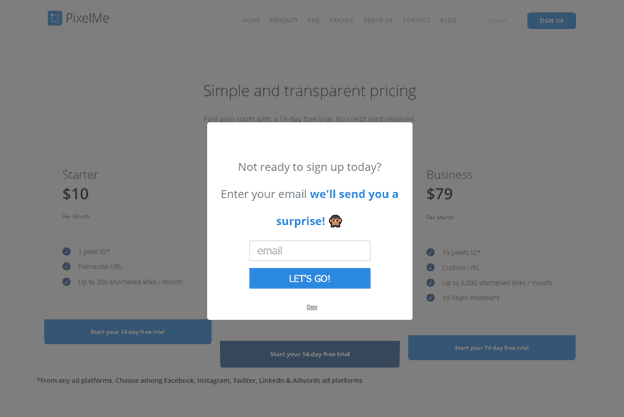 With a 4.7 percent conversion rate with this method alone, we'd say Pixelme.me is certainly onto something!
8. Make Your Exit Popup a Contest or Giveaway
Exit pop-ups don't have to be boring. What mason jar sleeve company JarJackets did with their pop-up is pretty ingenious, we must say. Take a look for yourself.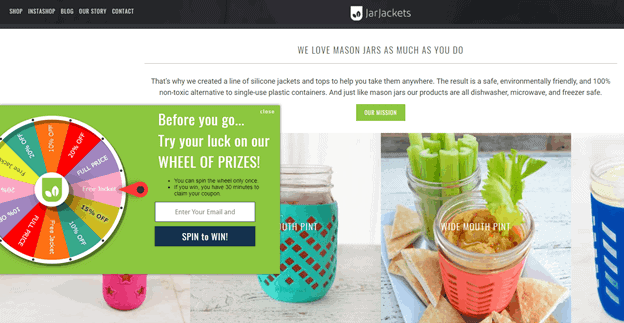 They offered their site visitors a chance to spin their prize wheel. Customers could discount their offer by 10 percent, 15 percent, even 20 percent. Some lucky winners could even get a free JarJacket!
This seems like a fun game just by looking at it, right? Who wouldn't want to spin? This is where we really like JarJacket's pop-up. To play, a user has to enter their email address. Then they can spin the wheel and receive their winnings in their email inbox.
According to Sumo, it's possible to see a conversion rate of 22 percent with a giveaway or game like this. That's about 11 times more than you'd typically get.
9. Use Incentivizing Imagery
We'll say it one more time: you only get one chance to make a first impression. While your CTA button and headline are very important, so too is a great image.
You want a picture that makes the user stop in their tracks for a second. The image can pull them in and then you can do the rest with your solid copy and a great offer.
Now, an attention-getting image is not a shocking one. You should avoid showcasing violence, sexuality, religion, politics, or anything inciting.
Why not try going the cute route like this example? That puppy is too adorable, and the 10 percent off ain't so shabby, either.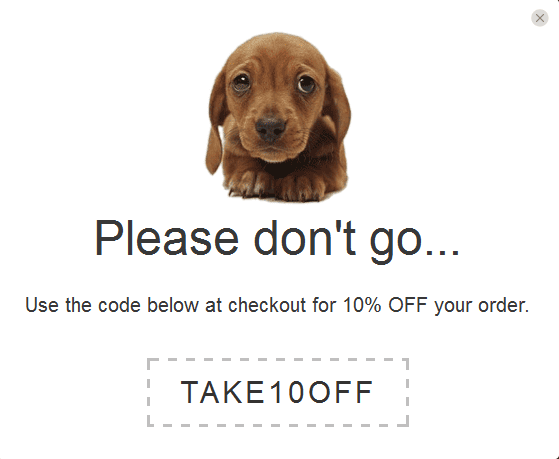 If you need another idea, use faces! According to Crazy Egg's blog The Daily Egg, showcasing a person's face "increases your credibility and psychologically assures your visitors that you are not hiding something."
10. Give Them More Info
Here's a method of integrating exit pop-ups that shows how well you know your would-be customers.
Why are your site visitors so eager to leave? Could it be that they have questions or even concerns about your products/services? Maybe they want to discuss pricing or some element of the product.
If so, then a pop-up where you address their concerns could do the trick in converting these reluctant leads.
Here's a great pop-up example from marketing guru Neil Patel that's designed to alleviate lead customer concerns.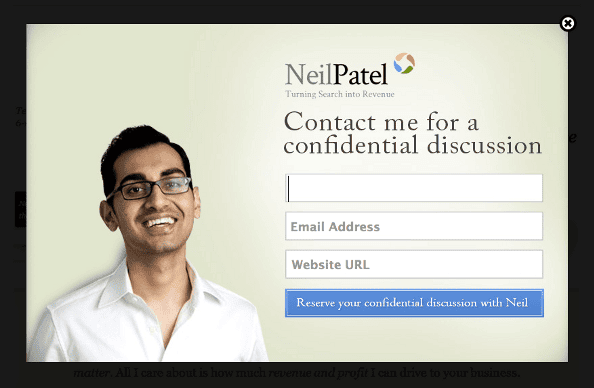 Rather than asking for an email address to add the lead right to the email list, these pop-ups are different. Instead, you want the lead's contact info so you can get in touch with them. You'll have a one-on-one consultation to give the lead all the info they could ever want.
You get more data from a lead, too, at least if you use a pop-up like Neil's. Here, he's asking for the user's name, email address, and the URL of their site.
For these pop-ups to be successful, you do need to follow up. If you're your own brand or the face of a brand, it has to be you that reaches out, not someone else with the company. That means you should only use these types of pop-ups if you have the time and commitment to dedicate to every potential customer who has questions.
11. Give the User a Yes/No Choice
Here's yet another interesting exit pop-up option you have: the yes/no pop-up.
What is this? Instead of having just a single CTA button, your pop-up gives the lead two choices, yes or no.
Now, you're probably asking: if you already have a reluctant lead, why give them an easy out? If their mouse is already hovering over the X button on your site, a yes/no pop-up won't help, right?
Actually, it can.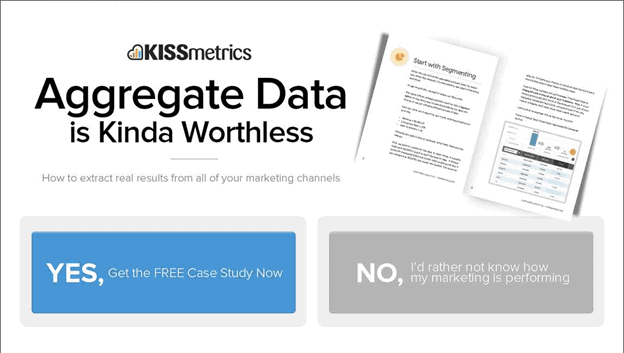 An article from HubSpot describes a phenomenon known as the psychology of choice. Essentially, what it boils down to is letting people make up their own mind often means they'll gravitate to the thing you wanted them to do in the first place.
The first option, which is "yes," is ideal, since the customer will take advantage of your offer. In the Kissmetrics pop-up, the offer is to receive a free case study. See how that CTA button is blue? It's much more appealing than the drab gray "no" button.
That second option is for the customer to ignore your offer and leave your site entirely. Kissmetrics uses somewhat snarky wording: "I'd rather not know how my marketing is performing." This is common in yes/no pop-ups. You're trying to make the "no" option as unappealing as possible, after all. This makes it more likely for the lead to click "yes."
12. A/B Test Before Your Pop-ups Go Live
Our final point is a great one: A/B test. Whether it's your pop-up headline, the copy, the CTA button, a privacy policy link, or anything else, you need to test it. Sometimes, what seems like a good idea to you, the company, doesn't always resonate with customers.
Never let an exit pop-up go live before you A/B test it. Once you work out all the kinks, you're free to start racking up those conversions.
Conclusion
Our exit intent popup examples provide a great basis for you to start making your own. You now have plenty of wonderful ideas and inspiration to incentivize even the most reluctant leads to give your company a second chance.