Is it possible for customer satisfaction tools to bring more revenue to your business?
Yes. CRM experience tools can increase your customer satisfaction. The more satisfied your customers are, the more likely they will be to continue doing business with you.
Here's a statistic that may surprise you: 80% of consumers believe that the customer service experience is as important as the product the company offers!
Satisfied customers are great at spreading the word, and this can give your business a serious competitive edge. This means more revenue over time, and without the need to spend more money on marketing or advertising!
In this blog post, we'll tell you what CRM experience means, and how customer satisfaction tools can bring your business great success.
What Is CRM?
Customer Relationship Management (CRM) is a strategy used by an organization to manage its interactions with current and potential customers.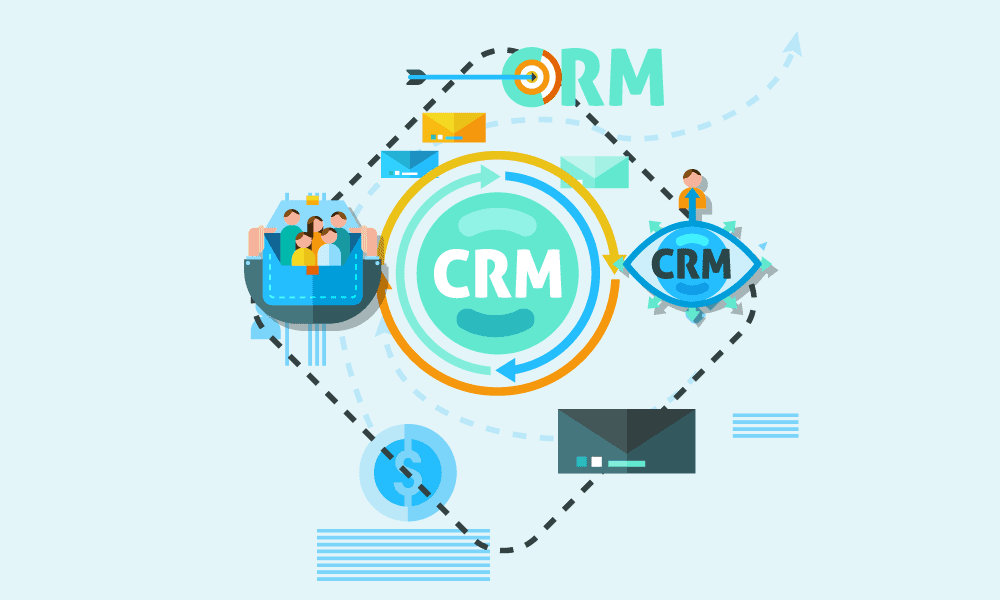 CRM software provides the tools needed to execute CRM strategies, which include customer data management, workflow automation, performance analytics, reporting, and business process optimization.
Related blog: What are CRM Systems? A Definitive Guide (Benefits, Challenges)
What Is CRM Experience?
Customer experience is a hot topic for all professionals these days, but more so for sales and marketing professionals. CRM experience incorporates CRM's customer-facing software capabilities, analytics, and social media tools to orchestrate customer engagement, retention, and loyalty across all channels.
The CRM experience today is not about just providing a sales force automation system—it is about enabling customer success by creating a seamless interaction experience for employees, business partners, and customers.
CRM is no longer about the back office; today, CRM experience drives revenue by connecting customers and business owners in this omnichannel digital world. CRM experience means that CRM has to provide more than just social CRM (social listening capabilities) or marketing CRM (lead nurturing tools).
EngageBay has developed a CRM Experience tool that focuses on how customers interact with the company. The CRM experience may be tailored to the preferences of each individual customer, or the customer service experience strategy of the business.
This CRM experience tool can also help business owners get anonymous feedback from customers to enable better responses to customer needs and wants.
Why Invest In CRM For Customer Service?
Customer acquisition and retention is the biggest goal of any business. Yet, customer service is sometimes overlooked in business strategy, which is unfortunate. After all, a happy customer is a returning customer.
New-age cloud-based customer satisfaction tools like integrated CRM software can help all businesses add value to the customer experience and drive long-term success.
Providing exceptional customer support can lower the churn rate of a company. You want your customer to feel heard and appreciated. If they feel like their concerns and issues are dismissed, they're less likely to return or recommend your business.
One of the main challenges that a support team faces is keeping track of requests from multiple channels. A CRM for customer service can help with that.
CRM software stores all your customer data on an accessible platform that can be viewed and updated in real-time. It also provides a holistic, 360-degree view of all customer interactions, transactions, and complaints.
You can identify at-risk customers and engage with them accordingly. A CRM system will also give you a visual representation of all customer journey touchpoints at a granular level.
These are all surface-level benefits. The CRM experience goes beyond storing data – it can also empower you to make decisions based on that data.
Let's take a look.
How Does CRM Experience Help Customer Support?
Understanding the demographics of your customer base is essential for building a marketing strategy and increasing engagement.
However, personalization is only one part of the puzzle. It's necessary to take in the context of personal interactions, as well.
Focusing on the broader context helps companies determine specific customer characteristics and design consistent campaigns that appeal.
A CRM system ensures that you have the right tools to empower your support team to connect with customers on their terms.
Additionally, CRM helps enhance the customer experience in seven main ways:
Meet customer expectations
Encourage data-driven decision making
Offer personalized content
Deliver quick support
Provide consistent service
Improve client retention
Sustain customer relationships
Related blog: 9 Customer Service Lessons from Digital Disruptors
Meet Customer Expectations
While the golden principles of customer service haven't changed, the expectations of consumers definitely have.
Customers have always preferred a friendly and quick service experience, but the presence of digital technology has raised those expectations higher.
A unified CRM system can help you elevate your business strategy to meet those rising customer service expectations.
A constantly connected world means information is readily available. Customers can search online and get answers to their questions. If they're contacting you for customer support, it means that they're looking for something that only you can provide.
They don't want customer service reps that don't know about their past interaction history. A CRM experience ensures that you find the information you need without losing time.
It's easy to extract the required information about a customer interaction from a CRM system.
Related Blog: 8 Reasons Why A Sales Planning Tool Is Needed For Your Business
Encourage Data-Driven Decision Making
The main advantage of implementing a CRM system is access to consumer insights and analytics. These analytics help businesses and companies gain a more coherent understanding of customer behaviors.
As a business owner, you can use data to make more informed decisions, evaluate risks, and reduce customer churn.
Since a CRM functions as a data aggregator, it becomes easy to view business processes holistically. You can track customer service performance, assess which CRM tools are more helpful, and measure success.
Source: Altis Consulting
Using predictive analytics and historical data, you can:
Evaluate customer support performance
Boost customer satisfaction through quicker resolution
Identify consumer pain points and preempt any issues that can arise
Gain an overview of customer interactions across multiple channels
The future of exceptional customer experience is shifting towards a data-driven system that provides both structure and flexibility.
Offer Personalized Content
Personalization is essential when it comes to building a connection with your customer base. 62% of customers admit to opening emails that have a personalized subject line.
The content you offer — emails, SMS updates, push notifications — is a way of having a conversation with your customers. A CRM can help you deliver the right content to the right person at the right time.
Content is a crucial element of the post-sales process, as well. You can keep in touch with customers by following up with a survey or recommending guides or blog posts about a product.
A mix of personalized and automated content can help you deliver the best customer service across online and offline channels. Automating email campaigns with personalized subject lines is one example of customer experience management.
By tailoring and adapting content as per the customer journey, you increase brand engagement and loyalty.
Deliver Quick Support
To deliver quick support, customer service teams need well-structured data.
A CRM system means that you have all customer information on hand — past interactions, customer history, purchases — to help you solve customer issues faster.
Since there is a log of every customer interaction, you can track how long it takes to resolve a particular service request. You can also measure your response time to focus on improving your current efforts.
Provide Consistent Service
Your customers interact with you through several channels. These include your website, app, social media platforms, etc. You have to provide a seamless customer interaction to increase retention.
It can get frustrating for the customer if they're shuffled across different departments, and each department responds to their queries inconsistently.
A CRM software system that gives you a common understanding of customer needs can help deliver a consistent customer service experience.
A CRM system empowers businesses to provide a consistent and seamless level of customer service across touchpoints.
Improve Client Retention
Customer retention is a business strategy that focuses on keeping potential and active consumers engaged with a brand.
Customers need to have a consistent experience when they interact with you because it informs their decision of being loyal to your business.
With a CRM experience, you can align your sales and customer service teams on a common platform.
By increasing transparency across departments, you can proactively engage with potential customers and identify opportunities at the right moment.
Related Blog: Customer Lifecycle Management Guide for Business Owners
Sustain Customer Relationships
A CRM system can help you build sustainable and profitable customer relationships.
You want to have a strong foundation of understanding your customer's needs to build stronger relationships. A CRM helps deliver on customer satisfaction in three main ways:
Understand their challenges: Every customer has different goals and needs. A CRM can help you keep track of every customer detail to make the interaction smoother and seamless.
Engage through relevant outreach: Once you understand a customer's preferences and goals, it's easier to tweak your strategy to fit their needs. You can recommend products or services and use this as an opportunity to cross-sell.
Prioritize customers: There will always be loyal customers, just as there are a few who will be neutral to your brand. Your goal is to prioritize your marketing efforts on retaining loyal ones. A CRM system can help you keep track of returning consumers and give you insights that can help you create future campaigns.
Read related: CRM Experience in Resume: The Only Guide You'll Ever Need
Conclusion
In this blog post, we've gone over what CRM experience means and how customer satisfaction tools can bring your business great success.
Briefly put, CRM experience is the way your customers perceive their interactions with any part of your brand. This is why it's crucial to understand and measure all aspects of that experience.
Customer satisfaction tools are crucial to gathering information about your customers. They can be very useful when it comes to improving customer experiences, understanding where problems occur the most, and acting upon them quickly to make your customers happy.
If you're looking for a unified CRM that's easy to use and affordable, EngageBay is the way to go!
With a free plan available as well as a low monthly price point, there really isn't any reason not to give us a try. We have all of the features you need, and we're loved by thousands of small business owners like you.