Repetitive manual tasks are the bane of every employee, wouldn't you agree?
It's something that can put even your best employees to sleep, and ends up wasting precious time and energy.
This is where workflow automation comes in. And once you get started down this path, there's no going back. But first, what exactly is workflow automation?
We're glad you asked.
Workflow automation is the design, execution, and automation of tasks based on your workflow, which are automatically routed between people, technology, and data on the basis of certain pre-defined business rules.
Using a good workflow automation software, you'll be able to save time and energy. Not only that, it drastically reduces the chances of human error, and boosts business productivity.
There are several more benefits to workflow automation.
In this blog, we look at:
Manual tasks that can be automated
Where you can use workflow automation tools in your company
5 steps to building an automated workflow
6 great tools to build automated workflows for your business
Here's a caveat on what workflow automation is not.
Workflow automation is not the same as robotic process automation (RPA). Both workflow automation and RPA are crucial tools for automating a business process. That's where their similarities end.
Workflow automation focuses on automating the flow of work over several activities.
A robotic process automation tool mimics your keystrokes and clicks to automate one particular task.
RPA, when paired with AI, can be a very strong tool to automate certain tasks. You can make use of RPA within your workflow automation to get the best results.
How much time is currently going into manual tasks that can be automated?
If you are considering automating your workflow, this is the first and most important question to ask.
According to a McKinsey report, only 5% of all job positions can become fully automated. This makes a lot of sense.
We aren't trying to replace your loyal employee with a workflow automation software, after all. The same McKinsey report found that in 60% of all occupations, one-third of the constituent activities can be automated.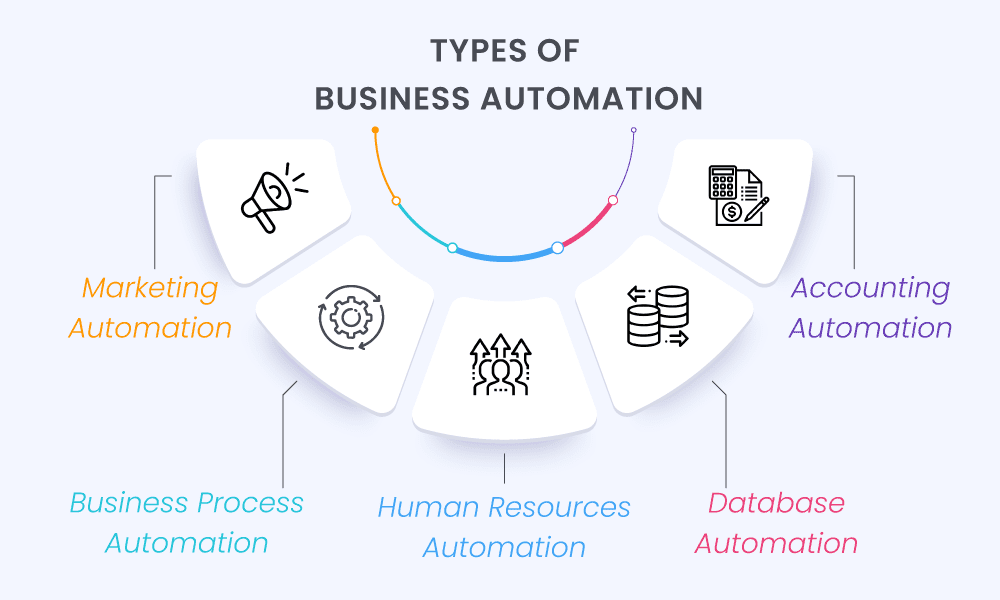 Imagine the amount of revenue and time you can save by automating even one-third of the repetitive tasks that your employees do on a daily basis.
The good news is that most employees are likely to see this level of automation in a positive way. They can see that it has the potential to make their lives and jobs easier.
Some workflow automation stats
According to a Smartsheet report on market automation, 70% of the workers surveyed said that the biggest opportunity in automation is the amount of time saved on manual tasks.
A survey by Automation Anywhere also found that 55% of employees surveyed said that they would leave a job if the manual administrative tasks are too much.
Automation can help to boost employee morale as well. Your competitors are probably already automating certain workflow processes, and it's time you seriously invest in this area if you already haven't.
Example scenario of workflow automation
Let's get into this more deeply with a workflow automation example.
Take the persona of a marketing manager based in the US. They are likely to be an important player in the company, who is educated and well-compensated.
This marketer is involved in driving sales through well-thought-out campaigns to meet business goals. It involves certain activities like reviewing competitor data to inform your pricing policies, generating estimates for the marketing budget, etc.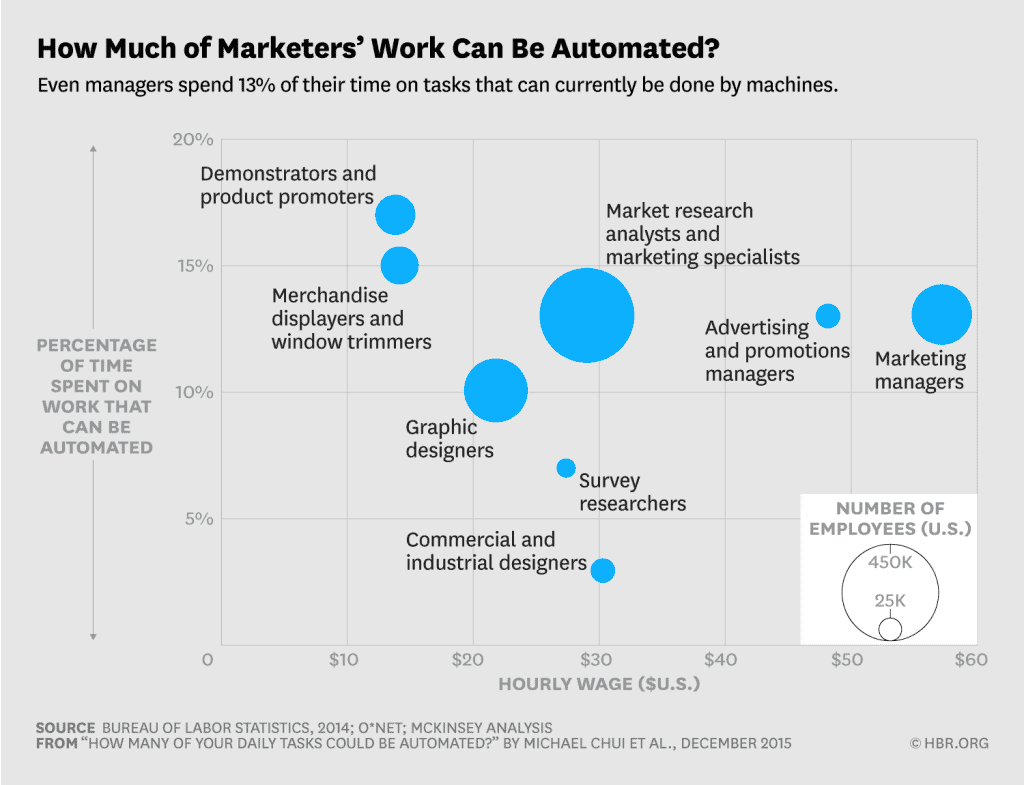 Even for such a position, Harvard Business Review estimates that 13% of a marketing manager's tasks can be automated, especially the tasks involving research data.
This would free up a lot of time, and allow the marketer to invest their energy in high-value activities.
In the future, AI combined with automation may even be able to generate personalized content and offers for your customers, something even marketing managers can struggle with at times.
So, the key is to get really really clear about your existing workflow. This is the first step to creating automated workflows and eliminating inefficient processes.
Read more: What is CRM Automation? Learn the Basics Here (Guide Blog)
Do I have to be a developer to use workflow automation?
The short answer to this: NO.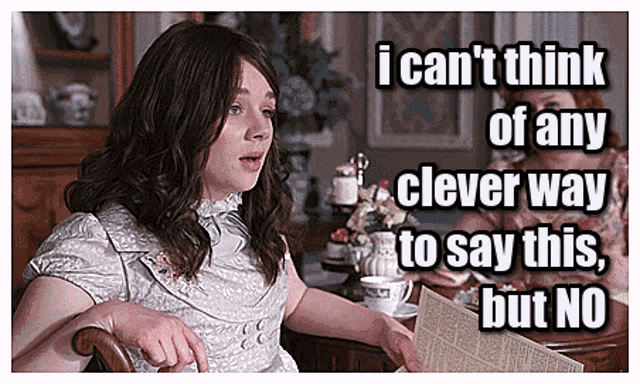 You absolutely do not have to be a software developer or even a citizen developer to get started with an automated workflow solution. Most workflow automation software are easy and intuitive to use.
Most of these tools are created with a regular business user at the center. Your software is likely to have a drag-and-drop workflow builder. Of course, you can add more customizations to the product, either by yourself or by getting it customized by the brand that sells it.
But coding knowledge is definitely not a pre-requisite for workflow automation.
👉Supercharge your marketing campaigns with 17 expert-recommended automation workflows! Don't miss out!
How are administrators and managers currently using workflow automation tools?
Whether you work in sales, customer service, or human resources, almost all workflows can be automated. It doesn't really matter whether the workflow is simple or complex.
An example would make this clearer.
Workflow automation examples
Let's say as a marketing manager you need to get an approval for your budget changes from the finance team. With a good workflow automation system in place, this process can become streamlined and hassle-free.
You fill out an online form for your budget and press send. This triggers a workflow automation that will get routed to the finance team for approval.
Now, based on the amount you have requested, the workflow automation technology will route it to the right person. For example, if your request is $30,000 or less, it gets sent to the Finance Manager.
If it is over $30,000, it goes directly to the CFO for approval. Once the request is approved, it gets automatically routed to your team to take actionable steps based on the new funding you have acquired.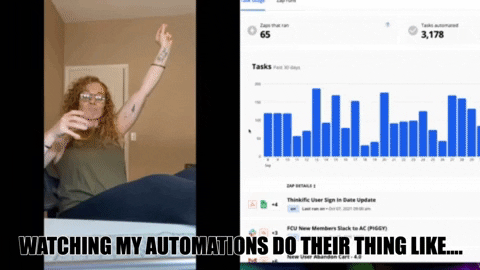 Let us look at other examples of how administrators and managers use workflow automation tools for different areas of business:
Marketing workflow automation
Running drip email campaigns and scheduling them. This can be part of marketing automation as well.
Welcoming a new user to the company after they have subscribed
Coordinating marketing tasks in real-time with teams across the world
Scheduling social media posts as per your marketing calendar
Reminding a customer to check out items if it has already been added to cart
Automated scheduling of your newsletters to your mailing lists
Operations workflow automation
Managing team permissions, especially for new team members
Automatically compiling reports at the end of each quarter
Simplified, automated invoice generation
Instant task creation that can be monitored in real-time
Better handling of incident reports within the company
Automated vaccine certificate uploads for employees
Gathering leads across various channels like apps and website visits
Human Resources workflow automation
Faster approval of leave requests and real-time updates
Removing prospective candidates from the HR database if they have been inactive for a while
Sending emails to rejected candidates after an interview
Collecting employee feedback
Automated emails for events happening in the company
Better employee onboarding process
Faster handling of expense claims by employees
Sales workflow automation
Automatically moving a lead along the pipeline triggered by certain actions
Reminders for your sales team before meetings
Faster lead generation and nurturing
Personalizing all communication with prospects from the start
Real-time updates on the status of pending deals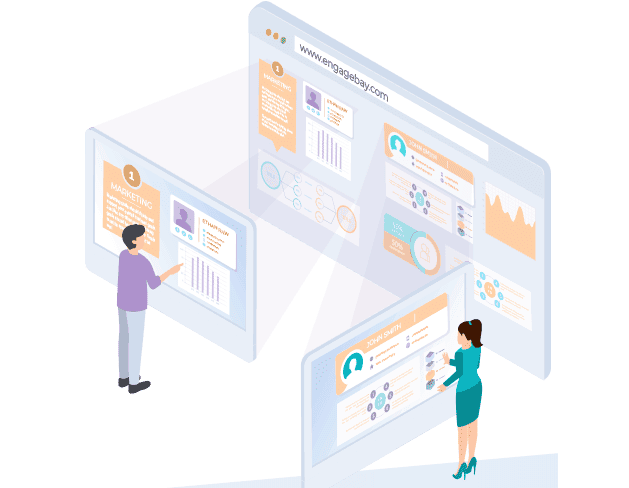 These are only a few of the many ways you can use workflow automation tools to boost your productivity.
When you think about your own work, consider what business processes will benefit most from automation, and how to maximize your organization's resources to get the biggest return on investment.
Read more: Small Business Automation — 6 Things You Need to Know
How to build an automated workflow using workflow automation software?
Now that you have an idea about the possibilities of workflow automation, you may be wondering how you can build an automated workflow for your business.
The good news is that we are here to help you get started. Simply follow these five easy steps to automate workflows.
1. Identify inefficient processes
The first step in automating your workflow process is to identify the repetitive tasks. To begin with, zero in on a task that is not mission-critical. Ask yourself what would happen if this workflow would fail.
Ideally, your first automated workflow should be something that involves manual tasks and has a relatively simple route. Once you have identified the tasks you can afford to automate, get in touch with all the stakeholders.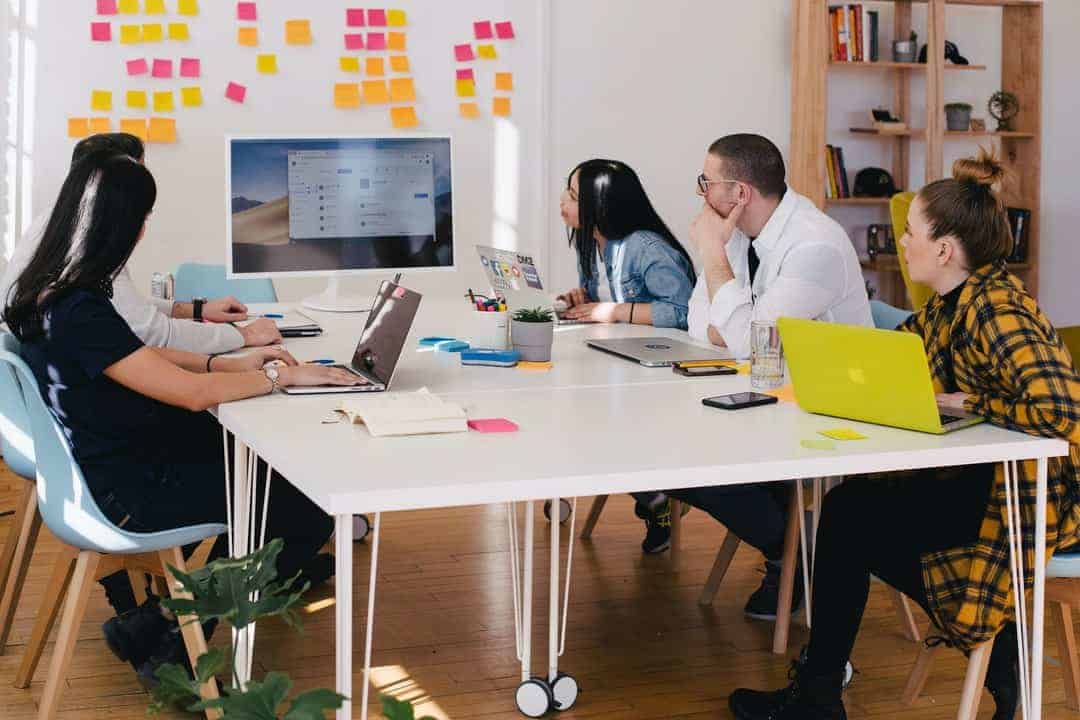 Are the employees on board with the idea? Are they convinced that automating the tasks will boost their productivity?
These are important questions to consider.
2. Define your goals
The next step is to have a set of very clearly defined goals for your automated process. Sure, workflow automation can give you several benefits like increased ROI and increased productivity.
But what is it that your team expects from this digital workflow? Instead of having a vague goal like increased revenue, it is better to have a goal like "decrease cost of acquisition by 3% in the next quarter".
3. Train your team
Even if you use the best workflow automation tools for your company, it will not succeed unless your team actively participates in it. Ensure that you give sufficient training to your team before automating their workflow.
This allows your employees to feel like they are a part of the decision-making process. It helps them prepare for the changes.
Read also: Cracking The Marketing Automation Process [A Guide For Beginners]
4. Design your workflow
Build your workflow using a workflow automation platform. Here, you will be able to create forms, and assign them to the relevant stakeholders.
You can also assign permissions and rules for each stakeholder based on their position. Usually, a workflow automation platform will have drag-and-drop tools in the workflow editor. One example is EngageBay: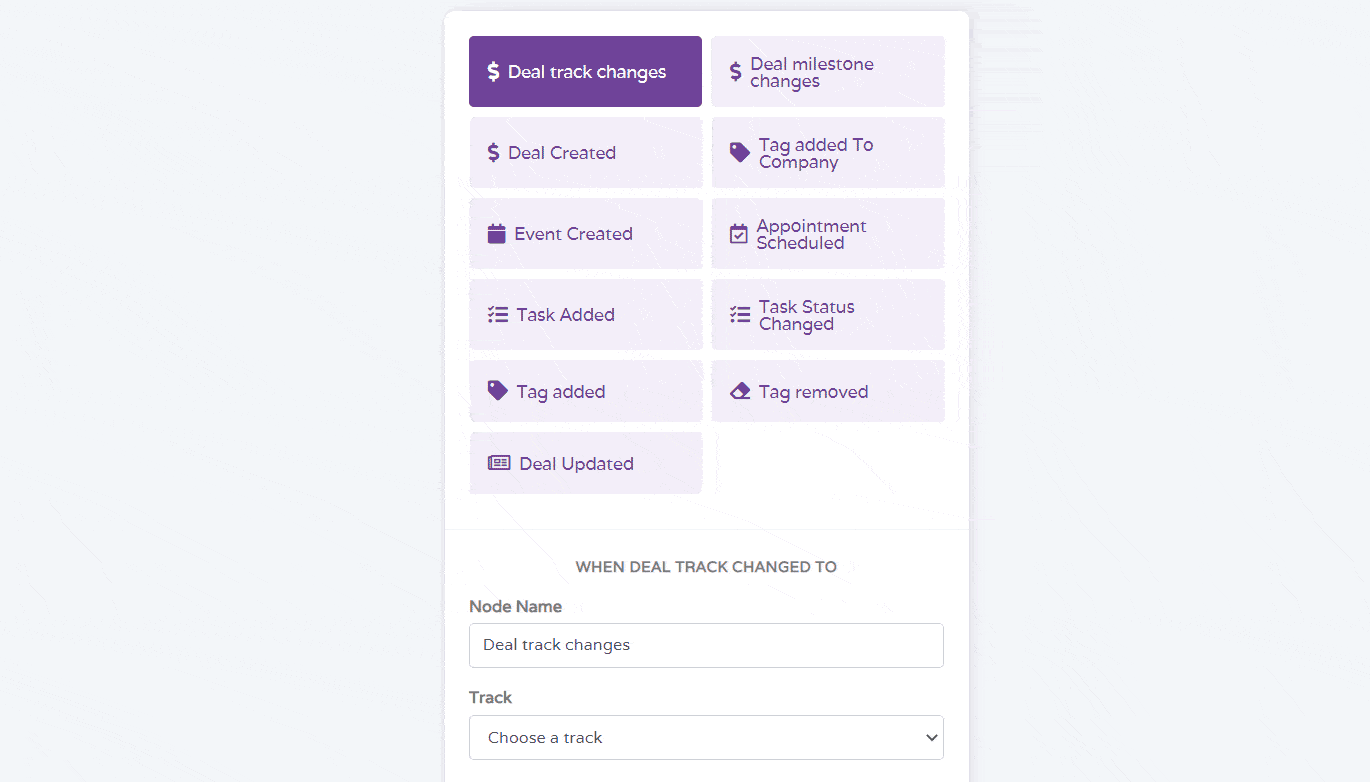 Once you have created the relevant automated workflows, it is a good idea to run a couple of user acceptance testing (UAT) cycles. This will help you pinpoint any bugs in the workflow process.
It will allow your employees to identify problems and find solutions together.
5. Define measurable KPIs
It is not enough to simply automate your workflow. If you cannot measure the results, you won't know whether it has made an impact on your business.
The key to successful workflow management is to measure Key Performance Indicators (KPIs). It is only based on these KPIs that you can make changes to the workflow.
6 great tools to build automation workflow for your business
Now that you understand how workflow automation can streamline your business process, you may be wondering what the best tools to build automation workflows are.
Here, we've curated the seven best workflow automation tools for you.
#1. EngageBay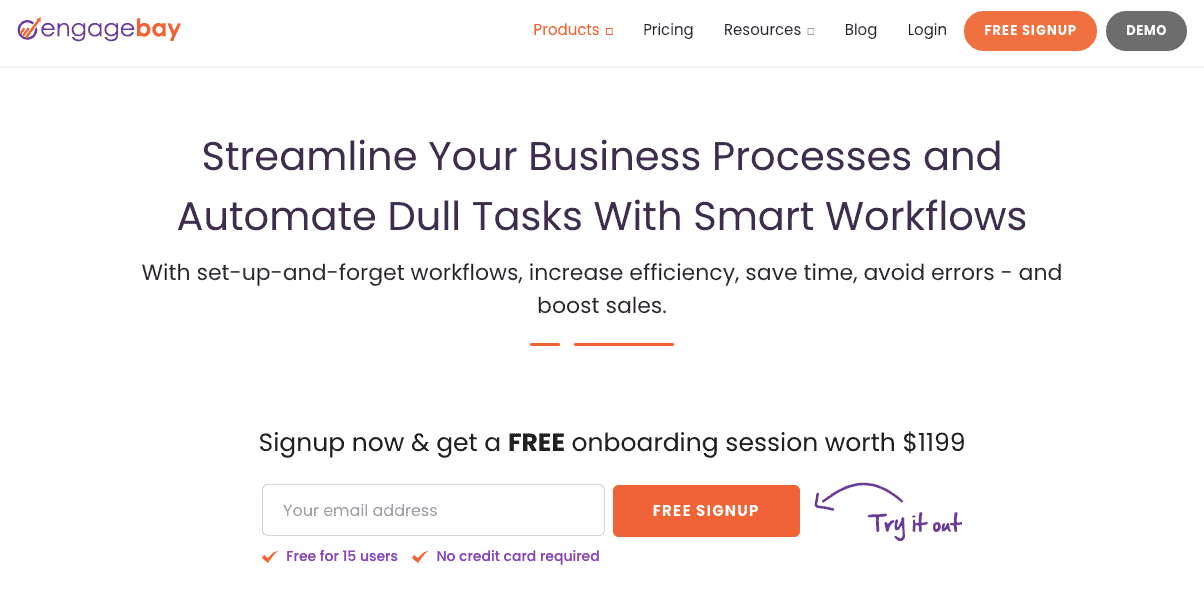 EngageBay is a cloud-based platform that provides you with a wide range of tools for managing and automating your marketing, sales, customer service, and support operations.
With the EngageBay workflow automation tool, you can easily create smart workflows for your business.
Using the "actions" and "conditions" options, you can trigger automated workflows. Not only that, it has lead generation and lead processing workflows too.
EngageBay is for you if you are looking for an affordable, all-in-one platform, including marketing automation software. It also has great customer service workflow optimization.
Also, you can ensure customer success by using automated workflows to create customer tickets based on urgency and route them to your teams.
EngageBay is designed and priced for small business owners, freelancers, agencies, and solopreneurs.
#2. Microsoft Power Automate

You can watch a video about Power Automate here.
Power Automate is Microsoft's cloud-based system where you can create automated workflows. It allows easy and quick integration with the Microsoft 365 package, including Microsoft teams.
It is a low-code platform with easy-to-use drag-and-drop workflow builders. You also have the option to create smart automation workflows using AI and smart recommendations.
It is suitable for small and medium businesses. You get a free trial period for all the plans.
#3. Kissflow

With its easy-to-use interface, Kissflow is a workflow automation platform for your business process. You can create custom workflows and manage all your projects in one dashboard.
Kissflow also offers integrations with API, WebHooks, and Zapier so that all your process notifications are in one place.
With a drag-and-drop workflow builder, you can set permissions for different levels and generate reports based on relevant metrics. There is also a free trial if you are unsure about investing in a paid plan.
Read more: EngageBay vs HubSpot — Market Leader or Emerging Powerhouse?
#4. Comidor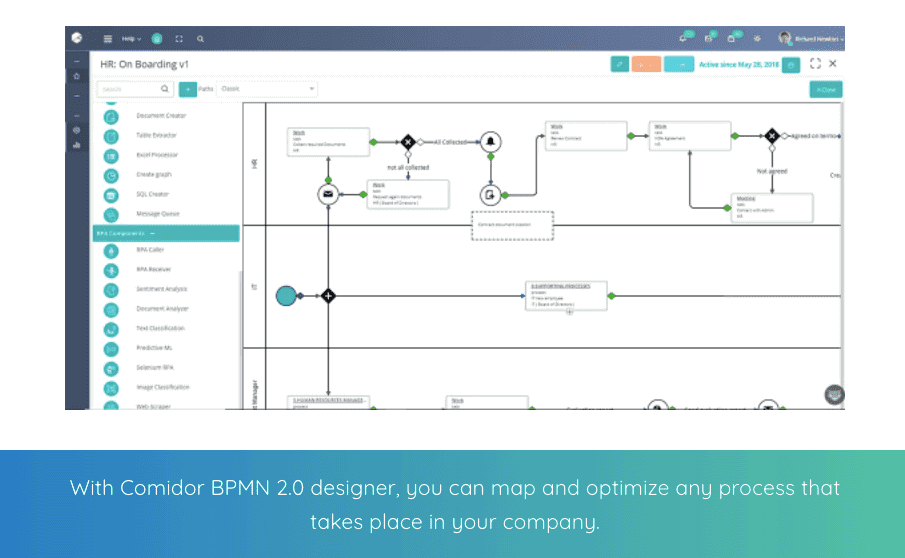 If you are struggling to automate a manual process, and want a tool with high automation capabilities, then Comidor could be perfect.
This is a great tool where you can design complicated workflows in minutes without writing any code.
Comidor provides advanced automation tools such as RPA and AI/ML services to automate your workflow from start to finish. Customers also get detailed workflow reports and analytics to track process performance in real-time.
#5. Omnisend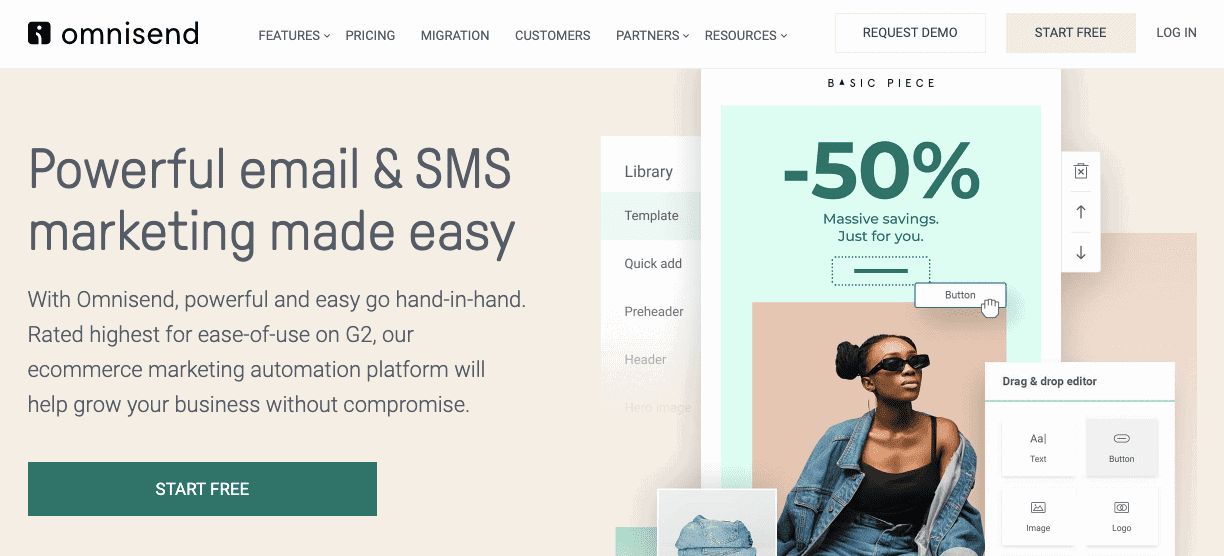 Omnisend is an email and marketing automation platform that caters to eCommerce companies. Their platform comes with a simple email editor, with a plethora of templates, sign-up forms, and the use of multiple channels.
One unique feature Omnisend offers is automated workflows with the capability to add SMS, conditional splits, and more.
There are also good segmentation and automation capabilities to deliver automated messages to the customers. This could help boost your conversion rates and customer relationships.
Read more: Omnisend Alternatives — Which are the Best Email Marketing Tools?
#6. Nintex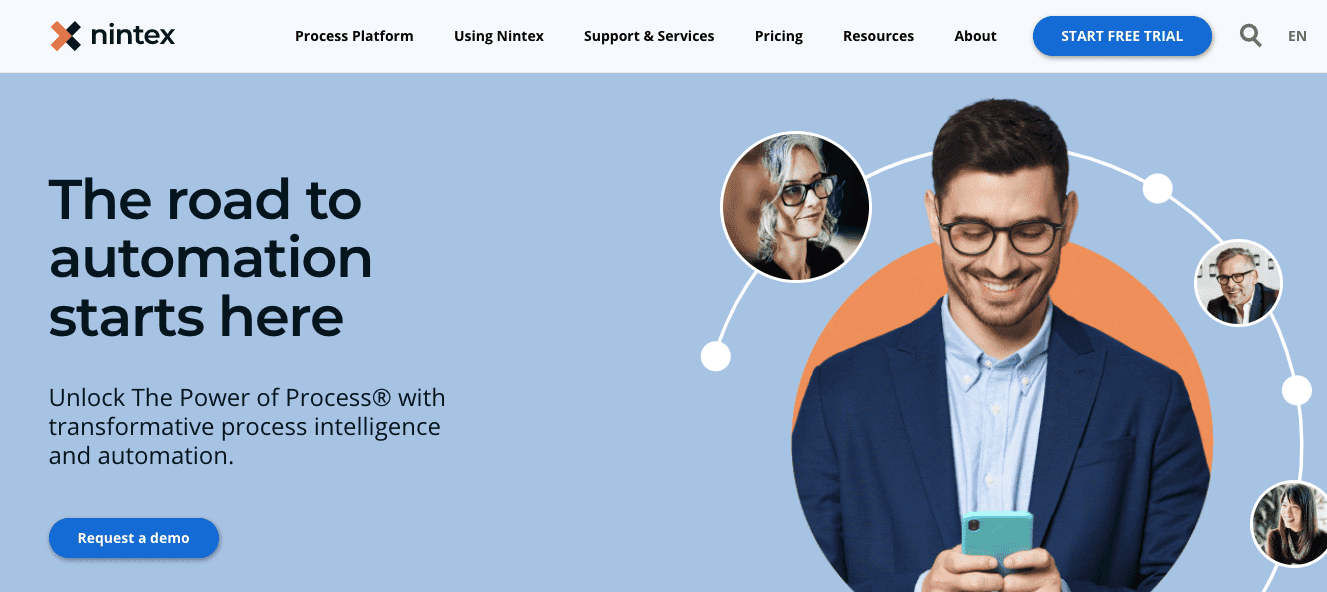 Nintex is a low-code solution, with a drag-and-drop builder that allows you to visualize workflows as you create them.
You even have the option of creating and signing documents directly on the management software and then saving them as a part of your workflow. This makes accessing documents very easy.
You can use Nintex for on-premises infrastructure, on the cloud, or in a hybrid environment. Nintex also handles all parts of the customer lifecycle – right from mapping to analytics.
Conclusion
In this blog post, we have discussed the benefits of workflow automation from both the business and management point of view.
Workflow automation has tremendous potential for improving productivity in your overall business processes. Smart businesses are increasingly using workflow automation to save time and money, which in turn makes everyone more efficient in the various departments of their business.
Hopefully, this blog post has given you food for thought and encouraged you to think about how workflow automation could lead to better overall business results.
If you'd like to know how EngageBay can make your life and work easier with affordable automation, just sign up for a free account or book a demo with one of our experts.