LinkedIn is one of the best social media platforms to search for a job or expand your professional network. But people often get no responses even after submitting multiple job applications through LinkedIn.
It's not the lack of credentials but because they don't have the right LinkedIn headline. The LinkedIn headline appears right below the profile picture, and in a single line, it conveys the relevant details about a person.
In this article, you will master the art of writing the best LinkedIn headline that will help you get your dream job.
Let's look at some of the best LinkedIn headline tips and examples from the best ones on the platform.
Excited?
How Long Should Your LinkedIn Headline Be?
The headline is limited to 220 characters and summarizes the professional and educational qualifications of a person.
Whenever you search for someone on LinkedIn, the headline displays below their name.
It helps the recruiter decide whether they should approach them or not.
Why is a LinkedIn Headline Important?
A study revealed that 46% of people consider the headline section as the most important part of a LinkedIn profile.
Given that recruiters go through numerous applications every day, it can be time-consuming to click on each profile to determine whether someone is a good fit.
Thus, even if a candidate meets all the requirements for a job, they may be overlooked owing to a poor LinkedIn headline.
A LinkedIn headline is the difference between getting the right job versus getting rejected.
A strong LinkedIn headline is what will take you closer to your dream job, while a poor or incomplete headline would only lead to further rejections.
Read also: How to Write a Winning Introduction Email
6 LinkedIn Headline Tips You Can Use In Minutes
Your LinkedIn headline determines how prospective employers and people in your network perceive you.
Here are some LinkedIn headline tips to help you create eye-catching ones.
#1. Be Specific
If you are a job seeker, you need to be specific about what you are looking for.
Whether you are seeking an internship, an entry-level position, or a managerial post, these things need to be clearly mentioned in your LinkedIn headline.
Moreover, you should also state the field or industry in which you are seeking a job.
This helps recruiters find you faster, which increases the chance of getting the job you want.
#2. Choose the Right Keywords
If you want the right people to approach you, start off by choosing the right keywords to add to your LinkedIn headline.
It increases your chances of appearing in searches conducted by potential employers, recruiters, and hiring managers.
Most often, job seekers stuff their headlines with random keywords to increase their appearance on search results.
However, this only further adds to their misery; recruiters will just bounce off to the next profile.
#3. Tailor Your Headline for Your Audience
This is one of the most important LinkedIn headline tips.
Decide what kind of role or industry you want to work in and accordingly mention those in your headline.
For instance, if you want to be a copywriter for a specific industry, here is how your LinkedIn headline should be: Copywriter | <industry name> writer | SEO.
Here's a good example from Brendan Hufford 👇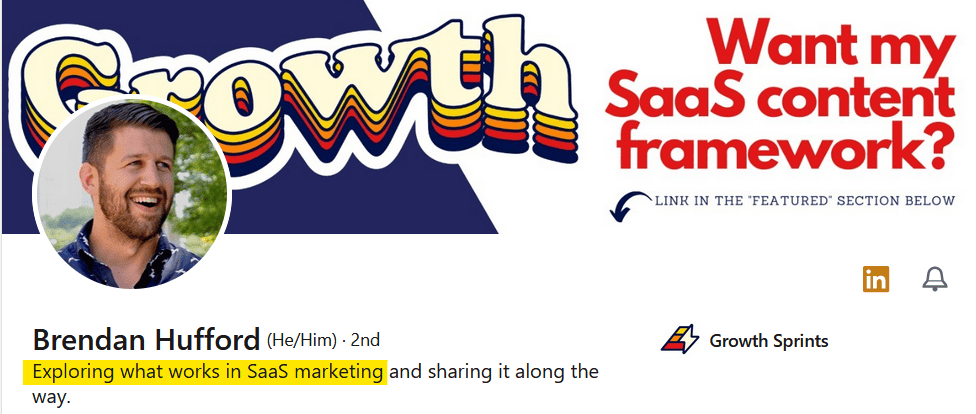 #4. Include a Value Proposition
While it is important to include information on your experience and qualifications, don't forget to add a value proposition to your LinkedIn headline.
If you are seeking a new job or a client, people should know what skills you bring to the table and how you can improve their lives.
Simply stating your designation or your past experience will not make it easy to land the right job.
Read also: How To Say 'Please Find Attached' In 20 Different, Smarter Ways
#5. Avoid the Automatic LinkedIn Headline
On the basis of your 'About' and 'Experience' sections, LinkedIn creates a default headline for your profile automatically.
The default headline states your last job or education but does not fully convey who you are.
For instance, if your last job was that of a business analyst, LinkedIn would simply state 'Business Analyst at XYZ Company.'
Such a headline does not showcase your capabilities and qualifications.
Thus, it is best to write your own LinkedIn headlines and keep them updated.
#6. Highlight Your Achievements
To enhance your profile further and make it stand out, try and add any professional or academic achievements.
Examples of achievements can include 'Gold Medalist at ABC University', 'LinkedIn Top Voice 2022', 'Forbes 30u30', and so on.
Here's a swell example from the marketer Lisa Dziuba 👇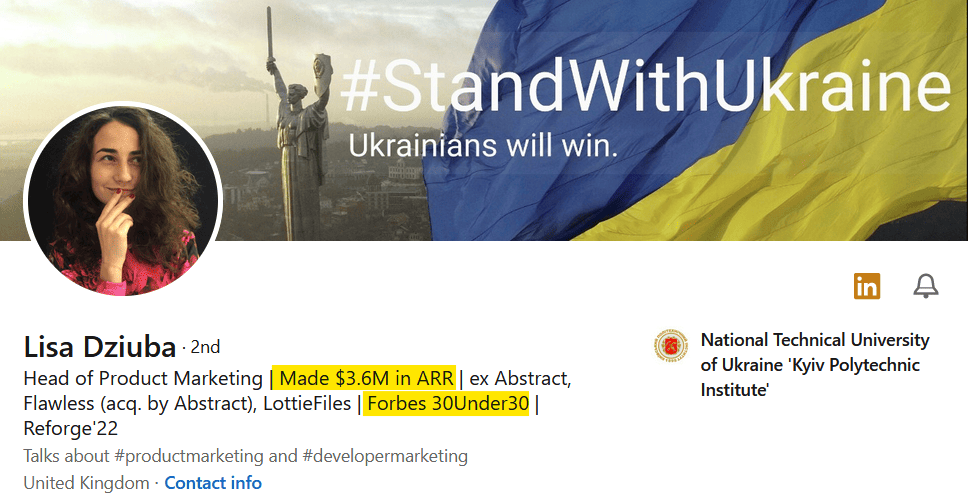 Read also: Revenue vs Profit: A Simple Explanation of Income
Top LinkedIn Headline Examples By Category
I've curated some of the best LinkedIn headline tips and examples that can instantly attract a recruiter's attention.
To protect the privacy of the job seekers, I've blurred out their personal details.
#1. First-Time Job Seeker
As a first-time job seeker, you do not have any previous job experience. So what should you include in your LinkedIn headline?
You can mention the job or role you are looking for, followed by your most recent qualification and achievements, if any.
Here's an example of a first-time job seeker. The user has clearly mentioned he is a graduate of XYZ college seeking an entry-level position job. And most importantly, remember that there are so many jobs for 17-year-olds and beginners these days, so don't be afraid to admit your inexperience.

He cleverly mentions the industry and the kind of role he is interested in.
#2. Less Experienced Job Seeker
When you have recently started working and looking for new opportunities, it's good to mention the years of experience you have.
In the example below, the candidate clearly mentions his qualifications and years of experience in the field of data analysis.

This will help recruiters determine whether he will be a right fit for the position they are looking for.
#3. Experienced Job Seeker

If you are someone who has prior work experience and wants to switch jobs, here's an example that you can follow.
Here, the candidate has stated their current role, their previous role, their areas of interest, and what kind of jobs they want to get now.
#4. Offering Value Proposition to Your Clients
If you are looking to increase your odds of getting noticed in LinkedIn searches, it is best to add a value proposition to your LinkedIn headline.
It is even better that you include a quantifiable achievement as it makes your profile even more attractive.

The example above clearly shows how you can use your work experience to demonstrate your achievements and skills.
The individual has made it clear that their clients are founders, C-suite executives, and creators.
The headline also states the service provided, which is building authority on LinkedIn.
As a result, if someone is looking to improve their LinkedIn presence, they know whom to approach.

Here is another example of how you can include a value proposition in your LinkedIn headline.
The description is simple, yet it easily conveys what the person does and how they can add value to a company.

I found another good example of an experienced professional.
The profile smartly states her expertise on the LinkedIn headline.
Here, the individual has mentioned how they can make your job easier with their past work experience and a published ebook.
The inclusion of quantifiable achievements, such as helping over 4,500 people, further adds to the credibility of the individual.
Read also: CRM Experience in Resume — The Only Guide You'll Ever Need
#5. Creative LinkedIn Headlines

Sometimes people get creative with their LinkedIn headlines to stand out.
Mind you, this might usually work in the favor of an experienced professional who isn't actively looking for any job.
Here, in this example, the user beautifully sums up his experience in five simple words, "Taught, built, scaled, and failed."
It conveys everything you need to know about the person – he has successfully built, scaled, and even failed at his attempt.
But he is back to the rabbit hole now, and there's no stopping him.
#6. Making Yourself Friendly and More Approachable

As a recruiter, you need to make yourself appear approachable.
And that's exactly what this candidate does in the example shared above.
The candidate subtly mentions their profession by saying 'just a friendly neighborhood recruiter.'
They further go on to explain their personality: introverted and pet-friendly.
These particular headlines convey what you do in a light-hearted and fun way while also describing your personality.
#7. LinkedIn Headlines for Recruiters Looking to Hire
Just like recruiters are on the lookout for job seekers on LinkedIn, similarly, job seekers are searching for recruiters looking to hire.
Now, merely writing 'HR manager' or 'Recruiter at XYZ Company' might not fetch you many searches on LinkedIn.
To create an excellent recruiter profile, here is a headline that can help you get started.

Here, the recruiter has clearly stated their designation and which industry they are involved in.
It also clearly mentions that they are hiring, ensuring that job seekers are directed to the right person.
Another way people working in the human resources department can create an engaging LinkedIn headline is by mentioning how you have or can help businesses achieve their goals.
In this example, the headline clearly states how the individual can help HR teams find the right talent.

#9. LinkedIn Headlines for Customer Service Reps
Here's a perfect example of how a LinkedIn headline should be for a senior customer success representative.

Along with her current designation, she also mentions all the achievements she has bagged over the years.
If you notice, every achievement is in the same industry, making her one of the best choices for recruiters to reach out to if they are looking for a CX influencer.
Here's another example where the individual keeps it simple and short.

The individual clearly states the role at their current job, along with other areas of specialization.
While keeping it simple, they have displayed all their areas of expertise, allowing them to get searched by different recruiters for various roles.
#10. LinkedIn Headline With a Call to Action

Sometimes, you do not have to stick to the norm of writing a LinkedIn headline.
Instead of mentioning his qualifications and experiences in the headline, he does that in the About section.
In the headline, he sums up his expertise in a single line – now easily migrate your website from web 2.0 to web 3.0.
And if anybody is seeking this particular service, he encourages them to DM him.
Read also: 15 Introduction Email Templates That Work Like A Charm
#11. Telling Recruiters that You Have a Portfolio Ready

Here's a perfect example of how to keep your LinkedIn short yet informative.
It's clear that she is a UX researcher and seeking opportunities in the same expertise.
Besides, she says 'Portfolio available,' which clearly depicts that she has done some fine work in her field and is ready to show it to you.
Furthermore, she goes on to add that she is even willing to move out of the US for better opportunities.
#12. Adding Quantifiable Achievements

If you have any achievements that have had quantifiable outcomes, don't limit them to the experience or awards section.
You can add them to your LinkedIn headline as well, similar to the one below.
Stating your achievements at the top of your profile will increase the chance of you getting noticed by recruiters or hiring managers.
Here, the student clearly doesn't have any professional experience, yet the fact that he won a gold medal in college makes him a suitable candidate.
#13. LinkedIn Headline for Students

It can be difficult for students to write an impactful LinkedIn headline.
In the absence of any professional experience, students might be confused as to what to include in a headline.
If you are not searching for a job or an internship and are only interested in connecting with other people, this particular example can help.
You can choose to write what sectors you are interested in and a bit about your qualifications.
It will help you get in touch with the right connections.

And here's another LinkedIn headline that students can follow.
The student here clearly mentions what she aspires to become, i.e., a sustainable engineer.
And, she goes about to highlight her education and include a positive descriptor of winning a scholarship.
Read also: Email Copywriting 101 — Tips to Craft High-Converting Email Copy
Wrap Up
A LinkedIn headline is the first thing that recruiters and prospective clients see while conducting searches.
This is why you can't afford a bad-looking LinkedIn headline.
Keep your headline crisp and succinct with enough information, and try to convey how you can be a valuable addition to their company.
Now that you know how to write the best LinkedIn headline, go fix yours right away and increase the chances of winning that job you have had your eyes on.
Ready to elevate your personal brand? Uncover the top bio ideas in our comprehensive guide!