It appears easy. But writing an introduction email isn't a walk in the park, especially one that grabs your new email subscribers' attention. And why is that? Competition. The average person receives about 120 emails daily. The open rate? It could be better. Only 16.97% of people care to open the emails they receive.
Many email marketing experts agree that 15-25% is a decent email open rate. But to guarantee future opens of your emails, you need to get the first one right – the introduction email. 
A sloppy and unopened introduction email could lead to more unopened emails in the future. And this isn't good for your business. Why? Low open rates signal Internet Service Providers (ISPs) that you have an unengaged audience. The result? Your emails could start ending in spam folders. You don't want that. And you can mitigate this by writing an excellent introduction email.
Stuck on how to write your introduction email? This post pulls the curtain and exposes what you need for writing quality introduction emails.
What is an Introduction Email?
This is already obvious, right? An introduction email is the first email you send to welcome new subscribers to your email list.

But Why Send an Introduction Email?
1. To Set Clear Expectations

Most emails are neither opened nor read. One of the reasons? Excessive email sending frequency.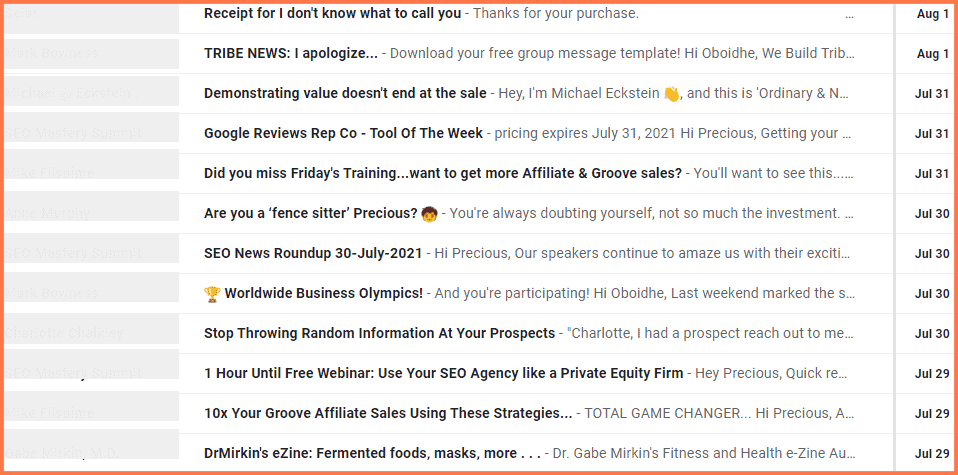 But I get it. You want to send lots of emails to your new subscribers. 
So, what do you do? Tell them in your introduction email. 
Informing your new subscriber of your email sending frequency is an email marketing best practice. It is also an effective way to limit spam complaints and unsubscribes from your email list.

2. To Create Trust

You can create trust with your new email subscriber by avoiding this introduction email mistake – late communication. Here's why late communication is a no-no:
Sending introduction emails immediately allows new email subscribers to know you. Hence, they become more receptive to open your next email. 

With a worrisome number of internet security breaches, anyone that gets on your email list wants to feel safe. A

prompt introduction email

confirms that their info is in safe hands.

Late communication ensures your introduction email gets sunk in the sea of emails your new subscriber receives.
So how can you send a prompt introduction email that creates trust? By automating your introduction email with an all-in-one and affordable marketing solution like EngageBay.

Read also: 7 Introduction Email Mistakes to Avoid (in 2021)
3. Improve Email Deliverability

Writing and sending an introduction email can prevent your future emails from entering spam or promotions folders. In turn, this improves your email deliverability.
Wondering how you'll do it? Simple. Provide email whitelisting instructions. You could also highlight the benefits of whitelisting your email to your new subscribers. For instance, they don't get to miss emails with exclusive deals and valuable information. Here's an example of email whitelisting instructions by Carline Cole.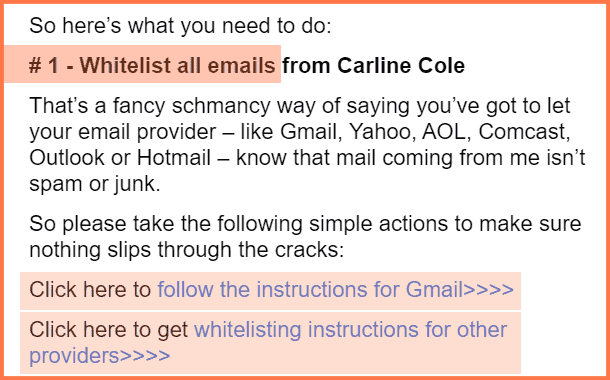 6 Steps for Writing Effective Introduction Emails
Step 1: Write a Scroll-stopping Subject Line
Before writing an epic introduction email, consider your email subject line.
Why? Your email subject line helps the reader decide if your well-written introduction email should be opened and read. As Neil Patel explains: 
"Email subject lines directly affect open rates. When subscribers fail to see what they like, the email could likely end in the trash bin."
So how can you get maximum value from your email subject lines? By A/B testing.
Email A/B testing helps you to evaluate your best-performing subject lines quantitatively. You do this by sending the same email with different subject lines to 2 groups of your new subscribers.
| | | |
| --- | --- | --- |
| Percentage of new subscribers | Subject line | Email open rate |
| 20% | You're in! Here are a few vital details | 10% |
| 20% | You're in – See what's next …🚀 | 23% |
After the timeline for the A/B test elapses, the winning subject line is used for the remaining recipients. The good news? EngageBay allows you to automate the entire process. 
Read also: 15 Introduction Email Templates That Work Like A Charm
Here are some tips for writing your introduction email subject line:
Test your headlines with and without emojis

Try keeping your headline length at 6 to 10 words

Personalize

your subject line

Ask questions that create curiosity

Sparingly use symbols 

Write a subject line that indicates the next step for the subscriber
Step 2: Thank Them for Subscribing
In 2019, Sara Algoe and three of her colleagues performed a study with a sample size of 1,817 persons. The study title?
"A new perspective on the social functions of emotions: Gratitude and the witnessing effect."
Here's what they found:
They discovered that saying "thank you" to others built trust and forged a closer bond with the expresser of gratitude. You should adopt this as well. Thanking your new email subscribers makes you likable and it humanizes you and your brand. When new email subscribers sense that you appreciate them for joining your email list, they develop a positive vibe towards you and what you do.
I checked the introduction emails of brands whose emails I regularly read. They did the same thing – expressed gratitude. Most of them personalized their first line with, "Hi, (first name) – followed by a sentence of thanks. Here are some ways of thanking your new email subscribers:
Hi, (first name), I wanted to personally thank you for joining my newsletter.

Hi, (first name), I'm so thrilled you subscribed.

Hi, (first name), Thanks again for downloading the SEO checklist!

Hi, (first name), First of all, thank you so much for signing up!

Hi, (first name), I'm (your name), and I'm excited to introduce you to (your program).

Hi, (first name), Thanks so much for joining (your website) and showing interest in (what you do).
Step 3: Introduce Yourself/Brand
This is your chance to shine by saying what you do. And to build a solid connection with your new email subscriber, you could start with a story. We all love stories, don't we? Here's one from Matt Diggity on how he left his tedious 60 hours per week job: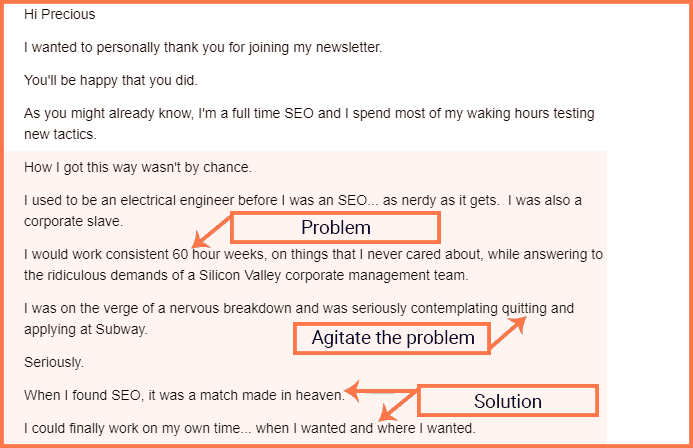 When telling your story, ensure it resonates with your audience. Your audience needs to see themselves in your challenges, have a mental picture of how the hero (you) will help them, and visualize a better future based on your successes. That's how you hook them until they finish reading your introduction email.
What if you don't want to follow the storytelling route? You could write an introduction email that shows you're an authority in your niche. Here's an introduction email example by Wendy on hitting $10k monthly.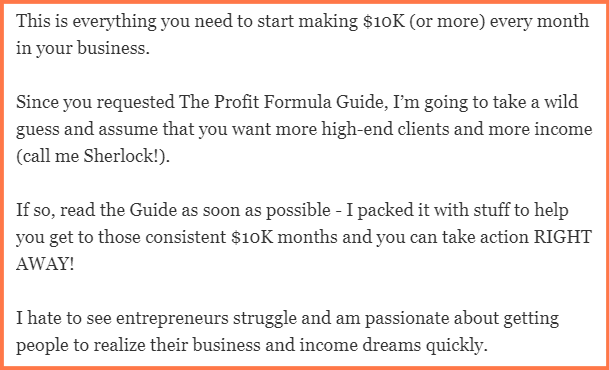 Whichever route you choose for your introduction, the goals remain the same; a fun introduction email that cements your authority and allows you to connect deeply with your new email subscriber.
Read also: 4 Introduction Email Examples Worth Replying (and Why)
Step 4: Promised Something? Deliver it
New subscribers can get on your email list in various ways – like a newsletter sign up. But compared to incentives like lead magnets, a newsletter sign up form is no match. When new email subscribers get on your list via a lead magnet you promised, deliver it! 
Failing to deliver what you promised is a breach of trust. This could cause your new email subscriber to unsubscribe from your list. And that isn't what you want.
Expert Tip: Test gated and ungated lead magnets to see what works best.
Gated lead magnet

: You require the subscriber's email for them to receive your resource.

Ungated lead magnet

: The lead magnet is available for free download. Add a link to your subscription form within the lead magnet and invite the reader to subscribe if they love your resource.
This strategy helps you know how valuable your resource is to your new email subscribers.
Step 5: Ask for a Reply
Wouldn't it be nice to know how comfortable and familiar your new subscriber is with your brand? Ahem! That sounds good. And one way to find out? By asking for a reply to your introduction email. Requesting a reply from your new email subscribers is a small ask that moves them from "just subscribers" to people committed to you and your brand.
Here's how Meera Kothand asked her new subscribers to reply to her introduction email after sending them a swipe file:


Of course, everyone won't reply to your introduction email. But the few who do will help you gain unique insights into:
Why and how your new subscriber engages with your brand

The depth of brand loyalty from your audience

How targeted your content is

Previously unidentified pain points of your audience
All of this information helps you refine your marketing arsenal and prepare your new subscribers as a conversion-ready audience. 
Step 6: Include a Call-to-Action (CTA)
Like every marketing goal, the ultimate aim of your introduction email is for your new subscriber to take action. Adding a clear CTA to your introduction email makes this possible. And there is no shortage of email marketing best practices for getting the finest results from your CTAs.
For instance, adding a CTA button instead of a text link led to a 28% increase in click-throughs in an A/B email test. Here are extra tips for writing and designing introduction email CTAs:
Ensure the color of your CTA button contrasts with your email background. This makes it noticeable.

Use lots of white space around your CTA button.

Use bright CTA buttons.

Use power words. Example – Download now.

Keep the length of your CTAs short, especially when using buttons.

Communicate in the first person. Example – "Get my checklist" instead of "Get your checklist."

Use a mix of naked text links, anchor text, and buttons.

Keep your CTAs to a minimum. 1 is fine. 2 is okay. 3 is going overboard. Assuming you want your new subscriber to download a material, your naked text links, anchor text, and buttons should lead to that resource.
You've Written Your Introduction Email. Now What?
Proofread Your Email
First impressions matter! You don't go on a first date with rumpled or torn clothes. Appearing "sharp" is a must. The same applies to your introduction email. Don't appear careless and put your brand in a bad light. Avoid situations that result in "oh no" by editing your introduction email with tools like Grammarly.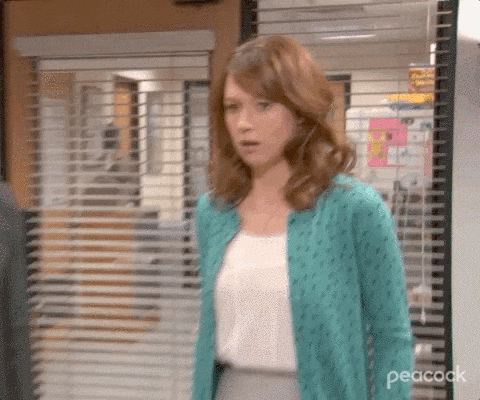 A/B Test. A/B Test. A/B Test
The data doesn't lie. You can only know what's working by testing it. Test your CTA buttons, text link, introduction email copy, email subject line, CTA placement, and so on. Once you find what works, stick to it. And you can do all of these from your EngageBay dashboard.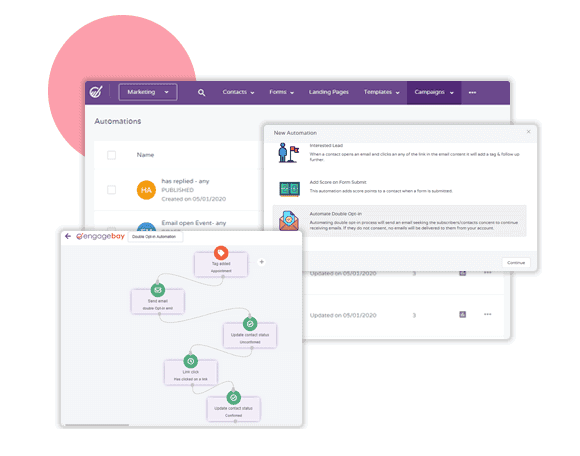 Create an Automated Email Sequence
After your introduction email, what's next? You don't want to ghost your audience for weeks without communicating with them. That'll be the cheapest way for them to forget about you and your brand. The solution? Create an automated email sequence for free with EngageBay.
Wrapping up
Your introduction email is important to your entire email marketing strategy. Once you get it right, your new email subscribers will easily move down your marketing funnel. Quality introduction emails improve your email deliverability, increase future open rates, and creates a strong connection between you and your audience. Here's a recap of how you can write an excellent introduction email:
Write captivating email subject lines.

Thank your new email subscriber for coming onboard

Tell a story that resonates with your new subscriber

Establish authority with your introduction email

Deliver what you promised

Ask for a reply to your introduction email

Include a CTA

Set clear expectations on your email sending frequency

Proofread your introduction email

Run A/B tests
And finally, set up your introduction email sequence (for free) with an easy-to-use and affordable tool like EngageBay. But don't take our word for it. Here's one out of 30,000+ happy business owners using our CRM since 2017.

Like to learn more about using EngageBay and how it can power your introduction emails? Then check out EngageBay features.