Did you know 46% of Americans start a side hustle with the hope of building a passive income source and having diverse income options to meet their numerous financial needs?
What if we tell you that you can make money while sleeping under your favorite blanket and by just installing a few apps on your cell phone? Well in 2023, it is pretty much possible. Gone are the days when earning extra income required you to have an active side hustle. No, we are not against the side hustle culture, duh!
What we intend to do here is to make you familiar with yet another totally safe alternative to earning a passive income with minimal effort in your free time.
While we won't make big promises—like turning you into an overnight billionaire—we will definitely equip you with the list of best passive income apps available out there. So that you have diverse income options open to take you closer to your financial freedom.
In this blog post, we've shared a list of 17 legit apps that can help you make some passive income.
Set It and Forget It Apps
Yes … it's that easy. With these apps, you don't have to do anything. Just install these apps and forget it ever existed (unless it's payday).
Let's take a look.
1. S'Mores Lockscreen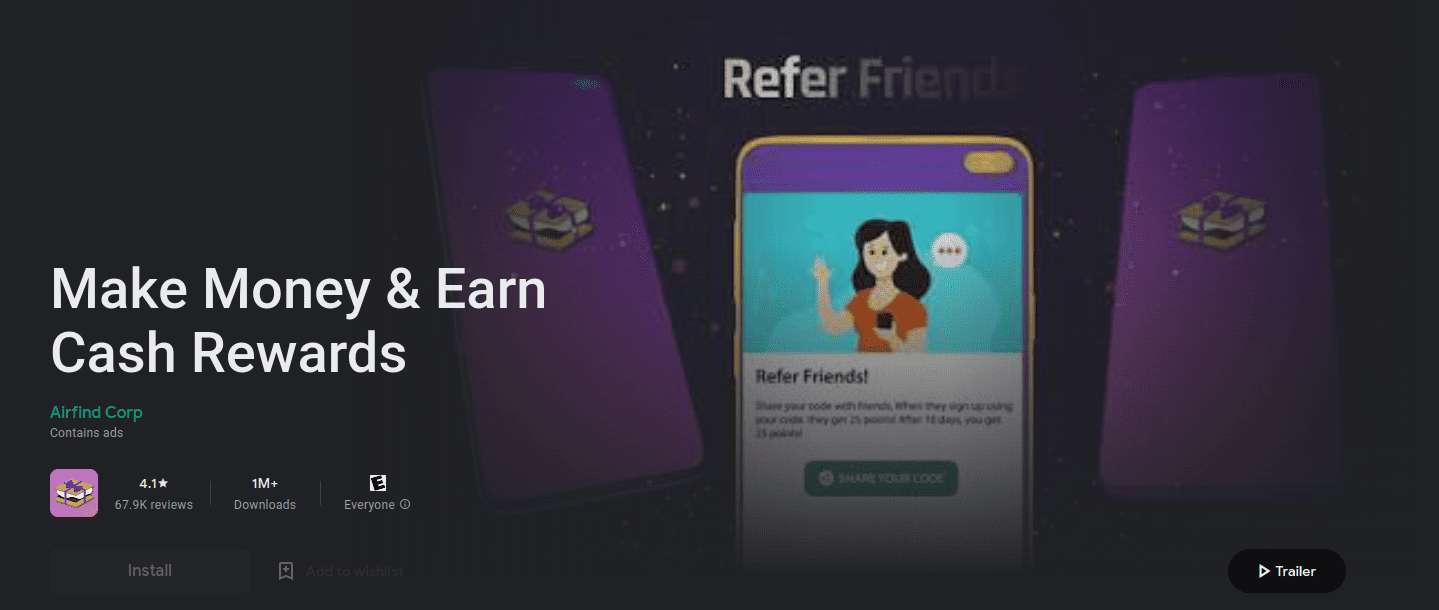 How about a passive income app that allows you to set it and forget it? S'Mores Lockscreen is a simple-to-use app where you can make money by doing all sorts of activities!
Watching videos? You're making money. Playing games? You're making money. Using your lockscreen? That's right; you're making money!
All the income you earn comes to you in the form of gift cards from the biggest retailers, including Target, Amazon, Walmart, and more.
Pros and Cons
Pros
S'Mores Lockdown is extremely simple to use to begin earning money.
You can make cash doing the things you'd already do on your phone anyway!
You can earn gift cards for all your favorite retailers.
Cons
If you're hoping for cash, S'Mores Lockscreen only pays in gift cards.
Play Store/App Store Rating: 4.1
Sign up for S'Mores Lockscreen
2. MobileXpression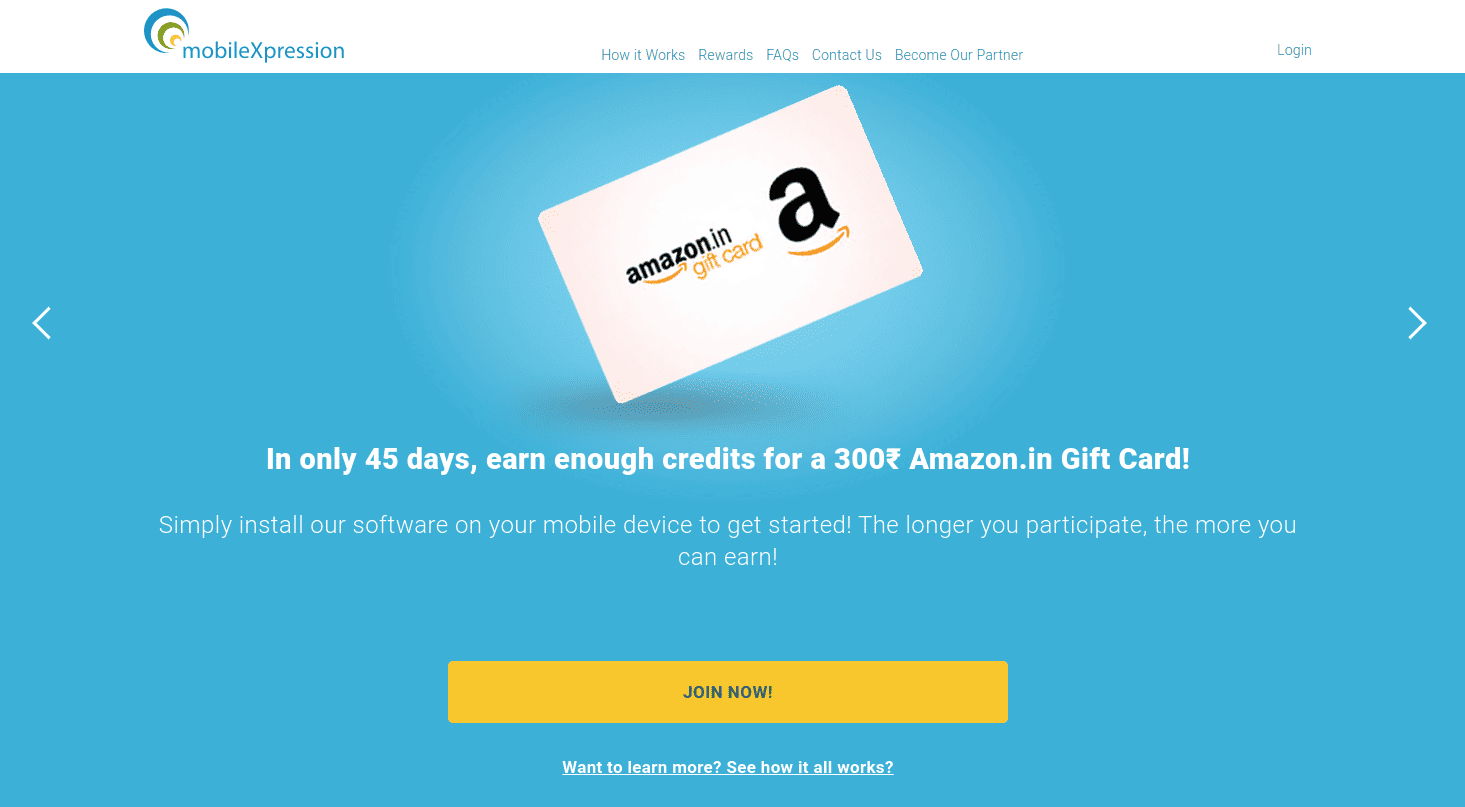 More than two million people have already downloaded and used MobileXpression. Perhaps you could be next!
It's simple to get started. Just download the app, earn credits, and then each week, you can redeem your credits for eGift cards.
As of this writing, MobileXpression has already given out more than $5 million in eGift cards.
Pros and Cons
Pros
You don't need to pay to get started using MobileXpression. Just download the app and open it.
You can get a free $5 Amazon gift card for signing up.
You can look forward to eGift card rewards each week when using MobileXpression.
Cons
You must be at least 18 years old to use MobileXpression.
This is another app where you only get gift cards, no cash.
Play Store/App Store Rating: 3.9
3. Honeygain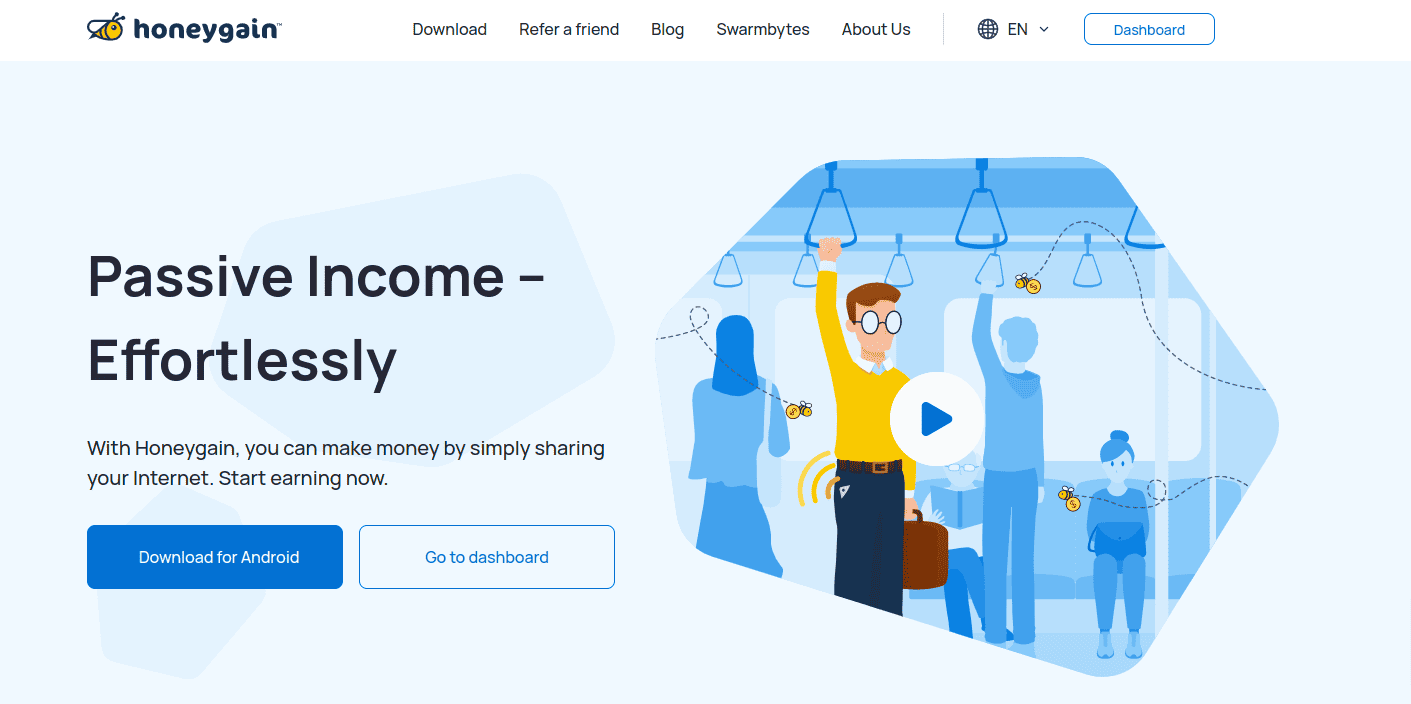 Do you often have a lot of unused internet data? If so, share it with the Honeygain app and earn dollars.
Yes, you heard it right. Now share your data and earn money. Install the Honeygain app, choose your data level, and get started. You can also install it on various devices to earn extra money — a good passive income stream.
Apart from internet sharing, you can also refer to this app for your friends and relatives. So suppose you refer it to a friend, and the latter starts earning. In this case, you will also get 10% of their revenue share.
Once you earn up to $20, you can request a payout. The money earned gets deposited to your PayPal account as soon as you finish linking the same.
Pros and Cons
Pros
You can earn cash–not gift cards–through Honeygain.
All you have to do is share data to make money, which is super easy.
The referral system allows you to maximize your earnings.
Cons
Some users might not feel comfortable about sharing data.
Honeygain doesn't have the best rating in the app store.
Play Store/App Store Rating: 2.9
Shopping Apps
Shopaholic? Then this section is perfect for you! Here, we have five of the best and most popular shopping passive income apps. Make money while shopping 🙂
4. Earny

If you love online shopping, you can't miss Earny.
Earny rewards you when you shop online. All your favorite retailers work with Earny, from Target to Fandango, the Home Depot, Walgreens, Hulu, Best Buy, Disney, Nordstrom, and over 5,000 more.
If you like shopping on Amazon especially, Earny rewards you in more ways than one! For instance, Earny will recommend you the best times to shop on Amazon and notify you when prices drop on that item you've had your eye on.
More so, if a package you ordered through Amazon won't arrive on time, Earny tells you so you can get refunded.
When you make purchases on Amazon or use the Earny app, you get tickets. As you rack up tickets, you can enter more sweepstakes where you can win prizes like Amazon gift cards, prepaid Visa cards, or even cash prizes.
Sharing links with your friends and family can get you cash back if your friends use that link to buy a product.
Pros and Cons
Pros
Earny rewards you for shopping from your favorite retailers, which is awesome.
If you shop on Amazon, Earny will prevent you from overspending.
You also won't have to stress about your recourse on late Amazon orders with Earny.
Cons
Earny has to look at your email receipts to gauge when you're making purchases from where, which might be a little invasive to some people.
Play Store/App Store Rating: 3.0
5. Rakuten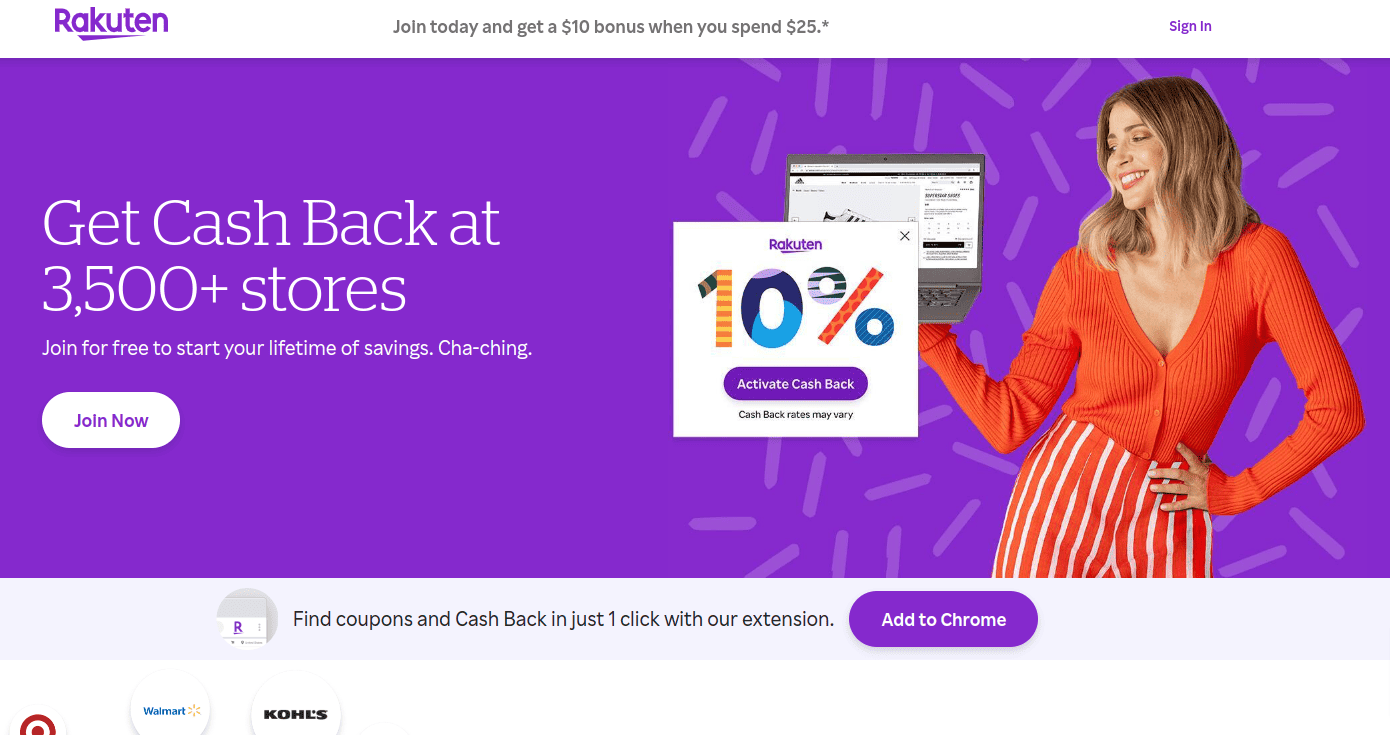 Long before every app rewarded you for shopping, there was Rakuten.
Through Rakuten's system, you can earn cash back when you shop at 3,500 stores and counting. From Target to Glossier, Old Navy, PetSmart, Ulta, Kohl's, Macy's, Nike, Walmart, and so much more, it seems like every major retailer is a part of Rakuten.
To get started with Rakuten, all you have to do is create an account and then shop like you always do through the Rakuten extension, app, or website. When you shop, you'll earn a balance.
You can cash out your balance through PayPal or check.
Since the site was founded in 1999, Rakuten has paid $2.2 billion to its members, with an average cashback per person of $63.50 in 2020.
Pros and Cons
Pros
Rakuten is one of the biggest names in passive income, which should inspire trust in their services.
Whether you're into subscription services, fitness, pets, food and drink, or computers, there's a service on Rakuten where you'll want to shop.
Rakuten frequently offers bonuses where you can make even more cash back.
Cons
Per reviews on the app store, users have complained that the Rakuten app is slow and glitchy.
Play Store/App Store Rating: 4.0
No time to read? Watch our video instead:
6. Dosh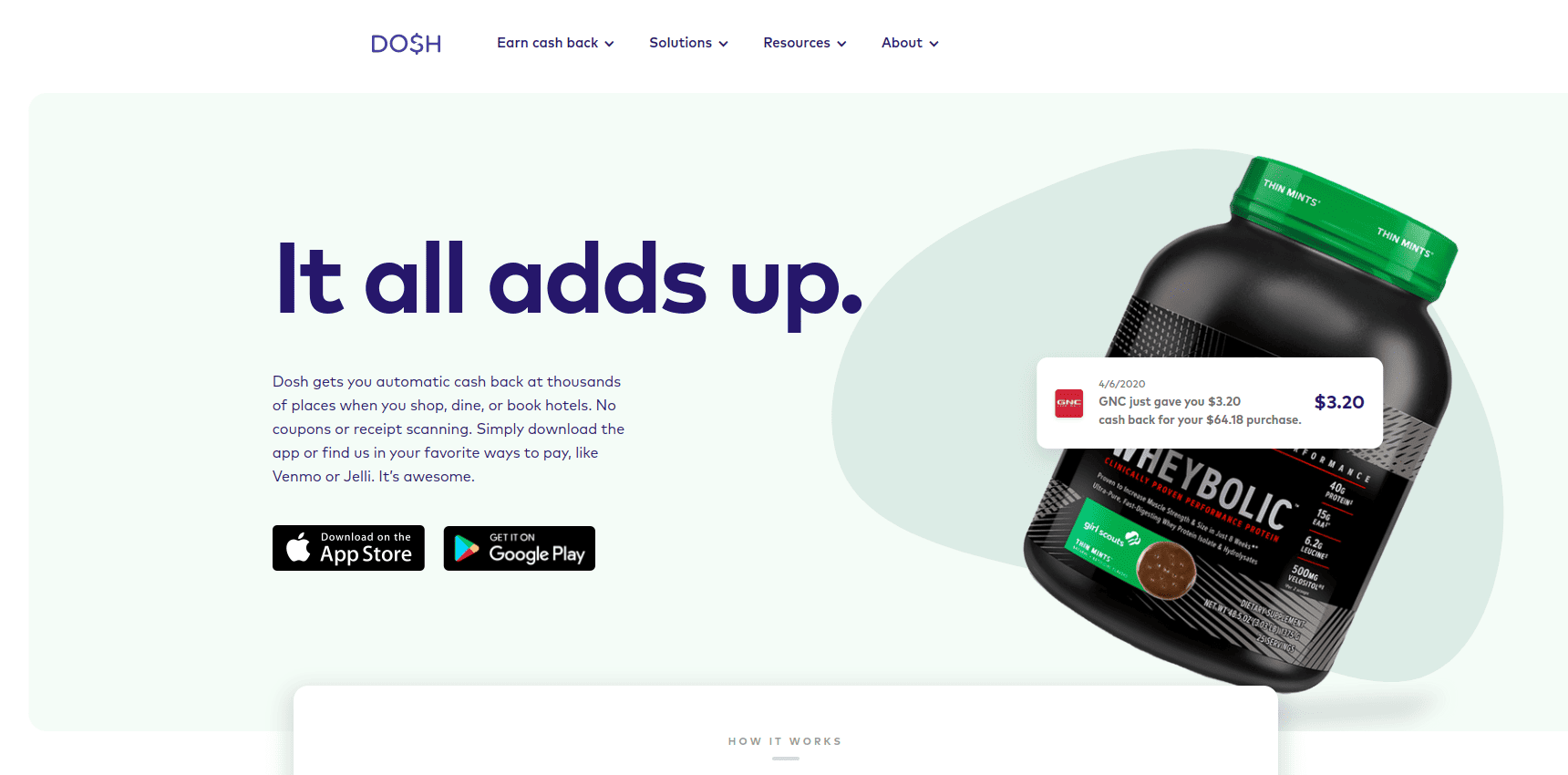 How does automatic cash back sound, not only when you shop but also when you book a hotel or dine out? If you answered "great," you don't want to miss Dosh.
With the Dosh app, you unlock countless paths to cashback. You can check the Dosh app for cashback opportunities or link cards and earn money back that way.
Shop the way you always do, and Dosh will give you money back into your account. Once you have $15 in the Dosh app, you can send it to Venmo or PayPal. You can even donate the money if you're feeling charitable.
Many big brands use Dosh, including Instacart, Walmart, Pizza Hut, Disney+, and Sephora. More than 600,000 hotels are part of Dosh's network, giving you great opportunities to earn more cashback.
Pros and Cons
Pros
Dosh doesn't store any banking or credit card information and the site and app feature 256-bit encryption for your peace of mind.
With restaurants, grocery stores, hotels, and big-box retailers all part of the Dosh network, you have a lot of ways to make money.
You have plenty of great options for cashing out when the time comes!
Cons
Users have complained that the Dosh app has very poor to nonexistent customer service.
Play Store/App Store Rating: 4.5
7. Capital One Shopping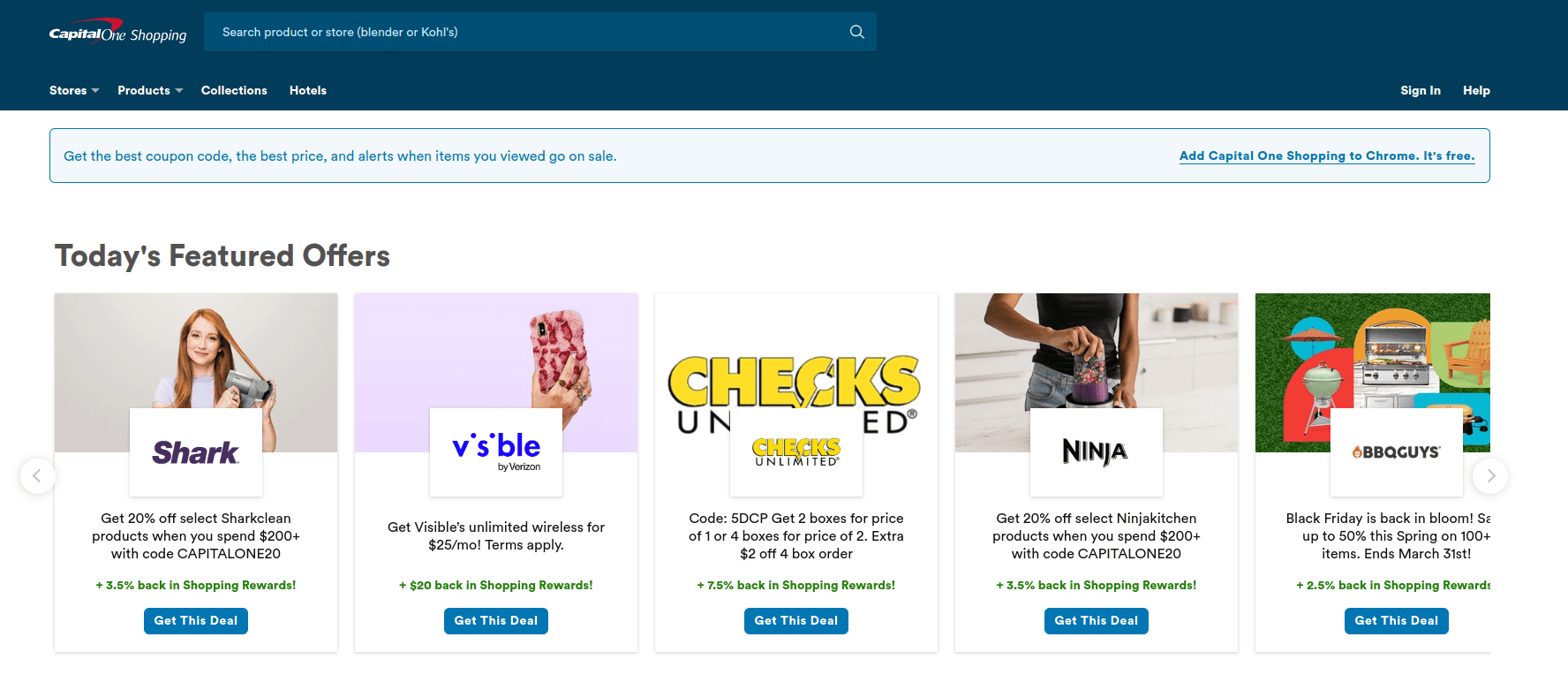 You're probably familiar with the bank company Capital One, but did you know they have a passive income app? Indeed, they do, known as Capital One Shopping.
Capital One Shopping applies free coupon codes once you add it to your Internet browser as an extension. From there, the site will offer you epic discounts without you having to spend a cent. Yes, seriously!
The more you use Capital One Shopping, the better the site will get to know your product and service preferences. From there, it will begin offering you personalized deals on the things you want and need.
Pros and Cons
Pros
Capital One is great for more than banking. You can also save money with the Capital One Shopping Service.
You don't only have to do retail shopping with Capital One Shopping. Hotels, home improvement services, printing services, and cable/Internet services are just some of the other types of companies with deals on this site.
It's free to use Capital One Shopping, and as an Internet browser widget, it's incredibly simple too.
Cons
Some users have said they haven't had much luck using the app and saving significant money.
Play Store/App Store Rating: 4.8
Sign up for Capital One Shopping
8. Drop App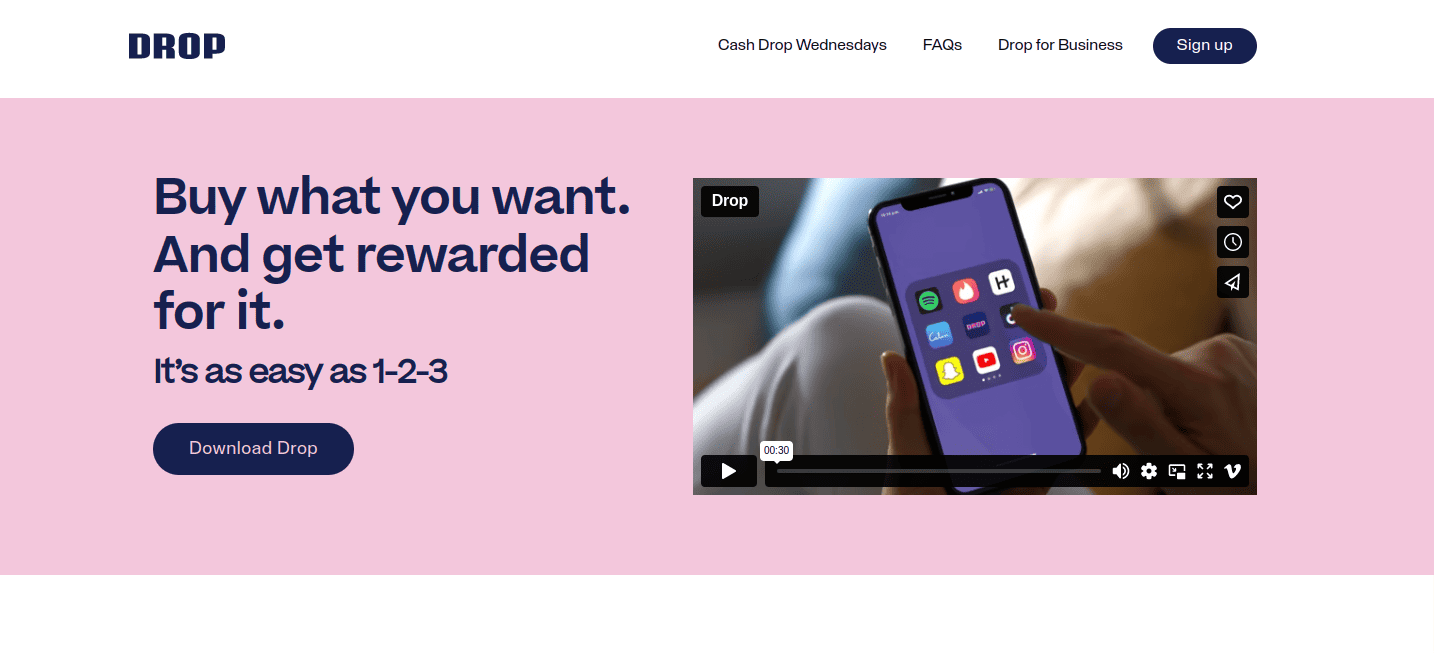 Shopping is legit important. You have to shop even if you don't want to. But what if you had an app that paid you to shop from the brands you love?
Drop App is one such app that gives you Drop points every time you shop from over 500+ brands using this app. From groceries to beauty and even travel, this app has almost everything that you would want to shop for.
The Drop Premium is also free to join. All you need to do is add your card to enjoy premium benefits and earn some extra points. Every 1000 drop points here equals a dollar.
Pros and Cons
Pros
It's free and fast to begin using Drop App.
Once you begin racking up points, you can cash the points in for gift cards from brands like Starbucks, Walmart, Old Navy, and Amazon.
Drop uses encryption and Transport Security Layers for your security.
Cons
Users have complained that you don't get that much money back from using Drop App.
Some users might not feel comfortable having to link their debit or credit cards to the app.
Play Store/App Store Rating: 4.3
Surveys/Referrals/Emails
We all know the conventional way of earning money online: surveys. Well, we've covered that, too! Take a look at the best passive income survey apps below.
9. Survey Junkie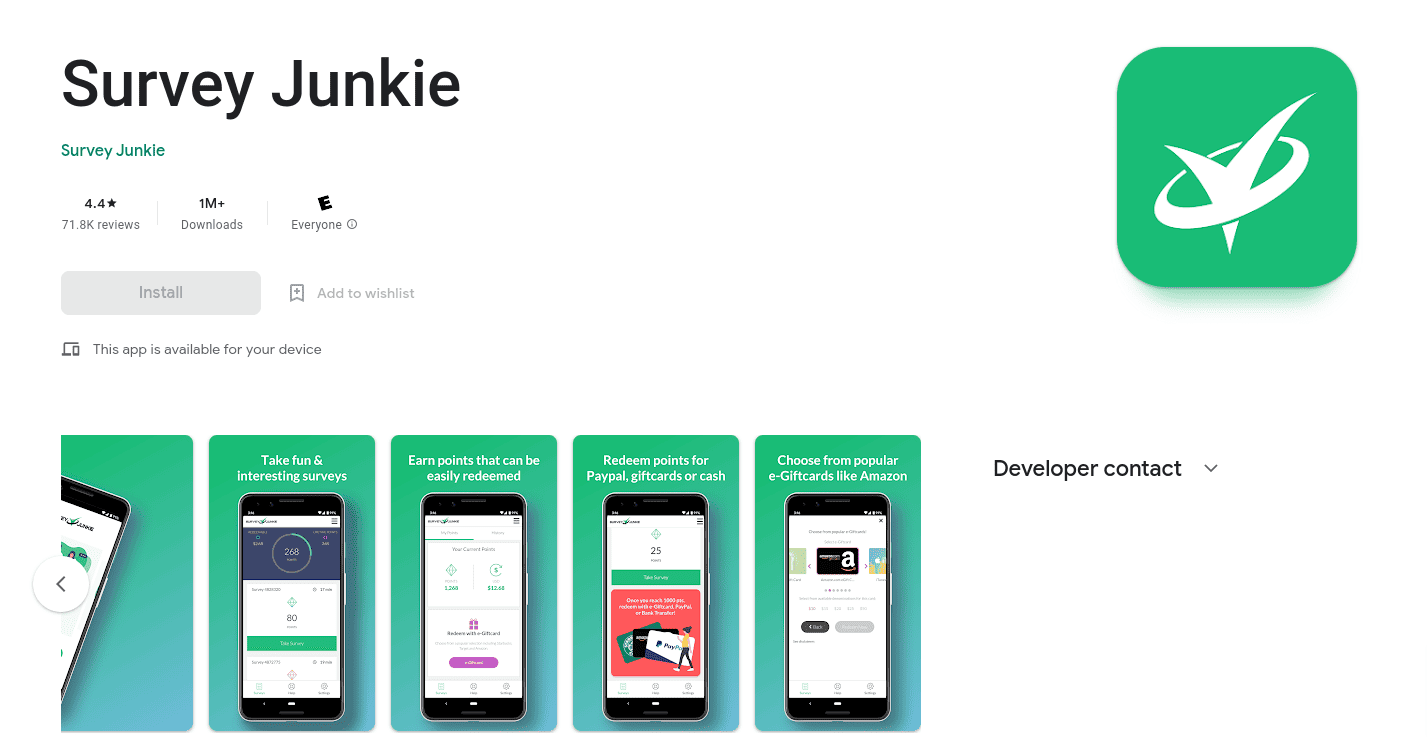 As the name of this app suggests, taking surveys in the Survey Junkie app will earn you dollars. The money earned via the same can be withdrawn through PayPal or Amazon gift cards. Let us discuss how you can earn through this app effortlessly and earn your first gift card.
Earning here is simple. The app will recommend surveys based on your preferences and interests. You can easily finish these surveys in 5 to 30 minutes. Not only surveys, but tasks like setting up your profile or attending a group session will pay you real money too.
Since the payout threshold here is low, you can withdraw every $10 that you have earned through PayPal. Isn't it amazing?
Pros and Cons
Pros
The opportunity to get paid for your voice to be heard is certainly tantalizing.
Survey Junkie will match you to more personalized surveys the longer you use the service.
You have several ways to redeem your cash, including e-gift cards or PayPal payments.
Cons
Compared to some of the other passive income streams we've explored, taking surveys is more time-consuming.
Play Store/App Store Rating: 4.4
10. InboxDollars

We won't be kidding around if we say InboxDollars is a fun way to earn. Earning on this app is like juggling between doing daily mundane activities like reading emails and fun activities like playing games.
Moreover, they have paid surveys too. So you just need to spend a few minutes taking these surveys and get paid while doing so. Apart from this, they give you $5 for just getting started — making it the best app (sort of) for making quick bucks.
Pros and Cons
Pros
InboxDollars has a 4.8 rating on the Google Play Store.
You can even make money from playing video games using InboxDollars. Now you can feel like a streamer!
You get paid in cash, not points, when using this service.
Cons
Users have mentioned you don't always get paid on time.
Play Store/App Store Rating: 4.8
11. Google Pay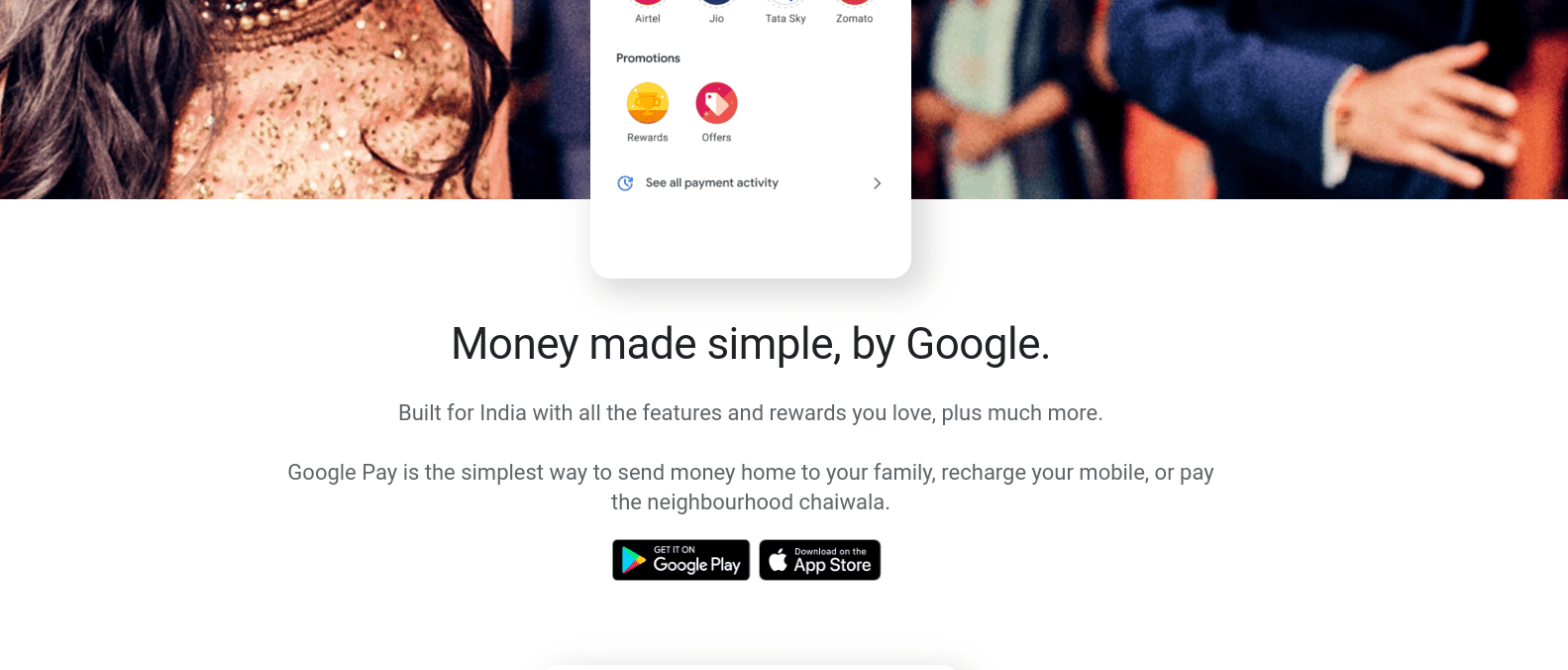 Google Pay just isn't your normal online payments and transaction app. It allows you to earn too. How?
Invite people to create an account through your referral link and earn. Plus, regular payments on this app will make you eligible for various rewards, cashback, and discount vouchers. It's essentially free money and acts as an excellent passive income opportunity for you.
Pros and Cons
Pros
Now you can make passive income using a trusted source, Google.
Google Pay uses Google's two-factor authentication to keep your transactions secure.
Referrals give you options for making even more money besides the discount vouchers and cashback!
Cons
Many users have complained that the new version of the app leads to more failed transactions and other errors.
Play Store/App Store Rating: 4.0
Finance and Investment Apps
While these passive income apps won't turn you into Warren Buffet overnight (or will it), you can use them to invest and reap the benefits. For these apps, you must have some financial capital to get started.
Fair warning: Trading and investing are risky endeavors, and we are not responsible for the outcomes, including but not limited to the loss of capital.
12. M1 Finance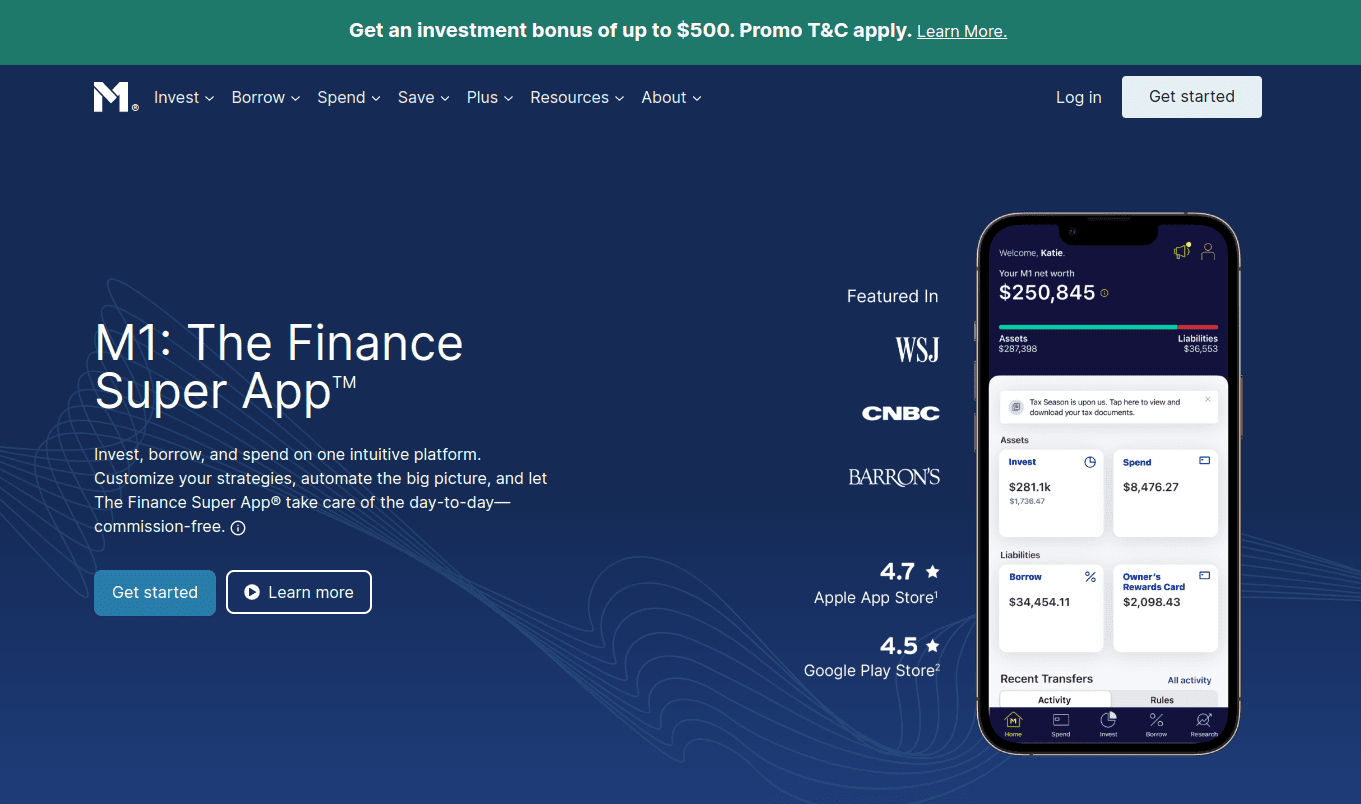 Calling itself "The Finance Super App," M1 Finance is an app designed for spending, borrowing, and investing all in one.
Let's take a look at the features of the app.
Pies: Making investments feels easier when everything is categorized like a pie, wouldn't you say? You can allow M1 to compile your pie or make a custom pie with differing proportions of ETFs and stocks.
Financial research: The M1 app is chock full of valuable financial information like newsfeeds, performance charts, risk data, fundamentals, pricing, and trading info.
Flexible credit line: You can borrow money against your portfolio at a rate of 6.50 to eight percent to help you afford life's big expenses.
Smart Transfers: When you want to send money, Smart Transfers does it for you automatically.
Dynamic Rebalancing: Allocate your investments using the power of automation with Dynamic Rebalancing.
Special accounts: M1 affords you the option of expanding upon your account after you open it. You can add different types of accounts, including IRAs and Custodial Accounts.
Pros and Cons
Pros
M1 Finance is a full financial app with spending, saving, borrowing, and investing features right at your fingertips.
You can learn more about your current finances using the app and make smarter financial decisions in the future.
Users have had a lot of great things to say about the pie charts.
Cons
According to reviews, users have called some of the features within the app cumbersome to use.
Play Store/App Store Rating: 4.7
13. Public.com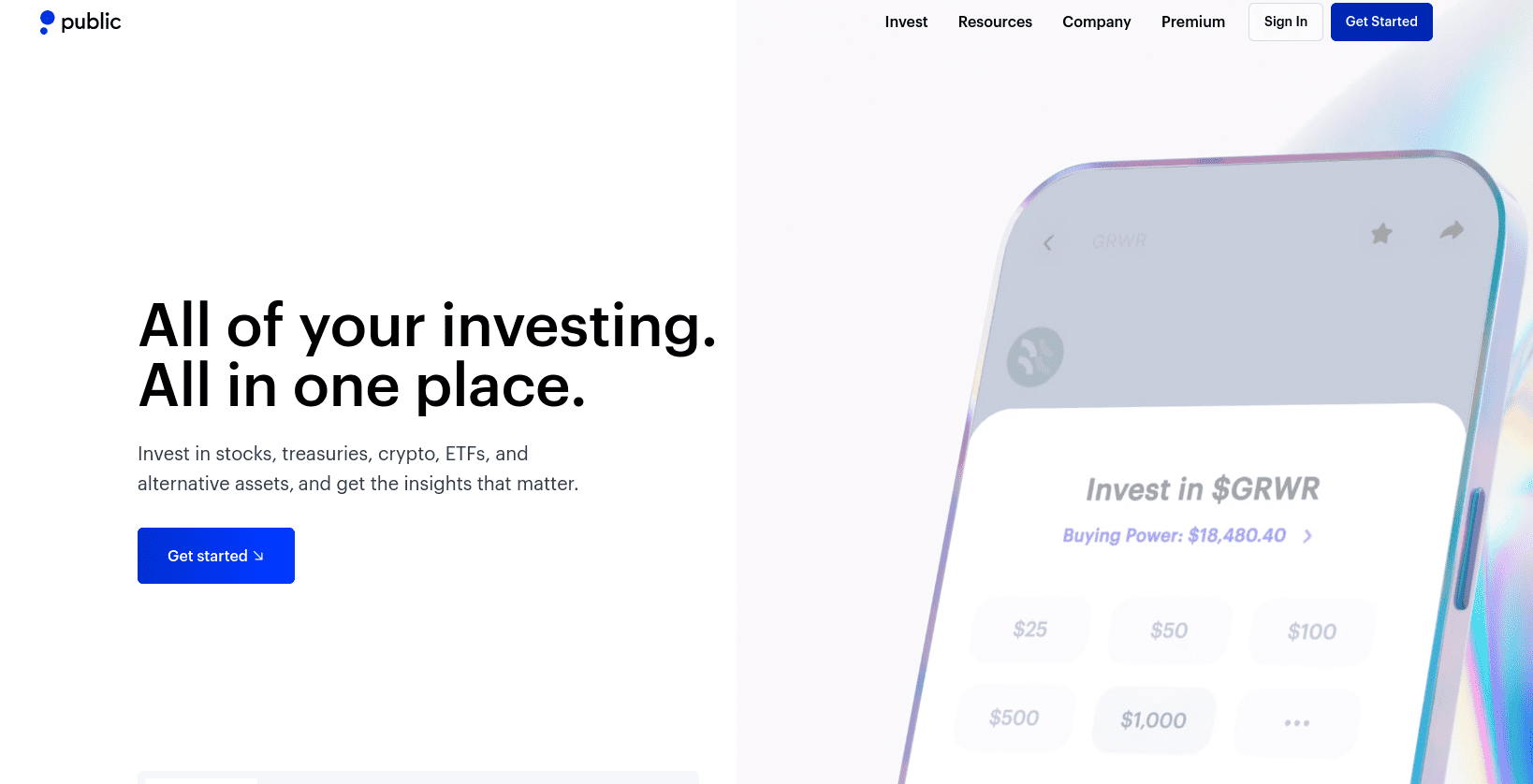 Public.com is the app for investing. Whether you're into alternate assets, EFTs, crypto, treasuries, stocks, or something else entirely, you won't want to use another app for tracking and growing your investments.
As a regulated broker-dealer, Public.com is regulated by both FINRA and SEC. All SIPC memberships insure your cash up to $250,000 and securities up to $500,000. Public.com promises never to sell your market makers or trades to any third party.
Public.com will recommend stocks so you can begin investing, with more than 9,000 equities available. You can also make a 5.1 percent yield on your treasuries with this app.
Pros and Cons
Pros
com offers all sorts of investing options, even fine art and collectibles.
The app will offer you financial guidance so you can make smart investment decisions you feel proud of years from now.
If you're into ETFs, you can invest in several baskets with one trade.
Cons
Some users have mentioned the app has little to no customer service.
Play Store/App Store Rating: 4.7
14. Robinhood
For the ones who are interested in investing on trading platforms, Robinhood can be a good option. Since there is no commission fee associated and it is easier to use too — Robinhood is the best for you if investing and trading stocks is your cup of tea.
Dividend income: As a shareholder of the company, you can earn a portion of the company's profit.
Asset appreciation: Buying a stock at a lower price and selling it when its value increases per share.
But in both these ways, you need to be super careful and do your research before investing. Patience and good research is the key to earning on this platform. It is always a good idea to try out various tactics and see which one gives you a greater ROI.
Pros and Cons
Pros
You won't pay any commission fees to trade crypto, ETFs, stocks, and options with Robinhood.
When you use the app, you can get one percent matching contributions to put toward your retirement.
You can even make some of Robinhood's stock profit when you sign up.
Cons
Users have called the app laggy.
Play Store/App Store Rating: 4.2
Other Apps
Want more? We hear you!
Here are some more passive income apps to fill your coffers 🙂
15. OnMyWay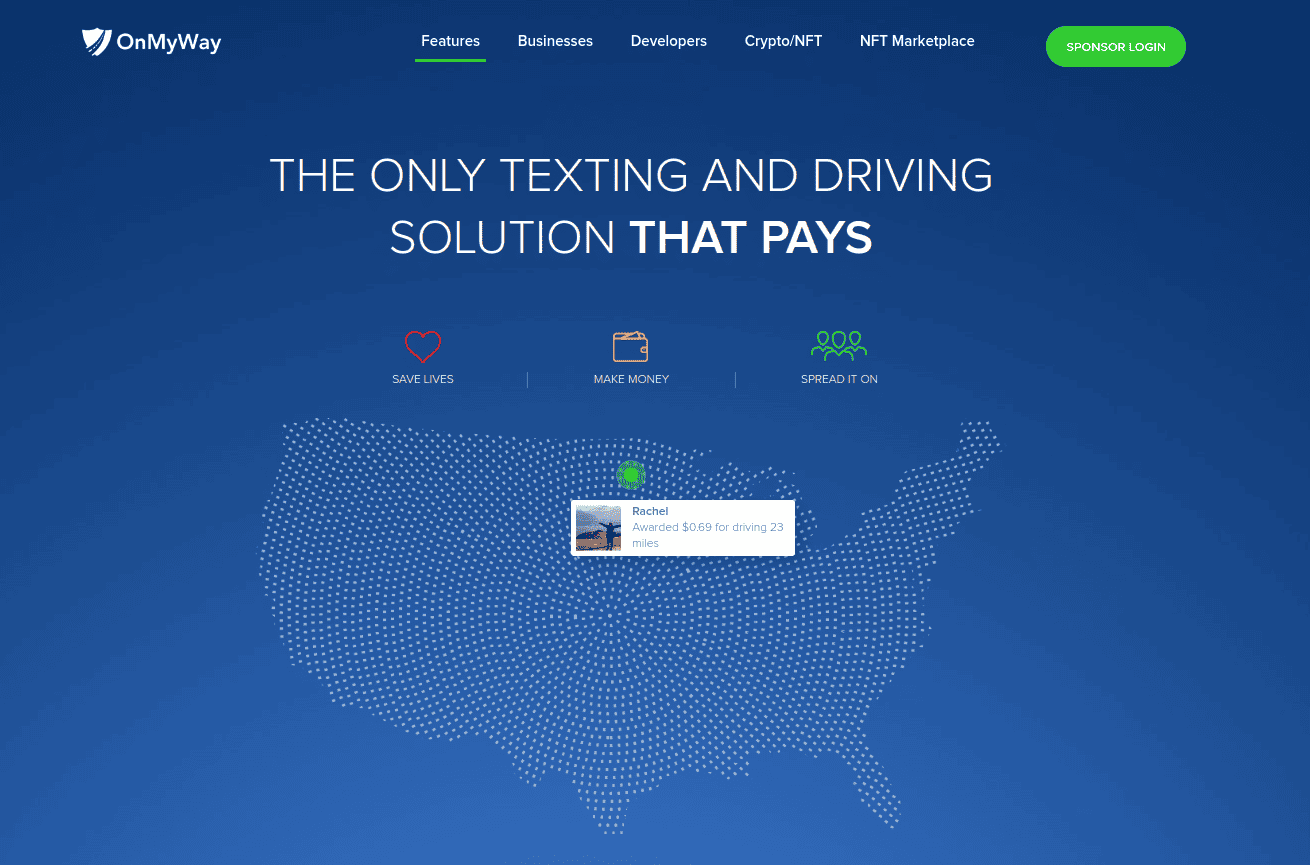 Do you text and drive? If so, you know how dangerous the behavior is, at least, we hope you do!
With an app like OnMyWay, you can make amendments. When you begin driving over 10 miles per hour, the app activates.
When you drive a mile without texting on your phone or using apps that distract you (not maps and not music apps), OnMyWay rewards you with cash.
If you add others to your referral network and they drive safe, you get referral bonuses for every safe mile driven.
Other rewards besides cash are instant-win cash games, contests, gift cards, trending products, events, travel, free food, and free gas.
Pros and Cons
Pros
OnMyWay is not only a great way to make passive income, but it saves lives!
The app has an NFT marketplace if you're into that sort of thing.
You can make $100 for signing up, then $.05 in cash per mile of safe driving. Even passengers using the app make money!
Cons
Some users have complained about the lack of real-time chat despite that it's advertised.
Play Store/App Store Rating: 4.1
16. Swagbucks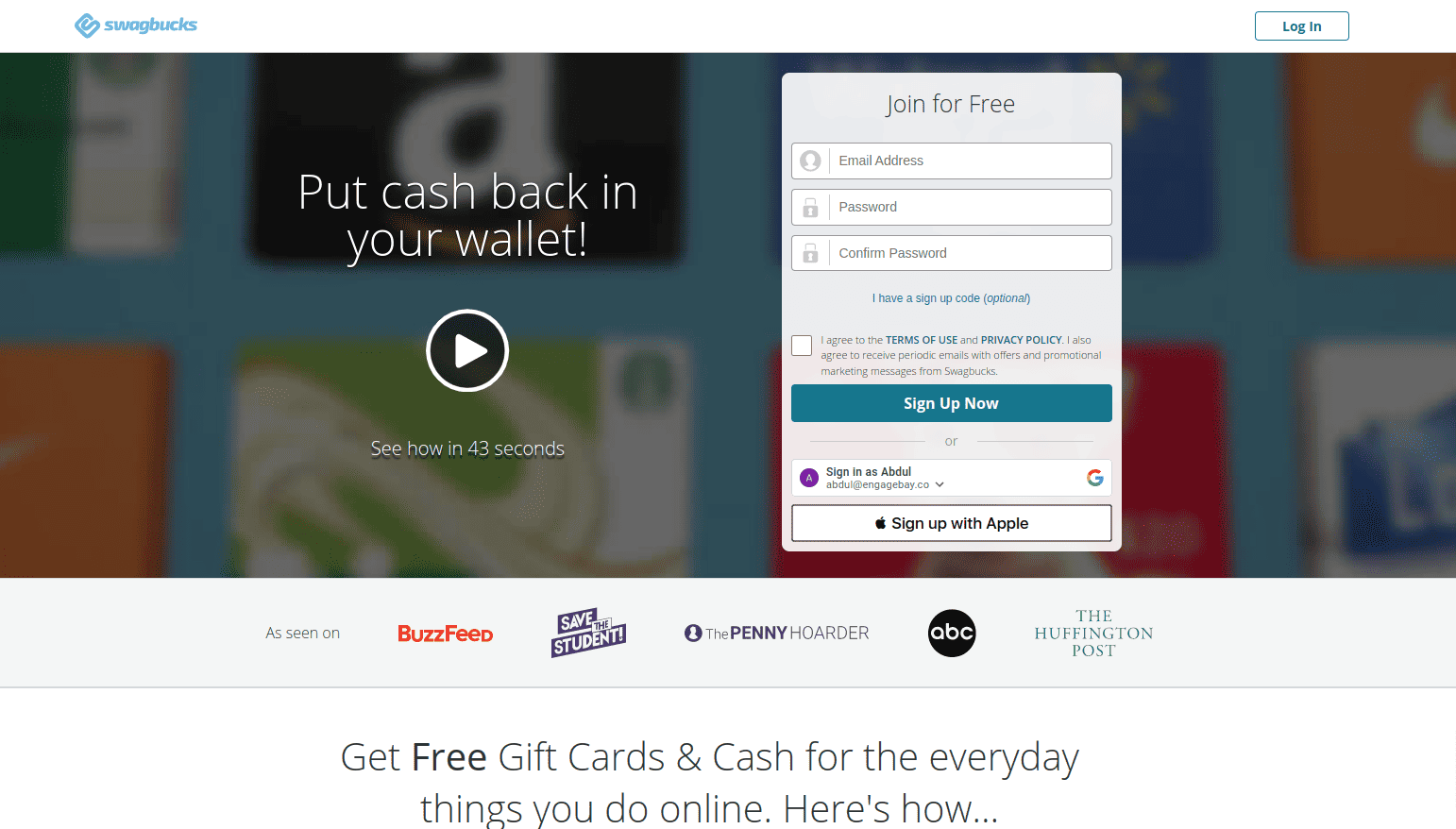 Swagbucks is a simple-to-use passive income app that has diverse options for you to earn extra income. You get SB points on doing specific tasks.
Every 100 SB points on this app earn you one dollar ($1.00): Further, the cash earned through these SBs can be transferred directly to your bank account linked to PayPal.
Swagbucks as a search engine: Swagbucks, powered by Yahoo!, is also a search engine and it is safe to say that using this as your default search engine gives you SB credits occasionally.
Earn SBs using Swag codes: Swagbucks also has swag buttons that basically code to earn passive income. They are usually posted on their social media handles like Facebook, Twitter, and even their blogs. By downloading a chrome extension called the SwagButton, you can get updates every time they post swag codes on their social media handles. Redeeming these codes will pay you often.
Meet a daily goal and win money :Swagbucks also has yet another way to make you SBs every day. It sets a daily goal, and if you attain the goal consistently for at least seven days, you earn money. For instance, 25 SBs if you consistently meet goals for seven days and 100 SBs if you are consistent for 14 days.
Refer and earn: Yes, just a referral to a relative or friend will earn you SBs. You can ask them to make their account using your referral link. After which you have two options. Either take 10% of what your friend earns through the app, or if your friend earns 300 SB in the first month itself, you get a one-time 300 SB bonus as a reward too.
Take Swagbucks surveys: Swagbucks also has partnerships with various companies that have their surveys. Taking at least 5 of these surveys will get you SBs. And the best part is, you still make free 5SBs even if you are disqualified. You just need to spend 20-30 minutes to finish a survey and earn around 30+ SBs.
Pros and Cons
Pros
Swagbucks gives you plenty of ways to make money.
You have the option to earn cash back through PayPal or get gift cards to retailers like Walmart and Amazon.
Cons
According to users, the app loads slowly.
Play Store/App Store Rating: 4.4
17. Mistplay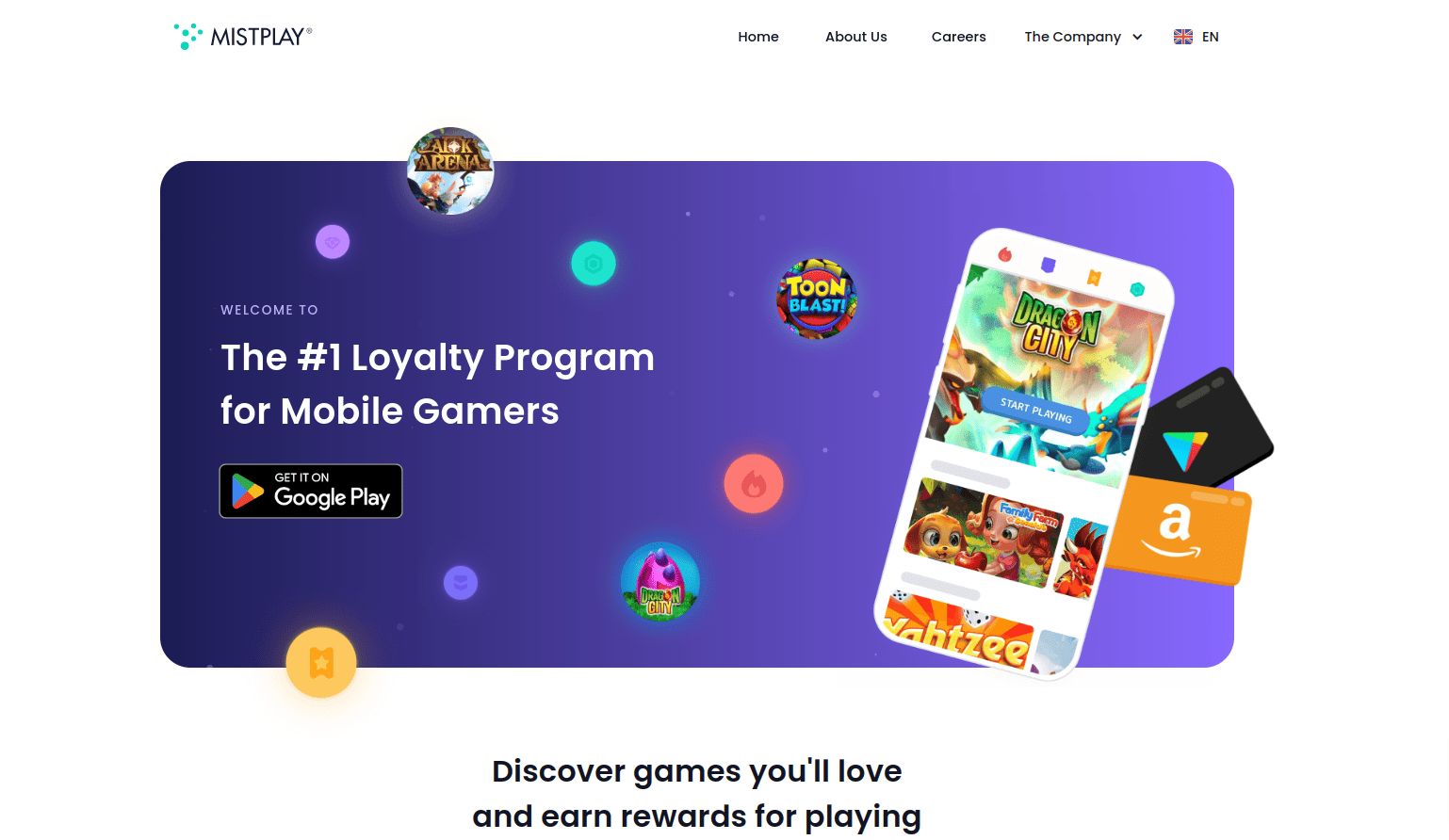 Are you into mobile gaming? Mistplay could be just the passive income app you're looking for.
Once you download Mistplay, you're rewarded for playing mobile games as long as you can. You'll earn more points for longer play sessions.
You can then use those points for rewards. Mistplay gives away grand prizes weekly, and earning points enters you into the sweepstakes.
In true gamer style, Mistplay uses achievement badges that you can unlock as you go through the app and do different things.
Looking for a new game to play? As Mistplay learns your mobile game preferences, it will begin recommending new titles to you.
Pros and Cons
Pros
Getting paid to play video games is pretty much everyone's dream these days.
Besides the points you earn, you can also participate to win a grand prize every week, giving you something cool to look forward to.
Mistplay is a great way to find new mobile games.
Cons
Even the positive reviews mention that it takes a while to earn rewards.
Play Store/App Store Rating: 4.1
Read also: 30+ Marketing Podcasts To Level Up Your Game
Conclusion
It is a good idea to keep diverse passive income streams open for yourself for those emergency end-of-the-month expenses. To do so, you can use any of the passive income apps mentioned in this article to earn some extra cash in your free time.
By investing in passive income apps like Robinhood, you can make your money work for you while you focus on making more money through other means.
However, it should be kept in mind that none of these apps promise a sustainable income, so you can not solely rely on them as you would on your 9-5 job.
So what are you waiting for? Use these passive income apps and make the most out of your spare time to earn some good bucks on the side!
---
FAQs
Q1. What is passive income?
Passive income is the income that you can earn and maintain with less time, investment and effort.
Q2. How much time do I need to invest in passive income apps to earn money?
On average, you need to invest 15 minutes to 2 hours depending on the type of app you are using. For example, in passive income apps like Swagbucks, where you get paid to take surveys, you would need at least 20 minutes to finish a survey.
Q3. Are all these apps free to use?
Yes, almost all of these apps are free to use. However, on trading apps like Robinhood, you need an initial investment to get started. Moreover, they have their premium membership costs too.