Podcasts are amazing as you can listen to them anywhere — while commuting, at home, during workouts, and even while driving.
Podcasts can give you the daily dose of marketing insights you need.
But here lies the problem: There are tons of business podcasts, so which one should you listen to?
It's overwhelming, right?
That's why we've combed through the internet and selected only the best of the best. Your time, after all, is precious.
Here are 32 of the best marketing podcasts to learn from the best in the industry.
You will learn different marketing strategies, tips, and advice from the podcasts below.
Let's get started!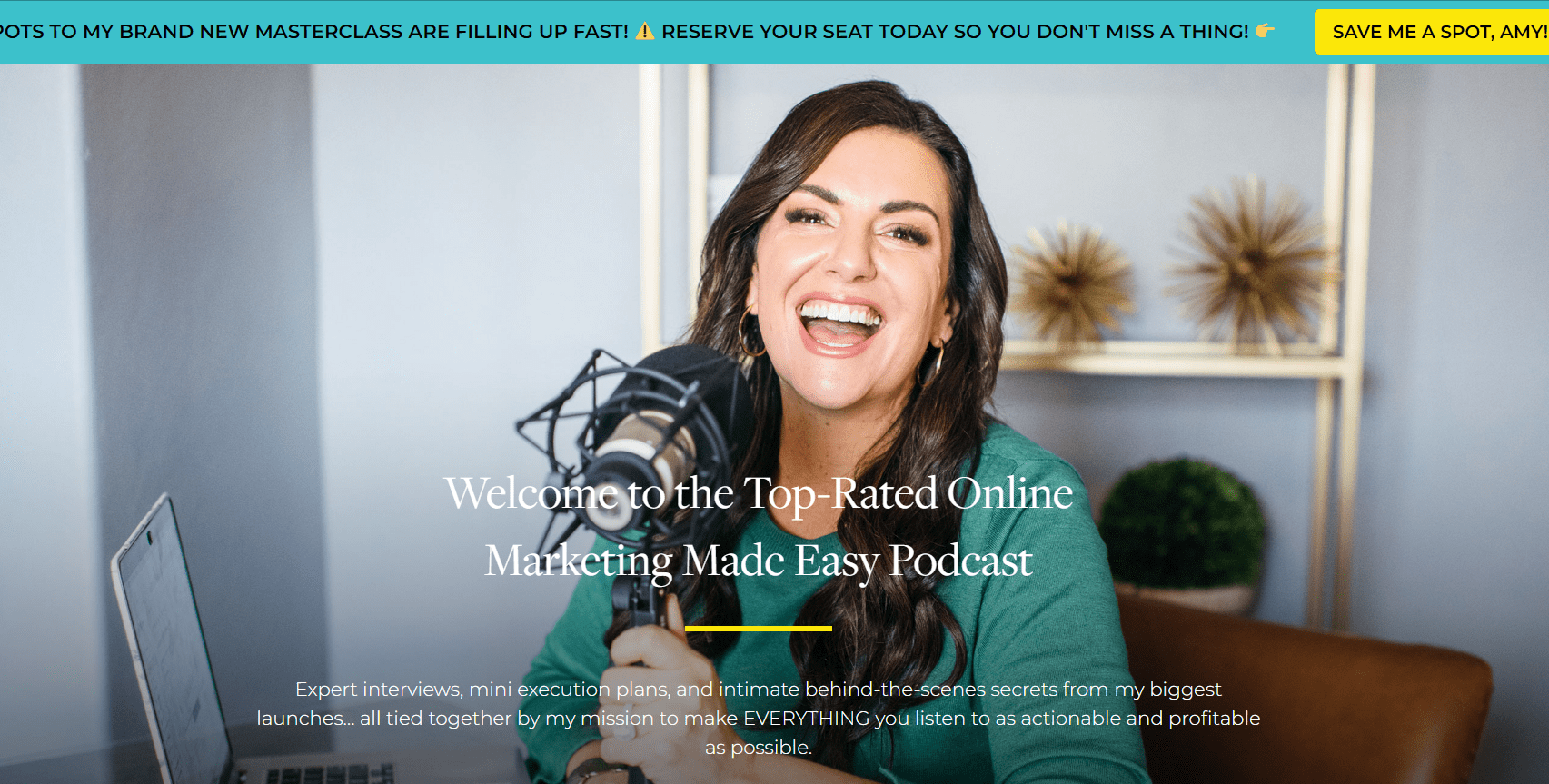 Whether you have an e-commerce business or an online coaching business, the "Online Marketing Made Easy" podcast can help you reach your goals.
Each episode of the Online Marketing Made Easy podcast is designed to help you take immediate action with a step-by-step process to get you results with much less stress.
If you are looking for advice on digital courses, list building, social media, and webinars, this podcast can help you with that.
Podcast host Amy Porterfield has built a multi-million dollar business, and now she is helping others like you do the same.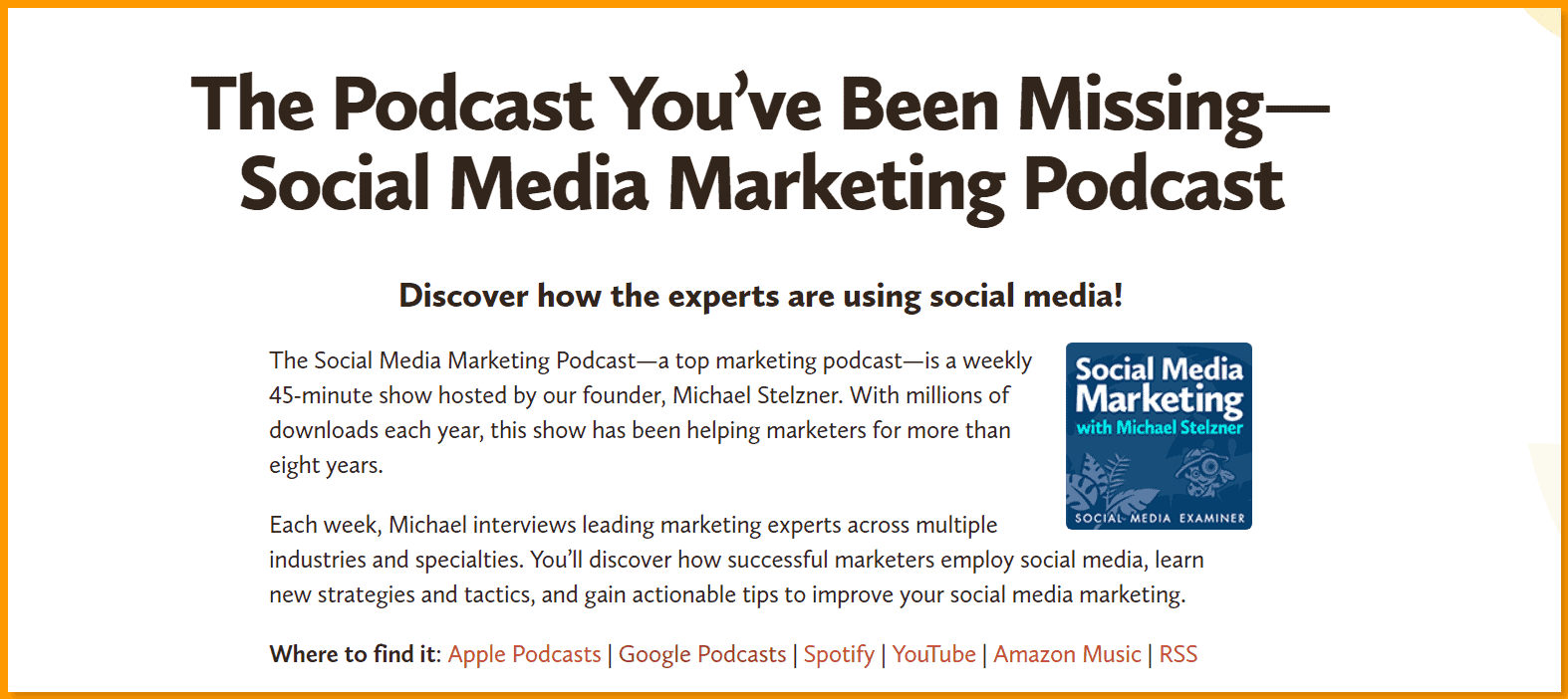 Social Media Examiner Podcast is the go-to podcast for those who need help boosting their marketing skills and want to keep up-to-date with the ever-changing world of social media.
In this podcast, host Michael Stelzner interviews marketing experts from different industries.
Through those interviews, you will come to learn new strategies and gain actionable tips to improve your social media marketing.
So if you need help navigating the ever-changing landscape of marketing, give this podcast a try.

If you're a fan of quick, implementable advice, then Marketing School with Neil Patel and Eric Siu podcast is for you.
Every single day Neil Patel and Eric Siu share 10 minutes of actionable tips to make your business successful and live the life you have dreamed of.
This podcast is quickly becoming one of the favorite podcasts among all marketers. Also, many marketers have made this podcast a part of their morning 'motivation' routine.
You can learn about the latest SEO, content marketing, email marketing, social media marketing, and general online marketing tactics that work today.
Give this podcast a try if you need to take your business to the next level.
Read also: Photo Credits for Dummies: A Brief Guide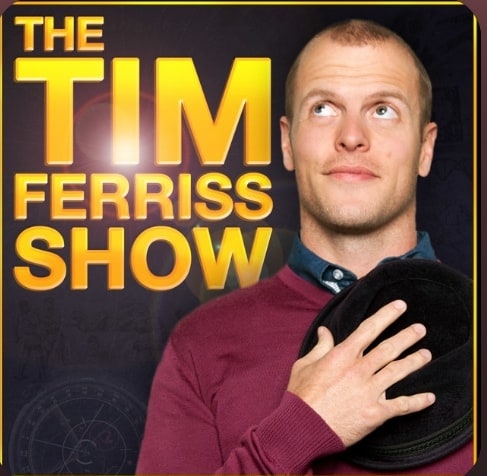 The Tim Ferriss Show deconstructs world-class performers from diverse areas like investing, chess, etc.
You can use the tips and tricks he shares in his podcast. Podcast host Tim Ferriss is a best-selling author, known for The 4-hour Workweek.
Newsweek calls him "the world's best human guinea pig" owing to his exhaustive self-experimentation.
Unlock the full potential of your marketing efforts with our guide on the most effective strategies!

If you are familiar with Buffer, you might also be familiar with their podcast, The Science Of Social Media.
Each week the Buffer team explores marketing strategies to help you build a widely successful business through social media.
If you already love Buffer, you'll also love their podcast.
Read also: How To Build a Killer Marketing Automation Strategy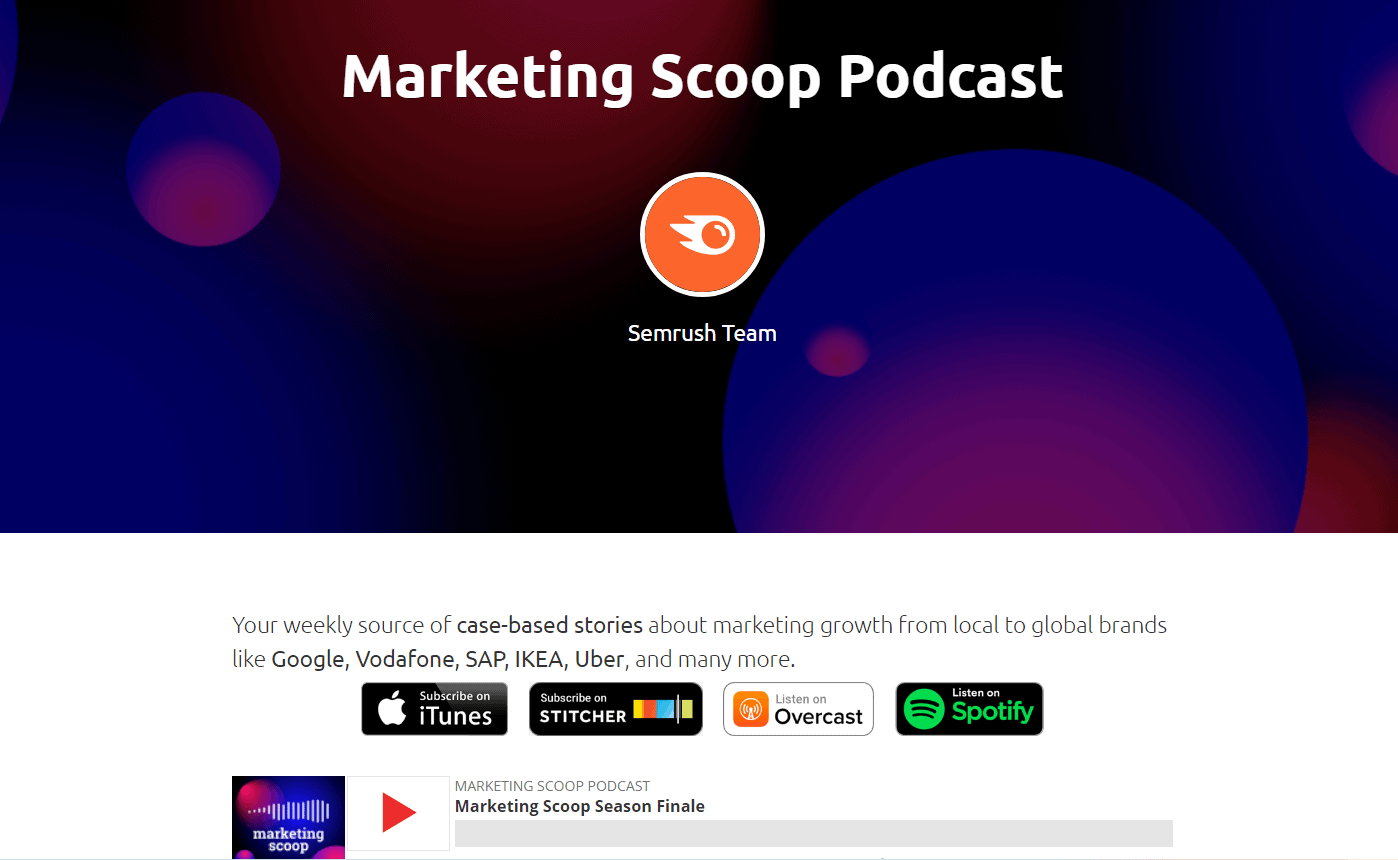 Marketing Scoop podcast hosts David Bain and Judith Lewis share the latest digital marketing news that impacts your business and marketing.
In this podcast, you will also listen to success stories from big brands like Vodafone and IKEA.
Listen to this podcast and get tips and advice from industry experts on SEO, advertising, and content marketing.
Definitely give this podcast a try.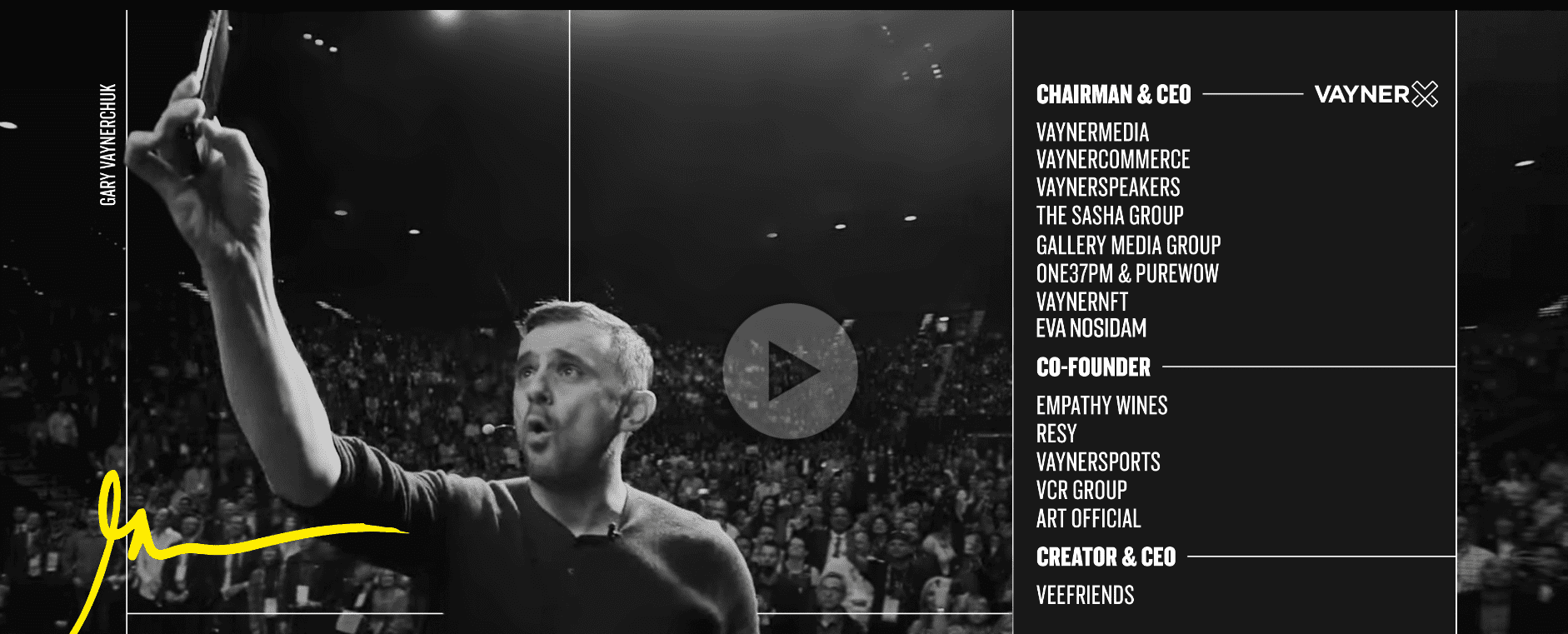 Who doesn't know Gary Vee? From rookie marketers to industry leaders, Gary Vee and his motivational speeches have a 'cult' following.
On the GaryVee Audio Experience podcast, you will find answers to burning questions, keynote speeches on marketing and business, interviews with other industry experts, and so much more.
If you regularly follow Gary Vee on social media, then definitely listen to his podcast. This will be immensely helpful for marketing your business.
Read also: The 10 Best Sales Podcasts You Need to Listen To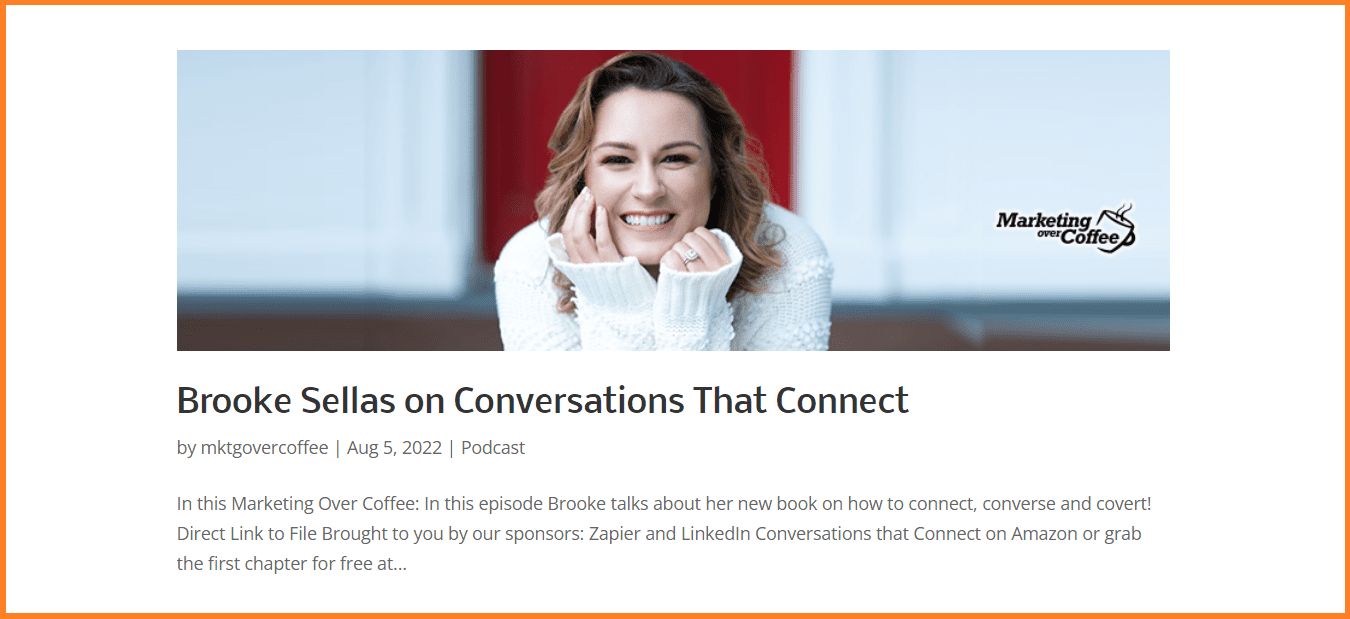 Marketing Over Coffee is filled with all kinds of marketing tips and tricks. They cover everything from staying up to date with social networks, SEO, email marketing, copywriting, and offline marketing campaigns.
They also feature interviews with top industry experts like Seth Godin, Dimon Sinek, Ann Handley, Mitch Joel, and more.
Read also: What Nobody Tells You About CRM ROI: A Thought-Provoking Guide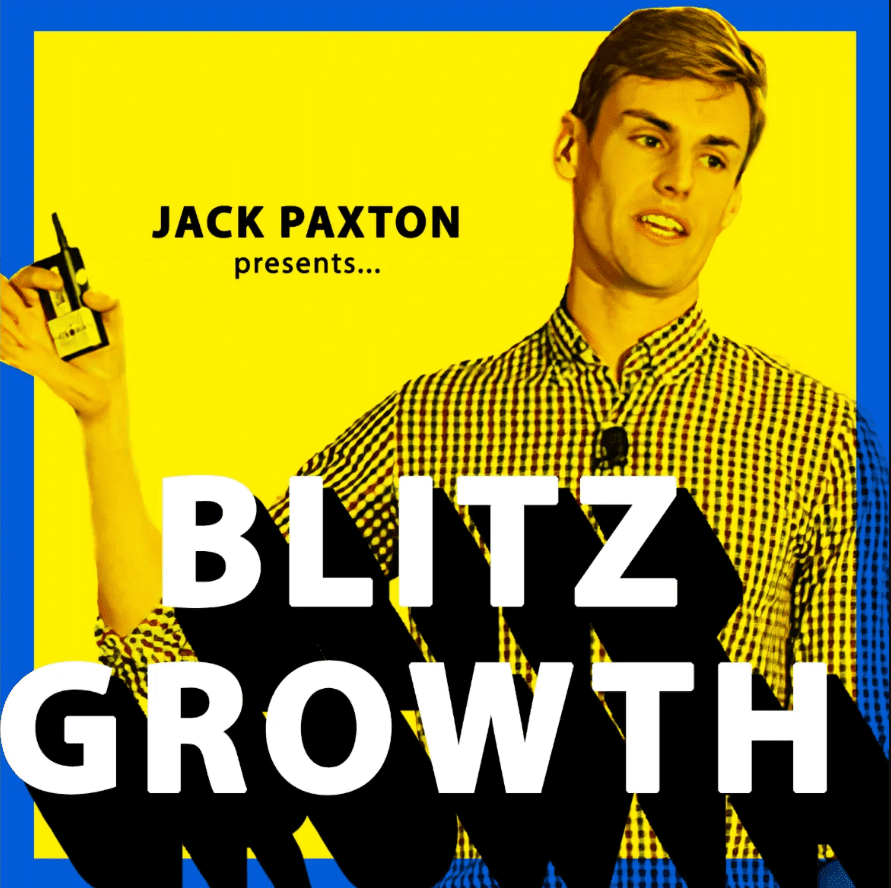 The Blitz Growth podcast shares growth marketing, training, interviews, success stories, and more.
Podcast host Jack Paxton interviews the world's best entrepreneurs and creators.
He talks about his own wins and losses, and also shares how he started multiple software companies and marketing agencies.
If you want to listen to and follow someone who self-experiments and has made many mistakes, wins, and losses, then definitely try this podcast.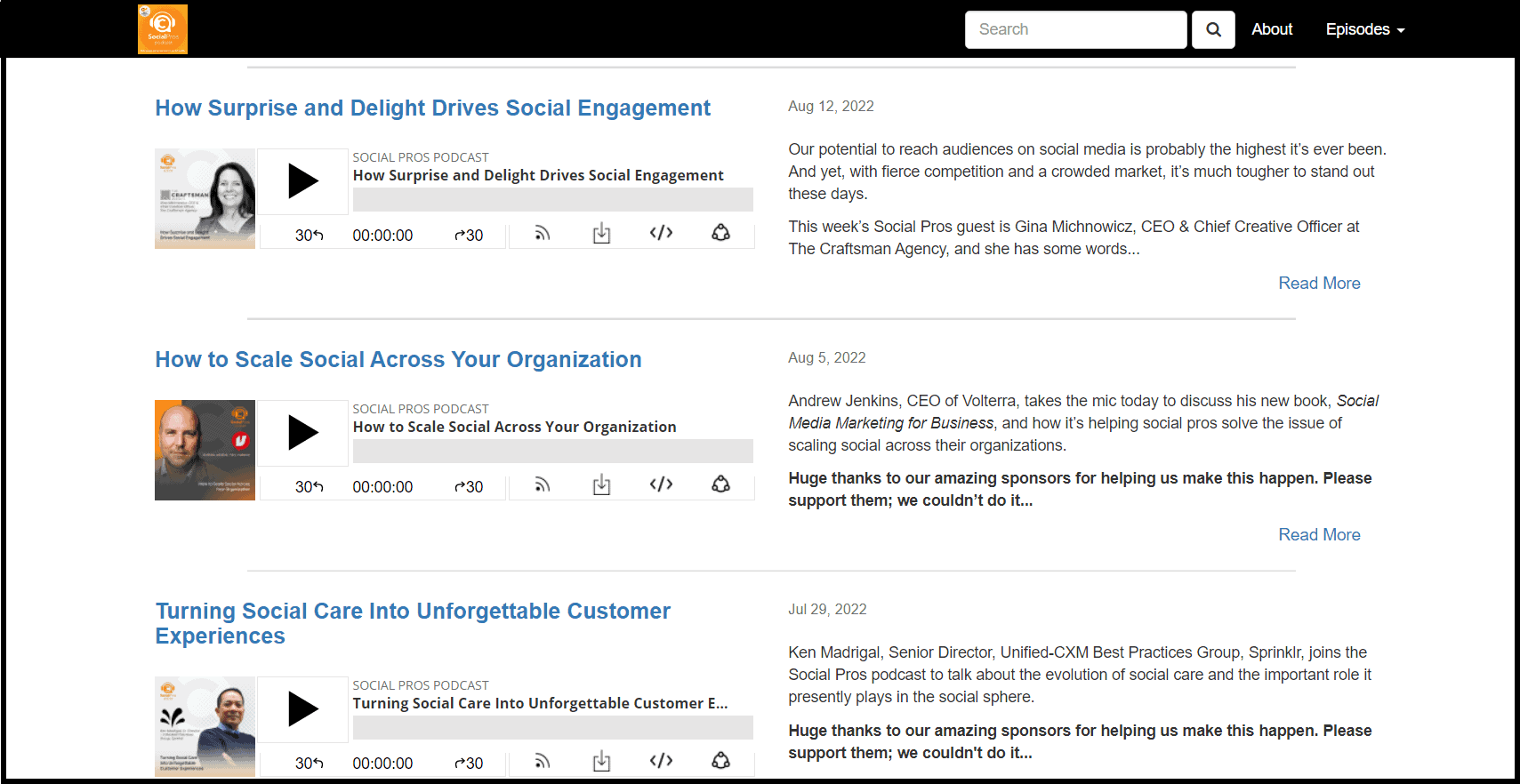 If you want to get real insights from the people doing real work, give Social Pros Podcast a try.
You can listen to inside stories and behind-the-scenes secrets about how companies like Ford and Dell operate and measure their social media programs.
Social Pros is one of the most popular marketing marketing podcasts.
Read also: Bored at Work? 6 Ways to Make Work Exciting Again

The Copyblogger FM podcast is hosted by Tim Stoddart and Ethan Brooks.
They interview industry experts and share tips on content marketing, copywriting, email marketing, entrepreneurship mindset, and more.
Copyblogger uploads episodes every week.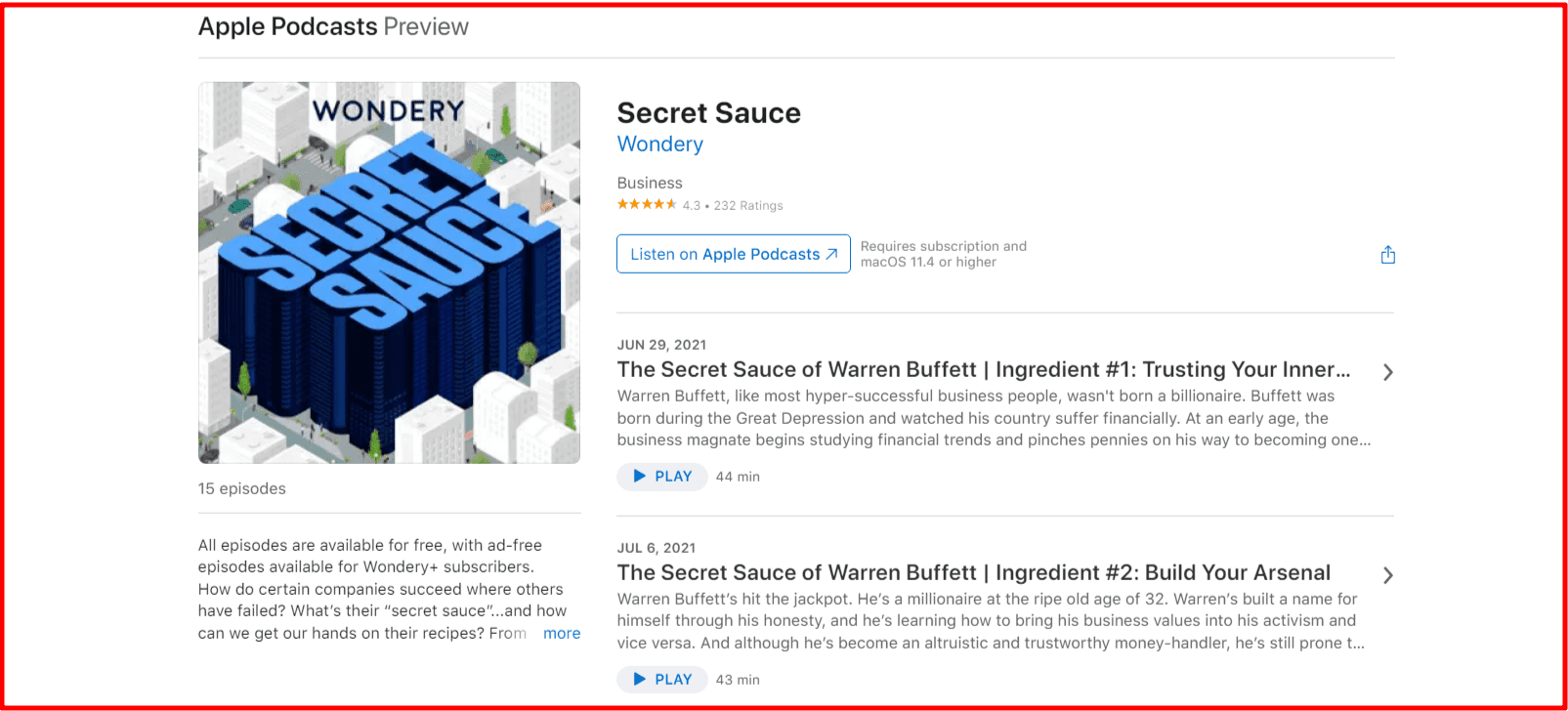 Do you want to get secret recipes from the most successful companies? Want to know their "secret sauce"? Give this Secret Sauce podcast a try.
Podcast co-hosts Samuel Donner and John Frye share the secrets behind some of the most successful and thriving companies. This podcast shows you the ins and outs of how they became successful in their industry.

Listen to this Long Game podcast and join the discussion about the framework, principles, and learning that drive success in your business.
The Long Game shares success stories with listeners and offers advice on how to grow your business.

Are you a blogger and want to make money from blogging?
Then give this ProBlogger podcast a try.
Podcast host Darren Rowse shares his best tips and tricks on how to build a successful blogging business and make money.
He also interviews many bloggers who share their success stories on the podcast.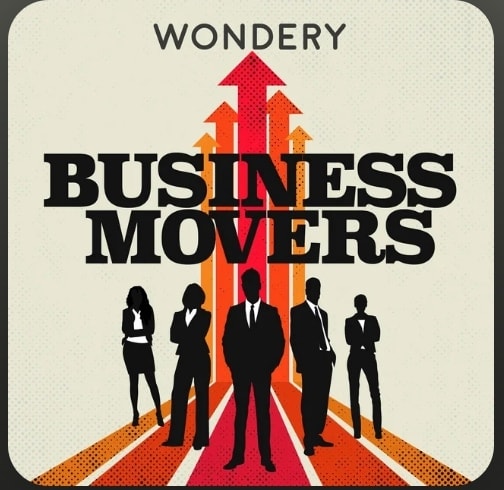 Business Movers is a weekly podcast.
Every week, Lindsay Graham shares true stories of the brilliant but all-too-human business people who made bold decisions, decisions that resulted in their business achieving new heights.
This podcast is worth checking out if you love listening to success stories and getting inspired by real-life examples.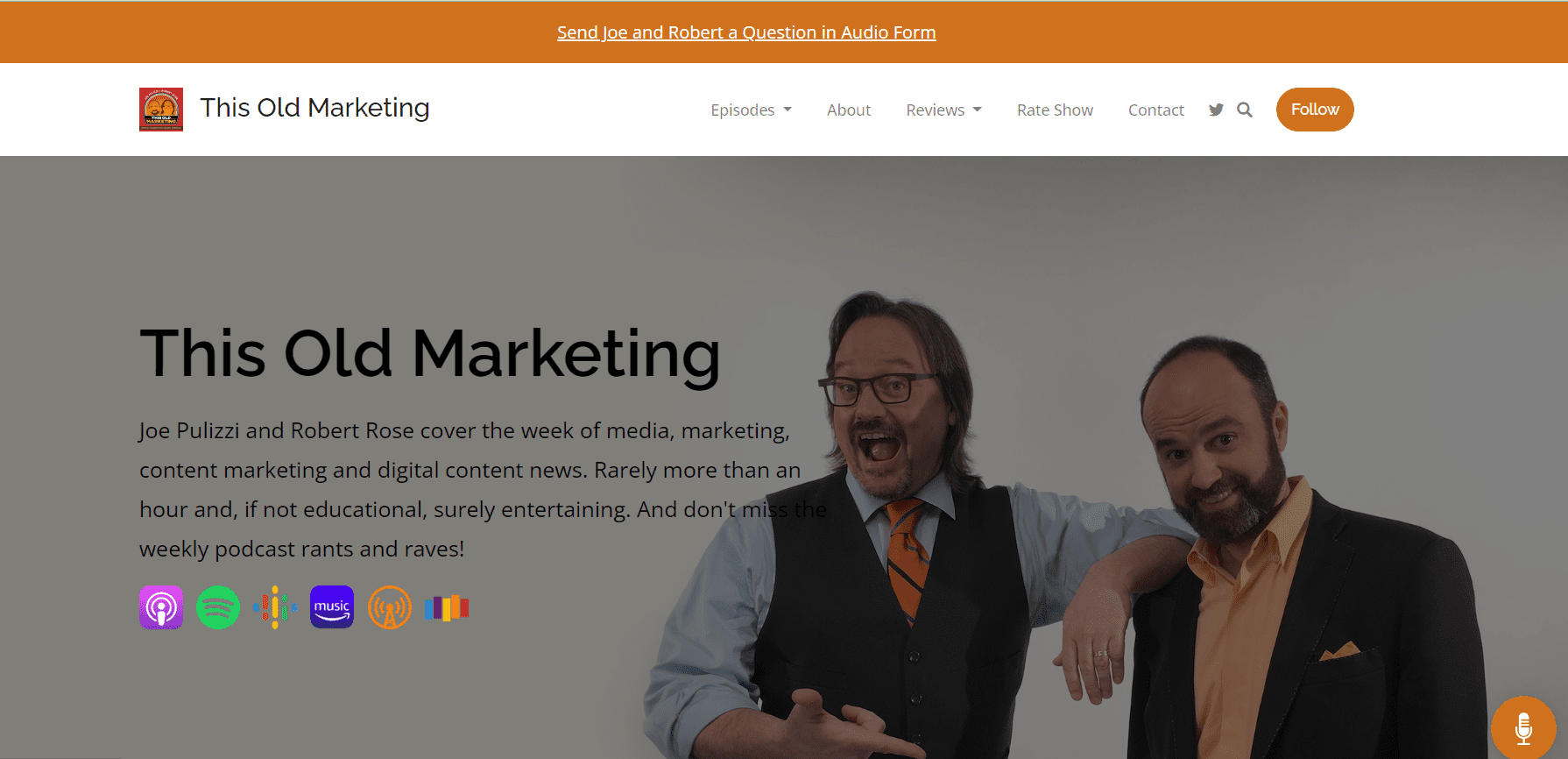 This Old Marketing podcast has 60-minute features. Podcast hosts Joe Pulizzi and Robert Rose talk about the latest content, media, and marketing trends.
Learn how to use content to attract and retain your target audience without playing the "guessing game."

The Smart Passive Income Podcast is a mix of interviews, special co-hosts, and solo shows with host Pat Flynn.
Pat Flynn shares his online businesses, blogging strategists, passive income sources, and marketing tips.
If you want to create multiple passive income streams by doing what you love, this is the go-to podcast.

Everyone Hates Marketers Podcast is best for people who want actionable insights without the fluff.
Podcast host Louise Grenier interviews guests to share their own tips on marketing.
As the host says, if you are sick of "marketing bullsh*t," this podcast is for you.
Read also: B2B Email Marketing Examples From Billion Dollar Companies

Business Wars is hosted by David Brown, former anchor of Marketplace by APM — a radio business news program.
Tune in to the podcast to get inspiration from real stories of companies like Netflix, HBO, and Nike. They share the ideas and strategies that drove them to new heights — or to ruins.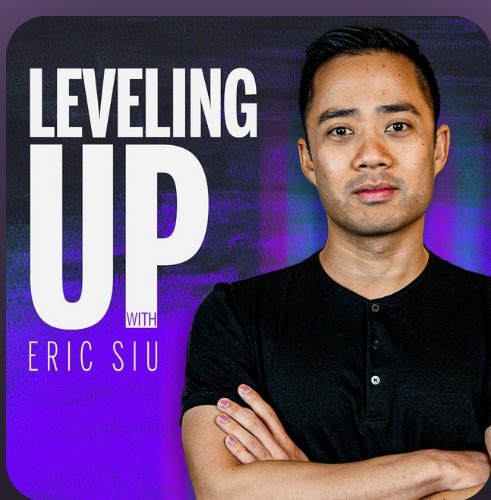 Leveling Up Podcast with Eric Siu shows how you can take advice, tricks, and tips from successful entrepreneurs who built billion-dollar businesses and apply them to your life.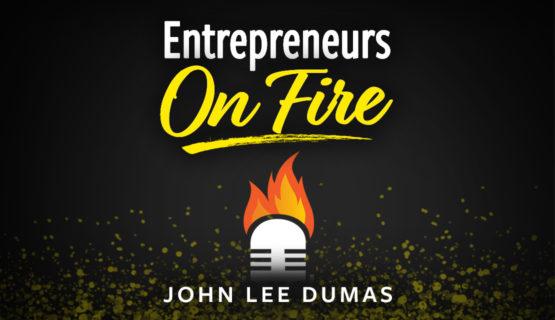 Entrepreneurs On Fire is hosted by John Lee Dumas. This podcast has over 100 million listeners with 3,000+ episodes.
John shares how to become a successful business person and build your business to the level where you can get freedom in your life.
If you want to make your marketing game work, listen to the Yours in Marketing podcast.
This podcast offers pro-tips on content marketing, sales, growth hacking, B2B copywriting, branding, and more.
You'll get tips from industry experts like Dave Polykoff, Kelly Glover, Tamara Yarovoy, and many more.

If you are trying to become a better graphic designer as a marketer (you should), The Deeply Graphic DesignCast is perfect for you.
Podcast hosts Nick Longo, Mikelle Morrison, and Jordan Wilson united to bring unique inspiration and uncommon perspectives to all graphic designers.
Improve your career and endeavors with this podcast.

The Art of Online Business is for coaches and creators who want to change people's lives by doing what they love.
Get tips on Facebook and Instagram ads, social media productivity, scaling online courses, and building a YouTube channel from host Rick Mulready.

Masters of Scale is great for those who want to grow their business, survive, and thrive.
Host Reid Hoffman shares unconventional theories about how businesses scale. You'll get insights that can help your business stand out among the crowd.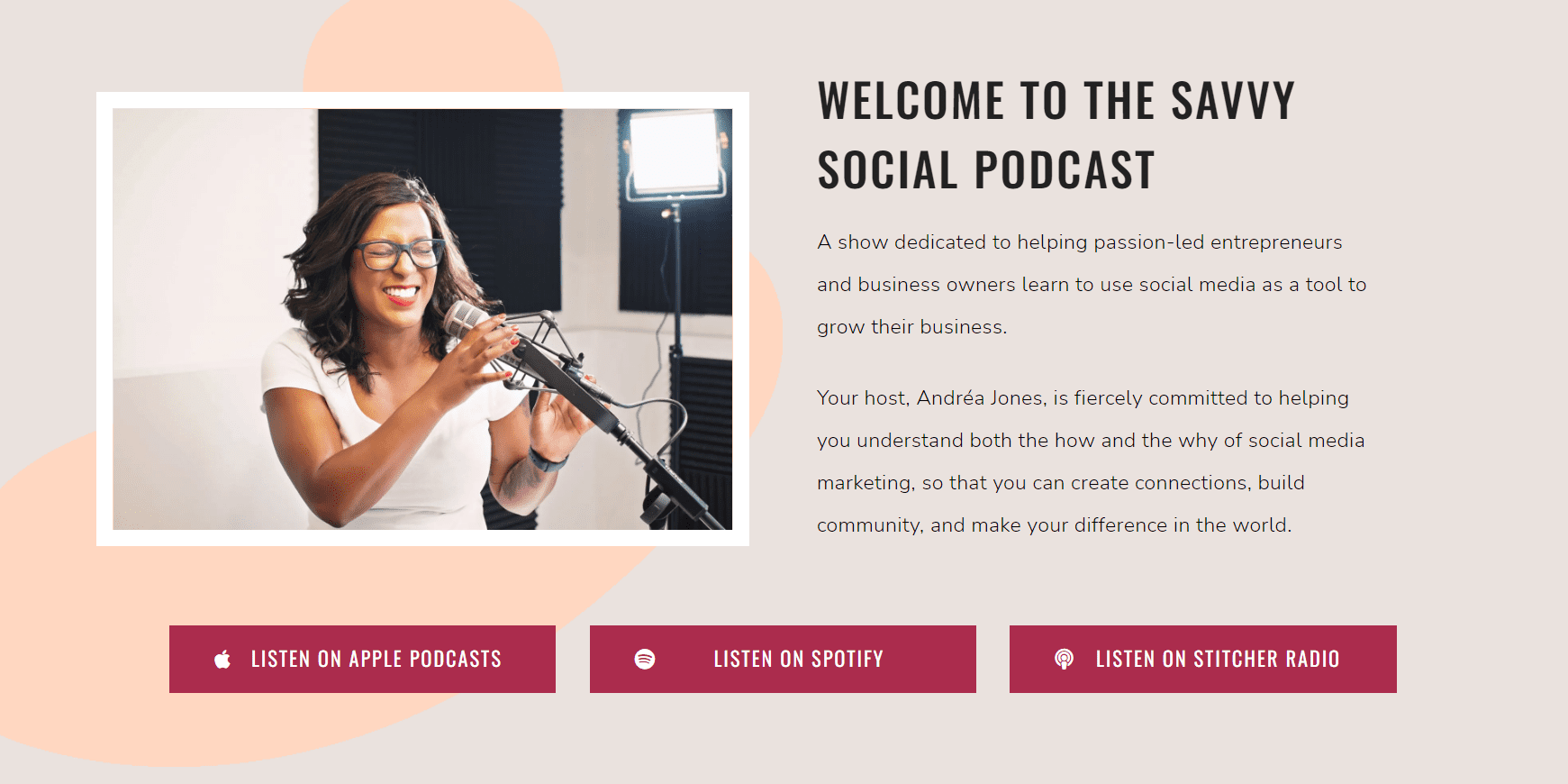 Social Savvy Podcast is the go-to podcast for entrepreneurs who want to master their social media marketing game.
Host Andréa Jones shares all about social media and interviews other industry professionals. From this podcast, you can learn and master your social media strategies.

Content Inc is hosted by Joe Pulizzi.
This is the best podcast to listen to if you are an entrepreneur and want to create a business full of a loyal audience through content marketing.
According to Joe, entrepreneurs should be building audiences first; then, they can sell their products and services.
The Agents of Change podcast offers tips and tricks on SEO, social media, and mobile marketing.
The podcast is hosted by Rich Brooks.
He interviews leading marketers from around the globe, and they talk about how to drive qualified traffic and convert new leads.
The Search Engine Journal Show is a mix of industry expert interviews and solo shows hosted by Loren Baker.
This is a treasure trove of information about SEO, social media, content, and digital marketing.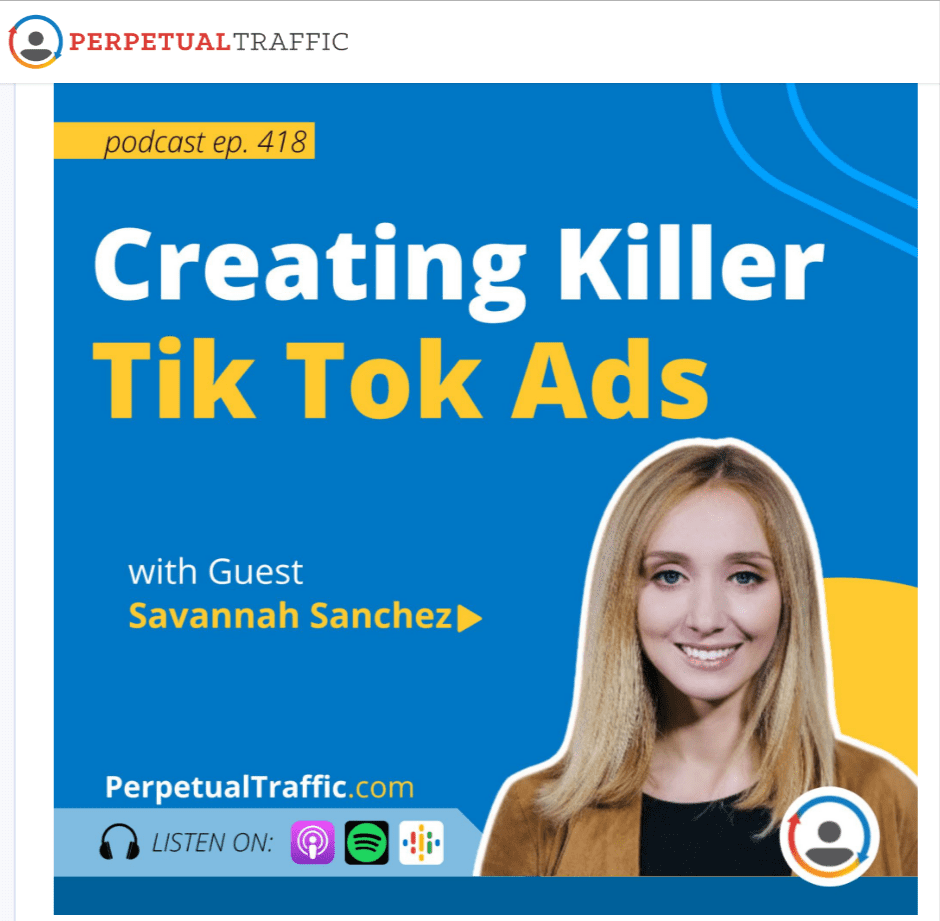 Perpetual Traffic podcast, hosted by Ralph Burns and Kasim Aslam, shares how you can get leads and customers to your business through paid traffic.
You can learn about Facebook, Instagram, and YouTube advertising.
Read also: 14 Small Business Marketing Truths No One Bluntly Tells You

The B2B Marketing Podcast interviews top B2B marketers like Richard Gillis, Riaz Kanani, and Sinem Hostetter.
These industry experts share how you can successfully market your B2B business and make your business profitable.
This is an essential resource for B2B marketers.

This Performance Marketing Insiders podcast is value-packed and entertaining.
Hosted by Chris Mechanic, this podcast interviews growth leaders from brands like Amazon, ADA, and Gong.
That's All, Folks!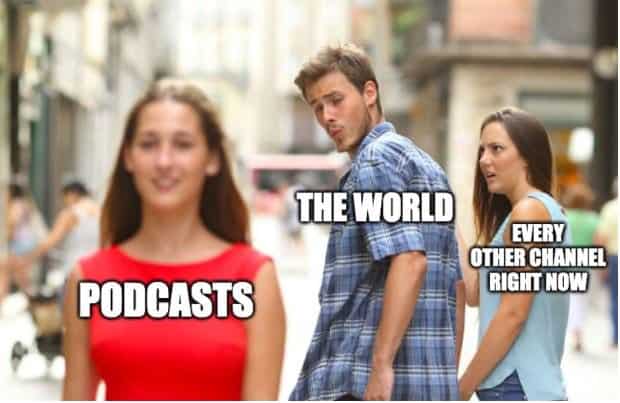 This was a long list of Marketing Podcasts! I hope you enjoyed it.
If I missed any of your favorite marketing podcasts, mention them in the comments below.