Many companies offer affiliate marketing programs to boost sales and generate better revenues. Interestingly, the global affiliate marketing expenditure is growing at a stunning 27% CAGR!
The affiliate marketing boom is nowhere more evident than in the software as a service (SaaS) industry. Smart affiliates today partner up with SaaS companies and send traffic and signups their way, earning solid commissions in the process.
If you're looking for some great SaaS affiliate programs to power up your side hustle, keep reading. In this blog post, we will discuss the following:
Why you need to consider affiliate marketing
How to choose a good affiliate program
43 awesome SaaS affiliate programs you can choose from
What Is Affiliate Marketing?
Affiliate marketing is when a person (or organization), called an affiliate, earns a commission for promoting and marketing another person's or brand's products or services.
It's straightforward. All you have to do is select a product or service you like and promote it. You get a cut of the revenue for every sale they get through you.
How's that for a side hustle?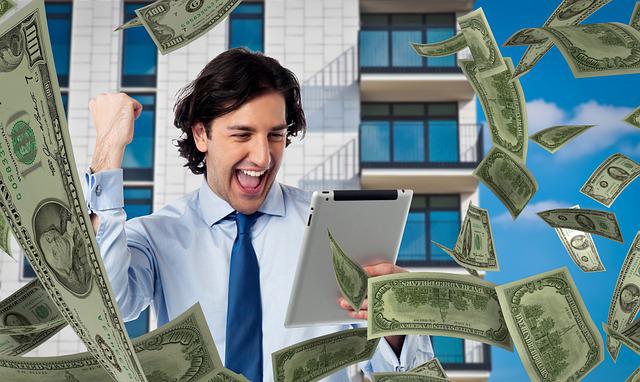 Brands often look for affiliates to help sell their goods and services.
The affiliate then markets the brand's products to potential customers, nudging them to purchase the product. If that works and the consumer purchases the product, the affiliate, and the product seller share the proceeds from the sales.
In most cases, the consumers do not have to pay more while purchasing through an affiliate link.
An affiliate program lets you do this. It allows you to sell somebody's products, keep an eye on the statistics, and track your success rate.
Product vendors and merchants use affiliate tracking to monitor consumer clicks, track conversions, and pay the commission to affiliates.
Some brands have home-run standalone affiliate programs, while others join affiliate networks.
Why Should You Join a Marketing Affiliate Program?
Affiliate marketing is growing year after year. As of this writing, the affiliate marketing industry is valued at approximately $6.8 billion.
Most well-known e-commerce giants, like Walmart and Amazon, have their own affiliate programs.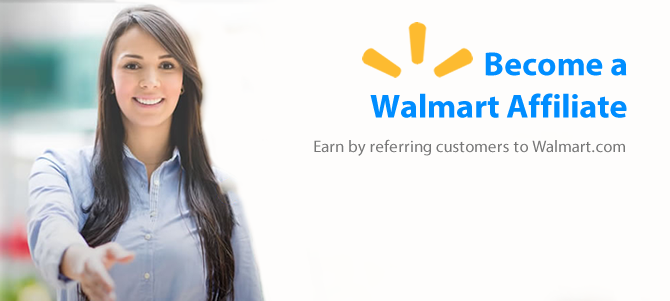 In fact, many successful affiliate marketers earn thousands of dollars every month.
SaaS (software-as-a-service) companies are great for affiliate marketers. This is because they have a higher lifetime value per customer, on average, generating passive income for months, or even years after the initial purchase.
This niche is less known, too, making it easier for you to tap into the potential.
Don't know what to look for in an affiliate program? Don't worry, we have got you covered.
Read also: Affiliate Marketing: A Complete Guide for SaaS Businesses
What Makes for a Great Affiliate Program?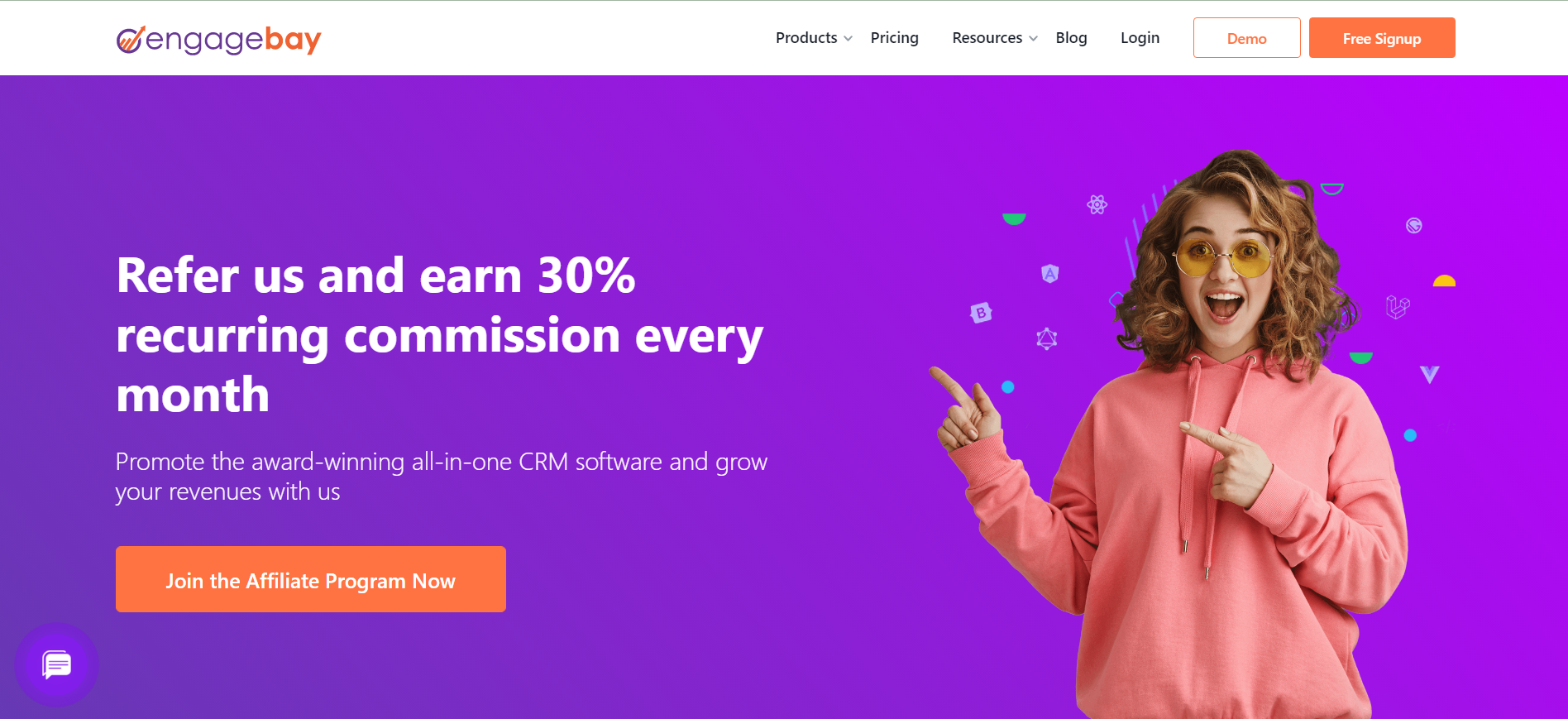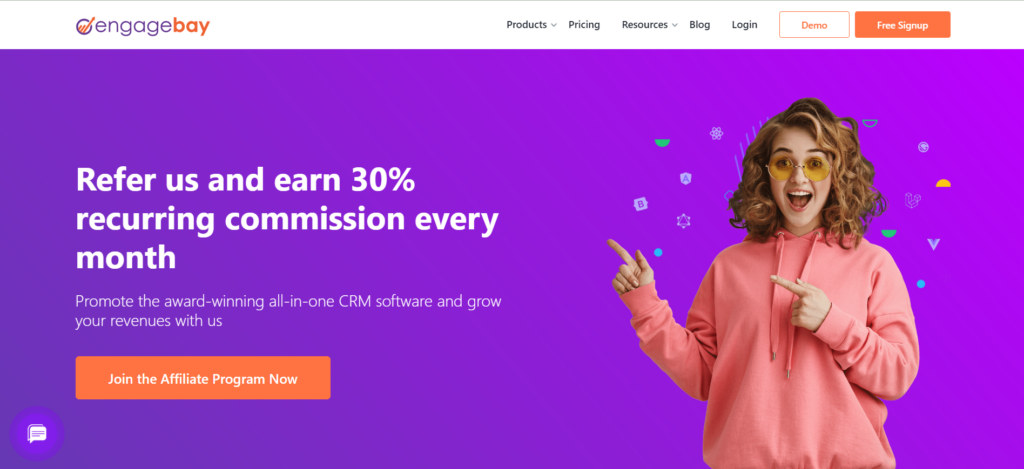 It's better to avoid promoting everything you get your hands on. Instead, you should promote products and services that you believe in. Lots of marketers get into affiliate marketing for a quick buck and promote shady products for commissions.
That's not you, is it?
Now, let's discuss some of the factors you need to look out for when choosing an affiliate marketing program.
Read also: 12 SaaS Reseller Programs You Can't Ignore
Look for These in Affiliate Marketing Programs
Brand Transparency
It's important to promote companies that provide a clear purview of their terms and conditions. Since trust and open communication make the backbone of affiliate marketing programs, you need to go for brands that are transparent with their affiliates.
For example, you should be able to easily calculate commissions, contact support in case of need, and understand the contract you are bound by.
Brand Recognition
This one is simple: As an affiliate, you earn when customers purchase something through your affiliate link.
A brand with good reach and recognition can bring more customers. On the other hand, a newer brand with a truly innovative product or service can attract customers, driving more customers to buy them.
Hence, try to find the balance between recognition and innovation.
Find out how active the brand is on social media. Do they regularly engage with their social audience and promote their services?
Check if the brand has testimonials in favor of its products and services. Figure out its annual revenue and growth potential.
Cookie Duration
What's a cookie?
Cookies are text files with small pieces of data stored on your computer. These are used to identify your computer over a network and they allow websites to track user actions, mainly for marketing purposes.
All cookies have a lifespan.
Hence, keep an eye on the affiliate program's cookie lifespan. A one-month cookie lifespan means you will receive a commission only if the visitor purchases within one month after clicking on your affiliate link.
Sometimes, people do not make a purchase on the first visit. Look for programs that have longer cookie lifespans.
As a rule of thumb, don't go for programs with cookie lifespans of less than a month.
Commission Rates
Not all product vendors offer the same commission rates.
Different merchants will offer different rates to their affiliates. For the SaaS industry, the general rate is about 20%.
Since affiliate marketing requires time and resources, avoid the ones that offer low commission rates. The highest-paying affiliate programs are usually the best ones.
Technical Details
This is an essential factor to consider. Before choosing an affiliate program, look for the following technical features:
Product/service data: This provides all the brand's products and specifications, thus helping you promote them better.
Alternate tracking: Nowadays, browsers are implementing tracking protection. Cookieless tracking uses scripts to monitor website visitors.
Deep linking: This enables you to create an affiliate link to any page or part of the page instead of just the landing page.
Postback tracking mechanism: A tracking pixel can be flagged as suspicious by security systems. With postback tracking, the user data is stored in the brand's server.
APIs: Application Program Interfaces or APIs lets multiple platforms work seamlessly, making it easier for both vendors and affiliates.
Read also: Affiliate Marketing — A Complete Guide for SaaS Businesses
43 Amazing SaaS Affiliate Programs to Get That Side Hustle
Now, let's check out the best affiliate programs in the SaaS niche.
#1. EngageBay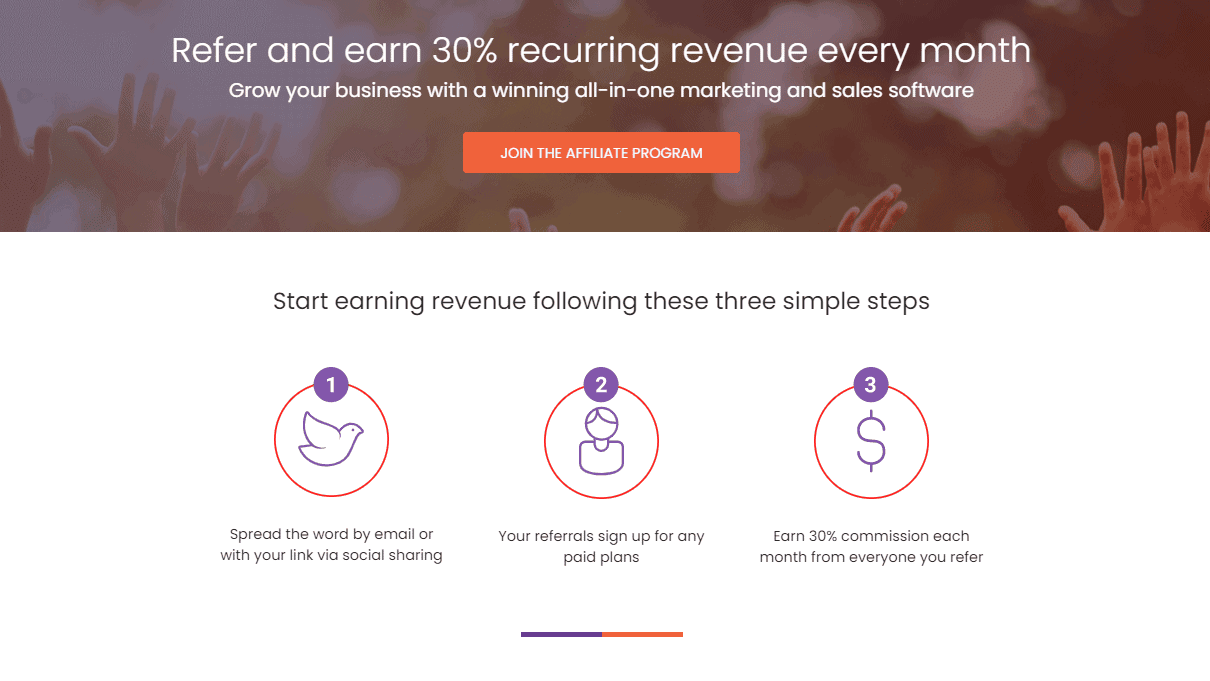 Our first pick on this list is EngageBay.
EngageBay is an all-in-one marketing, sales, and service software, with free CRM. We have an outstanding affiliate program.
You can earn a 30% commission every month, from each referral.
Also, the first-click attribution model ensures that the commission goes to the affiliate whose link the customer clicks on first.
EngageBay is super flexible and affordable when it comes to pricing. Our product has all the marketing automation and CRM features that a startup or small business can ask for, and we offer 24/7 user support.
Although EngageBay is fairly new in the market, more than 46,000 businesses around the world have used and loved EngageBay.
This means you have a great product on your hands to sell, with very little effort and industry-best commissions. With us, there's trust, a recurring revenue source for your business, and a fast-growing market share.
#2. HubSpot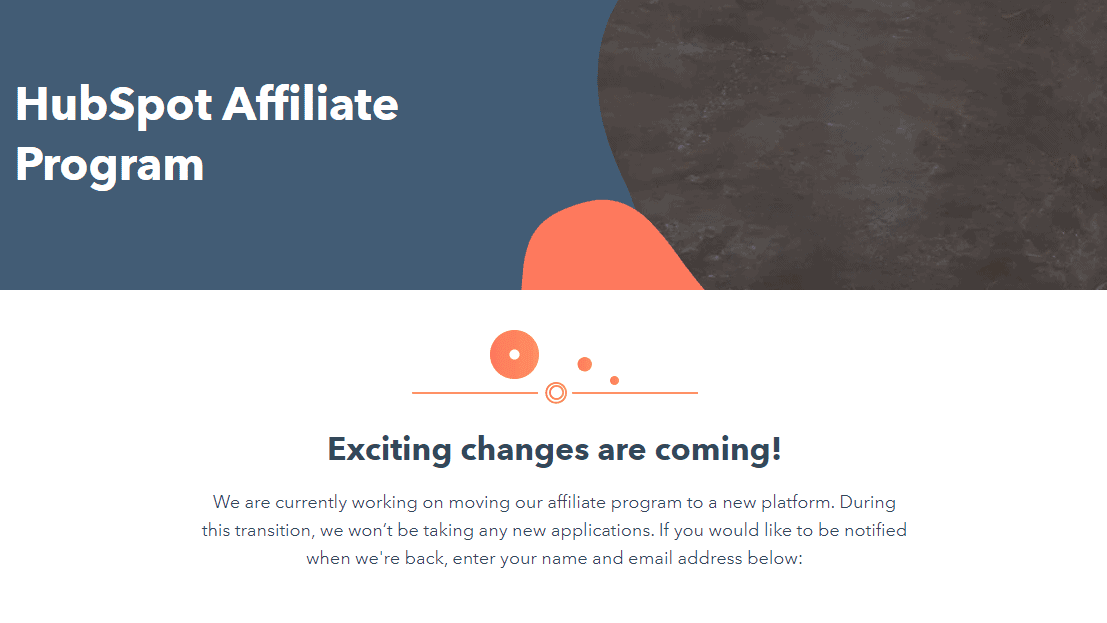 HubSpot offers an excellent affiliate program. You can earn up to $1,000 for each product sold, depending on which product plan you sell. These are the types:
Basic: $250.

Professional: $500.

Enterprise: $1,000.
HubSpot's cookie lifespan is 90 days.
Of course, HubSpot's brand recognition and positive reputation make it easy for affiliates to win more customers for its products.
#3. Moosend

Moosend is a SaaS tool that focuses on email marketing. It is known for great features, marketing automation, and an award-winning user interface. Its built-in campaign editors helps you manage multiple email campaigns and lists, in addition to templates for newsletters. This is a good option for potential affiliates.
Their affiliate marketing program offers a 40% recurring commission to affiliates. The program is not very complicated to understand, and you can track your earnings on an easy-to-access dashboard.
The 40% commission increases whenever your referral upgrades their plan as well. There is a 90-day cookie window, which is also pretty good. This is suitable particularly for content marketers.
#4. SEMRush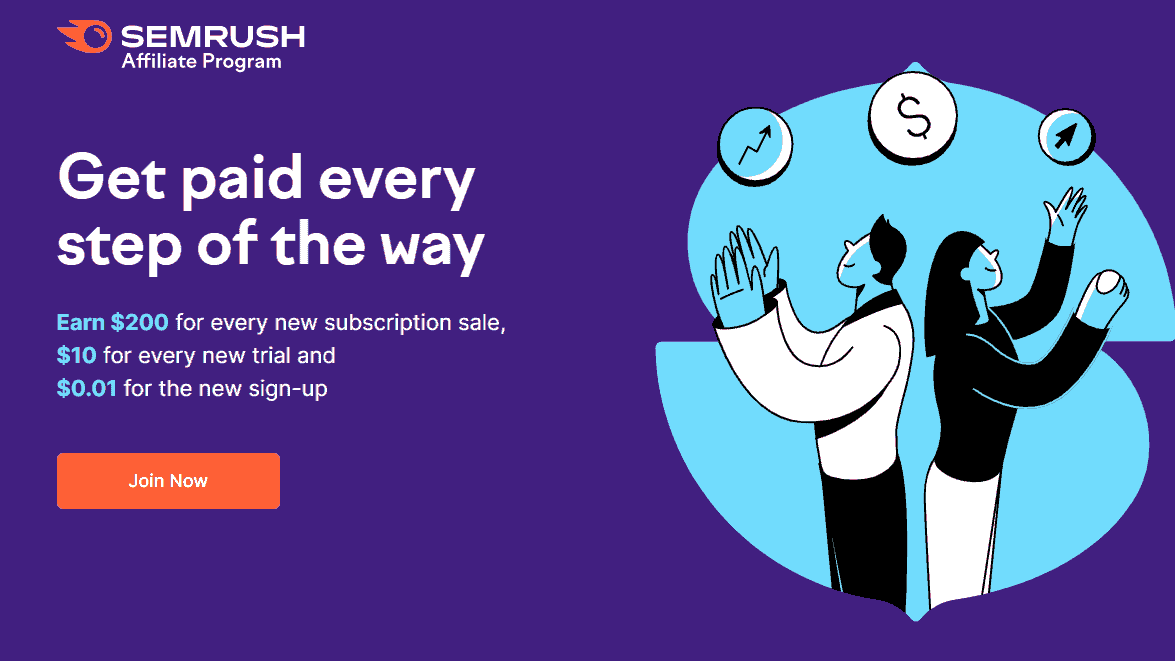 The SEO star 'SEMRush' offers one of the best affiliate marketing programs out there.
A 40% commission on affiliate subscriptions is super hard to beat. Oh, and it's recurring, too. This means that you can earn an average of $160 every month for each paying referral you make.
What's more, like EngageBay, SEMRush's first-click model ensures that the commission goes to the affiliate whose link the customer clicks on first, even if the purchase is made through a different affiliate.
SEMRush's cookie lifespan is 10 years!
#5. Pabbly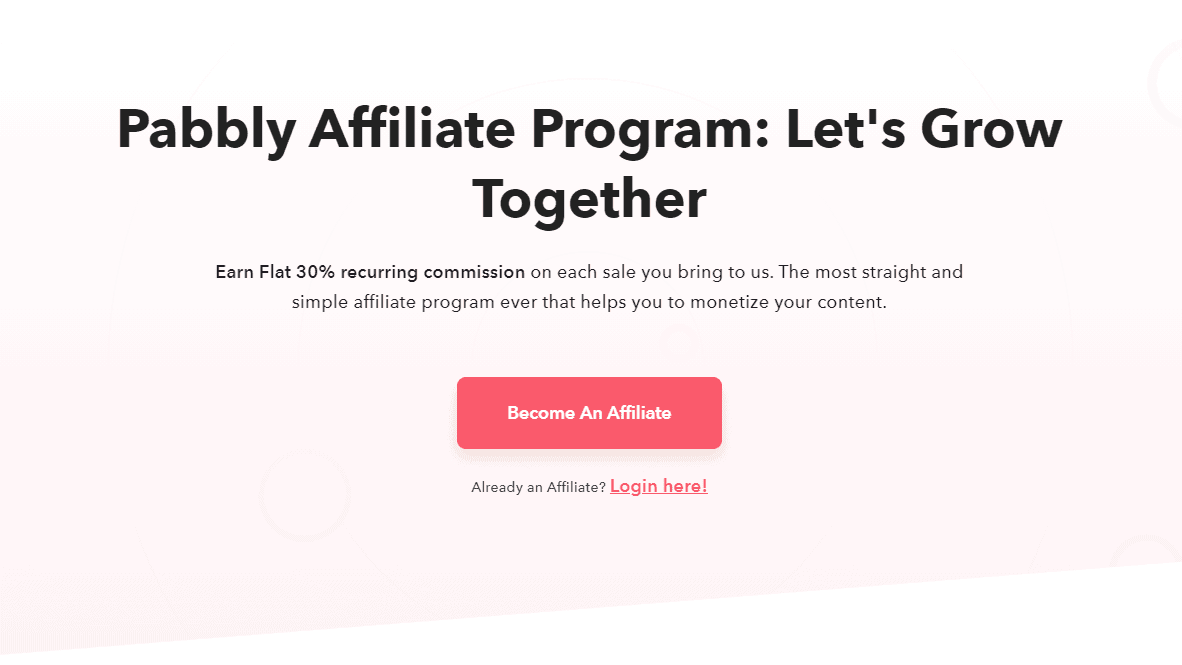 Pabbly is a marketing automation software with email marketing, form builder, and billing support bundled into one platform.
Its affiliate program lets you earn a 30% recurring commission for every referral that pays. Pabbly's easy-to-use dashboard, monthly payouts, and 30-day cookie period are great for newbie affiliate marketers.
#6. ClickFunnels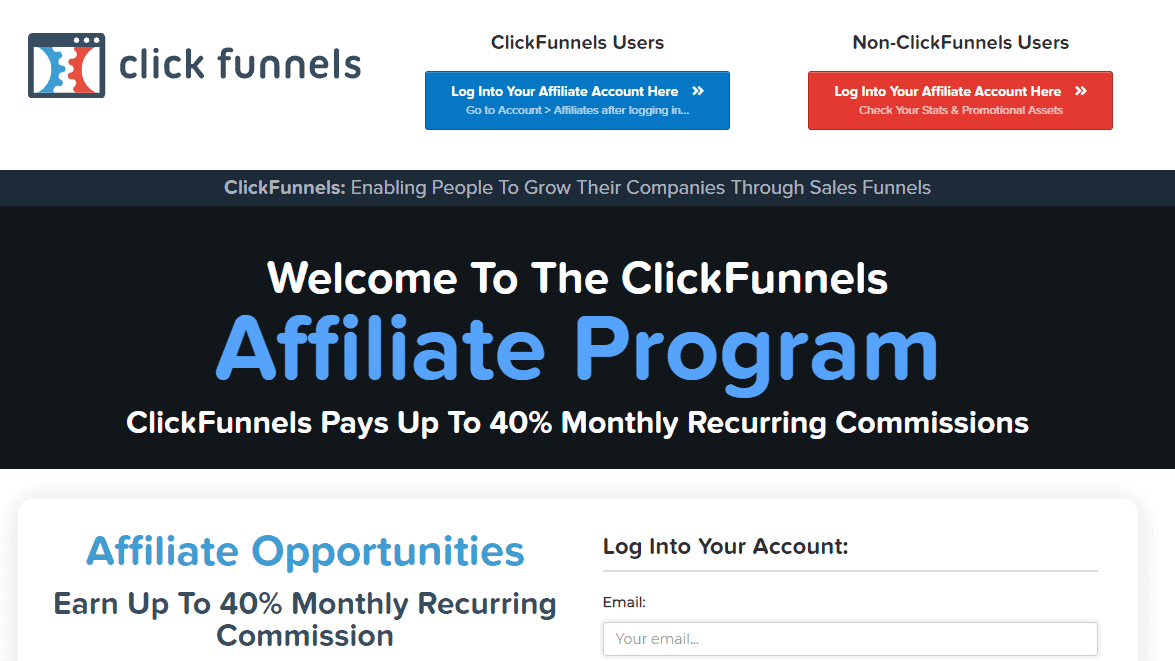 ClickFunnels lets businesses create awesome sales funnels to convert leads into customers.
As an affiliate for ClickFunnels, you can earn a 20% recurring commission on ClickFunnels subscriptions.
After you've earned $1,000 in commissions a month, you can become an approved affiliate with a recurring commission rate of 30%.
What's more, if you have 40 active ClickFunnels customers that have registered for a monthly membership, you can have your recurring commission increased to 40%!
#7. Freshbooks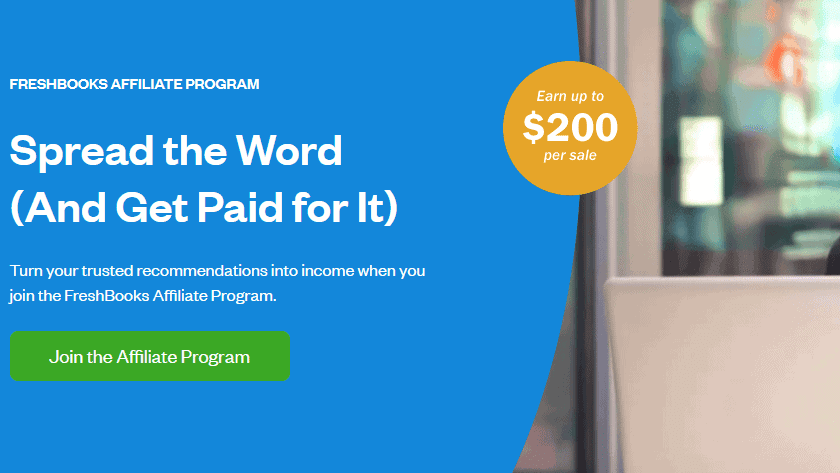 Freshbooks offers another excellent affiliate program. Interestingly, this brand even offers a commission of up to $10 for free trial referrals. Once they upgrade to a paid plan, you can earn up to $200 per sale made.
Also, Freshbooks' cookie lifespan is 120 days. Its affiliate program is maintained through Sharesale, a world-renowned affiliate marketing network.
#8. Instapage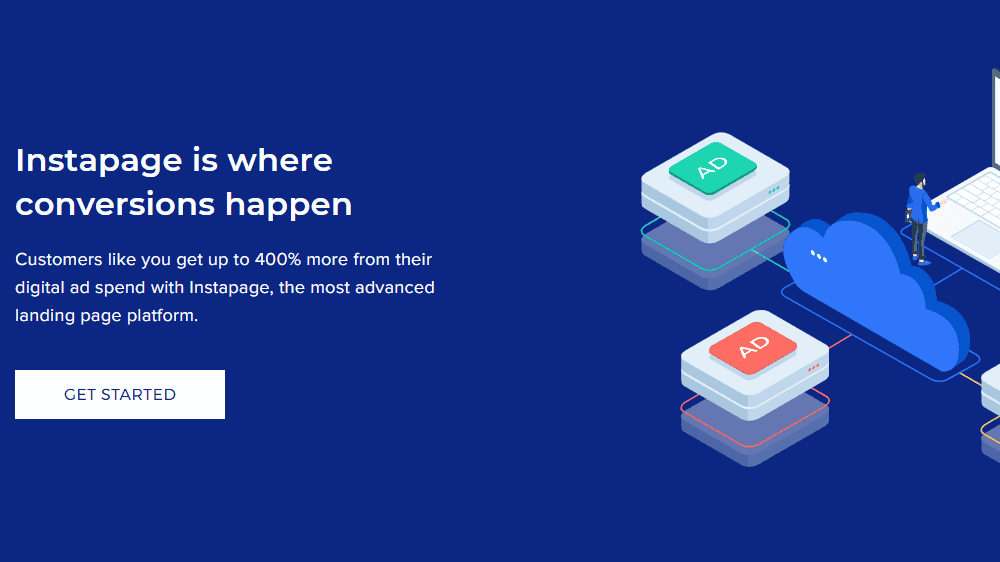 Instapage is a landing page builder aiming to help businesses increase their conversion rates.
Instapage also offers an enticing affiliate program, with affiliates earning a 30% to 50% recurring commission on their paid plans. Instapage pays a 50% recurring commission for the first year, and a 30% recurring commission for the subsequent years.
Plus, InstaPage has a cookie lifespan of 120 days.
#9. SurveySparrow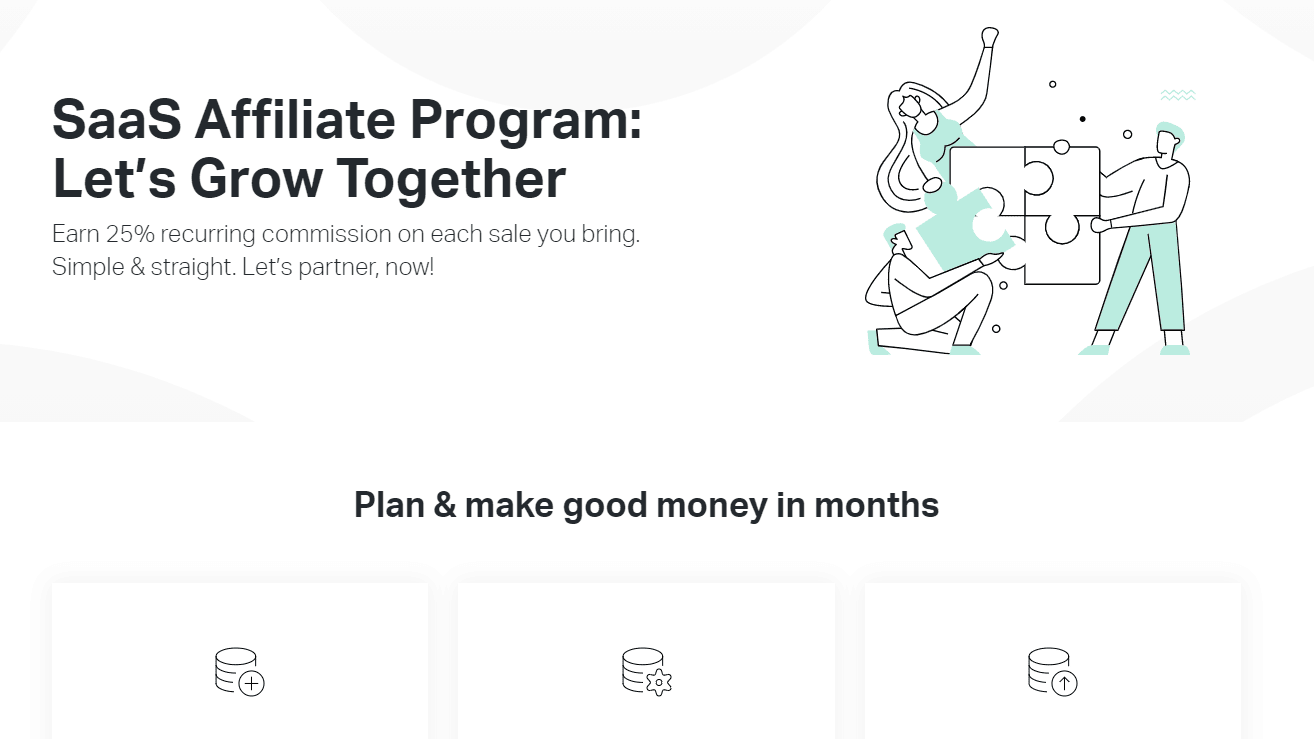 SurverySparrow markets itself as an omnichannel experience management platform.
As an affiliate marketer for SurverySparrow, you get a 25% recurring commission for each sale you bring. Also, high performers who bring over $5,000 a month of revenue get a $500 bonus on their commissions.
SurverySparrow's cookie lifespan is 90 days.
#10. BigCommerce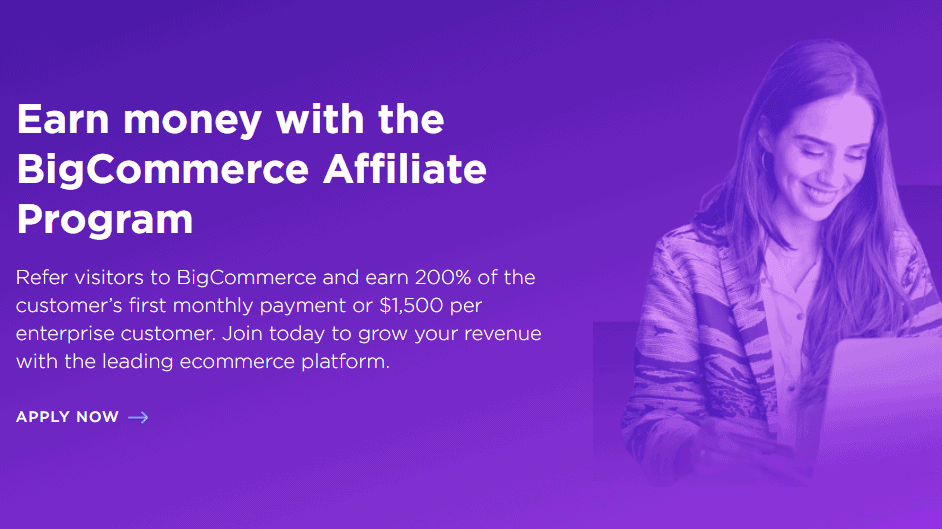 BigCommerce is a haven for affiliate marketers — they pay a whopping 200% of the consumer's first payment. Additionally, you can enjoy higher commission rates as you bring in more referrals.
In 2020 alone, BigCommerce has paid out more than $1.5 million in commissions to its affiliates.
#11. SocialBee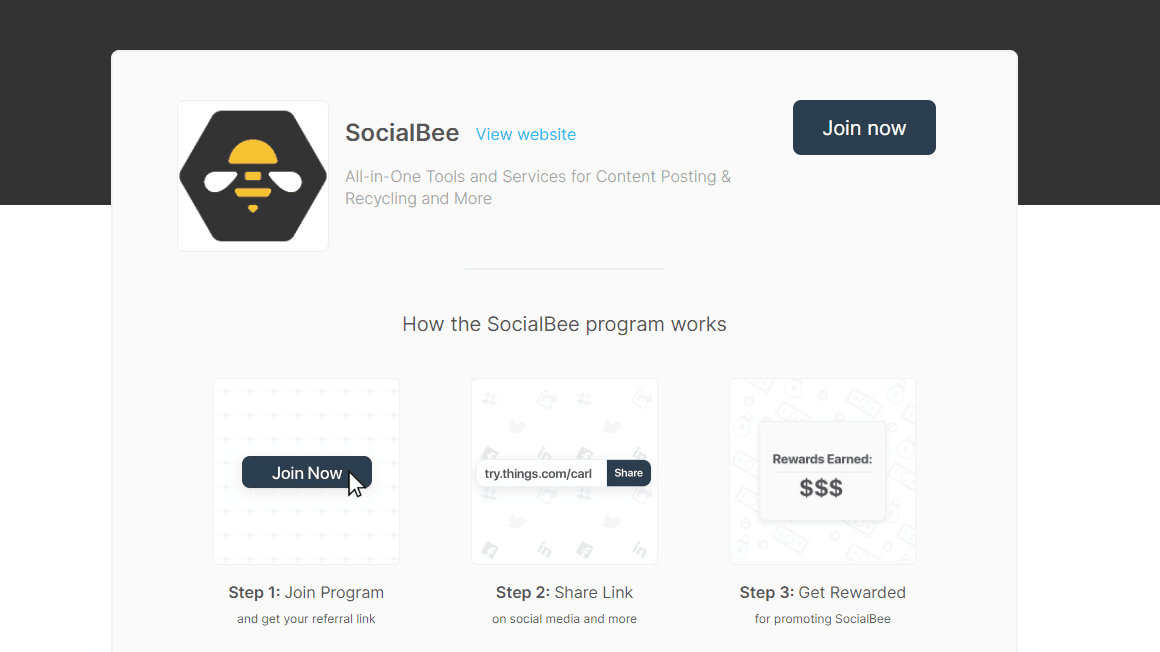 SocialBee is a social media management tool for authors, freelancers, startups, and coaches.
You can earn a 20% recurring commission on their tools and a 10% recurring commission on their concierge services plans. SocialBee even offers discounts on their products if you can drive in a large audience.
Their cookie lifespan is 90 days.
Read also: ClickBank Pros and Cons for Affiliate Marketing: A Quick Guide
#12. Outranking.io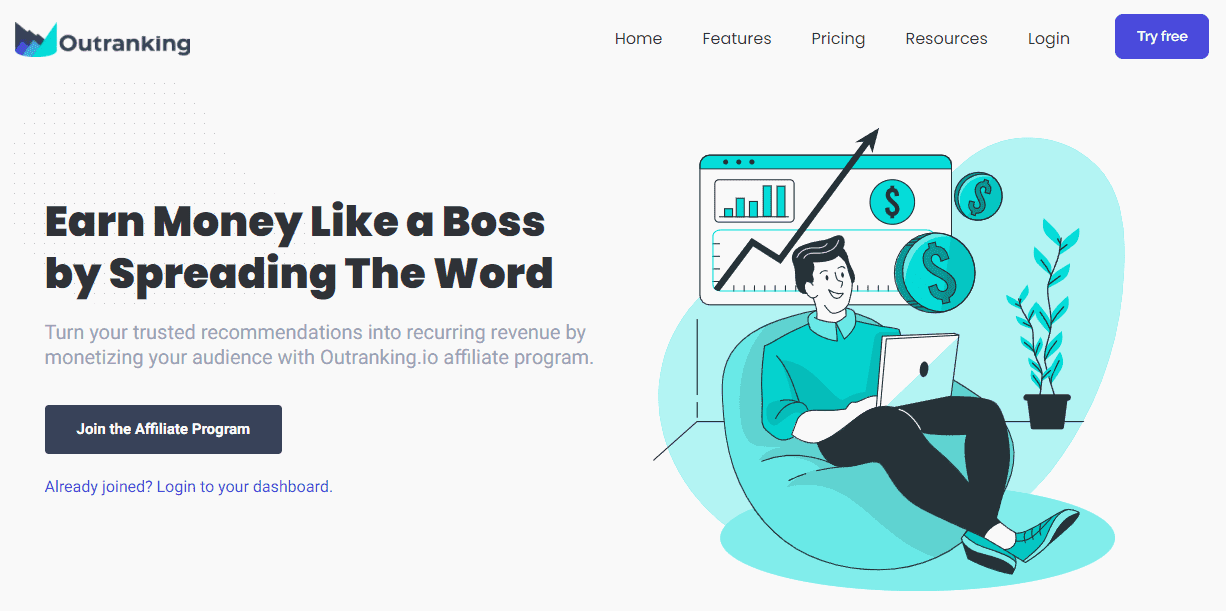 Outranking is an all-in-one SEO and AI writing tool for writers, marketers, and agencies looking to scale their content game.
It has a solid affiliate program that offers 25% recurring commissions as long as your referrals keep renewing their subscriptions. It just takes a couple of minutes to join their program and your monthly earnings can be as high as $572 by the 6th month.
Outranking has a cookie lifespan of 60 days.
#13. Leadpages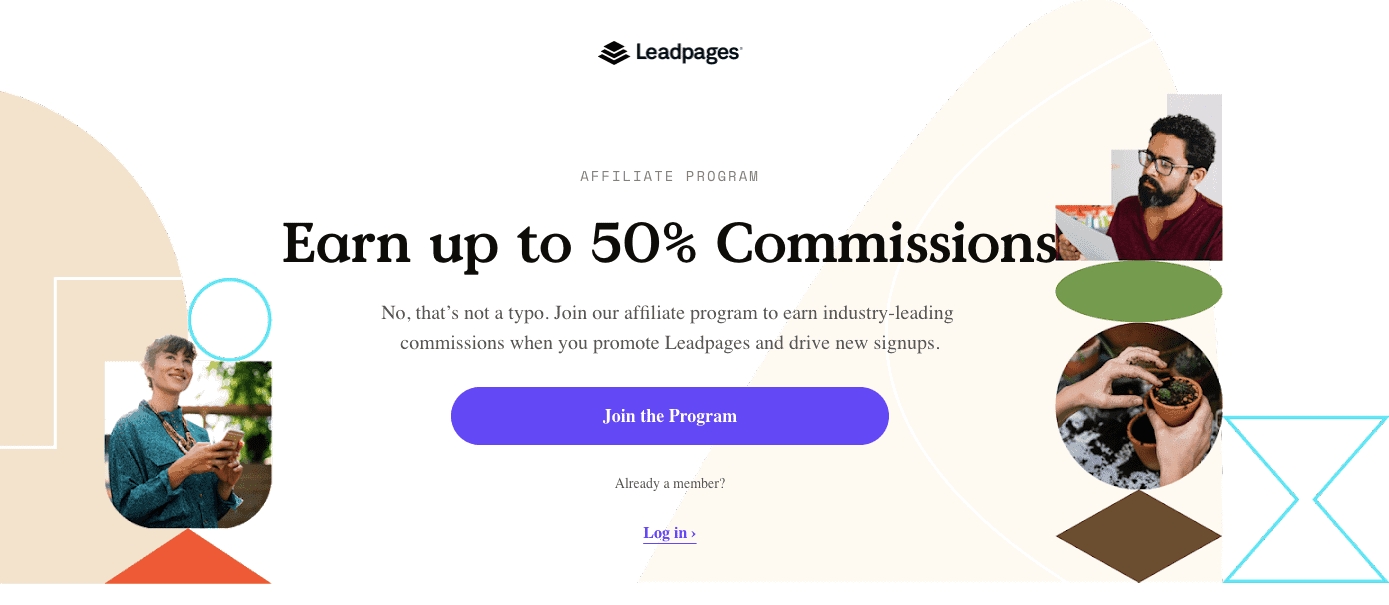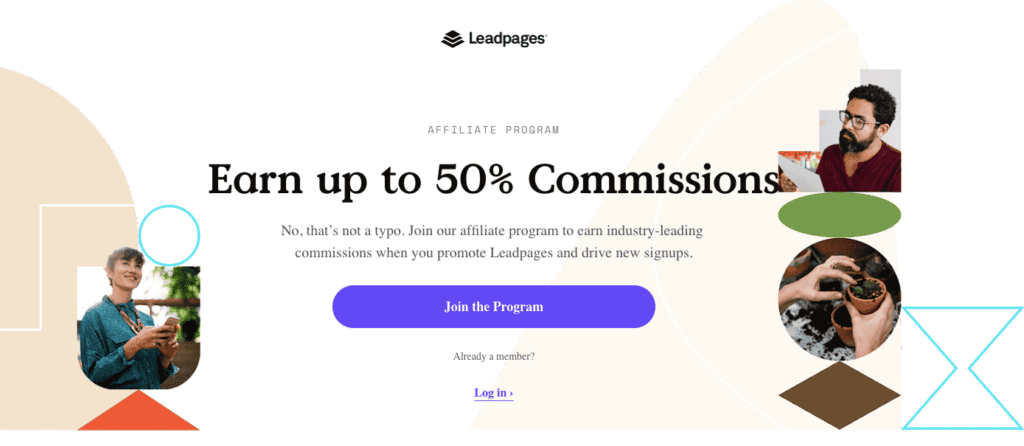 Leadpages is an all-in-one SaaS platform for online marketing, online payments and other integrated tools. Their USP is building code-free websites through their platform.
It helps you publish conversion-optimized web pages, alert bars, pop-ups, live chat, and even allows you to run A/B tests. All of this can be integrated with your CRM.
The Leadpages affiliate marketing program is a good option, especially for small businesses. They offer up to 50% commission on all first-time and recurring sales. There are three tier levels for affiliates and a cookie lifespan of 30 days.
For each new account, upgrade, or in-app purchase conducted by the customers, the system looks back over the previous 30 days. If the total new customer revenue exceeds $50, you get a commission of 40%.
If the new customer revenue exceeds $3,000, then you get a 50% commission.
#14. Shopify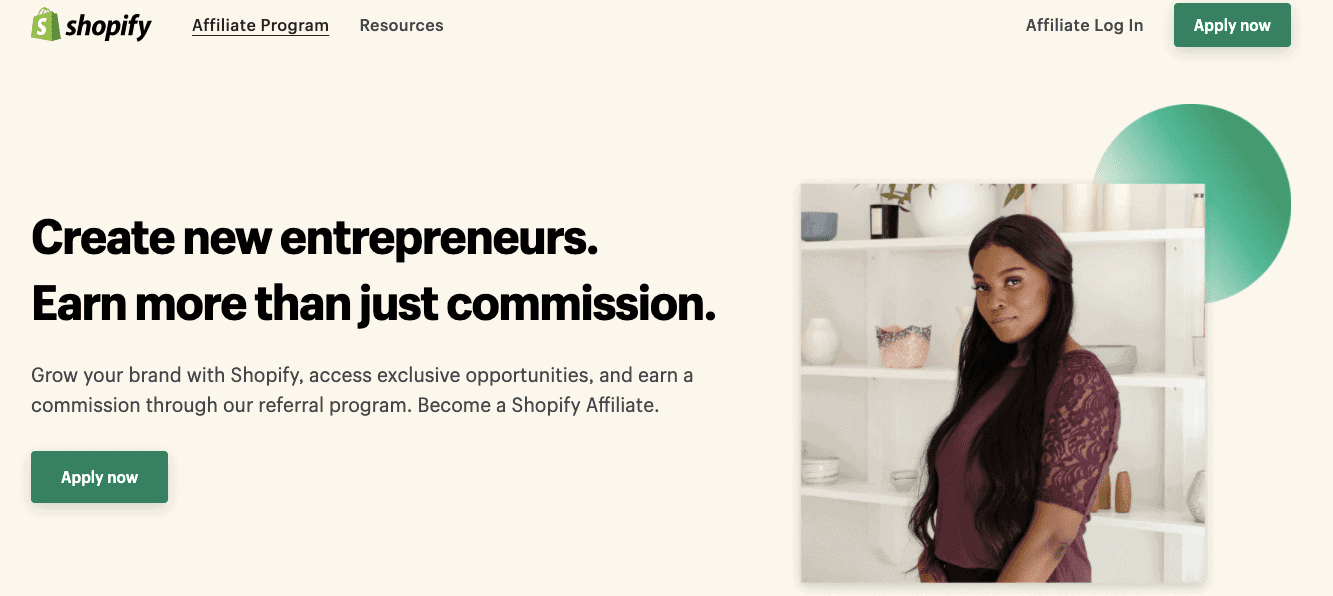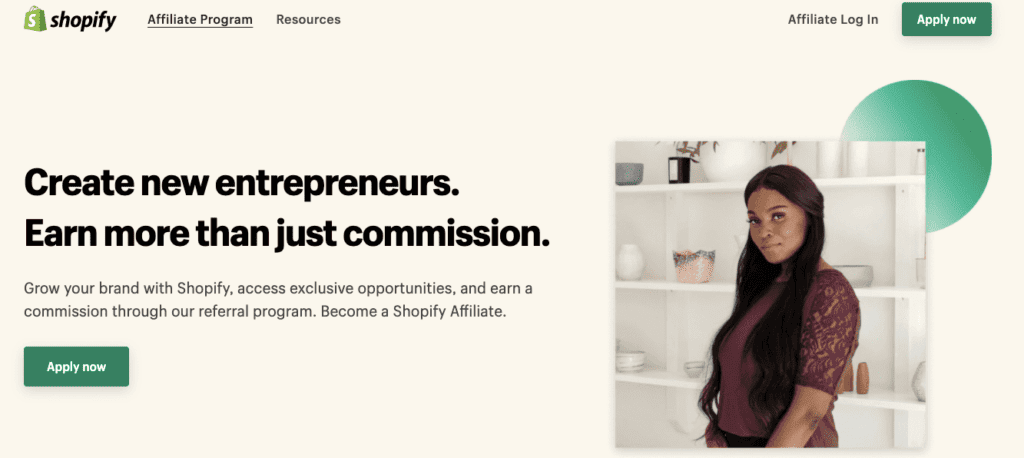 Shopify is a cloud-based, multi-channel commerce platform that caters to businesses of all sizes. With this SaaS product, sellers can create and manage their stores across various channels. This includes web, mobile, pop-up, brick-and-mortar, and social media.
Shopify SaaS affiliate marketing program is known for its high commissions. For each referral who signs up for their paid plan, you can receive up to 100% commission for the first and second payments made.
The sales attribution starts when your referral signs up for a 30-day free trial. If the user buys a plan after 30 days, you will earn a commission. The cookie lifespan for this affiliate program is 30 days.
In addition, Shopify also offers an affiliate marketing course for beginners. You can log in and enroll in the affiliate marketing fundamentals course. The course takes just under an hour to complete.
They also have an affiliate manager who can help you with any queries or issues you may have.
#15. Coursera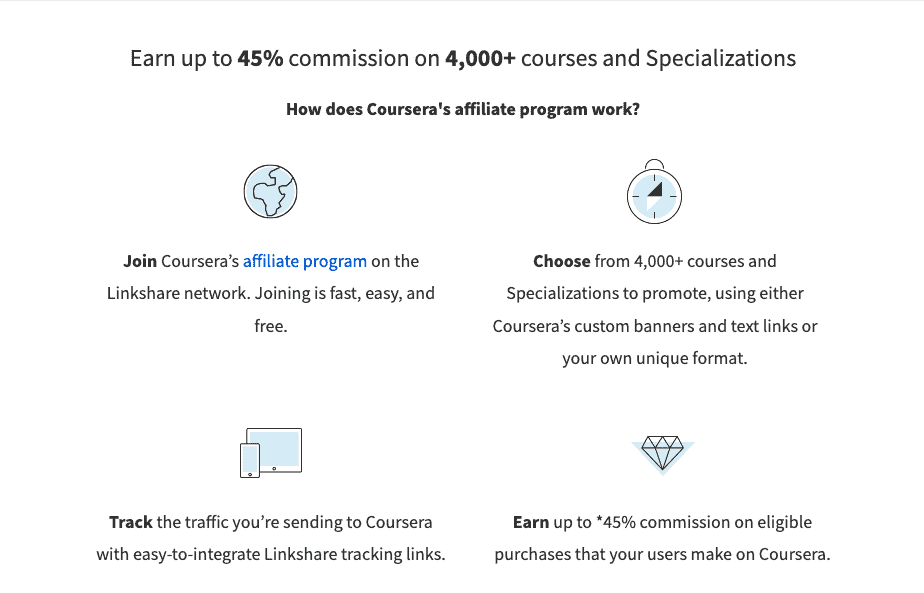 Coursera is one of the world's most trusted and leading e-learning websites.
Launched by two professors from Stanford, it offers educational courses through its academic partnerships with elite universities and corporations worldwide.
With the rise of online learning after the pandemic, the Coursera affiliate program might just be a good fit for you. They have a great brand reputation and social proof.
Their affiliate program has a baseline commission of 10%, which is higher than the average in educational SaaS affiliate programs. It pays a commission of up to 45%, with additional bonuses for high performers.
The program has a cookie lifespan of 30 days. They also offer support for their SaaS affiliates and have full-time staff for this. The only drawback is that degrees and MasterTrack certificates are not eligible for the affiliate program.
#16. Sage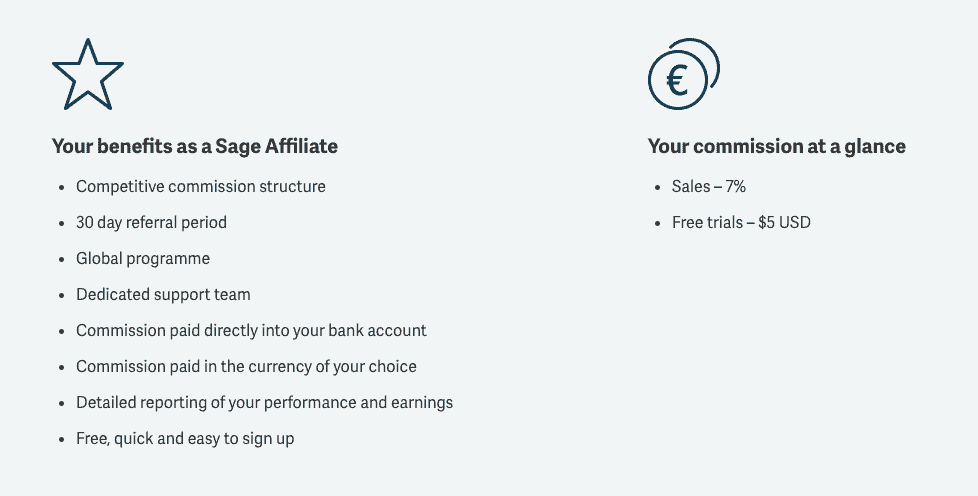 Sage is a well-known leader in the integrated accounting, payroll, and payment systems industry. It caters primarily to small and medium enterprises. As an affiliate marketer, this might just be the program you have been looking for.
The Sage affiliate program offers commissions on all sales and free trials generated from your site.
It is a global affiliate program, and payment is made to you in the currency of your choice. They also have a good affiliate network. No matter the size of your business, you will be eligible to sign up. It offers a cookie lifespan of 30 days.
#17. Pipedrive

Pipedrive is a cloud-based sales software company. Its USP is that it is an all-in-one sales platform and CRM that prioritizes the needs of salespeople.
The Pipedrive affiliate program is for coaches, influencers, and content creators who are interested in recommending a great CRM software with a low-touch approach.
As a potential affiliate with Pipedrive, you are likely to earn up to 33% in recurring commissions for the first year of the customer contract. There are no upper limits to how much you can earn.
The cookie life window is 90 days, which is higher than the industry average.
#18. Sellfy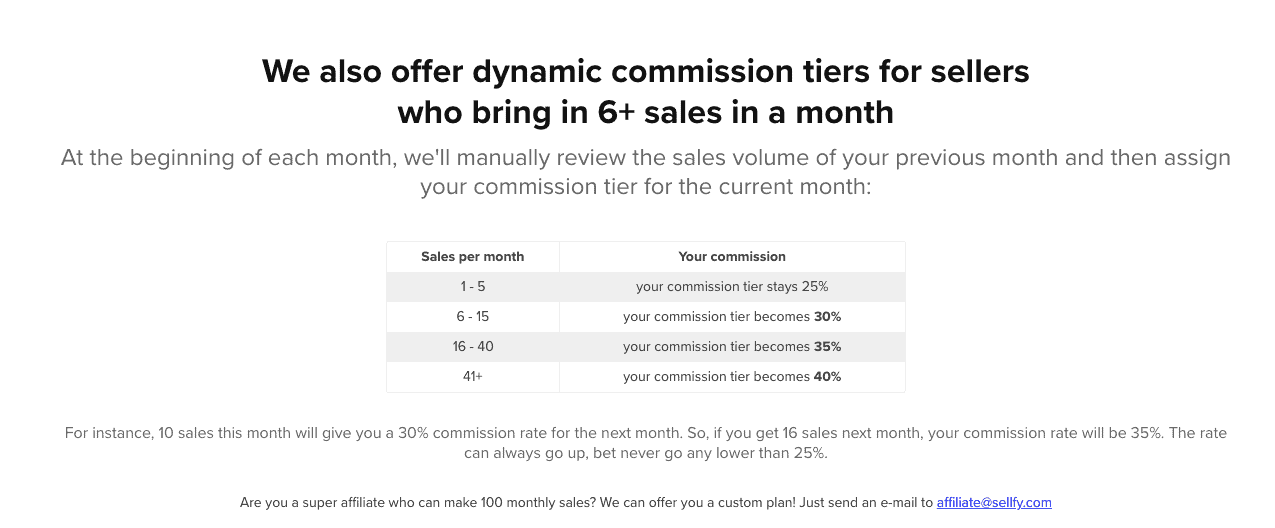 Sellfy is an e-commerce platform that allows digital content creators to sell their works online. The platform handles everything from hosting the products online to the delivery of the product to the customers.
Sellfy SaaS affiliate program offers instant payouts to its affiliates through PayPal.
You can earn a 25% recurring commission on each sale for a year. If you think you can make more than 100 monthly sales, they even have an option to create a custom plan for you. The cookie lifetime length is 90 days.
They also offer full-time support for their SaaS affiliates, along with the usual affiliate software.
#19. Weebly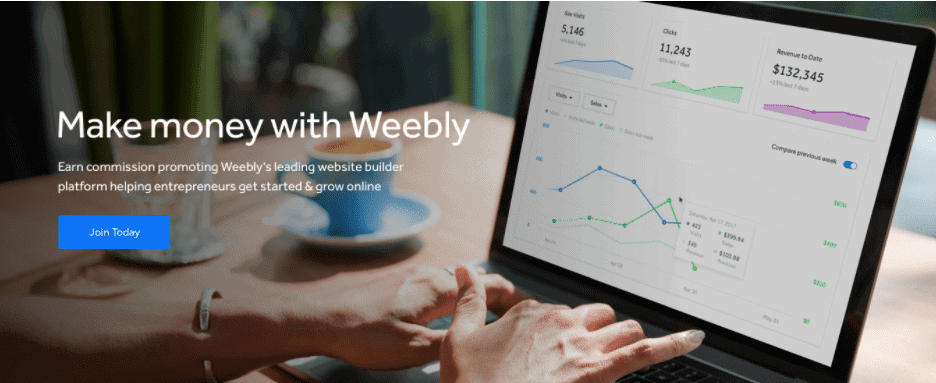 Weebly is a drag-and-drop website builder. They offer many customizable templates and step-by-step guides for creating websites.
The Weebly affiliate marketing program garners a commission of 30%.
It has a higher than average cookie lifespan of 120 days, which will help you even when customers take long to make a purchase and convert. There are also regular bonuses for high performers.
#20. Canva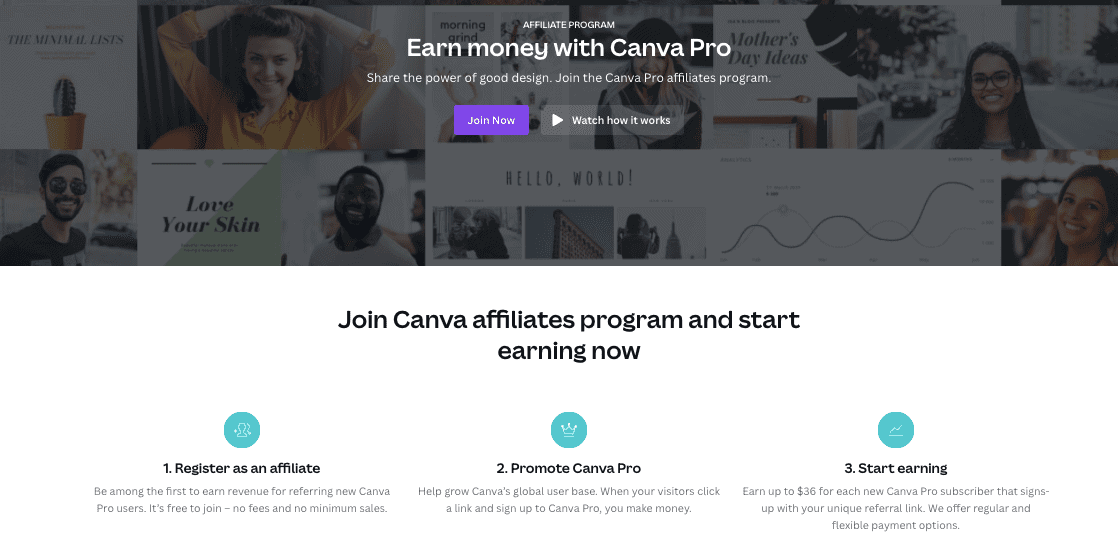 Canva is a graphic design platform that is easy to use. It allows graphic designers to create designs, templates, and other documents.
The Canva affiliate program is relatively new. As a Canva affiliate, you can make $25 on each CanvaPro subscription purchased through your referral.
The cookie lifespan is 30 days. Also, you will get access to their marketing and promotional material. This is suitable for professionals working in the design field, with a larger audience.
#21. Time Doctor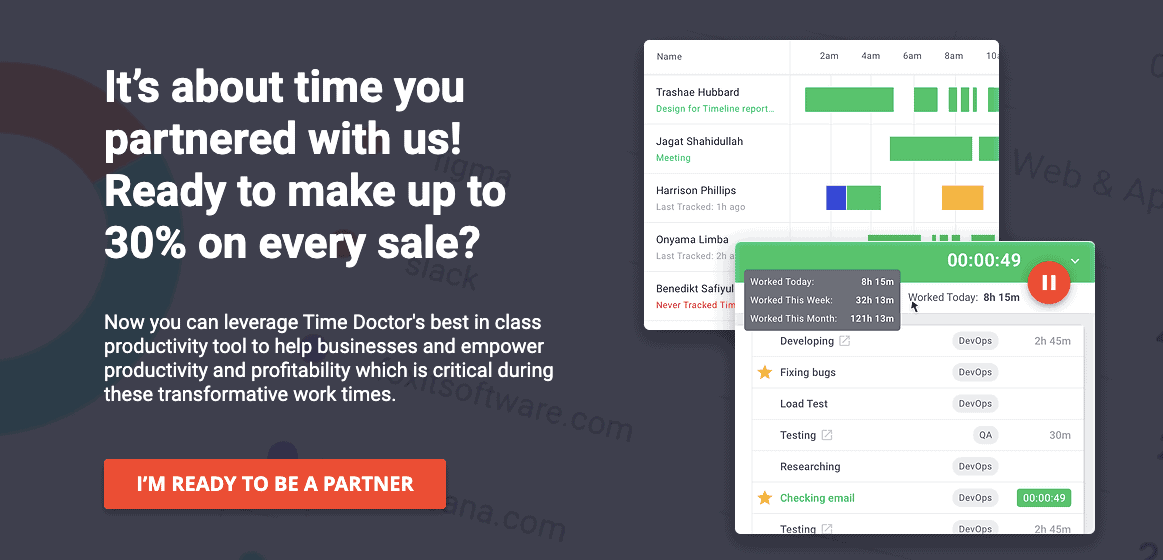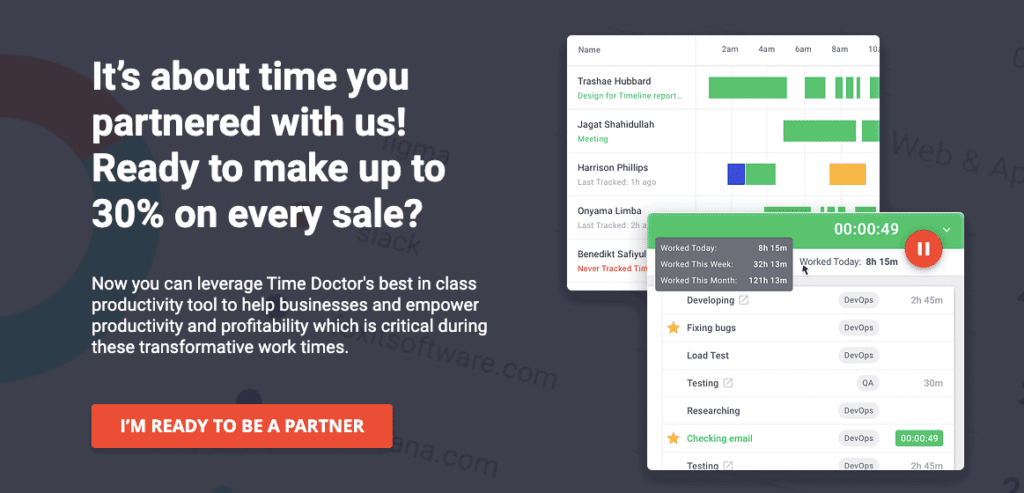 TimeDoctor is a productivity and time-tracking tool for employees. As a time doctor affiliate, you can earn a 30% recurring commission for a period of five years. The program offers monthly payouts through PayPal.
Their cookie timespan is 183 days, which is higher than the average. This will be especially useful to you if your referrals tend to take more time to convert. Over a period of time, the recurring revenue could be large.
#22. Mangools

SEO and SEO PowerSuite tools are now essential for every business to thrive. Mangools is an SEO platform, which is a compilation of five SEO tools. KWFFinder is their most popular SEO tool.
The Mangools SaaS affiliate program allows you to refer customers for any of their five SEO tools. You will receive instant approval once you apply to be an affiliate, unlike most other companies.
You will receive a 30% recurring lifetime commission on each sale made. They also include promotional material for your use. In addition, the cookie expiration is 30 days.
#23. Drip
Drip is an email marketing tool that allows you to send automated emails to customers on your mailing list. This is a good option, especially if you are a content creator.
If you feel your own platform can be integrated with Drip, they have an integration partnership program as well.
As a Drip agency affiliate, you will earn a commission of 15% for each sale made.
#24. Social Pilot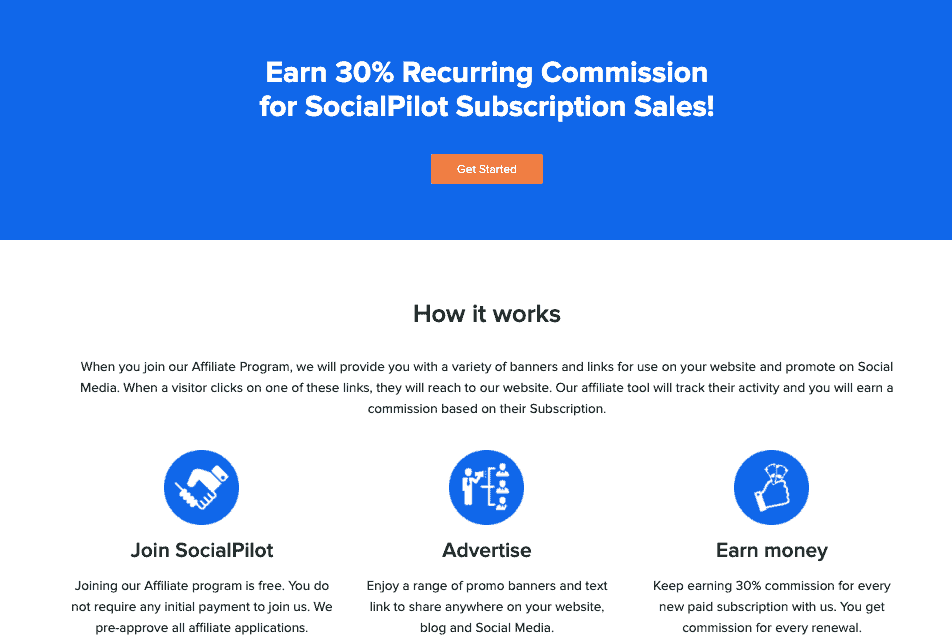 Social Pilot is a social media marketing tool that helps you create, manage and schedule your social media marketing activities.
In the Social Pilot affiliate program, the promised commission is 30% for every customer that comes through your referral. You will also earn a commission when a client renews their subscription.
Also, every affiliate application is pre-approved. This means that you won't have to wait to join their program. It is also free to join. Their cookie timespan is 60 days.
#25. Zoho CRM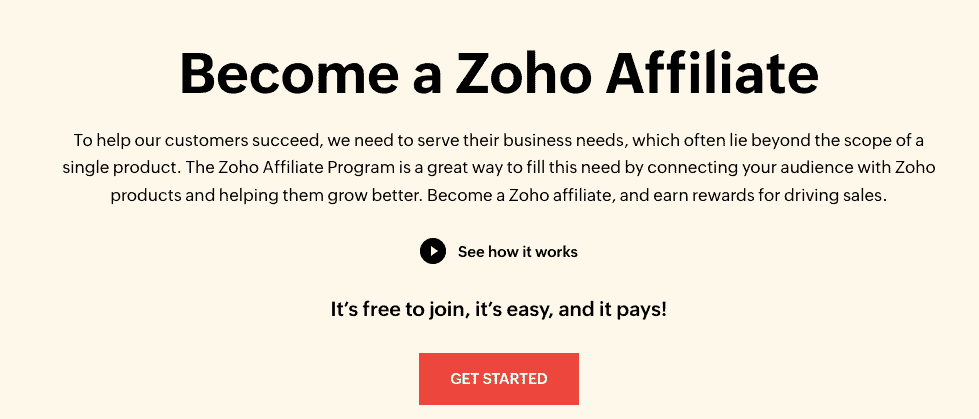 Zoho is one of the better-known CRM software in the market today. Zoho has one of the best affiliate programs for SaaS products.
The Zoho affiliate program gives you a monthly commission of 15% for each qualified sale you generate.
But, after a span of 12 months, you will not get a commission from the same customer.
Zoho has a large inventory of marketing materials and also offers good support for its affiliates.
The cookie lifespan window is 90 days. All your qualified referrals also get $100 in their Zoho Wallet Credits.
The good news is that they have no limit on the commissions you can earn. There is also no minimum sales requirement for you to continue on the program.
#26. WP Engine
If you are a blogger, a freelancer, or a digital marketing agency, the WP Engine affiliate program might just be the perfect fit for you.
WP Engine is a digital experience platform that allows you to create websites and apps on WordPress. The company also acquired StudioPress, which means you can also promote StudioPress themes from the same affiliate program.
WP Engine has one of the highest payouts for their affiliates, with a flat $200 for each sale! They also have a bonus payment for more than 5 sales in a month. You'll get a $100 bonus for 5 sales in a month. If you make more than 60 sales a month, you get a bonus of $1,500.
The cookie lifespan is 180 days for WP Engine, and 60 days for StudioPress themes. They also offer a wide variety of seasonal promotions like Thanksgiving discount coupons that you can market.
#27. Folderly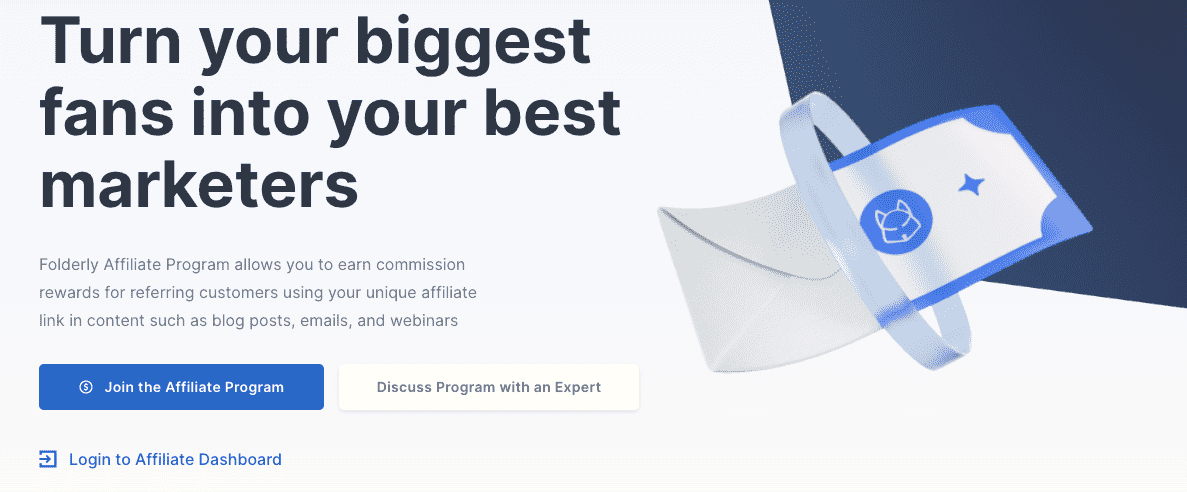 Folderly is a SaaS solution dedicated to email marketing, with a focus on email deliverability.
The Folderly SaaS affiliate program is a new initiative by the company.
As an affiliate partner, you'll be able to take home a 15% monthly recurring commission for every successful affiliate link. There is no upper limit on the amount of affiliate commission you can earn.
#28. Wix
As far as SaaS affiliate programs go, Wix is a good bet. It's a great way to start making some passive income.
Wix is a SaaS company that allows easy creation of websites for people with less technical knowledge.
The Wix affiliate program pays its referral partners a flat $100 for each referral. Joining the program is completely free.
You also get access to a wide variety of marketing materials when you sign up. The cookie lifespan is 30 days and provides you with the usual affiliate tracking software as well.
#29. Adobe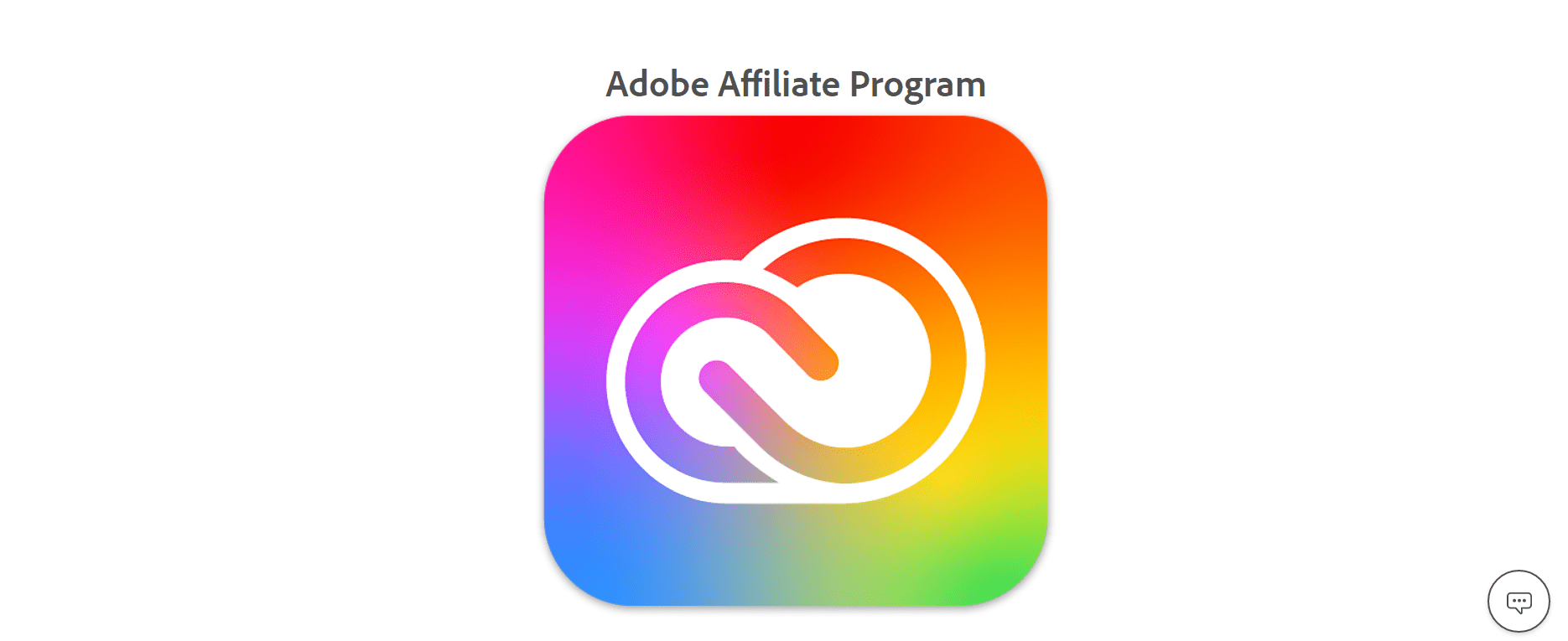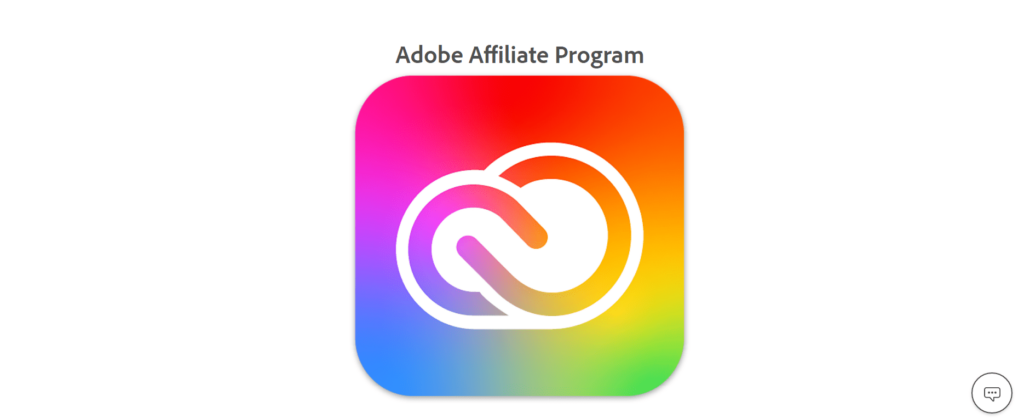 You can watch a video about the Adobe SaaS affiliate marketing here.
The Adobe affiliate program allows you to promote:
Adobe Creative Cloud
Adobe Stock
Adobe Document Cloud
You have the option of a monthly or a yearly subscription.
The commission for creative cloud and document cloud is 85% of each referral. This is for the first month.
Yearly subscribers get an additional commission of 8.33% on the referrals for the year. The cookie lifespan is 30 days. There are also regular incentives and exclusive promotional deals for their affiliate marketers.
#30. CJ Affiliate (Commission Junction)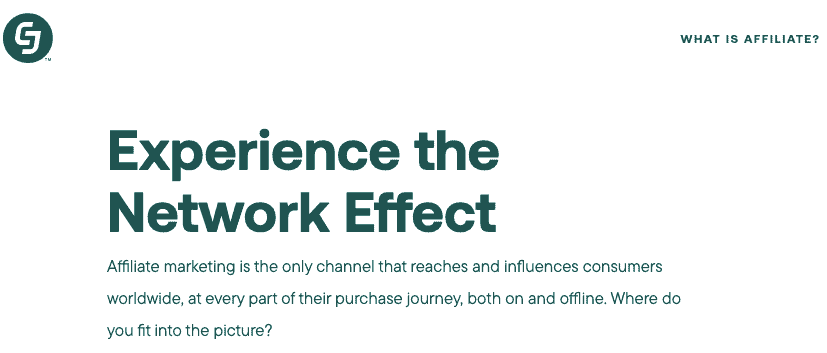 CJ Affiliate is a Fortune 500 company. Earlier, it was known as Commission Junction. It is one of the leading affiliate networks in the world. They help SaaS affiliates connect with established brands.
If you are an established player in digital marketing with many existing customers, this affiliate program is for you.
CJ Affiliate offers several tools for small businesses to increase and track their conversion rates. Due to the nature of the platform, it is difficult to give a range for the commissions you might earn. CJ Affiliate charges $25 per month.
One unique feature is their cookieless tracking, which can boost mobile conversions. Also, it is more privacy-friendly. They can also help you find the right OSI affiliate software to suit your needs.
31. GetResponse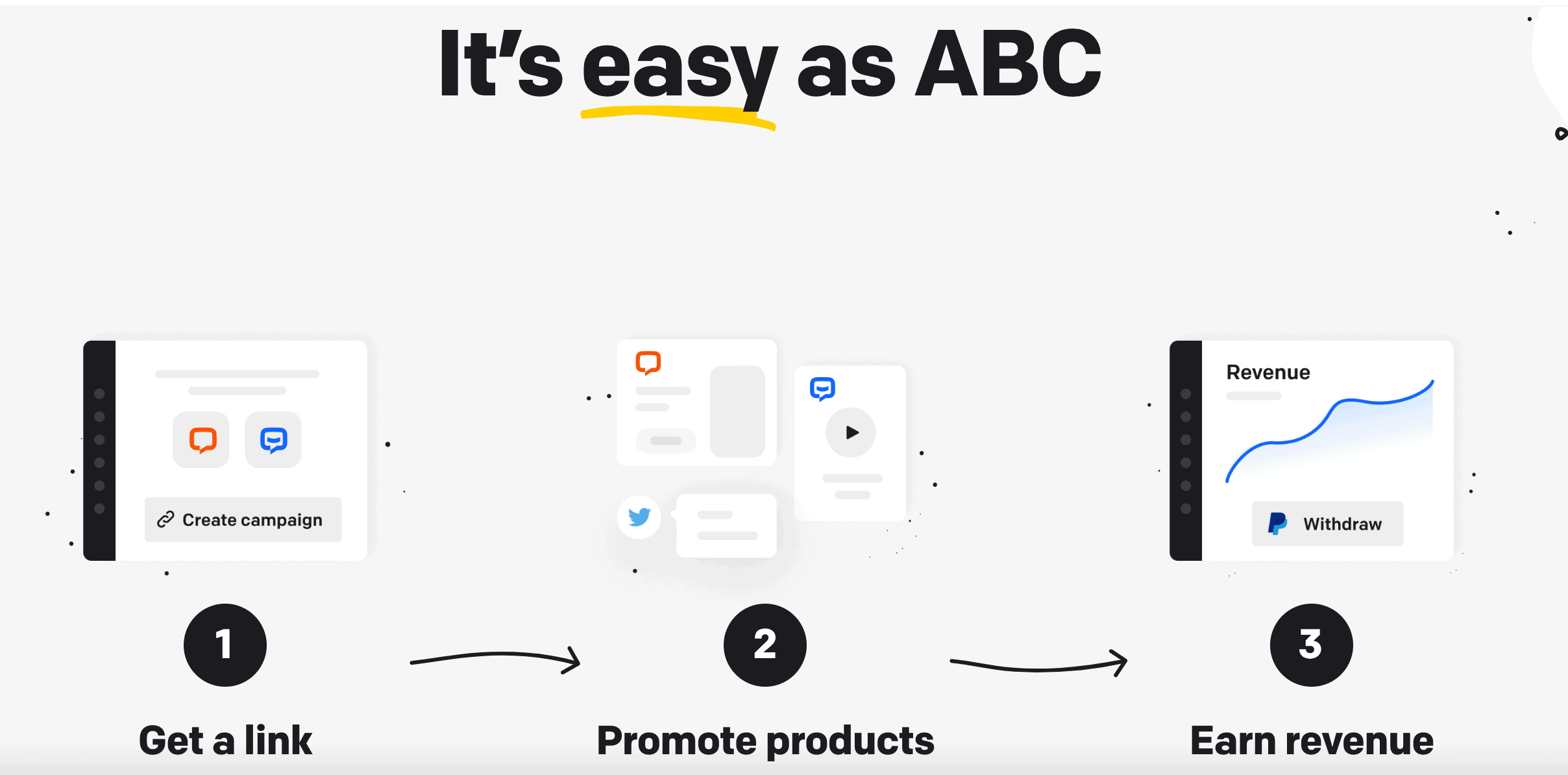 GetResponse is a robust email marketing software for professionals designed to help businesses generate and nurture leads.
You can earn revenue by promoting GetResponse by signing up for their affiliate program. The best part is that it allows you to customize your offer and recommend the most popular solution, increasing your chance to earn faster.
You can earn up to 22% commission with 24/7 support available. Enroll for the GetResponse affiliate program in three simple steps – get a link, promote a product, and earn revenue.
32. Unbounce

Unbounce helps brands build high-converting landing pages and grow their business. It is used by agencies, ecommerce, and SaaS websites too.
Unbounce's affiliate program allows you to earn 20% of the recurring revenue for every customer that you refer to Unbounce. It also offers a dedicated partner coach who is there to guide you at every step of the way.
33. Mailmodo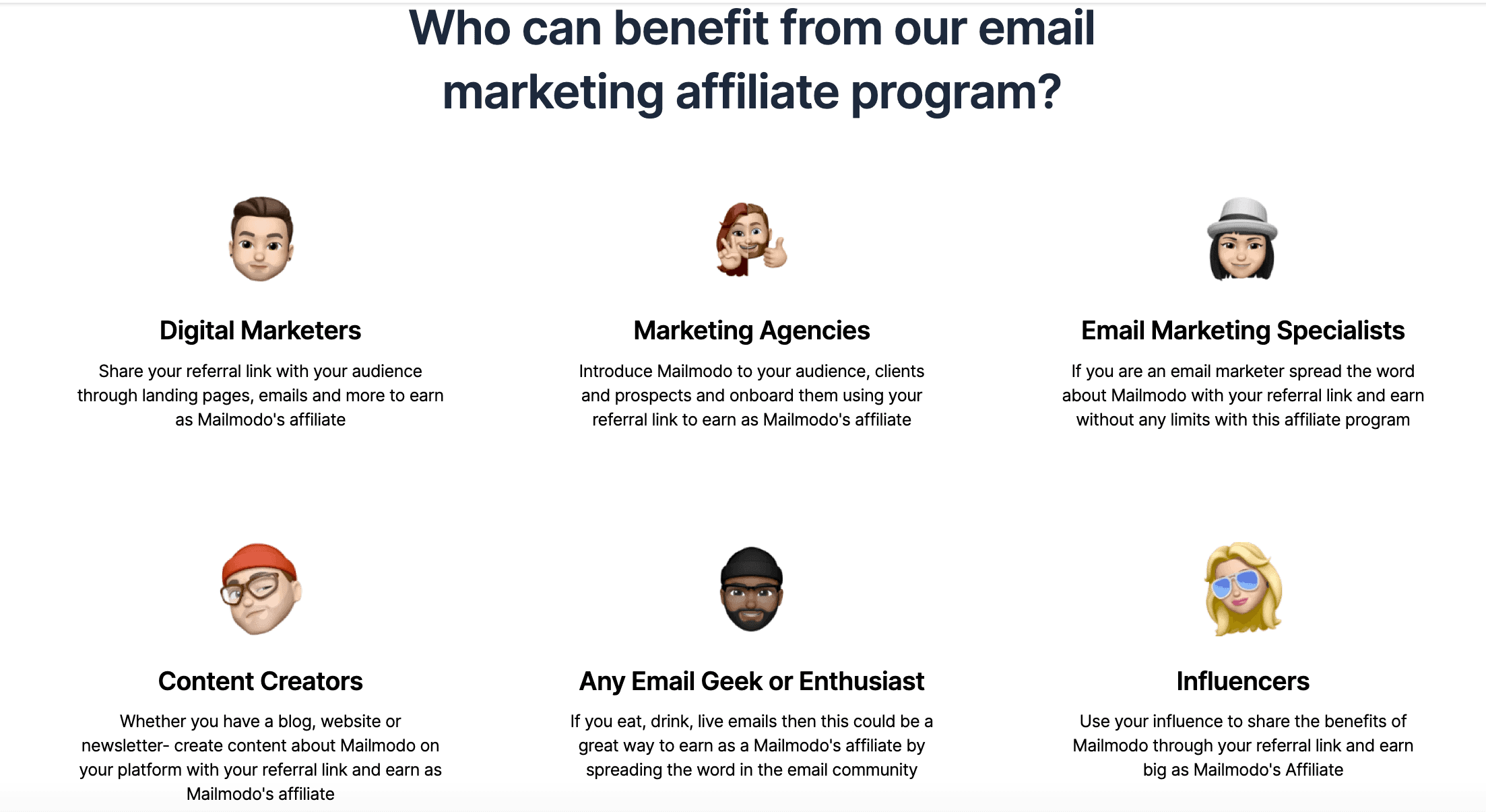 Mailmodo is a popular email marketing software that promises a high deliverability rate. Mailmodo affiliate program allows you to earn a 20% recurring monthly commission for every paid customer you refer.
What's more, it offers dedicated support to help you establish your business and provide a pre-made affiliate kit to help you get started. Keep track of your referrals in real-time on their dashboard.
34. Keap

Keap offers a CRM platform for small businesses to help them build long-lasting customer relationships.
The Keap affiliate program is designed for agencies, consultants, and other sales professionals looking to help clients with better CRM and scale their business. It enables you to earn 20-30% commission on app sales.
35. Leadpages

As the name suggests, Leadpages offers a robust set of tools that helps with lead generation. From landing pages to website builders and other conversion tools, you can grow your leads with +8% conversion rates.
Leadpages gives up to 50% recurring commissions on all sales, including one-time purchases, renewals, and upgrades.
You get a dedicated affiliate support team, early access to features, periodic special promotions, and exclusive group access to connect and network with other affiliates.

Omnisend is a powerful email and SMS marketing tool that claims to have helped its customers make $72 for every dollar they spent in 2022.
By joining the Omnisend affiliate program, you can earn at least 20% monthly recurring commissions for every new paid customer. They offer 3+ integrations with the main eCommerce platforms and 80+ integration with eCommerce apps, and five channels for full omnichannel support.
37. ConvertKit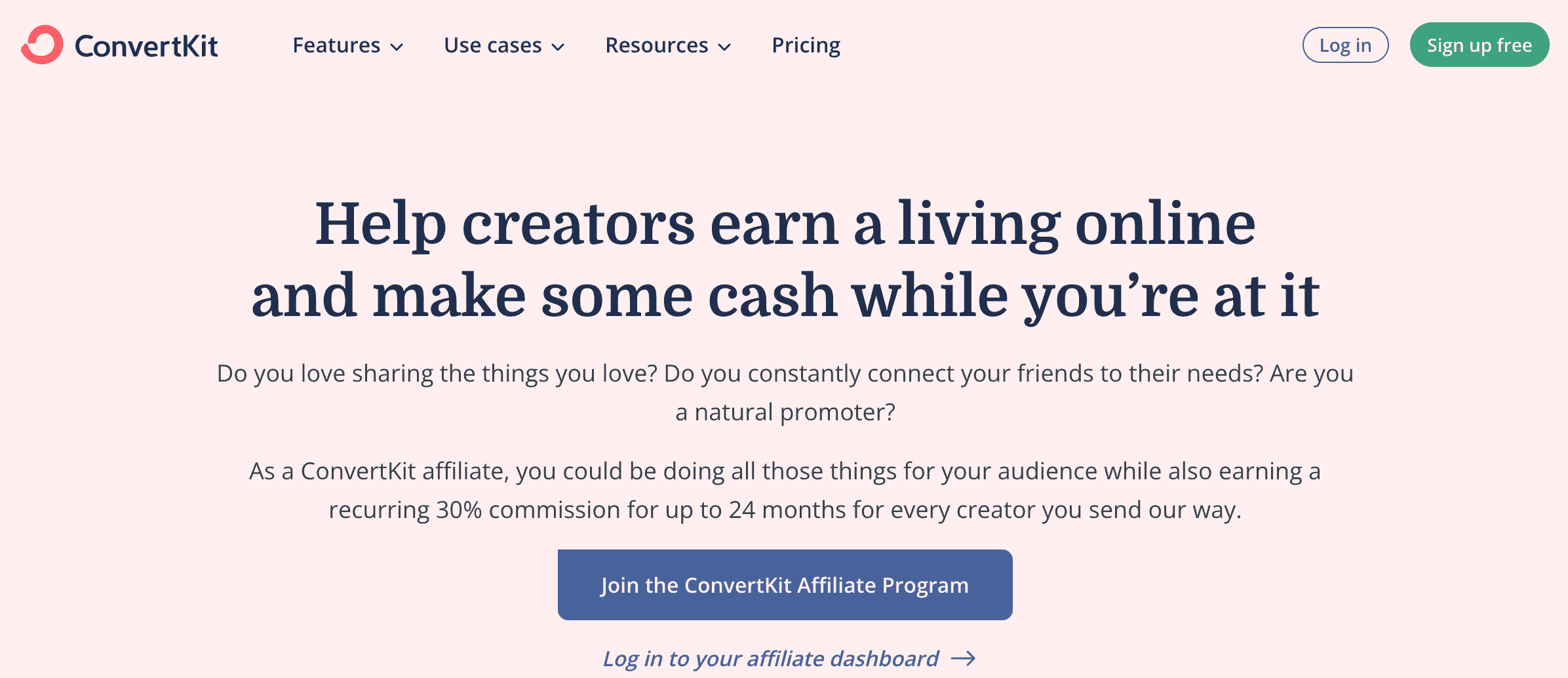 ConvertKit is another email marketing platform that helps you list and sell products online.
You get a 30% commission for 24 months for every paid customer on ConvertKit through your affiliate link. Besides, you get graphics and video assets to create your content, evergreen webinars to use as a funnel, and a dashboard to track your progress.
38. Constant Contact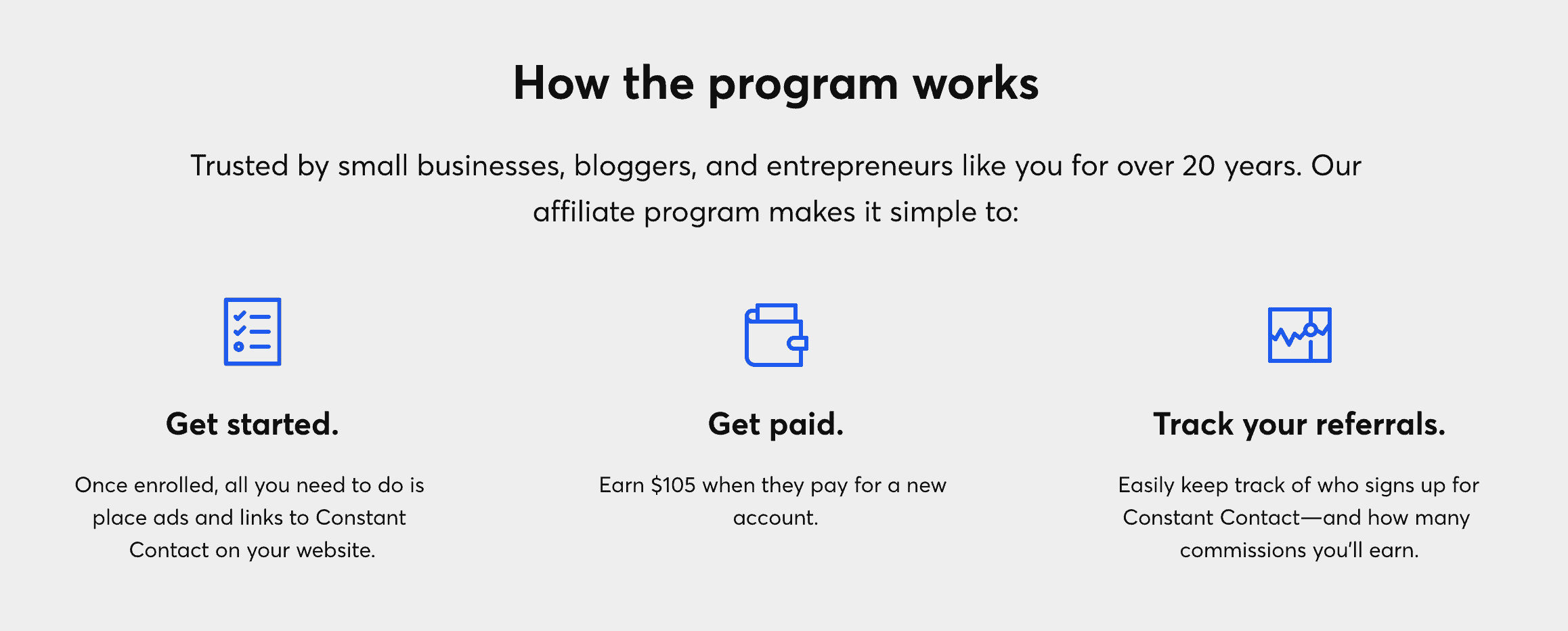 Constant Contact is a digital marketing tool that lets you target ads online, automate social postings, and enable advanced email automation.
It is one of the highest-paying affiliate programs – you earn $105 for every paid customer through your referral link. You can refer as many users as you want; there's no limit on commission.
Their affiliate reporting system is also robust – you can track the number of referrals who signed up for a demo, how many leads convert to sales, and how much you earn.
39. ActiveCampaign

ActiveCampaign offers a comprehensive set of tools required to run a business – marketing, sales, and CRM software.
Every time someone signs up for ActiveCampaign using your affiliate link, you earn 20-30% commission. In fact, the average affiliate makes $1350 per referral, and there are influencers earning thousands of dollars every month through ActiveCampaign affiliate programs.
When you sign up, you get to be a part of their affiliate community and access their latest product updates.
40. Aweber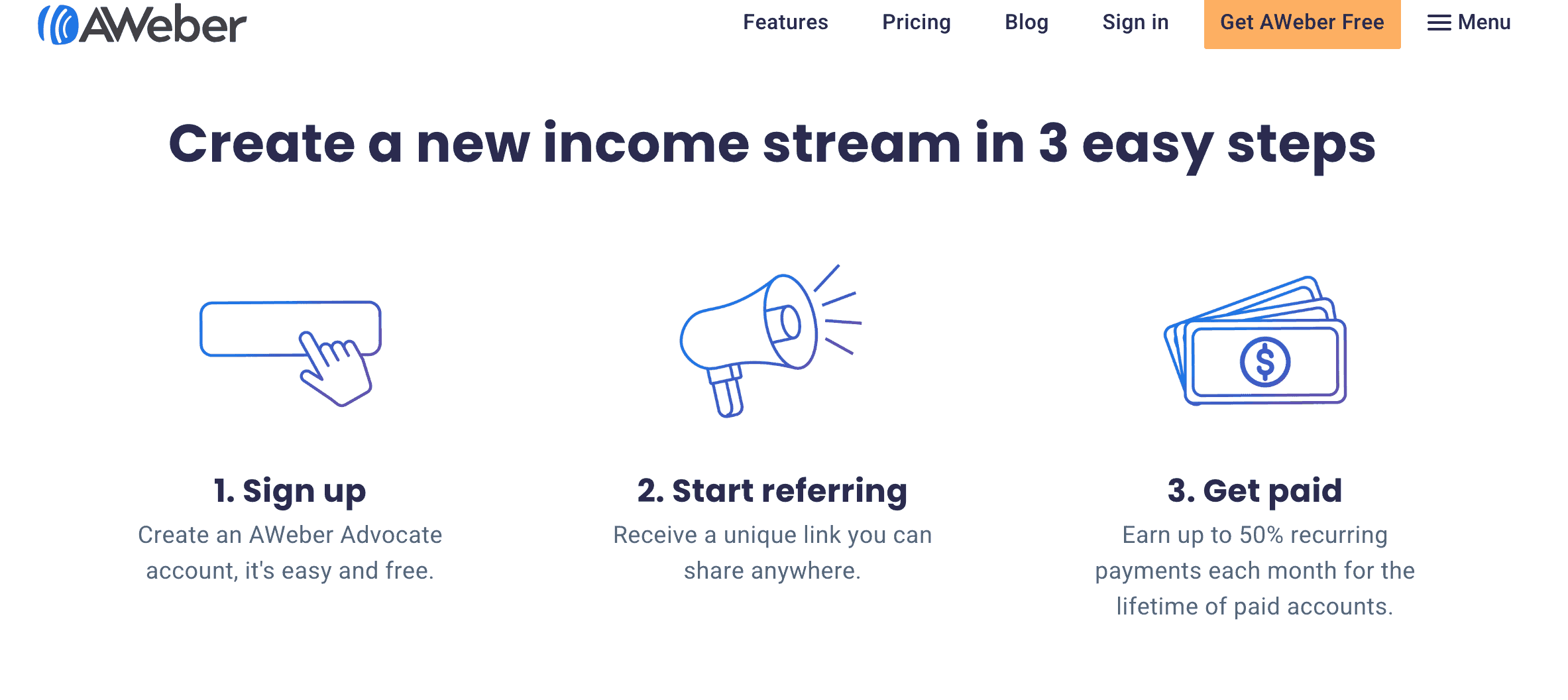 Aweber is a marketing automation platform that offers a wide range of tools, including email marketing, landing page builder, ecommerce pages, etc.
Aweber offers an Advocate Program, the same as an affiliate program. Here, you can earn up to 50% of recurring referral payments for the lifetime of an AWeber Pro account.
They also offer a handful of valuable resources to help you get started. And most importantly, it's absolutely free to join!
41. Hunter

Hunter is an all-in-one email outreach platform used by top companies like Microsoft, Canva, Gartner, etc.
Hunter affiliate program allows you to earn 30% recurring revenue for every customer that you bring in. It's easy to join – apply, generate links, and start selling. It was also featured in HuffPost, The Guardian, and more.
42. Freshworks

Freshworks offers a wide range of products, ranging from customer service suites to sales and marketing tools.
Freshworks affiliate program earns a 15% commission on the monthly deal value of a customer you refer. They offer a 90-day cookie window, meaning you still get paid if the referral signs up within 90 days of clicking your referral link.
They have over 20,000+ affiliates and claim to have already paid $1,000,000+ in commissions.
43. Freshlearn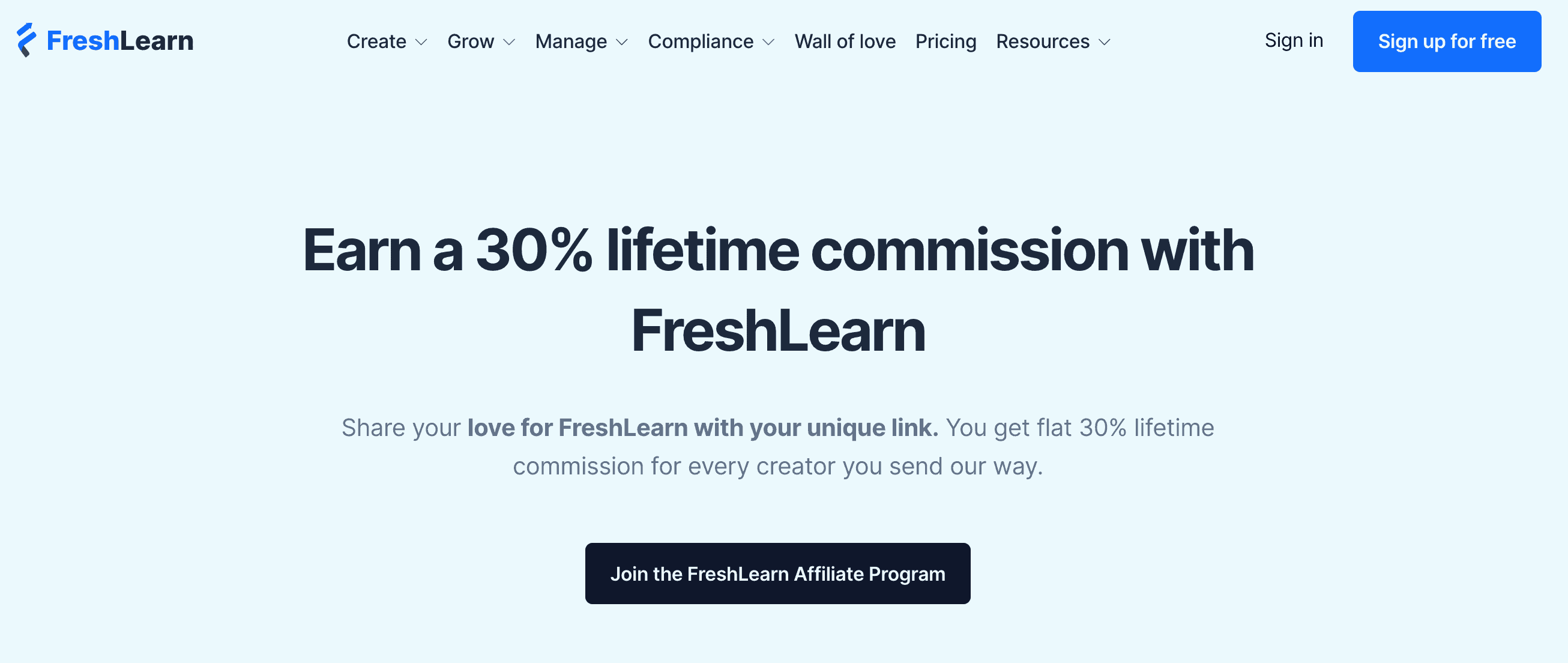 Freshlearn is a no-code platform that helps you create and sell courses online under your own personalized storefront.
With the trend of online courses, promoting Freshlearn is the right time that can help you earn good revenue. The FreshLearn affiliate program enables you to earn a flat 30% lifetime commission for every creator you send their way. They empower you by offering a lot of resources to help you maximize your revenue.
FreshLearn affiliate program is easy to set up and start earning!
Read also: 17 Affiliate Marketing Programs That Bloggers Should Not Miss
Bottom Line
Now that you know the best SaaS affiliate programs, it is time to take action.
About 90% of advertisers report that affiliate marketing is crucial to their digital marketing strategy!
This offers you an enormous opportunity to make money while promoting the products you believe in. One of the best ways to promote any SaaS product is to create good content that tells your audience how these products can help them.
The 43 top affiliate programs we featured here are truly awesome for any affiliate marketer's business.
Choose the one that works best for you, and get started today!