What is affiliate marketing, you ask?
In layman's terms: If you become an affiliate and market somebody else's product, you can make money anywhere, anytime — even in your sleep!
If this interests you, keep reading. 
Many companies use affiliate marketing as a tactic to boost sales and generate better revenues. 
Interestingly, the global affiliate marketing expenditure is growing at a stunning 27% CAGR! 
So, What Is Affiliate Marketing?
Affiliate marketing is when a person (or organization), called an affiliate, earns a commission for promoting and marketing another person's or brand's products or services. 
It's straightforward. All you have to do is select a product or service you like and promote it. You get a cut of the revenue for every sale they get through you.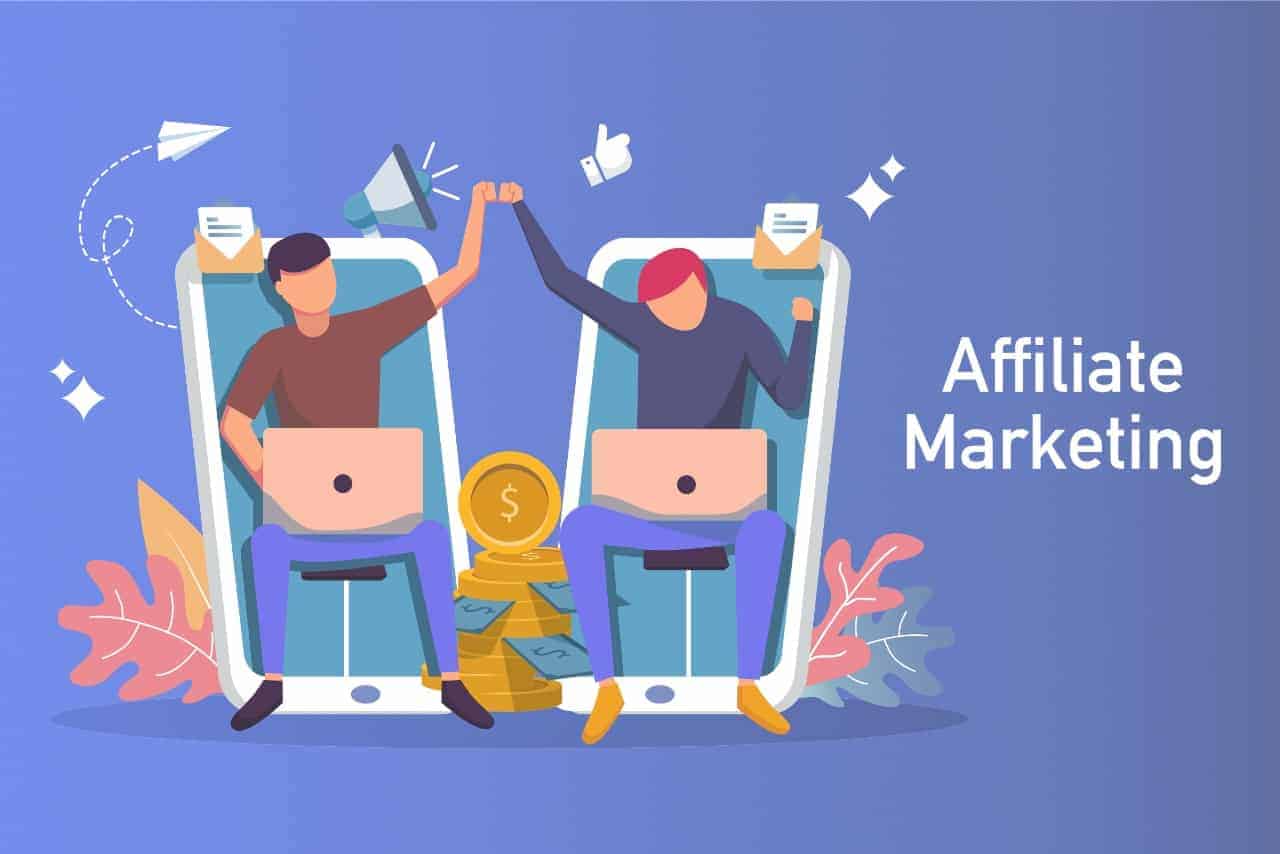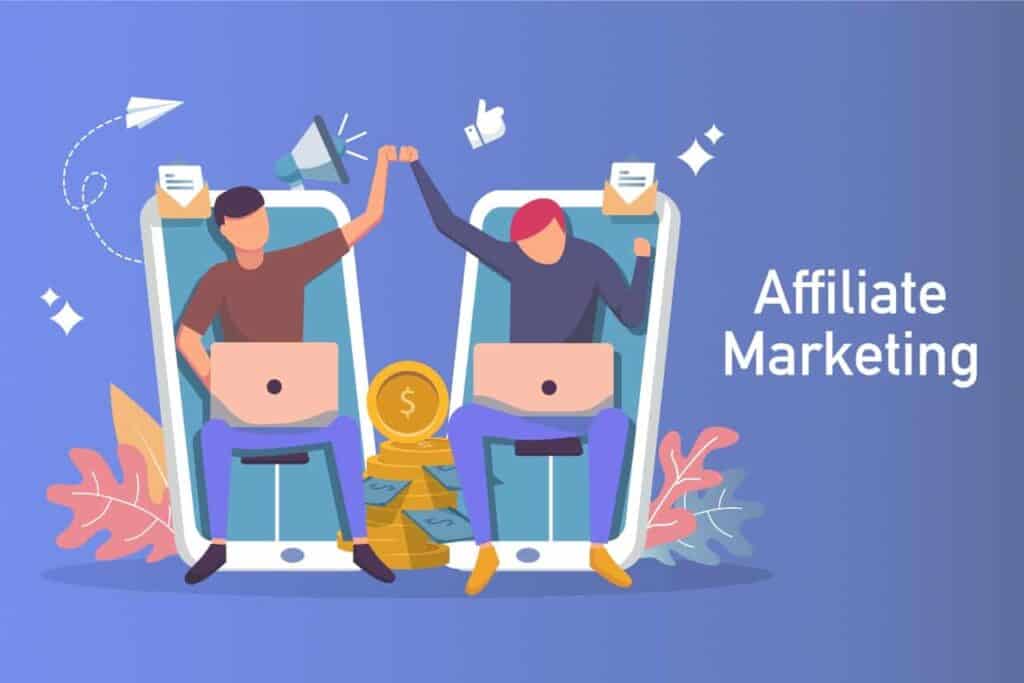 Brands often look for affiliates to help sell their goods and services. 
The affiliate then markets the brand's products to potential customers, nudging them to purchase the product. If that works and the consumer purchases the product, the affiliate and the product seller share the proceeds from the sales. 
In most cases, the consumers do not have to pay more while purchasing through an affiliate link. 
An affiliate program lets you do this. It allows you to sell somebody's products,  keep an eye on the statistics, and track your success rate. 
Product vendors and merchants use affiliate tracking to monitor consumers clicks, track conversions, and pay the commission to affiliates. 
Some brands have home-run stand-alone affiliate programs, while others join affiliate networks. 
In this post, we will discuss the following:
Why you need to consider affiliate marketing

How to choose a good affiliate program

The 10 best SaaS affiliate programs you can choose from
Why Should You Join a Marketing Affiliate Program?
Affiliate marketing is growing year after year. As of this writing, the affiliate marketing industry is valued at approximately $6.8 billion. 
Most well-known e-commerce giants, like Walmart and Amazon, have their own affiliate programs. 
In fact, many successful affiliate marketers earn thousands of dollars every month. 
SaaS (software-as-a-service) companies are great for affiliate marketers. This is because they have a higher lifetime value per customer, on average, generating passive income for months, or even years after the initial purchase. 
This niche is less known, too, making it easier for you to tap into the potential. 
Don't know what to look for in an affiliate program? Don't worry, we have got you covered. 
What Makes for a Great Affiliate Program?
It's better to avoid promoting everything you get your hands on. Instead, you should promote products and services that you believe in. Lots of marketers get into affiliate marketing for a quick buck and promote shady products for commissions. 
That's not you, is it? 
Let's discuss some of the factors you need to look out for when choosing an affiliate marketing program. 
Brand Transparency
It's important to promote companies that provide a clear purview of their terms and conditions. Since trust and open communication are the backbones for affiliate marketing programs, you need to go for brands that are transparent with their affiliates. 
For example, you should be able to easily calculate commissions, contact support in case of need, and understand the contract you are bound by. 
Brand Recognition
This one is simple: As an affiliate, you earn when customers purchase something through your affiliate link. 
A brand with good reach and recognition can bring more customers. On the other hand, a newer brand with a truly innovative product or service can attract customers, driving more customers to buy them. 
Hence, try to find the balance between recognition and innovation. 
Find out how active the brand is on social media. Do they regularly engage with their social audience and promote their services? 
Check if the brand has testimonials in favor of its products and services. Figure out its annual revenue and growth potential.  
Cookie Duration
What's a cookie?
Cookies are text files with small pieces of data stored in your computer. These are used to identify your computer over a network and they allow websites to track user actions, mainly for marketing purposes. 
All cookies have a lifespan. 
Hence, keep an eye on the affiliate program's cookie lifespan. A one-month cookie lifespan means you will receive a commission only if the visitor purchases within one month after clicking on your affiliate link. 
Sometimes, people do not make a purchase on the first visit. Look for programs that have longer cookie lifespans. 
As a rule of thumb, don't go for programs with cookie lifespans of less than a month.  
Commission Rates
Not all product vendors offer the same commission rates.
Different merchants will offer different rates to their affiliates. For the SaaS industry, the general rate is about 20%.
Since affiliate marketing requires time and resources, avoid the ones that offer low commission rates. The highest-paying affiliate programs are usually the best ones. 
Technical Details
This is an essential factor to consider. Before choosing an affiliate program, look for the following technical features:
Product/service data: This provides all the brand's products and their specifications, thus helping you promote them better. 
Alternate tracking: Nowadays, browsers are implementing tracking protection. Cookieless tracking uses scripts to monitor website visitors. 
Deep linking: This enables you to create an affiliate link to any page or part of the page instead of just the landing page.
Postback tracking mechanism: A tracking pixel can be flagged as suspicious by security systems. With postback tracking, the user data is stored in the brand's server. 
APIs: Application Program Interfaces or APIs lets multiple platforms work seamlessly, making it easier for both vendors and affiliates. 
11 Amazing SaaS Affiliate Programs 
Now, let's check out the best affiliate programs in the SaaS niche.
#1. EngageBay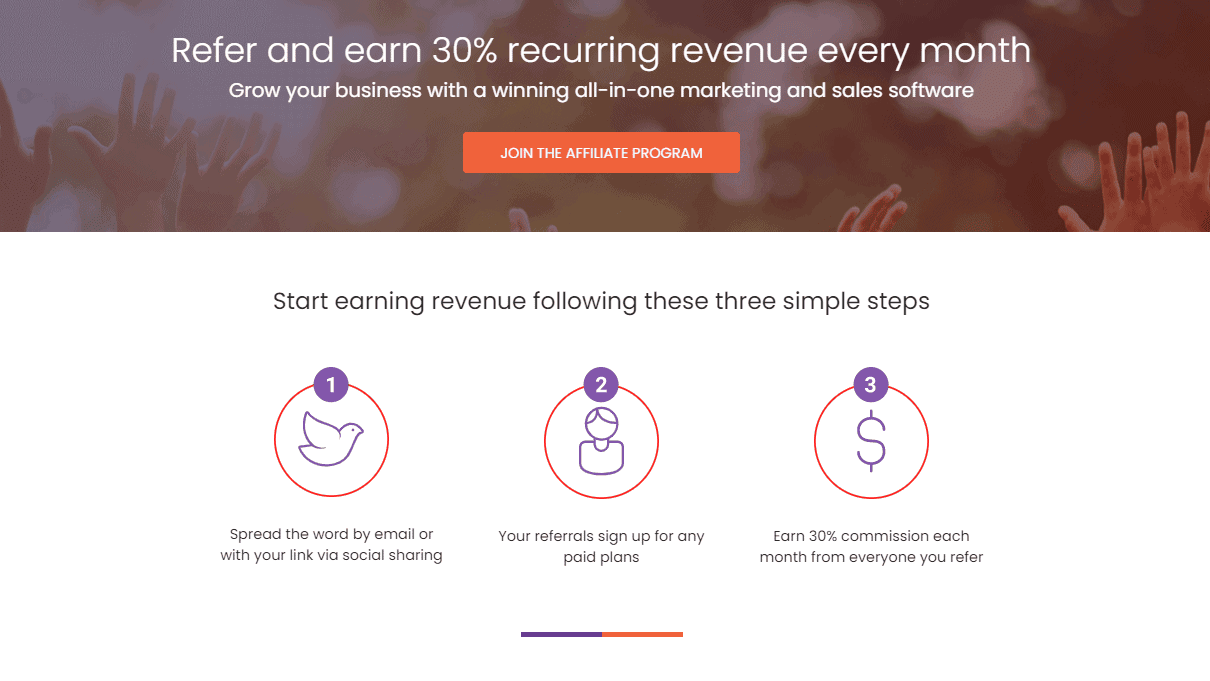 Our first pick on this list is EngageBay.
EngageBay is an all-in-one marketing, sales, and service software, with free CRM. We have an outstanding affiliate program.  
You can earn a 30% commission every month, from each referral. 
Also, the first-click attribution model ensures that the commission goes to the affiliate whose link the customer clicks on first. 
EngageBay is super flexible and affordable when it comes to pricing. Our product has all the marketing automation and CRM features that a startup or small business can ask for, and we offer 24/7 user support.
Although EngageBay is fairly new in the market, more than 30,000 businesses around the world have used and loved EngageBay.
This means you have a great product on your hands to sell, with very little effort and industry-best commissions. With us, there's trust, a recurring revenue source for your business, and a fast-growing market share.
#2. HubSpot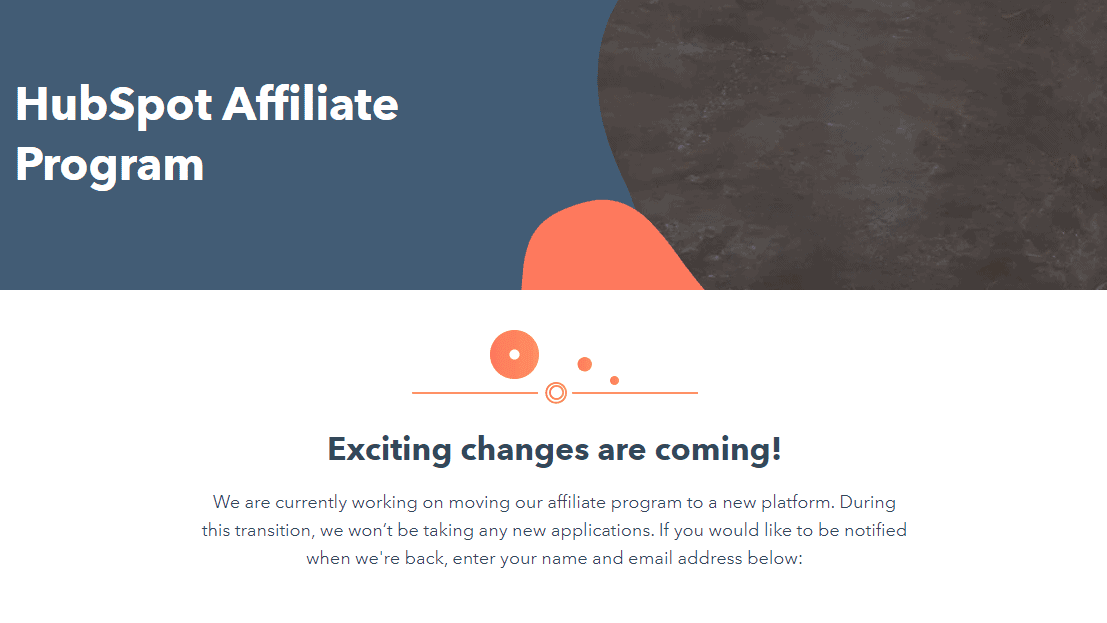 HubSpot offers an excellent affiliate program. You can earn up to $1,000 for each product sold, depending on which product plan you sell. These are the types: 
Basic: $250.

Professional: $500.

Enterprise: $1,000.
HubSpot's cookie lifespan is 90 days.
Of course, HubSpot's brand recognition and positive reputation make it easy for affiliates to win more customers for its products. 
#3. SEMRush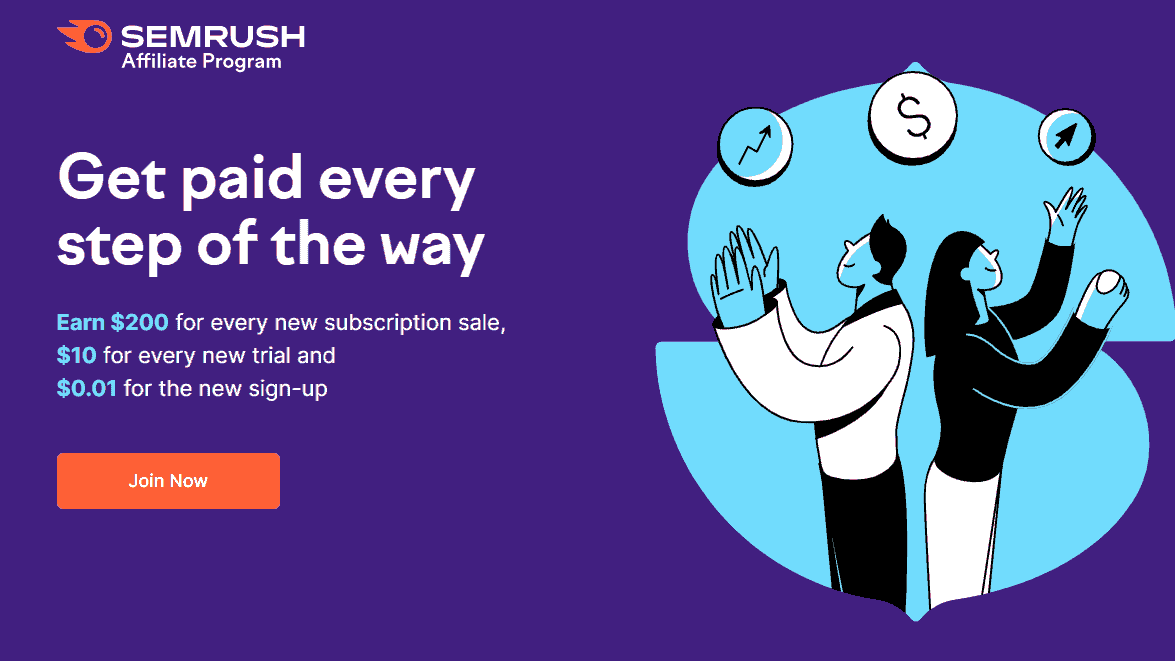 The SEO star 'SEMRush' offers one of the best affiliate marketing programs out there. A 40% commission on affiliate subscriptions is super hard to beat. Oh, and it's recurring, too. This means that you can earn an average of $160 every month for each paying referral you make.
What's more, like EngageBay, SEMRush's first-click model ensures that the commission goes to the affiliate whose link the customer clicks on first, even if the purchase is made through a different affiliate. 
SEMRush's cookie lifespan is 10 years!
#4. Pabbly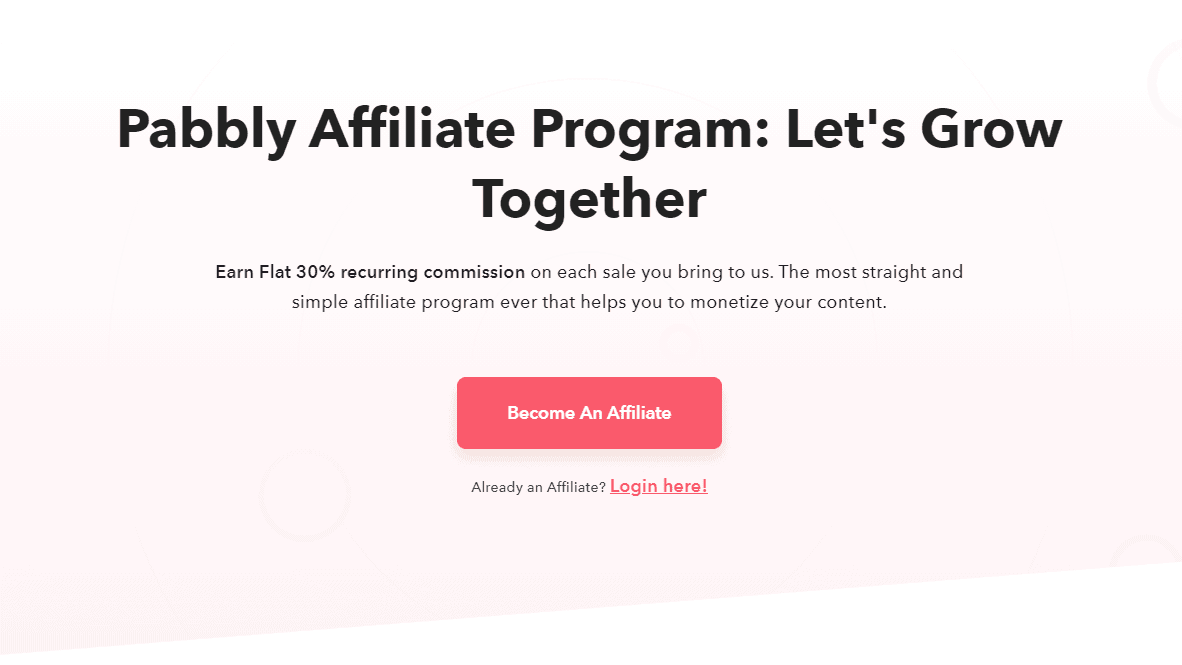 Pabbly is a marketing automation software with email marketing, form builder, and billing support bundled into one platform. 
Its affiliate program lets you earn a 30% recurring commission for every referral that pays.. Pabbly's easy-to-use dashboard, monthly payouts, and 30-day cookie period are great for newbie affiliate marketers. 
#5. ClickFunnels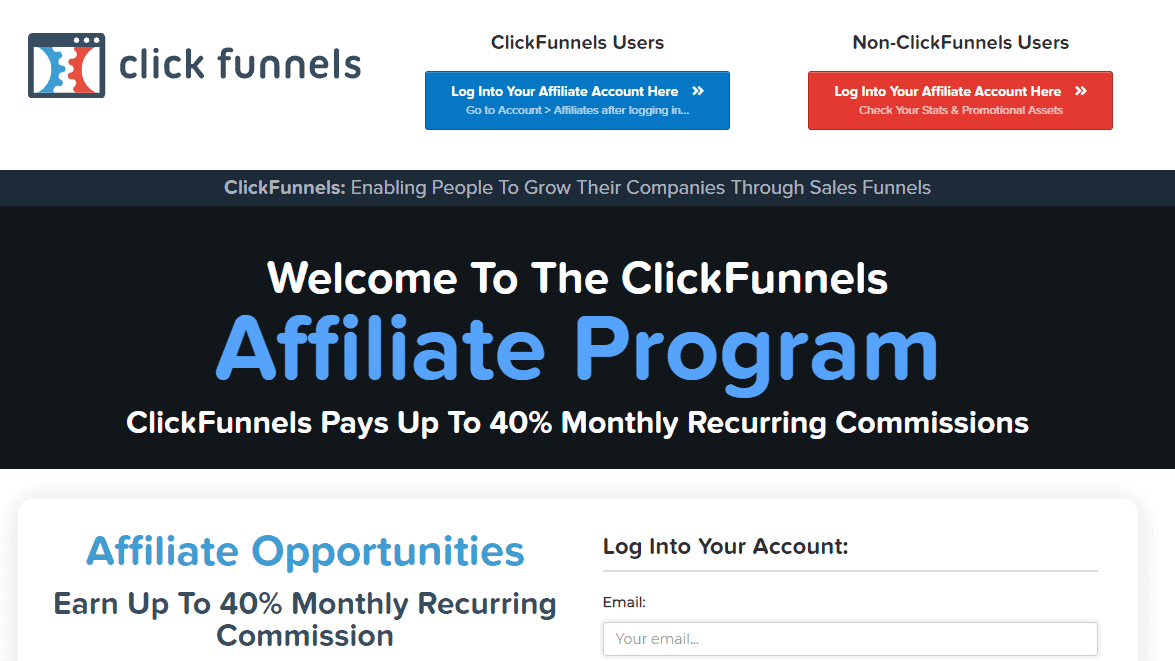 ClickFunnels lets businesses create awesome sales funnels to convert leads into customers. 
As an affiliate for ClickFunnels, you can earn a 20% recurring commission on ClickFunnels subscriptions. After you've earned $1,000 in commissions a month, you can become an approved affiliate with a recurring commission rate of 30%. 
What's more, if you have 40 active ClickFunnels customers that have registered for a monthly membership, you can have your recurring commission increased to 40%!
#6. Freshbooks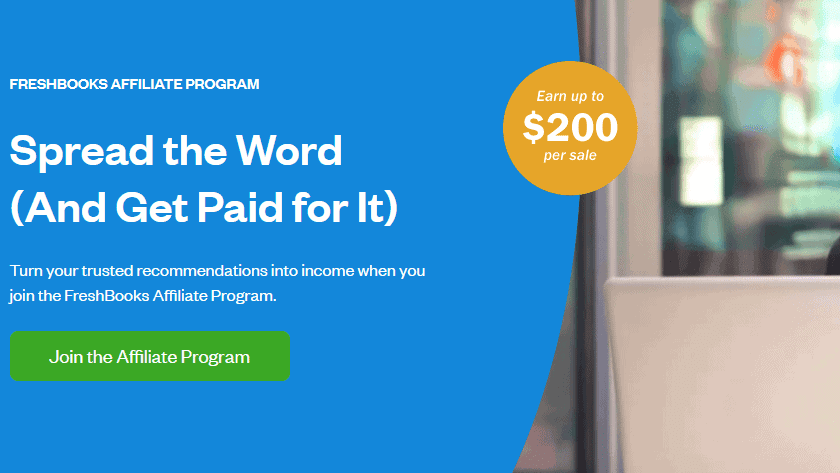 Freshbooks offers another excellent affiliate program. Interestingly, this brand even offers a commission of up to $10 for free trial referrals. Once they upgrade to a paid plan, you can earn up to $200 per sale made. 
Also, Freshbooks' cookie lifespan is 120 days. Its affiliate program is maintained through Sharesale, a world-renowned affiliate marketing network. 
#7. Instapage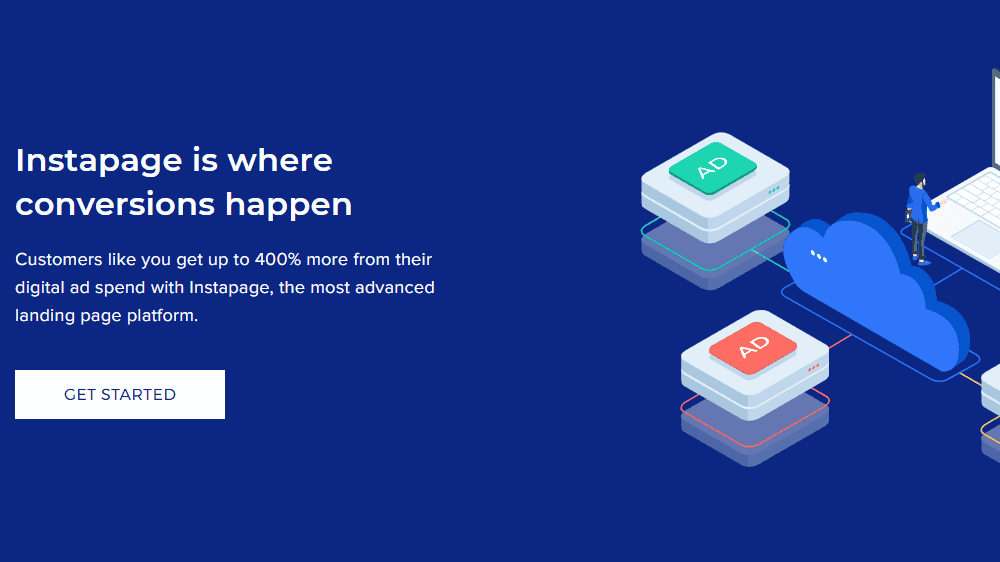 Instapage is a landing page builder aiming to help businesses increase their conversion rates. 
Instapage also offers an enticing affiliate program, with affiliates earning a 30% to 50% recurring commission on their paid plans. Instapage pays a 50% recurring commission for the first year, and a 30% recurring commission for the subsequent years. 
Plus, InstaPage has a cookie lifespan of 120 days. 
#8. SurveySparrow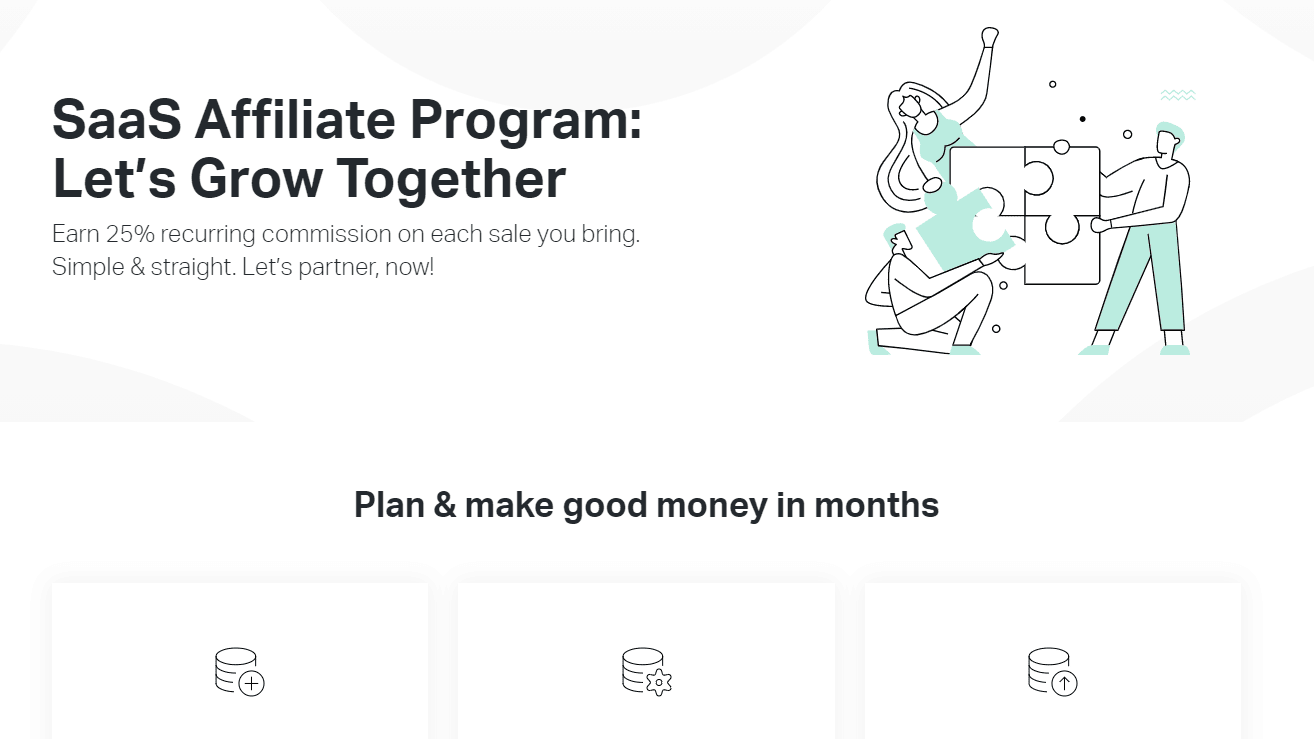 SurverySparrow markets itself as an omnichannel experience management platform. 
As an affiliate marketer for SurverySparrow, you get a 25% recurring commission for each sale you bring. Also, high performers who bring over $5,000 a month of revenue get a $500 bonus on their commissions. 
SurverySparrow's cookie lifespan is 90 days. 
#9. BigCommerce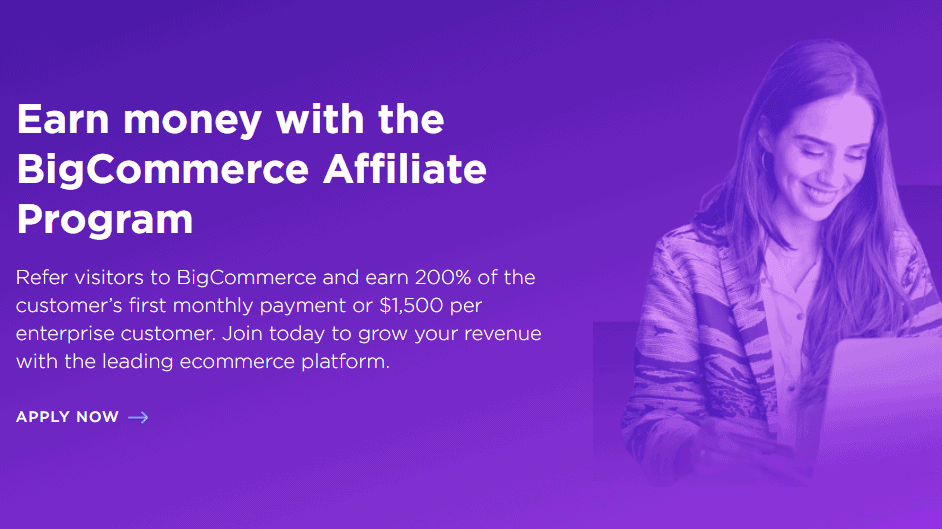 BigCommerce is a haven for affiliate marketers — they pay a whopping 200% of the consumer's first payment. Additionally, you can enjoy higher commission rates as you bring in more referrals. 
In 2020 alone, BigCommerce has paid out more than $1.5 million in commissions to its affiliates. 
#10. SocialBee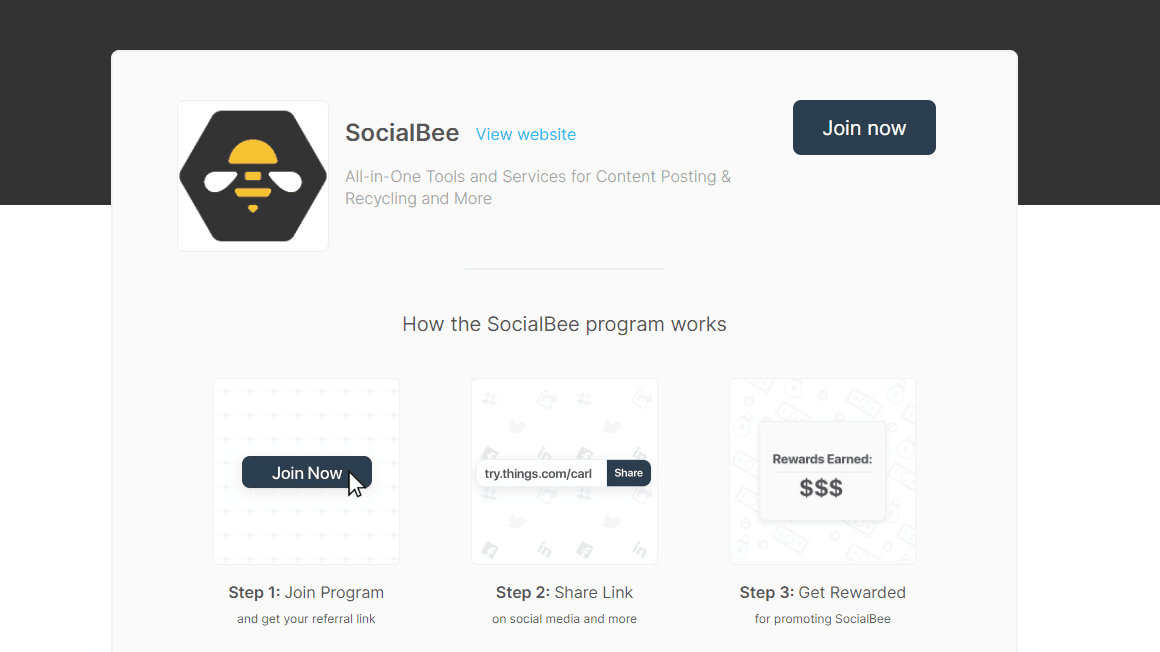 SocialBee is a social media management tool for authors, freelancers, startups, and coaches. 
You can earn a 20% recurring commission on their tools and a 10% recurring commission on their concierge services plans. SocialBee even offers discounts on their products if you can drive in a large audience. 
Their cookie lifespan is 90 days. 
#11. Outranking.io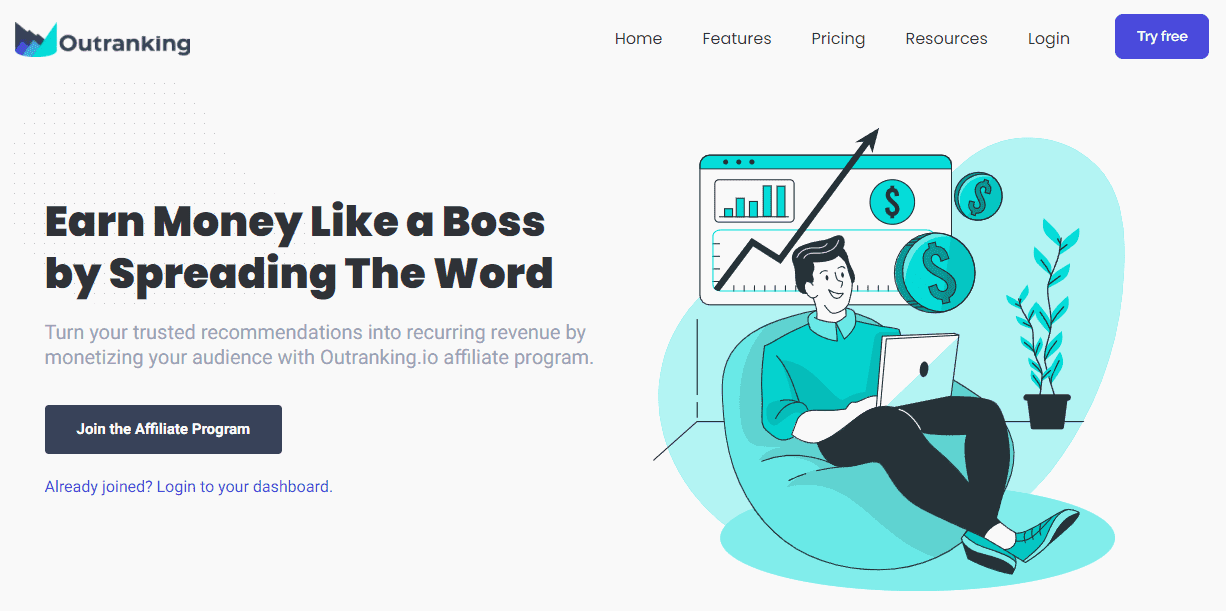 Outranking is an all-in-one SEO and AI writing tool for writers, marketers, and agencies looking to scale their content game. 
It has a solid affiliate program that offers 25% recurring commissions as long as your referrals keep renewing their subscriptions. It just takes a couple of minutes to join their program and your monthly earnings can be as high as $572 by the 6th month. 
Outranking has a cookie lifespan of 60 days. 
Bottom Line
Now that you know the best SaaS affiliate programs, it is time to take action. 
About 90% of advertisers report that affiliate marketing is crucial to their digital marketing strategy! 
This offers you an enormous opportunity to make money while promoting the products you believe in. One of the best ways to promote any SaaS product is to create good content that tells your audience how these products can help them.
The 10 top affiliate programs we featured here are truly awesome for any affiliate marketer's business.
Choose the one that works best for you, and get started today!