Is your business using a web form builder in 2023?
Hopefully, the answer is yes. Web forms are a must-have for any website, especially if you're attracting leads.
With a web form, you can capture the information you need to begin working with and converting those leads into customers.
Yet building your own forms may have proved challenging. Well, until now.
It's possible to create beautiful forms online with a web form builder, and it's easier than you would have thought, too.
If you're not sure where to search for the best form builder, worry not.
We've taken all the guesswork out of the equation with our list of the 13 best online web form builders to use for this year.
Once you can make a form online, you'll quickly see just how much your business can benefit.
What Are Online Forms?
Before we get into our list of the top form builder software and apps, let's make sure we're on the same page by beginning with a definition of a web form itself.
Also known as an HTML form, an online form is a pop-up or box for users to input information.
In most instances, this is their first and last name and their email address, but the information can also include the name of their company, their phone number, and even their home or business address in some instances.
The information the user shares via the web form then goes to your company's server.
It's processed from there.
If a lead wanted to sign up for your company's newsletter, they'd use a web form for that.
The same goes for completing a purchase on some businesses' online stores.
When a customer goes to check out, it's handled via web form.
The best part about web forms is that there's no one particular way to design them.
Depending on the purposes you need the form to fulfill, your design can vary.
That gives you a lot of leeway in creating your web forms.
Capture leads directly from your website using our web forms.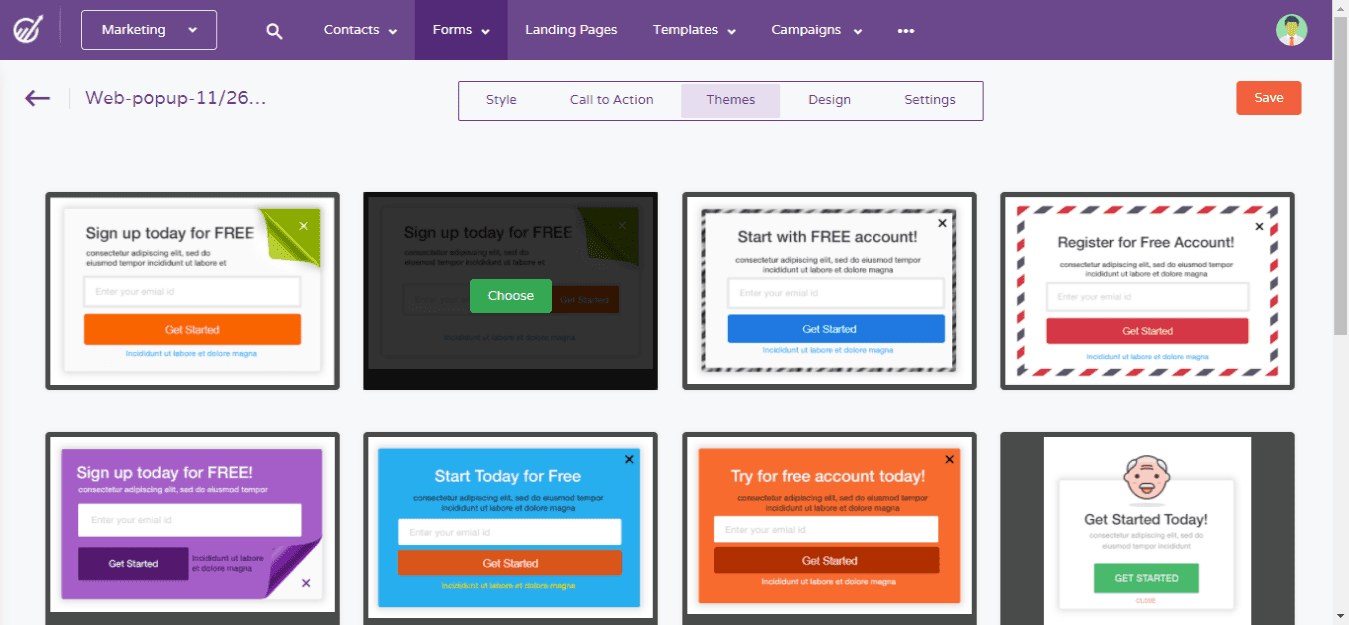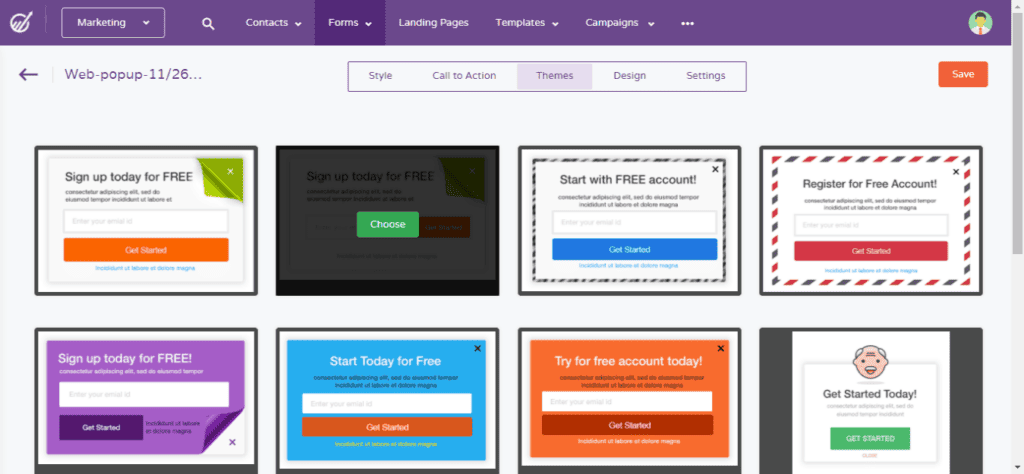 What Makes a Great Form Builder?
Okay, so what separates a good form builder from a great one? We're glad you asked!
Comprehensive Interface
The interface of the form builder should be appealing with a small learning curve.
If the builder does have drag and drop features, these should work seamlessly without creating lag or other slowdowns.
Form Quantity and Quality
What types of forms can you use the form builder to create?
From search forms to data collection forms and everything in between, your software should accommodate them all.
No matter the type of form that suits your business needs at the moment, you should expect unerring quality.
Available Templates
Accompanying templates for any form type you wish to use should also be made available in your form builder.
Per each type of form, you should have a variety of templates to select from so you can continuously produce interesting forms that grab your audience's attention.
Analytics
How many people saw your web forms? Did as many leads interact with the form as anticipated?
These questions don't have to linger in your mind.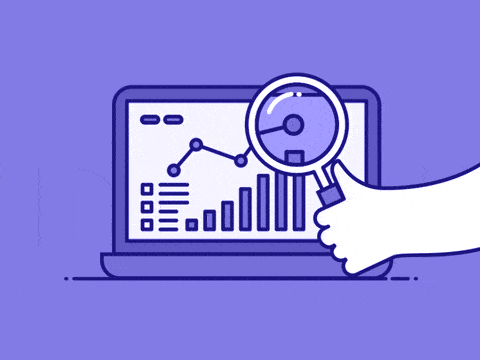 Built-in analytics included with your form builder will paint a clear picture of your top forms and those that maybe need tweaking for next time.
How to Create Online Forms
You're ready to begin making your own online forms to achieve your business objectives for 2022.
Before you jump right in, make sure you follow these steps first. Doing so will optimize your success!
Determine Your Goals
What do you want to achieve with your web form?
From increasing the size of your email list to enticing with a lead magnet, you can't make an appropriate form without a gameplan first.
Sit down with key stakeholders and carve out the steps to achieve your objectives.
Make Your Forms
After looking through our list of the 12 best web form builders for 2022, you'll choose the software for you and soon start using your form builder of choice.
Per the first step, craft a web form that's not only suited to your goals, but visually attractive as well.
Follow Up
Although it would be nice, you can't rely on your web form to do all the work for you.
Once a lead interacts with the form, you need to follow up with them.
Send them a welcome email and then begin engaging with them to build that rapport that could encourage a conversion.
The Top 13 Web Form Builders for Small Businesses
Narrowing down your online form tool options has proven difficult for you so far.
You're overwhelmed by the many choices you have. Your company wants only the best form builder apps, and, as we said, we're here to provide.
The following list of 13 form builder tools comes from sales and marketing names big and small.
Some of these tools are free to use, and others require a paid subscription.
No matter your budget, surely there's a form builder for you on this list.
Without further ado then, let's get into our list of the 13 best online form builders for 2023.
#1. EngageBay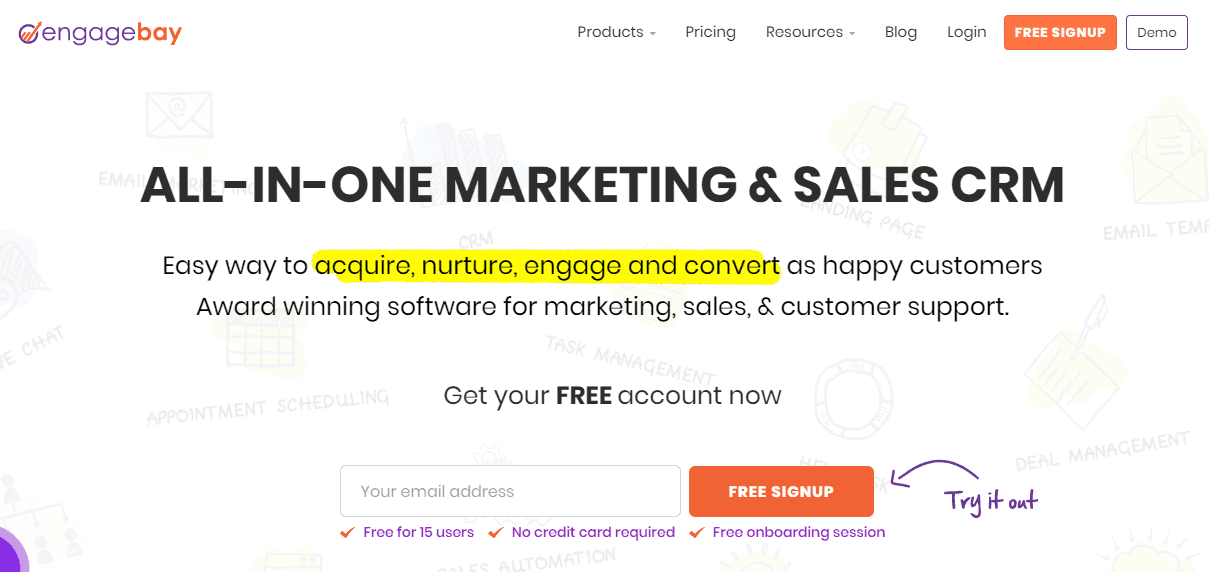 The first top form builder we recommend is EngageBay.
This software relies on simple-to-use drag and drop design for adding form elements such as radio buttons, input boxes, HTML links, videos, images, and so much more.
You're also free to customize every last design aspect of your form so it's uniquely yours, including the text labels, background colors, font colors, and nearly anything else you can think of.
Attributes:
Paste your custom web form code on your site to make your form a scannable QR code, an iFrame, a button, or a pop-up. How easy!
EngageBay has a free WordPress plugin so you can add your web or contact forms to your WordPress-based site and optimize your conversions and sales.
You can take advantage of a type of two-factor authentication through EngageBay via their re-confirm feature. With the re-confirm feature, you send an email to the customer asking them to confirm the submission of the form by clicking a link sent in the email.
Web form creation options are available for free, leaving lots of room in your budget.
Best Feature – Email Alerts for Forms
Never miss out on a potential lead again when you get email notifications the moment a lead submits a web form.
Whether it's you who handles the lead from there or a member of your sales or marketing team, you'll be ready to go.
Pricing
As mentioned, the online form builders on EngageBay are available for free, and they also offer a free plan to users who only need certain features.
This isn't a trial either, as the plan is always free.
Here's a video explaining how to build your web forms in EngageBay:
#2. HubSpot
The next form creation tool for 2022 is HubSpot.
Although known to be expensive, some of HubSpot's features are free, including their online form builder.
This is part of their overarching inbound marketing solution.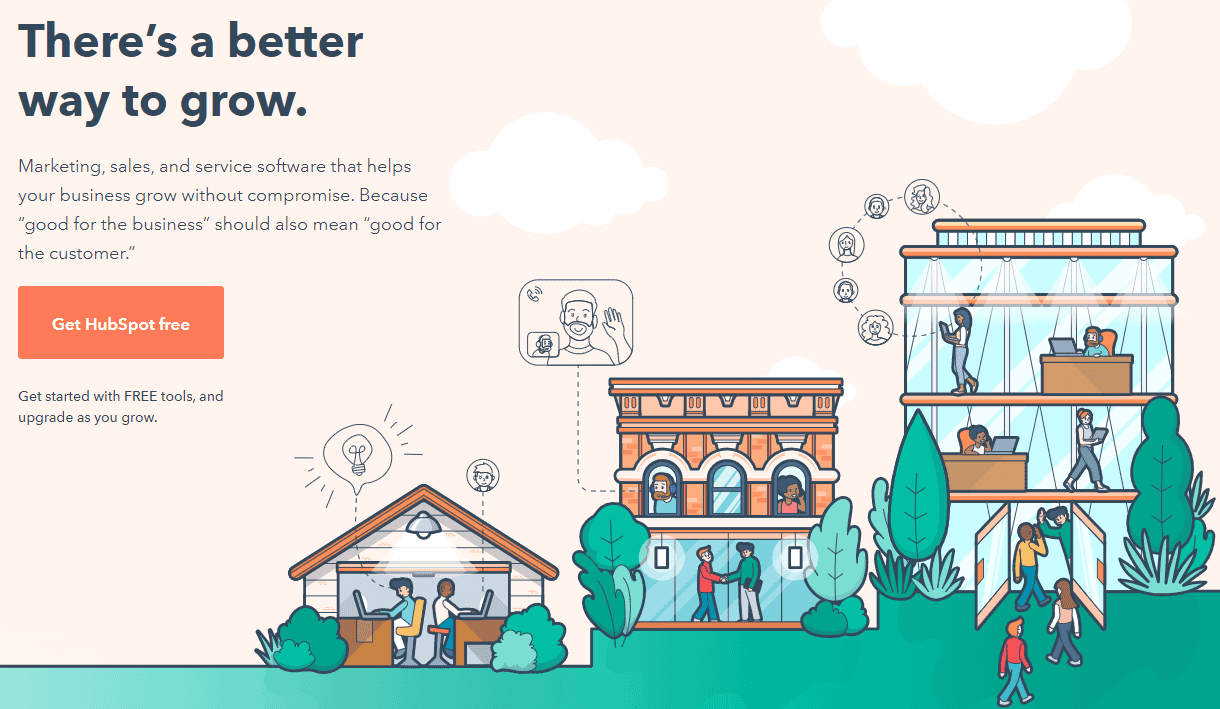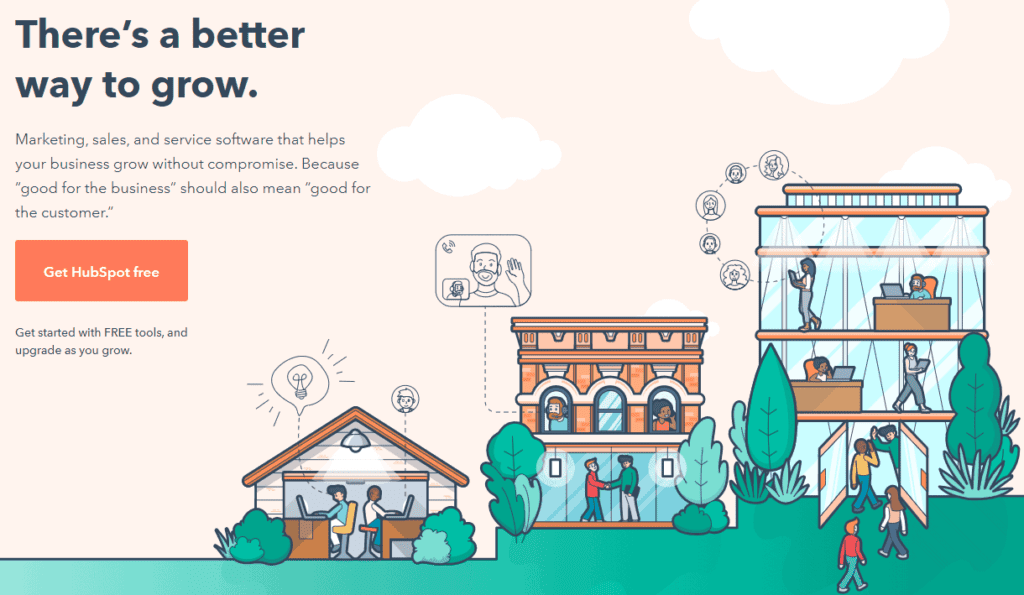 Attributes:
You can create more than a dozen types of fields in your form and choose from roughly 1,000 different kinds of form fields, giving you plenty of versatility.
When you mail out your forms, HubSpot sends you a notification and an email.
This drag and drop form builder lets you make forms quickly, in a matter of minutes, not hours.
Best Feature – HubSpot CRM Routing
If you already use HubSpot CRM for your business, their web forms can automatically be routed to the CRM.
You're then free to personalize your email correspondence, get in touch via phone, or set a reminder to tackle a lead or prospect's file later.
Pricing
HubSpot doesn't charge for its web form builder, nor does it for its CRM.
#3. Zonka Feedback
Zonka Feedback is a customer feedback & employee feedback survey app. We empower you to create and customize stunning surveys and feedback forms to take feedback on multiple channels – Kiosks, iPads, Android Tablets, Smartphones, Emails, SMS, QR Code and more. It helps companies get real-time reports, insightful analytics, and instant feedback alerts. Our feedback management platform helps companies close the feedback loop and take action to improve their customer satisfaction scores.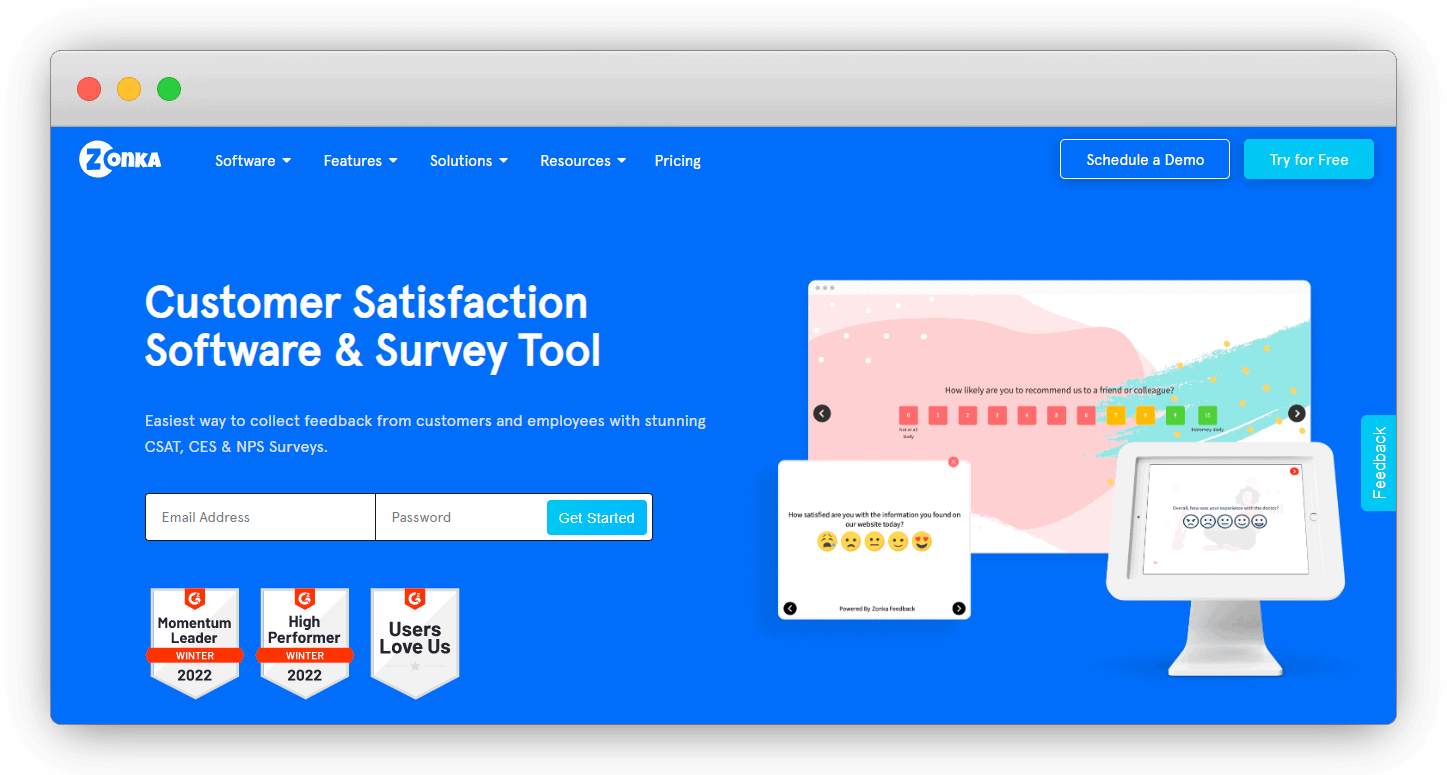 Attributes:
Set up your surveys in less than five minutes. Needs no technical know-how.
Take direct feedback from customers and employees with Zonka Feedback.
Run CSAT, CES & NPS Surveys to know customer loyalty, satisfaction & effort.
Easily manage feedback, collaborate with the team and take action to close feedback.
Get real-time reports, email digests & instant alerts for new feedback and low score.
Zonka supports more than 30+ languages. Build multilingual feedback forms.
Setup multiple locations. View location-based cumulative & comparative reports.
Best feature – Integrations
Integrate with 15+ tools you use and love, with Zonka Feedback. The list of integrations is quite extensive from Slack, Mailchimp, Google Sheets, Zendesk, Salesforce and more.
Pricing
The paid plan starts from $24.
#4. Gravity Forms
A powerful form builder worth considering, Gravity Forms is a WordPress plugin-based service that, according to them, takes minutes to set up.
You can create and embed forms made for WordPress websites or integrate with your favorite third-party sites.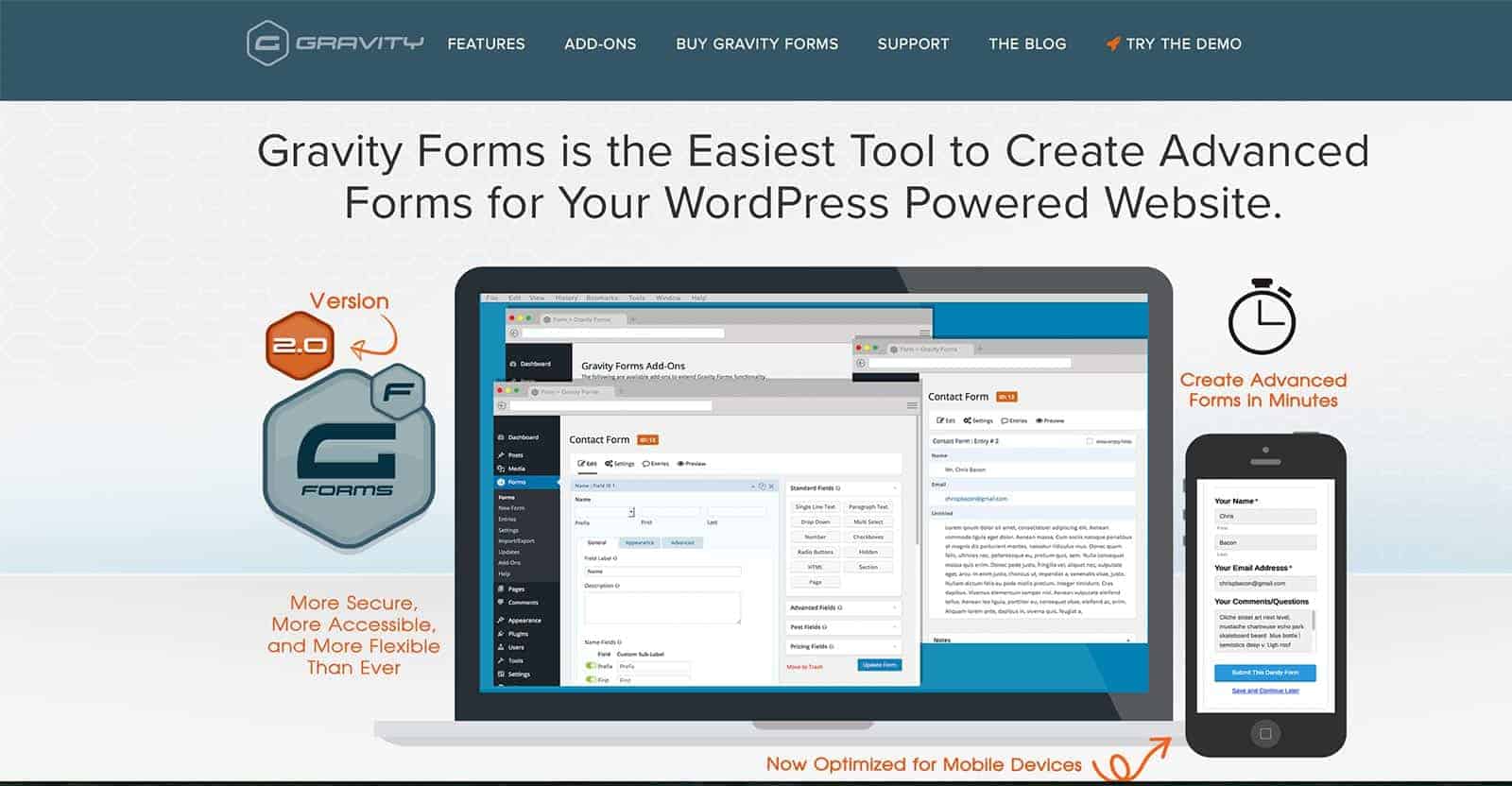 Attributes:
Conditional Logic is a smart feature from Gravity Forms that lets you determine whether you want to show all form fields (or hide some) as well as pages or sections. If you want to maintain a lead's privacy by controlling what's asked of them, Conditional Logic will help.
You have your pick among more than 30 form fields. Any can be changed with the Gravity Forms form editor.
Gravity Forms offers an Elite license for access to Priority Support, WordPress multisites, polls and surveys, and more.
Best Feature – Integrations
The list of third-party integrations Gravity Forms offers is quite extensive.
The big ones are Twilio, Survey, Zapier, Slack, Authorize.Net, Signature, Stripe, PayPal, and MailChimp. You can see the full list here.
Pricing
To get started using Gravity Forms, you'd pay a one-time fee of $59.
#5. WPForms
For quick web-based form building, WPForms also comes recommended.
Their drag and drop builder for WordPress sites uses a version of Conditional Logic WPForms calls Smart Conditional Logic.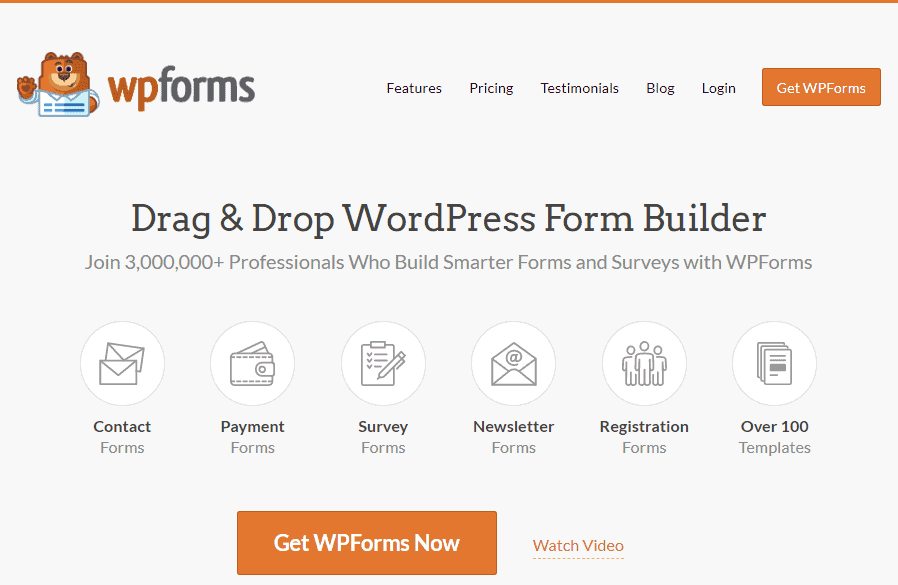 Attributes:
According to WPForms' website, more than 3 million professionals trust in their service.
Work with more than 100 templates within WPForms, including registration forms, newsletter forms, survey forms, payment forms, and contact forms.
Lead entry management makes it possible to contain your leads to a centralized location so your workflow is never a mess.
Best Feature – Spam Submission Protection
Getting spam submissions is a waste of your team's time and energy.
With WPForm's Spam Protection using Honeypot and Captcha, you'll watch your spam submissions dwindle to zero.
Pricing
WPForm has four plans to choose from: Basic at $49 per year, Plus at $199 per year, Pro at $399 per year, and Elite at $599 per year.
#6. Typeform
Specializing in what it calls "people-friendly forms," Typeform is an advanced web form builder that works in a notepad-style fashion.
In other words, you begin typing out what you want in your form and Typeform builds the rest, letting you add both basic and more complex features depending on how you want your forms to function.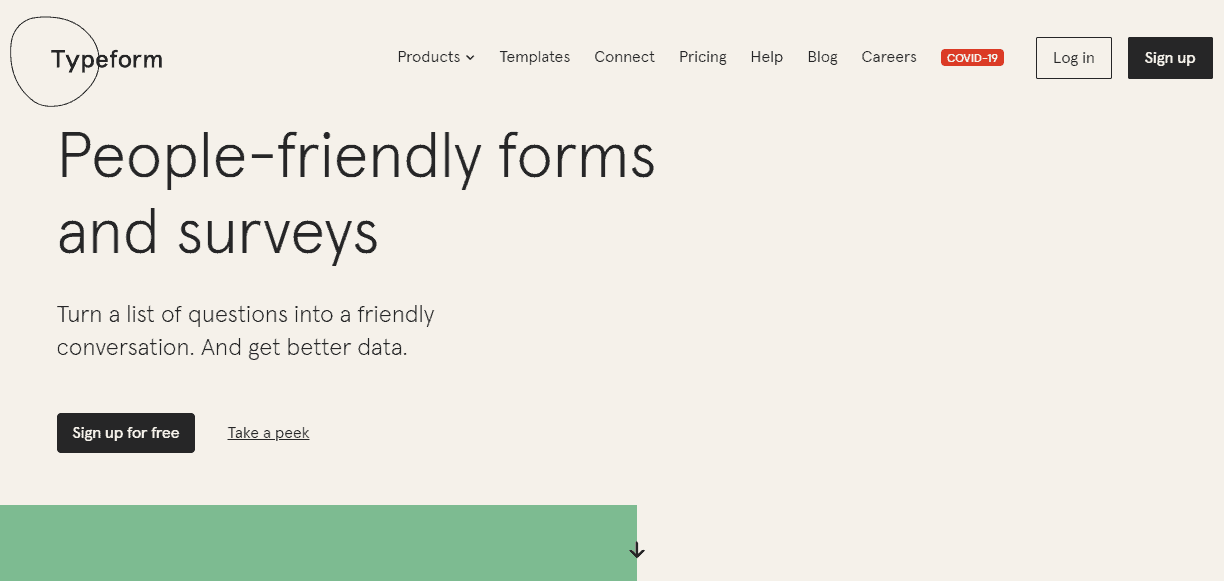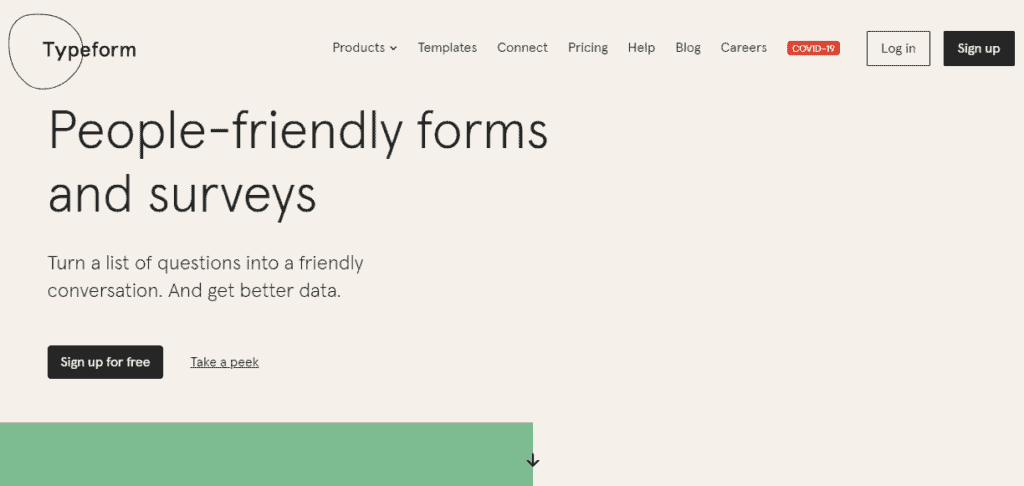 Attributes:
Besides forms, Typeform is adept for building employee feedback surveys, online shop checkouts, quizzes, and remote working forms.
Select from dozens of templates for the above form types.
You can always upgrade your experience with Typeform Professional. This opens up features such as marketing optimization through Facebook Pixel and Google Tag Manager, email personalization, and Hidden Fields for segmenting your audience.
Best Feature – Free Form Templates
You can get started using Typeform for free with its form templates.
You will have to sign up for a Typeform account first (which is also free), but then you can explore and edit the templates you like best until they're a perfect match for your website.
Pricing
Besides its free templates, Typeform offers other services with three plans: Essentials for $35 per month, Professional for $50 per month, and Premium for $70 per month.
#7.
Paperform
Paperform is a flexible online platform that helps small businesses and teams simplify work and get more done. Take payments, manage bookings, collect information, or run an entire company— build the solutions you need tailored to your unique brand.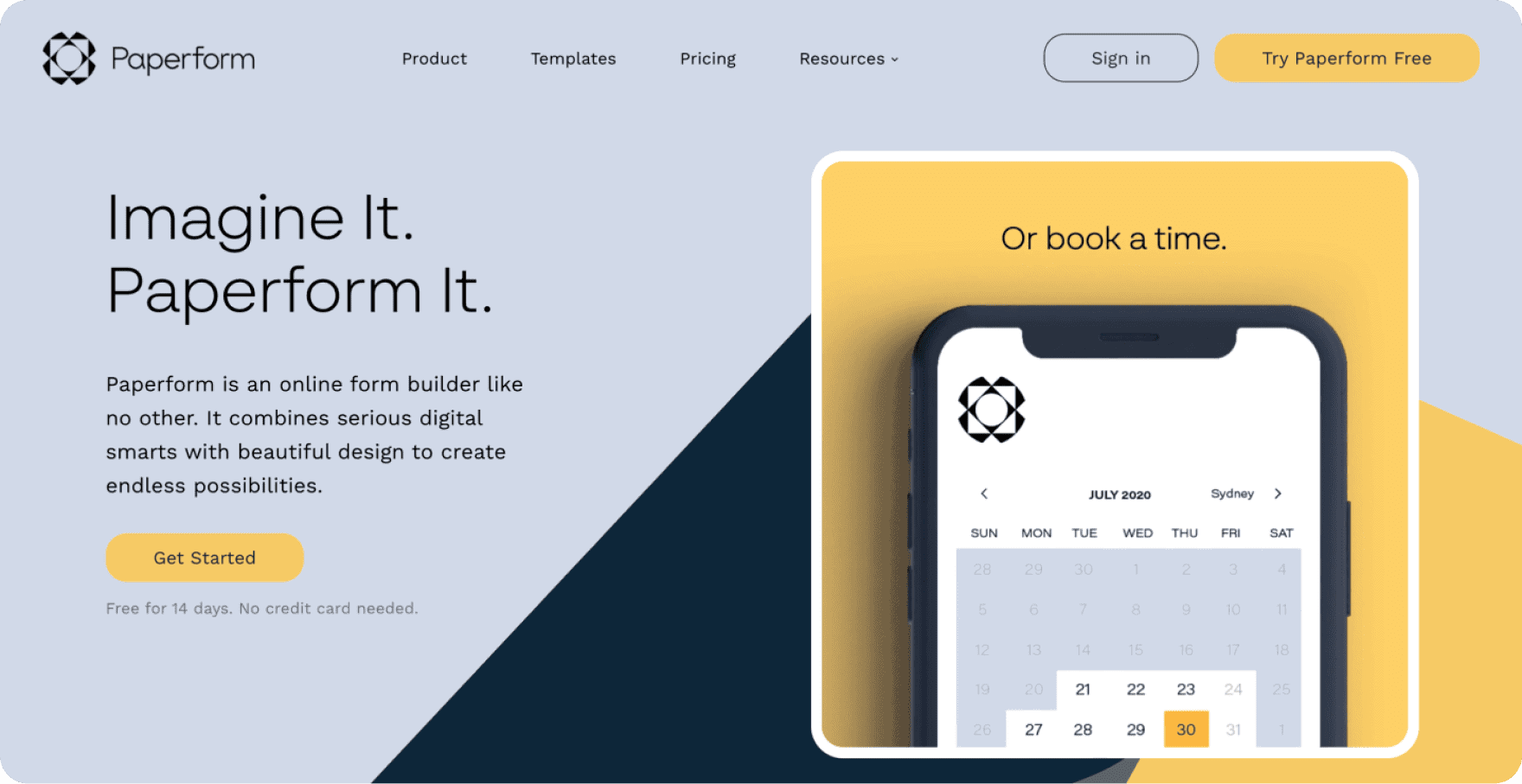 Attributes:
Payment features:

With over 80 various payment integrations like Stripe, PayPal Business, Square, Braintree, it's easy to collect information, capture payments, and automate invoicing online. 

Calculations

: With

calculations, you can work with a user's responses to calculate and optionally display a value. It's a field that you can wield for various use cases, ranging from complex price calculations to simple quiz score cards.

Automate workflows:

Automatically upload your new contacts and leads, send automatic custom emails, receipts, tax invoices and more, simply by using Paperform and one of its 3,000 integrations. 
Best Feature – Customisation
Paperform's powerful no-code editor eliminated the clunky menus or lagging interfaces. Instead, the drag-and-drop functionality, in-app editor and option to create from scratch means it's as simple as writing a document. Curate your unique look and feel by customizing colors, fonts, layouts and themes, or go crazy with their 600+ templates. 
More advanced users can play around with the custom HTML & CSS capabilities and complex fields like conditional logic and calculation functions, so your form has both brains and beauty.
Pricing
You can try the product free for 14 days. Prices start at $20/month.
#8. EmbedForms
EmbedForms is a flexible online form builder that can help you embed web forms anywhere on your website in less than a minute.
If you are considering a form builder that provides an option for creating an unlimited number of forms for an unlimited number of website domains, then EmbedForms is the right choice for you.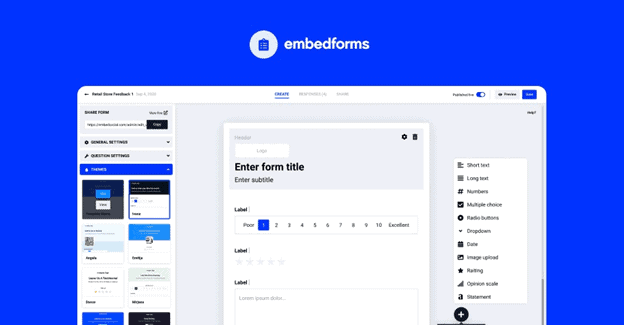 Attributes:
Forms templates library: EmbedForms has a library of industry-based feedback form templates. So, whether you are looking to gather customer feedback for a restaurant, online course, or fitness center, this form builder has a feedback form for pretty much every business. Furthermore, if you are seeking excellent lead generation forms, they have them too.
Advance form editor: With EmbedForms, you can customize your form by applying a professionally designed theme, choosing different field types like radio buttons, multiple-choice questions, Likert scale, and so on.
Email notifications: There is also an email alert option that will notify you every time someone fills out your form.
Export responses: The system provides a simple option to export responses for a selected form in a . CSV format.
Embeddable code: Easy to use script that works for any web platform to display form embedded in existing pages. The form is responsive and fits perfectly with any website layouts.
Best Feature – Feedback widgets
EmbedForms offers a few types of feedback widgets for collecting on-page customer feedback. You can choose the form to appear as a button, floater, or banner. The implementation of the feedback widget is pretty straightforward; all you have to do is copy the code and paste it on the page you want the widget to appear.
Pricing
For now, EmbedForms offers only one Unlimited plan. However, for $39, you will receive access to all options with no limitation.
#9. Wufoo
The next online form builder is a pretty well-known one, Wufoo.
When we say well-known, we mean it. Wufoo is favored by the American Red Cross, Sony, National Geographic, Twitter, Microsoft, CNET, Disney, Best Busy, and Amazon.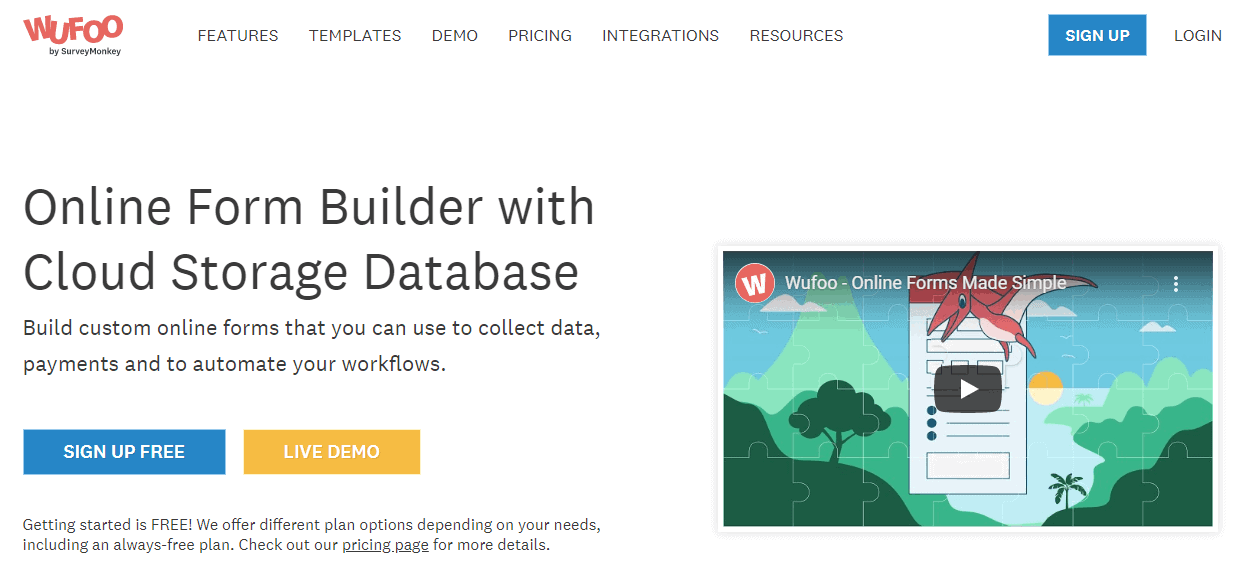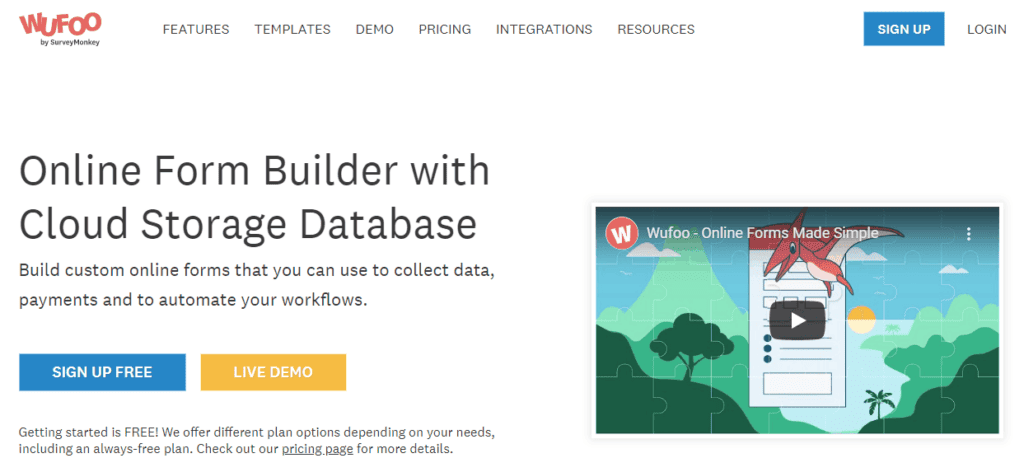 Attributes:
Custom branding lets you put your company's personal stamp on your forms so they're branded and cohesive.
The Theme Designer has a slew of themes for you to choose from. You can also create your own if you're so inclined.
Wufoo offers reporting features for getting the most out of your forms.
Best Feature – Automated Workflows
Wufoo's automated workflows are there for faster work made easy.
You can create rules via the Branching and Logic feature, so when each lead fills out a form, that form is uniquely personalized.
Automating your workflow also lets you sync and transfer between your marketing automation system and your CRM.
Pricing
Wufoo offers all sorts of pricing plans for businesses big and small.
The Free plan limits your forms to their most basic, as you can only use 5 forms, 100 entries, and 10 fields per month.
The Starter plan for $15 a month boosts you up to 10 forms and 1,000 entries per month.
The Professional plan at $30 a month, the Advanced plan at $75 a month, and the Ultimate plan at $185 a month let you work with unlimited forms.
#10. JotForm
You also can't go wrong with JotForm, a form-building, and data-collecting online tool.
Whether you want to customize your forms, automate your tasks, and even receive payments for purchases made online, JotForm can do all this and more.
They even have an app you can download on the Google Play Store and the Apple App Store for web forms on the go.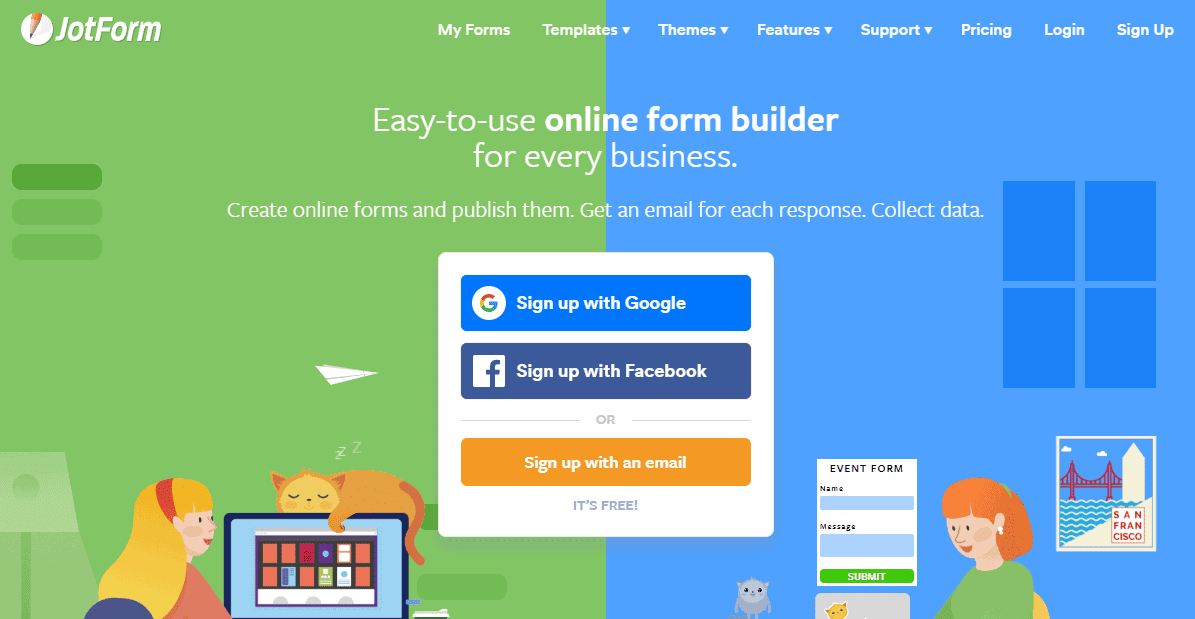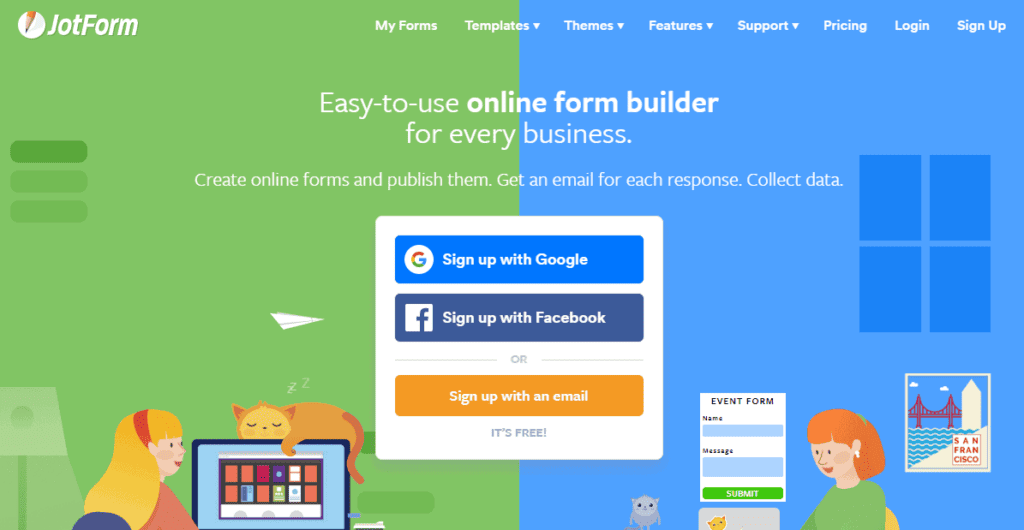 Attributes:
JotForm users can parse through more than 10,000 searchable templates, all of which are free. The form categories include file upload forms, questionnaire templates, survey templates, contact forms, evaluation forms, payment forms, signup forms, membership forms, feedback forms, request forms, booking forms, application forms, event registration forms, and order forms.
With JotForm Mobile Forms, you can still gather data on your leads even when you're not at the office.
Push notifications through the JotForm app tell you the moment someone sends a form through so you can act appropriately.
Best Feature – Assign Forms
Does your company have a big sales or marketing team?
With Assign Forms, you can forward forms straight to those team members who you know can best handle the job.
JotForm Mobile Forms make it easy to assign, access, and send forms on smartphones, tablets, laptops, desktop computers, and even when offline.
Pricing
JotForm has four pricing plans.
The first is free and limits you to 5 forms and 1,000 form views a month.
The Bronze plan for $29 a month boosts you to 25 forms and 10,000 form views a month.
With the Silver plan for $39 a month, you can make 100 forms and get unlimited form views.
The Gold plan for $100 a month lets you send unlimited forms every month.
#11. Cognito
If you're still looking for another option to build your web forms, Cognito is a good pick.
You can use their form builder for free, creating order forms, registration forms, and contact forms in what Cognito says takes seconds through their drag and drop features.
Once you customize your template, you can publish it and then get emails sent straight to your inbox when a lead fills out your forms.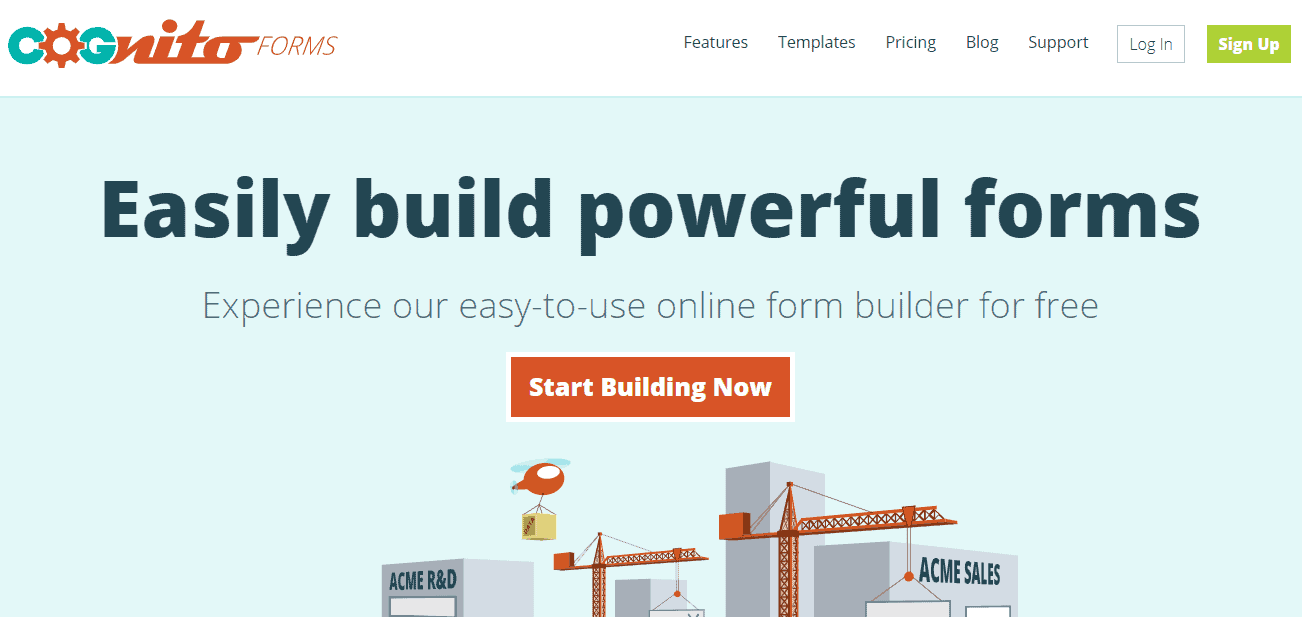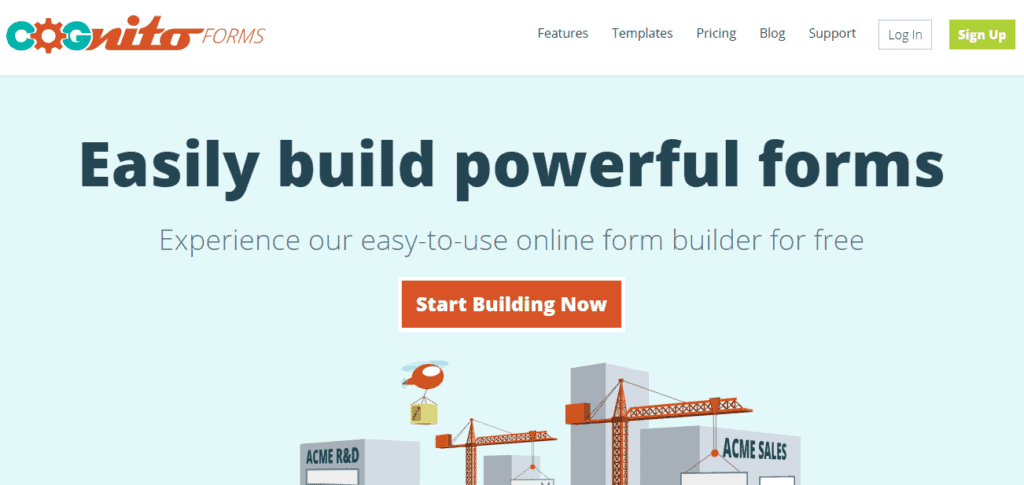 Attributes:
Conditional Logic and Repeating Data makes it easy to personalize your form experience for convenience and privacy.
Calculations within Cognito's forms will track dates and crunch numbers for you so your math is always correct.
Cognito is compatible with plugins and apps like the Windows App, Microsoft Power Automate, Zapier, and WordPress plugins.
Best Feature – Document Merging
Do you need the information in your forms written in a document but you don't want to take the time to manually convert it?
With Document Merging in Cognito, you can convert your form data into neat, presentable PDFs and Microsoft Word documents.
In Word, you can customize the data, do some advanced calculations, and instantly send the attachments to the relevant members of your sales and marketing teams.
Pricing
To begin using Cognito, choose from one of four plans.
The free plan lets you send 500 entries a month and unlimited forms, which is quite generous.
The Pro plan is $10 a month, the Team plan is $24 a month, and the Enterprise plan is $99 a month. That plan supports up to 50 users.
#12. Formsite
We're still not done yet. Next, we've got Formsite, a resource for building your own registration forms, order forms, surveys, lead forms, and contact forms.
This all happens through the drag and drop builder, or you could always use one of Formsite's templates and send your forms that way.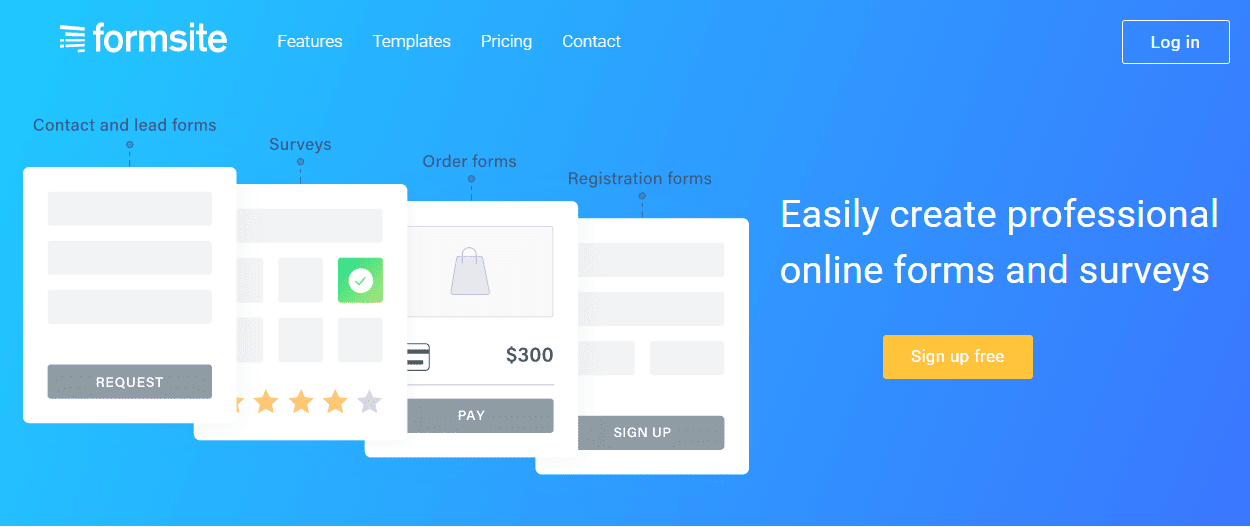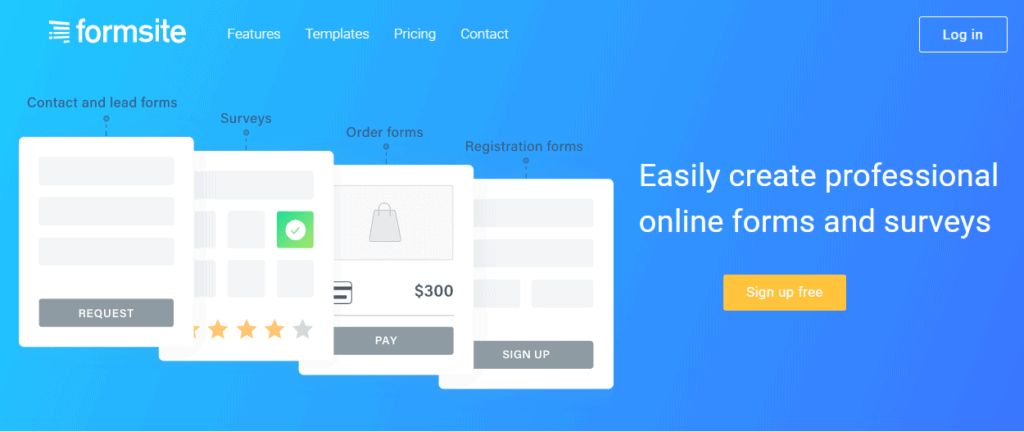 Attributes:
Formsite has more than 100 templates to choose from, each of which you can customize. The forms are available in areas of nonprofit, travel, government, human resources, education, healthcare, marketing, business, and entertainment.
With more than 40 types of forms, you can embed them anywhere on your website.
Formsite supports custom logos as well.
Best Feature – QR Code Support
Step into the 21st century by using QR codes to send forms through Formsite.
All your lead has to do is grab their phone, scan the code, and then fill out the form traditionally. Besides QR, this feature also works with 2D barcodes.
Pricing
Formsite has an array of plans, although admittedly, no free ones.
The cheapest plan is the Deluxe for $19.95 a month, in which you can send 5 forms. For $29.95 per month, the Pro 1 plan increases the form limit to 10 forms per month.
With the Pro 2 plan for $59.95 a month, you can send 25 forms monthly with 2,500 results for each form.
The Pro 3 plan for $99.95 a month increases that limit to 100 forms a month and 10,000 results for each form.
The biggest companies should consider the Enterprise plan at $249.95 per month.
This grants you access to 1,000 forms a month, 50,000 results per form, and 10 gigabytes of file space.
#13. Pabbly
Last but certainly not least is Pabbly. Made "for growth-focused businesses," Pabbly offers email marketing support, form building, email verification services, and subscription billing software.
Some of their top clients are The Guardian, Uber, Cisco, and more than 100,000 others.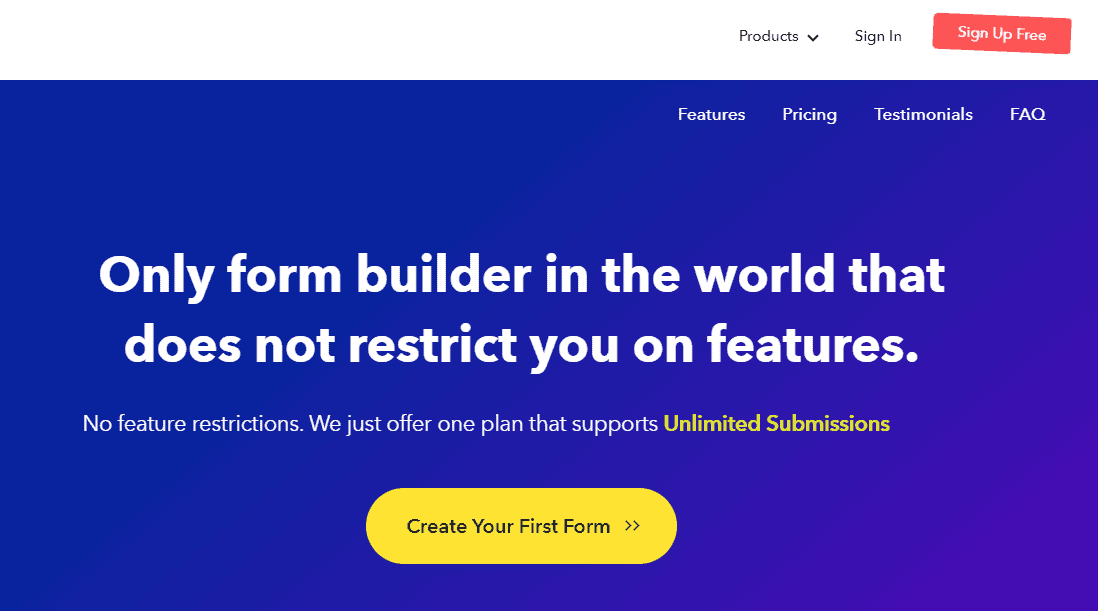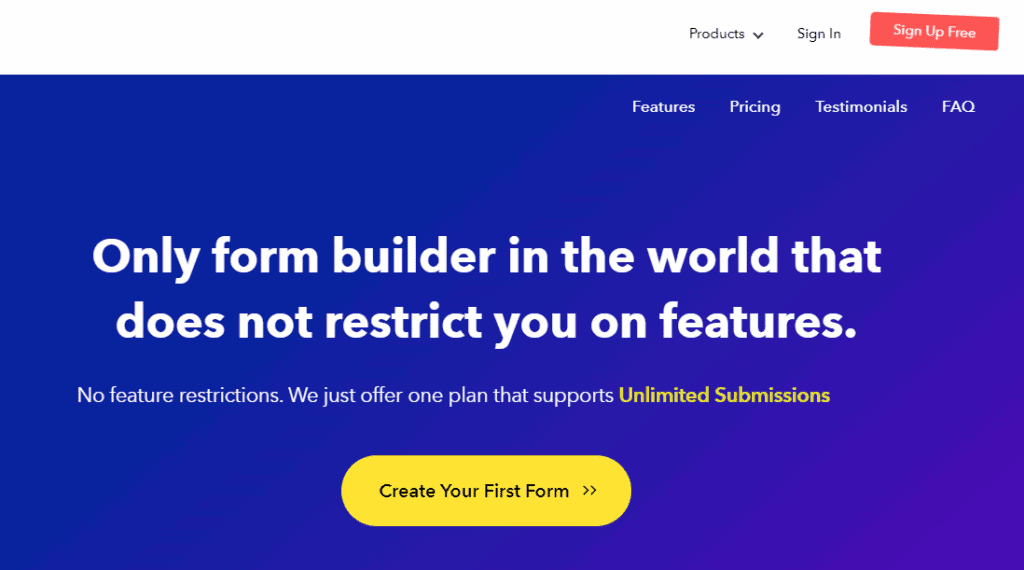 Attributes:
Pabbly has an extensive library of templates designed for conversion optimization and mobile use. You can customize the bulk of these templates.
Drag and drop editing is handy for adding elements to your form such as hidden fields, videos, images, dropdowns, checkboxes, and more.
Your integration options include EngageBay, ActiveCampaign, GetResponse, AWeber, MailChimp, Constant Contact, and Mad Mimi.
Best Feature – Pabbly Form Builder Dashboard
The Pabbly Form Builder Dashboard is where all the magic happens.
Here, you can even send forms straight to users if you have yet to get your website up and running.
Yes, that's right, you can begin capturing leads before your website is even live.
Pricing
Pabbly has a single pricing plan available for $15 a month.
This gives you several types of embedded forms, webhooks, auto-populated form fields, custom branding, and integrations with Stripe and PayPal.
You can also customize form themes and make multi-page forms.
You get unlimited submission reports, file uploads, embedding, payment accounts, and users as well.
Conclusion
If you want to make web forms that are appealing and will convert more leads, the top 13 form builders we recommended on this list will help you get there.
Even if you have a startup budget, you can still make great forms sure to build your audience and your bottom line.
Best of luck!