We all want to make a living and enjoy doing what we do, but marketing takes up so much time.
It can be really difficult when you're on the go or just don't have enough money for ads. So, what are some free tools that freelancers like us should try?
Whether you're a freelance project manager, writer, website developer, graphic designer, or any other specialist, this blog post can help you find a great tool you can use for free.
Take a look at our top 10 free marketing tools for freelancers:
EngageBay
Buffer
Google Analytics
Hotjar
Canva
WordPress
Wistia
Sumo
Talkwalker
Hello Bar
If you're interested in learning more about the features and functionalities of these 10 free freelancing tools, this article will tell you everything you need to know.
Keep reading!
The 10 Best Free Marketing Tools for Freelancers
Who has the time to beat around the bush? Let's get straight to the software.
#1. EngageBay
Designed for small businesses, startups, and entrepreneurs, EngageBay is an all-in-one software tool for marketing, sales, and customer service. It's also our favorite of the free marketing tools for freelancers on this list!
The Marketing Bay is the most useful for freelancers of all kinds, from writers to designers, photographers, and recruiters.
The free plan is free forever and includes a comprehensive set of features. Here's an overview:
Video marketing — Video marketing has risen to the forefront of all business promotion. Online video editor InVideo states that more than 80% of marketers have found that video elements can keep people on a page for longer. You can get in on the video marketing trend with EngageBay.
Autoresponders — As a freelancer, you're busy, busy, busy. You're the only one operating your business. Automated email sending such as autoresponders help you catch up with clients even when you're not at your desk.
Email templates — Freelancers outside of the design sphere still need attention-grabbing emails to build their client base. EngageBay's rich selection of customizable email templates will appeal to all sorts of business types and tastes.
Sequences — Create email campaigns for your clients and prospects using EngageBay's automated sequences. Combined with the autoresponders, you can keep up with your bursting inbox even when you have a slew of projects on your plate!
#2. Buffer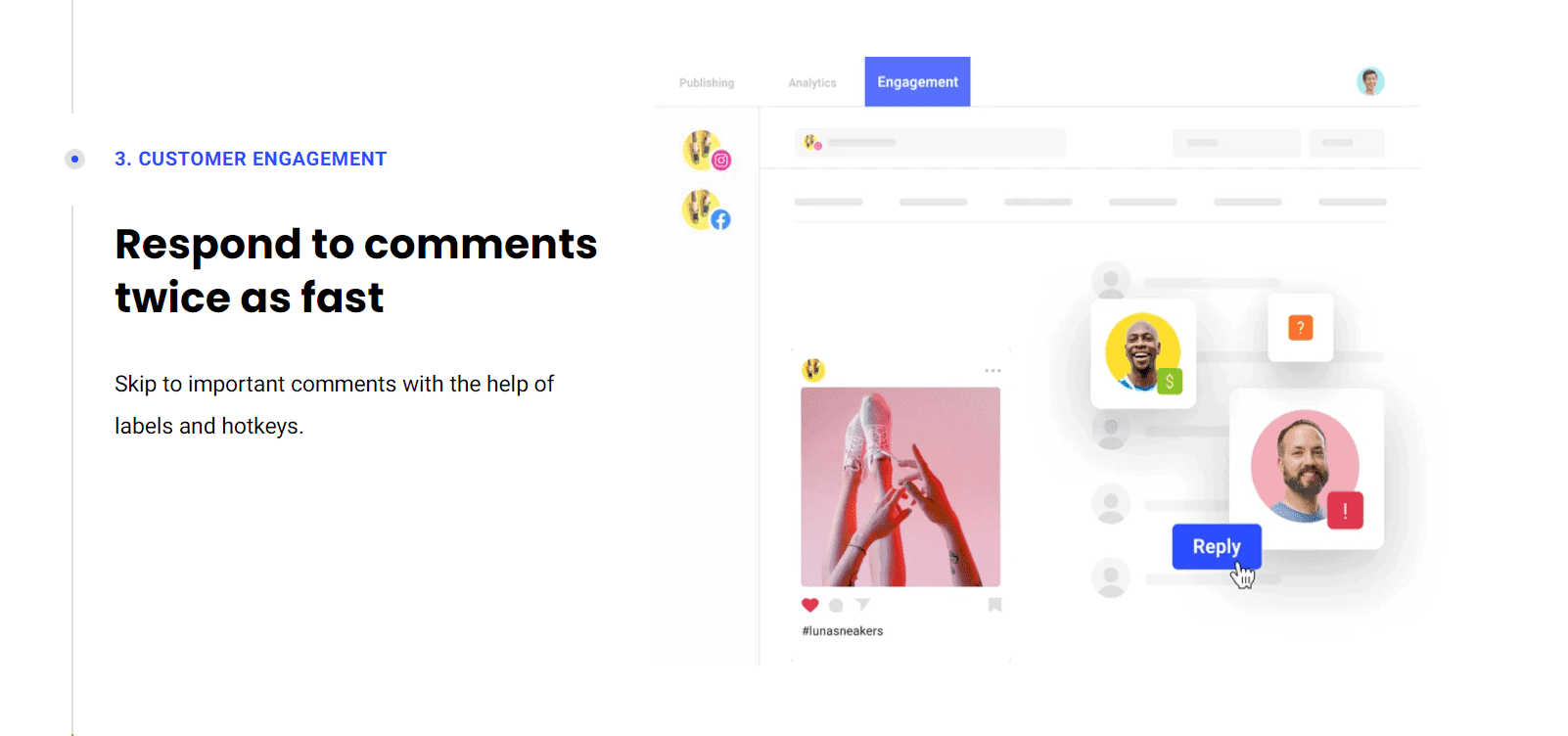 For the social media side of your marketing, Buffer is another free favorite tool for freelancers.
If you've avoided establishing your freelance business presence on social media until now because you don't know which platform to use or you worry you won't have the time to keep up, stop waiting.
According to social media management company Statusbrew, 4.55 billion people are using social media as of late 2021. That number will surely keep growing.
With Buffer on your side, you can establish a social media presence and stay on top of posting and replying. Here are some features you can use with a free Buffer plan:
TikTok reminders — Is your freelance business on the ultra-trendy social media platform TikTok? If you have the Buffer Android or iOS app, the app will remind you when to post on TikTok.
Link shortener — On Twitter and other social media platforms where character size matters, you need short links. The buff.ly link shortener will reduce the size of your links automatically so you can post the entirety of your message.
Posting schedule — If you don't even have time to send out emails with your jam-packed freelancing schedule, how are you supposed to post on social media? With Buffer's automated posting schedule, that's how!
Read also: 5 Sales Tools and 6 Sales Techniques That Always Work
#3. Google Analytics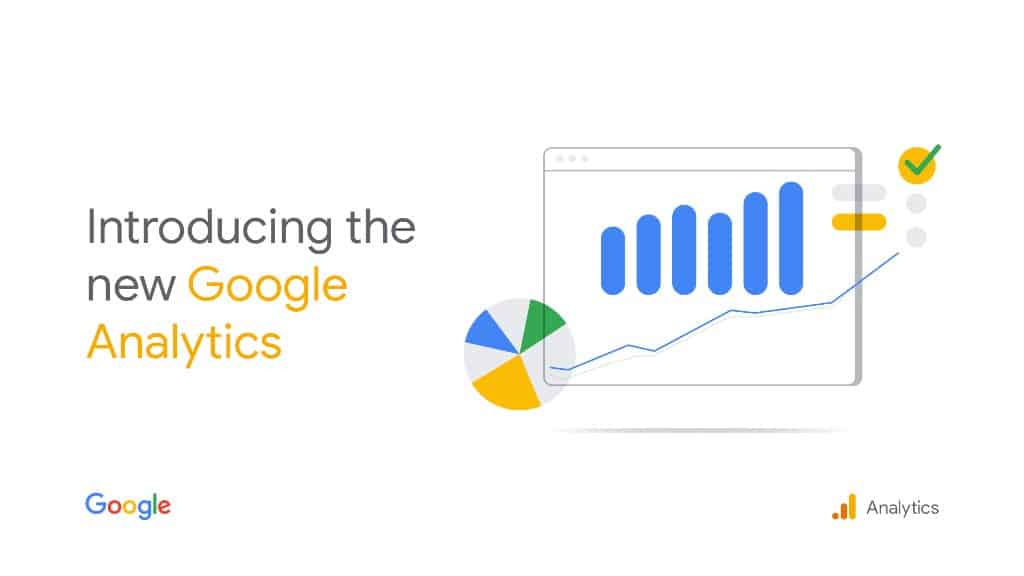 The reason for getting clients and potential clients to your website is to have them contact you for a job, right? Yet your freelance website might be underperforming, and you wouldn't even know it if you're not tracking analytics.
Google Analytics is one of the most-used analytics platforms for startups, small businesses, and larger businesses alike, and it's also suitable for freelance writers, designers, and more. Even better, it's free!
Here are some great features of Google Analytics:
Custom site goals — Your website is not like everybody else's, so it shouldn't have the same goals like everybody else. With Google Analytics' custom site goals, you can determine which benchmarks your freelance site should attain and then set out on a path to smash those goals.
Detailed insights — Do you want to review the age of your average site visitor or maybe their country or gender? Done! Perhaps you want to compare analytics across multiple platforms to determine which is the most successful. You got it! You can even use Google Analytics to determine if you're receiving more traffic on the mobile or desktop version of your freelance website.
Savable and exportable reports — Start reading a report and then save it and pick it up again when you have time later. You can also export reports from Google Analytics to CSV, Microsoft Excel, Google Sheets, or PDF.
Read also: 12 Free Marketing Tools To Create Awesome, Engaging B2C Content
#4. Hotjar
Designed to complement Google Analytics, Hotjar is the next free marketing tool for freelancers on our list.
Hotjar has behavior analytics tools and website heatmaps. With a one-two punch of Google Analytics and Hotjar on your side, you can learn more about your freelancing website so you can attract more clients.
The Hotjar Basic plan is the only free plan. Let's look closer at which features you can use with a free subscription to this service.
Recordings — A recording gives you the chance to see your website through the eyes of your freelance clients. You can fully map out your customer journey, determine bottlenecks and bugs, and troubleshoot them. You can make 1,050 recordings per month on the free plan.
Heatmaps — This is the crux of Hotjar's service. A heatmap allows you to determine what your clients may do even before they do it. You can learn which website elements of yours attract the most attention and review the behavior of your freelance website visitors.
Data capture — Here's a feature that's especially helpful for busy freelancers. Hotjar's data capture happens automatically from day to day and month to month. Collect the data you need to make thoughtful insights into how to attract more users to your website.
Read also: 25 Top eCommerce Marketing Tools Sure to Boost Sales in 2023
#5. Canva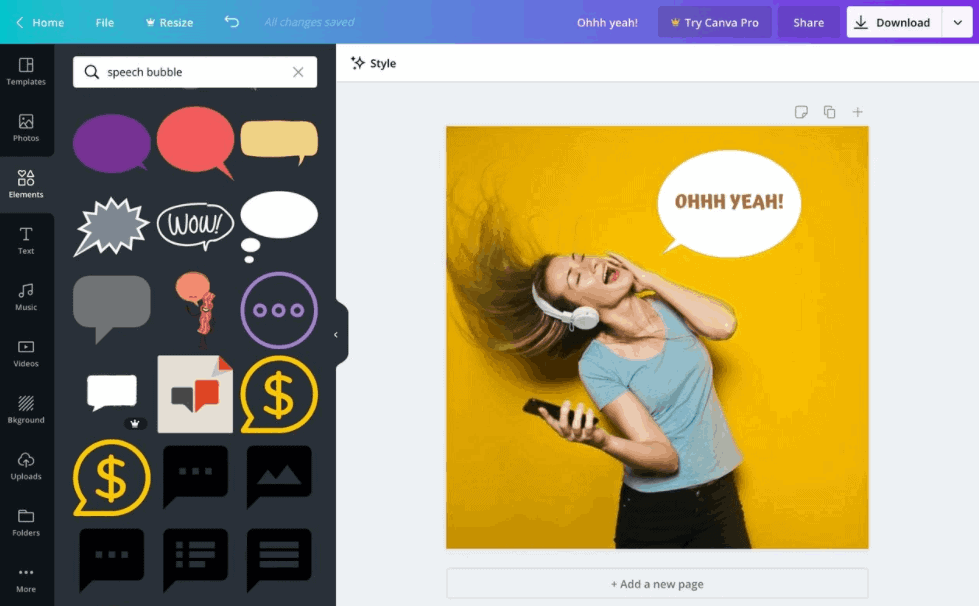 Graphic designers and website developers love Canva, but other freelancers might need help with their website design too.
According to digital marketing resource WebFX, 94% of the first impression you make online is tied to your website. You don't want potential freelance clients to see an unappealing site and hire someone else for the project, right?
Of course not! With Canva, you can build a website that's rife with personality.
That's not all. You can also use Canva to design infographics, Facebook posts, Instagram posts, and logos.
Canva offers more than 415 website templates to choose from, and you can customize the template so yours doesn't look and feel like somebody else's on the web.
Not all the templates and features are free, but many are, so any freelancer should be able to get a lot of use out of Canva.
Read also: 10 Free Sales Tools That You Won't Mind Paying For
#6. WordPress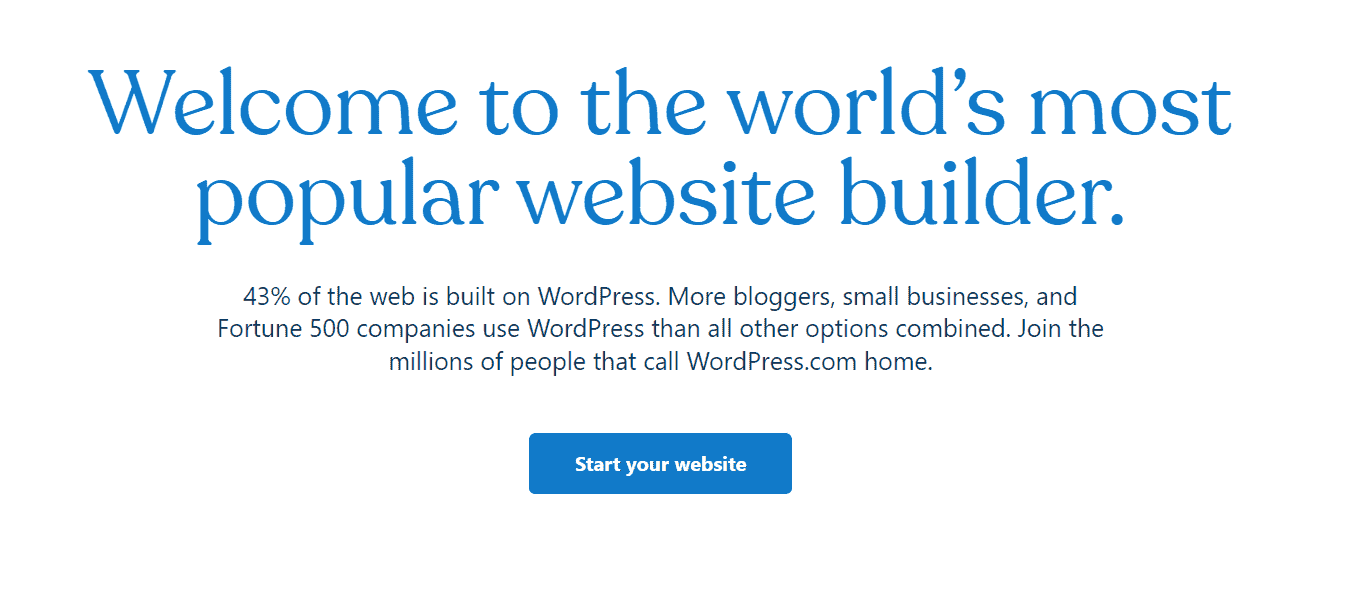 Content, even if its definition changes over the years, will always be king.
For freelance writers and creative types who want to showcase the beauty of the written word with a blog, WordPress is a premier free marketing tool for freelancers.
We should note that WordPress is not entirely free, but a lot of work can be done without paying a penny.
Although WordPress is best known for its blogging services, the platform also offers website design and professional email tools. Here's more information about these features:
Blog — Your WordPress blog includes sharing features, integration with your favorite social media platforms, and SEO to help your site shoot up further in the ranks. Other features are mobile optimization, built-in statistics, and all-in-one hosting.
Website builder — A custom WordPress site promoting your freelance services is sure to attract potential clients. You can choose from 60 website template styles, although not all of them might be free. WordPress websites integrate with YouTube, Mailchimp, Calendly, OpenTable, Pinterest, Eventbrite, and lots more.
Professional email services — With a personalized email and a custom WordPress domain, keeping track of your incoming and outgoing business emails will be easy. You'll also have that pro email address that commands respect.
Read also: 9 Sales Email Automation Tools That Don't Cost a Bomb
#7. Wistia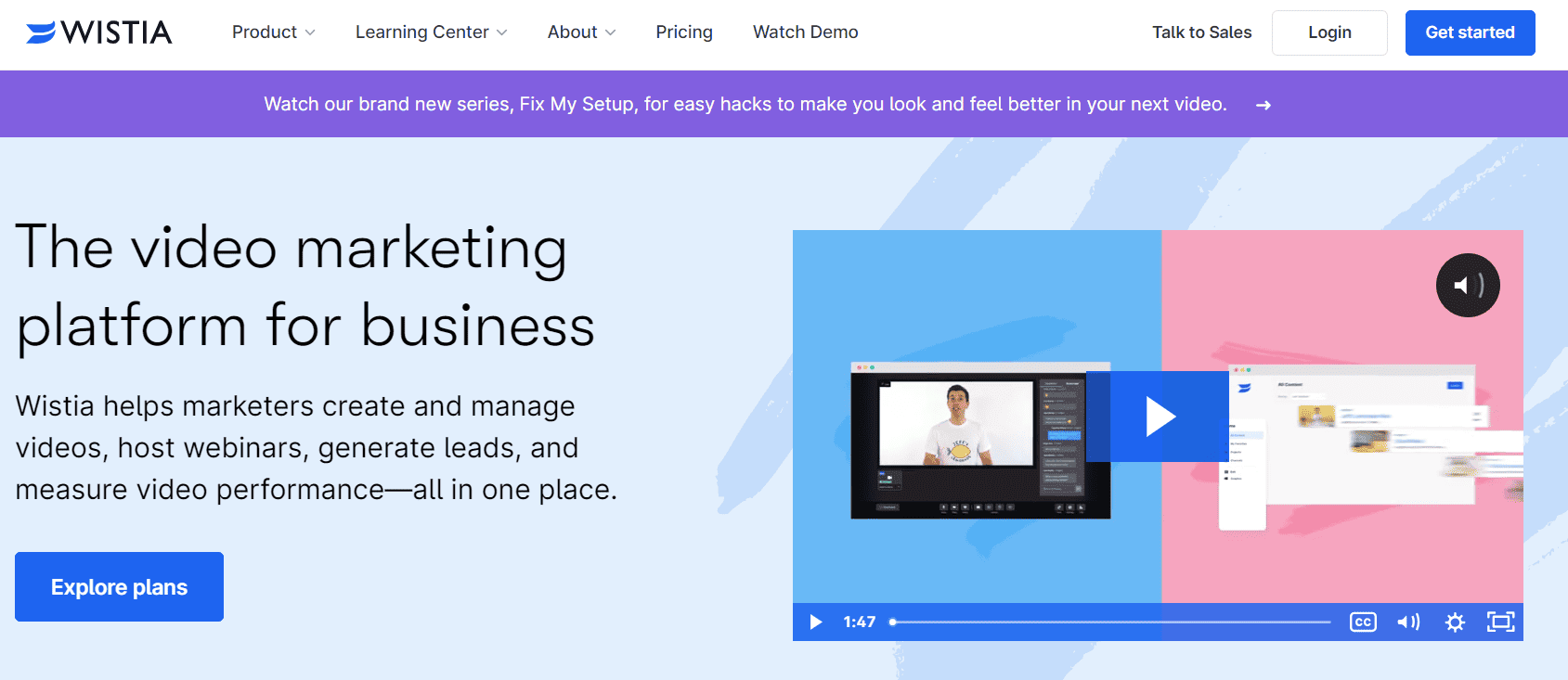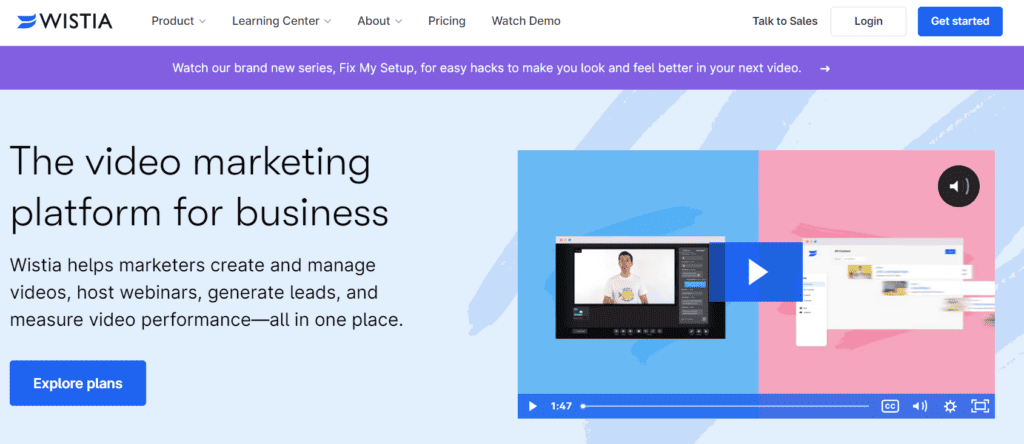 Going back to what we said about how powerful video marketing has become, our next free marketing tool for freelancers is one that specializes in video marketing: Wistia.
This video hosting platform allows you to create videos, video podcasts, and other visual content and then share it with the world.
Integrated SEO and analytics features make tracking your subscribers and growth easy.
Here are some of the features that come with the free plan:
A/B testing — Which video will grab the most people and keep them sitting on the edge of their seats? There's no need to guess when you can use Wistia's A/B video feature. Your freelance business will only promote high-performing videos from here on out.
Customizable video player — Your videos have plenty of personality, so why not the video player too? With Wistia, you can choose your call to action as well as the color of your video player.
Advanced analytics — Wistia will track the performance of your latest videos, including the number of views, interactions, and more!
Read also: 6 Free Marketing Software Marketers Must Try Today
#8. Sumo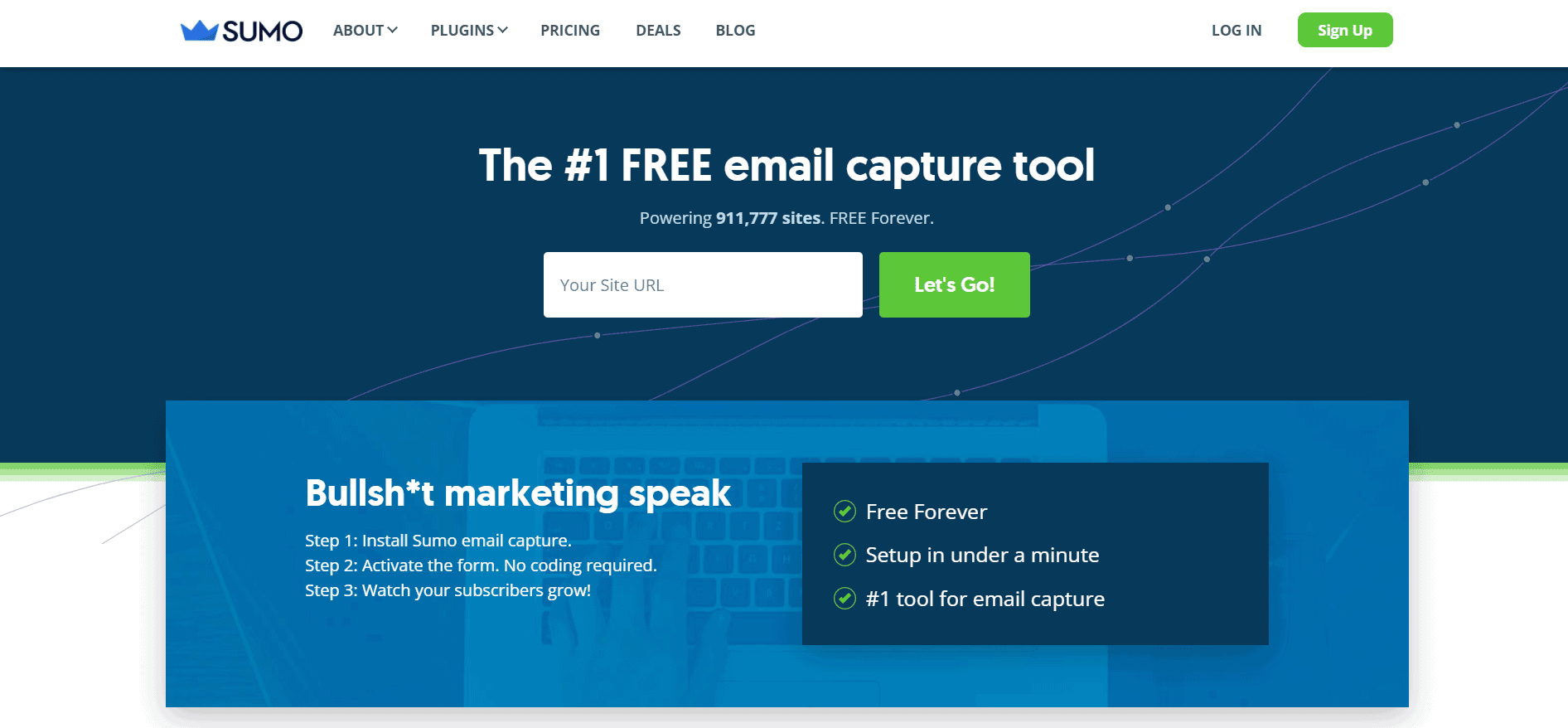 In the freelancing industry, not enough attention is paid to the importance of capturing emails. You want a rife list of potential clients, past clients who could always need your services again, and referrals who can introduce you to new clients.
Sumo is a completely free email capture tool that's free forever. It takes less than a minute to set up, and you don't need to know any coding language either.
All you have to do is download Sumo's email capture services, install Sumo, activate the included form, and then Sumo will take care of the rest.
Sumo integrates with Google Tag Manager and WordPress via a plugin.
Here are some of the free features of Sumo:
Unlimited subscribers — Although Sumo offers a paid plan and could thus cap the number of subscribers a free user can access, that's not the case. As your freelance business grows and your subscriber count does as well, Sumo can handle it!
Email sending: From welcome emails to email campaigns, you can rely on Sumo when it comes to sending those critical client emails that grow your freelancing business. The free account caps you at 10,000 emails per month, but that's still a very generous limit.
Email integration: Do you use Campaign Monitor, Constant Contact, AWeber, or Mailchimp? Sumo integrates with these other marketing tools easily.
Analytics: At the end of every week, you can review Sumo analytics to determine which of your pages or emails performed the best. This can inform your future marketing approach.
Read also: 20 Hot Freelance Business Ideas for a Prosperous 2023
#9. Talkwalker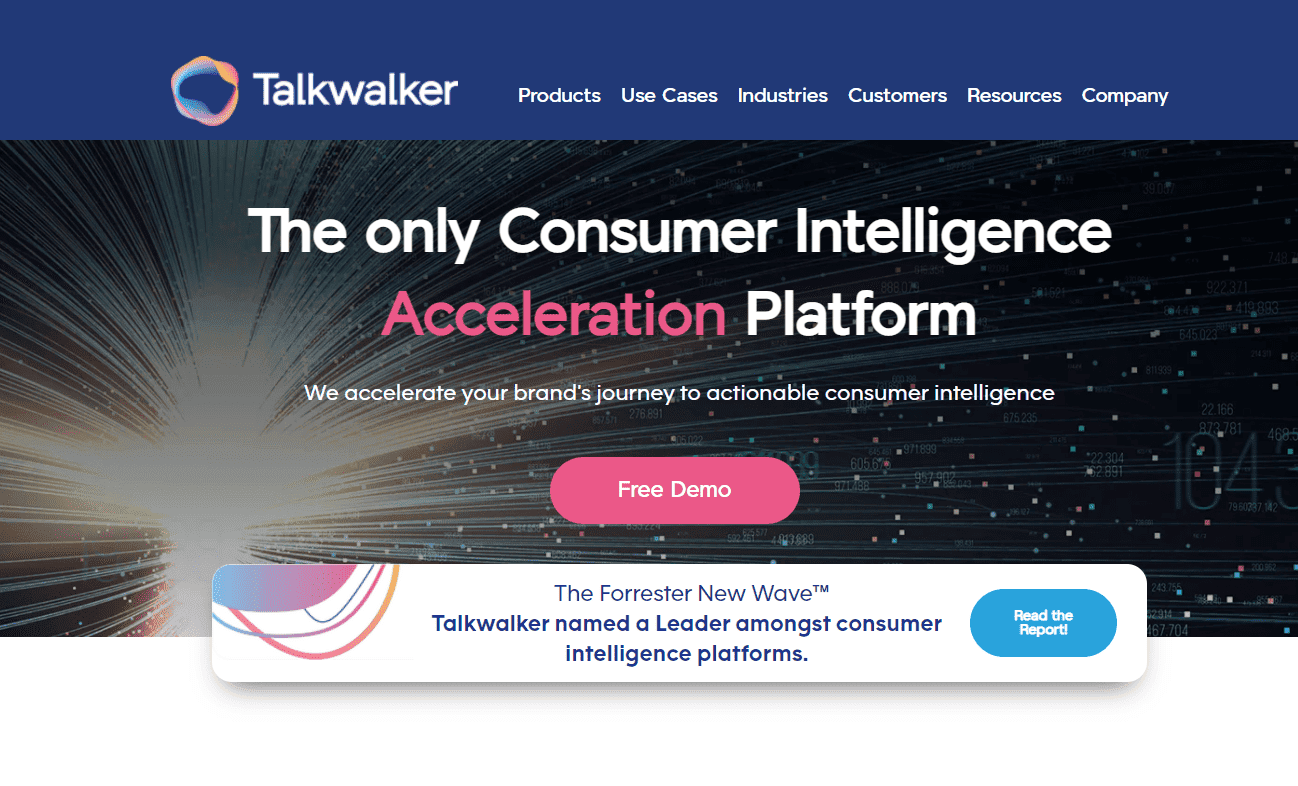 Branding is so important as a freelancer. No matter which niche you specialize in, you know there are thousands if not millions of others out there doing the same thing you are. Why should a client hire you specifically?
Well, for your skills and talent, of course, but you won't get to showcase those skills or talent if a client chooses one of your competitors.
Talkwalker is a consumer intelligence platform that's an interesting addition to your roster of free marketing tools for freelancers. The free services center on social media branding.
With a free social search, you can manually search for every mention of your freelance brand across Instagram, Facebook, Twitter, Google+, YouTube, and more. You can also use this tool to scope out the competition.
Talkwalker also gives you the option to receive free alerts when your brand is mentioned so you're always notified. Your digital footprint will expand, and you can track its progress from the beginning onward.
Are you struggling to come up with relevant hashtags to use when posting on social media, or are you looking for keywords on which to base content around?
Talkwalker also comes in handy for topic trending. You might just spot the next viral hashtag or keyword before it explodes!
Read also: 7 CRM Automation Functions to Generate More Revenue
#10. Hello Bar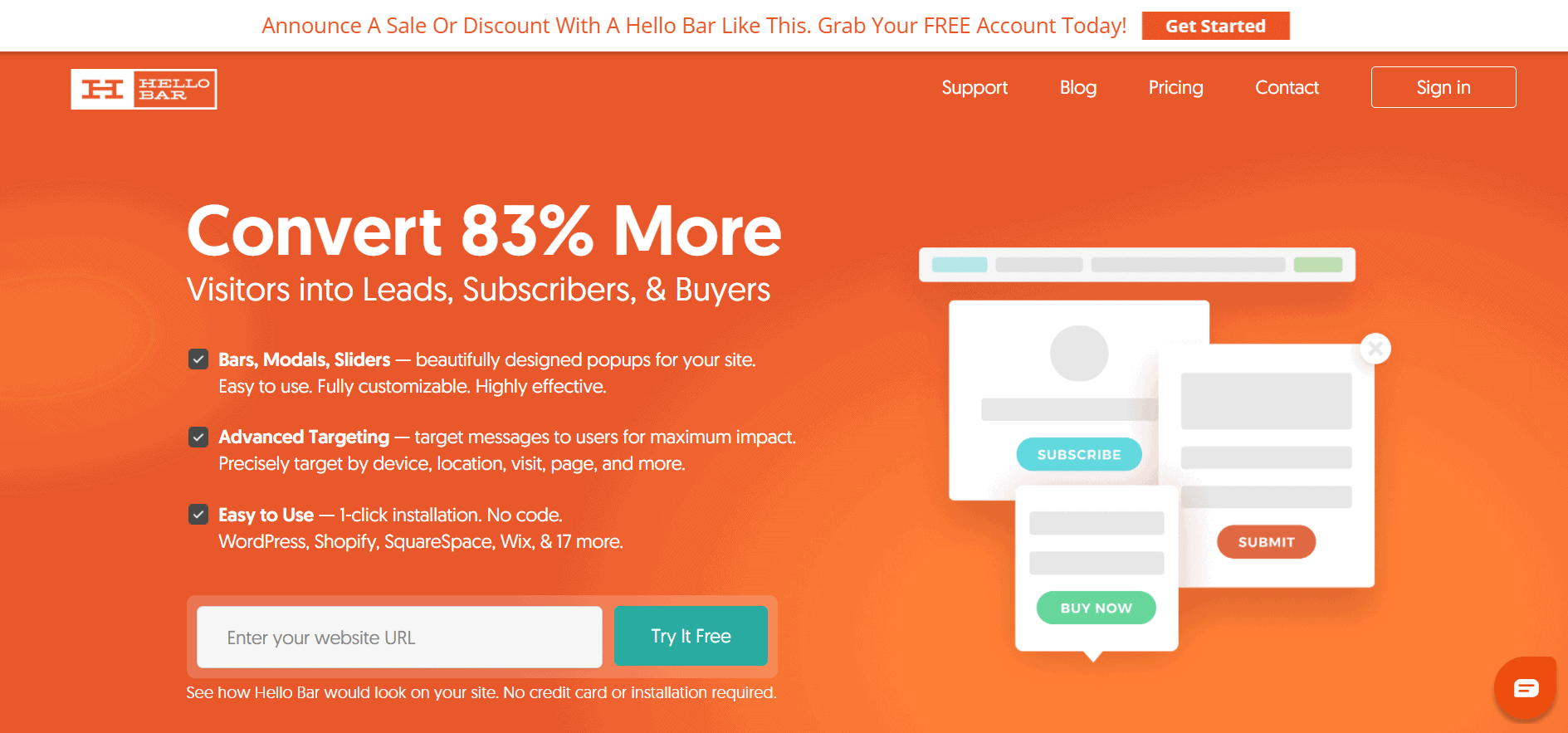 You're already using WordPress by now anyway, so this free marketing tool for freelancers is sure to come in handy.
It's Hello Bar, a software product that promises to convert more than 80% of your website visitors.
You can install the Hello Bar with one click, and it integrates with Wix, Squarespace, Shopify, and more.
So, what does the Hello Bar do, you ask? You can use it to create pop-ups and send targeted messaging to certain clients. You can also target groups by the number of website visits, their location, or even the device they're using.
The free plan includes 10 pop-ups and 5,000 page views per month.
Read more: A Guide to Successful Data-Driven Marketing — Definition, Tips, and Examples
Conclusion
As a freelancer, you're the boss, the hard-working employee, the marketing guru, the sales pro, and the customer service expert all.
Wearing that many hats can be difficult, especially if you're on a tight budget.
These 10 free marketing tools for freelancers will help you feel like a marketing master. Whether you're new to freelancing or a seasoned pro, there's always room to grow, and these tools are all about growth.
P.S. If EngageBay piqued your interest and you'd like to know more, just sign up for free and we'll give you a call to figure out the features!