Are you familiar with email drip campaigns? If not, this article will go a long way to help you understand the importance of email drip campaigns.
In recent years, email marketing has gone through a bit of a renaissance.
While marketers were getting distracted with the next shiny strategy or tactic, the email hasn't gone anywhere.
People were still willing to communicate with businesses through their email, and the benefits of email marketing campaigns became much more clear, consistently delivering better results than the newest fad.
Recently, we wrote an overview of email marketing, A Beginner's Guide: The ABC's of Email Marketing. If you're just getting started with email marketing, definitely give that a read.
This article takes a deeper look at a specific type of email marketing, email drip campaigns.
Email drip campaigns are automated email sequences (also referred to as autoresponders) that send pre-written content to leads at pre-defined time intervals based on actions the leads have taken, with the help of a drip campaign software.
EngageBay's powerful Email Sequences feature helps you automate your campaigns effortlessly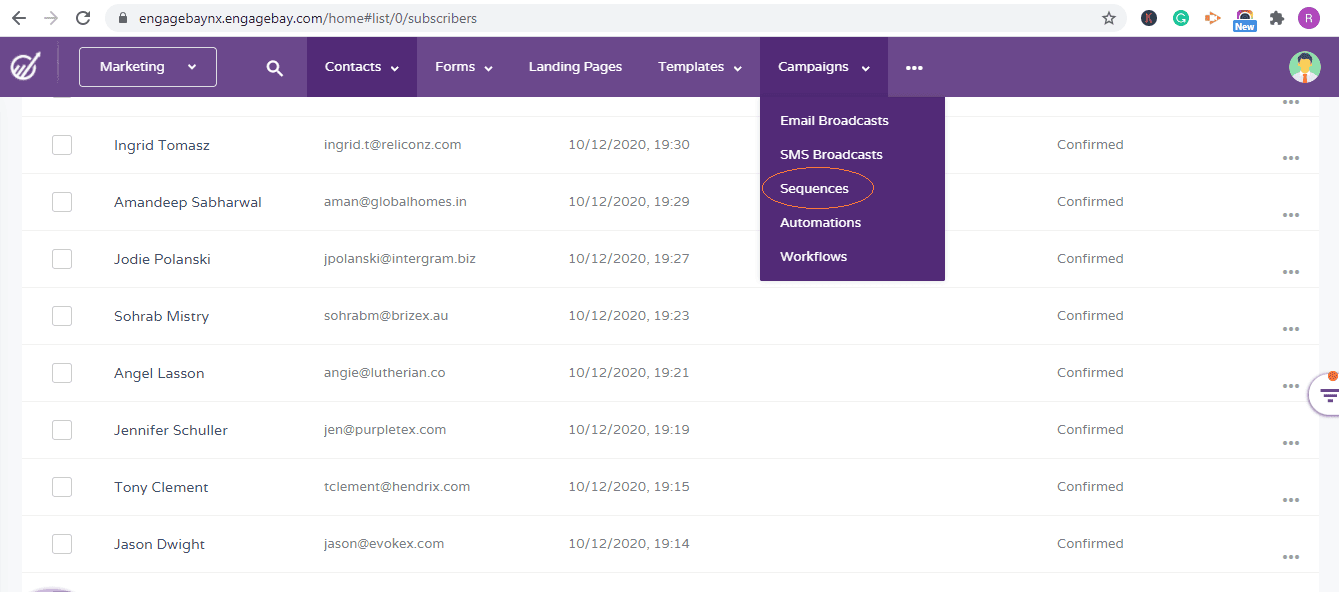 The benefits of these types of campaigns are vast. They…
Improve lead generation and lead nurturing
Increase important email metrics like open and click-through rates
Decrease cost per lead (CPL)
And, most importantly, they can lead to a really impressive return on investment (ROI). Some marketers argue that all else being equal, email marketing is actually the very best tactic for getting a high ROI.
So how do you create these revenue-generating, automated email campaigns? What is a drip framework all about? That's what we're here to help with.
What is an Email Drip Campaign?
An email drip campaign is a sequence of automated emails that are triggered by actions by targeted email subscribers and sent to them on a predefined schedule to achieve a specific result using drip campaign software.
Based on the subscribers' actions, this automated and triggered email campaign enables you to personalize messages to them on a large scale.
For example, say a visitor on your website fills in a form to receive a free content asset from you. Once they click on submit, an automated and personalized email containing the content asset is sent to the subscriber.
However, to continue the relationship with the subscriber, you may want to introduce yourself and your business after the initial mail, so you send another email in sync with the subscriber's interest and thereby, invite the contact to sign up for your business or buy a product.
Each time a drip email is sent out, it comes from a list of templates and pre-written emails, so you don't have to create a fresh email for every new contact.
Nevertheless, in spite of the automated nature of these emails, they may be personalized with your contacts' name, company info, customer behavior, and more.
Email drip campaigns may be seen as linear drip email sequences, where you send the personalized pre-written set of messages to leads, customers, or prospects over time.
Remember that no matter what anyone tells you, as part of the drip framework, these email drip campaigns are quite easy to set up by yourself within the drip campaign software.
Watch this video by Spencer Forman, to know more about what is drip email marketing?
What Makes an Email Drip Campaign Successful?
So how do you come up with a successful drip campaign that converts?
To ensure that your drip email campaigns succeed, you need to address your pain points first:
Are you looking to get more checkouts?
Do you want your one-off website visitors to come back to your website?
Is increasing user engagement among existing subscribers important for you?
Do you wish to onboard your users smoothly for a seamless introductory experience?
The good news is that all of these may be automated via the right drip email campaign!
Remember, the secret to creating the perfect drip is to look at high-converting email drip campaign examples and tweak your own accordingly.
Moreover, consult your marketing and sales team, and optimize the email drip campaigns accordingly.
This way, you will streamline every single aspect of your business, automatically!
Creating a drip campaign is easy with EngageBay

How to Create an Email Drip Campaign?
Now that you know what an email drip campaign is, let's look at how you can create one yourself.
You'll need to:
1. Start with your Audience
2. Separate your audience into segments
3. Establish the goal of the drip campaign
4. Develop a workflow
5. Pick an email provider
6. Choose your lead magnet
7. Create your email content
8. Measure, track, get feedback & Iterate
Step  1: Start with your Audience
This is the #1 rule of marketing.
Whether we're talking about TV ads, billboards, websites, or – yes – email campaigns, focusing on your audience is the first step of any good marketing campaign.
The reason is simple.
If you don't understand your audience, you probably don't know what they want – and, even if you somehow do, you don't know why they want it.
This seriously limits your ability to understand their perspective, pain points, questions, and preferences, meaning your message is likely going to come across as bland and irrelevant. Which is the last thing you want when writing emails.
That's why your first question needs to be Who am I talking to?
But, before digging too deeply into your audience's demographics and psychographics, you first need to understand the basics of how your audience engages with email in the first place.
For example, if your audience is made up largely of business people, we know they tend to engage with their email multiple times throughout the day and often on weekends.
On the other hand, if you're targeting a younger demographic, say high schoolers or college students, they're less likely to be regularly checking their emails.
This plays into how you'll design your drip email campaign workflows, what goals you'll establish, and the way in which you'll write the email content itself.
If you've created personas and buyer journey maps (both great things to have), then you've likely already put a good amount of thought into this.
If not, don't worry! You just need to have a moderately clear picture of how somebody becomes a customer or client of yours, along with what types of deals and/or persuasions get them to buy, and you're well on your way.
The important thing to remember throughout the campaign creation process is that focusing on your audience is extremely crucial to the success of your efforts.
So put some thought into your audience, write some notes, and keep these top of mind throughout this process.
Step 2: Separate your audience into segments
Another closely related concept to an audience is segmentation.
Segmenting your audience means splitting your audience up based on their motivation for purchasing your product.
Say you sell a marketing platform like EngageBay, and you get the majority of business from marketing agencies, freelancers, and SMBs.
While all three of those want the same thing – a simple, easy to use, all-in-one marketing platform – their reasons for wanting that same platform are all a bit different, and the marketing challenges they face on a daily basis vary significantly.
Again, the more specific you can get with your audience, the better.
If you discover that you actually have a handful of different audiences – or even just two – then you'll want to essentially create a few different versions of your campaign for each.
For freelancers, you might focus your content around the simplicity of having one do-it-all platform, since freelancers typically don't have the budget or time in the day to manage a stack of marketing tools.
On the other hand, SMBs might be more interested in the ease of the platform, since they might not be as tech-savvy as a freelancer and are intimidated by words like "automation" and "drip campaigns."
Segment your audience into lists into relevant, relatable cohorts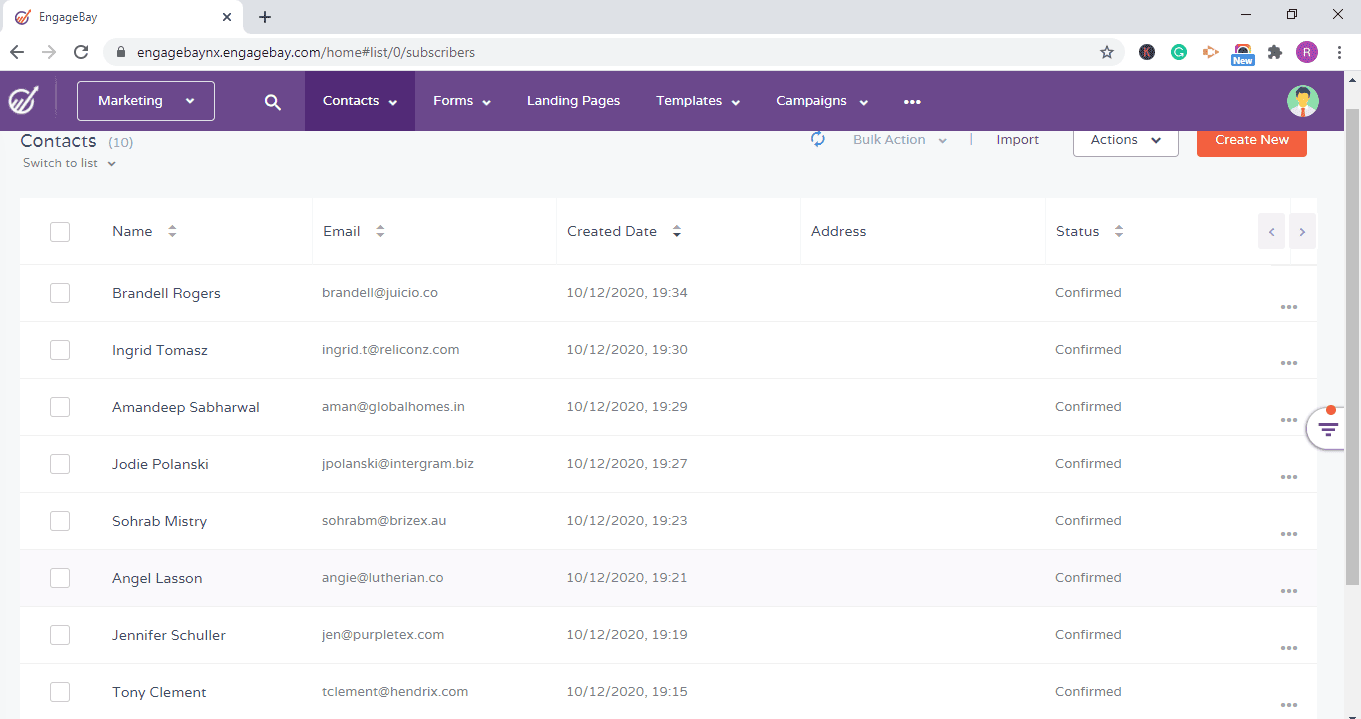 And you might find that marketing agencies are struggling to compile and organize all of their data, meaning you would want to focus more on the benefit of having everything in one place.
Of course, there is usually some overlap in how you communicate with all of your audiences, but getting as tailored and specific as possible with each audience you're talking to will do wonders for your email marketing efforts.
Starting with just one is, of course, still likely to be effective for your business – but segmentation takes things to a greater level of sophistication and effectiveness.
Step 3: Establish the goal of the drip campaign
What are you trying to do with your drip campaign?
I know, I know — get more customers and revenue.
But how do you see your email drip sequence factoring into that?
Are you trying to stay top of mind for people who have expressed interest in your brand? Are you trying to get people to buy a specific product or service? Are you hoping to get more referrals?
There's no right answer here.
The point is simply that a drip campaign should be created with as specific of a purpose as possible.
Doing so…
Keeps you focused on the objective,
Results in better customer experience, and
Makes success (or failure) much easier to measure
So, for example, say you're selling a SaaS product. You know that, typically, when people buy SaaS products, they do a pretty significant amount of research before settling on a particular company's product.
Drip campaigns are perfect for this kind of situation because they allow you to get in touch with a lead when they're still in the evaluation stage.
They'll likely be open to giving you their email address for something in return, such as a free ebook download or a free trial (more on lead magnets later), which gives you an in.
Your goal, then, is to turn people who are merely interested in your product to people who are excited and sold on it.
Being that you'll also need to keep those people coming back month after month (presuming your billing is set up that way), you're also interested in developing a long-term relationship built on trust and respect for your company and product.
Understanding this gives you some pretty clear parameters and objectives for your campaign.
So, regardless of what product or service you're selling, once you clearly understand the goals of your drip campaign it will make the creation of that campaign much smoother, and the final product will be far superior.
Step 4: Develop a workflow
This is where the rubber starts to meet the proverbial road.
Your drip email campaign workflow is your combination of offers, emails, and the timing factors that govern how you "drip" them to your email leads.
The great thing about a drip-email campaign workflow is that it gives you a nice visual representation of how your drip campaign is laid out.
Much of building drip campaigns have to do with if/then logic, which can get confusing quickly when you're simply writing it out or relying on memory.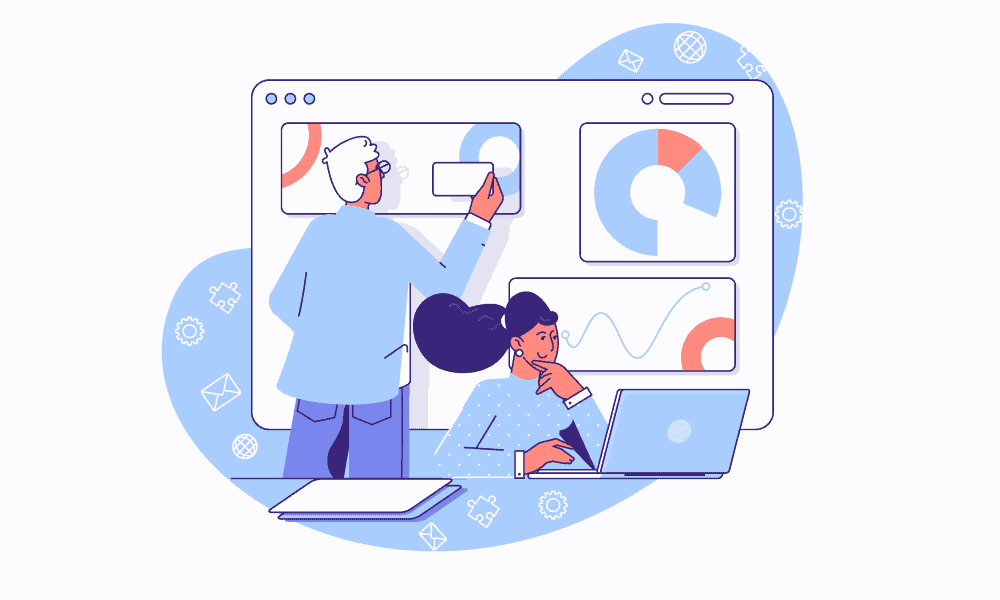 Your workflow would start with getting visitors to your site who then provide you with their email address – usually for something in return.
Then, once you send them an email, you can plan your drip email sequence out further based on what actions a lead does or does not take.
Let's say you put a few links in the email pointing to pieces of content on your site. One is about your pricing, the other is about the ease of use of your platform, the other is about the data gathering capabilities you offer.
Based on which link someone clicks – or if they don't click a link at all – you can separate your campaign into what you send them next.
If they clicked on the link about pricing, for example, you might choose to send them more emails focused on the exceptional value of your product.
On the other hand, if they don't click on any links, you might send a re-engagement email, which tries again to pique their interest in what you offer.
Of course, this can end up being highly complex, but you don't need to go overboard if you're just getting started. If you've begun segmenting your offers, that's a great basis for building out your workflows.
You might want to do this with a pencil and paper or on a whiteboard, but I recommend using a tool like SmartDraw to create your graphs.
Step 5: Pick an email provider
You might think that you should start this process by picking an email provider, which is a natural inclination.
Nevertheless, the previous steps are all important for figuring out which email provider is best for you.
For example, we've already discussed things like free ebook offers, which will require a landing page or at least a popup on your site.
So, if you can find an email provider that can also fill other gaps that you'll need, such as landing page and popup creation, all the better!
Maybe you also need some help with the SEO on your site, with your social media management, etc.
If you can find an email marketing platform that also handles these needs, you're going to end up with fewer tools, less money spent, and greater simplicity.
Many email providers, like MailChimp, are now offering some form of automation with their platforms, but there are still limits to what they can do.
Our advice?
Find a platform (like EngageBay, hint) that provides everything you'll need for your internet marketing efforts.
You'll thank yourself later.
Step 6: Choose your lead magnet
We've discussed how you get an email address from a potential lead a few times in this post, and it's extremely important in terms of making sure that you're attracting the attention that you need to kick your email drip sequence off.
When deciding on your lead magnet, the most important question is value.
What would be something that your audience couldn't say no to? That might be…
A free trial
A downloadable ebook or white paper
Templates
Printable checklists or worksheets
A webinar
A free hard copy of a book
Quizzes
The only limit really is your own imagination, but all of these are common, effective ways of providing your leads with valuable, interesting information.
One word of caution: if you're marketing, even unintentionally, to people in the EU, which is governed by the GDPR, you have to get separate consent for users to be added to your email list.
Step 7: Create your email content
Always remember to create compelling content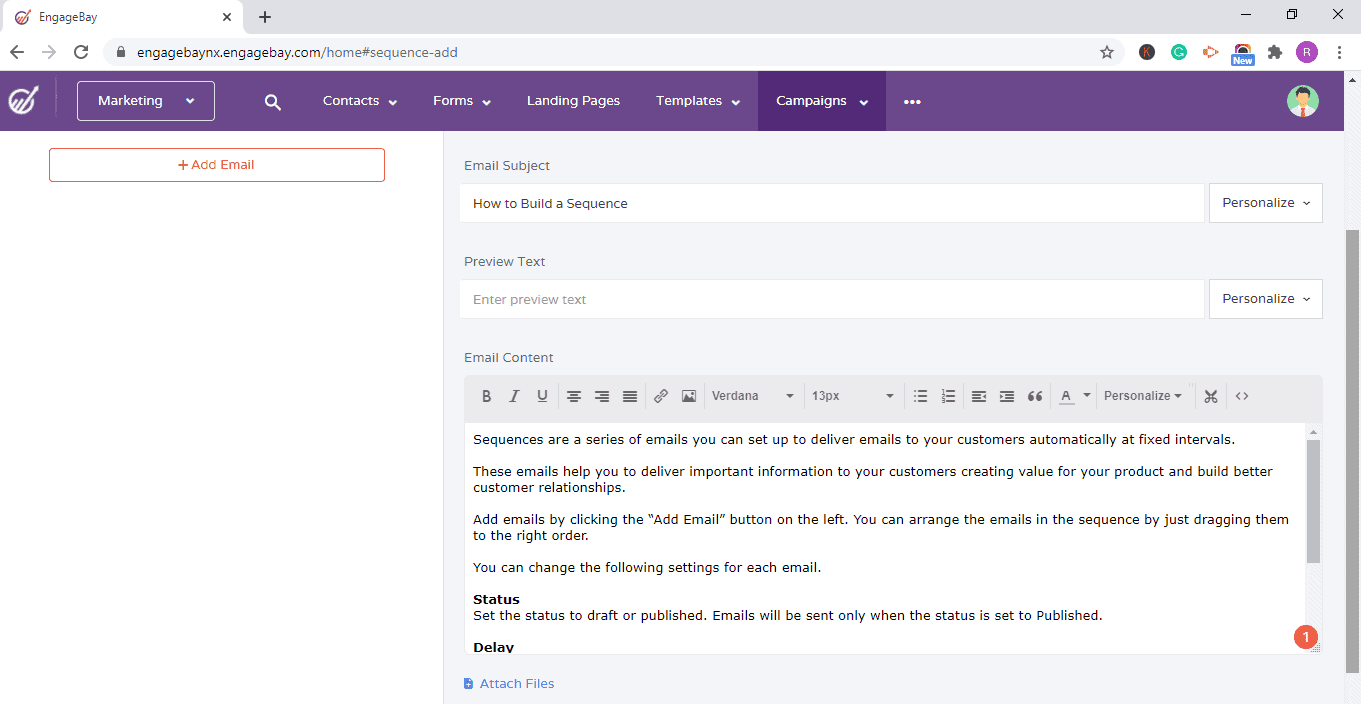 As with choosing a provider, creating the content for your drip campaign is something you might expect to come earlier in this process.
However, we value our time, and creating content should take time if it's done well.
The last thing you want to do is write up a bunch of content only to realize that it doesn't align with your audience or your goals, or that it doesn't fit well into the rest of your workflow.
Not only that but writing the content will become much easier at this point.
Now that you've got a solid grasp on the big picture of what you're trying to accomplish, as well as how you're going to do it, your content should basically write itself.
A few things to keep in mind when putting your email content together:
Keep it short and sweet: Even if your content is extremely well written, not very many people are going to be willing to read long-form emails. If you really want to include some lengthier content, put it towards the end of your drip email sequence, after leads have already become interested and familiar with you.
Include calls to action: The only thing that might be worse than someone not even reading your email is reading your email and then doing nothing. Do your best not to give them that option, focusing on what their next steps should be if they're interested.
Personalize (sort of): Personalization and automation are often mutually exclusive, but you can at least give the appearance of personalization by using what is known as merge fields in your emails. Essentially, if you have your recipients' personal information (such as name, business name, job title, etc.) then you can tell your email platform to insert that field into specific places in your content, which is much more likely to grab – and keep – your recipients' attention.
Write amazing subject lines: None of this matters if someone doesn't open your email. As with other pieces of content, like blog posts, the title might be the most important part of any piece of content. Check out this post from Digital Marketer for some inspiration.
It's vital not to rush through this step, and to get some feedback along the way to make sure the tone is coming across as you intend.
Step 8: Measure, track, get feedback & Iterate
Congratulations, it's time to press GO, and your campaign is up and running!
But – it doesn't end there.
If you're serious about getting results from your campaigns, it's absolutely vital that you continue to see your email campaign as a work in progress.
This doesn't mean that you need to be gawking over your analytics every day, but it does mean that you should semi-regularly review how things are working and tweak what you're doing based on those results.
If, for example, you're not getting the open rates that you want, consider refining your subject lines.
If your click-through rate (CTR) is not good, then it would make sense to rework some of the body copy of your emails.
I would recommend setting yourself a monthly or bi-monthly reminder to review your analytics and try to extrapolate some useful insights.
It's also quite likely that, in the course of creating your campaign, you had some choices to make about the types of copy and content you use.
Save a list of ideas and work through some of your alternative options as you go, comparing your data to previous months and seeing what moves the needle.
It's also a good idea to try to get some feedback from your email list.
Whether you use colleagues or actual recipients for this feedback, it's an important part of understanding how people are actually interacting with – and perceiving – your email campaigns.
Using a simple Typeform or Google Form is one of the easiest ways to get and analyze this kind of feedback.
Ready, set your drip campaign!
The idea of automated lead generation is, of course, very appealing to marketers and business owners alike.
While email campaigns are billed as that, I hope it's clear that there's a bit more to it than that.
Yes, drip sequences can be highly effective tools for lead generation, but it requires that they're done well, paying proper attention to your audience, your goals, your tactics, and your numbers.
Hopefully, the above steps have given you a great drip framework for getting started, and we wish you the best of luck!
Looking to grow your knowledge of marketing automation, here are the best blog posts you should read right now: