Email marketing allows you to engage with your leads, nurture customer relationships, and inspire new sales.
If you're seeking an email marketing platform for your small business or startup, you may have narrowed it down to three options: ActiveCampaign, Mailchimp, or EngageBay.
ActiveCampaign is a great email marketing platform for larger businesses, while Mailchimp is geared towards smaller ones.
EngageBay is a highly affordable all-in-one marketing, sales, and customer support solution for small businesses.
Which one do you choose?
In today's post, we'll help you determine a winner when it comes down to ActiveCampaign vs Mailchimp.
To do this, we'll discuss the features, pricing, and pros and cons of these email marketing platforms.
Let's begin!
ActiveCampaign Email Marketing Platform
Your first contender in ActiveCampaign vs Mailchimp vs EngageBay is ActiveCampaign.
Its marketing automation and email marketing services make ActiveCampaign quite an outstanding choice, but is it right for your small business or startup?
Let's take a close look.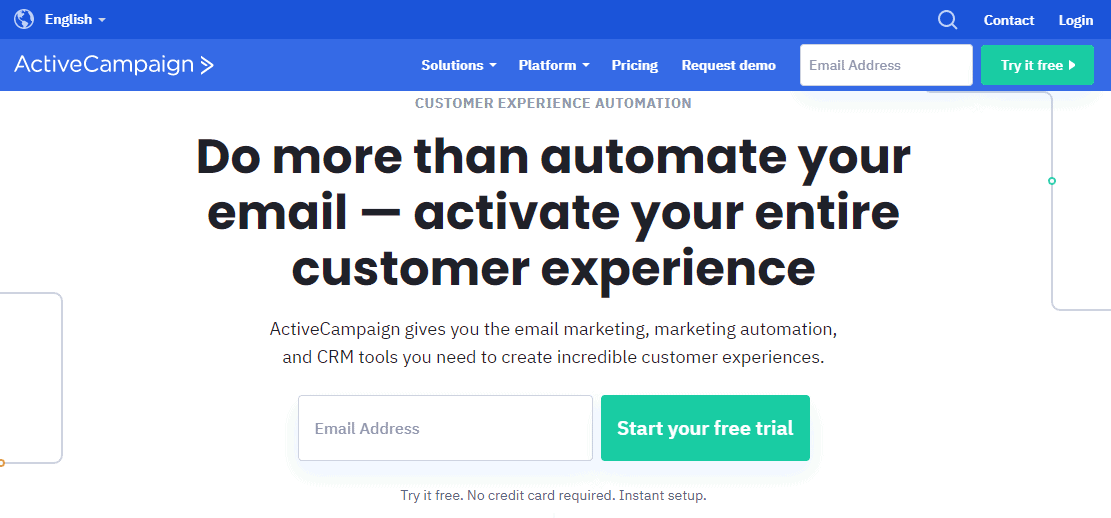 Features
Here's an overview of the features:
Website messaging: ActiveCampaign's site messaging includes SMS messages to improve customer engagement.
Sales automation: Your sales and marketing teams can intersect with sales automation features, including CRM, win probability, and lead scoring.
Email marketing automation: Marketing and email automation are useful for email scheduling, lead segmentation, and contact management.
Email personalization: From promotional emails to newsletters, you can tailor emails with segmentation and dynamic content.
Integrations: At current, ActiveCampaign has nearly 300 integrations, including big names like Shopify, Zapier, Salesforce, PayPal, WordPress, Twitter, and Facebook.
Migration and training: ActiveCampaign offers free migration from your current email marketing platform as well as individualized training on how their platform works.
Read also: GetResponse Pricing — A Comparison with More Inexpensive Alternatives
Pricing
As we've discussed on our blog, ActiveCampaign has four pricing plans to choose from: Lite, Plus, Professional, and Enterprise.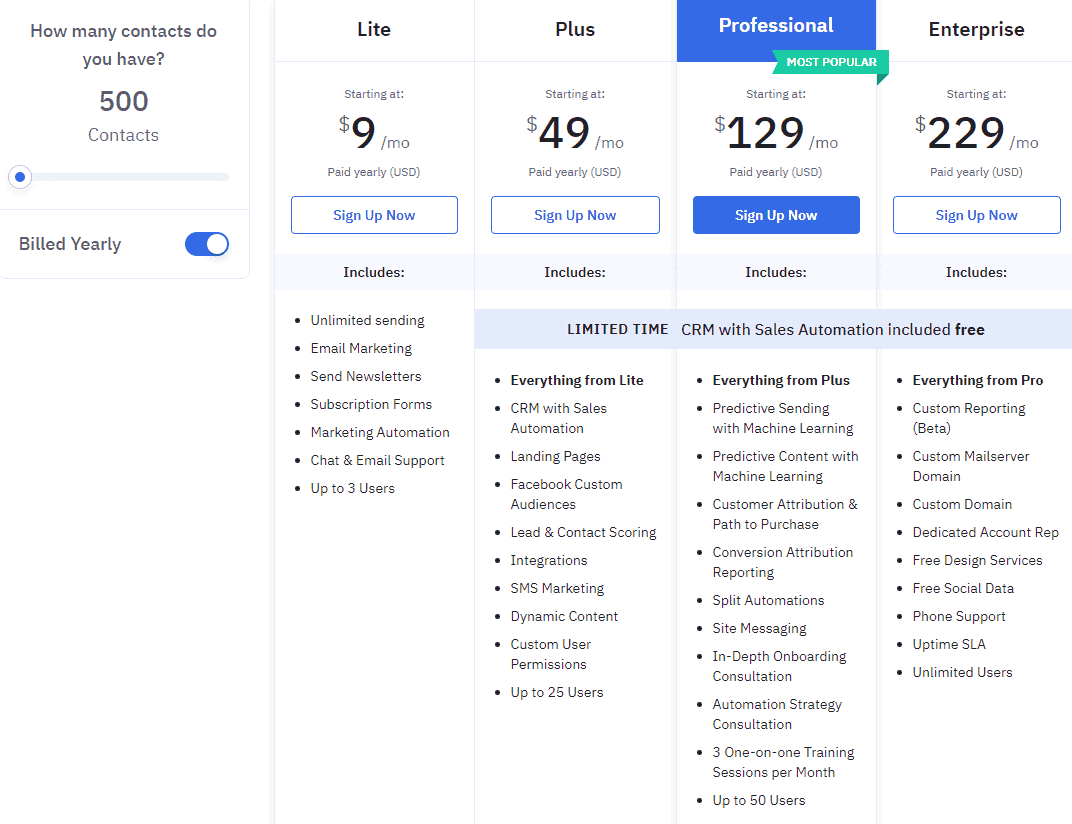 The pricing of each plan scales up as you add more contacts to your small business or startup. For example, at 500 contacts and monthly billing, the Lite plan is $15, the Plus plan is $70, the Professional plan is $159, and the Enterprise plan is $279.
Let's say your company grows and has 5,000 contacts. The Lite plan costs $99 a month, the Plus plan is $169 a month, the Professional plan is $239 a month, and the Enterprise plan costs $449 a month.
At 25,000 contacts, you'd pay $259 a month for the Lite plan, $399 a month for the Plus plan, $599 a month for the Professional plan, and custom pricing for the Enterprise plan.
The Lite plan includes email marketing features, including newsletter sending, email marketing, marketing automation, unlimited sending, autoresponders, and email templates. That said, you're limited to three account users.
If you want to add ActiveCampaign CRM, sales automation, lead scoring, and site messages, you'd have to at least go for the Plus plan.
If you're considering switching from ActiveCampaign, don't make a move until you read our article on the best ActiveCampaign alternatives.
Read also: HubSpot Pricing and Comparison with Other Alternatives
Pros and Cons
If your small business or startup wants to go with a big brand, ActiveCampaign is a solid choice. That's one advantage.
Another pro for ActiveCampaign is that you can use most email marketing features you'd want out of their platform with the Lite plan. To explore more of their automation, though, you'd have to at least buy the Plus plan.
The biggest downside to ActiveCampaign's email marketing platform is its sliding pricing scale. Sure, if your small business only has 500 contacts and you start with the Lite plan, you're spending $15 a month.
That's reasonable.
As your business grows, though, even the Lite plan can be unaffordable for small businesses and startups on a tight budget. At 2,500 contacts, you're already paying $55 a month, at 5,000 contacts, almost $100 a month, and at 10,000 contacts, $155 a month.
All along, you get support for only three users. Even small startups probably have more staff than that.
This naturally pushes you towards the Plus plan, which starts at $70 for 500 contacts. By 2,500 contacts, you'd pay $125 a month, then $169 a month for 5,000 contacts, and $249 a month for 10,000 contacts. At least with the Plus plan, you get support for 25 users.
Read also: What is MailerLite? Reviews, Pricing, Pros and Cons, Alternatives
Mailchimp's Email Marketing Platform
The next email marketing platform in our comparison of ActiveCampaign vs Mailchimp vs EngageBay is Mailchimp.
This marketing platform with the monkey mascot says it's designed for small businesses.
Let's see if that's really the case.
Features
It's in the name; Mailchimp has a lot of email marketing features. Here's a closer look at Mailchimp's services:
Transactional emails: Triggered emails, including confirmations of email signups or even lost password emails, are sent to your customers at ideal times.
Email deliverability software: Mailchimp uses abuse-detection technology and email authentication to keep your messages out of your customers' and leads' spam filters.
Email design templates: The mobile-optimized templates let you create email messages of all kinds, from promotional emails to welcome emails, follow-ups, sales alerts, and more. This is all done with drag-and-drop functionality, so it makes things easy.
Mobile app functionality: The Mailchimp Mobile App lets you use the above email templates as well as send emails and review how well they're doing, all from your phone or tablet.
Online store linking: When you sync your online store to Mailchimp, the platform can send relevant recommendations for products or services to your customers.
Analytics: Mailchimp presents useful analytics right on its platform, including segmentation data, email open rates, email click-through rates, subscriber counts, and more.
Automation: Mailchimp automation can be single-step or multi-step to simplify your workflows.
Content studio: The content studio acts as a repository for the files and images that you use for your email templates so you can pull them back up and reuse them when necessary.
Integrations: Mailchimp has a sound collection of integrations. Some of the bigger ones are Calendly, WooCommerce, Zapier, Eventbrite, Stripe, Adobe Photoshop, Leadpages, OptinMonster, JotForm, and Square.
Read also: Wishpond Alternatives — Similar Email Tools for Your Business
Pricing
Next, let's take a closer look at Mailchimp's pricing plans. You have four plans to select from: Free, Essential, Standard, and Premium.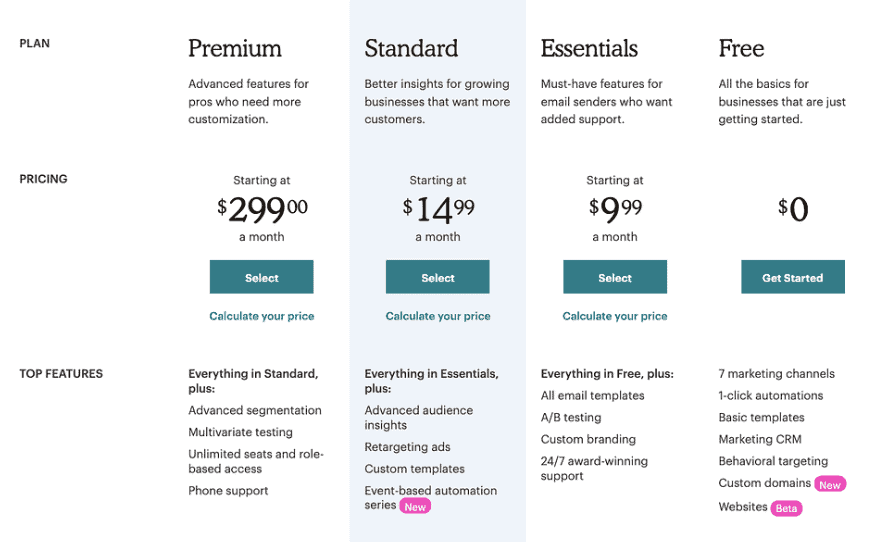 Here's a plan-by-plan breakdown of what you might pay to use Mailchimp's services.
Free Plan
You don't have to pay for Mailchimp to get started, and these are the features you get:
Email support for 30 days
Marketing tips and a marketing glossary
Knowledge base
App integrations
Campaign insights like subject line helper, next best action, and personalized product recommendations
Basic analytics reports
Single-step automation and a classic automation builder
Marketing calendar
Marketing features like pop-up forms, postcards, social posting, Instagram and Facebook ads, landing pages, and email
Domain connection
Custom domain buying
Your own Mailchimp domain
Website publishing with analytics
Basic templates
Content studio
Creative assistant
1 month of app engagement
Audience insights like purchase behavior, campaign engagement, behavioral targeting, surveys, and audience dashboard
Marketing CRM features like the Mailchimp Mobile App, contact profiles, tags, and basic segmentation
10,000 monthly emails
1 seat
1 audience
2,000 contacts max
Read also: Find Your Perfect CRM Match: HubSpot vs ActiveCampaign
Essentials Plan
If your contacts list continues to grow, then you might look into Mailchimp's Essentials plan. This starts at $9.99 a month, which is still reasonable.
What do you get in the Essentials plan? All the features available in the Free plan plus these:
24/7 chat and email support
Customer Journey Builder
Pre-built Customer Journeys
500,000 monthly emails
3 seats
3 audiences
50,000 contacts
Standard Plan
The mid-priced plan from Mailchimp is the Standard plan. This starts at $14.99 a month and is packed with the above features as well as these:
Email delivery by time zone
Email send time optimization
Dynamic Content for email
Multiple starting points and branching points for the Customer Journey Builder
Retargeting ads
Custom-coded email templates
Audience insights like address finder, lookalike audience finder, purchase likelihood, customer lifetime value, predicted demographics, and behavior-based automation
3 months of app engagement
2 million monthly emails
5 seats
5 audiences
100,000 contacts max
Premium Plan
If you want everything Mailchimp offers, that can only come with the Premium plan. It's much more expensive than the other plans, as it starts at $299 a month. Here are the extra features your money buys you:
Phone support
Multivariate testing
Comparative analytics reporting
18 months of app engagement
Advanced segmentation
3 million monthly emails
Unlimited seats
Unlimited audiences
200,000 contacts or more
Like ActiveCampaign, Mailchimp prices its plans on a sliding scale. This isn't immediately apparent by looking at their site, but it's there.
So if you had 500 contacts, the above pricing as listed applies. Here's a breakdown of how the pricing plans increase as your small business or startup adds more contacts:
2,500 contacts: $29.99 a month for the Essentials plan and $49.99 a month for the Standard plan
5,000 contacts: $49.99 a month for the Essentials plan and $74.99 a month for the Standard plan
10,000 contacts: $74.99 a month for the Essentials plan, $99 a month for the Standard plan, and $299 a month for the Premium plan
20,000 contacts: $159 a month for the Essentials plan, $189 a month for the Standard plan, and $399 a month for the Premium plan
30,000 contacts: $219 a month for the Essentials plan, $249 a month for the Standard plan, and $499 a month for the Premium plan
40,000 contacts: $249 a month for the Essentials plan, $269 a month for the Standard plan, and $549 a month for the Premium plan
Read also: Top 5 Essential Skills to Become a Professional Blogger
Pros and Cons
Comparing ActiveCampaign and Mailchimp, the latter platform is better known for its email marketing platform.
That's a significant advantage for Mailchimp.
The Free plan is also quite expansive, with support for 2,000 contacts, 10,000 emails a month, basic segmentation, basic email templates, and the email marketing features discussed above.
To use more templates, you'd have to pay for at least the Essentials plan. The same goes for custom-coded templates or getting rid of Mailchimp branding on your email communications.
You also can't do any A/B testing with the Free plan, and you're missing a lot of the audience insights that Mailchimp has to offer.
Another downside is how the Mailchimp pricing plans look deceptively affordable at first (except for the Premium plan) … until you dig a little deeper. Then you realize that Mailchimp prices its services on a sliding scale just like ActiveCampaign.
For small businesses and startups on a tight budget who want lots of features in their email marketing platform, sliding scale kind of pricing gets expensive fast.
If you're considering switching from Mailchimp, don't make a move until you read our article on the best Mailchimp alternatives.
Read also: Conversational Marketing and its Importance in Lead Generation
EngageBay's Email Marketing Platform
The third email marketing platform we want to discuss is EngageBay, an ActiveCampaign and Mailchimp alternative.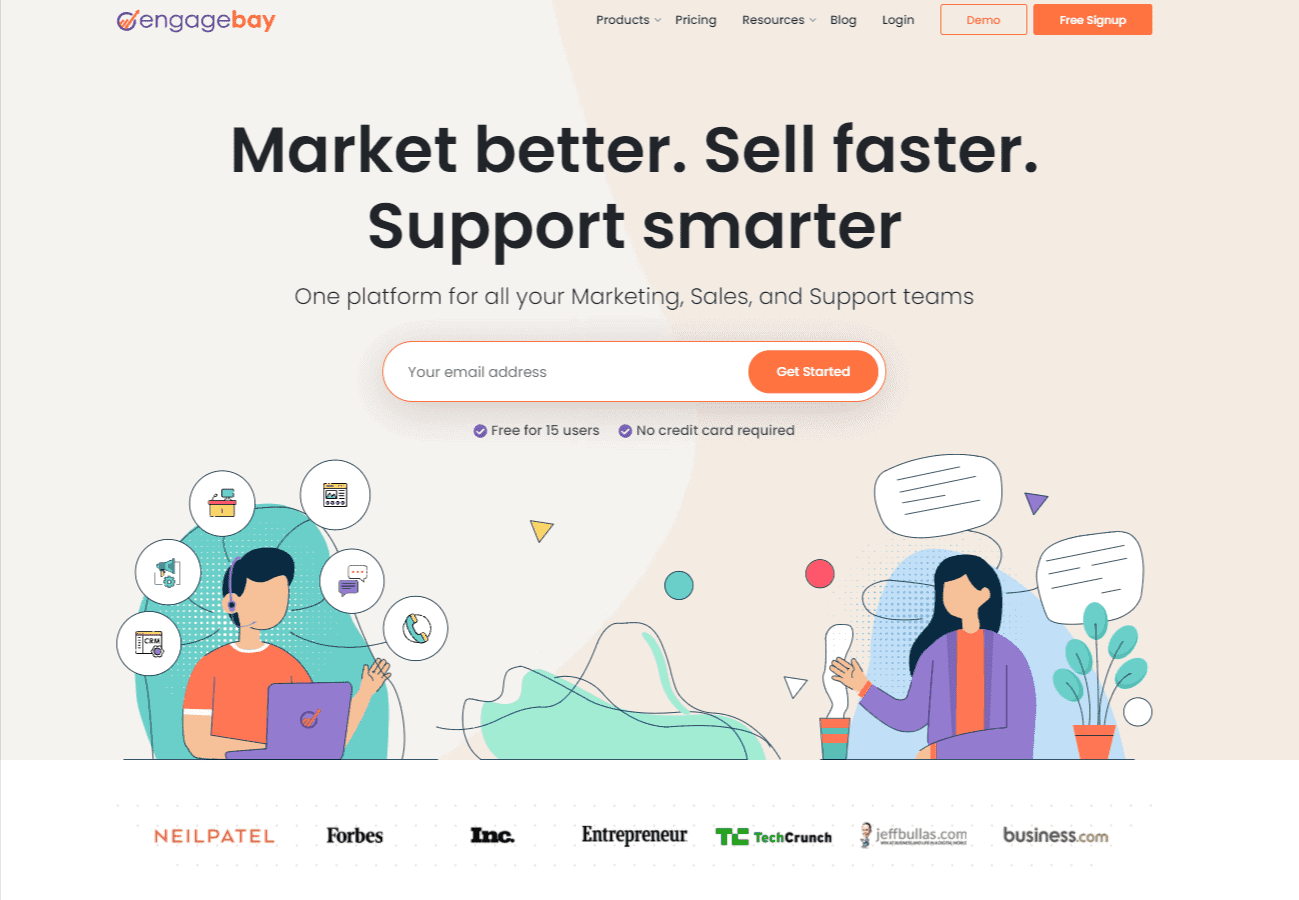 Founded as a more affordable solution for startups and small businesses than a lot of the platforms out there, EngageBay divides its products into its All-in-One Suite, Service Bay, the CRM & Sales Bay, and the Marketing Bay.
Features
EngageBay offers a lot, but to keep this blog from bloating up, we'll just talk about the features in the Marketing Bay.
Email marketing campaign optimization: EngageBay is the top choice for optimization and engagement. Engage is in the name, after all! Your email campaigns will perform better than ever before, checking off key goals along the way.
Campaign tracking: Without knowing whether your campaign has succeeded, you can keep making the same mistakes again and again. EngageBay offers you all the top email marketing metrics so you can replicate your successes and learn from your failures.
Rich-formatted email design templates: Make the most of your emails with rich text-formatted emails that will increase email engagement, open rates, and click-through rates.
Email personalization: Personalization is key in getting more leads and customers to open your messages. EngageBay has personalization features in spades, letting you input a lead or customer's personal information for tailored content. These attributes are not only auto-filled in the future, but you can add those personalized attributes to your emails.
Lead targeting and segmenting: You choose how to segment your leads with filters. Some of your options include tags, source, creation date, country, and many more demographics, geographics, and psychographics.
Email builder with drag-and-drop features: A drag-and-drop builder makes it easy to formulate your emails your way. Instead of only using prebuilt templates, EngageBay's templates are customizable from the ground up.
Included email templates: Of course, EngageBay does have a myriad of email templates for all occasions.
Integrations: EngageBay's expansive list of integrations includes many tools and apps you use every day. Some well-known options are Zapier, Mandrill, Xero, Stripe, Mailgun, Amazon Web Services, QuickBooks, JustCall, Twilio, DocuSign, ReCAPTCHA, and LinkedIn.
Read also: 7 Awesome Sales Automation Tools to Supercharge Your Revenue
Pricing
EngageBay's Marketing Bay has four pricing plans: Free, Basic, Growth, and Pro.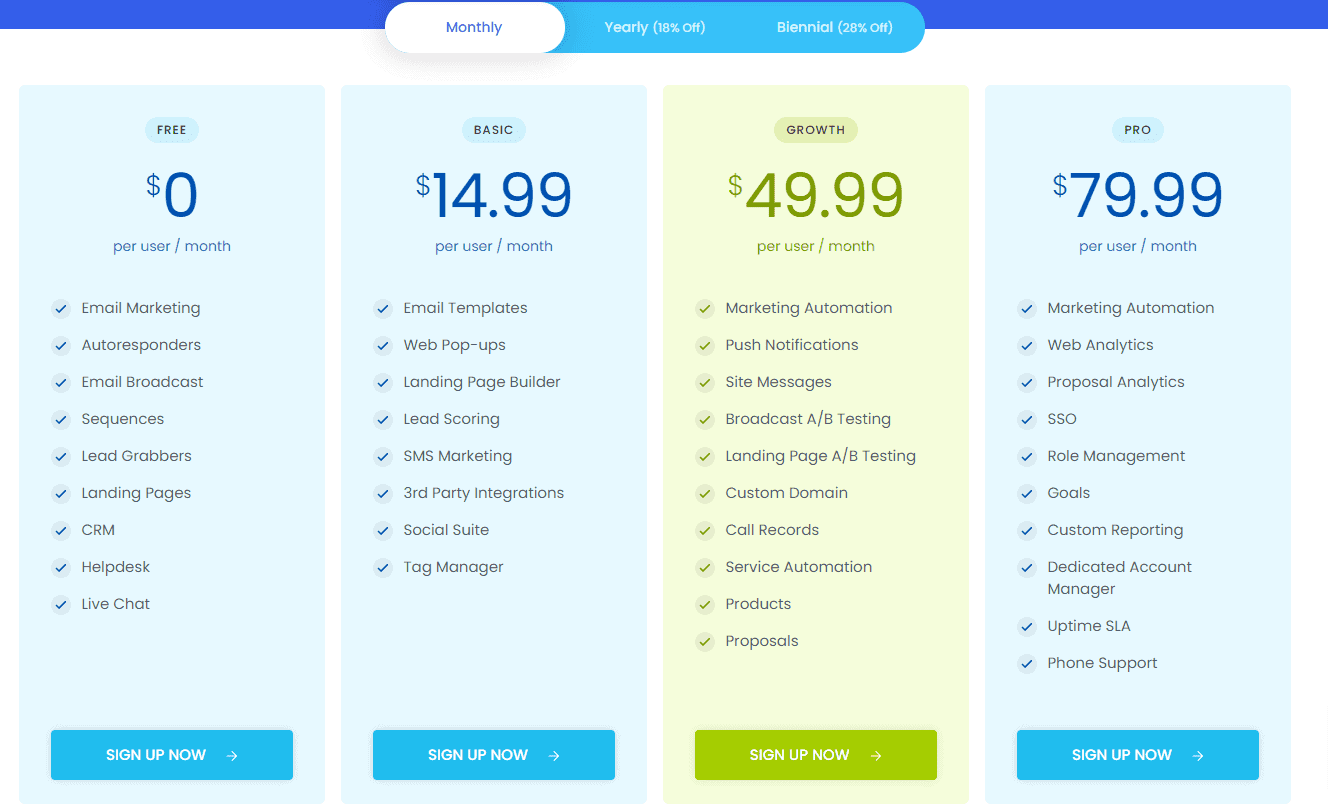 Let's take a deeper dive into these plans, their pricing (based on biennial subscription), and their features.
Free Plan
The Free plan is always $0 a month. This is just one of the many free features EngageBay offers, as its CRM is also always free to use.
With the Free plan, you can enjoy the following features:
Chat and email support
File repositories
1 gigabyte of file storage
Newsletters
Landing page SSL and landing page builder
Desktop notifications
Facebook Ads
Custom fields
Reporting dashboard
Integrations
Social suite
Tag management
Email templates
Email template builder
Embedded forms
Predictive lead scoring
Segmentation
Lists
1,000 branded emails
1,000 contacts
Basic Plan
The Free plan is very impressive, but if you want more features, the Basic plan costs $12.99 a month. Besides all the Free plan features, you also get these:
Tag manager
Third-party integrations
10,000 branded emails
10,000 contacts
Growth Plan
EngageBay's Growth plan for $24.99 a month is a good pick for small businesses and startups tasting more and more success. You get every feature from the Basic plan and these other features:
Free onboarding
Dedicated account manager
SSO
Push notifications
A/B testing for landing pages and email broadcasting
Landing page coding
Workflow and automation
Workflows and automation nodes
Web rules
Site messaging
Marketing automation
5 gigs of file storage
20,000 branded emails
20,000 contacts
Pro Plan
The last pricing plan you can select from is EngageBay's Pro plan. At only $49.99 a month, you get every feature from EngageBay. Besides the above, these other features are also included:
Team hierarchy
Teams
Role management
Custom reporting
Landing page custom domains
20 gigs of file storage
30,000 branded emails
30,000 contacts max
Read also: 6 Sales Forecasting Tools That Every Business Needs
Pros and Cons
EngageBay started as a small business like yours. They understand the rigors that most startups and small businesses must go through to get their footing. That's why EngageBay insists on keeping its services and features affordable.
The Free plan is sustainable for small businesses just starting out, as you get support for 1,000 contacts. You also gain access to nearly every email marketing service you could need, including a reporting dashboard, email templates, segmentation, email sequences, and email broadcasting.
Unlike ActiveCampaign and Mailchimp, EngageBay does not have a sliding pricing scale that goes up as your contacts list grows. That keeps your cost and ROI predictable.
Unfortunately, EngageBay does not have as many integrations as Mailchimp and ActiveCampaign. That said, EngageBay is working round-the-clock to add new integrations. Expect your favorite applications to pop up soon!
Which Email Marketing Platform Should You Choose?
Now that we've covered the features, pricing, and pros and cons of these three email marketing platforms, it's time to declare a winner between ActiveCampaign vs Mailchimp vs EngageBay.
We think the winner is obvious, and that's EngageBay. EngageBay's free plan is far more inclusive than Mailchimp's, plus you can use EngageBay's CRM at no extra cost. You can't say that of Mailchimp and certainly not of ActiveCampaign.
Also, as we discussed above, EngageBay doesn't use a sliding scale that bases pricing on the number of contacts your small business has. This makes budgeting and forecasting much easier.
The pricing alone can convince you to go for EngageBay. That's because you can save hundreds and even thousands of dollars a year by choosing EngageBay. If you're not convinced, here's a sweet little comparison for you.
Here's why EngageBay is better than ActiveCampaign: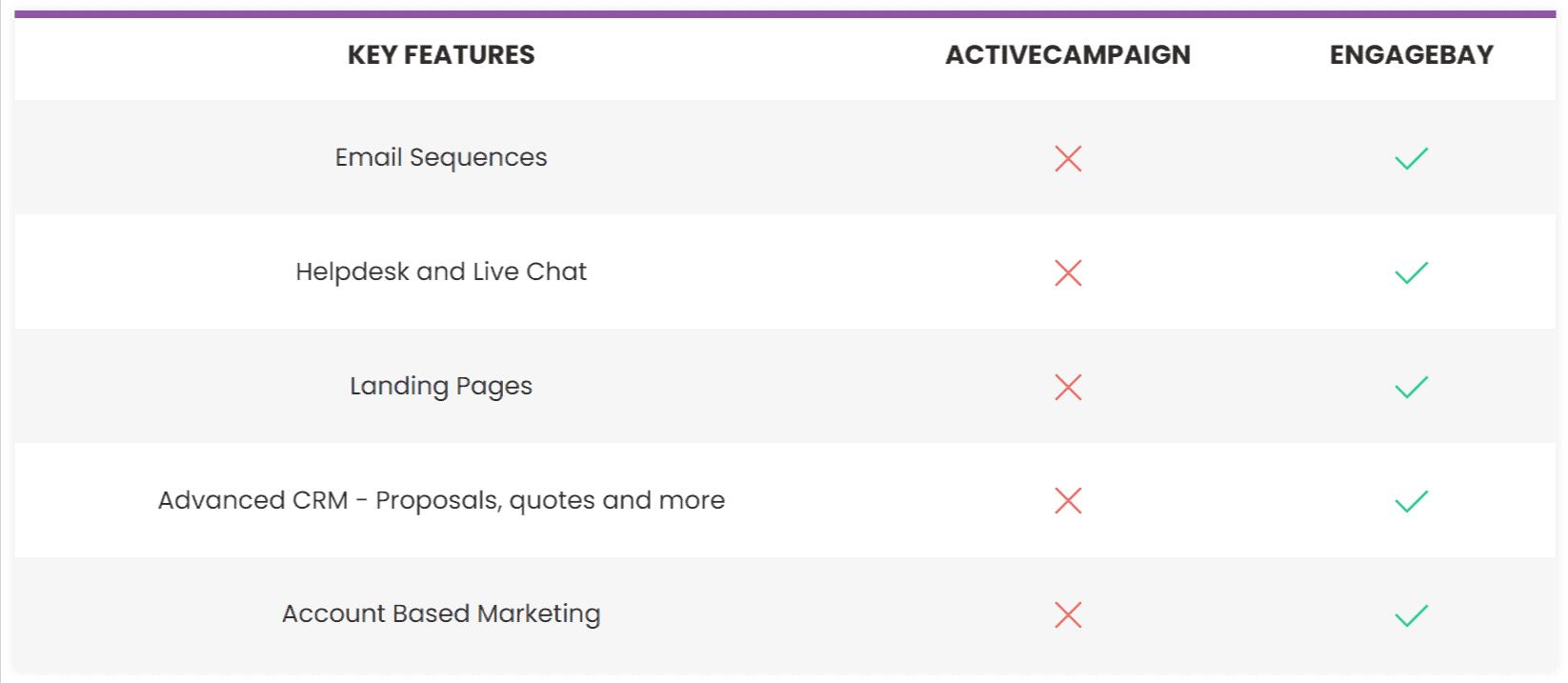 And here's a neat comparison between Mailchimp and EngageBay:

Read also: Mailchimp vs Drip: Which Is the Best Email Marketing Platform?
Conclusion
Your small business or startup must use an email marketing platform, but deciding on which one is the tricky part.
If you've been thinking about ActiveCampaign vs Mailchimp, we hope this article has shown why EngageBay is better than both.
EngageBay prices its plans affordably, ditching the sliding pricing scale you see with ActiveCampaign and Mailchimp.
EngageBay's email marketing services are designed for small businesses and startups, which is why you get so many valuable features under its Free plan.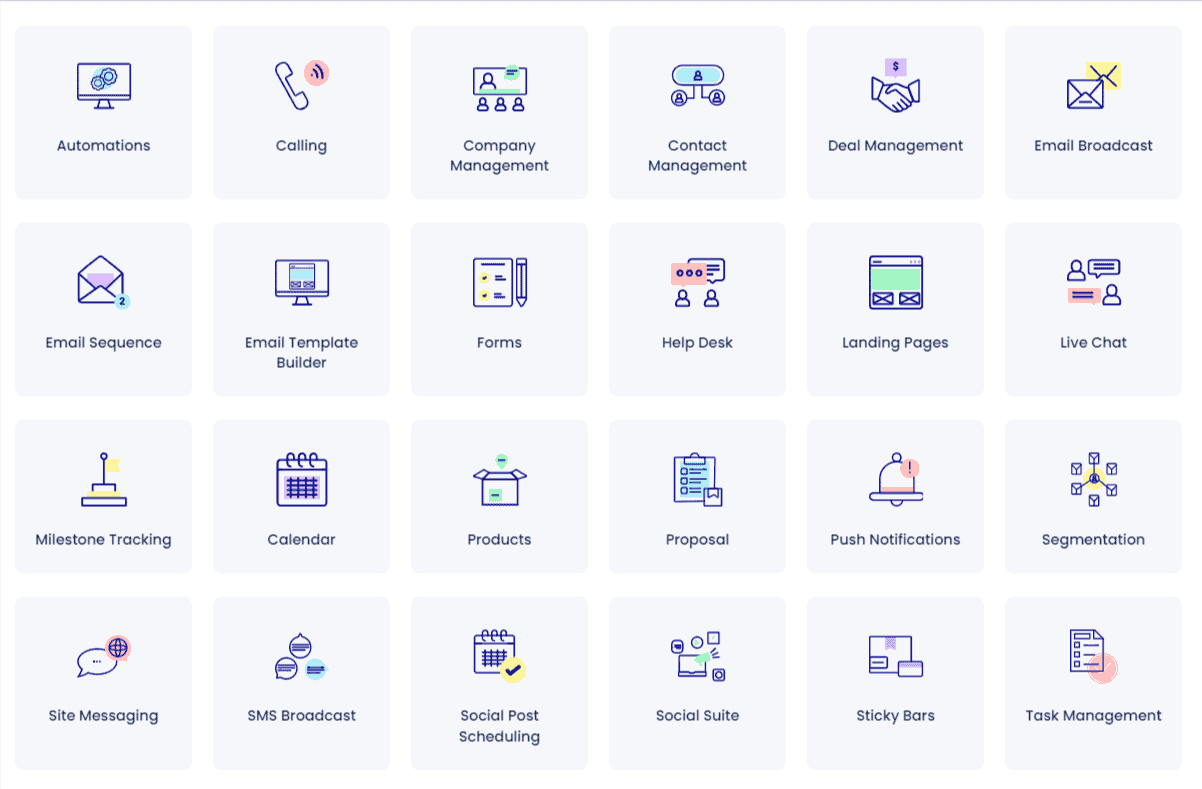 Ultimately, the decision is yours.
Your business might need certain features offered only by Mailchimp (or ActiveCampaign). In this case, you can measure the cost-to-feature ratio and see if it is worth the money.
You can sign up with EngageBay (no commitments or credit card required) — and try out the platform. We promise you won't be disappointed!
You can also book a 30-minute demo with us to learn the ins and outs of our software.