Have you ever wondered about trigger email campaigns and what they can do?
You obviously know that Email Marketing is one of the most important aspects of Digital Marketing in the current era. We already know about the high ROI that email marketing generates.
Among different aspects of email marketing, trigger emails are an important factor that influences the success of any email campaign.
According to statistics, triggered emails have a huge impact on the Open Rate and the Click-through Rate of any email marketing campaign, which is crucial to its success.
Let us understand the basics of triggered email and take a look at some of the best examples for you to adopt.
What are Trigger Emails?
Trigger Emails are automated triggered based emails on an action taken (or not) by a website visitor, or a change in a customer's behavior or profile via trigger marketing automation.
Simply put, this as a whole is known as trigger-based email marketing. A triggered email is also referred to as an event-triggered email.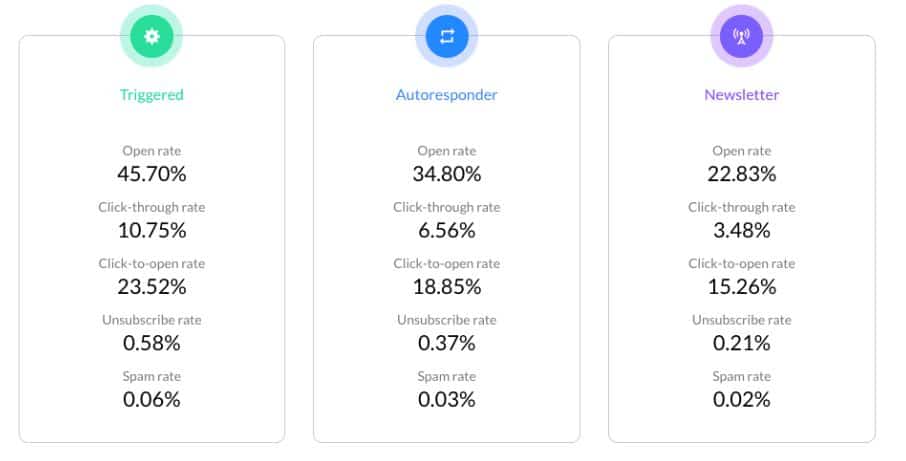 👉👉Set up trigger emails in minutes and boost revenue using EngageBay – the simple yet All-in-One marketing and sales CRM for growing companies. Get FREE lifetime access (up to 15 users) from here 🏆🏆
What is the difference between triggered emails and marketing emails?
Marketing emails are used to promote products but triggered emails ensure that the recipient goes through a process to start or finish a task.
In contrast, trigger emails are not used with the only goal of selling. Rather, they are used for providing information to the recipient.
>> Try EngageBay's Contact Segmentation
Examples of marketing emails are:
Welcome email series
Promotional and sales email campaigns
Newsletters
These contain a lot of information about the brand and sent to the recipient's email address with an intent to make a sale.
Examples of triggered/transactional emails can be:
Order Confirmations
Password reset
Email receipts
These are mostly triggered by a user's interaction with the website or a web app. Businesses use both types of emails with specific intent and goals.
How trigger email campaigns works
It is well known that triggered email marketing can do wonders for your business. It is not very difficult to understand how trigger emails work.
In trigger campaigns, personalized emails are sent to different customers in your email list, based on different pre-defined automation triggers, to invoke a response or keep them engaged in the brand.
Types of triggers can be categorized as: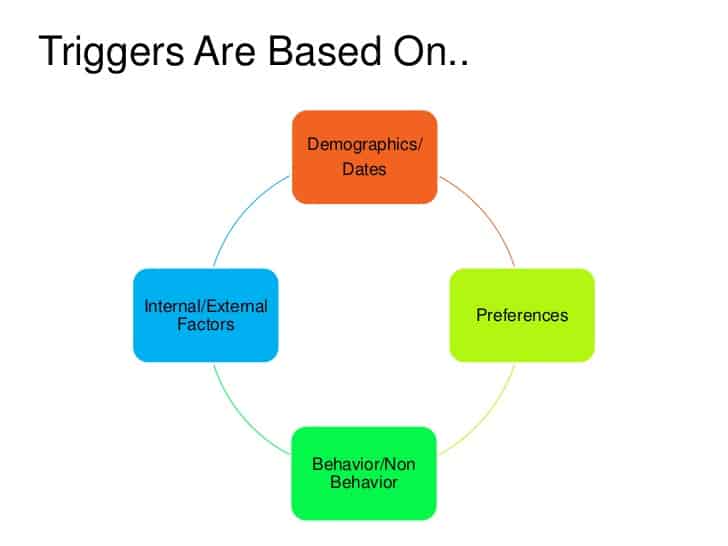 What are the different types of trigger emails
Welcome Email
Onboarding Emails
Early Activation
Reactivation Email
Remarketing Email
Transactional Email
Account Email
Personal Event Email
Milestone Email
Real-time AutomationTriggers
There are around 10 different types of triggered emails that marketers can use in their trigger campaigns.
1. Welcome Email:
The relationship starts off with this email. It welcomes you and provides guidance for the actions that are expected from you.
Thank and welcome new users when they sign up with automated trigger emails

2. Onboarding Emails:
These emails push the customer to create an account or sign up on a platform.
3. Early Activation:
These are for subscribers who might have activated their accounts but not yet engaged. They can be given some offers to act upon something.
4. Reactivation Email:
If a subscriber has not responded or clicked through within the purchase cycle, this email is sent to their email address to re-engage them.
5. Remarketing Email:
Shopping Cart abandoned emails are for those who might have left without making a purchase. Abandoned cart emails are very popular in the e-commerce space.
6. Transactional Email:
These are informational or confirmation emails. These can also be alternative suggestion emails. This is one of the most important types of triggered emails.
7. Account Email:
These can account for updates such as password updates, changes to email, profile changes, etc.
8. Personal Event Email:
These are for personal milestones like Birthdays, Anniversaries, and others like special offers or engagement.
9. Milestone Email:
These are congratulatory messages for subscribers who have reached a milestone with your brand.
10 Real-time Triggers:
These are based on real time events like weather, location, some event, etc. to engage the customers in a better way.
Here is an example of different types of popular triggered emails: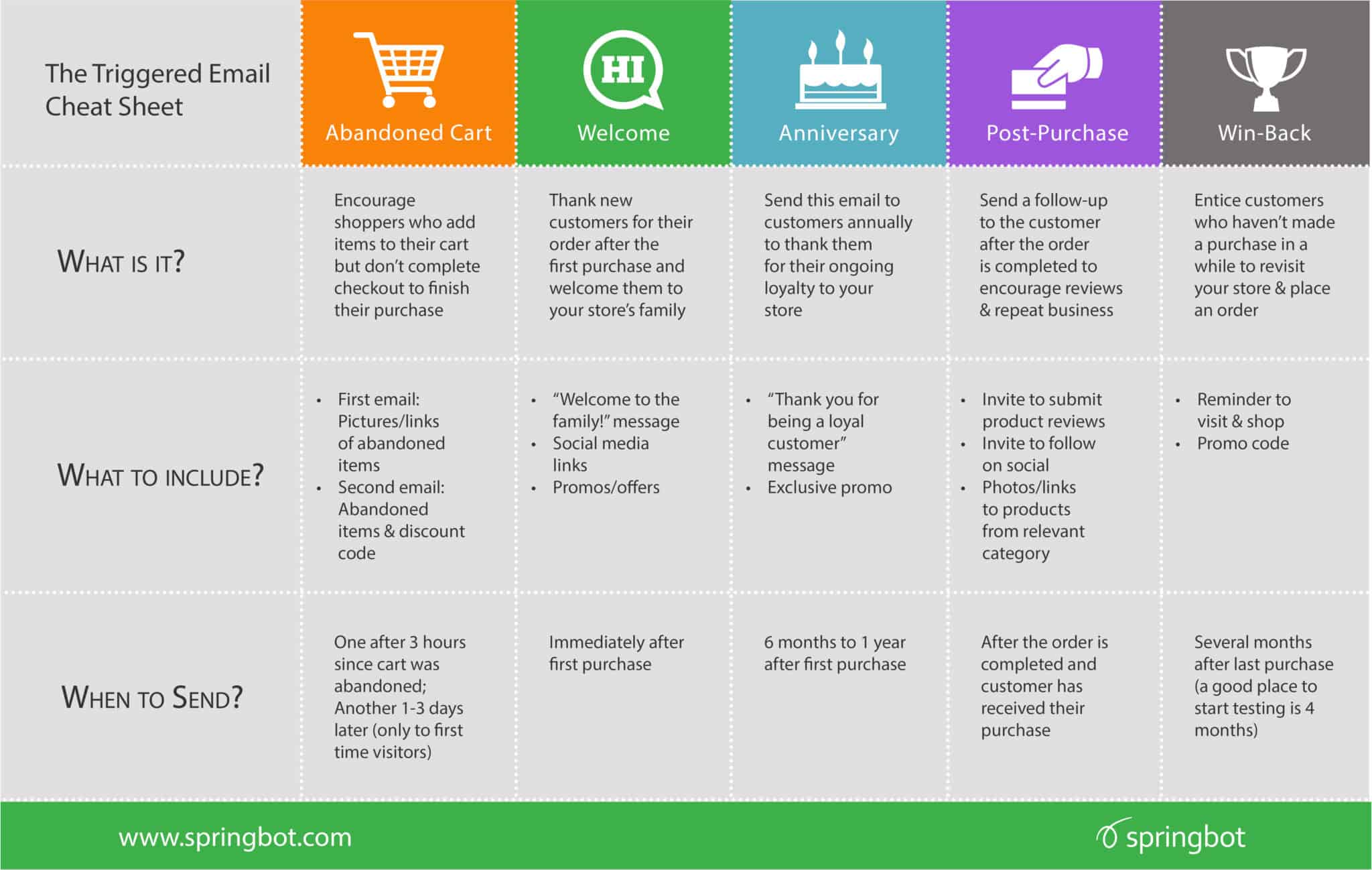 Why trigger emails are successful
Save time
Impress the customer
Increase buying chances
Save time
This is the major benefit of automated emails. Triggered emails can be configured beforehand and it also reduces human intervention.
Trigger based emails on different events are known to save potentially around 80% of the direct email budget.
Impress the customer
Customers feel special when they receive personalized emails at the right time. According to a study, welcome emails are the most popular forms of triggered emails.
Customers expect a welcome message like validation to a process, order confirmation, etc. It is the first step towards a relationship building with the customer and eventually leads to customer retention.
It has been seen that of companies that send welcome emails, 75% of companies send a welcome email on the same day. 65% of marketers had adopted 'Welcome' campaigns in Q1 2016 which grew by 7% over the last year.
It has also been found that emails from trigger campaigns that are sent by financial institutions always have a higher open rate as customers do not want to miss any information.
Increase buying chances
Around 66% of consumers have made a purchase online based on an email message.
Triggered emails help to track and assess the different behavioral traits and triggers that can motive a customer to make a purchase.
Based on these inputs, the right mail is sent at the right time to help the customer make a purchase.
👉👉Set up trigger emails in minutes and boost revenue using EngageBay – the simple yet All-in-One marketing and sales CRM for growing companies. Get FREE lifetime access (up to 15 users) from here 🏆🏆
Set up workflows to automate pre-defined emails to be sent whenever a user takes a particular action

Tips for Trigger Emails
Create Customer Personas
Track Your Customer's Journey
Repurpose the Most Effective Emails
Look For Best Practices
Create Customer Personas
It is important to know and segment your customers to know them better. Good knowledge of the target audience makes it easier to design effective email campaigns for individual email lists.
Track Your Customer's Journey
Analyze the customer data to track their behavior and know their traits so that you can send them better-targeted emails.
Repurpose the most effective emails
You can take a look at your past history and determine the kind of content that worked best for different customers at different stages.
You can identify and repurpose them to your prospects for better performance.
Look for best practices
Take a cue from what is working for others. The best practices are what we are going to talk about in the next and last section of the article.
>>Free up your time by scheduling drip email campaigns with email sequences
Tools to automate the email workflow
EngageBay
MailChimp
HubSpot
ActiveCampaign
Today more than 80% of companies use email marketing technology yet only 51% of companies are using trigger marketing automation to optimize in terms of time and money.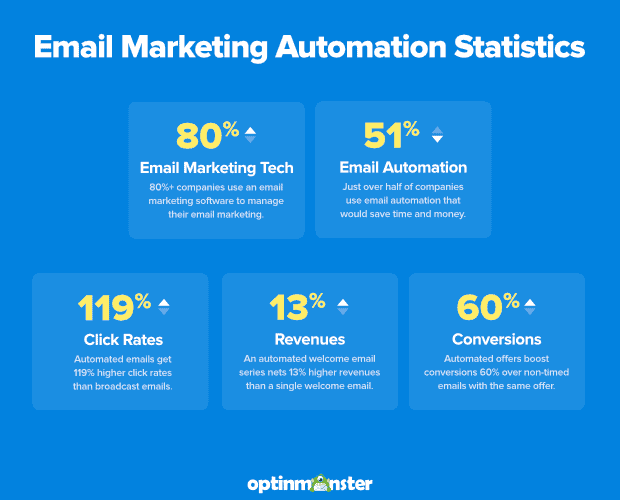 We will quickly touch base on some tools that can be used to automate trigger email workflow.
EngageBay
EngageBay email segmenting leads and automated email templates to make things easier for you.
From email personalization to providing various platforms for email marketing automation, they can be your best choice at an affordable rate.
MailChimp
Mailchimp allows sending drip emails to follow up based on website activity or inactivity, abandoned shopping carts, etc.
If you are looking for a huge load of integrations and an all-rounder solution for inbound campaigns, this will be a perfect choice.
HubSpot
HubSpot has been ranked as one of the top marketing automation tools for a huge range of tasks.
One of its best features includes streamlining email marketing strategy through automated workflows.
ActiveCampaign
ActiveCampaign allows creating drip emails that are driven by subscriber interaction, behavior, interests, location, history, and more.
It helps to automate the entire life cycle of a customer. This tool handles marketing automation, and multi-channel marketing and comes with a built-in CRM.
👉👉Set up trigger emails in minutes and boost revenue using EngageBay – the simple yet All-in-One marketing and sales CRM for growing companies. Get FREE lifetime access (up to 15 users) from here 🏆🏆
10 Best Triggered Email Campaigns That Have Set A High BenchMark In The Industry
1. LimeRoad Abandonment Email:
Limeroad sends this email based on customer behavior with relevant and useful recommendations.
It has a personalized subject line. This subject line that tells the customer what he/she can expect in the mail. The product images are clickable and take them directly to the website.
This makes it easier for the customer to purchase and visit the website again, thus increasing sales conversions.
Their abandoned cart email strategy really helps in the e-commerce space for higher purchase.
This also makes for great customer experience.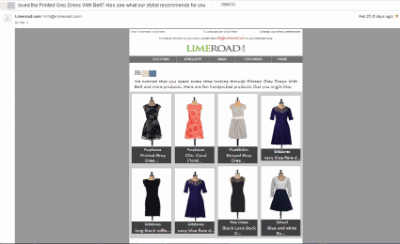 2. Eurostar Email:
This travel brand sends amazing attractive automated emails on the release of tickets for destinations that have been recently browsed by a customer.
It creates an urgency for the customer and drives their interest, website traffic, and bookings. This is a prime example of triggered email marketing.

3. Total Wine & More Personal Email:
They send amazing personalized emails on birthdays and other special events with eye-catching celebratory images.
They offer a discount or a coupon to urge the subscriber to avail the same on their services and products.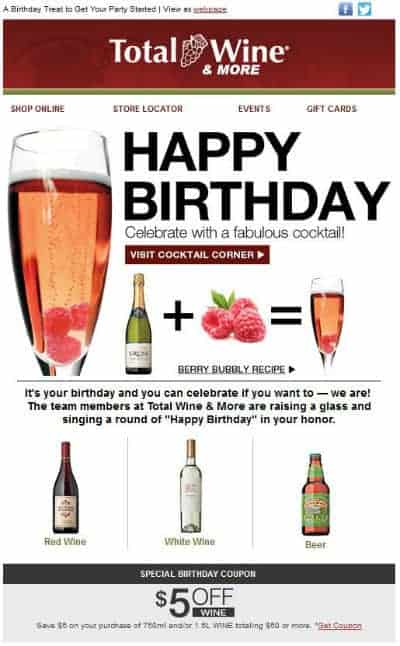 4. Cooking.com Thank You Email:
This brand sends a 'Thank You' mail based on the last purchase and urges a subscriber to make the next purchase with a discount.
This helps to increase sales and also as a feel-good factor for the customer.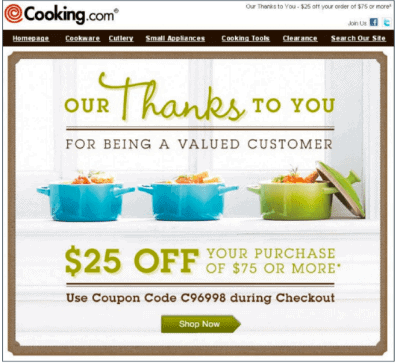 Credit: Cooking.com
5. Pinkberry Inactivity Email:
This email from Pinkberry uses the silence and an incentive to lure back its customers if they have been inactive for a long time.
This helps to build a personal connection as well.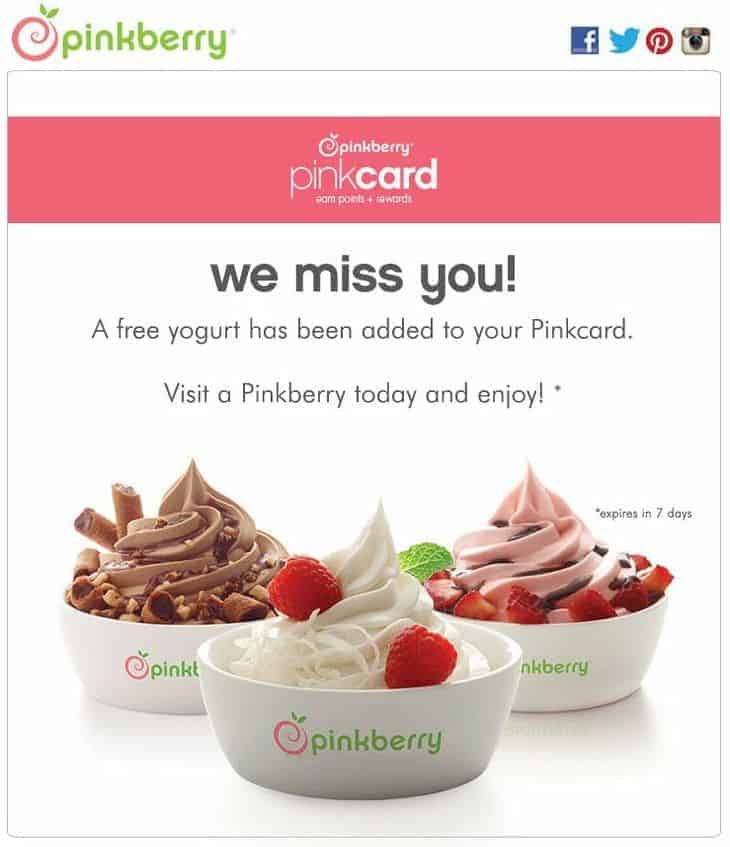 6. Trainline Email:
This travel brand updates the customer about the upcoming journey with ticket pickup reminders, the weather at the place, and other important information.
They also encourage the user to download the app and stay updated with more information.
This type of engagement increases the brand value in the mind of the customer.

7. Sephora Review Email:
This brand sends an automated message to customers within 2 to 3 days of purchase to urge them to write reviews.
The design is eye-catching and the interface is easy to submit reviews. Sometimes, they re-send it after a couple of weeks in case you missed the first email.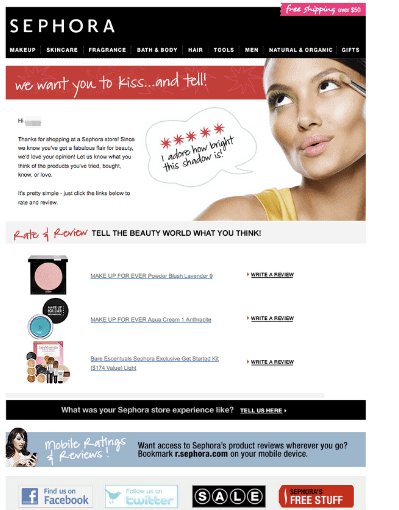 8. Etsy Thank You Email:
They send this wonderful 'Thank You' mail with a discount for the customer to visit their store once again.
This not only helps to repeated sales and customer retention but also helps to build a network of loyal customers.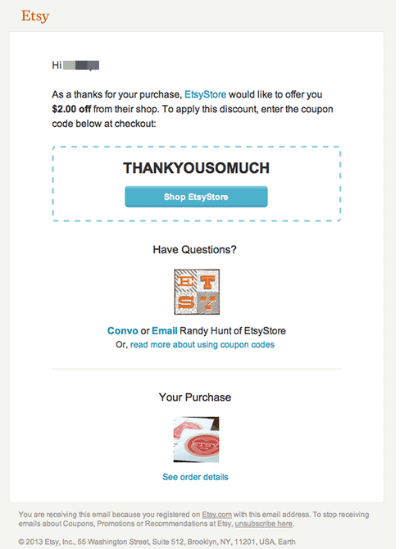 9. Fiji Airlines Email:
Fiji Airlines tries to connect with the customer even after the transaction is over.
They ask for feedback and tries to build a connection with the customer and prepare them for the next purchase.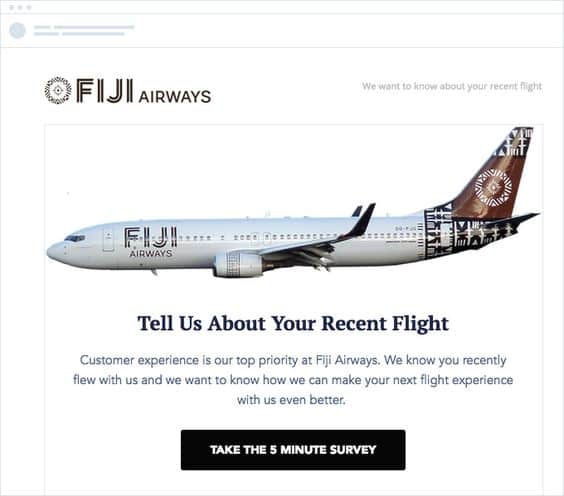 10. JetBlue Annual Summary Email:
JetBlue sends the annual summary of the customer about their past travel. and activities through an exciting infographic.
These automated emails not only thank the customer but also help them plan their travels ahead.

A Few Examples of How Brands Are Using Trigger Emails for Gaining Customer Loyalty (Trigger Email Examples)
Social Sharing:
92% of customers trust people they know more than advertisements. So, referrals are a great way to connect with the prospect and turn them into customers.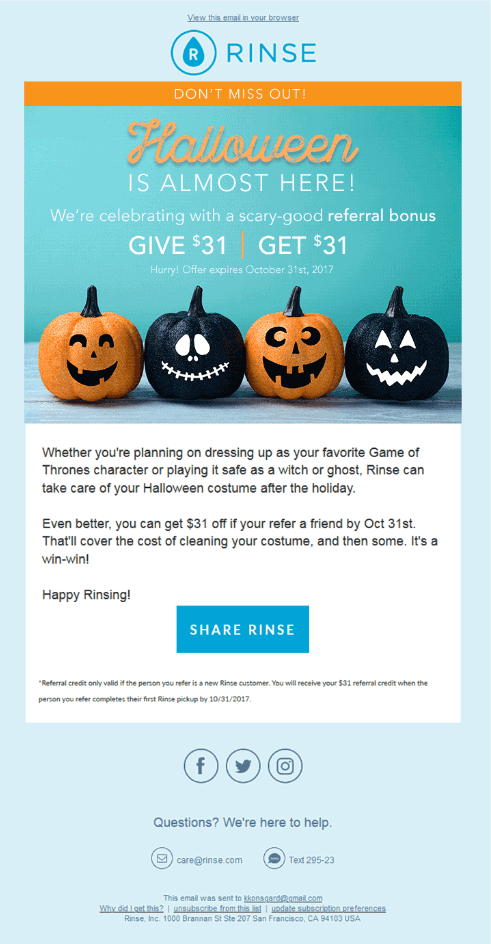 Inactivity Reminders:
These go out when a customer has been inactive or away for some time.
They are a bit different from shopping cart abandonment emails because they include something extra like a discount or a coupon to nudge the customer to come back.
This also reflects the fact that the brand values its customers.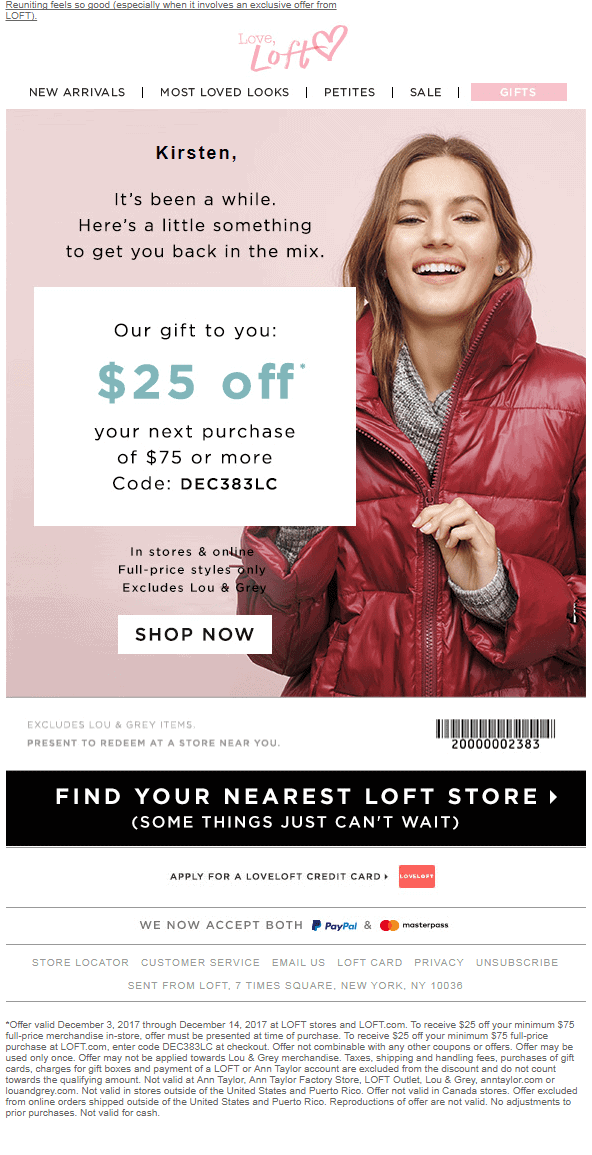 Date Triggers:
Why wait for customer birthdays to engage when you can create interest and connect beforehand?
This example shows how the brand tried to connect with customers and urged them to visit their site to keep them informed about what they can expect on special occasions.
This is a great way to retain loyal customers and get new ones.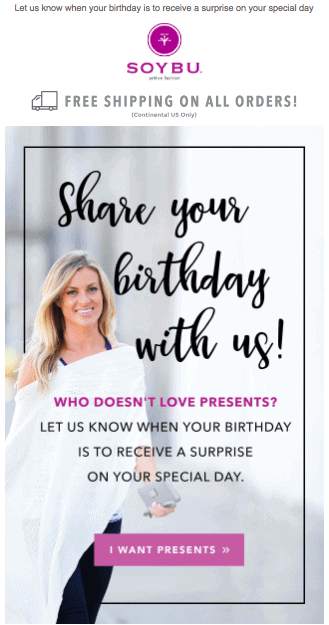 These are just a few examples and there are many more who are doing it RIGHT.
If you also feel design effective triggered email marketing automation campaigns for your business, you need an expert to do the job.
And, WE are just there to help YOU!
>>EngageBay's intelligent push notifications, engage customers anytime, anyplace
To know more about trigger email marketing and how it can help in your email marketing strategy, contact us for a detailed solution.
EngageBay is a comprehensive Customer Journey and Customer Lifecycle Management (CLM) software for growing companies. CLM covers all aspects of customer management across sales, marketing, and support. Check out EngageBay's offerings – a powerful CRM, small business marketing automation, and Customer support software to grow your business.
👉👉Set up trigger emails in minutes and boost revenue using EngageBay – the simple yet All-in-One marketing and sales CRM for growing companies. Get FREE lifetime access (up to 15 users) from here 🏆🏆
Here are our best blog posts you should read right now: