The holidays are a wonderful time of togetherness, cheer, and spending time with all your loved ones.
While this is also the time for extended vacations, many businesses are working harder than ever trying to make the most of this sales season.
With every brand competing for a limited audience and a decreasing attention span, it takes increasingly smart and crafty holiday promotion strategies to reach your audience.
That's why in this blog post we have shared five of our best holiday promotion ideas to inspire your upcoming campaigns.
1. Make a Surprise Offer
Whether it's the office Secret Santa or that mystery gift under the tree with no sender name besides the big man in red himself, a mystery gift is a pretty common sight around the holidays.
It fills the receiver with excitement and curiosity. What could this gift be? They have no idea, and they're eager to find out.
You can bottle that excitement by making a surprise holiday-related offer to your customers on your email list. Look at this awesome example 👇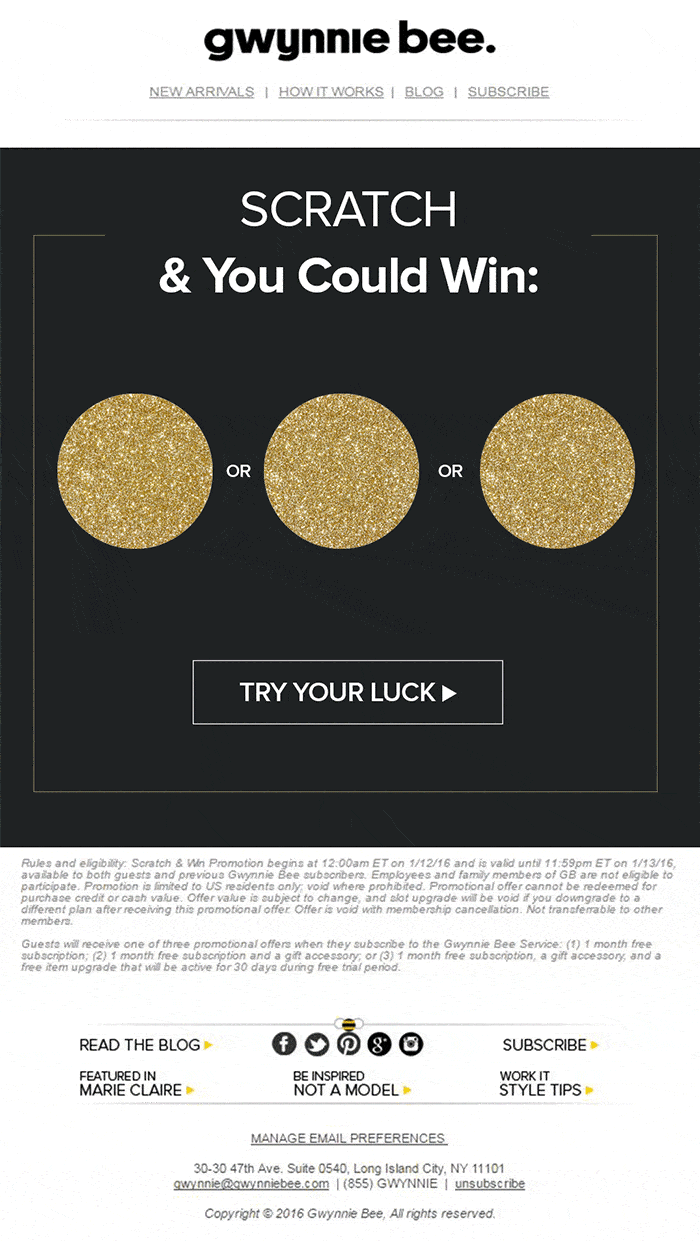 Perhaps you offer a series of rebates. The value of the rebates varies, but there's one grand-daddy rebate that's worth more than 'em all. That's the one you'd dole out last.
To get in on the rebate deal, all a customer has to do is make a purchase between X and Y dates. The dates should be well before Christmas so that your customers can get their holiday shopping done stress-free.
Each purchase enters the customer in to win the big rebate. You could give out the smaller rebates at random every day or every week leading up to the holiday, which is right around when you'd announce the winner of the big rebate.
Read also: How To Write Discount Emails Like A Boss
2. Post About Holiday Deals, Discounts, and Specials
'Tis the season for savings!
Another exemplary holiday discount idea is to round up all your ongoing deals, discounts, and savings in a blog post, a social media post, or on your website.
We recommend a holiday-themed schedule of deals that outlines everything going on between November and December (and perhaps even into January, it's up to you!).
If you're partaking in some yuletide events, you would include them in this schedule as well.
Wherever you post the schedule originally, you can cross-post it to your blog and social media or your website.
You're keeping the holiday spirit alive with your post and helping your customers and leads stay abreast of all the fun they can witness in the time to come!
Here's a good example from Target: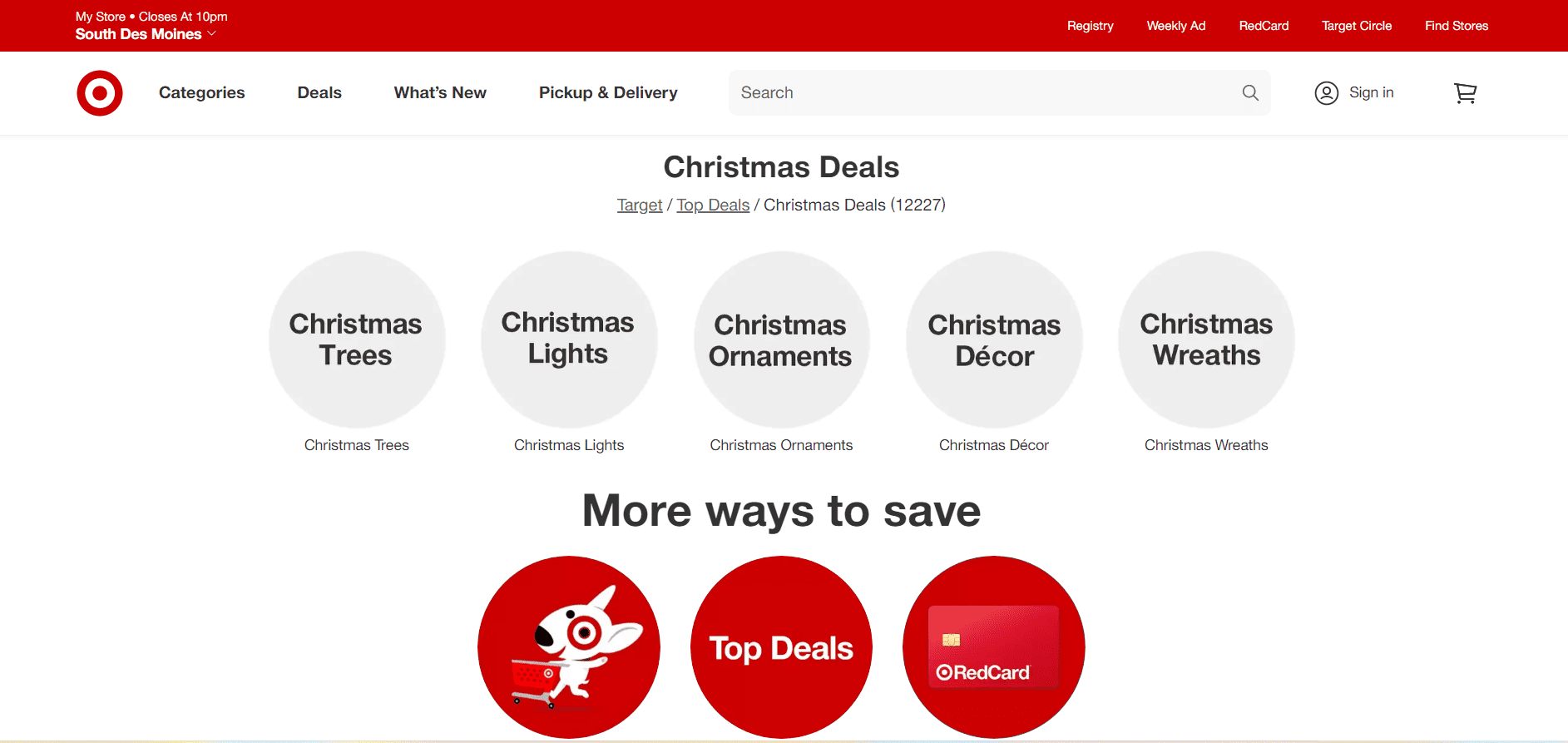 Read also: Christmas Slogans For Shopping And Tradition
3. Run Holiday Ads
Your small business or startup–although your advertising budget isn't huge–is probably running some Facebook Ads already, right?
Well, there's no better time than the holidays to jazz up those ads, introduce some red and green, and make your Facebook Ads feel festive for the season.
This ad campaign will be a lot shorter-term since you only want the ads active for the season.
Once the last of the champagne is drunk, the candy canes are eaten, the gift cards are spent, and the holiday glitter is gone, your holiday deals will be gone right along with them.
It looks terribly outdated to still be running Christmas-themed Facebook Ads the deeper you get into January. You're like the neighbor who keeps proudly turning their lights on until nearly Valentine's Day.
It's a bad look!
Don't only stop at Facebook Ads, of course. If your small business has the budget, holiday PPC ads can reach an extensive audience as well, perhaps even a larger audience than your Facebook Ads alone.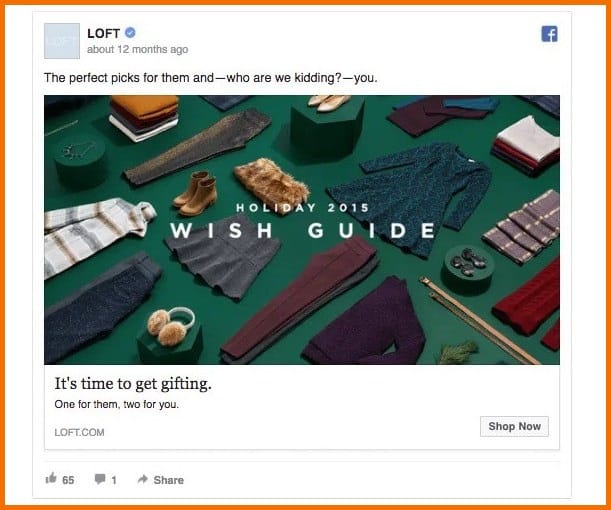 We should warn you of this: beware of holiday spending excesses! No one likes to rack up major debt in January, and that goes for your small business as well.
Keep your ad budget reasonable.
Read also: 10 Christmas Marketing Ideas For Some Sales Magic✨
4. Do a Giveaway
You're not the only one feeling the financial strain of the holidays. So too are all your customers.
Any chance they have to nab some freebies, trust us, they're going to take advantage of them.
Thus, the holidays are the ideal time for a giveaway or contest.
You should announce the giveaway well in advance, so maybe sometime in November or December.
In your post announcing the giveaway, make sure that you clearly state how to enter the giveaway, how long the giveaway lasts, what the prize is, how to win, and how the winners will be notified (not to mention when!).
Maybe all it takes to enter is signing up for an email list or following your account and tagging friends.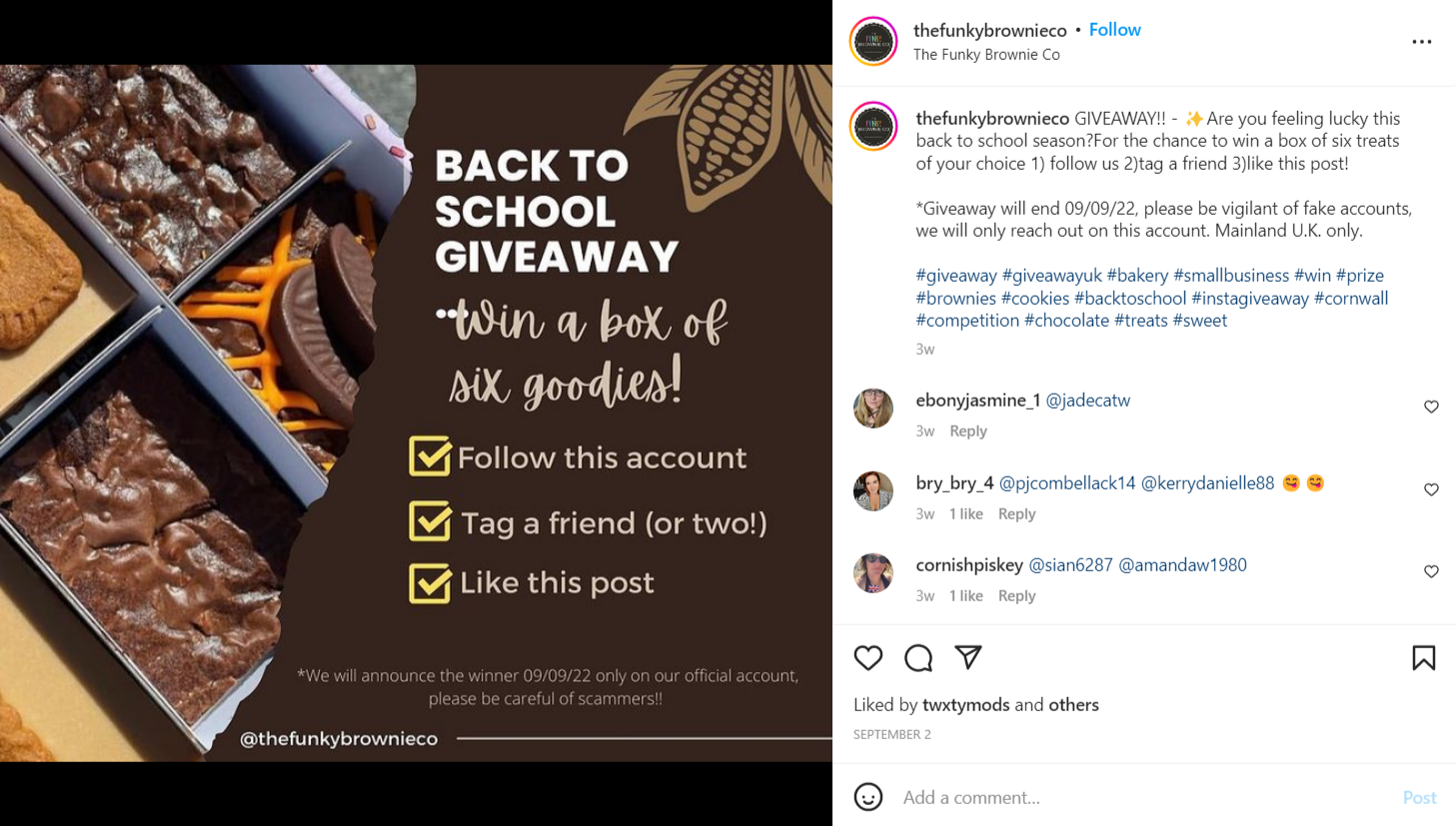 Read also: How To Write The Perfect Christmas Email [+ Fresh Subject Lines]
5. Offer a Free Trial for the New Year
Once Christmas comes and goes, there's no need to do away with the holiday promotions quite yet. You get one more chance around New Year's.
This is the time of year when people are looking to set resolutions and make big changes. Perhaps they want to finally try that product or service that they've been thinking of for a while (hint, hint).
Make it easy for them by offering a free trial for the first month of the year, or even the first two weeks of the year if you need the holiday promotion to be more cost-effective.
Begin promoting this deal before the holidays are in full swing, then increase the rate of promotion after the holiday hubbub has passed (but before New Year's Eve).
A free trial is difficult to resist any other time, but when you combine the offer with the cash-strapped status of many of your customers this time of year, the offer will be irresistible!
Read also: The Sales CHAMP Framework and How It Can Help Your Business
Conclusion
Are you ready to make this year your most successful yet? You need to begin planning the holiday promotions now so they're ready to deploy in November, December, and early January.
The five ideas we presented here are a great way to get you thinking about how you can use the holidays to reach your customers in new and innovative ways!