Customers will be hopping from store to store to grab amazing holiday season deals and to purchase gifts for their loved ones during the Christmas season.
Grab their attention and pull them to your store by sending enticing Christmas emails announcing exclusive gifts, rewards, and last-minute deals.
We've collected some of the best Christmas email ideas that'll help your emails stand out in your customer's inboxes. Create an emotional bond with your customers by helping them surprise their loved ones with gifts and products from your store.
In this article, you'll learn about:
Starting a Christmas email campaign
When should Christmas emails be sent
Christmas email subject lines
Clever Christmas email ideas (with examples)
The best Christmas email newsletters to get engagement
So, without further ado, let's unwrap the secrets to Christmas email marketing 🙂
How Do You Start a Christmas Email Campaign?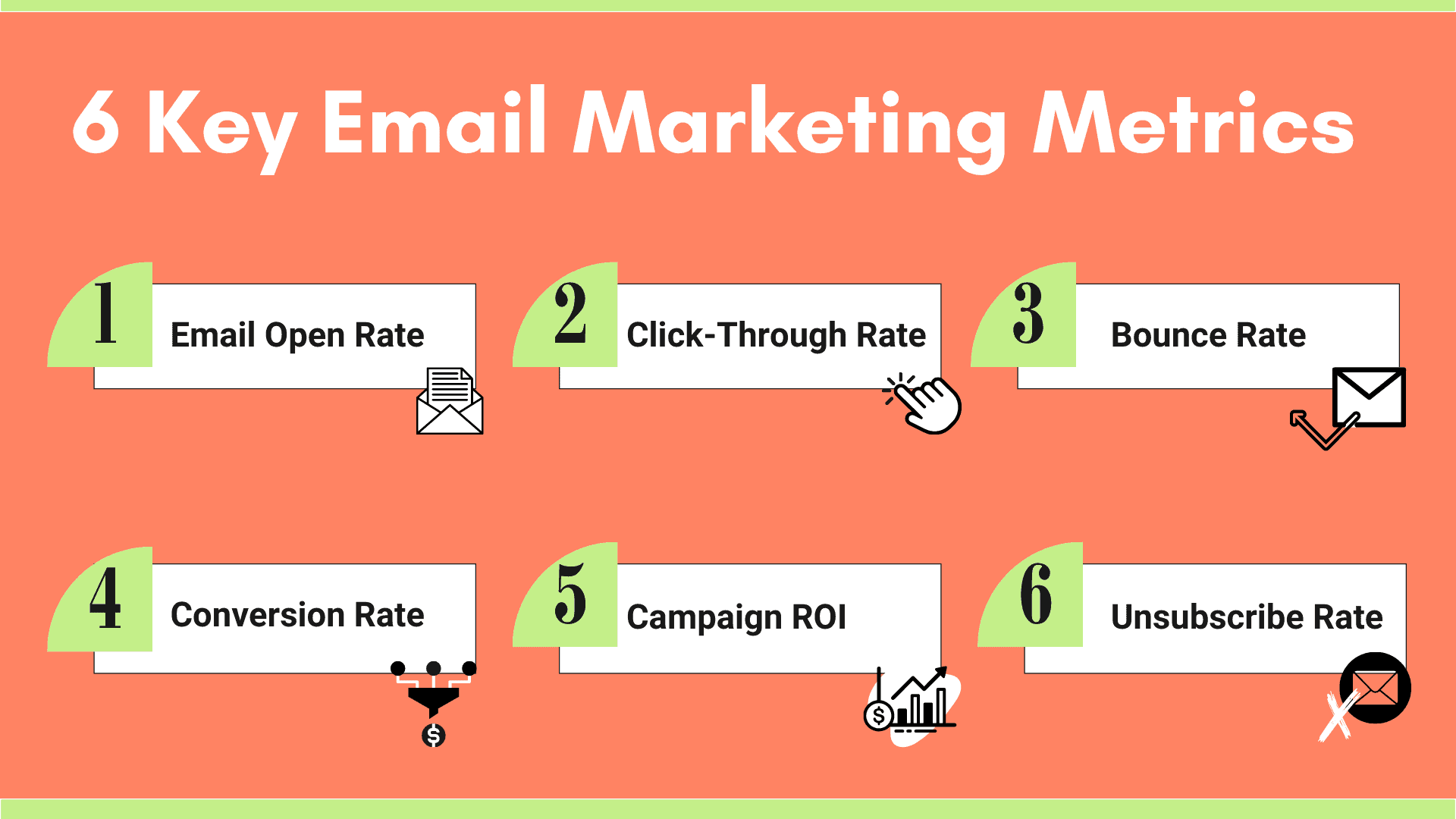 Thanksgiving is the first step to Christmas, and there's no way around that. If you're in charge of leading your company's holiday email marketing campaign this year, then a question you've probably heard a lot over the last few months is, "What should we write about?".
Sure, it seems easy enough to just send a short email with a link to your online store and call it a day. But holidays are all about tradition and making memories — people want to see something unique and engaging.
So, what can you do to create an amazing holiday email campaign?
Here's how to get started 👇
Analyze your past campaigns
The only real mistake is the one from which we learn nothing."

~ Henry Ford
Analyze your previous Christmas email campaigns; find out what worked well and note your shortcomings.
Look at the subject lines of emails with high open rates; look at email copies that converted better; notice the offers that worked well so that you can use them again in your current campaigns.
Document the metrics from your previous campaigns; it will reveal the areas that require improvements. Enhance those areas to make your new campaign successful.
Dust off your email list
How often do you review your email list?
Update your email list often to exclude inactive and lost customers from the list.
Keeping your email list fresh will help you in:
Increasing email open rates and the chances of conversion
Minimizing bounce rate
Saving your brand's reputation.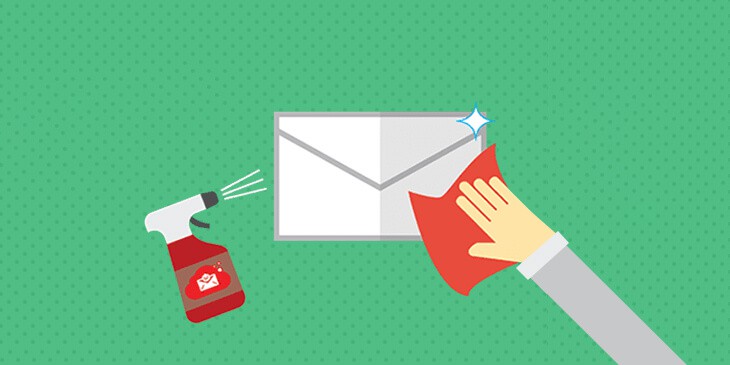 Segment your Christmas email list well
Alright, the email list is now clear of inactive and churned customers. Is it time to start the campaign?
No, not yet. There is still some optimization to do.
Segmentation is crucial before launching email campaigns; divide your customers into small groups for better targeting.
Small, targeted segments will help you tailor your emails better. It will also reveal what emails you want to write to better engage with your audience.

Use an email segmentation tool to group your customers into targeted segments based on various conditions and streamline your email campaign.
Choose your offers smartly
Choose the offers relevant to your segmented audience.
Last-minute demographic-specific deals or gifts, purchase-history-based product bundles, wishlists, etc., are some of the best Christmas deals that entice customers.

Or, you can send newsletters to educate customers on what to gift their loved ones.
Send user guides for products they purchased or send holiday contest emails to increase customer engagement.
Read also: 10 Christmas Marketing Ideas For Some Sales Magic✨
Be creative in writing your emails
Write emails based on your segmented email list; have different email templates for various demographics and templates relevant to the time you're sending the email (Pre-Christmas, Christmas eve, or Post-Christmas).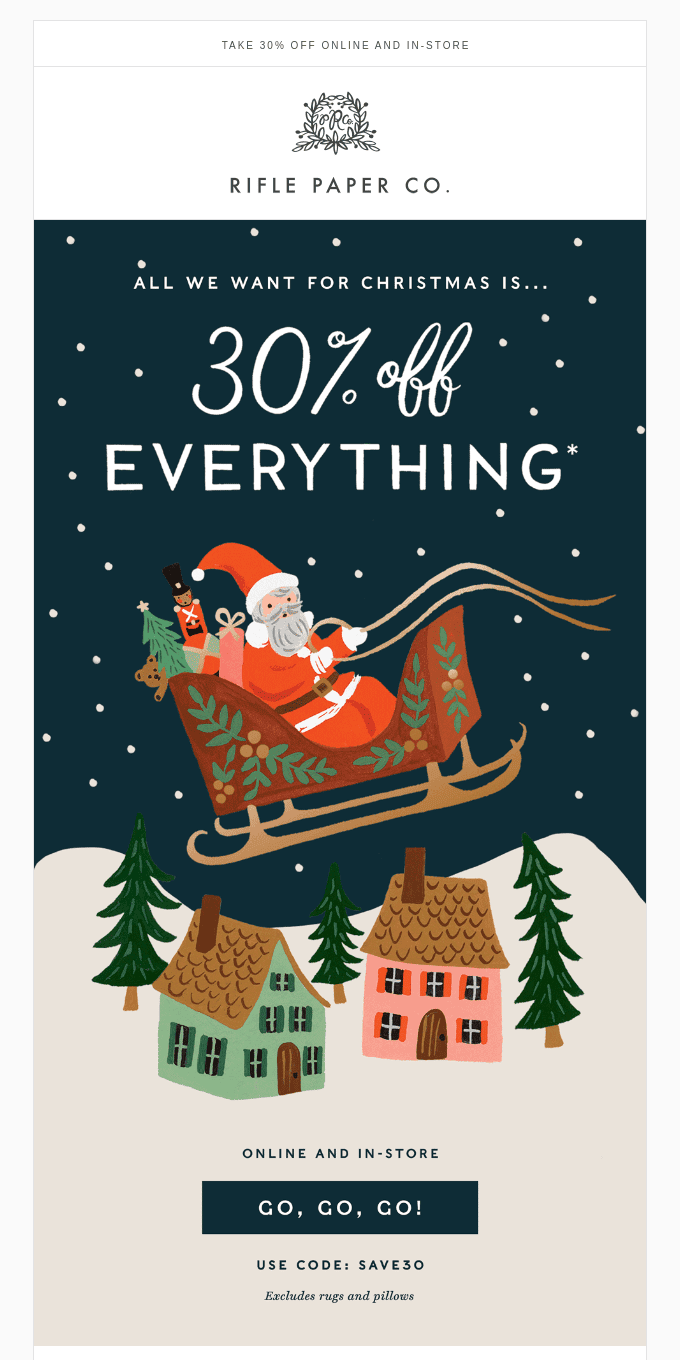 Customers will be eager for offers, so emphasize them. Add festive effects to your emails, like Christmas trees, Santa figures, stars, lights, snowflakes, baubles, and so on.
Launch your Christmas email campaign on time
Once your email templates are ready, test their compatibility on multiple devices; check whether the CTAs are redirecting to the right landing pages, and ensure that your inventory is full before launching your campaign.
If products run out of stock, have an e-gift card option available so customers can purchase and redeem them later.
Use an email marketing tool to broadcast your Christmas emails to different audience segments.
Launch your email campaign, offer gifts and rewards, and make sure you wish your customers on Christmas eve.
Read also: The Best Time To Send an Email (and the Worst)
When should you send Christmas emails?
There are multiple theories on the timing; some say you can start sending from the last week of October; experts suggest two weeks after Thanksgiving is the right time to send Christmas emails.
But for now, let's go with the data; a study by DMD shows emails sent a week before Christmas has the highest open rates.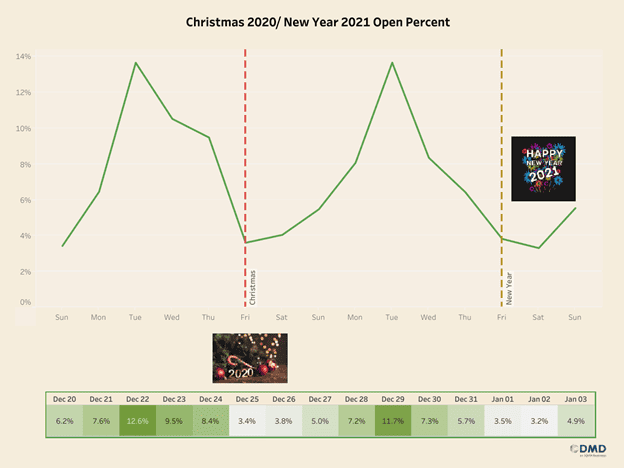 Email open rates peak on December 22, drop to a low on December 25, climb again on December 29, and fall further as the New Year approaches.
There you go; December 21 to December 30 is the right time to send Christmas emails. So, split your email campaign into three parts,
Pre-Christmas email
Christmas
Post-Christmas email
Christmas day has a low open rate because people will be cherishing the holiday with their families and will not have time for marketing emails; instead, they send Christmas greetings on December 25.
Afterward, start your post-Christmas email campaign.
When to send the pre-Christmas email
Allow your customers to rest and rejuvenate from post-BFCM shopping exhaustion. Start your pre-Christmas email campaign in the second week of December and proceed into Christmas week until Christmas eve.
Start with Christmas newsletters to educate and engage customers before sending offer emails. You can send gift guides or product wishlists as part of the pre-Christmas campaign.

Gift guides and product wishlists will reveal what your customers want for Christmas. Once Christmas week starts, start sending the offer emails based on the products in the wishlists of your customers.

When to send the Christmas email
DMD study showed low email open rates on Christmas eve and the day of Christmas.
But that doesn't mean customers will not purchase, especially on Christmas eve. There will still be a certain number of late purchasers on December 24 and 25.
So, keep your offers up and running for those last-minute hustlers.

Also, don't forget to wish your customers a joyous occasion. They might ignore marketing emails on Christmas day but not the wishes email.
When to send the post-Christmas emails
Just because Christmas is over doesn't mean you should end your email campaign.
You can still attract organic traffic and increase sales even after Christmas. Instead of Christmas-themed emails, send end-of-the-year sale emails.

Target customers who purchased the most during your Christmas sale. These customers might be in the mood to purchase again.
You can also target people who abandoned their carts during the Christmas sale. Re-engage with them using the New year discounts and bring them back to complete their purchase.
The email open rates dip as the New year closes, so thank your customers for being loyal to your store throughout the year and wish them a great year ahead.
You can send this email on December 30 or 31.

Subject Lines Influence Email Open Rates
47% of customers open emails based on the subject line. It is the first thing a customer sees in their inbox; it must be persuasive enough to make them open it.
Remember, it's not just you; hundreds of Christmas emails from other stores will flood their inbox. You need the best subject line to stand out from the crowd.
Here are some of the best Christmas email subject lines from popular brands for inspiration. And we've listed a handful of subject lines you can use in your campaign.
Read also: 25 Creative Email Subject Lines To Boost Open Rates
Best Christmas Email Subject Line Examples
Here are some excellent examples of Christmas email subject lines from good brands (mentioned in brackets). Make sure you take them only for inspiration — copying these could get you into copyright trouble 😅
The Start Of 12 Days Of Christmas Deals 🎁(Plugin Boutique)
🎅 Straight From Santa's Bag. (Fleur & Bee)
Family From Far + Wide, We've Got The Makings Of Your Cozy Christmas Morning (Terrain)
We're Feeling Very Merry. Get 50% Off Your Order. (Shutterfly)
Nature Is A Gift: Blue Goods For This Christmas (TWOTHIRDS)
Dog People Give The Best Gifts. (BarkBox)
H&M Home- A Stylish Holiday At Home
Want To Impress Someone With A Perfect Gift? 🎁 (MacPaw)
Ho Ho Ho (Spend Less Dough)
Ring In The New Year – Plus: 12 Days of Christmas Gifting Starts Now. (Dot & Bo)
All she wants for Christmas is S E A F O L L Y. (Seafolly)
Christmas Deadline: TODAY – Best stocking stuffer ever! (Capsule)
Up to 50% bonus – 'tis better to give AND receive! (JetBlue)
Save 10% with Promo Code: Christmas10. (KSL Deals)
12 Deals of Christmas—Updated Daily (GuitarCenter)
A Free Holiday Gift Just for Our Members (Audible)
Find the Perfect Gift (DeBeers)
Save up to 25% on Santa's Toy Shop! (Bass Pro Shops)
Need it by Christmas? 50% OFF 2-day shipping. (Cosentino Winery)
Christmas… Better Together. (Prezzo)
24% Off | Spread A Little Christmas Magic. (Buyagift)
Give the Gift of Sport this Christmas. (Decathlon)
Happy Christmas Eve! Open for a present. (Yours Clothing)
Ho-ho-ho 🎅 Christmas SALE has started! (Crello)
Christmas Email Subject Lines For You to Use
These email subject lines are for you. Don't worry about copyright; use them in your campaign and increase your email open rates.
Hurry John! Our Christmas Sale is Ending in 12 Hours! 🎁
Exciting gifts to compete Santa's 🎅
12 Days of Christmas Sale! Hurry Up! 🎅
Ho, ho… Wait! Santa's Third 'HO' is hiding in Our Christmas Sale..🎅
👉 Our ExclusiveChristmas Bargain Ends in 48 Hours! Hurry! 🏃🏻🎁
🎁 Looking for a Perfect Gift? 🤔 We Have The Right Solution 🤩
It's Time To Fill Your Christmas Stockings With Our Limited Christmas Sale 🎁🕚
John, Hurry and Take a Look at the gift we got you! 🎄🎁 🎉
🦌 Rudolph is coming! 12 Days Until Christmas!
🎁 7 Gifts for Your Drummer Boy! Pa Rum Pum Pum Pum 🥁
⛄ Frosty the Snowman Wishes You a Merry Christmas! 🎄
Silent Night, Holy Night! Here's a Gift For Your Sight🏃🏻🎁
Last 24 hours of Christmas Sale🕚It's the most wonderful time for a Gift 🎁
Hurry Up! Santa's On A Buying Spree🎅
John, Look, It's A Cake; It's A Tree; It's a Gift For You🎁
Exclusive Christmas Deal! Hurry Up to Beat Santa In the Race🏃🏻🎅
Reindeer Alert! Check Out What Santa's Got For You 🎁🎅
50% Off Christmas Flash Sale: Happy Holidays! From Santa🎅
Dashing Through the Snow, In A One Last Christmas Sale🎄
25% Off Storewide – A Christmas Miracle!🎄🎁 🎉
Errr, What's That? It's Free Shipping Until Christmas! Hurry Up! ⏰
It's Looking A Lot Like A Last Minute Christmas Deal🎄🎁 🎉
🦌Even Rudolph thinks our Christmas Deals are the best🔥
There you go; your Christmas email subject lines are all set. But before you start writing yours, here's what you must avoid.
Email subject line mistakes to avoid
Never promise something that you cannot offer.
Emojis in holiday emails increase open rates by 3.29%. But don't overuse them.
Stay away from Spammy words.
Do not use too many punctuations.
Using ALL CAPS will come out as too aggressive; avoid them.
Not adding Christmas themes.
Avoid grammatical errors.
Read also: Holiday Promotions: 5 Ideas To Outsmart Your Competition
The Secret to Writing the Best Christmas Email Subject Lines
Now, let's get into a bit more detail. How does one craft a cool email subject line for the Christmas outreach?
Invoke a sense of urgency
Invoke a sense of urgency with your subject lines. Nothing grabs customers' attention and encourages them to open an email more than FOMO.
FOMO is a time-tested tactic used in email subject lines to increase email open rates.
Examples:
Hurry up! Santa cannot wait for long.
The last 13 gift cards are available. Grab it soon before it sells out!
Ho..Ho..Ho! Our Xmas deals end in 24 hours! 🎄
Only 12 hours left to grab your Christmas deals!
Email example:
Subject line: Last Call for Holiday Shopping!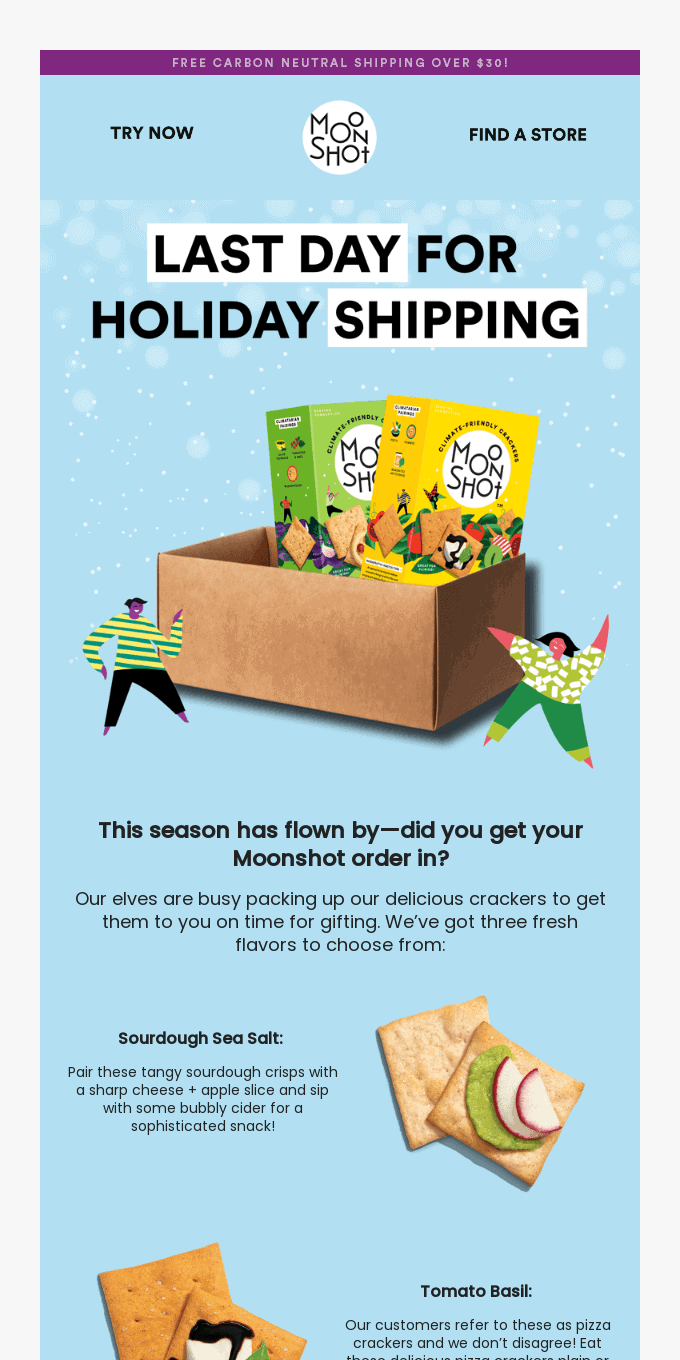 Highlight the offer in the subject line
All that a customer will look for in a Christmas email is the exclusive deals and offers. They know that Christmas deals will be unique and better than the deals you run other times.
So, skip the mystery and announce the deal in the subject line.
Examples:
'Tis the season! Here's 50% Off!
It's beginning to look a lot like a 30% Xmas deal!
Santa Ain't Got Nothing On These Deals. Exclusive 40% Off.
Email example:
Subject line – Melting midnight: 30% OFF festive favorites!

Make the most of emojis
Though there is ongoing discussion over whether or not emojis influence open rates, including them in your Christmas email subject lines will elicit emotions and stand out in your customer's inboxes.
Examples:
Are you ready? ⏰ Check out our gift ideas to get started.
The Christmas gift shop is open! 🎁🎄
🗓 5 DAYS TIL CHRISTMAS 🗓
Email example:
Subject line: 🎅A certain Mr. Claus gets his gift ideas from us🎁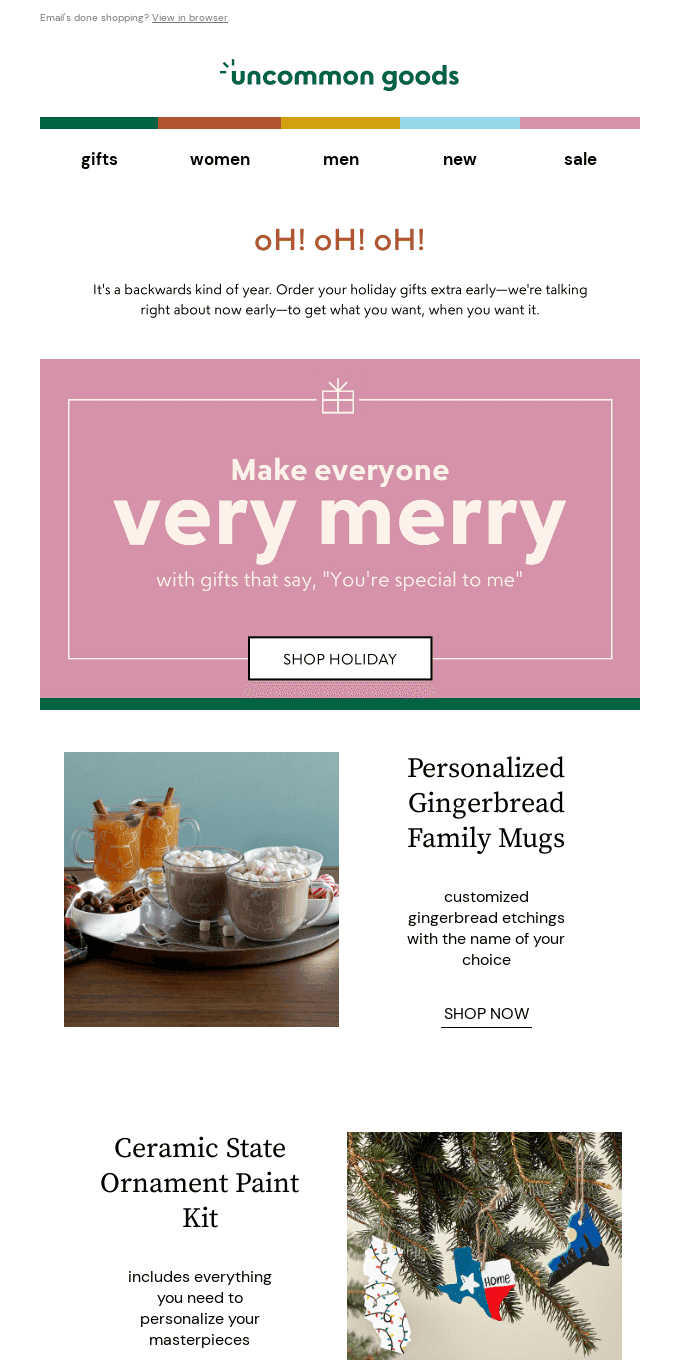 Read also: Shrug Emoji: A Quick Tutorial for Fun Marketing [Short Article]
Mention the scarcity
We cannot skip scarcity after mentioning urgency. Customers expect things to be in stock throughout the holiday season; nothing will drive them to the shop faster than products going out of stock.
Use it in your subject lines, trigger customers' emotions and attract them to your store.
Examples:
Only 13 gift cards left! Grab them before it's gone.
Hurry Up! Santa's purchasing it all🎅
We're running out of gifts to offer!
Email example:
Subject line: Your FREE holiday gift awaits (but not for long)!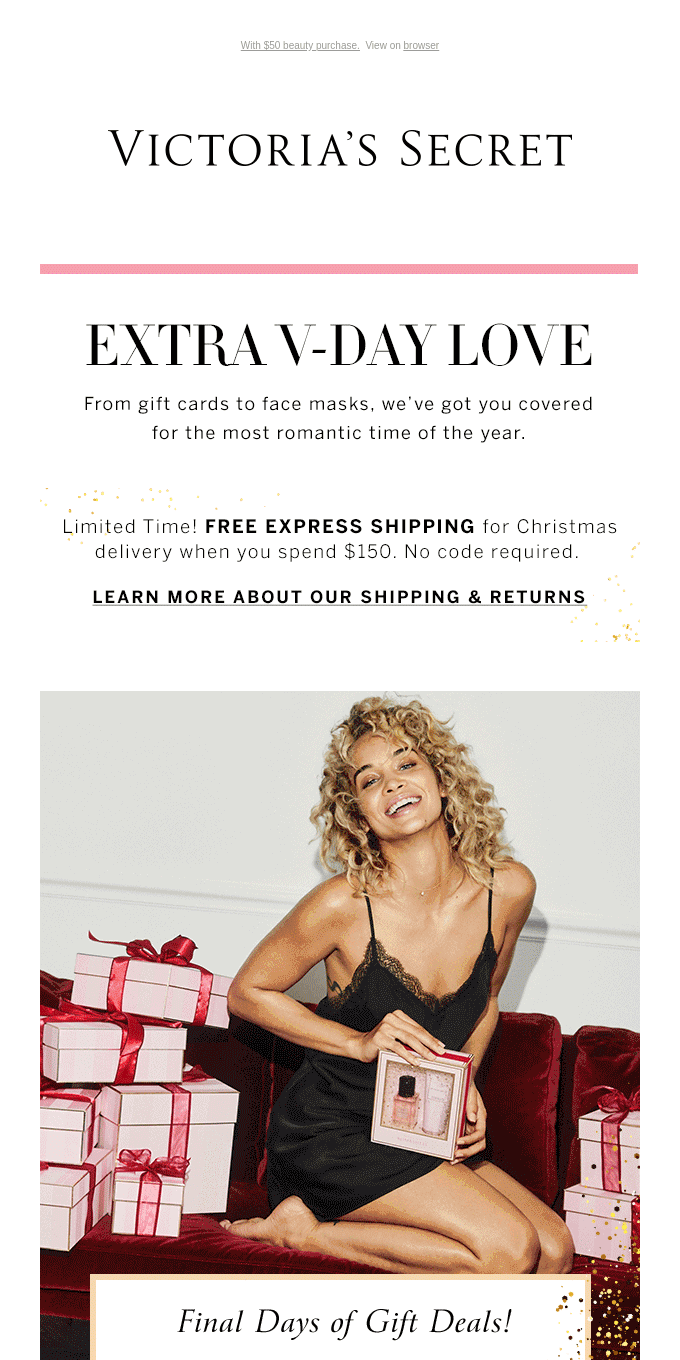 Read also: 10 Examples of Email Marketing Strategies That Work
The Best Christmas Email Ideas (with examples)
Here are some excellent ideas for you to use in your email marketing this festive season.
12 Days of Giving
December 25 marks the start of the 12 Days of Christmas. It begins with the celebration of the birth of Jesus Christ to the Epiphany (January 6), which marks the Arrival of 'Three wise men.'
It's a Christmas tradition, and you can run a similar campaign by announcing '12 Days of Giving' in your store as your pre-Christmas campaign.
Only a few stores will be running a '12 Days of Giving' deal in their store; this Christmas email idea will stand out in their inbox.

Did you notice? Toms is running a different offer for 12 days; each day has a new offer.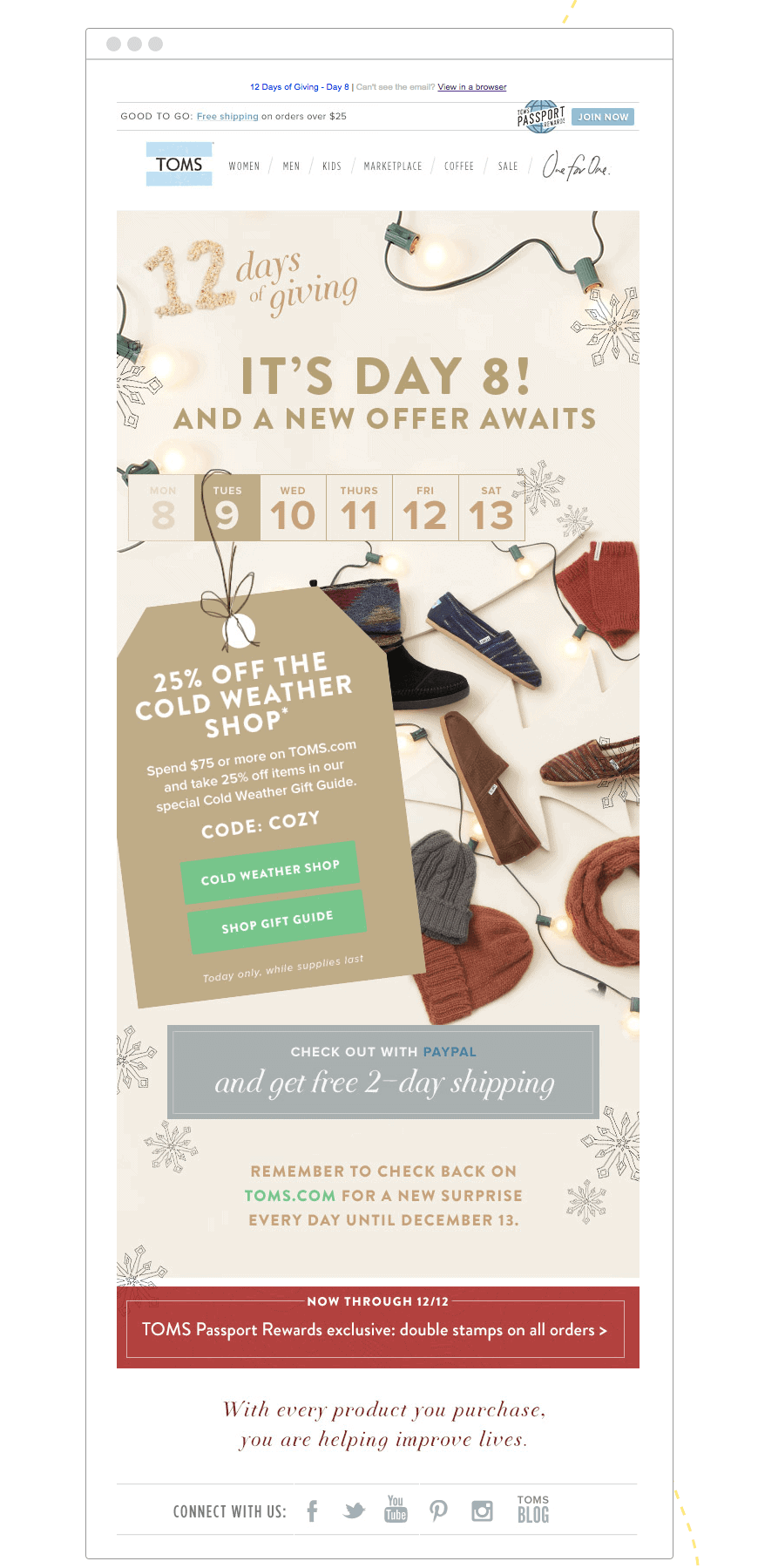 Isn't it cool? What better strategy to attract traffic and increase sales than to offer 12 different offers for 12 days?
Christmas is a time for giving, and Toms took it to a new level. Running offers like these will encourage customers to drive repeated sales in your store.
The usual offer email
Sometimes, you don't need to be more creative with your ideas. As it is the holiday season, the usual offer email will still work like a charm, but you'll have to add a little twist.
For a Christmas email, stating the usual 10%, 15%, or 25% offer will not entice customers. They will expect your Christmas offers to be BIG, so match their expectations with a HUGE deal.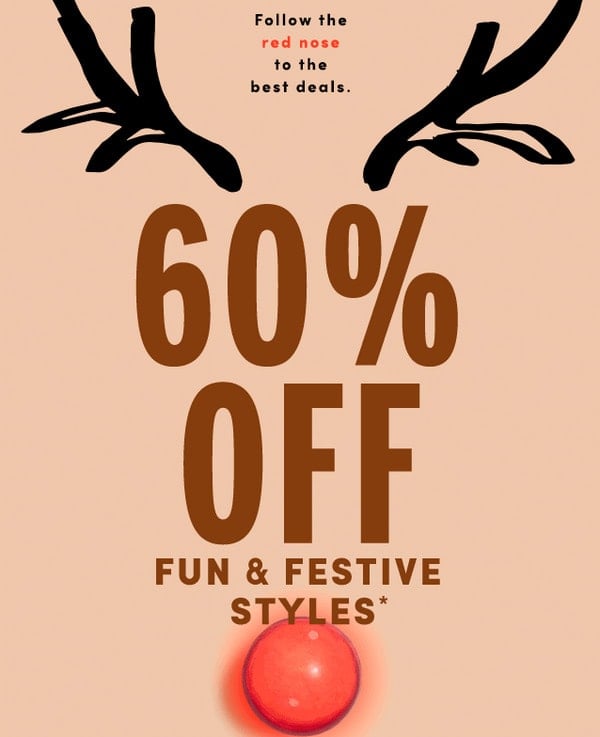 This email from JCrew gets straight to the point; no exaggeration and no colorful animation, just the Reindeer horns and a button.
Why?
Because when you set your offer to 60%, customers will care a little about your email design and more about the offer.
Announcing offers like these will increase word of mouth, so don't worry about losing revenue due to massive deals; you'll get new customers through WOM who will easily triple your sales.
Free shipping
Q: What is an eCommerce store's kryptonite?
Q: What is the major reason for cart abandonment?
A: 58% of cart abandonment is due to high shipping costs.
Abandoned carts are the last thing you want to see during Christmas sales. So, surprise your customers and make a lasting impression by offering free shipping as a Christmas deal.

Reports say that 94% of customers think free shipping is one of the best incentives.
This is how you make your email stand out from the clutter; because only a few brands will offer free shipping.
You can spice it up as West Elm did in their Christmas email; add a limited time to the offer and watch the sales skyrocket within minutes.
The time of arrival
Here is another Christmas email idea relevant to shipping and delivery.
Yes, free shipping is great, but what about the uncertainty in the delivery date?
Brands often promise only one – you either get free shipping or you get to know the exact date of delivery. It is hard to find a brand that does both.
But offering either one of the deals is a great way to show that you care for your customers. They love to get their order delivered on the right day, so make an offer just like Asos did.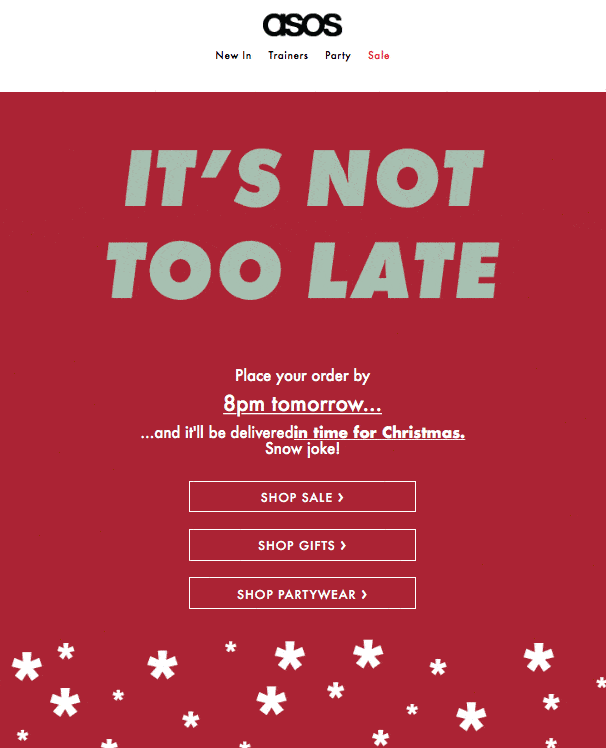 Yes, making delivery promises is hard, especially during the holiday season. But it is a unique way to create an emotional bond with your customers.
If you're not very fond of the 'usual offer email', you can opt for this Christmas email idea and get in your customer's good graces.
Gift card
What's better than a last-minute gift?
A gift card.
Gift cards are the most popular last-minute deals customers prefer during Christmas sales.
56% of customers say they love receiving gift cards for Christmas.
The reason for its popularity is the freedom it offers. Instead of gifting a product, a gift card gives customers a choice to purchase whatever they want by redeeming it.
Also, not every time a product will be in-stock during Christmas sales. Instead of disappointing the customers, you can offer a gift card for them to redeem later.
Product bundle
A product bundle gift is much better than a mysterious gift with one product. It is a smart Christmas email idea to clear your inventory and boost sales.
Sometimes, during the shopping frenzy, customers might get overwhelmed in choosing the gift; make their life easy by bundling up some of your best sellers and offering them as a gift.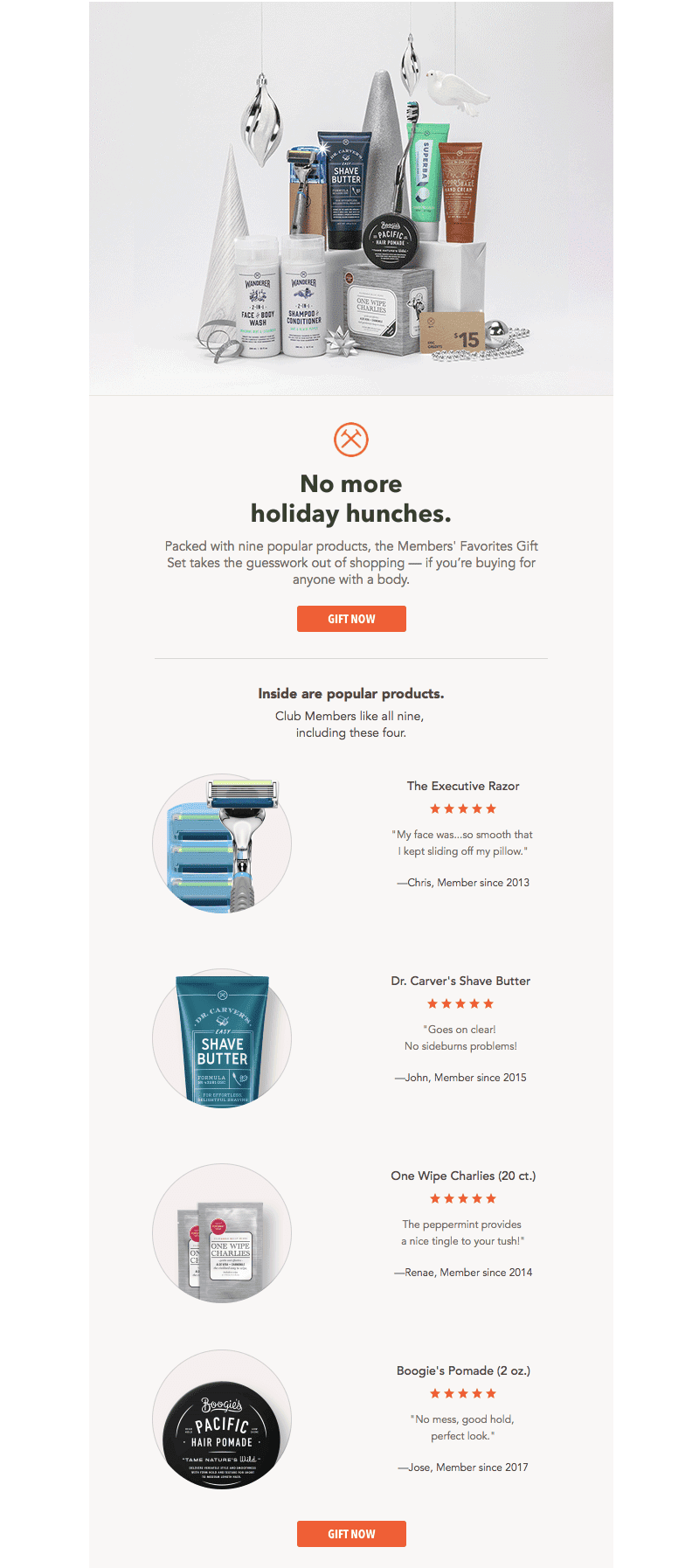 Product bundles will work great if you follow Dollar Shave Club's strategy.
Instead of announcing a mystery product bundle gift, why don't you reveal some of the products in the gift box, just like DSC did in their Christmas email?
They revealed the gift instead of letting the customers play the guessing game. It will encourage customers to purchase the product bundle.
Why?
Customers know purchasing these products individually will cost them more than buying them as a bundle.
It is a steal deal for customers and a smart opportunity to sell your unsold inventory. They get the bundled deal, and you get their loyalty; it's a win-win situation.
Holiday contest
Christmas holidays are one of those seasons when customers visit your store every day to score a sweet deal.
Incentivize their visits by running holiday contests to increase customer engagement and loyalty during the festive season.
This Christmas email idea works great for three things:
Attracting customers to the store
Increasing customer engagement by running a contest
Generating word of mouth and boost brand awareness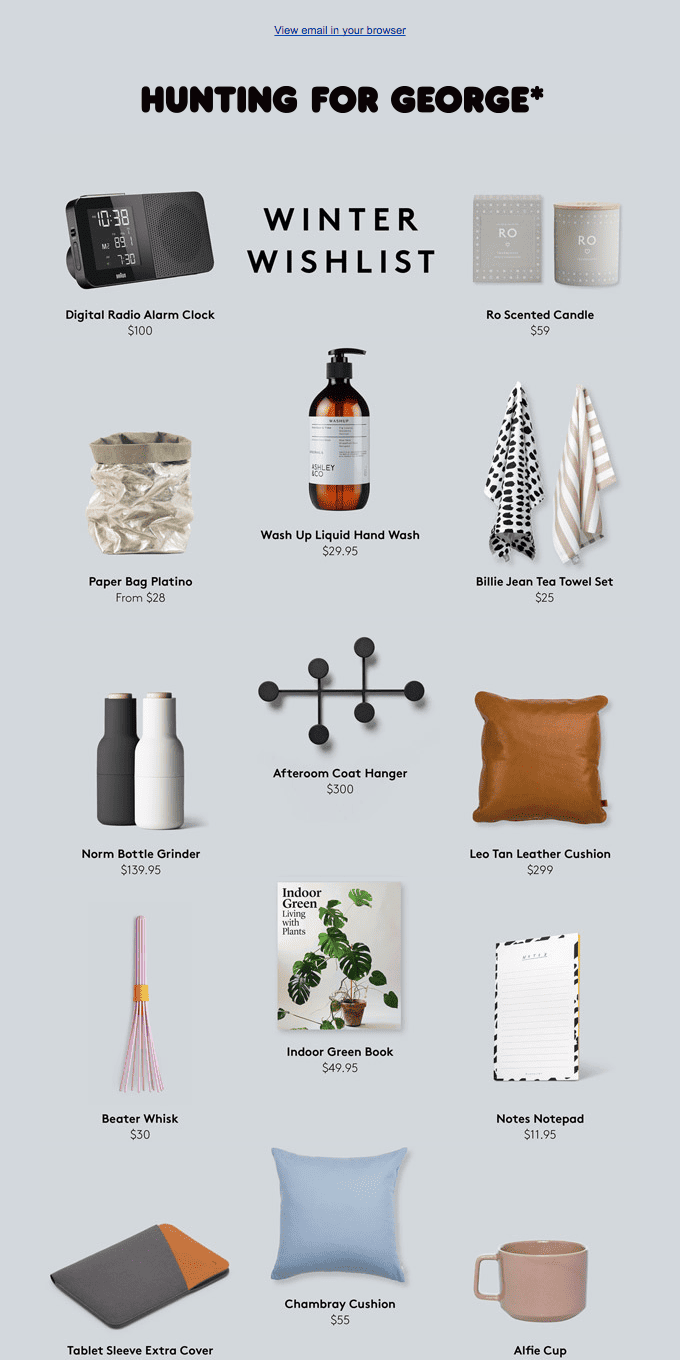 Here's a smart way to get your customers engaged. Hunting for George asks their customers to wishlist the products for Christmas. Wishlisting will trigger the customers to purchase when Christmas gets closer and closer.
Or you can run a refer-a-friend contest and ask your customer to refer their friends to your store; when the referred friend makes a purchase, reward the referral and referrer to increase their loyalty.
Your customers get their rewards; you get a sale and new customers. How cool is that?
The closing moments
As humans, we all tend to push it to the last minute, don't we?
We might've thought we could make it in time to purchase the product, but we might've missed the window. And there will be lots of customers like this during the Christmas holidays.
So, keep your offers running, even on Christmas eve.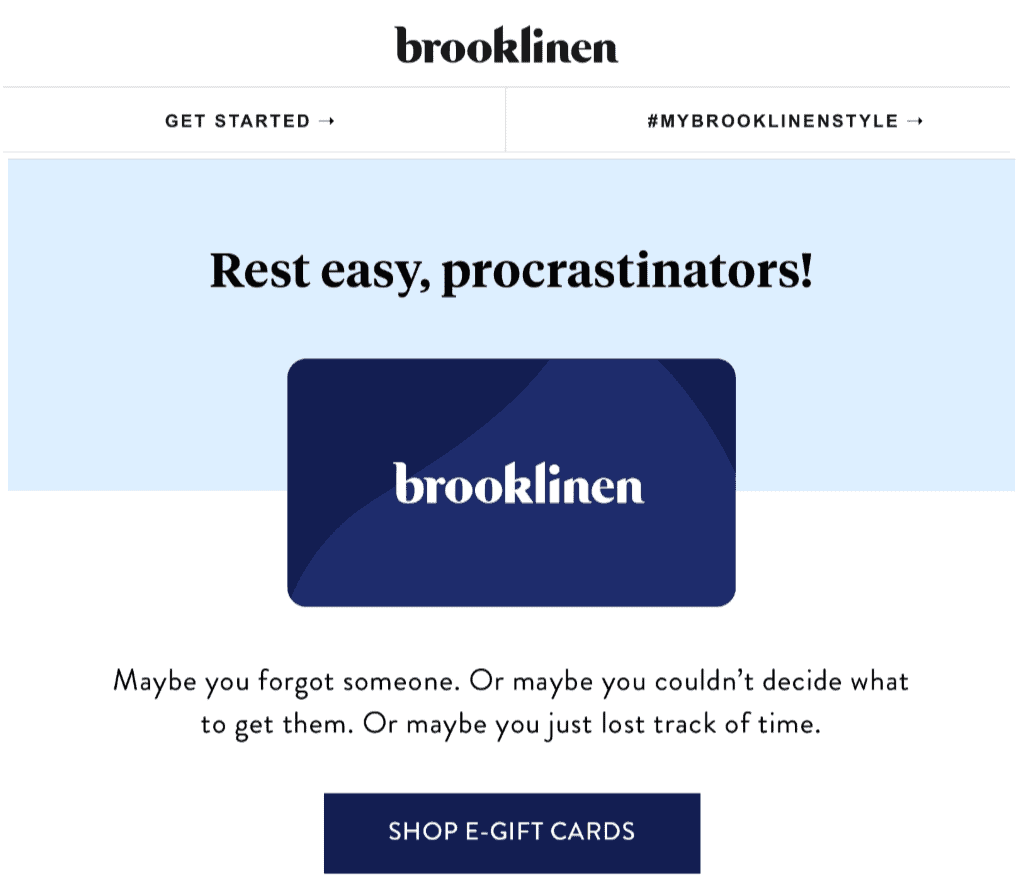 There will be customers who'll be genuinely late for the party and customers who compulsively purchase late. You don't want to disappoint these customers during the holiday season.
Running last-minute deals until Christmas eve will always work because there are always people shopping last minute. About 55% of last-minute shoppers will buy products irrespective of the delivery dates.
Have a gift card option ready in case your product runs out of stock.
Read also: How to Create Great Email Newsletters [With 7 Free Templates]
Christmas Email Newsletters That Inspire Action
Your Christmas email campaign should not just be about gifts and offer emails; you can also engage, educate and guide your customers by sending Christmas newsletters.
Help them pick the right gift
The most common Christmas newsletter is the gift guide. Help customers pick the right gift by giving them suggestions.
Last-minute rush would often mess up customers' plans, so send them a guide and help them choose the right gifts.

Moment nailed their gift guide email by sending a detailed, insightful newsletter with multiple gifts. Or you can go a step further and ask your customers what they want to gift, as American Eagle did.
Instead of suggesting the gifts, American Eagle used a fill-the-blank quiz to ask customers what they needed. It is a great tactic to understand your customer better and tailor your campaigns based on their response.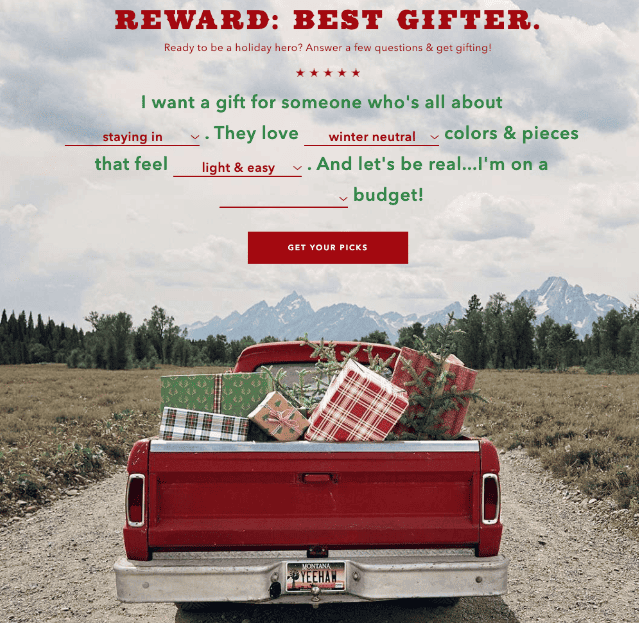 Go beyond the sales
Go beyond sales and thank customers for being your patrons. Wish them on Christmas eve and make them feel like a part of your family.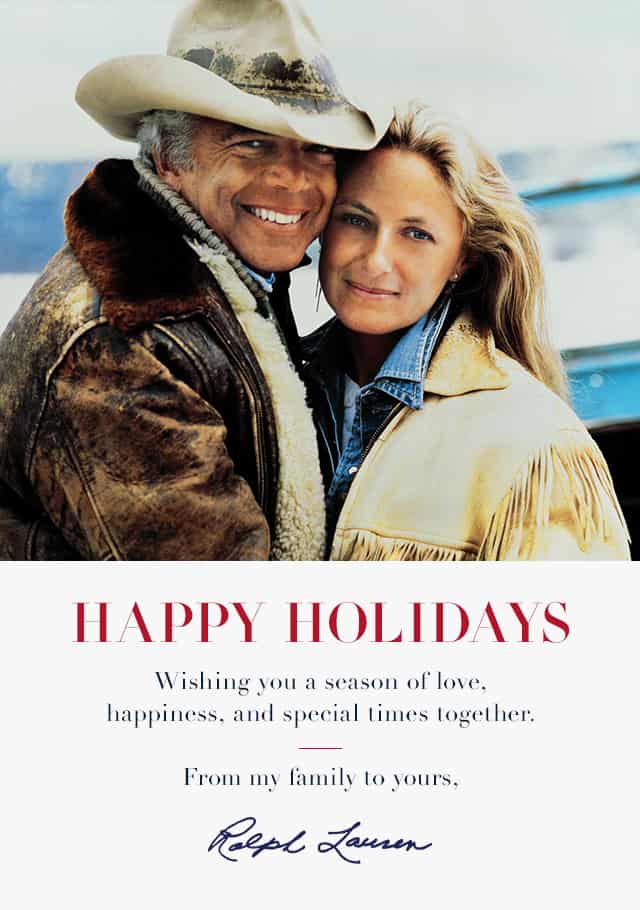 Thank customers for being loyal to your store and for all the purchases. And wish them a great year ahead.
Grant wishes
Nothing is more synonymous with Christmas than wishes, as it is a season of miracles and wishes. Ask your customers about their wishlists and get to know their plans.
It will help you identify their interests and likes, which can be incremental in tailoring your future marketing campaigns.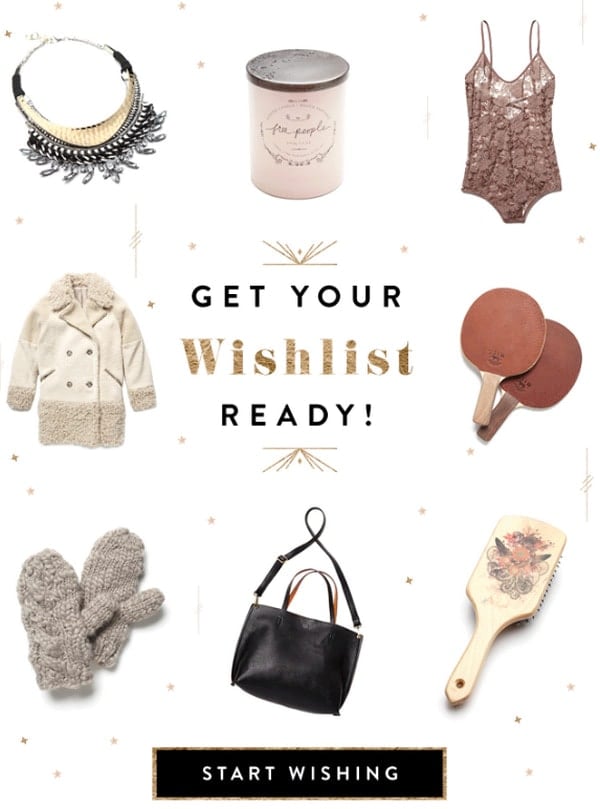 To make it personal, you can upsell or cross-sell products relevant to their recent purchases and ask customers to wishlist them.
And you can use that data to tailor your post-Christmas email campaign.
Bring them together
Christmas is a season for family and togetherness.
Send a good deeds checklist and dare your customers to do it as part of the holiday spirit, just like Leesa did in this email.

Leesa nailed it with a heartwarming Christmas dare checklist to lift the festive mood. Simultaneously, they promoted their product in the same email.
And the CTA ('More good ideas') will only want the recipient to click on it, which is a clever way to increase click-through rates.
Read also: 9 Proven B2B Email Marketing Best Practices for Beginners
Wrapping Up
There you go; these are some of the best newsletter email ideas you can use in your Christmas email campaigns.
Customers will be looking to score the best last-minute deals; don't disappoint them. Send Christmas emails and inform them of the Christmas deals you're running in your store.
Here's a quick recap of the blog:
Clean your email list and segment customers into small groups.
Emphasize the offers than the email design
Write compelling and fun subject lines to increase email open rates.
Send newsletters apart from offering emails to guide and educate customers.
Check your inventory before launching the campaign.
Split your Christmas email campaign into three parts.
You learned how to prepare a Christmas email from scratch; use them to build your campaign and delight your customers at this wonderful time of the year.
Use a robust email marketing platform like EngageBay to broadcast your emails and make your holiday campaign successful.
Sign up for a quick walkthrough with one of our technical experts and start your Christmas campaign immediately.
Happy Holidays!
Frequently Asked Questions
1. How many Christmas emails should I send?
Well, it depends on the number of offers you plan for the holiday season. Typically, a five-email series will be suitable for a month-long campaign.
You can start with an announcement email, reminder email, Christmas wishes, the New Year deal email, and end with the New Year wishes.
But the choice of number is yours as long as you announce offers via email. Promoting your products without an offer during a festive season might frustrate your customer.
2. What should I write in the Christmas email?
Wish your customers a joyous occasion; tell them how lucky you are to have them as your customers. Lift their holiday spirits with a heart-warming message and a surprise gift or a last-minute sale to get them to visit your store.