If you're not enthralled with Vtiger's interface or functionality, perhaps you should consider another CRM solution. There's a whole lot of options out there, and all that research can get a bit overwhelming.
To expedite your decision-making, we've put together a neat list of the top Vtiger alternatives:
SuiteCRM
SugarCRM Community Edition
EspoCRM
CiviCRM
OroCRM
X2CRM
EngageBay
Salesforce
Zoho
HubSpot CRM
Pipedrive
Insightly
Microsoft Dynamics 365 Sales
Freshsales
Nimble
Capsule
Agile CRM
Keap
Apptivo
Copper
Less Annoying CRM
OnePageCRM
Zendesk Sell
Creatio
Whether you're in the market for another open-source CRM software like Vtiger, or you want a commercial solution like Salesforce and HubSpot, we've got you covered.
What Is Vtiger?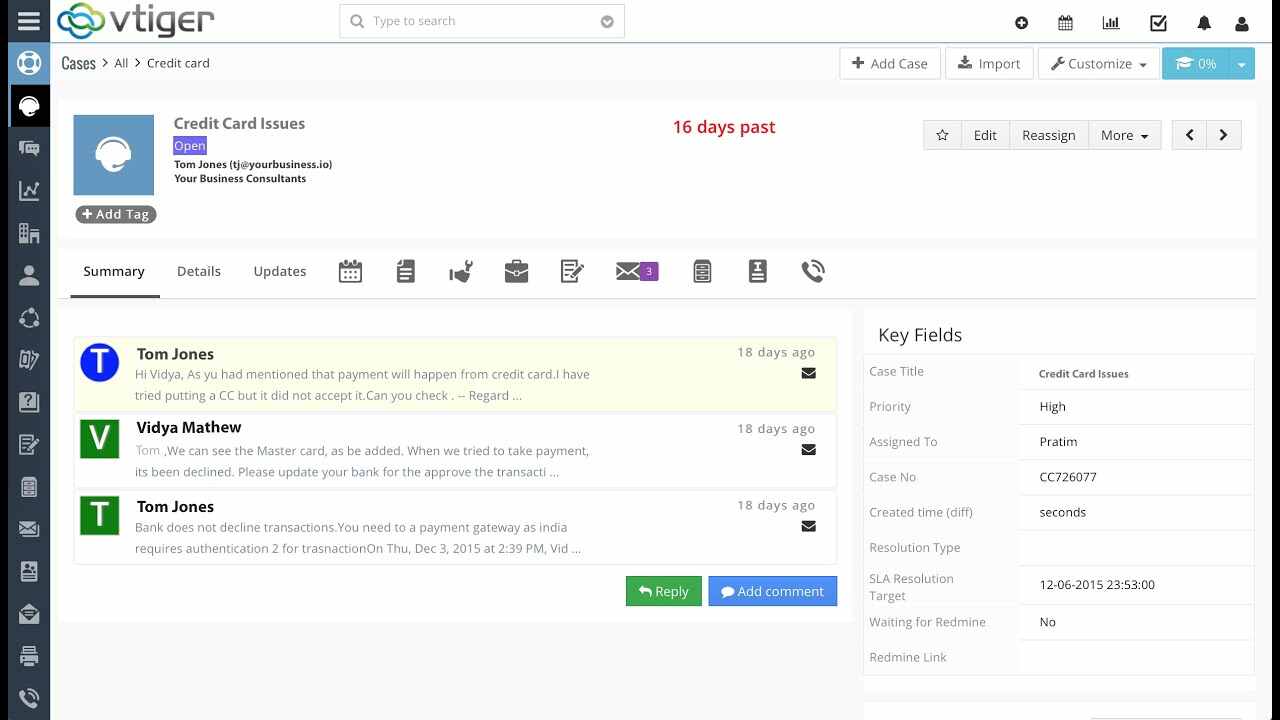 Vtiger is an open-source all-in-one CRM designed for support, sales, and marketing teams. It's scalable, AI-driven, and secure.
The flexible pricing increases as your business grows, and the 360-degree customer data will help you understand and market/sell to your audience more effectively.
Vtiger Features
The litany of CRM features Vtiger offers in its Vtiger One CRM makes it a solid solution for startups and businesses on a budget. Let's review the primary features.
360-Degree Customer Views
Vtiger paints the full picture of your customer, including their needs, interests, and pain points, so your sales and marketing teams can create customized campaigns. You can review this historical data at any point and add to it.
Deal Management
When sales deals arise, are you ready to capitalize? You will be with Vtiger. The suite of deal management features within this CRM is designed to make your ongoing deals more successful.
For instance, you can gauge which deals are worthwhile with Deal Health, track ongoing and closed deals in the Deal Room, and gauge the steps your customers take to reach a buying decision with Deal Journeys.
Notifications and Alerts
Vtiger doesn't let you miss a thing, whether it's an upcoming lucrative deal or a looming deadline. You can receive real-time notifications and alerts on any event you deem worth your time.
Marketing Automation
Automation is a big selling point of CRM software, so it's unsurprising that Vtiger offers it. The marketing automation within Vtiger includes lead capturing, lead segmentation, email sending and drip campaigns, campaign profitability gauging, and campaign performance tracking.
Sales Management
The sales tools within Vtiger don't stop there! You can use this CRM to track services and inventory levels, invoice and create quotes, and sync with your favorite software, including Xero and QuickBooks.
Sales Funnel Management
Build a sales funnel Vtiger-style! You can create several pipelines to represent your customer journey and sales stages.
Detailed Analytics
How do you know if your sales are on the upswing? What about how well your marketing campaign did? Vtiger will let you know with its richly detailed analytics. You can use this data to guide your future campaigns.
Sales Forecasting
Speaking of success, another way to ensure it when using Vtiger is to implement this CRM's sales forecasting feature. Vtiger will use your historical sales data to make pre-built forecasts. It even builds out forecasting scenarios and deal amounts.
Mobile App
If you don't want to let your CRM sleep for a minute, you don't have to when using Vtiger. Its free mobile app lets you track ongoing deals and customer progress on your Android or Apple device.
Integrations
Vtiger's CRM naturally slots into many tools and solutions your small business relies on, including Zapier, Gmail, Mailchimp, Microsoft Teams, WhatsApp, Google Workspace, DocuSign, Office 365, QuickBooks, Xero, and Twilio.
Vtiger Pricing
Vtiger has two pricing plans for its CRM services, One Professional or One Enterprise.
One Professional is a full-bodied CRM with customer views. Single-app pricing is $20 per user per month, and standard pricing is $30 per user per month.
One Enterprise packs in more CRM features still at a best-in-class rate. Single-app pricing is $30 per user per month, and standard pricing is $42 per user per month.
Read also: The Best Free CRM Apps, By Category (with User Reviews)
Vtiger – Pros & Cons
Vtiger is an advantageous CRM choice for many businesses, but it might not suit you, and that's fine. This section will review the pros and cons of this software so you can rightfully decide whether you need an alternative.
Pros
Marketing and sales-focused CRM
Affordable pricing to start
Alerts to push sales deals along
Excellent support
Takes notes, which is helpful when your hands are tied
Handy for small businesses
Cons
Pricing can get expensive if you add enough users
Not conducive to using multiple sales pipelines
Can create a lot of open pages
The navigation could be better
Read also: Operational CRM: A Complete Guide (+7 Best Operational CRM Software)
Top Vtiger Alternatives to Rev Up Your Business Growth
Variety is the spice of life, so let's look at some alternatives to Vtiger that might be more fitting to your small business.
Open-Source CRM Alternatives
If you appreciate the open-source status of Vtiger, you're not necessarily tethered to them. Many CRM alternatives are also open source, so let's take a look.
Beginning our list is SuiteCRM, which affords more freedom than most CRM software since it's open-source. You might even find it more versatile than Vtiger!
The CRM offers features like a 360-degree customer view, sales and marketing tools, and automation workflows.
Advantages
One centralized dashboard for managing your most pertinent insights
Configuration Studio allows you to adjust System Admin tools to your liking
Handy activity management tools like notes, tasks, meetings, and calls
Ideal for many business types, including manufacturing, travel, education, finance, tech, public sector, legal, nonprofits, energy, healthcare, transportation and logistics, and retail
SuiteCRM Pricing
Did we mention the best part of SuiteCRM? It's absolutely free!
You can download SuiteCRM 7.13 or SuiteCRM 8.3 today without spending a cent.
Although it's no longer actively maintained by its founders, SugarCRM Community Edition is a fantastic open-source CRM for startups.
Its range of automated workflows for marketers and salespeople, customer journey management, and many more great features make it comparable to (or perhaps even better than) Vtiger.
Advantages
A much-beloved CRM by marketers and salespeople
Use CRM your way with customization options like custom modules, reports, and interfaces
Implement rules to make your CRM behave efficiently for you
SugarCRM Community Edition Pricing
Just as is the case with SuiteCRM, SugarCRM Community Edition is also free.
Self-hosted and open-source, EspoCRM is a fantastic CRM software to add to the top of your list as you contemplate your alternatives to Vtiger. It offers email and calendaring tools, sales automation, and even social media features.
Advantages
Create automation workflows, including a Business Process Management function for automating more time-consuming business processes
Customize many features with installable extensions, label management, entity management, and layout management
Control who sees what with administrative access like roles, teams, and users
EspoCRM Pricing
Before you decide whether to give EspoCRM a try, make sure to review its pricing. Yes, this is a paid service, although one free plan is available. Here are your options.
Free for $0 per user per month
Basic for $15 per user per month
Enterprise for $25 per user per month
Ultimate for $69 per user per month
The Free plan offers features like sales automation, emails, calendar, social, documents, and telephony. If you upgrade to the Enterprise plan, you gain features like SSL encryption and 7 GB of storage for each user.
Read also: 15 Inspiring Salesflare Alternatives: Discover Your Ideal CRM Solution
Helping businesses manage more than 189 million contacts and counting, CiviCRM could be a great bet among all the Vtiger alternatives. This CRM solution offers features such as contact management, email marketing, and reports.
Advantages
Customize CiviCRM as needed, from integrations to extra features
Make this CRM even more useful with the CiviCRM Extensions Directory with plenty of add-ons, all free
Automatic interaction recording so you don't have to go back and log interactions later
Send text and HTML versions of the same email and use features like split testing and personalization
Send CiviCRM Pricing
CiviCRM has the following pricing plans to select from:
Basic for $10 per month
Standard for $25 per month
Pro for $50 a month
Flexible, cloud-based, and B2B-centric, OroCRM has a lot to offer if you're looking for Vtiger alternatives. It has a simple interface and offers performance dashboards for both marketers and salespeople.
Advantages
Simple interface for more efficient contact management
Opportunities and lead management will help you convert more leads and continue building your sales
Detailed views of your customers from many touchpoints, such as email campaigns, POS systems, social media channels, B2C or B2B stores, and more
Performance dashboards for sales and marketers to drive everyone to improve
OroCRM Pricing
OroCRM has a free model, but pricing begins at $116 per month for more advanced features.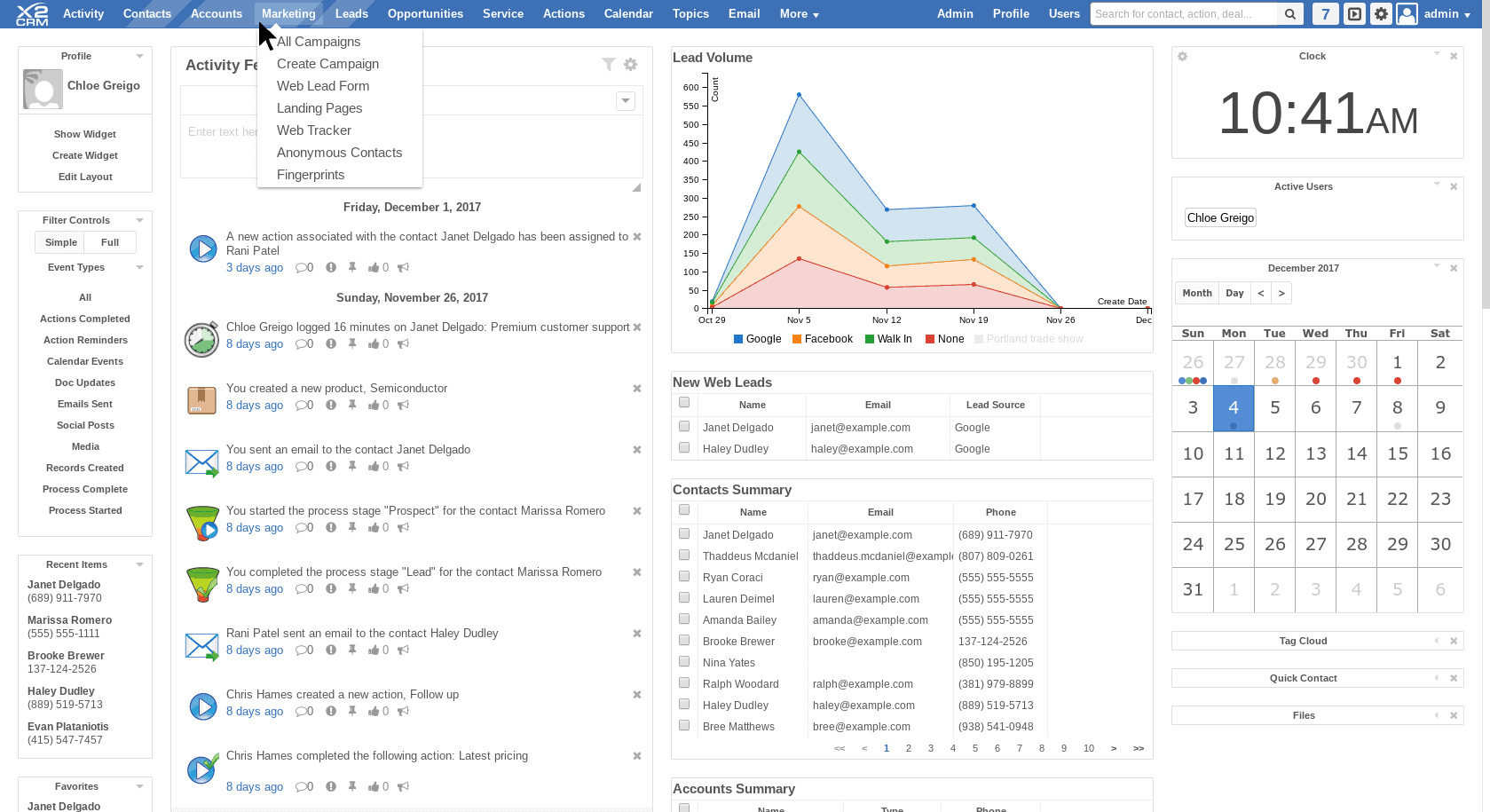 The last one among the open-source alternatives to Vtiger in our list is X2CRM, which is sure to get your business growing. It comes packed with features like a design studio and workflow automations.
Advantages
CRM design studio is built for customizable self-service perfectly tailored to your business
X2 DocuSign lets you sign documents within the CRM, so you don't have any bottlenecks when big contracts arise
Automation workflows will win you back time and increase team productivity
X2CRM Pricing
X2CRM keeps its costs affordable for startups, as prices begin at $10 a month.
Read also: The 14 Best CRM Automation Software In 2023
Commercial CRM Alternatives to Vtiger
If you aren't as hung up about Vtiger being an open-source CRM, the following extensive collection of commercial software surely has your next CRM solution.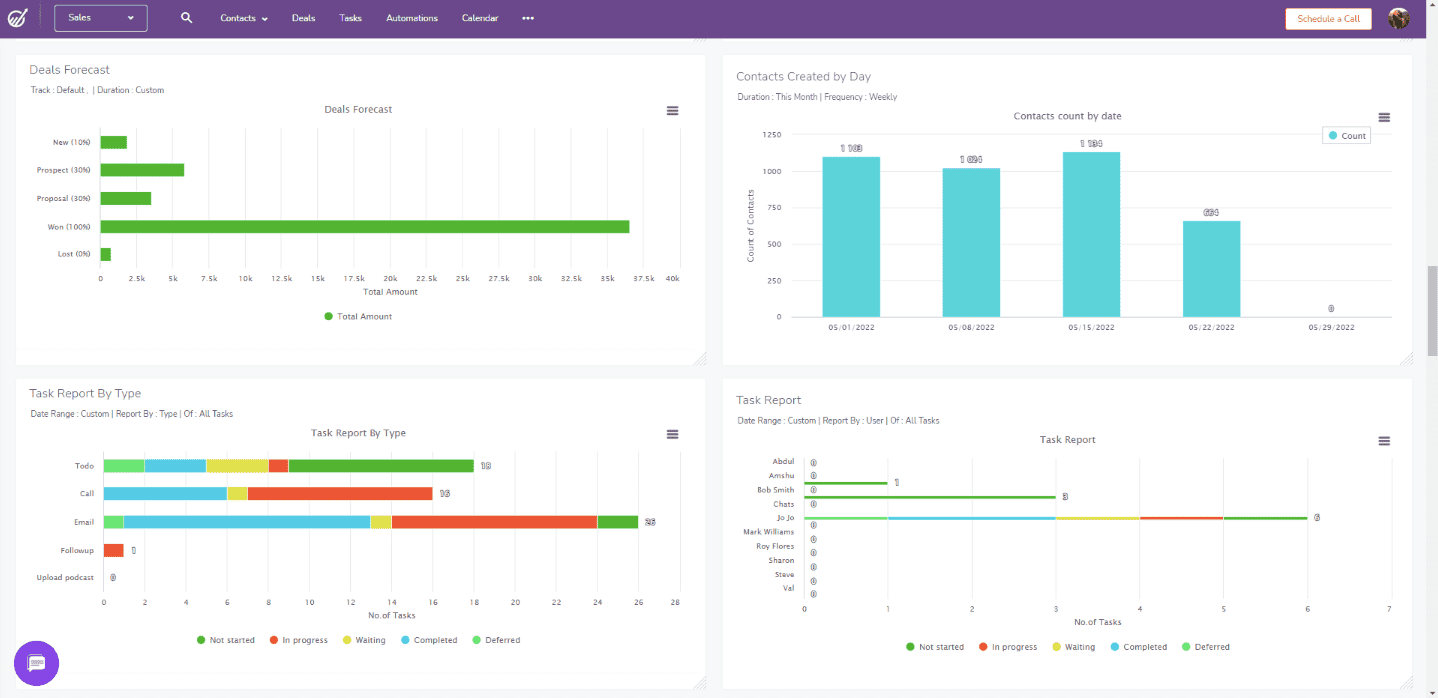 With EngageBay, an all-in-one CRM and marketing automation software designed for small businesses, thousands of solopreneurs are reporting bottom-line growth. Unifying your service, sales, and marketing teams has never been simpler.
The CRM & Sales Bay has all the tools your business needs, from lead scoring to 360-degree customer views, CRM telephony, deal management, and more.
Advantages
Free CRM so your small business can begin managing your contacts even on a shoestring budget
Top-notch customer support for easy implementation
Very affordable paid plans if you decide to upgrade
Sales and marketing automation for simplifying your workflow
Build high-quality forms and landing pages
Segment your audience and send them tailored, automated email content
Custom reporting and web analytics set you up for future successes
EngageBay Pricing
Get eight percent off the annual plan and 15 percent off the biennial plan when you choose EngageBay's CRM & Sales Bay.
The pricing is as follows when you pay for annual billing:
Free for $0 per user per month with robust features like 360-degree contact view, G Suite integration, appointment scheduling, email tracking, and deals
Basic for $11.95 per user per month, featuring predictive lead scoring, third-party integrations, multiple deal tracks, and a tag manager
Growth for $45.99 per user per month with an email scheduler, sales automation, and leaderboards
Pro for $73.59 per user per month, featuring call scripts, an auto dialer, custom reporting, call records, and role management
EngageBay will help you migrate from Vtiger for free, so why not give it a try?
Salesforce has much better name recognition and acclaim than Vtiger, but that's not the only reason to switch. This cloud CRM solution utilizes Einstein GPT, an AI tool that can make every user a lot more productive.
As the industry leader, Salesforce is an obvious alternative to Vtiger and any CRM software out there.
Advantages
Cloud-based to unify data across teams seamlessly
An integrated design to make managing tasks easier
Einstein GPT will save you time in your day-to-day tasks
Designed for many industries, from healthcare to finance, manufacturing, and retail
Salesforce Pricing
Salesforce has a small business CRM pricing plan that's perfect for startups. Let's take a closer look at what's included.
Starter for $25 per user per month with annual billing
Sales Professional for $75 per user per month
Service Professional for $75 per user per month
Marketing Cloud Account Engagement for $1,250 per month up to 10,000 contacts
Read also: The Top 13 EngageBay Alternatives of 2023 [With Pricing]
Zoho CRM has a smoother interface and simpler pricing when compared to Vtiger, which gives you a reason to check it out. Automate your sales and marketing tasks, use PathFinder to understand your customer's journey, and predict sales within this CRM suite.
Advantages
The Canvas Design Studio allows you to build the appealing CRM of your dreams, something Vtiger is sorely lacking
Create a workable sales pipeline with Journey Builder, which should guide leads and customers along a desired path
Customize many elements of the CRM, from user fields to sub-forms, filters, validation rules, conditions, fields, and more
Contact customers how they prefer with omnichannel outreach like live chat, web forms, SMS, social media, and telephony
Zoho Pricing
Could Zoho be the right CRM for you? Let's review its pricing when you select annual billing (and save up to 34 percent).
Standard for $14 per user per month
Professional for $23 per user per month
Enterprise for $40 per user per month
Ultimate for $52 per user per month
Zoho offers free trials of each of its CRM plans, where you can try features like scoring rules, multiple pipelines, advanced filters, and basic modules.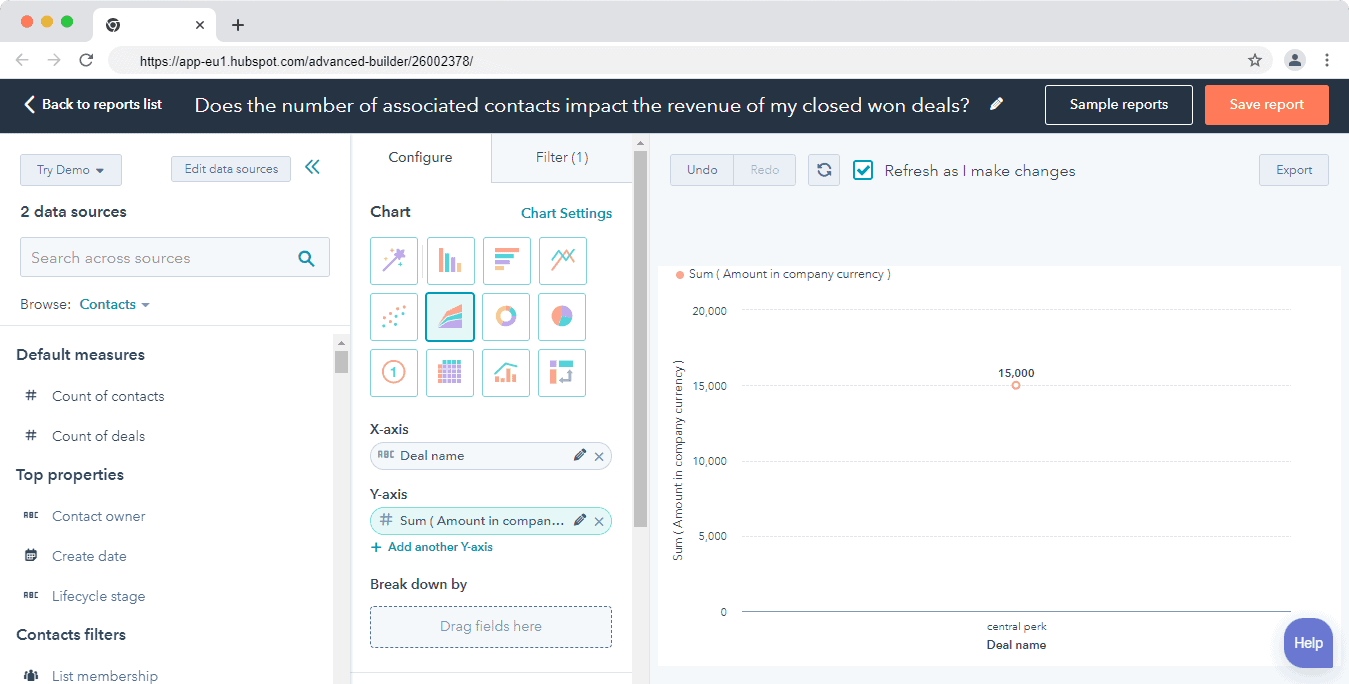 HubSpot isn't exactly synonymous with low costs, but its CRM is free. As it it, HubSpot is among the most popular CRM software out there, so it makes sense to recommend it among Vtiger alternatives.
This cloud solution is built for customer service teams, sales leaders, operations managers, and marketers too.
Advantages
Lead tracking and management helps you understand where your leads come from and better manage them to find ways to maintain an influx
Forecast your small business revenue with the deal pipeline feature, and automate sales templates and playbooks
You're not capped by data or users, and you get up to a million contacts (these aren't marketing contacts, though)
Gain actionable insights through the customizable dashboard
HubSpot CRM Pricing
As mentioned, you won't pay a penny to use HubSpot's CRM. However, if you want more than the features it contains, you must choose one of two paid plans in the CRM Suite.
Professional for $1,600 per month
Enterprise for $5,000 per month
You get up to 10 paid users and 10,000 marketing contacts if you choose the Enterprise plan.
Read also: Is HubSpot Worth It? In-depth Review for Small Businesses
Pipedrive is also among the most loved commercial CRM software, so it can be a good alternative to Vtiger depending on your business needs.
Highly rated for its ease of use, Pipedrive is easy to set up and offers all the key CRM features, like a visual sales pipeline, contact history, revenue forecasting, and lead segmenting.
Advantages
Stay on top of tasks with activity reminders so your sales team can follow up with leads and close more deals
Customize your sales pipeline to your parameters like you would with an open-source tool like Vtiger
Connect your sales, marketing, and service teams with collaborative tools and features within this CRM
Sort and segment your leads to determine the most qualified, then categorize and filter them for easy searching later
Pipedrive Pricing
Pipedrive has a myriad of pricing plans, whether you want to spend a little bit per month or a lot. All pricing is for annual billing.
Essential for $14.90 per user per month
Advanced for $27.90 per user per month
Professional for $49.80 per user per month
Power for $64.90 per user per month
Enterprise for $99 per user per month
You can try any plan for a 14-day free trial. That's a great way to sample excellent features like email sequences, revenue forecasts, project planning, calendar management, multi-language support, and contract and document management.
One obvious name to recommend among alternatives to Vtiger is Insightly. This teams-based CRM solution grows as your small business accrues more revenue and staff.
With features for service teams, salespeople, and marketers and an AppConnect integrations feature, Insightly is a winning CRM through and through.
Advantages
Customize your CRM without the need for third-party developers
Handy email management features for streamlining communications and clueing in your other teams on who's engaging with which customers or leads
Project management tools to help your sales team close more deals, including milestones
Actionable insights, detailed reporting, and performance dashboards you can customize by KPI
Insightly Pricing
Getting started with Insightly's CRM is easy, with three paid plans to choose from. Let's look at the costs when you select an annual billing plan.
Plus for $29 per user per month
Professional for $49 per user per month
Enterprise for $99 per user per month
An Insightly plan includes features like automated emails, lead management, opportunity management, and custom insight cards.
Read also: HubSpot vs Insightly: Pricing, Functionality, Features & More
If you like the sales elements of Vtiger's CRM but want to explore your options, there's Microsoft Dynamics 365 Sales. You can strengthen your customer relationships and close more deals with this solution from Microsoft.
Advantages
Sales nurturement builds loyal relationships so your customers will return to your small business time and again
Automated playbooks help you apply what works ad infinitum so you can continue racking up sales
Relationship intelligence features use AI, conversation intelligence, and guided selling for stronger results
Voice-to-text to save you time doing pointless data entry later
Microsoft Dynamics 365 Sales Pricing
Select from five pricing plans if you're interested in pursuing Microsoft Dynamics 365.
Microsoft Viva Sales for $40 per user per month
Dynamic 365 Sales Professional for $65 per user per month
Dynamic 365 Sales Enterprise for $95 per user per month
Dynamic 365 Sales Premium for $135 per user per month
Microsoft Relationship Sales for $162 per user per month
Among the most popular CRM solutions is Freshsales. In this tool, you can select from multiple customer views, use many touchpoints to reach your audience, customize your CRM, and implement automation to save time and boost your sales quotient.
Advantages
Integrate Freshsales with SMS to make your SMS campaigns more fruitful
Review activity timelines to see how your customers engage as they progress through the sales funnel
Use IntelliAssign for auto-routing conversations to the right party so a customer or lead always gets timely answers
Establish activity goals and track them, adjusting goals by the day, week, month, or quarter
Freshsales Pricing
You can get started for free and then start paying as your user count grows.
Growth, free for three users, then $15 per user per month with annual billing
Pro for $39 per user per month
Enterprise for $69 per user per month
Free trials are available. The pricing plans include features like time-based workflows, custom modules, built-in phone and chat, AI deal insights, and audit logs.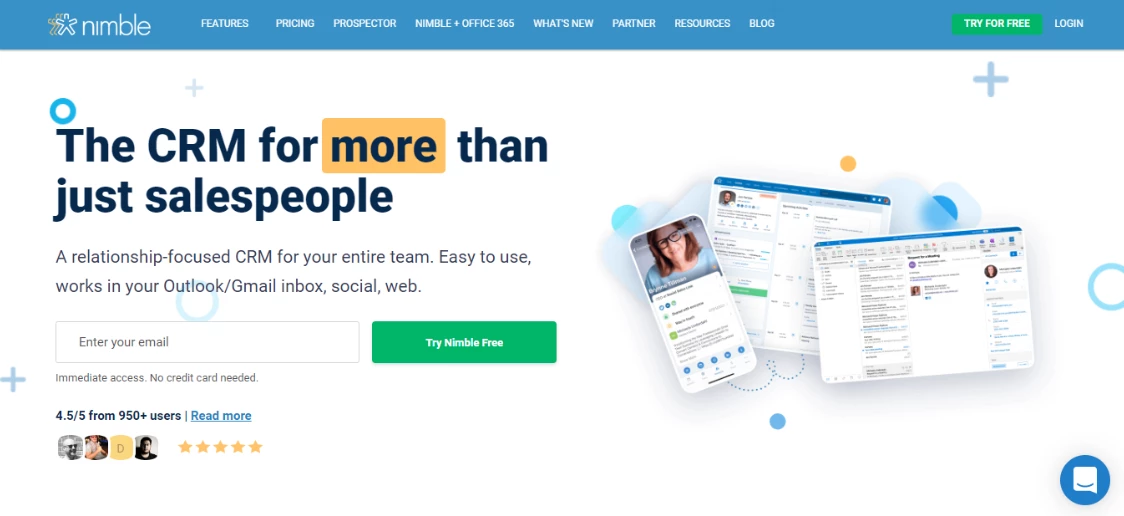 Nimble is also an excellent alternative to Vtiger, as it's full of features a startup or small business needs to reach the next level. The integrations are also worth talking about: you can connect all Microsoft 365 products and your Google Workspace with Nimble.
Advantages
Save your lead segments so you can come back to them later; these segments are even searchable
Automation workflows will reduce your workload, erasing busywork so you can focus more on the important tasks
Social profile enrichment and profile matching will connect prospects by phone number, email, address, social media profiles, and more
Nimble works as a browser extension so you can use it while on Gmail, Outlook, Twitter, Facebook, or LinkedIn
Nimble Pricing
Nimble offers one pricing plan that costs $24.90 per user per month with annual billing. You can use every Nimble feature, including automation workflows, calendar syncing, 25,000 contact records, custom fields, social media signals, email tracking, task reminders, and more.
Read also: 19 Great Nimble Alternatives: Finding the Best Fit for Your Business
Capsule is all about simplifying CRM, something you might be interested in after using Vtiger. It integrates with your favorite tools, from Mailchimp to Gmail and QuickBooks, and offers security features like two-factor authentication that will make your entire team feel safe.
Advantages
A sales pipeline dashboard brings all your insights to one convenient, centralized location
Customizable sales pipelines for managing more of your leads and customers and winning deals
Review conversational history and log more customer communication to build complete customer profiles
Search for contact information to save the sales and marketing teams valuable time
Capsule Pricing
You can begin with Capsule today with pricing for small businesses to enterprises.
Professional for $13 per user per month
Teams for $25 per user per month
Enterprise for $39 per user per month
The Professional plan for small businesses includes features such as activity reporting, email sending, sales pipeline, AI assists, project management, and email templates.
Agile CRM is built for small service teams, salespeople, and marketers. It has a wealth of integrations, affordable pricing, and detailed analytics that rival what you'd find in Vtiger.
Advantages
Detailed 360-degree contact views are buildable, so you can continue expanding on customer data as your teams collect it
Send video emails to grab your audience's attention
Integrate your current email tools so you can review email metrics from open rates to click-through rates
Provides detailed CRM analytics to study how your customers behave and better optimize your next campaign
Agile CRM Pricing
You don't have to spend a fortune to get your hands on a good CRM when you can use Agile. Let's go over the pricing plans.
Free for $0 per month for up to 10 users
Starter for $8.99 per month
Regular for $29.99 per month
Enterprise for $47.99 per month
The more expensive plans within the Agile CRM family offer the most advanced features, from two-way telephony to custom detail tracks, two-way email integration, custom data fields, and unlimited tasks and documents.
Keap is a CRM solution tailored for accountants, coaches, consultants, insurance professionals, financial advisors, marketing agencies, nonprofits, and startups. If you're any one of these, you might find Keap to be among the best Vtiger alternatives.
Advantages
Automated lead captures through social media, landing pages, and lead forms help you increase leads almost effortlessly
Use the Keap mobile or desktop app to track deals in progress, review customer data, and more
Easily establish automated workflows with follow-ups and special triggers
Migrate for free
Keap Pricing
You won't have to agonize over pricing plans with Keap, as you only have a few choices.
Pro for $149 per month with annual billing
Max for $199 per month with annual billing
Max Classic with custom pricing
The Pro plan includes support for two users and 1,500 contacts and comes with marketing and sales automation, automated lead capture, sales pipeline, appointments, quotes and invoices, text marketing, and landing pages.
The Max plan has support for three users and 2,500 contacts and offers promo codes, upsells, and marketing analytics.
Read also: 11 of the Best Keap Alternatives (Features, Pricing)
More than 200,000 companies choose Apptivo. They must be on to something, so perhaps it's worth leaving Vtiger behind for this CRM? Apptivo can help you convert leads into customers, build more sales opportunities, and plan your sales workflows more effectively.
Advantages
Salesforce automation to make your sales cycles more profitable
Easy to use and offers a Kanban view for reviewing customer and lead data, insights, and more
Customizable, with the option to adjust the fields, layout, and views so you can use Apptivo how you like
Offers a free mobile CRM app so you never have to skip a beat
Apptivo Pricing
You can save 20 percent by subscribing to an annual Apptivo plan. No contracts are required to get started.
Lite for $8 per user per month
Premium for $12 per user per month
Ultimate for $20 per user per month
Enterprise with custom pricing
The Lite plan is recommended for small teams like yours. It includes 24/7 support, third-party integrations, eight custom dashboards, 25 workflows, 100 custom fields per app, and 18 apps.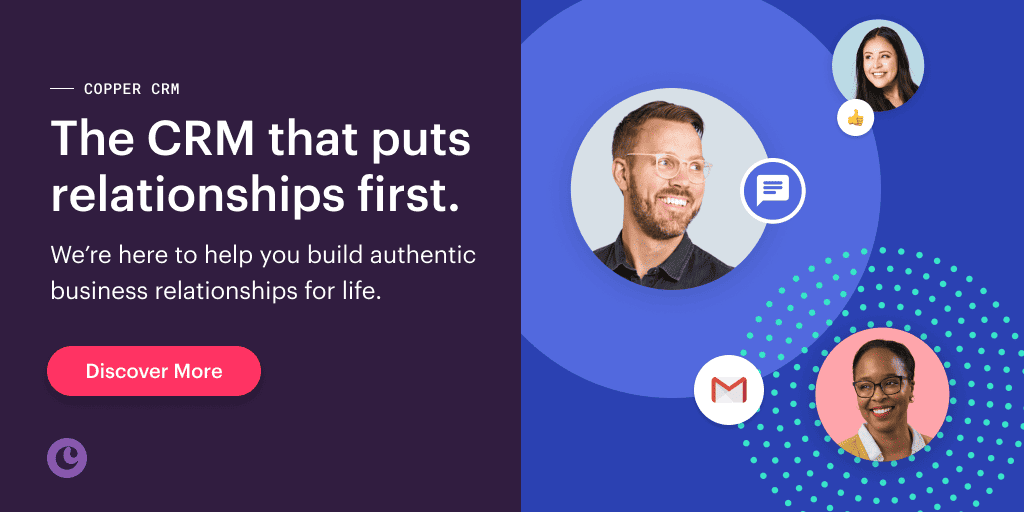 More than 30,000 businesses use Copper CRM. Copper integrates effortlessly with Google Workspace, which your business likely already relies on.
Advantages
Use marketing and email tools like automated nurture sequences, web forms, bulk emails, web tracking, and email templates
Automate those tasks you don't want to do, including emails
Receive alerts when you need to address a lead so they don't become cold
Generate custom reports with insights you curate to focus on KPIs most important to you
Copper Pricing
Get started with Copper by selecting from one of three pricing plans. These are the costs if you select annual billing.
Basic for $23 per user per month
Professional for $59 per user per month
Business for $99 per user per month
Try a demo of Copper to use features like contact enrichment, bulk email, website tracking, reporting, and lead scoring. You can then enjoy these features across the paid plans.
U.S. News & World Report rated Less Annoying CRM as its top CRM every year from 2020 to 2023. The USP of Less Annoying CRM is just what the name implies — it is simple and easy to use, and is hence less annoying than some of the complex and confusing CRM solutions out there.
Advantages
Includes mobile access for tracking insights and deals when your work takes you away from the office
Tasks and calendars help your sales team and marketers keep their schedules busy but never double-booked
Easy setup and decent customizability
Less Annoying CRM Pricing
One of the best features of LACRM is its easy-breezy pricing. There's only one pricing plan: $15 per user per month.
You can also try LACRM for a 30-day free trial before committing. The features include unlimited pipelines, email logging, unlimited custom fields, user permissions, task management, and unlimited contacts.
Read also: A Comprehensive Guide to Less Annoying CRM Alternatives
Does your sales workflow need a diagnosis? OnePageCRM could be just what the doctor ordered 😉
It features automation, email management, team collaboration, and a business card scanner, among other tools. Nonprofits, startups, and small businesses flock to this tool, and for good reason!
Advantages
Add deals to the pipeline in a few simple clicks, and check out your pipeline in the forecast or Kanban view
Use Route Planner, an AI tool, to determine what your travel routes look like so you can make business travel more expedient
The Next Action method will help propel your sales teams forward with features like contact management, automation, and collaboration
Includes a mobile app that goes well with OnePageCRM's other litany of features
OnePage CRM Pricing
You can try OnePageCRM free for three weeks before committing. You can then choose from one of two paid pricing plans:
Professional for $9.95 per user per month
Business for $19.95 per user per month
If you subscribe annually, four months are free. That's not bad for features like bulk email sending, custom activity reports, web forms, and email tracking.
Zendesk Sell is another popular sales-centric CRM alternative to Vtiger that can make your sales team super productive. With Zendesk's insights into your sales pipeline, you can build more optimal customer experiences.
Advantages
Integrates and connects with apps that are already a part of your workflow
This all-in-one platform is handy for communication, lead generation, engagement, and prospecting
It's fast and simple to get Zendesk Sell up and running
Its pricing plans have no hidden fees
Zendesk Sell Pricing
Zendesk Sell has three pricing plans. The following pricing is for annual billing:
Team for $19 per user per month
Growth for $49 per user per month
Professional for $99 per user per month
You can try any plan first for free. The Growth plan offers exceptional features, such as calendar integration, 10 custom sales pipelines, appointment and task setting, five gigs of storage per user, call recording and tracking, and pre-built sales dashboards.
Creatio is a newer CRM solution that's made a huge splash already. Its focus is automation, something you might find it excels at better than Vtiger.
You don't have to know a lick of code to customize Creatio to the fullest, which makes it easy to get started.
Advantages
Automate your sales and marketing tasks so both teams can focus on driving results
Use omnichannel communications to reach your customers at a level most appropriate for them
Review customer interactions and conversation history and generate insights with this CRM
Built-in analytics, KPI monitoring, and reporting to keep your finger on the pulse of what matters to your small business
Creatio Pricing
Creatio is an affordable tool for startups, with services beginning at $30 per month.
Read also: The Best CRM Tools for Small Business Owners
Conclusion
Vtiger is an efficient CRM solution, but its features might not be the best fit for your business.
If you're looking for an open-source alternative to Vtiger, we listed more than five here. If you're looking for a regular or commercial CRM solution that you can just get started with, we've shared more than 15 options.
Among all these Vtiger alternatives, we recommend EngageBay the most, because it is simply the most affordable all-in-one CRM solution in the market, especially at high-power usage.
Try it free and see for yourself.