With the second quarter of 2021 nearly behind us, it's time to be frank about your email marketing approach thus far so you can prepare for the next half of the year.
Is what you're doing working?
Is your marketing leaving something to be desired?
If you're not hitting the mark, it's time to assess why that is.
Could it be that the email marketing tool you're using isn't working for your small business?
You thought Moosend was the solution your startup was looking for, but now you're having second thoughts.
We recommend you keep reading.
Today, we'll look at five Moosend alternatives that could replace your current email marketing software.
These alternatives are EngageBay, AWeber, ActiveCampaign, Sendinblue, and Keap.
An Overview of Moosend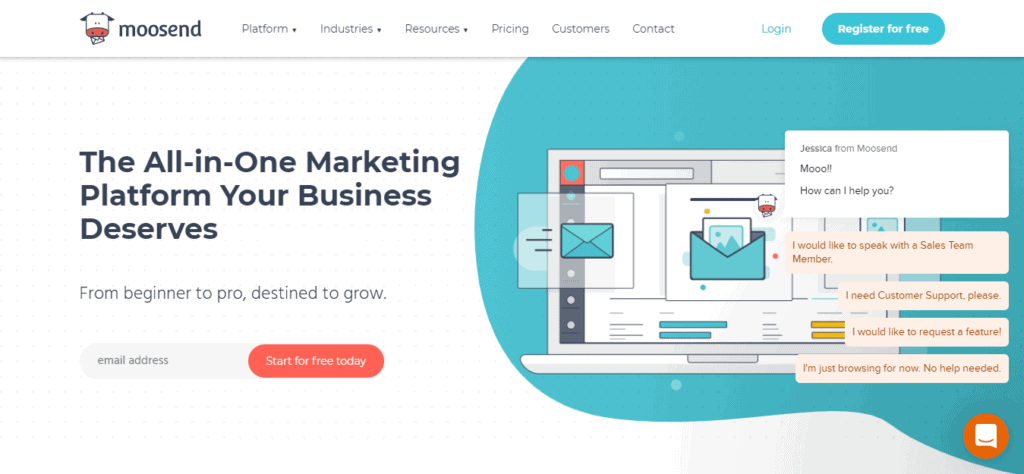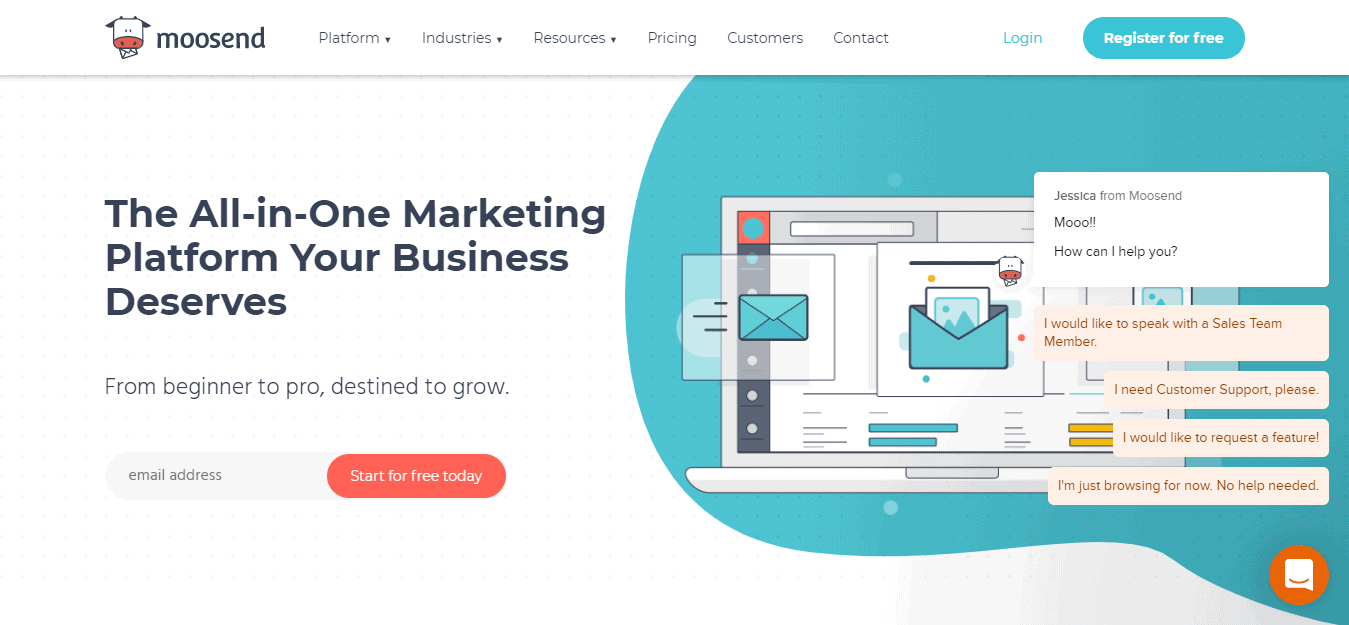 Let's start by covering Moosend's features and pricing to make it easier to compare their services against the Moosend alternatives we'll discuss in the next section.
Moosend Features
Email Templates
Moosend offers 40 email templates absolutely free.
The templates include categories like webinars, RSVPs, RSS, promotional emails, products, news, lead gen, invitations, and eCommerce emails.
A/B Testing
Track all parts of your newsletters and emails with Moosend's split testing.
That includes email subject lines, email body content, and more.
Advanced Personalization
Moosend offers email personalization based on your segmented audience data and your lead or customer's purchasing behavior.
Lead Scoring
If you have yet to segment your audience, no problem. Moosend offers that service as well.
Analytics
From email open rates to click-through rates and the KPIs driving your overall campaign, Moosend provides plenty of useful analytics.
Moosend Pricing
Moosend has three plans to choose from Free, Pro, and Enterprise.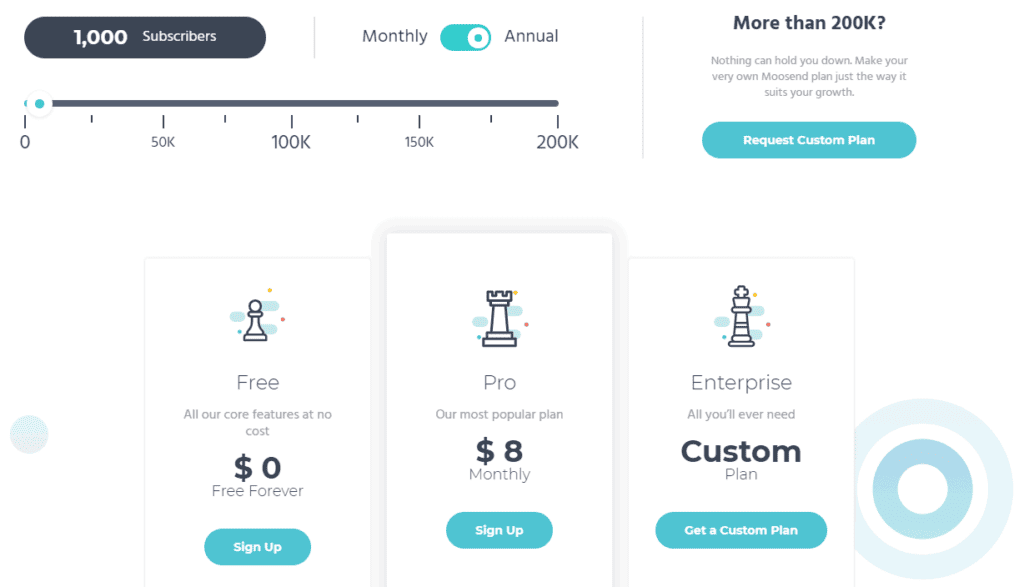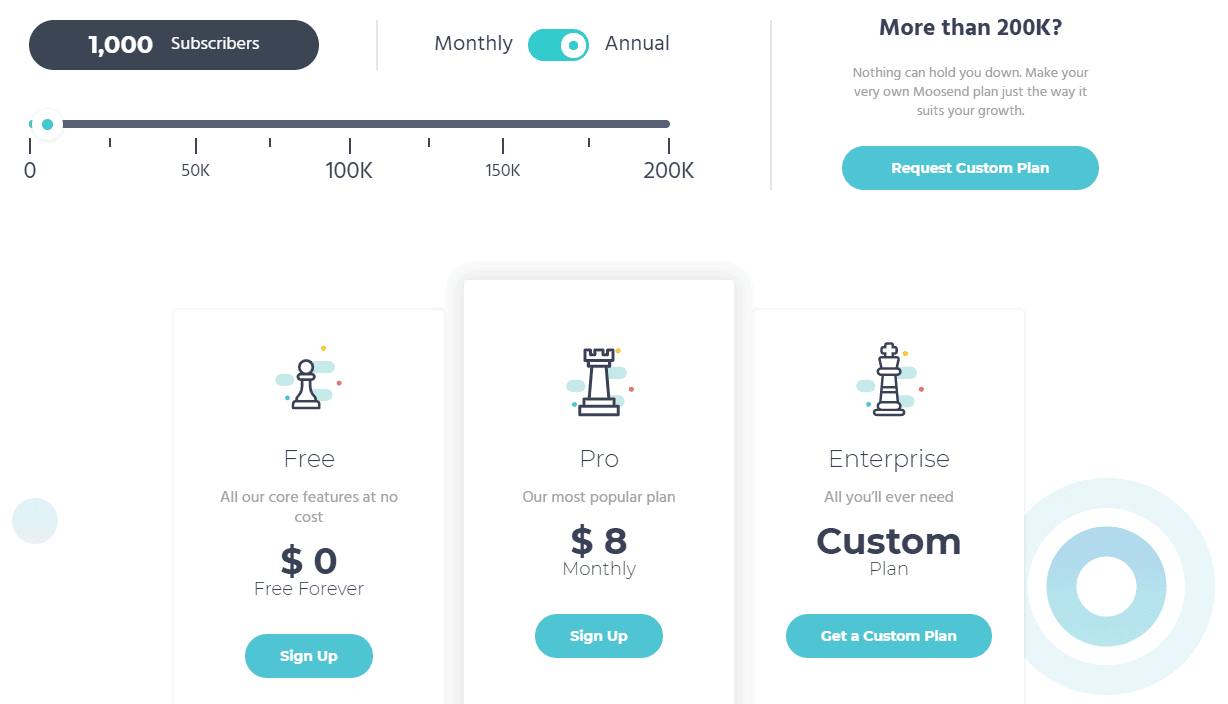 The Free plan is always $0 while the Enterprise plan is custom-priced.
Pro plan pricing increases or decreases based on how many subscribers you have.
At 1,000 contacts, you'd pay $10 a month. For 20k contacts, it's $125 a month, and for 50k, it's $205 a month.
5 Great Moosend Alternatives to Consider
Moosend may be a good email marketing tool, but once you have more than 1,000 contacts, you're charged way outside of a startup's budget.
You need a solution that grows with your small business.
These 5 Moosend alternatives fit the bill exceptionally well!
EngageBay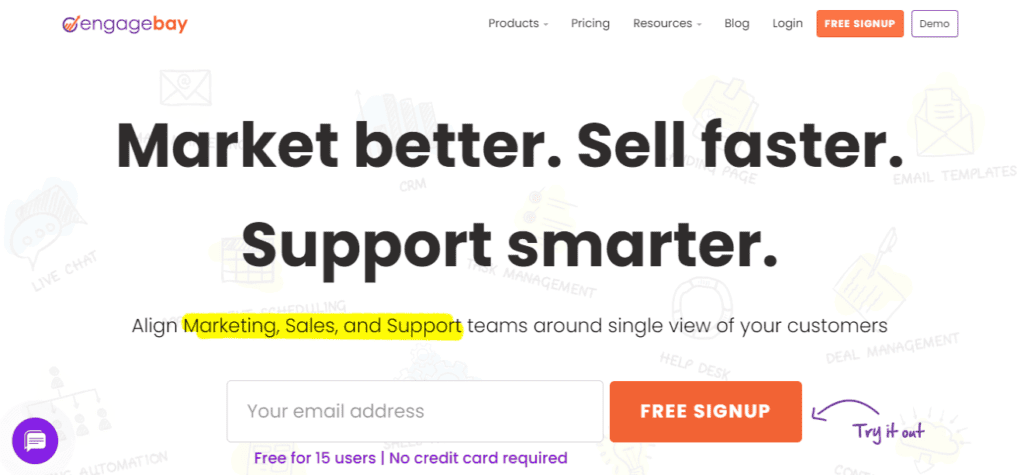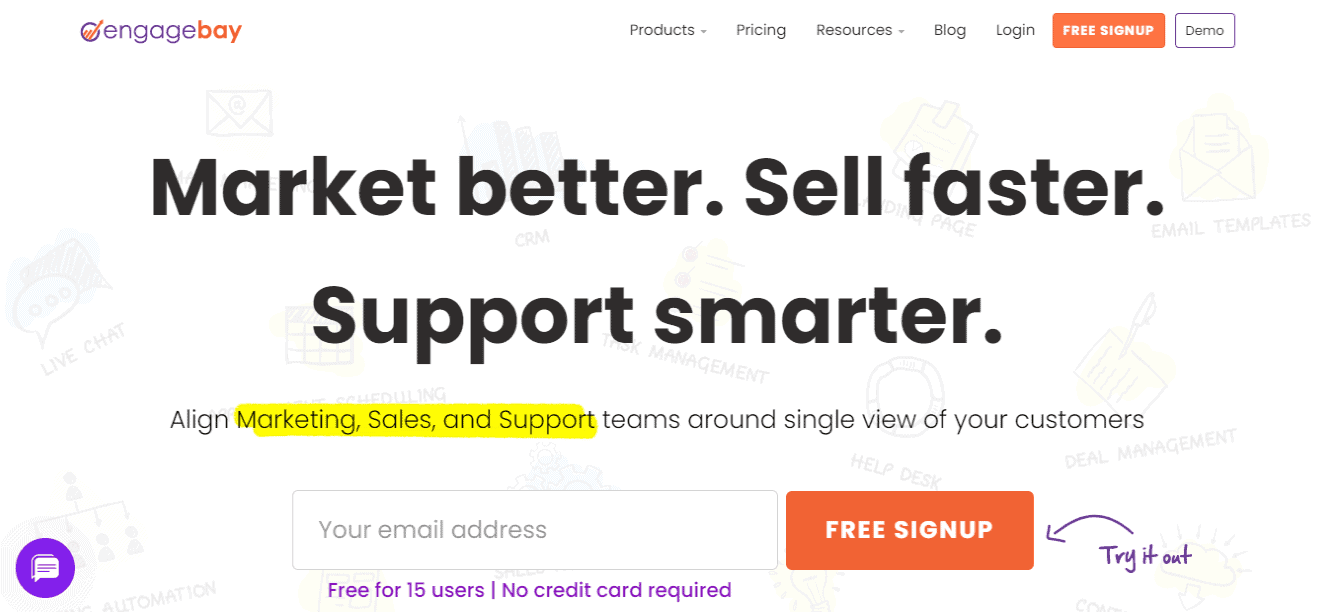 EngageBay promotes itself as an all-in-one sales and marketing solution much like Moosend.
Unlike Moosend, EngageBay means it.
This tool was made by a small business-minded team that strove to create a more affordable sales and marketing tool.
Features
In EngageBay's Marketing Bay are all the products a burgeoning marketer needs, including email marketing.
EngageBay's email marketing templates come predesigned for all sorts of industries and businesses.
You can select between celebrations or general emails, then pick from a variety of gorgeous email templates.
If you'd rather build your emails from scratch, that's an option as well.
Drag-and-drop features and a text editor let you feel like an HTML pro without any of that computer language savvy.
EngageBay lets you add elements like social share buttons and images too so your email campaign leaves no stone unturned.
You can also add rich formatting to your emails to improve your click-through rates with EngageBay.
The personalization features are based on the information in your contacts list so you never mistakenly send an email to the wrong person again.
EngageBay will help you make sense of your contacts list too with audience segmenting and targeting.
The targeting feature uses filters that you select, including custom tags, location, age, and other demographics.
Create your own drip email sequences and campaigns within EngageBay, then automate follow-ups and other responses.
It's like your small business is open 24/7 even though your staff goes home at the end of the day.
Once your campaigns are live, use EngageBay's analytics to track the metrics that matter.
Watch a full product demo showcasing EngageBay's marketing services below:
Pros
Personalization and rich text formatting make your emails more engaging so they perform better.
Segmenting your audience is easy and effective with EngageBay.
The email template variety is quite appealing.
Cons
EngageBay may not have as many integrations as Moosend.
Pricing
Within the Marketing Bay, you can select from four plans: Free for up to 1,000 contacts, Basic for up to 10,000 contacts, Growth for up to 20,000 contacts, and Pro for up to 30,000 contacts.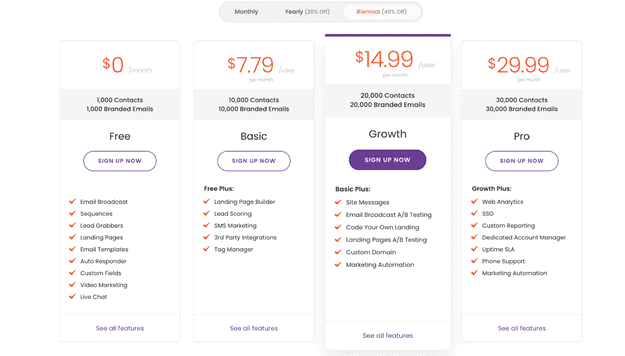 When billed monthly, the Basic plan is $12.99 per user, the Growth plan is $24.99 per user, and the Pro plan is $49.99 per user.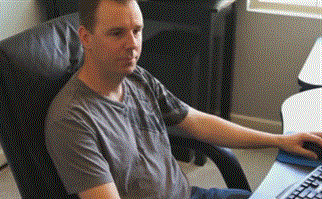 Even with the Free plan, you get loads of useful email marketing features, including the email template builder, preset email templates, tag management, and a reporting dashboard.
AWeber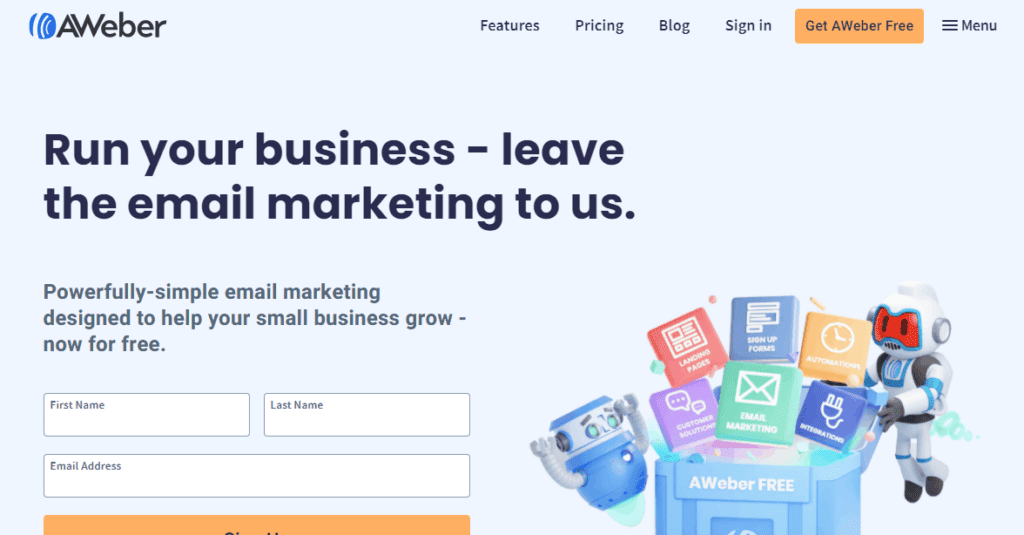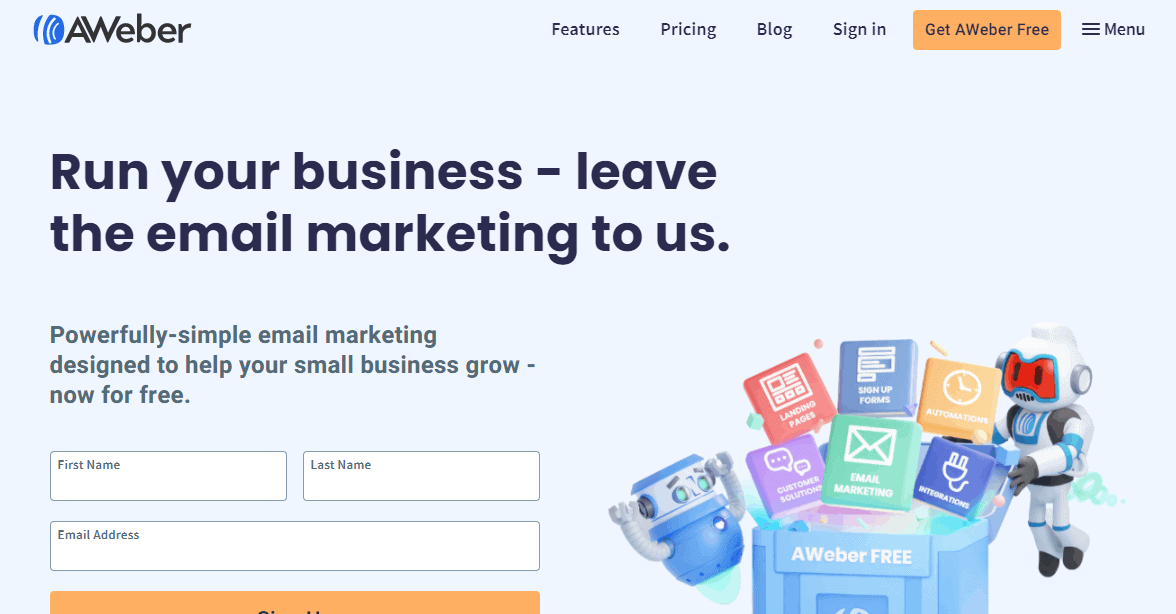 AWeber specializes in email marketing, making their tool an appealing Moosend alternative.
Founded in 1998, AWeber is for small businesses looking to take their email marketing to the next level.
According to AWeber, by using their services, they'll take care of 90 percent of the email marketing for you!
Features
AWeber's Smart Designer relies on artificial intelligence to help you create custom email templates "in seconds," says their website.
If you'd rather do things the old-fashioned way, you can also use drag and drop features without having any HTML or coding experience.
This designer works for making landing pages too, FYI.
Do you want instant email templates without any effort?
AWeber has a library full of 'em. Push notifications remind you to send emails at a specific time.
You can also automate the entire email-sending process.
Pros
AWeber's main service is email marketing, so it goes to show they're pretty good at it!
You have several ways to create emails, be those unique ones you make yourself or choosing from premade templates.
AWeber's template library includes more than 700 mobile-responsive templates.
Cons
Moosend is an all-in-one solution while AWeber is not. You only get email marketing.
The Free plan supports just 500 subscribers.
Pricing
AWeber's Free plan is free forever, well, as long as you have 500 subscribers.
After that, you need to upgrade to the Pro plan.
At 500+ subscribers, this plan costs $19 a month.
It's $29 a month for up to 2,500 subscribers, $49 a month for up to 5,000 subscribers, $69 a month for up to 10,000 subscribers, and $149 a month for up to 25,000 subscribers.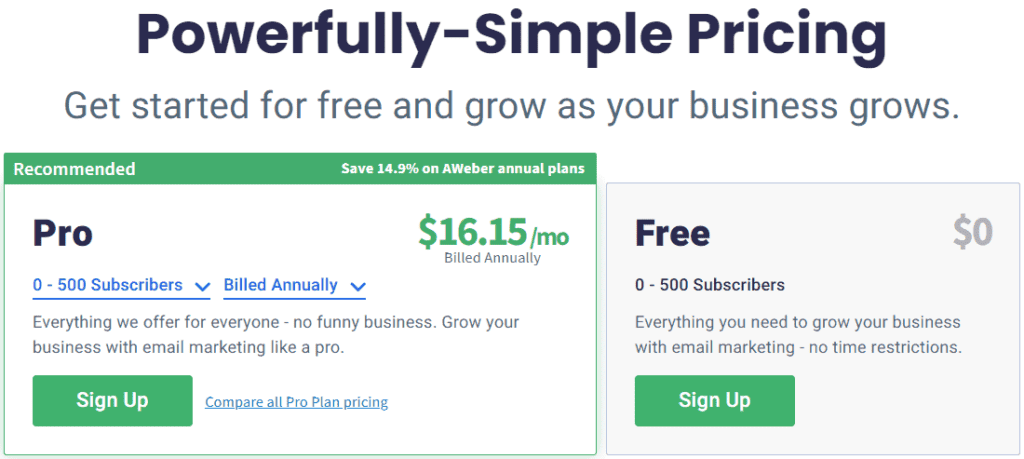 The paid plan includes these features:
Unlimited message sending
Email sales tracking
Advanced account and audience analytics
Subscriber tagging for segmentation
No AWeber branding on email templates
Click-track links
Purchase tagging
Behavioral automation
Email split-testing
ActiveCampaign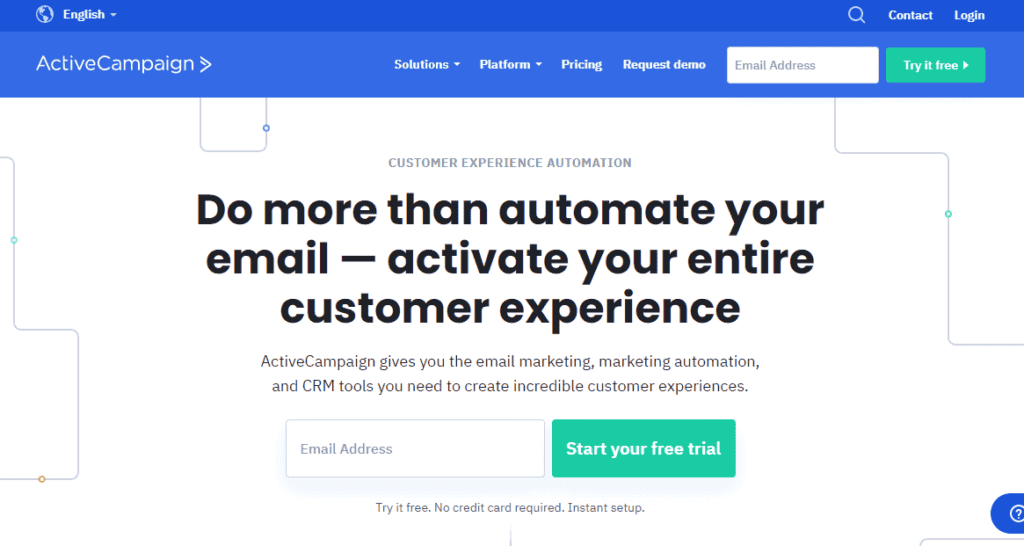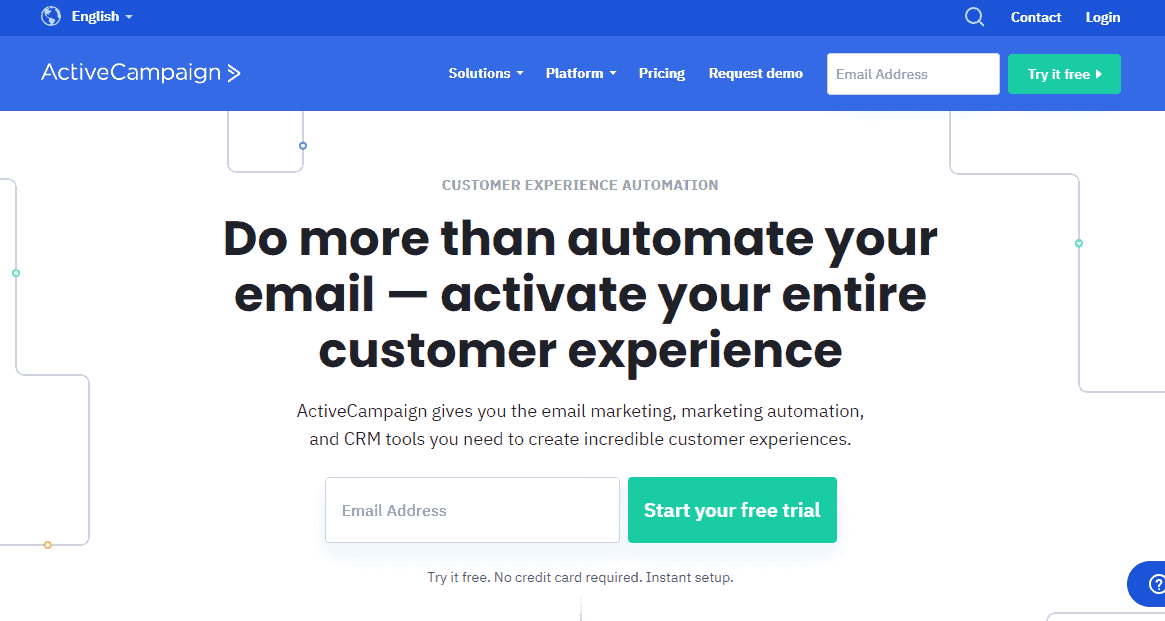 The customer automation platform ActiveCampaign is third on our list of Moosend alternatives.
Their solutions include support, service, sales automation, CRM, marketing automation, and email marketing.
Features
Select from a great variety of emails in ActiveCampaign, including welcome emails, email autoresponders, targeted emails, and broadcast emails.
Use email automation to set up an email funnel that will convert more leads to customers.
Stop missing sales opportunities when you can schedule emails that go out at just the right time.
You can create emails using ActiveCampaign's handy drag and drop designer.
ActiveCampaign also offers more than 25 mobile-optimized email templates for all occasions.
Tap into your contact list to personalize your communications so they appeal to your audience segments.
ActiveCampaign offers split-testing so you can compare subject lines, email images and videos, links, and email body lengths until you write emails that get great open and click-through rates.
Pros
Conditional content plus list segmentation ensures you can send hyper-targeted emails to your audience groups.
ActiveCampaign has image hosting you can use for free to upload as many images as you wish.
Site tracking and social sharing help your email marketing campaign extend beyond the inbox.
Cons
ActiveCampaign doesn't have that many prebuilt templates.
Once you have more than 1,000 contacts, all plans outside of the Lite plan are probably too expensive for startups and small businesses.
Pricing
ActiveCampaign sells its email marketing and other services in four plans: Lite, Plus, Professional, and Enterprise.

The monthly pricing with 500 contacts is as follows:
$15 for the Lite plan
$70 for the Plus plan
$159 for the Professional plan
$279 for the Enterprise plan
If you have 5,000 contacts, your monthly bill will look more like this:
$99 for the Lite plan
$169 for the Plus plan
$239 for the Professional plan
$449 for the Enterprise plan
Sendinblue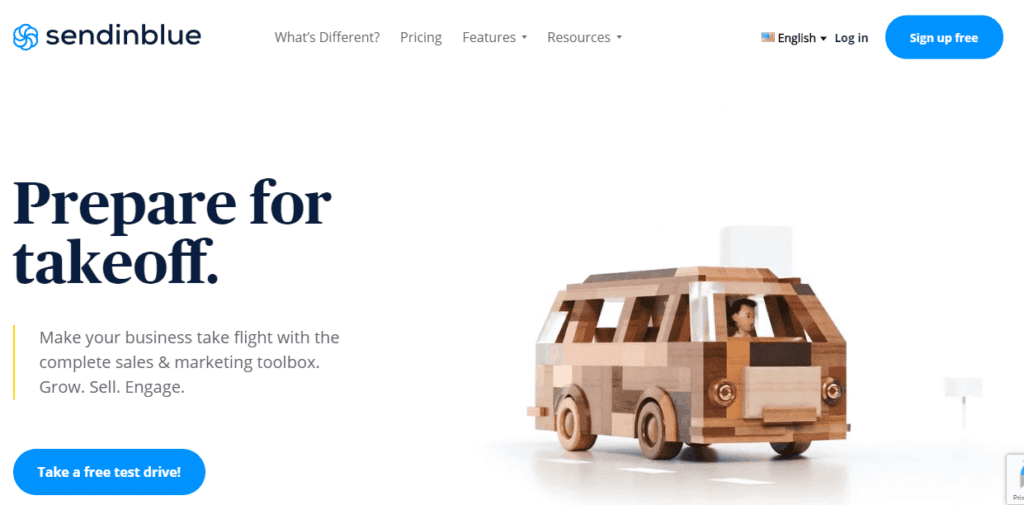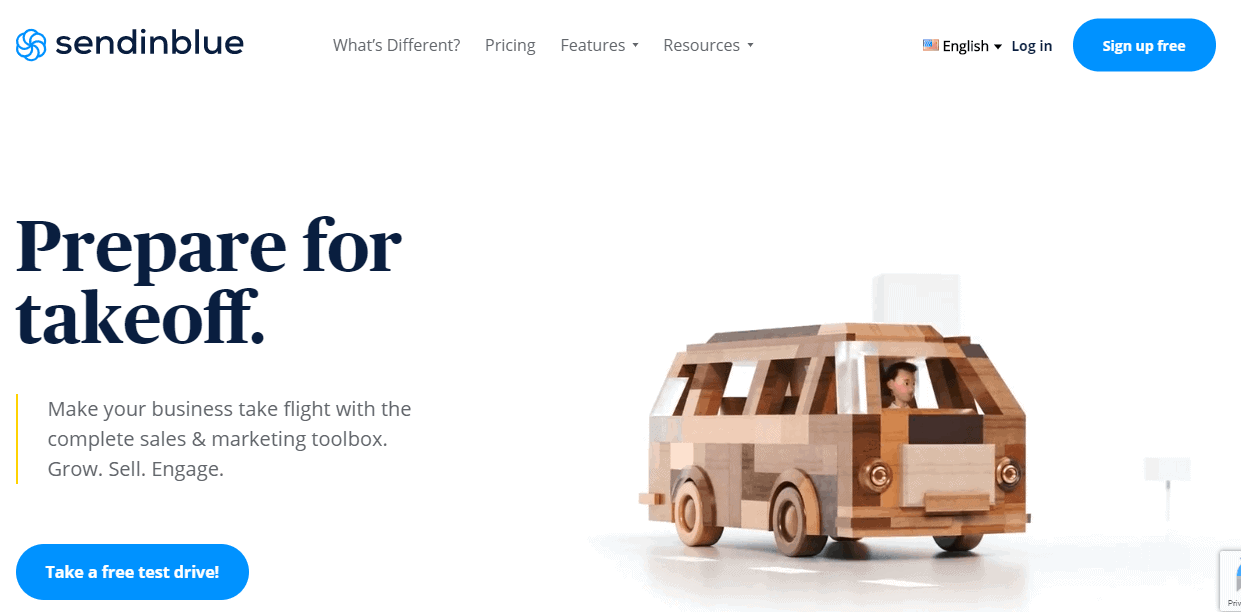 The digital marketing agent Sendinblue has tools for communicating, personalizing, and converting.
Outside of email marketing, Sendinblue specializes in SMS marketing.
They offer social media advertising, marketing automation, and CRM as well.
Features
You have two options for creating emails using Sendinblue's platform.
You can browse their email template library to find the right template for the occasion or you can create your own email design "from scratch," as they say, with drag and drop editing.
Next, personalize your emails with information pulled from your contacts list.
Select which portions of your audience will receive the email, be that everyone for a mass email dump or only specific segments.
Before the email goes out, use A/B testing. Sendinblue also offers send time optimization with machine learning so more of your emails are opened and read.
Pros
Sendinblue's comprehensive platform eliminates the need to buy several tools.
The drag-and-drop editor makes you look like a pro email designer even if you aren't.
Machine learning gets smarter as you use it more so your send times will eventually be awesomely optimized!
Cons
Sendinblue's Premium plan is a bit expensive for some companies.
Pricing
Let's talk pricing.
Sendinblue has four plans to select from.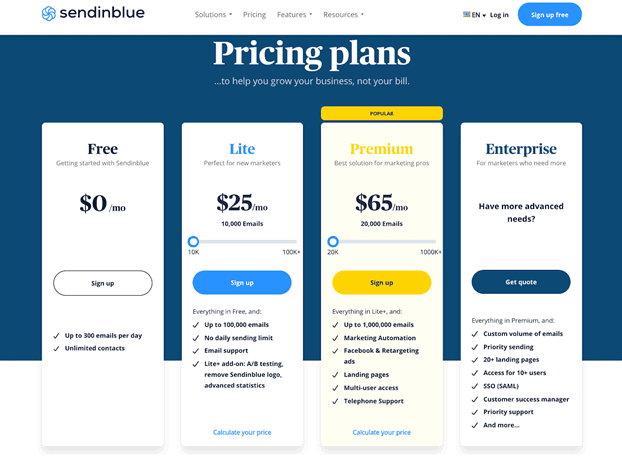 The Free plan is always $0, the Lite plan is for up to 10,000 emails and starts at $25 a month, the Premium plan is for up to 20,000 emails and starts at $65 a month, and the Enterprise plan has custom pricing.
You can increase your email sending limit with the paid plans.
To send 40,000 emails, the Lite plan now costs $54 a month.
The Premium plan is $79 a month for that same number of emails.
Keap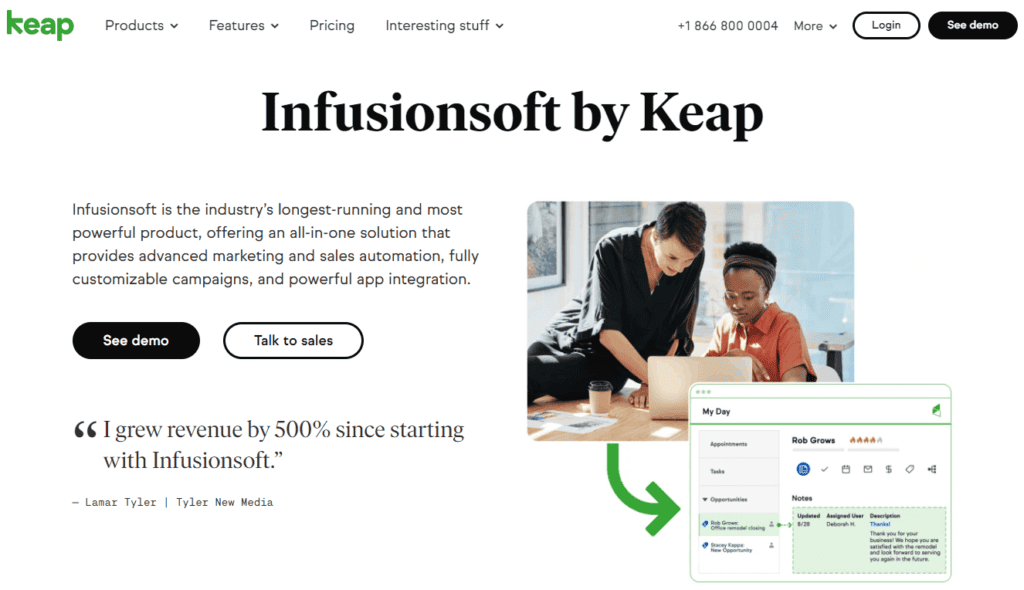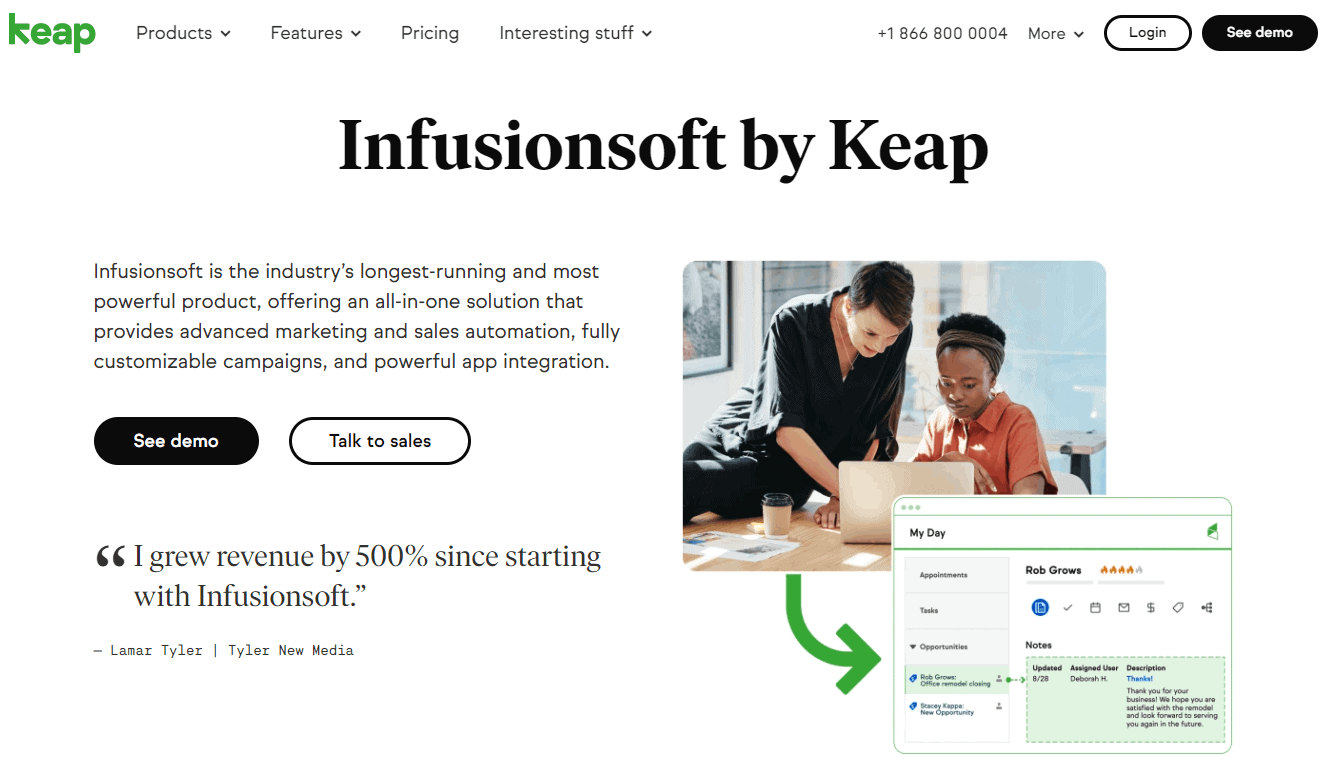 Wrapping up our list of Moosend alternatives is Keap, formerly known as Infusionsoft.
Their tool includes appointments, reporting and analytics, payments, a sales pipeline, CRM, automation, and email marketing.
Features
Keap says that, through their services, they've sent 1.1 billion emails per month with an average click-through rate of 13 percent and an average open rate of 20 percent.
Their email templates are varied enough that, compared to Moosend, you shouldn't miss the former's services.
Keap will segment your audience and help you send better emails with its split testing.
Automate more of the process, including personalization, nurturing leads, and sending emails too.
Keap has an auto-spam checking feature that keeps your emails out of the trash or spam filter.
Their tool will also recommend certain times to send emails using internal algorithms.
Once your emails reach their respective destinations, Keap produces reports that tell you what you did right.
You also get suggestions on how to improve even more for next time.
Pros
Keap is a good solution if you need better email deliverability rates than what you have at current.
Marketing automation features include easy or advanced workflows for customizing your email-sending process.
Keap's Lite product is made for small businesses.
Cons
Keap's monthly pricing is pretty costly, especially for startups on a tight budget.
You don't have the option of a free plan when using Keap.
Pricing
Keap's three plans are the Lite, Pro, and Max.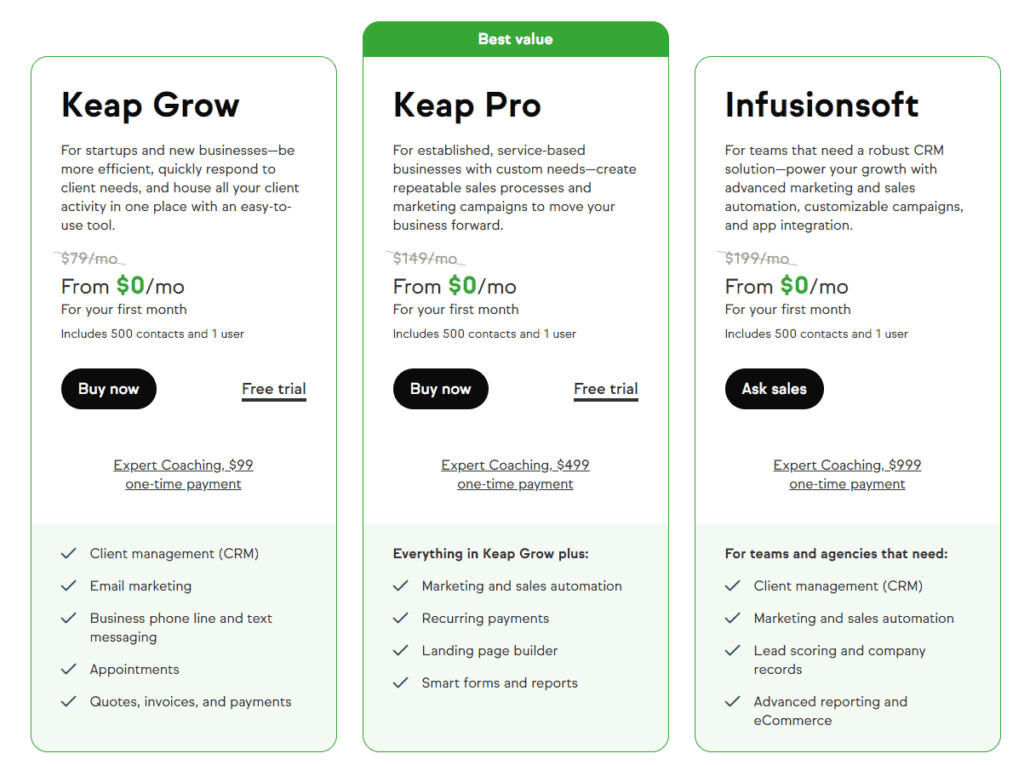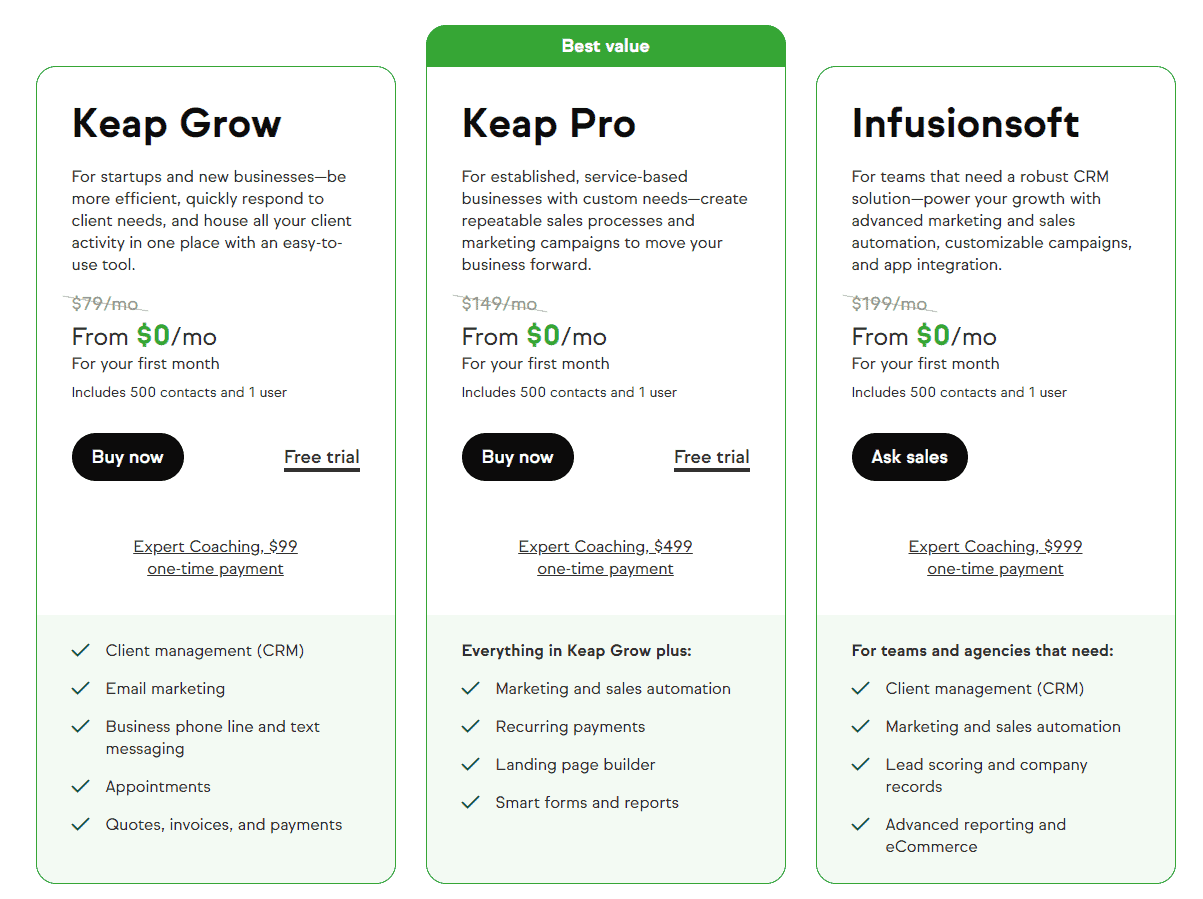 Each plan starts you with 500 contacts and access for one user.
The Lite plan costs $79 a month ($54 for the first five months), the Pro plan is $149 a month ($105 for five months), and the Max plan costs $199 a month ($140 for five months).
Conclusion
The Moosend alternatives we discussed today offer all the same features as Moosend plus more.
EngageBay especially has a full Marketing Bay with features for more successful email marketing campaigns.
With low monthly pricing and a plan that's free forever, EngageBay is our Moosend alternative of choice!
Checkout our latest article:
Wishpond Alternatives: Similar Email Tools for Your Business