In today's business world, having an excellent marketing automation and CRM solution is of utmost importance. The platform you use should make the lives of your employees easier while also helping you gain a better understanding of your customers.
While Moosend is a popular marketing, sales, and customer support solution, it might not be the best fit for everyone. Keep reading to find out why.
We'll also discuss five of the best Moosend alternatives:
EngageBay
ActiveCampaign
AWeber
Sendinblue
Keap
Let's get started!
An Overview of Moosend

Let's take a quick look at Moosend's features and pricing, and then compare it with some of the best Moosend alternatives out there.
Email Templates: Moosend offers 40 email templates for free. The templates are categorized into various sections, including webinars, RSVPs, RSS, promotional emails, products, news, lead gen, invitations, and eCommerce emails.
A/B Testing: Track all parts of your newsletters and emails with Moosend's split testing. That includes email subject lines, email body content, and more.
Advanced Personalization: Moosend offers email personalization based on segmented audience data and customers' purchasing behavior.
Lead Scoring: Moosend also offers lead scoring to help you create a list of high-quality leads.
Analytics: From email open rates to click-through rates and the KPIs driving your overall campaign, Moosend provides plenty of useful analytics.
Read also: 11 Mailchimp Alternatives and Why You Should Consider Them
Moosend Pricing
Moosend offers two plans: Pro and Enterprise.

You also get a 30-day free trial with unlimited emails, automation workflows, and a landing page.
Pro: The Pro plan operates on a sliding-scale model and starts at $9 for 500 subscribers. For 8,000 subscribers, you need to pay $64/month. With the Pro plan, you get transactional email automation, countdown timers, conditional content, Google analytics training, and more.
Enterprise: This plan is custom-priced and offers enterprise-level features, including an account manager, priority support, dedicated IP, SSO, and SAML.
Read also: 10 Competitors That Give Zendesk A Run For Its Money
User Reviews of Moosend
While Moosend is a great email marketing software for small businesses, it does come with its own disadvantages. Here are some user reviews that point out the issues of Moosend:



Read also: 13 Free Marketing Tools to Create Awesome, Engaging B2C Content
5 Great Moosend Alternatives With Better Features
Moosend may be a good email marketing tool, but there are better options — with better pricing. Here are five of the best Moosend alternatives: EngageBay, AWeber, ActiveCampaign, Sendinblue, and Keap.
#1. EngageBay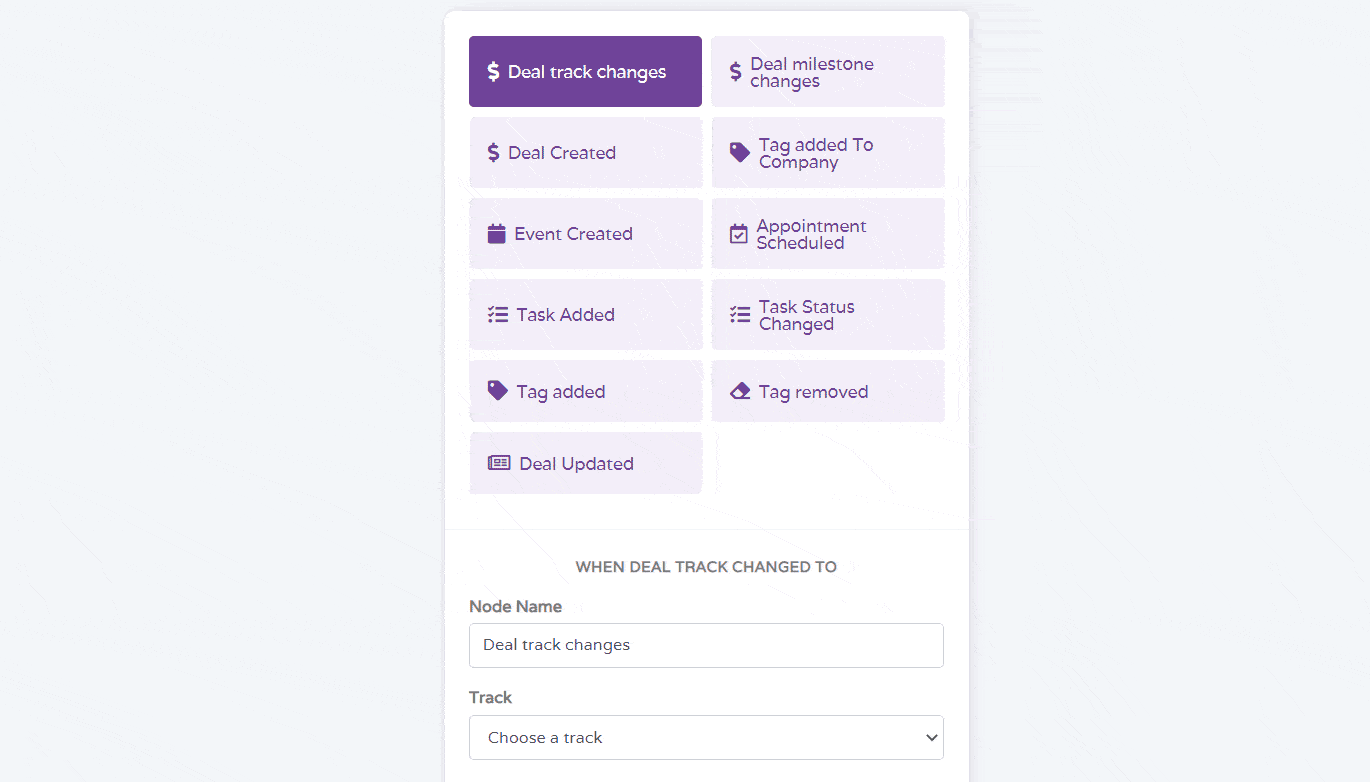 EngageBay promotes itself as an all-in-one marketing, sales, and customer support solution for small businesses. This tool was made by a small business-minded team that strove to create a more affordable tool.
Features
Here are some of the key features of EngageBay:
Social Suite: EngageBay lets you manage all your social media accounts — Facebook, LinkedIn, Instagram, and Twitter — all from a single window. You can even schedule your posts and utilize social listening to find out what your audience is searching for.
Automation: EngageBay lets you automate both simple and complex workflows with ease using the powerful visual automation workflow builder. You can choose from various actions, conditions, and triggers, and let productivity skyrocket.
Email marketing: You can send one-time newsletters with email broadcasts, set up autoresponders, and even launch drip marketing campaigns. With personalization, you can turn your mass emails into tailored promotions and improve conversion rates.
Segmentation: EngageBay's smart segmentation lets you segment your customers into various buckets based on demographics, purchase patterns, and online behavior, and even use custom filters.
Live chat and helpdesk: EngageBay's customer support tools let you deliver customer satisfaction through service automation, ticket management, ticket prioritization, macros, and live chat.
In-CRM telephony: EngageBay's in-CRM telephony feature lets you place and receive calls from within the CRM. You can even record them, use scripts, take notes, and add the details to the CRM for future reference.
Watch a full product demo showcasing EngageBay's marketing services below:
Pros
Personalization and rich text formatting make your emails more engaging, thus improving conversion rates.
One of the most affordable CRM solutions in the market today.
Segmenting your audience is easy and effective with EngageBay.
The email template variety is quite appealing.

Cons
EngageBay may not have as many integrations as Moosend, but this is set to change as we are adding more integrations regularly.
Pricing
EngageBay offers four plans: Free, Basic, Growth, and Pro.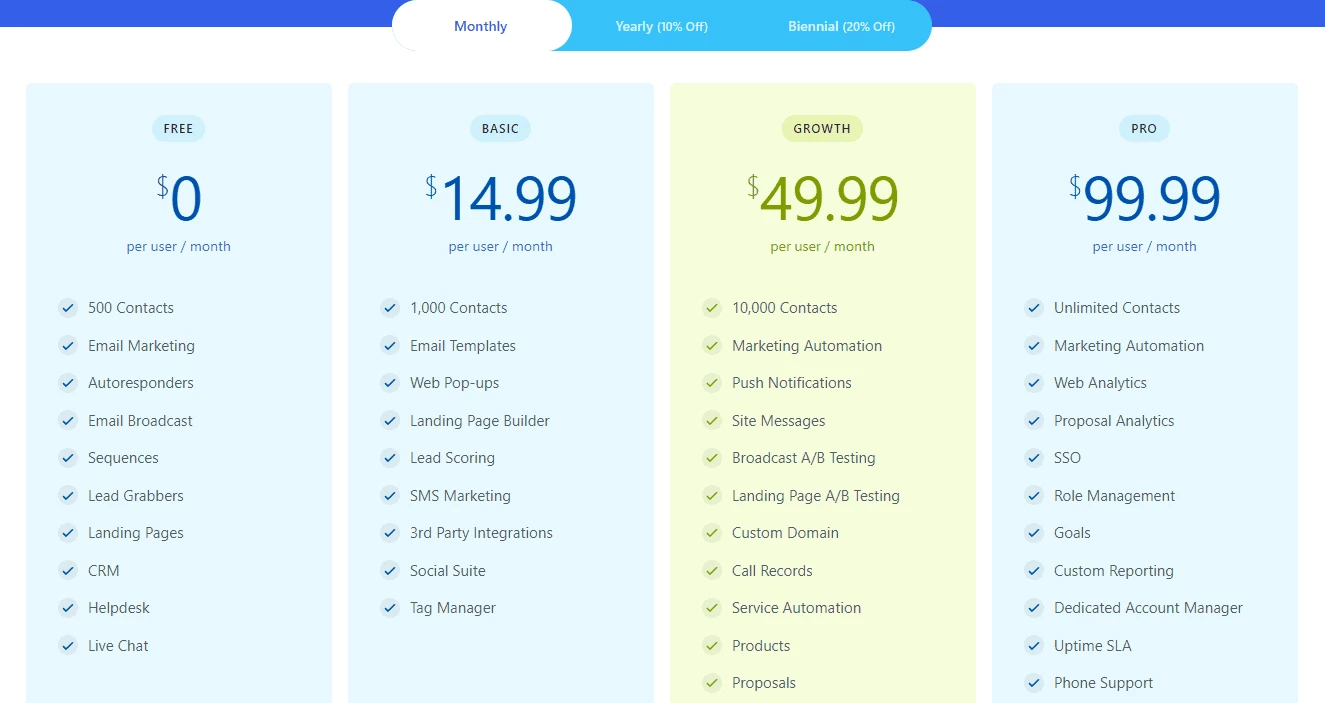 Free: The free plan is free-forever and offers a suite of powerful tools to help businesses get started. These include email marketing, 500 contacts, 1,000 emails/month, autoresponders, email broadcasts, sequences, helpdesk, and live chat.
Basic: This plan costs $14.99/month for 1,000 contacts, 3,000 emails/month, custom deal milestones, group management, canned responses, and more.
Growth: The Growth plan costs $49.99/month for 10,000 contacts, 25,000 emails, marketing automation, web rules, landing page and email broadcast A/B testing, SSO, and timezone-based email delivery.
Pro: The Pro plan costs $99.99/month and offers unlimited contacts, 50,000 emails, proposal analytics, role management, call scripts, call recordings, account-based marketing, and so much more. You also get a dedicated account manager and priority phone support.
EngageBay also offers a 10% discount on annual plans and a 20% discount on biennial plans.
Read also: 8 ConvertKit Alternatives That Make Sense for Small Business Owners
AWeber

AWeber specializes in email marketing, making their tool an appealing Moosend alternative for small businesses.
Features
Let's take a look at the key features of AWeber:
Canva integration: Canva integrates fully with AWeber, meaning you can design visually stunning graphics without ever having to leave the platform.
Automated email campaigns: AWeber offers "set it and forget it" campaigns with powerful automation. You also get emails, landing pages, forms, funnels, and more in a single place.
Segmentation and tagging: AWeber's contact segmentation feature lets you segment your audience so that you can connect with your customers on a more personal level. You can even add tags to your customers for added segmentation.
Drag-and-drop designer: You can create custom emails in minutes using Aweber's drag-and-drop builder, without the need for designers or programmers.
Pros
AWeber's main service is email marketing, so it goes to show they're pretty good at it!
You get a good selection of email design features, including a full-fledged Canva integration.
AWeber's template library includes more than 700 mobile-responsive templates.

Cons
Moosend is an all-in-one solution while AWeber is not. You only get email marketing.
The Free plan supports just 500 subscribers.
Pricing
AWeber offers two plans: Free and Pro.
Free: AWeber's Free plan is free forever, well, as long as you have 500 subscribers.
Pro: The Pro plan is priced on a sliding scale model:

500 subscribers – $24.99/month
2,500 subscribers – $34.99/month
5,000 subscribers – $54.99/month
10,000 subscribers – $74.99/month
25,000 subscribers – $154.99/month

The paid plan includes these features:
Unlimited message sending
Email sales tracking
Advanced account and audience analytics
Subscriber tagging for segmentation
No AWeber branding on email templates
Click-track links
Purchase tagging
Behavioral automation
Email split-testing
Read also: AWeber vs GetResponse vs EngageBay — Which MA Tool is Best?
ActiveCampaign

The customer automation and email marketing platform ActiveCampaign is third on our list of Moosend alternatives.
Solutions include support, service, sales automation, CRM, marketing automation, and email marketing.
Features
Automation: Use email automation to set up an email funnel that will convert more leads to customers. ActiveCampaign offers split-testing so you can compare subject lines, email images and videos, links, and email body lengths until you write emails that get great open and click-through rates.
Email scheduling and templates: Stop missing sales opportunities when you can schedule emails that go out at just the right time. ActiveCampaign also offers more than 25 mobile-optimized email templates for all occasions.
Personalized emails: Tap into your contact list to personalize your communications so they appeal to your audience segments.
Email marketing: Select from a great variety of emails in ActiveCampaign, including welcome emails, email autoresponders, targeted emails, and broadcast emails. You can also create emails using ActiveCampaign's handy drag-and-drop designer.
Read also: Sendinblue vs Mailchimp And Other Email Tools [Tables]
Pros
Conditional content plus list segmentation ensures you can send hyper-targeted emails to your audience groups.
ActiveCampaign has image hosting which you can use for free to upload as many images as you wish.
Site tracking and social sharing help your email marketing campaign extend beyond the inbox.

Cons
ActiveCampaign doesn't have that many prebuilt templates.
Once you have more than 1,000 contacts, all plans outside of the Lite plan might be too expensive for startups and small businesses.
Pricing
ActiveCampaign sells its email marketing and other services in four plans: Lite, Plus, Professional, and Enterprise.

Lite: The Lite plan starts at $9 a month and offers email automation, email marketing, subscription forms, segmentation, campaign and automation reporting, and lead capture forms.
Plus: The Plus plan starts at $49 per month for contact scoring, automation map, conditional content, task reporting, deal assignments, and customer health scoring.
Professional: The Professional plan costs $149/month for website personalization, split automations, attribution reporting, 1:1 training, and a dedicated onboarding specialist.
Enterprise: The Enterprise plan is custom-priced and offers a huge selection of customizations for reporting, domains, objects, and branding within applications. You also get contact enrichment, social data enrichment, free design services, HIPAA support, and more.
The costs mentioned above are for 500 contacts. To get an idea of how the pricing changes as your contacts increase, here's the pricing structure for 2,500 contacts:
Lite: $49/month
Plus: $99/month
Professional: $149/month
Enterprise: Custom-priced
Read also: 5 of the Best ActiveCampaign Alternatives (Features, Pricing)
Sendinblue

Sendinblue is an excellent digital marketing platform — and a great Moosend alternative. It offers social media advertising, marketing automation, and a host of personalization tools.
Features
These are the key Sendinblue features that make it a worthy alternative to Moosend:
Personalization: Sendinblue's personalization tools are great; you can build stronger relationships with your customers through the centralized CRM, segment your audience and get more engagement, and set up automated transactional emails.
Conversion: With landing pages, signup forms, and Facebook Ads, you can grow your contact list, engage with them, and convert them into paying customers.
Analytics: Sendinblue offers a plethora of insights to help you get a bird's eye view of your performance, including real-time statistics, email heat maps, open and click-through rates, and more. You can also figure out the best time to send emails using send-time optimization.
Integrations: Sendinblue offers both APIs and plugins to extend the capabilities of the platform.
Pros
Sendinblue's comprehensive platform eliminates the need to buy several tools.
The drag-and-drop editor makes you look like a pro email designer even if you aren't.
Machine learning gets smarter as you use it more so your send times will eventually be optimized for the best conversion rates.

Cons
Sendinblue's Premium plan is a bit expensive for some companies.
Pricing
Let's talk pricing.
Sendinblue has four plans to select from: Free, Lite, Premium, and Enterprise.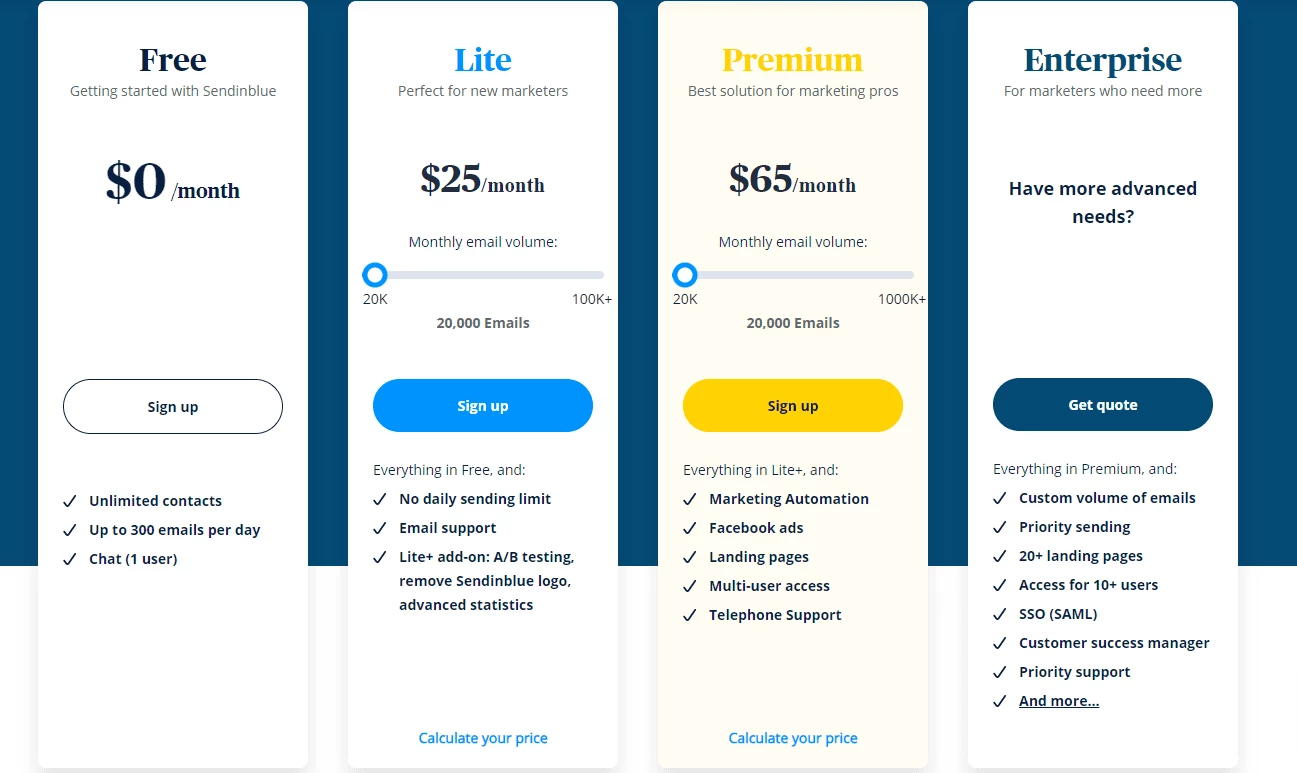 Free: The Free plan is free-forever and offers page tracking, workflow editor, advanced templating language, and Core API
Lite: The Lite plan starts at $25/month for 10,000 emails and adds A/B testing, an option to remove the Sendinblue logo, and removes the daily sending limit.
Premium: The Premium plan starts at $65/month for 20,000 emails and has multi-user access, heat map reporting, device and geography reporting, marketing automation workflows, and retargeting ads.
Enterprise: The Enterprise plan has custom pricing and offers advanced features including a dedicated account manager, advanced integrations such as FTP and Salesforce, phone support, dedicated IP, and unlimited shared inboxes.
Read also: 5 of the Best Sendinblue Alternatives (Pricing, Advantages)
Keap

The last one on our list of Moosend alternatives is Keap, formerly known as Infusionsoft.
Keap's list of powerful tools includes appointments, reporting and analytics, payments, a sales pipeline, CRM, automation, and email marketing.
Features
What makes Keap a great alternative to Moosend? Let's find out:
Automation: Automate most of your business processes, including personalization, nurturing leads, and sending emails. Keap will segment your audience and help you send better emails through split testing.
Anti-spam: Keap has an auto-spam checking feature that keeps your emails out of the trash or spam filter.
Keap Business Line: With Keap's free business phone number, you can close deals faster, auto-reply to messages, and have a professional voicemail.
Appointment scheduling: You can automatically schedule appointments, tailor content, and set up autoresponders. The tool also fully integrates with your Google and Outlook calendars.
Pros
Keap is a good solution if you need better email deliverability rates.
Marketing automation features include easy or advanced workflows for customizing and personalizing emails.
Keap's Lite product is specifically made for small businesses.

Cons
Keap's monthly pricing is pretty costly, especially for startups on a tight budget.
You don't have the option of a free plan when using Keap.
Pricing
Keap offers three plans: Pro, Max, and Max Classic.

Pro: The Pro plan costs $129/month for 1,500 contacts and 2 users, CRM, email marketing, landing pages, text marketing, appointments, and automated lead capture.
Max: The Max plan costs $199/month for 2,500 contacts and 3 users, and adds marketing analytics, and promo codes.
Max Classic: This is a custom-priced plan for teams with advanced marketing and sales needs.
Read also: 5 of the Best Keap Alternatives (Features, Pricing)
Conclusion
While Moosend is a great marketing automation platform, there are better options with better pricing.
For small businesses looking for a comprehensive marketing, sales, and customer support solution that does not break the bank, EngageBay is the way to go.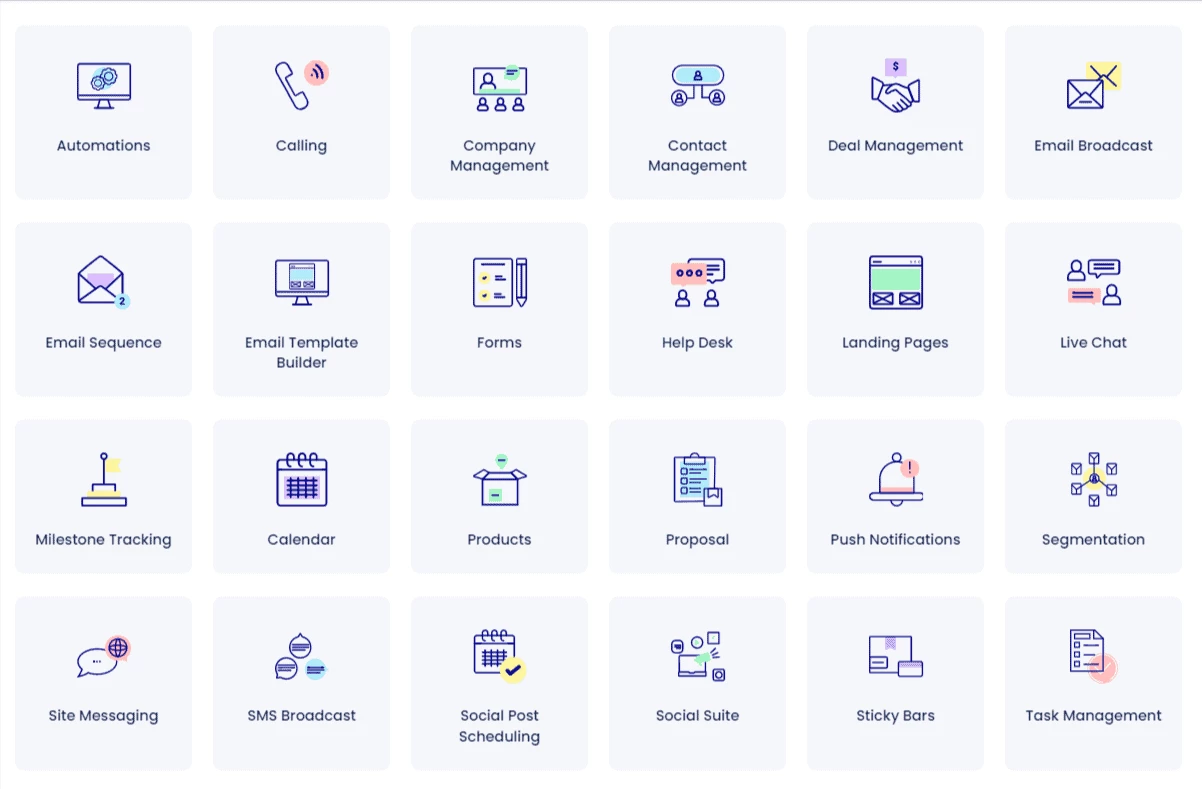 It offers a free-forever plan with a suite of powerful tools for businesses just starting out. In addition, EngageBay also offers pro-level tools for companies that need the extra power — all under $100/month!
Sign up for free, or book a demo with one of our experts.
Adios!