In today's business world, having an excellent marketing automation and CRM solution is of utmost importance. The platform you use should make the lives of your employees easier while also helping you gain a better understanding of your customers.
While Moosend is a popular marketing, sales, and customer support solution, it might not be the best fit for everyone. Keep reading to find out why.
We'll also look at 13 of the best Moosend alternatives:
EngageBay
ActiveCampaign
AWeber
Sendinblue (Brevo)
Keap
MailerLite
Constant Contact
GetResponse
Mailchimp
HubSpot
Campaign Monitor
ConvertKit
Drip
Let's get started!
An Overview of Moosend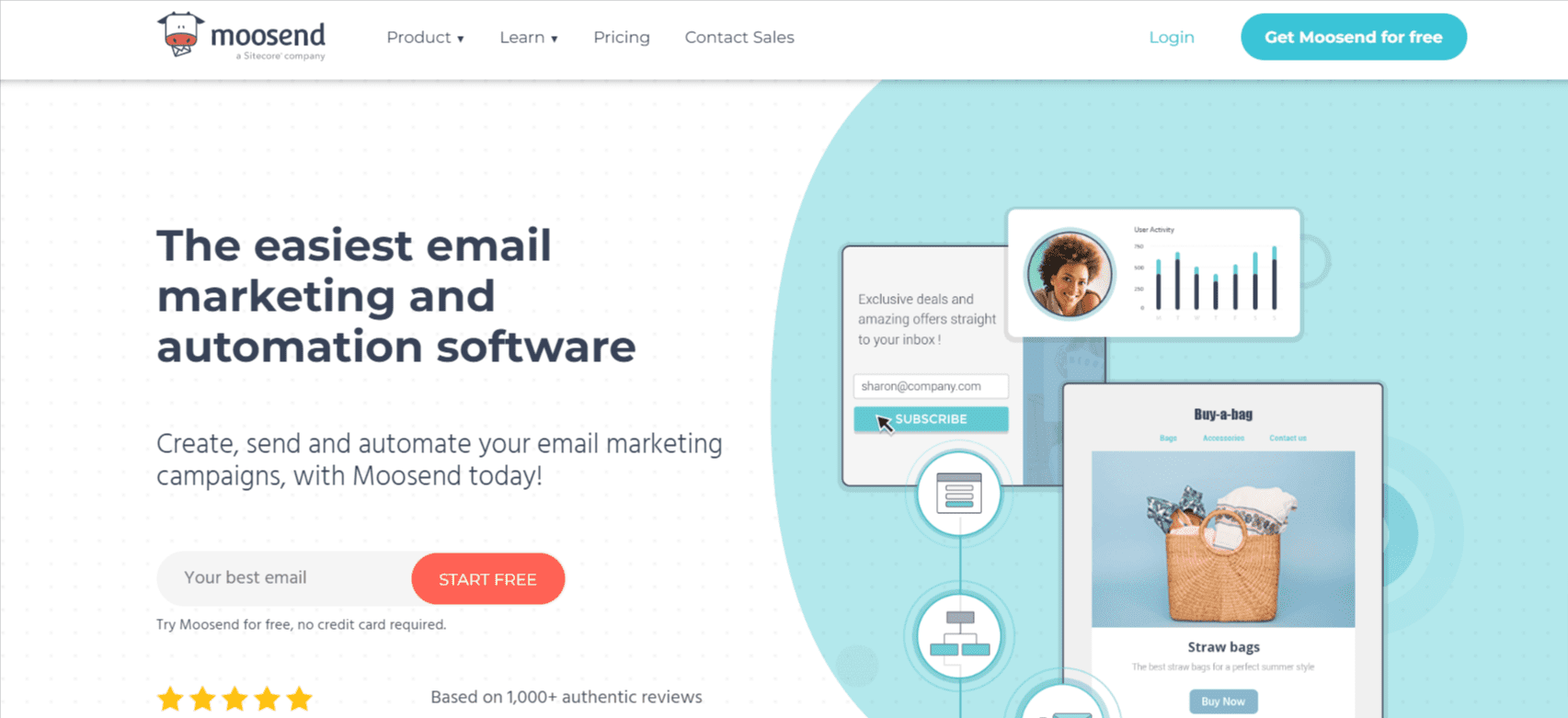 Let's take a quick look at Moosend's features and pricing, and then compare it with some of the best Moosend alternatives out there.
Email Templates: Moosend offers 40 email templates for free. The templates are categorized into various sections, including webinars, RSVPs, RSS, promotional emails, products, news, lead gen, invitations, and eCommerce emails.
A/B Testing: Track all parts of your newsletters and emails with Moosend's split testing. That includes email subject lines, email body content, and more.
Advanced Personalization: Moosend offers email personalization based on segmented audience data and customers' purchasing behavior.
Lead Scoring: Moosend also offers lead scoring to help you create a list of high-quality leads.
Analytics: From email open rates to click-through rates and the KPIs driving your overall campaign, Moosend provides plenty of useful analytics.
Moosend Pricing
Moosend offers two plans: Pro and Enterprise.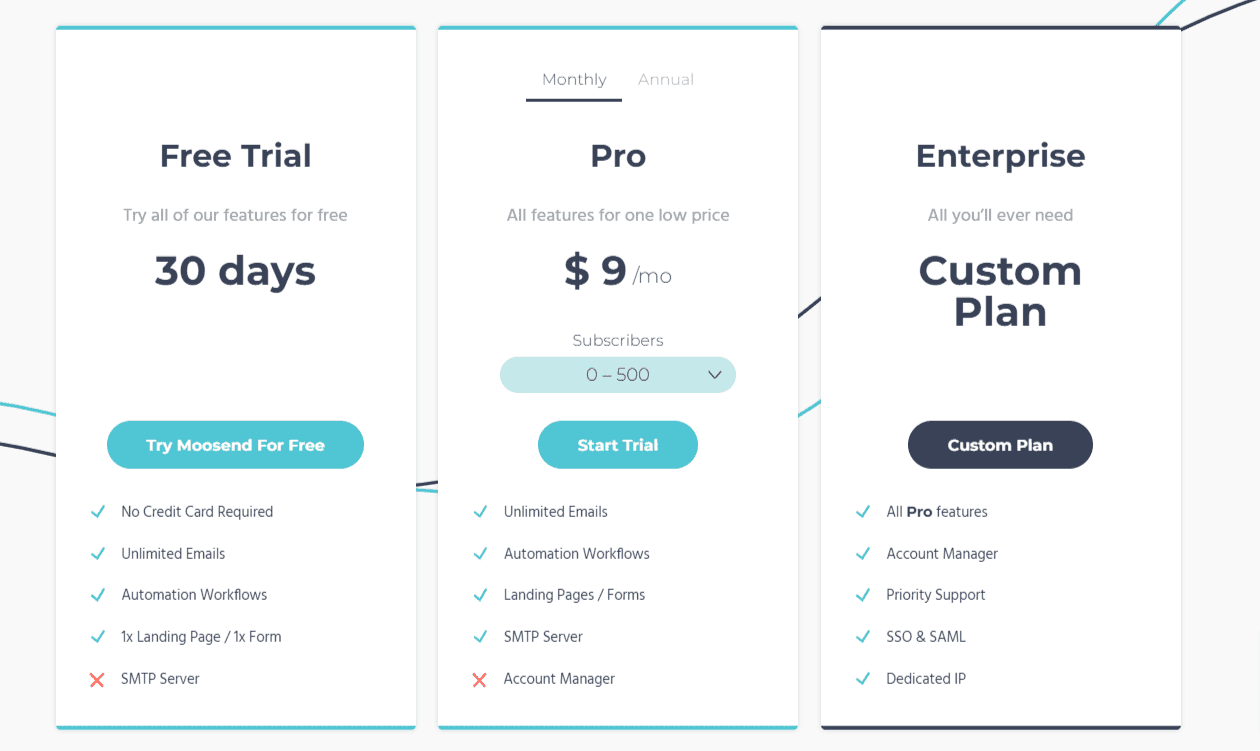 You also get a 30-day free trial with unlimited emails, automation workflows, and a landing page.
Pro: The Pro plan operates on a sliding-scale model and starts at $9 for 500 subscribers. For 8,000 subscribers, you need to pay $64/month. With the Pro plan, you get transactional email automation, countdown timers, conditional content, Google analytics training, and more.
Enterprise: This plan is custom-priced and offers enterprise-level features, including an account manager, priority support, dedicated IP, SSO, and SAML.
User Reviews of Moosend
While Moosend is a great email marketing software for small businesses, it does come with its own disadvantages. Here are some user reviews that point out the issues of Moosend: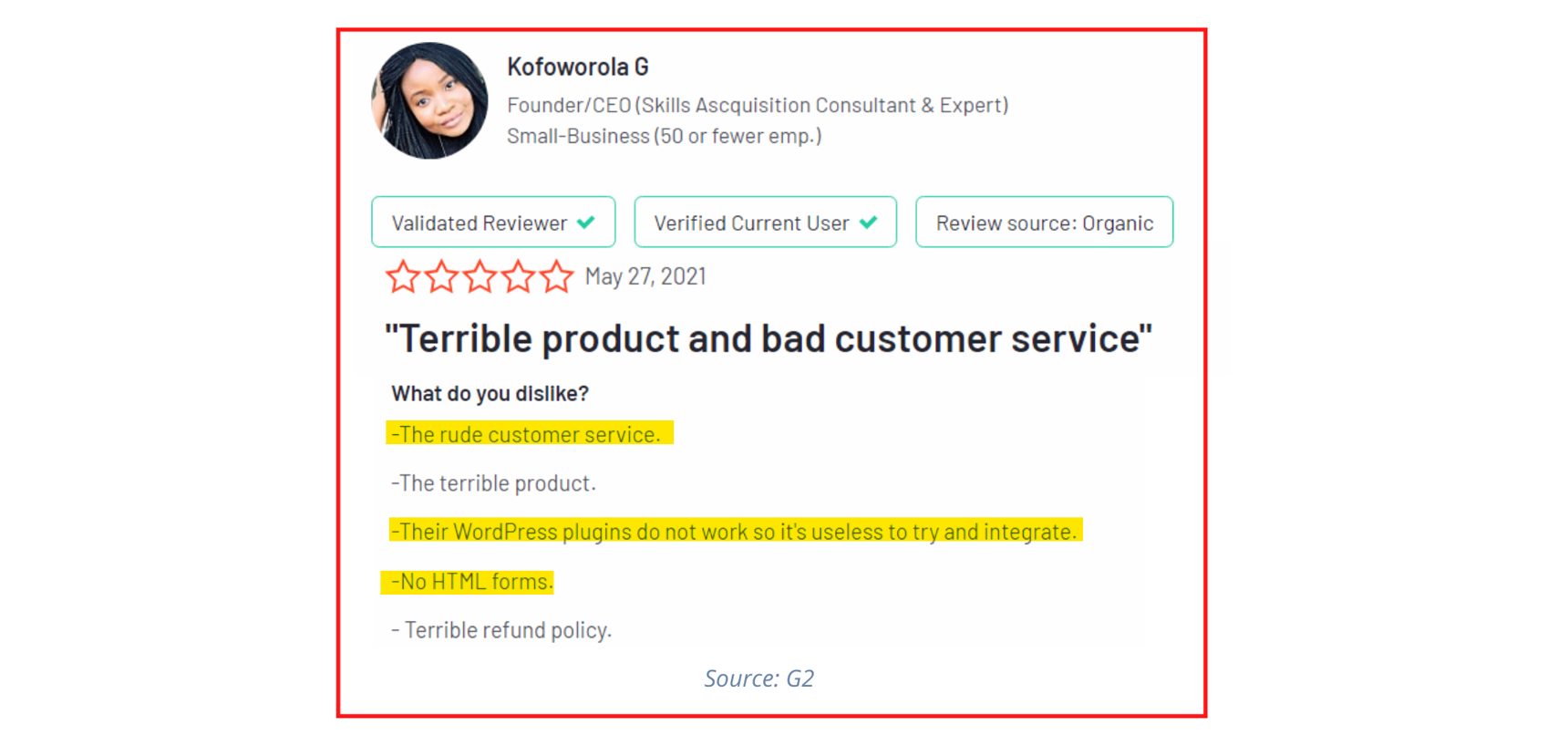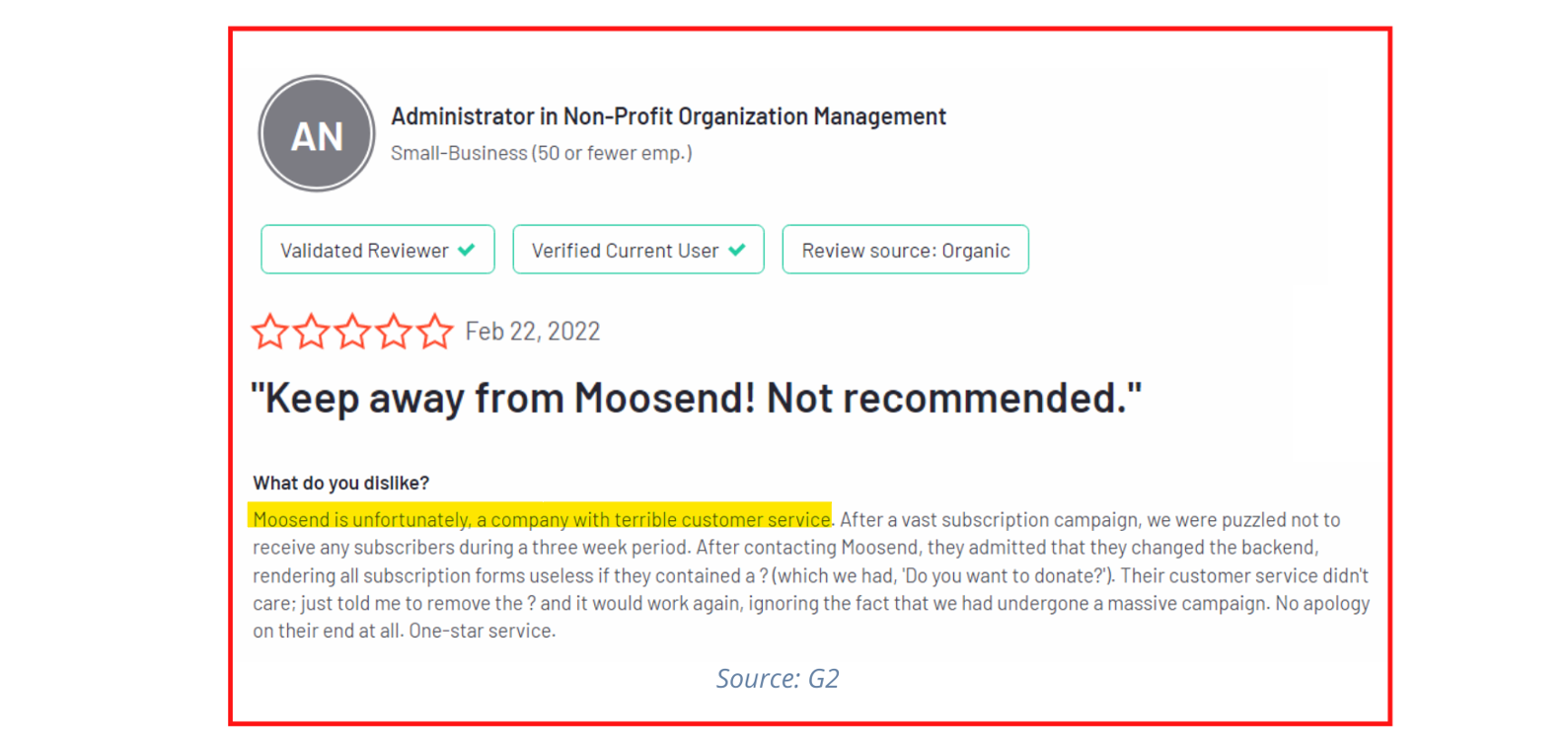 Read also: 13 Free Marketing Tools to Create Awesome, Engaging B2C Content
13 Great Moosend Alternatives For Startups & SMBs
Moosend may be a good email marketing tool, but there are better options — with better pricing. Let's go through the list in detail.
#1. EngageBay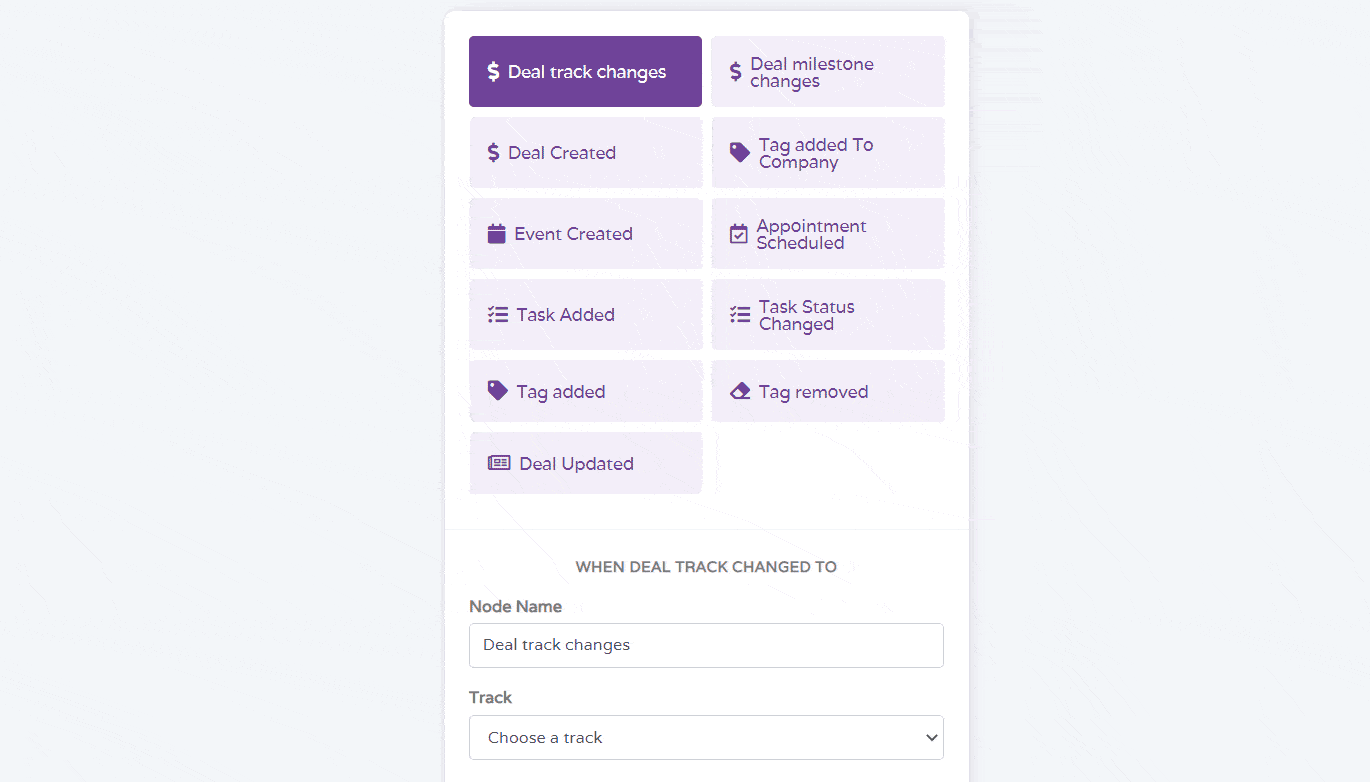 EngageBay promotes itself as an all-in-one marketing, sales, and customer support solution for small businesses. This tool was made by a small business-minded team that strove to create a more affordable tool.
Features
Here are some of the key features of EngageBay:
Social Suite: EngageBay lets you manage all your social media accounts — Facebook, LinkedIn, Instagram, and Twitter — all from a single window. You can even schedule your posts and utilize social listening to find out what your audience is searching for.
Automation: EngageBay lets you automate both simple and complex workflows with ease using the powerful visual automation workflow builder. You can choose from various actions, conditions, and triggers, and let productivity skyrocket.
Email marketing: You can send one-time newsletters with email broadcasts, set up autoresponders, and even launch drip marketing campaigns. With personalization, you can turn your mass emails into tailored promotions and improve conversion rates.
Segmentation: EngageBay's smart segmentation lets you segment your customers into various buckets based on demographics, purchase patterns, and online behavior, and even use custom filters.
Live chat and helpdesk: EngageBay's customer support tools let you deliver customer satisfaction through service automation, ticket management, ticket prioritization, macros, and live chat.
In-CRM telephony: EngageBay's in-CRM telephony feature lets you place and receive calls from within the CRM. You can even record them, use scripts, take notes, and add the details to the CRM for future reference.
Pros
Personalization and rich text formatting make your emails more engaging, thus improving conversion rates.
One of the most affordable CRM solutions in the market today.
Segmenting your audience is easy and effective with EngageBay.
The email template variety is quite appealing.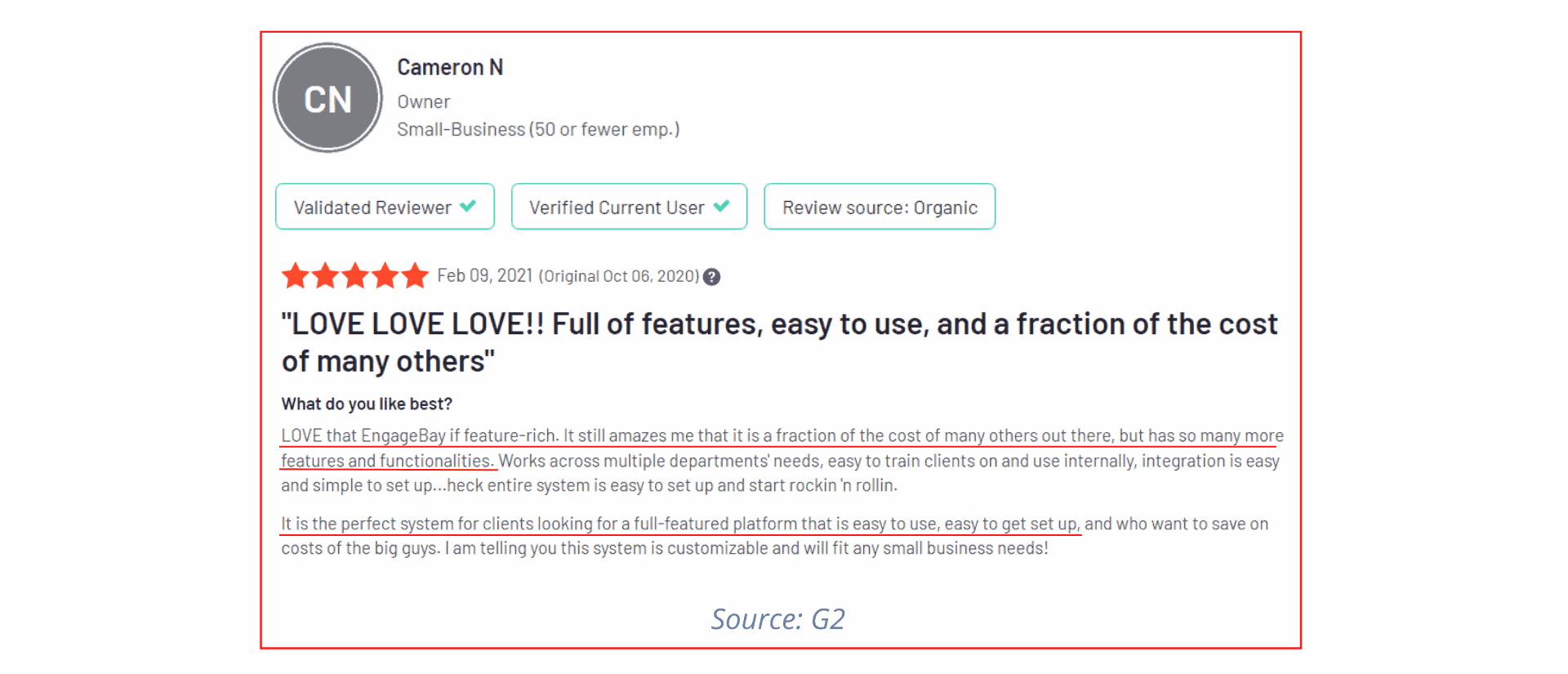 Cons
EngageBay may not have as many integrations as Moosend, but this is set to change as we are adding more integrations regularly.
Pricing
EngageBay offers four plans: Free, Basic, Growth, and Pro.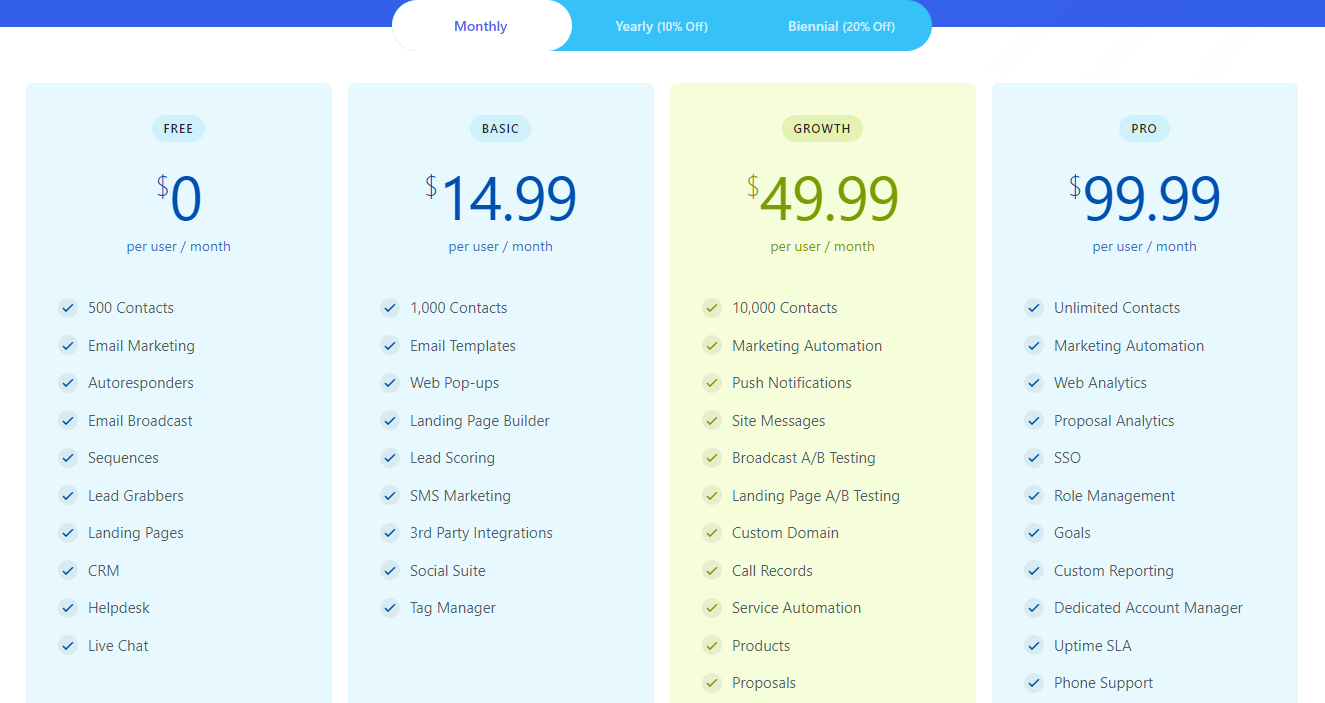 Free: The free plan is free-forever and offers a suite of powerful tools to help businesses get started. These include email marketing, 500 contacts, 1,000 emails/month, autoresponders, email broadcasts, sequences, helpdesk, and live chat.
Basic: This plan costs $14.99/month for 1,000 contacts, 3,000 emails/month, custom deal milestones, group management, canned responses, and more.
Growth: The Growth plan costs $49.99/month for 10,000 contacts, 25,000 emails, marketing automation, web rules, landing page and email broadcast A/B testing, SSO, and timezone-based email delivery.
Pro: The Pro plan costs $99.99/month and offers unlimited contacts, 50,000 emails, proposal analytics, role management, call scripts, call recordings, account-based marketing, and so much more. You also get a dedicated account manager and priority phone support.
EngageBay also offers a 10% discount on annual plans and a 20% discount on biennial plans.
Read also: 8 ConvertKit Alternatives That Make Sense for Small Business Owners
#2. AWeber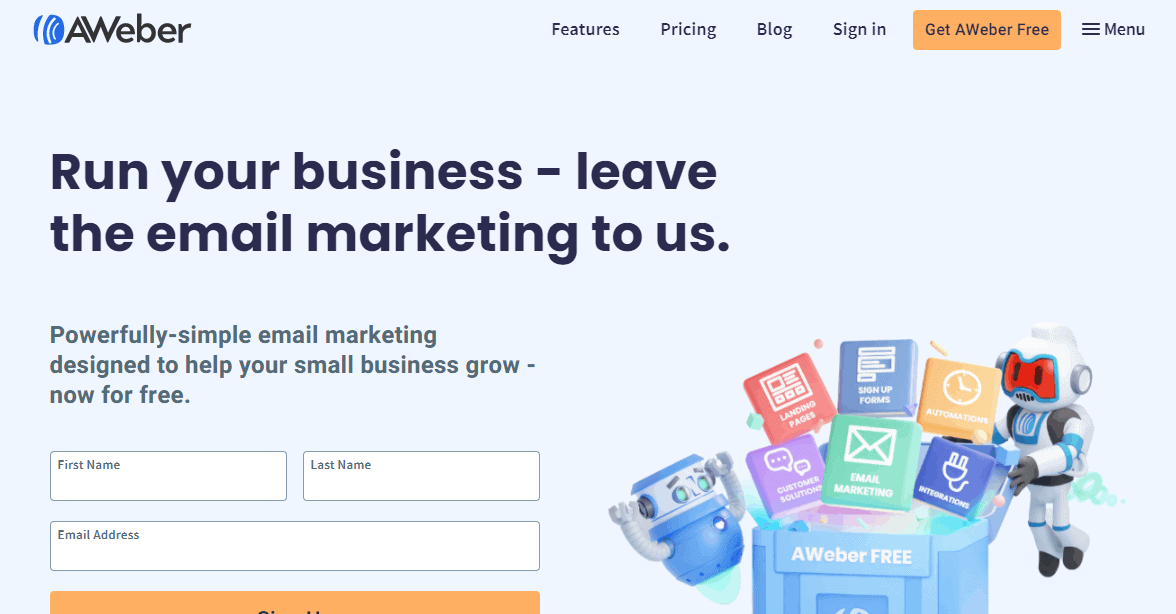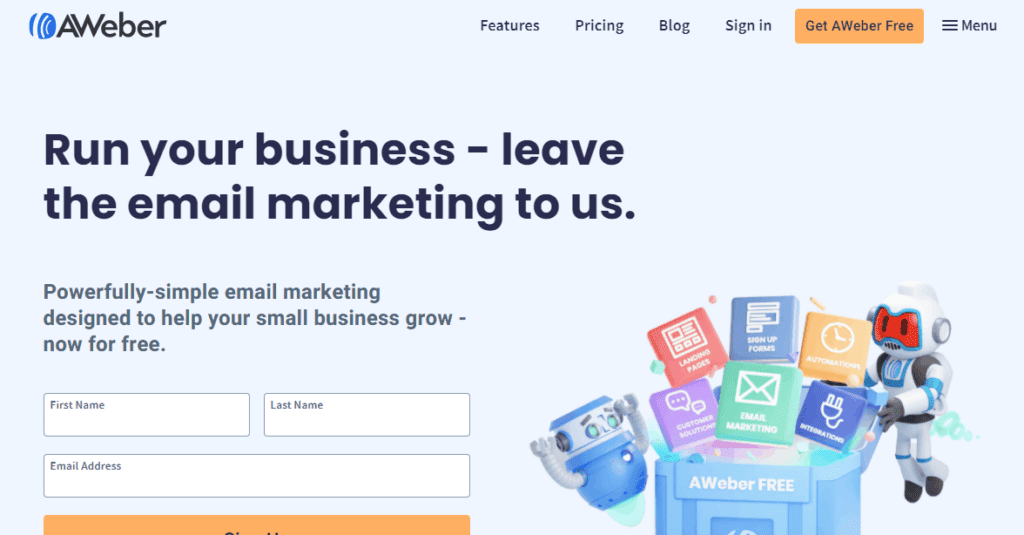 AWeber specializes in email marketing, making their tool an appealing Moosend alternative for small businesses.
Features
Let's take a look at the key features of AWeber:
Canva integration: Canva integrates fully with AWeber, meaning you can design visually stunning graphics without ever having to leave the platform.
Automated email campaigns: AWeber offers "set it and forget it" campaigns with powerful automation. You also get emails, landing pages, forms, funnels, and more in a single place.
Segmentation and tagging: AWeber's contact segmentation feature lets you segment your audience so that you can connect with your customers on a more personal level. You can even add tags to your customers for added segmentation.
Drag-and-drop designer: You can create custom emails in minutes using Aweber's drag-and-drop builder, without the need for designers or programmers.
Pros
AWeber's main service is email marketing, so it goes to show they're pretty good at it!
You get a good selection of email design features, including a full-fledged Canva integration.
AWeber's template library includes more than 700 mobile-responsive templates.
Cons
Moosend is an all-in-one solution while AWeber is not. You only get email marketing.
The Free plan supports just 500 subscribers.
Pricing
AWeber offers two plans: Free and Pro.
Free: AWeber's Free plan is free forever, well, as long as you have 500 subscribers.
Pro: The Pro plan is priced on a sliding scale model:

500 subscribers – $24.99/month
2,500 subscribers – $34.99/month
5,000 subscribers – $54.99/month
10,000 subscribers – $74.99/month
25,000 subscribers – $154.99/month
The paid plan includes these features:
Unlimited message sending
Email sales tracking
Advanced account and audience analytics
Subscriber tagging for segmentation
No AWeber branding on email templates
Click-track links
Purchase tagging
Behavioral automation
Email split-testing
Read also: AWeber vs GetResponse vs EngageBay — Which MA Tool is Best?
#3. ActiveCampaign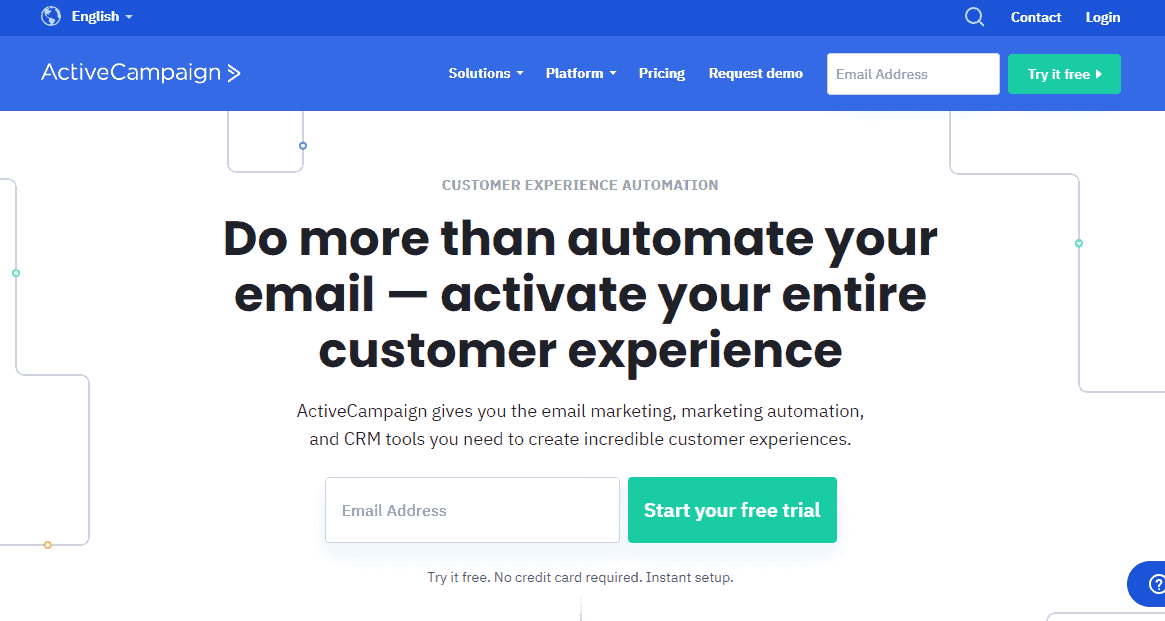 The customer automation and email marketing platform ActiveCampaign is third on our list of Moosend alternatives.
Solutions include support, service, sales automation, CRM, marketing automation, and email marketing.
Features
Automation: Use email automation to set up an email funnel that will convert more leads to customers. ActiveCampaign offers split-testing so you can compare subject lines, email images and videos, links, and email body lengths until you write emails that get great open and click-through rates.
Email scheduling and templates: Stop missing sales opportunities when you can schedule emails that go out at just the right time. ActiveCampaign also offers more than 25 mobile-optimized email templates for all occasions.
Personalized emails: Tap into your contact list to personalize your communications so they appeal to your audience segments.
Email marketing: Select from a great variety of emails in ActiveCampaign, including welcome emails, email autoresponders, targeted emails, and broadcast emails. You can also create emails using ActiveCampaign's handy drag-and-drop designer.
Pros
Conditional content plus list segmentation ensures you can send hyper-targeted emails to your audience groups.
ActiveCampaign has image hosting which you can use for free to upload as many images as you wish.
Site tracking and social sharing help your email marketing campaign extend beyond the inbox.
Cons
ActiveCampaign doesn't have that many prebuilt templates.
Once you have more than 1,000 contacts, all plans outside of the Lite plan might be too expensive for startups and small businesses.
Pricing
ActiveCampaign sells its email marketing and other services in four plans: Lite, Plus, Professional, and Enterprise.
Lite: The Lite plan starts at $9 a month and offers email automation, email marketing, subscription forms, segmentation, campaign and automation reporting, and lead capture forms.
Plus: The Plus plan starts at $49 per month for contact scoring, automation map, conditional content, task reporting, deal assignments, and customer health scoring.
Professional: The Professional plan costs $149/month for website personalization, split automations, attribution reporting, 1:1 training, and a dedicated onboarding specialist.
Enterprise: The Enterprise plan is custom-priced and offers a huge selection of customizations for reporting, domains, objects, and branding within applications. You also get contact enrichment, social data enrichment, free design services, HIPAA support, and more.
The costs mentioned above are for 500 contacts. To get an idea of how the pricing changes as your contacts increase, here's the pricing structure for 2,500 contacts:
Lite: $49/month
Plus: $99/month
Professional: $149/month
Enterprise: Custom-priced
Read also: 5 of the Best ActiveCampaign Alternatives (Features, Pricing)
#4. Sendinblue (Brevo)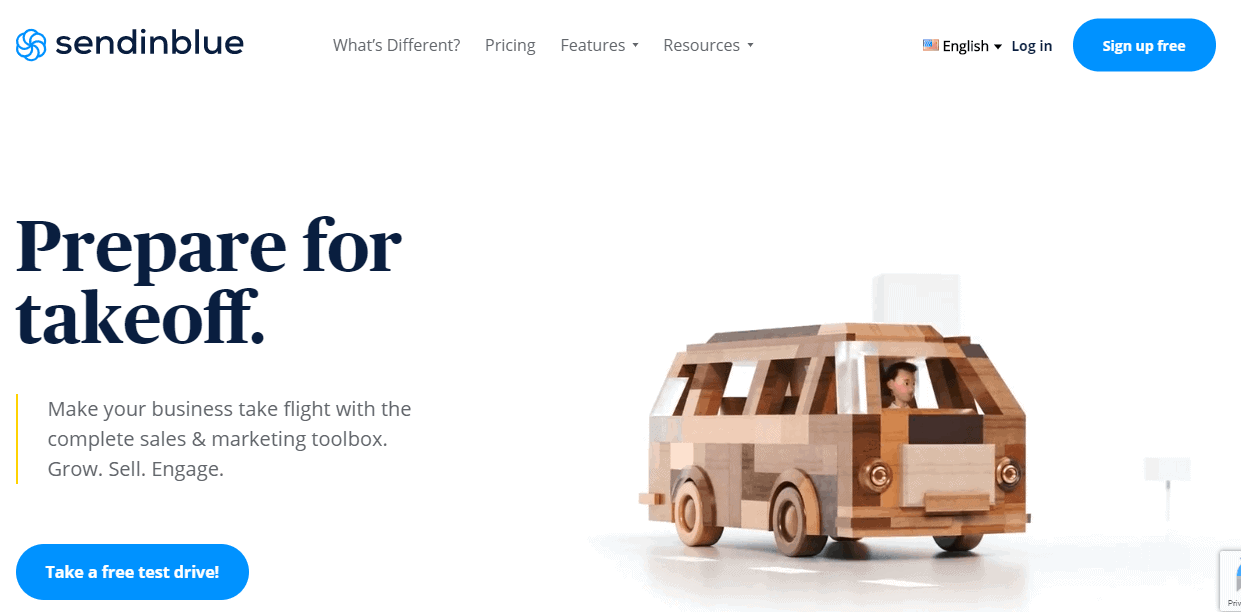 Sendinblue (Brevo) is an excellent digital marketing platform — and a great Moosend alternative. It offers social media advertising, marketing automation, and a host of personalization tools.
Features
These are the key Sendinblue (Brevo) features that make it a worthy alternative to Moosend:
Personalization: Sendinblue's personalization tools are great; you can build stronger relationships with your customers through the centralized CRM, segment your audience and get more engagement, and set up automated transactional emails.
Conversion: With landing pages, signup forms, and Facebook Ads, you can grow your contact list, engage with them, and convert them into paying customers.
Analytics: Sendinblue (Brevo) offers a plethora of insights to help you get a bird's eye view of your performance, including real-time statistics, email heat maps, open and click-through rates, and more. You can also figure out the best time to send emails using send-time optimization.
Integrations: Sendinblue (Brevo) offers both APIs and plugins to extend the capabilities of the platform.
Pros
Sendinblue's comprehensive platform eliminates the need to buy several tools.
The drag-and-drop editor makes you look like a pro email designer even if you aren't.
Machine learning gets smarter as you use it more so your send times will eventually be optimized for the best conversion rates.
Cons
Sendinblue's Premium plan is a bit expensive for some companies.
Pricing
Let's talk pricing. Sendinblue (Brevo) has four plans to select from: Free, Lite, Premium, and Enterprise.
Free: The Free plan is free-forever and offers page tracking, workflow editor, advanced templating language, and Core API
Lite: The Lite plan starts at $25/month for 10,000 emails and adds A/B testing, an option to remove the Sendinblue (Brevo) logo, and removes the daily sending limit.
Premium: The Premium plan starts at $65/month for 20,000 emails and has multi-user access, heat map reporting, device and geography reporting, marketing automation workflows, and retargeting ads.
Enterprise: The Enterprise plan has custom pricing and offers advanced features including a dedicated account manager, advanced integrations such as FTP and Salesforce, phone support, dedicated IP, and unlimited shared inboxes.
Read also: 5 of the Best Sendinblue (Brevo) Alternatives (Pricing, Advantages)
#5. Keap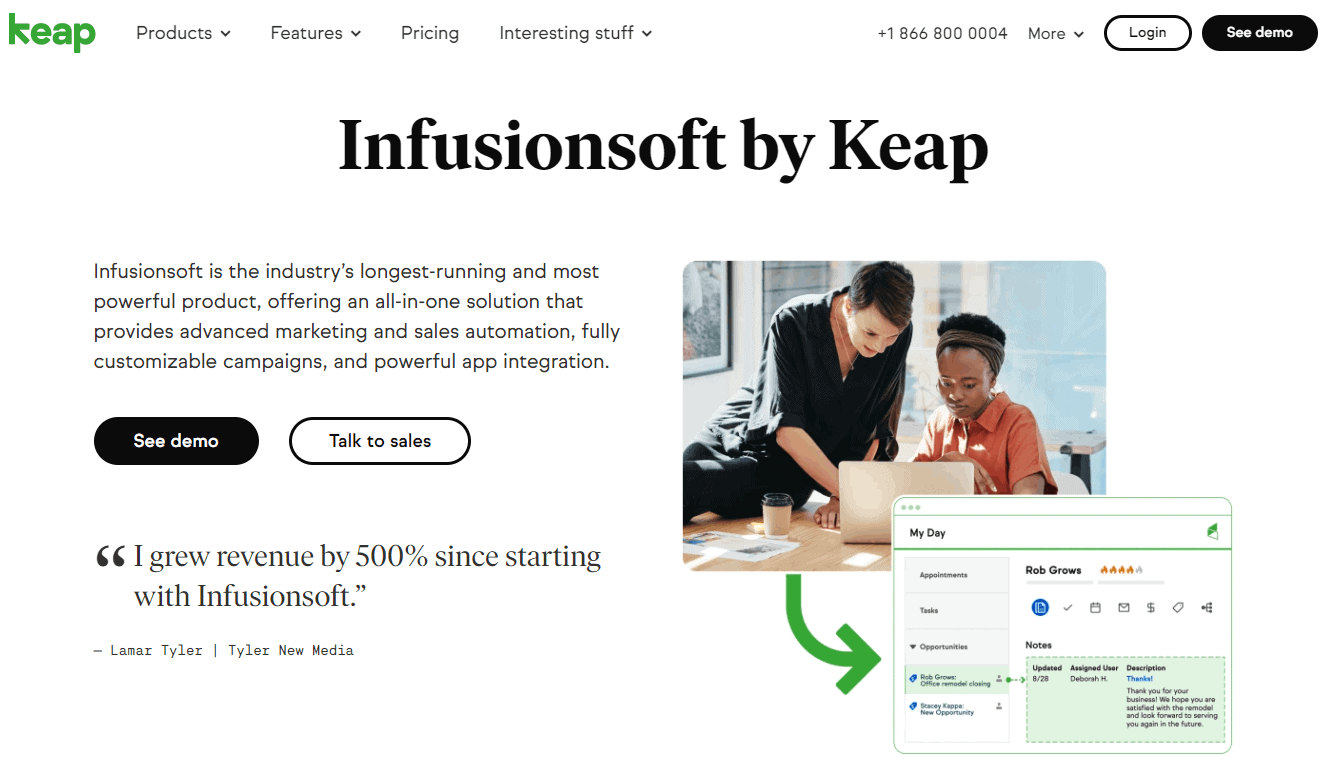 The last one on our list of Moosend alternatives is Keap, formerly known as Infusionsoft.
Keap's list of powerful tools includes appointments, reporting and analytics, payments, a sales pipeline, CRM, automation, and email marketing.
Features
What makes Keap a great alternative to Moosend? Let's find out:
Automation: Automate most of your business processes, including personalization, nurturing leads, and sending emails. Keap will segment your audience and help you send better emails through split testing.
Anti-spam: Keap has an auto-spam checking feature that keeps your emails out of the trash or spam filter.
Keap Business Line: With Keap's free business phone number, you can close deals faster, auto-reply to messages, and have a professional voicemail.
Appointment scheduling: You can automatically schedule appointments, tailor content, and set up autoresponders. The tool also fully integrates with your Google and Outlook calendars.
Pros
Keap is a good solution if you need better email deliverability rates.
Marketing automation features include easy or advanced workflows for customizing and personalizing emails.
Keap's Lite product is specifically made for small businesses.
Cons
Keap's monthly pricing is pretty costly, especially for startups on a tight budget.
You don't have the option of a free plan when using Keap.
Pricing
Keap offers three plans: Pro, Max, and Max Classic.
Pro: The Pro plan costs $129/month for 1,500 contacts and 2 users, CRM, email marketing, landing pages, text marketing, appointments, and automated lead capture.
Max: The Max plan costs $199/month for 2,500 contacts and 3 users, and adds marketing analytics, and promo codes.
Max Classic: This is a custom-priced plan for teams with advanced marketing and sales needs.
Read also: 5 of the Best Keap Alternatives (Features, Pricing)
#6. MailerLite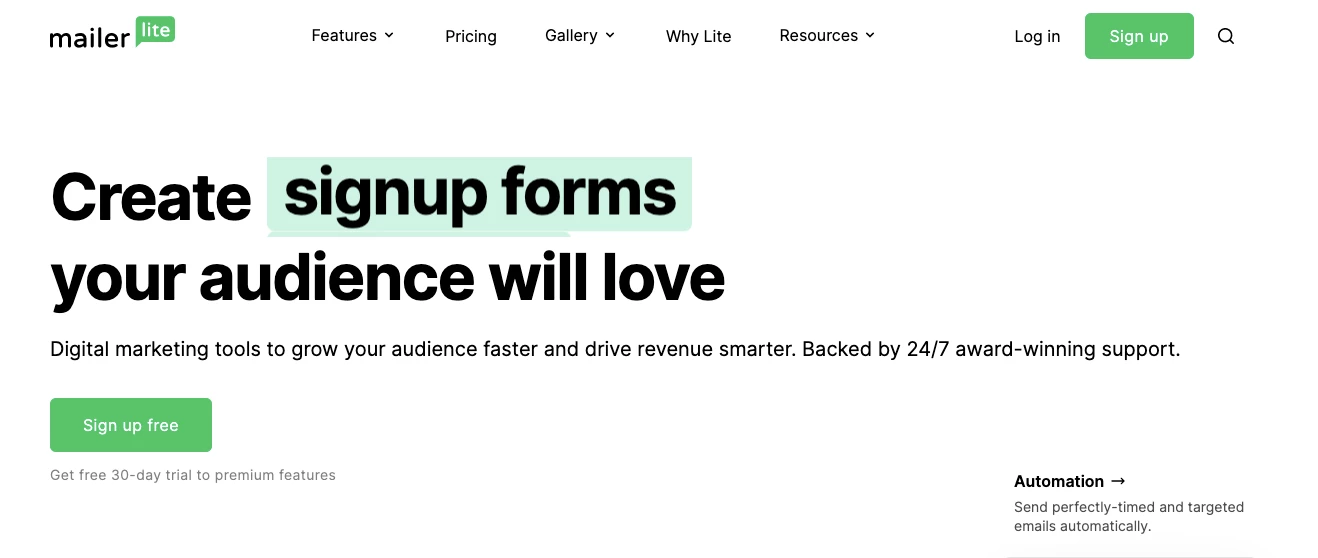 MailerLite is a fantastic Moosend alternative if you're looking for a software solution with a better reputation. Whether you're interested in accumulating more leads, selling products, building a comprehensive website, or sending emails, MailerLite has got you covered.
Features
Let's take a closer look at what MailerLite has to offer.
Automation: It's nearly impossible to stay on top of email tasks manually. MailerLite automates email workflows and sends triggered emails according to customer behavior. You can include three triggers per automation workflow for complex yet hands-off drip campaigns.
Email marketing: If your email campaigns have fallen flat, use MailerLite. You can select from three editors for email marketing campaigns, integrate with eCommerce, segment your audiences, and receive real-time analytics for making improvements.
Blog builder: All websites need a blog. If you have yet to launch yours, try MailerLite. With drag-and-drop content blocks, you can easily create a blog in one afternoon. MailerLite offers a free domain name to make blog creation even easier.
Website builder: It's just as easy to build a website with MailerLite. You can incorporate engaging content like surveys and quizzes, insert custom code, monetize by selling subscriptions or apps, and use integrated email tools to connect easily with your audiences.
Landing pages: MailerLite's customized landing pages will lure in leads and engage with customers so you can sell your products more efficiently. You can use a custom domain, and MailerLite even segments your leads for you automatically.
Pros
You have lots of customization options to make your landing pages, website, and blog truly your own.
You don't have to incorporate more advanced features like custom coding into your sites, using drag-and-drop features instead, but the option is there.
MailerLite can help you monetize your small business, especially if you're an eCommerce company.
Cons
Many users have complained about MailerLite's poor tech support.
Pricing
MailerLite has two pricing structures for its marketing (automation, audience, and email services) and transactional (inbound routing, SMS, and email services) products.
You can choose from four plans for either pricing structure. The costs increase as you grow your audience.
If you have 5,000 contacts, here are the pricing and features of the following plans.
The Free plan is free for only 1,000 subscribers, but it's free forever and ideal for startups. The plan for one user allows you to send 12,000 emails. The other features of this plan are:
24/7 chat support and email for the first 30 days of your subscription
Pop-ups and signup forms
10 landing pages
Websites
Email automation builder
Drag and drop editor
The Growing Business plan costs $29 a month when billed annually. You can send unlimited emails and will receive 24/7 email support for three users.
Besides the above features, you can also use the following:
Unsubscribe page builder
Unlimited blogs and websites
Auto-resend campaigns
Dynamic emails
Unlimited templates
Digital product selling
The Advanced plan costs $35 a month when you pay annually. This plan offers unlimited users, unlimited emails, and 24/7 email support and live chat.
The plan includes these features and everything above:
15 percent off a subscription to Google Workplace
Preference center
Multiple automation triggers
Promotional pop-ups
Custom HTML editor
Facebook integration
The Enterprise plan has custom pricing. It's recommended for companies with more than 100,000 subscribers. You still get unlimited emails for unlimited users and 24/7 email and live chat support.
You can also use all the features MailerLite has to offer, like everything above, plus:
Custom newsletter designs
Custom landing page designs
Deliverability consultation and dedicated IP
Dedicated success manager
Read also: 11 Mailchimp Alternatives and Why You Should Consider Them
#7. Constant Contact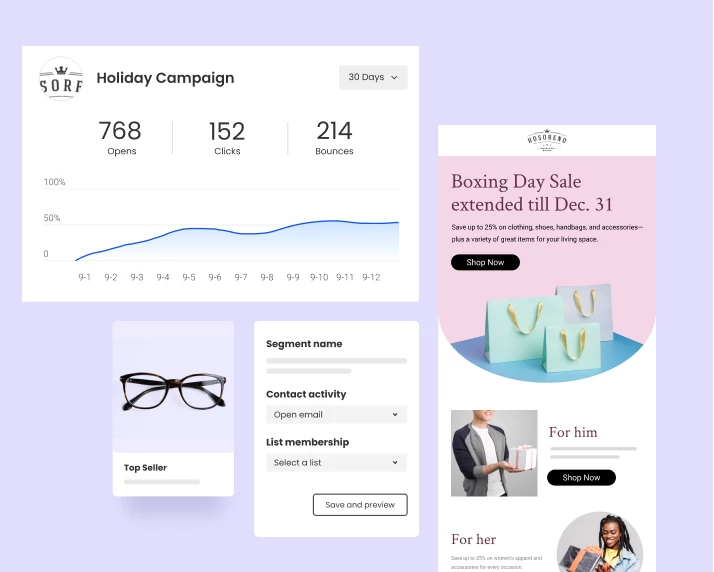 As you weigh your options, you'll come across Constant Contact as one of the best alternatives to Moosend. The company specializes in CRM, lead generation, digital marketing, and email marketing, so it has solutions for salespeople and marketers alike.
Features
Here is an overview of Constant Contact's digital marketing features.
Custom forms: Personalization is a must in converting audiences. Constant Contact lets you build custom forms so no matter what type of audience or campaign, you can create a form to match.
Email and SMS marketing: Constant Contact helps its user base connect with its audiences at just the right moment through email and SMS marketing tools. You can nurture your audience all the way through the sales funnel.
Email automation: If you don't have time to manage a dozen or more email campaigns, don't stress. Constant Contact offers email automation.
Social marketing: Keep your company's social media accounts on one convenient dashboard with Constant Contact. You can use the dashboard to respond to social media messages and schedule your content.
Analytics: Learn what's working for your campaign in real-time with Constant Contact's detailed analytics.
Pros
Constant Contact has solutions for marketers and salespeople so you can create and deploy full-bodied campaigns.
Constant Contact's mobile app allows you to track deals and campaigns even when you're away from the office.
The eCommerce features can help your small business earn more money.
Cons
Customers have complained about the lack of service or poor service.
Pricing
Constant Contact has two pricing plans for its digital marketing services, the Core and Plus plans.
The Core plan starts at $9.99 a month, with pricing increasing as your contacts do. You can use features like engagement reporting, social posting, sign-up forms, email templates, and integrations with Etsy, Canva, WooCommerce, Shopify, and more.
The Plus plan costs $45 a month and increases with more contacts. You get all the features in the Core plan and:
Personalized consultation
Auto-generated targeted customer segments
Drag and drop products from an online shop
Detailed analytics
Automated communications
Dynamic content personalization
Google Ads and other list growth tools
Read also: 10 Competitors That Give Zendesk A Run For Its Money
#8. GetResponse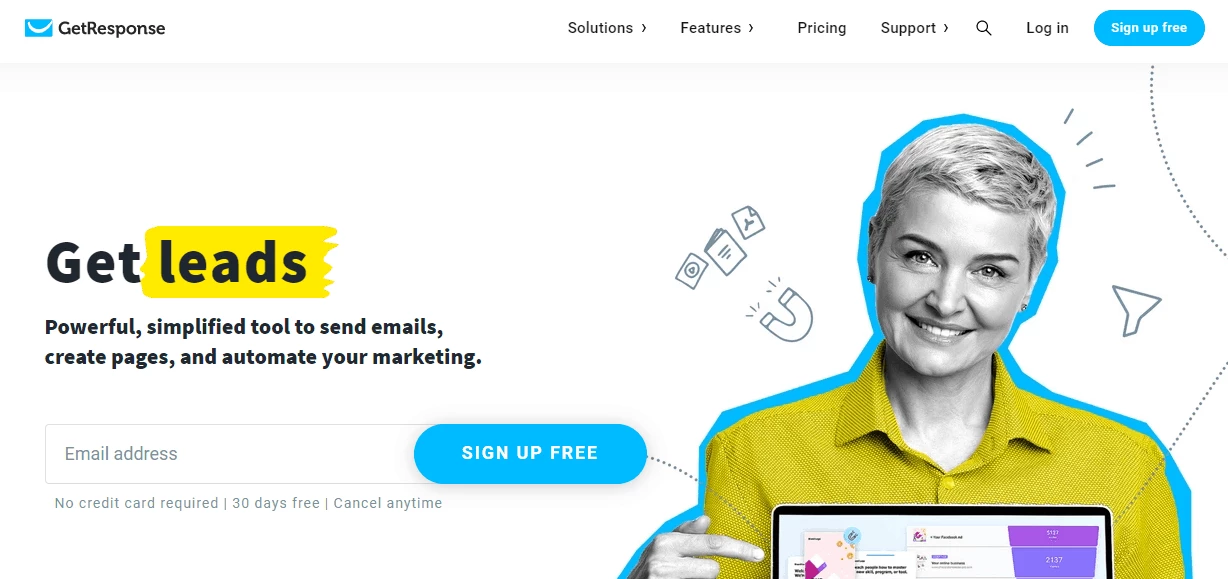 GetResponse is a comprehensive email and digital marketing software with automation, page and email list builders, AI recommendations, and eCommerce solutions. Preferred by brands from IKEA to Stripe and Zendesk, GetResponse has a sterling reputation and is hence an obvious name on any list of Moosend alternatives.
Features
Let's dig deeper into the features included with a subscription to GetResponse.
AI email generator: GetResponse's latest feature is an AI email generator that produces subject lines and email body content for you.
Email marketing: If you prefer to do your email marketing the old-fashioned way, GetResponse offers that too. You can use automation to send emails (including automated blog digests) and transactional emails, newsletters, and autoresponders.
Website builder: GetResponse has a code-free website builder driven by AI. Just share your visual preferences or brand vision and GetResponse's AI will take care of the rest, offering personalized website templates. You can also build custom website designs through GetResponse.
Marketing automation: GetResponse introduces prebuilt workflows to save time, or you can create your own for generating leads, building effective campaigns, and selling products.
Email list builder: Build your email list fast using GetResponse. You can import contacts, score leads, tag them, and add custom fields to gather contact information.
Integrations: GetResponse integrates with all the sales and marketing tools you use already, among them PrestaShop, Shopify, WooCommerce, and Magento.
Pros
GetResponse powerfully harnesses AI to save you time and simplify your workflows.
Of course, if you prefer to take a more hands-on role, you can also do that, and quite easily!
GetResponse offers a full suite of products for building all elements of your website and emails.
Cons
Pricing
GetResponse has four pricing plans: Free, Email Marketing, Marketing Automation, and eCommerce Marketing.
The Free plan for up to 500 contacts is always free. The included features are:
Pop-ups and signup forms
Connect your own domain
Website builder
One landing page
2,500 landing pages a month
The Email Marketing plan starts at $19 a month with 1,000 contacts if you pay by the month. You can use all the Free plan features and:
Autoresponders
Basic segmentation
Website builder
Unlimited landing pages
Unlimited newsletters
AI email generator
The Marketing Automation plan is GetResponse's most popular. If you pay by the month, the plan costs $59 a month for 1,000 contacts.
You gain access to all the above features, plus:
Sales funnel
Contact scoring
Advanced segmentation
Webinars
Event-based automation
Marketing automation
The eCommerce Marketing plan costs $119 a month if you have 1,000 contacts and pay by the month. This plan provides everything GetResponse has to offer, such as:
Web push notifications
Product recommendations
Promo codes
Abandoned cart recovery
eCommerce segmentation
Quick transactional emails
Read also: Sendinblue (Brevo) vs Mailchimp And Other Email Tools [Tables]
#9. Mailchimp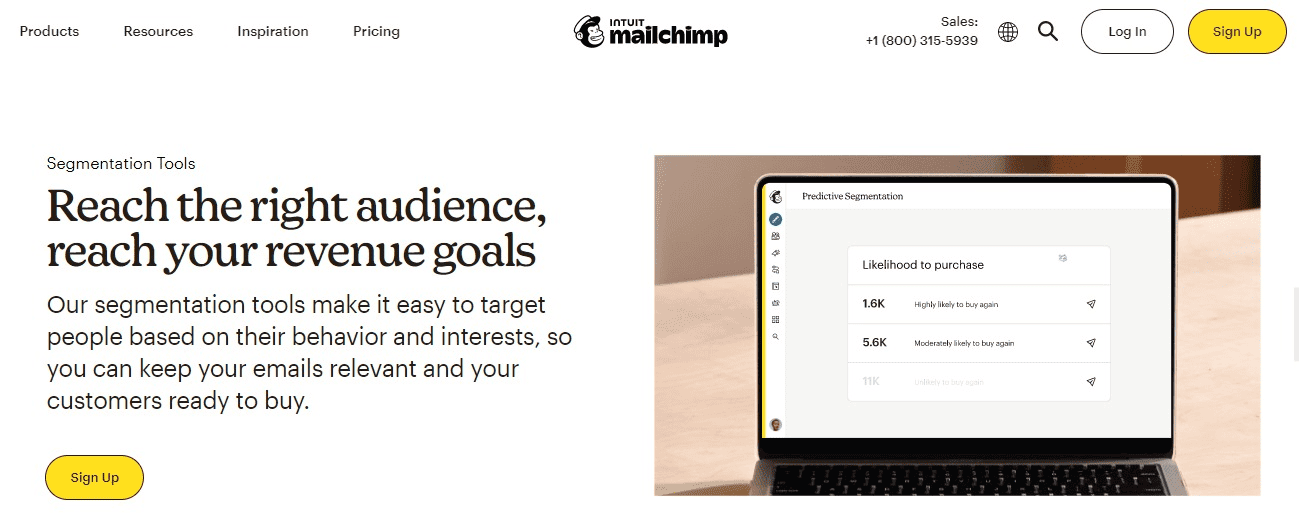 Mailchimp is one of the better-known email marketing solutions available today. Mailchimp also offers marketing automation and digital marketing solutions, making it one of the top alternatives to Moosend.
Features
Here are some great features of Mailchimp that are comparable to Moosend (and maybe even better!)
Marketing automation: Through Mailchimp's Customer Journey Builder, you can build personalized marketing automation workflows. You can also use features such as retargeting ads and transactional emails.
Email marketing: By far Mailchimp's most pervasive and popular feature, email marketing includes segmentation, automation, and drag-and-drop templates. You can also use AI and review detailed analytics.
Landing pages: Mailchimp can help you create alluring landing pages. You can use a custom domain and Mailchimp's landing page templates, and even create mobile landing pages.
Social media marketing: Go further on social media with Mailchimp. Create organic social posts, make Instagram or Facebook ads, repurpose social content, and target your audience to reach just the right people.
Campaign Manager: The Campaign Manager within Mailchimp features goal selection, calendaring, internal notifications, support tickets, and to-do lists. You can also integrate with webhooks.
Behavior-based marketing: Introduce behavioral targeting into marketing with audience segmentation, custom campaigns, purchase behavior, app engagement, and website engagement.
Pros
Mailchimp is one of the most trusted names in marketing and email software.
You can automate parts of your marketing journey for time savings.
Mailchimp provides detailed insights and analytics.
Cons
Mailchimp can be quite expensive.
Pricing
If you're considering Mailchimp for your marketing needs, you must pick among four plans. Your options are the Free plan, Essentials, Standard, and Premium.
The Free plan costs $0 but limits you to one user and 1,000 emails a month. You can only use limited pre-built email templates, and your Mailchimp email support lasts just 30 days.
The Essentials plan is free for your first month, then costs $13 a month if you have 500 contacts. Now you can add three users to the plan and send 5,000 emails a month. You also get 24/7 support by chat and email.
The Standard plan is free for your first month, then you pay $20 a month if you have 500 contacts. You can add five users and send 6,000 emails a month. You get 24/7 support as well.
The Premium plan starts at $350 a month for 500 contacts, with no option for a free month before paying. You can add unlimited audiences and unlimited users and send unlimited emails. You may also enjoy priority support.
17 Mailchimp Alternatives With Pricing, Comparison Tables
10. HubSpot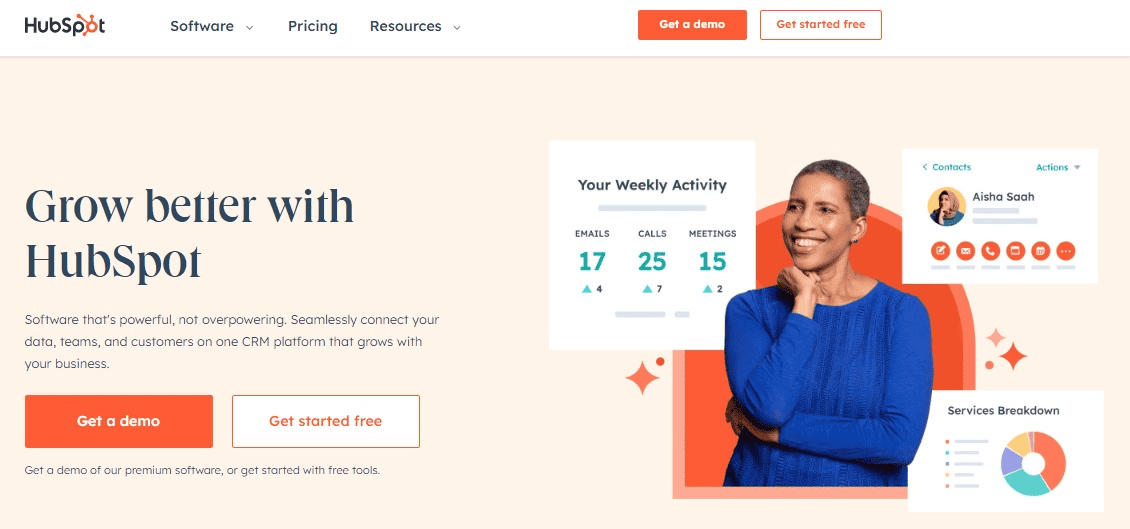 As much of a heavy-hitter as Mailchimp is, HubSpot is bigger still. It's arguably one of the largest brands in the marketing software industry. But does that make it one of the best Moosend alternatives as well? Let's explore.
Features
For the sake of this article, we'll look at HubSpot's marketing features. Here's an overview.
Forms: How do you keep leads entering the sales funnel? Through irresistible forms! HubSpot makes it easy to create these forms so you can better engage with your audience.
Campaign management: Once your campaign goes live, use HubSpot to track its progress, prioritize specific tasks, and ensure you meet key benchmarks to achieve success.
Marketing automation: HubSpot has all sorts of marketing automation tasks, including bulk data management, cross-functional operations, email personalization, and lead scoring.
Advanced marketing reporting: The detailed analytics HubSpot provides in its advanced marketing reporting will help you gauge the success of your campaigns and budget for future campaigns accordingly.
Pros
HubSpot has the instant name recognition that marketers and salespeople trust.
The organized "hubs" make it easy to tailor a solution for you.
HubSpot lets you try its services for free.
Cons
HubSpot is very expensive, much more so than any other Moosend alternative we've looked at so far.
Looking for the perfect HubSpot competitors? Our in-depth guide covers the top alternatives.
Pricing
So let's explore HubSpot's notorious pricing, shall we?
You have two pricing options within the Marketing Hub, Professional, and Enterprise.
The Professional plan starts at $800 a month if you opt for annual billing. You can add up to 2,000 marketing contacts and will pay $225 a month for each additional 5,000 contacts.
The plan includes these options:
1,000 lists for segmentation
Content strategy
Multi-language content
50 connected social media accounts, post scheduling for three years, and 10,000 posts a month
CTAs
SEO analytics
A/B testing
Email health insights
100 custom reports
Advanced SEO recommendations
100 blogs
1,000 custom properties
No HubSpot form branding
300 omnichannel marketing automation workflows
ABM automation and tools
1,000 campaigns for each portal
Ad retargeting for five audiences
Form automation
HubSpot mobile app
Five contact-scoring properties
Email automation
The Enterprise plan starts at $3,600 a month with annual billing. The plan includes 10,000 marketing contacts. You're charged $100 a month for every 10,000 new contacts.
Besides the above features, the Enterprise plan also offers:
10 custom Salesforce objects for each account
Five adaptive testing page variations at once
10 custom object definitions and 500,000 records
Custom behavioral events
Admin notification management
Single sign-on
Content partitioning
300 hierarchical teams
One sandbox for each account
Customer journey analytics
1,500 lists for segmentation
100 synced ad conversion events
300 connected social media accounts
500 custom reports
1,000 omnichannel marketing automation workflows
15 audiences for ad retargeting
25 contact scoring properties
Advanced dynamic personalization
200 shared inboxes
14 Surprisingly Awesome HubSpot Alternatives
#11. Campaign Monitor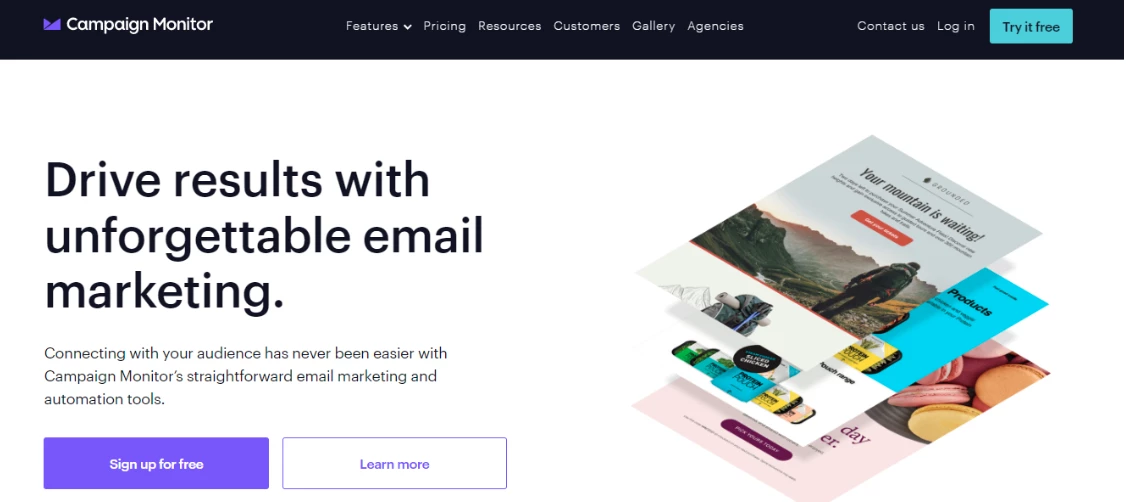 Does your email marketing need some help? You might consider using Campaign Monitor instead of Moosend. This software will help you build better email marketing campaigns.
Campaign Monitor uses helpful integrations with tools like Shopify, WordPress, Salesforce, Unbounce, OptinMonster, and more.
Features
So what kinds of features does Campaign Monitor offer? Let's go in-depth to answer that question.
Email templates: Campaign Monitor has prebuilt templates to select from, but you can always build your own branded templates if you wish. All templates use HTML, a simple coding language for many.
Segmentation: Dividing your audience into groups is easy when you have Campaign Monitor. You can use custom data to segment your audience and send them tailored content that will drive results like conversions and sales.
Personalization: Today's consumers want personalized content, which is exactly what Campaign Monitor gives you. Your audience will begin reacting more strongly to the content you send.
Marketing automation: Automating emails means sending them to just the right parties when they're the most receptive. With Campaign Monitor, you can create workflows that make email campaigns much more hands-off.
Analytics: The takeaways from your current campaigns can inform future campaigns, so you need detailed analytics on your side. Campaign Monitor will paint a clear picture of all your campaigns, including where you need to improve.
Pros
Campaign Monitor is a trusted email marketing service.
The email template variety you can select from is top-notch.
You can even launch SMS marketing campaigns to broaden your campaign approach.
Cons
The software has a bit of a steep learning curve.
Pricing
Campaign Monitor offers a free trial, then you must subscribe to one of its three plans.
The Basic plan starts at $9 a month with 2,500 emails and unlimited users.
The Unlimited plan costs $29 a month and allows you to send unlimited emails. Some features included with your subscription are:
Drag-and-drop builder
Custom templates, including coded templates
Branded templates
Basic segmentation
Signup forms
A/B testing
Mobile optimization tools
Real-time analytics
RSS feed trigger
Transactional emails
Campaign tags
Dynamic content
Custom fields
Time zone sending
Send time optimization
The Premier plan costs $149 a month. In addition to all the great features above, this plan also provides features such as:
Advanced segmentation
Premier email support
Mailgun vs Sendgrid and Other Email Tools
12. ConvertKit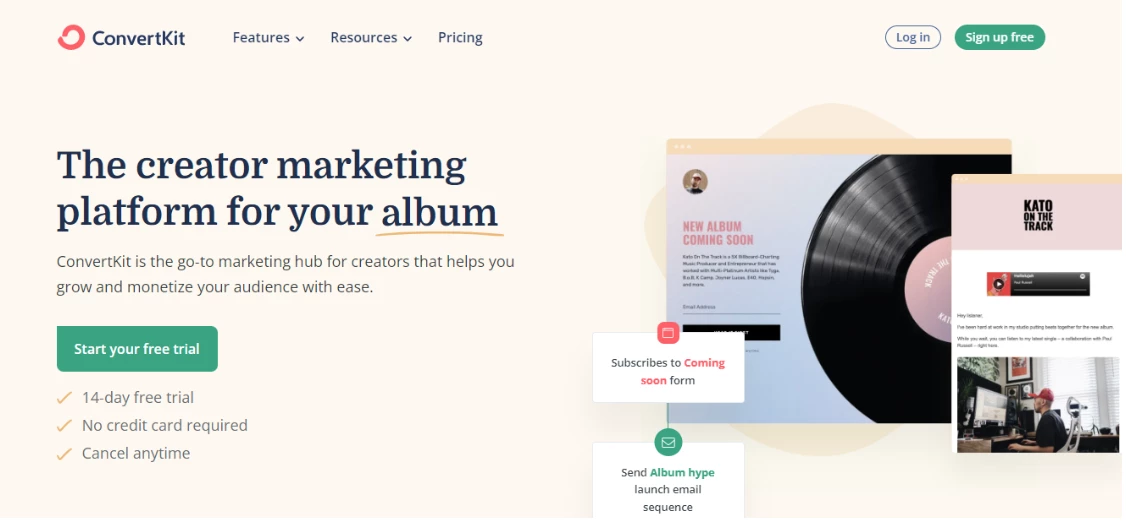 As you contemplate Moosend alternatives, ConvertKit is one you won't want to miss. Touting itself as "the creator marketing platform," ConvertKit is a marketing hub with features to scale your business and increase your bottom line.
Features
Here's an overview of ConvertKit's features.
Landing page builder: ConvertKit's landing page builder is free. Each template you see is customizable so you can add uniqueness to your landing pages. Access 100,000 stock images and put together mobile-optimized custom landing pages without knowing any coding.
Signup forms: You can also create signup forms for free using ConvertKit. Modify each responsive template with custom fields. You can create an unlimited number of forms that all comply with GDPR guidelines.
Email designer: Making appealing emails has never been easier than with ConvertKit. You can add images, CTAs, and other elements to make your email shine. The email designer is coding-friendly, but code is not mandatory!
Email marketing: Included inline styling options make it easy to implement videos, images, and buttons to your emails, and ConvertKit's large email template library will serve as your inspiration when creating emails. You can also segment your audience and automate email funnels.
Pros
ConvertKit offers exceptional email marketing and email creation services.
Many of ConvertKit's most covetable services are free.
ConvertKit has automated features to save you time.
Cons
Users have complained about the customer service.
Pricing
ConvertKit offers three pricing plans with costs that scale up as your subscribers do.
If you have 5,000 subscribers, you'll pay $66 a month for the Creator plan on an annual plan. The Creator Pro plan costs $93 a month on the annual plan. There's also a Free plan for $0 a month.
The Free plan offers the following features:
Community support
Audience segmentation
Audience tagging
Subscriptions and digital products
Unlimited forms
Unlimited broadcasts
Unlimited landing pages
With the Creator plan, you can expand on ConvertKit's features with the following:
Third-party integrations
Automated email sequences
Email and live chat support
Visual automation builders
Migration from another tool
One extra team member
The Creator Pro plan includes everything above and adds on these features:
Subscriber scoring
Unlimited team members
Advanced reporting
Newsletter referral system
ConvertKit Pricing Too Much for Your Business? Check Out the 3 Best Alternatives
13. Drip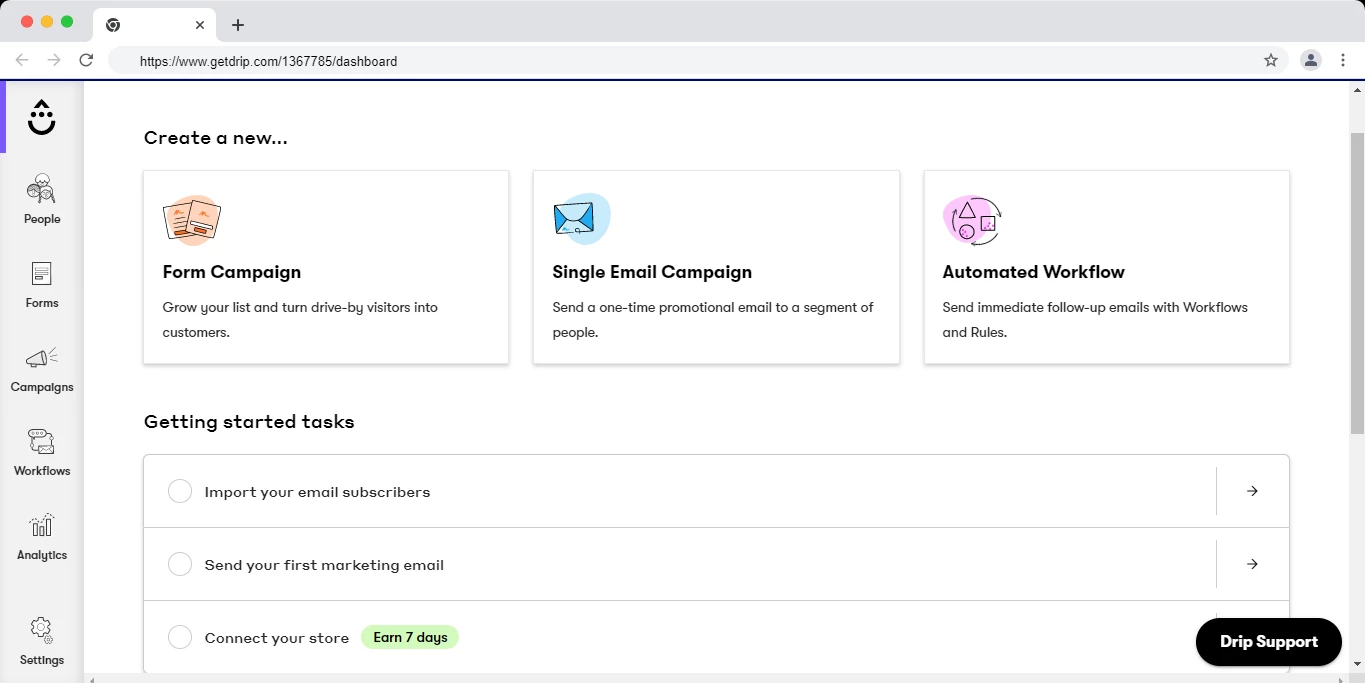 As an eCommerce brand owner, you know your time is stretched thin. If using Moosend only complicates matters further, it's time to switch to an automation solution like Drip. You should see a noticeable difference in your workflow.
Features
The following features of Drip make it a fantastic alternative to Moosend.
Segmentation: Drip segmentation looks at multiple sources like marketing and store data to create invaluable psychographics you'll rely on to split your audience.
Automation: Build workflows that automate everyday tasks and save time. The visual workflow builder Drip offers is incredibly easy to use, so don't be surprised when you automate all sorts of jobs around the office.
Email: Drip's point-and-click email builder makes building beautiful emails quick and efficient. You can introduce dynamic content (including cart URLs) and schedule when your emails go out.
Pros
Drip is an efficient solution for small businesses and eCommerce companies looking to save time and streamline processes.
The combination of segmentation and email-sending tools will make your email marketing more powerful than ever.
You can use a free trial before paying for a plan.
Cons
Users have said Drip has a lot of outages.
Pricing
Drip charges you according to your subscriber count. You'll pay $39 a month for 2,500 subscribers, $69 a month for 4,000 subscribers, and $154 a month for 10,000 subscribers.
A Complete Mailchimp Vs Drip Email Marketing Comparison
Conclusion
While Moosend is a great marketing automation platform, there are better options with better pricing.
For small businesses looking for a comprehensive marketing, sales, and customer support solution that does not break the bank, EngageBay is one of the best alternatives to Moosend.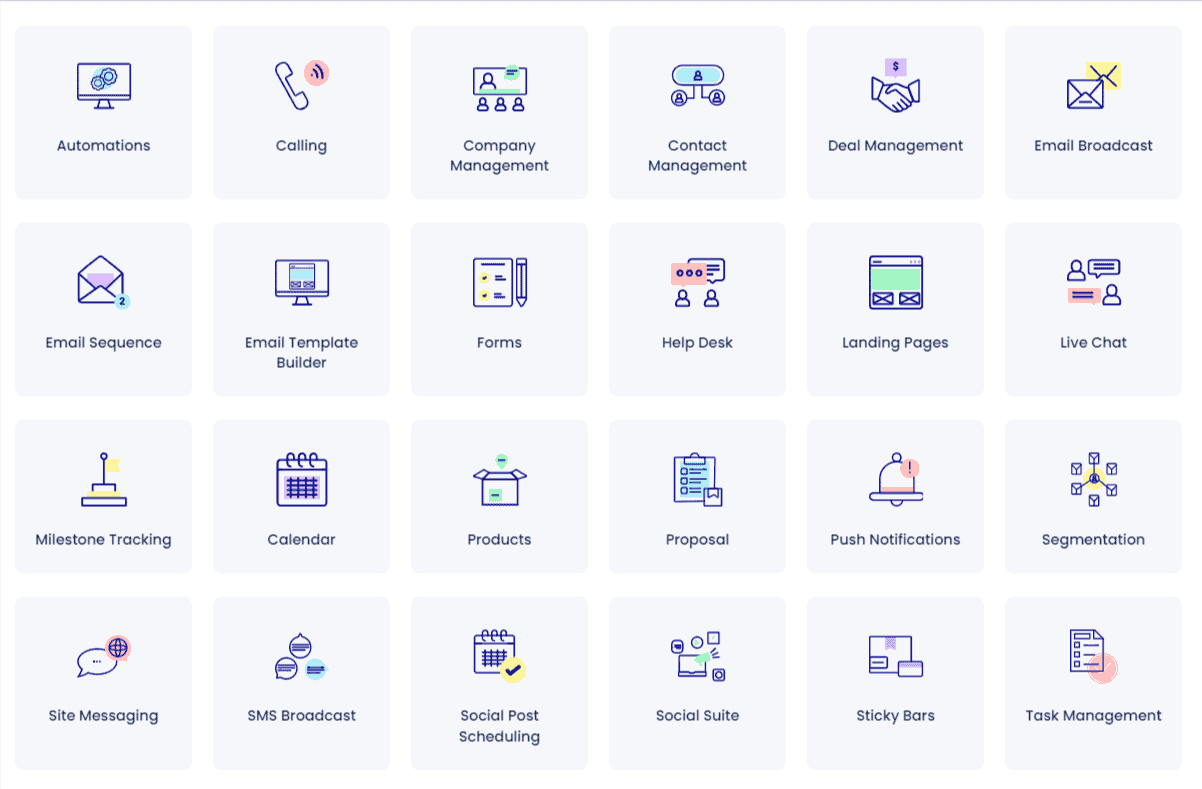 It offers a free-forever plan with a suite of powerful tools for businesses just starting out. In addition, EngageBay also offers pro-level tools for companies that need the extra power — all under $100/month!
Sign up for free, or book a demo with one of our experts.
Adios!