Back in 2006, two MIT students named Dharmesh Shah and Brian Halligan founded a little company called HubSpot. Little did they know that, by 2018, the revenue had increased to hundreds of millions. Talk about growth.
When it comes to sales, inbound marketing, customer relationship management (CRM), and more, HubSpot is the cream of the crop, right? Yes and no.
HubSpot has a lot of competitors, some of the biggest ones being SalesForce and ActiveCampaign. There's also another little matter. Despite that HubSpot advertises some of its services for free, such as its CRM, to really get much mileage out of it, you need to pay for the rest of HubSpot's services.
It's true that HubSpot is still the most well-known marketing software out there, but with all that fame and—yes, even some notoriety—comes those high prices. In fact, HubSpot can cost so much that it may be out of reach to small businesses and startups alike.
That's why we marketers and salespeople are always on the hunt for HubSpot alternatives. In this article, we've found seven great HubSpot alternative tools and software that should fit the bill. They're all similar to HubSpot in their own ways, but without that huge price tag that turns so many small businesses away.
Here are the top 8 best HubSpot alternatives:
#1. EngageBay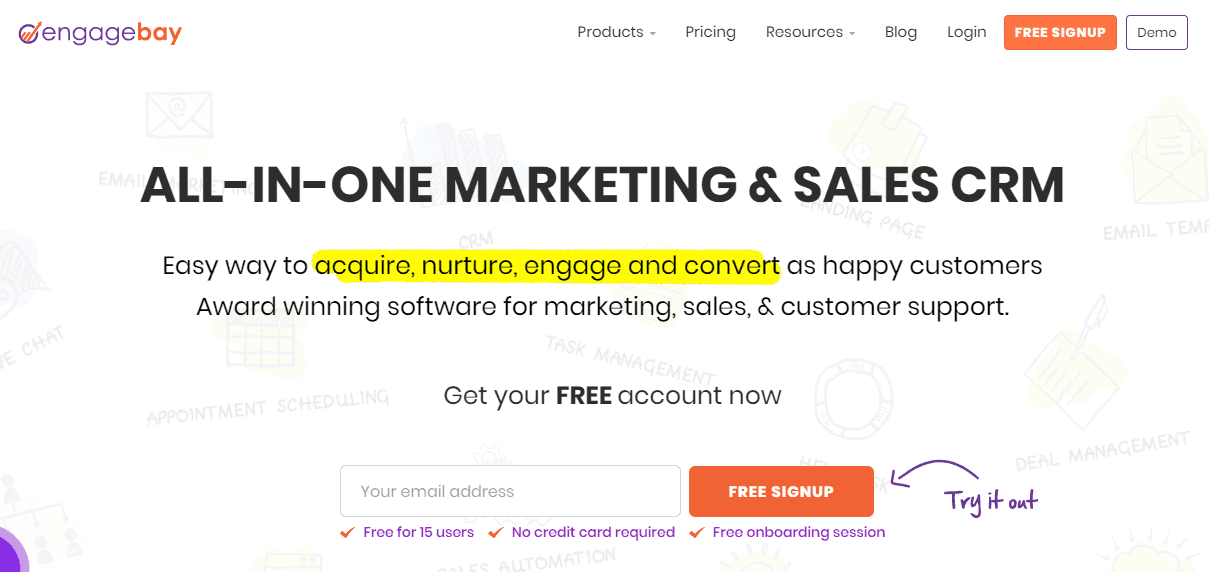 What Is It?
First and foremost, we have our own HubSpot alternative, EngageBay. Our team started EngageBay as a means for startups and small businesses to afford a comprehensive, all-in-one marketing suite. We know firsthand how expensive HubSpot can be for these businesses and how limited their options otherwise are. They either have to pay for several tools and apps to fill in the gaps or go without certain features they need. Not with EngageBay.
Features
EngageBay has a slew of products in its suite. In the Sales Bay, you can find CRM, sales enablement tools, contact management software, and appointment scheduling software. In the Marketing Bay, there's email marketing, marketing automation, SMS marketing, web forms, landing pages, email sequences and more. On the support end, there is a powerful helpdesk and live chat software.
Let's begin with what you'd get in the Sales Bay:
CRM telephony software lets you track the context and content of conversations so you can use this information to make the most targeted offers to your leads
The appointment scheduling software allows your clients to choose when they can meet with you; this freedom increases the chances of the customer sticking with the appointment
Email tracking that syncs with Outlook and Gmail and lets you review the status of your emails, manage contacts, get notifications in real time, or build from email templates
In the Marketing software part of EngageBay, you can:
Automate your routine marketing processes using our visual marketing automation builder
Create a marketing system that has email personalization, email sequences, drip email campaigns, and built-in analytics
Boost your social media presence with brand mention monitoring, channel engagement stats, and social media post scheduling
Use automation for subscribing leads, event tracking, data syncing, email and social post scheduling, and so much more
Design your own landing pages, be those customized ones or those from a series of EngageBay templates and the drag-and-drop designer
Make your own web forms, again with customization or EngageBay's drag-and-drop designer and/or templates for better lead nurturing and engagement
For a free HubSpot alternative, EngageBay's all-in-one CRM lets you achieve the kinds of results you want for your business, no expensive fees included.
👉👉EngageBay is the #1 HubSpot alternative for growing companies – Signup and experience for yourself. Get FREE lifetime access (up to 15 users) from here 🏆🏆
Integrations
EngageBay integrates with hundreds of popular apps you which you use every day.
Pricing
Depending on the services you want to use, you can pay for just those with EngageBay. For instance, the All-in-One Suite has four plans: Free, Basic for $8.99 a month, Growth for $29.99 a month, and Pro for $47.99 a month. You can also pay annually or biennially should you want to.
The Free plan includes live chat, helpdesk, CRM, landing pages, lead grabbers, sequences, email broadcasts, autoresponders, and email marketing. You can also send 1,000 branded emails each month to 1,000 contacts.
You get the same features as above with the Basic plan as well as a tag manager, social suite, third-party integrations, SMS marketing, conversational inbox, lead scoring, a landing page builder, web pop-ups, and email templates. You can send 10,000 branded emails each month to 15,000 contacts.
The Growth plan gives you proposals, service automation, call records, a custom domain, landing page, and broadcasting A/B testing, site messages, push notifications, and marketing automation. You also get the above features as well as 25,000 branded emails a month for 50,000 contacts.
Lastly, the Pro plan includes all covered features as well as phone support, uptime SLA, a dedicated account manager, custom reporting, goals, role management, and SSO. You also get proposal analytics, web analytics, marketing automation, and 50,000 branded emails a month to send to unlimited contacts.
The Sales and Marketing Bays have a Free plan, a Basic plan at $7.79 a month, a Growth plan at $14.99 a month, and a Pro plan at $29.99 a month.
Pros and Cons
Going forward, we'll provide a succinct pros and cons section for each software. Let's begin with EngageBay, shall we?
Pros:
Designed for small businesses and startups specifically as an alternative to HubSpot
The CRM is free to subscribers so they don't spend more money on a necessity
There's also a Free plan for those on a budget, but the other plans are inexpensive
Cons:
Could use more integrations, but EngageBay is adding more all the time
👉👉EngageBay is the #1 HubSpot alternative for growing companies – Signup and experience for yourself. Get FREE lifetime access (up to 15 users) from here 🏆🏆
#2. Drip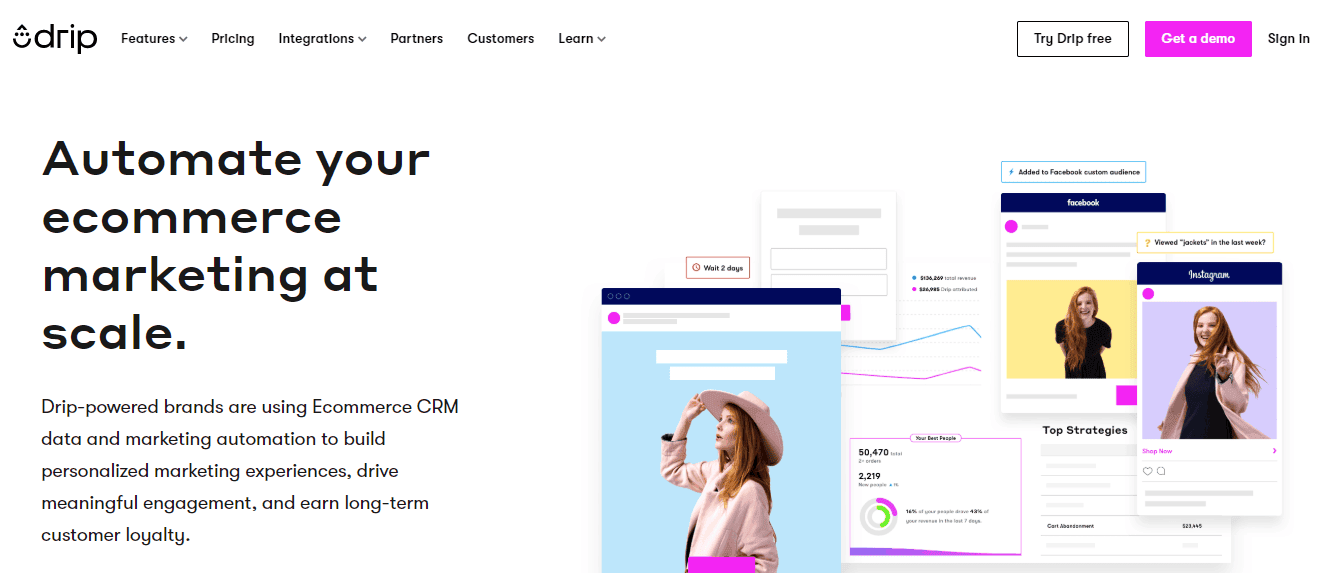 What Is It?
Our second pick for HubSpot competitors to try for your next campaign is Drip. This eCommerce CRM platform, or ECRM, provides marketing automation services as well. Drip offers enhanced email marketing automation as well as improved customer data and insights with its ECRM.
Features
Drip breaks its features down into four categories: customer data, personalization, engagement, and optimization.
On the topic of customer data, you can do the following:
Integrate data points into a central hub so you can track the customer journey
Manage a lead or customer's behavior with Tracking Events, which fills you in on when they visit your site, when they buy, and if they come back for seconds
Custom fields for personalization and engagement
Tagging, which you can use to label products, services, etc. You can even divide your audience into buckets through tagging
Drip's personalization features:
Send segmented deals and messages like price-drop notifications, product recommendations, discount codes, and other dynamic content
Keep track of what customers do and then send related emails, such as when they abandon a cart or buy something
Utilize custom fields, events, and tags for segmentation
Customer engagement through Drip:
Third-party integrations
Instagram and Facebook advertising based on a customer's shopping behavior
A Visual Email Builder that lets you customize messages for more tailored content
Automated email sending so your messages get to your customers at the most crucial moments
Optimization strategy using Drip:
The analytics dashboard, which tracks metrics like revenue for each subscriber, those who unsubscribed, clicks, opens, etc
ECRM store linking for adjusting and proceeding with campaigns as well as revenue attribution through automation
Pricing
Drip has three paid plans: Basic for $49 a month, Pro for $122 a month, and Enterprise, of which the price varies.
For the Basic plan, you get 24/7 email and chat support, unlimited emails to send, and a contact list with 2,500 active users. For the Pro plan, you can upgrade to 5,000 subscribers. If your list grows beyond 5,000 people, then you'll have to consider the pricier Enterprise plan.
>> Try EngageBay the perfect Drip alternative
Pros and Cons
Finally, let's cover some pros and cons of getting on board with Drip.
Pros:
Has a number of integrations, making it convenient to add Drip to your marketing arsenal
Relatively affordable for startups
A host of features
Cons:
Services are mostly limited to the ECRM or CRM sphere
#3. ActiveCampaign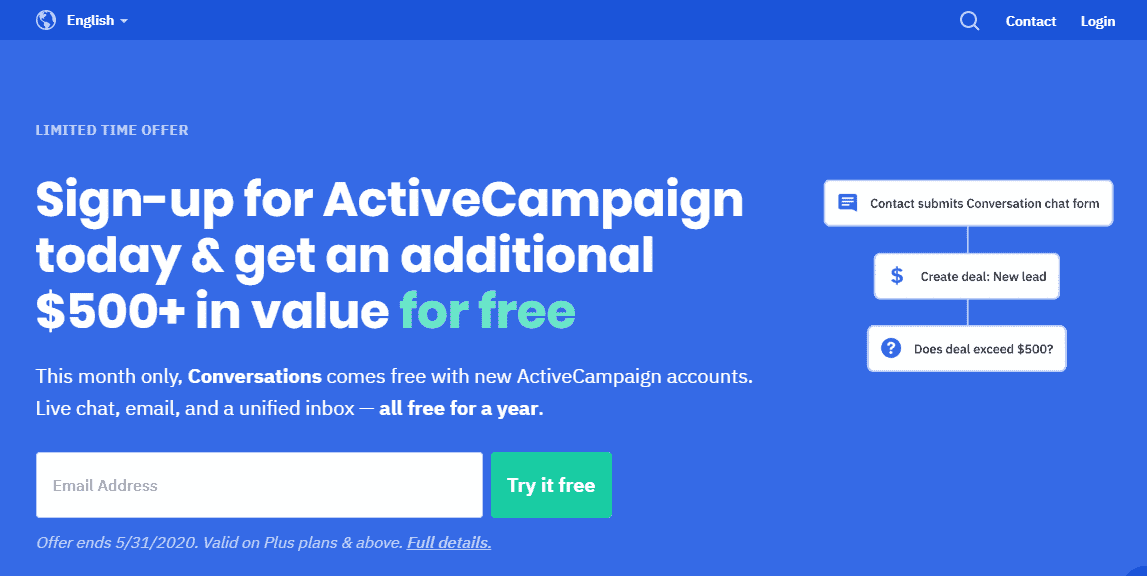 What Is It?
Our third pick to consider besides HubSpot is ActiveCampaign. A marketing automation service with small business CRM and email marketing, ActiveCampaign has a large customer base and has been recognized over time. It's designed for sales, marketing, and customer service teams as well as verticals like higher education, software as a service or SaaS, eCommerce, agencies, and bloggers.
Features
ActiveCampaign offers a decent set of features for its users. These include machine learning, messaging, CRM and sales, marketing automation, and email marketing services. Let's break each of these down.
For machine learning, you can use:
Predictive sending that learns when your users like to read their emails; by sending messages at these times, you can boost open rates, click-through rates, and sales
Win probabilities, which determines the chance a lead will close a deal and become dedicated customers
ActiveCampaign's messaging features include the following:
Conversations and messages you can send in the early stages of the customer journey
Facebook custom audiences, where you show specific audience segments your Facebook Ads
SMS marketing, in which you can automate the messaging, spring notifications, and set up text reminders
Email marketing, which includes customized, personalized messages
ActiveCampaign's sale and CRM offerings:
Deals CRM app for changing deals, calling leads, tracking tasks, and generating contact information while on-the-go
Syncing with Gmail and Outlook via an ActiveCampaign Chrome extension
Automated segmentation, win probabilities, and lead scoring
Sales process management so you never miss a potential lead
CRM and sales automation for a hands-off approach
Marketing automation with ActiveCampaign:
Notification emails so you can follow up at the right time
Split action or A/B testing
Attribution across the customer lifecycle
Goal tracking
Advanced reporting
Mitigation services to merge contacts, forms, emails, and automation
Automated signup forms
Site tracking to know who visits your pages and for how long
Also, ActiveCampaign has email marketing features like:
Email scheduling
Automated email funnels
Email autoresponders like lead magnets and welcome emails
Triggered emails that go out when a lead or customer reaches a certain level of engagement, clicks on a certain page or buys something from you
Broadcast emails, which are generalized messages that get sent to all your contacts
Pricing
It's time to talk pricing. ActiveCampaign has four paid plans in which to choose from. These include the Lite plan for $9 a month, the Plus plan for $49 a month, the Professional Plan for $129 a month, and the Enterprise plan for $229 a month.
With the Lite plan, you have support for three users. You also get email and chat support, marketing automation, newsletters, email marketing, with unlimited emails.
With the Plus plan, all the above gets factored in as well as SMS marketing, training, custom branding, a custom domain, and custom user permissions. You also have deep data integrations, lead and contact scoring, sales automation CRM, and unlimited email sending. This plan supports 25 users.
If you have 50 users, then the Professional plan should work for you. You get all the same Plus features and more. These features include win probabilities, predictive sending, attributions, site messaging, and unlimited email sending.
In the Enterprise plan for as many users as you may require, they offer uptime SLA, phone support, free social data, free design services, and onboarding. There's also a dedicated account rep, a custom mail server domain, custom reporting, and unlimited message sending.
>> Try EngageBay the perfect ActiveCampaign alternative
Pros and Cons
Before you buy that subscription to ActiveCampaign, you better read this pros and cons list.
Pros:
Comprehensive service with lots of features you'd need for sales and marketing success
The Lite plan is affordable for most small businesses
A number of integrations
Cons:
Once you get past the $49 Plus plan, the other plans get pricy quick
#4. Ontraport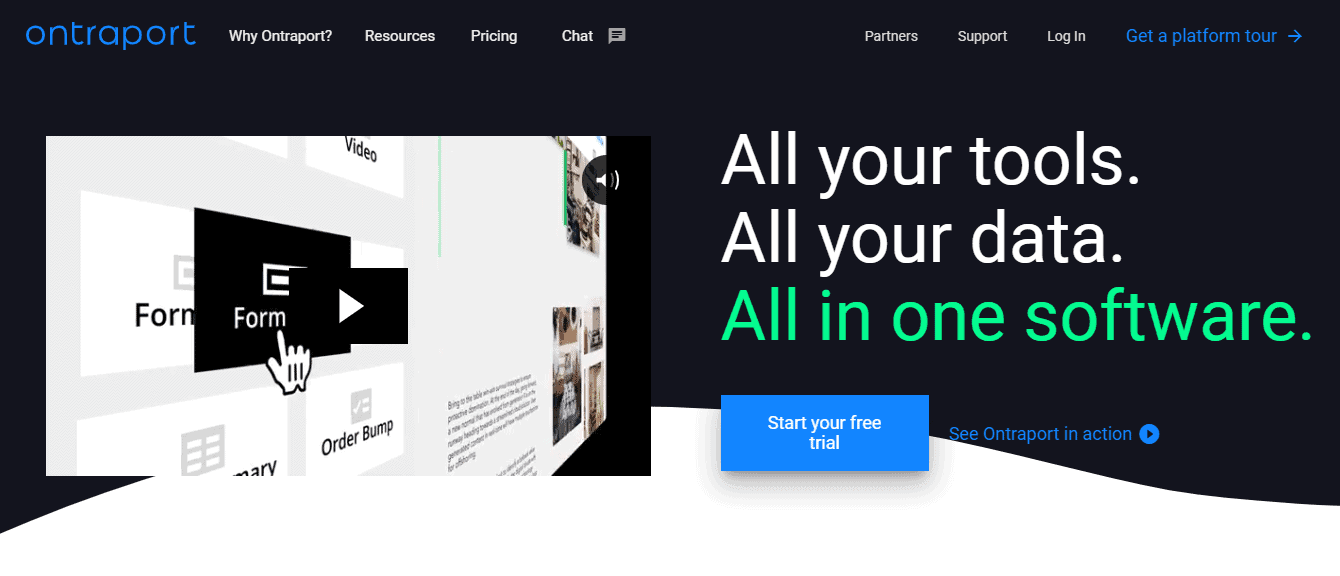 What Is It?
Next, we've got Ontraport. This software runs at par with ActiveCampaign. They have attracted a relatively large customer base and is popular with their users.
Features
With Ontraport, you get a host of solutions. These are referral programs, membership sites, business process automation, marketing analytics, CRM, landing pages, eCommerce, email marketing, sales force automation, and marketing automation.
Under Ontraport's referral programs, you can:
Stash referral program data in a referral management system
Integrate other referral programs you might have with Ontraport's WordPress plugin known as PilotPress
Make your own partner center on WordPress for commissions, sales, and traffic management for your partners
Share partner promotional tools for referrers, each with their own tracking
Generate partner sales reports
Use automated promo tools like emails, links, lightboxes, and banners for promoting referrals
For membership sites:
Include web forms on your WordPress-generated website
Browse through templates and choose any, customizing as necessary
Place web forms and landing pages on your membership sites, both of which you can customize
Automate your membership levels, which gates content
Add learning and membership platforms through integrations, all of which Ontraport will sync for you
In the realm of business automation, Ontraport offers:
Customer onboarding automation
Resources and content automation like welcome emails
The development of processes for managing leads and customers, including predictive results
Sync data to a single dashboard
Make fulfillment lists that go out every month or week
Send automated customer follow-ups, even when you're not in front of your computer
Automate tasks
If you rely on CRM, these are Ontraport's features:
Business card-style contact organization
Automated follow-ups
Interaction tracking based on communications and behaviors
Contacts grouping by job title, demographics, and other data
Email campaign assigning automation
Identifying tags you can add based on behavior
If you want to make landing pages, these features will help:
Add responsiveness and mobile optimization to your landing pages
Include one-click upsells or order bumps to your sales page
Share lightbox pop-up forms that come pre-filled
A/B test landing page elements before the page goes live
Review landing page success with detailed analytics
For eCommerce, Ontraport can:
Keep a limited purchase data cache so if a customer wants to rebuy, there's no need to type in their personal information twice
Like with the landing pages, provide an add-on or upsell on the thank-you page
Provide secure payment processing through secure gateways such as PayPal, Stripe, etc
Share group or individual coupons for event promotions, holidays, birthdays, etc
Ontraport Forms to make your own order forms branded to your company
Ontraport's marketing automation features:
Automate appointment reminders, thank-you messages, greetings for holidays and birthdays, etc
Text your customers regarding appointments
Use text-based opt-ins
Track open rates for every email you send out as well as click-through rate success
Get bounce rate information
Ontraport's marketing analytics features:
Split testing of your landing pages, emails, and more
UTM variable data lead source report filtering to track revenue, leads, etc
Analytics reports you can customize, by metric, trigger, or date range
A slew of conversion stats, such as the length of time it takes to finish a survey, open emails, and more
Ontraport's sales force automation features:
Weighted Random, a feature that assigns more leads to top salespeople
Round Robin, an opposite feature that distributes leads evenly to all salespeople
Lead score degradation on older leads so you can differentiate them between fresh, new ones
Lead ranking based on title, industry, location, and more
Follow-up funnels through automation for engagement, closing sales, and increasing revenue
Review expected win percentages and deal values
Pricing
To get started with Ontraport, you can go for their two-week free trial. Otherwise, they have four payment plans. There's the Basic plan for $79 per month, the Plus plan for $147 per month, the Pro plan for $297 per month, and the Enterprise plan for $497 per month.
With the Basic plan, you can support one user. You get unlimited emails and 1,000 contacts. The Plus plan upgrades you, letting you add a second user and 2,500 contacts. You still get unlimited emails.
With the Pro plan, you can have three users and 10,000 contacts. You also get email consultations and unlimited emails. Finally, you might opt for the Enterprise plan. This supports five users, more than 20,000 contacts, and 200,000 monthly emails. You get a personal account rep, email consultations, and Ontraport account set up.
Should you need something bigger than the Enterprise plan, this option is on the table. They also have a custom-priced monthly plan for larger requirements.
>> Try EngageBay the perfect PipeDrive alternative
Pros and Cons
We've talked about Ontraport in-depth, but we want to mention the pros and cons as well.
Pros:
Ontraport has a large offering of services
A free trial that lasts two weeks lets you decide if Ontraport is right for you
Useful integrations such as secure gateway payment processing through Stripe or PayPal
Cons:
The available price points for the software start off rather steep, as the cheapest plan costs $79 a month, and that's for basic features
#5. SharpSpring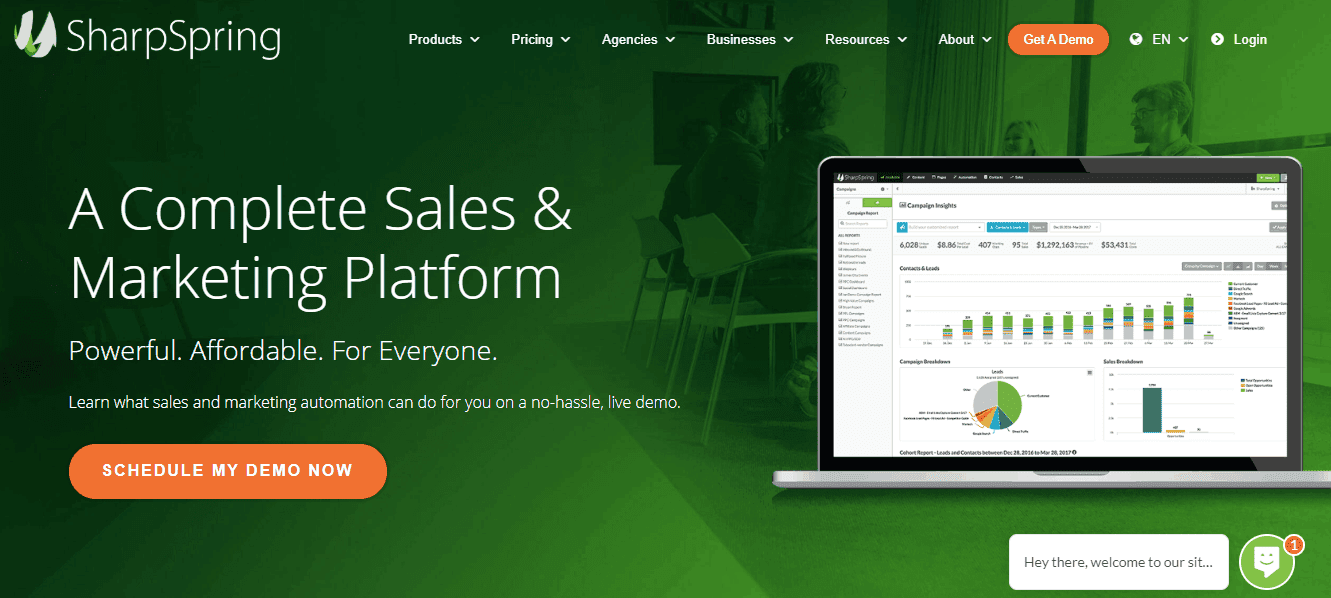 What Is It?
We also recommend considering SharpSpring as you search for alternatives to HubSpot. This marketing automation service works with enterprise-level companies, SMBs, and agencies. According to SharpSpring, currently, they have more than 7,000 companies and businesses that favor their services as of this writing.
Features
There are two products in the SharpSpring family. The App Marketplace includes a content management system or CMS, CRM, and shopping tools. Then there's the Marketing & Sales Platform. This offers campaign tracking, landing page design, social engagement features, email marketing, and marketing automation. Here's an overview of the features you can get between the two products.
>> Try EngageBay the perfect SharpSpring alternative
Social media campaign features:
Social ROI displays
Social activity triggers that let you know when you might send an email, a product recommendation, or another communication based on a lead's behavior
Track brand advocates and hot leads
Conversation filtering
Schedule social media posts to go out when you want them seen
For marketing automation, SharpSpring lets you:
Jump from client and agency accounts seamlessly
Use CRM and developer API like Python, PHP, Perl, Ruby, and Java
Add native and third-party forms via Salesforce, Sugar, Wufoo, Gravity Forms, and Formstack
Boost your blog with:
An HTML editor for those tech-savvy bloggers
A SharpSpring tracking code that goes into all pages on your website and blog
A social media widget for getting your content shared across social accounts
RSS email syndication
Templates for designing the blog, including a point-and-click editor
SharpSpring's CRM has the following features:
Life of a Lead, where you can track the most relevant moments you've had with a lead
Lead scoring so you target only the most receptive leads
Page reminders to keep your leads on the ball
Social notes like mark as read so you know if your lead opened your messages
A Bird's Eye Pipeline View that lets you visualize the sales cycle and move leads and customers through it
Customized deal stages that work with your type of audience
Automating with SharpSpring:
Dynamic emails, which are tailored and look great, thus appealing more to your leads
Tracking on several devices, among them tablets, laptops, desktop computers, and smartphones
Dynamic landing pages, which have a personalized design so you can change the body text, headlines, images, etc
Personas, where you can use a template to create them for your business
Dynamic lists, where you incorporate lead scoring into a lead's interests and behaviors
Automated drip campaigns for lead engagement and nurturing
Pricing
With five plans to pick from with SharpSpring, find one that works for you. The first three plans don't have names, but you'd pay $450 a month for 1,500 contacts, $650 a month for 10,000 contacts, and $875 a month for 20,000 contacts. The Agency and Enterprise plans don't have pricing information available on the website.
By purchasing a full plan with all the features, you get anonymous visitor IDs, analytics and reporting, dynamic form building, sales automation, CRM, dynamic landing pages, and a blog builder. Other features include behavior-based email, campaign tracking, and full marketing automation.
Pros and Cons
Before we move on to our next entry, we want to mention the pros and cons of using SharpSpring.
Pros:
Features that cater to your blog and website, CRM, email marketing, for startups and mid-sized companies alike
A variety of plans to choose from
Tools for salespeople and marketers alike
Cons:
It's pretty unlikely a startup could afford $450 a month for sales and marketing software
#6. Wishpond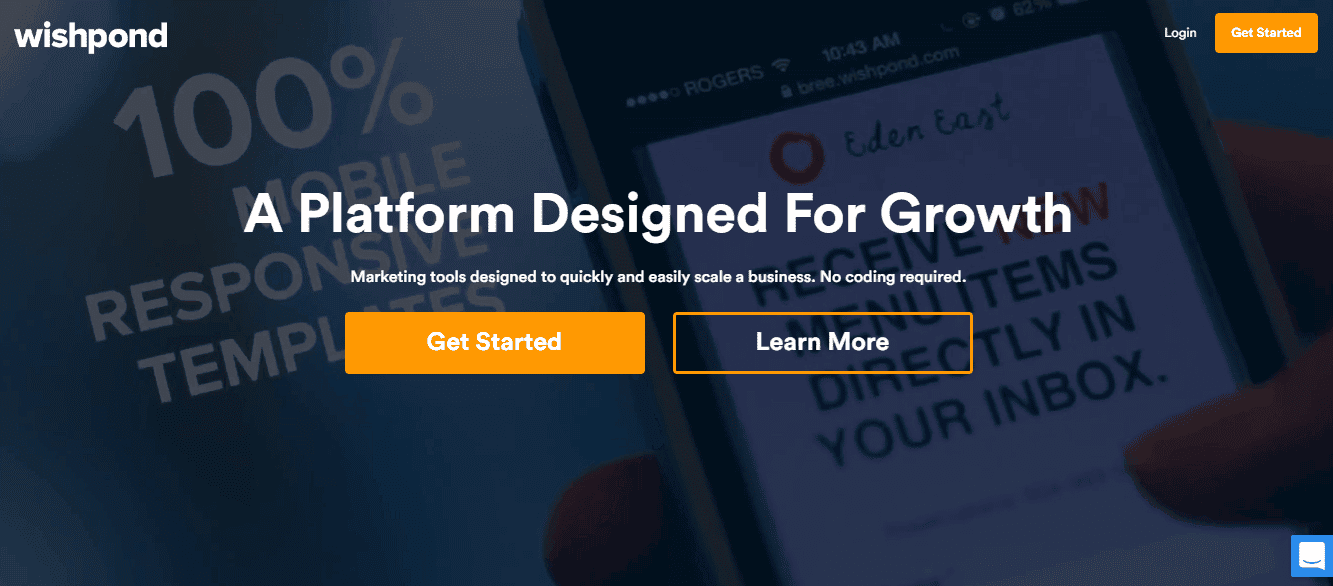 What Is It?
A well-known platform, Wishpond was designed to help businesses with its marketing automation. They support agencies, small business, and even larger companies.
Features
The products offered by Wishpond include a leads database, email marketing, marketing automation, online forms, website pop-ups, a referral suite, promotions, and contests assistance, and landing page design.
Starting with their leads database, Wishpond helps you:
Use automation to segment leads, make your own lists, do lead scoring, and watch your leads via analytics
Review visitor tracking to understand user behavior
The email marketing features from Wishpond include:
Email drip campaigns that can be automated
A/B testing your email marketing
Automating email newsletters
Creating emails using the drag-and-drop features Wishpond offers; no HTML experience required
Using mobile-responsive templates for your emails
If you want marketing automation, these are the features:
Use your favorite apps and programs which you can automate when integrated with Wishpond
Send potential leads directly to the inbox of your salespeople via automation
Track lead activity, demographics, and other data for your email campaigns
Wishpond lets you make your own with features like:
Custom JavaScript pop-up support if you like to make your own pop-ups
Timed delay, click, scroll, exit, or entry pop-ups
Place the pop-up where you need it such as a marketing campaign, a blog post, or even your homepage
Select from coupon offers, sales promotion, blog subscription, and other pop-up types in various designs
Include animations and other personal touches to your pop-ups through the drag-and-drop editor
If you're planning a social promotion or contest, Wishpond supports the following ones:
Video contest
Photo caption contest
Leaderboard contest
Vote contest
Referral contest
Instagram hashtag contest
Bonus entry contest
Photo contest
Sweepstakes
Pricing
Before you pay for a Wishpond subscription, you can go for a 14-day free trial. Then, you may choose to either set up a plan yourself or have Wishpond take care of this for you. For your own plans, the Starting Out plan costs $49 a month, the Everything You Need plan $99 a month, and the Rapid Growth plan is $199 a month.
With the Starting Out plan, you get 1,000 leads, no cap on user accounts, marketing automation, email drip campaigns, pop-ups, social contests, and landing pages. The Everything You Need plan has all that plus 2,500 leads, API, JavaScript and custom CSS, and A/B testing. With the Rapid Growth plan, you get all the features of the above two plans as well as implementation coaching, customer support, and 10,000 leads. If you have more leads, you'd pay more. For example, the plan costs $473 a month for 75,000 leads.
Pros and Cons
If you're seriously considering using Wishpond instead of HubSpot, review these pros and cons.
Pros:
From marketing automation to email marketing, you can do it all with Wishpond
You can host promotions and contests through this service
A free trial lets you get a feel for Wishpond before parting with your hard-earned money
Cons:
Once you get past 2,500 leads, Wishpond is a pricy software to keep using
#7. Sendinblue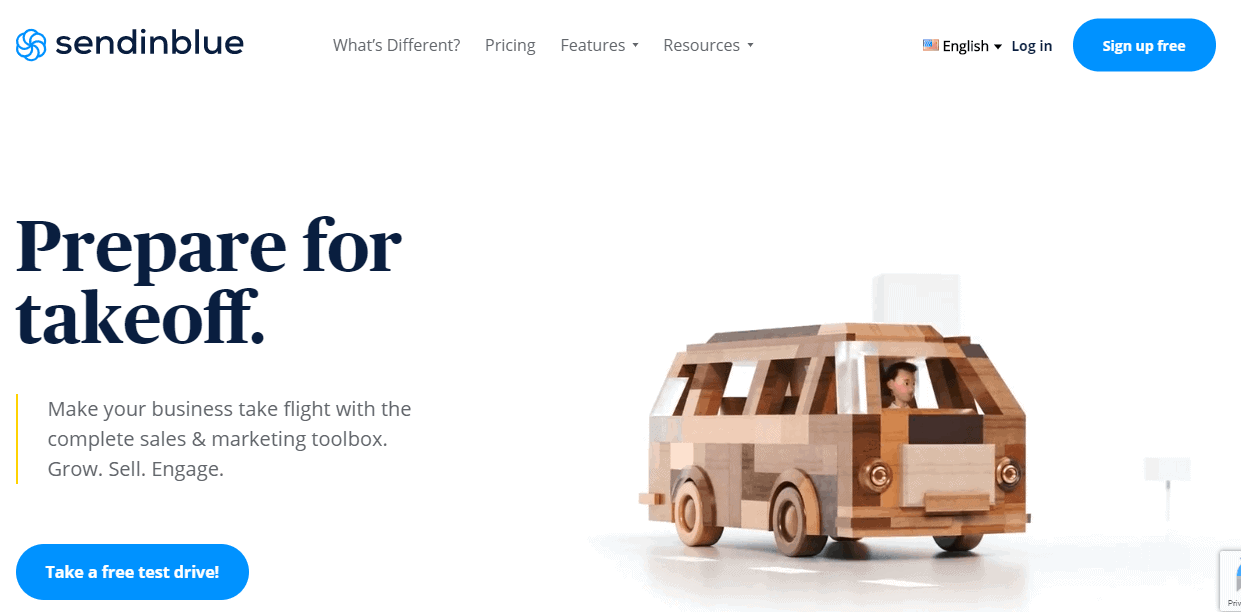 What Is It?
Our seventh pick for marketing and sales software to try over HubSpot is Sendinblue. A digital marketing resource, Sendinblue has served quite a few businesses for more than a decade. Every day, their clients send out more than 100 million emails.
Features
Sendinblue can help with your Facebook advertising, landing pages, signup forms, CRM, email and marketing automation, SMS marketing, and email marketing. Let's talk more about these features now.
For Facebook Ads, landing pages, and forms, you can use Sendinblue's customizable templates and drag-and-drop features.
Their CRM comes with the following:
Segmentation and transactional email design to personalize your messages
Chat features so you or a bot can answer questions as they crop up
Contacts organization to identify sales opportunities, target certain leads
Open better communication between your sales, marketing, and customer service teams
Sendinblue's SMS marketing allows you to:
Send text-based messages about upcoming products and services, events, deals, and other news
Use transactional SMS features, including Sendinblue's API
Segment your audience and include dynamic attributes like the name of the company, etc
Review KPIs and other metrics via Sendinblue's analytics
Sendinblue's email marketing services include:
Use Sendinblue's templates to set up your email and add images and more with drag-and-drop features
Inject personalization with dynamic content as well as attribute conditions, personalized subject lines, etc
Make as many contacts and lists as you want
Use A/B testing for your email marketing campaigns
Pricing
Sendinblue has five pricing plans for businesses for different budgets. There's the Free plan, the Lite plan at $25 a month, the Essential plan at $39 a month, the Premium plan at $66 a month, and the Enterprise plan with custom pricing.
The Free plan lets you work with unlimited contacts and send only 300 daily emails. You may send up to 40,000 daily emails with the Lite plan and 60,000 with the Essential plan. You also get advanced statistics as well as no Sendinblue logos in your correspondence.
Their Premium plan lets several users access the platform. You also get chat features, marketing automation, landing pages, and Facebook Ads. Should you need to send out more than 12,000 monthly emails, you can, but the plan becomes more expensive. For 350,000 emails a month, you'd pay $173 for the Premium plan.
The Enterprise plan includes priority support, a dedicated account manager, and features like retargeting ads, chat, Facebook Ads, send-time optimization, A/B testing, SMS marketing, email personalization, and an email designer that works on mobile devices.
>> Try EngageBay the perfect Agile CRM alternative
Pros and Cons
Not sure if Sendinblue is right for you? These pros and cons may help you make up your mind.
Pros
The customizable templates and drag-and-drop features help you create email newsletters, landing pages, etc
Sendinblue offers chat features, something not necessarily every software on this list does
Free and affordable Lite plans for small businesses
Cons
The Premium plan, despite being the most popular, certainly exceeds smaller marketing budgets in most cases
#8. GetResponse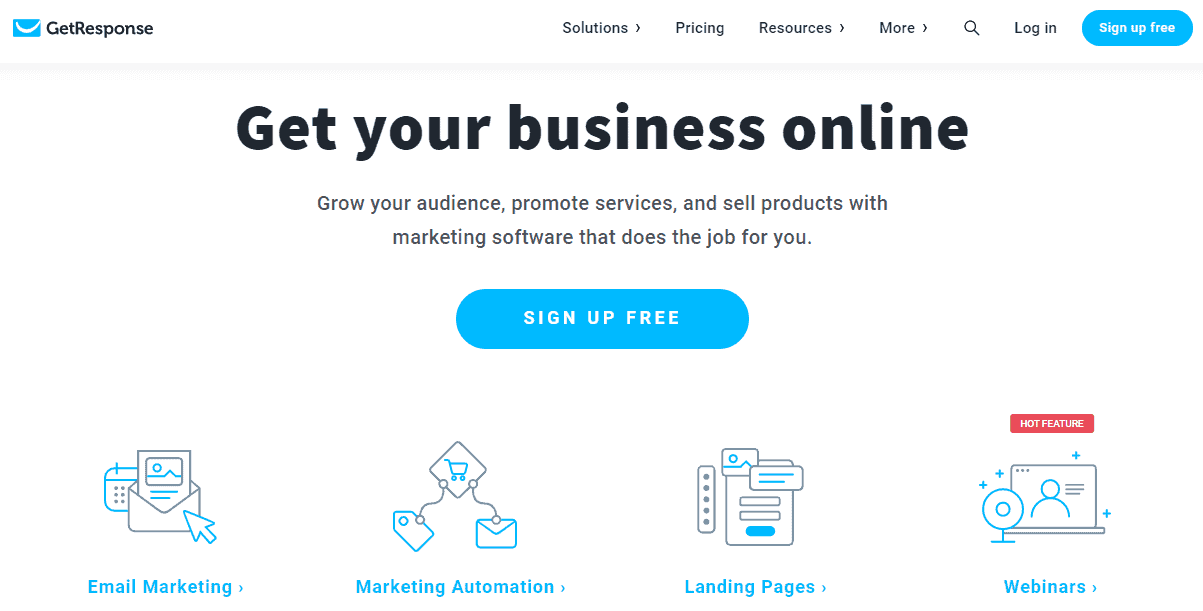 What Is It?
Last but certainly not least, we'll talk about GetResponse. They're a marketing software company that caters to small businesses. They even offer courses, infographics, whitepapers, and a blog to augment their services
Features
GetResponse provides its users with a handful of solutions, including autoresponders, webinars, marketing automation, landing pages, auto funnel, and email marketing. Let's explore these more now.
If you need autoresponders for your campaign, GetResponse lets you do the following:
Send time-based messages that you can edit at any time
Use drag-and-drop features to manage your messages, including choosing which day to send them
Adjust advanced timing controls so the messages
Send as many daily messages as you want
GetResponse also offers you tools and features such as:
SSL-encrypted webinar URLs, including those with password protection
Customizable webinar URLs
A GetResponse Webinars app to present videos, interactive whiteboards, dynamic presentations, text chatting, streaming your webinar, and recording it
Webinar registrants and autoresponders
Webinar analytics, including conversions, survey vote responses, time spent watching the webinar, and the location of viewers
GetResponse has these marketing automation features:
Automated communications, including scoring and tagging
Visual workflows with filters, actions, and conditions with drag-and-drop functionality
Through the Autofunnel, you can create webinar funnels, lead funnels, or sales funnels, to track your customer's journey
Pricing
If you're ready to proceed, GetResponse has four plans. You might pick the Basic plan at $15 a month, the Plus plan at $49 a month, the Professional plan at $99 a month, or the Enterprise plan at $1,199 a month. You could try a 30-day trial for any plan.
With the Basic plan, you get Facebook Ads, exit pop-ups, surveys and forms, automation templates, landing pages, autoresponders, and email marketing.
The Plus plan is GetResponse's most popular one. It encompasses all the Basic plan features as well as support for three users, a basic CRM, e-product selling, webinars for 100 attendees, sales and list-building funnels, and landing pages.
As you get on to the more expensive plans, the Professional plan has support for five users. You can also use paid webinars, webinar funnels, unpaid webinars for up to 300 attendees, contact tagging and scoring, and an automation builder. The above features get factored in as well.
The hefty Enterprise plan offers email campaign consulting, transactional emails, webinars for 500 attendees, single sign-ons, deliverability consulting, your own IP address, and your own account manager. You also get every other feature from the other plans.
>> Try EngageBay the perfect GetResponse alternative
Pros and Cons
Finally, we'll end with some pros and cons to a GetResponse membership.
Pros:
Webinar features, which we haven't come across yet on this list
An Autofunnel for your sales funnel
Try GetResponse for 30 days without paying
Cons:
The Enterprise plan, while nice, is excessively expensive
Conclusion
If you're looking for the best alternative to HubSpot, we think any of the eight software choices on this list would more than fit the bill.
While tools such as EngageBay offer the best bang for the buck, with a loaded feature-set at an incredibly low price point, others such as Sharspring, though good, can get extremely heavy on the pocket, especially if you are a small business or startup.
For many users who buy HubSpot at their 90% discount offering for the first year, the reality of extreme pricing hits home at the end of the year and in most cases, the lookout for a cheaper alternative begins.
We hope that this comprehensive comparison blog helps you decide the right solution for your business needs.
No matter which you pick, you can't go wrong. Good luck!
👉👉EngageBay is the #1 HubSpot alternative for growing companies – Signup and experience for yourself. Get FREE lifetime access (up to 15 users) from here 🏆🏆