In 2006, two MIT students named Dharmesh Shah and Brian Halligan founded a small company called HubSpot. In 2021, Hubspot's revenue was more than a billion dollars. Talk about growth!
When it comes to sales, inbound marketing, and customer relationship management (CRM), HubSpot is the cream of the crop, right?
Yes and no.
The HubSpot CRM software has tough and growing competition. And there's also another pain point.
Despite HubSpot advertising some of its services as free, you need to go for a paid plan to get real work done.
It's true that HubSpot is still the most well-known marketing software out there, but it is also among the most expensive. In fact, HubSpot can cost so much that it is often considered out of reach by small businesses and startups — their mandatory onboarding fees cost a whopping $12,000!
A breakdown of HubSpot pricing:
HubSpot Marketing Hub

Starter

$45/mo

Professional

$800/mo

Enterprise

$3,600/mo

HubSpot Sales Hub

Starter

$45/mo

Professional

$450/mo

Enterprise

$1,200/mo

HubSpot Service Hub

Starter

$45/mo

Professional

$450/mo

Enterprise

$1,200/mo

HubSpot CRM Suite

Starter

$45/mo

Professional

$1,600/mo

Enterprise

$5,000/mo
Here's what a Capterra review said about HubSpot:

That's why thousands of marketers and salespeople are always on the hunt for alternatives to HubSpot. If you're among them, you're reading just the right blog.
In this article, we've explored eight of the best HubSpot alternatives. We will talk about why they're good, who they're best for, and how much they cost.
They all come with similar inbound marketing functionalities as HubSpot, but without the price tag that turns so many small businesses away.
The Top 8 HubSpot Alternatives
These are eight of the best Hubspot alternatives for most business needs:
EngageBay: Best all-in-one software for small businesses.
ActiveCampaign: Offers hundreds of integrations.
GetResponse: Great for webinars.
Sendinblue: Amazing price-to-performance ratio.
Sharpspring: Customized features for industry verticals.
Drip: Affordable email marketing software.
Ontraport: Advanced referral management features.
Insightly: Best for medium-sized businesses.
These eight platforms are similar to HubSpot in terms of features, but offer better pricing.
Competitor plans
Pricing (per month in USD) – No. of contacts
1,000
5,000
10,000
20,000
50,000

HubSpot CRM Suite 'Starter'

$45

$235

$435

$835

$2,035

EngageBay All-in-One

$39.99

$39.99

$99.99

$99.99

$99.99

ActiveCampaign 'Plus'

$49

$149

$229

$379

Custom-priced

GetResponse 'Email Marketing'

$15.58

$44.28

$64.78

$142.68

$245.18

Sendinblue 'Business'


(based on 4 emails/contact/mo)

$58

$58

$67

$103

$188

Sharpspring

$449

$999

$999

$1,449

Custom-priced

Drip

$39

$89

$154

$289

$699

Ontraport 'Plus'

$99

$166

$249

$416

Custom-priced

Insightly All-in-One 'Professional'

Starts at $899/month for 20,000 marketing prospects
Let's get started!
#1. EngageBay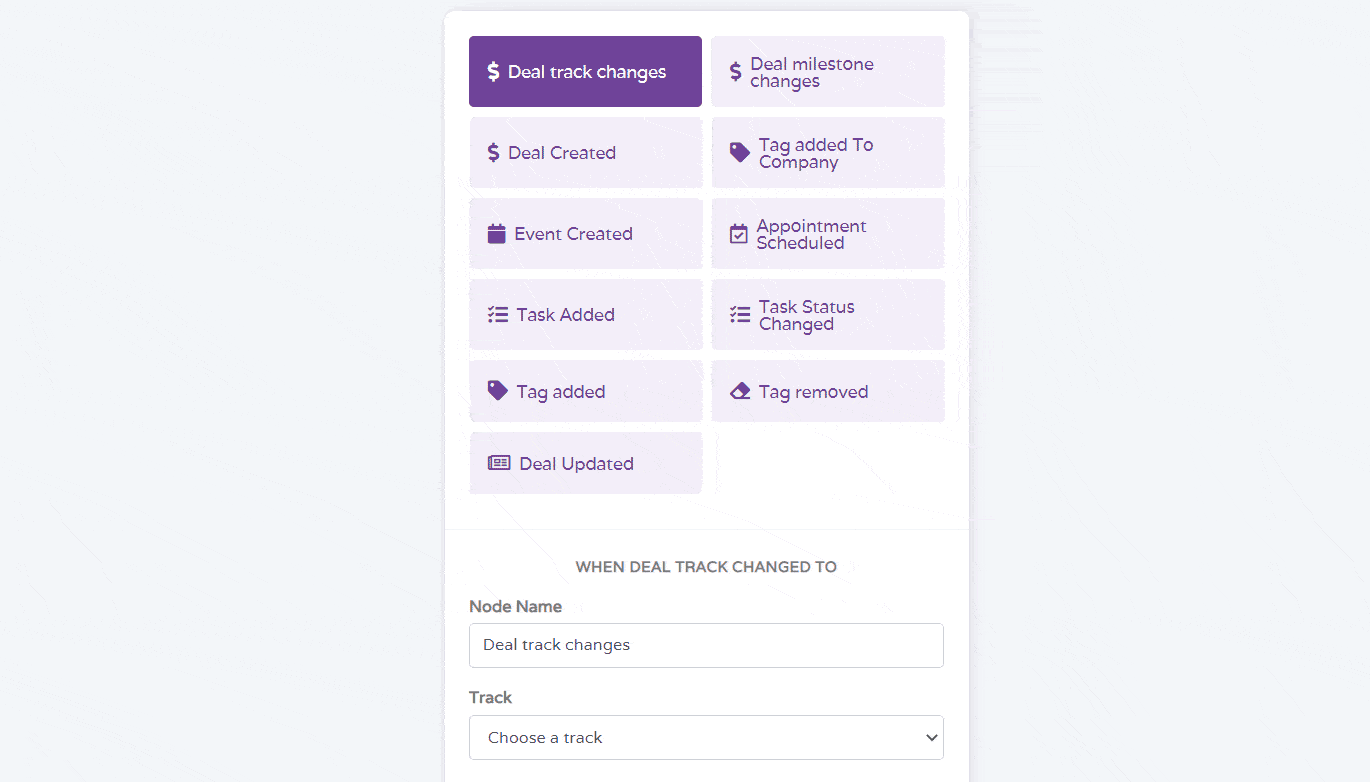 What Is It?
First up is the most affordable HubSpot alternative, EngageBay.
EngageBay is designed for startups and small businesses looking for a comprehensive, all-in-one Customer Relationship Management (CRM) suite.
We know firsthand how expensive the HubSpot CRM software can be for these businesses and how limited their options are.
That's why we've created EngageBay, the perfect Hubspot alternative.
EngageBay is an all-in-one marketing, sales, and customer support software with free unified CRM. Over 46,000 businesses globally love our services for the comprehensive yet tailored features at affordable pricing — the best CRM tool for small businesses, digital marketing agencies, and startups. It's similar to HubSpot but won't burn through your funds.
Why Should You Consider It?
EngageBay is highly affordable; in fact, you get a year's worth of Pro plan subscription at a much lower cost than Hubspot's onboarding fees!
You also get most of the features that platforms like HubSpot offers, but without the exorbitant pricing.
The services are neatly classified into three Bays: the Marketing Bay, the Sales Bay, and the Customer Support Bay.
In the Sales Bay, you can find CRM and sales enablement tools, a contact management dashboard, and an integrated calendar with appointment scheduling.
There's email marketing with automation features, SMS marketing, web forms, landing pages, email sequences, and more in the Marketing Bay.
There is a powerful Help Desk and Live Chat tool on the support end.
Read Also: Is HubSpot CRM Free? An Unbiased Guide (with User Reviews)
What Do You Get In The Sales Bay?
These are the features offered in the Sales Bay:
CRM telephony lets you track the context and content of conversations to help you make targeted offers.
Appointment scheduling with Outlook 365 and Gmail Calendar integration and plenty of ways to customize your calendar.
Email tracking with Outlook 365 and Gmail integration with contact management, real-time updates, and notifications.
What About The Marketing Bay?
The Marketing automation software comes with:
Visual marketing automation builder to automate your routine marketing tasks.
Email personalization, email sequences, marketing campaign management, drip email campaigns, and built-in analytics to create a holistic marketing system.
Social Suite boosts your social media presence with brand mention monitoring and live engagement stats.
Marketing automation tool for generating and nurturing leads, tracking tasks, syncing your data, scheduling your email sends, and more.
Landing page designer and templates, with an easy-to-use drag-and-drop editor.
Web forms builder with customization.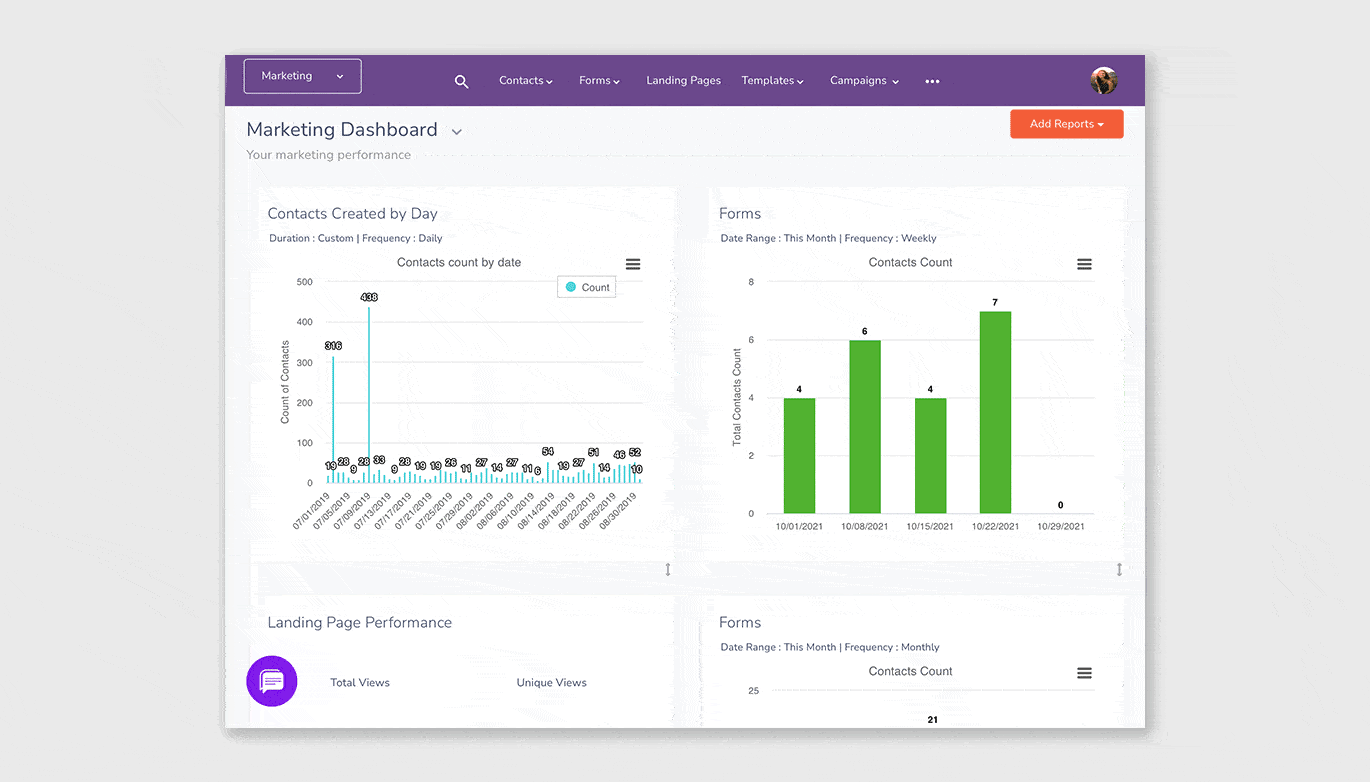 What's in the Service Bay?
The Service Bay helps you offer exceptional customer support:
Integrated customer service software for speedy resolutions.
Simple ticket view and search functionality to help maintain and organize all the tickets.
View open, new, and closed tickets and keep track of the status of every ticket.
Get reports and analyze the efficiency of individual service agents as well as the whole support team.
Prebuilt answers to frequently asked questions through Canned Responses.
Service automation tool helps automate ticket routing, creation, and escalation.
EngageBay User Reviews
This is what users say about EngageBay:


EngageBay Pricing
EngageBay's all-in-one Suite has four plans: Free, Basic, Growth, and Pro.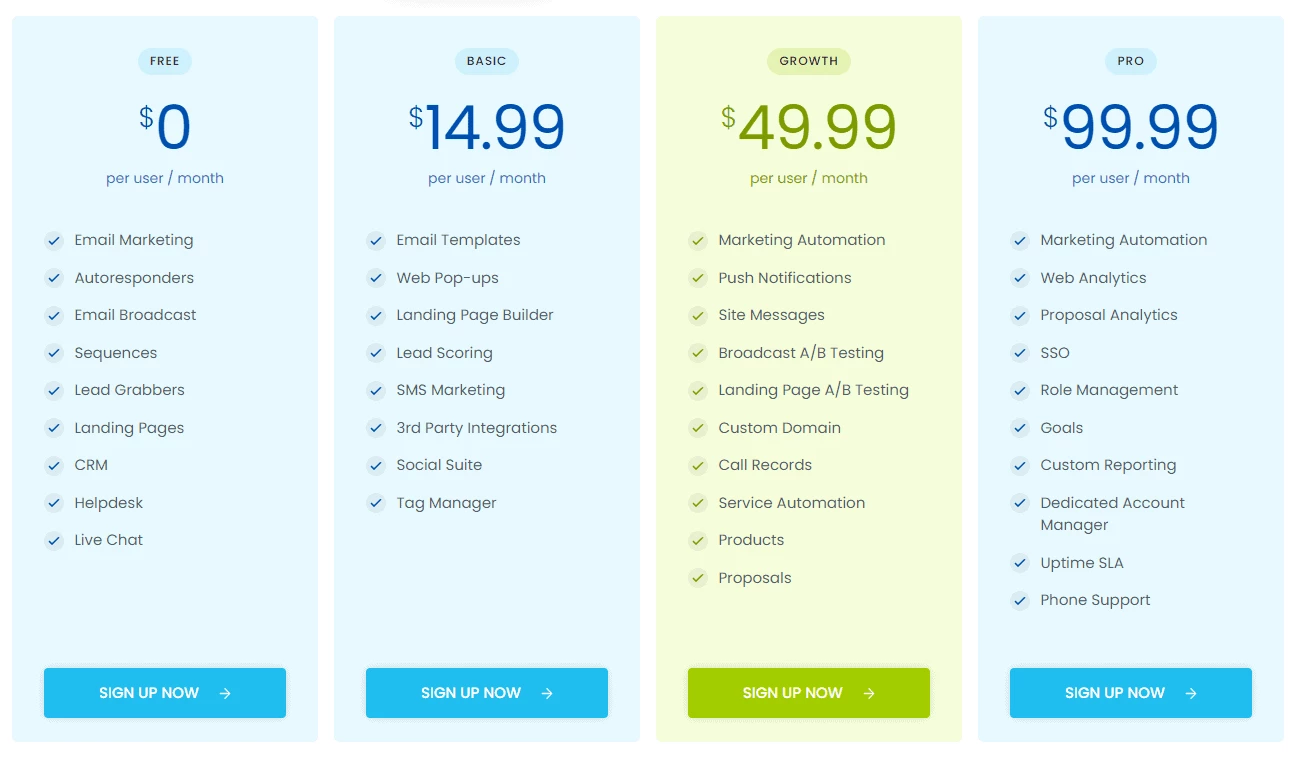 Free: This plan is free forever for up to 15 users and offers 500 contacts, 1,000 branded emails, email marketing, lead generation, autoresponders, email broadcasts, sequences, lead grabbers, landing pages, helpdesk, and Live Chat.
Basic: This plan costs $14.99 a month and adds a tag manager, social suite, third-party integration, SMS marketing, conversational inbox, AI-based predictive lead scoring, landing page builder, web pop-ups, and email templates. You also get 1,000 contacts and 3,000 branded emails.
Growth: This plan costs $49.99 a month and adds proposals, service automation, email form builder, call records, custom domain, A/B testing, site messages, push notifications, and inbound marketing automation. You can send 25,000 branded emails a month and store 50,000 contacts with this plan.
Pro: The Pro plan costs $99.99 a month and adds phone support, uptime SLA, a dedicated account manager, custom reporting, goals tracking, employee role management, and SSO. You also get proposal analytics, web analytics, marketing automation, 50,000 branded emails a month, and unlimited contacts.
You also get a 20% discount on biennial plans and a 40% discount on annual plans. This affordable pricing makes EngageBay one of the best Hubspot alternatives.
Pros
Designed for small businesses and startups specifically as an alternative to HubSpot.
Free (forever) plan for 15 users. Paid plans are easy on the pocket.
Easy to use, growing in features.
Cons
Can add more integrations (in the works).
#2. ActiveCampaign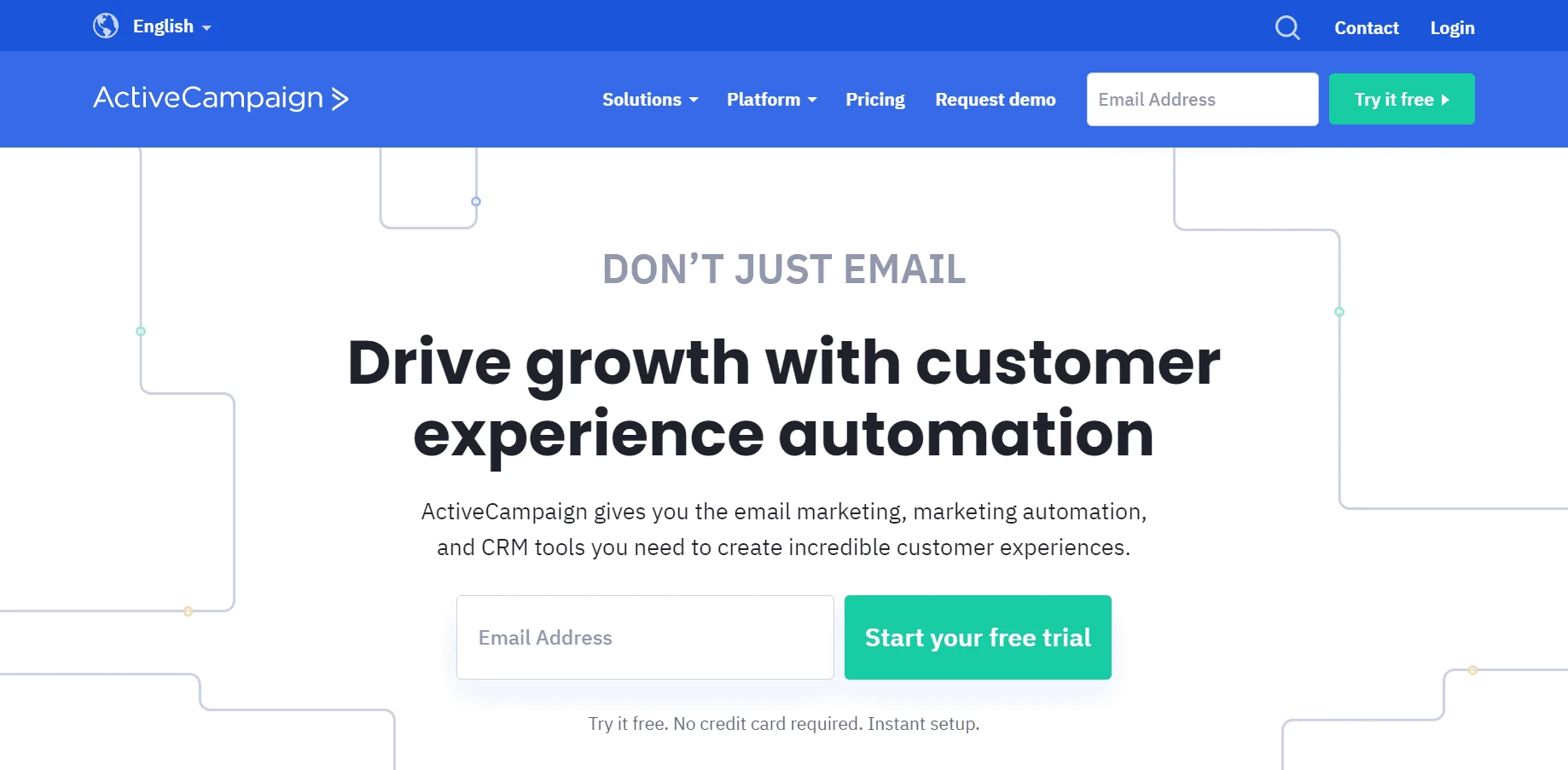 What Is It?
Our second pick for HubSpot alternatives is ActiveCampaign.
A marketing automation service with small business CRM and email marketing, ActiveCampaign has a large customer base and has been recognized well.
It's designed for sales, marketing, customer service teams, and verticals like higher education, software as a service or SaaS, eCommerce, and bloggers.
Why Should You Consider It?
The ActiveCampaign CRM solution offers a decent set of features and hundreds of integrations — making it one of the best Hubspot alternatives when it comes to sheer numbers.
These include machine learning, messaging, CRM & sales, inbound marketing automation, and email marketing.
Machine Learning
Predictive sending based on email response behavior.
Win probability feature to predict the chances a lead will close a deal.
Messaging
Templates for early stages of the customer journey.
Facebook custom audiences.
SMS marketing with automation, notifications, and reminders.
Email marketing with personalization.
CRM & Sales
Deals CRM app for changing deals, calling leads, tracking tasks, and generating contact information on the go.
Sync with Gmail and Outlook via ActiveCampaign Chrome extension.
Automated segmentation, win probabilities, and lead scoring.
Sales process management.
CRM and sales automation for a hands-off approach.
Marketing Automation
Split testing or A/B testing.
Attribution across the customer lifecycle.
Goals tracking.
Advanced reporting.
Mitigation services to merge contacts, forms, emails, and automation.
Automated sign-up forms.
Site tracking to know who visits your pages and for how long.
Email Marketing
Email scheduling.
Automated email funnels.
Email autoresponders like lead magnets and welcome emails.
Triggered emails based on customer behavior.
Broadcast emails.
ActiveCampaign Pricing
ActiveCampaign is an excellent Hubspot competitor because of its pricing. It has four paid plans: Lite, Plus, Professional, and Enterprise.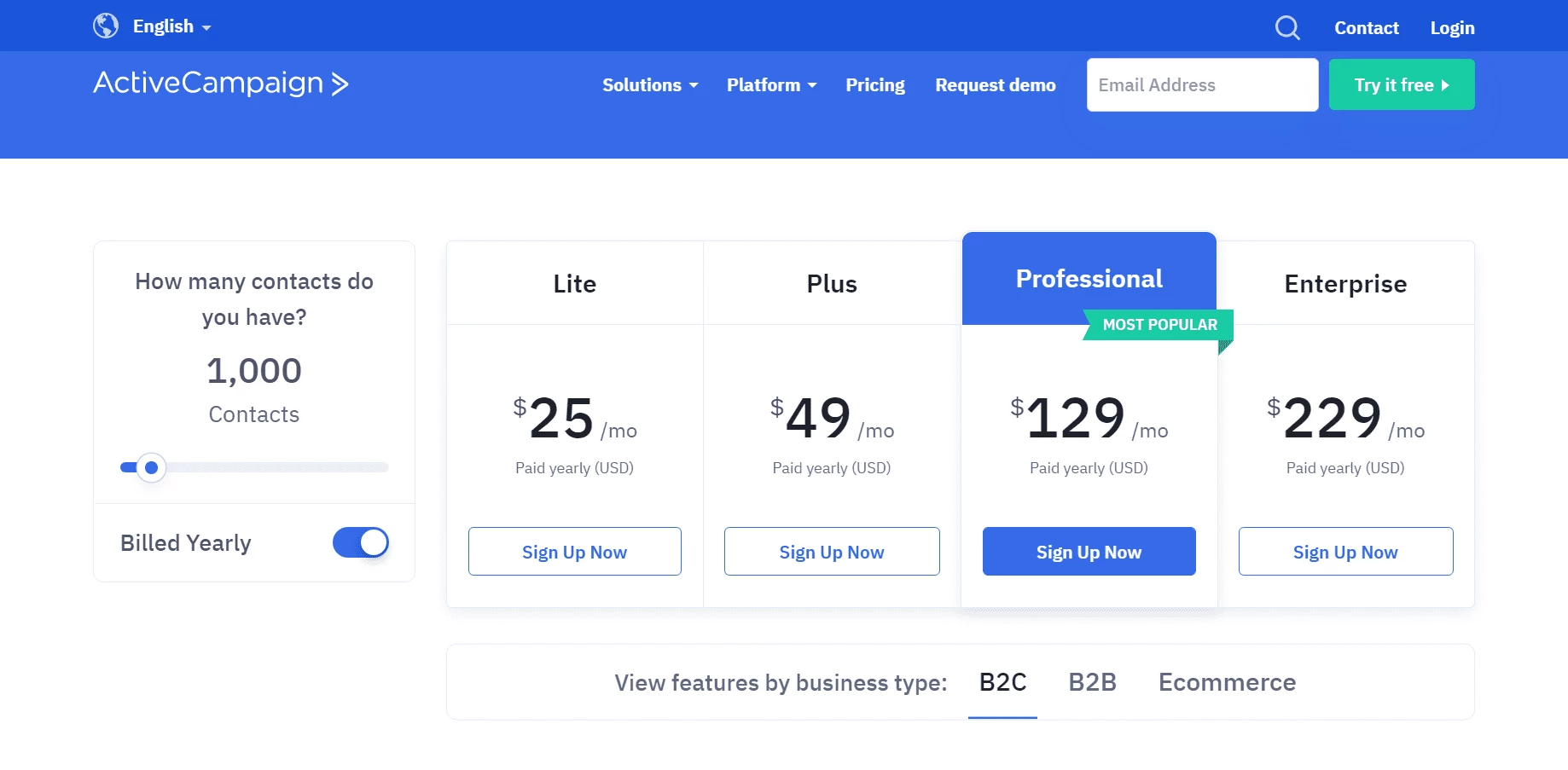 Lite: This plan costs $9 a month for three users. You also get email and chat support, marketing automation, newsletters, email marketing, and unlimited emails.
Plus: With the Plus plan, you add SMS marketing, training, custom branding, a custom domain, and custom user permissions for $49 a month. You also get deep data integration, lead and contact scoring, sales automation CRM, unlimited email sending, and support for up to 25 users.
Professional: The Professional plan costs $129 a month and adds win probabilities, predictive sending, attributions, site messaging, and unlimited email sending.
Enterprise: The Enterprise plan costs $229 a month and adds uptime SLA, phone support, social data, design services, and onboarding support. There's also a dedicated account rep, a custom mail server domain, custom reporting, and unlimited message sending.
Pros
Comprehensive service.
Lite plan is affordable for small businesses.
Many integrations.
Cons
Once you get past the $49 Plus plan, it gets pricey quickly.
Read also: ActiveCampaign vs HubSpot vs EngageBay – Which CRM is the Best?
#3. GetResponse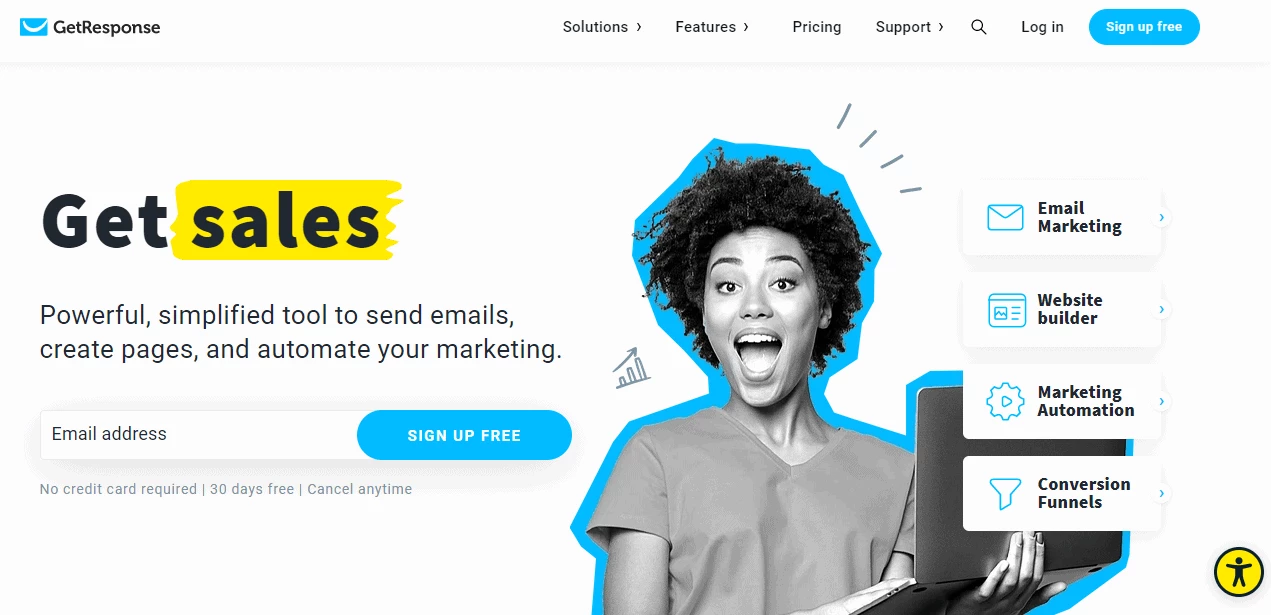 What Is It?
Among the most popular HubSpot alternatives is GetResponse. This is a marketing software product catering to small businesses.
Why Should You Consider It?
GetResponse offers a wide range of marketing solutions — similar to HubSpot — including webinar support, autoresponders, landing pages, and a conversion funnel.
GetResponse's webinar features make it one of the best Hubspot alternatives for companies that require a marketing tool without high pricing.
Autoresponders
Drag-and-drop editor for autoresponse messages.
Advanced timing controls.
Unlimited daily messages.
Website Support
SSL-encrypted webinar URLs with password protection.
Customizable webinar URLs.
Webinar platforms to stream and record your webinars.
Webinar analytics, including conversions, survey vote responses, time spent watching the webinar, and the location of viewers.
Marketing Automation
Automated communication with scoring and tagging.
Visual workflows with filters, actions, and conditions.
Drag-and-drop visual workflow builder.
Conversion Funnel
Webinar funnels, lead funnels, sales funnels.
Automated tracking of the customer journey.
GetResponse Pricing
GetResponse has four plans: Basic, Plus, Professional, and Max.
Pricing is based on the number of contacts.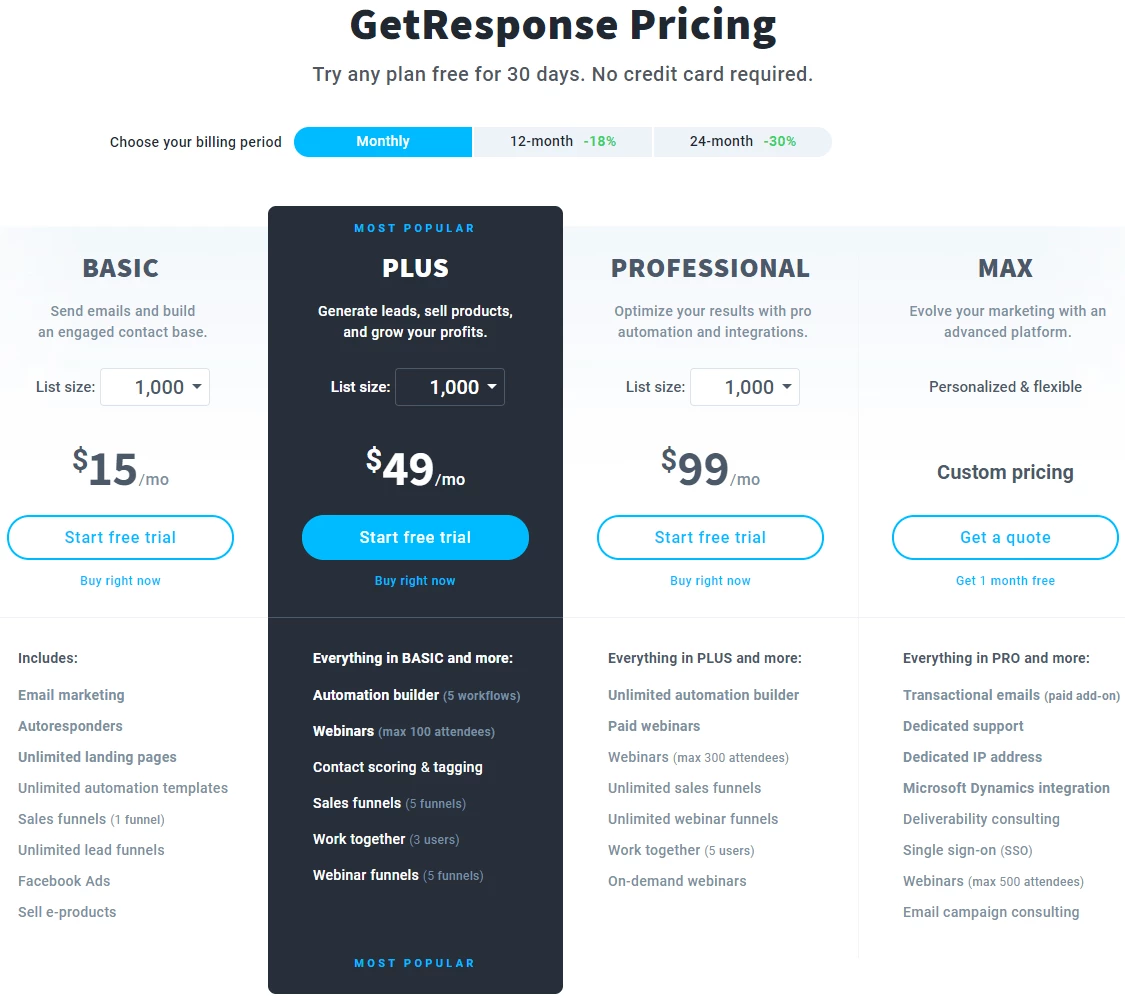 Basic: With the Basic plan, you get Facebook Ads, exit pop-ups, surveys and forms, automation templates, landing pages, autoresponders, and email marketing. This plan costs $15 a month for 1,000 contacts.
Plus: ThePlus plan supports three users, webinars for 100 attendees, a webinar builder, contact tagging and scoring, and an automation builder for five workflows. This plan costs $49 a month for 1,000 contacts and $95 a month for 10,000 contacts.
Professional: The Professional plan supports five users, unpaid webinars for up to 300 attendees, web push notifications, and an unlimited automation builder. This plan costs $99 a month for 1,000 contacts and $165 a month for 10,000 contacts.
Max: This plan is custom priced and adds transactional emails, multiple accounts and users, account migration support, team and role management, and webinars for up to 1,000 attendees.
Pros
Extensive webinar support.
Conversion funnel to track the customer journey.
Free trial for 30 days.
This is what a user liked about GetResponse:

Cons
Not a full-fledged CRM software.
Costly for small businesses with a large contacts database.
Luis M, sales director of an SMB, shares his experience with the platform on G2:

Read also: 5 Great GetResponse Alternatives
#4. Sendinblue

What Is It?
Our fourth pick for marketing and sales software to try over HubSpot is Sendinblue.
A digital marketing resource, Sendinblue has served quite a few businesses for more than a decade.
Why Should You Consider It?
Sendinblue can help with your Facebook advertising, landing pages, signup forms, CRM, email & marketing automation, SMS marketing, and email marketing — making it one of the most versatile Hubspot alternatives.
For Facebook Ads, landing pages, and web forms, you can use Sendinblue's customizable templates and drag-and-drop editor.
CRM
Segmentation and transactional email design to personalize your messages.
Chat support.
Contact management to identify sales opportunities and target leads.
SMS Marketing
Transactional SMS features, including Sendinblue's API.
Review KPIs and other metrics.
Email Marketing
Templates for email, drag-and-drop builder.
Personalized, dynamic content.
No limit on contacts and lists.
A/B tests.
Sendinblue Pricing
Sendinblue has four pricing plans: Free, Lite, Premium, and Enterprise.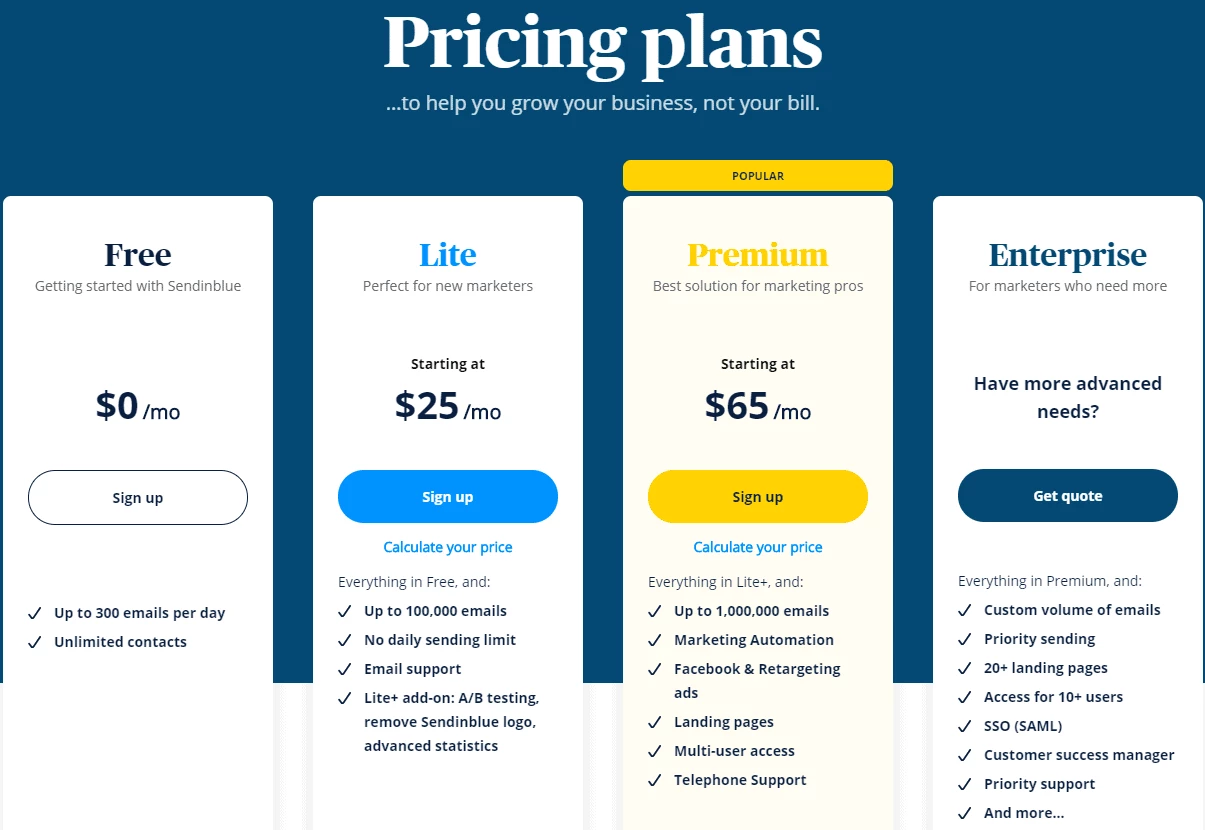 Free: The Free plan lets you work with unlimited contacts but limits the emails to 300 per day. It doesn't offer any other features.
Lite: The Lite plan for $25 per month is recommended for new marketers, with up to 10,000 emails, advanced statistics, and A/B testing.
Premium: The Premium plan is $65 a month and offers 20,000 emails, marketing automation, Facebook Ads, landing pages, multi-user access, and telephone support. It'll cost $124 a month if you need all those features and 100,000 emails.
Enterprise: The Enterprise plan has custom pricing and adds priority support, a dedicated account manager, and features like retargeting ads, chat, send-time optimization, SMS marketing, email personalization, and an email designer that works on mobile devices.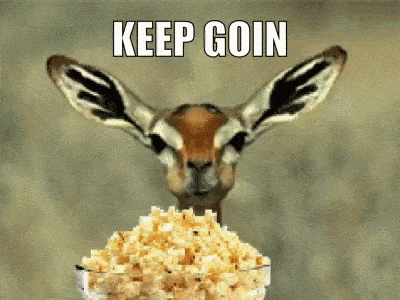 Pros
Free plan.
Affordable Lite plan for small businesses.
Cons
Free plan has a limited number of features.
The Premium plan doesn't have many features and can get pricey too.
Read also: 5 Best Sendinblue Alternatives
#5. SharpSpring

What Is It?
We also recommend SharpSpring for alternatives to HubSpot.
This marketing automation service works with enterprise-level companies, SMBs, and agencies.
Why Should You Consider It?
There are two products in the SharpSpring portfolio.
The App Marketplace includes a content management system or CMS, CRM, and shopping tools.
Then there's the Marketing & Sales Platform. This offers campaign tracking, landing page design, social engagement features, email marketing, and marketing automation.
Here's an overview of the features you can get from the two services:
Social Media
Social ROI displays.
Social activity triggers based on lead behavior.
Tracking brand advocates and hot leads.
Conversation filtering.
Scheduling social media posts.
Marketing Automation
Integration of client and agency accounts.
CRM and developer API like Python, PHP, Perl, Ruby, and Java.
Native and third-party forms via Salesforce, Sugar, Wufoo, Gravity Forms, and Formstack.
Blog
HTML editor.
Tracking code that goes into all pages on your website and blog.
Social media widgets.
RSS email sync.
Templates for blog design with a point-and-click editor.
CRM
Life of a Lead (customer journey tracking).
Page reminders to keep your leads on the ball.
Bird's Eye Pipeline View to visualize the sales cycle.
Customized deal stages that work with your type of audience.
Automation
Dynamic emails.
Tracking on multiple devices.
Dynamic landing pages.
Personas with templates.
Dynamic lists for contacts.
Automated drip campaigns.
Sharpspring Pricing
There are three plans: Small Business, Enterprise, and Agency. You can start for $399 a month on an annual contract (monthly pricing details upon query) if you have 1,000 contacts or less.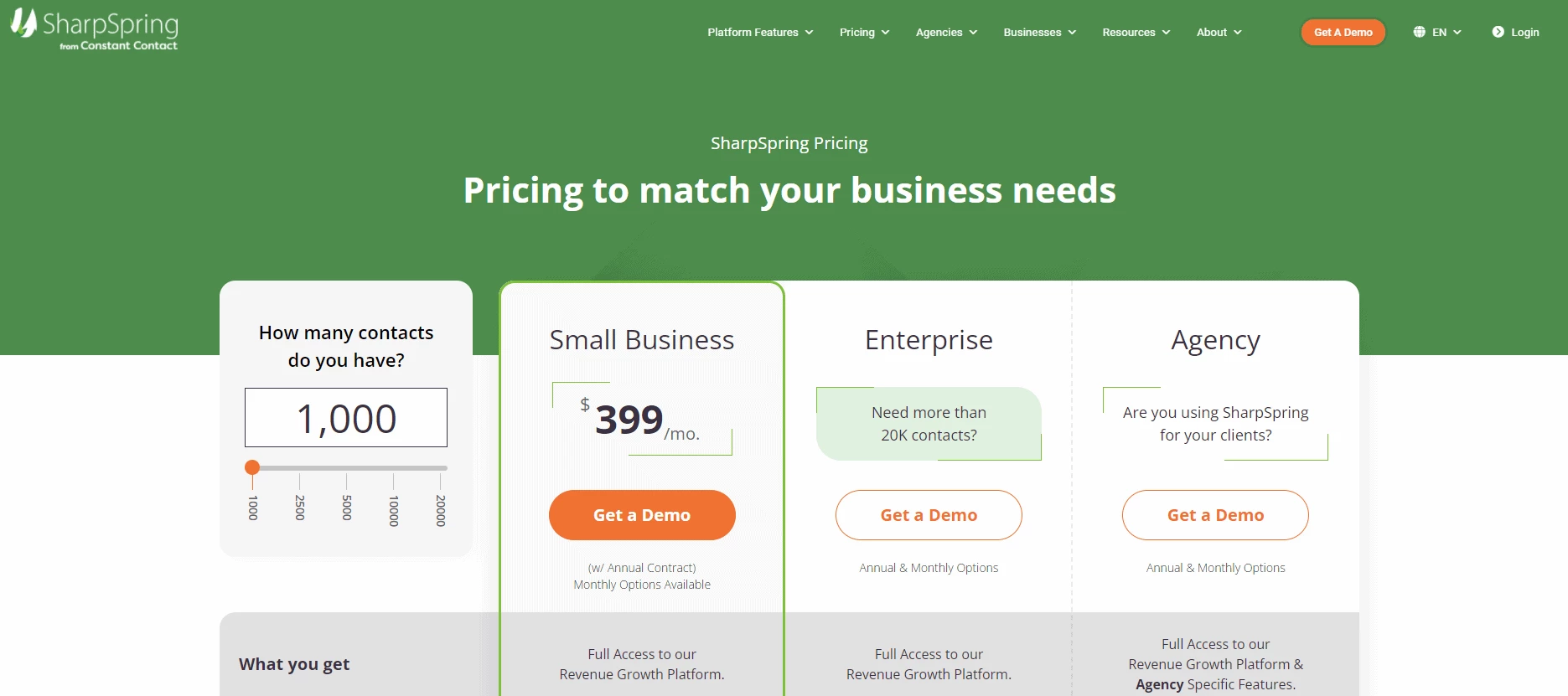 Small Business: This plan costs $399 a month for 1,000 contacts.
Enterprise: For more than 20,000 contacts, you'll need to make a query and get a quote for Enterprise pricing.
Agency: If you want to use this software for your clients, you'll need to ask for an Agency plan quote.
Pros
Features customized for industry verticals.
Cons
Read also: SharpSpring vs Hubspot vs EngageBay — Which CRM Software is the Best?
#6. Drip

What Is It?
The next pick for HubSpot competitors to try for your next campaign is Drip. This eCommerce CRM platform (ECRM) provides marketing automation services.
Drip offers an enhanced email marketing automation system and improved customer data and insights with its ECRM.
Why Should You Consider It?
Drip's features come under four categories: customer data, personalization, engagement, and optimization.
Customer Data
Integration with several other data apps.
Track customer journey with your website and brand.
Custom fields for personalization and engagement.
Tags to divide your audience into segments and your tasks for priority.
Personalization
Send segmented deals and messages like price-drop notifications.
Behavior-based email outreach.
Custom fields for segmentation of contacts.
Customer Engagement
Instagram and Facebook advertising based on customers' shopping behavior.
Visual email builder.
Automated email campaigns.
Optimization
Analytics to track metrics like revenue per subscriber, rate of unsubscribes, clicks, and opens — a boon for your marketing team.
Drip Pricing
Drip's pricing plan is based on a sliding-scale model:
For 500 contacts: $19 a month.
For 2,000 contacts: $29 a month.
For 10,000 contacts: $154 a month.
For 50,000 contacts: $699 a month.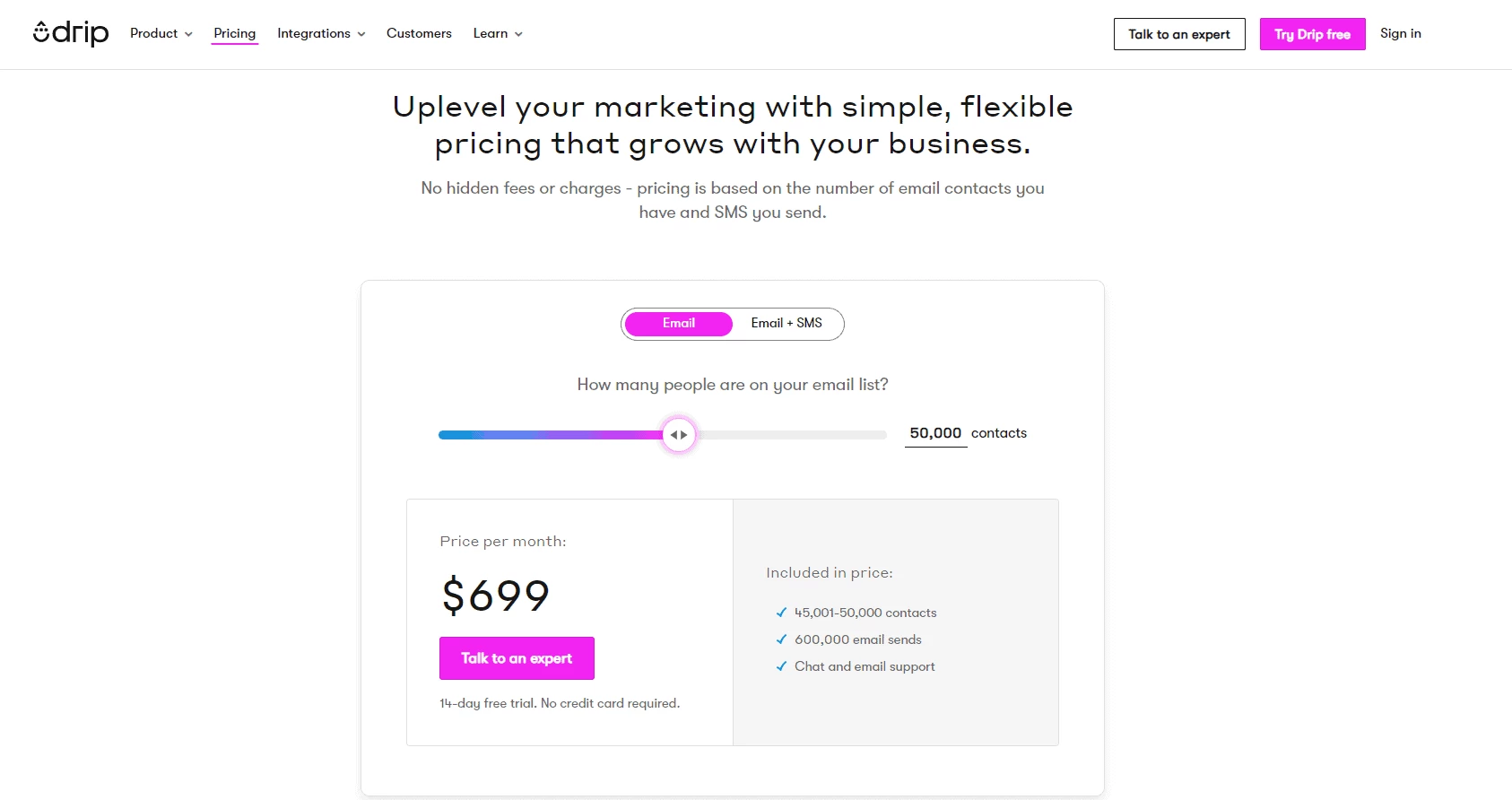 Pros
Many integrations.
Relatively affordable for startups.

Cons
Services are mostly limited to the ECRM or CRM sphere.

Read also: 5 of the Best Drip Alternatives
#7. Ontraport

What Is It?
Next, we've got Ontraport.
It has attracted a relatively large customer base and has good reviews.
Why Should You Consider It?
With Ontraport, you get a host of solutions.
There are referral programs, membership sites, business process automation, marketing analytics, CRM, landing pages, eCommerce, email marketing, sales force automation, and marketing automation.
Referral Programs
Stash referral program data in a referral management system.
Integrate with other referral programs you might have with Ontraport's WordPress plugin (PilotPress).
Make your own partner center on WordPress for commissions, sales, and traffic management for your partners.
Share partner promotional tools for referrers, each with its own tracking.
Generate partner sales reports.
Use automated promo tools like emails, links, lightboxes, and banners for promoting referrals.
Membership Sites
Web forms for your WordPress website.
Customizable templates.
Web forms and landing pages.
Automation for membership levels.
Business Automation
Customer onboarding automation.
Resources and content automation like welcome emails.
Predictive results, lead management.
Sync data to a single dashboard.
Fulfillment lists that go out every month or week.
Automated customer follow-ups.
Automated tasks.
CRM
Business card-style contact organization.
Interaction tracking based on communication and behavior.
Contacts grouping by job title, demographics, and other data.
Email campaign assigning automation.
Tags based on behavior.
Landing Pages
Add responsiveness and mobile optimization to your landing pages.
Include one-click upsells or order bumps to your sales page.
Share lightbox pop-up forms that come pre-filled.
A/B testing for landing page elements.
Review landing page success with detailed analytics.
eCommerce
Keep a limited purchase data cache for customers to buy again.
Provide an add-on or upsell on the thank-you page.
Provide secure payment processing through secure gateways such as PayPal, Stripe, etc.
Share group or individual coupons for event promotions, holidays, birthdays, etc.
Ontraport Forms to make your own order forms branded to your company.
Marketing Automation
Automate appointment reminders, thank-you messages, greetings for holidays and birthdays, etc.
Text reminders for appointments.
Text-based opt-ins.
Response and bounce tracking.
Marketing Analytics
Split testing for emails.
UTM variable data lead source report filtering to track revenue, leads, etc.
Customizable analytics.
Conversion stats, such as time taken to finish surveys, open emails, etc.
Sales Force Automation
Weighted Random to assign more leads to the top salespeople.
Round Robin to distribute leads evenly to all salespeople.
Lead score degradation on older leads.
Follow-up funnels with automation.
Review of expected win percentages and deal values.
Ontraport Pricing
Ontraport offers four different plans: Basic, Plus, Pro, and Enterprise.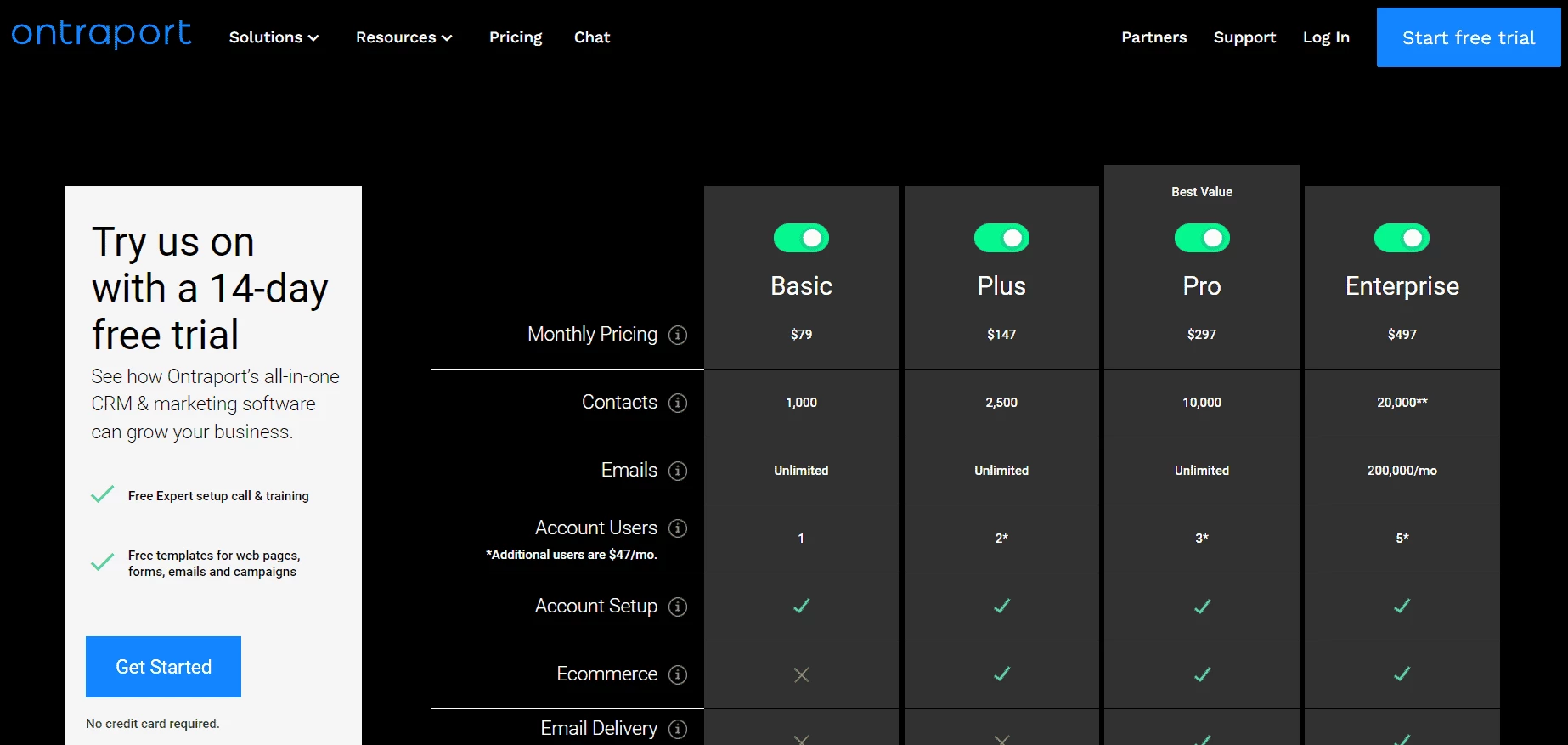 Basic: This plan costs $79 per month and can support one user. You get unlimited emails and 1,000 contacts.
Plus: The Plus plan costs $147 a month, adds a second user, and offers 2,500 contacts.
Pro: With the Pro plan, you can have three users and 10,000 contacts for $297 a month. You also get email consultations and unlimited emails.
Enterprise: The Enterprise plan supports five users, more than 20,000 contacts, and 200,000 monthly emails for $497 a month. You get a personal account rep, email consultations, and Ontraport account set up.
They also offer free trials for all the plans.
Pros
A plethora of services.
Free trial for two weeks.
Useful integrations such as secure gateway payment processing through Stripe or PayPal.
Cons
Read also: What is HubSpot? Features, Pricing, Who it's Best for
#8. Insightly

What Is It?
Insightly is a unified customer relationship management software that aligns marketing, sales, and project teams around a single view of your customers. The platform is great for entrepreneurs and small business owners executing campaigns, managing contacts, and growing their audience list.
Why Should You Consider It?
Insightly has a clean and intuitive user interface making it a great alternative to HubSpot. In addition, it offers social media management and various products for specific marketing requirements.
Lead Management
Lead management, assignment, and routing.
Outbound email scheduling.
Web to lead capture.
Automatic social profile enrichment.
Customer Relationship Management
Contact and organization management.
Task and event management.
Relationship linking.
Sales Features
Opportunity management.
Customizable sales processes.
Sales teams assignment.
Batch update records.
Event activity sets.
Project Management
Integrated project management.
Milestones and associated task tracking.
Calendar synchronization.
Configurable project processes.
Insightly Pricing
Insightly CRM offers three plans: Plus, Professional, and Enterprise: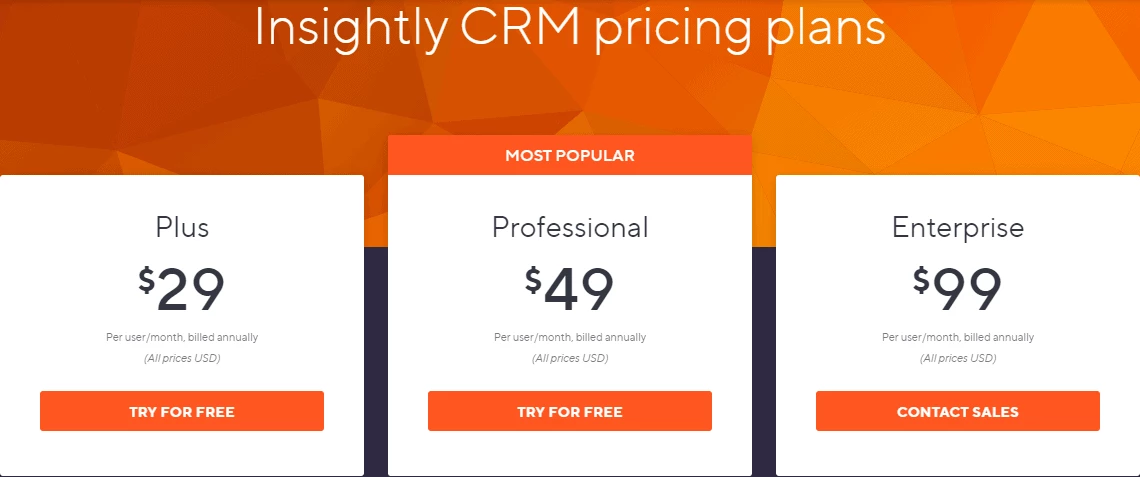 Plus: Costs $29/month and offers company collaboration tools, integrated project management, calendar synchronization, and more.
Professional: Costs $49/month for lead management, email templates, social profile enrichment, opportunity management, and more.
Enterprise: Costs $99/month and adds relationship linking, task and event management, complete workflow automation, custom validation rules, and configurable profiles.
Pros
Feature-rich.
Intuitive dashboards.
Affordable pricing.
Cons
Customer support is not reliable.
Read also: Insightly Alternative: Better & Trustworthy Tools To Consider
Conclusion
While the Hubspot CRM software is a leader in the marketing and CRM automation niche, it is not suitable for small businesses and startups.
You might be fooled into thinking that the platform is quite affordable when you've just started, as the Starter plan only costs $50 a month for 1,000 contacts.
But what happens when your company grows, and you need to store more contacts and have better features?
That's where all hell breaks loose.
Platforms like HubSpot initially lure you with enticing free plans and affordable packages, but it soon shoots up.
The cost of Hubspot's Starter plan jumps up to $1,035 a month for 25,000 contacts. If your business has boomed and you need advanced features, you must choose the Enterprise plan.
The pricing?
HubSpot costs a whopping $5,000 a month for 10,000 contacts. Add to this the mandatory onboarding fee of $12,000, and your annual billing exceeds $70K!
That's why small businesses need more affordable Hubspot alternatives, and we have done the homework for you.
You can choose the platform that fits the best for your business needs.
That said, we recommend EngageBay, mainly because it is built from the ground up with affordability in mind.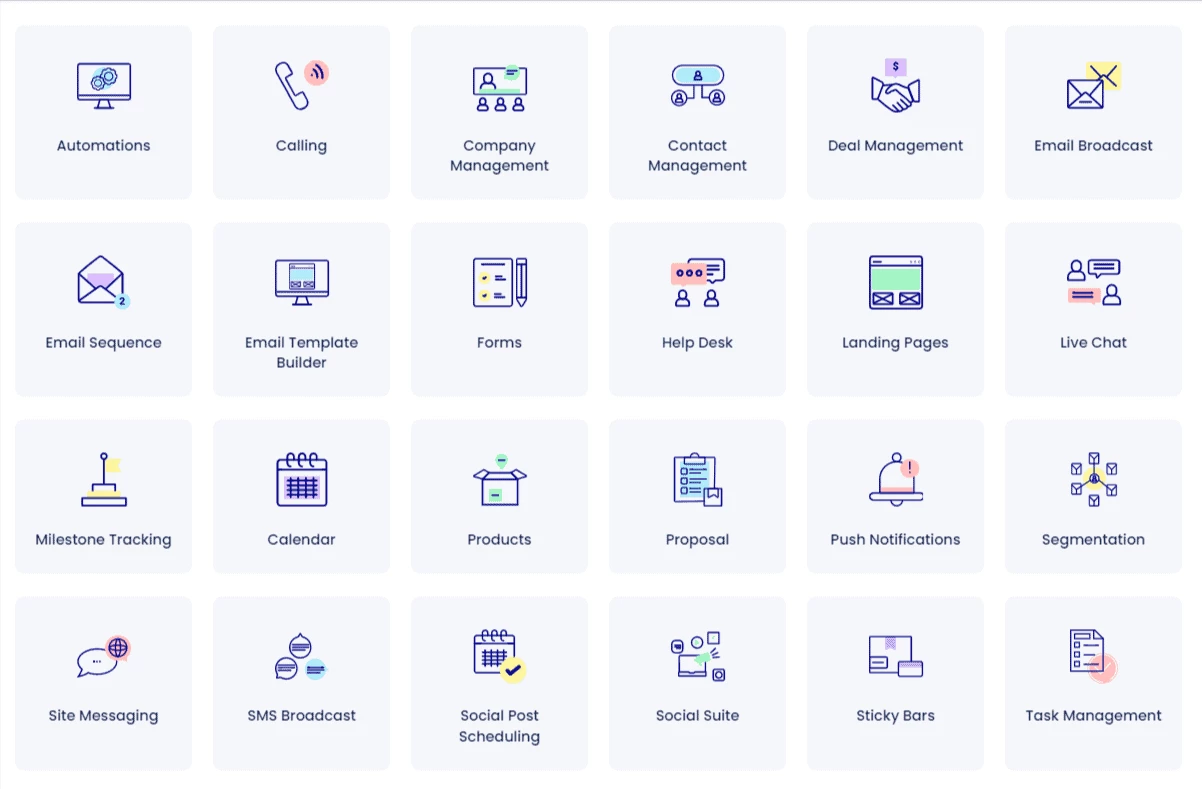 You get a forever free version, the Basic plan only costs $14.99, and the Pro plan with a plethora of advanced tools — and unlimited contacts — costs just $99 a month!
Try it today 🙂
---
Frequently Asked Questions
What platforms are similar to HubSpot?
Here is a list of the best HubSpot alternatives for small businesses: EngageBay, ActiveCampaign, GetResponse, Sendinblue, Sharpspring, Drip, Ontraport, and Insightly.
Each platform caters to a different audience, and a few software like EngageBay are designed specifically for small businesses and startups. We love ActiveCampaign too, but it's great only for marketing automation — you'll need another CRM solution to go with it.
What is the catch with HubSpot free CRM?
The catch with HubSpot free CRM? Like any for-profit business, HubSpot's free plan is designed in such a way that businesses will eventually have to upgrade to a paid plan to unlock more features. We've laid it all down in this blog: 'Is HubSpot really free?'
The free plan does not offer automations. Once businesses grow and need advanced features, that's when HubSpot's high costs become painful. Leandro N., the owner of an e-learning company, offers an unfiltered view of HubSpot:
"I do not think there is any startup or early business that can afford to increase its marketing and CRM suite costs by 2,300%. Most businesses must make the painful decision to abandon Hubspot and find new CRM suites with much more reasonable cost escalations."

~ Leandro N., on Capterra
Is HubSpot really worth it?
HubSpot is an amazing all-in-one platform with all the bells and whistles. That said, HubSpot targets large corporations and businesses with deep pockets. For small businesses, HubSpot's high price tag is definitely not worth it.
Imagine paying thousands of dollars just for onboarding!
We recommend trying out more affordable HubSpot alternatives mentioned in this blog. For small businesses and startups, EngageBay has got the same all-in-one approach and ease-of-use as HubSpot, but without the exorbitant price tag.
Is there a better CRM than HubSpot?
For small businesses, EngageBay is a better CRM than HubSpot as it offers most of the features at a highly affordable price. Choosing EngageBay could mean saving more than 80% of costs.
Objectively speaking, there are better platforms than HubSpot. Salesforce has been ranked #1 CRM in the world by IDC – but top CRM providers like these are designed for corporations and large businesses. These CRM software are super expensive, complex, and require extensive training.
SMBs need an affordable, easy-to-use CRM software that can be quickly set up. This is exactly why EngageBay is the best HubSpot alternative for small businesses, and that's what many of our 46,500+ customers have said too

Is HubSpot difficult to use?
We love HubSpot's UI – it's clean, easy to use, and modern. But what we (and many small businesses) don't like is how much they charge for their products.
That's why we built EngageBay: a CRM software that is as easy to set up and use without the need to pay thousands of dollars. Our Pro plan with unlimited contacts costs just $84.99/month 🙂
Do large companies use HubSpot?
Yes, HubSpot is designed for large companies with deep pockets. Some huge companies that use HubSpot include Trello, Headspace, BBC, and more.
But what about small businesses? In our own experience, we found that HubSpot is not for SMBs, solopreneurs, and startups. If that's you, we recommend trying EngageBay to have everything in one place, or ActiveCampaign if you need only marketing automation.