A marketing workflow software is a tool that helps the marketing team in automating repetitive tasks, tracking progress and conversion rates, saving workflows, and sharing automation workflows with colleagues or third-party providers.
Marketing workflow software saves time for marketing tasks. It also allows you to reuse marketing workflows for future tasks or change existing workflows anytime as and when changes are needed.
In this blog post, we'll share six of the most viable marketing workflow software options on the market, with brief reviews of each. These are: EngageBay, HubSpot, Keap, ActiveCampaign, Pipedrive, and Insightly (in no particular order).
We'll give you a lot of details about the features and pricing plans of each of these marketing tools. By the time you're done reading, you'll feel confident selecting your marketing campaign workflow software.
The 6 Best Marketing Workflow Software Today
There are many marketing tools and workflow platforms you can find out there, but not many really offer great value for money.
You might end up using too many tools if you don't have access to one good all-in-one marketing workflow solution, which is why we've kept this list short.
Do note that there isn't any ranking in this list.
#1. EngageBay
Beginning our list is the small business marketing solution EngageBay. Created to be affordable for startups on a tight budget, EngageBay's services entail marketing, sales, and customer support, with a free integrated CRM.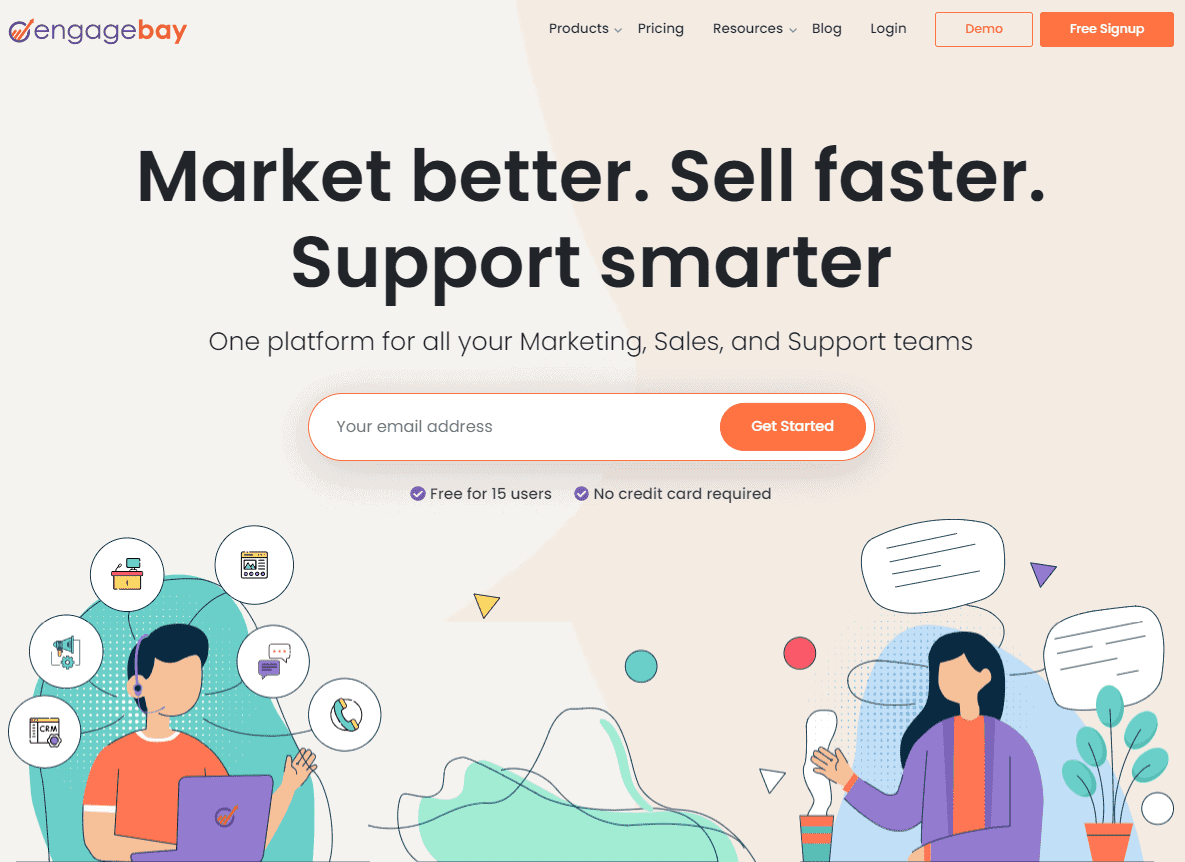 Building workflows in EngageBay is incredibly easy. The software uses a drag-and-drop builder that any member of your marketing department can master even if they're not tech-savvy. There's no need for HTML or coding knowledge when you use EngageBay!
On the other hand, for those who are pros and like to code their own landing pages or email templates, EngageBay offers complete customizability.
Even better is EngageBay's pricing. You can access the free CRM and take advantage of a free plan that's free forever. That's right, you don't ever have to pay a cent for EngageBay's marketing workflow tools.
If you need advanced features or have thousands of subscribers, EngageBay's plans start at $12.99 per user per month.
It's for all these reasons that EngageBay is an emerging favorite among marketers today.
Key Features of EngageBay
EngageBay's design and responsive layout look great on all devices such as smartphones, tablets, and desktops.
EngageBay lets you create and embed custom forms that automatically subscribe new users to relevant content. EngageBay forms can be embedded on your website, blog, and social pages.
EngageBay lets you create automated email campaigns that automatically follow up on leads with personalized messages.
Integrations with many of the most popular business apps.
EngageBay mobile app to engage leads on the go.
Up to 30,000 contacts and 30,000 branded emails per month.
Smart lists and easy segmentation with automatic adding and removing of leads based on actions and conditions you set.
Predictive Lead Scoring for all subscribers, so you know which leads are warm and which ones are the closest to conversion.
Web Pop-ups with an easy drag-and-drop builder and free templates.
Free and customizable email templates.
Auto Responders for quick and common responses.
Tags for efficient lead management.
Social Suite for managing all the social posts and engagement tracking from one place.
Reporting Dashboard for measuring all marketing KPIs, for both default and custom metrics.
Live Chat
Video Marketing
Facebook Ads
Desktop Notifications
Landing Page templates
Landing Page builder
SSL enabled for Landing Pages
Automated email sequences
Up to 20 GB file storage
Marketing workflow automation with custom nodes
Site messaging
Email broadcast and landing page A/B testing
EngageBay Pricing Plans
Free plan with lifetime validity, 500 subscribers, and 1,000 branded emails a month.
Basic plan at $12.99 per user per month, with 1,000 subscribers and 2,500 branded emails a month.
Growth plan for $24.99 per user per month, with 20,000 subscribers and 20,000 branded emails a month.
Pro plan for $49.99 per user per month, with 30,000 subscribers and 30,000 branded emails a month.
Read also: What Is Restaurant CRM Software & Which One Suits A Small Business?
#2. HubSpot
One of the bigger names in the world of marketing automation software is HubSpot. They too have sales, marketing, and service solutions as well as a free CRM.
The difference is that while HubSpot's CRM is free, the rest of its tools are not. The high costs of HubSpot's marketing workflow automation tools might turn some users away, and rightfully so.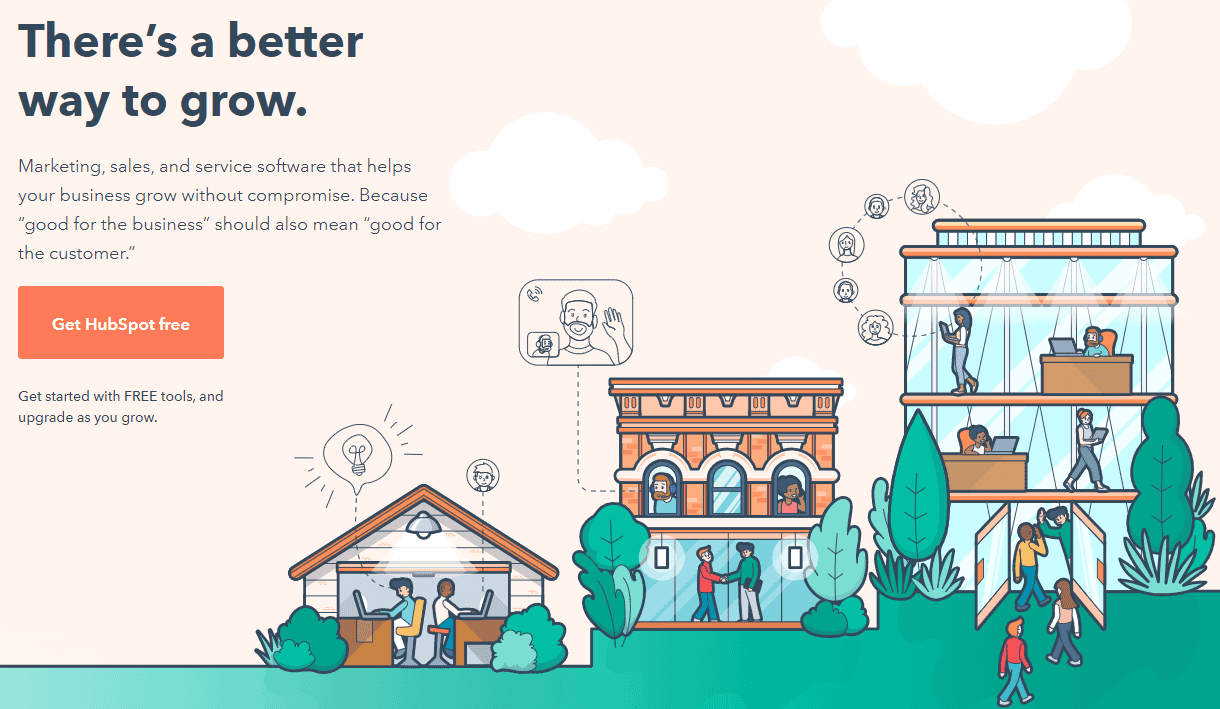 But HubSpot offers a great product overall, and the marketing workflows are very easy to set up and use. You can organize your marketing workflows by type and object. There are templates of workflows to help you get started, and a wide range of features that you can use if you don't mind paying for the higher product bundles.
HubSpot is known to be an expensive marketing workflow software. HubSpot, however, still provides great results because of its power and ease of use.
The HubSpot marketing workflow tool can aid business owners with their email campaigns, social media efforts, landing pages, blogging campaigns, and website outreach.
Key Features of HubSpot
Contact management with lead scoring and company-wide collaboration.
Great for positioning contacts within a specified marketing pipeline.
HubSpot Analytics to track website visitors' behavior.
Integrations for social media, blogging, and website management.
Email marketing automations that are easy to create and track. HubSpot's email marketing tool includes built-in reporting.
HubLanding pages for capturing emails and generating leads.
Email campaign templates.
Centralized customer data management.
HubSpot's CRM has a helpful task management system that allows users to organize marketing tasks, contacts, and customer data.
Customizable web forms.
Preconfigured contact form templates for landing pages.
24/7 live chat support.
Email reporting with open rates, click rates, unsubscribe rates, spam reports.
HubSpot CRM automatically calculates social media engagement, number of followers, and social media activity.
HubSpot can also be tied into most business email applications, including Gmail, Outlook, and Yahoo.
HubSpot Pricing Plans
Free plan with limited features and 2,000 emails that come with HubSpot branding
Starter plan for $50 a month with 1,000 subscribers and 10,000 branded emails a month.
Professional plan at $890 a month with 2,000 subscribers and 20,000 emails.
Enterprise plan for $3,200 a month with 10,000 subscribers and 200,000 emails.
Read also: HubSpot Pricing and Comparison with Other Alternatives
#3. Keap
The CRM once known as InfusionSoft is now Keap.
Keap can help your marketing team work smarter, not harder. Keap offers tools that serve as aids for you to accomplish your goals quickly and efficiently.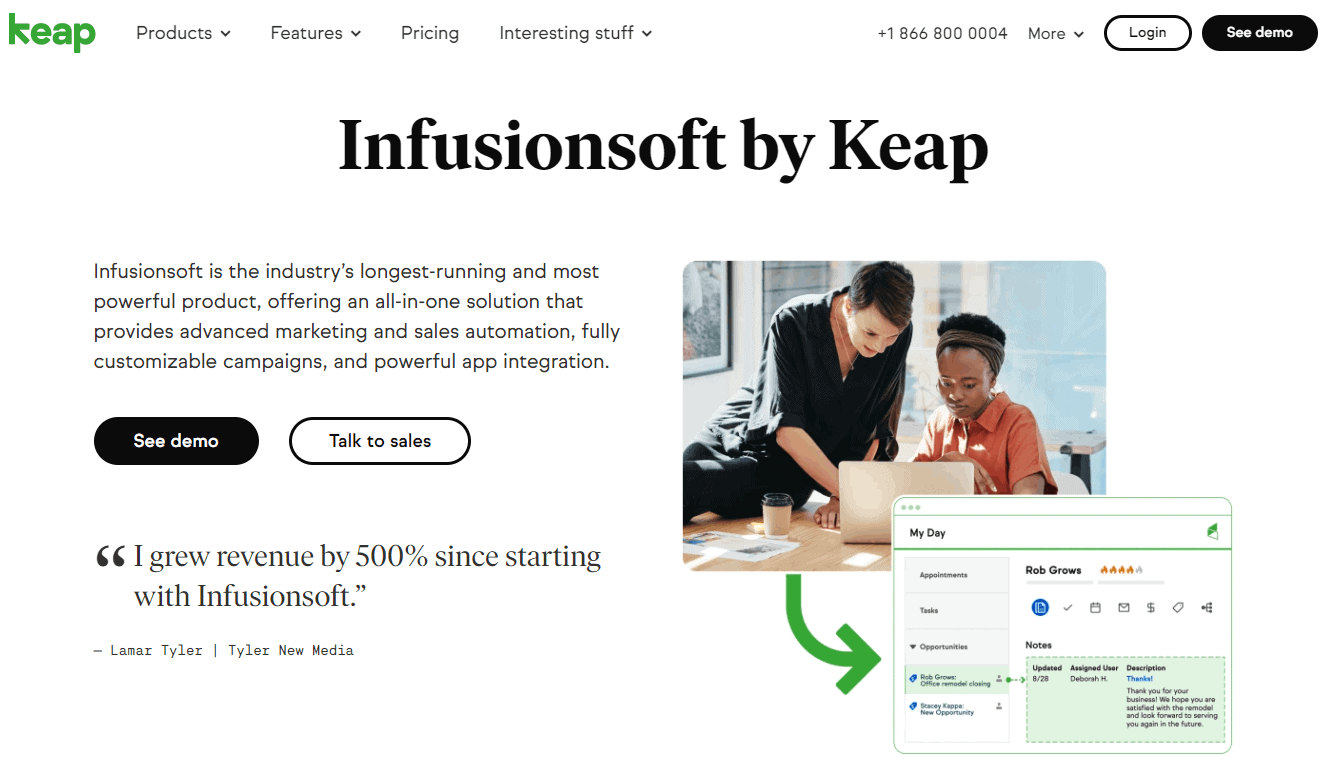 Keap's marketing workflow tools support marketing teams in three main areas: lead management, website analytics, and email marketing.
The lead management tools let you identify, track and nurture leads across multiple channels. This marketing automation software lets you upload your database so you can find out more about the people in it, check their relationship with your organization, track behavior patterns, and automate follow-up marketing campaigns accordingly.
Keap prices its marketing tools by the number of contacts you have. We'd recommend their Lite plan for small businesses and startups.
Key Features of Keap
Lead management tools to identify, track and nurture leads across multiple channels.
Website analytics to track every interaction a user has with your company.
Set up goals, track funnel performance, and export data as reports.
Keap offers a variety of integrations as well as some custom solutions for your marketing team.
Integrations with major CRM and e-commerce platforms.
Custom contact lists.
Personalized marketing emails that contain dynamic content.

Tracking for email marketing metrics like open rates and click-throughs to analyze campaign performance.

Advertising ROI reports with information about lead source of revenue
Integrations and tracking for affiliate programs
Workflow automation for organizational (internal) processes.
Keap Pricing Plans
No free plan but a free trial lasts 14 days.
Lite plan for $56 a month for the first 5 months, then $79 a month, with 500 subscribers
Pro plan at $210 a month with 2,000 subscribers for the first 5 months, $299 after that.
Max plan at $350 a month with 25,000 subscribers for the first 5 months, $499 after that.
Ready also: Infusionsoft (Keap) Pricing and Comparison with Alternatives
#4. ActiveCampaign
As one of the top automation platforms, ActiveCampaign can be used to create smooth marketing workflows for your business. ActiveCampaign has many features that make it perfect for marketers, such as responsive web design, autoresponders, and email tracking.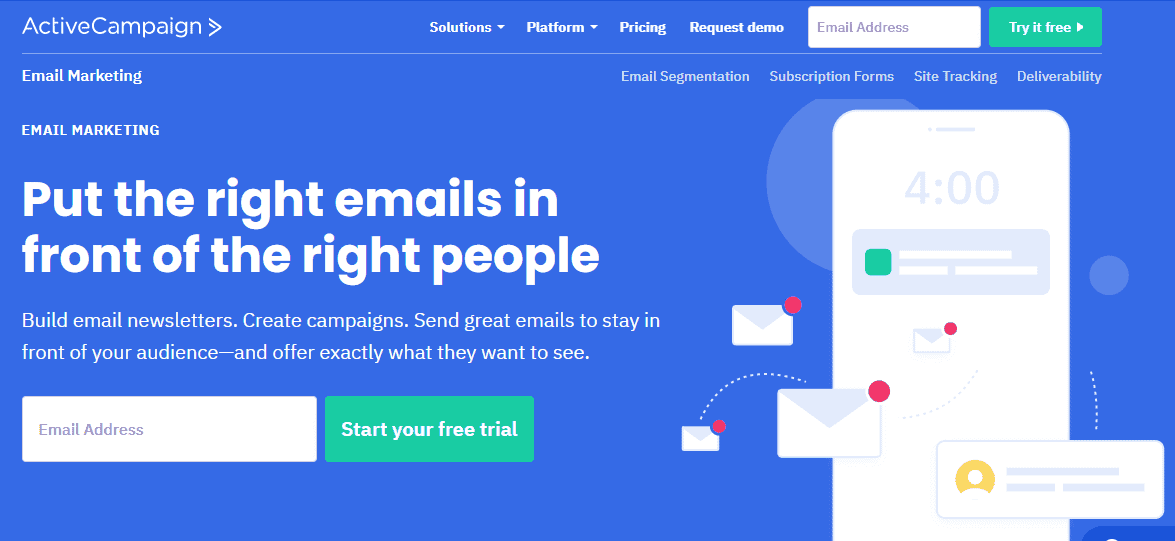 ActiveCampaign's responsive web design delivers a great customer experience and makes it easy to track metrics like opens, clicks, downloads, and more.
This marketing automation platform has many other features, such as form integration for websites and mobile apps, automation workflows, event tracking, and more.
All these features combine to create a powerful marketing tool that makes it easy for marketers to build their own workflows in minutes.
ActiveCampaign also prices its plans by how many contacts you have.
Key Features of ActiveCampaign
Marketing workflow automation to convert leads.
Live Chat support
Dedicated account manager
Unlimited templates and customization options for emails, SMS campaigns, social media posts
Integrations for making phone calls, hosting webinars, etc.
Data tracking & reporting.
Form integration for websites and mobile apps.
Automation workflows for tasks other than marketing as well.
Unlimited contacts and mailing lists.
Data security and privacy protections.
Real-time reporting dashboard.
Mobile app for iPhone and Android.
SSL Encryption to secure data transfer over the Internet.
Data export to CSV files for editing or sharing outside of ActiveCampaign.
Support for multiple users and teams with roles, permissions, and shareable dashboards.
Data deletion on unsubscribe option.
Sync with Gmail and other email applications.
Time Zone conversion to match your email frequency with the optimal delivery window.
Automatic reply for holiday closures or scheduled downtime.
Dedicated chat support for users.
User management and data security with custom access control.
870+ integrations.
ActiveCampaign Pricing Plans
No free plan but a free trial lasts 14 days.
Lite plan for $15 a month with 500 subscribers.
Plus plan for $125 a month with 2,500 subscribers.
Professional plan for $349 with 10,000 subscribers.
Enterprise plan for $499 with 10,000 subscribers, or custom pricing for 25,000 subscribers.
Also read: ActiveCampaign Pricing and Comparison with Other Alternatives
#5. Pipedrive
Pipedrive is mostly a sales solution but provides services that marketers can use as well. That includes Pipedrive's robust workflow automation tools.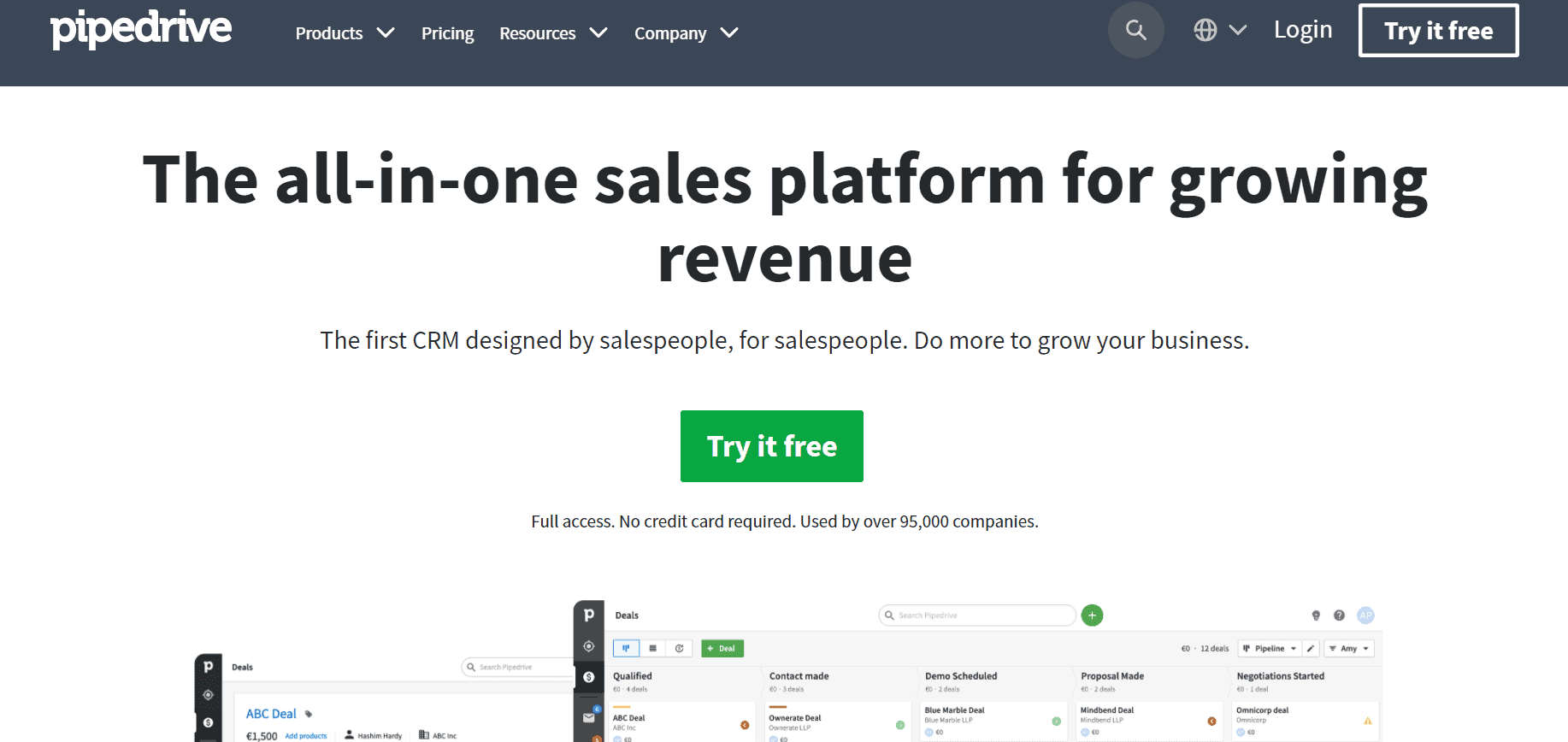 On top of defining your marketing campaign steps, Pipedrive's automation can take care of plenty more. The software will automate email sending and follow-ups. You can also automate redundant tasks that no one in your office seems to have time for.
Pipedrive is a sales automation platform that integrates with your CRM to make it easy for you to track all of your prospects, leads, and customers. It also lets you manage your sales and marketing activities and measure and grow your leads and pipeline.
The platform provides reporting tools that track the overall performance of your team, including how much time is spent on each task.
Key Features of Pipedrive
Customizable pipeline management
Email tracking with notifications
Reports for lead & customer data
Sales automation to help close more deals
Calendar to schedule appointments online
Integrations with most other CRM software
A/B testing for emails to customers
Email automation with autoresponders
Lead nurturing with drip campaigns
Custom fields to fit the way you work
Lead scoring
Competitor tracking
Customizable email templates
275+ integrations
Pipedrive Pricing Plans
Free trial for 14 days
Essential plan at $15 per user per month
Advanced plan for $29 per user per month
Professional plan for $59 per user per month
Enterprise plan for $119 per user per month
Also read: Pipedrive Alternatives: 6 Drawbacks of Pipedrive CRM Explained
#6. Insightly
Since 2009, Insightly has been a leading marketing, sales, service, and CRM platform.
Insightly's campaign management automation lets you assign tasks to others among your team so everyone can work together to make the campaigns rock. You can rely on Insightly's automation for invoicing too, so you never miss a payment again.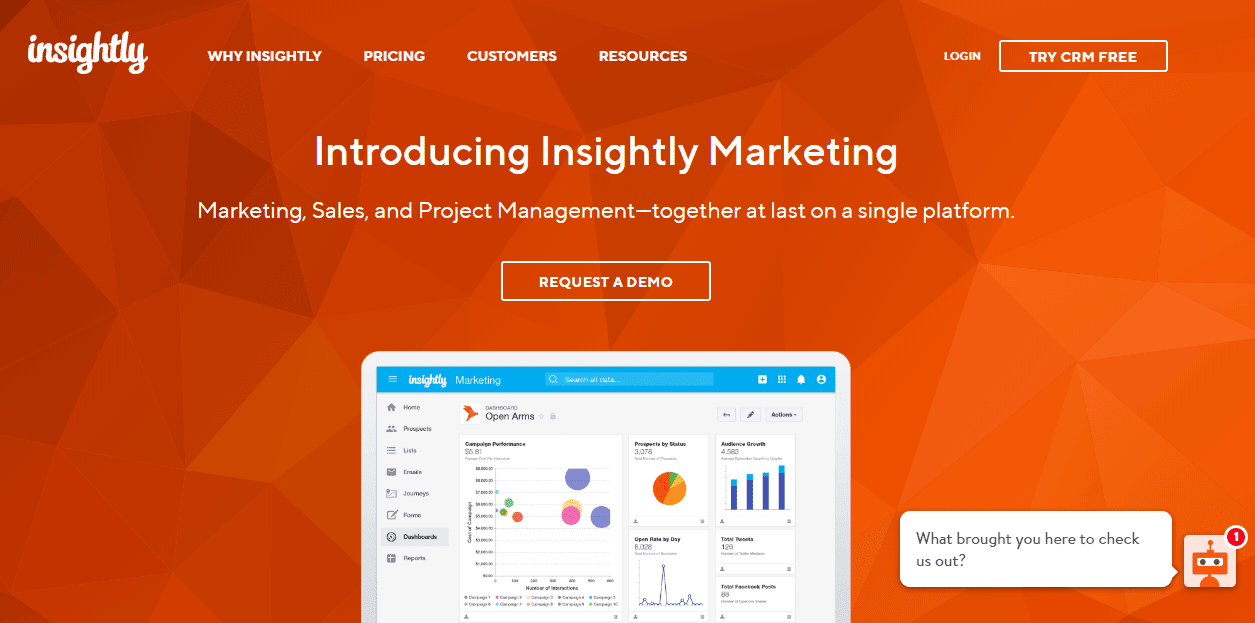 There are many benefits to using Insightly, including workflow automation, and powerful analytics that let you track your business' performance over time. It provides services like lead generation, outreach campaigns, product and service tracking, deals follow-up, and much more.
Insightly users can also automatically sync their social media accounts with the software to establish solid profiles on leads and prospects and tag them accordingly.
Depending on the product you're interested in, Insightly's pricing plans vary. Their plans already start in the three-figures, so a small business may not be able to afford Insightly.
Struggling to formulate a killer marketing automation strategy? Our comprehensive guide is here to help.
Key Features of Insightly
Insightly allows you to organize contacts by company, industry, or role within the company.
Create sales opportunities and track them by deadlines and milestones set up in advance.
Powerful reporting engine that gives you insights into your business' performance over time.
Reports on goals met and missed, leads generated, deals won or lost.
Integrations with third-party apps like Monday, Google Meet, Klenty, and more.
API to build apps for workflows.
Mobile app for iOS and Android.
Phone, email, and website tracking of all customer interactions.
Analytics tool to see how much time is being spent on specific activities like prospecting.
Create your own fields for contacts and opportunities, like Notes or File attachments.
Export customer data in customizable reports.
Personalize the email signature of every manager with contact details, photos, logos, social links, awards, etc.
Insightly Pricing Plans
Plus plan for $35 per user per month, billed monthly.
Professional plan for $59 per user per month.
Enterprise plan for $129 per user per month.
Read also: Insightly Alternative: Better & Trustworthy Tools To Consider
Conclusion
Marketing workflow software defines the steps that build your marketing campaigns. You can streamline your processes for smoother-running marketing campaigns that connect better with your audience segments and take less time and effort to create.
Of all the marketing workflow tools we have listed here, EngageBay is the best choice for small businesses and startups. EngageBay's marketing workflows are easy to use, especially as the software was built for beginners and small business owners who may not know much tech.
The forever-free plan and exceptionally affordable pricing for advanced features also make EngageBay a standout. See what EngageBay users are saying about it.
👉Want amazing marketing results? Learn how to implement these 17 automation workflows today!