Life is all about having options, and why shouldn't that extend to your digital marketing tools as well?
If you're a Sendinblue user, there's admittedly quite a lot to like about this software.
You can launch SMS marketing campaigns (and other types of campaigns), use CRM, and make landing pages and forms.
Yet as a small business or startup that's constantly reevaluating what works and what doesn't, you're inclined to ask: is Sendinblue right for you?
Is there a Sendinblue alternative out there that's lower-priced but still offers the same features?
Maybe the tool is more convenient to use than Sendinblue?
These are questions we're going to help you answer in today's article.
Ahead, we'll cover Sendinblue in detail, including its features and pricing.
We'll also delve into five very viable Sendinblue alternatives.
These are EngageBay, Pipedrive, ConvertKit, Infusionsoft or Keap, and AWeber.
Whether you decide to switch from Sendinblue or keep using it, your choice will be a lot clearer by the time you're done reading.
What Is Sendinblue?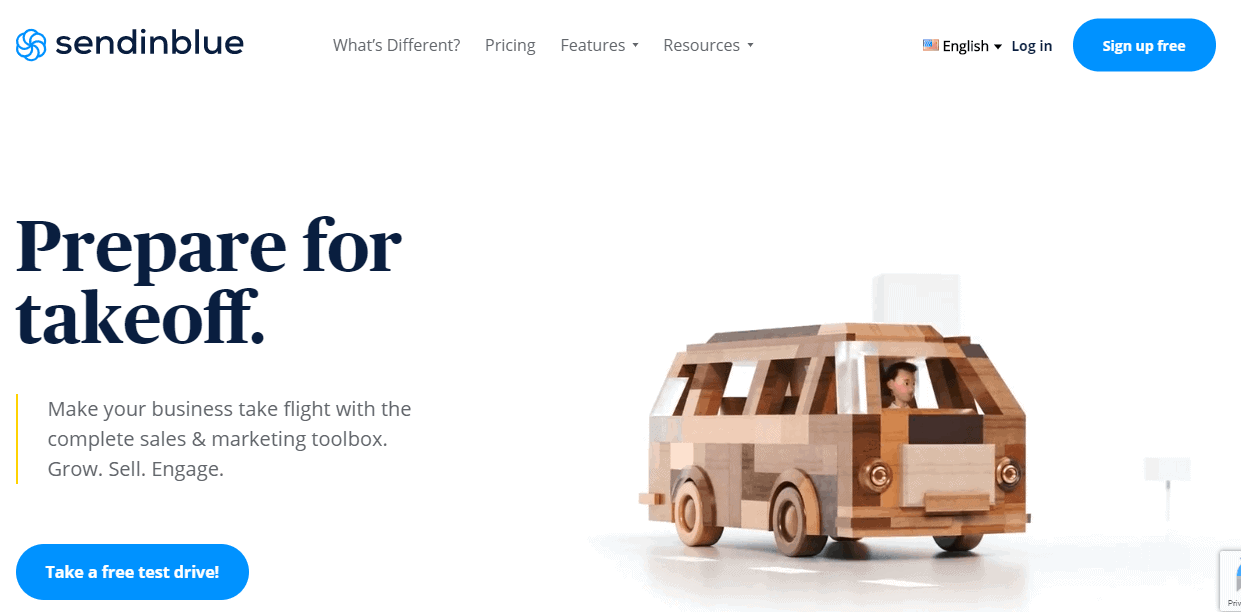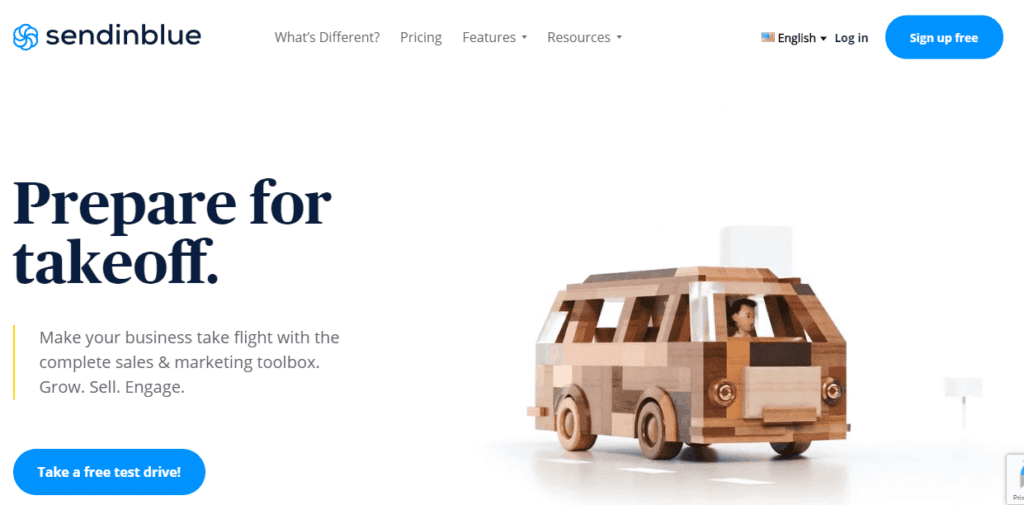 Let's begin with an overview of Sendinblue. This digital marketing agency arose out of the need for scalable marketing tools for businesses outside of enterprises and corporations.
Sendinblue promotes its services to SMBs.
Having served 175,000 companies and counting, Sendinblue has the reputation to make it an appealing choice for lots of businesses.
Features
Here is a full overview of the features Sendinblue has available.
Facebook Ads
Advertising on social media giant Facebook can further your marketing campaigns and extend your audience reach.
In Sendinblue, you can upload your own photos for the Facebook ad, input your text, and choose the placement of the call to action or CTA.
Sendinblue will even find leads that may be lured in by your ad based on your current audience data.
This is a great time-saving measure.
Once your ad goes live, you can use Sendinblue to track its success.
Landing Pages and Signup Forms
You can build landing pages and signup forms from scratch as well using Sendinblue.
Its page or form builder includes searchable templates and drag and drop features.
Transactional Emails
Make more money through your transactional emails by selecting from setups like marketing automation, ecommerce plugins, SMTP Relay, or API.
Sendinblue also lets you send an array of transactional emails available through their templates and drag and drop editor.
Using dynamic content, you can add personalized touches to your emails so they resonate more with your audience segments.
Review deliverability, engagement, open rates, and click-through rates with Sendinblue transactional email metrics that update in real-time.
Marketing Automation
Automate more of your day-to-day marketing tasks with Sendinblue.
Whether you prefer simple workflows or more complex ones, Sendinblue can do either.
Some areas of automation within the software are updating contacts, audience segmenting, and email sending.
CRM
A good CRM is priceless, especially when it's built into the marketing tool you already use.
Both your sales and marketing team will get a lot of use out of Sendinblue's CRM.
Inbox
Sendinblue lets your marketing team use a shared inbox so you can track who's courting which customers.
You'll also see which customer queries are open and awaiting a response so you can jump right on them.
Chat
Customize your chatbox with Sendinblue, improving it from the ground up.
You can even put your business logo on the bot to drive trustworthiness and authenticity.
Then, anytime your customers or leads have a question and your staff isn't available to answer it, the chatbot can step in and act as the go-between.
Email and SMS Marketing
Market more with SMS and email marketing included in your Sendinblue subscription.
SMS messages sent straight to a customer's phone let them know about new products or services as well as discounts and other important news.
Email marketing is a more traditional form of marketing that, with automation, can be made easier with a Sendinblue subscription.
Pricing
Sendinblue has four plans to select from Free for $0 a month, Lite for $25 a month with 10k emails, Premium for $65 a month with 20k emails, and the Enterprise plan with custom pricing.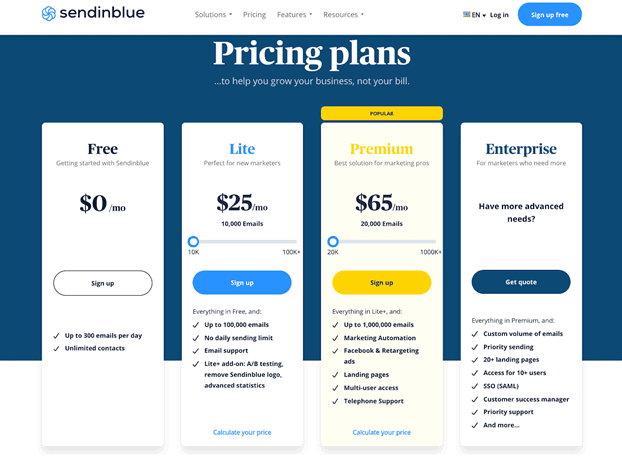 The Free plan includes these features:
Email support
Real-time reporting
Page tracking
Workflow editor
Advanced templating language
Core API
SMS and transactional emails
One shared inbox
Sales CRM
Custom signup forms
Advanced segmentation
Chat
Email personalization
Template library
Mobile-friendly email design
Email campaigns
Besides the above features, the Lite plan also has:
No sending limit per day
Option to remove Sendinblue logo
Optional A/B testing
The encompassing Premium plan offers the following (as well as all the above):
Multi-user access
Basic integrations, plugins, and API like Typeform, Google Contacts, and RSS
Advanced click-through and open rate stats
Heat map reporting
Device and geography reporting
Real-time reporting
Marketing automation workflows
Three shared inboxes
Retargeting ads
No Sendinblue logos
A/B testing
In the Enterprise plan, you get everything Sendinblue has to offer, like:
SLAs
SAML and SSO
Dedicated account manager
Advanced integrations such as FTP and Salesforce
Phone support
Dedicated IP
Unlimited shared inboxes
Unlimited landing pages
What Are the Pros and Cons of Sendinblue?
How advantageous is using Sendinblue for your small business or startup?
What are its downsides?
Let's explore both now.
Sendinblue Pros
Compared to its competitors, Sendinblue's pricing plans are rather affordable, especially for SMBs.
Analytics help you learn what you're doing correctly and incorrectly so your campaigns are better.
Between the shared inboxes and CRM, keeping tracking of activities and teams within one tool is possible.
You can personalize both your marketing campaigns and your email correspondence for a better reaction from your audience segments.
Lead scoring creates lists of more qualified leads, sometimes automatically.
A/B testing helps you determine which emails or pages will outperform the others so you get the success you want the first time.
Automation saves you time, which frees up your schedule to tackle more marketing jobs and grow your company.
Sendinblue Cons
If you choose a more inexpensive pricing plan, you might not get the support and features your small business needs.
Sendinblue lacks a lot of mobile features, so if you travel a lot as a marketer, you'll probably find it hard to use this tool.
Some users have said the automation builder is a bit basic compared to Sendinblue's competitors.
The pricing plans might be a little unaffordable for some startups.
The Top 5 Sendinblue Alternatives
Now that you're familiar with Sendinblue inside and out, we want to introduce five Sendinblue alternatives for your consideration.
These are EngageBay, Pipedrive, ConvertKit, Keap, and AWeber.
We'll go over the features, pros, and cons, and pricing of each tool one by one so you can see how they stack up against Sendinblue.
EngageBay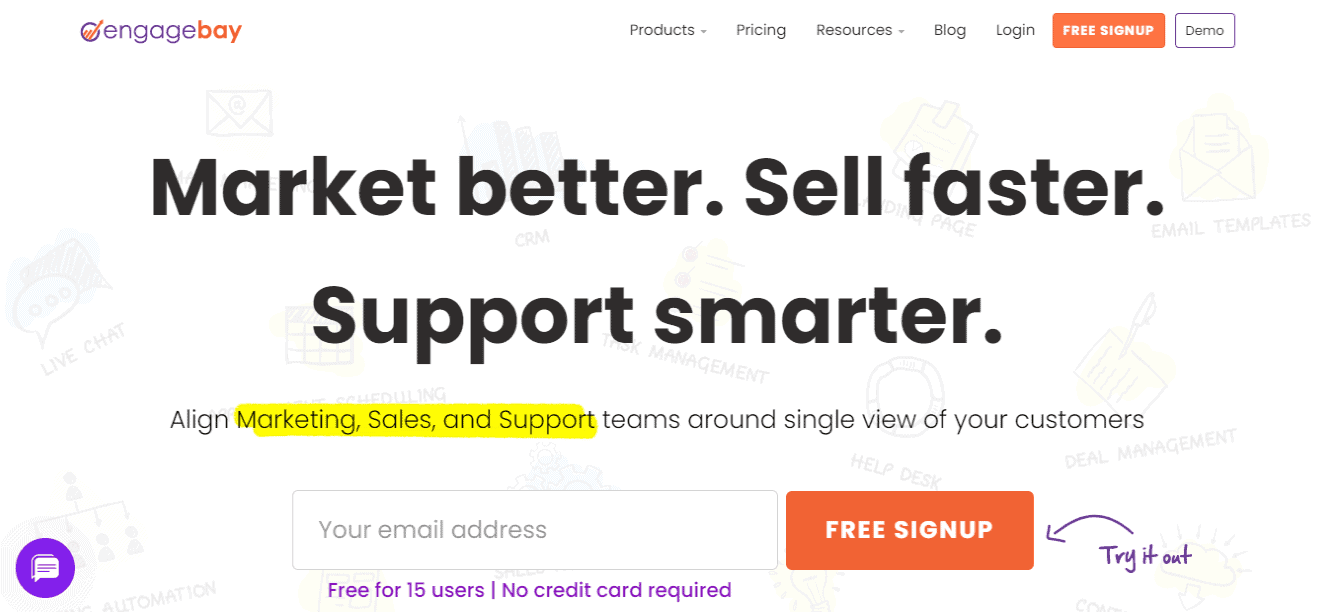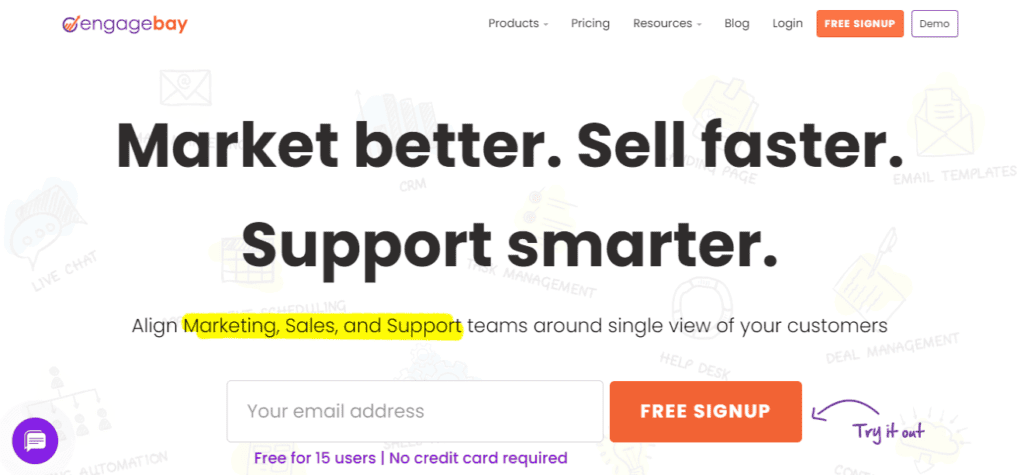 Our first Sendinblue alternative is EngageBay. This all-in-one sales, marketing, and support tool includes CRM.
Founded in 2017 for startups and small businesses looking for the features of HubSpot but in a more affordable package, EngageBay has more than 28,000 customers, and that number goes up all the time!
EngageBay divides its services into four products: the Service Bay, CRM & Sales Bay, Marketing Bay, and All-in-One Suite.
You can watch a full product demo of EngageBay below:
Advantages
You'll find all the features within EngageBay that you get with Sendinblue as well as sales features your small business will use all the time. These features include deal management, CRM telephony, project management, lead scoring, appointment scheduling, and 360-degree customer views.
EngageBay's CRM is always free even if you don't use their other services.
Their pricing is catered towards small businesses rather than SMBs, so it's more affordable without skimping on the features.
The all-in-one feel of EngageBay's software is more encompassing than Sendinblue.
You pay less per plan for EngageBay compared to Sendinblue.
EngageBay's Free plan has so many features that a small business might not even have to pay for a marketing tool in its early days.
You can add unlimited users to your EngageBay account, which you can only do in Sendinblue with their costlier plans.
EngageBay Pricing
EngageBay's Marketing Bay includes four pricing plans: the Free plan at $0 a month, the Basic plan for $12.99 a month per user, the Growth plan for $24.99 a month per user, and the Pro plan for $49.99 a month per user.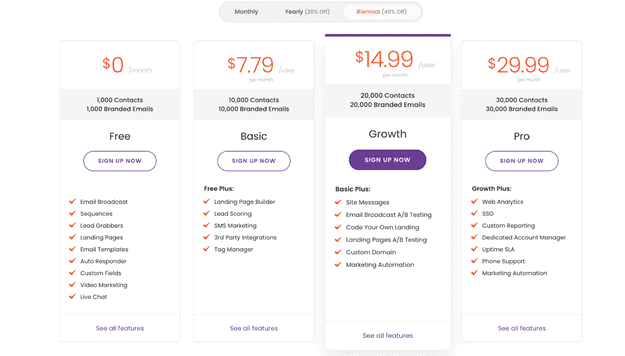 The Free plan includes 1,000 branded emails and 1,000 contacts, the Basic plan 10,000 branded emails and 10,000 contacts, the Growth plan 20,000 branded emails and 20,000 contacts, and the Pro plan 30,000 branded emails and 30,000 contacts.
Pipedrive


Next on our list of Sendinblue alternatives is Pipedrive, cloud-based pipeline management, and sales CRM tool.
Founded in 2010 in New York, Pipedrive offers services like automation, metrics tracking, and deal management.
Advantages
Unlike Sendinblue, which doesn't focus as strongly on its mobile userbase, Pipedrive has its own iOS and Android app. It also integrates with many apps your small business might already use.
Pipedrive's reports are customizable so your startup can focus on the metrics that matter most to you at the time.
The sales pipeline management features in Pipedrive are customizable so you can win more deals and drive further sales.
The leads inbox is a nice feature akin to Sendinblue's team inbox that lets you manage leads within Pipedrive so they never get lost.
Pipedrive is more affordable than Sendinblue.
Disadvantages
Compared to Sendinblue, Pipedrive's software definitely caters more towards sales and CRM than marketing.
Even with its most expensive plan, Pipedrive still reserves some critical features for its add-ons so you pay even more.
Pipedrive Pricing
Pipedrive has four plans: Essential for $12.50 a month per user, Advanced for $24.90 a month per user, Professional for $49.90 a month per user, and Enterprise for $99 a month per user.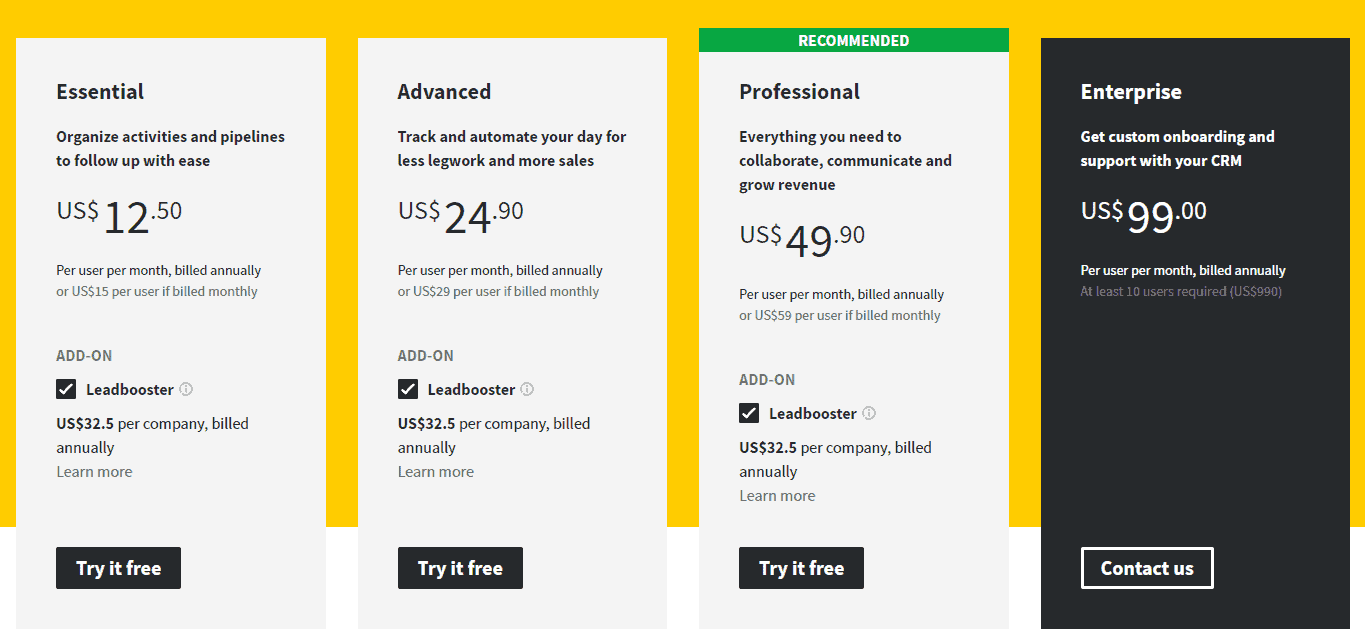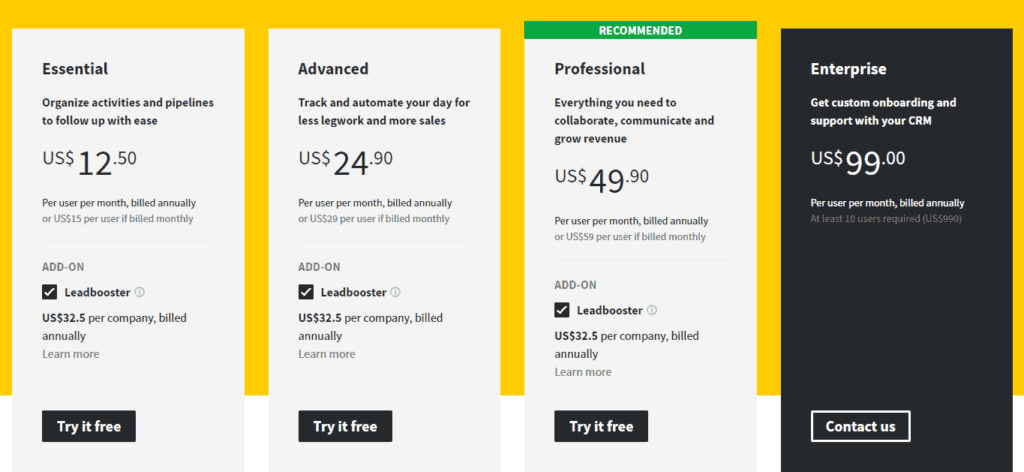 You can also pay $41 for Pipedrive's web visitor add-on.
According to Pipedrive, this feature tells you more about who's on your website, including how long they spent on the site, which pages or elements they engaged with, and how the visitor found your site.
The LeadBooster add-on for $32.50 tacks on features like web forms, the prospector, live chat, and chatbots.
ConvertKit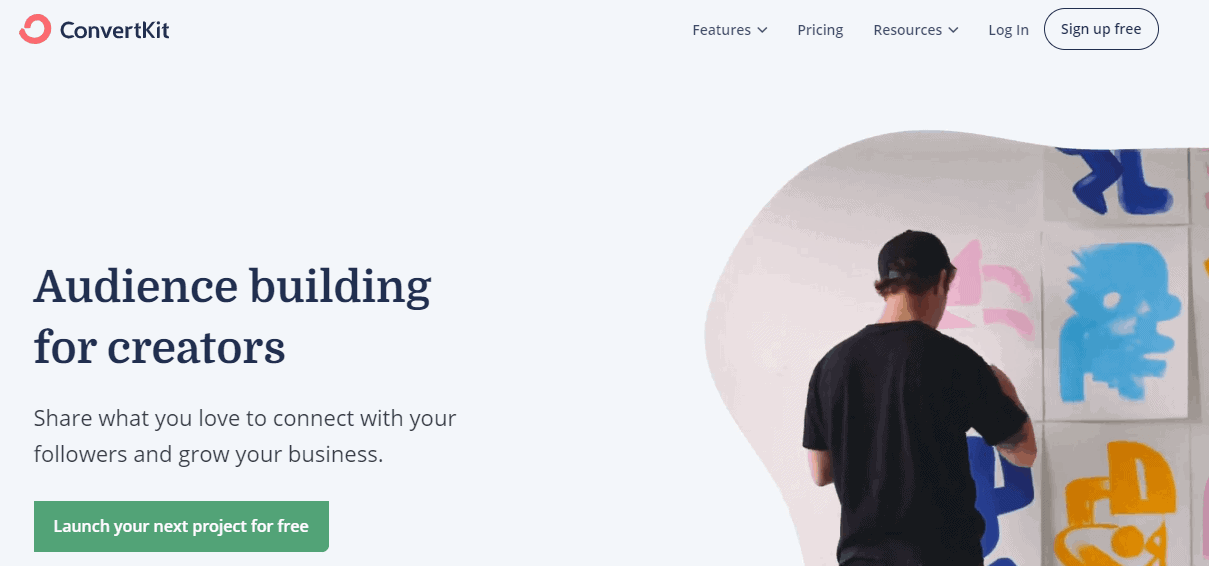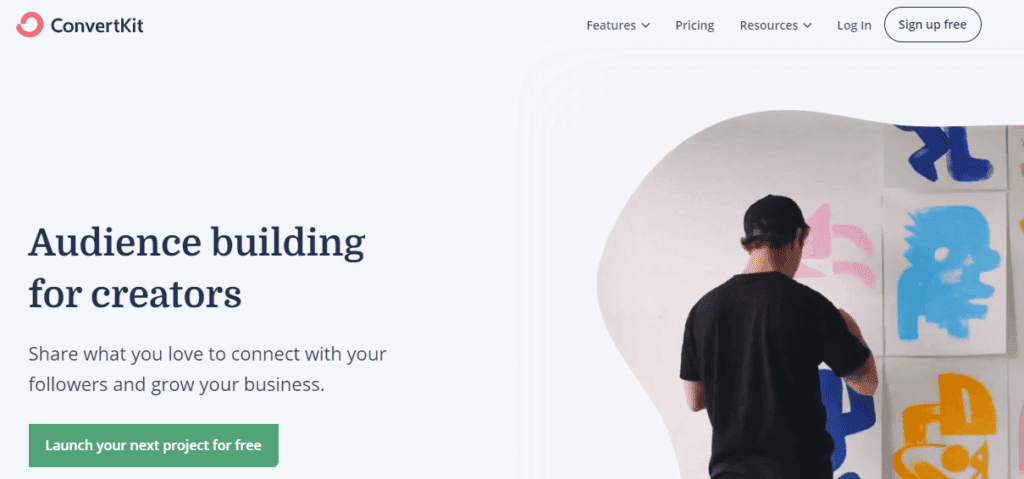 A Mailchimp competitor that's also one of our recommended Sendinblue alternatives, ConvertKit is an email service provider and email marketing software founded by Nathan Berry.
Its features include landing page and email builders, automation, and email marketing.
Advantages
ConvertKit mimics many of the same features you get when using Sendinblue, but for sometimes lower prices.
You can select from a free plan as a ConvertKit subscriber.
The commerce tool included with ConvertKit, called ConvertKit Commerce, is a great inclusion for small businesses and startups eager for growth.
ConvertKit's automation workflows integrate with Zapier, WordPress, WooCommerce, SumoMe, Shopify, Thinkific, Teachable, Instapage, Gumroad, and more.
Professional-level creator features within ConvertKit let you take your marketing campaigns further should you feel comfortable with that level of advanced workflows and tech language.
Disadvantages
ConvertKit has only three plans while the other Sendinblue alternatives we discussed (so far) offer four.
The Creator and Creator Pro plans look affordable at first glance, but the pricing for both plans only offers you 1,000 subscribers to start. Scaling up can get expensive.
ConvertKit Pricing
ConvertKit's three pricing plans are Free at $0 a month, Creator starting at $29 a month, and Creator Pro starting at $59 a month.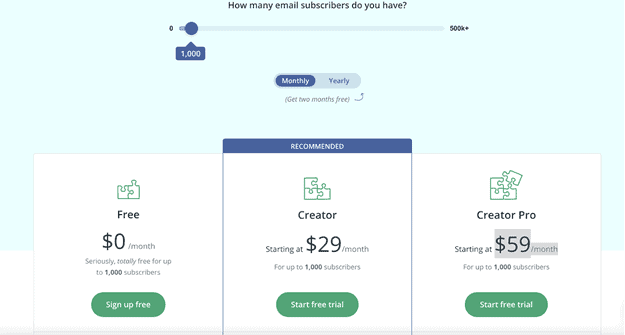 As mentioned, the pricing for those plans is for 1,000 subscribers.
Here's the price breakdown as you add more contacts to your list.
5,000 contacts – $79 a month for the Creator plan and $111 a month for the Creator Pro plan
10,000 contacts – $119 a month for the Creator plan and $167 a month for the Creator Pro plan
15,000 contacts – $149 a month for the Creator plan and $209 a month for the Creator Pro plan
20,000 contacts – $179 a month for the Creator plan and $251 a month for the Creator Pro plan
25,000 contacts – $199 a month for the Creator plan and $279 a month for the Creator Pro plan
35,000 contacts – $259 a month for the Creator plan and $363 a month for the Creator Pro plan
Keap (Infusionsoft)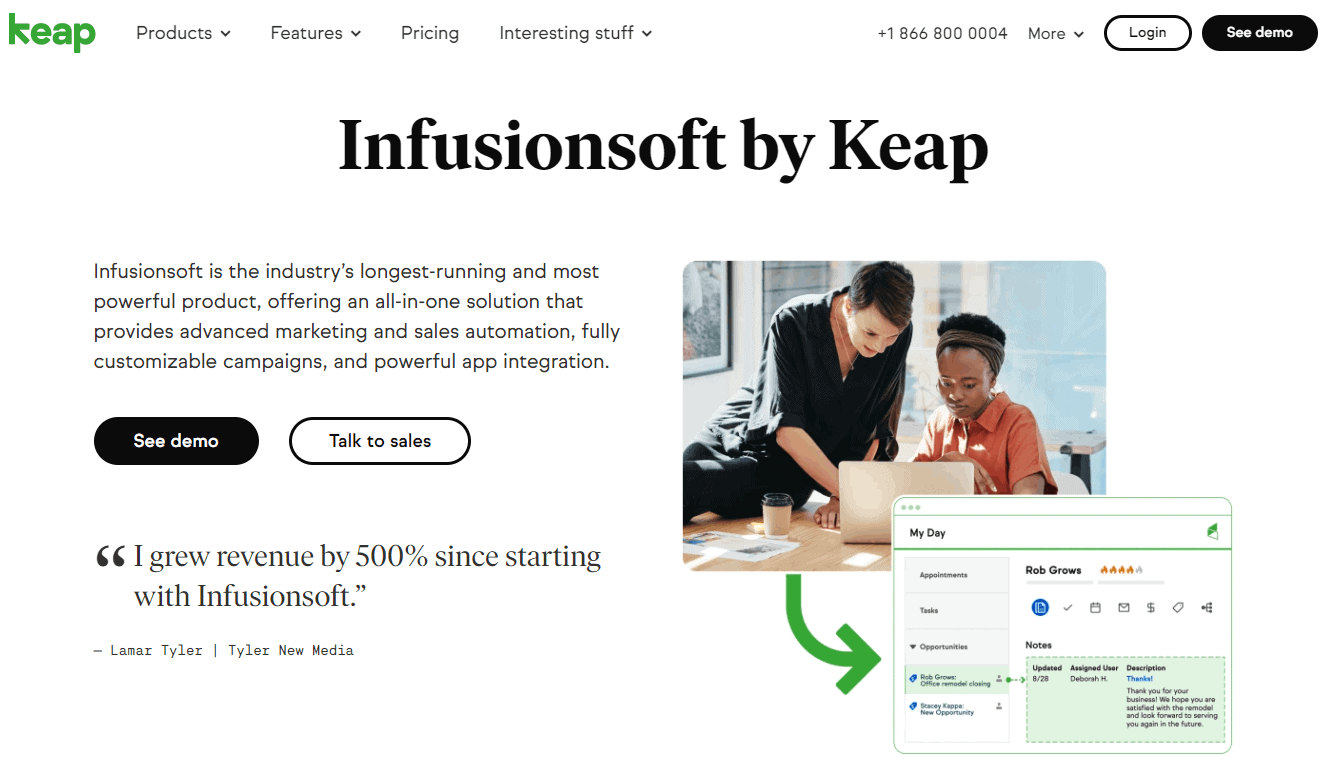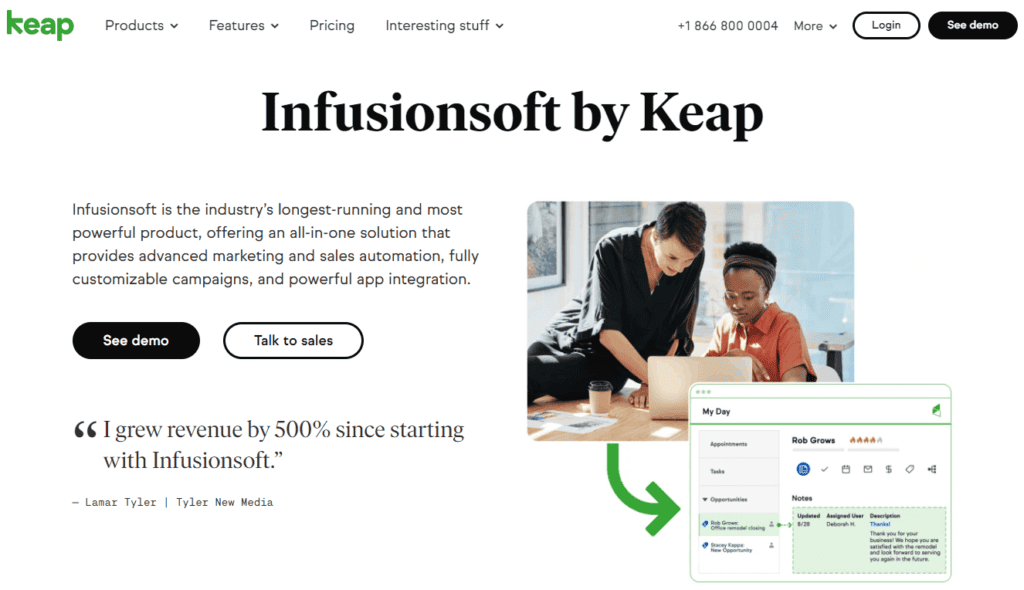 Formerly known as Infusionsoft, Keap is a Chandler, Arizona-based marketing, sales, CRM, and automation company.
Their solutions include email marketing, appointments, analytics, automation for sales and marketing, sales pipelines, and CRM.
Advantages
Keap has four products designed for businesses at all stages, including Keap Lite for small businesses and startups.
Like Pipedrive, Keap goes deeper into sales features than Sendinblue does so you have yet another full-fledged tool at your disposal.
Keap offers automation at different levels depending on your pricing plan, with basic and advanced automation workflows available.
Integrate Keap CRM with your favorite tools, among them AppointmentCore, Outlook, Gmail, and Zapier.
Disadvantages
Keap's prices are higher than Sendinblue's once you get past the Lite plan.
Keap plans start you off with only 500 contacts, so you'll almost definitely have to pay more to continue using Keap.
There is no free plan, which Sendinblue offers.
Keap Pricing
Keap, like ConvertKit, has three plans: Lite starting at $79 a month, Pro starting at $149 a month, and Max starting at $199 a month.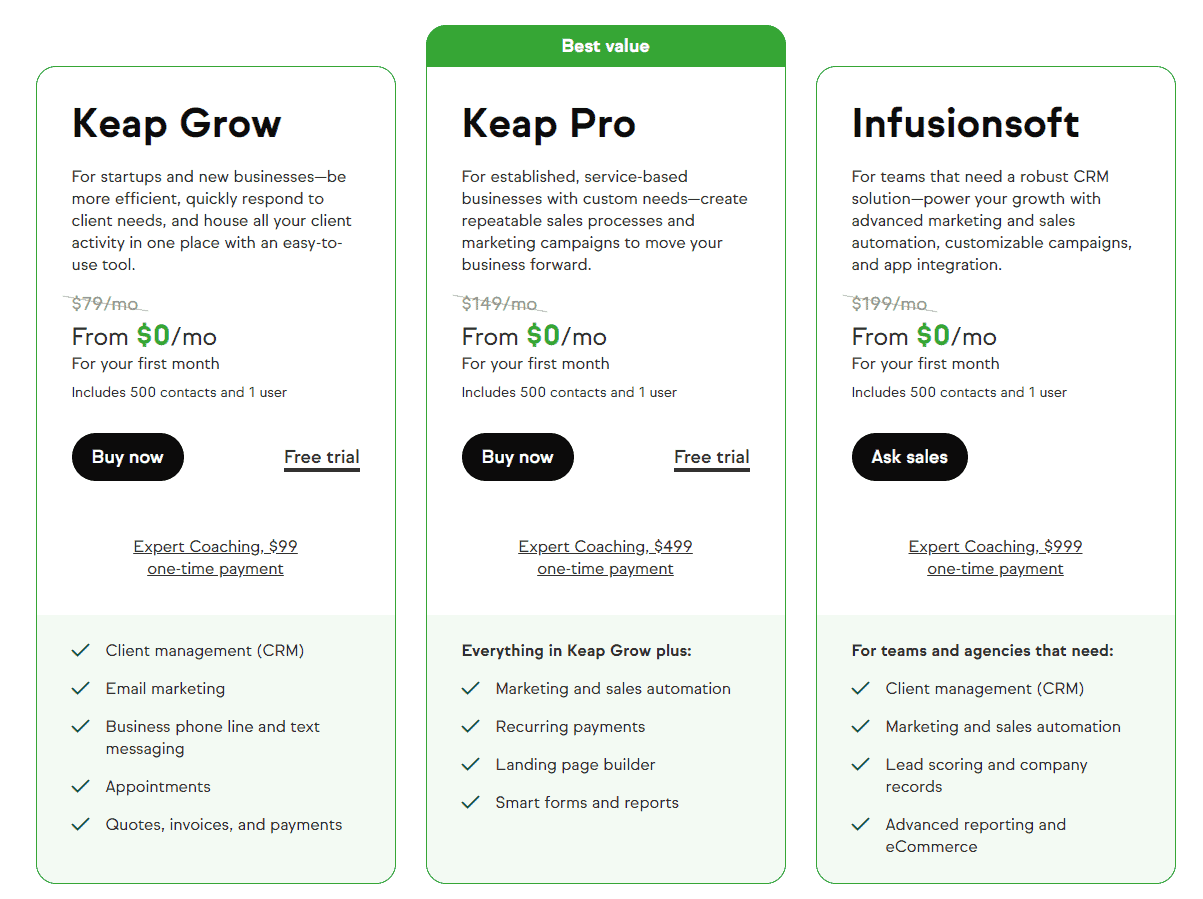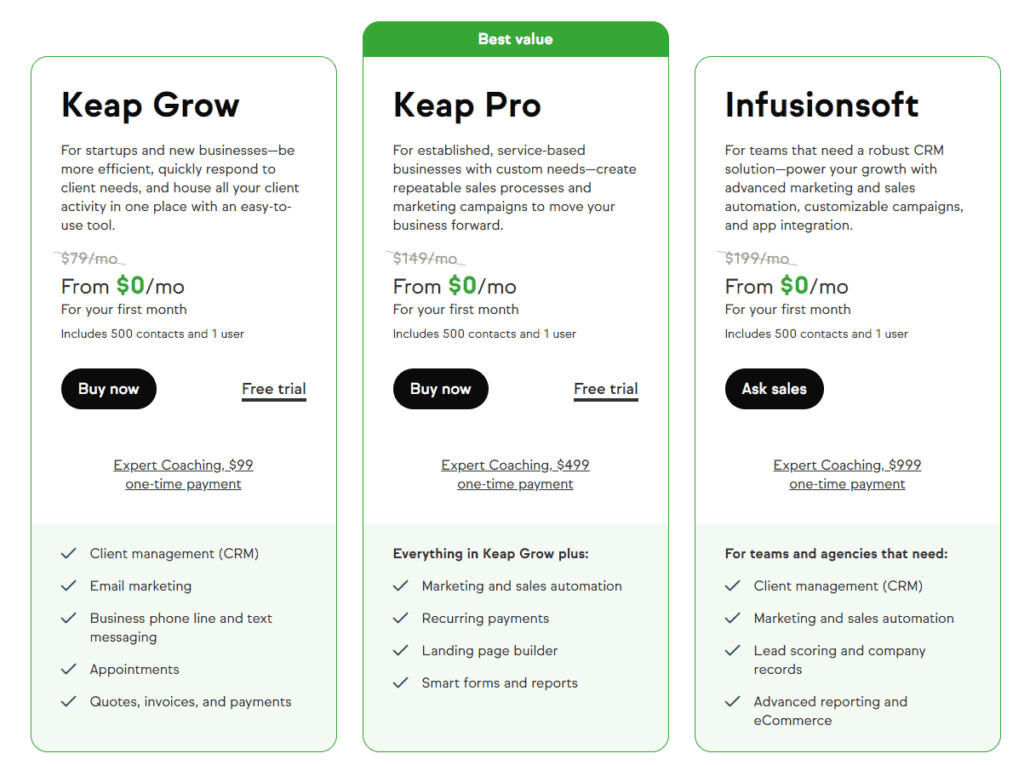 You can take advantage of Keap's pricing discounts for the first five months of your subscription.
At that rate, the Lite plan costs only $56 a month, the Pro plan $105 a month, and the Max plan $140 a month.
Expert coaching is required, Keap says, and that's a one-time fee of $499.
AWeber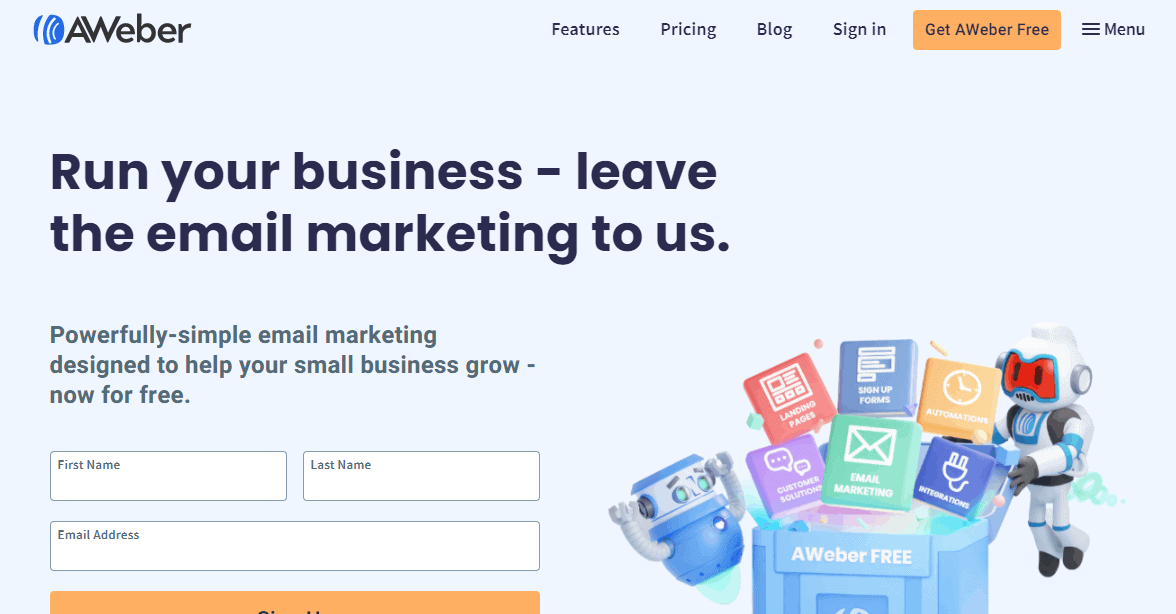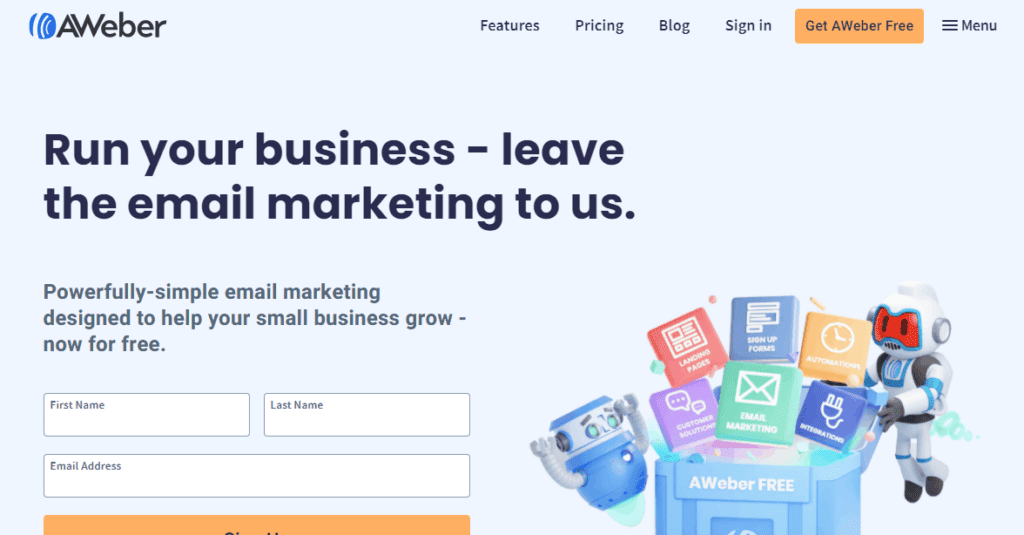 A marketing institution since its founding in 1998, AWeber is our last on our list of Sendinblue alternatives.
Their software includes list-building, data reporting, automation, email and landing page design, and email deliverability tools.
Advantages
AWeber is more mobile-friendly than Sendinblue, as it has three mobile apps. AWeber Atom is for building signup forms on the go, Curate is for making and sending newsletters from your phone or tablet, and AWeber Stats is for tracking those crucial analytics anywhere your travels take you.
You get lots of automation features from AWeber, and not necessarily complex advanced workflows either. Their automation includes personalization, tagging, newsletters, and emails.
Like Sendinblue, AWeber has an impressive library of email and landing page templates so you can customize your communications.
AWeber is quite affordable compared to Sendinblue even as you add more subscribers to your list.
Disadvantages
AWeber doesn't have a leg up on Sendinblue in sales features, as this software is lacking those too.
AWeber Pricing
AWeber keeps it simple in the pricing department.
You can choose from their Free plan for $0 or the Pro plan. This plan's pricing increases as your subscribers do.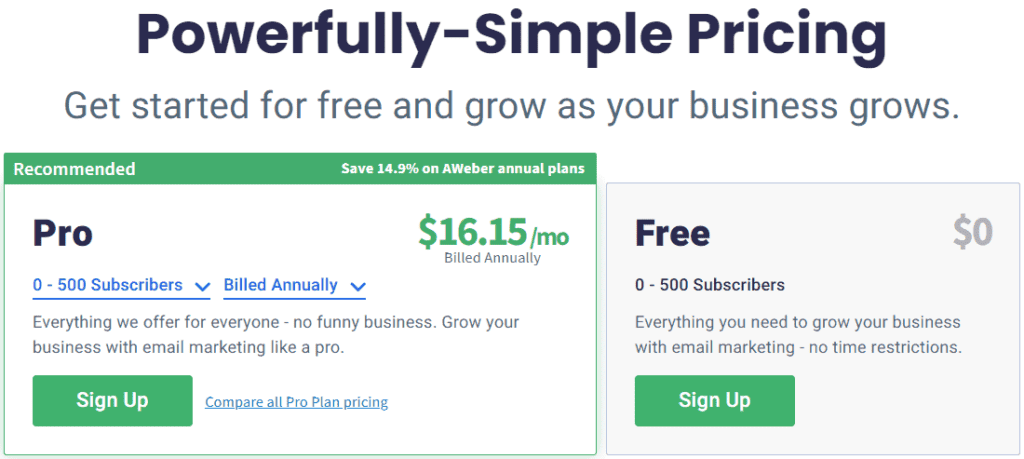 Here's a rundown:
Up to 500 subscribers – $19 a month
Up to 2,500 subscribers – $29 a month
Up to 5,000 subscribers – $49 a month
Up to 10,000 subscribers – $69 a month
Up to 25,000 subscribers – $149 a month
Conclusion
Sendinblue is a solid marketing tool, but your hands aren't tied if you're looking for a more inclusive or affordable alternative.
EngageBay has low prices and sales features on top of its marketing tools so your small business can grow on all fronts!