In our line of business, we hear a lot about how important it is to find the right tool or software for a small and growing company. Since most footfall is digital, it's clear that the right digital marketing tools can make or break a business.
But with so many options, where do you start? In this blog post, we'll take a look at Sendinblue (Brevo) in detail, including its features and pricing.
We'll also recommend 11 splendid Sendinblue (Brevo) alternatives:
EngageBay
ActiveCampaign
Convertkit
Mailchimp
AWeber
Constant Contact
Campaign Monitor
GetResponse
Drip
HubSpot
MailerLite
And show you how these email marketing software are just as good, and maybe better.
Sendinblue (Brevo) is a well-established name in marketing automation, especially for email marketing campaigns.
Yet, as a small business that's constantly reevaluating what works and what doesn't, it helps to ask: is Sendinblue (Brevo) right for you?
What is Sendinblue (Brevo)?
Founded in 2007, Sendinblue (Brevo) is a SaaS relationship and email marketing service solution for businesses that require accelerated and automated email marketing campaigns.
Before we discuss Sendinblue (Brevo) alternatives, let's look at some of the key features this email marketing platform offers.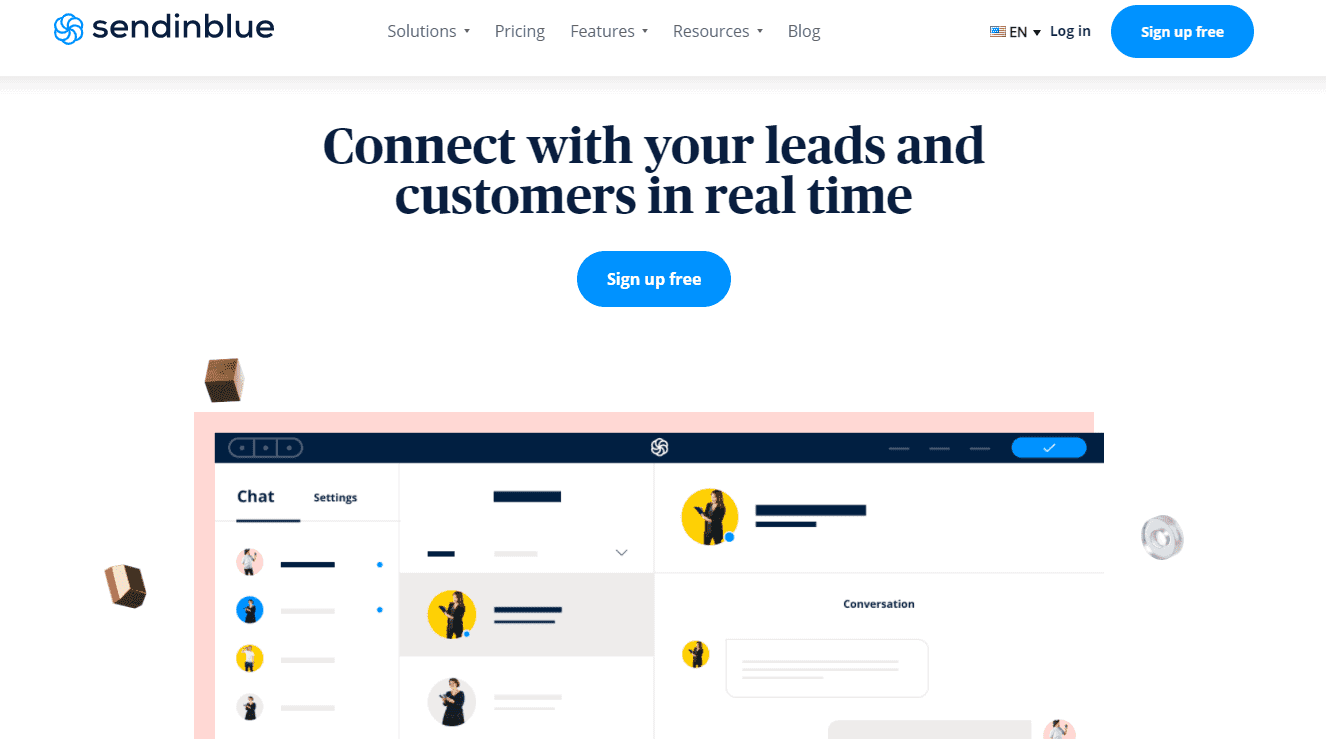 Sendinblue (Brevo) Key Features
Sendinblue (Brevo) offers plenty of marketing features, including Facebook ads, landing pages, SMS marketing, automation of marketing workflows, shared inbox, and more.
Facebook Ads
Sendinblue (Brevo) allows you to leverage Facebook Ads to further your marketing campaigns and extend your audience reach.
You can upload your own images, create CTA buttons, and add link tracking. You can also segment your audience list, set the budget, adjust the duration, and track the success of your email marketing campaign – all on a common dashboard.
Read also: AWeber Pricing, Limitations, Features, Pros and Cons [Tables]
Landing Pages and Signup Forms
Sendinblue (Brevo) allows you to build custom landing pages through an easy-to-use drag & drop builder. You can also customize the template and adjust it to reflect your email campaign design language.
Email & SMS Marketing
Sendinblue (Brevo) has an intuitive email builder that makes it easy to create email broadcasts.
You can choose from pre-designed templates or create your own using the email builder. The email designer tool also supports dynamic content, making it easy to create personalized emails that appeal to your target audience.
In addition to email marketing, Sendinblue (Brevo) also offers SMS marketing functionality. You can create a bulk SMS campaign to send to your contact list, informing them of new updates, offers, and discounts.
Marketing Automation
The platform also supports custom workflows. You can automate simple, routine tasks or set up complex workflows with custom triggers.
Shared Inbox
Sendinblue (Brevo) lets your marketing team use a shared inbox so you can track your customers' journey through the sales pipeline.
A shared inbox allows for more transparency — sales and marketing teams can communicate better when they're on the same page.
Live Chat
The Live Chat tool is free to use and completely customizable. You can even put your business logo on the bot to drive trustworthiness and authenticity.
The chatbot can answer commonly asked queries through pre-built responses for your customers or leads when your staff isn't available to answer them.
Read also: Promotional Email — How To Write Emails That Convert
Sendinblue (Brevo) Pricing Plans
Sendinblue (Brevo) has four pricing plans to select from: Free, Lite, Premium, and Enterprise.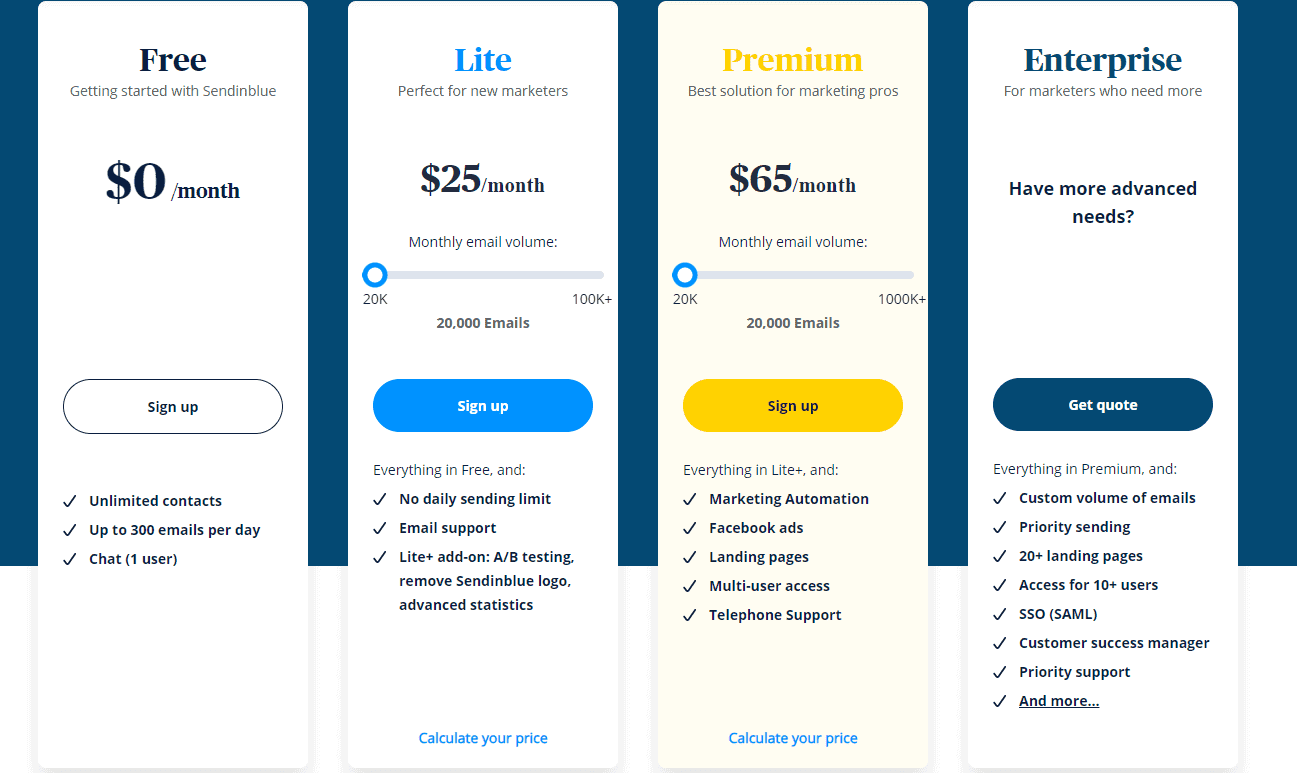 The Free plan includes these features:
Email support
Real-time reporting
Page tracking
Workflow editor
Advanced templating language
Core API
SMS and transactional emails
One shared inbox
Sales CRM
Custom signup forms
Advanced segmentation
Besides the above features, the Lite plan ($25/month for 20,000 emails) also has:
No sending limit per day
Option to remove Sendinblue (Brevo) logo
Optional A/B testing
The Premium plan ($65/month for 20,000 contacts) offers the following:
Multi-user access
Heat map reporting
Device and geography reporting
Real-time reporting
Marketing automation workflows
Three shared inboxes
Retargeting ads
No Sendinblue (Brevo) logos
A/B testing
In the Enterprise plan (custom-priced), you get advanced features such as:
SLAs
SAML and SSO
Dedicated account manager
Advanced integrations such as FTP and Salesforce
Phone support
Dedicated IP
Unlimited shared inboxes
Unlimited landing pages
Note: Sendinblue (Brevo) pricing operates on a sliding scale. This means your final pricing changes based on the number of emails you need. For example, the Premium plan costs $65/month for 20,000 emails. For 250,000 emails, you have to pay $229/month.
Read also: Sendinblue vs Mailchimp And Other Email Tools [Tables]
Sendinblue (Brevo) Pros
Pricing plans are affordable, considering the features offered.
Includes basic CRM functionality.
Lots of automation options for email, social media, and SMS marketing.
Lead scoring automatically creates a list of qualified leads.
Advanced template building options.
Many users love the bulk email marketing tool: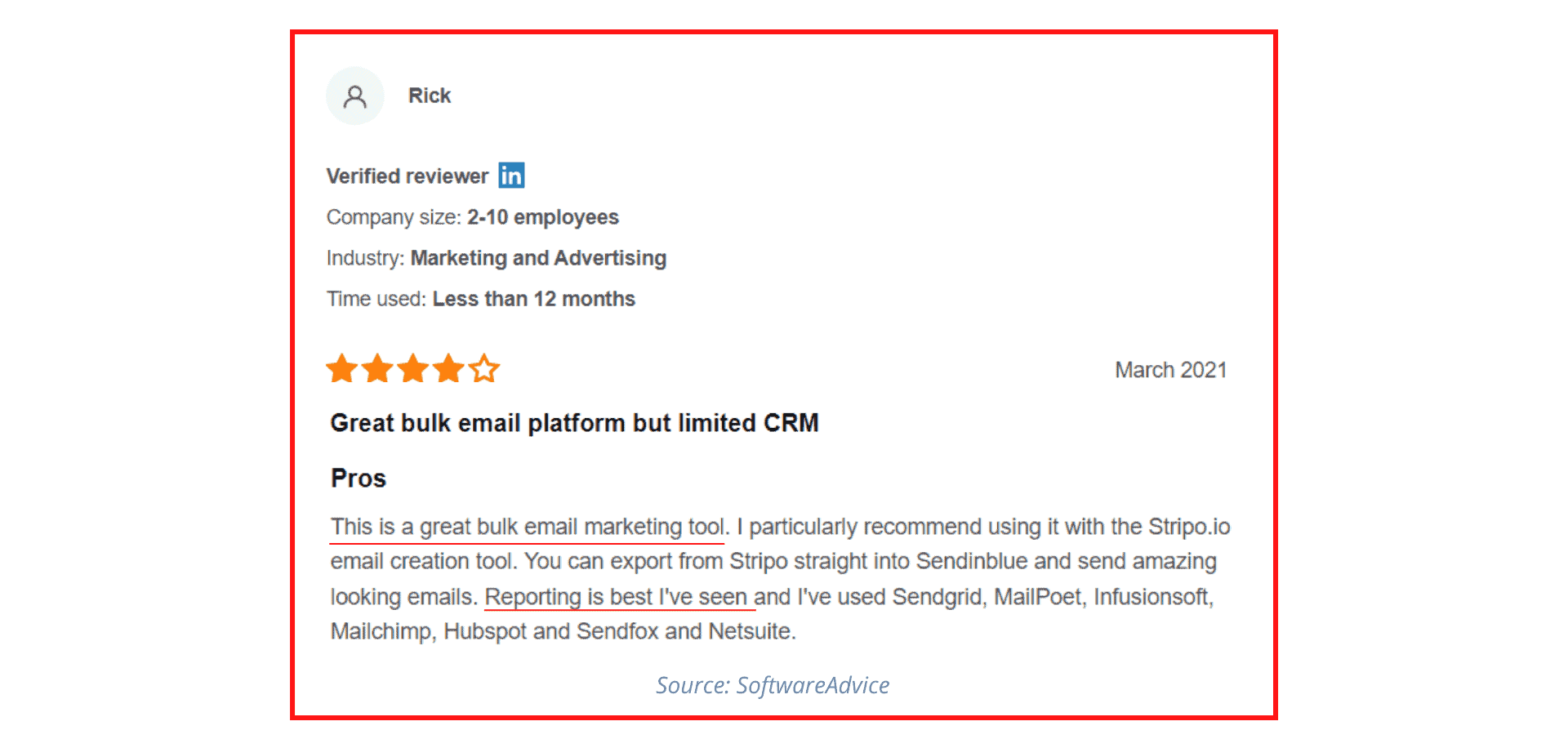 Sendinblue (Brevo) Cons
Sendinblue (Brevo) lacks many mobile features, so if you travel a lot as a marketer, you'll probably find it hard to use this tool.
Initial account setup is tedious and has a steep learning curve.
Importing data is convoluted — there are no options for easy data import & export.
Users experienced issues during onboarding, especially during contact quality-check (Sendinblue, now Brevo, does this to improve their platform's integrity):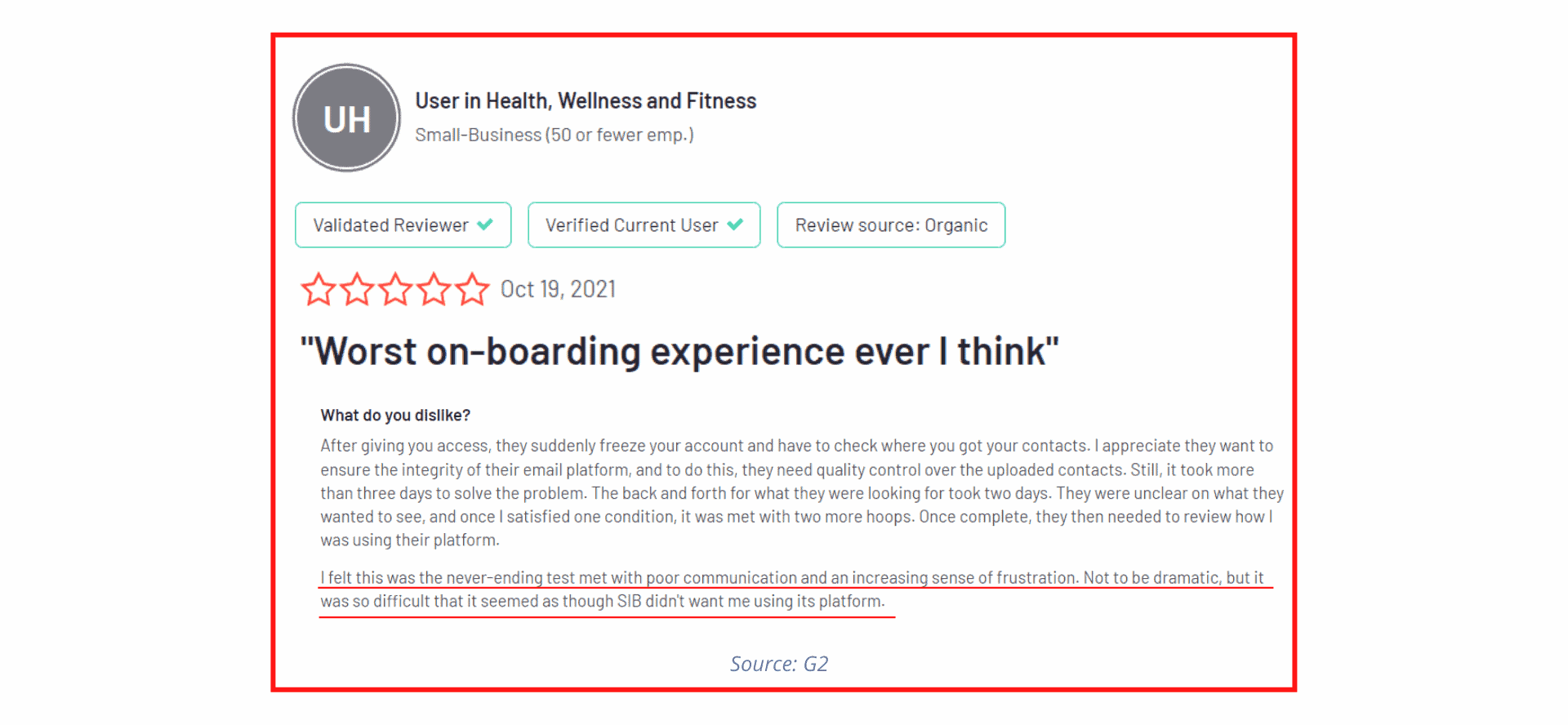 Read also: 7 CRM Automation Functions to Generate More Revenue
The Top 11 Sendinblue (Brevo) Alternatives for Small Businesses
Let's move on to 11 of the best Sendinblue (Brevo) alternatives: EngageBay, ActiveCampaign, ConvertKit, Mailchimp, AWeber, Constant Contact, Campaign Monitor, GetResponse, Drip, HubSpot, and MailerLite.
We'll go over the features, pros, and pricing of the Sendinblue (Brevo) alternatives one by one so you can see how they stack up against Sendinblue (Brevo).
#1. EngageBay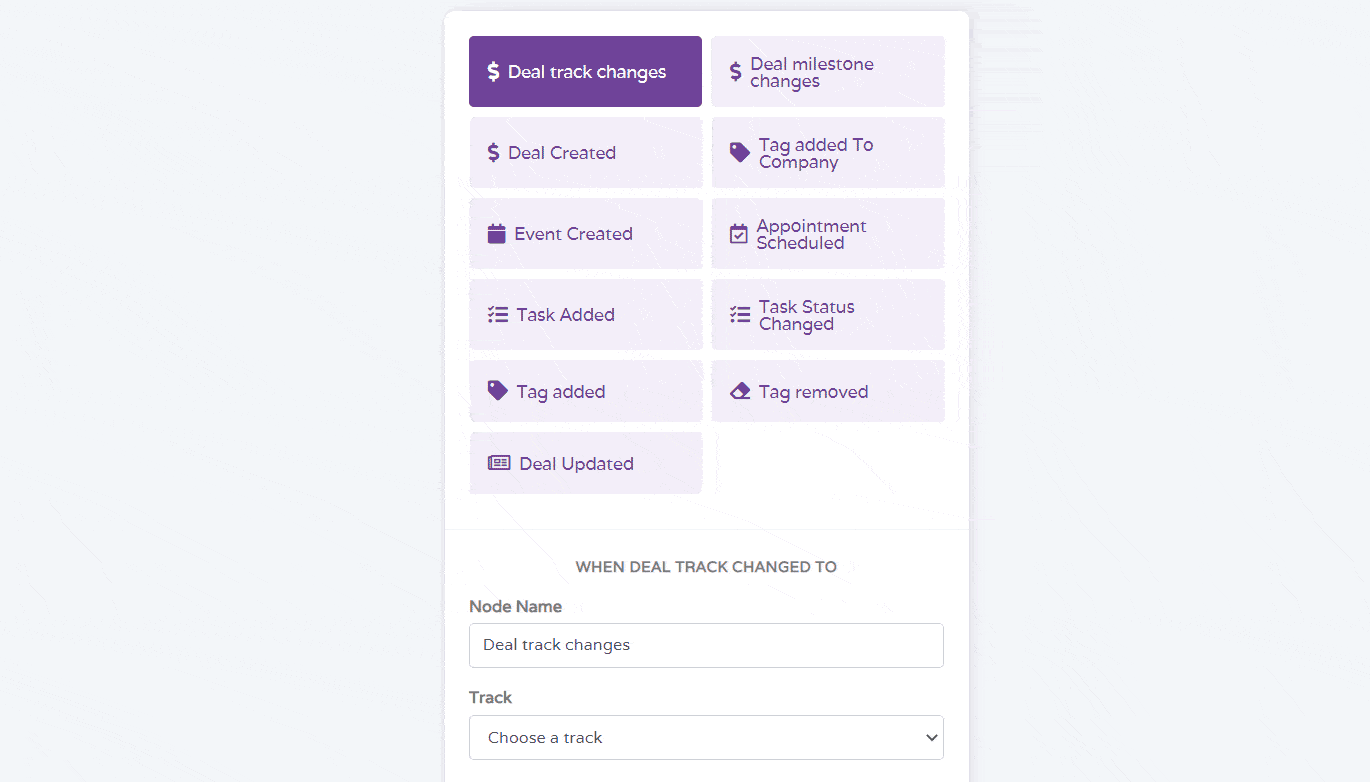 EngageBay is first on our list of Sendinblue (Brevo) alternatives.
It is an all-in-one marketing, sales, and customer support solution. Founded in 2017, EngageBay was designed as an alternative to expensive and complex customer relationship marketing software, such as Hubspot and Sendinblue (Brevo).
EngageBay divides its features into four products: the Service Bay, CRM & Sales Bay, Marketing Bay, and All-in-One Suite.
Here's a short video to help you understand what makes EngageBay an excellent platform for small businesses:
Advantages
EngageBay offers all the features you get from Sendinblue (Brevo), plus a whole suite of sales and customer support solutions. These features include deal management, CRM telephony, project management, lead scoring, appointment scheduling, and 360-degree customer views.
All-in-one suite eliminates the need for multiple standalone systems and offers a complete view of each customer.
EngageBay's CRM is always free to use.
Social media management: LinkedIn, Facebook, Instagram, and Twitter through the Social Suite feature.
EngageBay's pricing is catered towards small businesses rather than large enterprises, so it's more affordable.
Responsive customer support.
You can send out targeted emails through various personalization features, including segmentation, predictive lead scoring, and CRM.
Multistep visual workflow automation builder, with a plethora of pre-built actions and conditions.
EngageBay Pricing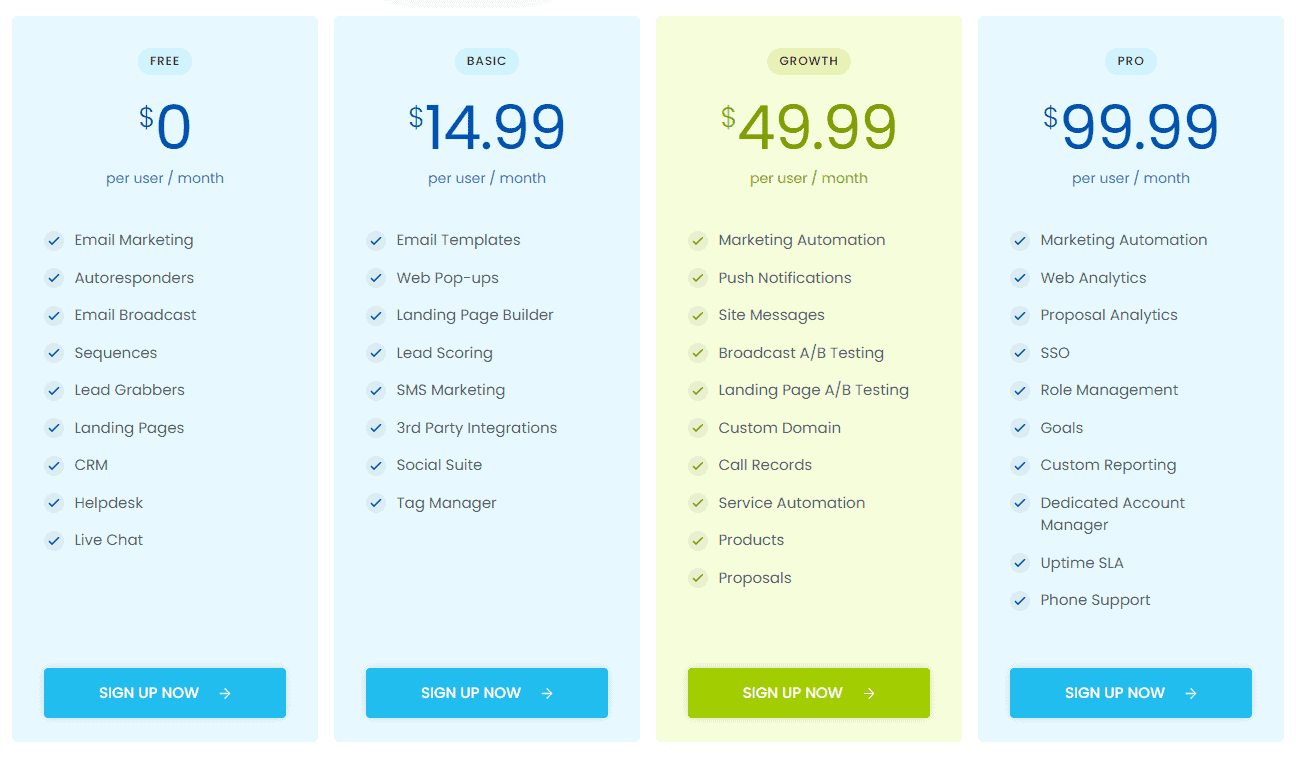 EngageBay offers four pricing plans:
Free plan at $0 a month: Includes 500 contacts & 1,000 branded emails.
Basic plan at $14.99 per user, per month: Includes 1,000 contacts & 3,000 branded emails.
Growth plan at $49.99 per user, per month: 10,000 contacts & 25,000 branded emails.
Pro plan at $99.99 per user, per month: Includes unlimited contacts & 50,000 branded emails.
All prices mentioned above are for monthly payments. Annual subscriptions come with a 20% off and biennial plans with a 40% discount. This makes EngageBay the best Sendinblue (Brevo) alternative from a cost perspective.

Read also: EngageBay vs HubSpot: Market Leader or Emerging Powerhouse?
#2. ActiveCampaign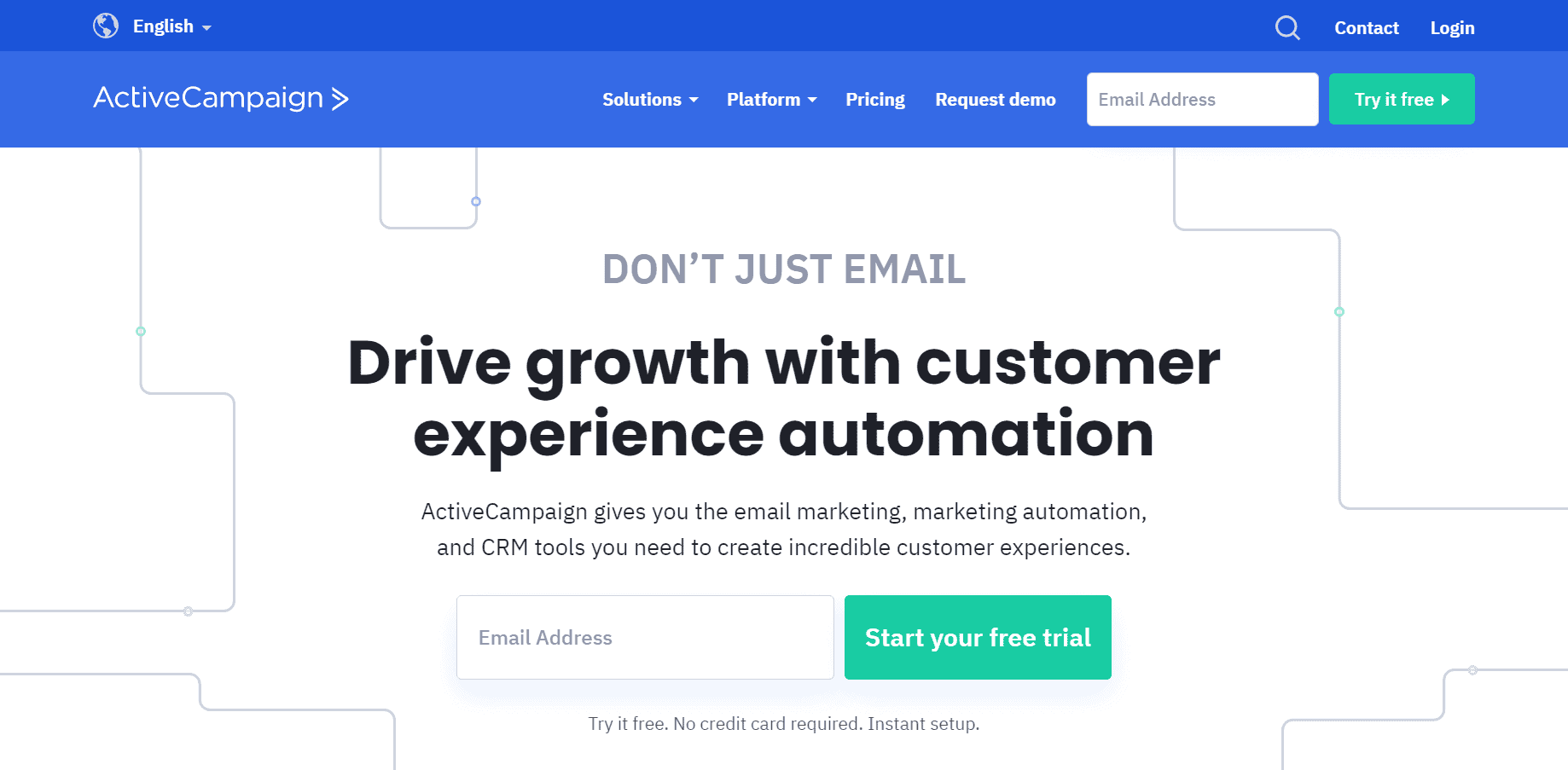 ActiveCampaign is an excellent marketing automation and email marketing platform that focuses on customer experience. This means ActiveCampaign offers a host of tools catering to the needs of customer support teams.
Advantages
Perfect for small and medium-sized businesses.
Helps improve customer experience through features such as lead nurturing, targeted email campaigns, and personalization.
Advanced customization and reporting options.
ActiveCampaign Pricing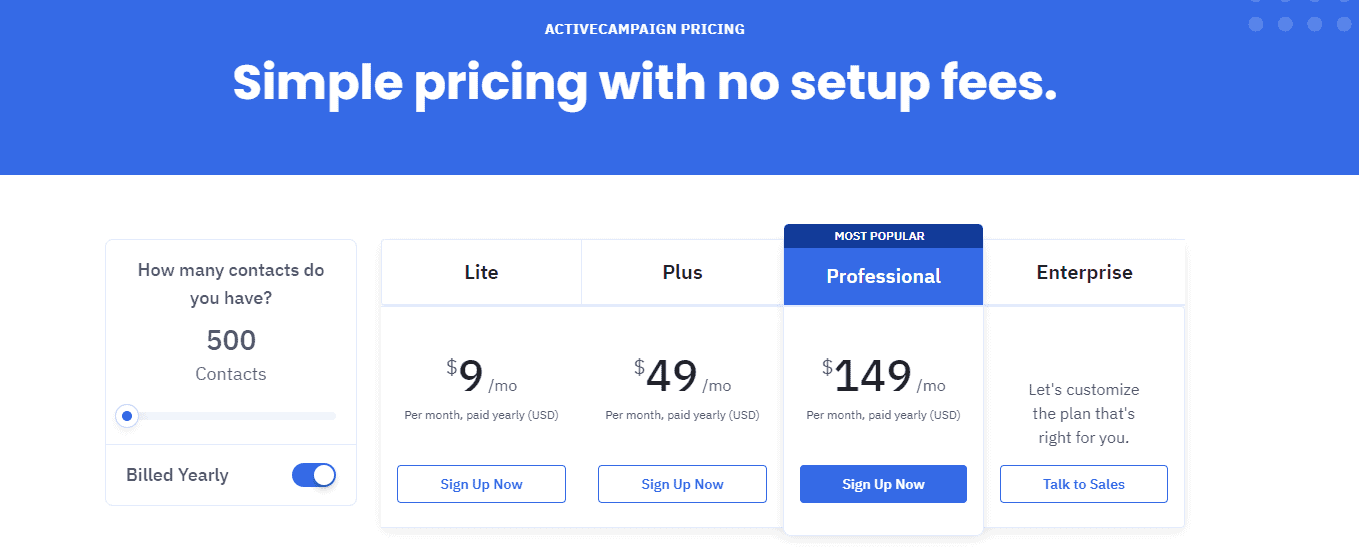 ActiveCampaign offers four plans. This is the pricing structure for 1,000 contacts:
Lite: $25/month
Plus: $49/month
Professional: $149/month
Enterprise: Custom pricing
ActiveCampaign pricing runs on a sliding-scale model and the cost increases depending on the number of contacts you have.
ActiveCampaign is not the most user-friendly, though, and might require assistance from their support team during the initial setup and learning. However, certain users found ActiveCampaign's customer support and tutorials not up-to-par with other competitors: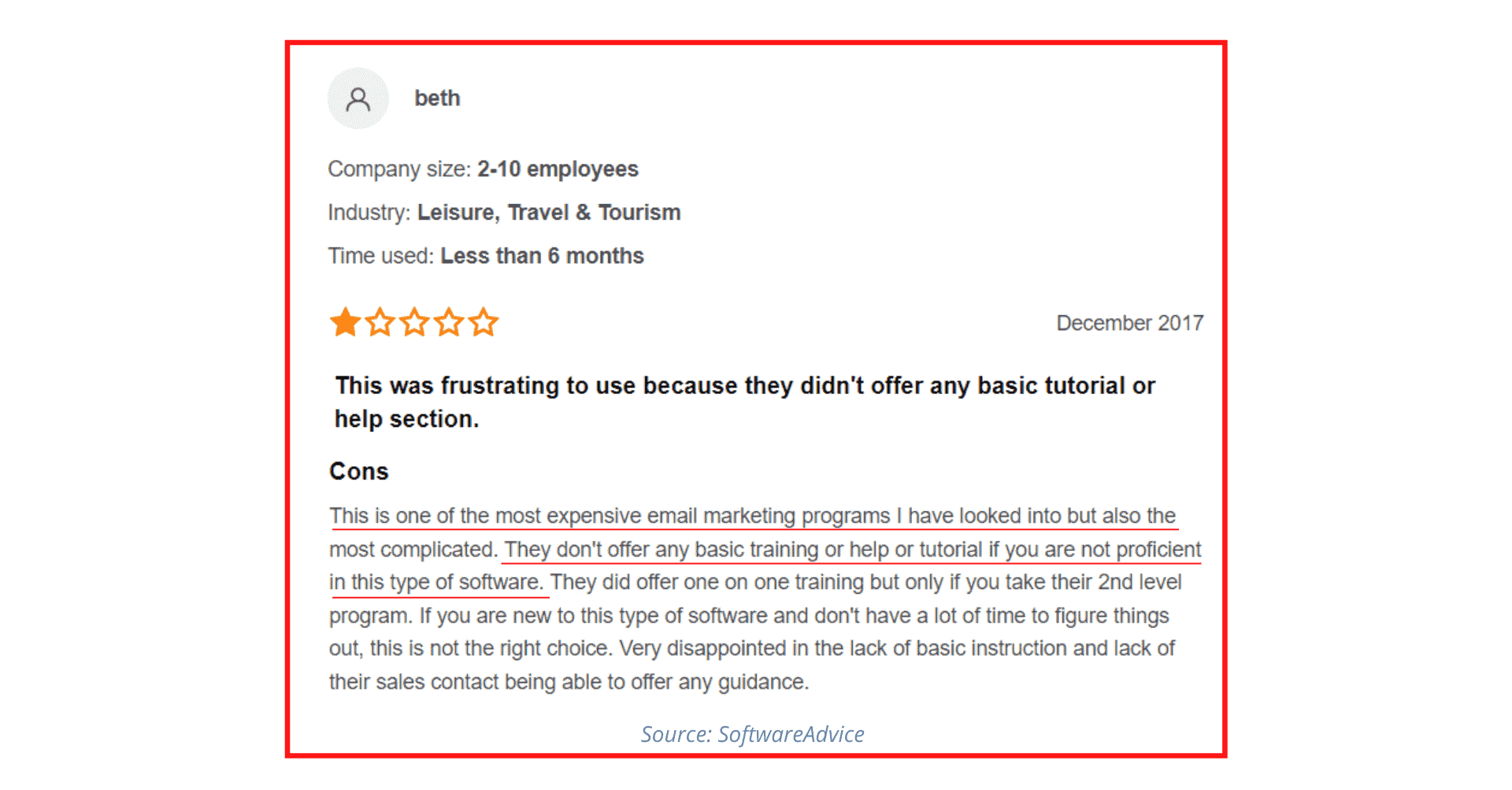 Read also: Sendinblue Pricing: What You Need to Know Before Signing Up
#3. ConvertKit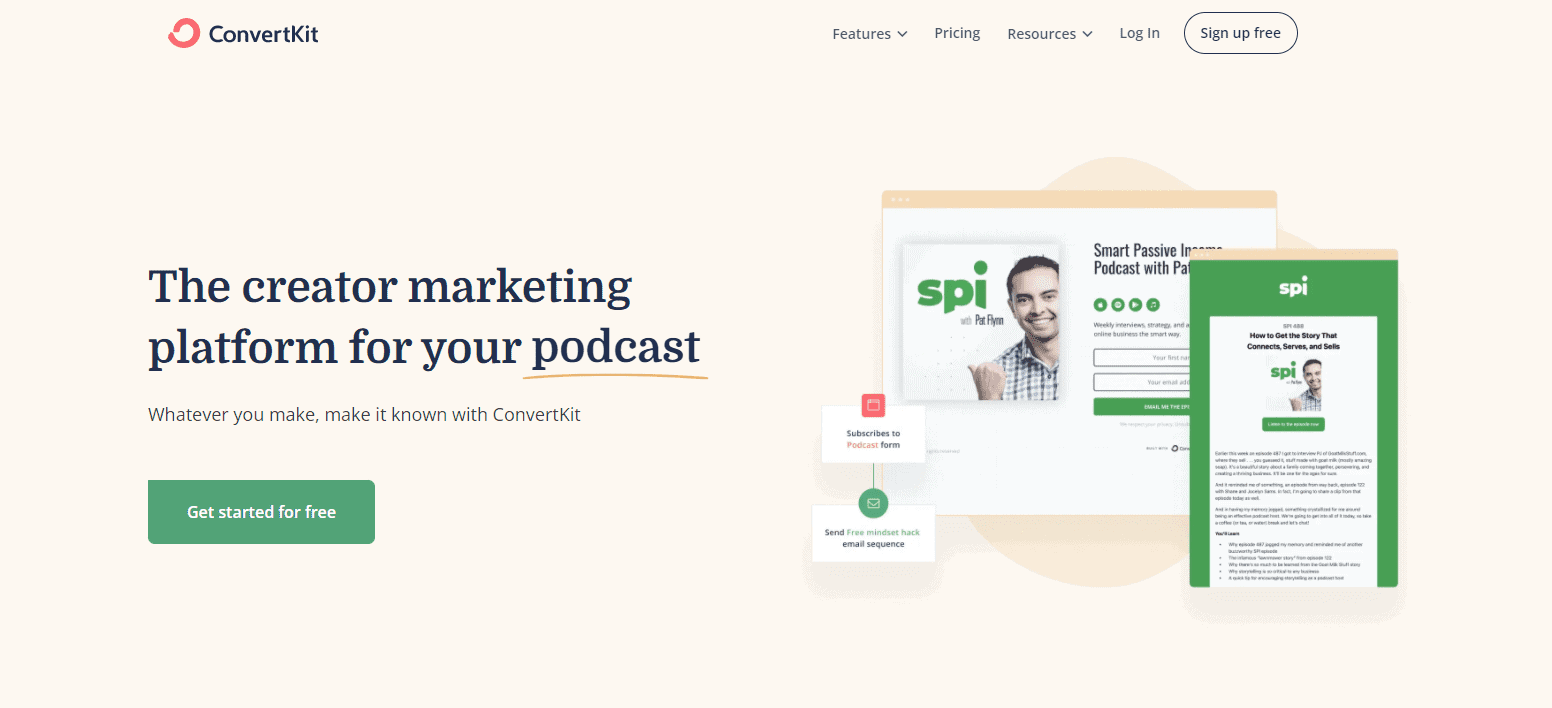 ConvertKit is an email service provider and email marketing software geared towards content creators. ConvertKit features include landing page builder, email builder, workflow automation, and email marketing — making it an excellent Sendinblue (Brevo) alternative.
Advantages
ConvertKit is designed specifically for content creators and has tools tailor-made for their requirements.
The commerce tool offered with ConvertKit, called ConvertKit Commerce, is a great inclusion for small businesses and startups eager for growth.
Extensive workflow integrations including Zapier, WordPress, SumoMe, etc.
ConvertKit Pricing

ConvertKit's three pricing plans are:
Free at $0 a month
Creator plan at $29/month
Creator Pro at $59/month
These pricing plans are for 1,000 subscribers. The prices increase as the number of subscribers increases, i.e., ConvertKit has a sliding scale pricing model.
For instance, if you're scaling operations and need more than 50,000 subscribers, the most advanced plan costs upwards of $500 a month!
Although ConvertKit is a great marketing automation platform, its pricing makes it out of the league of most small businesses and startups — especially as you accumulate more subscribers.
Read also: ConvertKit Alternatives — Find Cheaper & Better Competitors
#4. Mailchimp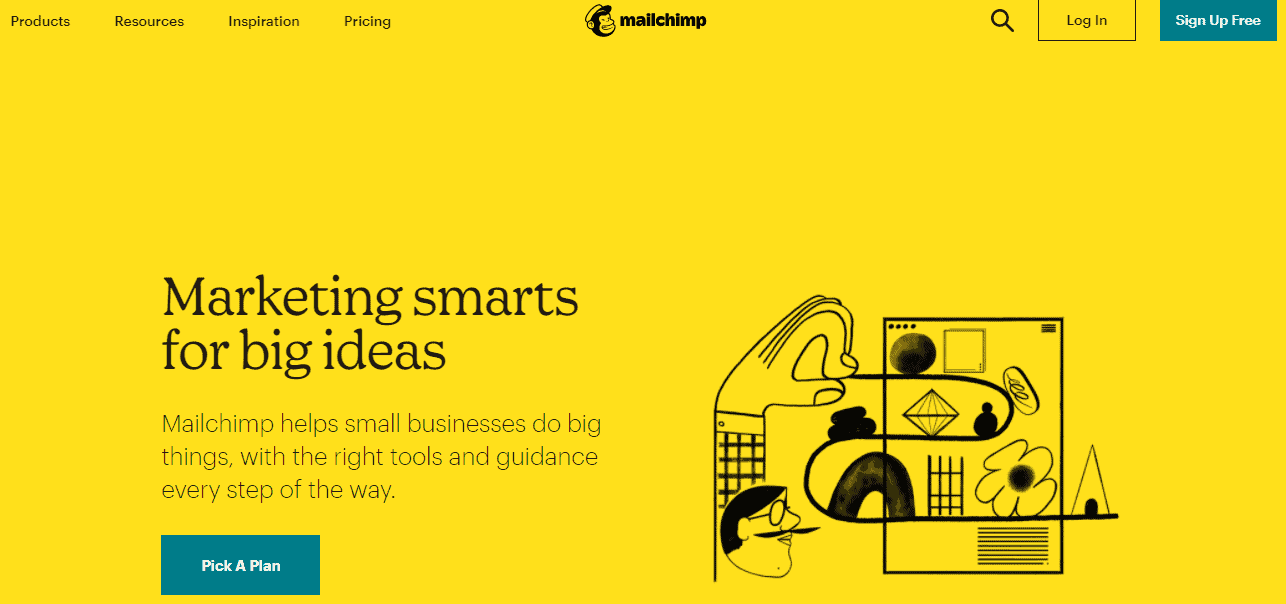 Mailchimp is one of the best when it comes to email marketing — especially for small businesses and startups. The platform offers a suite of email marketing features, including engagement tools, social media management, reporting, and analytics.
Advantages
Mailchimp offers real-time updates and metrics through its intuitive dashboards.
You can share emails and posts to various social media accounts, including Facebook, Instagram, and Twitter.
Visually stunning email templates and customizations to help you reflect your brand image.
Mailchimp Pricing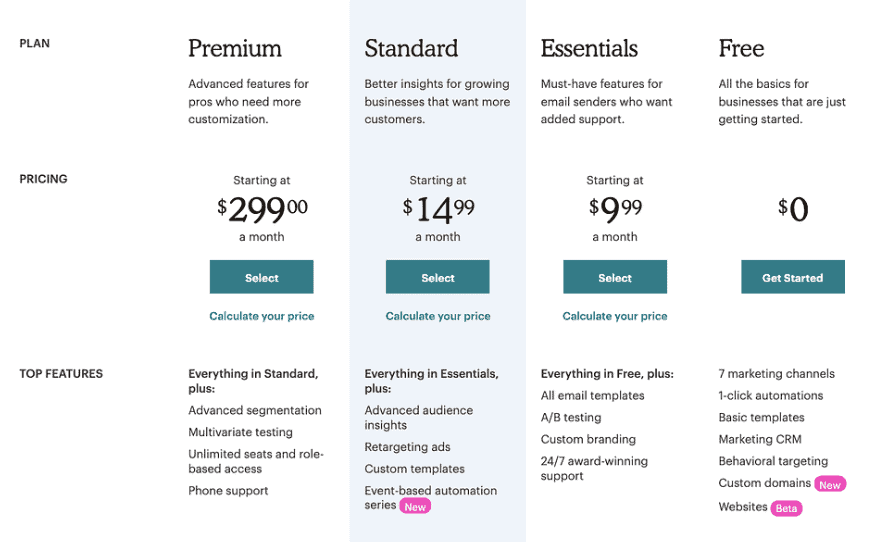 Mailchimp offers four plans:
Free at $0/month
Essentials: $9.99/month
Standard: $14.99/month
Premium: $299/month
The prices mentioned above are for 500 contacts. As your contacts increase, so does the price tag.
Read also: Keap (Infusionsoft) Alternatives — The Top 5 CRM Options Today
#5. AWeber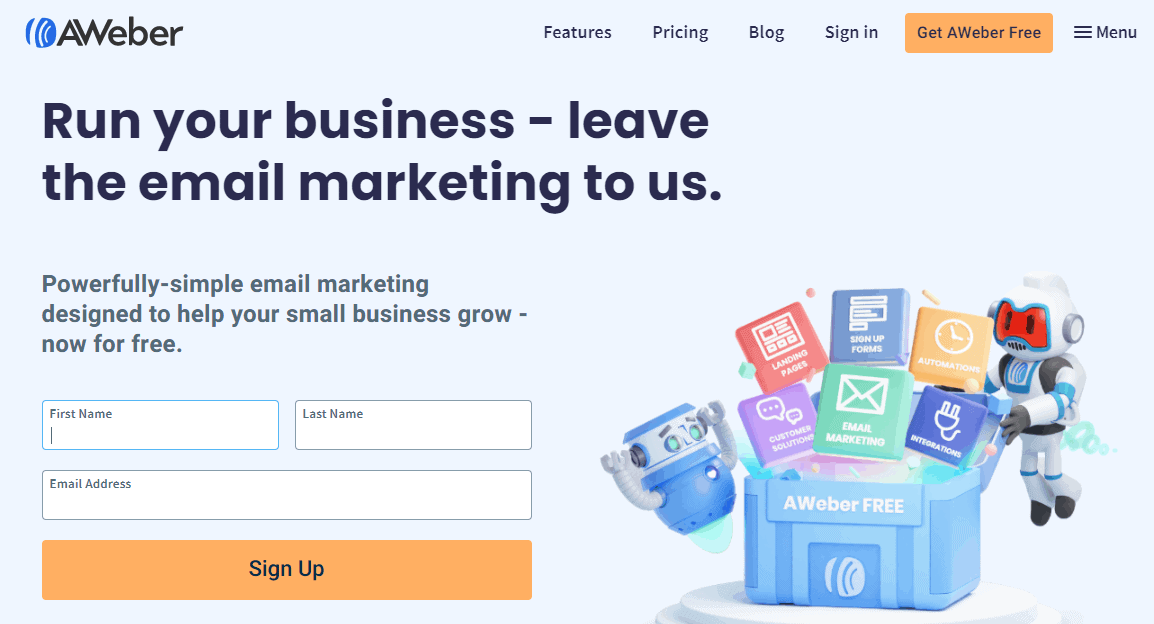 AWeber is another great Sendinblue (Brevo) alternative.
Their software includes list-building, data reporting, workflow automation, email and landing page design, and email deliverability tools, all essential for online marketing & marketing campaigns.
Advantages



AWeber is more mobile-friendly than Sendinblue (brevo). For remote & traveling teams, this is a plus point.
This marketing tool offers a lot more automation features than Sendinblue (Brevo) and customized templates for email communication.
The plans are affordable, even as you add more subscribers to your list.
AWeber Pricing
AWeber keeps it simple in the pricing department, but their pricing also follows a sliding scale model.
Here's a rundown of what you'll have to pay, billed annually:
0 – 500 subscribers: $16.15 a month
501 – 2,500 subscribers: $26.15 a month
2,501 – 5,000 subscribers: $46.15 a month
5,001 – 10,000 subscribers: $66.15 a month
10,001 – 25,000 subscribers: $146.15 a month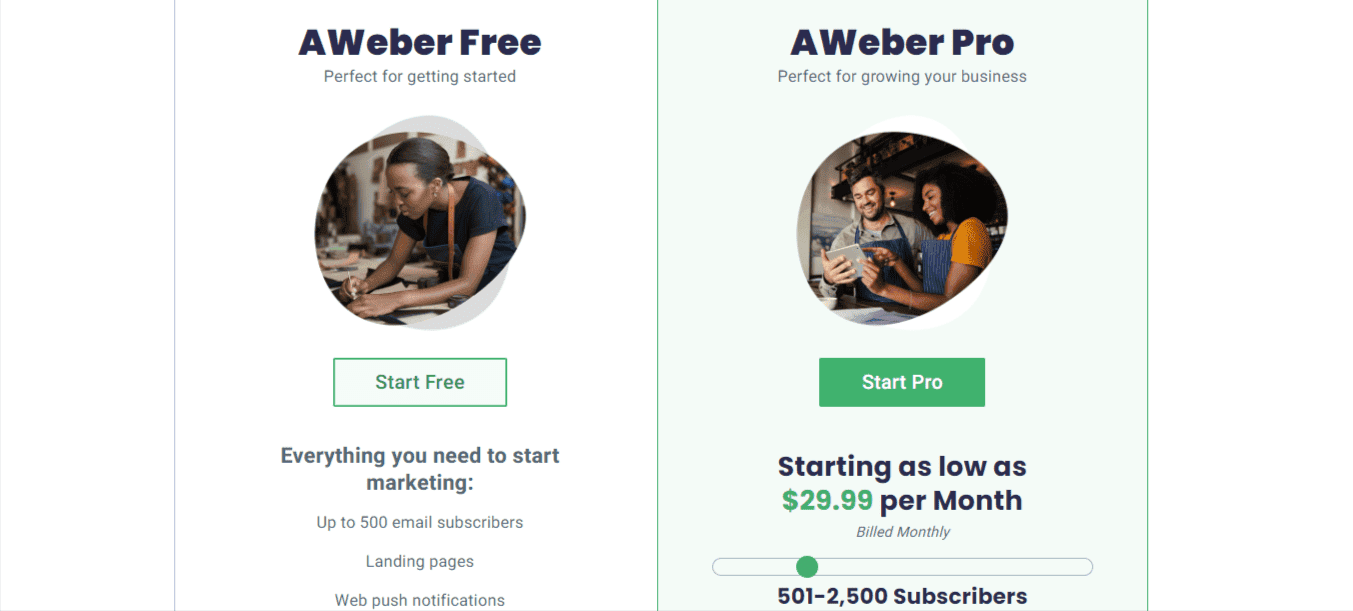 Read also: AWeber Alternatives — Which One Should You Choose?
#6. Constant Contact
Constant Contact is an email service provider designed to help small businesses connect with their audiences across several channels like emails, socials, and SMS. It offers a few digital marketing solutions that ensure your online campaigns run smoothly.
Advantages
Constant Contact connects with eCommerce platforms like Esty, Shopify, eBay, WooCommerce, etc., to help you drive more sales
The event management feature allows you to plan, manage, and promote your event (class, seminar, workshop, or webinar). It also supports ticket sales, attendee registration, promo codes, etc.
With the CRM system, you can sync, track, and manage your customer data in one place. This helps you visualize your customer journeys and their entry points.
Constant Contact's pipeline management system lets you view and manage deals, forecast sales, and track team performance over time.
Marketing automation enables you to setup automated workflows and trigger-based emails to streamline your processes
Constant Contact Pricing

Constant offers three major pricing plans:
Lite: $12/month
Standard: $35/month
Premium: $80/month
Unlike Sendinblue (Brevo), Constant Contact has simpler and more affordable pricing plans. And although it doesn't have a free plan, it offers a 60-day free trial on all plans.
This is great for startups who need sufficient time to understand how the platform works and how they can use it to grow their businesses.
Read also: 16 Superior Flodesk Alternatives for Slick Email Marketing
#7. Campaign Monitor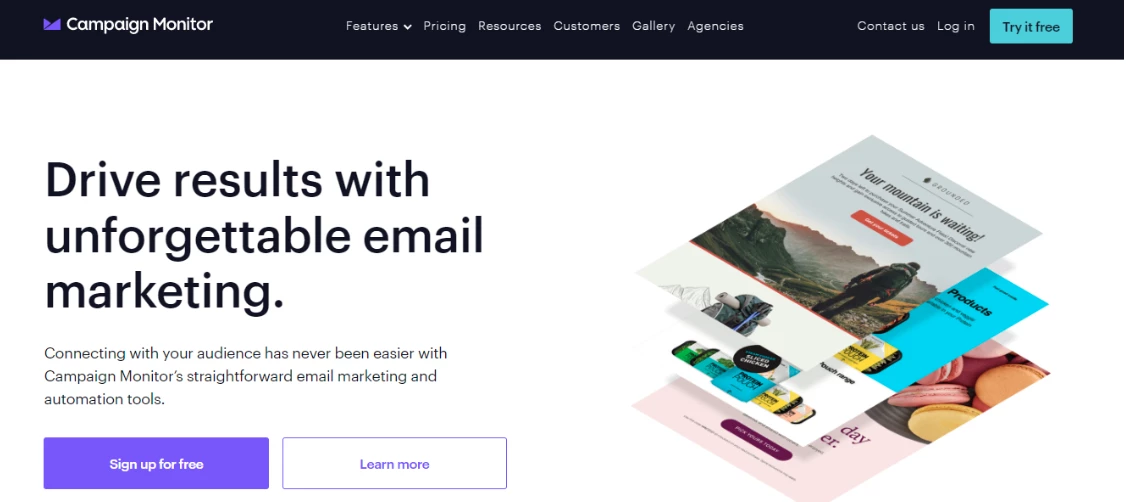 Campaign Monitor is an email marketing and automation tool that helps you run successful online campaigns through personalized email and SMS marketing. It supports a visual journey designer, transactional emails, and a drag-and-drop functionality to keep your audience engaged and drive more revenue.
Advantages
You can combine SMS and email marketing to reach more contacts and build stronger connections
Smart segmentation lets you send targeted and personalized emails to customers based on their interests and interactions with your brand
The link review tool helps you send professional emails that direct your subscribers to the right places. It searches your emails and identifies broken or outdated links.
With the visual journey designer, you can create personalized customer journeys and set up automated workflows and email sequences to deliver targeted messages based on pre-defined triggers and actions.
The analytics feature gives you clear reports and actionable insights that help you review your overall strategy and make smart marketing decisions.
Campaign Monitor Pricing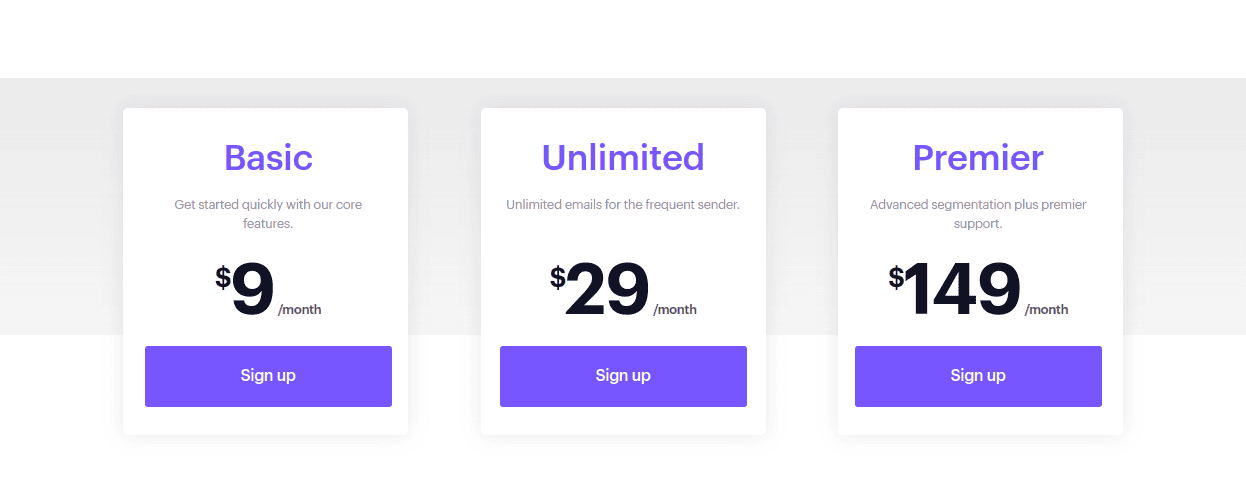 Campaign Monitor has three major pricing plans. With a list of 1,000 contacts, the pricing includes:
Basic: $29/month
Unlimited: $59/month
Premier: $149/month
Sendinblue (Brevo) and Campaign Monitor have similar price ranges. But Campaign Monitor doesn't have a free plan or trial version. You can, however, send emails for free to only five subscribers for a start.
As you exceed that amount, you will have to upgrade to a paid plan to continue using the service.
Interested in HubSpot competitors? Our blog post offers a deep dive into nine of the best alternatives.
#8. GetResponse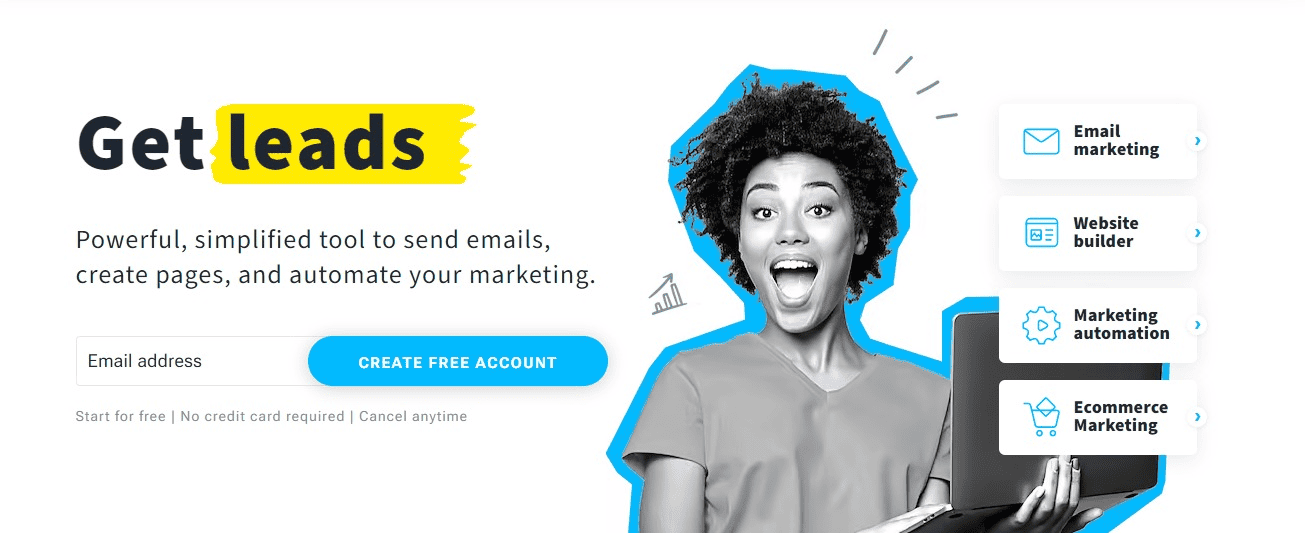 GetResponse is a digital marketing solution that enables marketers to promote and sell their products, retain buyers, and build lasting customer relationships.
It offers a suite of marketing features such as email and SMS marketing, autoresponders, conversion funnels, marketing automation, etc., that help you grow your business online.
Advantages
GetResponse supports an AI-driven website builder with pre-defined customizable templates to help you design the perfect website for your brand. It is a no-code platform with a drag-and-drop feature that lets you create beautiful pages in minutes
The automated email sequences enable you to deliver quick responses to your contacts based on pre-defined triggers and actions. The autoresponders ensure timely and personalized communication with your subscribers regardless of their locations.
You can promote or sell your products using conversion funnels. Formerly known as Autofunnel, this feature lets you create attractive landing pages, signup forms, lead magnets, popups, etc., to grow your contact list and drive sales.
The push notification tool ensures steady communication with your contacts. With opt-in prompts, you can convert new visitors, resell products to existing customers, or offer timely updates to subscribers whenever they open their browsers.
GetResponse uses AI recommendations to match related products on your online store to boost upsells and cross-sells. It also supports features that improve your store's UX to attract more customers and drive sales.
Live web chat provides instant support to your visitors and facilitates real-time communication even when you're not online. With a pre-set follow-up sequence, you can deliver the right responses based on specific triggers.
GetResponse Pricing
GetResponse has two major pricing models: Plans for everyone and Plans for mid & large companies. The plans for mid and large companies will require a custom quote, so you have to contact the sales team. For everyone, the pricing for each plan (1,000 contacts) include:
Free: $0/month
Email marketing: $19/month
Marketing Automation: $59/month
eCommerce Marketing: $119/month
GetResponse pricing is rather different from other email marketing tools, as it offers diverse prices for its major marketing solutions – email marketing, marketing automation, and eCommerce marketing.
Moreover, it offers a 12-month plan with a discount of 18% and a 24-month plan with a discount of 30% on the monthly plans. It offers a free plan and there's no trial version.
Read also: 15 of the Best GetResponse Alternatives (Features, Pricing)
#9. Drip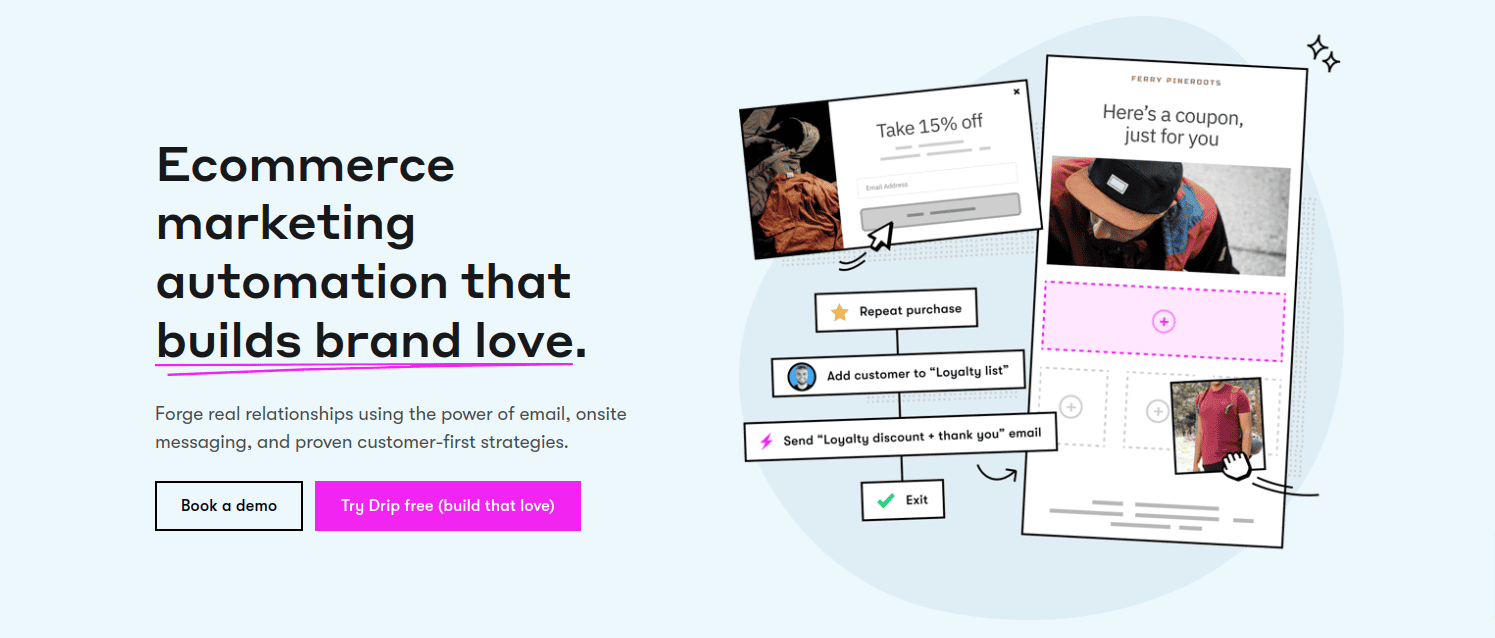 Drip is an eCommerce CRM that helps online merchants attract customers to their online stores and drive sales. Like GetResponse, it offers a wide range of eCommerce features that help you design your web store and run successful marketing campaigns.
Advantages
Drip supports customer-first marketing, a strategy that tends to put customers' needs first while offering products or services. It does this by delivering targeted and personalized emails that improve engagement and create pleasant customer experiences.
Drip lets you design beautiful attractive emails with customizable templates and a visual email builder. You can also build your emails from scratch to suit your brand tone and style.
The marketing automation features help you run multi-channel marketing on autopilot. Also, the visual workflow builder uses your customer data to create automated email sequences and workflows.
With Onsite, Drip lets you connect with your customers outside their inboxes. Whenever new visitors land on your site, it delivers engaging messages that can convert them to loyal customers.
Drip's reporting and analytics feature give you clear and valuable insights into your overall marketing performance. The visual dashboards help you identify what's working and what's not, allowing you to make smart recommendations and improvements in your strategy.
Drip Pricing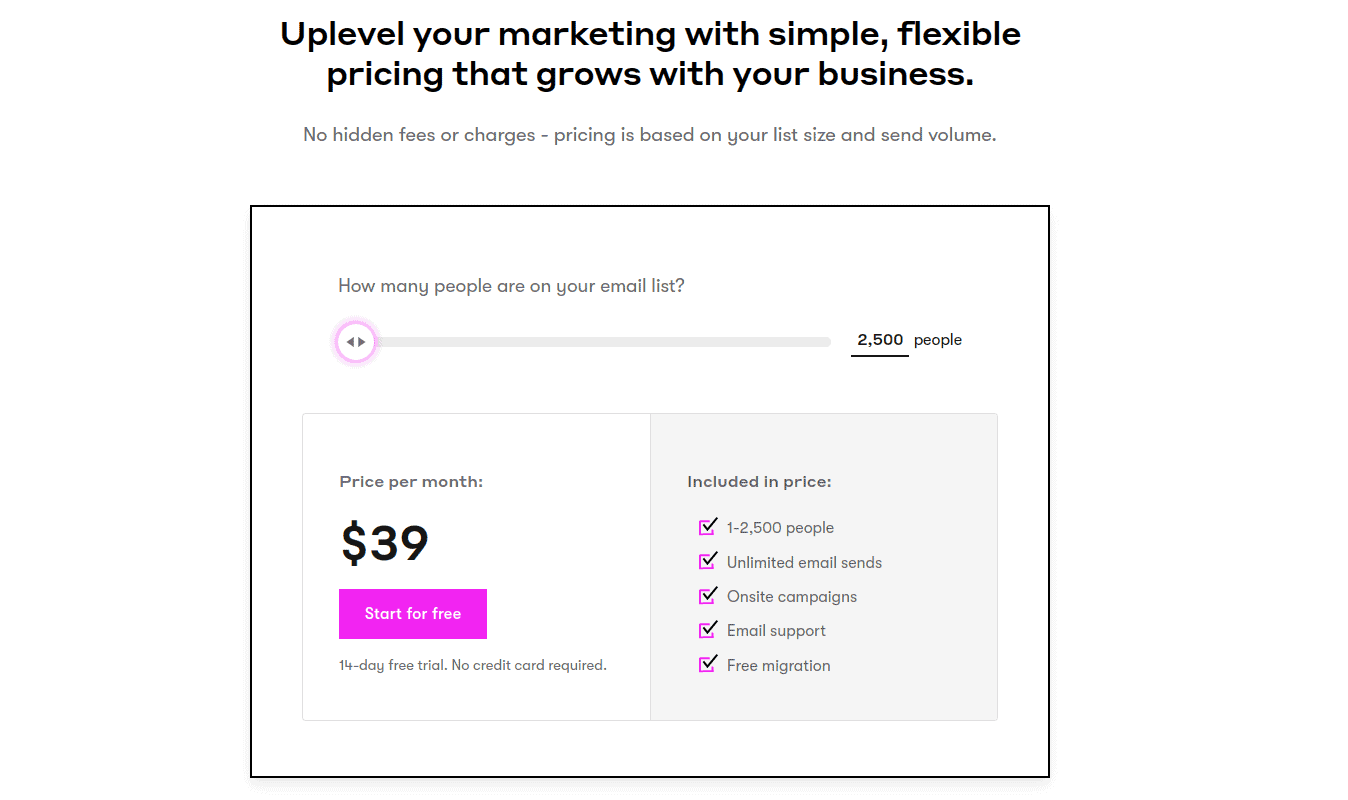 Unlike other emailing tools, Drip pricing is based on the number of contacts you have. The pricing includes:
2,500 contacts: $39/month
5,000 contacts: $89/month
7,500 contacts: $124/month
10,000 contacts: $154/month
15,000 contacts: $209/month
Drip doesn't have a free plan but it supports a 14-day free trial version.
Read also: 11 of the Best Drip Alternatives (Features, Pricing, Pros and Cons)
#10. HubSpot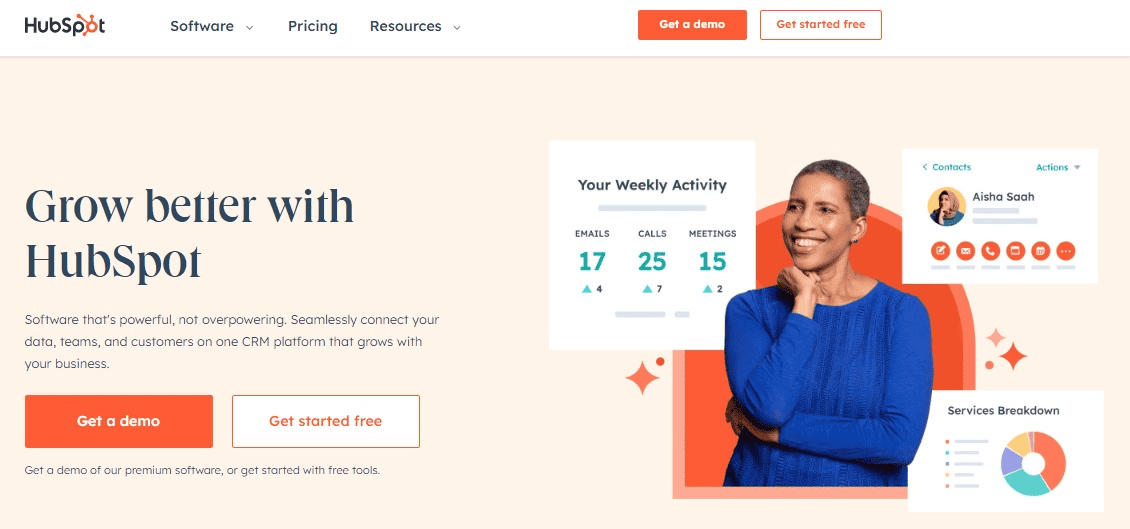 HubSpot is a comprehensive all-in-one customer relationship management (CRM) and inbound marketing system that enables businesses to attract and convert leads and build strong customer relationships.
The cloud-based tool combines marketing, sales, service, and other business management process in one suite to increase your revenue and help your company grow.
Advantages
HubSpot offers a sales CRM that helps you track your prospects, manage sales pipelines, and close deals faster. It also helps you organize your contact data and promote team collaboration.
Marketing Hub combines marketing automation and inbound marketing to help you attract more leads and run targeted campaigns at scale. It offers blog creation, social media, and email marketing tools to enable you to reach your customer across several channels.
Service Hub includes all features that ensure a seamless customer experience from onboarding to ticket resolution, customer service automation, live chat, etc. It also offers a knowledge base to help customers access the right resources that will help them navigate the platform.
Operations Hub helps you sync and curate your data across all platforms to provide a clean, unified system for monitoring, tracking, and measuring your business processes.
HubSpot also provides a content management system (CMS) that helps you build a professional website and publish high-quality content to attract visitors and drive traffic. It offers customizable themes and templates, a blog maker, web hosting, and other functionalities that enable you to build and manage your online community.
HubSpot Pricing

HubSpot offers several pricing plans for all its products. Its flexible pricing sets it apart from other CRM systems. The pricing for each plan in Marketing Hub (1,000 contacts) includes:
Free: $0
Starter: $20/month
Professional: $890/month
Enterprise: $3,600/month
HubSpot may seem like an affordable option but as you scale, the prices increase too quickly. This makes it unfit for many small businesses on a low budget.
HubSpot has a free plan but it doesn't support a free trial version.
Read also: HubSpot Pros And Cons: A Candid Assessment In 2023
#11. MailerLite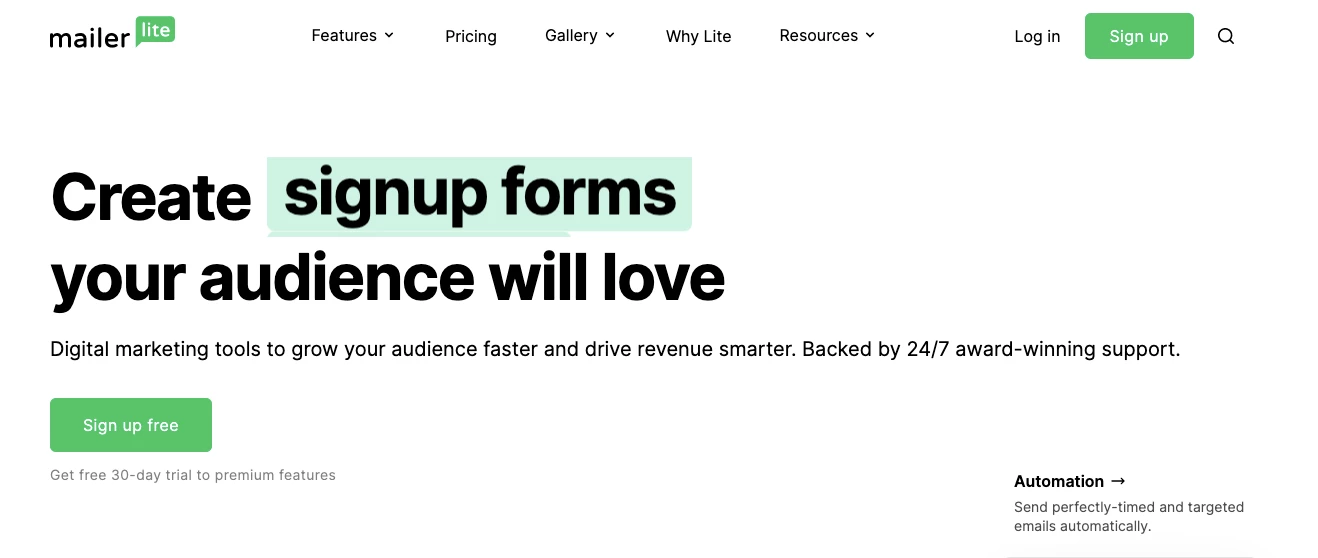 MailerLite is a simple but powerful email marketing and automation system with robust features for running personalized and professional marketing campaigns. The cloud-based system supports robust digital marketing solutions like eCommerce, landing pages, a website builder, newsletters, etc.
Advantages
Unlike other emailing tools, MailerLite offers an email verifier that checks the quality of your email list and reveals incorrect or invalid emails. This helps you send emails to verified subscribers, thus, increasing your deliverability and reducing bounce rates.
MailerLite also supports a drag-and-drop website builder that allows you to design attractive websites for your blog or online store. With customizable templates, you can create beautiful web pages tailored to suit your brand style.
The email automation feature enables you to build automated workflows to guide your customers through the various stages of their journey. With email triggers, you can automatically send timely emails to your contacts based on the actions they take – filling out a form, clicking a link, or joining a group.
MailerLite is a great platform for creators, as it supports the promotion and sales of digital products like audio files, images, eBooks, etc. Also, you can build your online store and set up payment processors that enable you to accept payments in different currencies.
You can also, monetize your newsletters by offering paid subscription emails and delivering valuable content that's worth paying for.
MailerLite Pricing

MailerLite offers four major pricing plans based on the number of contacts you have. For 1,000 contacts, the pricing for each plan includes:
Free: $0
Growing Business: $10
Advanced: $21/month
Enterprise: custom pricing
MailerLite is an affordable alternative to Sendinblue (Brevo). It has a free plan and also supports a 30-day free trial period. The digital marketing solution is well-suited for small businesses and startups, as it provides a wide range of marketing functionalities at low prices.
Read also: What is MailerLite? Reviews, Pricing, Pros and Cons, Alternatives
Conclusion
Sendinblue (Brevo) is a reliable platform that offers several key functionalities that are crucial for online marketing.
However, the best alternatives to Sendinblue (Brevo), as listed in this blog, offer the same value or even more. You can try them and take a call on which marketing automation tool you like best.
Our recommendation for small business owners, agencies, freelancers, solopreneurs, and startups is EngageBay — the Sendinblue (Brevo) alternative software equips you with all the tools you need to scale and grow your email marketing, automate sales, manage your social media, and offer exceptional customer support.
Plus, you get unlimited emails in the Pro plan!
It's also quite simple to switch from Sendinblue (Brevo) to EngageBay — reach out to us, and we'll help you export your account for free.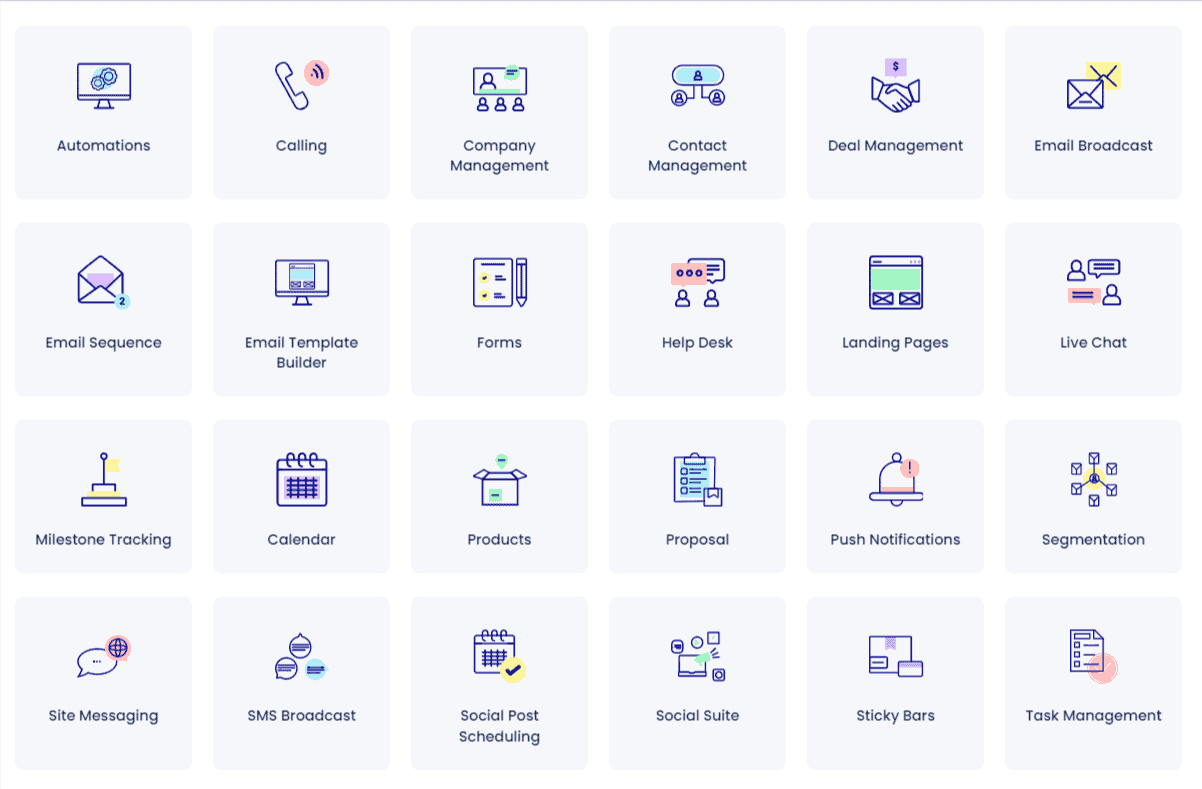 Want to read some user reviews first? Take a look at what customers are saying about EngageBay on the reviews platform SourceForge.
If you need to talk to one of our experts, you can book a live 30-minute demo at a time of your convenience.
Good luck!