In our line of business, we hear a lot about how important it is to find the right tool or software for a small and growing company. Since most footfall is digital, it's clear that the right digital marketing tools can make or break a business.
But with so many options, where do you start? In this blog post, we'll take a look at Sendinblue in detail, including its features and pricing.
We'll also recommend five splendid Sendinblue alternatives:
EngageBay
ActiveCampaign
Convertkit
Mailchimp
AWeber
And show you how these email marketing software are just as good, and maybe better.
Sendinblue is a well-established name in marketing automation, especially for email marketing campaigns.
Yet, as a small business that's constantly reevaluating what works and what doesn't, it helps to ask: is Sendinblue right for you?
What is Sendinblue?
Founded in 2007, Sendinblue is a SaaS relationship and email marketing service solution for businesses that require accelerated and automated email marketing campaigns.
Before we discuss Sendinblue alternatives, let's look at some of the key features this email marketing platform offers.

Sendinblue Key Features
Sendinblue offers plenty of marketing features, including Facebook ads, landing pages, SMS marketing, automation of marketing workflows, shared inbox, and more.
Facebook Ads
Sendinblue allows you to leverage Facebook Ads to further your marketing campaigns and extend your audience reach.
You can upload your own images, create CTA buttons, and add link tracking. You can also segment your audience list, set the budget, adjust the duration, and track the success of your email marketing campaign – all on a common dashboard.
Read also: AWeber Pricing, Limitations, Features, Pros and Cons [Tables]
Landing Pages and Signup Forms
Sendinblue allows you to build custom landing pages through an easy-to-use drag & drop builder. You can also customize the template and adjust it to reflect your email campaign design language.
Email & SMS Marketing
Sendinblue has an intuitive email builder that makes it easy to create email broadcasts.
You can choose from pre-designed templates or create your own using the email builder. The email designer tool also supports dynamic content, making it easy to create personalized emails that appeal to your target audience.
In addition to email marketing, Sendinblue also offers SMS marketing functionality. You can create a bulk SMS campaign to send to your contact list, informing them of new updates, offers, and discounts.
Marketing Automation
The platform also supports custom workflows. You can automate simple, routine tasks or set up complex workflows with custom triggers.
Shared Inbox
Sendinblue lets your marketing team use a shared inbox so you can track your customers' journey through the sales pipeline.
A shared inbox allows for more transparency — sales and marketing teams can communicate better when they're on the same page.
Live Chat
The Live Chat tool is free to use and completely customizable. You can even put your business logo on the bot to drive trustworthiness and authenticity.
The chatbot can answer commonly asked queries through pre-built responses for your customers or leads when your staff isn't available to answer them.
Read also: Promotional Email — How To Write Emails That Convert
Sendinblue Pricing Plans
Sendinblue has four pricing plans to select from: Free, Lite, Premium, and Enterprise.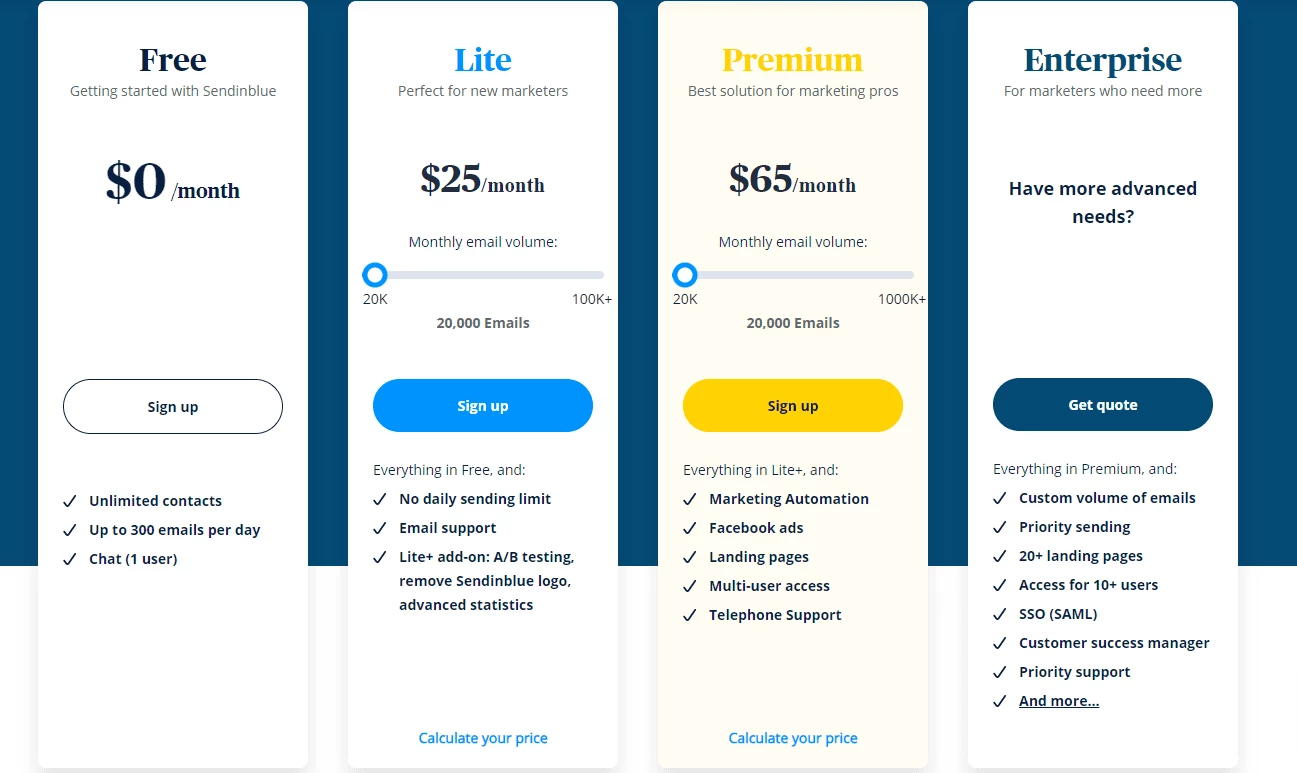 The Free plan includes these features:
Email support
Real-time reporting
Page tracking
Workflow editor
Advanced templating language
Core API
SMS and transactional emails
One shared inbox
Sales CRM
Custom signup forms
Advanced segmentation
Besides the above features, the Lite plan ($25/month for 20,000 emails) also has:
No sending limit per day
Option to remove Sendinblue logo
Optional A/B testing
The Premium plan ($65/month for 20,000 contacts) offers the following:
Multi-user access
Heat map reporting
Device and geography reporting
Real-time reporting
Marketing automation workflows
Three shared inboxes
Retargeting ads
No Sendinblue logos
A/B testing
In the Enterprise plan (custom-priced), you get advanced features such as:
SLAs
SAML and SSO
Dedicated account manager
Advanced integrations such as FTP and Salesforce
Phone support
Dedicated IP
Unlimited shared inboxes
Unlimited landing pages
Note: Sendinblue pricing operates on a sliding scale. This means your final pricing changes based on the number of emails you need. For example, the Premium plan costs $65/month for 20,000 emails. For 250,000 emails, you have to pay $229/month.
Sendinblue Pros
Pricing plans are affordable, considering the features offered.
Includes basic CRM functionality.
Lots of automation options for email, social media, and SMS marketing.
Lead scoring automatically creates a list of qualified leads.
Advanced template building options.
Many users love the bulk email marketing tool:

Sendinblue Cons
Sendinblue lacks many mobile features, so if you travel a lot as a marketer, you'll probably find it hard to use this tool.
Initial account setup is tedious and has a steep learning curve.
Importing data is convoluted — there are no options for easy data import & export.
Users experienced issues during onboarding, especially during contact quality-check (Sendinblue does this to improve their platform's integrity):

Read also: 7 CRM Automation Functions to Generate More Revenue
The Top 5 Sendinblue Alternatives for Small Businesses
Let's move on to five of the best Sendinblue alternatives: EngageBay, ActiveCampaign, ConvertKit, Mailchimp, and AWeber.
We'll go over the features, pros, and pricing of the Sendinblue alternatives one by one so you can see how they stack up against Sendinblue.
#1. EngageBay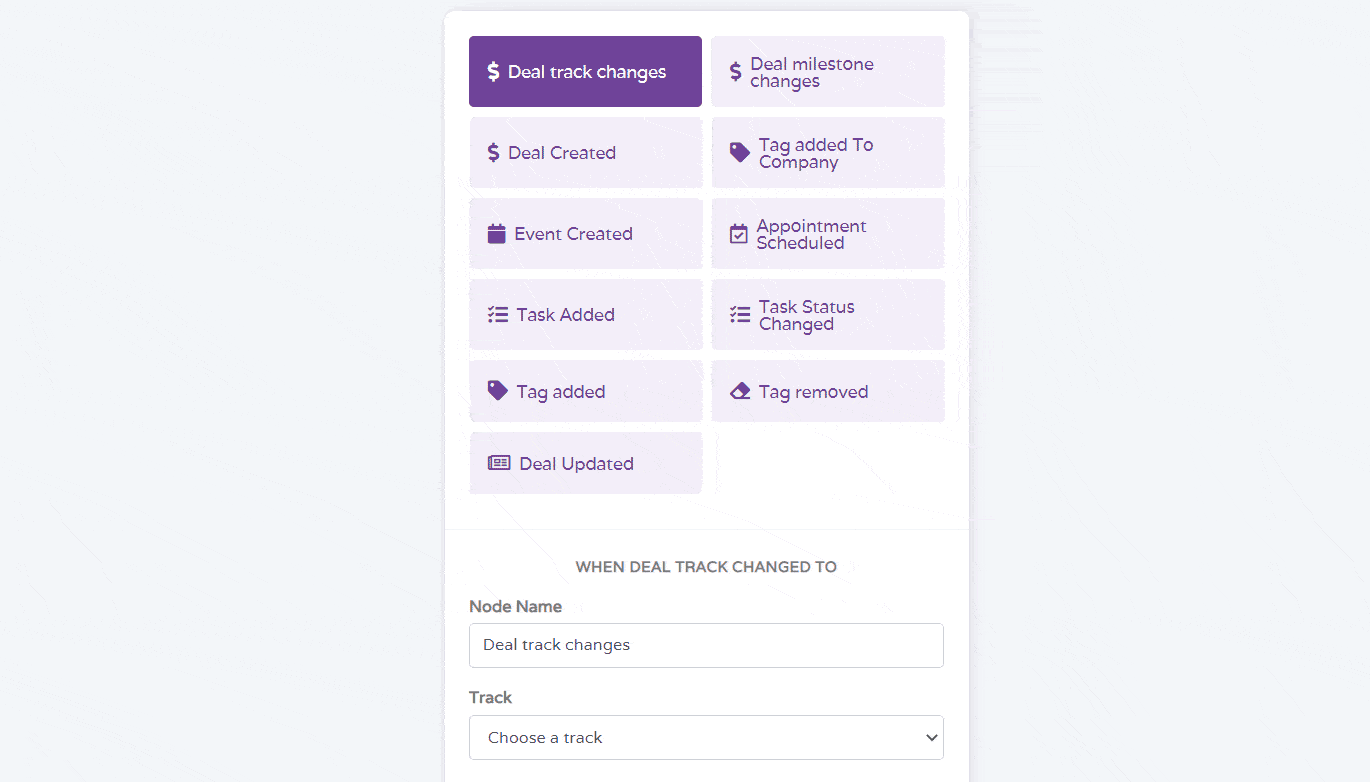 EngageBay is first on our list of Sendinblue alternatives.
It is an all-in-one marketing, sales, and customer support solution. Founded in 2017, EngageBay was designed as an alternative to expensive and complex customer relationship marketing software, such as Hubspot and Sendinblue.
EngageBay divides its features into four products: the Service Bay, CRM & Sales Bay, Marketing Bay, and All-in-One Suite.
Here's a short video to help you understand what makes EngageBay an excellent platform for small businesses:
Advantages
EngageBay offers all the features you get from Sendinblue, plus a whole suite of sales and customer support solutions. These features include deal management, CRM telephony, project management, lead scoring, appointment scheduling, and 360-degree customer views.
All-in-one suite eliminates the need for multiple standalone systems and offers a complete view of each customer.
EngageBay's CRM is always free to use.
Social media management: LinkedIn, Facebook, Instagram, and Twitter through the Social Suite feature.
EngageBay's pricing is catered towards small businesses rather than large enterprises, so it's more affordable.
Responsive customer support.
You can send out targeted emails through various personalization features, including segmentation, predictive lead scoring, and CRM.
Multistep visual workflow automation builder, with a plethora of pre-built actions and conditions.
EngageBay Pricing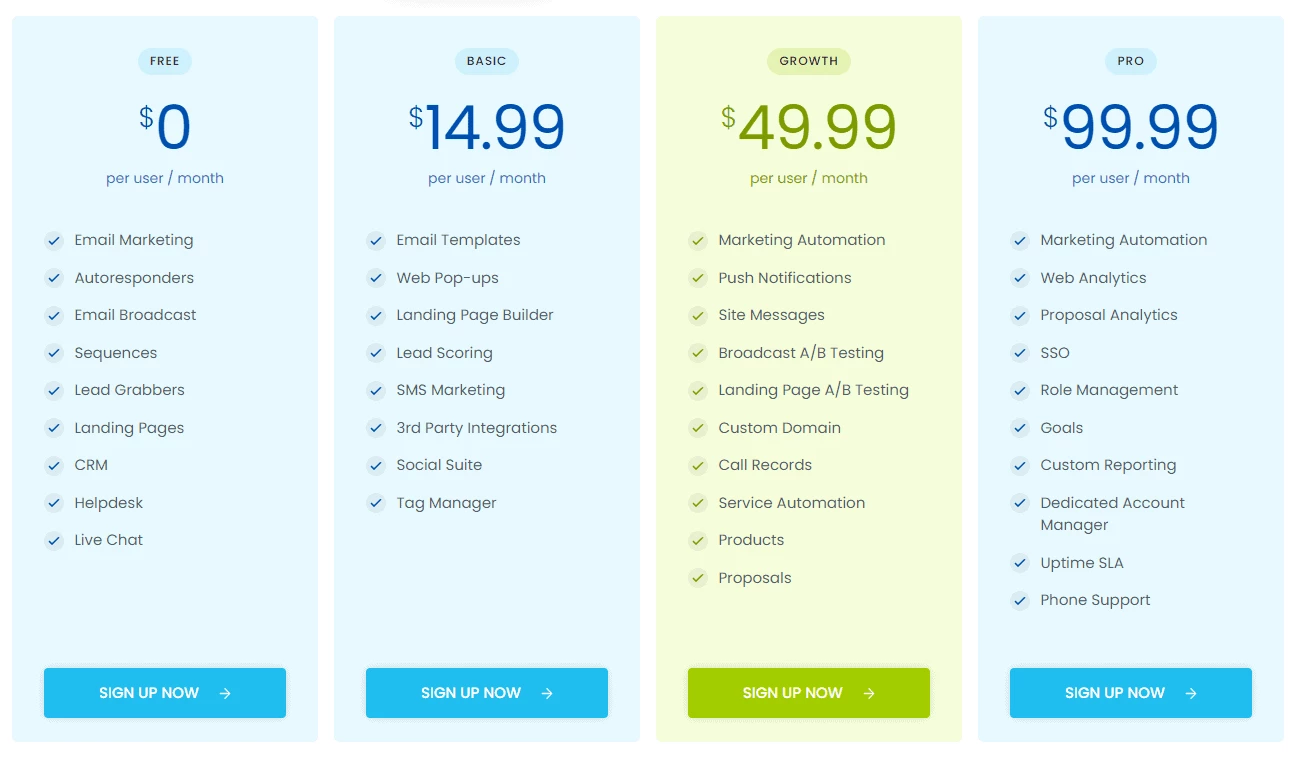 EngageBay offers four pricing plans:
Free plan at $0 a month: Includes 500 contacts & 1,000 branded emails.
Basic plan at $14.99 per user, per month: Includes 1,000 contacts & 3,000 branded emails.
Growth plan at $49.99 per user, per month: 10,000 contacts & 25,000 branded emails.
Pro plan at $99.99 per user, per month: Includes unlimited contacts & 50,000 branded emails.
All prices mentioned above are for monthly payments. Annual subscriptions come with a 20% off and biennial plans with a 40% discount. This makes EngageBay the best Sendinblue alternative from a cost perspective.

Read also: 8 Fantastic HubSpot Alternatives for Small Businesses
#2. ActiveCampaign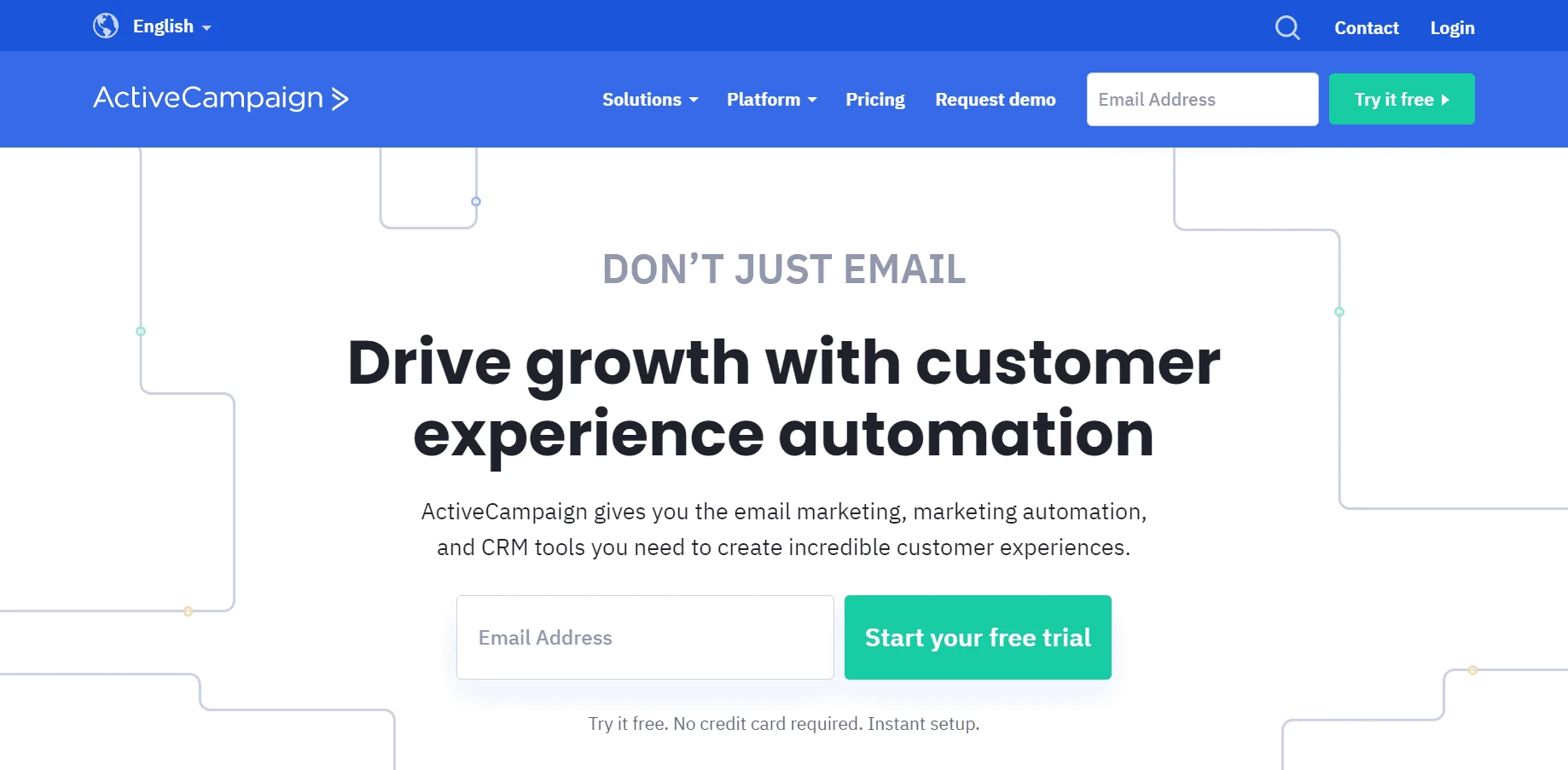 ActiveCampaign is an excellent marketing automation and email marketing platform that focuses on customer experience. This means ActiveCampaign offers a host of tools catering to the needs of customer support teams.
Advantages
Perfect for small and medium-sized businesses.
Helps improve customer experience through features such as lead nurturing, targeted email campaigns, and personalization.
Advanced customization and reporting options.
ActiveCampaign Pricing

ActiveCampaign offers four plans. This is the pricing structure for 1,000 contacts:
Lite: $25/month
Plus: $49/month
Professional: $149/month
Enterprise: Custom pricing
ActiveCampaign pricing runs on a sliding-scale model and the cost increases depending on the number of contacts you have.
ActiveCampaign is not the most user-friendly, though, and might require assistance from their support team during the initial setup and learning. However, certain users found ActiveCampaign's customer support and tutorials not up-to-par with other competitors:

#3. ConvertKit

ConvertKit is an email service provider and email marketing software geared towards content creators. ConvertKit features include landing page builder, email builder, workflow automation, and email marketing — making it an excellent Sendinblue alternative.
Advantages
ConvertKit is designed specifically for content creators and has tools tailor-made for their requirements.
The commerce tool offered with ConvertKit, called ConvertKit Commerce, is a great inclusion for small businesses and startups eager for growth.
Extensive workflow integrations including Zapier, WordPress, SumoMe, etc.
ConvertKit Pricing

ConvertKit's three pricing plans are:
Free at $0 a month
Creator plan at $29/month
Creator Pro at $59/month
These pricing plans are for 1,000 subscribers. The prices increase as the number of subscribers increases, i.e., ConvertKit has a sliding scale pricing model.
For instance, if you're scaling operations and need more than 50,000 subscribers, the most advanced plan costs upwards of $500 a month!
Although ConvertKit is a great marketing automation platform, its pricing makes it out of the league of most small businesses and startups — especially as you accumulate more subscribers.
Read also: ConvertKit Alternatives — Find Cheaper & Better Competitors
#4. Mailchimp

Mailchimp is one of the best when it comes to email marketing — especially for small businesses and startups. The platform offers a suite of email marketing features, including engagement tools, social media management, reporting, and analytics.
Advantages
Mailchimp offers real-time updates and metrics through its intuitive dashboards.
You can share emails and posts to various social media accounts, including Facebook, Instagram, and Twitter.
Visually stunning email templates and customizations to help you reflect your brand image.
Mailchimp Pricing

Mailchimp offers four plans:
Free at $0/month
Essentials: $9.99/month
Standard: $14.99/month
Premium: $299/month
The prices mentioned above are for 500 contacts. As your contacts increase, so does the price tag.
Read also: Keap (Infusionsoft) Alternatives — The Top 5 CRM Options Today
#5. AWeber

AWeber is another great Sendinblue alternative.
Their software includes list-building, data reporting, workflow automation, email and landing page design, and email deliverability tools, all essential for online marketing & marketing campaigns.
Advantages

AWeber is more mobile-friendly than Sendinblue. For remote & traveling teams, this is a plus point.
This marketing tool offers a lot more automation features than Sendinblue and customized templates for email communication.
The plans are affordable, even as you add more subscribers to your list.
AWeber Pricing
AWeber keeps it simple in the pricing department, but their pricing also follows a sliding scale model.
Here's a rundown of what you'll have to pay, billed annually:
0 – 500 subscribers: $16.15 a month
501 – 2,500 subscribers: $26.15 a month
2,501 – 5,000 subscribers: $46.15 a month
5,001 – 10,000 subscribers: $66.15 a month
10,001 – 25,000 subscribers: $146.15 a month

Read also: AWeber Alternatives — Which One Should You Choose?
Conclusion
Sendinblue is a reliable platform that offers several key functionalities that are crucial for online marketing.
However, the best alternatives to Sendinblue, as listed in this blog, offer the same value or even more. You can try them and take a call on which marketing automation tool you like best.
Our recommendation for small business owners, agencies, freelancers, solopreneurs, and startups is EngageBay — the Sendinblue alternative software equips you with all the tools you need to scale and grow your email marketing, automate sales, manage your social media, and offer exceptional customer support.
Plus, you get unlimited emails in the Pro plan!
It's also quite simple to switch from Sendinblue to EngageBay — reach out to us, and we'll help you export your account for free.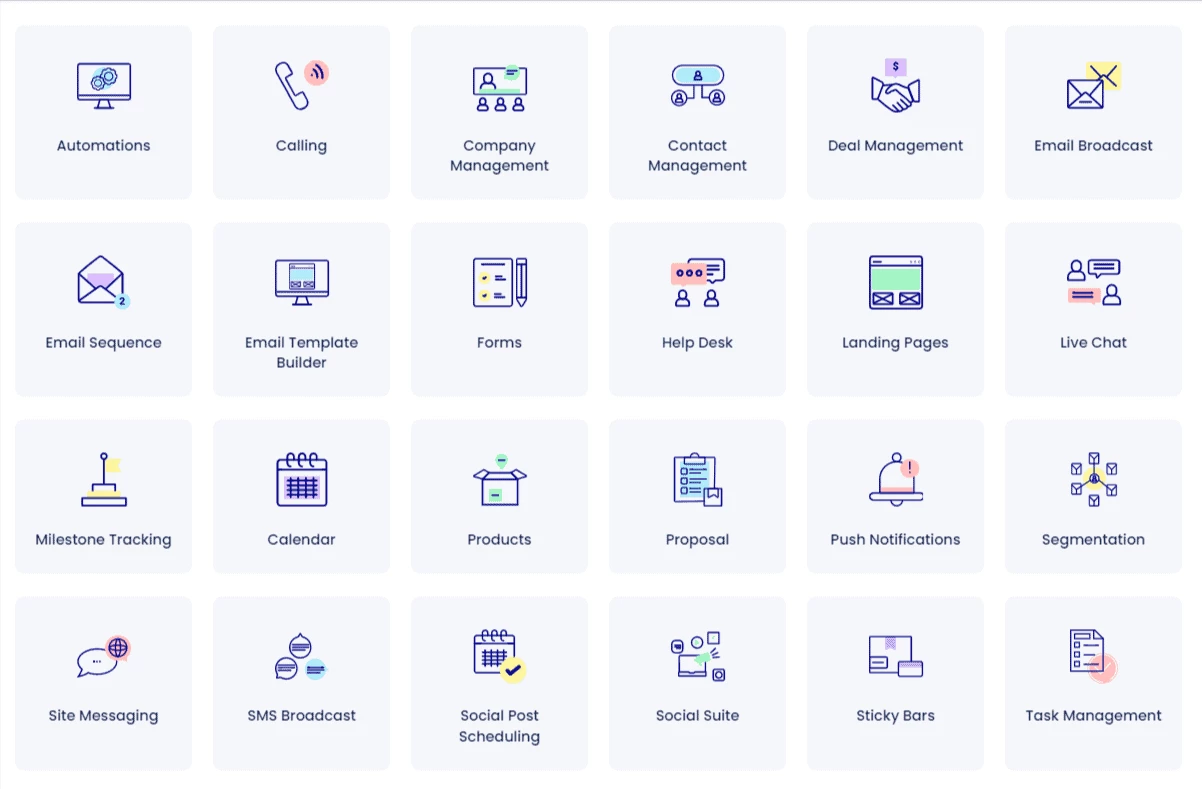 Want to read some user reviews first? Take a look at what customers are saying about EngageBay on the reviews platform SourceForge.
If you need to talk to one of our experts, you can book a live 30-minute demo at a time of your convenience.
Good luck!