When it comes to finding the right automation tools to manage your marketing, sales, and customer service, you have too many options — and they all come with their pros and cons.
One such familiar name in this arena is the HubSpot CRM (Customer Relationship Management), inbound marketing, sales process, and customer service platform and as you may have guessed from the title, this article will tell you more about HubSpot's pros and cons.
Weighing the HubSpot pros and cons is vital before selecting this tool for marketing automation, sales automation, or any other service it offers.
In this blog post, you'll learn:
What HubSpot does
What's awesome about HubSpot
What's not cool about the HubSpot platform
If HubSpot pricing suits you
What is the best HubSpot alternative
A Little Bit of Context on the HubSpot Marketing Platform
Just to ensure we're all on the same page, here's what you need to know about HubSpot.
The Good Part
It's truly an all-in-one platform for everything and anything marketing, sales, and customer support, all in one place.
It includes free CRM software for your sales team, marketing team, inbound marketing automation software, email marketing, marketing campaign management, social media management, and customer service tools.
It's easy to use and you can even use it as a CMS for content marketing or to build your website.
Sounds pretty amazing, right? It is, until you get to the bad parts.
8 Drawbacks of the HubSpot Marketing and Sales Platform
While people have their priorities aligned with their business interests, most CRM-related decisions come down to a few basic aspects — pricing, functionality, ease of use, and flexibility of opting in and out.
We've kept this blog post crisp and to the point — we're only talking about the major pain points shared by HubSpot users here.
So, what are the drawbacks of HubSpot?
HubSpot gets expensive really quickly
It has annual contracts – no early termination
Not very effective when you don't use it as an all-in-one tool
HubSpot does not offer A/B testing on lower plans
You have to pay for additional technical support, and the mandatory onboarding service is expensive
There are a lot of HubSpot alternatives with similar features but better pricing — ideal for small businesses
1. It Gets Expensive — Quickly
Let's get this one out of the way since it's so often a deal-breaker.
At a glance, what HubSpot offers might look affordable. In fact, you get the CRM for free, plus a few additional tools.
The Starter plan is just $50 a month. However, if you're a smaller business or otherwise working on a tighter budget, that's where the good news ends.
HubSpot offers very limited features in its free version, so you'll only be able to use it for the most basic things. Moreover, as your business grows, the prices you will need to pay will also rise, and quite steeply.
For instance, their Starter plan ($50) only includes 1,000 contacts. If you go beyond that, you'll have to subscribe to their Professional plan, which will allow you to add another 1,000 contacts to your database, but it'll set you back $800 per month.
And, if you require more, then you'll have to get their Enterprise plan at $3,200 per month. Still, this will only offer you a maximum of 10,000 contacts.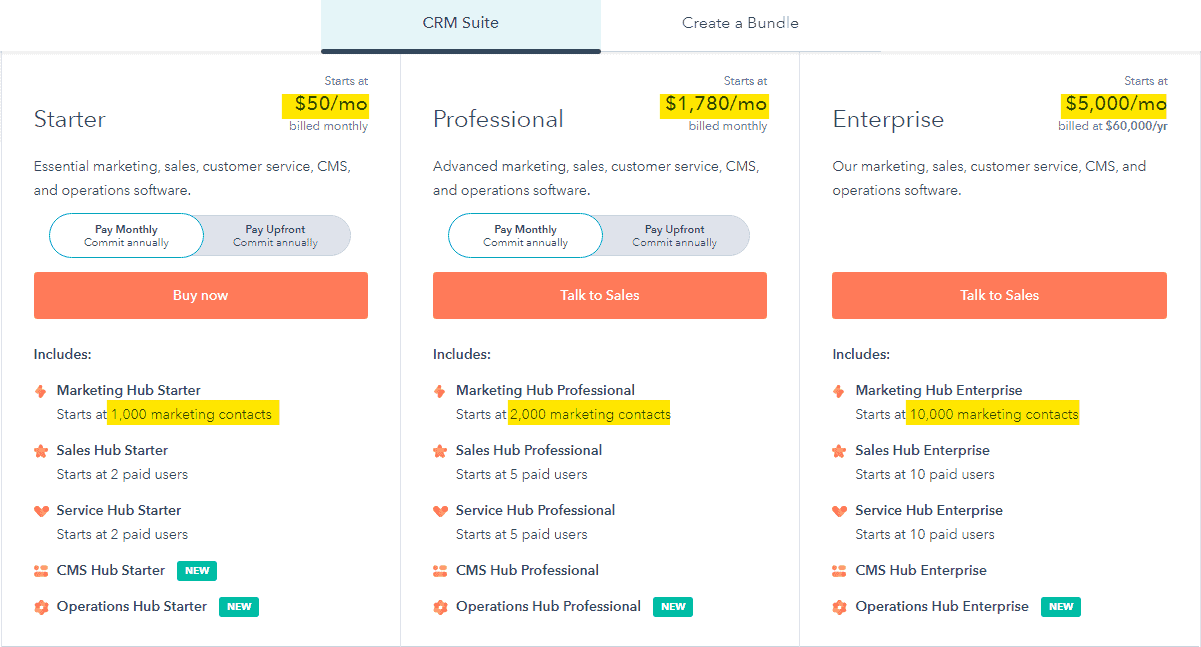 As your number of contacts grows (which it certainly will, as your business expands), then you'll also have to pay more. It would seem reasonable if not for the steep rise in the package price every time you decide to go for an upgrade.
This might not be the most practical and affordable option for your business. In fact, it might not be doable at all. While it is very comprehensive and certainly impressive, HubSpot gets pricey and fast.
If you go to any software reviews platforms, you'll find many users unhappy with HubSpot pricing, like this: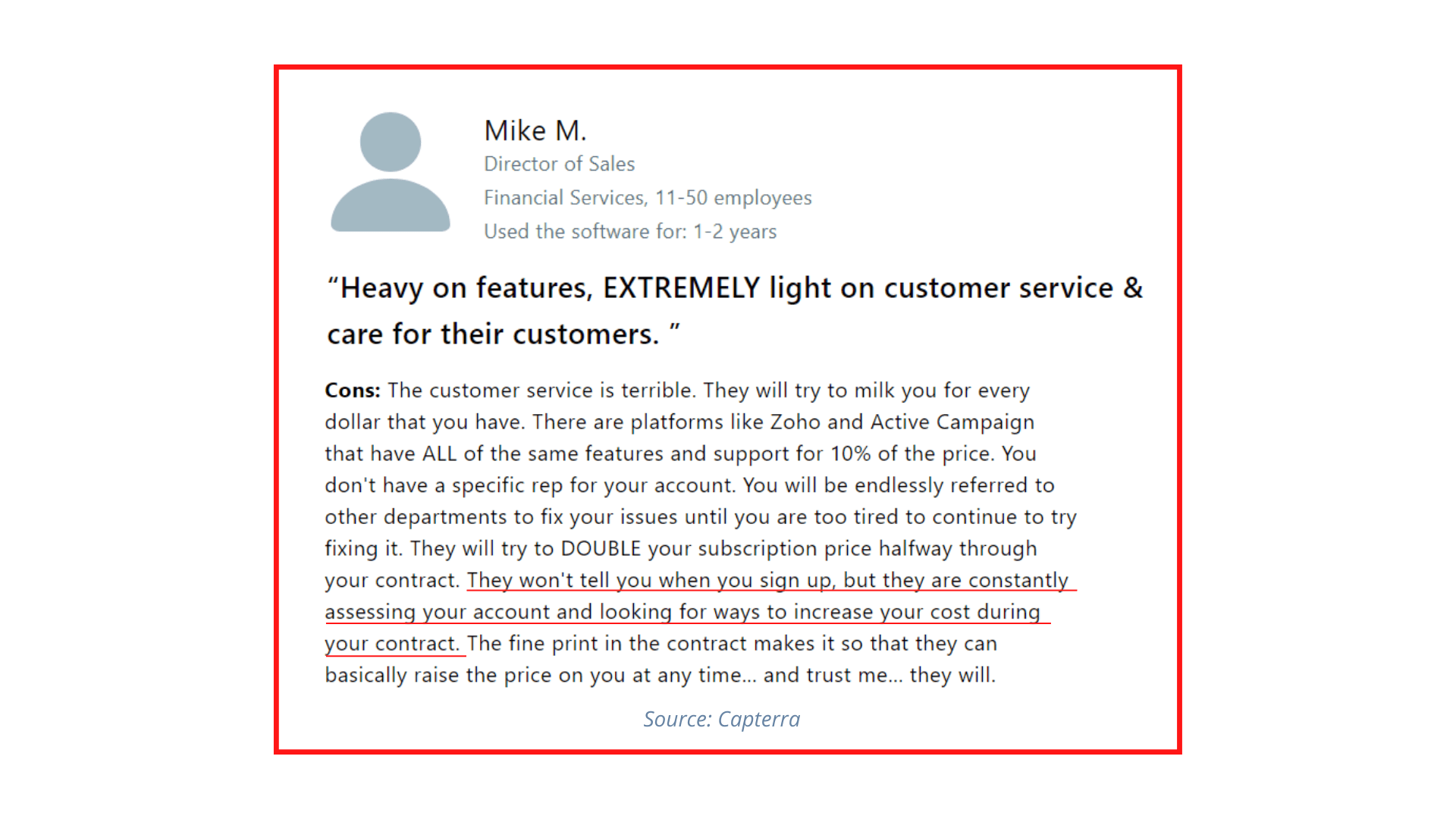 Don't have time to read so much? Watch what Megan Grant has to say about HubSpot's many pros and cons:
2. Their Contracts Aren't Flexible
While we're on the topic of flexibility, here's another one that many businesses frown on. Once you agree to a contract — like six or 12 months — you're locked in, period. This is a major HubSpot con, especially for small businesses.
There are no early cancellations or refunds. If you don't use your maximum number of contacts or realize you don't like a specific tool, it doesn't matter.
You will continue to be billed (even if it's on a monthly basis) until you've fulfilled the entire contract cost.
While this might be all right for businesses whose strategies and processes fit well with HubSpot's features, this isn't practical for businesses that are still in more of a testing period.
If you decide to try out the platform and you realize that it's not a good fit for your organization, you'll still have to pay for it until your annual contract with HubSpot CRM ends.

It's because nobody wants that pressure.
Many (if not most) platforms are doing away with contracts completely.
While we won't argue that HubSpot is a pretty remarkable marketing automation tool, you better be 100% certain that you're in love with it before you drop that kind of money.
3. It's Difficult to Use Not as an All-in-One Tool
If you want to experience HubSpot's full benefits, running everything through its platform is the recommended course of action. This includes building your website in their own CMS.
If you've already built your website in another CMS like, say, WordPress, and if you're quite satisfied with it (which a lot of businesses are), you can imagine the extra work this would entail.
The HubSpot CRM, inbound marketing automation, sales, and service tool is designed to be an all-in-one solution — and in terms of that specifically, it does a good job. However, and this is important, many businesses cannot run on one platform alone.
If you're only wanting to use a few select features within HubSpot, you're likely better off going elsewhere. Plain and simple, this isn't the best way to use HubSpot.
Plus, you won't be getting as much "bang for your buck." There are more affordable alternatives.
If your business requires customization, then HubSpot's lack of flexibility may present a problem for you. It's quite overwhelmingly an "all or nothing" tool.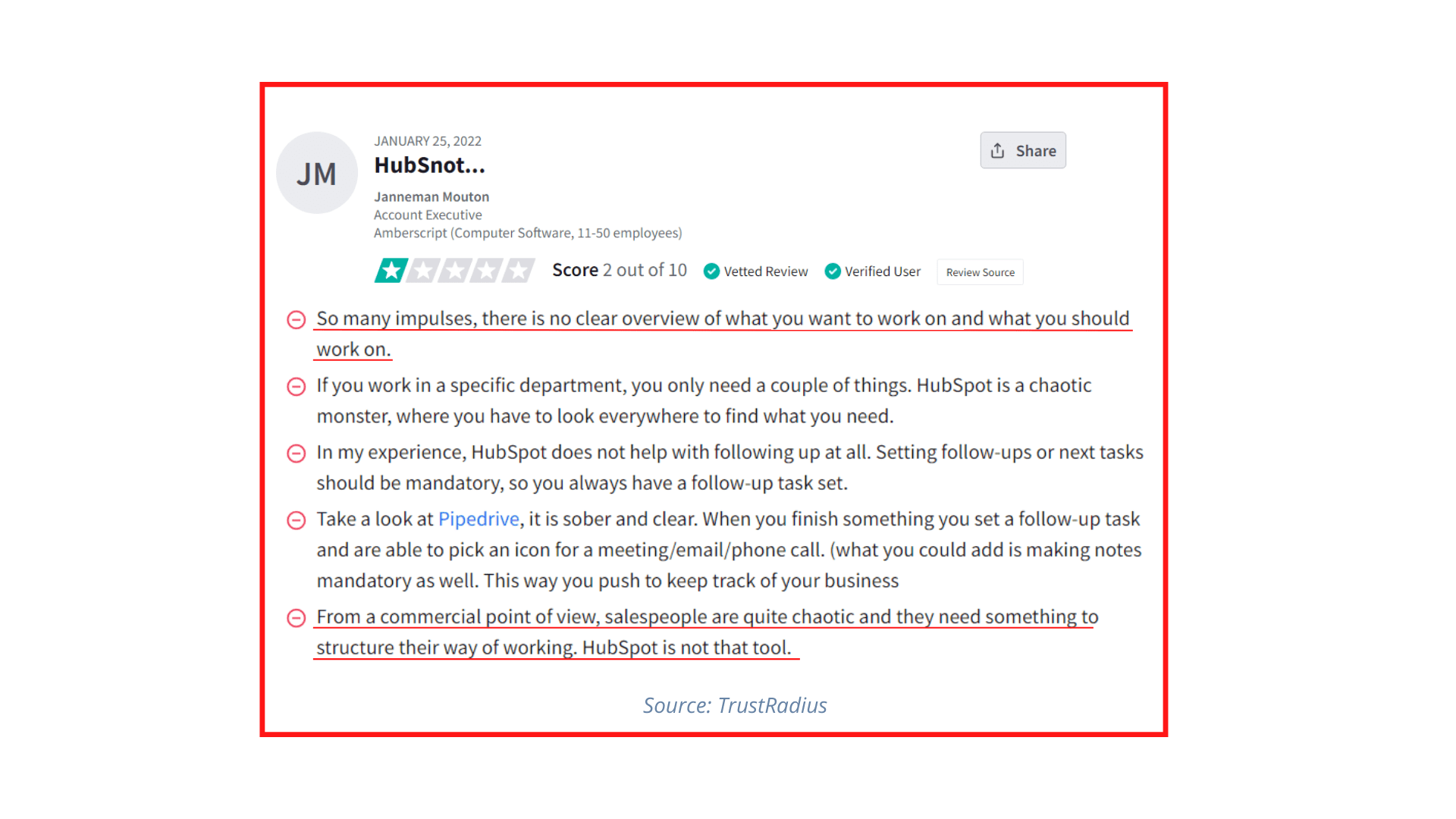 4. The Templates are Hard to Modify
Using HubSpot email templates can be a bit complex to modify without knowledge of CSS. This will be one more hurdle you have to jump if you don't always have access to someone with this skill set.
There are plenty of other alternatives offering a more user-friendly approach to building or editing email templates. This will save you time and money, and it puts you in the driver's seat.
That's exactly what we need from a platform, especially when we're spending money on it.
Read also: HubSpot vs Insightly: Pricing, Functionality, Features & More
5. There's No A/B Testing on Lower Packages
Split testing, or A/B testing, is an effective way to determine the best strategy for improving performance. It's when you compare two different versions of something to find out which one produces better results for your brand.
For instance, you might split test two Facebook ads with different images or two landing pages with different headings.
Unfortunately, if you're on HubSpot, you'll have to purchase their Professional package, which starts at $800 per month, to take advantage of this feature.
This can't be stressed enough. You must be testing these variables if you want to (a) get the most out of the tools that you're paying for, and (b) be successful with your digital marketing strategy and your overall online presence.
6. Reporting is Limited
For now, some of HubSpot reporting features aren't as diverse or as detailed compared to a few of its competitors.
An example is its lack of segmented traffic reports, which would have the ability to give you information about the percentage of various kinds of traffic visiting your pages.
Furthermore, at present, it's also unable to provide data on how mobile users navigate your page. This is incredibly important. Most people nowadays use their phones to browse websites.
If you're not able to study and analyze this audience, you're missing something huge.
These analytics and insights are going to be your best friend. They're a must-have. If you're not going to get them from using HubSpot CRM, a very large piece of the puzzle is missing.
7. You Have to Pay for Additional Technical Support
Implementing and using certain features within HubSpot might be straightforward.
However, if your company requires continuous technical support, then you're going to have to pay for it.
HubSpot CRM charges for technical assistance whenever you need it.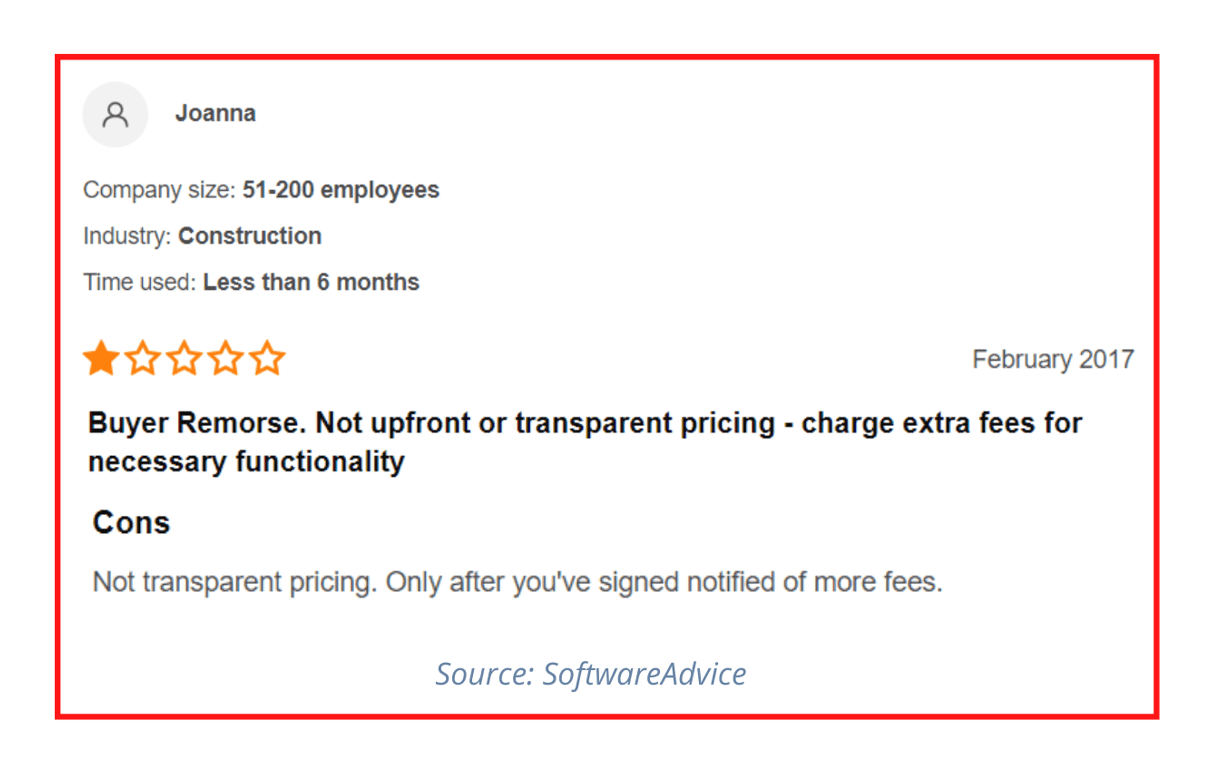 8. There are Plenty of HubSpot Marketing and Sales Features With Cheaper Alternatives
So much of this conversation is going to come down to the cost. Like we said in the very beginning, you have so many options. And here's the bad news for the HubSpot CRM, sales and marketing automation platforms.
There are more affordable options that will essentially do the same thing.
Let's be honest: We're all mindful of our budget. And why wouldn't we be? Running a business isn't cheap, and every dollar matters.
Understandably, you want to know that your money is being put to good use.
Here's the thing. Some of HubSpot's features have free or cheaper alternatives that are equal in functionality and quality.
Some businesses prefer these other options over HubSpot CRM because it enables them to pick and choose what they like best from various platforms.
As we mentioned earlier, because HubSpot is best utilized as an all-in-one tool, it's much more difficult to 'pick and choose'.
It's simply not in your best interests.
Read also: 8 Surprisingly Awesome HubSpot Alternatives
So, What's the Best Choice for You?
To be clear, the answer to this question is going to depend on what kind of business you're operating. You should also consider your needs, goals, and pain points.
We'd be lying if we said that there's a one-size-fits-all solution. There isn't. Every tool out there in the market has its share of both pros and cons.
If you're in need of a tool that will help you manage everything from start to finish, then yes — HubSpot CRM might be something to consider.
However, this isn't the case for many of us.
If you're understanding the drawbacks of HubSpot CRM and you're looking for a HubSpot alternative, here are just a few things that EngageBay is loved for.
1. More Affordable Pricing Options
Pay monthly. Pay yearly and save a little cash. It's up to you. Either way, you can get access to awesome CRM features for $50 a month.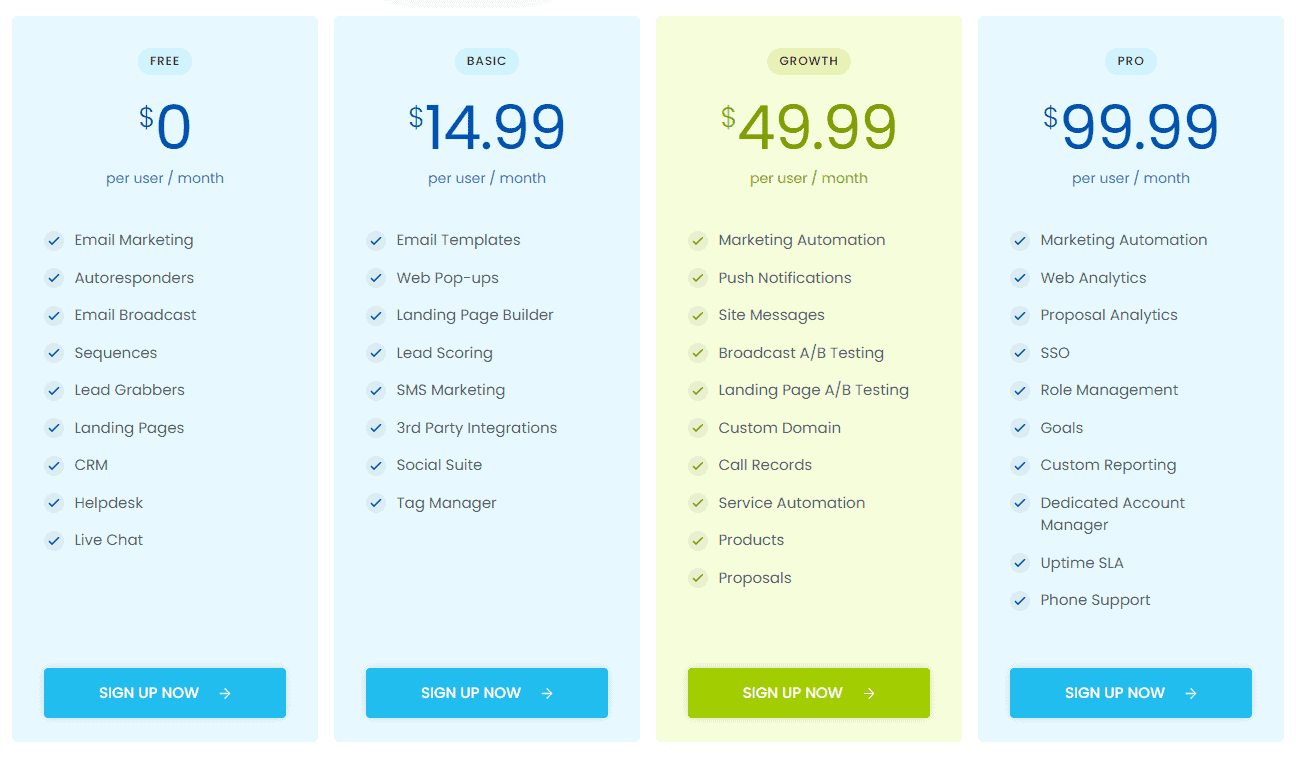 Important note: This is for the all-in-one package. You can opt for the individual marketing bay, CRM tool, or service tool with live chat. Flexibility is the name of our game, so pick whatever makes the most sense for you.
Here's how EngageBay pricing compares with HubSpot:
As you can see, the cost of HubSpot shoots up as your contacts increase, while EngageBay offers unlimited contacts for one low price of $99.
2. Get the Split Testing Options That You Need
Under the Growth package, you'll be able to run A/B testing for your email broadcasts and your landing pages.
Find the process that works best for your brand, so you can make sure that your money is working hard for you.
We're here not just to give you access to our platform but also to help you improve your strategy — making EngageBay an excellent marketing tool and HubSpot alternative.
3. Grow Your Email List on Your Own Terms
Even using just the free plan for marketing automation, you can start growing and nurturing your email list.
Email marketing is crucial because it's got an ROI unparalleled by any other type of marketing.
We know that if you're a smaller business or new to the game, paying for something like HubSpot CRM when you're just beginning isn't a feasible option. Do it with EngageBay for free and get the ball rolling.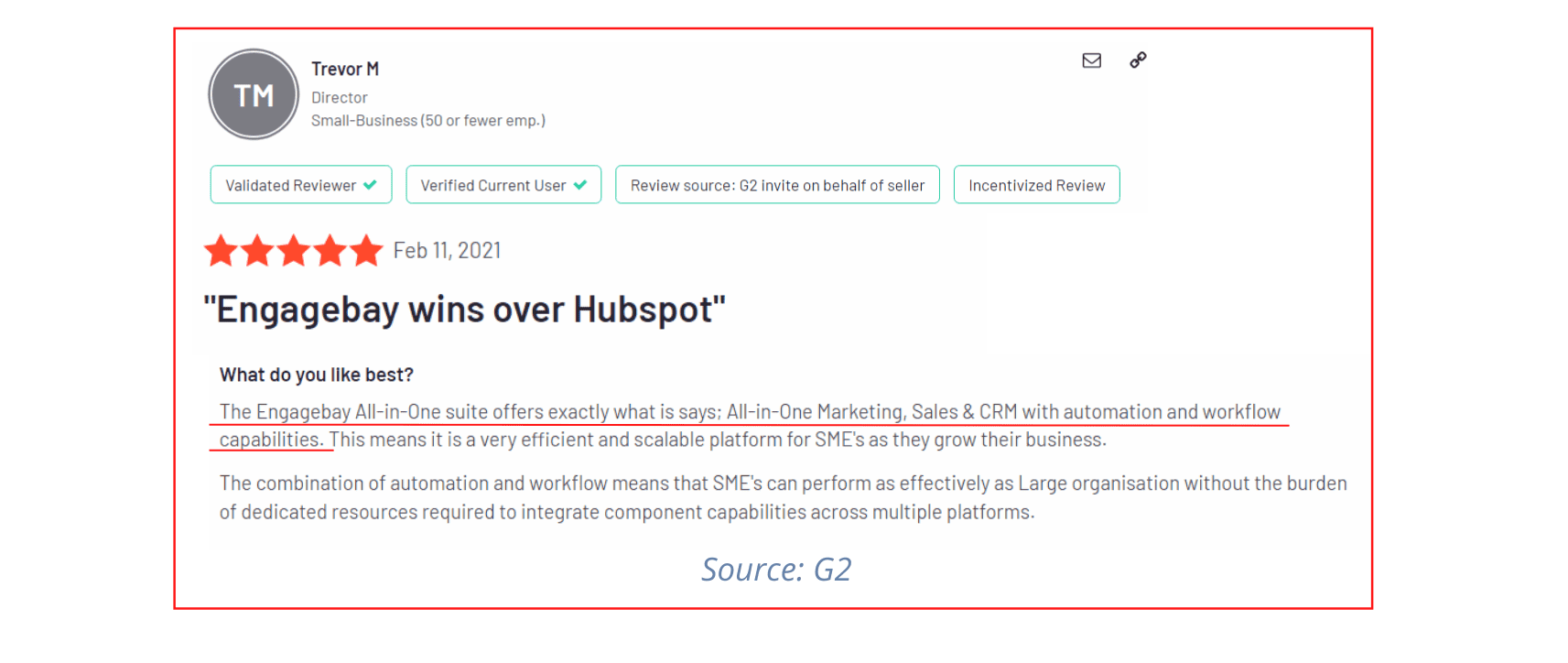 4. You Call the Shots — Period
When you use EngageBay, you'll never be locked into anything.
You can change your plan at any time, including upgrading, downgrading, and deleting it. We have no cancellation fees. After your current billing cycle, you'll never be billed again.
Plus, you can pay for 'extras' as needed. For instance, if you get through your email quota, you can quickly and easily add more. We offer customizations that other CRM platforms don't, meaning that we'll work with you to meet your needs.
EngageBay CRM is the best choice for your sales team, support agents, and even marketers.
We know you have a lot of options to consider with their own share of pros and cons, and it can be really hard to narrow down the selection.
That's why we're inviting you to try EngageBay as the perfect and easy-to-use alternative to HubSpot CRM for free.
Don't wait to take action. Sign up for free today and see what all the buzz is about.
Head-to-head Comparison of HubSpot and EngageBay
---
Frequently Asked Questions (FAQs)
What is the advantage of HubSpot?
These are the pros of HubSpot:
It's a truly all-in-one marketing, sales, and customer support software. HubSpot calls it the 'flywheel'. Many consider this one of the best HubSpot CRM pros.
It also offers a free CRM platform.
It has one of the best UI among CRM software, which makes it easy for users to use and navigate.
It acts as a marketing platform, data warehouse, and communications tool at the same time.
HubSpot Academy is an amazing resource with certifications for marketers, salespeople, and support agents.
That said, HubSpot has drawbacks, too (especially from the POV of small businesses). This blog post and the following question offer an in-depth analysis.
What are the limitations of HubSpot?
While HubSpot is a great software, it has a lot of limitations too. Here are a few key limitations for small businesses:
It is one of the most expensive CRM & marketing automation software — in fact, it gets really expensive so quickly that many businesses have to drop HubSpot for a more affordable alternative. This GIF says it all:

HubSpot uses a sliding scale pricing model — which can get quite expensive

HubSpot has compulsory annual contracts. If, for any reason, you decide to drop HubSpot midyear, you still have to pay for the whole year. HubSpot does not offer refunds for early termination.
HubSpot does not offer A/B testing, marketing automation, and other essential features in its affordable packages. These features come in 'bundles' that cost thousands of dollars per month, depending on the number of contacts you have.
Other CRM software — like EngageBay and ActiveCampaign — offer features similar to HubSpot at a highly affordable price. This means HubSpot is NOT the best platform for small businesses and startups.
Do you pay per contact with HubSpot?
Yes, HubSpot pricing plans follow a sliding-scale model. This means you keep paying more as your contacts grow. For example, the HubSpot CRM Suite Professional plan starts at $1,780/month for 2,000 contacts. Then, HubSpot charges $250 for every additional 5,000 contacts:
12,000 contacts: $2,100/mo
27,000 contacts: $2,825/mo
52,000 contacts: $3,900/mo
72,000 contacts: $4,650/mo
Compare this with EngageBay's Pro plan, which offers unlimited contacts for $99.99/month. That's because EngageBay is designed for small businesses and startups.
Is HubSpot free forever?
HubSpot does offer free tools:
Free marketing tools: Forms, email marketing, ad management, landing pages, and shared inbox.
Free sales tools: Live chat, conversational bots, team email, customizable quotes, and more.
Free customer service tools: Ticketing, email scheduling, live chat, and more.
But is HubSpot really free? Or is there a catch? Here's our deep dive 🙂
How much does HubSpot cost per user per month?
These are the starting prices of HubSpot CRM Suite:
HubSpot CRM Suite Pricing
HubSpot CRM Suite Starter — 1,000 contacts
$45/mo
HubSpot CRM Suite Professional — 2,000 contacts
$1,600/mo
HubSpot CRM Suite Enterprise — 10,000 contacts
$5,000/mo
HubSpot Marketing Hub Pricing

HubSpot Marketing Starter

$45/mo

HubSpot Marketing Professional

$800/mo

HubSpot Marketing Enterprise

$3,600/mo
HubSpot Sales Hub Pricing

HubSpot Sales Starter

$45/mo

HubSpot Sales Professional

$450/mo

HubSpot Sales Enterprise

$1,200/mo
HubSpot Service Hub Pricing

HubSpot Service Starter

$45/mo

HubSpot Service Professional

$450/mo

HubSpot Service Enterprise

$1,200/mo
HubSpot CMS Hub Pricing

HubSpot CMS Starter

$23/mo

HubSpot CRM Professional

$360/mo

HubSpot CRM Enterprise

$1,200/mo
HubSpot Operations Hub Pricing

HubSpot Operations Starter

$45/mo

HubSpot Operations Professional

$720/mo

HubSpot Operations Enterprise

$2,000/mo