HubSpot may be one of the biggest marketing and sales solutions, but it's also one of the most expensive. If your startup or small business is on a tight budget, then you're likely seeking HubSpot competitors with more affordably-priced services.
You're in luck. Today, you can find many great alternatives to HubSpot that rival its services, including its CRM. What's even better is you don't have to spend an arm and a leg on these services, either.
Saving money and getting the marketing and sales solutions your company needs? It's not just a pipedream anymore.
In today's post, we'll introduce 5 of the most viable HubSpot competitors on the market. We'll go over each software in detail, explaining the pros and cons as well as sharing pricing information.
Let's get started!
What Is HubSpot CRM?
HubSpot's customer relationship management or CRM is like the crown jewel among its services. According to HubSpot themselves, they formulated their CRM for "sales leaders."
Some of the features of HubSpot's CRM are as follows:
Click-to-call
Email templates
Live chat
Meeting scheduling
Real-time notifications, such as when a lead opens your email
Pipeline management
Deal tracking
Insights
Max of 1 million contacts allowable
Productivity and sales activity reports
Unlike most of its services, HubSpot offers its CRM absolutely free. This isn't on a trial basis, as the CRM is always free from the day you download it for as long as you use it.
While undoubtedly appealing to small businesses and startups, don't get too excited. HubSpot's CRM is one of its only permanently free features.
What Are the Drawbacks of HubSpot?
We'd be remiss to downplay the reputation of HubSpot. That reputation is huge for a reason: HubSpot does offer quality marketing and sales features through its software.
However, digging deeper into HubSpot proves how exclusionary it can be if your budget is tight. That's why you'll want to keep an eye out in the next section for our list of HubSpot competitors for 2020.
Here are the drawbacks of HubSpot that will have you looking at the competition.
Too Expensive For Most Small Businesses
Looks can be deceiving.
Upon glancing at HubSpot's pricing plans, you'll undoubtedly be drawn to the Starter plan. It lets you work with 1,000 contacts and costs $50 a month.
Great! That's perfect for your small business, right?
Not exactly. After some further inspection, you may notice that you get a paltry few features for your money. These include ad retargeting, email marketing, list segmentation, forms, bots, live chat, ad management, landing pages, and free CRM.
That's about it.
Your small business or startup likely can't get by with those features alone, and who can blame you? That leaves you with the Professional plan, which makes a huge cost jump to $800 a month.
Not many small businesses can afford that.
Technical Support Isn't Free
As if you weren't already spending enough on the Professional plan or even the Enterprise plan (at $3,200 a month), what if you need tech support? This doesn't come free with HubSpot.
Yes, if you have connectivity issues or other fundamental problems with your software, you have to pay to get it resolved. That can incline you to try to fix the issue yourself, which isn't always doable.
You end up in a lose-lose situation that hinders your productivity and revenue-earning capabilities.
Reporting Features Aren't All They're Cracked up to Be
For the premium prices of HubSpot's services, you'd expect some of the most in-depth sales and marketing reporting out there. Yet that's not exactly what you get.
HubSpot's reporting lacks in a few areas, especially user navigation data and segmented traffic reports. Without either of this kind of reporting, the blind spots in your company's operations are glaringly large, not to mention hugely detrimental.
Their Templates Aren't Very Intuitive to Use
Many similar software providers to HubSpot offer drag and drop templates for landing pages, opt-in forms, emails, and more. This allows you to make stunning-looking pages without being a master of coding.
Yet with your HubSpot subscription, to make the most of their templates, it's recommended you're at least somewhat savvy in CSS.
What is CSS? Short for Cascading Style Sheets, it's an HTML-like language used for making style sheets.
Not only do you have to spend more money on HubSpot than the competition then, but you also have to take the time to learn CSS before using their templates. That makes HubSpot a huge money-suck as well as a time-suck.
You Can't Customize Your Contract
Scalability is always a primary concern when selecting sales and marketing software. You want software that grows with your small business as you cross new milestones.
That won't be HubSpot considering their contracts are as rigid as stone. You'll want to choose the terms of your contract (six to 12 months) carefully then because once you commit, you really commit.
If you want to cancel your HubSpot subscription three months in because it's not meeting your expectations, you can't. You also can't get refunded for the money you spend.
Sure, if you're a fan of HubSpot and it's within your budget, then this isn't such a big deal. If you only wanted to try HubSpot and you've since changed your mind though, that's too bad.
Who Are HubSpot's Competitors?
As a startup or small business, it's easy to fall into the HubSpot trap. They have the name recognition, so they can sometimes feel like your only option.
Before you know it, you're stuck in a yearlong contract paying way more money than you'd prefer.
There's a much better way, fortunately. The following 5 HubSpot top competitors offer very similar features as HubSpot, and often for a fraction of the cost of HubSpot.
Your options include EngageBay, ActiveCampaign, Wishpond, Insightly, and SharpSpring. Let's take a closer look at each software now.
EngageBay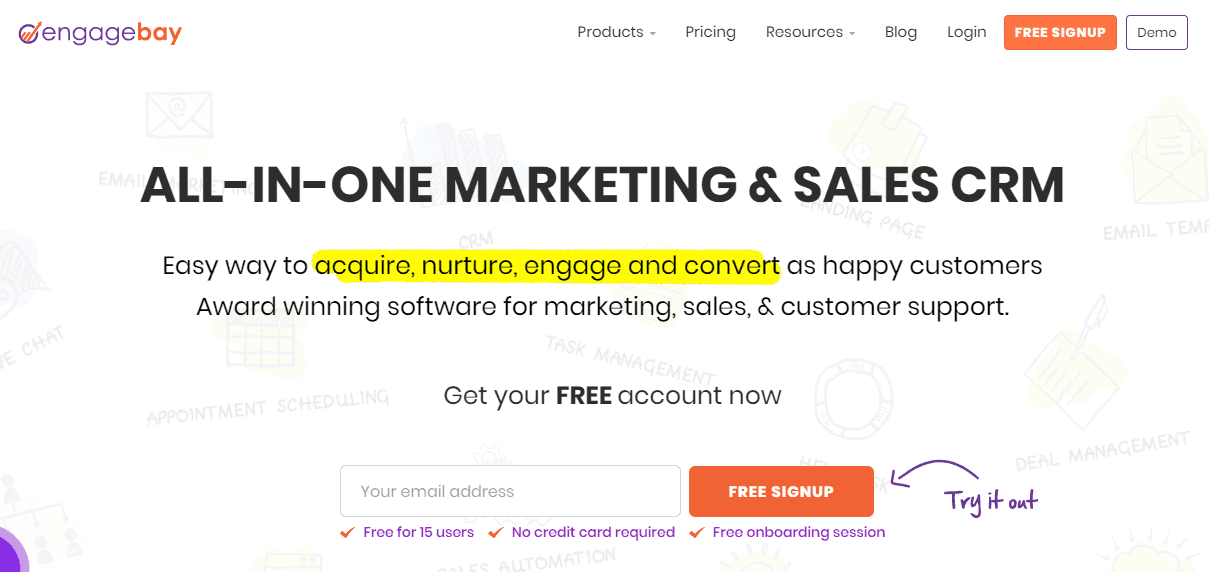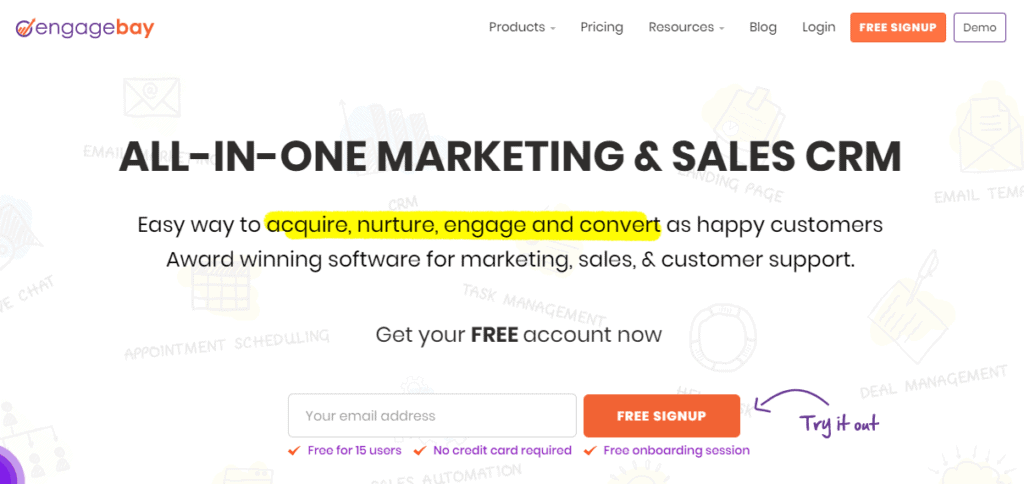 The first HubSpot competitor is one you want to pay attention to, as it's a free alternative to HubSpot. It's known as EngageBay.
Designed as a HubSpot competitor made for small businesses and startups, EngageBay boasts a sales and marketing CRM as well as features like:
Sales and Marketing CRM
Email marketing automation
Email sequences
Live chat
Reporting
Lead capture Webforms
Appointment scheduling
Contact management
360-degree customer view
Email and landing page templates
Lead segmentation and scoring
Project management
EngageBay divvies up its services into products known as the Service Bay, Marketing Bay, and the CRM & Sales Bay.
More than 28,000 companies and counting have relied on EngageBay for all their sales and marketing needs. EngageBay integrates with your favorite software, too, including SendGrid, Postmark, Mandrill, Mailgun, Xero, Zapier, and more.
Advantages and Disadvantages
EngageBay is an advantageous free alternative to HubSpot for the following reasons:
Most of EngageBay's services are always free, not just their CRM. This is another way EngageBay caters to startups and small businesses.
Unlike HubSpot, you can and should use EngageBay as an all-in-one marketing and sales solution for your company.
EngageBay has lots of other great features, among them drip campaigns, A/B testing (which you can't get for free with HubSpot), double opt-in emails, and WordPress plugins.
The detailed reports EngageBay provides will give your company far more valuable insights than what you'd get with HubSpot.
The only downside we could find to EngageBay is that their list of integrations is small compared to some HubSpot competitors out there. That integrations list is growing all the time, though.
Pricing
As mentioned, EngageBay has a plan that's always free. This lets you send 1,000 branded emails to 1,000 contacts each month.
You can also use these features under the free plan:
Live chat
Helpdesk
CRM
Landing pages
Lead grabbers
Sequences
Email broadcasting
Autoresponders
Email marketing and more
Should you need more out of EngageBay, the Basic plan costs $8.99 a month, the Growth plan is $29.99 a month, and the Pro plan costs $47.99 a month.
👉👉Get FREE lifetime access (up to 15 users) to EngageBay – the simplest and powerful All-in-One marketing software for growing companies from here. 
ActiveCampaign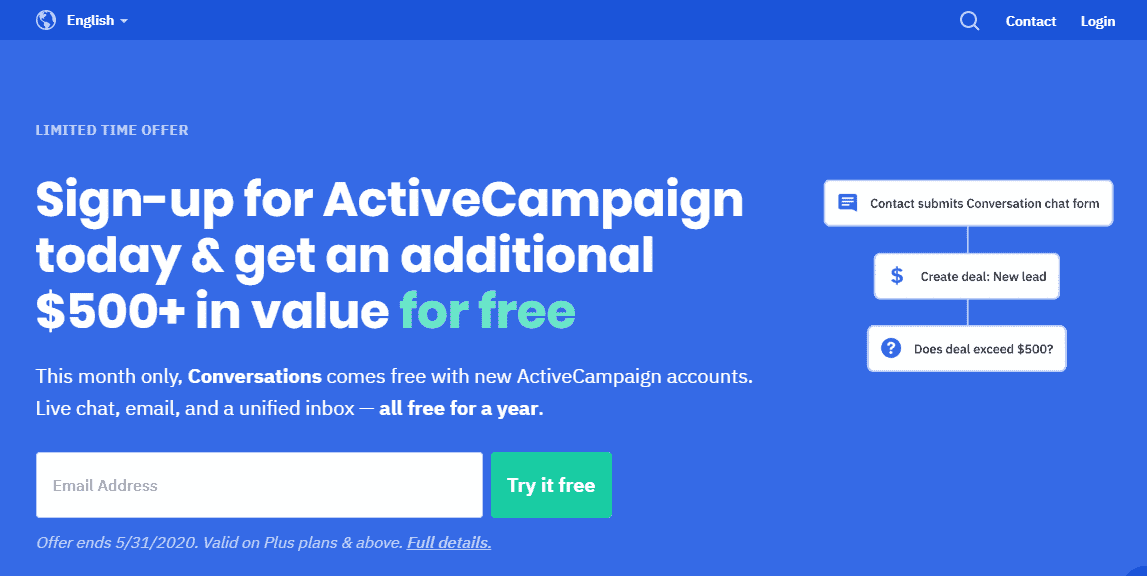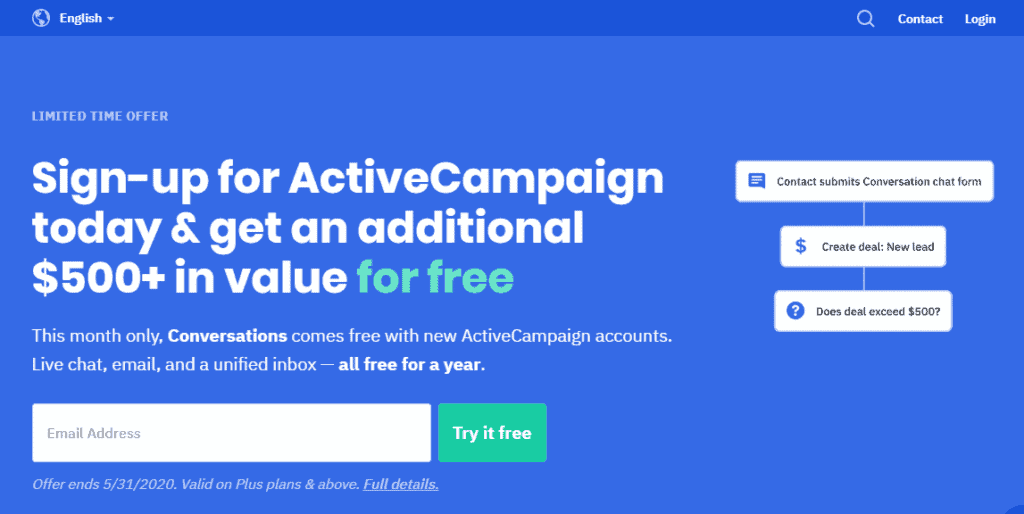 Another HubSpot alternative to consider is ActiveCampaign. Theirs is marketing automation and email marketing service for salespeople and marketers alike.
With ActiveCampaign, you get the following features:
Web personalization
Social custom audiences
Live chat
Customer messaging
Email segmentation and marketing
Templates
CRM
Marketing automation
Machine learning
Lead scoring
Website tracking
Advantages and Disadvantages
ActiveCampaign is beneficial for these reasons:
With their Customer Success Commitment, ActiveCampaign offers free mitigation, one-on-one training, and support you don't have to pay for, unlike HubSpot.
ActiveCampaign has more than 300 integrations, including Typeform, Salesforce, Shopify, Facebook, Zapier, WordPress, ClickFunnels, and Google Analytics.
You can download and use the ActiveCampaign app for iOS.
You should be aware of these downsides as well:
ActiveCampaign is more expensive than EngageBay, where you can get a lot of the same features for less.
Like HubSpot, ActiveCampaign does not issue refunds, both partial and in full.
Pricing
You can use ActiveCampaign as part of a free trial. Once that expires though, expect to pay to continue to use the service.
The most inexpensive plan, the Lite, costs $9 a month. However, you only get support for three users as well as just a handful of features.
This incentivizes customers to pay for the Plus plan, which is heftier at $49 a month. The Professional plan is $129 a month and the Enterprise plan costs $229 a month. Read more about ActiveCampaign pricing
Wishpond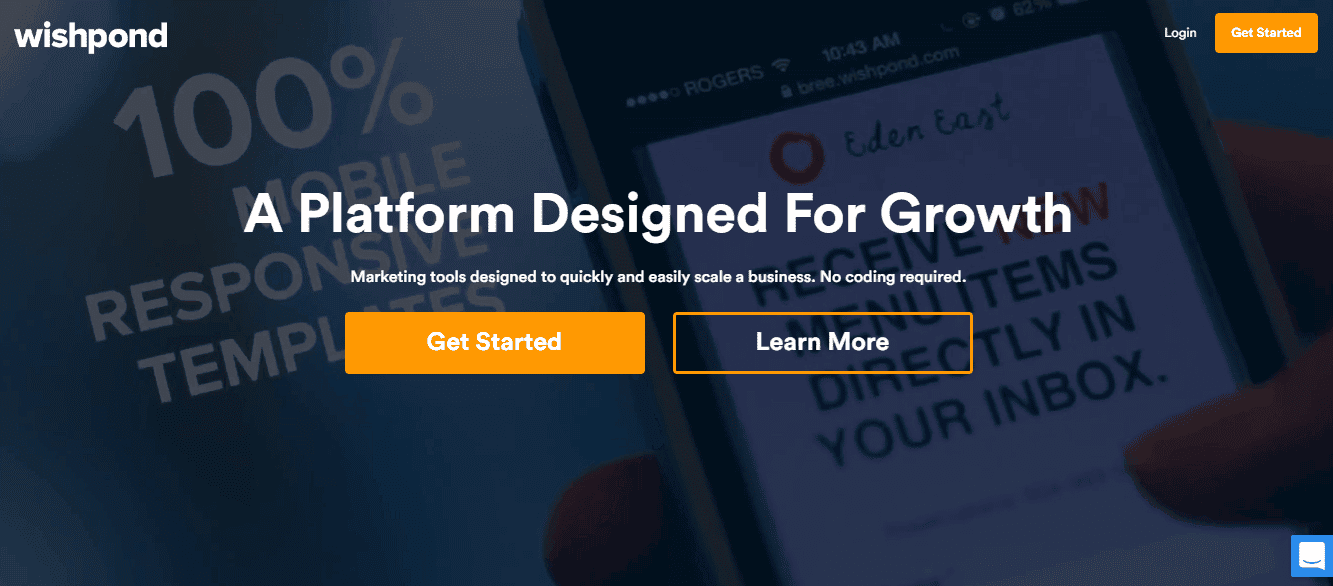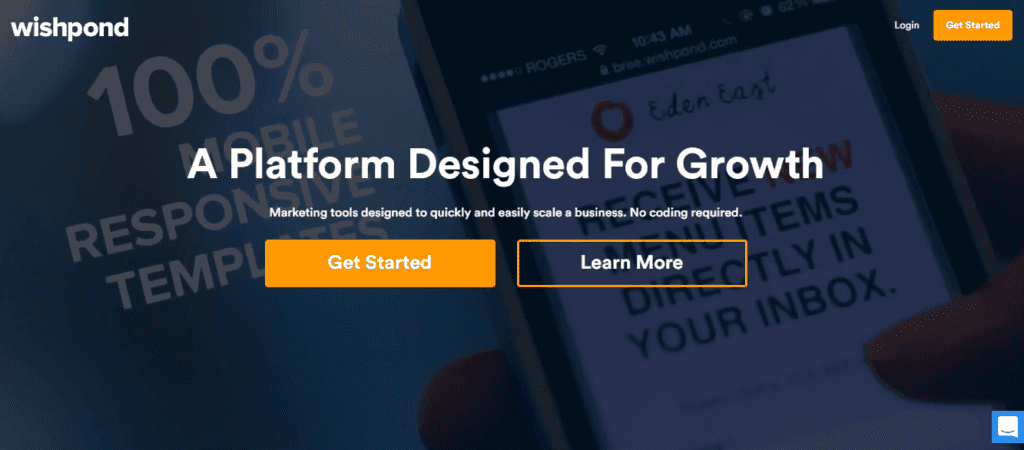 If you're still researching your competitors to HubSpot, Wishpond is another pick. They call themselves "the world's easiest marketing platform."
At current, here are the services a Wishpond subscription gets you:
Leads database
Email marketing
Marketing automation
Online forms
Website popups
Referral suite
Promotions and Contests
Landing page builder
Advantages and Disadvantages
If you're considering Wishpond, here are the pros of their service:
Wishpond integrates with many popular sales and marketing software, including AWeber, Base CRM, ActiveCampaign, Eventbrite, Constant Contact, MailChimp, and Shopify.
You can use a free version of Wishpond.
Wishpond says it will assist with setup, which can be helpful for small businesses and startups.
That said, a few cons might make you steer towards EngageBay over Wishpond, including:
Wishpond is designed more for marketers than salespeople.
You get only a handful of features compared to EngageBay and even HubSpot by using Wishpond.
Wishpond doesn't make it easy to figure out their pricing. You must commit to a call with a Wishpond specialist first.
Pricing
From doing a bit of deeper digging, it appears that you'd pay $69 a month for Wishpond. That pricing may be flexible.
Again, you can get a free Wishpond plan, but it's unclear which features you may be lacking if you do.
👉👉Get FREE lifetime access (up to 15 users) to EngageBay – the simplest and powerful All-in-One marketing software for growing companies from here. 
Insightly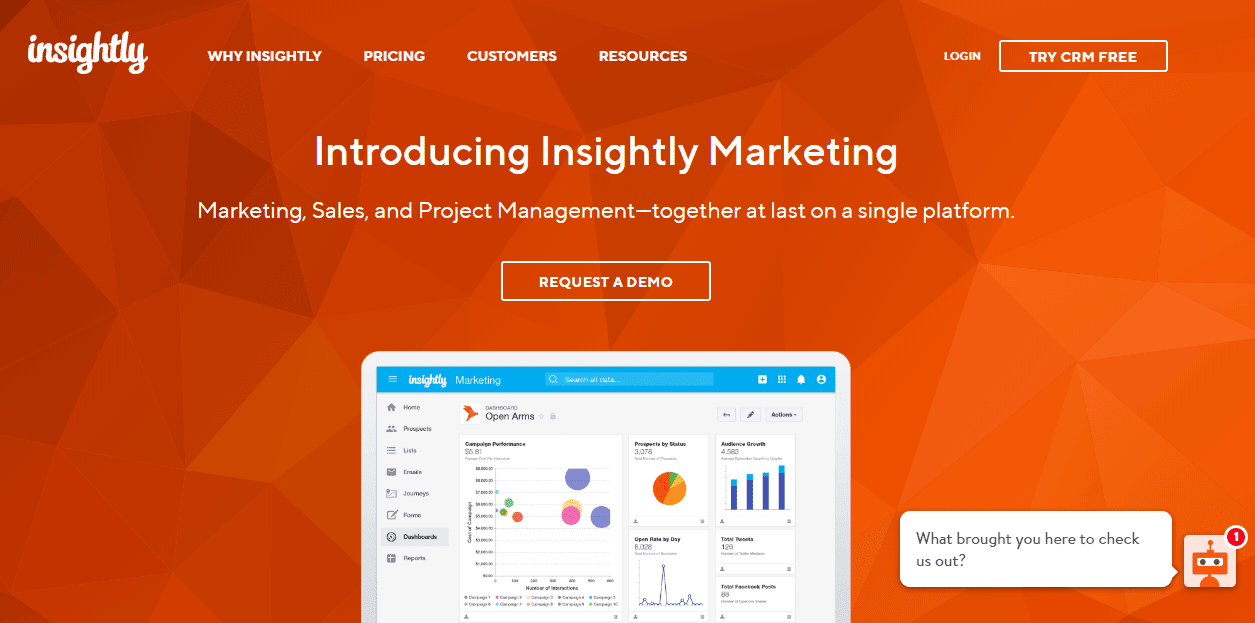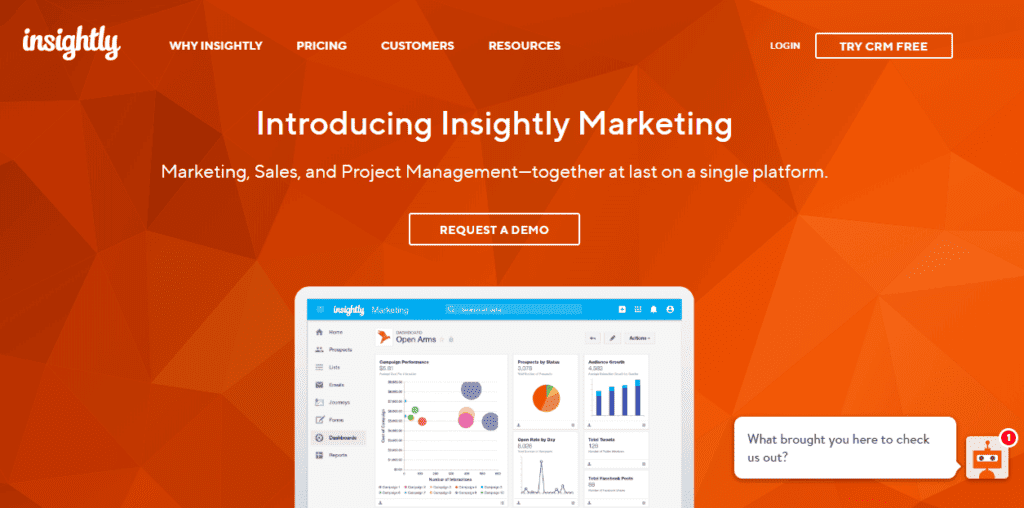 Continuing our list of HubSpot alternatives, next, we have Insightly. This software is an alternative to HubSpot CRM that also offers marketing automation software.
Insightly says it combines project management, sales, and marketing into one platform. You can use these features with their software:
Email tracking
Workflow automation
Lead routing and segmentation
Scheduled email sending
Email templates
Embedded forms
Advantages and Disadvantages
As you shop around and consider your HubSpot competitors carefully, here are some upsides of using Insightly:
Insightly offers a mobile app for iOS and Android users. This lets you scan business cards and tackle sales and marketing opportunities as they arise, even on the go.
You can use lots of other software with Insightly, as it plays nice with MailChimp, Proposify, Quotient, Toky, QuickBooks, Gmail, Microsoft Outlook, Xero, Zapier, PandaDoc, and Box.
Here are the cons of Insightly's service:
You can't buy Insightly's marketing and CRM software together unless you want to bundle the services. This option has custom pricing, implying it's not cheap to create such a bundle.
If your plan has limited data, you may find you run out of space quickly.
Insightly's marketing plans are incredibly expensive, easily rivaling HubSpot's prices.
Pricing
As we said, you can't buy CRM and marketing services together through Insightly unless you're willing to custom pay for a bundle.
The Insightly Marketing plans include the Plus plan for $299 a month, the Professional plan at $599 a month, and the Enterprise plan at $1,299 a month.
If you only need Insightly's CRM, you can pay a lot less for services. Their Plus plan starts at $29 a month, the Professional plan is $49 a month, and the Enterprise plan costs $99 a month.
SharpSpring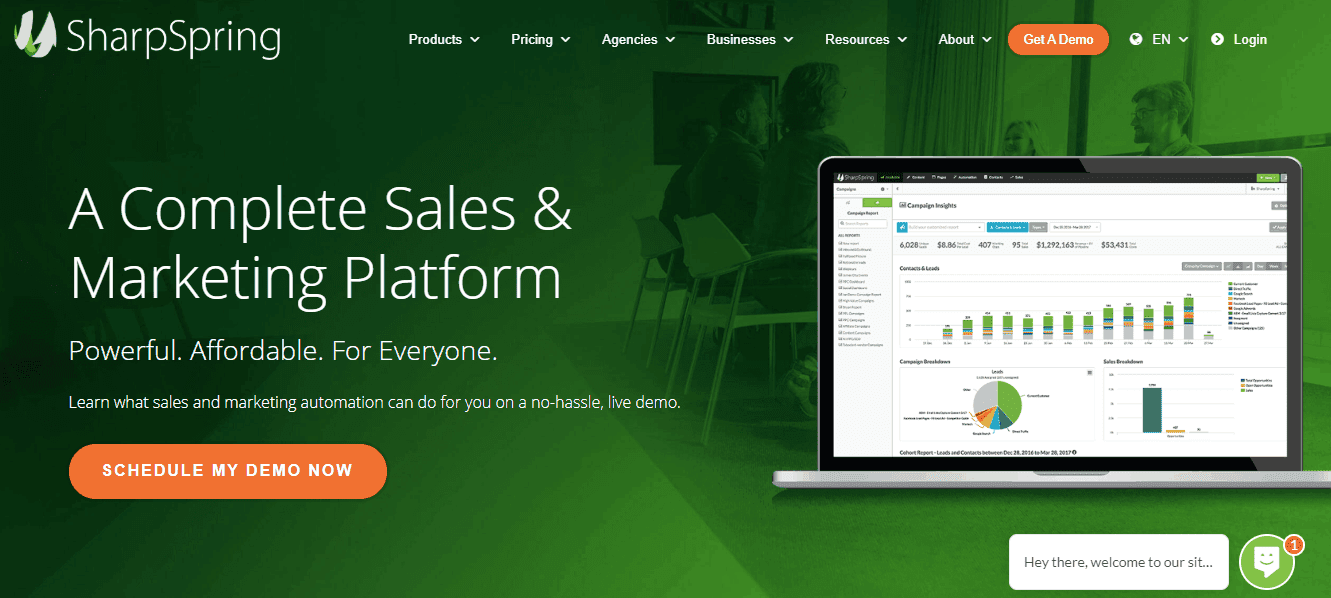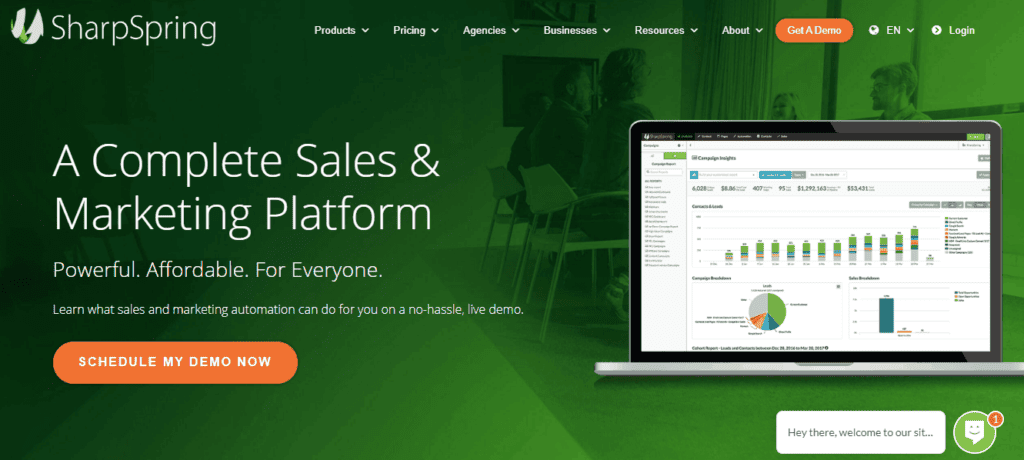 Our last option on our list of HubSpot competitors is SharpSpring. As a platform for marketers and salespeople, SharpSpring also includes a CRM.
Here are the features included in their Sales & Marketing Platform:
Social media content calendar
Multi-device lead tracking
Web analytics
Blog builder
Landing page designer
Visitor IDs
Automation workflows
Form builder
Email marketing
Advantages and Disadvantages
The advantages of a SharpSpring subscription are as follows:
You can select pricing plans based on the size of your business.
SharpSpring has an App Marketplace featuring integrations. These include Zapier, Hello Bar, CloudCart, TradeGecko, 123FormBuilder, 24Sessions, InvoiceBerry, Upcall, Follow Up Boss, and Yocale.
Don't skip these downsides to using SharpSpring:
The smallest business size SharpSpring has pricing plans for is an SMB, which may be even too big for your startup.
SharpSpring makes pricing a bit tough to figure out through their website.
You also get many of the same features with EngageBay as you do with SharpSpring, but for much less money.
Pricing
As an SMB, agency, or enterprise, SharpSpring's pricing changes accordingly. That said, their agency pricing and enterprise pricing are not disclosed on SharpSpring's website.
Their SMB plans starts at $550 per month for 1,500 contacts, $850 a month for 10,000 contacts, and $1,250 a month for 20,000 contacts.
👉👉Get FREE lifetime access (up to 15 users) to EngageBay – the simplest and powerful All-in-One marketing software for growing companies from here. 
Conclusion
Just because it has the most name recognition doesn't mean HubSpot is your only option for marketing and sales software as well as CRM. The 5 HubSpot competitors we discussed in this post show how much variety you have.
As for the top pick among those competitors, we'd select EngageBay. It's a  free service made for startups and small businesses like yours.
You can get comprehensive sales, marketing, and CRM services through EngageBay without having to spend a fortune. This allows your business to grow even as you spend less on software.