As a small business in need of sales and marketing services, deciding on your software is a big choice.
You've tossed around the idea of using HubSpot, but you've heard horror stories about HubSpot pricing.
Is the cost of HubSpot really all that bad?
Not for a bigger company, but for the business needs of many small businesses and startups on a tight budget, pricing plans are often outside of their reach for everything you need.
In this article, we will present a clear, concise HubSpot 2020 comparison of prices.
If this information has you itching for HubSpot alternatives, we'll discuss pricing for EngageBay and ActiveCampaign too that may not yet have the HubSpot branding, but are equally powerful and both alternatives have everything you need.
Let's get started!
HubSpot Pricing Hub by Hub
Fewer inbound marketing platforms are more known than HubSpot. Some of that name recognition carries with it notoriety due to the pricing of their services for the business needs of small businesses.
As a quick overview, HubSpot has a suite of products to choose from for everything you need.
The Service Hub for customer support includes a knowledge base, live chat, conversational bots, and ticketing.
In the Sales Hub, you get such services as email automation, meeting scheduling, and team email tracking.
The Marketing Hub boasts analytics, automation, and lead generation.
For smart content management, the CMS Hub has website themes, SEO recommendations, and a drag-and-drop editor.
HubSpot's CRM lets you assign tasks, oversee deals, and study contact insights.
This all seems appealing at first glance but curb your enthusiasm.
As we recently wrote about, HubSpot's features can sometimes be surprisingly lacking.
Also, if you're not willing to pay full price for any of the above products, then you get just a smattering of features and add ons.
These are hardly enough to meet your business needs.
That's why next, we'll go from one Hub to another within HubSpot and explore the pricing plans for each of the marketing, sales, and service hubs.
HubSpot Marketing Pricing
In any of HubSpot's individual marketing, sales, and service hubs, you can select from Free, Starter, Professional, and Enterprise pricing plans.
To get started, the Free plan gives you the most limited features. You can use:
10 custom properties
3 reporting dashboards
1 conversation inbox
25 static lists for segmentation
5 smart lists
$1,000 on ad spend
2,000 emails a month for email marketing.
The upside is this plan costs $0.
The Starter plan adds more features and add ons, but not many. These features include:
5 currencies
2 ad retargeting audiences
1,000 custom properties
10 reporting dashboards
25 static lists
25 smart lists
Email send limit that's 5 times your contact tier
For the Starter plan, you'd pay $50 a month.
The Professional plan in the Marketing Hub is the first real example of high HubSpot pricing.
Admittedly, you do get more features and add ons, such as the following:
5 company scoring properties
Limited record customization
5 calculated properties
25 filtered analytics views
1,000 campaign reports
100 custom reports
10 teams
250 videos to host
2 model objects and a single attribution model for attribution reporting
1 Salesforce account with 10,000 Salesforce owners and 1,000 field maps
300 automation workflows for marketing
50 connected social media accounts with 10,000 posts a month and 3 years of post scheduling
30 supported currencies
$10,000 in ad spend
1,000 custom properties
25 reporting dashboards
100 conversations inboxes
1,000 smart lists
1,000 static lists
Email send limit that's 10 times your contact tier
The Professional plan costs $800 a month if you're billed at $9,600 a year.
The Enterprise plan is HubSpot's most inclusive in the Marketing Hub.
You can only gain access to exclusive features by purchasing this plan, such as:
Field-level permissions
Landing pages
Webhooks
Multi-touch revenue attribution
Social permissions
Events API
YouTube integration
Partitioning
Single sign-on
Predictive lead scoring
Event-based segmentation
Custom event reporting and triggers
User roles
If you want 300 hierarchical teams and 5-page variations for adaptive testing, you need to buy the Enterprise plan.
That's also true if you want to max out company scoring, calculated properties, custom reporting, automation workflows, social media, reporting dashboards, list segmentation, and ad spend.
Yet if you dig around, you'll see that some of the features offered between the Professional and Enterprise plans are the same.
That goes for email send limits, custom properties, and Salesforce integration as well.
Still, you're paying $3,200 a month for the Enterprise plan in the Marketing Hub when billed at $38,400 a year.
That's way more than for the Professional plan.
HubSpot Sales Pricing
That's only one example of what you can anticipate with HubSpot pricing. Next, we move onto the HubSpot Sales Hub.
The Free plan limits you in terms of custom properties, deal pipelines, reporting dashboards, documents, snippets, and even email templates and team email tracking.
You're also restricted to calls of 15 minutes and but one conversations inbox.
The Starter plan adds on Stripe integration and quotes. Still, with those quotes, you're lacking payment integration and eSignature options.
The other features include:
1,000 custom properties
2 deal pipelines
10 reporting dashboards
1,000 links for teams or individuals
1,000 documents
1,000 snippets
1,000 email templates
Oh, and very importantly, now you get 8 hours of phone calls. That will let your sales team actually get some work done.
For the Starter plan, you're paying $50 a month for 2 paid users.
The Professional plan adds company scoring, record customization, calculated properties, and standard contact scoring.
You can integrate with Salesforce, request 100 custom reports, and automate 300 workflows.
You also get these features:
1,000 email sequences
100 quotes per deal
10 eSignatures
30 currencies
1,000 custom properties
15 deal pipelines
25 dashboards
1,000 meeting links
1,000 documents
1,000 snippets
1,000 templates
16 hours of calls
100 conversations inboxes
The Professional plan costs $500 a month for 5 paid users.
Like with the Marketing Hub, if in the Sales Hub you want to max out your features, you need the Enterprise plan.
This costs a whopping $1,200 a month or $14,400 per year.
You can now make calls for 33 hours, but your conversations inbox doesn't increase.
That's also true of your email templates, canned snippets, documents, custom properties, email sequences, and meeting links.
These features are also exclusive to the Enterprise plan:
50 reporting dashboards
50 deals pipelines
200 currencies
Webhooks
100 quotes per deal
Hierarchical teams
Predictive lead scoring
Single sign-ons
Quote-based workflows
Call transcripts
User roles
Field-level permissions
Recurring revenue tracking
HubSpot CRM and Service Hub Pricing
Customer relationship management or CRM is the backbone of any burgeoning company's successful operational approach.
It should come as no surprise then that HubSpot offers its own CRM and Service Hub.
What is more surprising is the HubSpot CRM cost. It's free to use, and that's not temporary either.
You never have to pay for HubSpot's CRM.
According to HubSpot, their CRM and Service Hub is made for business owners, operations managers, customer service teams, marketing teams, salespeople, and sales leaders.
The features of HubSpot's CRM are as follows:
Reporting dashboard
Deals
Forms
Email marketing
Ticketing
Pipeline management
Prospect tracking
Contact management
Productivity tools
Third-party integrations
Reports, including time-to-close reports and tickets closed reports
Email templates
Team emails
Conversational bots and live chat
Conversations inbox
Contact website activity
Ad management
Meeting scheduling
Integrations with Outlook and Gmail
HubSpot Bundle Pricing
To reduce the cost of HubSpot, you can get some Hub services bundled together to meet your business needs.
The Starter Growth Suite comes with the Service Hub Starter, Sales Hub Starter, Marketing Hub Starter, and HubSpot CRM.
You'd pay $112.50 for it.
On the surface, this seems like a great deal, right? But go back and look at what's included in the Starter plan again.
You don't get nearly enough features to really make much use of HubSpot for your business.
That's true even if you're bundling together several Starter plans.
The Professional Growth Suite combines the Service Hub Professional, Sales Hub Professional, Marketing Hub Professional, and HubSpot CRM. Given the Professional-level features, this plan is more viable.
Sadly, it costs $1,700 as a starting price, another example of high HubSpot pricing.
Small businesses on a tight budget need not apply.
The third bundle is the Enterprise Growth Suite.
This includes the Service Hub Enterprise, Sales Hub Enterprise, Marketing Hub Enterprise, and HubSpot CRM.
You'd pay $5,600 for this bundle, which is very high!
Granted, HubSpot does have a startup plan that it says could allow you to shave 90 percent off the costs of their services.
It's called the Startups Program.
You have to apply to be approved, and pricing varies depending on your marketing, sales, and customer service hub contacts/seats.
Also, HubSpot expects that you have either under $2 million or over $2 million in funding.
That's a bit of a lofty goal, we'd say!
Extra Fees
Even if you find a good deal through a bundle or the HubSpot Startups Program, don't assume you can avoid all the expenses of HubSpot pricing.
You still have to pay for their onboarding and setup fees. This is a one-time charge, but the prices can vary drastically.
On the lower end, you may pay $500 for setup and onboarding. On the higher end, it's $59,400 to get all set up.
How Does EngageBay Compare to HubSpot Pricing?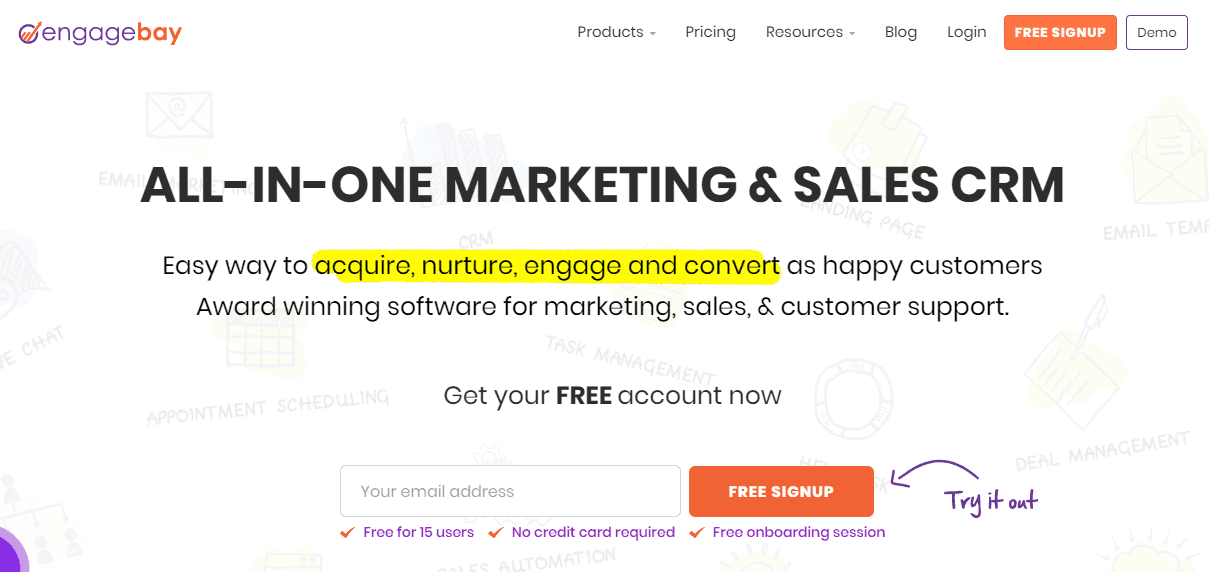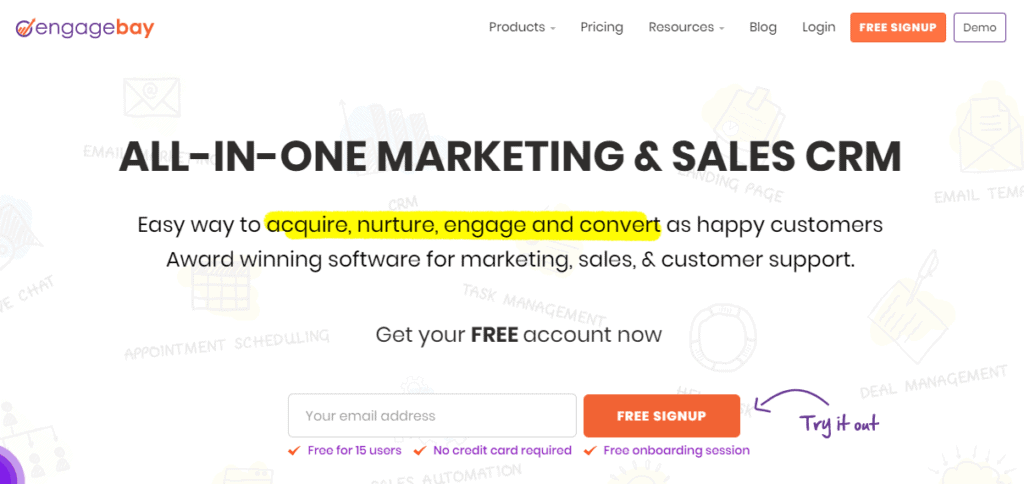 If you're looking for an alternative to HubSpot, EngageBay is a service we'd highly, highly recommend that has everything you need.
EngageBay was borne out of a need to give small business owners another option than HubSpot pricing.
This all-in-one sales and marketing software includes a Service Bay, Sales & CRM Bay, and a Marketing Bay, not unlike HubSpot.
What is different from HubSpot is the cost of services.
You'll never go back to HubSpot pricing when you can save so much money with EngageBay.
You can use many of their services for free, including EngageBay's CRM and their Customer Service Bay with ticketing and live chat for customer support. Each paid plan also has a free option.
Further, you can choose to bill monthly, yearly, and biennially.
You can save 20 percent on your bill with yearly billing and 40 percent with biennial billing.
The prices quoted are for biennial pricing.
All-in-One Suite Pricing
The All-in-One Suite includes free migration from the current platform you're using for handy onboarding.
Signing up for the Free plan gives you:
1,000 branded emails
1,000 contacts
Help desk
Lead grabbers
The Basic plan costs only $8.99 per month/user. You get 10,000 branded emails, 15,000 contacts, and every feature above.
You also add services like:
Tag manager
Social suite
Landing page builder
Email templates
If your small business has 50,000 contacts, you need the Growth plan. This costs $29.99 per month/user.
You now get these features in addition to the above:
Service automation
Custom domain
A/B testing
Call records
The Pro plan supports 50,000 branded emails and unlimited contacts for $47.99 per month/user.
Every All-in-One Suite feature is now available to you, such as:
Uptime SLA
Custom reporting
Role management
SSO
Web analytics
Marketing automation
Phone support
Dedicated account manager
Goals
Proposal analytics
Marketing Bay Pricing
The Marketing Bay offers the same pricing plans as the All-in-One Suite.
The Free plan is ideal for businesses with 1,000 contacts who need to send at least 1,000 branded emails a month.
Once your company expands to 10,000 contacts, the Basic plan is priced at $7.70 per month/user.
The Growth plan at $14.99 per month/user and supports 20,000 branded emails and 20,000 contacts.
You get everything in the first two plans as well as:
Automation for Marketing
Landing page A/B testing
Email broadcast A/B testing
Site messages
Custom domains
Landing page coding
With the Pro plan, you have 30,000 contacts and the same number of branded emails.
All this is for a very affordable price of $29.99 per month/user.
CRM & Sales Bay Pricing
In the CRM & Sales Bay from EngageBay, pricing is still structured into four plans.
The Free plan supports 1,000 contacts. You also get these great features under the Free plan:
Conversational inbox
Integration with G Suite
Live chat for customer support
Tasks
For only $7.79 per month/user, the Basic plan lets you work with 10,000 contacts, sending 10,000 branded emails.
The Growth plan supports 20,000 contacts with 20,000 branded emails for $14.99 per month/user.
You'll enjoy these Growth plan features:
Proposals
Products
Sales automation
Multiple currencies supported
Leaderboards
Email scheduler
Let your small business grow, grow, grow with EngageBay's Pro plan in their CRM & Sales Bay.
This supports 30,000 contacts for $29.99 per month/user.
The features of the Pro plan include everything above and:
Custom reporting
Call scripts
Role management
Auto dialer
Goals
Call records
Proposal analytics
How Does ActiveCampaign Compare to HubSpot Pricing?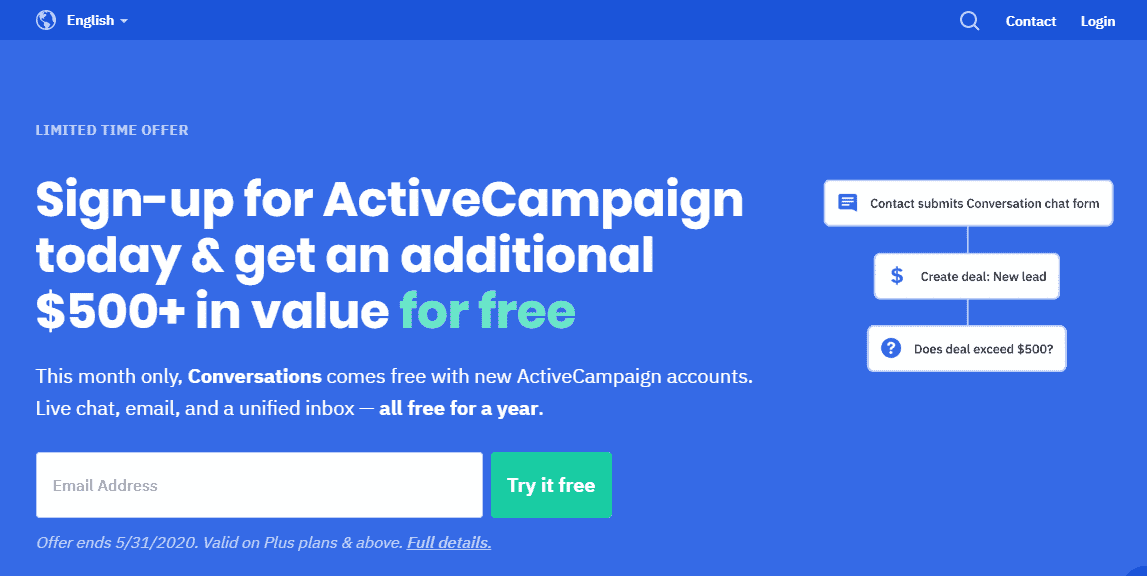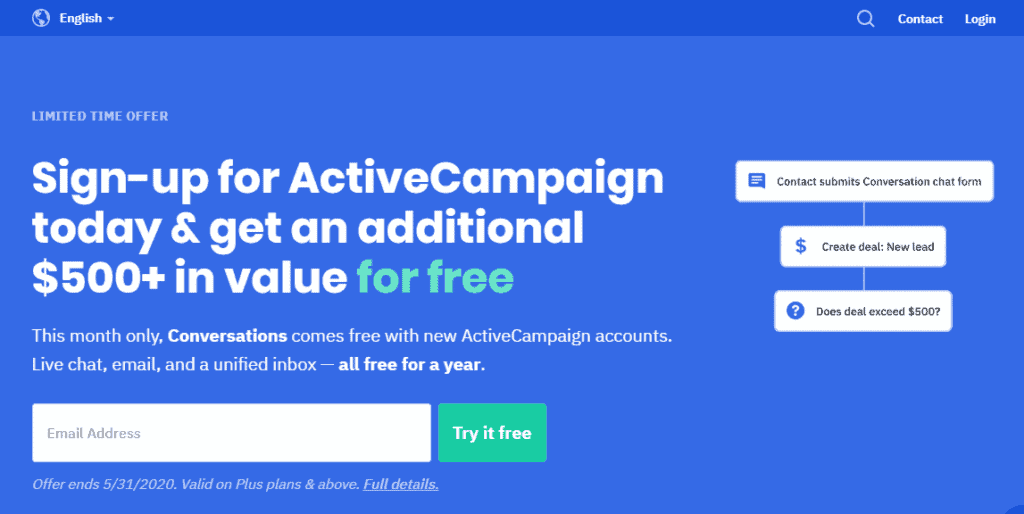 If HubSpot pricing has still got you down, you might also look into ActiveCampaign.
This marketing tools provider promises no setup fees, unlike HubSpot.
You can also pay by the number of contacts your small business has at current.
With additional contacts, the price will increase.
For example, let's say you work with 500 contacts.
The Lite plan costs $9 a month, the Plus plan $49 per month, the Professional plan $129 per month, and the Enterprise plan $229 a month when paid annually.
At 2,500 additional contacts, the Lite plan costs $39 a month, the Plus plan $99 a month, the Professional plan $129 a month, and the Enterprise plan $229 a month.
When your small business grows to reach 10,000 contacts, the prices for ActiveCampaign are still more affordable than HubSpot.
The Lite plan is $111 per month, the Plus plan $199 a month, the Professional plan $279 a month, and the Enterprise plan $399 a month.
Conclusion
The pros and cons of HubSpot are pretty clear. It's a well-known, renowned customer service software, and for their higher-level plans, you can achieve all your sales and marketing goals.
The problem is, paying for those higher-end plans is practically impossible for small businesses and startups.
Now that you've seen how EngageBay's pricing is so much lower, you have a great HubSpot alternative for your small business.