High-speed internet connections and proliferating digital devices have made it easy for the current tech-savvy generation to have the world at their fingertips. This has extended to the eCommerce market as well, with eCommerce platforms being more popular than ever.
B2C eCommerce platforms like Amazon and eBay have been thriving for quite some time, with people enjoying the prospect of shopping while sitting inside the comfort of their homes. But this phenomenon is not limited to the B2C marketplace; rather, B2B eCommerce businesses are also on the rise.
The global market for B2B eCommerce is estimated to be valued at around $15 trillion as of 2020. This indicates that ambitious business owners can use this opportunity to expand their businesses on a global level.
To do this, it is important to have an idea about several aspects, including the workings of B2B eCommerce and factors to consider when choosing a B2B eCommerce site.
There are several B2B eCommerce platforms that offer the best service to their customers.
In this article, we'll help you find exactly what suits your business — so read on for the key features, pricing, advantages, and disadvantages of the best B2B eCommerce platforms.
Shopify Plus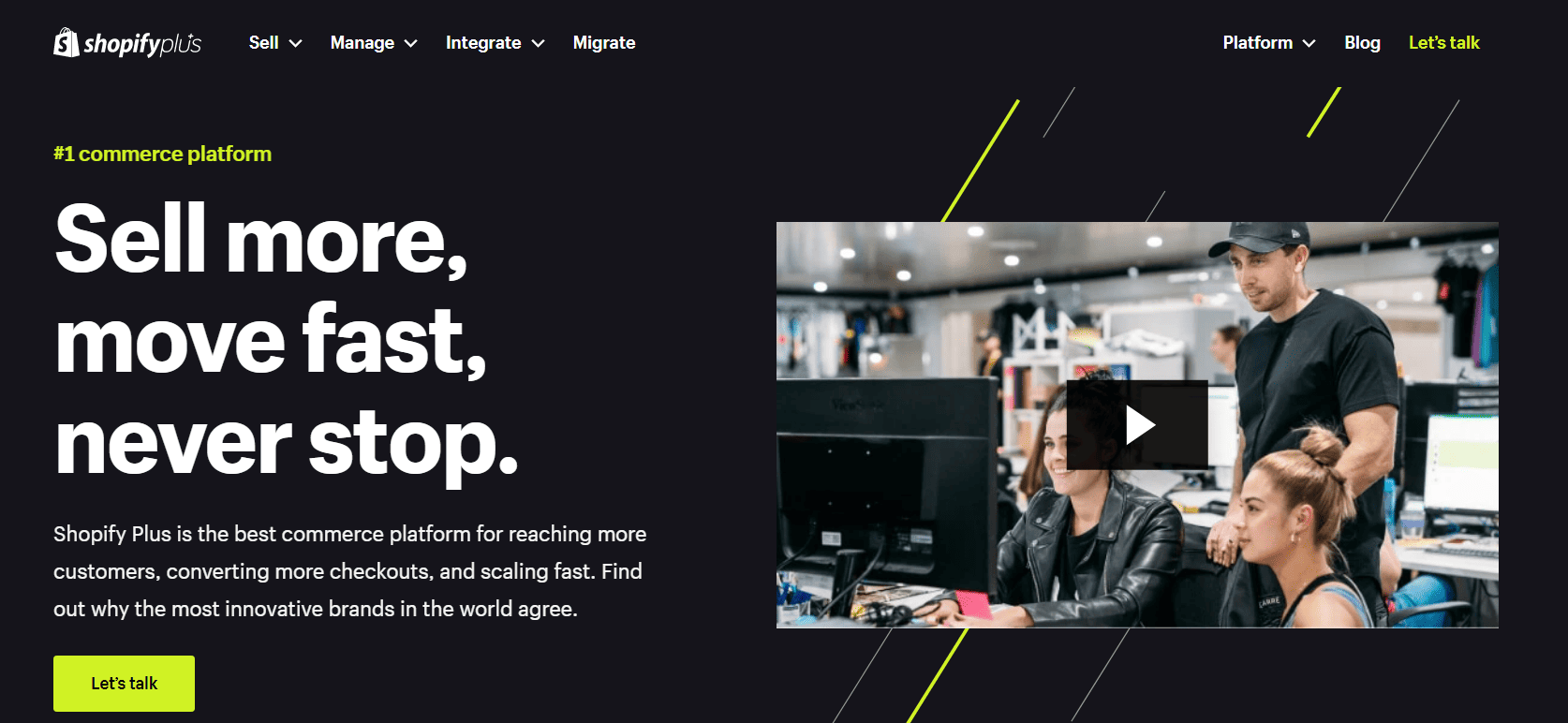 A popular and successful selling solution with more than 23% of the eCommerce market share, very little compares with the cutting-edge services and quality user experience offered by Shopify Plus.
The quality service of this eCommerce website is what has attracted big names like Tesla and Adidas to its online store for B2B sales.
This eCommerce solution has a long history of providing the greatest B2B sales, essential features, and excellent customer service.
By 2021, the number of users enjoying the benefits of this eCommerce software will have crossed a million.
Businesses may need to pay $2,000 or more per month for accessing the services of this eCommerce platform.
Advantages
Shopify Plus offers its users numerous advantages, including:
It offers 100% security for all payment options. This makes it an attractive platform for any eCommerce business desiring a secure foundation for their online operations.
Users can access 23 selling channels from their dashboard. Information about customers, orders, and stock management can all be synchronized in one place. Many eCommerce features, like omnichannel support, setting pricing thresholds, saving shopping lists, and creating custom pages, are available.
The eCommerce platform also enables B2B companies to use Shopify's POS system for both online and offline sales.
Businesses can translate their eCommerce store into 20 languages using Shopify Plus.
The eCommerce site offers excellent customer experience and lightning-fast performance made possible by cloud hosting. The eCommerce platform also offers a sizable selection of premium and free themes that businesses can use to personalize the appearance and functionality of their website.
Shopify Plus offers an efficient wholesale eCommerce experience, allowing B2B buyers to order, track, or reorder goods. There is also an option to review the bulk orders prior to billing.
Disadvantages
Shopify can only support one storefront per account, which makes it less scalable than alternative headless commerce solutions.
There are certain limitations to backend customization.
A seller is only allowed a maximum of 100 product variations.
Read also: B2B vs B2C Marketing — 8 Things You Didn't Know
WooCommerce

This is an official open-source eCommerce platform for websites built using WordPress. It functions as a plug-in and offers features like order management, payments, and shipping.
Users also have the option to add numerous other essential features to their stores, like 360-degree rotating product images, multiple currencies, and subscriptions. 42% of e-commerce platforms are powered by WooCommerce.
There is no special edition for B2B selling by WooCommerce, but there are about 50 extensions for B2B features that you can buy directly from WooCommerce.
They'll help you add B2B features to your WooCommerce site, like purchase order reviews, pdf invoices, wholesale prices, customizable quote forms, custom registration fields, and more 👇🏻
WooCommerce is free, but you may need to purchase premium essential features like domain name and hosting.
Advantages
This eCommerce platform offers complete control and customization.
WordPress enjoys a sizable community online.
WordPress users can easily configure WooCommerce.
Since almost anybody can create and sell plugins and themes online, the options are virtually limitless.
The plugin is free, which makes it budget-friendly for businesses just starting out.
Disadvantages
There is some learning associated with using WordPress. Some may find this a bit difficult.
Extra features come with a price that might end up costing businesses more in the end.
Users are forced to manage everything, including hosting, security, maintenance, and backups.
12 Ways You Can Use CRM for Ecommerce Personalization
BigCommerce B2B Edition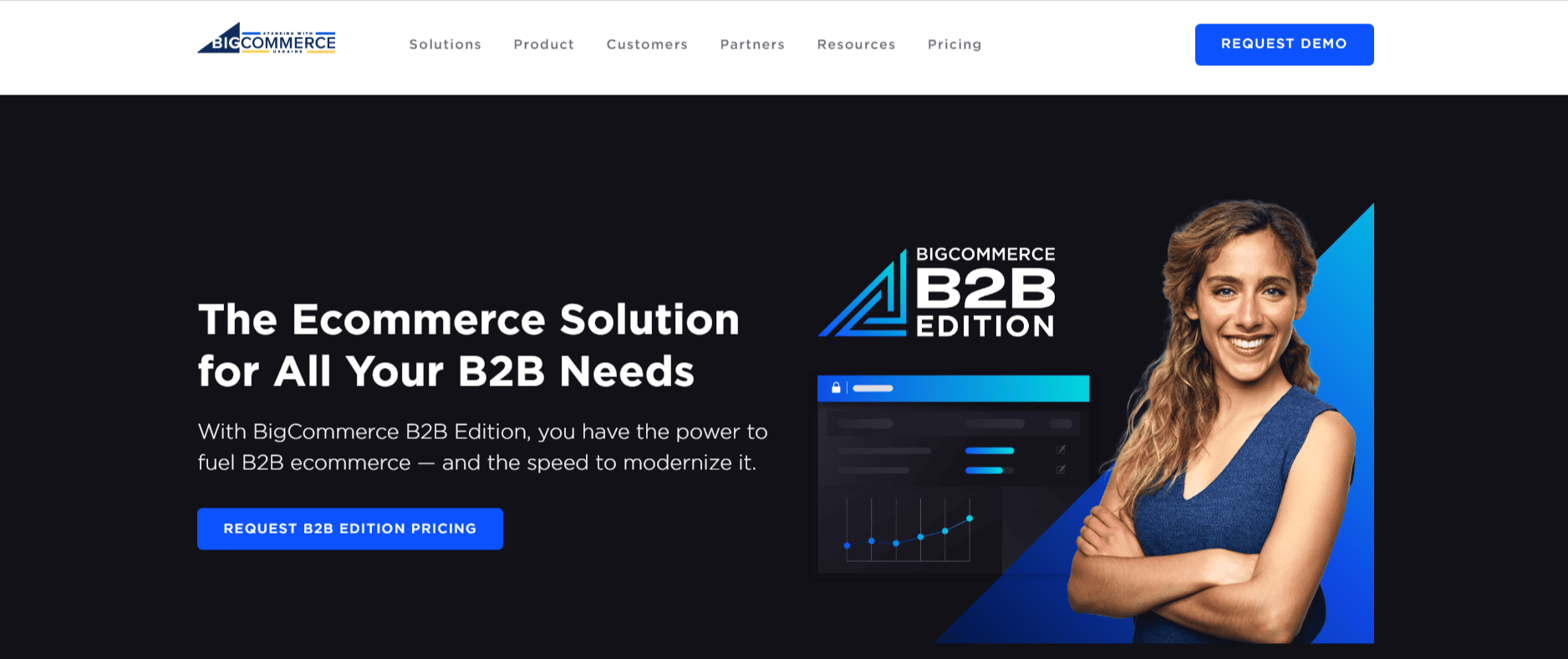 The BigCommerce enterprise always comes up in an eCommerce platform comparison as one of the best SaaS-based open eCommerce platforms, especially for enterprise and mid-market brands.
The eCommerce platform was initially famous for B2C services, but it entered the B2B marketplace in 2021.
Pricing information is provided upon request.
Advantages
It offers users a scalable eCommerce platform and secure and robust cloud hosting.
BigCommerce enterprise offers many essential features like multiple languages, currency, taxes, and payment methods. This will aid businesses in expanding their markets globally.
The eCommerce platform gives users the freedom to quickly make adjustments to their websites while also allowing more advanced technical users to make extensive customizations.
Integration with multiple marketplaces and social media websites like eBay and Instagram is also available.
The eCommerce platform also offers extensive functionality like quick reorders, invoice portal, customer groups, and restricted login for wholesale or bulk orders.
Disadvantages
It is a relatively new B2B eCommerce platform.
It offers limited scalability and customization.
It offers three standard pricing plans, but they are more tailored for B2C uses. Merchants must use an enterprise plan to use the B2B functionalities.
Read also: eCommerce Conversion Funnel in 5 Stages
Oracle NetSuite Commerce

Oracle NetSuite Commerce, started in 2015 and a member of the NetSuite family, is an efficient eCommerce platform for medium-sized businesses.
The platform offers a complete set of eCommerce solutions to B2B clients, including buying, billing, and customer support. Businesses can also handle both B2C and B2B transactions using the same eCommerce platform.
Prices begin at $2,500 per month.
Advantages
Its seamless back-to-front connectivity encourages openness and development.
Businesses can easily promote their products given its seamless integration with email marketing tools.
It is flexible and dynamic due to the in-built customization features.
The platform allows for informative and extensive documentation.
No plugins are required since it natively integrates ERP, order management, and stock management all in a single platform.
It offers essential digital commerce features like quoting, invoice payment, and account management.
Disadvantages
This online commerce platform is prone to errors.
Some users may need a little time to fully understand its operation and incorporate it into different devices.
Read also: 15 Easy Steps to Build a Personalized eCommerce Marketing Plan
Adobe Commerce (previously Magento)
Magneto Commerce, a popular digital commerce platform, was acquired by Adobe and rebranded as Adobe Commerce in 2018. This digital commerce platform caters to both B2B and B2C consumers.
It now has two versions: a free version called Magneto Open Source and a premium version called Adobe Commerce. The free version needs Magnet hosting.
Depending on the company's profits, prices can range from $22,000 to $125,000 annually.
Advantages
It provides a more comprehensive collection of features like customizable solutions, B2B data, and other functionalities.
It provides users with superior security by including elements like a payment gateway, penetration testing, and a CDN (content delivery network).
It includes robust internationalization tools to help businesses with extremely large sales volumes.
It can support currencies from over 200 countries.
The platform gives users unlimited freedom to customize their online store. It also offers features to make the process of storefront customization more effective.
Businesses can create numerous tiers of clients, each with their own permissions and roles, and handle their corporate accounts independently.
Disadvantages
It is time-consuming and costly.
14 Stunning eCommerce Landing Page Examples (With Expert Tips)
CS Cart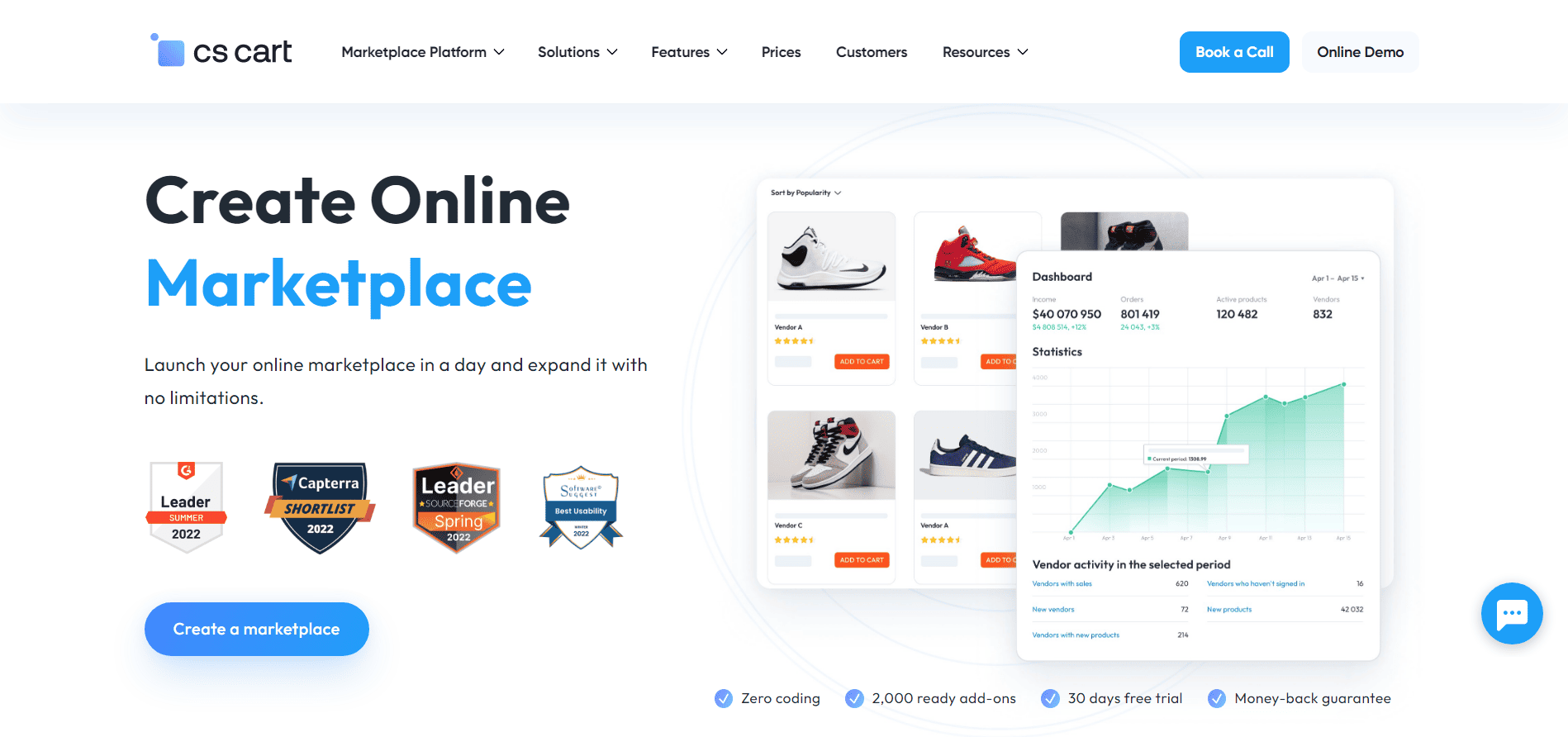 With more than 500 features, CS Cart is a comprehensive digital commerce platform for wholesalers and manufacturers wishing to streamline and automate their interactions with customers.
Since its founding in 2005, the eCommerce platform has served 35,000+ clients in more than 170 nations.
Three pricing levels are available: standard at $1,450 per year, plus at $3,500 per year, and ultimate at $7,500 per year. A free demo is available for 15 days.
Advantages
This eCommerce solution allows businesses to create multiple storefronts and manage them all from a single admin dashboard.
It allows easy and unlimited integration with external accounting software, ERP, CRM, and much more.
It offers numerous B2B functionalities like stock management, custom pricing, and managing customer accounts.
The platform is highly customizable and offers hassle-free payment options with no extra costs. Businesses have the freedom of choosing from 70 different payment options.
Disadvantages
In addition to paying for the license, businesses must engage a skilled developer to fully use the source code for additional customization. This can make custom development costly.
Compared to eCommerce platforms like Adobe Commerce or Shopify Plus, it has limited add-ons and themes.
Read also: 8 Best Email Marketing Software for eCommerce
OpenCart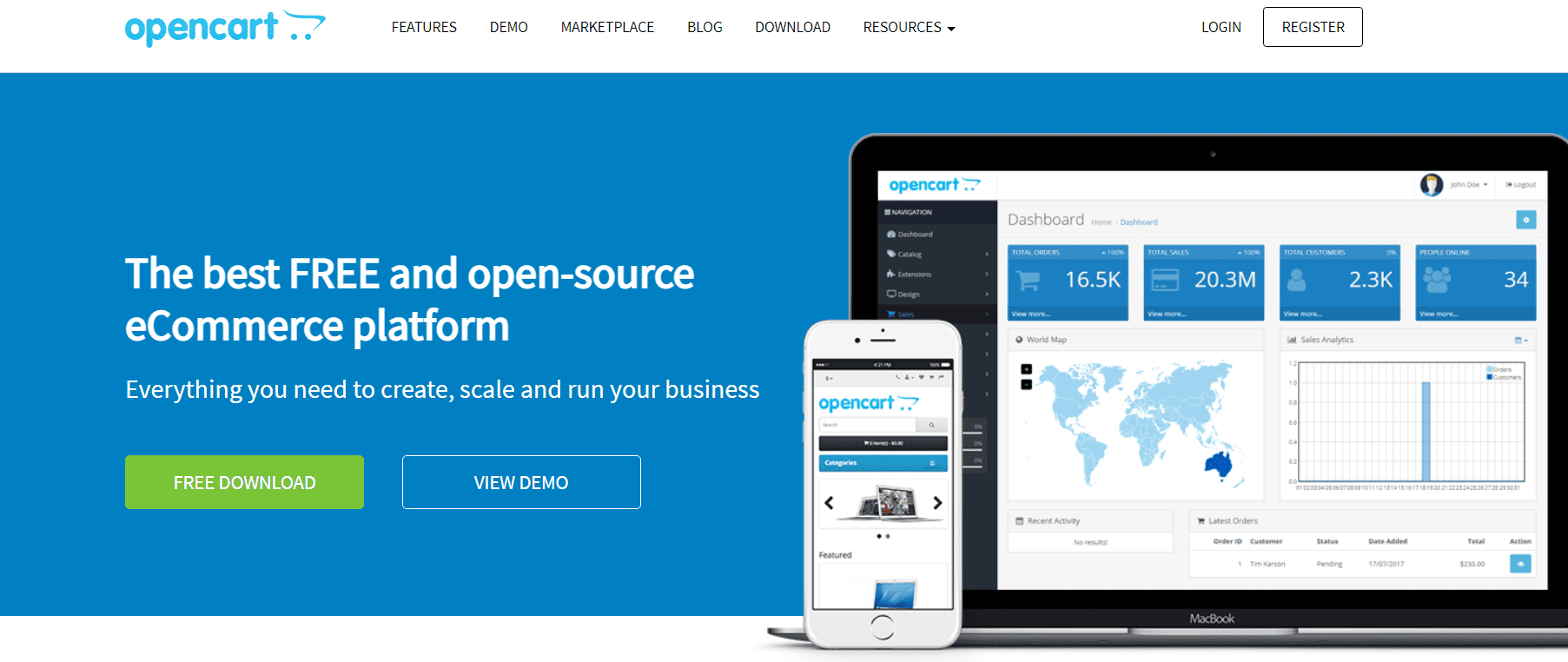 This is an efficient open-source digital commerce platform that allows businesses to launch a free online store with essential features.
The marketplace offers sophisticated features and unique themes with over 13,000 extensions and modules.
There are both paid and free add-ons available, like wholesale management, marketing, SEO, contact forms, and quick checkout.
Advantages
Users can manage several stores from a single interface. They can create settings that are unique to their store, like multiple product names, themes, and custom pricing ranges.
It allows businesses to sell globally with features like multiple languages, currencies, and tax updates.
It offers extensions like quote requests, customer groups, and product lists.
Disadvantages
It does not offer a lot of templates.
Compared to other self-hosted systems, it has fewer add-ons.
Pre-established shipping techniques cannot be changed. Businesses need developer assistance if they wish to implement their own delivery methods.
Read also: eCommerce Email Marketing Simplified: 15 Examples + Tips
NuOrder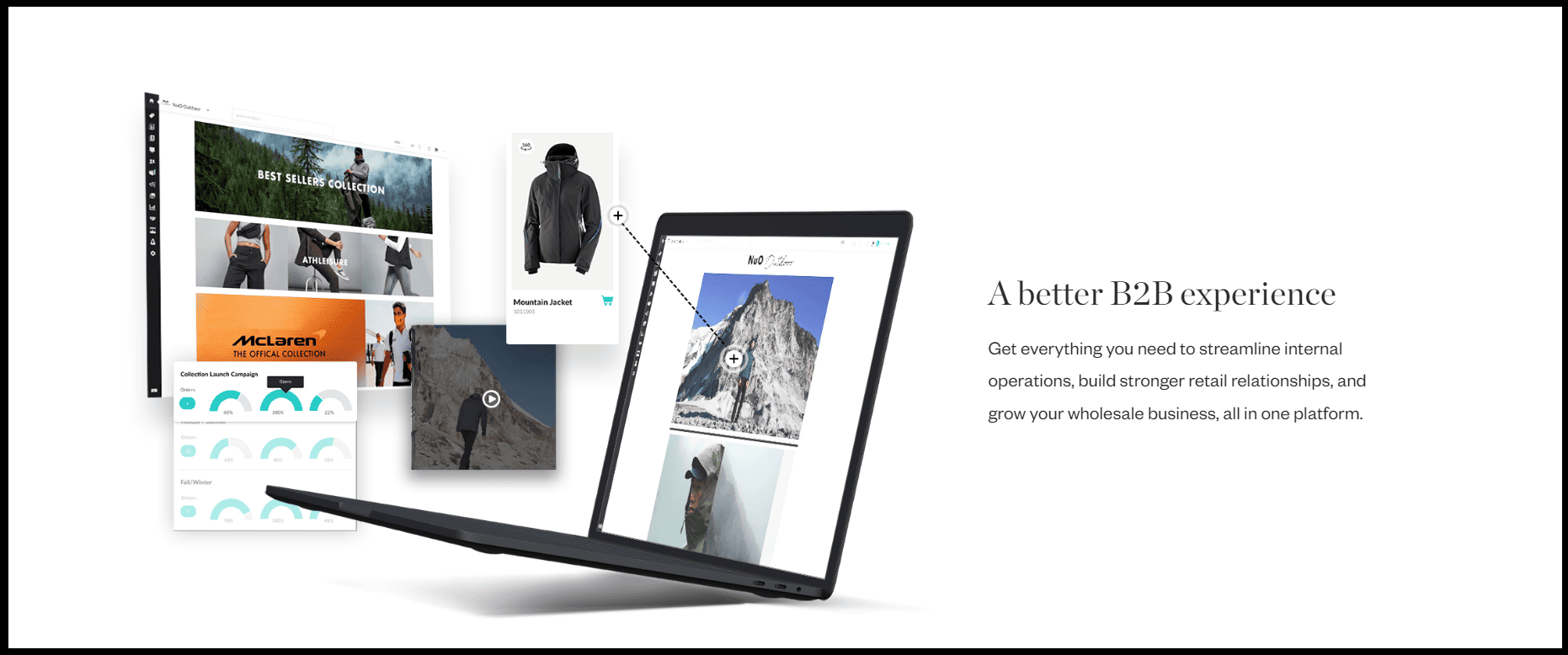 This eCommerce platform focuses on processes like bulk orders and reorders. The wholesale process is more cooperative and seamless, and users can conduct real-time product searches.
Annual pricing can range from around $7,000 to $100,000.
Advantages
It takes precautions to guard against loss, misuse, unauthorized access, modification, disclosure, and destruction of personal data.
It allows business owners to modify the customer portal to effectively showcase their brands and aesthetics.
It supports five languages.
Inventory, sales, and orders are automatically synced between channels.
Disadvantages
It is costly.
The marketplace has issues, especially with connecting with new customers.
Read also: 25 Top eCommerce Marketing Tools Sure to Boost Sales
Sana Commerce Cloud
This is one of the first SaaS products to offer a full ERP connection. Sana Commerce Cloud provides a scalable digital commerce system that provides a sizable collection of built-in capabilities.
Pricing information is provided upon request.
Advantages
It offers a convenient and reliable buying experience.
A committed security team constantly monitors, evaluates, and enhances Sana's security protocols.
It has a responsive interface that makes it simple to alter the feel and look of the online store using simple drag-and-drop functions.
There are numerous personalization features available, including custom pricing, assortments, and order history.
Interfaces with external marketplaces like Amazon are available.
Disadvantages
Software is challenging to use.
The website is not written in a language accessible to new users.
Read also: The 5 Best eCommerce Platforms for Startups
Shift4Shop (previously 3dcart)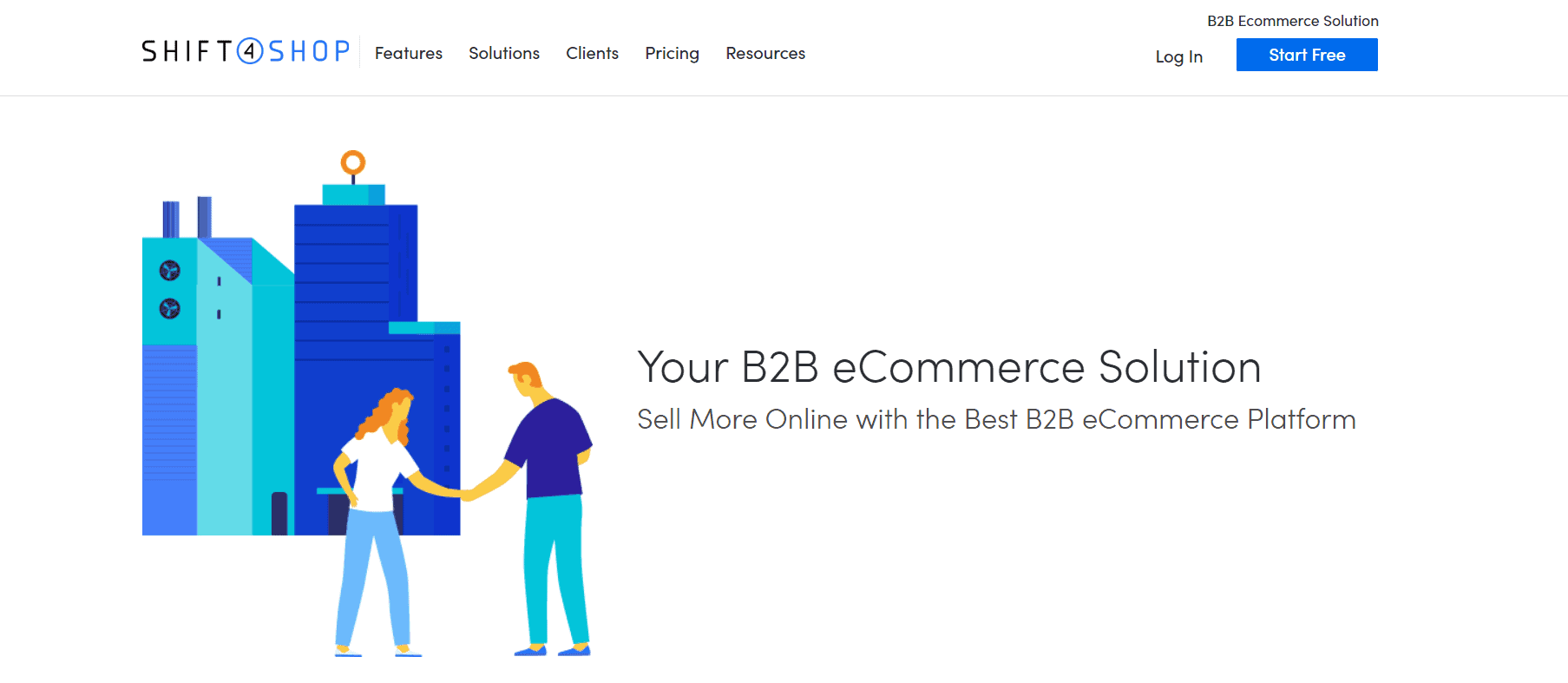 This eCommerce platform is for developing simple, B2C-like buying experiences, regardless of whether you are a retailer, distributor, or manufacturer.
It allows businesses to split their clients depending on the details of the products they purchase or the volume of those purchases.
Advantages
It allows businesses to manage commissions, analyze performance data, and assign and monitor sales representatives' progress.
It offers marketing and SEO features.
Shipping rates for global shipping can be specified.
Disadvantages
The interface can be overwhelming and confusing to navigate.
Customer service can be a bit unreliable.
Read also: 15 Easy Steps to Build a Personalized eCommerce Marketing Plan
Yo!Kart B2B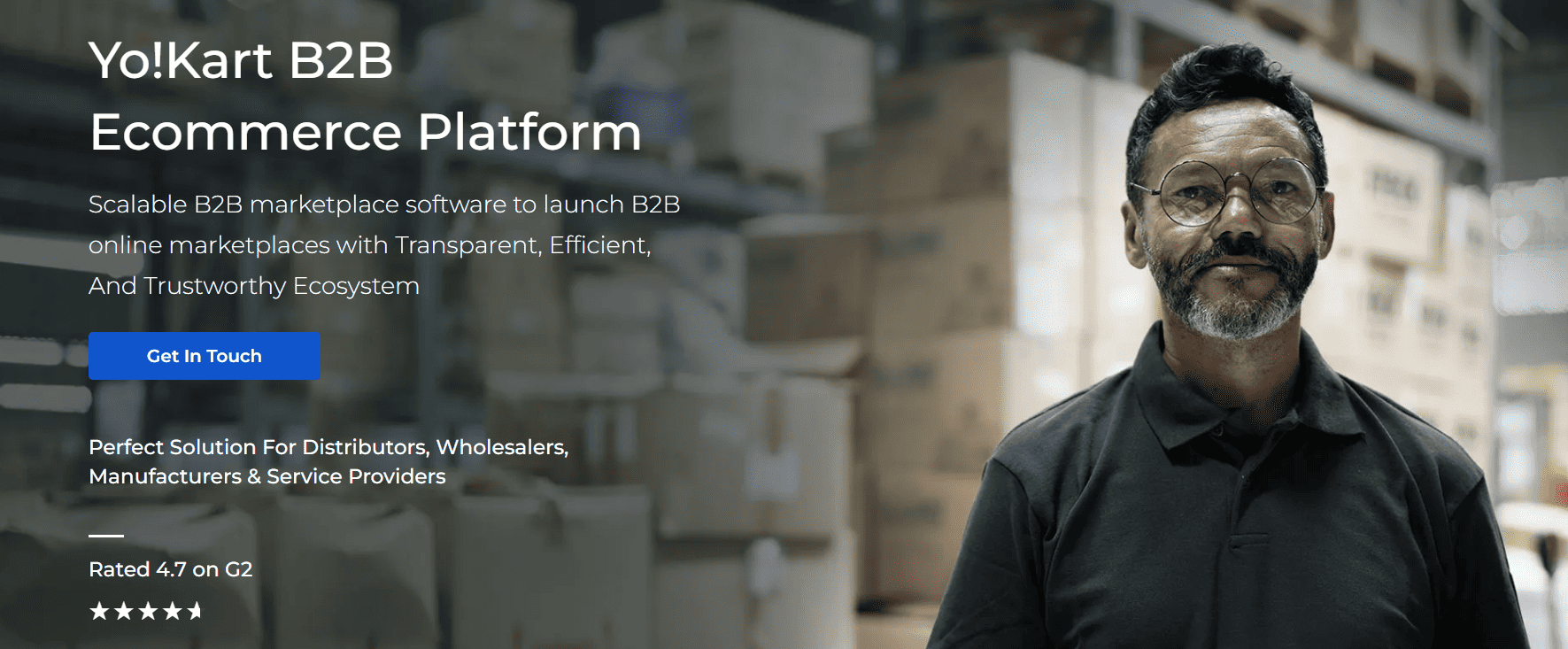 This eCommerce platform gives businesses total control over how their marketplace processes are run.
It has all the necessary eCommerce tools and connectors to create a fully effective marketplace website, including inventory management, multicurrency support, and automatic shipping management.
Advantages
It has a built-in catalog system that enables sellers to manage brands and product variants, build various categories, and handle special catalog requests.
It allows businesses to customize the store page in accordance with their brand.
It allows independent or combo sales of products and services.
Disadvantages
It only offers a small selection of themes.
Upgrades are a paid feature.
Read also: 7 Powerful eCommerce Marketing Automation Strategies + Tools
How to Choose the Ideal B2B Ecommerce Platform
Different eCommerce platforms have different sets of advantages and disadvantages. The platform should be chosen depending on the needs of the user. Some important aspects to consider include pricing plans, content management, SEO features, and marketing tools.
After reviewing the pros and cons of the top digital commerce platforms, you can easily choose one to suit your business needs.
If you have a small business, make sure that you go for a platform that caters to the unique budget constraints of SMBs. Enterprise-grade platforms can end up costing you a lot in the long run.
For eCommerce marketing automation and CRM integration, check out EngageBay.
Find the perfect CMS for your ecommerce business – explore our comprehensive guide now!