Startups are often on a shoestring budget, so selecting any software becomes a decision that's long mulled over. For the money you're going to spend, you want a reliable, scalable, easy-to-use eCommerce platform that's going to meet your needs.
In today's blog post, we'll look at six exceptional platforms, covering such pertinent information as features and pricing so you can make a sound business decision.
1. Shopify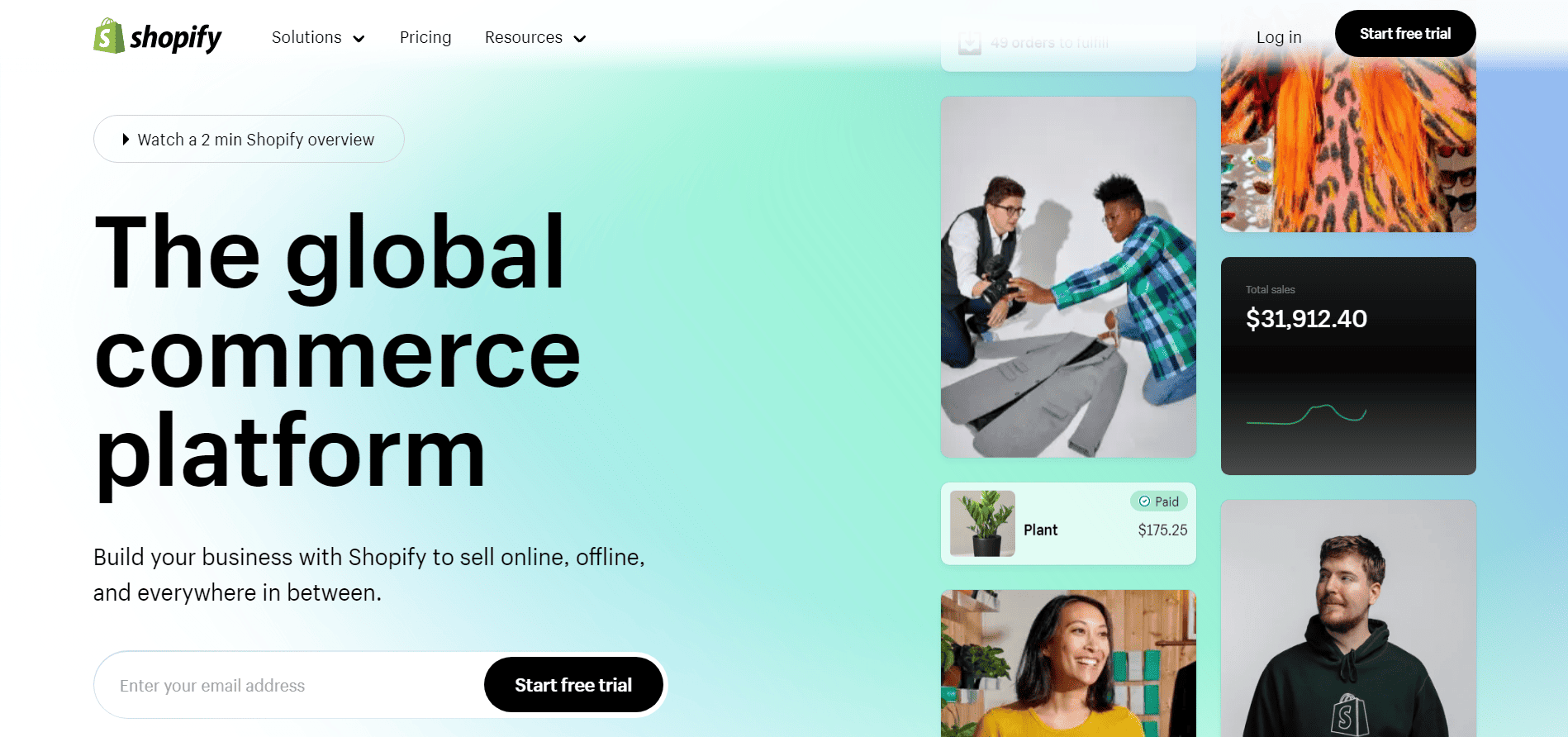 We can't talk about eCommerce platforms without discussing Shopify, which is probably the best-known platform of its kind.
Shopify is an all-in-one eCommerce platform that allows you to start up a shop, sell products and services, and market yourself all under the Shopify umbrella.
Let's go over the features of Shopify now.
Store setup: Shopify has everything that a new storeowner such as yourself needs to begin your virtual eCommerce business on a startup level. You can build a Shopify website through their platform and select from a variety of paid and free themes to make your shop your own.
Branding: Do you need help in the branding department? Shopify features a logo maker within its platform as well as a business name generator so you can create an online presence you'll be proud to call your own.
Domain and photography: If you need stock photography for your website or a domain name, Shopify offers these services as well.
Selling: Between your online Shopify store, Shopify's point of sale hardware, and the ability to convert a blog or website into an online Shopify store, you'll have lots of tools at your disposal for selling. You can even customize your storefront and sell internationally.
Marketing: Marketing yourself is critical if you want your small business's eCommerce store to succeed. Shopify equips you with all the tools you need, including Facebook Ads, marketing automation sequences, and email marketing.
Pricing
Shopify offers three plans, Basic, Shopify, and Advanced.
The Basic plan starts at $29 a month and includes features such as 77% shipping discounts, four inventory locations, two staff accounts, and basic reports.
With this plan, the credit card rates are 2.7% plus zero cents USD for in-person purchases and 2.9% plus 30 cents USD for online purchases.
The next option is the Shopify plan, which has an 88% shipping discount, five inventory locations, five staff accounts, and professional reports. This plan is $79 a month.
By paying for the Shopify account, you can enable credit card rates at 2.5% plus zero cents (USD) for in-person purchases and 2.6% plus 30 cents (USD) for online purchases.
The third plan is the Advanced plan for $299 a month. You still get the 88% shipping discount as well as up to eight inventory locations, 15 staff accounts, and a custom report builder.
With this plan, you can enable credit card rates such as 2.4% plus zero cents USD for in-person purchases and 2.4% plus 30 cents USD for online purchases.
Read also: Convert Shopify data into campaign gems with EngageBay
2. Wix eCommerce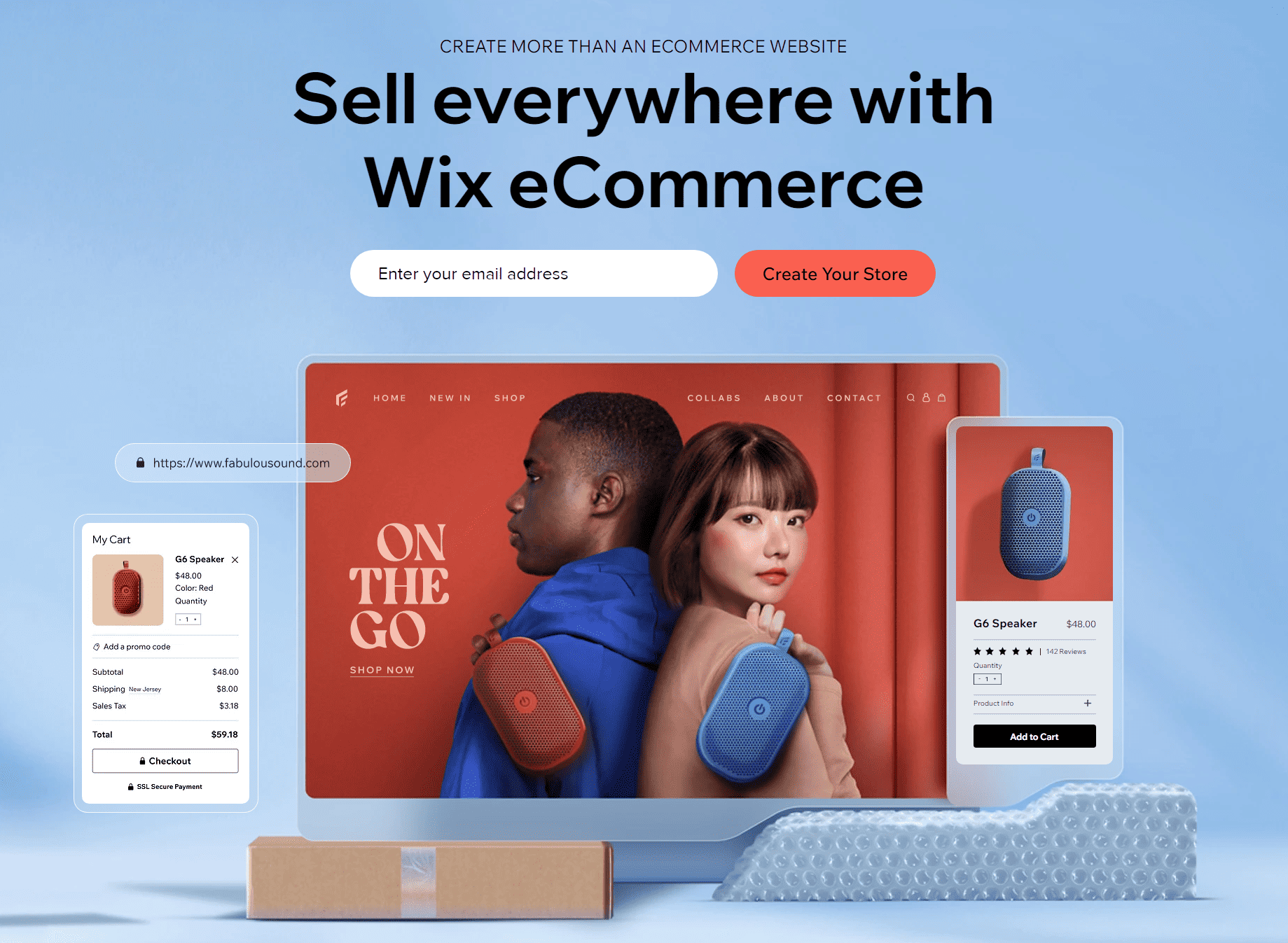 The next eCommerce platform we recommend for startups is Wix eCommerce. Using this platform, much as is the case with Shopify, you can build an online store and begin selling products and services.
Here are the features that Wix eCommerce offers.
Store setup: Wix eCommerce makes it exceptionally simple to create your online eCommerce store using their platform. You have more than 500 templates to select from, including both free and paid templates, as well as the ability to select from a custom domain if you so wish.
Wix Payments: Accepting customer payments is easy with Wix eCommerce, as their Wix Payments feature accepts major credit and debit cards as well as other payment methods such as Apple Pay.
Tax automation: Calculating taxes can be such a pain. With Wix eCommerce, you don't have to, as you can use tax automation that includes global tax rules so you don't have to crunch the numbers yourself.
Marketing and SEO: When the time comes to market your new eCommerce store, you can rely on Wix eCommerce to help. The platform includes built-in SEO tools, paid ads on Instagram or Facebook, and social posts. You can also create branded marketing campaigns for achieving more of your goals.
Analytics: How well is your store selling? No longer will you have to guess when you can use Wix eCommerce store analytics like traffic reports, business insights, top products, business reports, and custom reports. You can even get mobile analytics and sync with Google Analytics.
Pricing
What will you pay to use Wix eCommerce? You can select from three business and eCommerce plans: Business VIP, Business Unlimited, and Business Basic.
The Business Basic is the least expensive of the three plans at $27 a month and features 50 gigabytes of storage space and five video hours.
The Business Unlimited Plan starts at $32 a month and includes:
100 gigabytes of storage space
10 video hours
100 automated sales tax transactions a month
250 products available for dropshipping by Modalyst
1,000 KudoBuzz reviews
If you spend $59 a month for the Business VIP plan, then you get the full suite of Wix eCommerce features, including:
Secure online payments
Recurring payments and plans
Customer accounts
Customer domain
A free domain for up to a year
No Wix ads
Unlimited storage space
Unlimited video hours
Ad vouchers
Custom reports
Unlimited products
Abandoned cart recovery
Subscriptions
Multi-currency support
500 automated sales tax transactions a month
Advanced shipping
Social channel selling
Marketplace selling
Unlimited dropshipping
3,000 KudoBuzz reviews
Smile.io loyalty program
Read also: 25 Top eCommerce Marketing Tools Sure to Boost Sales
3. WooCommerce

Next, we have WooCommerce, an open-source eCommerce platform that's a good alternative if you want different options besides Shopify. This could be just the eCommerce platform your startup is looking for!
Here's an overview of WooCommerce's features.
Store setup: WooCommerce offers a variety of mobile-friendly templates for your eCommerce store, including both free and paid options to suit your design preferences and your startup budget. You don't even have to know any code to customize your store to exactly your preferences, which is handy.
Extensions: Take your WooCommerce store further with extensions. Some of the most popular extensions on the platform are WooCommerce Shipping, Jetpack, WooCommerce Google Analytics, WooCommerce Bookings, AutomateWoo, WooCommerce Subscriptions, and WooCommerce Payments.
Payments: Speaking of payments, WooCommerce has a rather sophisticated payment option, with payment support in more than 130 currencies and 18 countries. You can also integrate with payment options like Amazon Pay or PayPal, save credit details for repeat purchases, and automate payments for auto-replenishments, memberships, billing, and subscriptions.
Pricing
WooCommerce doesn't have traditional pricing plans, and there's no information about pricing on its website. That's because you're charged for individual services. Here's a breakdown of what you may pay:
Hosting: $6.95 to $12.95 a month
Domain name: $15 a year
Theme: $35 to $129 per theme
Extensions: $100 to $400 a year for transaction fees and scaling
Plug-ins: $25 to $150 a year
Security: $10 to $450 a year
Developer fees: up to $6,000
Read also: Heads-up: EngageBay Integrates With WooCommerce
4. BigCommerce

Continuing our list of the best eCommerce platforms for startups, we have BigCommerce, which is supposed to help you create 'differentiated commerce experiences'.
Here are the features available with a BigCommerce subscription.
Store setup: Building your online store is incredibly simple with BigCommerce. You can use their page builder visual editor with drag-and-drop tools. You don't even need to know how to code to create your eCommerce store. You can also customize any themes, although you will have to know how to code using JavaScript, CSS, or HTML for that.
SEO: Your site will be SEO-friendly from the moment it launches on BigCommerce with robots.txt editing, metadata, and SEO-centered URLs you can freely customize.
Payments: Accepting payments through BigCommerce is effortless thanks to the variety of payment features. You can segment your customers, create custom price lists, establish bulk pricing, and accept more than 100 unique types of currency.
Pricing
BigCommerce offers a 15-day free trial, then you can select from one of four paid plans.
The first is the Standard plan at $29.95 a month. Here are the features included with that plan:
No extra transaction fees
Unlimited bandwidth, file storage, and products
Unlimited staff accounts
$50K online sales per year
Braintree special credit card rates of 2.59% plus 49 cents per transaction
The Plus plan, which is the most popular, starts at $79.95 a month and includes everything above plus:
$180K online sales per year
Braintree special credit card rates of 2.35% plus 49 cents per transaction
Online storefront
BigCommerce mobile app
Single-page checkouts
Real-time shipping quotes
Built-in blog
Custom segmentation
Abandoned cart saver
Stored credit cards
The Pro plan costs $299.95 a month and includes everything you get in the Standard and Plus plans as well as:
Google customer reviews
Product filters
Custom product filtering
$400k online sales per year
Braintree special credit card rates of 2.05% plus 49 cents per transaction
The Enterprise plan has customized pricing, but you get the most features that BigCommerce has to offer. Those include everything above as well as:
ShipperHQ shipping rules engine
Multi-storefront
Price lists
Unlimited API calls
Custom amount of online pricing a year
Customer success management with priority support and express routing
API support
Braintree special credit card rates of 2.05% and 49 cents per transaction or lower
Read also: BigCommerce vs Magento: Features, Pricing, and More Compared
5. Hostinger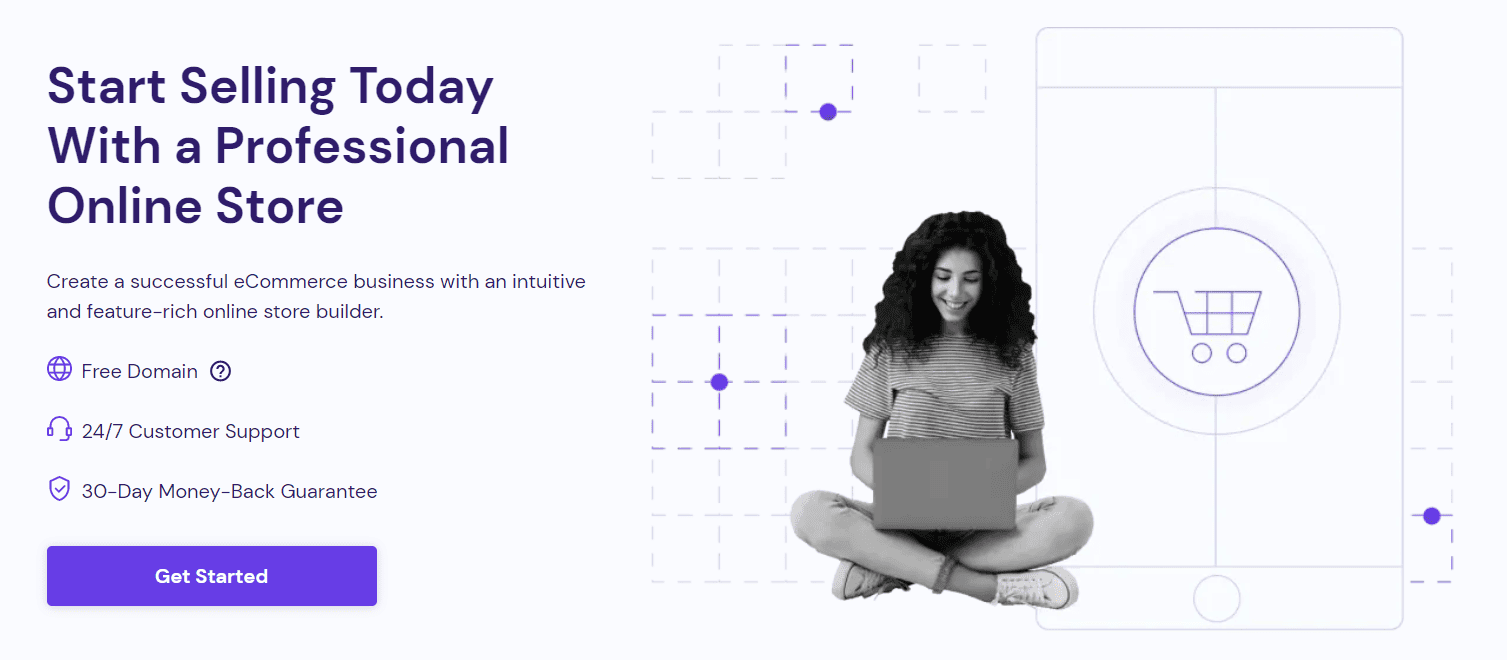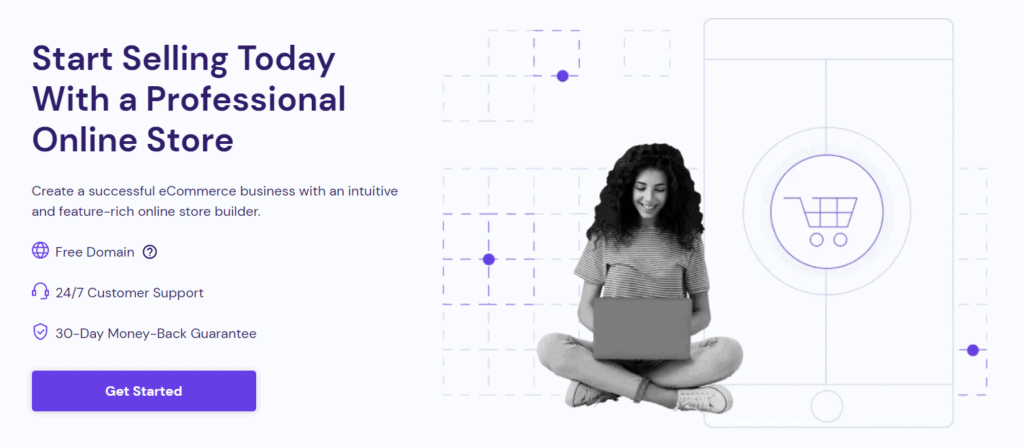 As one of the reputable web hosting providers, Hostinger offers an online store builder that caters to startups with their quality and affordability. It also comes with web hosting and a domain name, so you can get things done on one platform.
Here are the features of Hostinger Online Store Builder.
Store setup:

Hostinger provides an intuitive drag-and-drop builder that enables you to generate, customize, and launch your store in minutes. You can select from one of their pre-made templates or build from scratch.

Easy-to-use hPanel:

Manage your website, domain, and hosting plan with Hostinger's in-house control panel, hPanel. Customers can also migrate their existing website to Hostinger.

AI tools:

Upgrade your online store with the help of AI. Hostinger online store builder includes the AI logo maker, website builder, content, and heatmap analysis.

Built-in SEO and Marketing tools: Hostinger offers built-in SEO and marketing tools to help customers grow their online stores. This includes Facebook Messenger and Google Analytics integration.
Multilanguage support:

Online stores can expand their market reach by translating their online stores into multiple languages.
Pricing
The Online Store builder plan includes Premium Web Hosting and a free domain name that starts at $2.99 monthly. The plan comes with:
Free Domain with a value of $9.99

Free email

eCommerce features

Unlimited storage space

SSL security

99.9% uptime guarantee

Automated backups

Up to 500 products

20+ payment gateways
Read also: 12 eCommerce Analytics Tools for Pro-Level Business Tracking
6. Squarespace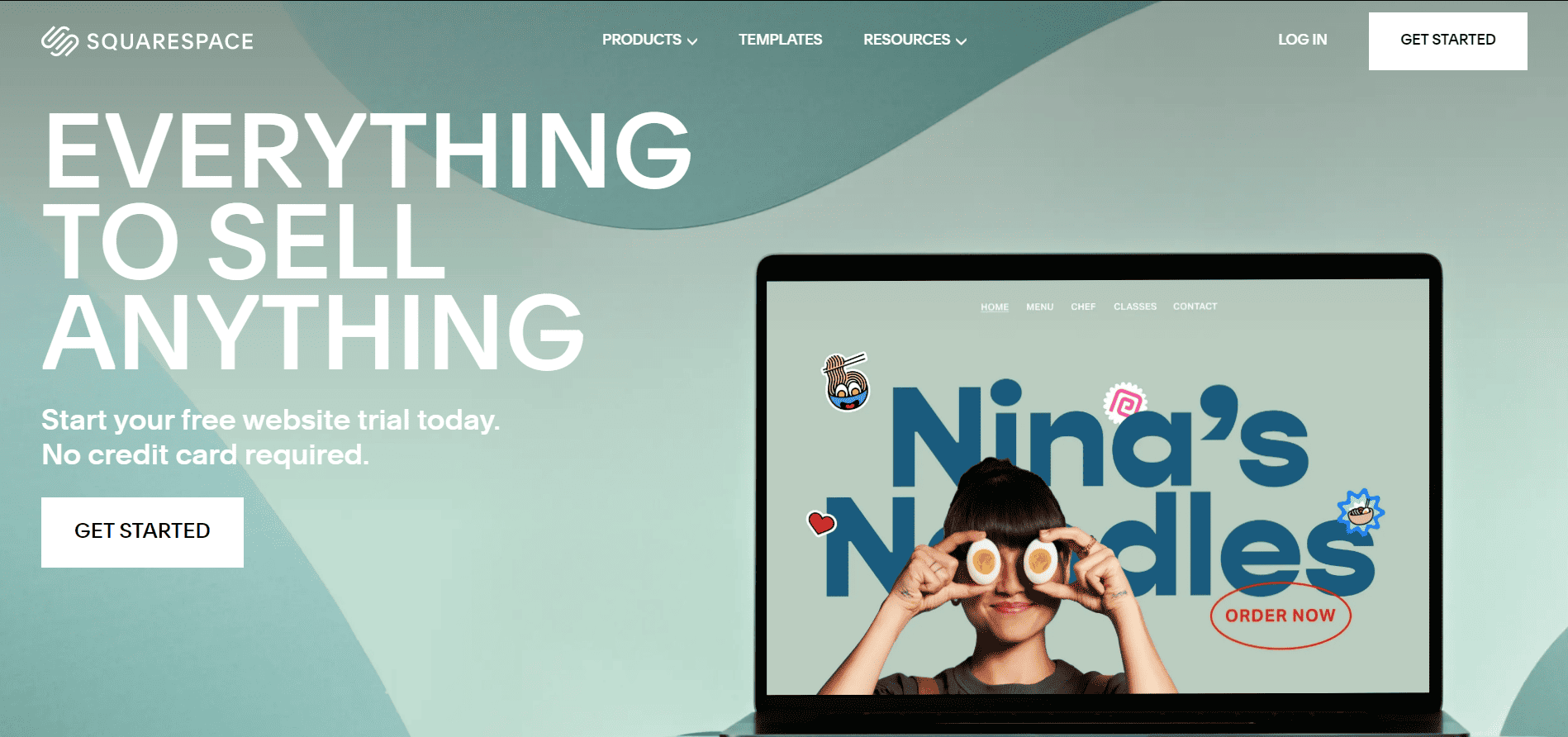 You may already know and use Squarespace for your startup website design needs, but did you know the site also has an eCommerce component for starting your very own online store? It does indeed!
Let's take a look at the features available with Squarespace eCommerce.
Website design: Squarespace enables its users to design the websites they've always wanted with its award-winning website design and extensive variety of templates. Further, Squarespace offers blog tools and resources for building your own portfolio using its services.
Selling: Whether you want to sell products or services, Squarespace eCommerce lets you get started with rich product listings, product categories, unlimited products, product catalogs, product quick views, and inventory notifications.
Marketing and SEO: Through email marketing, marketing campaigns, SEO, and more, you can promote your website on a professional level and take your startup's eCommerce site further.
Creator tools: Squarespace eCommerce also offers an extensive variety of creator tools for branding, from a logo maker to a video maker, and more.
Pricing
You have four pricing plans to select from if you're interested in Squarespace's eCommerce services.
The Personal plan is $23 a month and comes full of features, such as:
SSL security
Unlimited bandwidth
30 minutes of video storage
Two contributors
SEO
Templates
Basic website metrics
Squarespace Extensions
Limited access to the Squarespace Video Studio App
The Business plan for $33 a month is the most popular plan. Besides everything in the Personal plan, the Business plan also includes:
Unlimited contributors
Gmail Professional Email
Premium blocks and integrations
JavaScript and CSS customization
Advanced website analytics
Google Ads Credits
Promotional banners and pop-ups
Full access to the Squarespace Video Studio App
Three percent transactional fees
Unlimited product selling
Donations
Gift cards
The third plan you can select from is the basic Commerce plan, which costs $36 a month. All the features from the Personal and Business plans are available under the basic Commerce plan as well as the following features:
Zero percent transaction fees
Point of sale
Product reviews
Domain checkouts
Customer accounts
Merchandising tools
Limited availability labels
Instagram products
If you want everything that Squarespace eCommerce has to offer, that's only available through the advanced Commerce plan, which costs $65. You can use all the features listed to this point as well as these:
Commerce APIs
Advanced discounts
Advanced shipping
Selling subscriptions
Abandoned cart recovery
Read also: eCommerce Support Technologies To Help Build Your Moat
Conclusion
There you have it, six exceptional eCommerce platforms for startups.
Each offers an assortment of valuable features and services that will benefit burgeoning eCommerce platforms like yours, so you can't go wrong no matter the platform you choose.
EngageBay has recently integrated with Shopify and now offers eCommerce marketing automation through its platform as well.
If you haven't tried it yet, get started today!
👉Empower your ecommerce business with the best CMS solutions – learn more in our expert guide! 💪