You've heard it a gazillion times; email marketing is the leading marketing strategy. More effective than other marketing strategies like content marketing, social media marketing, SEO, PPC, and other more traditional marketing campaigns in terms of ROI (return on investment), audience reach, sales conversion, and cost-effectiveness.
As we step into 2023, building an email marketing strategy for your eCommerce brand is definitely a must! Here's why.
According to Statista, email users will increase to over 4.6 billion in 2023. This accounts for over half of the world's population. And in terms of revenue, email marketing is expected to reach $11 billion in 2023 and $17.9 billion by 2027.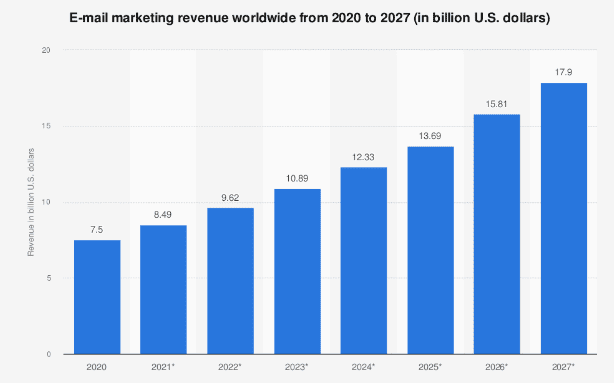 In this ultimate guide, you'll discover all the eCommerce email marketing tips for high conversions, even if you're just a beginner.
Ready? Let's go!
What Is eCommerce Email Marketing?
eCommerce email marketing is an effective digital marketing channel that uses email campaigns or series to primarily announce a product launch, touch base with existing or prospective customers, and drive more sales for your eCommerce business.
eCommerce email is a cost-efficient yet highly effective marketing strategy. It allows you to build personalized customer relationships with your audience. In addition, it's an effective marketing strategy for both customer acquisition and customer retention.
Typically, eCommerce email marketing can increase website traffic, and lead generation, increase conversion rate, solidify customer relationships and increase eCommerce sales.
Read also: eCommerce Email Marketing Simplified: 15 Examples + Tips
eCommerce Email Marketing Types
Transactional emails: Direct messages sent in response to specific actions a user makes on your eCommerce store website. Examples include password reset emails, confirmation orders, and pay invoices.
Promotional emails: Special offer emails designed to get the word out about product launches, special deals, and offerings to existing or potential customers. For example, Christmas discount sales, Black Friday deals, and one-time-only free shipping following a product launch.
Lifecycle emails: These are guiding emails sent at different stages of the buyer's journey from subscription to purchase. It usually accounts for great user experience by meeting the needs of customers at a crucial time along their journey. Cart abandonment emails and subscription activation emails fall under the lifecycle email campaign category.
Transactional emails
They have an average CTR of 4.8%, which is three times higher than non-transactional emails, and an 80% open rate. Transactional emails play an important role in customer retention by timely acknowledging your customer's transactions which in turn builds trust.
According to Borrell Associates, Inc. and Merkle, 64% of consumers consider transactional emails to be the most valuable messages in their inboxes. This shows that customers highly appreciate and anticipate them.
Typically, transactional emails are automated and help build a great customer experience. Because of their grave importance, extra care should be put in place to ensure your transactional emails are great and meet the needs of your customers. Take a look at some transactional email examples your eCommerce business should have in place.
Thank you emails
This category of emails has a median open rate of 67% and a CTR of 6.3%. They are a perfect way to show your customers you appreciate and value them. This goes a long way in fueling trust and converting visitors to loyal customers.
They are typically short, clear, and crisp and establish interaction between customers and your business. You can thank subscribers for buying something or subscribing to your newsletter.
Here's an example 👇
Dear [name],
Thank you, we received your order! We're delighted at your interest in our [products or services].
Because customer satisfaction is our top priority, we are committed to ensuring you experience a seamless purchase journey.
We would like to know how we can serve you better. Please use this form [link to the form] to share your opinion on how we can serve you better.
Your opinion will help us improve our future offers.
Best,
The Customer Success Team at [company]
Marketing tips to improve your 'Thank You' eCommerce emails
Get straight to the point: You do not want to bore your customers. Get straight to the point and mention what you are thanking them for.
Use the appropriate title: At the beginning of your email, include the appropriate title to address your subscribers, like Dear [Name].
Personalize the email: Add a personal touch so they feel extra special or valued. Such as their names, customized offers, exclusive deals, etc.
Make it timely: You do not want to send a thank you email weeks or days after what you're thanking them for took place. Ensure that the email is automated to go out as soon as the action is taken.
Include a clear subject line: Having a clear subject line increases your open rates significantly.
Here is a thank you email example 👇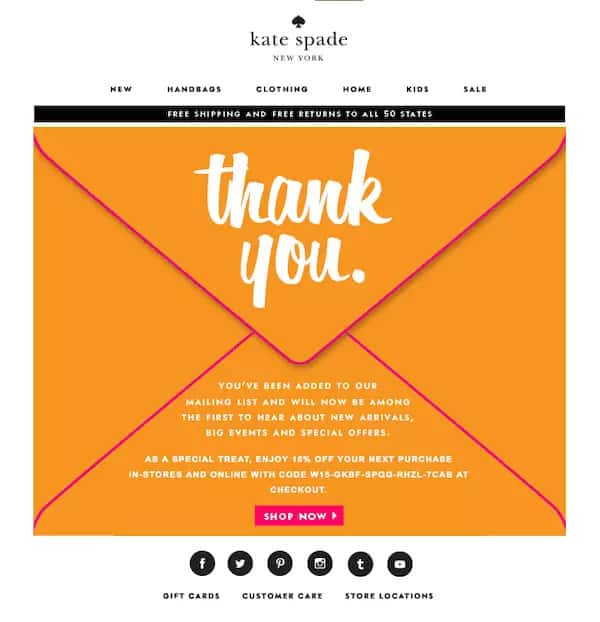 Order confirmation emails
Designed to keep customers in the loop about their purchase. They are sent after a customer has completed an online purchase e.g., a shipping confirmation email. They have an average open rate of 65% and a CTR of 7.1%.
It should contain the product ordered, date, quantity, sum, payment method, order number, order status, expected delivery date, and order tracking information.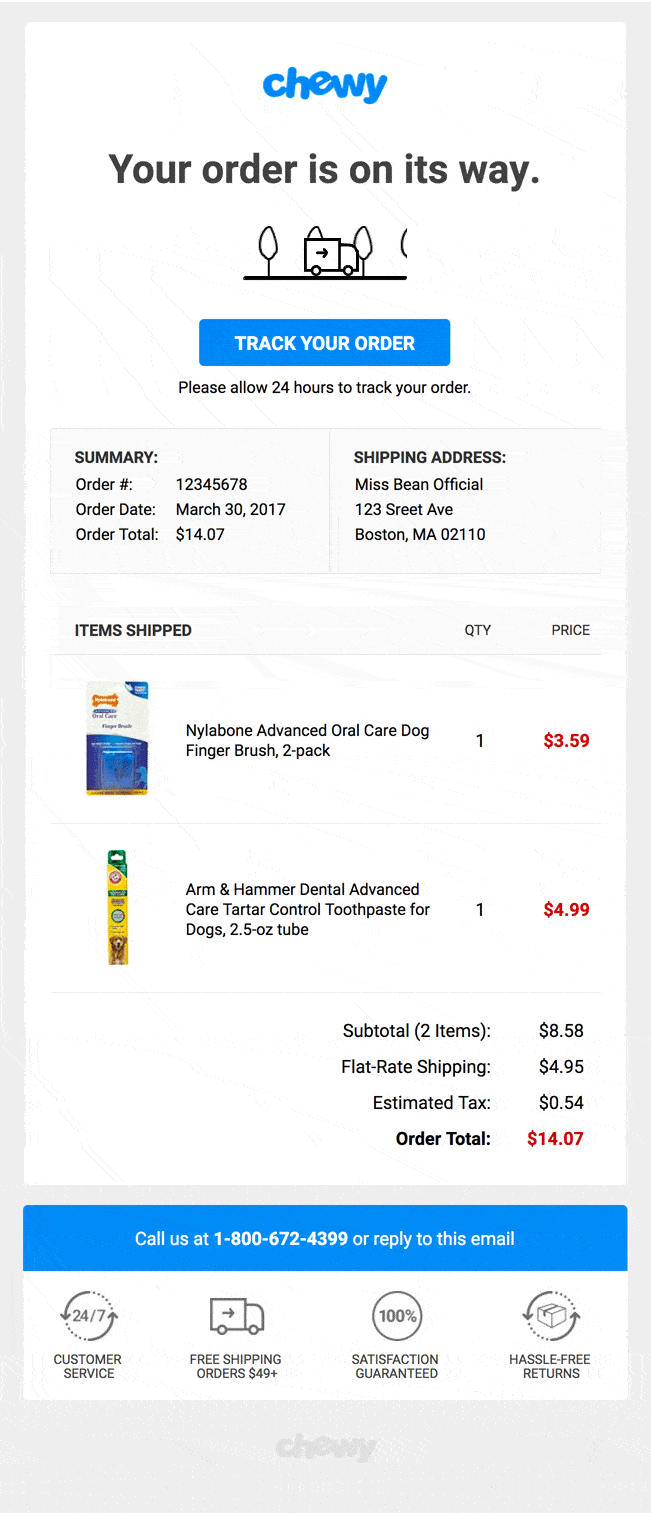 Email marketing tips to improve your order confirmation eCommerce email
Have a clear subject line: This can be summed up as simple, straight-to-point, and short. You could include emojis to keep it fun and engaging.
Concise email body: Order confirmation emails should be straight to the point and contain order purchase information such as the date of order, payment method, shipping address, order status, and the rest. You don't want to swamp your customers with lengthy, irrelevant messages.
Single call-to-action:

Emails with a single CTA have better conversation rates. So. it's better to keep your CTA down to one. You could include a button to your referral program to reward loyal customers, link to your social media handle or link to a promotional coupon to drive further sales, but do not make it too salesy.

Show gratitude and further engage: Customer retention is everything, put in the effort to appreciate your customers for their purchase before letting them in on another offer or promotion.
Customized template: You may want to stick to a specific brand color, image, and logo to build authority, credibility, and trust in the minds of your customers.
Read also: eCommerce Metrics Made Easy: How to Measure Success and Drive Growth
Shipping confirmation email
These are sent after a customer's order has been shipped. They help keep customers in the loop from the time an order is shipped until the moment it gets delivered.

What to include in your shipping confirmation email
Expected delivery date:

This helps your customers know when their goods will arrive. It keeps them from tirelessly contacting your support team to get the information and it helps build brand trust.

Relevant information about shipped goods:

Tracking link, product color. You name it! You could go a step further by including a guide or manual on the best way to maximize product use.

Contact information:

Include this so the purchaser can have an additional source to get information about their orders.
Unlock the full potential of your marketing efforts with our guide on the most effective strategies!
Read also: eCommerce Emails: 50+ Basic and Advanced Segmentation Strategies
Promotional emails
Unlike transactional emails, they are usually broadcast emails usually sent to an entire subscribers list or a segment of your email list. They usually announce a product launch, seasonal offers, and discount promotions.
According to Statista, 49% of customers said they would like to receive promotional emails from their favorite retail brands on a weekly basis.
Send promotional emails to drive sales, increase awareness and keep customers updated. They include sales promotional emails and weekly sales letters. Below are some email examples.
Limited time offers
This works by triggering a sense of urgency. No one likes the thought of missing out on a great deal. Limited-time offers are a great way to move your customers into action.
The image below by Grammarly is a typical example of a limited-time offer.

Many eCommerce businesses elongate their limited-time offer for their email marketing to cover several days or an entire weekend.
This isn't a best practice as it allows room for procrastination which defeats the whole purpose of a limited-time offer.
Read also: eCommerce Email Marketing UTM Parameters and How to Use Them
Product launch emails
95% of new product launches fail to meet their sales target. Product launch emails can help your eCommerce business drive more sales. This type of promotional email copy is designed to inform customers about a new product launch, product update, or announcement.
It's a highly effective eCommerce email marketing strategy as it allows you to touch base with customers who are somewhat already familiar with your business. It builds anticipation and awareness and gives details about a new product launch.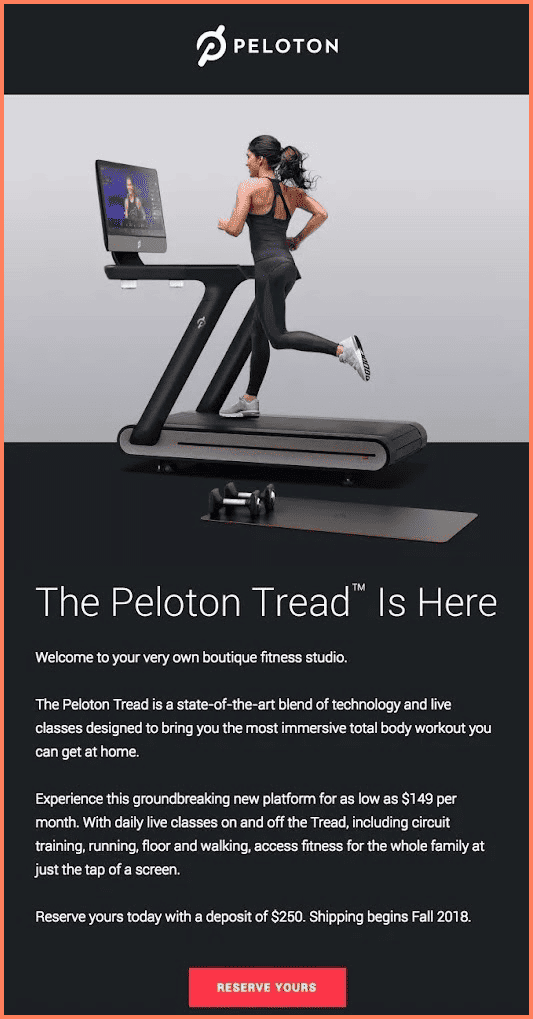 Seasonal campaigns
Valentine specials, Halloween, Black Friday, Christmas, New year festivals, and Mother's Day celebrations are great opportunities to increase your eCommerce business revenue through promotional email marketing campaigns.
Take Christmas spending statistics, for instance. Americans planned to spend an average of $932 each in 2022 and 60% of US Christmas shoppers prefer to shop online. That isn't all yet. Holiday shopping accounts for 30% of all retail sales and were estimated to touch $239 billion in 2022.
It's the reason eCommerce stores go all out with advertising to drive sales.

Email Newsletter
They allow for direct communication between you and your customers. Sending newsletters is an effective email marketing strategy that enables you to tell your brand story and nurture your leads. Simply put, it helps your audience stay in the know.
Top of the advantages includes lead generation, customer feedback, and keeping your eCommerce brand fresh in the mind of prospects.
Use storytelling to your advantage.
For example, a customer's testimonial from using your product, your mission to societal impact or to give back to your community, or just how much you value your customers and the steps you are putting in place to make your products more valuable to your customers.
Ideally, you should keep your customers and prospects top of mind while crafting this email.
Read also: How AI Is Revolutionizing ECommerce Email Marketing
Email marketing tips to improve your promotional offers
Have a clear offer: D

ecide what you're promoting. This helps send a strong message to your customers and prospects about what you're offering. Also, be clear on the offer and the time duration.

Include videos: E

mails with videos do better. It's an excellent way to boost your marketing efforts and make your message clearer and more memorable.

Right timing: W

ith promotional emails timing is everything, so you don't end up spamming your audience. No one wants a bowl of ice cream in the dead winter. Keep in mind three guiding words: right audience, right timing, and the right message. With these in place, you can hardly go wrong.

A/B testing: T

est between several options to see what promotion works best. You want to keep your bounce rate as low as possible, with your open and conversation rates high. A/B testing allows you to test the waters before plunging in deep.

Put customers first: C

annot be overemphasized — your customers, not you, run the show. Tell them the value and benefit your offer or promotional mail has for them. No one wants to hear non-stop how much of a genius your product is. Their primary interest is how it solves their problems. Show them how.

Introduce your promotion in the subject line: Let your customers and prospects know up front what they are expecting. Do not mislead them from the subject line. This will discredit your brand from potential clients. Having a clear subject line helps.
Target the right audience: Though promotional emails are typically broadcast messages; you want to make sure you are sending them to the right email segment. A good message in the wrong audience is dead and may lead to unsubscribes.
Read also: The Best Email Marketing Courses for Beginners and Experts Alike
Lifecycle emails
Designed in response to your customers' interaction on your eCommerce website. They are critical to your eCommerce business because it enables customers to stay in the loop from subscription to purchase.
Usually, they are automated emails triggered by users' actions and help in customer retention, personalized feedback, and increased revenue. They also improve your customer experience thereby converting visitors into loyal customers and should be included in your eCommerce email marketing strategy.
Some lifecycle email examples you should consider for your eCommerce store include win-back emails, cart abandonment emails, welcome emails, browse abandonment emails, feedback emails, and product recommendation emails.
Cart abandonment emails
Cart abandonment is one of the biggest leaks in your eCommerce sales funnel. This email category helps seal up the leak by ensuring shoppers complete their purchase without an abandoned cart.
It gives your customers the extra nudge they need to complete their purchase.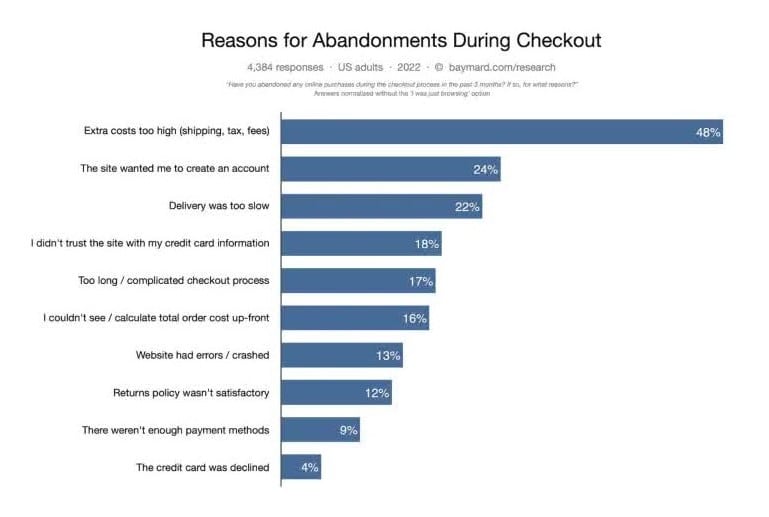 The global average cart abandonment rate for eCommerce stands at 69.8%. Meaning, nearly 3 out of 4 people who come to your site, and add items to their shopping cart, leave without completing their purchase.
That's a huge loss of revenue for an eCommerce brand. Abandonment emails are your chance to recover this revenue by re-engaging your customers.
High extra costs, such as high shipping charges or taxes, is the main reason for cart abandonments. It may be important to have a survey email in your cart email series to understand your audience's cart abandonment reasons and work to fix the loopholes.
If the survey shows high shipping costs as a reason for abandoned carts, you may work on giving exclusive shipping discounts in your abandoned cart emails and nudge your customers to complete their purchase journey.
If it's a problem of slow delivery, you may work towards reducing delivery time.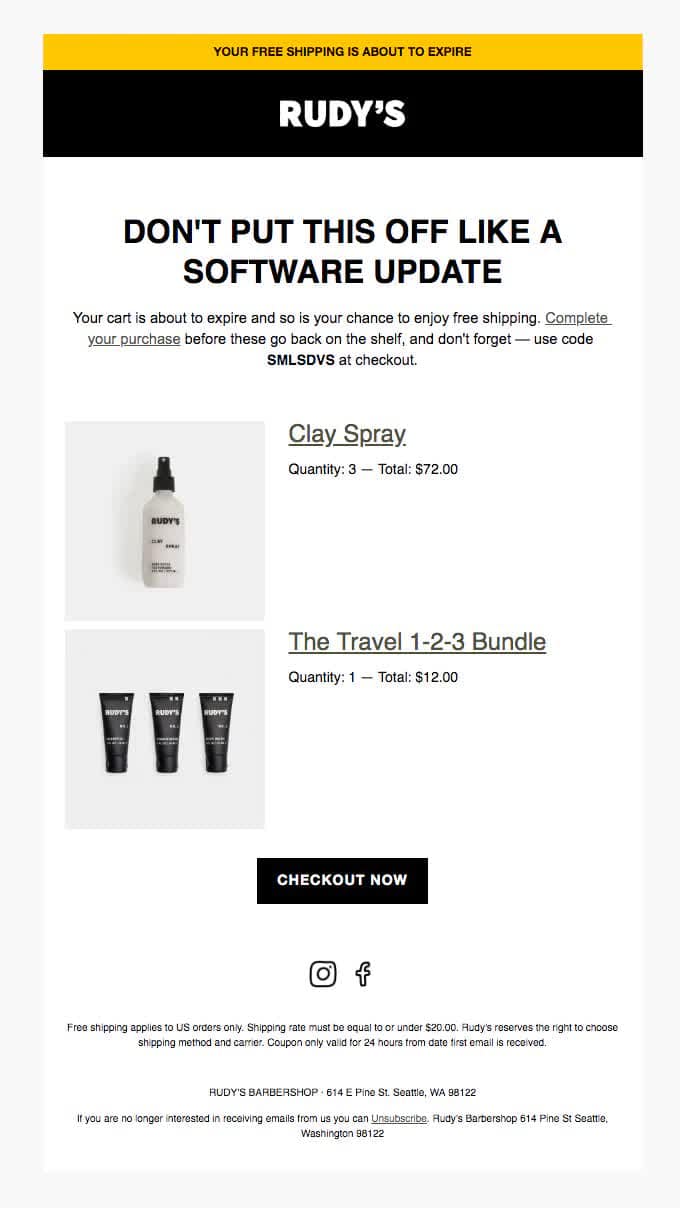 Top email marketing tips to better your abandoned cart emails
Start with an awesome subject line: S

tand out in their email box. Avoid generic terms. Remind them: 'you're almost there', activate the fear of missing out: 'your cart is expiring soon', and make exclusive offers: 'complete this purchase now and enjoy 50% free shipping'.

Include visually appealing images: T

his helps them see what they will miss out on if they stop their purchase halfway. It might be all the nudge they need to make their buying decision.

Include social proof: Lack of trust in a website is a common reason for abandoned carts. You can resolve this in your marketing emails by adding links to your social media handles and testimonials from your happy customers.
Straight forward CTA: You

don't want to further distract or confuse your customers at this stage of their purchase journey. Make your CTA clear, concise, and crisp.
Read also: Email Design Best Practices: Do Your Designs Convert?
Win-back emails
They are re-engagement emails designed to trigger re-engagement from customers who have stopped clicking or engaging with your email. It's a marketing strategy for existing customers who have gone cold.
It costs 5x as much to get a new customer than to retain an existing one. This is why it's extremely important to include win-back emails in your eCommerce email series.
How to identify your inactive customers
Typically, you can categorize customers who haven't interacted recently with your brand as follows:
90 days: Customers are losing interest in your brand.

90-120 days: Customers at high risk of leaving your business.

120-180 days: Off the grid.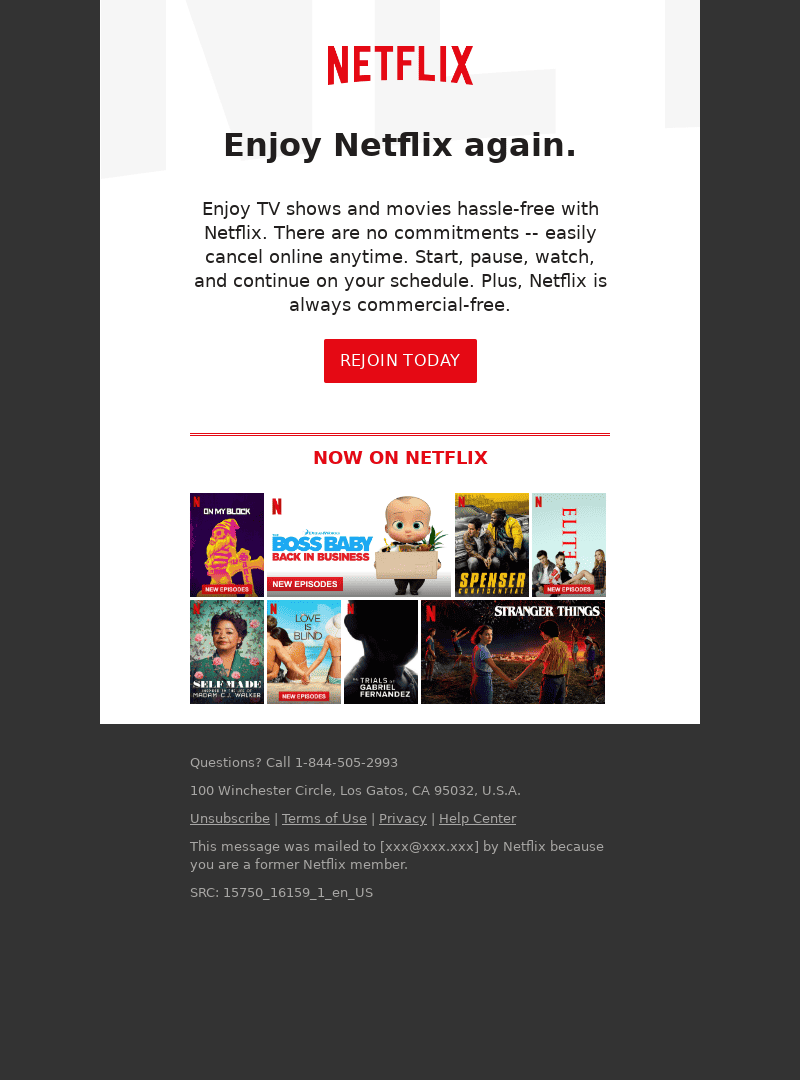 Win-back emails are an effective marketing strategy to lure lapsed customers back to loyal active customers. It should be a big part of your eCommerce marketing strategy.
Read also: eCommerce Conversion Funnel in 5 Stages
Top Tips for Successful eCommerce Email Marketing Campaigns
A successful email marketing campaign is not rocket science. However, it requires a tad bit of effort from your marketing team. Typically, it should include a plan to attract and onboard new customers.
Also, a plan to engage and retain existing customers. This drives sales and boosts revenue.
1. Decide on the perfect-fit email service provider
An email service provider (ESP) allows you to send email campaigns to a list of subscribers. EngageBay's all-in-one powerful CRM is an excellent choice — it comes with full-fledged email marketing automation. There are also many budget-friendly email marketing automation tools to select from.
Rather than spend valuable time going back and forth on the service provider to use, make a choice, you can always switch up later. But here are a few things you should consider before deciding on one.
Compare available features:

First of all, determine what your email service provider's needs are and find a provider that meets them. Not all features available on an ESP are necessary for your current eCommerce business stage.

Keep in mind, at the core an ESP serves two basic needs: store emails, and send emails. More advanced settings may include email marketing automation, list segmentation, or A/B testing. It's important to not get blinded by all the many fancy features that do not necessarily meet your needs. Don't be afraid to make a decision, you can always change gears and move to another provider if the current one no longer meets your marketing needs.
Pricing:

You do not want to break the bank over pricing. It's important you consider your marketing budget and fix a fair price in accordance. Choose a provider with high cost-efficiency. That's the cost-to-usefulness ratio.

User-friendly interference:

The whole aim of email marketing is to generate leads and drive sales. You must then consider a user-friendly interface. This allows your subscribers to have the best customer experience and can significantly decrease the bounce rate and unsubscribe rates.

Data security:

Security is a big deal for your e-commerce brand. You want to ensure maximum security. This also wins customer trust for your brand. Also, choose a provider that is big on trust and compliance, it directly affects your business. It's best to pay a premium price for security. A lack of security would cost your eCommerce business more money.

Terms of service and privacy:

Resist the urge to skip this aspect. It's good to know the terms you are agreeing to and what your email providers expect from you. Knowing the terms of service helps you keep them to avoid breaking laws. Don't accept policies you cannot keep up with.
Read also: ECommerce Email A/B Testing Basics For Beginners
2. Build your email list
Now that you've decided on an email service provider, the next step is to build an email list.
Landing page: it is an entry point into your eCommerce business and typically generates traffic and converts visitors into leads. Include an opt-in message that allows visitors to drop their email. Show value and a sneak-peak into what they are about to receive or get in exchange for their emails. Don't beg for email contacts, give value and the email address will follow.
Build segments from a general list:

Emails are effective when they are personalized, it's best to build email segments based on audience similarities, demographics, or buyer personas.
Read also: Winning In A Competitive World: ECommerce Marketing 101
3. Craft and send great emails
Automating your emails helps you boost productivity and reduce human error. With your list segmented, it is time to automate emails based on segments and customer behavior on your website. A timely message at the right time, to the right audience, can send your revenue skyrocketing.
It's important to put in extra effort in curating your different email campaigns and email series because they would be sent automatically once triggered. We earlier discussed some types of eCommerce emails you should include for your eCommerce email marketing campaigns.
Use a catchy subject line, branded logos, header and preheader, and concise body-no beating around the bush. Show courtesy. Use A/B testing to see what works better.
4. Run surveys
There's no better way to know what you're doing right, wrong or what can be improved on than hearing from customers directly. Email surveys are a reliable tool to gather valuable customer insight into your product and services.
It could be a customer satisfaction survey email, feedback forms, or a membership subscription survey.
5. Do a deep analysis
Most email marketing software have professional dashboards where you can carry out analysis on your email series. Here are some KPIs you would want to check out:
Open rates:

Standard open rate is benchmarked at 21% – 25%. Anything below 21% is an indicator your emails are not as successful as could be.

Bounce rate: Helps know email deliverability and list health. An email could bounce as a result of an invalid recipient email address. The average bounce rate is 0.7%.
Click-through rate:

Shows email engagement from subscribers. Ideally, should be three times the conversion rate of your eCommerce store. The average CTR across all industries is 2.91%.
Read also: 8 Best Email Marketing Software for eCommerce in 2023
Why Email Marketing is Key to eCommerce Success
Email marketing helps touch base in a personalized form with a wide range of customers. It's not only effective in getting new customers but in customer retention as well. To generate leads, nurture them, and turn visitors into loyal customers.
With an email list, you can keep in touch with leads and do something that would keep your subscribers coming back or stay on top of their minds for future purchase decisions.
There are several reasons why email marketing is the gold of eCommerce success. First, let's take a look at a few email eCommerce marketing statistics.
60%

of consumers admitted to making a purchase based on a marketing email they received.

The average email open rate for eCommerce is 15.68% and the average click rate is 2.01%.

According to

Startuptalky

, 80% of retailers said that email is the biggest source of customer retention for them.

eCommerce brands that used segmentation in their email marketing strategy witnessed a hike of

760% in their revenue

.

And 82% of marketers worldwide are taking advantage of email marketing to grow their businesses.
Not done yet, here are more reasons.
1. Customer retention
U.S. companies lose $136.8 billion per year due to avoidable consumer switching which could be saved by customer retention. Losing a customer costs your business an average of $243. With the cost of acquiring a new customer 5x more than retaining an existing one.
With eCommerce email marketing, you increase customer retention. By keeping in touch with your customers and building good relationships with them. The success rate of selling to an existing customer is 60-70%. While the success rate of selling to a new customer is 5-20%. The more reasons you should channel efforts into customer retention.
2. Drive sales
E-commerce brands make about one-third of their revenue from their email marketing strategy. That is 25-35% of revenue. This means, without your email marketing strategy, you're losing a major source of revenue. The end goal of a typical marketing strategy is to drive sales. With email marketing, you can nurture leads and drive sales effectively.
3. Build relationships
Most eCommerce brands have a wide customer base. Reaching out to them on a one-on-one basis could be herculean, to say the least. At the core of customer retention and building customer trust is building customer relationships. With email marketing, you can build a healthy customer relationship as a part of your customer retention strategy.
4. Full control
This advantage of email marketing over other marketing methods cannot be overemphasized. With email marketing, you have full control over your marketing. Unlike other centralized platforms that are subject to algorithm change which can adversely affect your marketing results.
Many social media platforms like, Facebook or Instagram algorithms favor paid advertisements. Moreso, organic ranking on Google's first page gets more slippery by the day. Therefore, email marketing is a way you can touch base with your audience directly with full control at the same time.
5. Cost-effectiveness
For every dollar spent on email marketing, the ROI is as high as 46 dollars. That said, email marketing is the one way to engage an active campaign at a cost-friendly price. You can generate website traffic, and reach a targeted, engaged customer list with deals and offer at a budget-friendly price.
Read also: 7 Powerful eCommerce Marketing Automation Strategies + Tools
How To Find Free Email Templates
Wondering why your emails get unnoticed or ignored? Poorly designed email series can often go unnoticed or ignored by potential customers. You want to ensure there are no loopholes in your marketing strategy by ensuring you have beautifully designed email marketing templates.
Having a difficult time finding beautiful free email templates? I'm here to your rescue.
1. EngageBay
Want to have a professional email outlook? Make a choice from EngageBay's easily customizable email templates. It's great for e-commerce businesses of all sizes and offers the most affordable pricing for your all-in-one marketing needs.
Pricing
Free plan: Up to 250 contacts, plus other amazing features such as CRM, helpdesk, auto-responders, landing pages, lead grabbers and so much more.
Basic plan: Up to 750 contacts, 3rd party integrations, lead scoring, landing page builders, etc. Starts at $14.99/month or $10.79/month (paid biennially).
Growth plan: Up to 5000 contacts, marketing automation, broadcast and landing page, A/B testing. Starts at $49.99/month or $35.99/month (paid biennially).
Pro plan: Unlimited contacts, dedicated account manager, marketing account manager, analytics. Starts at $79.99/month or $57.59/month (paid biennially).
It has a 4.7/5 value for money rating, 4.6/5 for functionality, and a 4.6 overall rating, according to GetApp.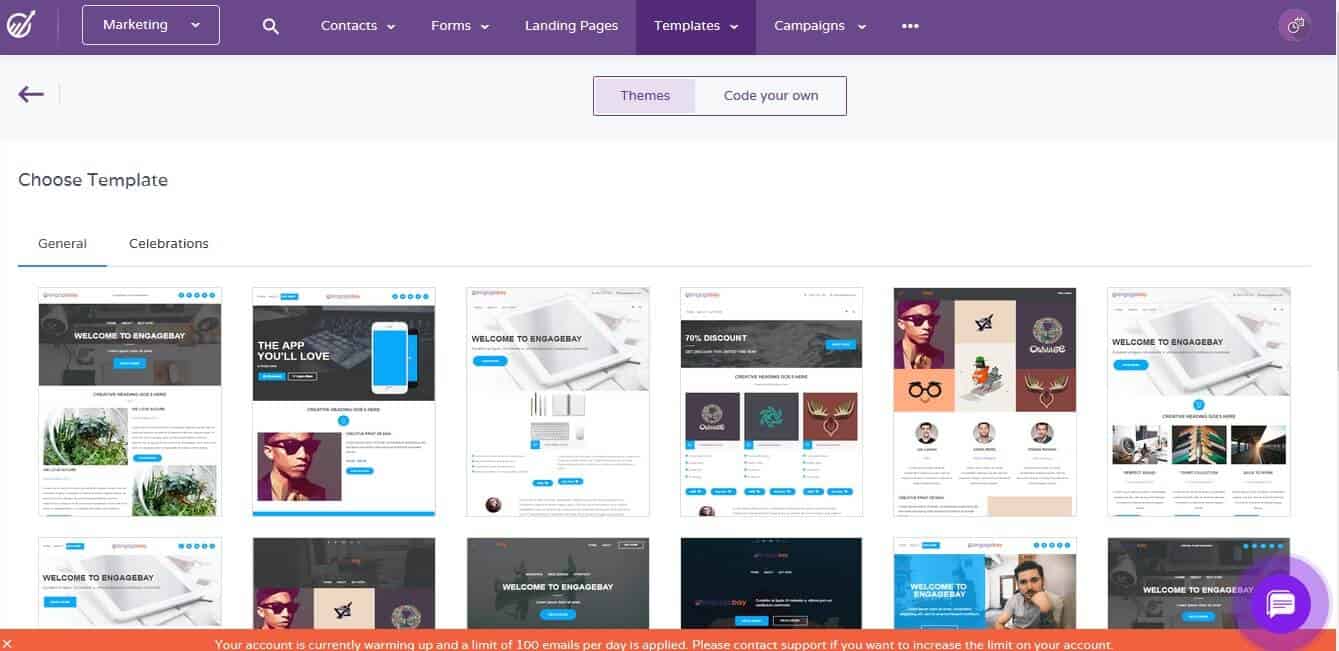 2. Omnisend
Offers a wide range of e-commerce email templates. Omnisend has 3 pricing categories.
Free plan: Reach up to 250 contacts with 500 emails monthly.

Standard plan: Reach up to 500 contacts with 6,000 emails monthly. The price starts from $16/month.

Pro plan: Reach up to 500 contacts and access unlimited emails. The price starts from $59/month.
It has a 4.5/5 value-for-money rating, a 4.5/5 functionality rating, and a 4.7/5 overall rating according to GetApp.
Looking for a more flexible solution to Omnisend? Our article on the top Omnisend alternatives will help you find the perfect fit.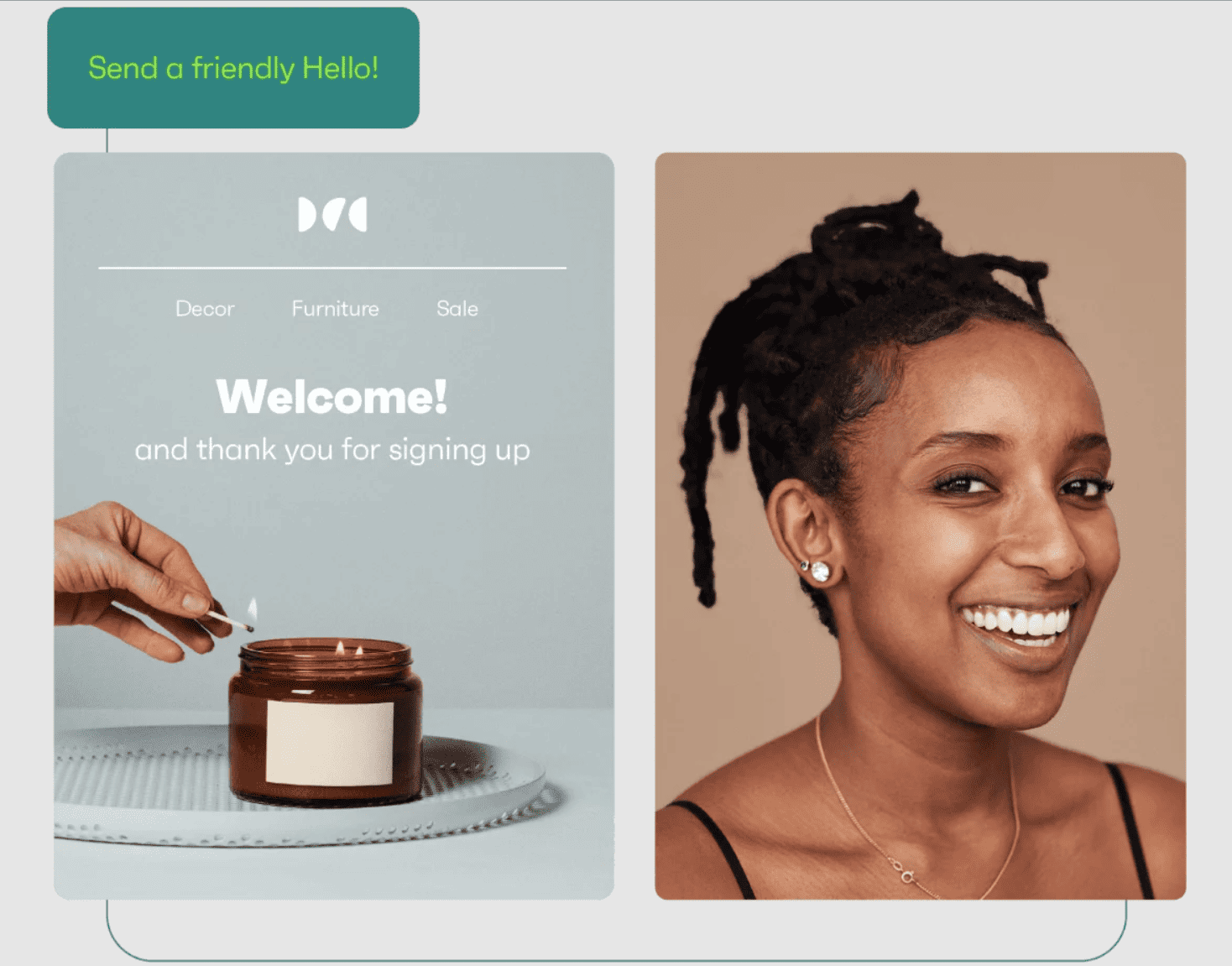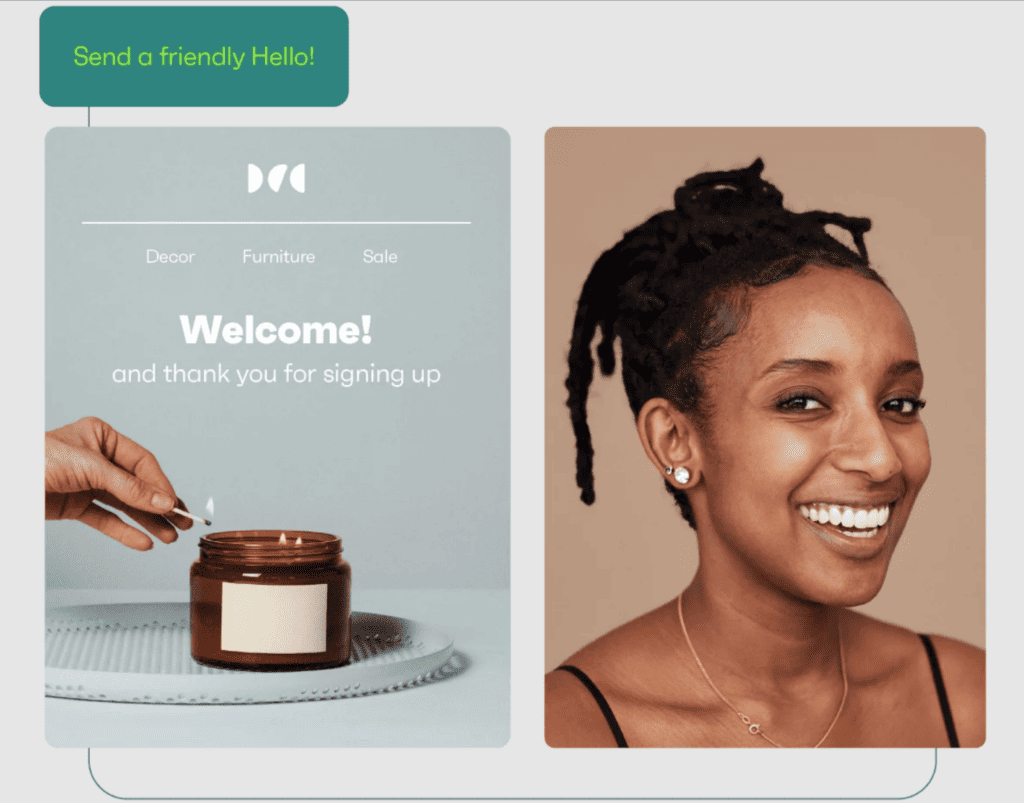 3. Sendinblue (Brevo)
Provides an array of email templates. It's good for B2B and B2C businesses.
Free: Unlimited contacts with up to 300 emails daily

Starter: Unlimited contacts with up to 20K emails monthly. The price starts from $25/month.

Business: Unlimited contacts with up to 20K emails monthly. The price starts from $65/month.

Enterprise: Unlimited contacts with 20K+ emails monthly. The price starts from $1,000/month.
It has a 4.5/5 value for money rating, 4.⅘ functionality rating, and 4.6/5 overall rating.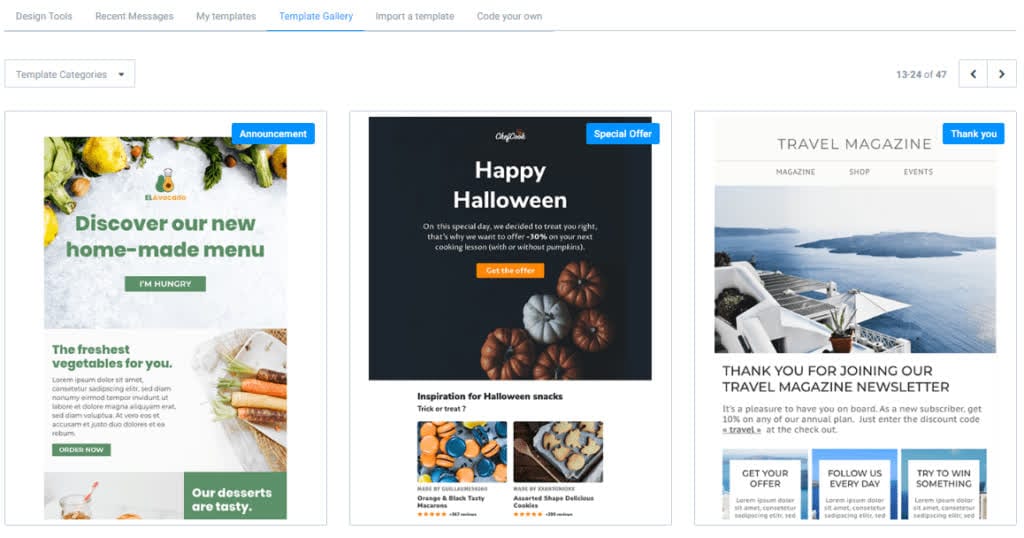 Read also: 9 Automatic Emails You Should Have For Your E-commerce Store
How to Start Your eCommerce Email Newsletter
According to Campaign Monitor, email newsletters have an open rate of 21.5%.
Sending newsletters at timed intervals helps you not only maintain contact with both old customers and prospects but also helps you communicate directly with them and stay on top of their minds when they want to make a purchase.
As discussed earlier, newsletters are a perfect email marketing strategy to tell your brand story. It helps keep your customers updated on product launches and services. Additionally, it generates leads, builds customer loyalty, and carries your customers along in your eCommerce business.
However, starting anything new can be daunting. But that shouldn't discourage you, email newsletters aren't as difficult. The learning curve is pretty straightforward.
Here are 5 easy steps to starting your eCommerce email newsletter.
Step 1: Pick your email newsletter platform
There are a number of platforms to pick from. But decide on what best fits your marketing strategy at a cost-effective price. You can find the perfect email template that allows you to stay in touch with your subscribers on EngageBay.
Step 2: Define your sending goal
Having a goal in mind helps you create an effective story and sending schedule. The top goals for sending an eCommerce newsletter fall under any of these three broad categories:
Connect with and engage with your subscribers,

Selling of products or services and finally

Earning revenue through newsletter paid subscription
While it's tempting to have all the goals in one, less is more and helps in the clarity of your message which in turn helps you achieve your campaign goals.
Step 3: Find or design a cool template
Decide just how you want your eCommerce newsletter to look. You could pick from existing email templates or create a customized template. Whatever the case, ensure you decide on a user-friendly template.
This ensures your subscribers actually take a look at what you're sending. Include your brand color, logos, and symbols that make your newsletter stand out and be memorable to your audience.
Step 4: Pick one content strategy
Now that you're almost all set, you want to ensure you're sending the right message at the right time. It's best to include videos and vibrant photos to increase your open rates and make your newsletter more fun.
The goal is to make your subscribers look forward to your newsletter with a bowl of popcorn in their hands. This can be achieved by having the right content strategy.
Storytelling also helps your content strategy become more effective. Keep it real, keep it tight, keep it fresh and offer exclusive insights.
Step 5: Test your email newsletter
By now you should have set up your sending schedule, and decided on a sending goal, newsletter template, content strategy, and sending platform. It's time to test to ensure email success.
Premium email marketing software allows you pretest to your email.
This ensures your email is getting to your audience inbox, not the spam folder. Truth be told, you haven't gone through the process of curating a newsletter for it to end up in the spam. Send a test message to different email clients and be sure it is hitting the inbox, not spam.
Next, check your email layout from the test message, you want to make sure you observe its display on both mobile phones and desktops. You can also use the inbox preview feature to check this if your email platform provides that.
Time for some A/B testing. Try out different versions of your email newsletter for a small fraction of your email segment. Check their different performance. That way you let data decide your winning email newsletter. Now you've found the winning email, crown it.
Read also: Find the Perfect B2B Ecommerce Platform for Your Needs
Great Examples of eCommerce Email Marketing
Now, let us take a look at how great brands in eCommerce do their email marketing.
1. Product Launch Email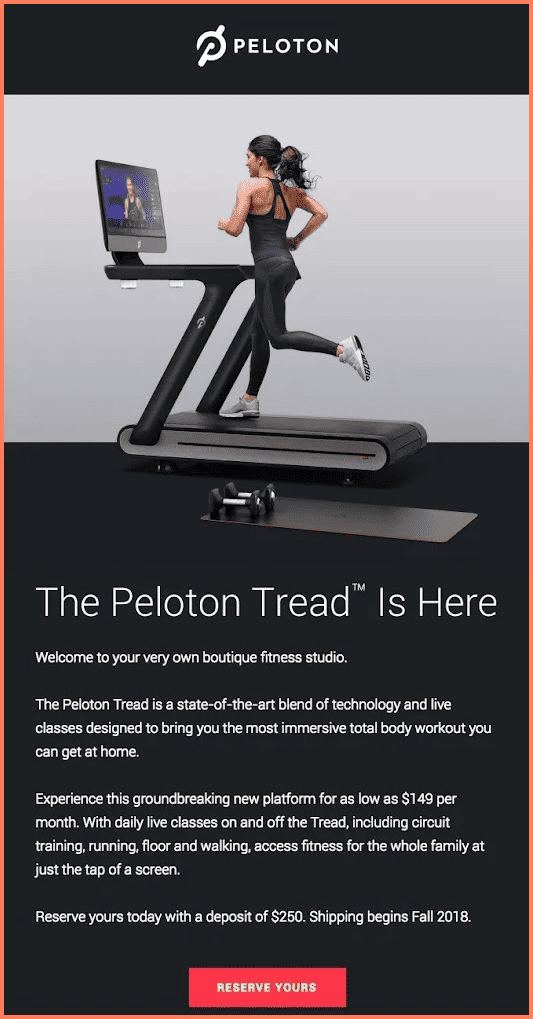 Why it works
Visually stimulating image

Clear CTA

Showcases the possibility of an improved lifestyle with ease and comfort for an affordable price

Shows a form exclusivity
2. Cart Abandonment Email

Why it works
Clear CTA

Customer review for extra credibility

Inclusion of incentives such as free shipping to give an extra push to complete purchase
3. Product Awareness Email

Why it works
Beautiful interface that matches with brand story and target audience

A clear and crisp message of product benefits

Not too salesy

The inclusion of social media handles helps build trust and further communication
4. Win-back Email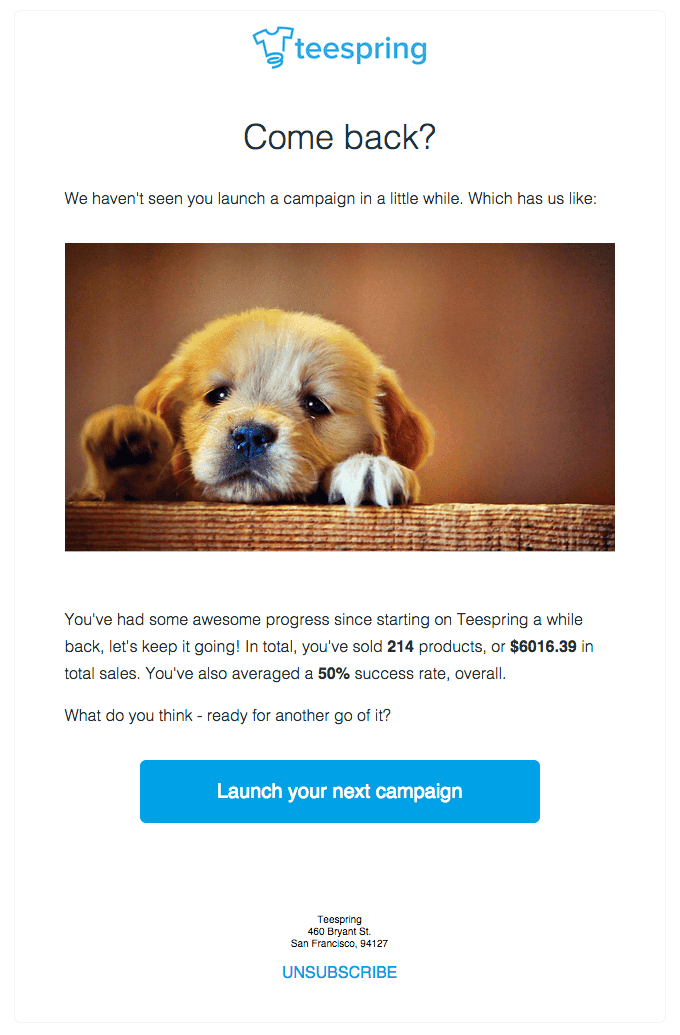 Why it works
Has a customer focus which is highly recommendable

It has an emotionally appealing image

Keeps track of customers' progress, this allows them to know what they'll be missing out on if they unsubscribe.
5. Thank You Email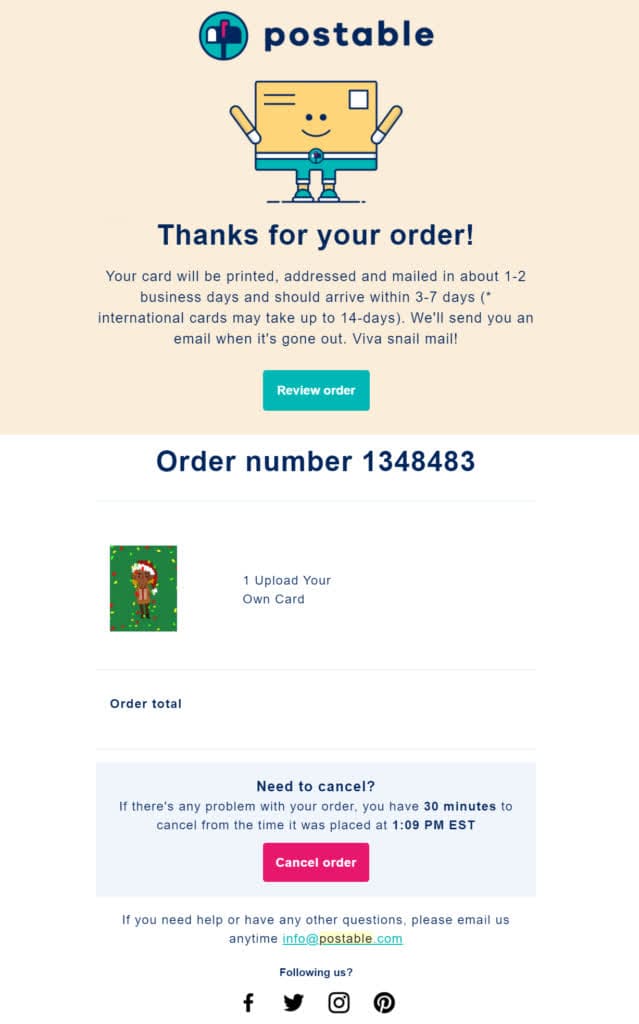 Why it works
It's actionable

Well detailed which helps improve transparency and credibility

Includes an option to cancel an order. This builds trust and enables customers to have a sense of freedom

Relatively short delivery period
Read also: 15 Easy Steps to Build a Personalized eCommerce Marketing Plan
Wrap Up
How did you like this guide to eCommerce email marketing?
I hope that I've covered everything you were hoping to read. If I missed out on something, please let me know in the comments.
Also, don't forget to check out EngageBay for your eCommerce marketing 🙂
👉Supercharge your ecommerce business with marketing automation – explore our comprehensive guide now! 🌟