Growing a business is an exciting process. However, growth comes with a lot of responsibilities.
If you are spending too much time on repetitive and administrative tasks, your business may not progress how you want it to.
For a small business, outsourcing manual tasks may be costly. On the other hand, spending countless hours at work could hamper productivity.
This is why firms should implement business automation software.
In this blog post, we will discuss business process automation software in detail, including their types and benefits.
What is Business Automation Software?
Business automation software is a program that automates business processes. It can help you manage your business more effectively and efficiently.
Using business automation software, you can automate tasks that require manual effort, reduce inefficiencies, manage documentation, and optimize team management.
There are many different types of business automation software available, so it is important to choose the one that is right for your business.
Some common types of business automation software include:
Marketing Automation
Business Process Automation
Human Resources Automation
Database Automation
Accounting Automation
When choosing business automation software, you should consider the needs of your business.
The most important thing is to find a business process automation software that will automate the tasks that are most time-consuming and difficult for you. By automating these processes, you can free up time to focus on other aspects of your business.
Typically, business automation tools cater to areas such as marketing, client onboarding, social media management, and business process workflow.
Business process automation platforms can either be all-in-one software that help you automate all your tasks in one place or standalone solutions for certain types of business needs.
Before business automation, sales and marketing teams spent a significant amount of time on repetitive and manual tasks. This, in turn, had a negative impact on their business strategy.
With business automation platforms, companies are now able to achieve more in less time and able to focus on scaling their marketing efforts.
Benefits of Business Automation Software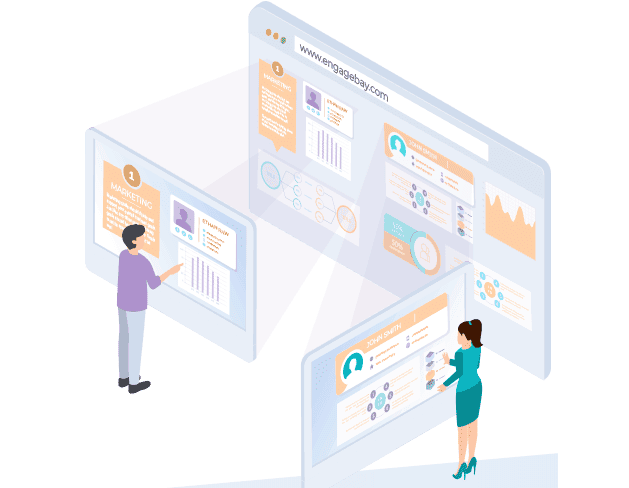 Let us look at the key benefits of business automation software.
#1. Helps in Smarter Management
Business process automation tools help in efficiently managing your workflow.
In case you need to make any changes or improvements to your work, you can do so without introducing all the changes to your team.
Since processes under different systems are stored on a database, it reduces dependency on team members to perform certain tasks.
#2. Helps Stick to Workflows
With business automation, you can stick to organized and more streamlined workflows.
Business automation software provides a structure and the exact path to completing a project.
In other words, you know exactly what you need to do to achieve your targets, helping you complete your tasks quicker.
This is also what sets successful businesses apart from unsuccessful ones.
#3. Saves a Lot of Money
For small business owners, outsourcing administrative processes may be outside of budget limits. And doing all the work yourself is no good for scale.
But with a simple automation tool, small businesses can automate repetitive tasks, allowing them to save money on labor costs.
Besides, you can automate other tasks like sending emails, collecting customer data, and scheduling appointments. Other tools can also collect the data that could prove invaluable if the operations of your business get disrupted – to learn more, book a demo of business continuity software here.
#4. Helps Manage Teams Across Multiple Time Zones
Another good use of a marketing automation tool is that you can easily coordinate all your employees working in different time zones.
It acts as a centralized dashboard whereby you can assign tasks to each individual and track their progress in real-time, no matter where they are located.
#5. Minimizes Errors
A primary reason organizations prefer adopting business automation tools is that they reduce the likelihood of errors. When you perform all tasks manually, there is a high chance of making mistakes.
These mistakes could include forgetting to send emails, omitting certain recipients from an email list, punching in wrong or incomplete customer information, mixing up appointments, and so on.
A business automation software solution bids goodbye to these issues. It ensures that every task is executed per the instructions set, allowing you to complete your project on time and efficiently.
#6. Improves Customer Experience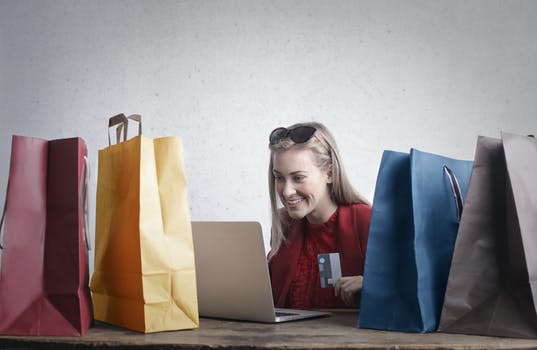 A brand is not just known for the quality of its products or services but also for its customer service.
No matter how good your products are, clients would start looking elsewhere if your customer support is not responsive or efficient.
So how do you ensure customer satisfaction?
The foremost thing is to streamline your customer service for better client satisfaction. Automation helps you retrieve the customer database at the tip of your fingers, helping you address your consumers' queries faster.
Moreover, a customer relationship management (CRM) or automation tool automatically removes or updates client information and regularly sends follow-up emails.
#7. Increases the Scalability of Your Business
As your business expands, so does the number of clients and employees and the scope of work. Thus, performing all tasks manually would not be possible.
However, with business process automation software, you can address your increasing workload by automating certain aspects of your job.
This will help you and your teams to focus on more important things, like innovation and strategy.
Hence, business automation tools help improve the scalability of your business.
Types of Business Automation
There are several categories of business automation. Let's take a look at the popular ones.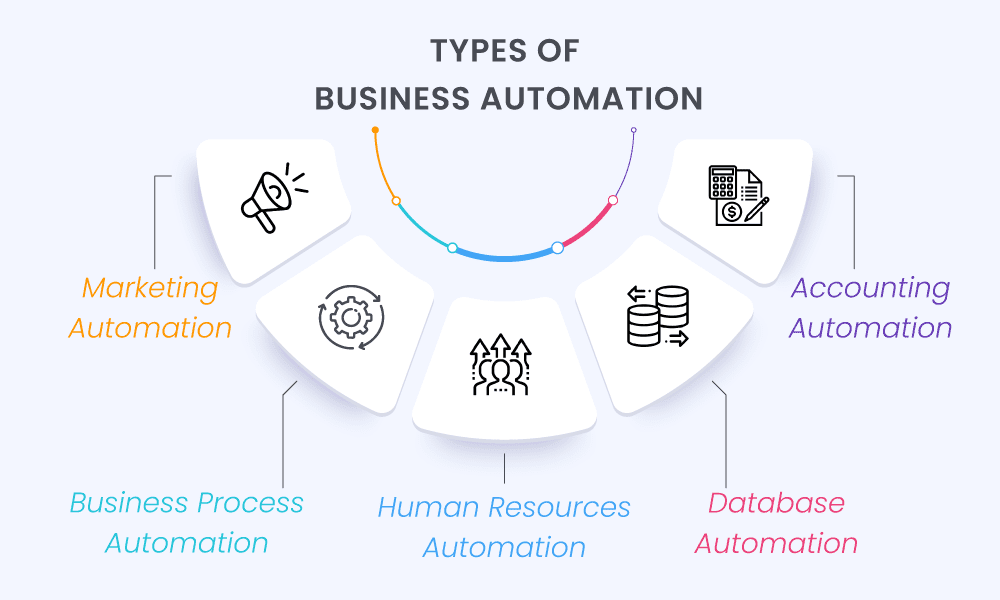 #1. Marketing Automation
One of the most popular forms of business automation is marketing automation software.
With the help of marketing automation tools, companies can automate tasks such as identifying and qualifying leads, gathering client data, updating customer information, and tracking prospect activity.
Furthermore, you can automate creating and sending invoices, scheduling and canceling appointments, and tracking employee performance.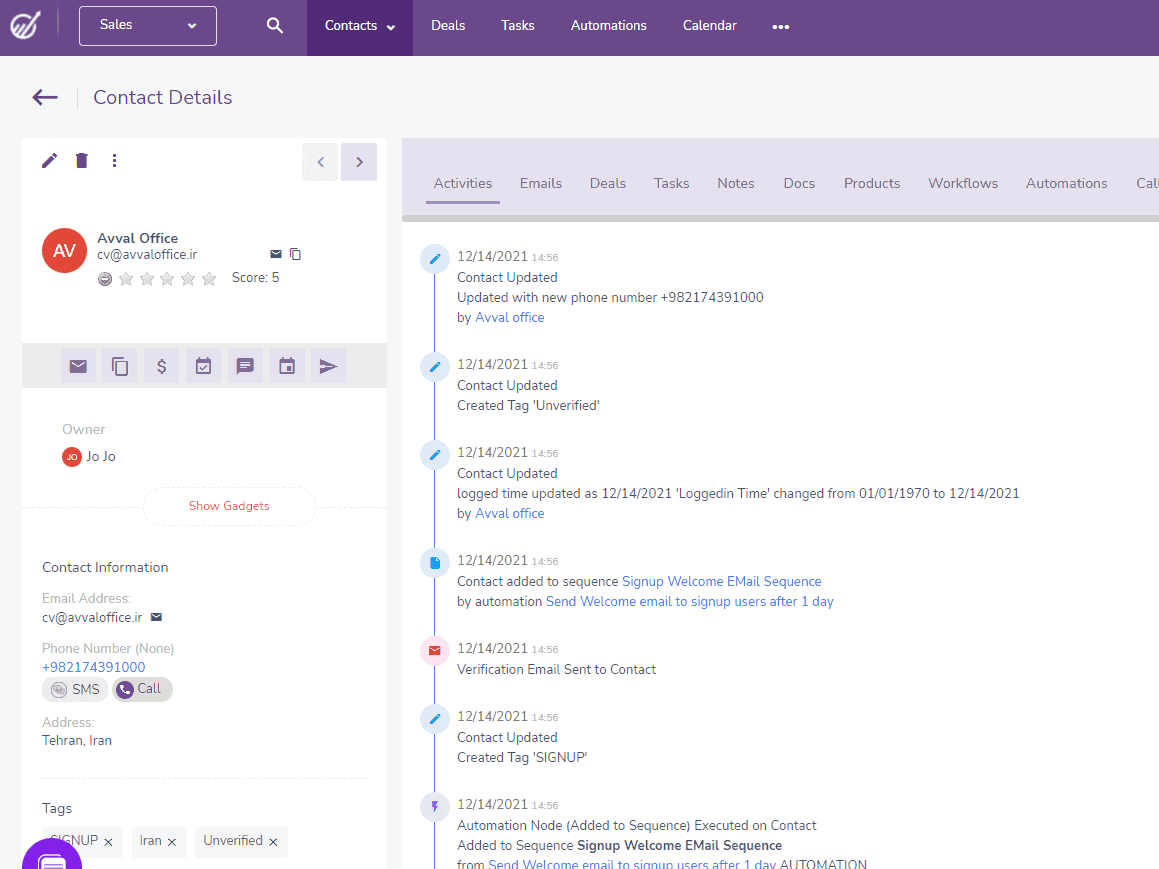 #2. Business Process Automation
Business process automation includes automation as well as the integration of applications to improve efficiency.
Some of the businesses processes that can be automated include data entry, file transfers, report generation and distribution, and batch processing.
#3. Human Resources Automation
Human resources automation is designed to streamline and automate the process of human management – right from hiring to the retirement of employees.
It manages various processes, including employee record retention and retrieval, job application reviewing, employee tax form management, training requirements, documentation, and distribution and signing of work contracts.
#4. Database Automation
Given the rapid pace of growth, having a robust database system is a must for any business.
With database automation, you can automate manual tasks such as performance tuning, provisioning, and system monitoring.
In addition, it automatically adds and updates client contact information in your database.
#5. Accounting Automation
Accounting automation tools take care of core accounting tasks, including billing, credit card applications, data backup, and collections.
It also helps you automatically create and send invoices, along with any payment reminders to customers.
11 Best Business Automation Software for Better Productivity
Let's look at the best tools you can use to automate business processes.
We have no ranking order in this list, so feel free to let us know what you think is the best software for your business needs.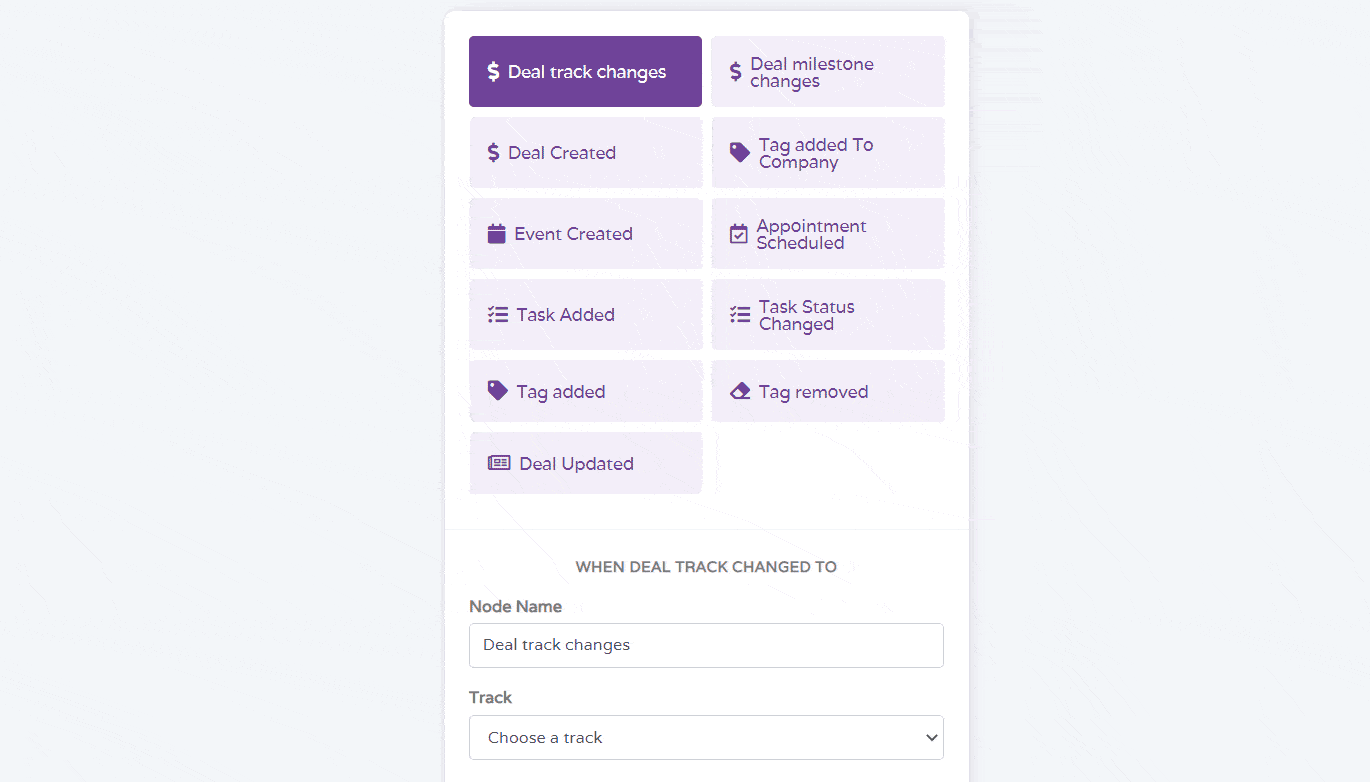 EngageBay is one of the best business process automation software that caters to small as well as large enterprises. It acts as an all-in-one platform whereby you can automate all tasks related to marketing, sales, and customer service.
The marketing automation tool includes streamlining your marketing, sales, and support departments. In addition, you can avail yourself of a range of services such as Live Chat, help desk, and EngageBay's CRM and Sales Bay platform.
The CRM and Sales Bay feature automate various tasks like appointment scheduling and deal management and provides a 360-degree view of your client's journey.
Pros
Provides a detailed understanding of customer persona

Enables easy import of data from other systems

Helps companies run multiple businesses across various domains on a single platform
Cons
A limited number of drag and drop templates
Pricing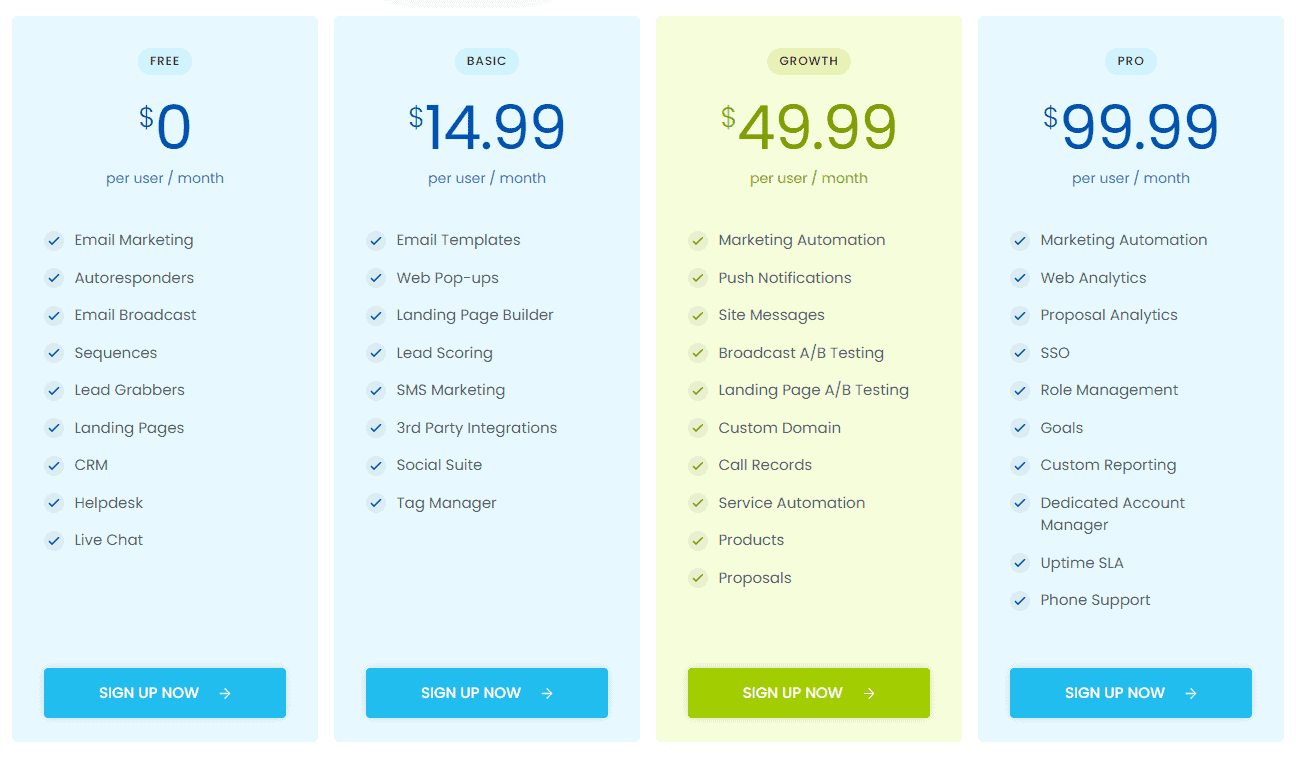 EngageBay offers four types of plans: Free, Basic, Growth, and Pro.
The Free Plan gives you access to email broadcasting and sequencing, in-built email templates, autoresponders, and customized fields.
For additional features like lead scoring, landing page builder, SMS marketing, and tag management, you need to opt for its Basic Plan (starts at $11.69 per user per month*).
But if you are looking for customized domains, A/B testing of landing pages, marketing automation, and landing page customization, purchase its Growth Plan. It costs $31.49 per user per month.
Lastly, the Pro Plan, designed for large organizations, enables phone support, web analytics, and custom reporting for $62.99 per user per month.
*Prices with annual subscription discount (10%).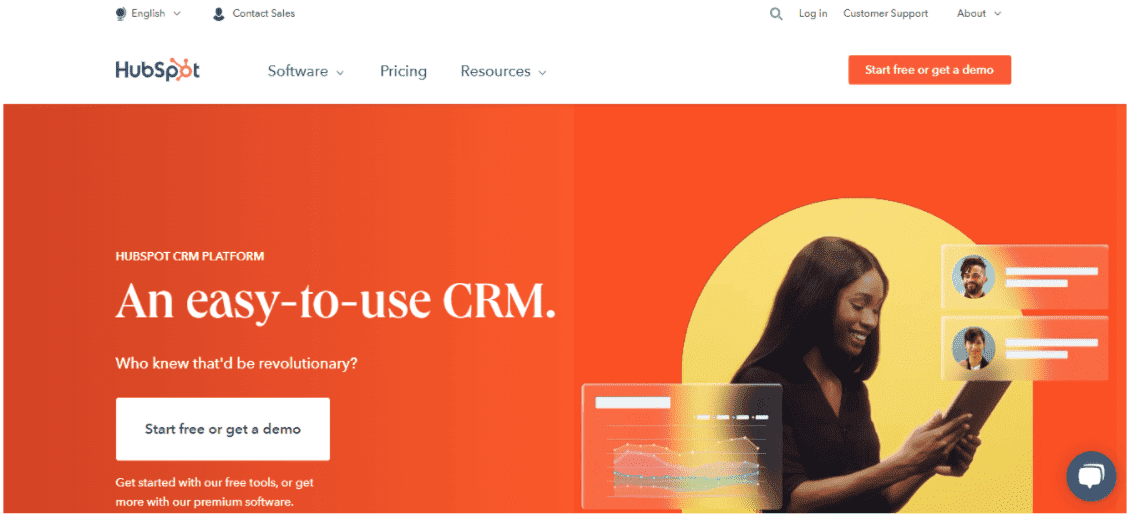 Another popular automation tool is HubSpot – an inbound marketing, sales, and service software solution.
The Marketing Hub helps businesses attract the right audience through social media channels and convert them into customers through landing pages and emails. It also tracks ROI and provides revenue forecasting.
The Sales Hub includes a sales CRM platform and sales engagement tools that provide sales analytics, close deals faster, and track leads at various stages of the sales pipeline.
The Customer Service software helps to improve customer relationships by providing a unified view of customer interaction. It also includes a shared inbox, helpdesk automation, a customer portal, and reporting analytics.
Pros
Easy to use interface

Robust reporting and analytics tools

Offers powerful tools to help identify projects and nurture them efficiently
Cons
Pricing can be a barrier for small businesses

UI/UX interface needs improvement
Pricing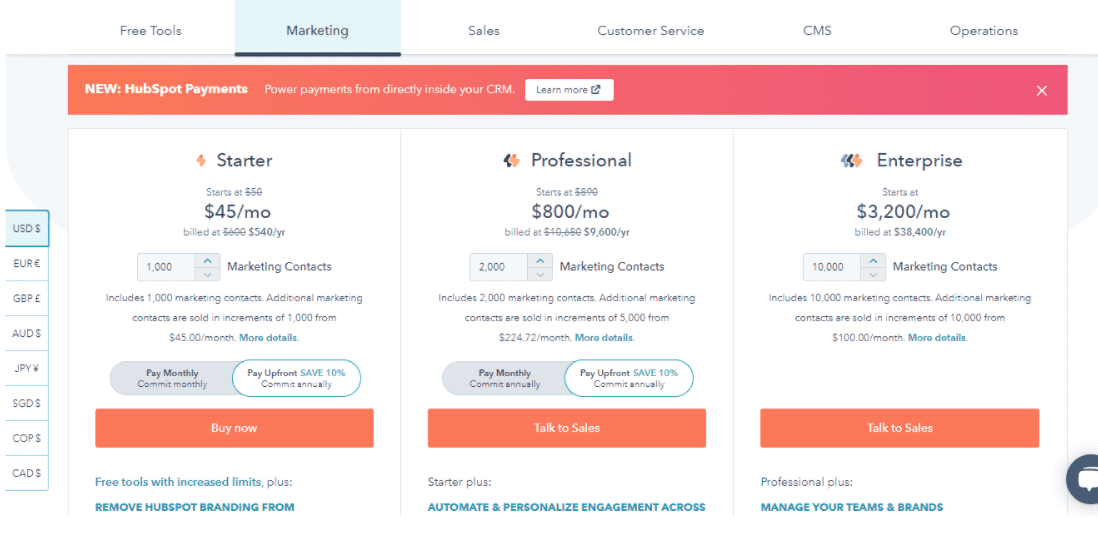 Under the Marketing Hub, HubSpot has three plans: Starter, Professional, and Enterprise.
The Starter Plan costs $45 per month and includes features such as email marketing, landing pages, live chat, and form building.
With the Professional Plan, you can avail additional services like omnichannel marketing automation, multi-language content, contact and company scoring, campaign management, and custom reporting. This plan starts at $800 per month.
If you want to get features including predictive lead scoring, behavioral event triggers and reporting, and object customization, go for the Enterprise Plan, which costs $3,200 per month.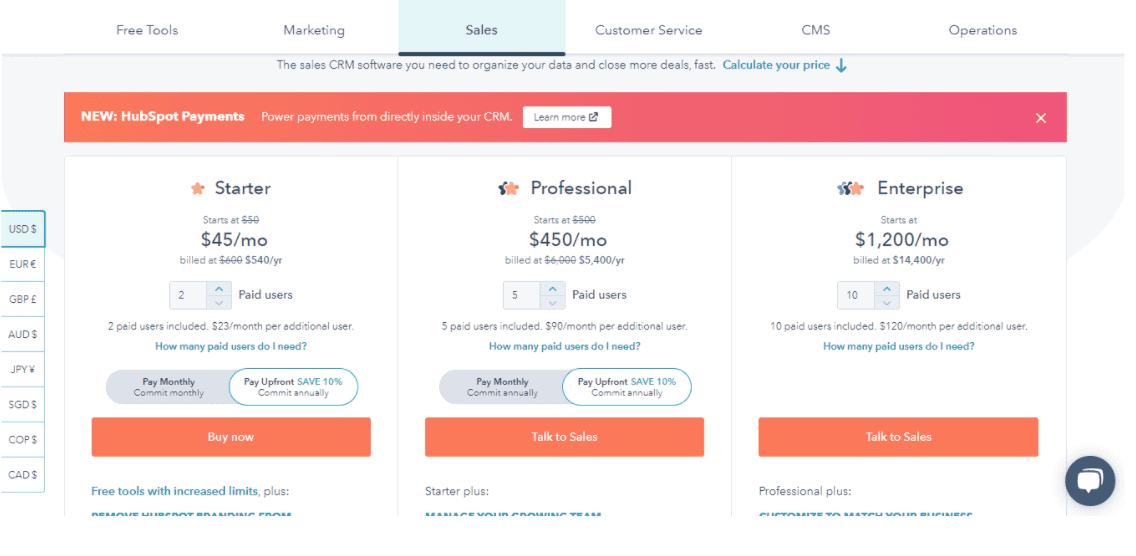 The Sales Hub also offers three categories: Starter, Professional, and Enterprise.
Its Starter Plan starts at $45 per month and can go up to $1,200 per month. You can avail various features like ticket automation, report dashboard, email tracking, sales forecasting, single sign-on, conversation intelligence, and record customization – based on the plan that you decide to choose.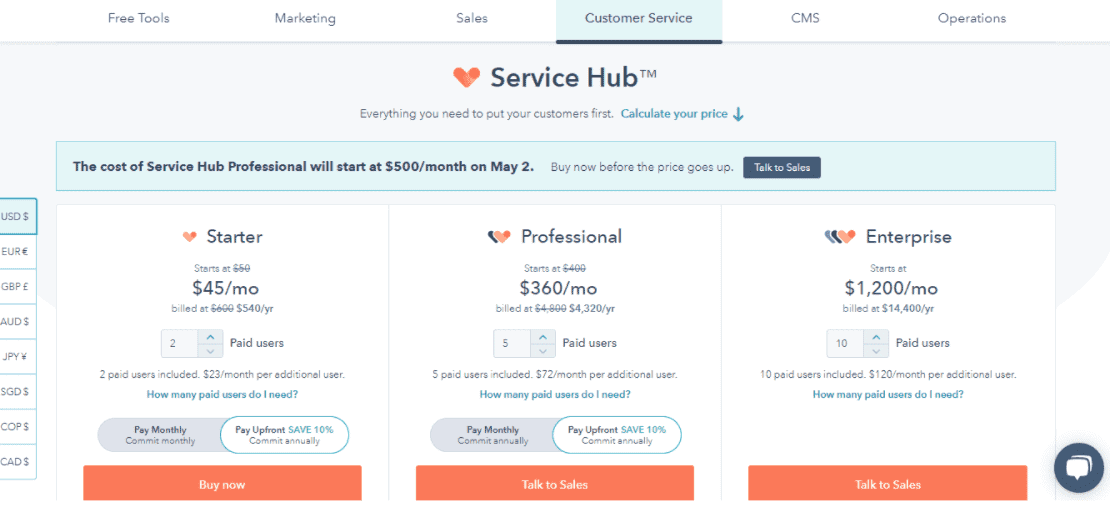 In the Service Hub, the Starter Plan costs $45 per month and boasts of features like live chat, meeting scheduling, team email, ticket automation, canned snippets, and built-in email templates.
If you want access to help desk automation and contact scoring with in-built customer satisfaction surveys, Professional Plan is your ideal choice.
For additional features like field-level permissions, record customization, custom objects, and calculated properties, opt for its Enterprise Plan – starting from $1,200 per month.
Related blog: 8 Fantastic HubSpot Alternatives for Small Businesses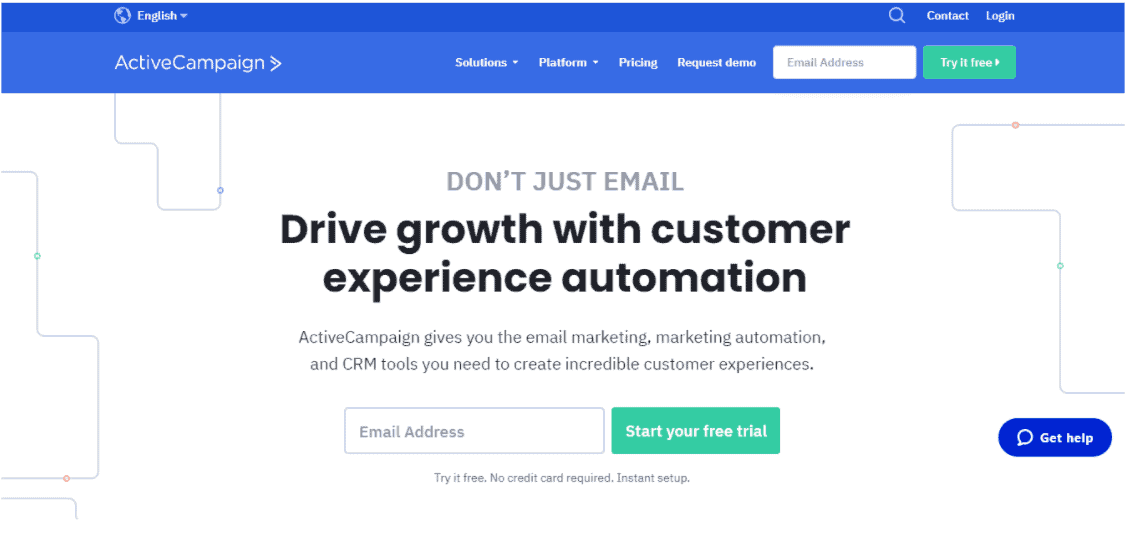 ActiveCampaign is a customer experience automation platform that caters to e-commerce, B2B, and B2C companies.
Some of the key areas automated by ActiveCampaign include email marketing, sales engagement, and CRM automation.
Using ActiveCampaign, you can ensure that no leads slip through the sales pipeline, keep track of their journey, and get real-time performance alerts.
Pros
Easy to set up automation campaigns

Highly responsive customer service
Cons
Steep learning curve

Interface needs improvement
Pricing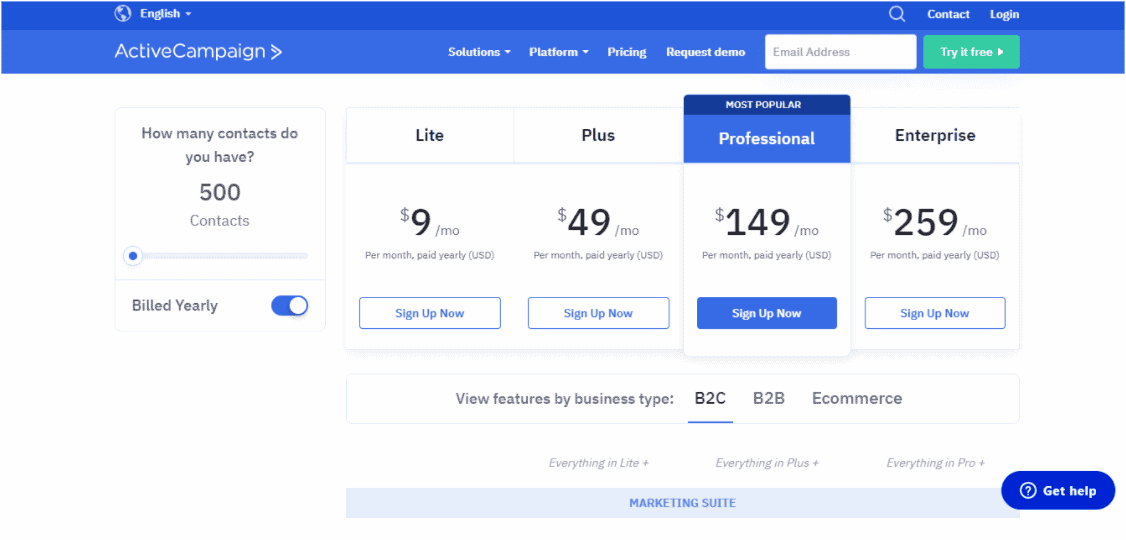 ActiveCampaign's pricing plans depend upon the number of contacts your business has. The number of contacts can be as low as 500 and can go up to 100,000 or more.
The pricing plans offered by ActiveCampaign are Lite, Plus, Professional, and Enterprise. The Lite Plan starts as low as $9 per month and includes basic automation like sending unlimited emails, customer segmentation, and campaign reporting.
With the Plus Plan, you can do contact scoring, SMS marketing, advanced performance reporting, and customized landing pages. The plan begins at $49 per month.
Under the Professional Plan, users can get services including website personalization, predictive sending, attribution reporting, and site messages. The Professional Plan costs $149 per month.
For growing firms, the Enterprise Plan is most suited. This plan has a price of $259 per month and boasts of custom reporting, social data enrichment, custom domain, and unlimited email design testing as some of its key features.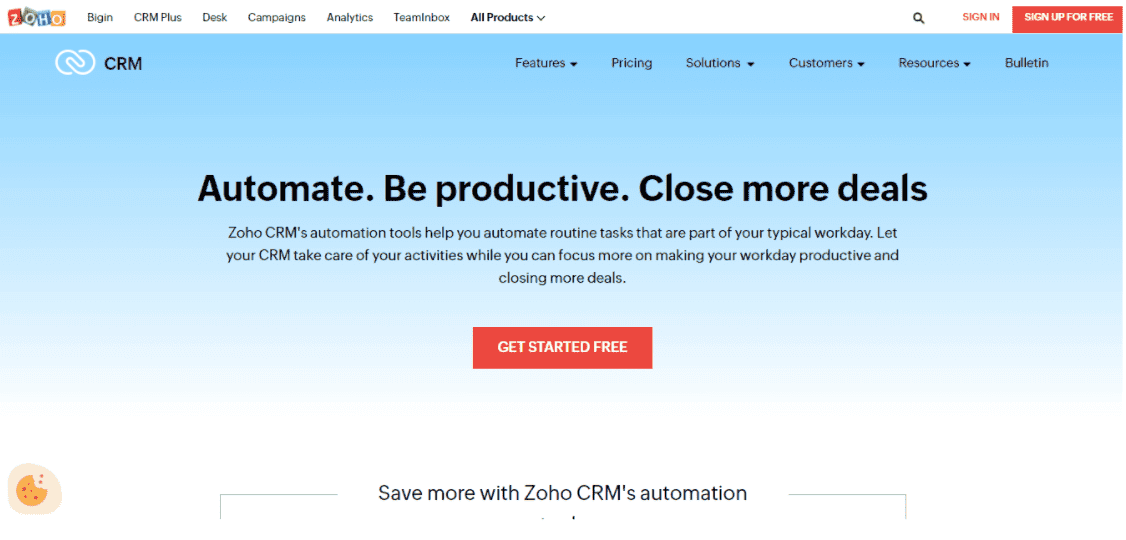 Zoho's CRM automation platform helps you automate manual and repetitive tasks, helping your sales team focus on what's important.
Using Zoho's CRM tool, you can automate functions such as email marketing, lead tracking and, accordingly, take any actions to convert your leads into loyal customers.
Most importantly, its intelligent automation assistant helps with lead predictive scoring, designed to filter highly qualified leads with the less qualified ones.
Pros
Provides informative insights

Enables you to create custom workflow
Cons
More functionalities for dashboards and analytics could be added

More suited to small businesses
Pricing
With Zoho, you can purchase any four plans: Standard, Professional, Enterprise, and Ultimate.
The most basic plan, the Standard Plan, offers rule scoring, multiple pipelines, custom dashboards, and custom workflows for $15.50 a month. For web-to-case forms, validation rules, blueprint, and SalesSignals, you need to pay $25.46 per month and subscribe to its Professional Plan.
Its most popular Zia AI, Zoho's conversational AI assistant, provides predictive scoring and suggestions, is available with the Enterprise Plan, priced at $44.28 per month.
For further service enhancement, check out its Ultimate Plan, which costs $57.57 per month.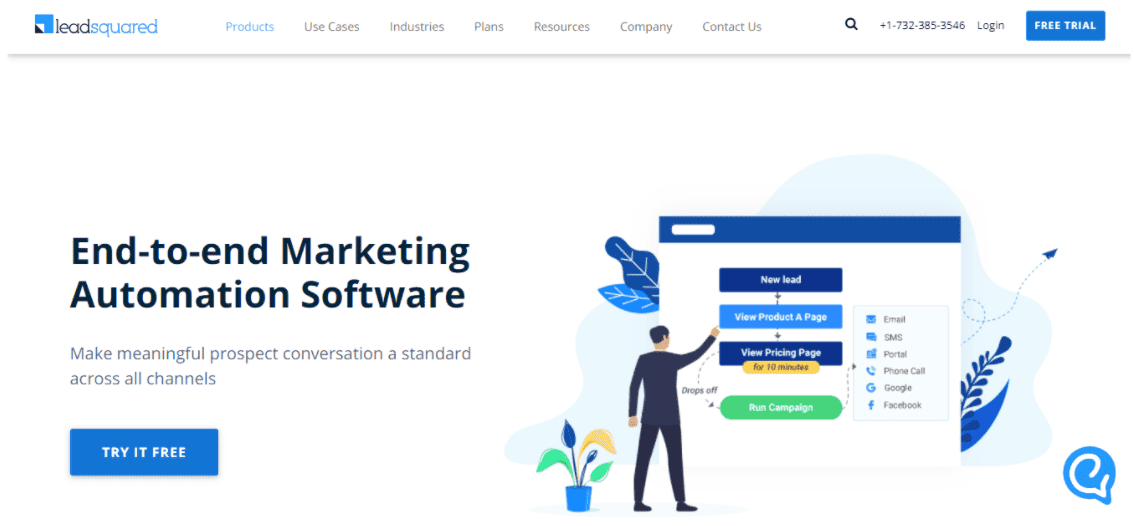 LeadSquared is an end-to-end marketing automation software that can make your workflows super-efficient.
Using the platform, you can easily understand user intent, track performance, visualize customer journey, and manage league generation.
It encourages action based on certain activities and behaviors and enables sales forecasting.
LeadSquared also helps trigger engagement across multiple channels, including social media, email, text, phone calls, and so on.
Pros
Helps generate leads through multiple filters

A robust API and developer platform helps you integrate your preferred marketing and sales software
Cons
Lead engagement needs improvement

Slow customer service
Pricing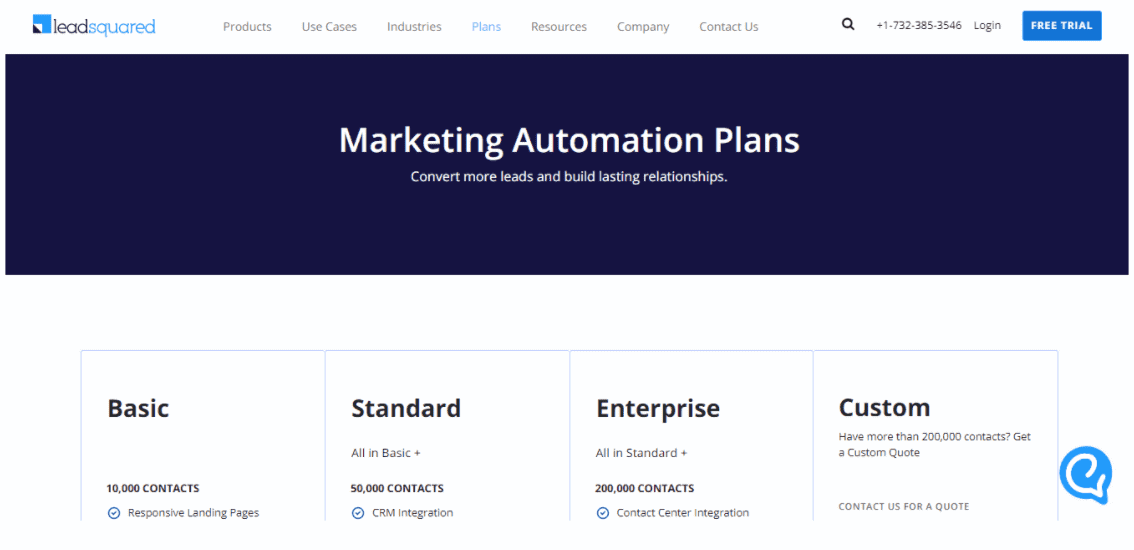 LeadSquared also has four plan categories: Basic, Standard, Enterprise, and Custom.
If you are looking for a package with responsive landing pages, conversation and engagement tracking, multi-channel engagement, and marketing automation reports, go for its Basic Plan (starting at $400 per month).
For up to 50,000 contacts plus sales automation, CRM integration, lead scoring, account management, and ad retargeting, opt for its Standard Plan – available at $1,200 per month.
With the Enterprise Plan, businesses can avail split testing, a dedicated account manager, and custom reporting, all at $2500 per month.
And for those who have more than 200,000 contacts, the Custom Plan is available. To buy this plan, users can contact LeadSquared's sales team directly.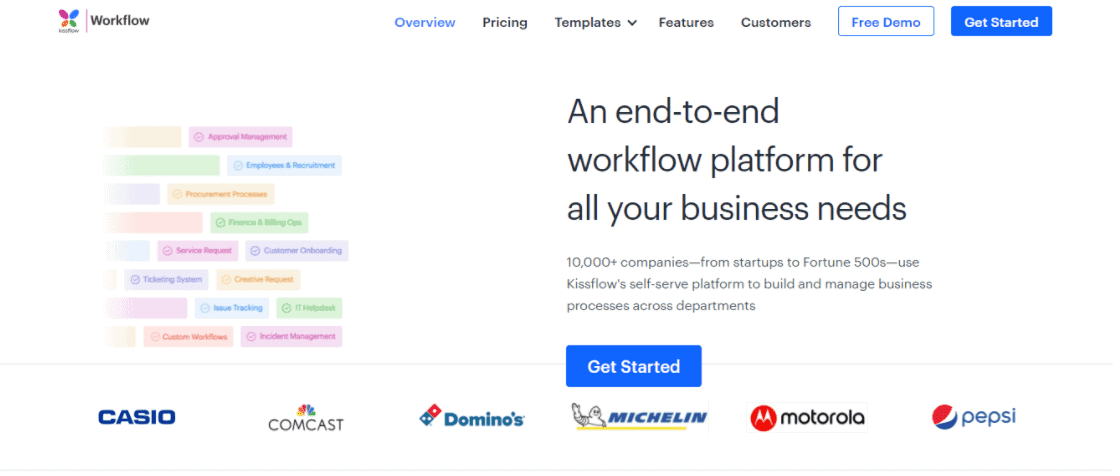 Kissflow is an end-to-end workflow automation platform that caters to all your business needs. With Kissflow, you can access all your workflows on a single platform, using either the built-in templates or customize your own.
Some of the functions automated by Kissflow's platform include task allocation and management, sales reporting and analytics, and customer support.
Pros
Intuitive interface and rich knowledge center

Better approval system for easy collaboration
Cons
Has a steep learning curve

API service needs improvement
Pricing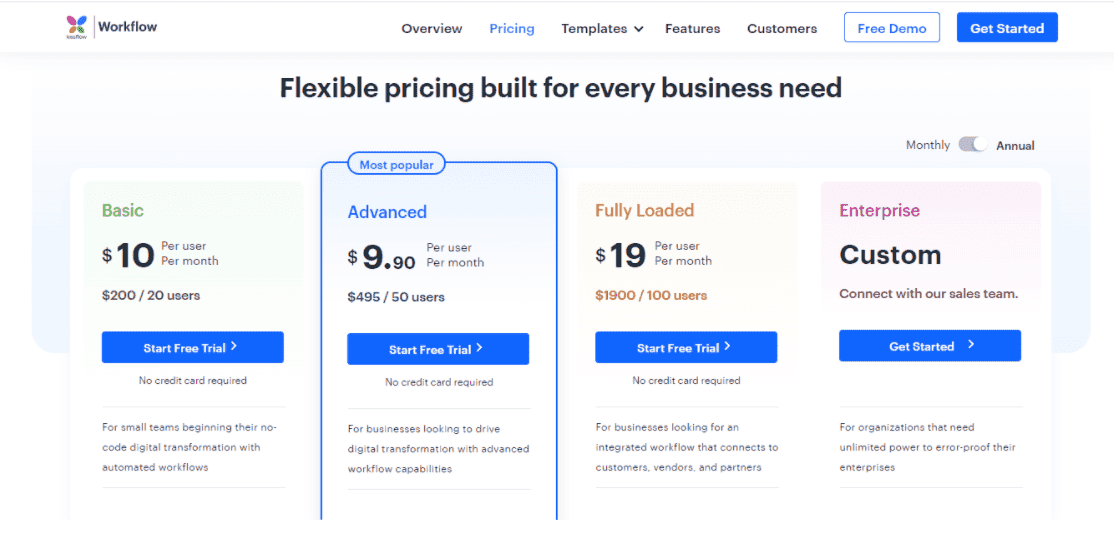 Kissflow offers four types of plans: Basic, Advanced, Fully Loaded, and Enterprise. All the plans have a free trial.
Its Basic Plan begins from $10 per user per month and is suited for small teams or newly-launched companies.
To get advanced workflow capabilities, go for the Advanced Plan, which costs $9.90 per user per month, with up to 50 users.
The Fully Loaded Plan works best if you want to get integrated workflows. This plan starts from $19 per user per month.
And for those looking for custom-made plans, the Enterprise Plan is most suitable. To buy the plan, you can contact Kissflow's sales team directly.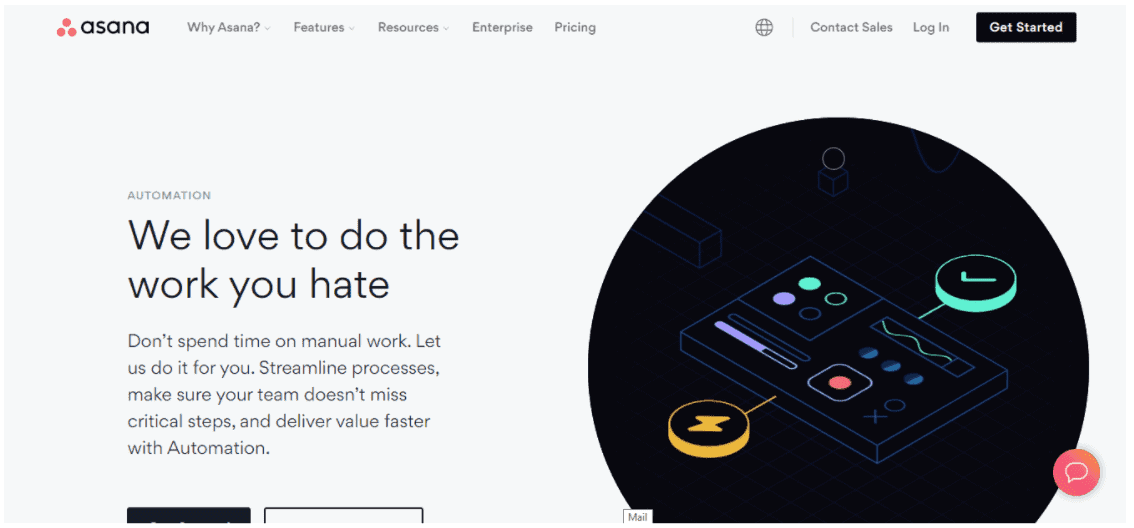 Asana helps you organize and streamline your workflow processes by introducing a variety of features. These features include prioritizing tasks, building customized workflows, and converting common projects into custom templates.
Using Asana's workflow automation platform, your business can streamline and make the project approval process more organized. It also helps provide information such as work requests, employee onboarding, project plan, and event planning, all under one roof.
Pros
Users can view and manage tasks in multiple ways, such as Kanban boards, lists, calendars, portfolios, and timelines

Unlimited teams, projects, messaging, multiple project views, and activity logs
Cons
Tasks cannot be assigned to more than one user

The mobile app is difficult to use
Pricing
Asana's plans are of three kinds: Basic, Premium, and Business.
The Basic Plan is Asana's forever free plan. It is meant for individuals and small teams It has unlimited tasks, projects, calendar view, and over 100+ integrations as some of its key features.
Under the Premium Plan, you can get additional resources like workflow builder, advanced search, unlimited dashboards, and task templates. This plan starts at $9.49 per user per month.
For large enterprises, choose the Business Plan. The plan is priced at $20.99 per user per month, and accompanies services including custom rules builder, form branching and customization, lock custom fields, and advanced integrations.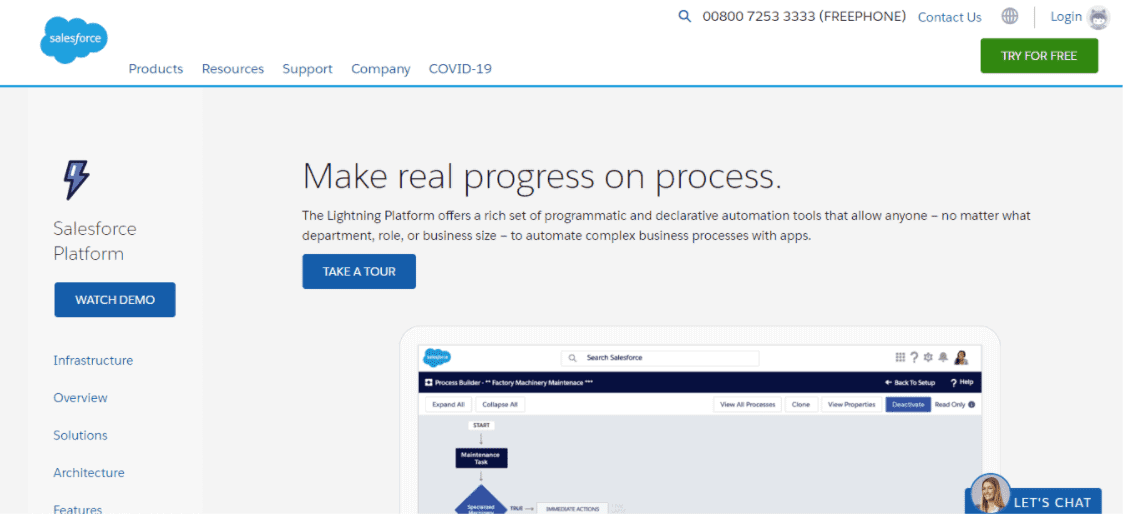 Salesforce business automation platform, known as Lightning Platform, offers a variety of automation features that are suited to all kinds of businesses.
With Salesforce, you can automate complex business processes by automatically creating, updating, or deleting customer records, sending automated email replies, visualizing the sales pipeline, and collaborating across multiple teams.
Pros
Build multistep flows that involve multiple user interactions

Helps track user journeys and easily reach out to prospects
Cons
A limited number of multi-channel campaign features are available

Lack of reporting capabilities
Pricing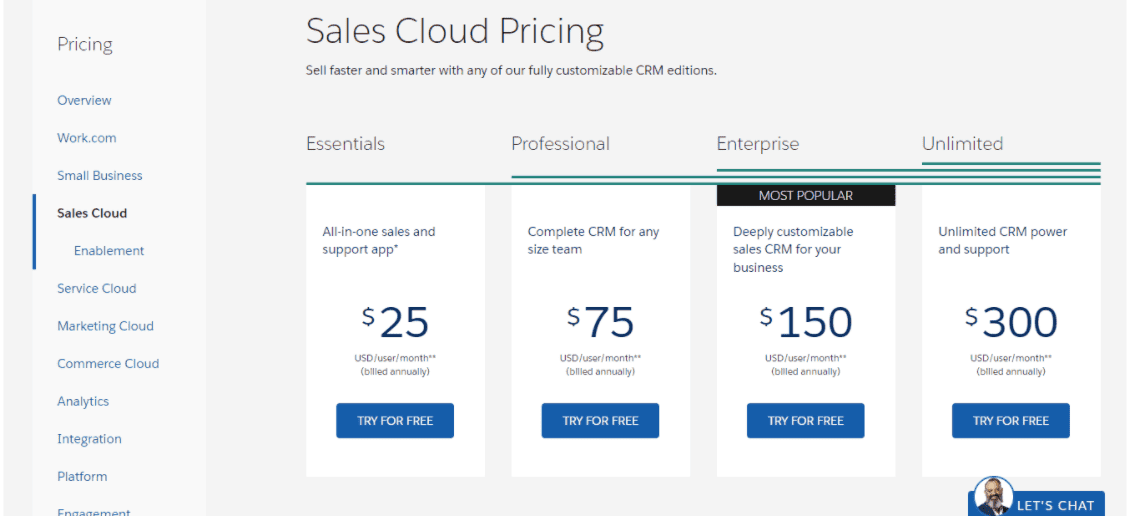 Salesforce has four types of plans, with Essential its most basic plan. It starts at $25 per user per month and offers account, contact, lead, and opportunity management, Gmail and Outlook integration, and access to the Salesforce mobile app.
With the Professional Plan, you can get additional resources like collaborative forecasting and lead scoring, at a price of $75 per user per month.
The most popular plan is the Enterprise Plan, which comes at a cost of $150 per user per month. Under this plan, you can get workflow and approval automation as an additional feature.
For those looking for unlimited CRM power and 24*7 customer support, go for the Unlimited Plan, which starts at $300 per user per month.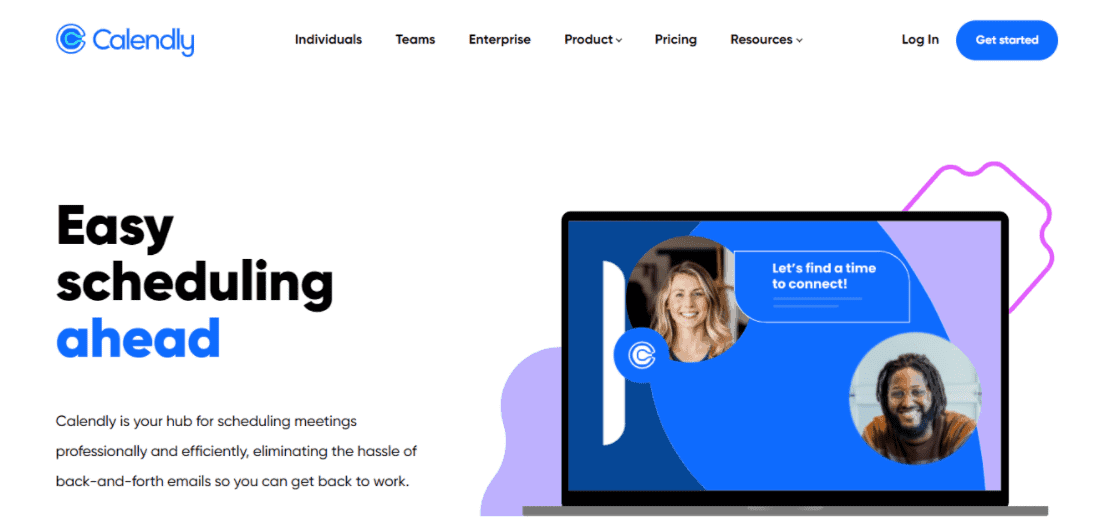 Calendly is a free appointment scheduling software. Using Calendly, you don't have to worry about forgetting or finding it difficult to schedule appointments and meetings.
Calendly's forever-free plan helps automate appointment scheduling by letting your teams and clients know in advance regarding your availability.
Using the information, Calendly then shares links with your guests to join a meeting and add them to your calendar.
This way, you avoid schedule conflicts and back and forth emails regarding a time that suits everyone.
Pros
Cons
The free version has very limited features

Setting up takes time
Pricing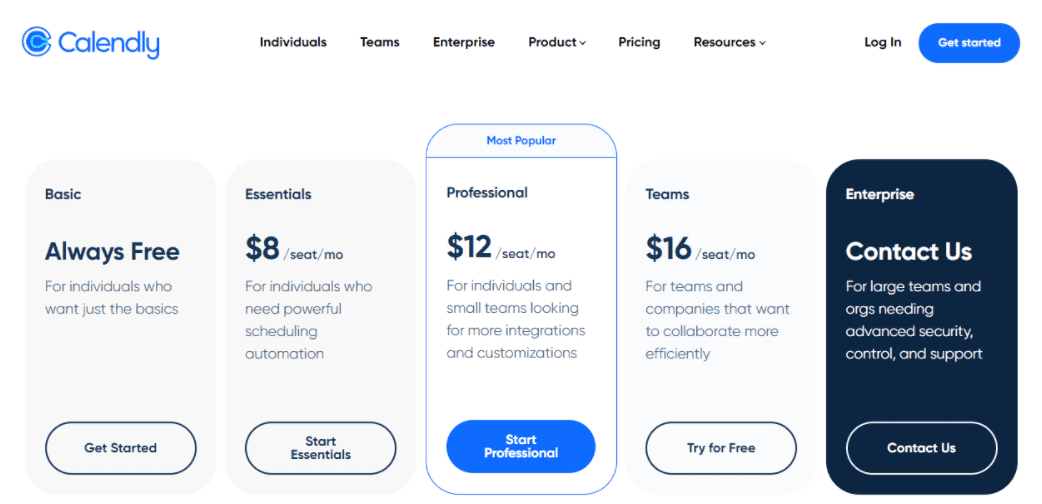 Calendly provides five categories of plans: Basic, Essentials, Professional, Teams, and Enterprise.
The Basic Plan is a forever-free plan and is designed for individuals who only want to use the standard features. This plan comprises integrations with Google, Office365, Outlook, and iCloud, unlimited one-on-one events, and automated event notifications.
For those buying the Essentials Plan, you can create group events, automate event notifications, update cancellation policies, and view reporting metrics. This plan costs $8 per user per month.
The most popular plan, the Professional Plan, costs $12 per user per month. With this plan, users can avail automated workflows, customize email notifications and reminders, and get meeting notifications through texts.
For large and growing businesses, the Teams Plan works best. It comes with active event types, redirect event invitees, create unlimited one-off meetings, and get six calendar connections per user. It costs $16 per user per month.
To get tailor-made plans, choose the Enterprise Plan. Under this plan, you can get unlimited customer support, a dedicated account manager, and onboarding and implementation. To buy this plan, companies can contact Calendly's sales team directly.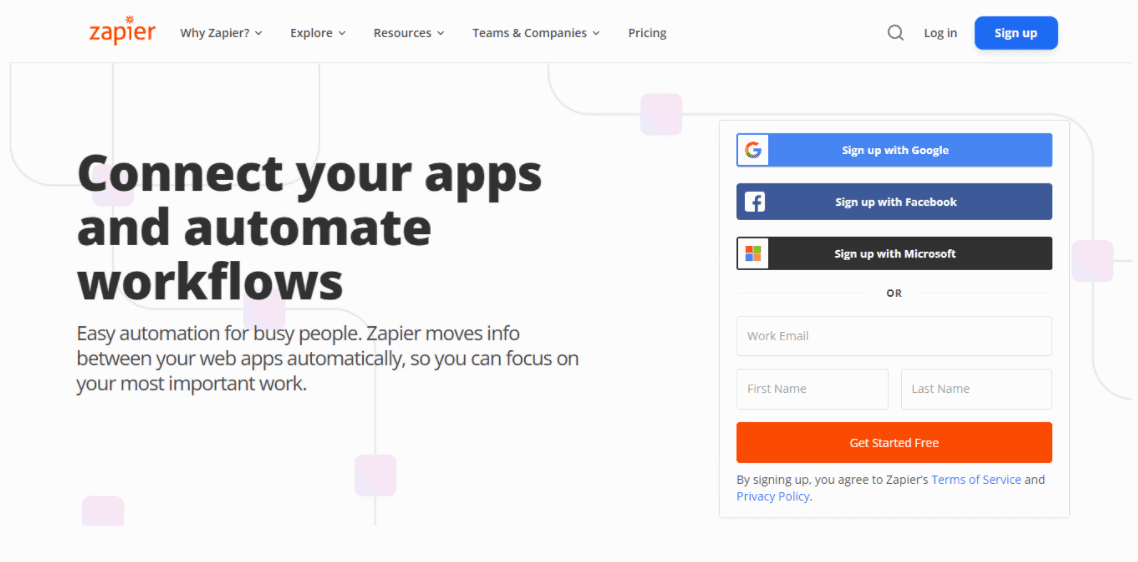 Zapier is one of the best business automation platforms that integrate seamlessly with various third-party applications such as GSuite, Dropbox, Microsoft, Slack, and Meta.
Through Zapier, you can move between multiple apps automatically, pass information between them, and build workflows faster without the need for logins.
Zapier helps you create automated workflows with just a few simple clicks. It also boasts of a forever-free plan and a premium plan that you can subscribe to as per your needs.
Pros
Useful for automating data entry and related tasks

Easily integrates with a wide range of apps
Cons
User interface needs improvement

Can be expensive for small businesses
Pricing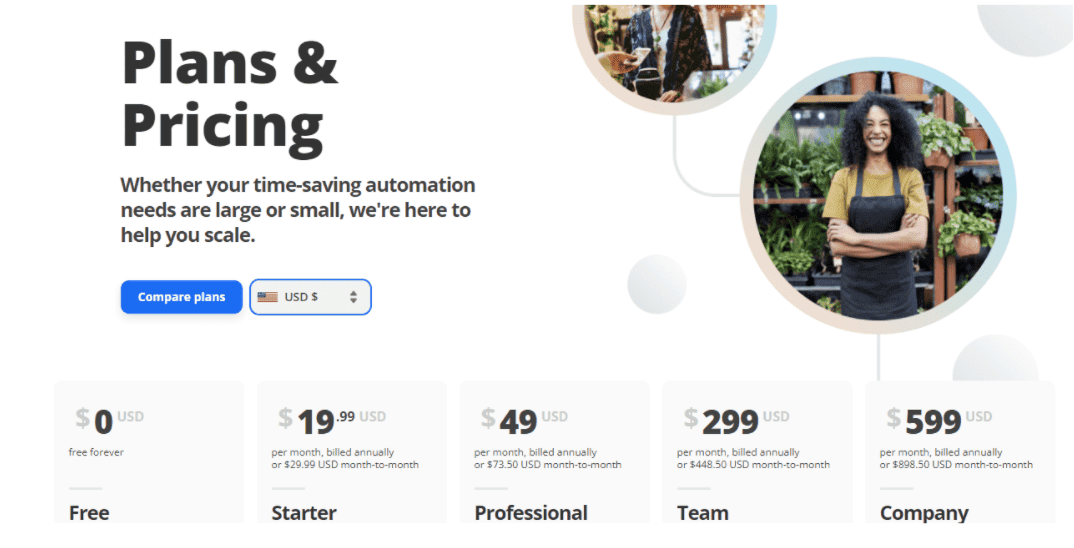 With Zapier, you can avail any of the five types of plans: Free, Starter, Professional, Team, and Company.
The Free Plan is Zapier's most basic plan and has single-step Zaps and Transfer (beta) as its key features.
With the Starter Plan, you can get connections via Webhooks, multi-step Zaps, and filters as some of its key features. It costs $19.99 per month.
The Professional Plan costs $49 per month and comes with unlimited premium apps, auto replay, and custom logic paths as additional resources.
For large teams, the Team Plan works best. It is priced at $299 per month and has services like unlimited users, folder permissions, shared app connections, shared workspace, and premier support.
To get enterprise-grade features, choose the Company Plan. With this plan, you can avail resources such as advanced permissions, app restrictions, single sign-in, custom data retention, and account consolidation at $599 per month.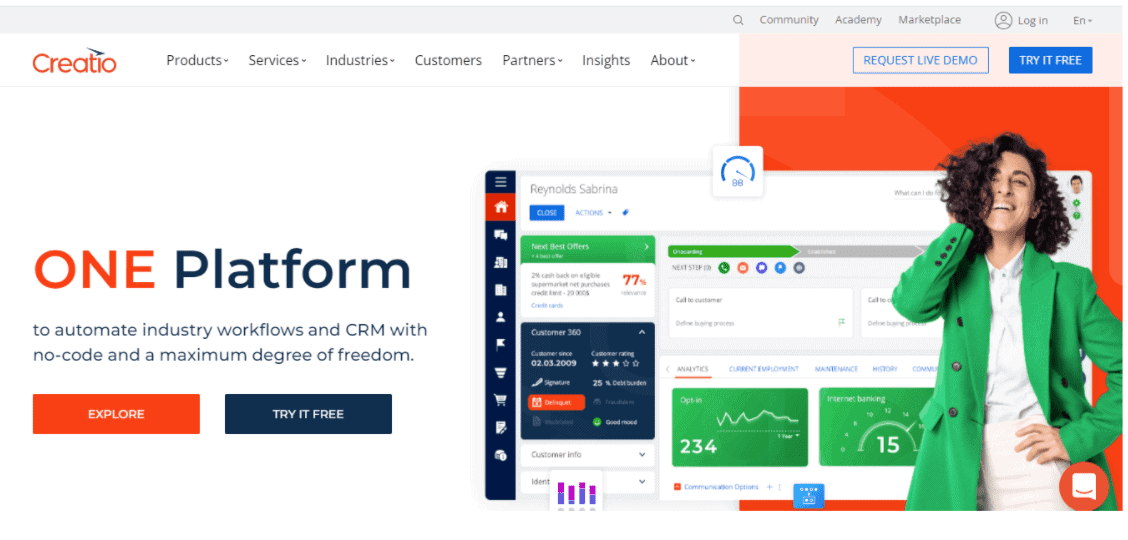 Creatio is an all-in-one platform that boasts business automation and CRM tools to scale your business to greater heights.
Under Creatio, you can automate your marketing campaigns, provide automated customer service using its omnichannel tool, automate sales processes, and choose from a variety of in-built workflows to automate your workflows.
Pros
Helps businesses create workflows customized to their needs

Provides seamless integration and onboarding
Cons
The mobile version is slower than the desktop version

Data visualization could be better
Pricing
Creatio has a single subscription plan, which depends upon the number of active contacts and users.
The most standard plan starts at $1,053.16 (799 pounds) per year, for those with a single user and up to 1,000 contacts.
Creatio provides features such as lead and campaign management, email marketing, segmentation, landing pages integration, collaboration tools, and mobile application, with all its plans.
Conclusion
Business automation is the method of creating efficient workflows by automating various business operational tasks.
Using business automation tools, organizations can automate administrative and time-consuming work and focus more on formulating strategies that will scale their business to new heights.
Hence, it's crucial to find the right business process automation software that fits right into your company's requirements.
If you'd like to see how EngageBay can help your business, feel free to reach out to us.