You can still remember the first days your small business was in operation. Those were scary times, wondering if you'd bring in enough revenue to stay afloat. Months have passed since then, and your business is beginning to get its first real taste of success and growth. With growth comes new customers, and thus the need for customer relationship management or CRM software.
Since you don't want to go without CRM tools, the question becomes, which is the best CRM software for small businesses? You want a solution that's reasonably priced but still has all the features you need in your day-to-day business operations.
In today's article, we'll share five of our top CRM software recommendations for small businesses. These include EngageBay, HubSpot, Pipedrive, Freshsales, and Insightly. You'll also learn more about how SMB CRM is a necessity rather than an optional business feature and how to choose the right CRM tool for you.
Let's get started.
Why Do Small Businesses Need to Use CRM?
Before we share our reviews for those five great CRM tools for 2020, you may wonder, why do you need small business CRM? You're a young business, and it's not exactly like you have the money to throw around on a new piece of software each month.
Saving money in any way you can is important as a small business, but what if the money you save now by skipping a CRM could come back to haunt you later? It's true that you don't have a lot of customers now, but that won't be the case forever.
As your customer base grows, how will you keep track of everyone? If two members of your sales team are talking to Bob the customer when you thought it was just one, that can be confusing on Bob's part. He may feel overwhelmed and decide to duck out, thus losing you a customer.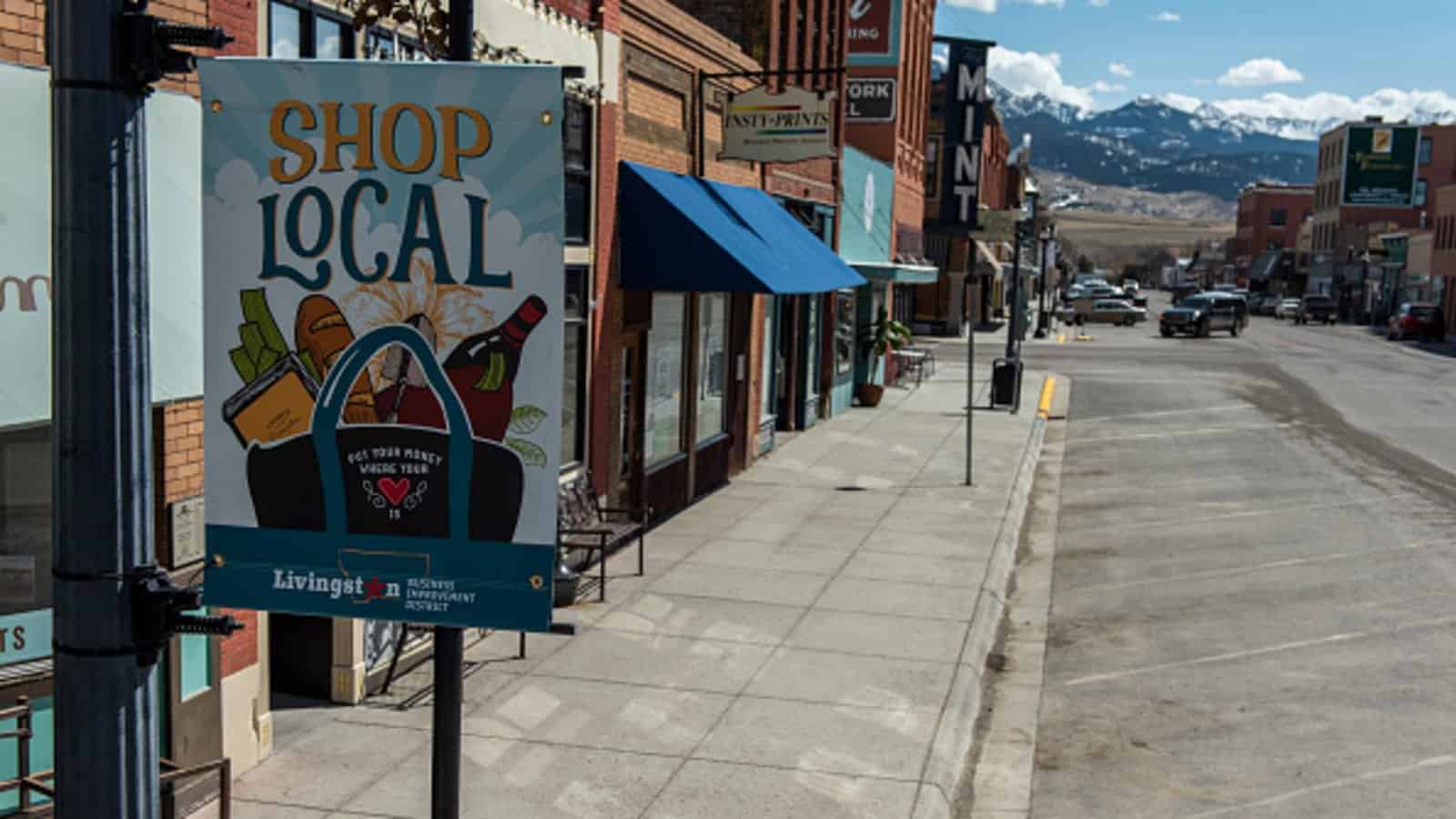 If you have 100 emails to send out to your customers, will you remember to follow up with the ones who responded to you yesterday? Or will those messages get buried in a deluge of incoming inbox emails?
What about potential new customers? When a lead comes in, what do you know about them? How will you determine if they're qualified? Having your sales team try to convert unqualified leads is a waste of everyone's time. That misspent time also chews into a salesperson's day, leaving them with less time to dedicate to money-making tasks.
For all those reasons and more, you should not go without CRM for your small business. The money you put forth now will come back to you in the form of qualified leads, retained customers, and more successful campaigns.
What Are the Benefits of CRM Software?
If you're still not convinced that a small business CRM is the best idea for your company, we think this next section will change your mind. Here are some benefits that only companies with active CRMs enjoy.
A More Productive, Profitable Team
Foregoing CRM wastes a lot of time, as mentioned. Besides the above issue of sales members wasting time on unqualified leads, your company loses time in many other ways. Just take the example we cited before of two salespeople going after the same lead. That's a waste for at least one of those salespeople.
So too is manual data entry, such as adding contacts, or bulk-sending emails. Also, without a CRM, you don't necessarily have past data to go on, including a history of interactions with a customer. Your sales team is also missing detailed analytics that may predict future successes. Those are critical components to be lacking.
You know the old saying that time is money. Each minute your sales team spends doing anything but selling is costing your company major money. As a small business that depends so much on every last cent of revenue you bring in, you can't afford to take such a careless approach to business.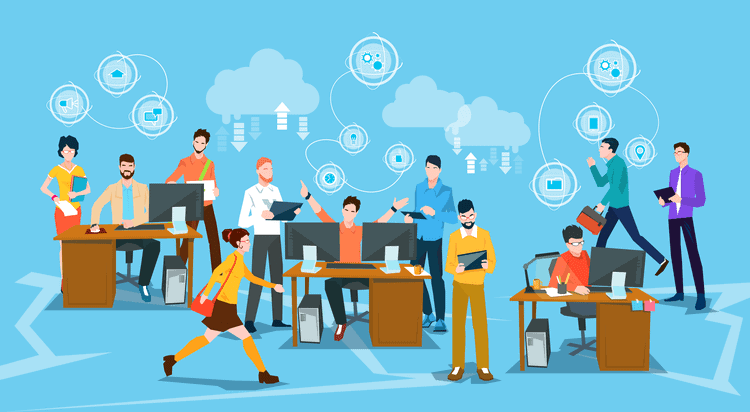 Happier Customers
Customers like to feel understood. When your sales team can look at interaction records and learn what kind of sales approaches work (and which don't), they can take a personalized approach to communications that any customer will appreciate.
Other, little things add up too, such as following up in a timely manner. With CRM, you can keep your customers happier so they stick around for even longer.
More Qualified Leads
Your small business may not struggle to get leads after a while, but what about qualified ones? Lead scoring systems included with a CRM can tell you which leads to disqualify and which to pursue. Without a lead scoring system, you're playing a guessing game about which lead might be the most profitable.
That's especially true if more than one member of your sales team filters leads without a CRM, as they may not have the same criteria for what makes a good lead as you do.
Once you switch to a CRM, you can set the rules that qualify a lead and then stick with those rules. The leads you work with will be readier to buy, pushing your small business revenue healthily into the green.
Reliable Sales Reporting and Predictions
How much money did your small business make in sales last month? What will that number look like in five months? The detailed reporting through CRM software can tell you. Without that, you're again guessing, but this time with your whole company riding on the results.
The data you have now will be useful years into the future as you go back and see how far along your small business has come. The sooner you have that data readily available in a CRM, the better off you'll be.
The Top 5 CRM Tools for Small Businesses
It's now clear to you that your small business should prioritize CRM software systems going forward. That's brought you to the research phase, where you're looking thoroughly at all your CRM options. You like what you've seen from a few offerings, but you want only the best.
We've narrowed it down to five of the top CRM tools on the market today. To reiterate from the intro, these are EngageBay, HubSpot, Pipedrive, Freshsales, and Insightly. In this section, we will go in-depth into each of your CRM options, exploring company history, features, integrations, and pricing. We'll even share some pros and cons to make deciding on your CRM software easier.
#1. EngageBay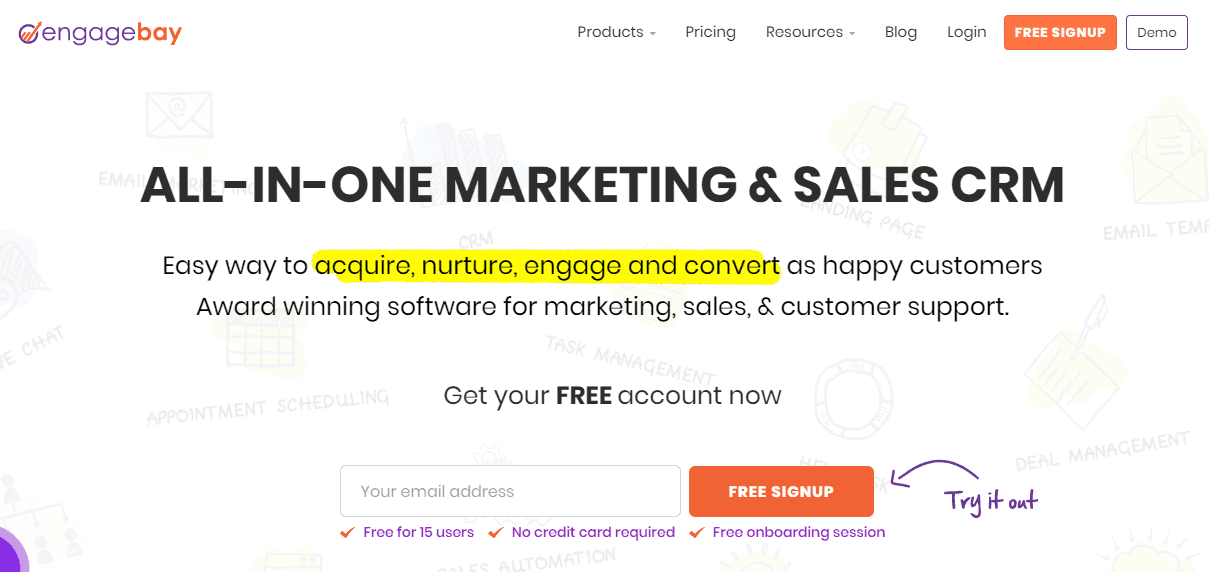 What Is It?
One of the best CRM for small business is undoubtedly EngageBay. Founded in 2017 by Sreedhar Ambati, EngageBay specializes in SaaS, marketing, sales, and CRM software, the latter of which is always free.
Features
EngageBay breaks up its features into four products: the Service Bay, CRM & Sales Bay, Marketing Bay, and the All-in-One Suite. We'll focus our review on the CRM & Sales Bay, as this is where you'll find EngageBay's free sales-based CRM for small businesses.
Here's a closer look at the features offered:
No limit on users: No matter how many users you decide to add to your CRM, you never have to pay extra for it when you're using EngageBay.
Call integration: The CRM Telephony feature allows you to enhance your interactions with your customers by tracking conversations and interactions among customers and potential customers. You and your team can then look aback on this info later and use it to inform future sales and business decisions.
Lead scoring: To separate your would-be customers from those who aren't interested, you need lead scoring. With EngageBay, you can even determine who your qualified leads are to drive more sales and conversions.
Email syncing: EngageBay allows you to integrate your email with your CRM software. All email interactions are copied to the software so you can look back on past interactions and use them to inform future engagement with leads and customers.
Gamification and leaderboards for the sales team: Few things motivate sales teams more than a little healthy competition. EngageBay's CRM tool lets you use both gamification and leaderboards to see who's at the top of the pile.
Rich sales reporting: EngageBay's sales reporting module presents rich data that you can customize to best suit your small business. Display metrics like growth, revenue, and leads converted in charts, bar graphs, and more.
Automated data entry and meetings scheduling: From call notes to emails and phone calls, you and your team don't have to spend valuable time inputting this data manually into your CRM. EngageBay automates data entry and countless other tasks, such as meeting scheduling, for convenience and time savings.
Workflows: All members of your small business sales team will stay on task with EngageBay's workflows. These let your staff see what's in progress and who needs following up so no tasks get forgotten.
Integrations
At current, EngageBay integrates with the following tools and services:
SendGrid
Postmark
Mandrill
Mailgun
Xero
Zapier
Pricing
As mentioned, EngageBay's CRM is always free to use. The free plan also includes live chat, helpdesk, landing pages, and lead grabbers. Your small business can take advantage of sequences, email broadcasting, autoresponders, and email marketing to 1,000 contacts under the free plan as well.
By upgrading to the Basic plan, you pay $8.99 a month for 15,000 contacts. You get additional features besides the above, such as a tag manager, social suite, SMS marketing, lead scoring, landing page design, pop-ups, and email templates.
The Growth plan for $29.99 a month lets you reach 50,000 contacts monthly. This plan also adds proposals, service automation, call records, and a custom domain. You can use landing page and broadcasting A/B testing, site messages, push notifications, and marketing automation under the Growth plan too.
For the small businesses becoming a little less small, the Pro plan at $49.99 a month should suit you. You can reach unlimited contacts and use all the features above. In addition, you gain phone support, uptime SLA, a dedicated account manager, and custom reporting.
Pros and Cons
To wrap up, here are our pros and cons for using EngageBay as your CRM tool of choice.
Pros
EngageBay is always free, which is ideal for small businesses with an equally tiny budget.
The company was founded to serve startups and small businesses like yours.
The services that do cost money are priced fairly, as EngageBay is intended to be a more affordable marketing and sales solution compared to HubSpot.
Cons
EngageBay doesn't have as many integrations as some of its competitors, but this is something they're actively working on.
#2. HubSpot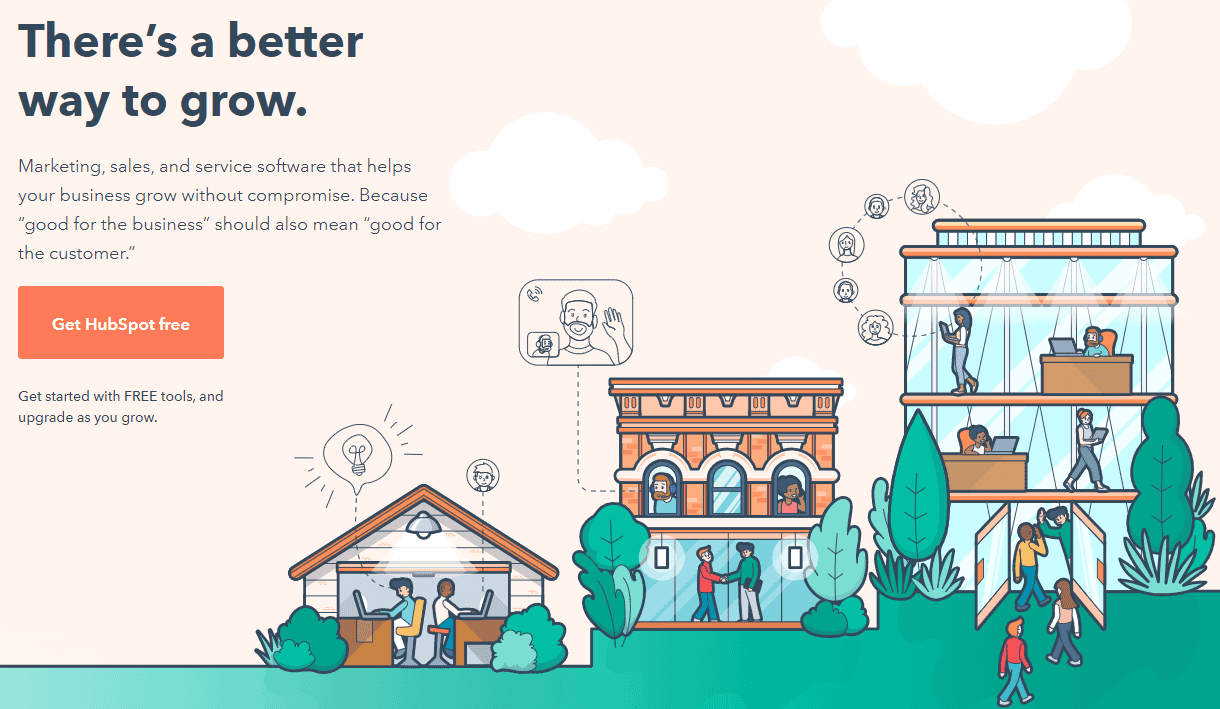 What Is It?
HubSpot is another top CRM software. Founded in 2006 by Dharmesh Shah and Brian Halligan, it's fair to say HubSpot is a popular CRM option on the market. Although their products are very expensive, HubSpot does offer its CRM free to all users.
Features
Here's a closer look at the features your small business could utilize with HubSpot's free CRM:
Live chat: Answer lead and customer queries anytime they pop up with live chat. You may even rely on a bot to take care of this duty when your staff isn't in the office.
Scheduling meetings: Just as you can with EngageBay's free CRM, HubSpot also lets your customers schedule meetings with you automatically. Just confirm if the meeting works for your schedule and it's set!
Tracking prospects: Learn more about the leads who could potentially become customers with prospects tracking.
Pipeline management: HubSpot's reporting dashboard keeps all members of your sales team clued into the progress of the pipeline. This includes features such as deal tracking and insights.
Integrations
HubSpot integrates with many of the tools and apps you use every day to drive your small business. Some of these are:
Wistia
Databox
Seventh Sense
Zerys
PandaDoc
Pricing
To reiterate, you won't pay for any of HubSpot's features if you use their free CRM. As your business begins experiencing accelerated growth due to your CRM though, you may want to consider adding on extra features.
The Marketing Hub, Sales Hub, and Service Hub all have three plans. The Starter plan costs $50 a month or $600 a year and gives you 1,000 contacts. The Professional plan is $800 a month, or $9,600 a year for 1,000 contacts. If you want HubSpot's most all-encompassing plan, that's the Enterprise plan at $3,200 a month and $38,400 a year. You get up to 10,000 contacts.
Pros and Cons
Let's talk about HubSpot's pros and cons to wrap up.
Pros
HubSpot's CRM is free, which is beneficial for small businesses who want to stretch their dollars further.
You get a number of features with this CRM tool even though you're not paying for it.
HubSpot is a popular name in sales and marketing software.
Cons
Its CRM is the only free feature HubSpot offers. To use any of its other products and services, you'd have to pay for them.
#3. Pipedrive

What Is It?
If you're still considering your options for CRM tools, Pipedrive is another good one. They're a company that specializes in pipeline management and sales CRM. Pipedrive was founded in 2010 and is a popular brand in its niche today.
Features
If you decide that Pipedrive's CRM is right for your business, here are the features afforded to you:
Advanced reporting: Pipedrive's advanced reporting feature shows you a variety of metrics and KPIs. These include deal stage conversions, lost and won deals, conversion rates, scheduled activities, completed activities, and more. You can even use the reporting feature for predictive forecasting to get a glimpse into your company's future.
Sales data syncing: The Pipedrive dashboard syncs all your data in one place. The dashboard also allows you to write and send emails, while adding and editing customer notes, and importing contacts are also possible.
Mobile use: The mobile Pipedrive app allows you to stay on top of leads and customers in the sales pipeline, even while you're on the move.
Visual sales pipeline: Pipedrive's drag and drop features for pipeline stage movement helps you visually track customer stages to keep the pipeline moving as fast as you do.
Automations and reminders: Automated features and reminders help you follow up easily. You can sync to Google Calendar through Pipedrive and request activity reminders when you need them.
Integrations
Looking to integrate with Pipedrive? You're in luck. Some of their integrations are:
Slack
Asana
Trello
Google Maps
Toky
Pricing
Since you can't use Pipedrive's CRM for free, you'll have to choose between one of their four plans.
The first of these, the Essential plan, is an affordable $12.50 a month. If you need more features like automation and lead tracking, try the Advanced plan for $24.90 a month.
Pipedrive's Professional plan is their recommended option at $49.90 a month. You can also opt for the Enterprise plan at $99 a month with custom support and onboarding.
Pros and Cons
Here are some pros and cons of Pipedrive to chew on as you consider them for your small business CRM tool.
Pros
Pipedrive's CRM is formatted for sales teams especially, with lots of features created to make sales easier.
The mobile feature is especially handy, as sales deals never sleep.
Cons
Pipedrive is the first recommended CRM software we've mentioned that isn't free in some capacity.
#4. Freshsales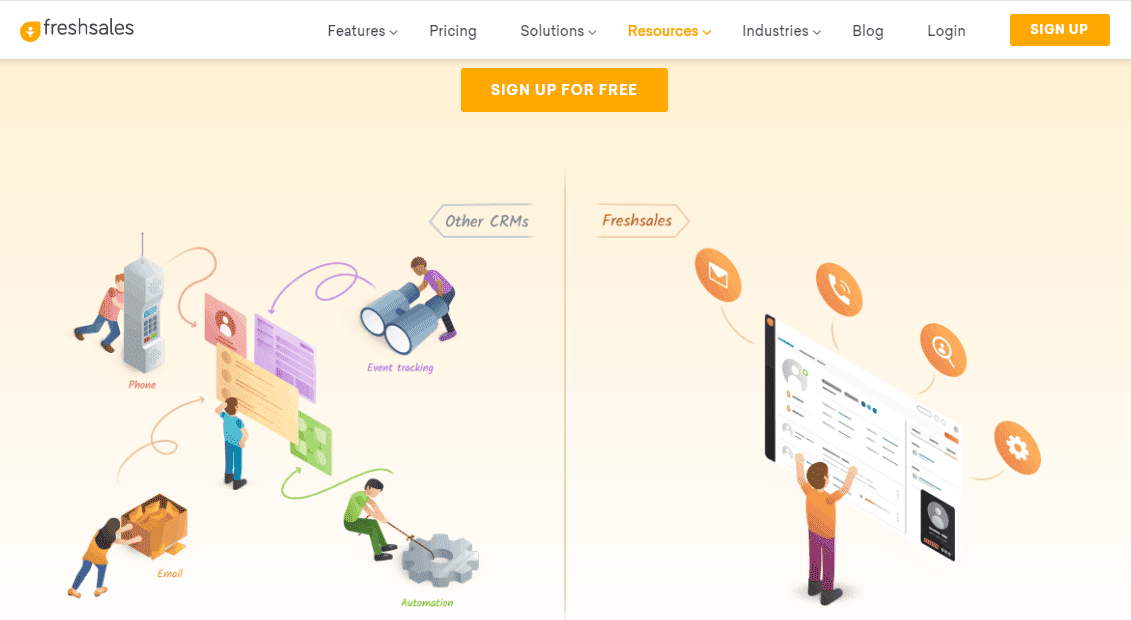 What Is It?
The fourth CRM tool we recommend for small businesses in 2020 is Freshsales. In 2010, Shan Krishnasamy and Girish Mathrubootham created Freshworks, which has such products as Freshsales, Freshmarketer, and Freshchat.
Features
Freshsales' CRM includes the following handy features:
Mobile integration: Mobile CRM is available with Freshsales like it is with Pipedrive. Through Freshsales' mobile features, you can schedule appointments, receive push notifications, check-in at meetings, and add voice notes.
Detailed reporting: Various types of reports and data are offered by Freshsales, among them sales activity reports, revenue analytics, trendline reports, sales velocity reports, and visual sales reports. These are all customizable.
Pipeline module: Within the Freshsales pipeline are features such as adjustable sales goals, deals displayed in a list view, stage probabilities, multiple deals, and deal age.
Automated tasks: Freshsales offers automated lead assigning, call logging, and workflows.
Lead scoring: Lead -scoring and auto-profile enrichment feature are also available.
Integrations
If your small business already spent money on other tools, apps, and software, Freshsales may integrate with them. Here are some of your integration options:
Shopify
Trello
3CX
Revv
Survicate
Pricing
Freshsales names its five plans after the stages of a flower growing. If your small business is a little tight on funds, you might opt for the Sprout plan, which is free but with limited features.
The Blossom plan starts at $12 per month per user when billed annually. You gain API access, marketplace apps, integrations, SMS, and lead scoring. You can also use Freshsale's two-way email syncing, their visual sale pipeline, and deal management.
As you grow, you can opt for the Garden plan. It's $25 per month per user if you're billed annually. You get all the other features as well as advanced reports, lead assignments, 10 teams, 10 workflow automations, five sales sequences for each user, and 250 bulk emails a day for each user.
The Estate plan accommodates bigger teams for $49 per month per user when billed annually. You can now work with 25 teams, 25 workflow automations, 10 sales sequences, and 1,000 bulk emails. You also get advanced CRM customization, sales goals, event tracking, smartforms, a reports dashboard, and auto profile enrichment.
If you must have all the features Freshsales' CRM has to offer, you need the Forest plan for enterprise-level businesses. This costs $79 per month per user. You get all the above features as well as a dedicated account manager, audit logs, IP whitelisting, and an EEA data center.
Pros and Cons
If you're pondering whether to use Freshsales, check out these pros and cons.
Pros
A number of reporting options Freshsales offers helps you to take a deep dive into your small business analytics.
The sales pipeline has filters so you can prioritize which information matters most to your small business and when.
Freshsales has a startup plan that is free to use.
Cons
Freshsales only has a few pricing plans made for small businesses.
#5. Insightly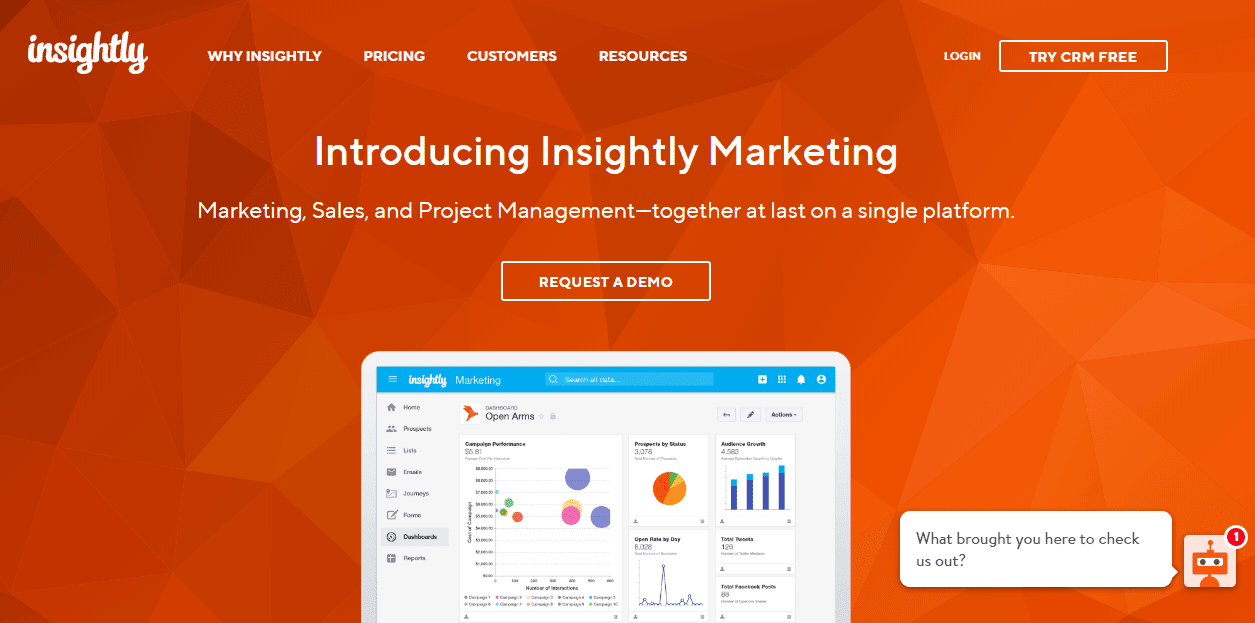 What Is It?
The last CRM we want to talk about is Insightly. This company started in San Francisco in 2009, and has experienced substantial growth since. Many types of industries use Insightly, among them are technology, nonprofits, advertising, media, consulting, and manufacturing.
Features
Here's an overview of Insightly's features:
Socially connected: By inputting your business email address, you can sync to a variety of social networks using Insightly, among them are LinkedIn, Google+, Facebook, and Twitter.
Mobile accessibility: As some of the other CRM tools we've discussed so far offer, Insightly also has a mobile feature. You can access the app on an Amazon Kindle HD, Google Nexus, iPhone, or iPad to stay connected with your team anywhere, anytime.
Pipeline activity: You can track milestones, active tasks, and produce opportunity reports to see where your pipeline should go in the future.
Holistic contact view: The 360-degree customer view you get with Insightly rivals that of EngageBay. You can look at a customer's contact details, their background, and your history of interactions with them.
Integrations
CRM enhances many of the other tools you use. That's why Insightly integrates with a number of other apps and software. Here are some of them:
RingCentral
CircleLoop
PieSync
Everhour
Kixie
Pricing
Insightly has three CRM pricing plans. The Plus plan starts at $29 per user per month and includes cross-company collaborations, project delivery, and multi-device use. One step up is the Professional plan at $49 per user per month. With this plan, you get the above features as well as business intelligence platform access, Insightly Voice, opportunity management, sales team assignments, mass emailing, and lead management.
The Enterprise plan at $99 per month per user gives you the most features, among them API support, workflow automations, customized reporting, and unlimited permissions.
Pros and Cons
Like any CRM, Insightly has its pros and cons. Here's a list of both for your consideration.
Pros
Insightly integrates with many of the apps and tools your small business likely uses.
This CRM is socially-minded so you can take your sales campaigns further.
Cons
You only have three options for pricing for Insightly's CRM and none are super cheap for small businesses.
How to Choose the Best CRM Software for Your Small Business
We just presented five amazing CRM platforms, any of which you should seriously think about using for your small business. As you debate which of the five options would be the best match, we implore you to keep these factors in mind.
Features
What kinds of features matter to you most in a CRM? Perhaps it's pipeline management, cloud-based client management, contact profiles, or lead scoring. We recommend you brainstorm with your key staff about the features your CRM must not go without. Then, it's just a matter of narrowing it down to which software has all those features.
Price
As a small business still learning ways to consistently drive a profit, you must keep the cost of your CRM at the forefront. If you're especially pinching pennies, the good news is you can use such CRM tools as HubSpot, Freshsales, and EngageBay for free forever.
If you can afford to pay a little more for your CRM, those three platforms as well as Insightly and Pipedrive all have several pricing plans, although HubSpot's likely won't match your budget for the time being.
Integrations
How easily your CRM integrates with the other tools, apps, and software you use every day is very important. Instead of wasting time logging into one program and then another, you can sync them together. You also save time in porting over contacts, call logs, past sales records, and other important data.
A CRM with a lot of integrations might be the one you choose. You can also select the CRM that integrates with the tools you use the most often.
Ease of Use
You certainly want a CRM that's relatively easy to learn. If your CRM of choice doesn't have a free plan, then, by all means, take advantage of a free trial so you can get a feel for it. If you and your fellow staff struggle to get the basics down, then that CRM likely isn't for you.
CRM solutions with customization are especially worth considering, as you can tailor your sales and marketing approaches to your changing needs.
Conclusion
Your small business should not wait until you grow into a mid-sized company to start weighing your CRM options. The sooner you can manage your customers with this software, the more your audience will grow.
We reviewed five fantastic CRM options in this article, EngageBay included, that could help you propel your small business into success for the rest of 2020 and beyond. Best of luck!