In these times, just selling well is not enough.
If you, as a business, want to survive and thrive, you must employ the best technologies and strategies to delight your customers.
That's why companies have begun using customer intelligence (CI) to get an edge over their competitors.
In this blog, we'll discuss:
What customer intelligence (CI) is
The importance of customer intelligence
Advantages of customer intelligence
Using a customer intelligence platform to understand your customers better
Let's get started!
What is Customer Intelligence?
Customer intelligence (CI) is the process of acquiring and examining a large amount of data about customers from both internal and external sources to gain an understanding of their interests, objectives, and habits.
Customer intelligence enables companies to gain a deeper understanding of their current and potential clients, which in turn helps enhance customer interactions and enables a more personalized experience for every customer.
Additionally, customer intelligence data can be used for marketing campaign planning and audience segmentation techniques.
All of this helps improve customer journeys and spur business growth.

Why is Customer Intelligence Important?
To help you fully understand what your customers and prospects desire, customer intelligence integrates the information you already have about a customer and applies data science and business analytics to all that customer data.
Although practically every system used by B2B and B2C firms can save and use consumer data, the information is frequently erroneous, partial, and segregated.
Consequently, initiatives that promise a premium customer experience cannot take full advantage of that data.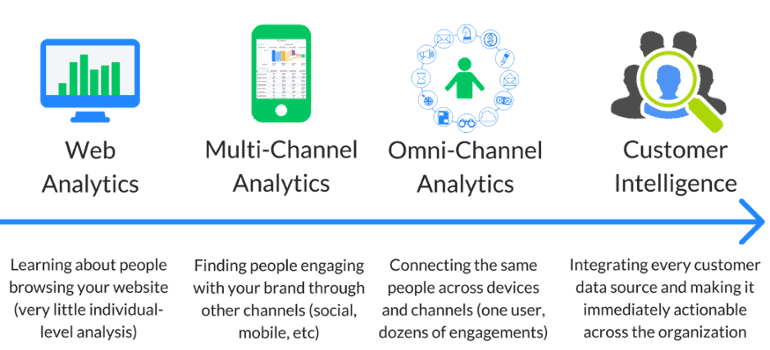 Read also: Lead Scoring Model to Close More Deals
To maximize the value and effectiveness of their data, it is essential that companies create a 360-degree customer perspective by combining what they already know and all the inferences they can make about their customers.
Let's take a look at the key outcomes of Customer Intelligence (CI).
Behavioral segmentation
Drawing on the same patterns that customers follow, behavioral segmentation separates the entire population into groups.
Factors include demographics, online behavior, shopping history, geography, and so much more.
Geo-targeting
In apps like online food delivery, customers' locations are used to find the closest restaurant. Customizing the messaging and offers has never been easier or more effective.
Personalization
Based on the behavioral segments, known preferences, or purchasing patterns of the customers, a company can implement personalized messaging and present offers at just the right time.
Modeling user flows
The route a user makes on a website or app to complete a task is called the user flow.
Customer intelligence enables businesses to model user flows on-site, identify enhancements to streamline user flows, and track customers' movements throughout their journey.
A user flow could include the things a person searches for, the items they add to their cart, and the purchases they eventually make.
Read also: Master Customer Data: A Guide to Capturing, Analyzing, and Using Customer Insights
Advantages of Customer Intelligence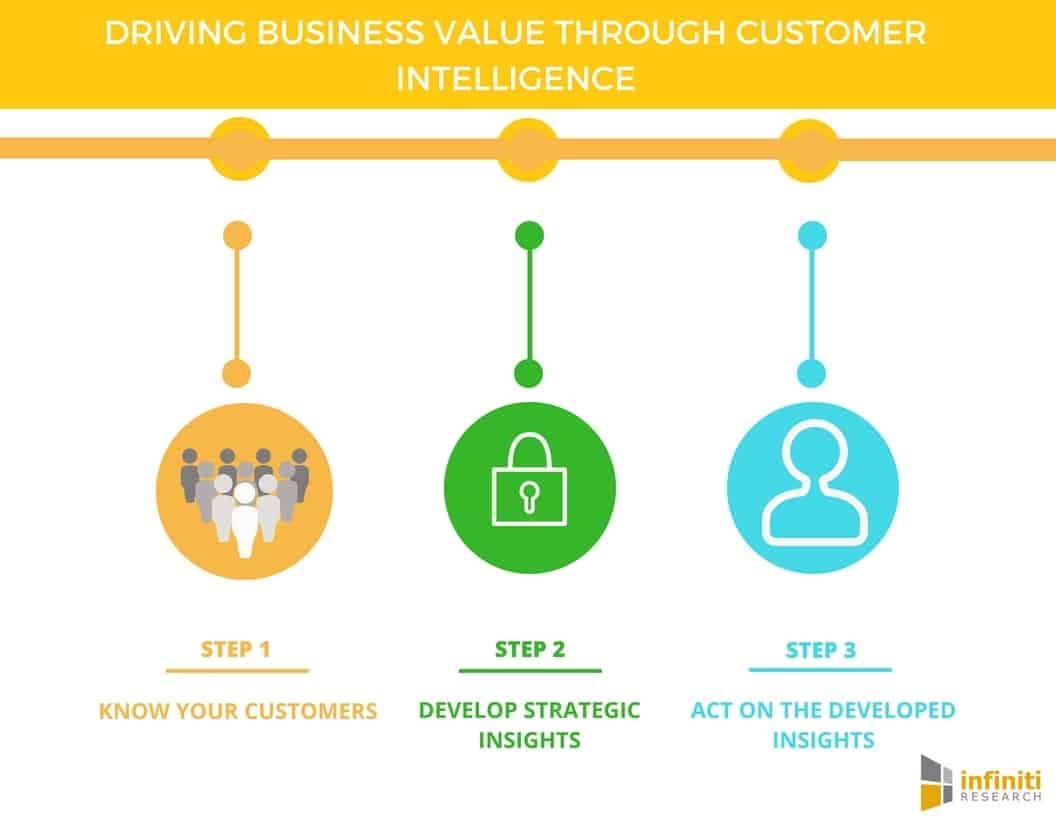 It makes sense for companies in any sector to go for CI.
Just take a look at the benefits of customer intelligence:
Data-driven decisions
Companies will be able to make data-informed decisions by carefully collecting and evaluating customer data. These choices will prompt the business to act in the best interests of its customers.
Personalized marketing
Giving customers a highly personalized experience is possible with a customer intelligence system.
As mentioned above, customer behavior segmentation, geo-tagging, and personalization by analyzing purchase patterns can improve communication and personalization of deals.
Read also: 10 Ways Workflow Automation Makes Your Day Easier
Customer satisfaction
Better customer satisfaction will result from the tailored interactions made possible by consumer intelligence, which raises the Net Promoter Score.
The Net Promoter Score measures customer experience and offers useful data on how to improve your customer experience management program.
Read also: A Definitive Guide To Customer Data Analytics
Customer retention
Long-term customer retention is aided by customer intelligence insights.
Businesses must get a better understanding of their clients if they want to guarantee customer loyalty.
Customer insights make this possible.
Customer happiness and the development of a more effective customer retention strategy are aided by insights from customer intelligence.
Read also: 17 Marketing Automation Workflows for Amazing Results
Keeping up with market changes
The retail and e-commerce sectors are evolving quickly. Businesses cannot afford to lag behind their competition.
By using customer intelligence, an organization can identify the newest trends and people's interests.
An organization's marketing activities will be clearly visible with the help of a competent customer intelligence technique.
It places a strong emphasis on the customer journey, which can assist the business in monitoring marketing initiatives and fostering better communication.
Read also: Top 9 Customer Data Platforms With Pros And Cons
The Role of the Customer Intelligence Platform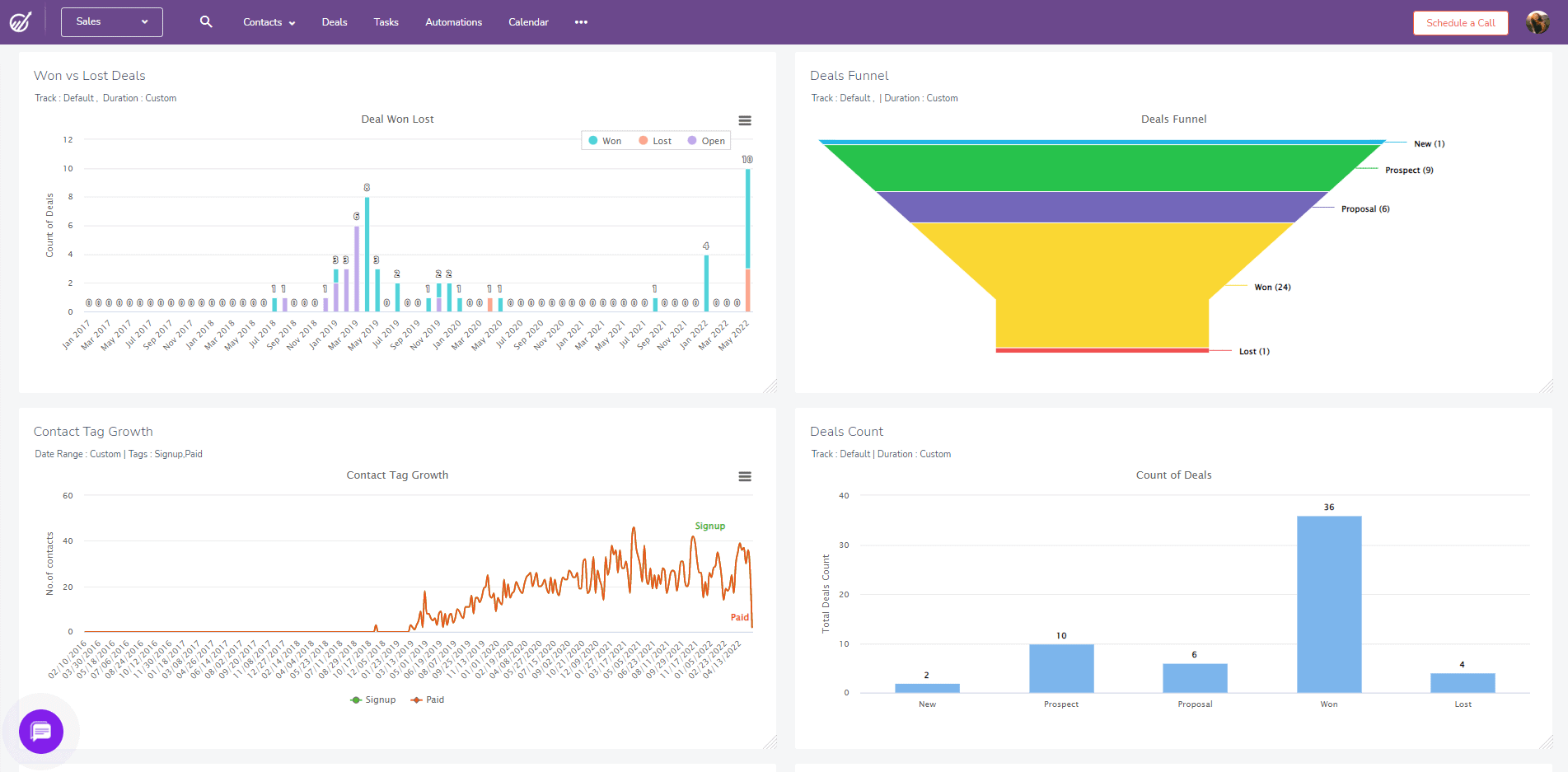 Overall sales performance dashboard sample from EngageBay
The subsequent stage of client data management is a customer intelligence platform (CIP).
It integrates billions of data points from many sources to provide insights, serving and connecting business users in sales, marketing, commerce, and service.
An enterprise-wide CIP makes use of artificial intelligence (AI) and machine learning to comprehend, analyze, and judge both structured and unstructured data, including:
Resolving and removing duplicates from the essential master data about potential consumers, clients, accounts, locations, transactions, preferences, and related reference data.

Matching data entities and new record types.

Adding derived or inferred indicators to the data, such as customer engagement, mood, value, and journey.

Providing a user-friendly interface that enables a wide range of people to execute sophisticated analyses.

Real-time generation of several distinct customer viewpoints.
For instance, in the retail industry, a CIP can start to recognize the distinctive traits of a consumer when they visit a retailer's website for the first time.
It then adds relevant data from outside sources to that visitor data so the store has a thorough grasp of the customer before they make their first purchase.
After the sale, the CIP can keep track of the products the customer purchased, the price ranges the customer preferred, the offers they accepted, the products they considered but ultimately decided against purchasing, the location and usage of their purchase, and a wealth of other details that are used to strengthen the customer relationship.
Read also: Mastering Customer Data Integration: Process and Strategies
Conclusion
Many companies have invested significant resources in analytics, but are just realizing that they must also invest in data governance and data management or they risk basing decisions on bad data—which leads to bad results.
A CIP powered by AI and machine learning is essential to deliver the personalized, more automated, and more predictive services customers expect.
AI will also be necessary to automate the back-office processes and customer-facing interactions necessary to deliver omnichannel and digital experiences that are sufficiently accurate and personalized.
Companies are turning to consultants and analysts for guidance on the best ways to build a customer intelligence platform in order to gain insights into the behavior of specific customers as a result of these customer expectations.
It will be possible to better tailor the end-to-end customer experience, from marketing offers to sales interactions, in person or online, with goods and services, after the sale, and for renewals, by analyzing contextual data about consumers' places both in the buying process and in their lives as a whole.
Discover the most effective customer management strategies that will transform your business in our detailed article!
Read also: A Guide To Enhancing Customer Data Management
Food for Thought
Now, a thought-provoking statement: businesses often pair a customer intelligence platform with their customer relationship management (CRM) platform. This gives you the best of both worlds.
A unified CRM system lets you generate leads, automate business processes, launch campaigns, manage appointments, and so much more. While there are dozens of CRM platforms promising the best, many are expensive and designed specifically for Enterprises and corporations.
That's why EngageBay is the best solution for small businesses and startups.
It's affordable, smooth, and easy to use — perfect characteristics for SMB users.
Not convinced yet? Hear from Dan A, a small business owner, about the problems he solved using EngageBay:
Thousands of small businesses use EngageBay to automate their business processes and increase their revenue. Reviews from a couple of them: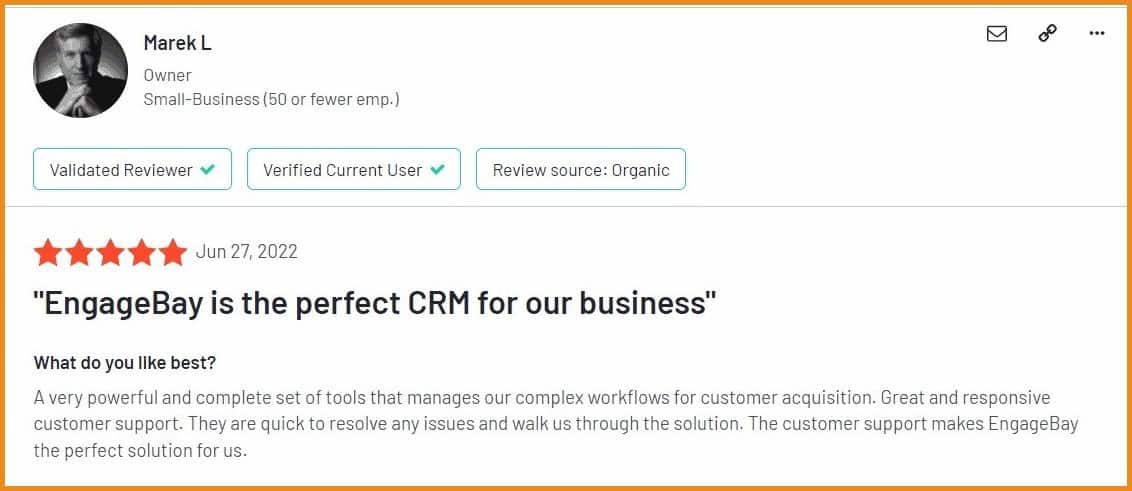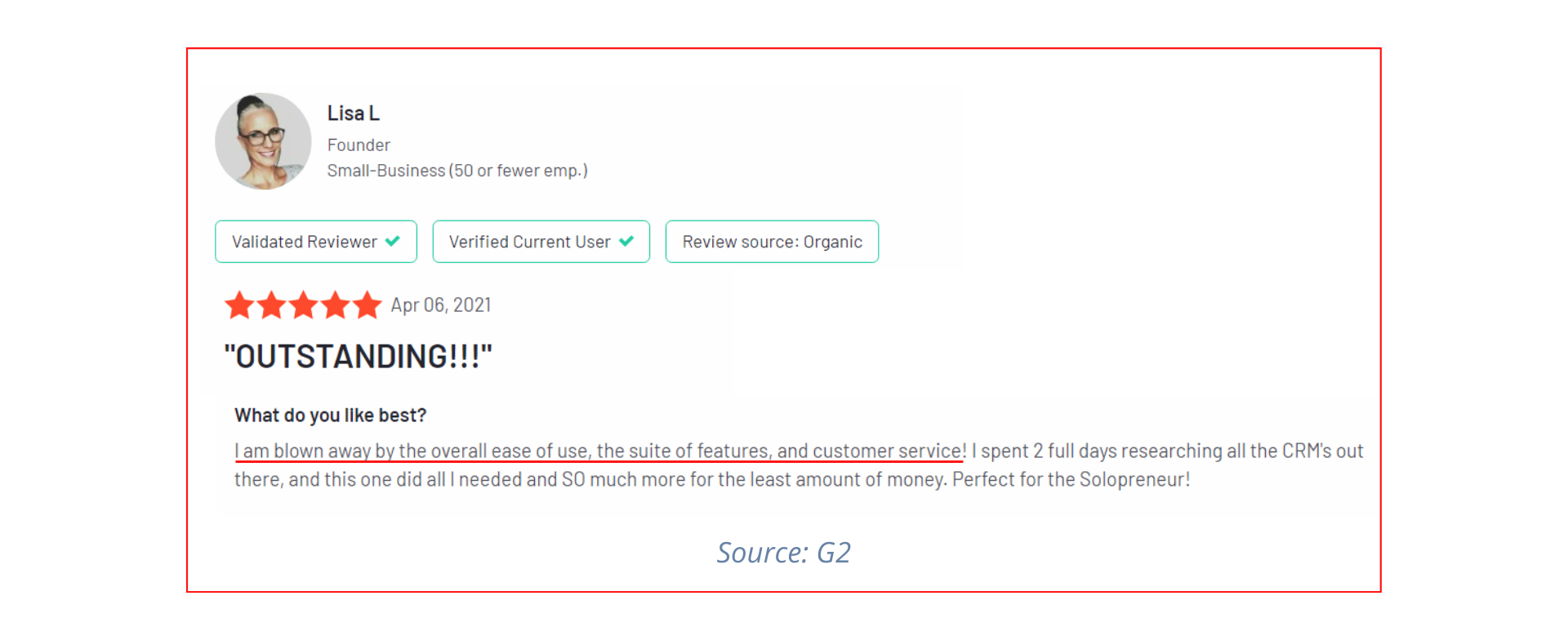 Sign up for the free version or book a 30-minute demo with one of our experts, and we'll show you how EngageBay can solve your business problems.