Marketing leads are an important part of a business.
If you have a lead funnel and want to follow a systematic way to handle leads, then a lead scoring model is the best choice.
Lead scoring works best for B2B marketers. It is also one of the major dividers between B2B and B2C marketing.
A good lead scoring model can be really helpful for the proper handling and management of leads over a period of time.
As a starting point, let us first understand what is a lead scoring model and how it helps, in this blog post.
What is a Lead Scoring Model?
Marketers use a good lead scoring model to differentiate leads and prioritize sales.
Every product has a specific market and meant for a specific set of buyers.
If you have a lead funnel for your different products catering to different personas, a lead scoring model will help you to nurture leads and prioritize them for optimum sales and revenue.
A lead scoring model helps you to decide whether a lead is good or not.
Lead scoring is the process or scoring criteria where values are assigned to leads that you generate for the business, in the form of mostly numerical points.
Then, you score your leads based on multiple attributes, including the professional information and their engagement with your website and brand across the internet.
This process helps both the sales and marketing teams to prioritize leads, respond to them properly, and increase the rate of converting those high value leads to customers.
EngageBay's Lead Scoring system identifies your most qualified leads, lets you track engagement, and know who to follow up with.
Here's a short video showing how you can get started with lead scoring:
Types of Lead Scoring Models
There are six different types of lead scoring models based on the type of information collected:
Demographic Information
Company Information
Behavioral Information
Email Engagement Information
Social Engagement information
Spam Detection

1. Demographic Information
Different demographic information like age gender, job position, country, and others. This data can be collected through your landing page.
This will help you to remove leads from your sales funnel by subtracting points for people who fall into categories in which you do not sell.
For example, if you only sell to a specific geographic location, you can give a negative score to any lead who falls outside that city, state, zip code, country, etc.
2. Company Information
Information like company size, industry, type, etc. can help you decide whom do you want to sell to as a B2B company. This will also help you to evaluate, eliminate, and rate leads.
3. Behavioral Information
Online behavioral activities can give you a hint about whether the person is interested in your product or not.
The relevant information can be collected through forms and the number of page visits. The type of pages people visit on your page is also important.
So, higher points can be assigned leads who visited high-valued pages like the price page, etc. Similarly, if you see that a lead not visiting your page for quite some time, you can deduct points.
4. Email Engagement Information
The response to your email marketing campaigns can help you decide how to rate leads.
Open rates and click-through rates are good indicators of people's interest. Email address engagement data can be a good start for lead scoring.
5. Social Engagement information
Social media is one of the biggest platforms for customer engagement. The way your followers or leads engage with your brand over social media can help you in lead scoring.
Engagement can be in the form of likes, shares, followers, or comments. You can assign high scores to your leads based on these parameters.
6. Spam Detection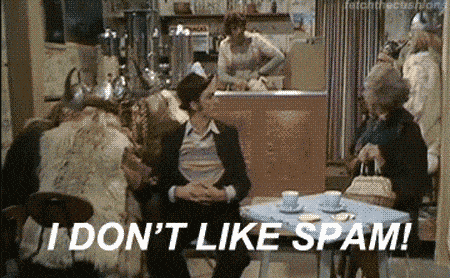 If people have filled in the landing page information such that they can be categorized as spam, then you can assign lower scores. This way you can eliminate leads that can never turn into a prospect.
Now, we know the different parameters on which a lead scoring model can be formulated. Let us take a look at the different elements which contribute towards a good Lead Scoring Model.
Elements of an Effective Lead Scoring Model
Marketing and Sales Objectives
Implicit Scoring
Explicit Scoring
The right weights
A single scoring model
Negative Scoring
Scoring Degradation
1. Marketing and Sales Objectives
The marketing and sales team objectives need to be aligned to ensure effective lead scoring and nurturing.
There needs to be a consensus on who qualifies as a good lead or a great prospect or when a marketing-qualified lead becomes a sales-qualified lead.
The sync between marketing and sales is very important for any organization for a leak-proof funnel and proper transition of leads from marketing to sales.
2. Implicit Scoring
An effective scoring model must look at both implicit and explicit scoring data. Implicit scoring refers to using behavioral action to assess whether the product is fit for the prospect as well as their interest level.
3. Explicit Scoring
Whereas, explicit scoring refers to using demographics as well as personal information directly shared by the prospect to infer about their interest level.
4. The right weights
After decided on the behavioral traits/actions that will help to determine the interest level of the prospect, it is important to assign proper weight to each such action.
Points need to be given for each behavioral activity and demographic alignment.
5. A single scoring model
You must maintain a single scoring model for all campaigns and projects. If you do different scoring systems for at campaign level, then it might dilute the number also increase your time and effort.
6. Negative Scoring
The scores of your leads will keep varying as they interact with the marketing or sales team and move through the sales funnel.
So, based on activities like un-subscribing their email address, reporting company posts as spam, etc.
7. Scoring Degradation
Lead scores need to degrade if no actions are taken. If the prospect is not interacting with your company, you might want to execute a recovery campaign of some kind, and their score needs to fall accordingly.
Read also: Uncovering Insights with Behavioral Market Segmentation
How to Calculate a Basic Lead Score
Manual Lead Scoring
Logistic Regression Lead Scoring
Predictive Lead Scoring
Here, we will take a look at how you can do a basic lead score calculation. These are some of the simplest methods of calculating lead scores.
#1. Manual Lead Scoring
This method is time-consuming and labor-intensive. Let's take a look step by step:
Calculate lead-to-customer conversion rate: The lead-to-customer conversion rate is equal to the number of new customers acquired, divided by the number of leads generated. This number should be your benchmark.
Choose different attributes for customers who can become high quality leads: Determine attributes that can make prospective customers like people who might have asked for a free trial. Different people can have different ways to figure out these attributes but most of it is judgmental. Attributes can be chosen based on the conversations with the sales team, analytical data, and so on.
Calculate the end rate of the attributes: The calculation of the end value of leads is important because it helps to determine your next action. The action taken by a lead on your website and scoring it will also help you be to decide your action. You can figure out the number of qualified leads based on the actions taken. Then, you can use these close rates to actually score them.
Compare the close rates of each attribute with overall close rate and assign point values: Look for the attributes with close rates that are significantly higher than your overall close rate. Then, choose which attributes you'll assign points to, and if so, how many points. Base the point values of each attribute on the magnitude of their individual close rates.
#2. Logistic Regression Lead Scoring
The above method can be a good start, but there are more mathematically advanced methods like this one which involves data mining techniques.
Data mining techniques are complex, and often closer to the rates. Logistic regression is building a formula in Excel that calculates the probability of a lead converting into a customer.
It is more accurate than the other methods. It is considered to be more holistic because it takes into account how all of the customer attributes — like industry, company size, and others interact with one another.
#3. Predictive Lead Scoring
A good lead scoring system helps to improve the lead-handoff process, lead conversion rates, and also productivity.
However, the above two manual methods are time-consuming. By regular feedback and interaction with your team, the lead scoring system can be improved to be more accurate.
Hence, a technology-based system will also help you to build better relationships with your customers. This is where the predictive lead scoring method comes into play.
Predictive lead scoring uses machine learning to parse through thousands of data points to identify your best leads.
First, it analyses the information your customers have in common and also the ones that they don't have in common.
Then, it comes up with a formula that categorizes your contacts by importance based on their potential to become customers.
This helps you and your sales teams to prioritize and work on leads.
The best part of predictive scoring is that you can optimize your lead follow-up strategy over time as the scores keep getting smarter.
EngageBay's predictive lead scoring intuitively parses through multiple data points and the scoring criteria that is pre-defined, in order to identify your best leads, automatically.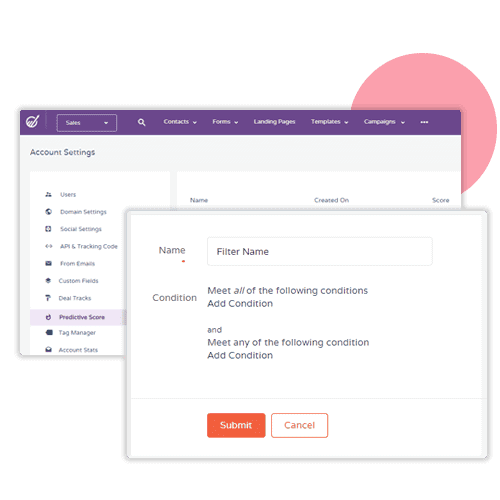 Tips for Creating a Lead Scoring Model that Actually Works
Separate and segregate directly qualified leads into lists
Use your entire score range for different actions
Keep the score range small
Calculate your maximum score as the addition of all scores
Now, that you have a fair idea about the lead scoring process, let's take a quick look into some of the important tips for a good lead scoring system.
The main goal of a lead scoring system is to identify and capture the different behaviors that tell you where the prospect is in the buying process and the right time to approach them.
To summarize, identifying the characteristics and behaviors that characterize a good lead is the first step, followed by choosing the right method.
Do not back away from improving and improvising, if required. Research on the best practices to create a lead scoring system that will empower you to bring in the most qualified leads.
This will help you enhance the quality of leads you pass on to the sales team. This makes conversion rates faster and better which leads to revenue generation and business growth.
These are some of the tips which will help you to make your lead scoring system more effective and efficient. After choosing the right lead scoring model, you should test it before deploying.
A good lead scoring system should always be designed to aim at continuous growth and overall organizational improvement.
According to statistics, 68% of B2B organizations are already implementing lead scoring and 40% of salespeople have reported having derived value from it.
You can use it to analyze how to make money blogging, in affiliate marketing, or for a service company.
There is not a single lead scoring method that might not fit all companies because every business has a different sales process and hence different lead qualifying criteria.
Once you know your requirements and how your customers travel through the buying process, choose the right lead scoring method for your business to ensure proper business growth by reaching the right customers at the right time.
For more informative and interesting content of digital marketing and other social media trends, visit our blog.
For a better insight on different services provided by us, take a quick look at our Resources.
👉Empower your sales team with the best lead management practices – learn more in our expert guide! 💪
To learn more about lead generation check out our resource guide: