Display ads can be a great way for digital marketers to market their products online, creatively so.
With just a stunning visual and relevant copy, a product or a service can be marketed in the right way with display ads.
They can be an effective means to drive ROI and click-through rates when accompanied by compelling visuals, a clear actionable message, and maybe something a little extra. However, it is not easy to curate all this from scratch.
That is why we have compiled this awesome collection of display ad examples. Take a look and let them inspire your next campaign 🙂
What Is Display Advertising?
Display advertising is broadcasting your product in an engaging and visually compelling manner to attract the audience on online platforms and social media.
Think of display advertising as the billboards of the internet.
A typical display ad has major visual content which could be an image or video and is often accompanied by text relevant to the content and an actionable CTA or click-through button.
The goal of display ads is to drive the audience to take specific actions and make them aware of a message about a product or service.
Display ads are also a great way to retarget your focus audience. Based on data gained from display ads, you as a marketer will be able to better analyze how better to target your audience and how to deliver content in a better way.
How Does Display Advertising Work?
Display ads are a part of the Google ads network (Google AdSense). Google Adsense network does a brilliant job of helping marketers target the right audience. It also helps in displaying sales and promotions to the right people at the right time.
Through the Google AdSense network, you will be able to find new prospects ad relevant audience profiles based on your existing audience behavior patterns and how well your ad is doing.
The data monitored through cookies and external resources can help you keep track of customers' activities.
This collected data is used for behavioral targeting which can be a key tool to better target your audience.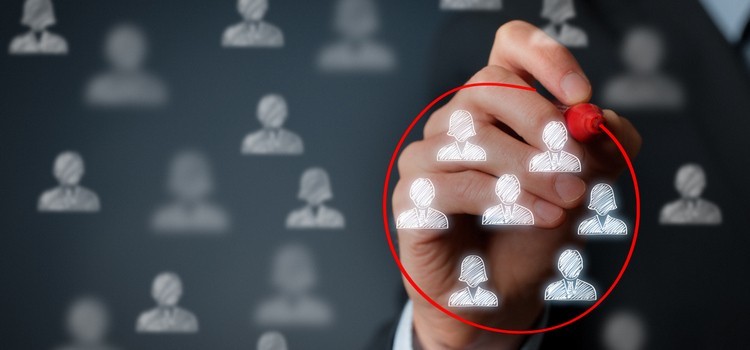 With remarketing and automatic retargeting, the scale of reach is improved profoundly thus pushing your conversion rates.
Google Ad network also provides a steady platform to contextually and geographically target your audience.
What we mean by contextually is the placement of ads only in places or websites where it is relevant to the content.
For instance, if you are selling a food product, your ads will be promoted on food blogs and food-base websites to have a better reach.
Demographics and geographic targeting of ads are micro targetting to a specific region. This could be great for seasonal promotions or local culture-based sales.
With these points in mind, let u now take a closer look at the different types of display ad campaigns and some great display ad examples to get you fired up!
Related article: 6 Sales Planning Tools For Small Businesses to Grow Revenue Fast
Types of Display Ads and Display Ad Examples
Broadly based on two important aspects, display ads can be categorized into two main categories:
Based on the type of targeting

Based on the type of ad format followed
While there are different types of display ads, the following two categories will help you combine the most effective approach for your business.
Display ads based on type or mode of targeting
Regional/ Geographic ads

: These are ads that are specific to a particular region and are curated based on the local character. This is great for seasonal and cultural promotions unique to a specific region.

Demographic

: This type of display ad is based on individual preferences and interests. By analyzing customer behaviors patterns marketers can create target ads specific to these preferences on particular websites

Contextual

: Contextual display ads are created for specific content found on distinct websites only. These display ads are restricted to a certain ad topic and relevancy is key.

Retargetting:

Based on typical user behavior and previous history of actions, clientele can be retargeted for better results. For instance, if a client viewed your products but did not make a purchase, retargeting the ads to pique their interest again could be a great way to push them to buy.
Display ads based on the format
Static or traditional display:

A straightforward approach to advertising where text or images relevant to the content are used in a fixed fashion. This is the most common type of display advertising.

Moving/ video display:

Engaging video content accompanied by relevant copies is a great way to command attention. The video format could also be an animated GIF to make things interesting. Although, you need to keep in mind that the ad should not be cluttered and slow the loading time for the page.

Interactive

: This type of display ad is an interactive display that encourages the end user to take action. This format is both engaging and fun and can be quite successful if implemented in the right way.

Popup or floating display ad:

Display ads can also be formatted as a popup or a floating ad that sort of floats around the screen. Sometimes popups can be annoying but paired with the right visuals, these ads could be useful in compelling the user to take action.

Expanding ads

: These are the type of ads that grow in size and become more evident once you click on them.
Read also: Targeted Advertising Messages And How They Work
Brilliant display ad examples (and why they work)
Now that we have a clear idea of the types, let us get to the most important part of this blog: Display ad examples.
#1. Apple: Minimal design for the win
Apple is known for its simplicity of design. This concept has been extended to their display ads which mimic their product design.

Why this display ad works:
Clean visuals accompanied by a sharp copy are what make the display ad design appealing at the same time relevant.
#2. Nintendo: Bold imagery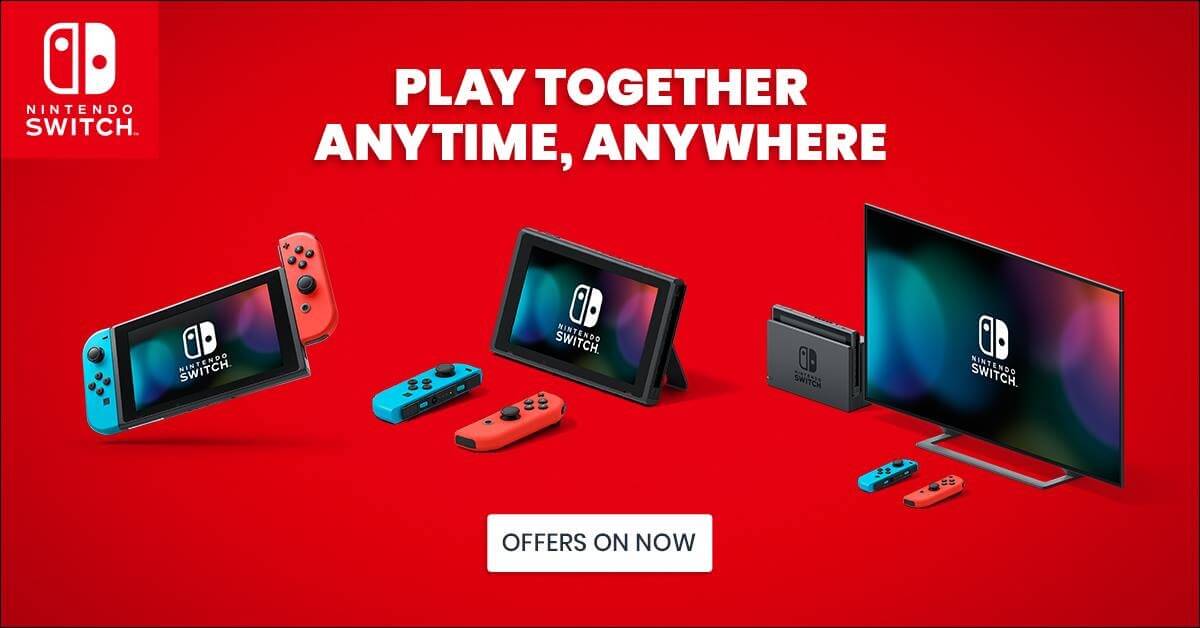 Nintendo has used bold visuals with a combination of clear, concise text to send a message.
Why this display ad works:
The display ad is focused on the product with an accompanying tagline that precisely conveys the message.
Another example of a great tagline is here below.
#3. Urban Decay: Stunning visuals
What makes a beauty brand captivate and make you indulge in its products? Stunning visuals. Urban Decay is no stranger to this.
This brand has used captivating visuals accompanied by a creative but relevant copy to stop you right in your tracks and see what they have to offer 👇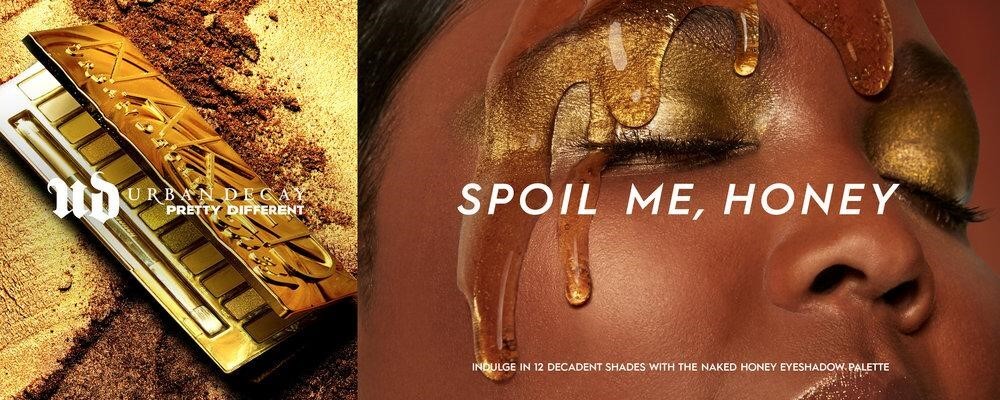 Why this display ad works:
Of course, the image is striking, but what makes it even more alluring is the distinctive and unique caption accompanying the images.
As a beauty brand, Urban Decay wins on all aspects of marketing its product in the right way.
#5. Adobe: Creativity at its best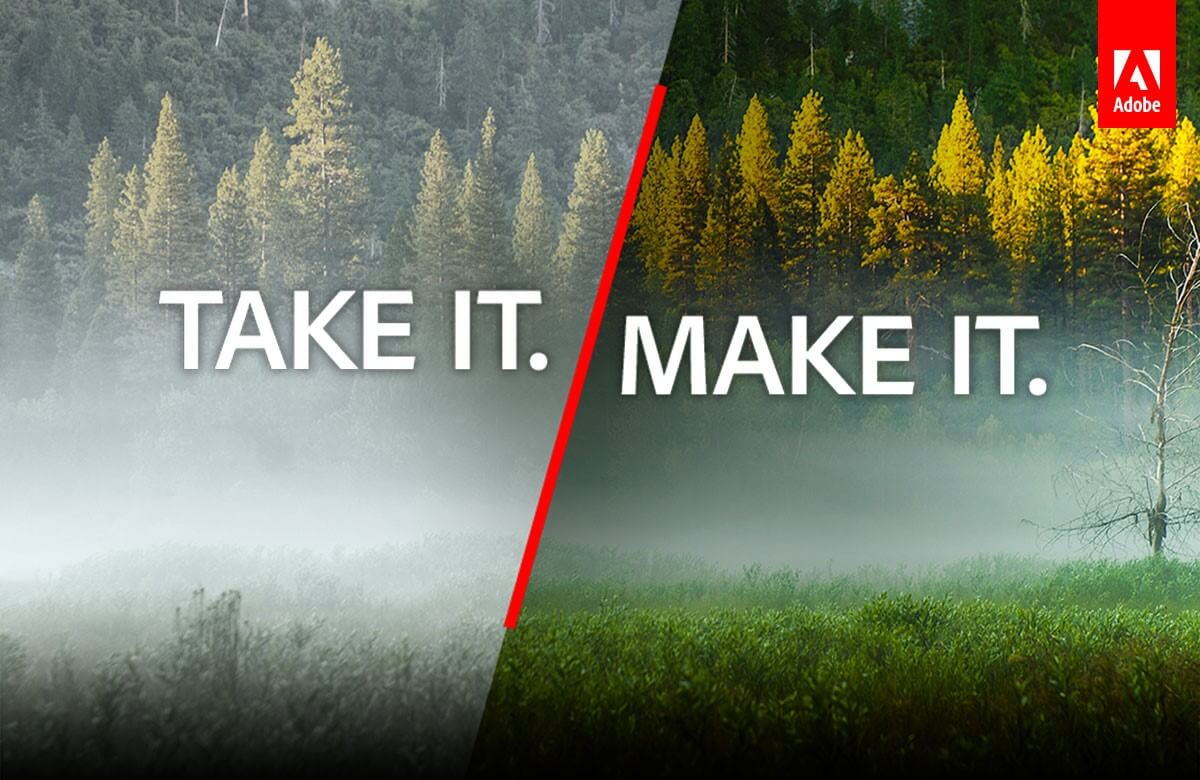 Adobe is known for its creative to approach to marketing. This is no surprise as it markets creative tools. This brand took marketing one step further by being creative and original with its display ads.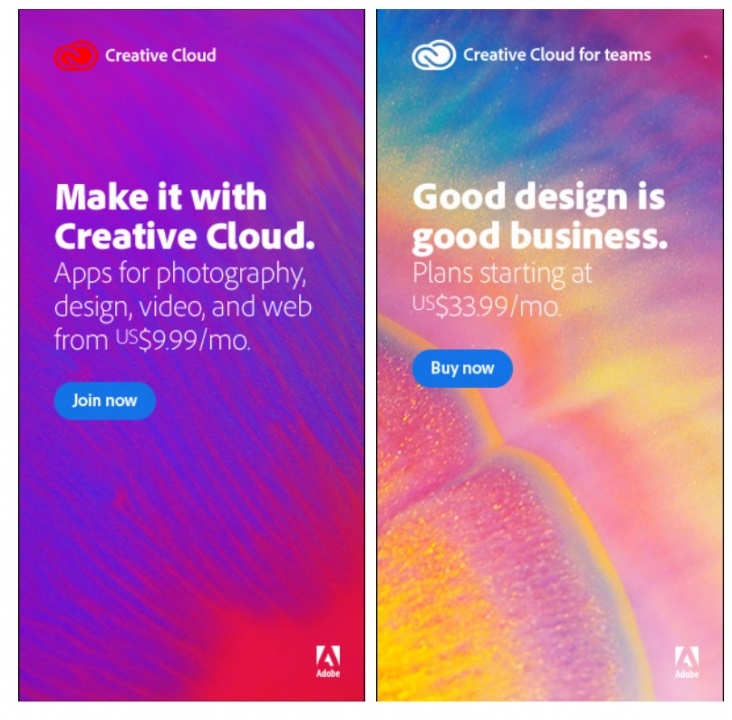 Why this display ad works:
Apart from the relevant and captivating visuals, the textual content also speaks well for the brand and the purpose of the display ad.
Good design is good advertising and adobe wins at both.
Read also: 10 Epic Banner Ad Examples — Stupendously Creative!
#6. Fiverr: To the point copy
Fiverr a popular freelancing platform has used crips copy to convey a sharp message. With just a few words they have delivered exactly what they need.
Why this display ad works:
In most cases, a copy could be the centerpiece of an ad, and this display ad is the perfect example. The design of the ad is kept simple with bold colors and focused on the brand colors.
The clear CTA button is also the main focal point and is well integrated into the design.
Read also: Innovate or Stagnate: Bold eCommerce Advertising Strategies for Growth
#7. Harry's: Intuitive copy and design
Harry's offers a subscription-based service to deliver premium blades on a monthly basis.
The selling point of this ad is the original and intuitive copy. The minimal design with the main focus on the product makes the purpose of the ad clear to an end user.
Why this display ad works:
The spotlight is on the product and it is a brilliant way to showcase the product while promoting the brand. The text is precise and conveyed exactly what It needs to do.
Harry's took the concept of less is more quite seriously and produced a clever display ad.
Read also: 10 Advertising Emojis To 10X Your Conversion Rates
#8. Mailchimp: A humorous connection
Mailchimp is a popular email marketing tool. They took the marketing game one step further and made them absolutely absurd and humorous. This approach has worked for them well and made them stand out in the sea of competitors.
Why this display ad works:
Humour is always a great way to garner the attention of a user. Mailchimp has combined the power of humor and rhyme to ensure the message gets through and remains in the mind of the user. The design is pleasing with a pastel color palette followed throughout.
#9. Huwaei: Reverse Psychology
Does reverse psychology always work? Well, Huwaei tested this out by marketing their newly launched series close to Christmas. They have aptly used the seasonal vibe with a caption while smartly marketing their new product.
Why this display ad works:
The ad tells people to put their phones aside, but there is also a focus on their product. It also sends an important social message about spending time with your loved ones and disconnecting from the digital world.
The Christmassy feel of the ad combined with Huawei's attempt to make an emotional connection is what makes this ad a smart move.
Read also: 9 Types Of Branding And What They Really Mean
#10. AirFrance: Attractive color pallete
The bright color palette used by Airfrance install draws the attention of the user. The message of the ad is also conveyed clearly with no distracting statements or images.
Why this display ad works:
The message of the ad is clear: discounted prices for said places. Apart from the bright visuals, Airfrance has also used Google's location-based services to display different deals for specific regions.
The bright colors cannot be missed by anyone and do the job of captivating the audience, while the text conveys the message clearly.
Read also: Everything You Need to Know About Advocacy Advertising
Wrap-Up: Tips for Creating Your Display Ads
Now that you have a clear idea of what a display ad is, we hope you are inspired to start your own stunning display ad.
But before you go, here are some pointers to keep in mind:
Set clear goals for your ad before you begin. The purpose of the ad should be set from the beginning in order to deliver precisely.
Play around with visuals and make them interesting. The human brain is first attracted to images and then we move on to the text.
Keep the ad clear and clutter-free. A cluttered ad with no clear CTA is as good as a pesky popup. It will be ignored.
Keep your copy short, crisp, and relevant. Although the copy is most of the time not focused on, it could be a great way to implement copies as a major part of your ad.
Be original and have fun!
How can EngageBay help with your marketing journey?
Check out the variety of CRM tools we have.
Need a demo first? Book a free demo with our experts today.