Growing your business is a long-term process. Many companies are constantly looking to expand their customer and audience base; consistent growth in customers is required for your business to be successful. That's what makes the lead generation process and strategies so important.

Marketing teams are always looking for new ways to generate viable leads for sales teams. According to a HubSpot survey, 65% of companies have a hard time generating leads and traffic. The lead generation landscape is increasingly competitive, which is why it's crucial to invest in the right lead generation resources.
There are a lot of ways to go about growing your customer base — however, you don't have unlimited time or money to try and experiment with all of them.
To help you declutter an already overwhelming topic, in today's blog post, we're detailing the most effective lead generation tactics that you can use for your business.
In this guide article, we'll talk about:
What is lead generation?
How to acquire leads
How to understand and score leads
How to engage leads with personalized marketing
And much more. Read on!
What Is Lead Generation?
A lead is a contact that has shown interest in your company's product or service. They may have browsed your website, filled up a form, subscribed to your blog, etc.

Lead generation is the process of engaging with a non-qualified prospect. The goal is to have them become qualified and eventually purchase your product, service, or solution. It's a very important step in the sales process as it sets the foundation for how your lead will be managed throughout their buying cycle, and ultimately influences whether they buy from you or not.
Lead generation marketing is the method you use to collect leads.
Your lead generation process must be subtle and organic; you don't want your potential customers to feel like they're being pushed. Generally, your lead generation process begins with a customer's first interaction with your brand.

The potential-to-loyal customer pipeline goes something like this:
Shows interest → Qualifies as lead → Strategic communication nurtures that lead → Converts into buying customer

No time to read a long article? Watch this video instead:
The Lead Generation Process — How Does It Work?
The process of lead generation may differ for every company. However, there are certain common steps in the funnel for successful lead generation.
Acquire Leads
Marketers and salespeople use two general methods for lead generation marketing — outbound and inbound marketing.
Outbound marketing is a type of marketing where a company initiates the conversation.
This old-school means of appealing to leads rely on methods like print advertisements (magazine ads, newspaper ads, brochures, flyers, catalogs, etc.), radio spots, mailed brochures, and TV commercials. You "push" your brand out in the public to capture attention.
Inbound marketing uses the Internet & social media advertising, content marketing, targeted ads, online product trials, email marketing, and landing pages. You "pull" customers in by earning their attention organically.
In other words, inbound marketing is where the customers find you when they need you.
Inbound marketing is the preferred method because you don't interrupt anybody's attention — instead, you draw the customer towards you. In this type of marketing, content sells.
You can begin acquiring leads by designing landing pages, creating valuable content, and building your social media presence. If your content resonates with your audience base, you'll see an increase in leads who are willing to be a part of your contact system.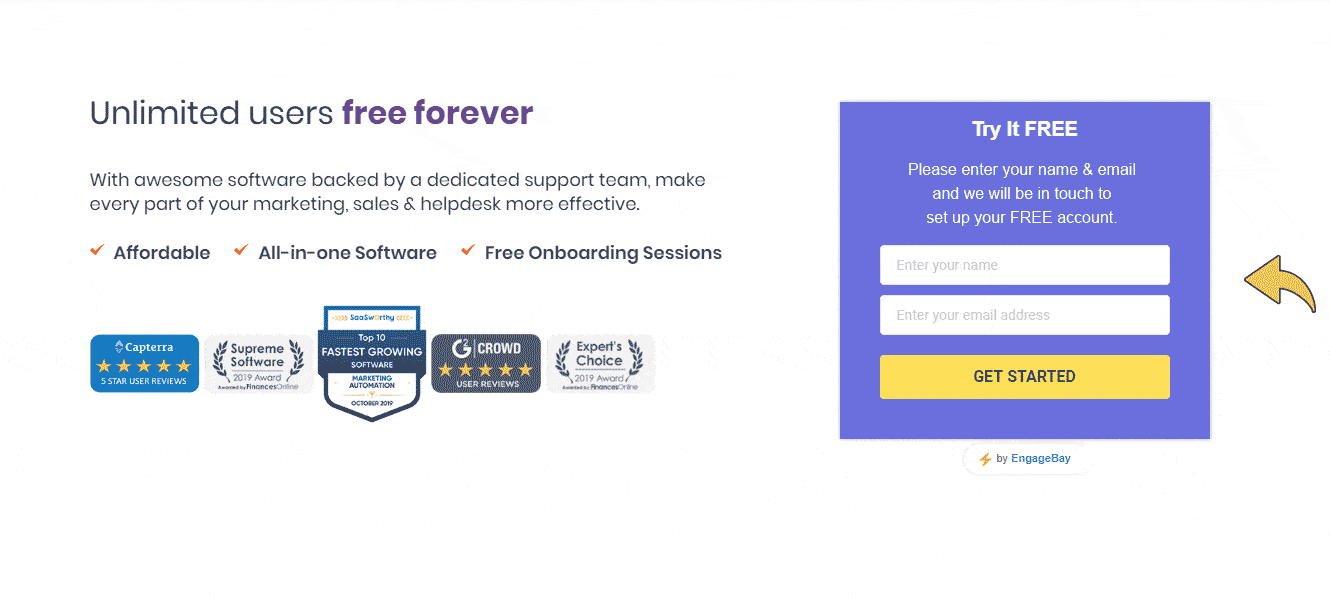 Understand Your Leads
To convert your leads to customers, you have to know who and what they are.
Some prospects visit your website, click around a few links, but don't sign up or register for anything. They are usually redirected from an ad, a Google search, or a social media post.

At this point, there are chances that your prospects have no clue about your product or service. This is where you start feeding them information to convert them into qualified leads.
You can do this by using live chat or chatbots on your website. Pop-up forms offering free guides or ebooks are also a great way to understand your lead's interests and wants.
Qualify & Score the Leads
The next step is to determine your leads' interest and qualification level and differentiate high-quality leads from those with a low level of interest.
But how do you do that?
When prospects convert into a lead, you collect their information, such as their full name, email address, location, and others.
A common practice for lead capturing is quizzes and surveys. Besides engaging potential customers, these interactive features help in understanding their preferences, pain points, and needs, enabling businesses to tailor their offerings accordingly.
Colonbroom.com, for instance, has implemented an engaging and well-designed quiz that not only captivates visitors but also educates them about the benefits of their product, making it more likely for them to make a purchase decision.
Generally, you get this information by giving them something in return. Often, it's a freebie, such as a resources list, curated blog content, or maybe even a short ebook.
Once you have their information, you put a score on their activities on your website. This is known as lead scoring.
A high-scoring lead is one that is interacting more with your business. They may either be downloading more content or viewing more pages. Your high-quality leads must be your priority when it comes to engagement.

Lead scoring software automates the process of assigning scores to your leads and identifying the high potential ones.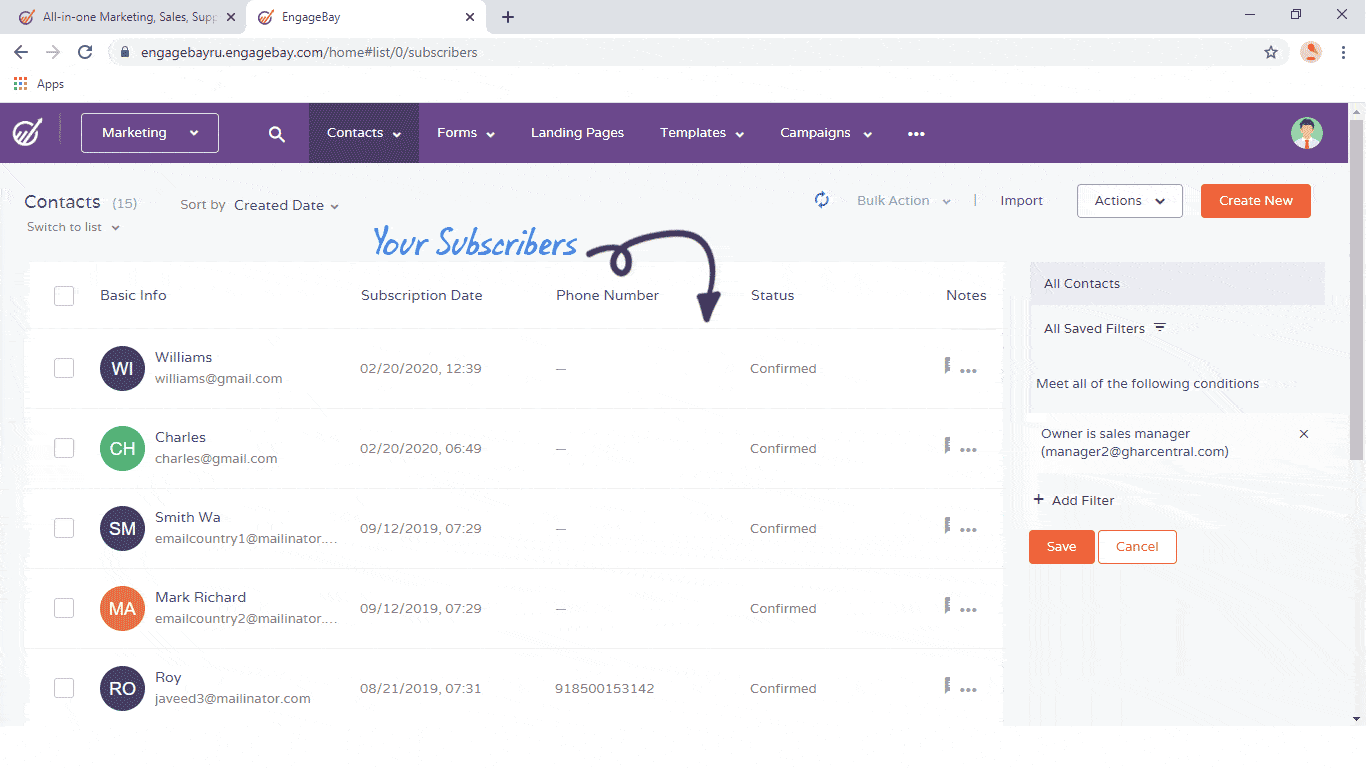 Nurture & Engage Qualified Leads
Just because someone gave you their information doesn't mean that they are ready to engage with your business further.
Lead nurturing is the process of building relationships with your leads and moving them down the sales pipeline. In simple terms, you are gently nudging them towards making their first purchase.
There are various ways to keep your leads engaged, including email marketing, phone consultations, and other direct communications.
If a lead continues to show interest in you, they will probably take some actions. For instance, they might reply to your email or schedule a demo. You want to retain your leads' interest, so that they may keep moving along the sales funnel.
Importance of Lead Generation — The Marketing-Sales-Service Feedback Loop
If you want your lead generation process to be successful and effective, your marketing, sales, and service teams must be aligned.
This means understanding that all three teams must take responsibility for lead generation and engagement.
Marketing
Lead generation is a core practice of successful marketing. Usually, marketers bring in leads through different channels and pass them along to the sales teams. They don't necessarily evaluate or score the quality of a lead.

Your marketing team must think in terms of the sales pipeline – what the funnel looks like, what the customer profile is, and how often it's being communicated.

Since marketing is responsible for company positioning, having common goals can help bring consistency to the sales process.
Marketers are also responsible for creating lead engagement campaigns — such as email marketing, social media, and content marketing.
Sales
The sales team can help marketing teams by providing feedback on every lead they receive. Doing so would also help marketers to build a more well-rounded customer profile and better-targeting parameters.
If there's no feedback process, then marketing teams will keep sending leads without knowing which leads qualify and which don't. Consistent feedback will help marketing and sales teams manage expectations, and reorganize pipelines as necessary.
Customer Service
Customer service reps work in a more outbound capacity. They take calls from customers, schedule follow-up sessions, and resolve customer queries.
Reps may also chat online, including answering messages on social media or doing a live chat on a company's website. It's important to have real-time answers to queries as these come in.
Clearly, marketers, salespeople, and customer service reps each have unique, integral roles in the lead generation process. One cannot work without the other, or at least not efficiently.
When all the three departments coordinate their efforts, it ultimately results in attracting qualified leads with a higher chance of conversions.
Your company can benefit from using a CRM — a unified management system that aligns marketing, sales, and service teams on a common dashboard.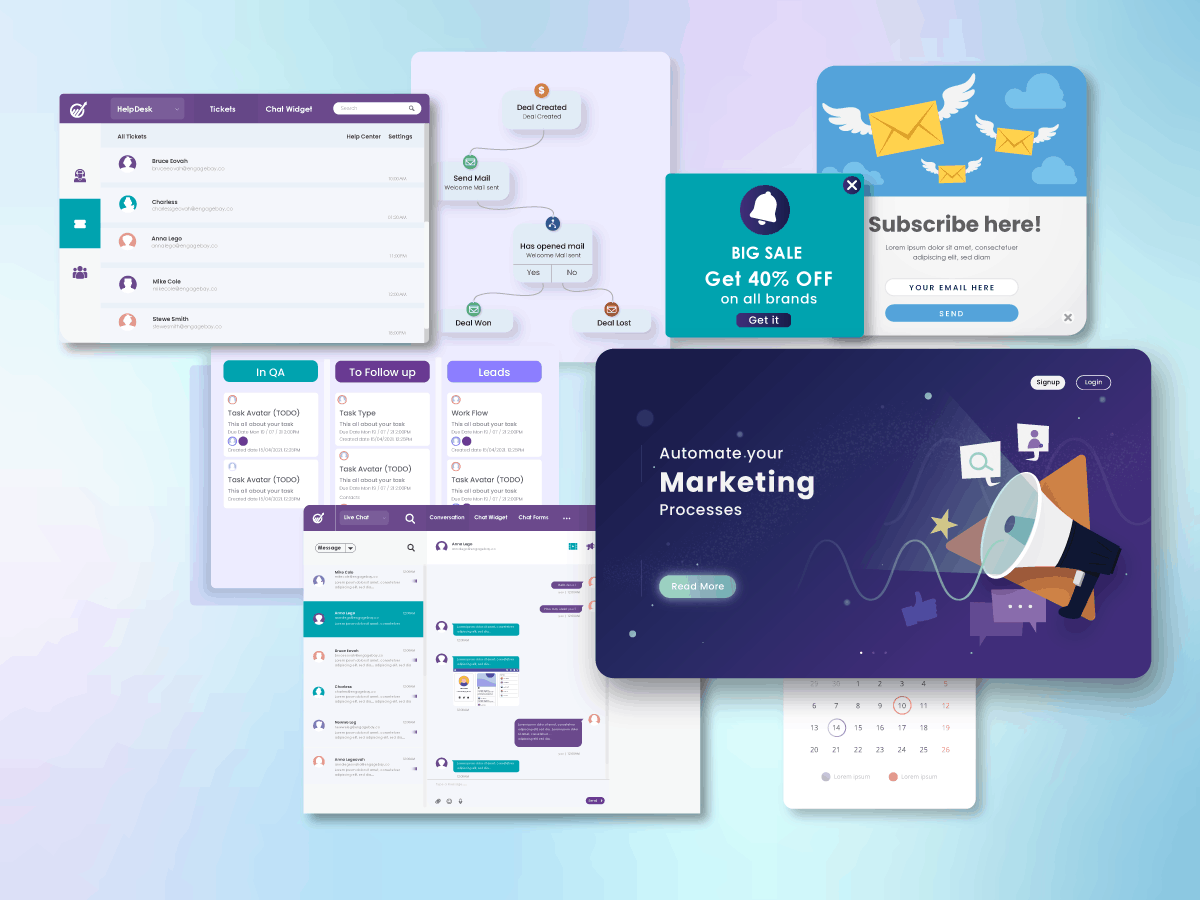 Read More: 9 Awesome, Proven CRM Techniques To Improve Your Marketing ROI
How to Generate Leads Online
Here are a few valuable insights that will help you reach your sales and marketing goals.
1. Have a Website
If you don't have a website, your prospects won't be able to find you. Besides, just having a website is not enough.
It needs to be optimized and should be properly designed if you want your visitors' attention.
Websites are a great way to build a strong online presence and attract targeted leads using organic traffic sources.
Besides, you can even personalize your visitors' experience by making them see the information relevant to them, based on where they are in the buyer's journey.
2. Use Live Chat
Live chat is a communicative technology that you can use to reach leads seamlessly. According to statistics, 83% of customers are receptive to support when they're browsing your website or making a transaction.
To elaborate, using Live Chat in the lead generation process can do the following and more for you:

Get better conversion rates: Potential leads can connect with your customer service reps instantly and get their queries resolved. This works in your favor because leads are more likely to convert to paid customers if you offer exceptional service.
Shorten the sales cycle: When you can connect with leads at key moments, you essentially reduce the steps in the sales cycle. You don't have to rely on inbound marketing to build trust, you've already engaged with them proactively.
Capture contact information: Sometimes, your leads are looking for something specific and they can't find it. You can use this opportunity to collect contact data and send them the information they're looking for. In this way, you get a customer profile, and your lead gets a positive interaction.
3. Offer free products or services
Some visitors hesitate to leave their contact details on a site if they aren't getting anything in return.
That's why it's crucial to include an opt-in form along with an incentive so that they are willing to give you your email ID.
For instance, you can ask them to subscribe to your blog for weekly informative and valuable content. Or, you can even give them a free trial of your product.
4. Design attractive landing pages with a strong CTA
The equation is quite simple here:
CTA (Call-to-action) → Landing Page → Thank You Page
A CTA (click-to-action) is a button that promotes an offer and links to a landing page. Once a visitor clicks on the CTA button, they are prompted to a landing page.
A landing page is a web page that is designed to help capture leads. In other words, landing pages are your digital sales rep.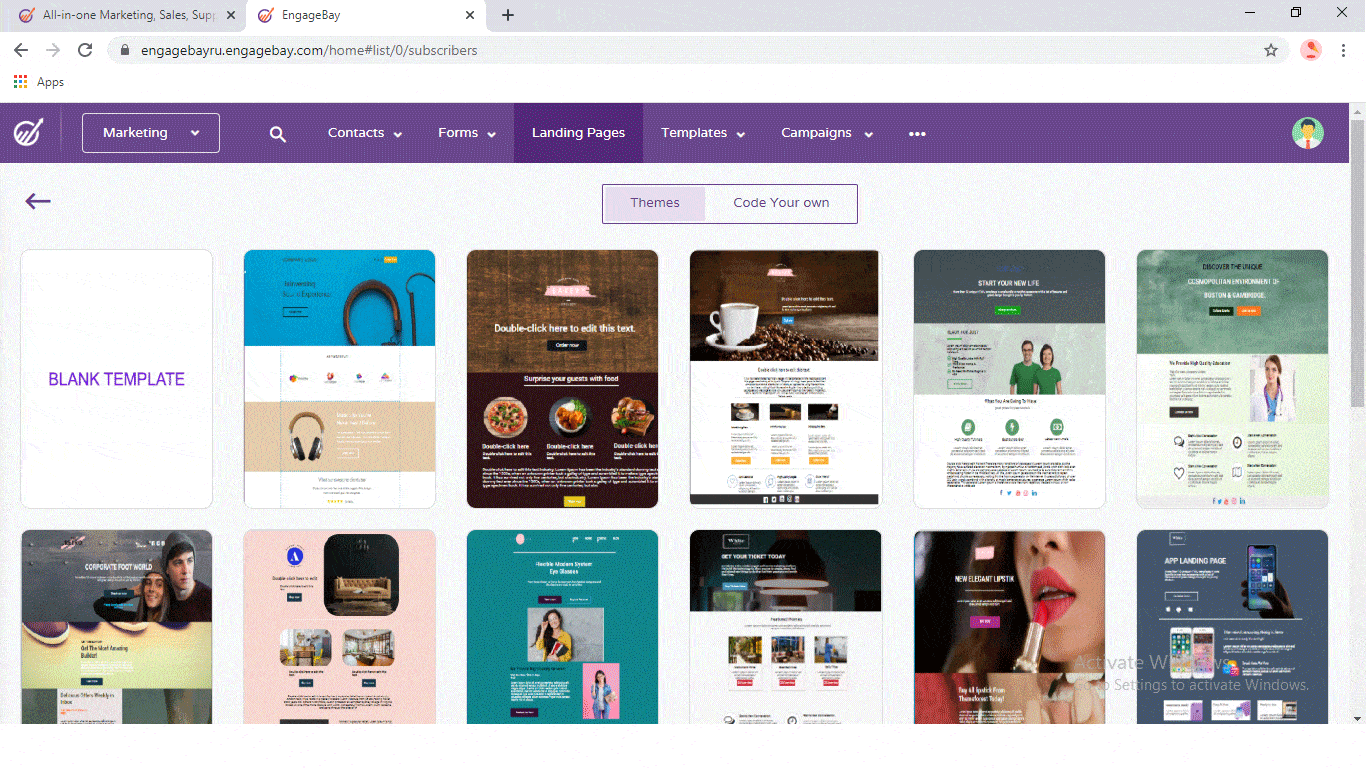 EngageBay landing pages
Some of the best practices for creating an appealing landing page and CTA button are as following:
Write a clear, concise, action-oriented headline

Explain the offer and value clearly

Use strong and appropriate placement for your CTAs

Make it attention-grabbing
Build responsive landing pages using the easiest drag-and-drop designer from EngageBay

5. Use personalized email marketing
One significant advantage of using email is that it allows you to be highly personal. Email marketing is one of the most preferred ways to capture leads and nurture them.
Personalized emails provide the reader with a human touch, making it seem like you're speaking to them one-on-one.
Email personalized relies on being relevant and timely. So, how do you do that?
The main steps involved are:
Define your buyer's persona

Segment your audience

based on the buyer's journey, their demographic, etc.

Leverage data to build targeted email campaigns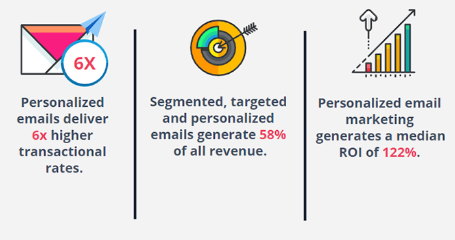 Source: Instapage
6. Use client referrals as social proof
Word-of-mouth is still the most effective lead generation marketing strategy to grow your business.
Generating positive word-of-mouth buzz relies on building a good product and offering a superior experience. You want your clients to do your marketing for you, so you have to build services that appeal to their needs. Once you do that, word-of-mouth referrals can become your most sustainable stream of lead generation.
You can even incentivize your existing customers to refer to their friends — offer discounts, extra loyalty points, etc. You can bolster your social profiles to boost referrals by buying IG followers.
👉Master the art of sales lead management with our expert guide – explore best practices and strategies now! 🌟
Read more: The Definitive Lead Generation Guide by EngageBay
Wrap Up
Lead generation is a continuous process. Your strategy should be adaptable and non-intrusive so that you don't lose out on acquiring quality leads.

When you evaluate the lead generation process from start to finish, you can begin to identify any bottlenecks that could hold your company back from success.
Your sales and marketing teams must be aligned with a common goal — whether it is to acquire a sales qualified lead or build a sales funnel. The tips we have detailed above are just a starting point. You can use other methods of lead generation as well, depending on your requirements.

A good lead generation process has a lot of moving parts — you have to be open to dealing with challenges and experimentation. The more you test and optimize, the more you'll improve your lead quality.

Hopefully, this guide has provided you with a few ideas that you can implement in your lead generation strategy. You can also read more lead generation techniques in this blog.
Good luck!