Why use customer relationship management or CRM for marketing?
According to SuperOffice, CRM or customer relationship management has grown to be "the biggest software market in the world." In the next six years (2025), it's expected that revenue will shift upwards in the ballpark of $80 billion.
From email marketing to mobile CRM and everything in between, what's clear is that CRM software is not going away anytime soon.
If anything, it's only going to become more pervasive, slipping into more and more everyday elements of marketing, directly affecting your marketing team.
As the relationship between CRM and marketing strengthens, even more, making way for marketing CRM to address your business needs, you may look to implement the software in your marketing strategy for 2020.
That's certainly a wise choice. After all, as SuperOffice breaks down, CRM systems can help in many aspects of a marketer's life.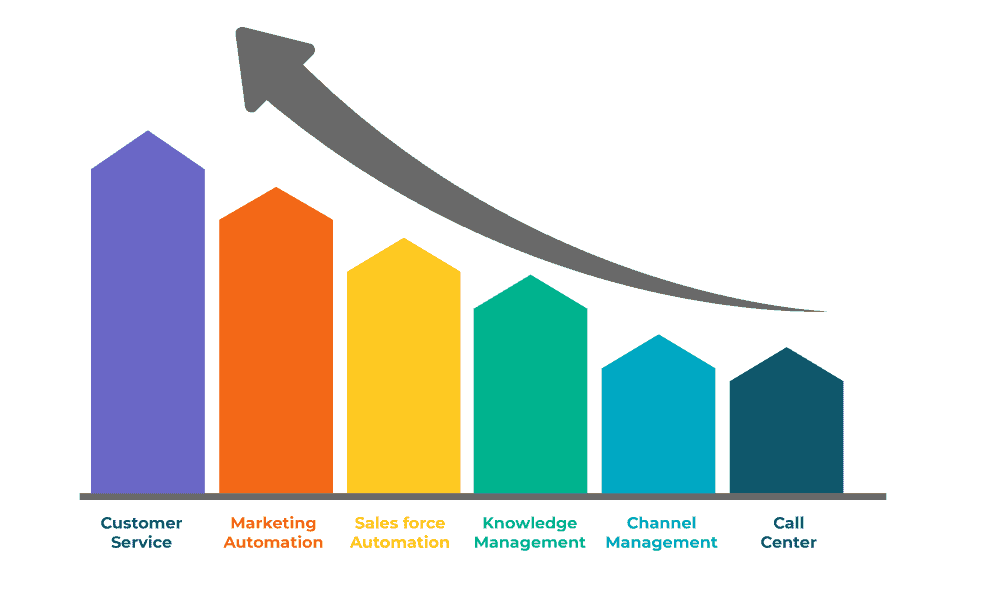 These include call center CRM management, channel management, knowledge management, sales automation, marketing automation, and result in an improved sales process and customer service.
👉👉Implement CRM and marketing techniques and boost revenue using EngageBay – the simple yet All-in-One marketing and sales CRM for growing companies. Get FREE lifetime access (up to 15 users) from here 🏆🏆
How CRM Helps in Customer Retention
Want to hold onto your customers? Improve the customer experience? Of course, you do! Well then, you need CRM software. CRM makes it easy for you to maintain or improve customer satisfaction and consequently, customer retention in the following ways:
By reviewing feedback and report data via the software, you can see which mistakes you made. Then you can plan on improvements for next time that will keep your customers coming back for more.
With a CRM system, you can personalize your customer interactions in many ways.
If you're interested in making your own loyalty program for improving customer relationships and holding onto long-term customers, look no further than CRM software.
You can also customize the offers you make using demographic and other segmented customer data. That increases the receptivity of these offers.
With CRM solution, you can view the customer journey from start to finish. You can then step in and make offers that relate to each step in that journey.
If your company is ready to start using CRM (customer relationship management) software, then you don't want to miss this article. In it, we'll showcase nine exemplary CRM marketing techniques and best practices you can begin using today.
CRM marketing techniques you can begin using today
Tailored, Automated Email Marketing Campaigns
Social CRM for More Meaningful Interactions
Cloud-Based CRM Gives Way to Mobile CRM and So Much More
Mobile CRM Marketing Continues to Grow
Deep Segmentation and Personalization
Retain Customers at All Levels of the Journey
Search Marketing and CRM Go Hand-in-Hand
Predictive Analyses Provide Accurate Insights and Points of Improvement
Use CRM Contact Fields for More Personalization
1. Tailored, Automated Email Marketing Campaigns
We recently published an article on our blog about how CRM and email marketing intersect.
Indeed, if you have CRM software, it's incredibly easy to integrate it with your email marketing campaigns to create comprehensive and converting campaigns.
You can get alerts letting you know when your customers or potential customers are opening your emails. It can go even more in-depth than that, as you can see which links customers are most receptive to.
Those alerts let you plan the perfect follow-up at exactly the ideal time.
Not only that, but CRM features can aid you in lead nurturing. This is due to the deep segmentation that CRM software is capable of, which we'll discuss later in this article.
With customizable email templates that include interactive elements, you're sending the kind of email content your customers actually want to open and read. Interactive content can be anything from little email mini-games to a simple video.
Then there are marketing automation tools so you can send mass tailored emails to all your audience segments. Finally, CRM and email can integrate to improve your social media marketing…
2. Social CRM for More Meaningful Interactions
Social media and CRM are so buddy-buddy that there's even a term for combining the two: social CRM.
What exactly is social CRM? It's a modern way of customer communications by reaching out to customers via social media channels like Twitter or Facebook.

It can also include email, chat, text, and even phone communication, but social media activity is the star. Since it's CRM software we're talking about here, the marketer already has a detailed view of each customer.
That allows communications to be more meaningful and effective.
There's another element of social CRM that is equally as important as conversions and customer retention.
It's customer support. After all, for improving customer relationships by keeping your customers happy, you want to answer their questions and meet their requests.
Yet, according to data from call service company Yonyx, that happens far less often than it should. They found that more than half of companies (55 percent) did nothing with the social CRM customer feedback they received.
This is a wasted opportunity. Yonyx adds that a good chunk of customers (17 percent) seek social media for customer support purposes. Social media platforms can also guide purchasing decisions, said 20 percent of the respondents.
You can't always expect that the interaction will be a positive one, at least not initially. Negativity is common, as a portion of customers (35 percent) who seek out your company will do so to complain.
Still, if you can turn their complaints around, you could see more customers in the future. Yonyx notes that when customers have a good experience with a company, roughly 70 percent would tell their family and friends about it.
4. Cloud-Based CRM Gives Way to Mobile CRM and So Much More
To say that cloud-based data storage is growing is an understatement.
Statistica, a stats resource, found that 1.8 billion people across the world were on the cloud in 2017. Whether personal or work-related data, they entrusted their information to Internet-based servers.
Today, there's what's known as cloud-based CRM. This is when your CRM software is stored in the cloud.
What's so convenient about cloud CRM? Everything!
You and your staff, no matter how big or small, need only an Internet connection to track your CRM. Did we mention you can do this anytime from anywhere?
There's no need to be tied down to your office computer. Whether it's a weekday night or a weekend, you can bring your CRM with you. All you need is a stable Internet connection to do so.
As you can imagine, this can be revolutionary for businesses looking for more detailed customer insights.
New leads are always entering your pipeline, after all, and the job of parsing through and segmenting them never seems to end.
Cloud CRM makes it easy so no potential customers slip through the cracks.
Not only that, but you can render your contact management efficient with your cloud CRM by keeping customer contact data up-to-date, send emails to your mailing list at virtually anytime, and quickly contact your sales teams and/or marketing teams.
According to another article on SuperOffice, this year, companies will shell out $127 billion on cloud CRM solutions and other services.
Back in 2014, companies were only willing to spend $56.6 billion. This shows you how much the cloud has grown in four very short years.
EngageBay's free CRM solution helps you organize all your email contacts, track deals and the sales pipeline to grow your sales, and build meaningful customer relationships.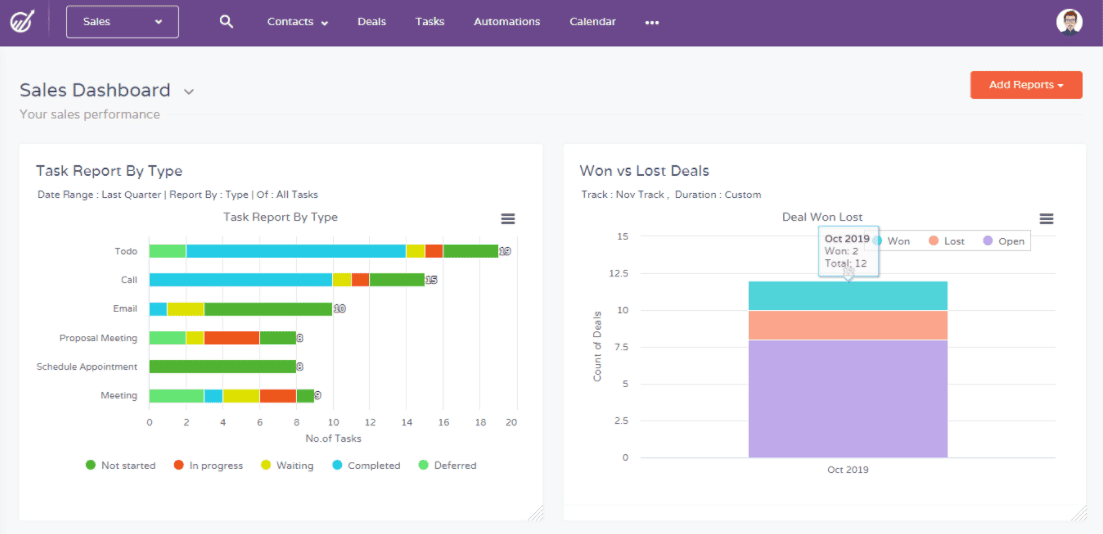 4. Mobile CRM Marketing Continues to Grow
Without cloud CRM, we'd never have mobile CRM. After all, with cloud-based CRM, we marketers can use our CRM marketing tools of choice anywhere, anytime.
That includes any tech as well, such as smartphones, tablets, and other mobile devices.
Like the cloud gives us the freedom to target every customer and reach our sales goals around the clock, so too does mobile CRM.
With a secure app, we can take our customer insights and marketing campaigns with us anywhere, and all in our pocket, too.
According to Innoppl Technologies, it's possible to meet more sales goals with mobile CRM solutions. Of those sales reps they surveyed, 65 percent of them said they were surpassing quotas with the use of mobile CRM.
The rest of the respondents, 22 percent, were not using mobile CRM yet still achieved their sales quotas…the hard way. Why make marketing harder than it has to be?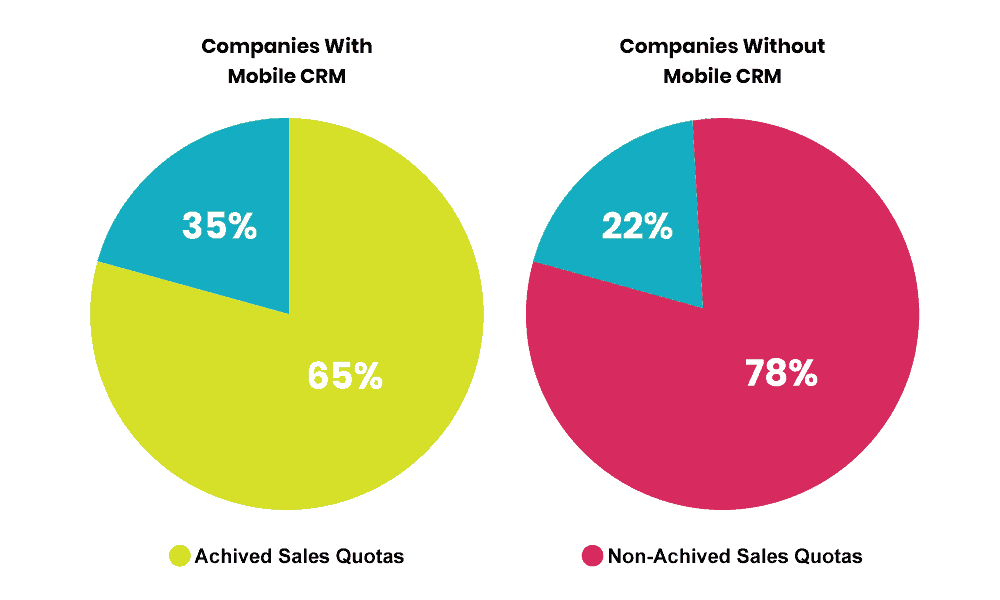 5. Deep Segmentation and Personalization for that Perfectly-Tailored Approach
As we mentioned in our article about email marketing and CRM, with the software, you can segment your audience more specifically than ever before.
The powerful insights you can gain into your leads and customers give you the power to watch your leads go through the customer journey until they come out on the other side as loyal customers fostering long-term customer loyalty.
CRM software helps you guide your leads through every step of that journey.
You can send marketing emails and other content during the awareness stage, engage and nurture with them, and then gently push them towards product or service purchases.
There's one great way to ensure your lead will successfully complete the customer journey. It's personalization.
Here's an awesome CRM marketing strategy example about personalization from HubSpot. Kyle Jepsen, the company's Academy Sales Professor, had reached out to a video company called Vidyard.
What followed was a 51-second extremely personalized video.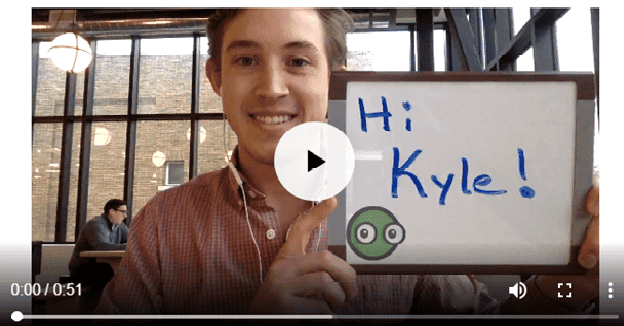 In the above screengrab, you can see that the speaker, Cole, had written Kyle's name on a whiteboard. That's not much, you're probably saying.
According to HubSpot, though, Cole mentioned certain topics he had spoken about with Kyle as well as the names of some colleagues.
Now that's personalization.
6. Retain Customers at All Levels of the Journey
As a marketer, you're not only interested in bringing in new leads, but also retaining every customer you already have. There are several ways you can do that with CRM software.
The first of these is within the software itself.
Whether you use cloud-based CRM, mobile CRM, or another solution, you know that all your customer data is easily accessible through the software.
Instead of digging through databases and contacts lists, it's all there for you to parse through anytime you need to.
You can update customer information and even cut unresponsive dead-ends if need be.
You can also choose to re-engage with these former customers through specialized email campaigns. If the re-engagement campaign fails, then so be it.
With a combo of CRM and marketing automation, it's possible to reach out to former customers without putting a lot of manhours into it.
Personalization is another useful way to retain customers. We just talked about personalization, and it's come up many times on this blog, too.
Finally, you can track the interactions your customer has from start to finish. As mentioned, CRM gives you a bird's eye view into a lot of important metrics.
Who is opening your emails? Who is clicking links, and which links? Who's making purchases and how often?
By knowing this, you can determine who your most loyal customers are and who may be eligible for a re-engagement campaign.
7. Search Marketing and CRM Go Hand-in-Hand
Another of our recommended CRM marketing techniques and best practices is using it alongside search marketing.
Search marketing, as you surely know, is a means of marketing to improve your search engine standing. You can pay for search engine marketing if you must, but CRM software is useful even if you don't.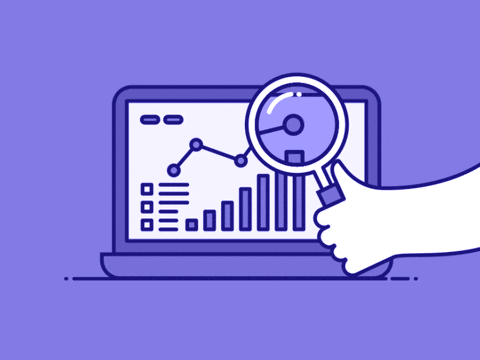 How? You already have detailed information and insights into your customers, including their demographics, interests, pain points, and purchasing behavior.
Now you just have to take that information and use it in search marketing.
For instance, you can use the demographic customer data you have to tailor your ads.
Your advertisements can also be geolocated, so if a customer recently went to one of your bricks and mortar stores, they'll get ads for their area.
Depending on customer behavior, you can also target specific ads and emails to various customer segments. Perhaps you want to re-engage with abandoned cart users.
If someone reached out to your customer service teams, they'd see a different message. You'd have yet a third running campaign for longtime customers.
The potential for the intersection of search marketing and CRM is nearly endless, making way for marketing CRM.
While it's always important to respect the privacy of your leads and customers, if they gave you information, you can use it to market to them.
8. Predictive Analyses Provide Accurate Insights and Points of Improvement
Finally, the predictive analyses capabilities of a CRM tool are one of its most valuable assets.
We marketers always wish we could look into a crystal ball and predict the future. That's why we make trends list and predictions for the year ahead.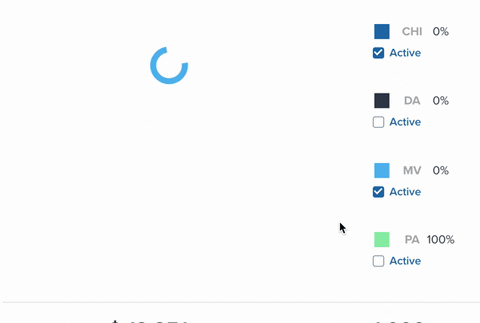 How accurate those trends and predictions will be is always up for debate. If you want more accurate predictions that are actionable as well, turn to your Saas CRM software.
Its predictive analyses use real-world customer data gathered from your leads and customers. It can predict areas in which you need to improve and those in which you excel.
Combined with the detailed analytics your CRM software can provide you and you should have a more comprehensive picture of your marketing campaigns than ever before.
That allows you to reap future successes and appeal to your customers in a way that suits them best and thereby, improve customer relationships.
9. Use CRM Contact Fields for More Personalization
Although we've discussed personalization several times in this article, you can never have too many methods for making your emails more intimate.
One such CRM method you can use is known as CRM contact fields. As this list shows, you can choose a field based on all sorts of criteria. This includes:
How often the customer uses or buys a product
Their location
Their job department
Their clothing size
Their spouse's name and their wedding anniversary
Their birthday
If you have this information, then you might as well play up to it and use it to its fullest in your marketing efforts. The level of personalization you can achieve thanks to CRM is essentially unparalleled.
Store all your contacts in one place. Stay organized, make meaningful decisions, and close more sales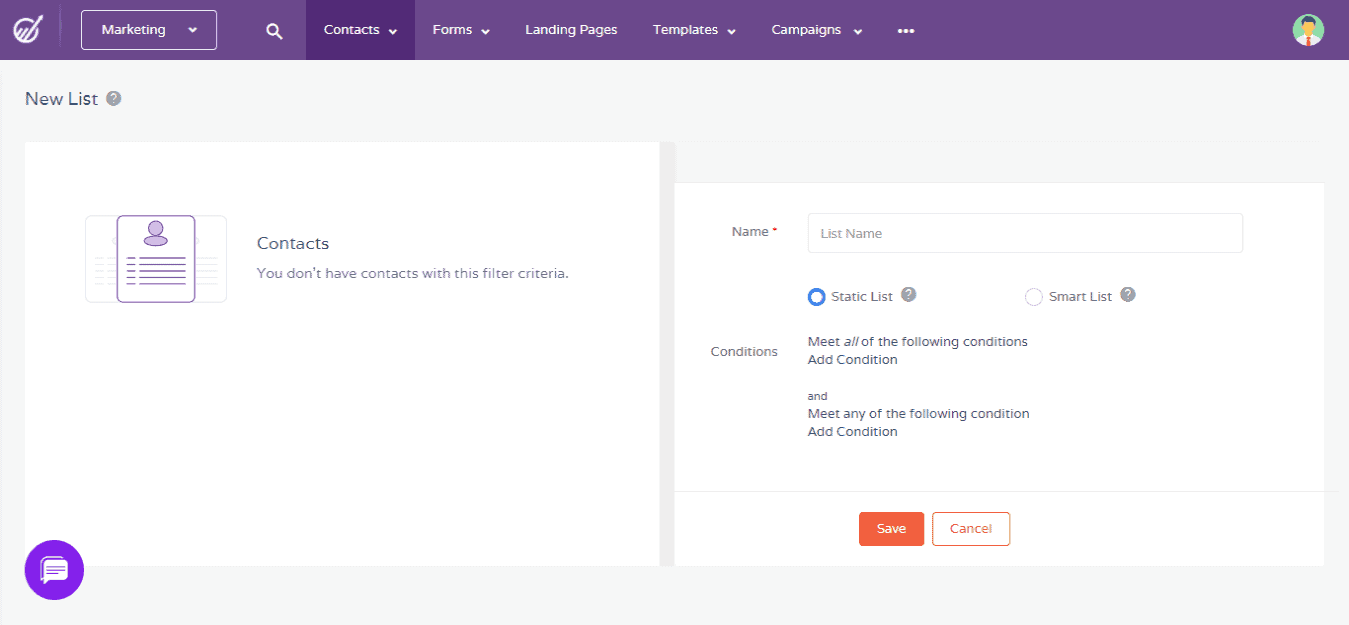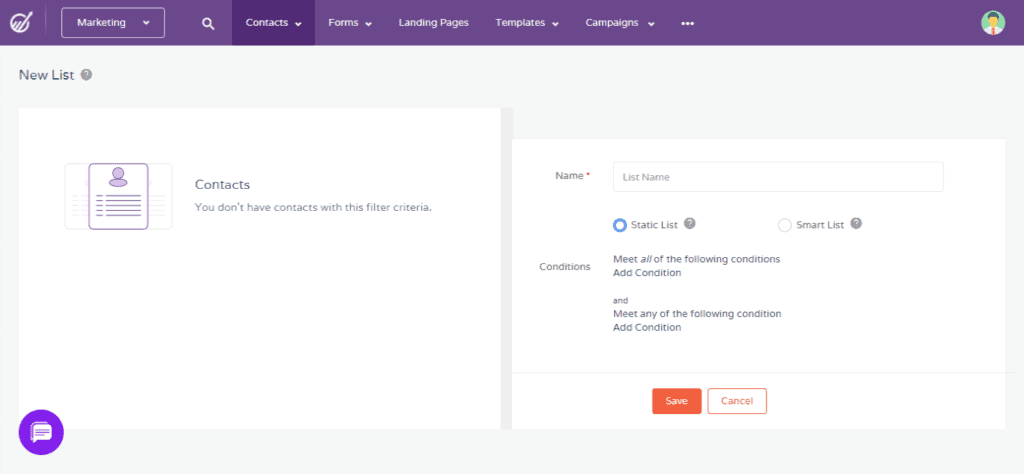 👉👉Implement CRM and marketing techniques and boost revenue using EngageBay – the simple yet All-in-One marketing and sales CRM for growing companies. Get FREE lifetime access (up to 15 users) from here 🏆🏆
Conclusion
CRM software is on the rise, and the bottom line is that its ascent is not slowing down a bit.
More and more marketers and business people are learning the value of this software. By gaining invaluable insights into your customer base, you can convert leads and retain loyal customers, be it a small business or an enterprise.
The marketing CRM techniques and best practices we shared in this article should help you meet your goals.
With the end of the year upon us, now is the perfect time to begin planning ways you can succeed in 2020.
With CRM, automation, social media, emails, and more, that success can be right around the corner.
EngageBay is a comprehensive Customer Lifecycle Management (CLM) software for growing companies. CLM covers all aspects of customer management across sales, marketing, and support.
Check out EngageBay's offerings – a powerful CRM, Marketing Automation, and Customer support software to grow your small business.