Leads — every company needs them, but if you're looking for specific ones, like B2B sales leads, you might not necessarily be getting them.
Generating sales leads isn't as easy as plucking any old lead from your contacts list and trying to sell to them. Instead, sales leads often go through a somewhat rigorous qualification process. Then they enter your sales funnel.
Do you need to pick up the phone to market to these leads? Send physical mail? Or are the same lead gen tactics you usually rely on going to work here?
Sometimes it's the former and, in some instances, it's a combination of A and B. Very shortly, you'll see what we mean.
If you want more ways to get sales leads, this is the article for you. In it, we'll share 13 of our favorite paid and free B2B sales leads tips that are sure to generate results for your company.
13 B2B sales leads tips
1. Make a Landing Page
The nurturing process is an incredibly important one. Even though your lead gen tactics may differ for sales leads, it's still crucial you build a rapport with your potential customers.
One means of lead nurturing you probably already use is landing pages. If these are targeted specifically to your B2B sales audience, you could see new leads enter the funnel. You won't be the only marketing company to do such a thing in 2019, either. According to recent data from marketing company Venture Harbour, more than half of B2B companies (68 percent) plan to implement landing pages to drive sales lead conversions this year.
Whether you're the type of company that favors the homepage-as-landing-page technique or you make individual landing pages for all your products/services, make sure you have them. Keep the pages targeted for best results.
2. Use Inside Sales
If your marketing company isn't already using inside sales, that's something you'll want to change for 2019. As the image below shows, inside sales are your best B2B lead gen tactic.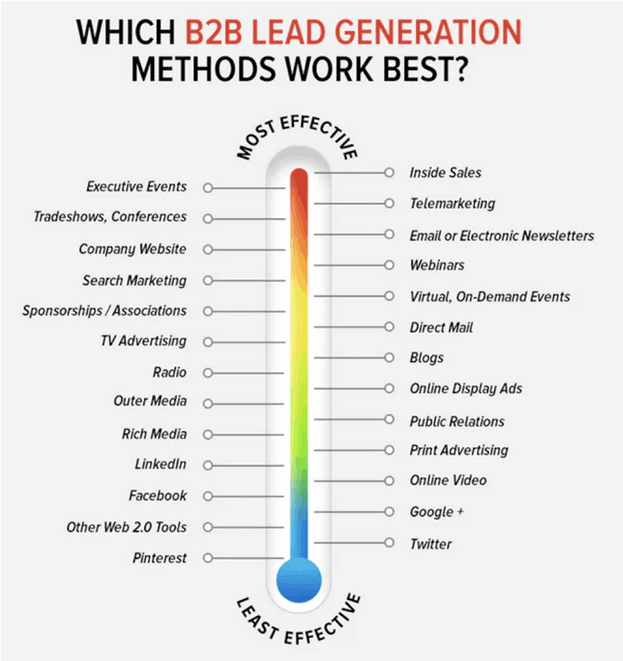 Image courtesy of Venture Harbour
What exactly are inside sales? These are a means of reaching out to potential customers via email and phone calls. You may also hear of inside sales referred to as virtual sales or remote sales.
When we say phone calls, that very often means you're cold calling your customers. You might warm call them, too.
While cold calls are the bane of every marketer and salesperson's existence, you still have to pick up the phone sometime. B2B sales resource Sales Hacker says longer cold calls are especially effective. Those salespeople whose calls last six minutes or less are more likely to get the lead to schedule a meeting.
You shouldn't chat the lead's ear off. You also shouldn't sit and listen passively, at least not for the whole call. Sales Hacker says for a cold call to be the most successful, you have to master the talk-to-listen ratio. You should be talking 55 percent of the time but listening 45 percent. That's about an even split.
As the image below shows, listening too much can be to your detriment. That doesn't mean to rush the call along or cut the lead off. However, be mindful of how long the conversation is going on and who is dominating it.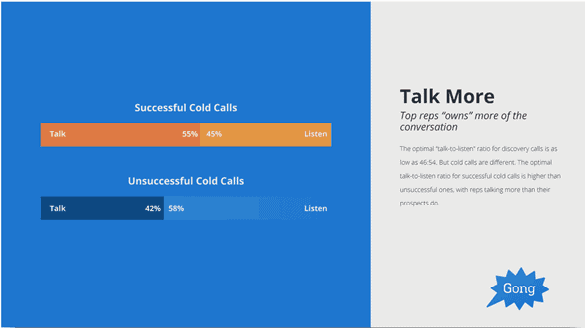 Image courtesy of Sales Hacker
As for warm calling, not only is it a lot easier to do, but it has a higher conversion rate, too. Accounting software company Sage says the conversion rate may be as high as 30 percent.
3. Yes, Use Email Marketing
Email marketing is not going anywhere. If you look back at the Venture Harbour image, email marketing is one of the top-tier means of generating B2B sales leads.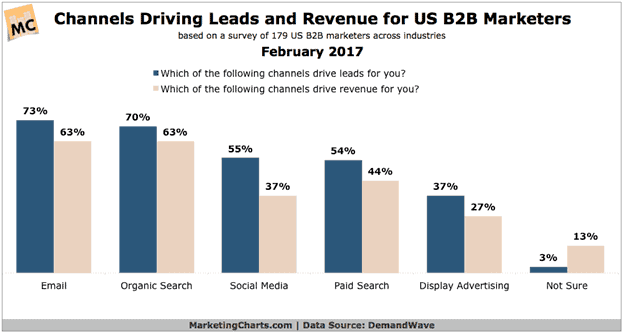 Image courtesy of MarketingCharts.com
The above chart from HubSpot is from two years ago, but it proves that many B2B marketers are using email. Up to 73 percent of them said email marketing was generating leads for them, and 63 percent said email marketing earned them revenue.
Chances are, email marketing will always have a place in your campaign. That doesn't mean you're sending blanket emails, though. You still need to have targeted lead buckets based on demographics like age, location, gender, income, and pain points.
Here are some other tips for B2B sales email marketing success:
The subject lines of these sales emails should be more focused on value or urgency. You may ask questions, include stats or numbers, or use other captivating subject line tactics.
Whatever you do, keep the subject line short and sweet.
Make sure your emails feel personalized. Include the recipient's name in the subject line if you want. Always make sure it's in the body of the email.
Watch the length of your email. This is especially true if you're contacting a lead for the first time. The shorter and more concise your email, the more skimmable it is. You could get higher click-through rates this way.
Make sure you implore the sales lead to do something. Maybe that's opting in, perhaps it's scheduling a consultation, or it's even giving you a call. Spell the steps out clearly for the lead.
Don't be afraid to follow up if you don't hear back.
4. Host/Attend a Conference or Tradeshow
If your company has the means, then host your very own conference or tradeshow. This is another top-tier means of B2B sales lead gen, so it's certainly worth doing.
Of course, not every company is financially able to put on their own trade shows, expos, or conferences. If that's the case for you, then you want to make sure you're attending as many of these shows as you can.
What do you do once you're there? That's a great question! Here are some tips for trade show lead gen success:
Don't just stay at your booth all day waiting for people to come to you. Walk the floor, shake hands, and talk to people.
Have business cards ready to exchange that have your email address on them.
You cannot rely exclusively on leads emailing you. Whether it's a signup sheet or something else, you want a lead's email address and/or phone number. This way, the ball is now firmly in your court.
Follow up immediately after getting back to your hotel or back home. Time is of the essence. Leads forget who they met if they're shaking a lot of hands and attending an expo for several days. Make sure you stay fresh in their minds.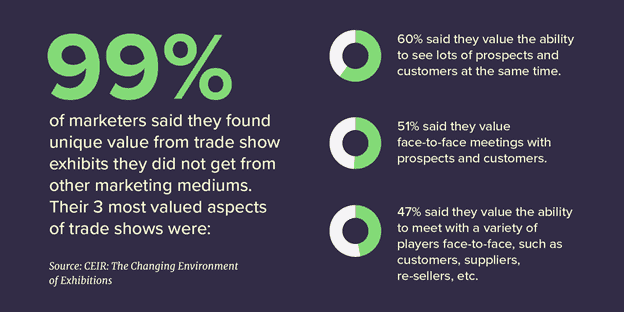 Image courtesy of Proposify
As the above image shows, trade shows and expos can be immensely useful for marketers and salespeople alike. You just have to know how to make the most of these events.
5. Get Rid of the Negative Connotations of Telemarketers
Going back to the Venture Harbour image, telemarketing is shown as one of the best means of getting new B2B sales leads in your pipeline. This touches on the points we mentioned earlier in this article on cold calling and warm calling.
These phone calls count as telemarketing. Nowadays, anyone can readily think of several times they've been interrupted by an especially persistent telemarketer. Maybe it was in the middle of a busy workday. Worse, perhaps it was during a meal with the family. Either way, it was an annoyance.
Most of these people end up on do-not-call lists or are blocked by the call recipient. You don't want your salespeople to suffer either of those fates. You can prevent that in part by rethinking what telemarketers are. At the end of the day, the word telemarketing just refers to marketing by phone. That's it.
While the term has become conflated with robo callers and other annoyances, your sales team can change that one lead at a time. Be conscious about when you call. If a lead isn't interested, you can always follow up, but don't keep beating a dead horse. It's much better to disengage early with a disinterested lead and then come back to them later. This way, you don't risk losing their business entirely. You're just saving them for another time. In the meantime, you can gather more info on them, study up better, and try a more targeted pitch for your next approach.
6. Host a Webinar
At least a couple of times a year, your company should aim to host its own webinar. Not only can you bring in revenue from doing so, but you can generate B2B sales leads, too.
If you've never hosted your own webinar before, the idea can be very daunting. You may have a lot of questions, like how long should your webinar be? What are the best days for a webinar? How many people should you expect to attend?
According to webinar software company Livestorm, here's a breakdown of attendance rate by industry: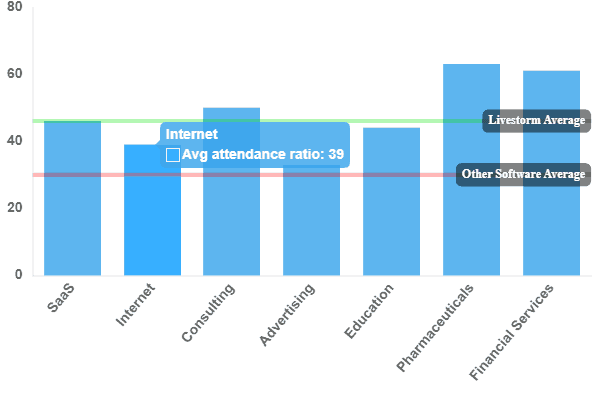 Image courtesy of Livestorm
Most webinars shouldn't be super long. About 30 minutes is the sweet spot, with many industries following that rule. Only fields like education will typically broach more than 40 minutes, and financial industries 60 minutes and up.
What about the best days for a webinar? Either Wednesday or Thursday are ideal. On Wednesday, you should get at least 90 people to join the webinar. On Thursday, it's 100 attendees. That number drops to 44 on Thursday, 37 on Monday, and 72 on Tuesday. You won't get more than 20 attendees if you do a webinar on a weekend.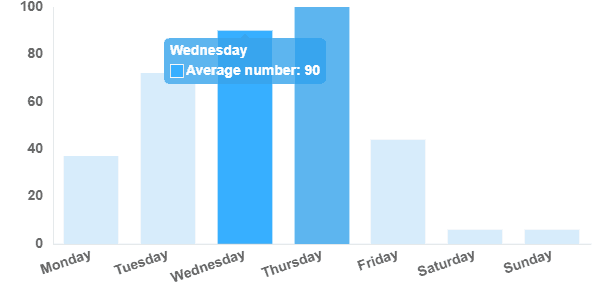 Image courtesy of Livestorm
7. Send Direct Mail (Yes, Physical Mail)
If you check your mailbox regularly, you still get direct, physical mail all the time. Even if most of the mail ads you receive end up in the trash (the physical trash), you at least glimpsed at them before deciding to throw them away.
Direct mail can be very powerful. You, of course, have to research your prospect before blindly sending out mail. Follow the same steps you would when building an email list. Gather info on your leads, segment them, and then send them relevant direct mail.
According to late 2018 info from Data Targeting Solutions, direct mail response rates are going up in recent years among prospects (represented in light blue). The darker blue referred to Data Targeting Solutions' in-house mailing list.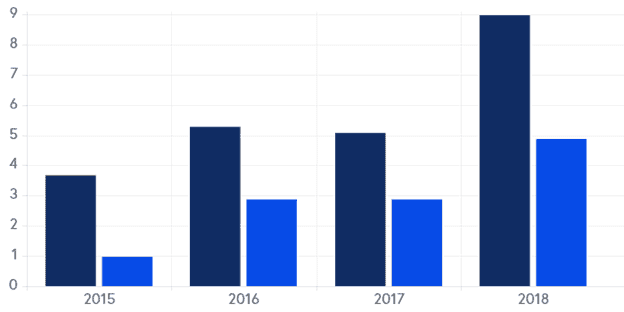 Image courtesy of Data Targeting Solutions
If that trend continues for 2019, then direct mail can be a very viable means of lead gen.
8. Get on the Radio and TV
You may have thought advertising on the radio and TV was a relic of the '90s. It turns out, that couldn't be further from the truth. While it's true streaming is the hottest means of listening to music and people don't watch traditional TV nearly as much as they used to, it'd be foolish to discard these good B2B sales lead gen tactics.
Want to know how to succeed with radio and TV advertising? Here are some smart pointers:
Many radio ads won't exceed 30 seconds. You may get more time on TV, like 45 seconds or even a minute. You must make every second matter. You also have to condense your message.
If you're making a radio ad, don't just talk for 30 seconds. That's boring and forgettable no matter how great your message is. Sound effects and music will liven up your ad and get people listening.
The same goes for TV ads, but you need that visual oomph as well. If you don't have the ability, then hire a graphics and media team to make your commercial look as professional and high-quality as possible.
Just like you would with a landing page or email, you need a call to action in your ad. Whether you're telling the lead to visit your website or call today, make sure you display your contact info in big, bold letters. Repeat the contact information aloud, too.
Have the budget for repeated airings. Most commercials on TV and the radio don't make a huge impact on the first time around. The more times your ad airs, the better the chances you have of reaching someone.
9. Use Internet Advertising
Don't just stop at TV and radio advertising. You can also use more modern means of advertising, too, such as the Internet. By buying ads and spreading them across the web, you can get new eyes on your company.
While traffic is great, having qualified sales leads is better. Doing the research ahead of time lets you predict the ads that will have the most effect on these leads. You can also select the sites your leads visit and then advertise on them.
Also, now is a really good time to make sure your homepage is perfect. It should be clean, professional-looking, and easy to navigate. You should also check that any other pages on your site are live and have no dead links.
10. Flaunt Your Referral Program
Do you have a referral program? If not, you should definitely get one! By letting your current customers refer leads to you, you have a much better chance of getting high-quality leads for your efforts.
Just check out some of the stats in this graphic:

Image courtesy of Leadfeeder
Up to 18 percent of the B2B sales leads in your funnel could be referrals. Of those, 17 percent of them will close on a deal, which is pretty good. If you can get a consistent referral program going, you could see an influx of 3.5 referrals per lead. The more customers you have, the more referrals you get!
Just make sure you reward your customers for referring their friends, family, coworkers, and associates.
11. Use Search Marketing
Search marketing or search engine marketing (SEM) boosts your site to the top of search engine results pages…by paying for it. It's different than search engine optimization or SEO, as that's unpaid.
While we could write a whole different article on SEM, here's a brief overview of the components you need for a successful SEM campaign that will drive B2B sales leads:
Keyword research based on what your target audience is searching for as well as industry relevancy
Account structure, where you group together keywords to boost click-through rates
Ad auction, where you bid your ad on targeted keywords at a per-click cost
Winning the auction and getting your ad placed online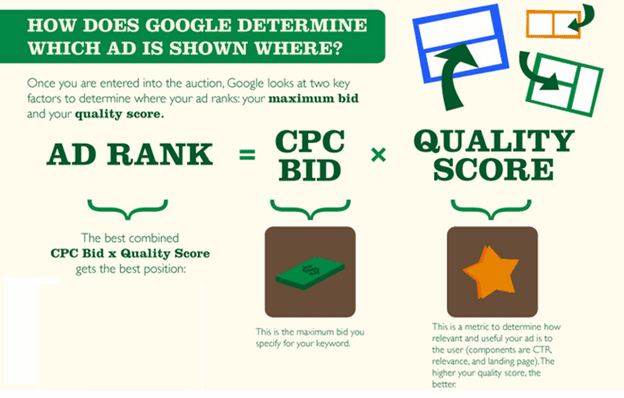 Image courtesy of WordStream
12. Don't Forget Content Marketing
Yes, content marketing is typically relegated to marketers, but it also comes in handy for drawing in new B2B sales leads.
Don't limit yourself solely to blog posts. There's tons of other content your sales-based audience would probably be interested in. Just check out some of your options.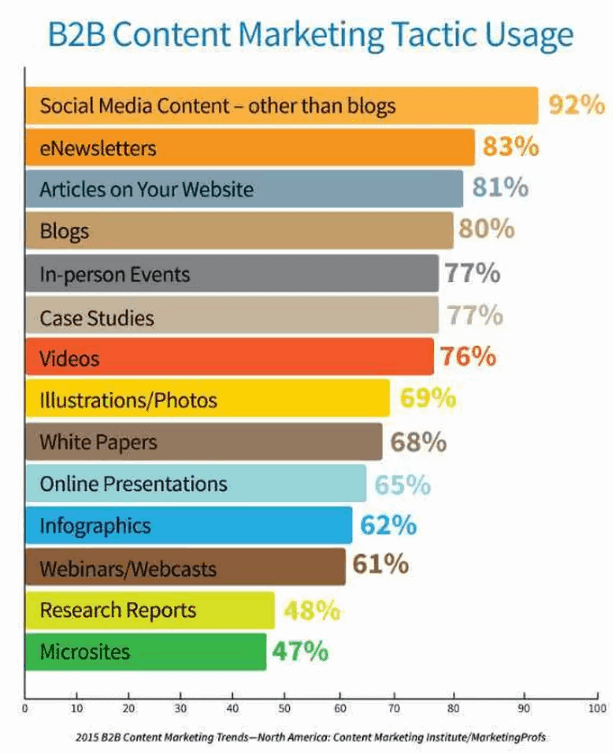 Image courtesy of Venture Harbour
Whether you focus on eNewsletters, website articles (which are different from blogs), case studies, white papers, or infographics, it's time to get writing!
13. Try Social Media
Our last tip is at the bottom of the pile for a reason. Referring back to the Venture Harbour image we shared earlier in this article, social media is one of the least effective means of generating B2B sales leads.
That doesn't mean you should disregard Twitter, Pinterest, Google+, Facebook, LinkedIn, and the like entirely. Just know that it's harder to achieve B2B sales goals on social media.
Hard doesn't mean impossible. Social media can aide you in search marketing and content marketing. Your company also absolutely needs a social media presence whether you use it for B2B sales lead gen or not. If a lead stumbles upon your company's site and sees no social links, they'll probably move on to the competition.
Conclusion
If your next goal is to focus on your B2B sales leads, we think the above 13 tips we provided should help you. Any of these tactics are great to implement if your leads are a trickle instead of a deluge. Good luck!
<<Manage Your Sales Leads and Track Your Pipeline Like A Boss