Are you interested in generating more leads?
EngageBay has created this comprehensive guide on lead generation and management, from initial contact to converting leads into revenue. This lead generation resource covers various topics such as:
Understanding what constitutes a lead
Distinguishing Marketing Qualified Leads from Sales Leads
Explaining the difference between Inbound and Outbound Leads
The significance of Lead Generation
Creating an effective Lead Generation Strategy
Differentiating between a Lead and a Prospect
Techniques to convert Leads into Prospects
Mastering the art of Lead Generation
Let's dive right in and explore these lead generation topics in detail.
Chapter 1 – What is a Lead?
Okay, so what exactly is a lead?
A lead is simply a potential customer. This is somebody who has stumbled upon your company. This can happen by pure luck, but most often it's because of your targeted marketing efforts.
The lead is not yet a customer, and realistically, they may never be (but of course we're thinking positive). They know nothing about your company yet and thus they may be reluctant to make a purchase. Through email and content marketing, as well as lead nurturing and other tactics, you can engage with your leads.
Doing so allows you to get to know the lead a little better. You can glean their pain points and assign them to a bucket. These buckets can be very general, such as location or gender, or more specific.
Once you know more about your lead, you can present your product/service as a solution to their problem. If the lead makes a purchase and/or opts into your email list, you consider them a customer. This is known as lead conversion.
Converting leads is a continuous process. You should always have an influx of new leads that you can convert. After all, conversions won't be successful very often. With a healthy amount of leads to sift through, you'll always have enough potential customers to engage with.
Venture Harbour reports that most leads and website visitors (up to 96%!) have no intention of making a purchase the first time they visit your website.
But if you can find a way to connect with your audience, you can change that.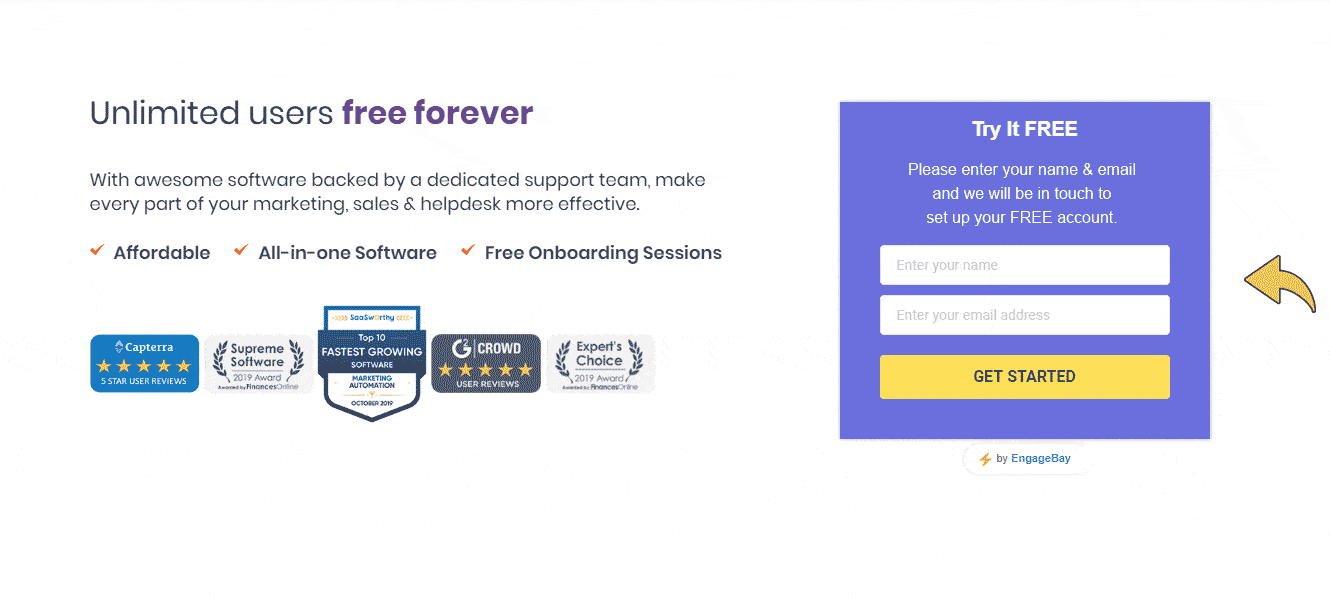 What is Lead Marketing?
The way you convert leads is through lead marketing, which begins with lead generation. We will be exploring lead generation in detail in the other chapters of this guide, so we're just going to provide you with a basic definition of lead generation and some stats in this one.
Lead marketing is the set of tactics you employ to convert leads into customers. They include content marketing, email marketing, and other marketing channels, such as social media.
Through all these channels, you're engaging with and nurturing the leads to encourage them to make a purchase and become repeat customers.
One option you can use for higher conversions is landing pages. According to HubSpot data from 2018, B2B companies are generating more leads with strategic landing pages than ever. Up to 68% of the respondents mentioned that's how they kickstarted their respective lead generation campaigns.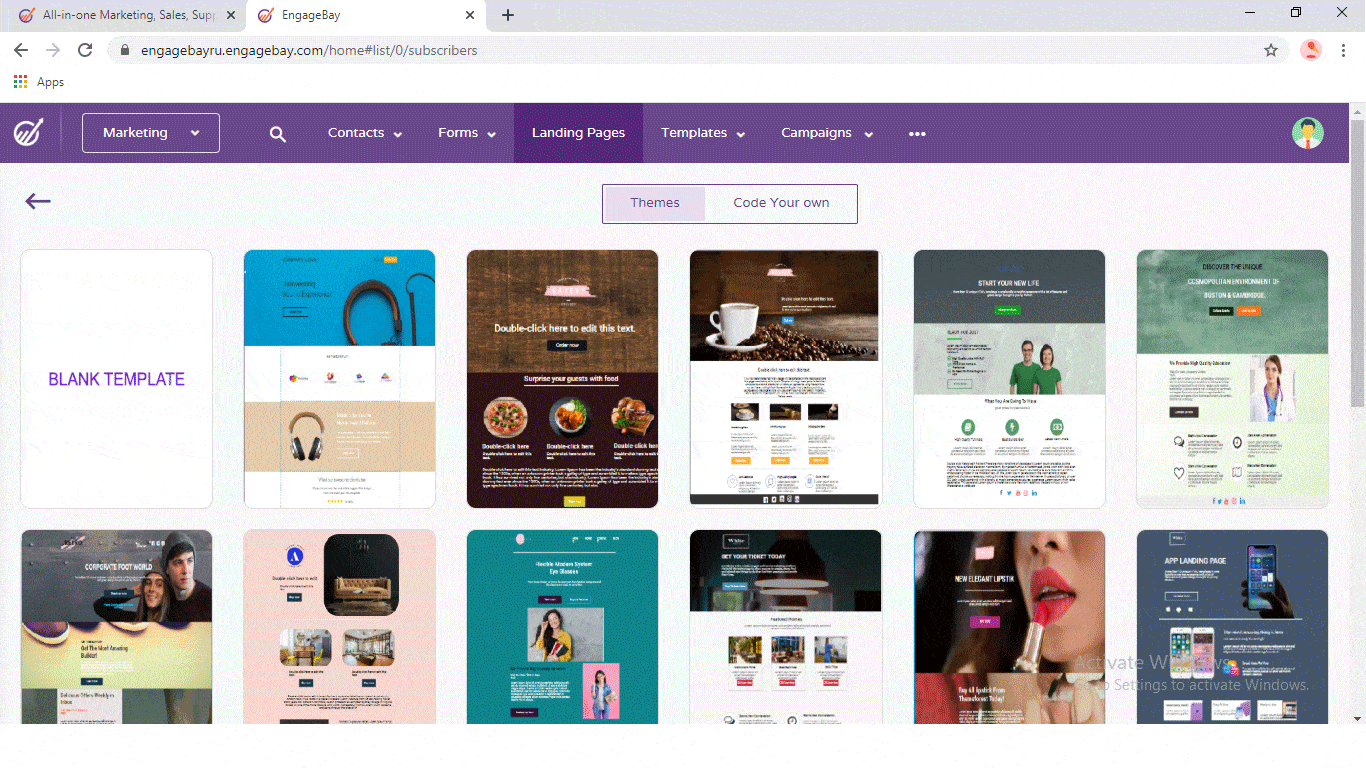 Interactivity in your email and/or content marketing is another effective strategy for lead generation. This can include videos, mini-games, or anything else that gets the leads engaging with your content. Data from HubSpot notes that more than half (53%) of content marketers were successful in employing this tactic for lead generation.
Good, old-fashioned methods still work for lead generation, too. HubSpot also shares in their same report that email is effective for many B2B marketers (79%) who are trying to boost their lead generation and conversion rates.
Content marketing also has its place in lead generation. The Venture Harbour article we mentioned above explains how when B2B companies use content marketing, 93% of them enjoy an uptick in leads. This number is in comparison with traditional strategies for lead generation.
What is a Marketing Qualified Lead?
In the last section, we talked about what is known as buckets for lead generation. You can also refer to these as lead categories. When your leads first come across your website, they don't know anything about you. You also don't know anything about them.
Through some contact via email or other means, you start to get a fuller picture of the lead. You can then categorize them into a bucket.
Doing so is beneficial in several ways. First, putting leads into buckets lets you create targeted campaigns that will appeal to your various lead segments. Second, you can determine which of your leads is most qualified and focus your attention and efforts on them.
These leads are called marketing qualified leads or MQLs. As the name suggests, MQLs are more qualified than most of your other leads.
What does qualified mean in this instance? This lead has a higher chance of making a purchase and thus converting into a customer.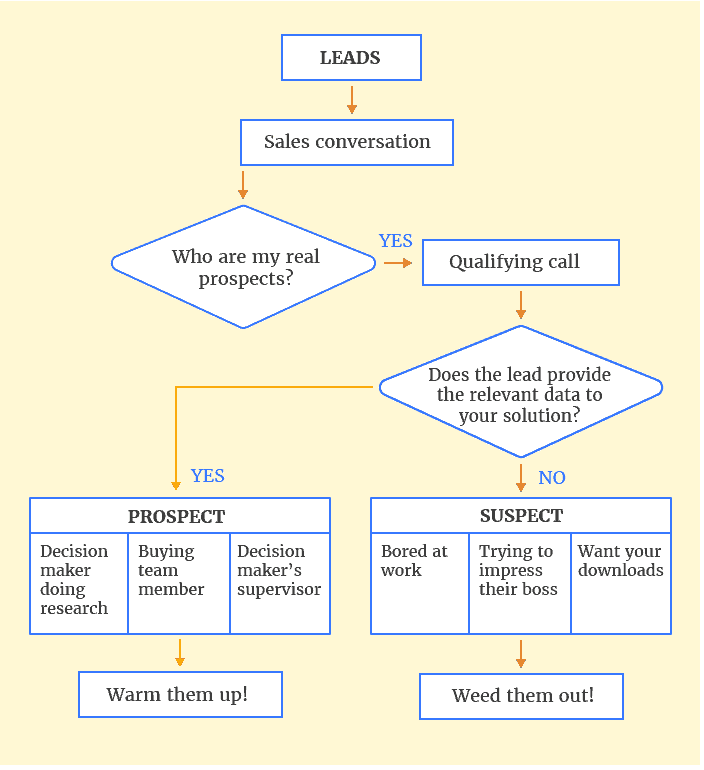 How can you tell if a lead is an MQL or not? You can use a lead scoring system on said lead to track the companies they've engaged with in the past, the type of content they've downloaded, and the websites they've been on.
If the lead has done business with companies like yours, they may be more likely to make purchases from you. That makes them an MQL.
The approach you take toward an MQL will differ compared to your standard lead. There's less need to entice them to buy since they may be readier to do so. You can skip a few steps of your lead nurturing process, then.
Read also: What is a Marketing Qualified Lead?
What is a Sales Lead?
Sales leads are different from your regular lead. They're also not the same as MQLs. Instead, these leads go directly to your sales pipeline. You may find sales leads via sales marketing, third parties, direct mailings, trade shows, and even advertising.
They're different from sales prospects as well. If that seems confusing, don't worry. Later in this guide, we'll compare the differences between leads and prospects.
Getting back to sales leads, these leads are managed through your sales team, as the name might have told you. Once that team has the sales lead's basic contact info, they can begin reaching out and engaging with the lead.
Email marketing is used primarily for this, but it can be augmented by direct marketing and even outbound sales calls.
The purpose of all this contact is to decipher the lead quality. In this regard, this is just like sorting any other lead into buckets.
👉Boost your sales success with the ultimate lead management techniques – dive into our in-depth guide today! 🚀
What's the Difference Between Inbound and Outbound Leads?
Finally, we thought we'd complete the first chapter of this lead generation guide by outlining the difference between inbound and outbound leads.
If you're familiar with inbound vs outbound marketing, understanding these lead types will be simple. Just in case you need to know, we'll explain both inbound and outbound leads in this section about lead generation.
Let's start with inbound leads. One way you can connect with leads in an inbound fashion is by posting awesome content on your blog.
Perhaps you end your blog post by asking the reader a few questions and encouraging comments. Maybe you include opt-in boxes midway through your blog post asking leads to sign up to your email list.
Whatever you do, it's up to the lead to take the next step. They can also do so at their leisure, taking the time to research your company before making any big decisions.
It may seem scary to put the ball in the hands of someone who can just run off with it, but inbound lead generation can be beneficial.
Letting the lead take their time and come to their own conclusions can breed respect and likeability for your company. After all, no one wants to be bombarded with emails and product/service notices.
Inbound lead generation also ensures that by the time the leads reach out to you, they're really interested. You can call them qualified then.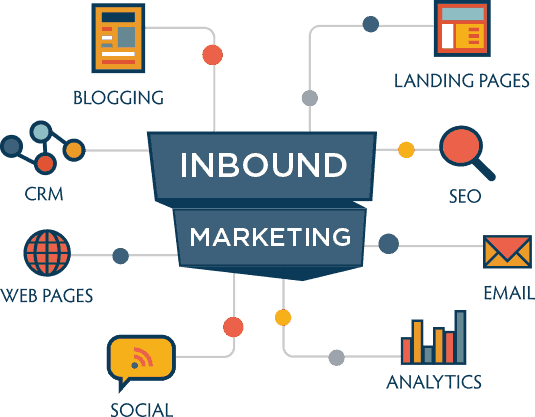 What about outbound lead generation? This is the more old-school way of doing things. You reach out to your lead via email, chat, social media, phone, or any other way of contact that's available.
If you remember the days of getting pamphlets and catalogs in the mail from companies or ad jingles on the radio or seeing print ads in the newspaper, those are all outbound lead generation marketing tactics. These lead generation tactics also include the dreaded cold call. Cold calling isn't always all bad, and it's still used in outbound lead generation.
However, given that some marketers call outbound lead generation/marketing "interruption" marketing, it's not the best means of converting leads to customers.
That doesn't mean you should discard outbound lead generation entirely. If you already have a somewhat receptive audience, like MQLs, outbound lead generation can work. It just shouldn't be your go-to when reaching out to new leads.
Conclusion
In this chapter of our lead generation guide, we touched upon "what is a lead?" We also talked about several lead types, including sales leads, qualified marketing leads, inbound leads, and outbound leads.
Keep all this information about lead generation in mind going forward. In the next chapter, we'll discuss much more about lead generation.
Read also: A Beginner's Guide to Sales Lead Management
Chapter 2 – Why is Lead Generation Important?
In our introductory chapter of this guide, we delved into everything you need to know about leads. These are would-be customers who've not yet made the jump to buying your products or services.
Budget and pricing are often most important; the leads want to make sure they're going to get good value for what they spend on your brand. They also want to be sure your products or services will solve their specific problem(s).
By identifying these problems, segmenting leads, and sending them targeted content to nurture them, you can convert leads into customers. Your job isn't done yet, though.
Ideally, your company wants to have a steady influx of leads. This is because not every lead you get is going to work out, as we mentioned in Chapter 1. And that's okay. If you're pulling in new leads and converting a good number of them, you'll do well in your small business.
How do you get this steady influx of leads? You practice lead generation.
What is Lead Generation?
The lead generation tactics that work for your small business can go stale soon. That's due to the ever-changing landscape of marketing and technology. According to Neil Patel, today, email marketing is the top online lead generation tactic.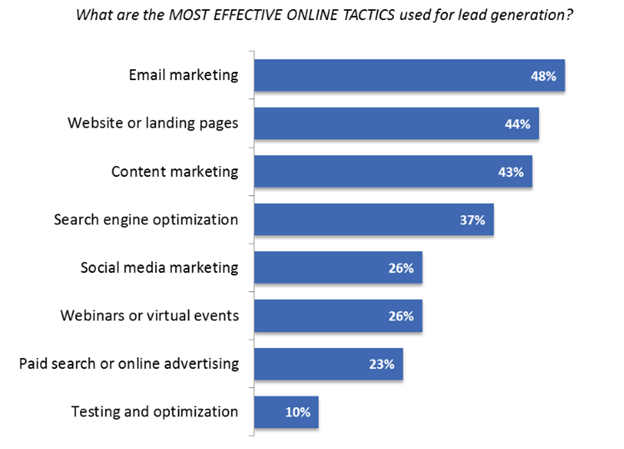 What is the Importance of Lead Generation?
Why is lead generation so important to your sales and digital marketing anyway?
That's simple: Revenues.
You need to keep generating new leads to keep up the sales. Your current customers are buying your products or services, but it's not enough. You need new people who are also interested in your brand. That's what lead generation ensures.
Let's take a look at the top reasons why lead generation has become important in digital marketing, especially for small businesses:
Although a good lead generation campaign costs a bit, it's much more inexpensive than buying billboard, TV, and print ads. It's also a much more timely and trending way of marketing.
You can target your audience based on all sorts of criteria, such as their location, occupation, pain points, gender, interests, shopping behavior, and more.
Your return on investment (ROI) increases.
Along with digital marketing and technology changes, the buying process of customers has changed significantly.
People don't go to stores to learn about a brand these days; they visit business websites and take a call.
Social media can go hand-in-hand with your website. On platforms like Twitter, Facebook, Instagram, and the like, leads can easily communicate with your small business. On social media, they get a sense of your customer service and response.
They can also read reviews and testimonials from other (hopefully) happy customers.
It wasn't always so easy. In the past, there were far fewer opportunities to learn about a company. There'd be brochures and catalogs, magazine articles, billboards, and radio and print advertisements but little else.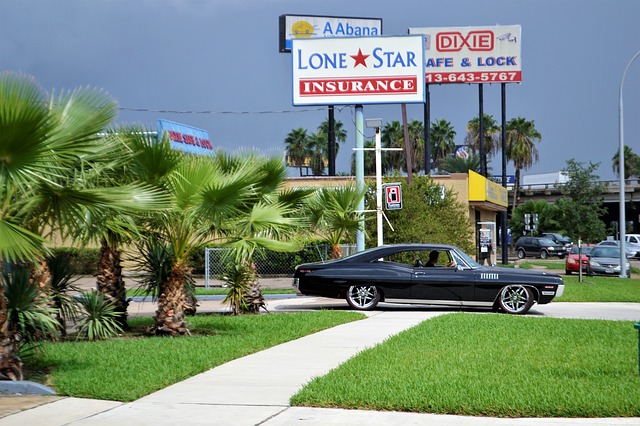 The wealth of opportunities to learn about a company today also provides more chances for a lead to make a purchase and convert. In the decades past, if a lead wanted to buy something from a company, they had to do all the work.
They'd either have to send in a mail-order form, track a phone number, or drive to a brick-and-mortar store. Now, everything can be done online with a few clicks.
That said, the rise of digital marketing has made competition fierce for everybody. Every form of lead generation marketing you can think of, from social media to email marketing or content marketing, your competition is already on it.
It means you have to work that much harder not only to capture the attention of your leads but keep them engaged with you until they convert, and even after.
Read also: 18 Powerful Marketing Strategies to Grow Business Faster
How to Make a Lead Generation Strategy That Works
If you've yet to implement a lead generation strategy, you may run into some hurdles. You're far from alone. B2B marketing agency Bop Design surveyed businesses and asked what their most significant lead generation challenges were. Here are the findings:
More than half of the respondents said they didn't have enough time for lead generation. Sound familiar? Another significant portion said they have either an undefined sales process or a poor sales process. Yet another decent chunk of respondents admitted to not having quality leads (more on this later in the guide).
Other reasons worth mentioning are keeping up with growing technology, ROI calculation difficulties, and poor website design.
You need to focus on the most effective lead generation strategies to get more leads, conversions, and a higher ROI. How? Here are some strategies you can employ today.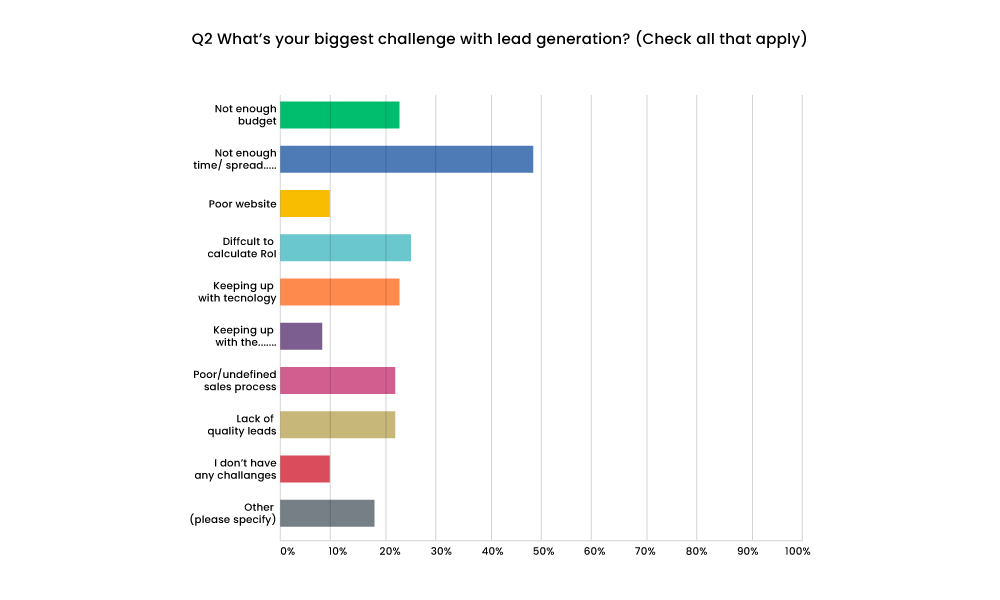 1. Redesign Your Website
Referrals and word-of-mouth are the top (70%) ways for people to find your business. The second most common way (60%) is the company's website.
Your website must be a well-oiled machine through and through. What do we mean by that? Here are some characteristics of a website that converts:
Use high-quality images only. Research from SEO company BrightLocal highlights the importance of images on a website. According to them, up to 23% of leads get in touch only when the website has high-quality pictures. Not only that, if the images pop up in your lead's search results, 60% of the leads take those results more seriously.
The images you choose should be interesting and focused on the face. Seeing another human face fosters trustworthiness. Put images with faces wherever you can, especially your landing pages, opt-in pages, and testimonials page.
Animated exit pop-ups can grab the attention of an otherwise disengaged lead.
Hover-over mouse effects, when used sparingly, can also be effective. Maybe the button changes colors or moves. Who wouldn't want to click that? If said button happens to be a checkout button, well, now we're talking.
Include interactive content whenever possible, both audio or video.
Choose your website colors well. Many hues have psychological power, and you also want to concern yourself with color contrast. Two shades that are too close together won't be as appealing as colors that complement each other in contrast.
Don't fear negative or white space, which is the part of your website with nothing going on. You don't need to overload every page on your site with images, buttons, and text. Leave some space white for a nice contrast.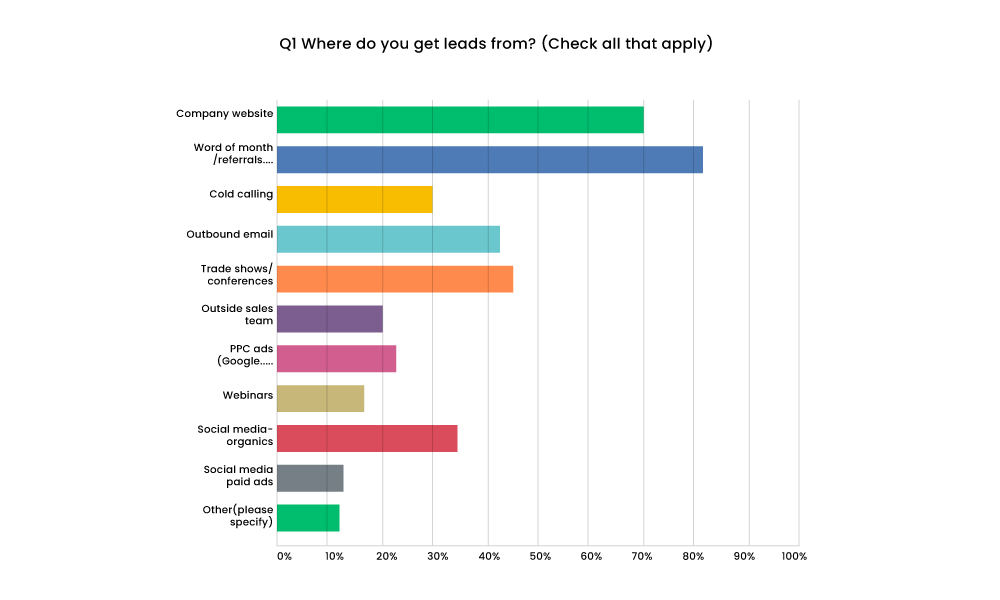 2. Don't Give up on Cold Calling
If you refer back to the chart from Bop Design, you'll see that some marketers still use cold calling as a lead generation tactic. We also talked about cold calling in Chapter 1.
Is cold calling as a lead generation tactic dead then or is there still some merit to it? It's the latter. That said, cold calling can't be the only lead gen method you use. If you can, it's better to warm call.
This is when you send an initial email to a lead and then reach out via phone. In this scenario, the lead is already at least somewhat familiar with you and what you do. That might make them more receptive to picking up the phone and chatting with you about your products or services.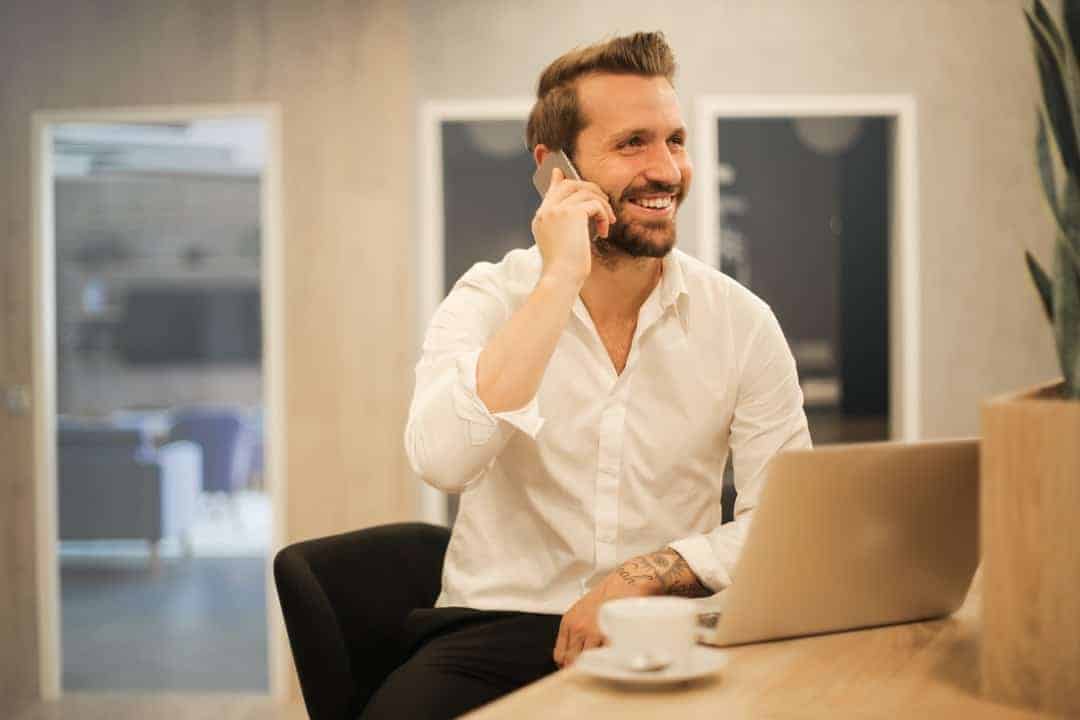 3. Score Leads
Marketing automation software can be your best friend when it comes to lead generation. Once you start getting leads opting into your email newsletters, you have to segment them. Automation takes that segmentation a step further with lead scoring.
With lead scoring, you categorize your leads based on their willingness or likelihood to make a purchase. These leads would be considered more qualified.
As a lead continues along the customer journey and does different things, their scoring might change. You can add or deduct points based on their behavior. If, for instance, they unsubscribe to your email list, you'd drop points.
If they completed your opt-in form, downloaded an offer, clicked a link, or even made a purchase, you'd add points. The points might vary based on the importance of each of those activities.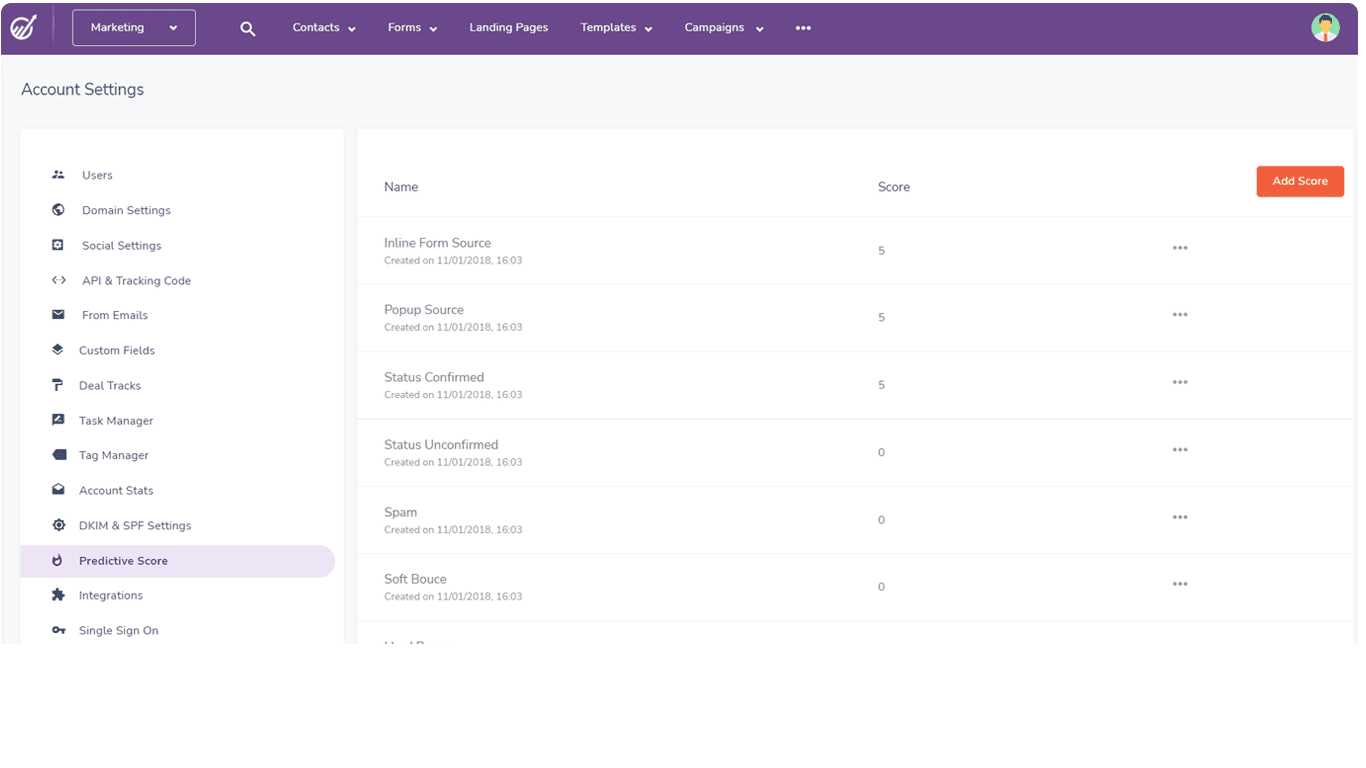 4. Make Killer Landing Pages for Lead Capturing
Once you improve the design of your website, you have to make sure you have killer landing pages to match. Whether you use a template or you create your landing pages from scratch, you must give them their due importance; these are major conversion tools.
For each product or service, you offer, you must have a separate landing page. A lead may be redirected to your landing page by clicking on an ad or a social media link. We wrote a great guide on landing pages that's worth checking out. In this guide, we explore landing page types, templates, and best practices.
One thing we want to mention even here about your landing pages is that it's important for them to have lead capture forms of some sort. Whether these are opt-in forms or call-to-action (CTA) buttons, they should ask for the lead's contact information.
This allows you to get the ball rolling, sending welcome emails and beginning the nurturing process that should lead to a conversion.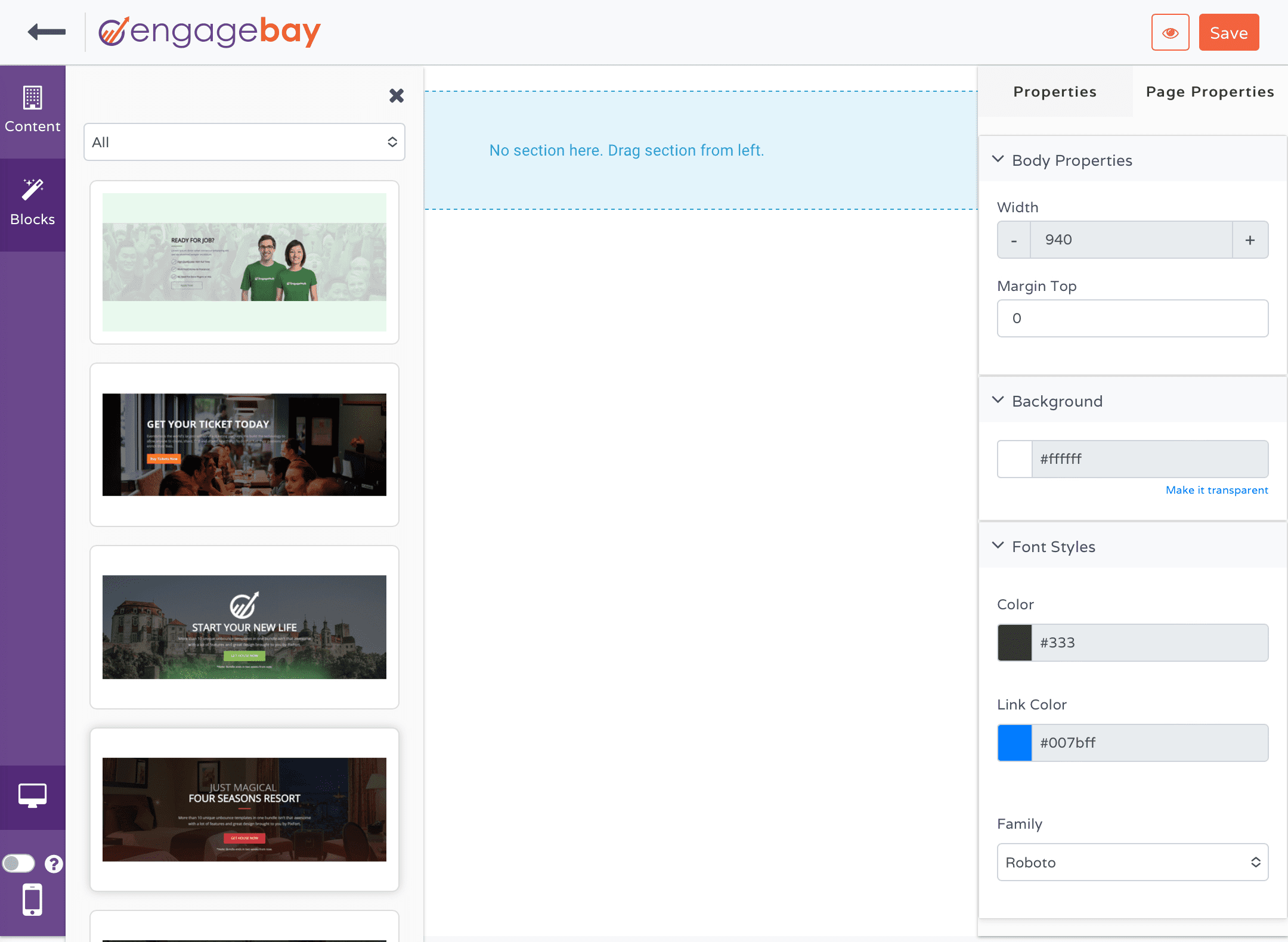 Read also: 20 of the Best Landing Page Examples Online
5. Offer Lead Magnets
One way to nudge leads toward making a purchase is by offering them a lead magnet. This offer should be made early, shortly after the leads land on your website for the first time. After all, you never know if they'll ever come back.
Lead magnets are like opt-in forms in a way. Instead of a lead just signing up to your newsletter when they give you their email address, though, they get something more valuable.
It can be a webinar transcript, a few chapters of an eBook, a compiled resource, an exclusive infographic, or a report. Depending on your type of business, you can also share interview transcripts, bonus tips, white papers, free trials, and training videos.
Conclusion
As a small business, you're always trying to improve the bottom line. To boost your ROI, the most important thing is to generate new leads. This way, not only will you have the revenue from your current customers, but from a continuous stream of new ones as well.
Lead generation can be challenging for some companies. If you count yours among them, it helps to try out many lead gen tactics. In the rest of this guide, we've shared enough information to help you create an effective lead generation strategy of your own, so keep reading.
Read also: 25 Creative Email Subject Lines to Boost Open Rates
Chapter 3 – What's the Difference Between a Lead and a Prospect?
Lead vs prospect: what's the difference?
In the beginning of this guide, we defined what a lead is.
As a quick refresher, a lead is not yet a customer, but they're introduced to your small business. You have to nurture and convert them into paying customers. We also mentioned marketing qualified leads (MQLs). These leads have already shown interest in your products or services. That means they may be more receptive to your offerings.
Prospects are similar to MQLs. They too may be readier to make a purchase. Instead of requiring a little nudge to reach the threshold, they tend to know what they want.
If you'd like a clearer comparison of leads and prospects, this is the chapter for you. We'll lay out a clear definition of prospects, and we'll also explain the difference between leads, prospects, and customers. We'll also delve into how to get curious and reluctant leads to become qualified prospects.
What is the Difference Between a Lead and a Prospect?
So, what's the difference between a lead and a prospect? You may recall what a lead is from Chapter 1 of this guide.
Lead vs prospect — leads: Leads have found your products or brand, most likely thanks to your marketing efforts. They still want to spend some more time learning about your business or products before deciding about a purchase.
When they're ready, they'll likely opt into your email newsletter. They may also take advantage of your lead magnets or other targeted offers, although rarely will they make a purchase early on. After all, this stage is all about learning for them. Even if they accept a free offer of yours, they make not make a purchase.
By nurturing your leads via email and content marketing, you may be able to convince them to make their first purchase and become your customers. This may work out, or the lead might decline to do business with you.
That's why some companies devote part of their efforts to developing sales-ready leads. These leads go through a more specific filtering process so you know they're the right people to become your customers. Sales-ready leads are open to engaging with you and maybe easier to convert. There's less risk of losing them than regular leads, which can disappear at any time.
Lead vs prospect — prospects: What about prospects? Prospects are more like MQLs. Think of the word "prospective." What does it mean? It refers to a higher likelihood of something happening. A prospect then is someone who has a higher likelihood of becoming a customer.
Unlike leads, who don't know much about your company at the beginning, prospects do. They're very interested in what you're selling, too. They're also much readier to buy compared to your average lead. While they require less nurturing than leads who are just entering your funnel, they do need to be engaged.
Here's a great illustration from B2B lead generation company HIPB2B that showcases the difference between leads and prospects.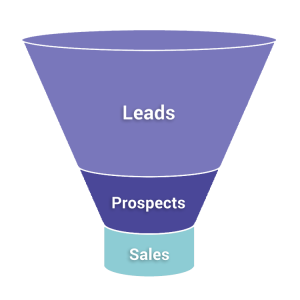 As you can see, in the sales funnel, your average lead lingers around the top. They may get to the middle of the funnel, but by this point, they've probably gone through some filtering process.
Compare that to qualified leads or prospects. They enter the sales funnel towards the middle or even nearer the end. They're intrigued by your company and prepared to make a purchase. If you communicate with them, you'll typically hear back from them. That calls for more personalized email exchanges.
What is a Qualified Prospect?
In some instances, you might find those who are even more willing to engage with your company than a regular prospect is. These gems are known as lead-qualified prospects or qualified prospects for short.
These qualified prospects have characteristics that set them apart from your average prospect. The first of these characteristics is their interest in what your company has to say. Whether it's a sales representative or another valuable staff member, when they talk, this qualified prospect listens.
Another characteristic is that these prospects are generally trusting in your company and its employees. This goodwill can then be built upon as you nurture the professional relationship and eventually convert the prospect into a customer.
Lead-qualified prospects tend to exhibit some urgency as well. They're interested in buying from you soon. This makes it much easier to close the deal and convert the prospect.
They're also quite confident in their commitment to make a purchase. There's no wavering here. This lead has done their homework. They know what they need and how much they'll pay for it. They're ready to check out.
If you can identify all your qualified prospects and guide them towards the end of the funnel, that leaves you with a lead prospect opportunity. This opportunity refers to closing the deal and making a great customer.
Read also: What is Sales? Tools, Tips, and Strategies for Closing Deals
How to Convert a Lead to a Prospect?
So, how exactly do you turn a lead into a prospect?
To achieve your conversion goals, you should make your own prospecting plan. Plans will undoubtedly vary from company to company depending on your business needs and goals.
In the plan, you'll want to make several determinations. First, you have to be honest with yourself. Out of your current pool of leads, which ones are most likely to be prospects?
If the answer is fewer than you want, it's important to keep attracting new leads. You might also begin filtering them by specific criteria to ensure they're as qualified as you'd prefer.
You next have to count the number of customer accounts you can start. Depending on the budget your business has, this may be a lot or just a few. From there, predict what your average sales volume will be after opening these accounts.
Finally, create the part of the plan where you decide your means of following up with your qualified prospects. Will it be by phone? Email? Maybe both.
Now you can implement your prospecting plan. Create a list of all your leads and decide which ones are most qualified. These are the ones you want to target first.
You must provide incentives, offers, and other deals that make these prospects want to become your customers. These offers should be targeted to their interests, pain points, or other relevant criteria.
Conclusion
Leads are potential customers, but there are some leads that are more interested in doing business with you. These are known as prospects.
Prospects are sometimes further categorized as lead-qualified prospects in lead generation. These are your most receptive prospects by far. They have been open to communication, responded often, do their research, and are ready to make their purchase.
If you have a small business, you'd want to learn more about lead generation in digital marketing. In Chapter 4 of this guide, we'll tell you how to master lead generation. By the time you're done reading, you'll be able to convert your qualified prospects into paying customers.
Chapter 4: How to Master Lead Generation?
So far in this lead generation guide, we've discussed what leads are, how to differentiate between leads and prospects, and how to filter leads for qualified prospects in your sales funnel.
According to marketing and sales data platform RingLead, data inaccuracies can trip up your lead generation. Inaccuracies are common and will occur maybe 30% of the time.
To master lead generation, you need to recognize that it's an ever-changing and ever-evolving process. In this chapter, we'll share some of the best lead generation tools to help you find and convert leads quickly.
1. Start with Segmented Leads

Leads need to be segmented well. One of the ways you can do that is by creating buyer personas. Some marketers call them customer avatars, but it's the same concept. You're taking what you know about the lead, such as their occupation or pain points, and using these to segment them.
A freelancer may not want content or emails pertaining to starting a business. It doesn't relate or appeal to them.
By segmenting your leads, you can ensure you don't turn them away so early in the game by sending them unrelated content. You can also tailor your messages so they feel like you're writing to them. That could increase the chances of them converting into your customers soon.
2. Score Incoming Leads
We talked about lead scoring several times in this lead generation guide already, so we'll keep this section short. Once you've segmented your leads and begun sending them targeted content, they're going to behave in certain ways.
Some leads will gladly open and read your emails. They'll also engage with the content you send them. Others might read the emails but not do anything further. Others still won't even bother opening the emails.
Then there's the behavior the leads exhibit on your website, social media pages, pricing page, and landing pages. Do they look around and stay for a while or leave your website quickly? Do they make a purchase or just put something in their cart and don't check out?
Depending on what your leads do, you'd assign each one a score. For all the positive behavior they engage in, their score goes up. You'd likely tier the points so that buying a product rewards more points than opening an email, for instance.
For all the negative behavior a lead shows, their score would go down. This is a simple but effective means of organizing your leads.
The leads with the highest score would be considered your most engaged and thus your most qualified. Those with the lowest score are the least engaged.
You'd then have a decision to make about these leads. Are they worth re-engaging with or should you let them go? You can use a good lead generation and conversion software like EngageBay to score your leads and predict their next steps.
Most B2B marketers don't have their own lead scoring methods, says HubSpot. But you can't afford not to.
3. Use PPC Lead Gen
Pay-per-click or PPC marketing is a means of paid advertising. You pay to put your ads up across the Internet and then bring in new leads that way. It's especially effective if you target said ads to search engine result pages or SERPs.
These include hugely popular platforms like Google. According to data from 2018, Google gets more than 3.5 billion search queries every day. In a year, that's 1.2 trillion queries. That breaks down to 40,000 queries per second.
That affords you a ton of opportunities to reach new people. If you can get your ads on Google, you can guarantee that somebody is going to see your ad.
You're all about getting those qualified leads, right? If a lead is interested enough to click your advertisement, they're at least semi-qualified. They're certainly more qualified than a lead that just stumbles upon your company.
4. Try Social Media Lead Gen
Social media can be a marketer's best friend. It is extraordinary how many social tools have evolved for companies. Perhaps you use LinkedIn, the professional network, to create Lead Gen Forms.
Your lead would only have to click on your call-to-action button and then you get all their profile data. This happens automatically, which simplifies your life big time.
If you use Twitter, it too has its own lead generation methods.
For instance, there are Twitter Lead Gen Cards. The cards gather a lead's data, such as their username on Twitter, their email address, and their full name. When a user agrees to submit this data, you get all the Lead Gen Card info so you can start engaging and nurturing.
Then there's Facebook, which is the most popular social media network out there. You probably already know about Facebook Ads, which let you advertise on the platform with posts that mimic the appearance of a user's wall.
There's also Facebook Ad Leads, which are a suitable alternative if you're not too fond of Facebook's new advertising algorithms (and not all businesses today are). Facebook Ad Leads are purchasable ads that show your most valuable offers right on Facebook.
There's no need for a lead to click a landing page or even leave Facebook. That convenience could increase the lead's chances of converting.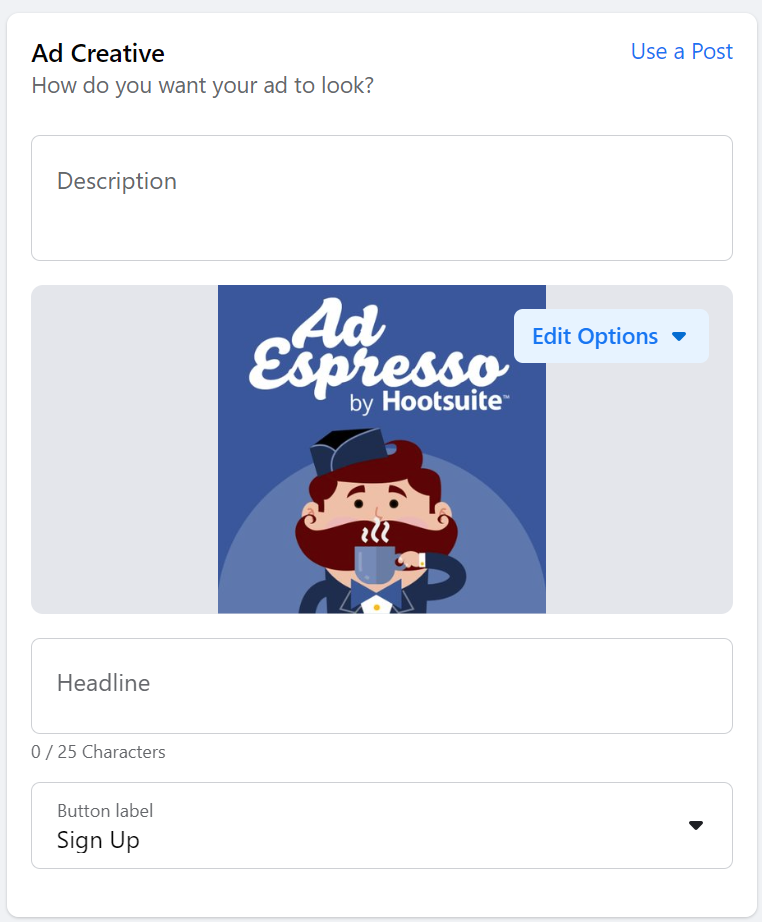 5. Use Targeted Landing Pages
Using Facebook Ad Leads doesn't mean you should stop making landing pages. These are one of your most important conversion tools. We'd again like to point you in the direction of our Ultimate Landing Page Guide, which is a very comprehensive resource on all things landing pages.
We also discussed landing pages in Chapter 3 of this guide, so we'll keep this short and sweet. Here are a few pointers on improving your landing page:
If your product or service has received a lot of recognition, don't be shy! Mention it. The same goes for awards. This is invaluable social proof that can guide even reluctant leads toward a buying decision.
Testimonials also contribute to your social proof. If these testimonials are benefits-focused, that's even better for you. Make sure to include a small image of the review writer as well as their name, company title, and job title.
If you have a video illustrating how your product/service works or how customers can benefit from using it, make sure it's on your landing page. It's much easier for leads to watch a video than read through paragraph after paragraph of copy for a product or service they might not even want. There's also evidence that videos can increase conversion rates, says Neil Patel.
Just because you have a video doesn't mean you can forget the images. A powerful image can continue to hook a lead in. Remember what we said in this guide about using natural stock images that showcase a person's face. It's powerful psychological stuff.
Since you must have content, by all means, make it easy to read. Bullet points, headlines, and subheads break up even longer-form content.
Don't gloss over your headline. Just like in email marketing, your landing page headline is sometimes your one and only chance to reel in a reluctant lead. Make it interesting and engaging. Use numbers or stats as appropriate, pose an interesting question, or rely on personalization.
Keep the design of your landing page simple. That means little to no navigation as well as removing other distracting elements.
Don't stuff your landing page with form fields either. A few well-placed forms beat half a dozen random ones any day.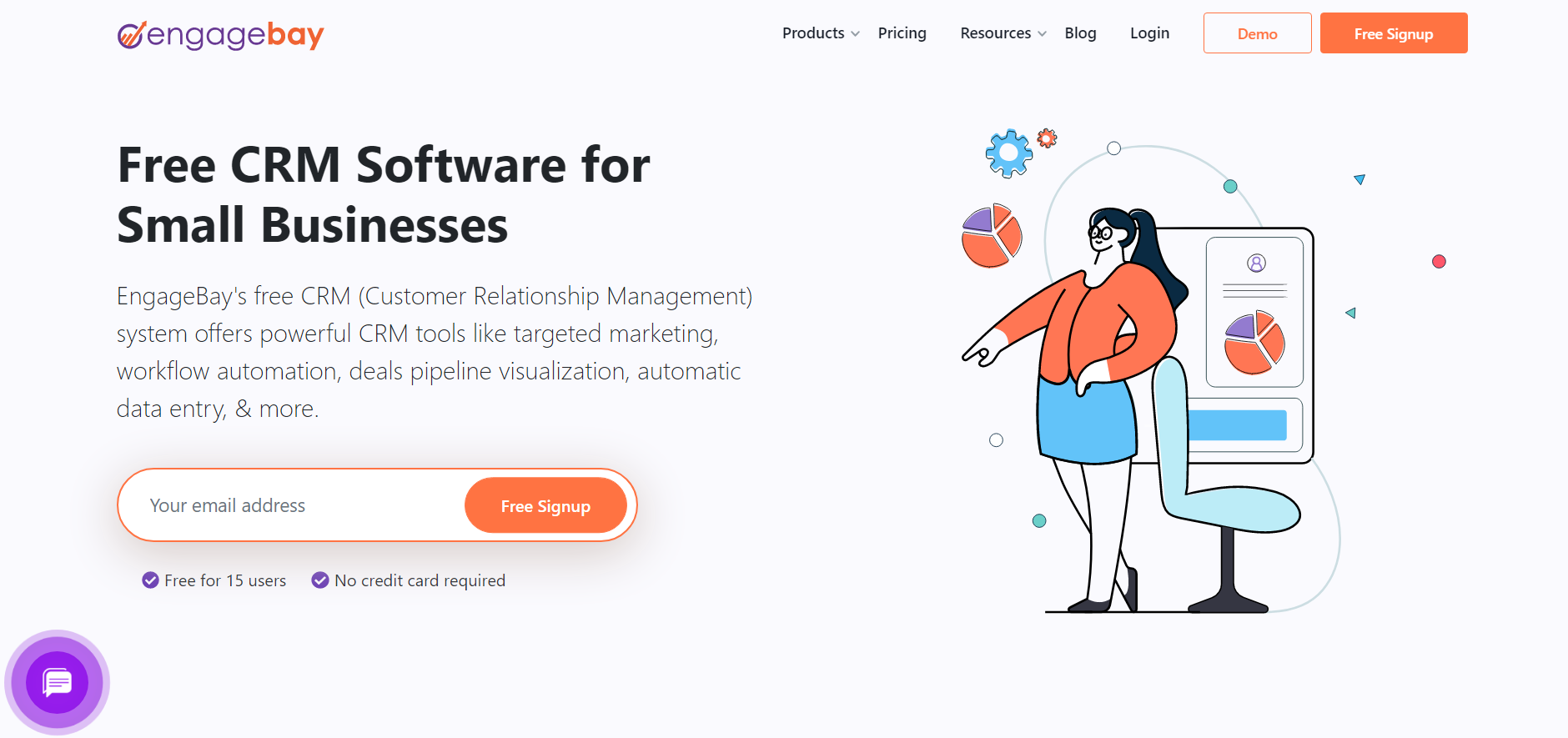 6. Make Tailored Offers
We just talked about everything that should be on your landing page … except your product or service. If you've read our landing page guide, then we're sure you know you need to create a separate landing page for each product or service you sell.
Next, take the data you have on your leads via your segmenting and lead scoring. Decide which product would appeal to that lead segment and then send them targeted offers that seem tailor-made just for them.
Your offer should of course include a call to action or CTA. This may be a text link, image, or button, but whatever it is, it too must be tailored. Don't include generic copy like just "read more" or "click here." That won't convert. Unique, action-based language is better. Tell the readers exactly why to click there.
Above all else, your offer must be high-value. If a lead doesn't want what you're selling because it's useless or cheap, then it doesn't matter how much segmenting and targeting you do. You won't convert them.
50% of marketers consider lead generation a top priority in their marketing campaigns (Exploding Topics)
7. Use Automation and Other Lead Generation Tools
Mastering lead generation is no easy feat. Fortunately for all of us, there are plenty of tools and software out there that make it easier to convert leads.
You'd ideally want an automation tool that can:
Gather and store lead contact information
Segment your leads based on parameters you set
Perform lead scoring
Prune your contacts list
Remove inactive leads
Build landing pages
Design CTA buttons
Track traffic, open rates, click-through rates, and other important metrics
At EngageBay, we offer all these features and all the guidance you need to improve your lead gen campaigns with our all-in-one marketing suite.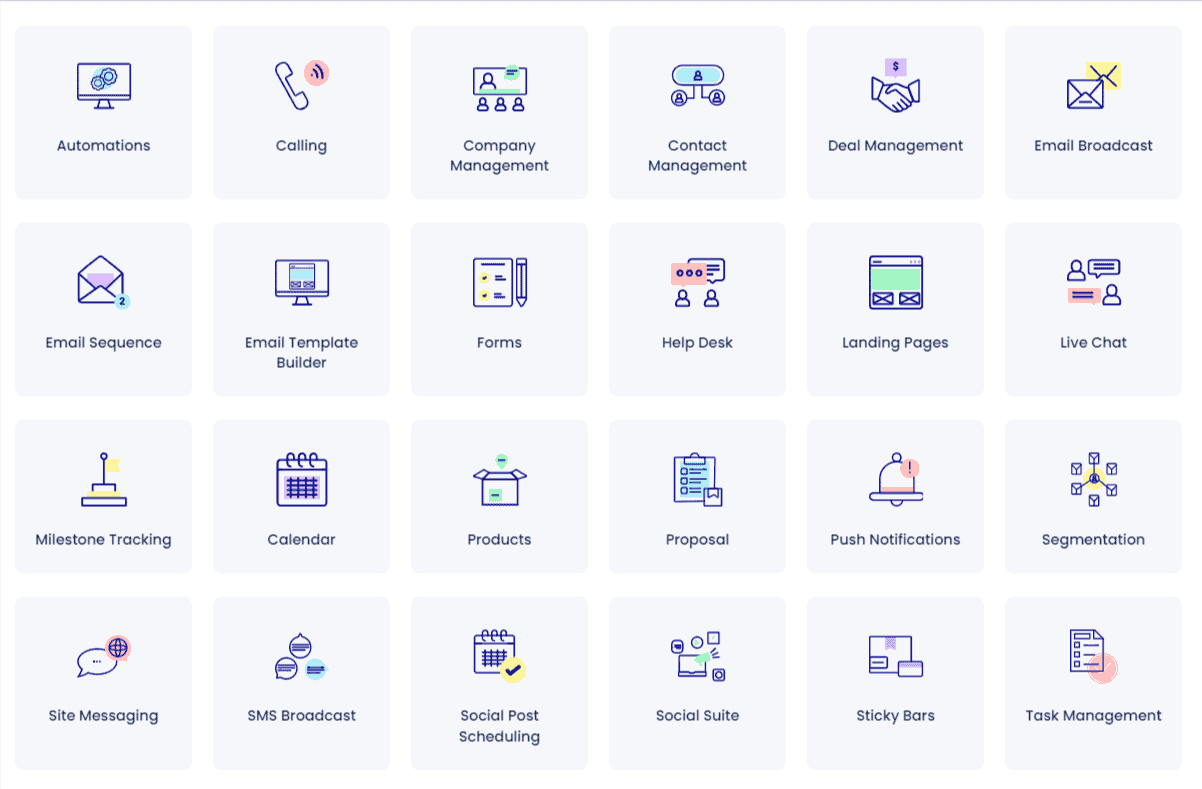 8. Track and Learn from Analytics
If you are investing in lead gen software, you have to make sure that it includes analytics and reporting capabilities. This is the only way to track the short-term and long-term success of your lead gen campaigns.
How many leads have been converted into customers? This is one metric you want to track, but it's not the most important one. After all, not every lead will convert, and other data can help you figure out why. Is it that you segmented leads into the wrong bucket? Did you not engage with them often enough?
Perhaps your landing pages weren't product- or service-specific enough. When the leads arrived on your landing page, they got overwhelmed and left. Maybe you had too much navigation or distracting sharing buttons. Your landing page may have been lacking a video, a sharp copy, or a catchy headline.
Mistakes happen in the beginning. Even seasoned marketers and salespeople sometimes fail to knock it out of the park. If your conversion rate is underperforming, it's time to track your analytics. Read through your reports. Look at the data and see what you could be doing wrong.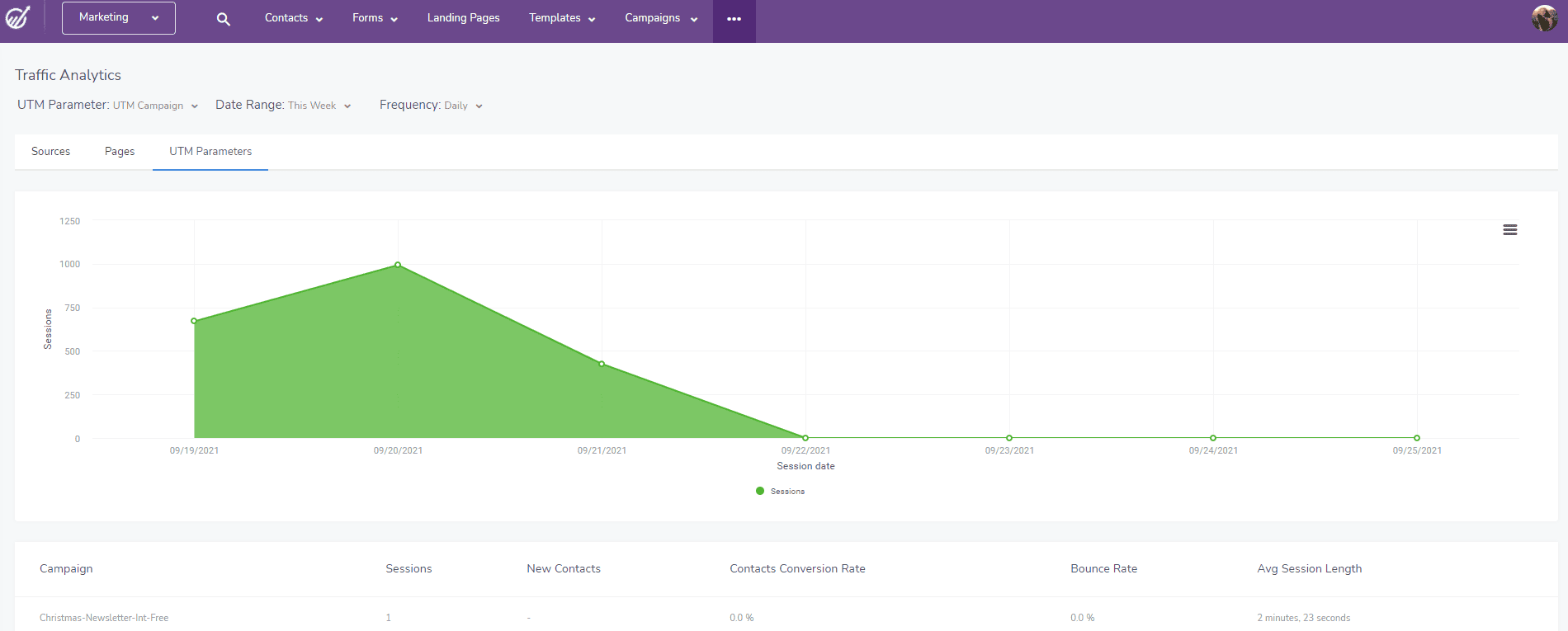 Sometimes it's not always something that you're doing. Some leads are just less qualified than others. You can always try a re-engagement campaign with older leads, but we recommend automating this job. Otherwise, you might just waste too much valuable time and effort.
If you find that the leads that make their way to your sales funnel aren't qualified enough, you can start lead scoring sooner. You can also change the qualifications that determine a prospect versus a lead with stricter lead scoring.
As we mentioned at the beginning of this guide, mastering lead gen is not a one-and-done process. You're always going to have to stay on top of your lead gen tactics and be willing to evolve with the times.
Conclusion
There's no one secret to mastering lead generation, but the tactics we outlined here can make for a solid backbone of your lead gen plan.
Having a qualified lead will always make the conversion process much simpler. By segmenting and scoring your leads early in the game, you can quickly differentiate between leads that are qualified and those that are not.
A strong landing page will also help you continue leads on their journey to becoming customers. Social media lead gen is another great option to have in your arsenal. You should have active accounts on LinkedIn, Facebook, Twitter, and other platforms with lead gen tools and support.
Automation can also make your life easier as you work to capture more leads and convert them. Use the tool best suits your business, but make sure you can track your success with reports and analytics. Otherwise, you'll never know the effectiveness of your campaigns.
Before you dive headfirst into these lead generation techniques, read the last chapter of this guide, where we discuss the best practices of lead generation. It's always better to err on the side of caution when interacting with would-be customers. Chapter 5 will tell you exactly how to do that.
Read also: Workflow Automation Explained (with stats + examples + best tools)
Chapter 5: Lead Generation Best Practices
As you implement the lead generation strategies covered in the first four chapters of this guide, your inflow of leads will begin to grow. In dealing with all these new potential customers, sometimes you forget who they truly are at the heart of it all: people.
You want to get the most conversions possible (who doesn't?) while treating your would-be customers as well as possible. This may seem like a careful balancing act, but it doesn't have to be.
After all, this is why there are lead generation best practices. They're like the stepping stones you can follow to meet your goals. These practices have worked for other marketers in the past, and now they can turn your conversions around, too.
Not all lead management best practices remain relevant indefinitely. That's why we've done our research to bring you only the most recent and thus relevant lead gen best practices to apply to your business.
These are areas you may have missed in your lead generation plan. By plugging these gaps now, you won't lose any lead conversion opportunities.
1. Use Content Recommendations as Part of Your Retargeting Process
In Chapter 4, we mentioned how it's important to use automation if you're retargeting old or otherwise unresponsive leads. This is because your time is valuable. There are only so many hours in the day, and you want to spend the precious time you do have to focus on potentially profitable leads.
That doesn't mean you shouldn't ever retarget. If you want to go back and try to catch some of the leads you missed the first time, you can try implementing content recommendations. You see these all the time on news sites and other websites that are primarily article-based.
Here's an example of what we mean: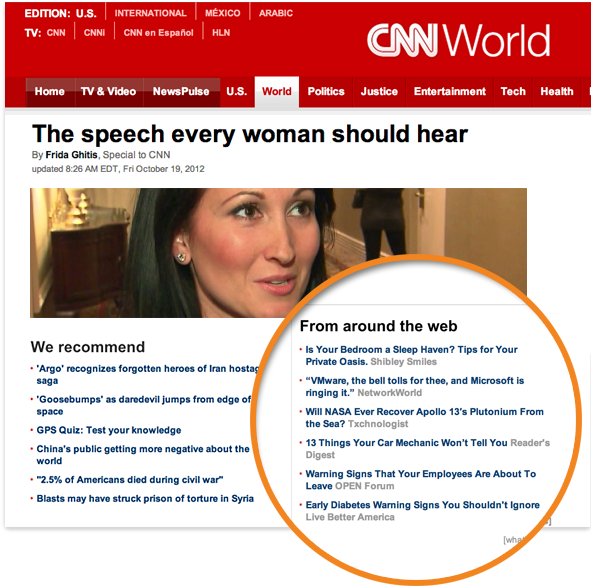 How many times have articles like these got you curious enough to click? If you can present engaging, relevant content to these old leads, it's possible you can hook them in once more.
Once they reenter your content funnel, you can begin further nurturing and engaging with them to renew the conversion process.
2. Call Them but Not a Lot
It may seem like there's no room in a salesperson's routine for a cold call or even a warm one. (Remember, warm calling is when you have made prior contact with the lead, typically via email. Then you call them. We mentioned it earlier in this guide). That couldn't be further from the truth.
The Internet has made generating and qualifying leads easier than ever. The average salesperson no longer has to deal with the inevitable rejection of cold call after cold call. That doesn't mean cold calls have disappeared or will disappear entirely. There are some people who still do prefer to be reached via phone instead of email.
Others are fine with warm calling. A sales rep may send a welcome email and then explain the product or service a bit in subsequent emails, if that. From there, the exchange would move to a phone call.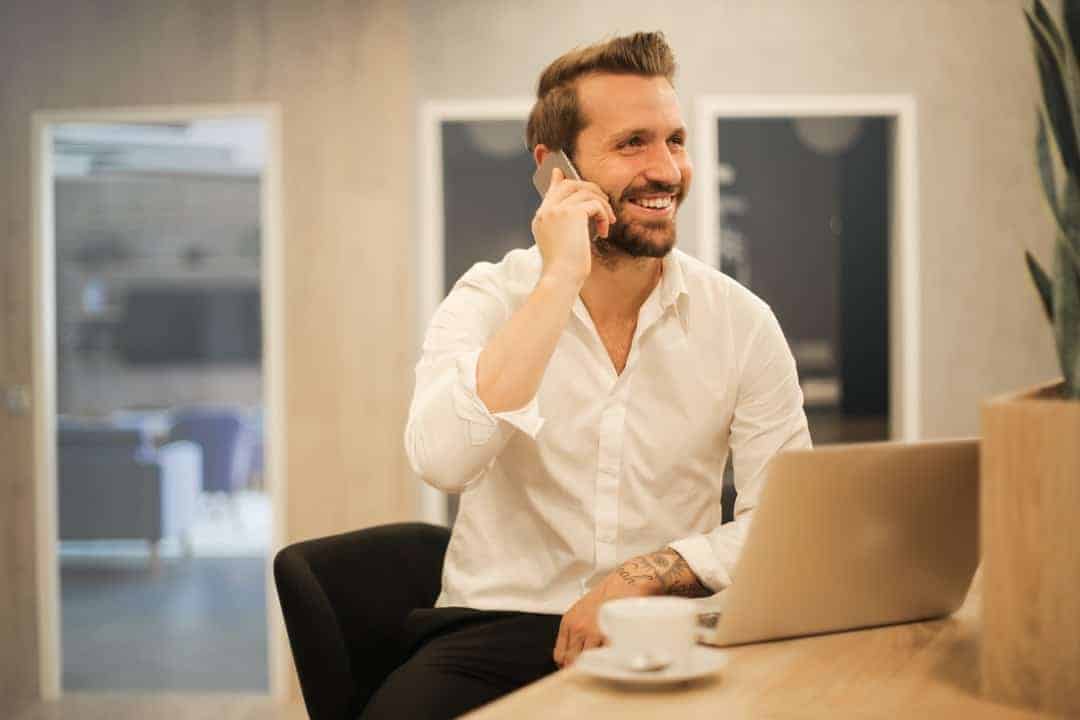 Phone calls are useful in several ways. First, they ensure that you have a somewhat qualified lead. If a lead is willing to schedule a phone call, after all, that means they're at least a little interested in your company.
It's also easier to grab the lead's attention on the phone. Sure, they could be multitasking, but it's better than sending emails at this phase.
Emails are very one-sided. You could have a treasure trove of useful information to share about your products, services, pricing, and more in your email. If the lead never opens it, though, does it matter what you wrote?
It's different on the phone. It's not one-sided since you'll be having a conversation.
You can also move the lead through the sales funnel faster.
With email marketing, you'd send a welcome email, then an introductory email with an offer, then maybe a follow-up, then perhaps a bigger offer.
Finally, you'd start to guide the lead to your pricing page and try to get them to buy. All those tasks can be achieved with a single phone call, maybe two at most.
3. Take Data Privacy into Account
In 2018, the General Data Protection Regulation or GDPR came into play. It affects the privacy and data protection of those in the European Union as well as companies across the world that do business within the EU.
Most companies today have strived to be in compliance. They've changed their cookies, privacy policies, and other data measures to meet GDPR regulations. You've probably received emails from companies you're subscribed to giving you the opportunity to opt out.
As a marketer or salesperson, you are constantly receiving data and other personal information from leads who opt in to your emails. These include the full name of the lead, their email address, and possibly their phone number, company name, and job title. Eventually, you may receive their address or their company's address as well.
You must respect the privacy of your lead above all else. Keeping this private information … well, private was a good rule of thumb before the GPDR. Now, to avoid fines, it's practically essential.
4. Segment, Segment, Segment
In this guide, we've told you virtually every way you can segment your leads as they enter your sales funnel.
Yu can organize your leads into four basic categories. The first category is convenience. You might segment leads based on the language they speak or where they live. This is convenient for them.
After all, a lead wouldn't want to receive an email in Spanish if they only speak English and vice-versa. They also probably wouldn't be interested in a sale for your Chicago store if they're based in New York.
You can also split leads by firmographics. A firmographic is a portmanteau of firm demographics. The term is also sometimes called 'emporographics'.
When you're using firmographics for segmentation, you're focusing more on demographic data that matters to your company. That means you might do your segmentation based on your company's size or its services.
It gets more difficult to segment leads if you're doing so by their behavior. That said, this is a categorization we strongly advise you to consider. You might break down leads based on if they're sensitive to quality, delivery, or price. You can also segment your leads by their needs or pain points.
5. Score Your Leads
Lead scoring has come up again and again throughout this guide. It's when you assign a points value system according to the behavior of your leads. These points can be positive or negative. Scoring your leads lets you determine who's most qualified.
Qualified leads are readier to pull the trigger and make a purchase. They know more about your company, have reviewed your pricing, and are interested in interacting with you. The chances of them converting are higher than a standard lead.
If you have a low lead conversion rate, we recommend you begin scoring leads immediately. Use strict criteria so only the most qualified prospects get through the funnel.
6. Use Email Marketing
Email marketing is a key component of the nurturing and engagement process. You must build your business relationship with your leads to convert them to loyal, buying customers. Email marketing helps you achieve this.
Today, many aspects of email marketing can be automated. For a busy marketer or small business owner, this is a relief. You can make templates and save headlines to insert into emails for various audience segments.
Your email marketing automation software will take care of the rest. You can also schedule when your emails go out based on a certain time or even lead behavior.
For instance, if a lead opts into your email newsletter, you can automate that welcome email. If they take advantage of one of your offers, be it free or paid, you can automate a follow-up offer or an email with related products. When the lead finally does make that big purchase, you'd automate the confirmation email.
It is important that you are following up with the lead with real emails written by a real person, even if the sending of emails is automated. When using templates, try to customize them well. The human element is always important in winning over leads, after all.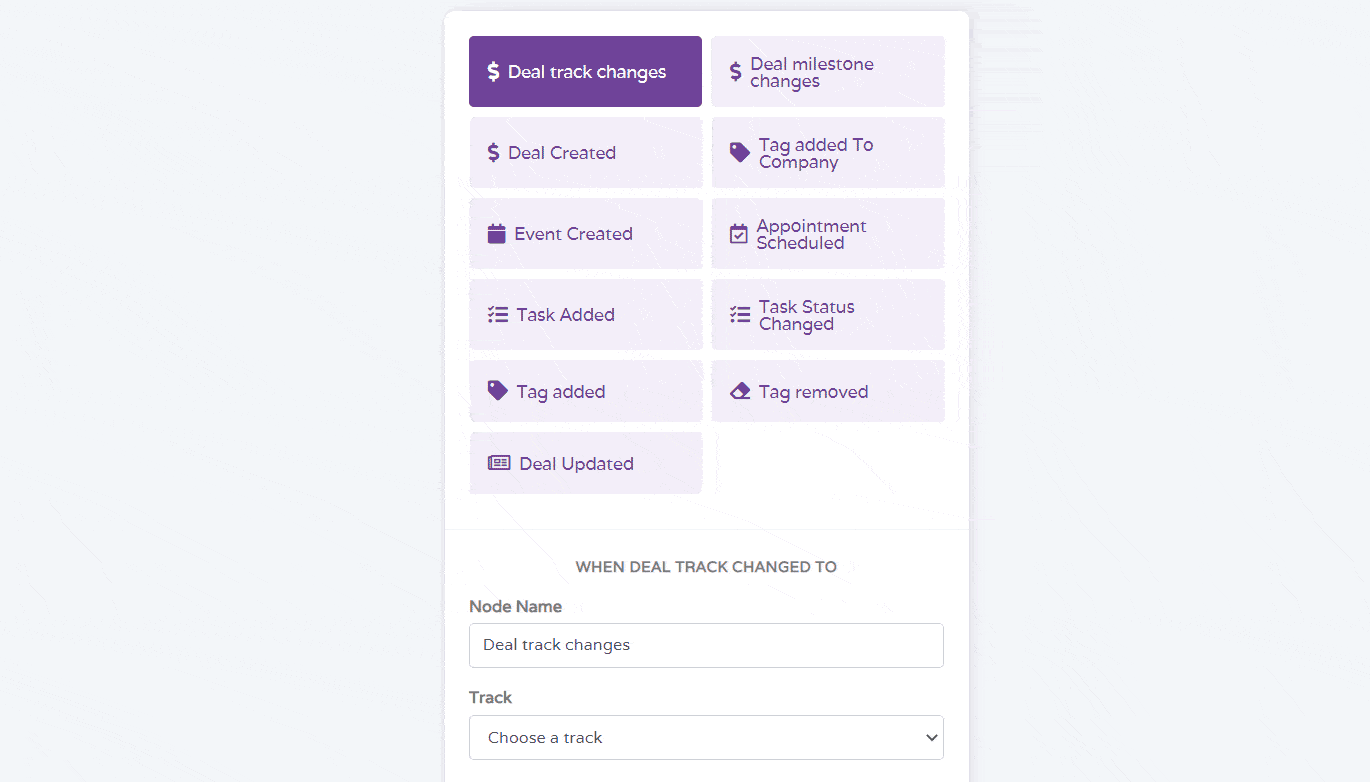 7. Have Your Own Webinar
Webinars are still as popular as ever. They're a great way to secure more would-be customers or unveil a new product/service. You can use webinars to position yourself as an authority in your industry as well.
The educational component of webinars will give leads lots of pertinent information about your company and its products/services. Webinars are good for you, too.
If you charge for the webinar, you could make money off that. Even if you don't charge initially, you could re-air the webinar for a fee or sell the transcript on your website.
The sales you'll make from converting leads and the registrations from your customers should offset the time, money, and effort that go into hosting your own webinar.
Before you get started, here are some stats and pointers from Medium that are worth considering:
It costs about $100 on average to host your own webinar. Prices can be higher, though, in some instances costing marketers or business people in the ballpark of $3,000. Sometimes you have to spend money to make money, and webinars are one of those situations.
Whether you do it for free or charge money, make sure you plan to re-air your webinar at least once. Roughly about 28% of your leads will miss the registration date to sign up. They still want to see the webinar, so make sure they can.
Don't expect a huge audience. You'll get lots of registrations, but only between 35-45% of those who signed up will be there to see your webinar the day it airs. That's about 148 people per webinar.
To get people pumped up for the webinar, it's recommended you reach out to your audience in the middle of the week via email. Mondays and Fridays had the worst open rates when it comes to emails pertaining to webinars.
It's also best to have your webinar midweek. Tuesday is the most popular day, but Wednesdays and Thursdays are okay, too.
When it comes to time, between 10 and 11 a.m. are the best hours to host your live webinar. Noon to 1 p.m. are also good. Most people are on lunch then and can take the time to watch your webinar.
You need to start promoting your webinar early. A small portion of your audience (17%) will sign up early, at least two weeks ahead of the webinar. Most (29%) will not. They might not register any sooner than webinar day. Remember also that a further chunk of your audience, 28%, will sign up to see the webinar after it already happened.
Medium says that almost everyone who watches a webinar (92%) will expect a Q&A session. Failing to do one could backfire big time.
It's also important your webinar is no shorter than 30 minutes. In a survey from Medium, 41% of respondents expected the webinar to be that long. Even more people, 44%, prefer a 45-minute webinar. Only 5% want a shorter webinar (20 minutes), and 10% like their webinars to be an hour.
8. Use Social Proof When Possible
We discussed social proof plenty in Chapter 4 of this guide, but it's a best practice you should always follow. Real, authentic reviews are crucial. Pictures, job titles, and full names prove to your audience that these are real people who gave testimonials, not bots or paid endorsements.
Here are some other ways to implement social proof into your lead gen campaign:
Create a popular products or posts list
Tell people how many customers have bought your products/services
Let your customers rate your products
Display your customer or subscriber counts
Showcase your platform integrations (as applicable)
Proudly display your badges and certifications
Post your trust seals
Share any positive and significant media mentions
Write case studies (or request to have these written about your products/services)
Get a celebrity endorsement
Provide page view stats or other pertinent data in real-time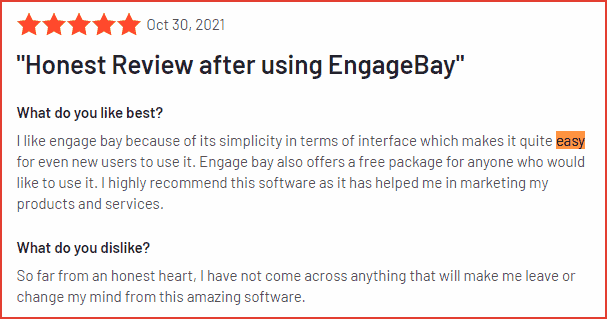 9. Use Reports and Analytics to Your Advantage
Finally, when implementing the lead generation best practices and other tips and advice we've shared throughout this guide, you need to know what works and what doesn't.
Not every best practice is applicable to all companies. Can a small business get a celebrity endorsement as social proof versus a Fortune 500? It's not likely.
While sometimes you will throw a bunch of things at a wall and see what sticks, analytics will tell you what's really sticking and what's slid off. As you convert more leads and grow your customer base, you must tweak your lead management techniques and also introduce new ones.
The data doesn't lie. Studying metrics like open rates, click-through rates, and lead velocity rates will tell you what you're doing right and what you're doing wrong. Lead velocity rate, by the way, is a monthly growth of qualified leads.
As we mentioned earlier, qualified leads are more likely to convert by their very nature. Having a metric that tracks just them is quite valuable.
Read also: The Lead Generation Process — How Does It Work?
Wrap Up
With that, we come to the end of our lead generation guide. As evident, lead generation plays a significant role in establishing a lucrative business.
Companies that dedicate time and effort to intelligent lead generation strategies often surpass their competitors.
If you want to know how EngageBay can help you generate more leads, just sign up for free and book a product demo.