With 2021 upon us, you may still be finessing your approach to better sales and marketing for the year. Well, for users of Agile CRM, we share three top Agile CRM alternatives that you may consider.
Your company is finally at the point where you're going through the software and programs you use to see which may be extraneous or simply not working for you anymore.
Your customer relationship management or CRM software is among the most important your company relies on day in and day out.
With your CRM, you can create a list of leads/customers, save and review interactions with customers (of all kinds), track a lead's progress in the sales funnel, see which of your sales team reps have worked with the lead/customer prior, and so much more.
Track a lead's progress in the sales funnel with EngageBay CRM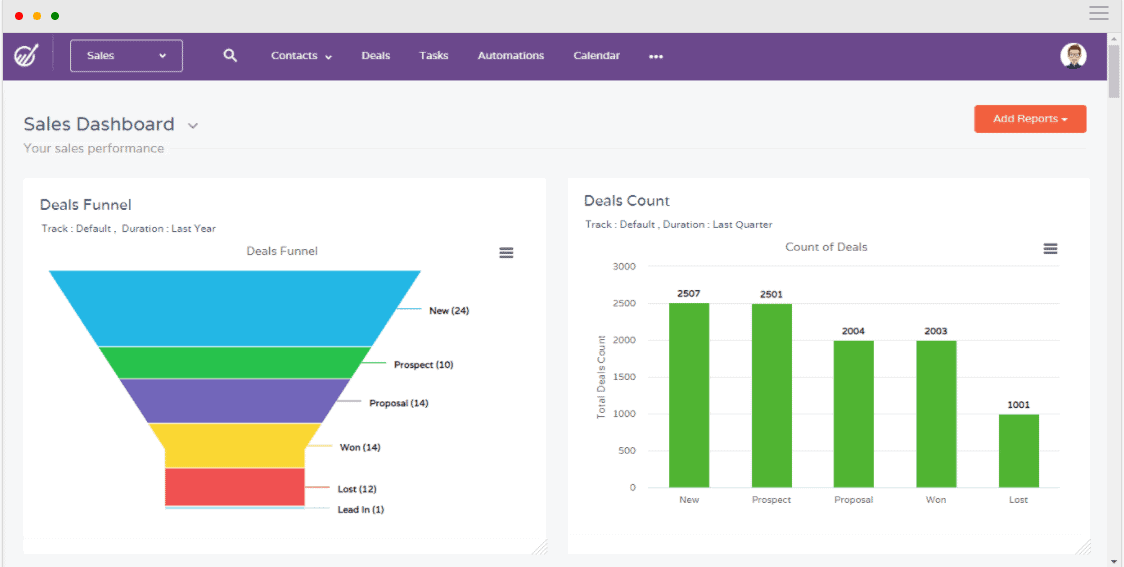 Well, a good CRM is supposed to do all those things, anyway, but how do you know if yours is good?
If you're using Agile CRM, a popular software option for many marketers and salespeople, 2021 may finally be the year to finally make a switch to a more efficient solution than Agile CRM.
In today's post, we'll talk about the drawbacks of using Agile CRM, such as a lack of features. We'll even discuss several Agile CRM alternatives that may suit your company much better.
The Drawbacks of Agile CRM
Team Hierarchy
Project Proposals
Predictive Lead Scoring
Site Messages
File Repositories
SMS Broadcasting
Email Sequences
List Building
Integrated Live Chat
Lack of Module Separation
Agile CRM promises affordability and ease of use as the main selling points of its CRM software. Yet when you compare it to a CRM such as that offered by EngageBay, you'll see that Agile CRM lacks in several important areas.
Right off the bat, while Agile CRM inexpensive, given that EngageBay's CRM is free, it's hard to top that.
There is also another area in which Agile CRM doesn't quite measure up when compared to EngageBay, and that's the features department.
For the rest of this section, we will describe these features at length, since, as an Agile CRM user, you might not even be aware of what you're missing out on when you are using Agile CRM.
Team Hierarchy
The first feature you'll go without if you continue your subscription to Agile CRM is team hierarchy.
As part of your team structure, you have members at different levels, such as a manager, marketing rep, sales rep, customer service rep, etc.
With team hierarchy, it's possible to establish a type of security protocol to ensure that only the right parties get access to data, reports, and other pertinent information.
The moving of data, while streamlined in Agile CRM, is also more regulated with the team hierarchy feature found in EngageBay's CRM.
This prevents data from getting into the wrong hands while also assuring that relevant reports move swiftly to keep up with project demand, something that Agile CRM doesn't offer.
Project Proposals
On the note of projects, in any healthy, growing company, the need for new projects should arise all the time.
With those will come project proposals, or a document outlining the purpose of a project as well as the problems it can solve or eliminate.
Similar in nature to project proposals are sale proposals, a feature you can find through EngageBay's services as well.
Create great sales proposals with EngageBay's intuitive sales proposal software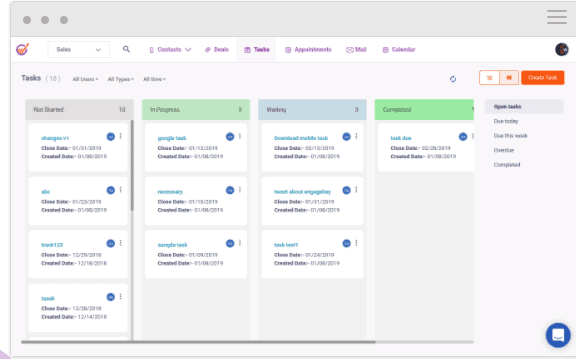 From the early research phases of your project proposal to the end, EngageBay has features that will help you along.
You can use market research to see the types of projects that have driven your competition forward and then decide to employ the same yourself, or perhaps do something a little different.
You can also structure and lay your proposal out via EngageBay, templating it out so it's easier to write a project proposal you're proud of.
Once you finally deem the proposal ready to go out into the world, you can even use EngageBay's CRM to see who's received the proposal and follow up with them if you've yet to hear anything back.
This level of detail isn't offered by Agile CRM.
Predictive Lead Scoring
Your company has leads, perhaps even an influx of them, and they're not all of the same worth to you.
Some will have only a passing interest in your products and services while others might be more informed and dedicated to your company.
You want to focus on the latter, but how can you differentiate one lead from another?
One such popular method that marketers and salespeople alike rely on is known as predictive lead scoring.
With this, you use both predictive modeling and current lead data to determine which leads have the highest likelihood of converting into customers.
It's different from regular or traditional lead scoring in that the predictive kind is more algorithmic.
If you want to begin doing predictive lead scoring on your next new group of leads, you can't use Agile CRM, as it lacks the feature.
EngageBay's CRM gives you the freedom to use both traditional and predictive lead scoring so you always know which leads could make your company money, both in the short and long-term.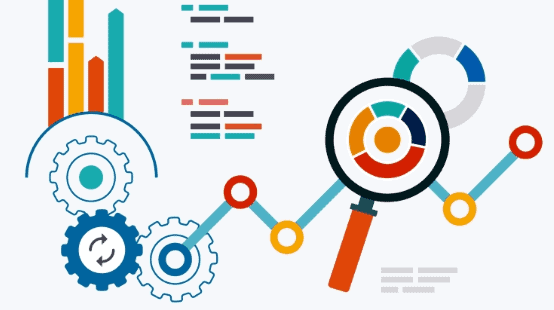 Site Messages
The communication channels you have in which to reach your leads and customers are countless and can thus seem interchangeable at times.
However, depending on where your lead/customer is in the sales funnel, there are certain methods of communication you may use at specific times, such as site messages.
These allow you to chat through your site when your audience is already engaged, driving up engagement and nurturing even further.
Any opportunity to engage with your leads and customers is one you should take, yet Agile CRM users are excluded from doing so.
While site messages may seem like a small feature, they're a very significant one and not something you'd want to skip as you attempt to grow your business and audience base.
File Repositories
Above, we talked about team hierarchy security as a useful feature of EngageBay's CRM (that you cannot find with Agile CRM). A similar feature that Agile CRM lacks is known as a file repository.
This feature, which is optimized for security, is a digital place that only authorized sales team members and marketers can access.
Within the file repository, you and your fellow staff can send and receive files anytime.
Should another team member need to save these documents, send them to yet another person, forward them in an email, or use them as part of a lead or customer's file, they can with ease.
SMS Broadcasting
In a post from late 2019, we talked about the importance of SMS text messages in marketing. SMS broadcasting is in much the same vein, as you're sending mass text messages to a segmented portion of your audience via your CRM software. And no, Agile CRM does not have this.
You can provide useful information to them in a timely, convenient manner through a channel that almost everyone uses today (text messaging).
Through SMS broadcasting, it's possible to increase audience engagement and track a slew of metrics, among them list growth rate, list size, attrition rate, response rate, acquisition cost per subscriber, and your ROI.
With so much useful data derived from SMS broadcasting, it's a wonder Agile CRM doesn't have this feature.
Email Sequences
It's also quite surprising to find that Agile CRM skipped email sequences, as this is one of the most basic and thus expected features in any CRM software worth its salt.
It's included in EngageBay's CRM, as email sequences are a great way to build relationships with your leads and convert them into loyal customers.
Turn your warm leads into paying customers with EngageBay's Email Sequences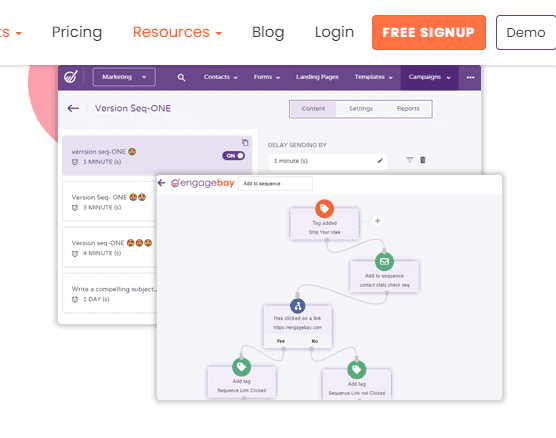 Email sequences save you time as well since you can automate follow-ups and other responses, scheduling when these go out.
Now, your sales team and marketers can work on converting new leads while your CRM makes nurturing your current ones through email a breeze.
List Building
Your list of leads and customers is among the most valuable part of your CRM software, and it's something your sales and marketing teams will look at often.
This list is not a static thing, but rather something that can and should change all the time. New leads will enter the sales funnel, older ones might fall off, and others will convert into customers.
Agile CRM does not have list building as part of its software, which you'll quickly find is very problematic. A makeshift list that your whole company doesn't have access to is not sufficient, as different members of your team are using different versions of this list.
They could begin targeting a lead who you've since determined isn't a good fit, which is a waste of everyone's time. You won't have these problems with EngageBay's free CRM, as list building is a standard feature.
Integrated Live Chat
Another sore spot in Agile CRM's software is how it doesn't have an integrated live chat function. According to 2019 data from software company 99firms, most global consumers (97 percent) cite how customer service matters in which companies they'll purchase from.
Failing to offer live chat is a major ding in terms of customer service, and not one your company can probably afford.
Live chat allows your staff or even an automated chatbot to answer the questions a customer has right away. Customer satisfaction gets prioritized, which can then keep your customers engaged with you and buying.
It's also possible to learn more about your audience's pain points through integrated live chat, making it a crucial part of any worthwhile CRM system.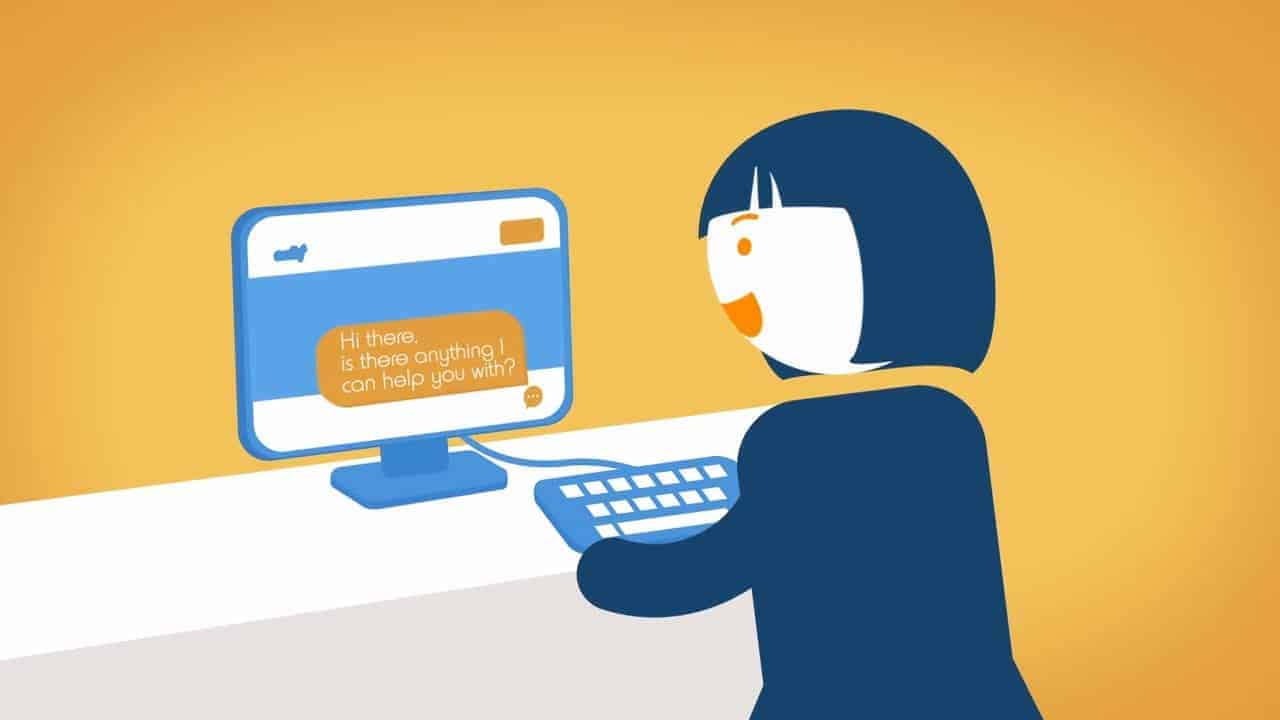 Lack of Module Separation
While your customer service support, marketing, and sales team often work in tandem, sometimes you don't want the modules for all three overlappings.
Keeping them separate can neaten your projects, freeing up your pipeline to move more fluidly. Unfortunately, Agile CRM gives you no option for separating modules.
3 Ideal Agile CRM Alternatives
If the above glaring drawbacks with Agile CRM have you rethinking their CRM software, you may wonder which CRM to switch to next. Here are three of the best Agile CRM alternatives that have more of the features you need to further your business.
EngageBay
First and foremost, we have our own Agile CRM alternative, EngageBay. It was founded as an alternative to HubSpot, boasting many of the same features but without the hefty price tag.
Every CRM feature you read about in the prior section is a part of EngageBay's comprehensive CRM, which is again always available for free to subscribers.
While you do have to pay to use other EngageBay services, the competitive, affordable pricing makes this platform a fantastic pick for your sales and marketing needs.
HubSpot
A very well-known marketing and sales solution, HubSpot is usually quite expensive, but they too offer their CRM for free.
Some of the features included in HubSpot's CRM are tasks and activities, deals, website activity, contact management, dashboard reporting, ad management, forms, ticketing, project prospects, and custom support form fields.
Insightly
We also highly recommend Insightly's CRM.
Theirs is not available for free, but you get three pricing plans to choose from. There's the Plus plan starting at $29 a month for each user, the Professional plan at $49 a month for each user, and the Enterprise plan at $99 a month for each user.
Some of the features you get with your monthly subscription are business processing automation, project delivery, contact lists, lead scoring and management, and customer nurturing.
Conclusion
You thought you had made a good choice signing up with Agile CRM, but you've since realized they're lacking a lot of features that other CRM software has. This includes no email sequences, nor list building, integrated live chat, SMS broadcasting, predictive lead scoring, or project proposals.
As you go about your daily business, you'll find it's a lot harder to keep track of leads in the sales funnel, prevent task overlaps between your sales team and marketers, and determine the highest quality of leads without the above features.
If you're ready to drop this software, you can always use the above-mentioned alternatives to Agile CRM. Insightly or HubSpot are great options, but they may be a bit heavy on your pockets.
We also always suggest EngageBay, which has every feature Agile CRM lacks and then some. That makes it one of the most viable and affordable Agile CRM competitors!
<<Make faster, informed decisions with our simplest contact management software