Enhancing customer experiences is fundamental for the success of any company. A great Customer Relationship Management (CRM) software can streamline these tasks with ease and accuracy — thus fostering better customer retention while also bringing in revenue (retention, after all, is cheaper than acquisition).
Agile CRM is one such marketing automation software. It helps users automate their marketing, sales, and customer support from a single platform.
Agile's affordable pricing makes it an enticing option for small businesses and startups.
But we want only the best for you 🙂
That's why we've shared the pros and cons of Agile CRM, as well as three of the best Agile CRM alternatives:
EngageBay
HubSpot
Insightly
Happy reading!
Why Do People Prefer Agile CRM?
Agile CRM is a good option for small businesses with basic marketing and automation needs. It's quite affordable and is easy to use.

The most important reason small businesses choose Agile CRM is its pricing. Here's the pricing breakdown:
Free: This plan is free forever for 10 users, and offers 1,000 contacts, lead scoring, appointment scheduling, and email tracking.
Starter: This plan costs $8.99/month and adds marketing workflow automation, 2-way email integration, social monitoring, knowledge base, and more.
Regular: The Regular plan costs $29.99/month for custom deal tracks, 2-way CRM telephony, mobile marketing, and 50,000 contacts.
Enterprise: For as low as $47.99/month, you get post-call automation, call recording, automated voicemails, integrations, and a dedicated account representative.

It's clear where the value of using Agile CRM lies — the Enterprise plan offers unlimited contacts at just $48/month.
On the flip side, Agile CRM seems to have lost the glory it enjoyed during the early days. Let's take a look at some of the glaring disadvantages of using the CRM solution.
Read also: 9 Challenges of CRM Implementation & How to Dust Them Off
The Drawbacks of Using Agile CRM
Here's a list of some of the key drawbacks of using Agile CRM:

Email deliverability issues: According to many users, Agile CRM's email deliverability rates have gone down considerably.
Poor customer support: Lengthy complaint resolution times and inefficient handling of issues are major concerns when using Agile CRM.
Basic reporting tools: Agile CRM's reporting and analytics tools are pretty basic, and many users have complained about the segmentation feature's ineffectiveness.
High downtime: Users pointed out multiple instances where certain fundamental features stopped working for days on end.
Inflexible email templates: The email templates are not fully customizable, meaning you can't alter them to match your brand image. The drag-and-drop designer is quite basic with just the essential toolkit.
User Reviews of Agile CRM
The real problems in any platform start when you actually use them — and Agile CRM is no exception. Hear out the issues voiced by validated users:



Top 3 Ideal Agile CRM Alternatives
Going the Agile way is not ideal for small businesses, especially in light of the recent issues faced by users. Fortunately, there are plenty of excellent options that offer amazing ROI.
Let's take a look at three of the best Agile CRM alternatives: EngageBay, HubSpot, and Insightly.
Small businesses need a comprehensive set of features, from email marketing to sales pipeline management and support — all in one affordable package.
This is where EngageBay comes in: it offers a 360-degree view of your customer across marketing, sales, and customer support without burning through your wallet.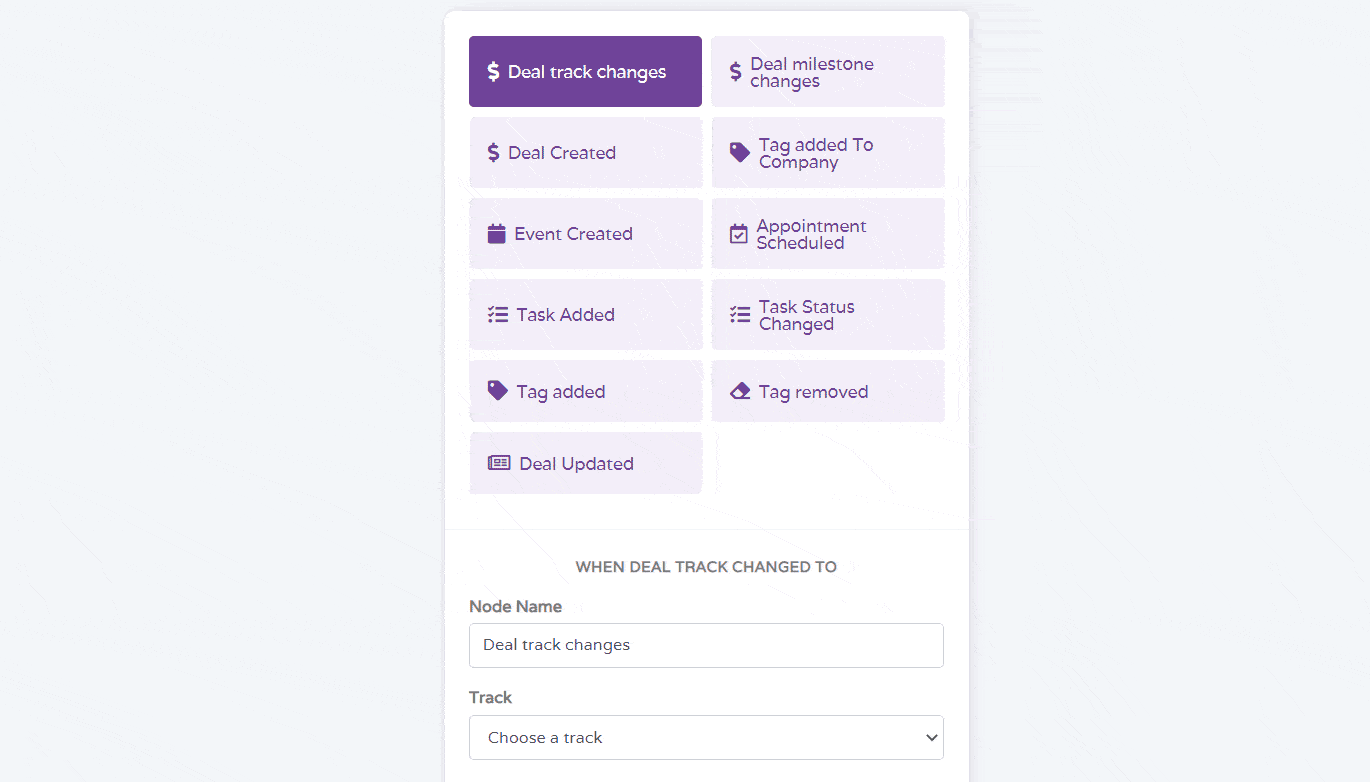 Features
These key EngageBay features help small businesses improve customer relationships, and make the CRM software one of the best Agile CRM alternatives:
Omnichannel marketing: EngageBay lets you reach a wider audience through multiple channels — phone, email, SMS, social media, and the web.
Social Suite: You can now manage all your social media accounts, including Instagram, Facebook, Twitter, and LinkedIn from a single window. The social listening feature lets you figure out what your audience is talking about (on social media).
Email marketing: Send out newsletters, launch drip campaigns, and send welcome emails with ease. The drag-and-drop builder lets you seamlessly design visually stunning email forms without the need for code.
Activity timeline: What's a CRM if it cannot keep track of your customer's interactions? With 'Activity timeline,' you get a complete history of all the interactions with each customer to help you gain a better understanding of your customers.
Sales tools: EngageBay's suite of sales tools help you push leads down the funnel, schedule appointments, manage tasks, create proposals, and more.
Helpdesk and live chat: You can deliver exceptional customer support using helpdesk, live chat, ticket prioritization and routing, and service automation.
Here's a short explainer video of EngageBay:
Pricing
EngageBay offers four plans: Free, Basic, Growth, and Pro.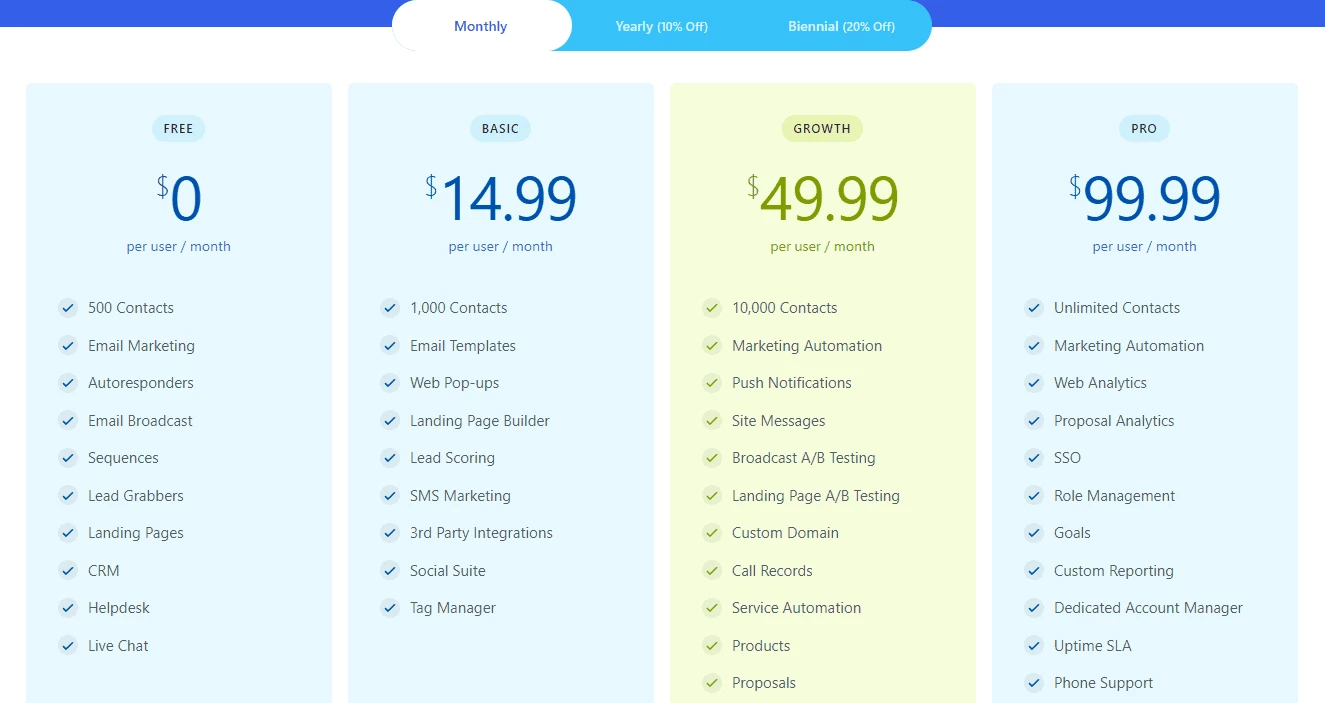 Free: The free plan is free forever and offers 500 contacts, 1,000 emails, email marketing, autoresponders, email broadcasts, sequences, and more.
Basic: The Basic plan starts at $14.99/month for 1,000 contacts, 3,000 emails, SMS marketing, social suite, tag manager, ticket macros, project management, and canned responses.
Growth: The Growth plan costs $49.99/month for 10,000 contacts, 25,000 emails, marketing automation, A/B testing, custom domains, and timezone-based email delivery.
Pro: With a price tag of only $99.99/month, this plan offers pro-level tools for advanced businesses including web analytics, role management, conversational inboxes, account-based marketing, call scripts, and team hierarchy. You also get unlimited contacts and 50,000 emails.
EngageBay also offers a 10% discount on annual plans and a 20% discount on biennial plans.
Read also: Zoho Alternatives — CRM Solutions You Can't Avoid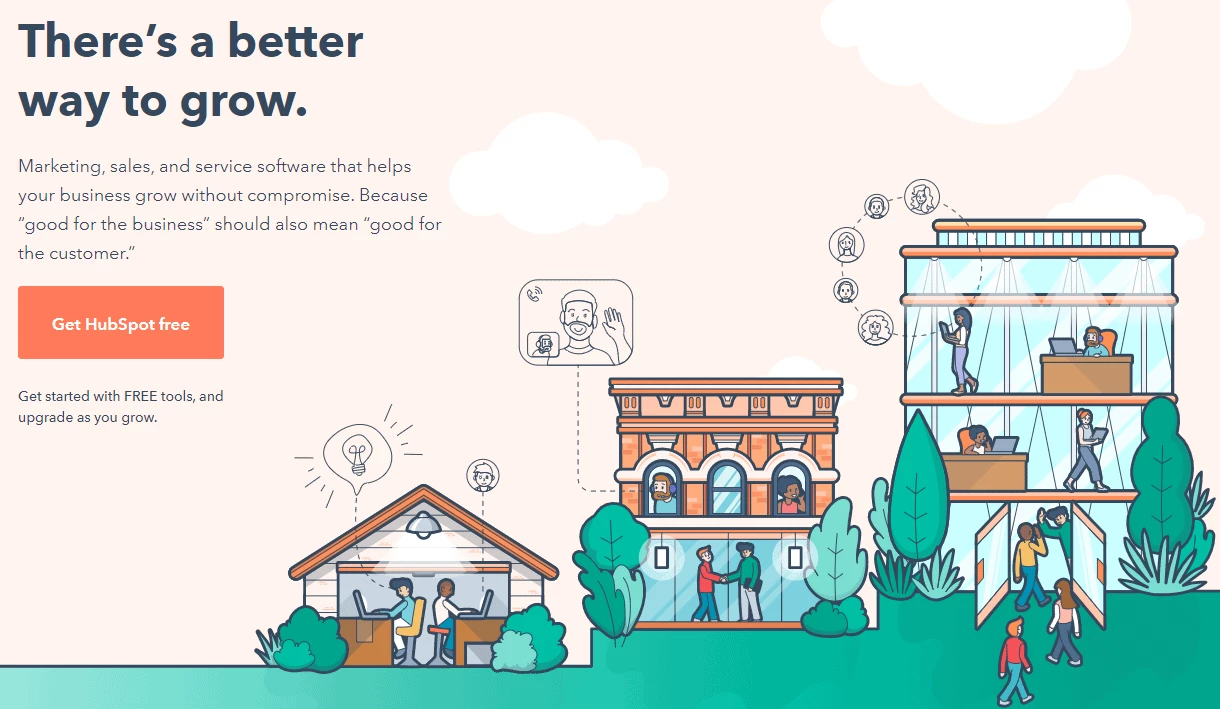 HubSpot is a market disrupter when it comes to marketing automation and CRM. That said, HubSpot's paid plans are too expensive for small businesses (think thousands of $$$ a month!).
Fortunately, they offer a free plan with plenty of tools for businesses to get started.
Features
These free features can help you scale your company:
Marketing: You get free standalone forms and lead capture forms to help you collect customer details. In addition, Hubspot CRM lets you send optimized bulk emails through the drag-and-drop editor.
Landing pages: You can create responsive landing pages without writing a single line of code.
Shared inbox: HubSpot lets you set up a shared inbox for all incoming emails and live chat.
Customer Service: HubSpot offers a suite of customer support tools, including email scheduling, ticketing, live chat, canned snippets, and ticket pipelines.
Pricing

HubSpot offers a free plan, and three paid plans:
Free: As mentioned above, HubSpot's free plan includes basic features for businesses just starting out, including forms, landing pages, shared inboxes, live chat, and ticketing.
Starter: This plan starts at $45/month for 1,000 marketing contacts, email marketing, ad management, email health insights, user management, and more.
Professional: This plan starts at $1,600/month for 2,000 marketing contacts, content strategy, ABM tools and automation, A/B testing, and website traffic analytics.
Enterprise: The Enterprise plan starts at $5,000/month for 10,000 marketing contacts, campaign reporting, calculated properties, advanced record optimization, up to 300 teams, and more.
Read also: Insightly vs Hubspot vs EngageBay — Find Out Which CRM Is Best For You

Insightly is another highly affordable CRM designed for small businesses. From business process automation to contact lists, and lead scoring, Insightly has it all — making it an excellent Agile CRM alternative.
Features
These key features make Insightly CRM a good choice for SMBs and startups:
Dataset rules: Dataset rules help you model datasets and improve security through permission limits.
Email tracking: You can track open and click rates, as well as real-time monitoring of your email campaigns. Insightly also notifies you when an email is opened.
Automation: You can schedule tasks and emails, execute external system business logic, and automate deal management using workflows.
Lead routing: The 'lead timeline' tool keeps track of all communications with a lead, including phone calls, tasks, emails, targeted marketing campaigns, and meetings. This information helps you follow up with your leads at the right time.
Pricing
Insightly offers three plans: Plus, Professional, and Enterprise.

Plus: This plan costs $29/month and offers companywide collaborations, project delivery, and the ability to use on multiple devices.
Professional: The Professional plan costs $49/month for Insightly Voice, lead management, and lead tracking.
Enterprise: For $99/month, you get a suite of pro features including opportunity management, sales team assignments, business intelligence, and event and task activity sets.
Read also: 3 Incredible Insightly Alternatives for Small Businesses
Conclusion: Choosing the Right CRM for Your Business
Having a bad CRM can have detrimental effects on the progress (and profits) of your business. It is better to research well and choose a small business platform that fits your company's needs.
If Agile CRM does not cut it, the 3 Agile CRM alternatives mentioned in this blog post are excellent contenders.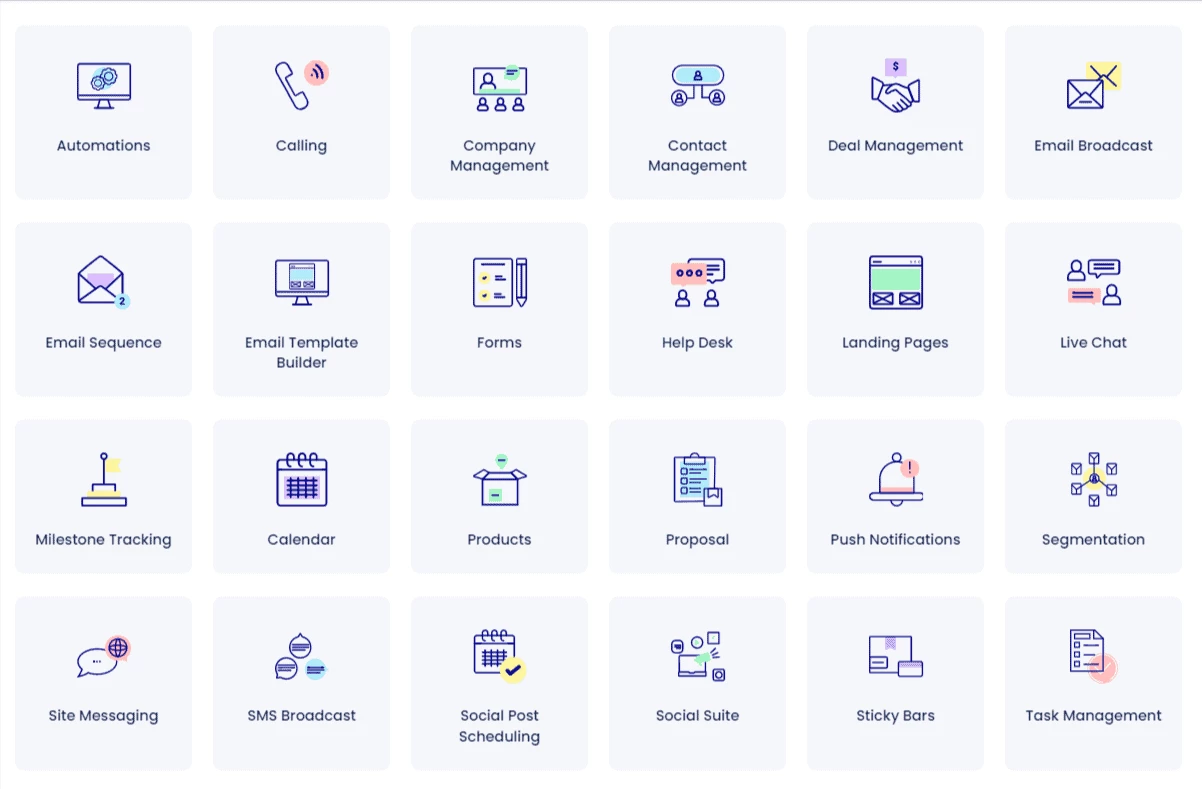 For small businesses, EngageBay is the best choice as it offers a 360-degree view of your customers, has excellent customer support, and is easy to use.
The best part?
It's quite affordable — even the Pro plan with unlimited features costs under $100.
Sign up now for the version, or book a 30-minute demo with our experts at a time of your convenience.