It happens almost anytime you visit a company's website for the first time: a little chat bubble appears, often accompanied by a melodic chime. Someone with a name and a face asks if you have any questions or want more information.
Is this a chatbot or a real person? Should you consider adding a live chat function to your website or are you better off going without? In this article, we'll provide some great info about online chat for your business so you can make that decision for yourself.
What Is Live Chat?
First, let's get started with a definition of live chat. As we touched on in the intro, sometimes people confuse live chat with chatbots. There's one principle difference between the two, though: the inclusion of a real person.
With a live chat, you are indeed talking to a person who's part of the company, a part of your support team, also referred to as live chat agents. They can answer a customer's questions and concerns in real-time. In that regard, it's like a phone conversation but without anyone having to pick up the phone. It's obviously a lot faster than email.
If you've ever used apps like Facebook Messenger or WhatsApp, then you're familiar with instant messaging. That's very much what a live chat is like. It's a real-time means of messaging with customers and prospective customers.
Compare that to chatbots. There's no human here. A company might implement a chatbot for several reasons. For instance, what happens if a customer messages the company after hours or on the weekend? No one's at the office during those times. Leaving the customer waiting all night or all weekend isn't the most preferable option.
Chatbots can bridge the gap. They answer when staff cannot and provide the information the customer seeks or, at the very least, a phone number to call. This makes the customer feel like they're a priority in the eyes of the company.
Another way chatbots can assist is if many customers reach out via the live chat at once. If your company gets slammed with inquiries, it becomes too burdensome for a single person to address them all. Even a small team can become overwhelmed. Ignoring the messages isn't an option (we'll talk more about this later, so keep reading), so what do you do? Chatbots can step in and redirect or answer customer queries during those busiest times, like after a product announcement or launch.
While we'll focus on live chat instead of chatbots for the sake of this article, companies may use both.
Why Use Live Chat for Your Business?
Okay, now you know a bit more about live chat, but you might still have some reservations about whether this solution fits your business needs. If so, then we think the next two sections will convince you.
Here are several reasons to consider using a free live chat for your website.
Filter Leads
If you've read and applied the advice on this blog, then you should have a steady stream of leads arriving to your sales funnel. In fact, the more leads, the better, considering that not every single one of them will become customers.
This will happen for nearly countless reasons, but one chief reason is a lack of interest on the part of the lead. That's why sales teams and marketers like to take the extra time to filter their leads before marketing to them. Perhaps they do lead scoring, which is where they assign values to leads based on actions or behaviors.
Another way to filter leads? Using live chat.
Think about it. Instead of taking the time to have a phone consultation, an email exchange, or even an in-person meeting with a lead, you can message with them in real-time. This won't take long for either of you. In fact, according to 2019 data from SuperOffice, most live chats last six minutes, 50 seconds.
During your text conversation, you can pepper the lead with questions that give you a clue into their level of interest. If they seem truly interested, then great! You might encourage them to sign up for an appointment or book a consultation. If they're not interested, you can try to gauge why. They could need more information or perhaps they're just not a good fit.
If you've determined it's the latter, you can let the lead go for now. You could try to reengage with them another time.
With a couple of minutes of live-chatting, you've saved yourself and your sales/marketing teams lots of time filtering through leads. You also don't waste time marketing to leads who are clearly not interested and thus not going to buy.
Get a Glimpse into Your Customer Behavior
Why do customers do what they do? For example, why do they add an item to their cart and then leave your site before checking out?
You could sit and make guesses and assumptions all day about why this happens. All you'd get from it is a headache, but no real answers.
With live chat services, there are fewer gray areas. The information you gather from the real conversations had with customers lets you get a glimpse into why they behave the way they do. Using the example above, these would-be customers could feel apprehensive about spending a lot of money on your products/services. That's why they abandon their cart. You may want to reconsider your pricing or provide more information to eliminate this reluctance.
Either way, now that you're actively aware of the problem, you can strive to provide an actionable solution.
Nurture and Engage with Prospective Customers
Through live chat support, you do more than answer questions and filter leads. You also get a chance to nurture and engage with your prospects and customers. From brand-new customers to more established ones, having a chat function on your website lets you maintain your relationship with them all.
This doesn't mean you should stop marketing to your prospects and customers in other ways. That would majorly hurt your company. Instead, you can use live chat support to augment those other means of marketing.
Save Money
You know the saying that a penny saved is a penny earned, right? That really applies when you implement live chat. According to an article on Call Centre Helper, live chat costs 17 to 30 percent less than a phone call.
Emailing a customer with Internet service can take $2.50 to $5 from your wallet. Using a live chat is somewhere in the $5 and up range. Making calls via a call center costs $12 and more. While live chat's not free, it certainly costs less than the phone service you use now.
When you consider those savings over time, you can keep a lot of money in the collective pocket of your business.
Customized Analytics
Your company's analytics include all relevant customer data, or they should. Getting said data from phone calls isn't the easiest task in the world. You either have to hire someone to transcribe the calls or pay for software to do it. Either way, that's time and money your company loses.
With live chats, creating detailed customer analytics becomes easier than ever. You should store all the live chat logs. From there, you can view and compile these to create analytics that matter to your company's bottom line. For instance, how many people used the chat feature in a day? A week? A month?
Which pain points kept coming up again and again among your customers? You might want to focus on these specifically in the future. You can start by writing an explainer on the pain points and then sharing this via content and email marketing. Also, it may be a good idea to update a landing page or pricing page to include information customers seem iffy on.
Another metric to focus on? How many employees address the live chat queries coming through. According to the 2019 article on SuperOffice, we linked you to earlier, there's a surprising amount of live chat requests that get ignored. To glean this data, SuperOffice surveyed 1,000 different sites. Through their research, they found these companies had a decent rate of ignoring customer queries. Up to 21 percent of messages didn't get a reply.
If you find your company is in the same boat, you're going to want to change that immediately. Analytics can give you the data to identify your weak points so you can begin correcting them.
What Is the Live Chat Effectiveness Rate?
Just how effective can you expect live chat to be for your business? We're glad you asked. We've gathered up some stats that show how integral live chat has become for customer retention and more sales.
Higher Customer Satisfaction
Every company wants higher customer satisfaction rates, right? When you call or email your customers, you're actually not getting as much of that satisfaction as you are with live chatting. So says 2013 data from Econsultancy.
According to them, phone users had the lowest rate of customer satisfaction, just 44 percent. Email was better, with a 61 percent satisfaction rate. Customer service, such as live support had the happiest customers, with a 73 percent satisfaction rate.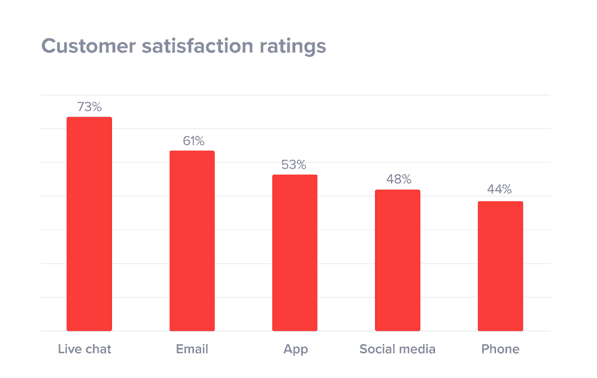 Image courtesy of Econsultancy
More Info = More Purchases
You wouldn't want to do anything to make your customers shy away from buying your products/services, but it does happen. As we mentioned earlier in this article, a lack of information could prohibit purchases. So confirms a report through Forrester Research. According to them, most customers (57 percent) won't complete the purchase if they feel like they don't have the info they need. Not only do they want information, but they want it right away.
Check out this chart below: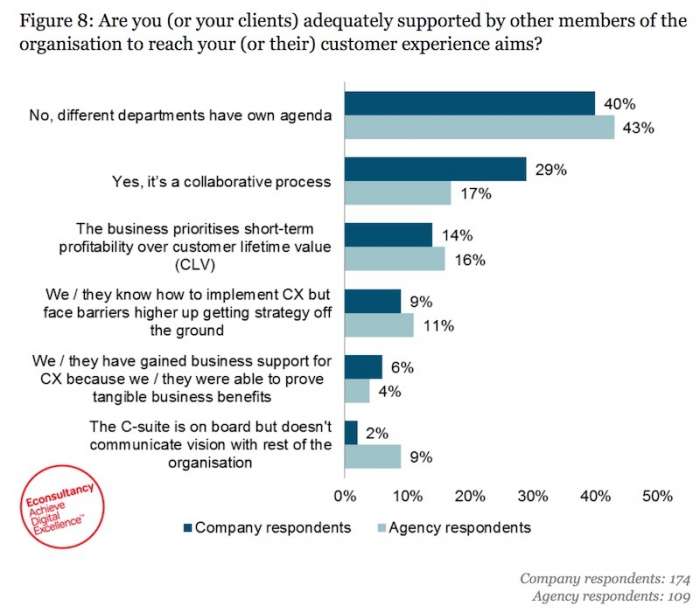 Image courtesy of Forrester Research
Also, in that survey, 44 percent of respondents said: "having my questions answered by a live person while I am in the process of online shopping is one of the most important features on a website." That's a reference to live chatting.
Customers Like Live Chat More, Too
You have to consider what your customers like when you make decisions for your business. On the note of customer preference, it appears they'd rather live chat more than use other means of communication. That's what a 2015 International Customer Management Institute or ICMI report found. Just a few customers prefer forums and social media for communicating (16 percent), slightly more would rather use email (23 percent), but most (42 percent), like live chatting.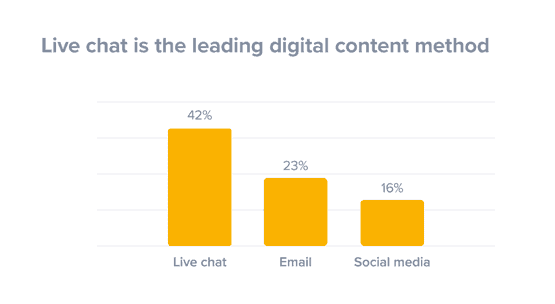 Image courtesy of SuperOffice
Live Chat Can Boost Your Customer Loyalty
Having a base of customers who happily do repeat business can maintain the very foundation of your company. Finding means of getting repeat customers sometimes seems impossible, at least until you implement live chat software for your business.
When eDigital did a Customer Service Benchmark survey, they spoke with 2,000 people about what it took to foster customer loyalty. Phone support promoted loyalty at a low rate of 44 percent. Email support had a 61-percent effectiveness rate, which is decent.
For the most customer loyalty, most respondents, 73 percent, said live chat was where it's at.

Image courtesy of eDigital
The Speed Is Preferable
The same eConsultancy piece mentions that most customers who use live chat prefer it for one reason: it's fast. In fact, 79 percent of respondents said that.
According to a SuperOffice Customer Service Benchmark Report, it takes about 10 hours for companies to respond back to social media messages and other inquiries. For email, it's even longer, about 12 hours.
Customers don't have to wait nearly as long with live chat. It often takes just two minutes for response time..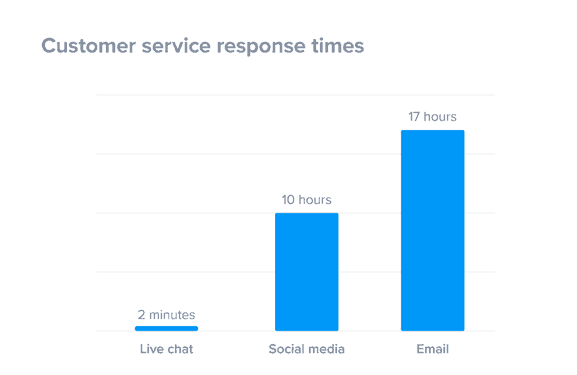 Image courtesy of SuperOffice
With such a convenient means of communicating right at their fingertips, why would anyone prefer using other means if they don't have to?
Conclusion
If your company doesn't already have live chat support on your website, you're majorly missing out. Several large marketing firms found that most customers prefer using a live chat window over email or phone calls. That's because it offers an immediacy you don't get through those other means of communication.
As the stats above proved, you could see more leads, purchases, and better customer experience, retention, and loyalty by adding live chat support to your business and enhancing their satisfaction levels. What are you waiting for? It's time to make a positive change for your company today.