With advertising costs only on the rise, optimizing for higher conversion rates is a top need for every eCommerce business owner. This is where eCommerce analytics tools come in.
However, with so many eCommerce analytics tools available today, knowing the right fit for your business can take time and effort.
To simplify your decision process, we've curated the 12 best eCommerce analytics tools, highlighting their features, downsides, pricing, and rating to help you decide on an analytics software for your eCommerce store.
By the end of this blog post, you'll gain clarity on the best eCommerce analytics tools for your online store.
Let's dive right in.
What are eCommerce Analytics Tools
Simply put, eCommerce analytics tools allow you to track and analyze data related to your online store and understand your eCommerce customers. This data can include everything from customer behavior to sales performance and everything in between.
Whether you want to increase sales, improve customer satisfaction, or better understand your audience, eCommerce analytics tools are essential to any successful eCommerce marketing strategy.
For instance, businesses can use these analytics tools to analyze their marketing campaigns and identify which channels generate the most traffic or sales. This can further be used to optimize their marketing campaigns and improve their overall ROI.
Read also: eCommerce Email Platform Integration — The Top Tools To Try
Top Factors to Pick Your eCommerce Analytics Tool
Before deciding on an eCommerce analytics tool, here are a few factors to consider.
1. Pricing
First and foremost, pricing is a critical factor when choosing an eCommerce analytics tool. There's no denying that running an eCommerce business can be expensive, and adding another tool to your tech stack makes expenses add up quickly.
Therefore, it's essential to understand the pricing structure of the analytics software you're considering and ensure it aligns with your budget.
For example, some tools charge a flat monthly fee, while others charge based on the volume of data you're analyzing. Be sure to choose a pricing structure that works for your business.
2. Ability to track relevant features
While most eCommerce analytics tools track standard metrics such as traffic, revenue, and conversion rates. Some analytics software offers more advanced metrics to provide deeper insights into your business's performance.
Consider which metrics are most relevant to your online store and ensure your chosen tool can track and analyze them effectively.
3. Platform integration
Many eCommerce platforms offer built-in analytics tools, but you may need more detail and analysis than they provide. Look for a tool that integrates with your existing eCommerce platform and other platforms you use for seamless data reporting.
4. Ease of use
The eCommerce analytical software should be user-friendly and easy to navigate, with intuitive dashboards and customizable reports.
5. Support
Look for a tool that provides reliable and responsive customer support, with options for training and troubleshooting.
6. Scalability
Consider whether the tool can scale with your business as it grows, with options for upgrading or downgrading features.
By considering these factors, you make a guided decision on an eCommerce analytics tool to help you track and analyze data effectively.
Now let's take a look at the best eCommerce analytics tools.
Read also: Predictive Analytics for eCommerce Emails: Beginner's Guide
12 Best eCommerce Analytics Tools You Should Consider
Google Analytics

Crazy Egg

Kissmetrics

Hotjar

Mixpanel

Glew.io

Databox

Optimizely

Woopra

Supermetrics

Matomo

Shopify Analytics
Let's take a detailed look at them.
1. Google Analytics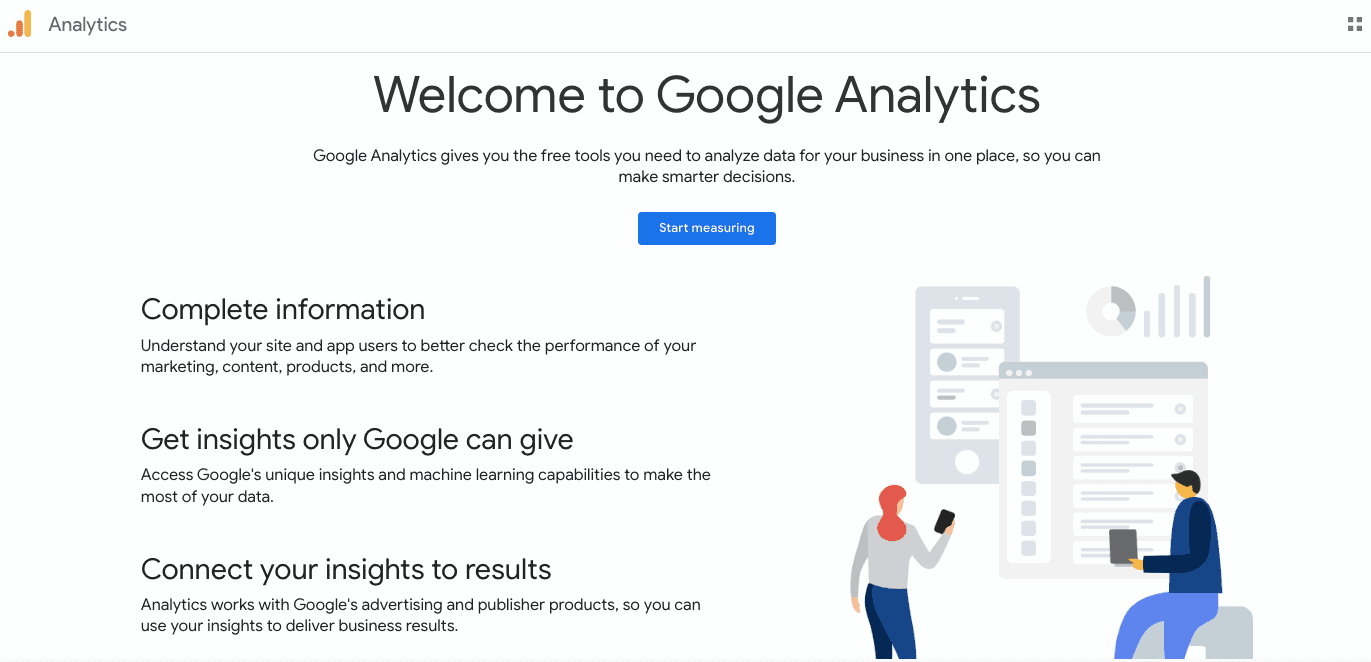 Google Analytics is a widely used eCommerce analytics tool for small and mid-sized eCommerce store owners for its vast wealth of data. It provides a comprehensive overview of your website's performance, including the number of visitors, pages viewed, bounce rate, and conversion rate.
Google Analytics key features
Advanced eCommerce tracking:

Google Analytics offers enhanced eCommerce tracking that allows you to track product performance, revenue, and other

eCommerce metrics

in real-time. This feature provides detailed insights into customer behavior and enables you to optimize your online store accordingly.

Funnel analysis:

It gives you a detailed insight into the whole

customer journey

, from clicking an Ad to purchasing products. Which helps you strategically spend your money in the specific phase of the conversion cycle where it is most required.

Customizable dashboards and reports:

You can track key metrics like traffic, conversions, and revenue and easily share reports with your team.
Other features include goal tracking, conversion tracking, and real-time reporting. In addition, Google Analytics integrates seamlessly with other Google products, such as Google Ads and Google Search Console, making it easy to track the effectiveness of your marketing campaigns.
Downsides
With a steep learning curve, it requires some technical knowledge to set up and configure correctly, and the learning curve becomes steeper with each new feature added to the iteration.
Pricing
Google Analytics is free to use, which makes it a popular choice among small businesses and startups.
Ratings
Google Analytics has a 4.5 out of 5 overall rating on Gartner, with a product capability rating of 4.6/5.
Realated blog: 25 Top eCommerce Marketing Tools to Boost Sales
2. Crazy Egg

Crazy Egg is a user-testing analytics tool that enables eCommerce marketing teams to analyze their customer response to various elements on their website. Popular for its heatmaps, visual reports, and scroll maps.
In addition, Crazy Egg offers a range of other features that can help you optimize your eCommerce store. For example, you can track user behavior on specific pages or funnels, such as checkout or product pages, to identify areas for improvement.
Crazy Egg key features
Heatmaps:

One of the key benefits of using Crazy Egg is the ability to visualize user behavior through heatmaps. These easy-to-read graphics show where users click, scroll and hover on your site. This feature lets you see which areas of your website get the most clicks, where users spend the most time, and which elements are being ignored.

Scroll maps: This feature helps you identify where users are dropping off and where they are spending the most time by showing you how far users scroll on your website for landing page optimization.
A/B testing:

Crazy Egg's A/B testing feature allows you to test different variations of your website's design and content to see which performs best. This feature helps you optimize your website for conversions and increase revenue.

Recordings:

This recordings feature allows you to watch recordings of individual user sessions. This feature provides insights into how users navigate your website and helps you identify areas where users may be experiencing issues.
Downsides
A significant downside is that all pricing plans are billed annually and may not be a good option if you have a limited monthly budget. Also, with a steep learning curve, it may take a while to understand how to use and interpret its data fully.
Pricing
Crazy Egg has five major pricing plans with a free 30-day trial. They include:
Basic plan – $29/month

Standard plan- $49/month

Plus plan – $99/month

Pro plan – 249/month

Enterprise plan – Custom pricing
Rating
Crazy Egg has a 4.5/5 overall rating on Capterra, with data visualization being the key feature with a 4.2/5 rating.
Related blog: eCommerce CRM: The Top Platforms for Streamlining Your Business
3. Kissmetrics

Kissmetrics is an advanced web analytics tool that helps store owners track and analyze customer behavior throughout the customer journey.
On Kissmetrics, you can analyze your eCommerce total sales and revenue, customer lifetime value, visitor-to-customer conversion rate, average value order, and cart-to-purchase conversion rate, making it a better option among advanced eCommerce analytics tools.
Kissmetrics key features
Customer behavior tracking: Track customer behavior across multiple devices and touchpoints. This means businesses can get a comprehensive view of their customer's journeys and identify areas where they can improve the customer experience.
Funnel analysis: Kissmetrics analytics software allows you to track customer behavior throughout the entire customer journey, from acquisition to retention. This feature helps you identify where customers drop off in the sales funnel and optimize your marketing efforts accordingly.
Customer segmentation analysis:

This feature allows you to analyze customer behavior by segmenting customers based on behavior, such as first-time purchasers or returning customers. It provides insights into how different customer segments you can optimize your customer retention strategy.

Multiple integrations: It integrates with various eCommerce platforms and tools, including Shopify, Magento, and Salesforce, making it easy to set up and use.
SQL report:

This shows users' cart abandonment rate and detailed product analysis.
Downsides
One of the main downsides of Kissmetrics is that it can be expensive, especially for small businesses with limited budgets. Additionally, some users have reported that the user interface could be clearer to navigate at the onset.
Pricing
Kissmetrics has a 3-tier pricing plan, all billed annually.
Silver – $299/month

Gold – $499/month

Platinum – Custom/month
With no free pricing plan, some online retailers prefer Google Analytics as a free alternative.
Ratings
Kissmetrics has a 4.4 out of 5 overall rating on Gartner, with KPI tracking and customer behavior insight being the top-performing feature of several users.
Read also: How To Optimize Your CTR With eCommerce Email Heatmap Analysis
4. Hotjar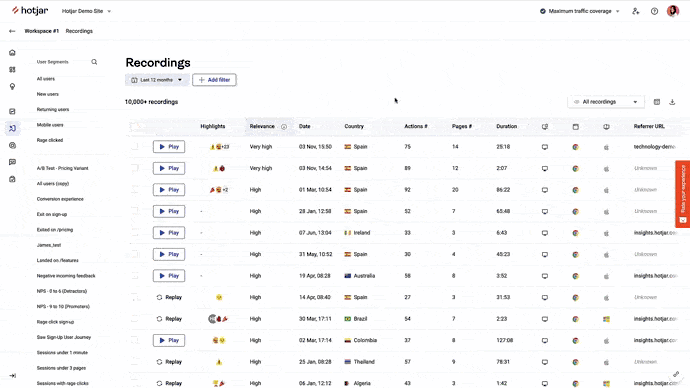 Hotjar is a popular all-in-one analytics software that helps eCommerce businesses understand their customers' behavior, optimize landing pages, and increase conversions.
Hotjar's intuitive interface makes tracking visitors' behavior on your eCommerce website easy with features like heatmaps, visitor recordings, and conversion funnels.
Hotjar key features
Heatmaps:

Hotjar generates heatmaps visually representing where users click, move, and scroll on a website. This helps you identify your website's most popular or least used areas.

Visitor recordings:

Allow you to see how visitors interact with your website. This replayable recording helps online retailers identify user pain points or areas where users get stuck on their websites.

Conversion funnels: Help you identify where visitors drop off in the sales process by tracking users' steps on a website, from initial visits to final conversions.
Feedback tools:

This lets your customers leave comments and suggestions on your website, giving you valuable insights into their pain points and preferences. This feedback provides first-hand insight to improve your website's usability and user experience.
Downside
Hotjar's data storage limits can be restrictive, particularly for businesses with high-traffic websites.
Pricing
Hotjar has four major pricing structures for heatmaps and recordings.
Basic – Free

Plus – $32/month

Business – $80/month

Scale – Custom pricing
Other features, like surveys, have different pricing structures. To get a holistic view of Hotjar's pricing structure, check it out here.
Ratings
Hotjar has a 4.7/5 overall rating on Capterra. The top features, as rated by users, are real-time analytics (5/5), engagement tracking (5/5), and heatmaps (4.7/5).
Related blog: The Best CMS for eCommerce
5. Mixpanel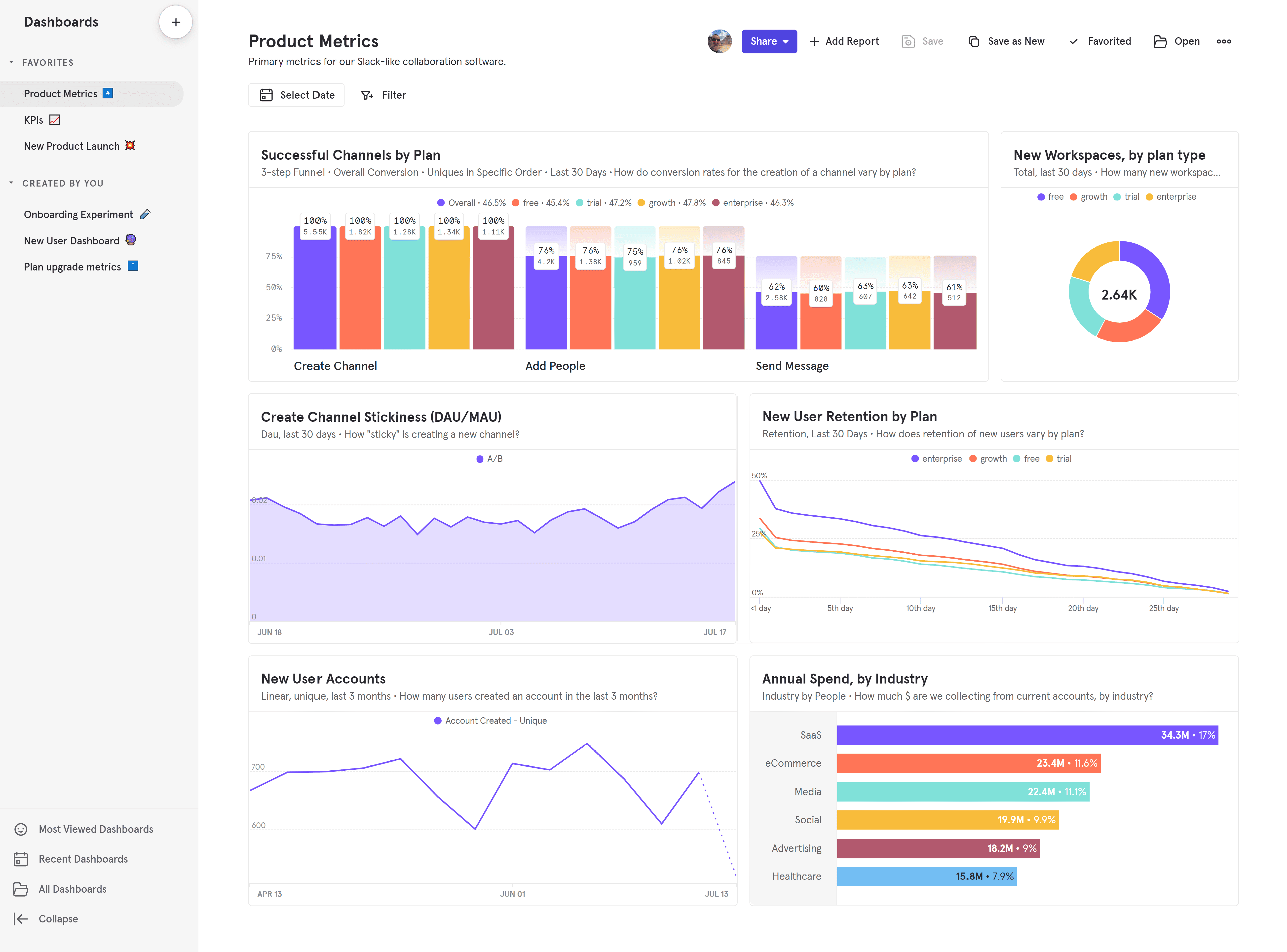 Mixpanel is a product analytics solution that allows teams quickly analyze how users engage, convert, and online customer retention strategy in real-time across devices to improve user experience. It is suitable for small businesses, mid-sized businesses, and large enterprises.
Mixpanel key features
Data integration:

It has over 25+ integrations with platforms like Intercom, Zapier, Slack, Zendesk Suite, and Housecall Pro.

KPI monitoring: Mixpanel provides customizable reports for your eCommerce retention, engagement, and growth metrics that take the guesswork of your marketing analysis.
Cohort analysis: Allows online retailers to target specific user groups based on their behavior or important characteristics to improve engagement, conversion, and customer retention.
Funnel analysis: With Mixpanel, businesses can track users' steps leading up to a purchase, identifying areas where users are dropping off and optimizing those steps.
Downsides
Exported data doesn't show up in all fields.
Pricing
Mixpanel has three pricing tiers.
Free

Basic – Starts at $20/month

Enterprise – Starts at $1,667/month
Rating
Mixpanel has a 4.5/5 overall rating on G2 from 950+ users.
Related blog: The 5 Best eCommerce Platforms for Startups
6. Glew.io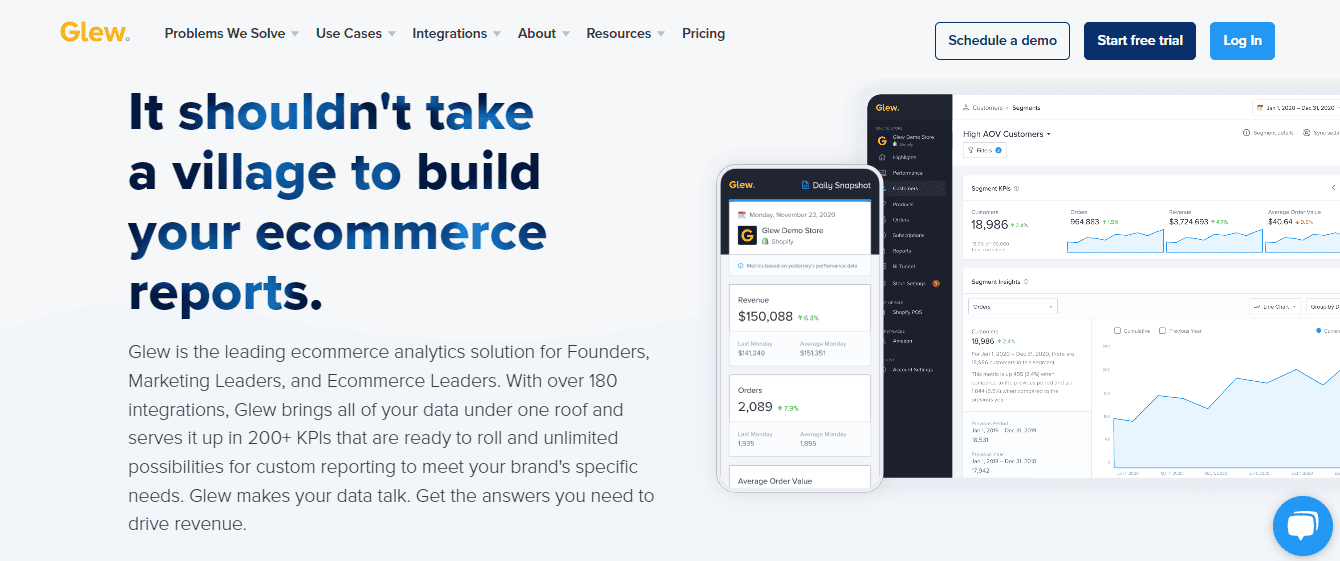 Glew.io is a website analytics tool that provides eCommerce businesses with insights into customer behavior, sales, and marketing data. With over 180+ integrations, it is best for multichannel online retailers.
Glew.io key features
Multichannel reporting:

Glew.io can consolidate data from various sources. Also, it integrates with other eCommerce platforms, payment gateways, and other third-party tools to provide a comprehensive view of your business.

Customizable dashboard:

It offers a customizable dashboard that tracks key real-time metrics such as sales, revenue, and customer behavior.

Customer segmentation: Another critical feature of Glew.io is its ability to segment your customers. This can help you identify high-value customers, understand their buying behavior, and create targeted marketing campaigns based on where they are in the

sales funnel.

Inventory management:

Glew.io includes features that allow users to track inventory levels, sales trends, and purchase orders. This can help businesses optimize their inventory and avoid stockouts.

Data integration: Glew.io integrates with a wide range of eCommerce platforms, such as Shopify, WooCommerce, and Magento, as well as marketing tools like Facebook Ads, Google Ads, and Mailchimp. This integration allows users to view their eCommerce and marketing data in one place.
Downsides
Premium features require specialized professionals to set up and analyze.
Pricing
Glew.io has three basic pricing tiers:
Starter (free)

Pro (contact team after free trial)

Custom reporting (custom pricing)
The other pricing structure is categorized based on your eCommerce business's annual revenue. For example, eCommerce businesses with up to $1 million yearly income are billed $79/month, and $10-15 million annual revenue is priced at $649/month.
Rating
Glew.io has a 4.3 out of 5 overall rating on Capterra.
9 Best Email Marketing Software for eCommerce
7. Databox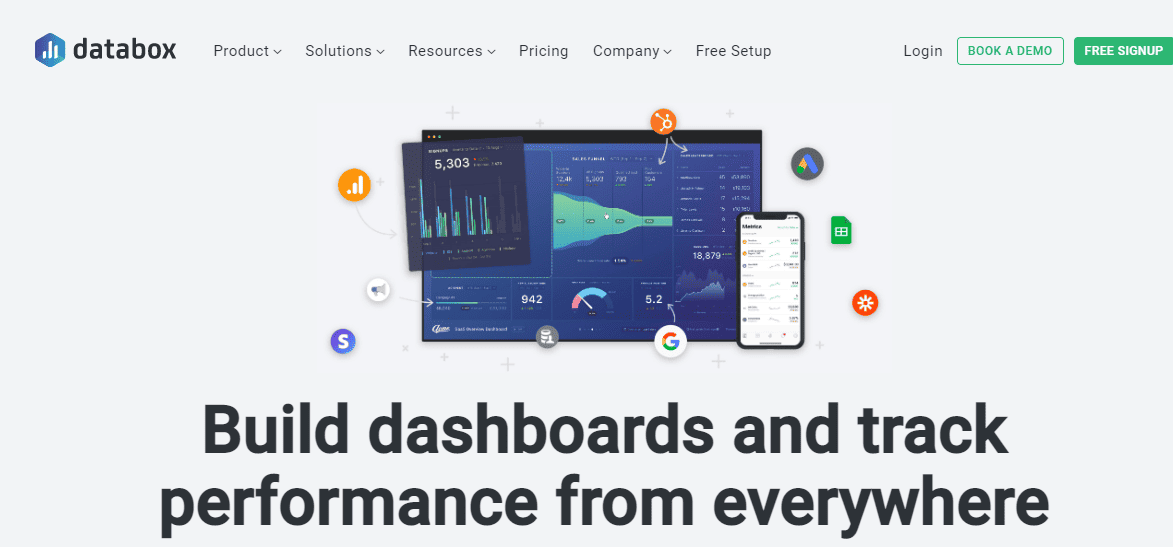 Databox is a cloud-based eCommerce analytics tool popular for its ability to consolidate data from different sources into a single dashboard. This makes it easy to track key metrics like sales, traffic, and customer behavior in one place. DataBox is suitable for small to large eCommerce businesses.
Databox key features
Customizable reporting options: This eCommerce analytics software allows you to create tailored reports highlighting your business's most critical data.
Vast data integration: Databox users can connect with several cloud-based data sources like HubSpot, Moz, Stripe, Google Analytics, Instagram, Mailchimp, or your databases for in-depth performance analytics.
Robust visualization features:

Including charts, graphs, and tables. These visual aids make it easy to spot trends and patterns in your data, allowing you to make more informed decisions about your eCommerce store.

eCommerce integrations: DataBox integrates with popular eCommerce platforms like Shopify and WooCommerce, making it easy to import and analyze your sales data immediately

.
Downsides
A major drawback is there are no individual subscriptions, just for teams of up to 5 users (starter pack) and unlimited (performer pack).
Another potential downside of using Data Box is the risk of data overload. With so much data available, getting overwhelmed and needing help identifying the most critical insights is easy.
Pricing
Databox has three pricing tiers:
Starter plan

– free

Professional plan

– $135/month billed annually

Performer plan

– $231/month billed annually
Ratings
Databox has a 4.7/5 rating on Capterra from 187 users, with the top features being KPI monitoring and data visualization, rated 4.7/5 and 4.6/5, respectively.
Related blog: 8 Free eCommerce Website Builders For Every New E-Preneur
8. Optimizely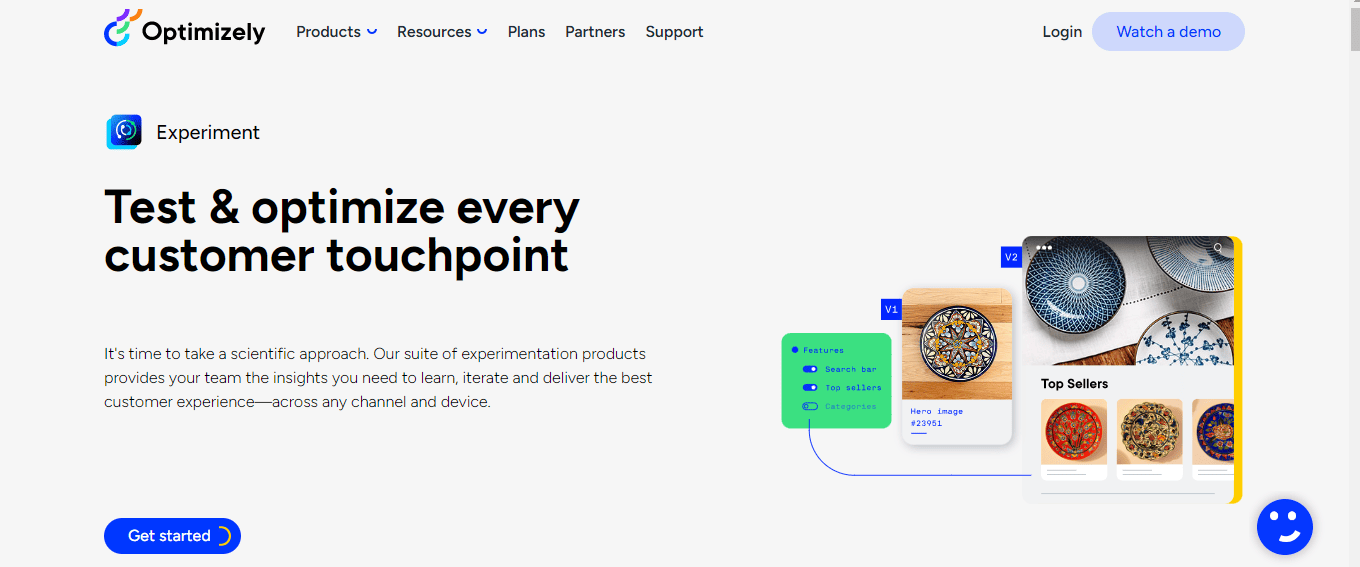 This eCommerce analytics software helps businesses personalize their websites by providing valuable insights into customer behavior, such as clicks, scroll depth, purchases, and page views.
Optimizely key features
Detailed reporting:

Ability to track visitor behavior on eCommerce websites. The tool provides detailed reports on visitor demographics, page views, form submissions, bounce, and conversion rates for personalization.

A/B testing:

With Optimizely, you can run A/B tests on various aspects of your website, such as the layout, color scheme, or product descriptions, to determine what resonates best with your audience.

Personalization: This personalization feature allows you to tailor your website's content and design to individual users based on their behavior and preferences. This feature can help increase engagement and conversions.
Multivariate testing:

Optimizely's multivariate testing feature slightly differs from its A/B testing by comparing a higher number of variations to help identify the combination of elements that perform best.
Downsides
One major drawback is the cost. Optimizely can be relatively expensive for smaller businesses or those on a tight budget and has a complicated user interface.
Pricing
Optimizely estimates pricing based on your business needs, but typically pricing starts at $2,000/month.
Rating
Optimizely web optimization has a 4.2 out of 5 overall rating on G2. with A/B testing, website personalization, and customer targeting being the top features.
Related blog: Find the Perfect B2B Ecommerce Platform for Your Needs
9. Woopra

Woopra is a powerful eCommerce analytics tool that provides businesses comprehensive insights into their website's performance, customer behavior, and sales funnel. It has 50+ 0ne-click integrations with platforms like Marketo, Salesforce, and Intercom.
Woopra key features
Real-time customer tracking:

Woopra can track customer behavior in real-time. As a result, businesses can see what customers are doing on their websites at any time. This is handy for optimizing an eCommerce website's user experience and increasing conversion rates.

Trigger messaging:

Woopra allows you to trigger an automatic action and define a segment when leads meet predetermined criteria on their buying journey.

Platform integration: Woopra's ability to integrate with other tools and platforms. This includes popular eCommerce platforms such as Shopify, Magento, and WooCommerce, as well as email marketing tools like Constant Contact and Mailchimp. This integration makes it easy for businesses to track their customer behavior across multiple channels and platforms.
Downsides
One of the main downsides of Woopra is its price. The software can be quite expensive, especially for smaller businesses or startups. Additionally, setting up and configuring Woopra can be a complex and time-consuming process, which may require the assistance of a dedicated data analyst or IT professional.
Pricing
Woopra has three major pricing tiers.
Core – Free

Price – $999/month

Enterprise – Custom pricing
Ratings
Woopra has a 4.4/5 overall rating on G2 and a 4.3/5 overall rating on Capterra. Features like real-time reporting, funnel analysis, engagement tracking, campaign tracking, and site search reporting are the most popular features.
Read also: eCommerce Support Technologies To Help Build Your Moat
10. Supermetrics

Supermetrics gives a snapshot of data from 100+ sales and marketing platforms into the analytics and reporting tool. It is best for eCommerce businesses that want to understand their marketing data better.
Supermetrics key features
Multiple data sources:

Ability to connect with various data sources such as Google Analytics, Facebook Ads, Shopify, and more. This feature enables businesses to track and analyze their website's performance across different channels, providing a complete picture of their online store's success.

Customizable reporting capabilities: Online retailers can create custom reports that fit their needs and requirements. The reports can be tailored to show sales, revenue, conversion rates, and customer behavior metrics.
Automation:

Supermetrics offers automation features that allow you to schedule data imports, refresh data automatically, and set up alerts when specific metrics reach a certain threshold. This feature helps you save time and stay on top of important metrics.

Data visualization:

Supermetrics provides various data visualization tools, including charts, graphs, and tables. This feature lets you easily visualize your data and gain insights into your business performance.
Downsides
Different connectors are paired with higher pricing tiers which could easily set the price skyrocketing to get those specific connectors.
Pricing
Supermetrics has 15 pricing options for different features and categories. It ranges from $19 to $99, and there's custom pricing too. Check out the full pricing details here.
Ratings
Supermetrics has a 4.3/5 overall rating on G2 and a marketing analytics ease of use rating of 8.5/10. It has a similar 4.3/5 overall rating on Capterra.
Read also: 6 High-Impact eCommerce Marketing Strategies to Try Now
11. Matomo

Matomo, formerly Piwik, is an open-source web analytics tool with two hosting options (cloud and on-premise). It provides a comprehensive insight into customer behaviors and has a complete range of features like session recordings, heatmaps, and form analytics.
Matomo key features
Customer behavior tracking: It provides detailed insights into customer interactions with a website, including the pages they visit, the products they view, and the actions they take. Matomo also offers real-time tracking, allowing businesses to monitor customer behavior as it happens.
Form analytics:

This eCommerce analytics software gives insights into how your visitors interact with the forms on your site.

Customizable reporting: The tool allows businesses to create reports tailored to their needs. This level of customization is beneficial for eCommerce stores looking to track specific KPIs or gain insight into their eCommerce operations.
Product tracking:

With Matomo eCommerce analytics, you can track the performance of individual products on your website. This information can help you identify which products are selling well and which are not performing well, allowing you to make data-driven decisions to optimize your product offerings.

Cart abandonment tracking: Matomo lets you track how often visitors add items to their cart but leave your website without completing the purchase. This feature helps you understand why visitors abandon their carts, such as high shipping costs or a complicated checkout process, so you can reduce cart abandonment.
Downsides
One of the main drawbacks is the setup process, which can be complex and time-consuming. The tool's user interface can also be overwhelming, particularly for those new to eCommerce analytics. Understanding and utilizing all of the tool's features may take some time.
Pricing
Matomo has two pricing structures
On-premise – Free

Cloud-based – $29/month
Ratings
Matomo has a 4.2 out of 5 overall rating on G2.
Read also: 19 eCommerce Best Practices to Win Customer Confidence
12. Shopify Analytics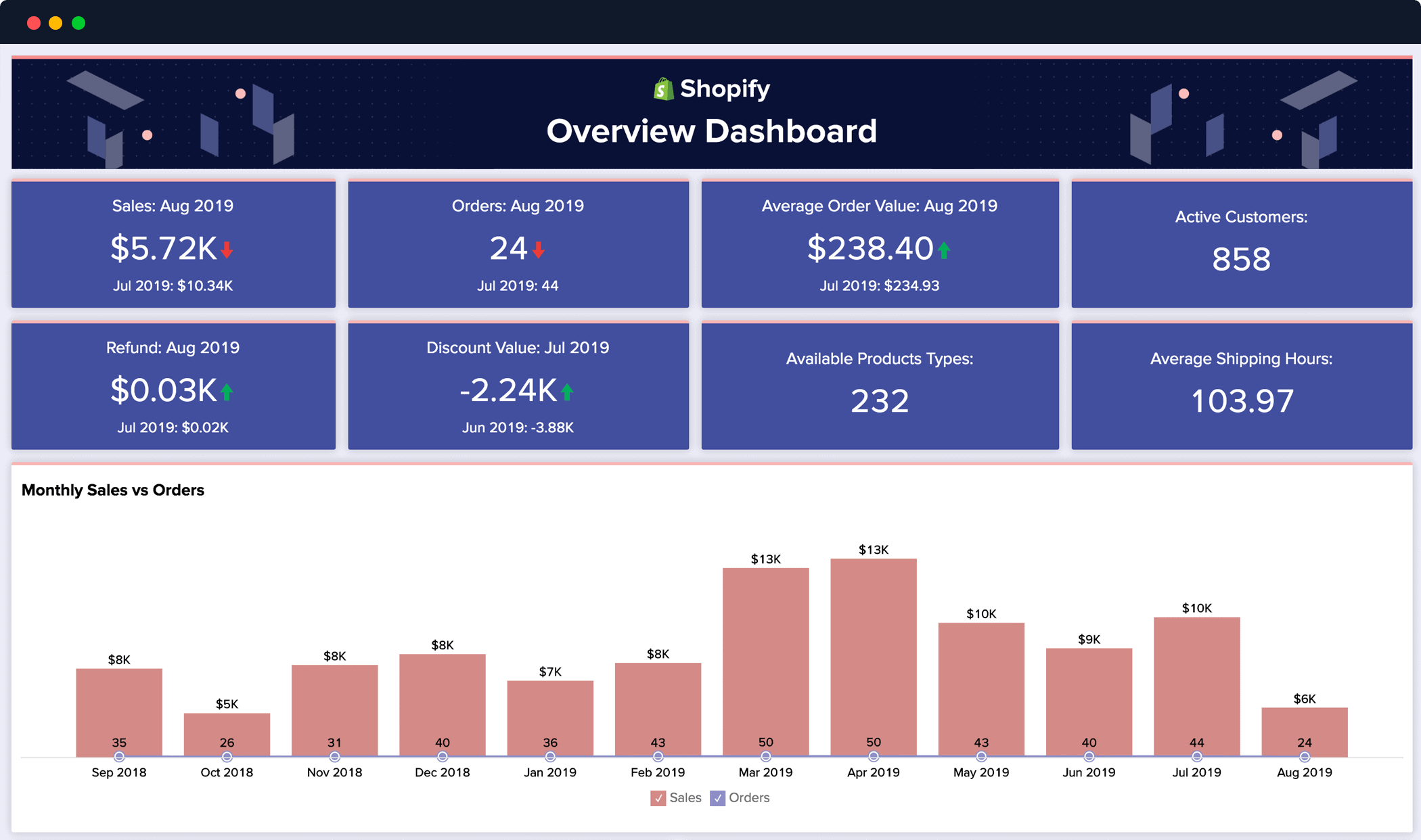 Shopify Analytics gives you insight into your store's recent activities. In addition, it helps you analyze your eCommerce store transactions.
Shopify Analytics key features
Live view:

This gives you real-time insight into your store's activities. It includes a globe and a world map to show you where the activities are coming from.

Finance reporting:

You can access a detailed financial report on your eCommerce store's sales, payments, liability finance reports, and other critical financial information.

Product analytics: This gives a 90-day insight into specific product performance, including customer demographics, where the customers came from, and other product performance insights.
Other key features include acquisition reports, inventory, behavioral reports, etc.
Downsides
One potential downside is the cost. While Shopify Analytics is included with a Shopify subscription, businesses that use other eCommerce platforms must pay for access to the tool.
Pricing
To access Shopify Analytics, you need to subscribe to a Shopify plan. Shopify has three pricing structures.
Basic – $32/month

Shopify – $92/month

Advanced – 399/month
Ratings
Shopify has a 4.4 out of 5 overall rating on G2.
Convert Shopify data into campaign gems with EngageBay.
Wrapping Up
Now that we've looked at some of the best eCommerce analytics tools, you can easily decide what software suit your business needs.
If you're just starting out, try Google Analytics. If you have the budget for in-depth analytics, try some of the more comprehensive and tailored tools.
To streamline your eCommerce sales, marketing, and customer analytics on a single platform, try EngageBay. Check out a review here.
👉Boost your ecommerce success with the ultimate CMS recommendations – dive into our in-depth guide today! 🚀