If there's one thing that's impossible to replicate in eCommerce, it's customer service. It's the moat that protects your business from the marauding competition. As Amazon and the like have shown, good customer service drives customer loyalty and increases lifetime value.
And, now that eCommerce support teams are getting leaner and more agile, technology is a key part of the equation. The good news is that the latest eCommerce support technologies are scalable, need zero IT support, and are mostly excellent value for money.
It's choosing the right ones from the pack that's not so easy.
Don't worry! In this guide, we give you an overview of the latest eCommerce customer support technologies and how they impact your growth. We will also review the top eCommerce support software tools that leverage some of these technologies to drive growth.
You'll learn about:
The must-have eCommerce capabilities to stay competitive
Technologies behind these capabilities
10 best eCommerce support software
Let's begin.
3 Must-Have eCommerce Capabilities to Stay Competitive
Online shoppers want you to make it easy for them to find information on-demand, via multiple communication channels, and in a personalized way. eCommerce businesses are responding in the following ways.
Multichannel support
Let's face it. Phone and email support have become somewhat old-school. It's so much easier for shoppers to tag you in a social media post requesting help or live chat while on the move. More than 70% of consumers switch channels, and the transition must be smooth.
So, you need to think omni-channel in order to meet SLAs (with eCommerce marketplaces) and drive customer satisfaction.
Self-service options
Given a chance, 73% of customers would prefer to find information themselves instead of contacting customer support. It's a win-win for both you and them.
Setting up an FAQ page or help center on your website or app can drive down ticket volumes and significantly improve team efficiency.
Personalization
If you've used website analytics and heat maps, you know how they can uncover customer intent. The latest eCommerce technologies go far beyond that to orchestrate experiences based on real-time data across channels and customer persona – all without manual input.
eCommerce Support Technologies Behind These Outcomes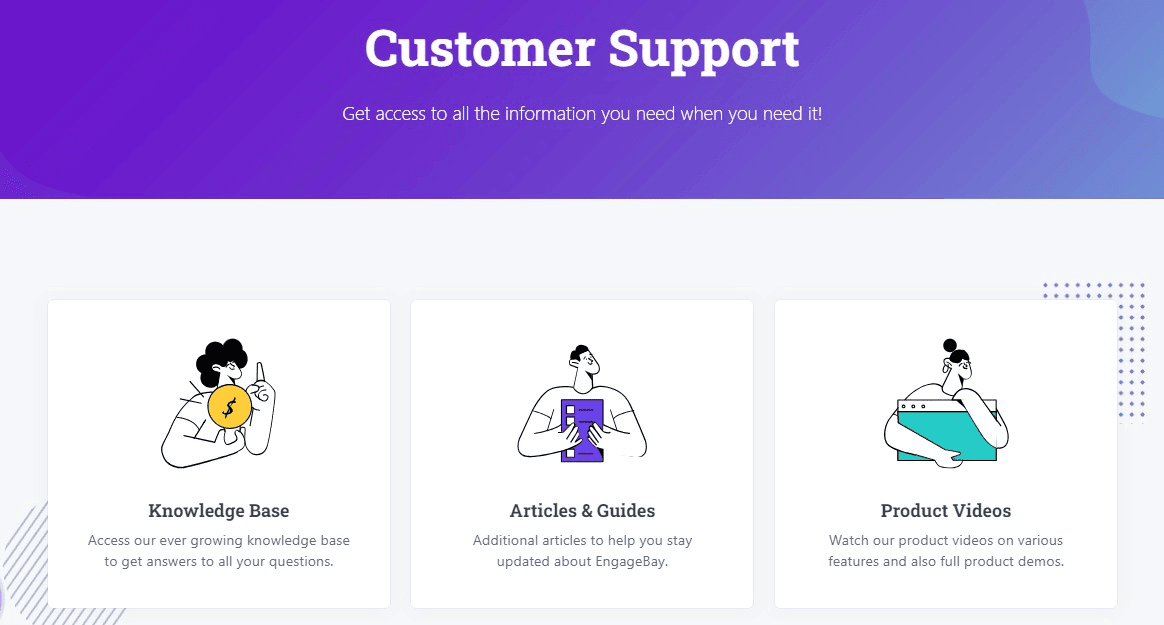 Here are some of the trending eCommerce support tech solutions driving innovation today.
Chatbots
A chatbot is an automated text-based tool that can answer FAQs relating to order tracking, payments, shipping addresses, etc. It can loop in an agent if it can't find the right answer in its built-in library or raise a ticket for follow-up. Chatbot tools are self-learning and allow agents to focus on priority tickets.
The result: improved first response time and resolution rate.
Cloud
Cloud technology gives you access to business data anytime, anywhere, and on any device. It can make your eCommerce website more responsive and easily scale your business.
Voice search
Voice-enabled search is changing how consumers buy online. Consumers can now use words to browse products, get product information, and add items to their shopping lists in a fraction of the time it'd take to type it in.
Voice assistants like Amazon and Alexa can automatically update your list based on your input, saving you time and effort. Of course, consumers are increasingly using voice commands to contact customer support.
AI and Big Data
AI is taking eCommerce personalization to the next level, impacting everything from product recommendations to help-center content. AI-based intelligent routing can direct customers to the right agent based on skill level and experience, improving the odds of first-contact resolution.
Big Data can spot patterns in customer satisfaction surveys and streamline process improvement.
CRM and helpdesk
If your team is not meeting SLAs, it's probably because they spend too much time switching between multiple chats on marketplace platforms. A customer support helpdesk can help them consolidate all these messages and respond on time.
It can leverage your CRM data to give agents contextual information on customer queries and improve the first contact resolution rate.
Read also: eCommerce Email Platform Integration — The Top Tools To Try
Starting from Scratch? Here are the Building Blocks to Focus On
The technologies covered in the previous section are enablers that need a foundation to build on. If you're starting out, set these up first:
Website
Setting up a website requires you to have a domain name and hosting provider. Think of a domain name as your address on the internet. It's what people will use to find your website. A hosting provider runs the server your domain lives on. They keep your website running and troubleshoot any problems.
But be warned, finding a domain name of your choice can be hard. So, it's important to keep your options open and work with domain name registrars – agencies that reserve domain names – to find alternatives. You can get a business email address for free with most hosting providers. Having one makes you look more professional and helps with fraud protection.
SSL
An SSL certificate – represented by a padlock icon in the address bar – confirms that all information sent to and from your website is encrypted and secure. It's a key factor for reassuring customers and building trust. SSL certificates are issued by authorized agencies or hosting providers, usually for free.
For example, Comodo and SSL.com are two great examples of SSL agencies.
eCommerce platform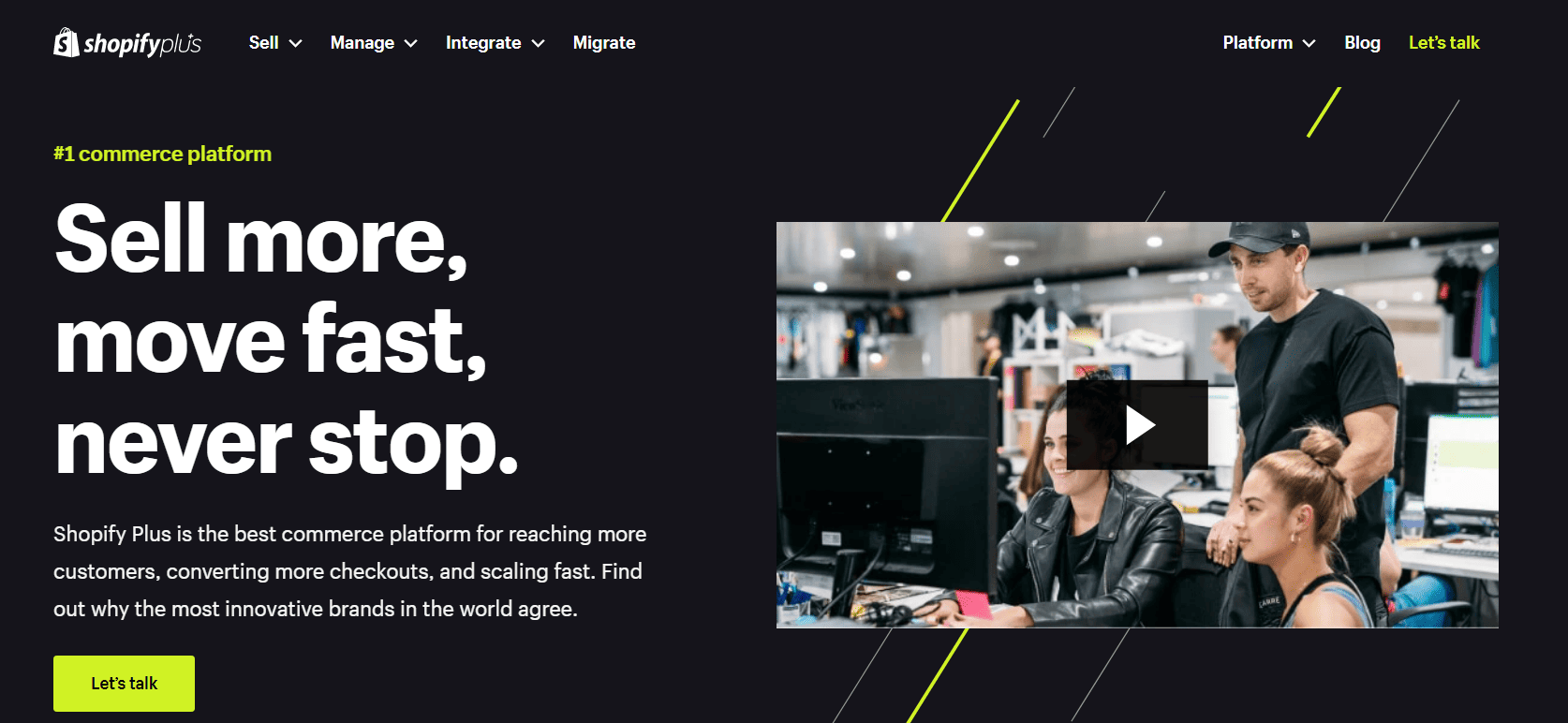 Next, it's time to integrate an eCommerce platform with your website. An eCommerce platform provides functional tools and add-ons that turn your website into a store. For example, adding products, managing inventory, and tracking sales.
The good news is most eCommerce platforms like Shopify or WooCommerce are incredibly easy to set up and don't need IT support.
Some key features:
Payment gateway
A payment gateway is a third-party payment processor that works with your bank and the customer's bank to process credit card payments. It is they that generate success or failure responses based on the payment status.
For example, Stripe and PayPal. eCommerce platforms like Shopify come with multiple payment gateway options for you to choose from.
Inventory management
Keeping track of inventory and refilling stocks on time can be a key growth driver for your eCommerce business. eCommerce platforms have real-time inventory tracking and management apps to optimize lead times and cut costs.
These are especially handy if you have multiple stores or special handling requirements.
Read also: 23 eCommerce Customer Support Case Studies for Small Businesses
eCommerce CRM
Online businesses don't interact with customers in person for feedback. Instead, they rely on CRM to track and interpret customer behavior across various touchpoints like websites and social media.
An eCommerce CRM tool surfaces actionable insights from this data and helps you run your marketing campaigns on autopilot.
eCommerce Customer Support Helpdesk
An eCommerce helpdesk helps you collate, track, and close tickets on time and keep up with those SLAs. Moreover, you can automate common customer queries regarding shipping, returns, and payments, enabling agents to focus on priority issues.
Some helpdesk tools also track agent performance for your KPIs and generate reports for you.
Together, a CRM and helpdesk can help you deliver a meaningful customer experience throughout their journey with your brand. An all-in-one platform like EngageBay can be better than specialist tools – especially for small businesses.
Read also: The Beginner's Guide to eCommerce Marketing Automation
How To Choose the Best eCommerce Support Software?
Since this article focuses on eCommerce support, let's take a quick look at the top factors to look for when shortlisting software tools.
Time to value
How long would it take for the software to integrate into your existing business workflow? The best ecommerce helpdesk tools come with one-click integration. You'll be ready to go in no time.
The tool you choose must make a measurable impact on KPIs like first response time via automation. It should also be easy to use.
Business size
If you're a small business, you may not need many of the standard bundled features, so you must be able to pick and choose. Make a checklist of the must-haves versus the nice-to-haves.
If in doubt, choose a basic plan that covers all your day-to-day business needs and upgrade incrementally as you scale. Enterprise businesses can get more value from an all-inclusive configuration right from the start.
Cost
Are you going to be paying on a per-seat basis or per ticket? Pay close attention to the price break-up between the basic plan and any extras. Don't settle for the cheapest option at the cost of functionality.
Try to find a good balance.
Read also: 25 Top eCommerce Marketing Tools to Boost Sales
10 Best eCommerce Support Software Tools
In this section, we review some of the best eCommerce support software systems that offer a great mix of technology and value.
Help Scout
Help Scout is an all-in-one eCommerce support software with advanced automation and reporting features. Its simple, easy-to-use interface can be a good fit for small teams.
Key Features
Shared inbox that syncs multiple communications channels to a single dashboard
Private notes that allow agents to tag their colleagues for help on specific cases.
Collision detection – a feature that prevents cases being worked by one agent from being accessed by others.
Docs – a feature that lets you create a knowledge base or help center.
Beacon suggests help articles or recommends targeted offers to customers
HelpScout also offers a wide range of integrations for third-party tools.
Pricing
Starts at $20 a month per seat, which can go up to $65 under the Pro plan
Comes with a 15-day free trial
G2 rating
4.4 out of 5
Zendesk Support Suite
Zendesk's ticketing, automation, and workflow features make it a good choice for eCommerce customer support teams, particularly large brands with multiple products.
Key Features
Centralized inbox for messages from multiple channels
Support for email, phone, live chat and messaging apps like WhatsApp
Multi-lingual translation in over 30 languages
1000+ integrations for a wide variety of business needs
Comprehensive dashboard with multiple, customizable views
Real-time reports on agent performance and ticket status
Pricing
$49 a month per seat and goes up to $115 for the Enterprise Plan
G2 rating
4.3 out of 5
Gorgias
Gorgias started out as a Shopify app before evolving into the full-fledged eCommerce helpdesk software it is today.
Key Features
Templates and macros for FAQs
Saved responses for specific queries
Single view for all tickets from multiple channels
Syncs contacts with interaction history to provide a 360-degree customer view
Pricing
There are four plans, ranging from $10 to $750 (based on ticket volume), plus a custom plan for enterprise clients.
G2 rating
4.6 out of 5
LiveAgent
Judging from the name, you might think Live Agent is a live chat tool, but it's actually a full-featured helpdesk. It is designed to meet the needs of small and medium businesses.
Key Features
Customer segmentation via an integrated CRM
Knowledge base and customer service portal builder
Unified inbox for messages from all active channels
Gamification points and rewards for driving agent performance – a unique feature
Templates and macros for chat and email tickets
Real-time reports
Pricing
Has a free-to-use version. Paid plans start at $9 per month per seat, while the Pro Plan costs $49.
G2 rating
4.5 out of 5
Hubspot Service Hub
HubSpot offers a variety of marketing, CRM, and service solutions. If you only need customer support tools, Hubspot Service Hub should tick all the boxes for you.
Key Features
A feature-rich CRM
Shared inbox
Helpdesk
Contact and survey forms
Inbound and outbound voice calls
Knowledge Base
Customer Portal
Live Chat
Reporting and analytics
API and integrations
Pricing
Hubspot offers three monthly plans from $50 to $1,200, covering 2-10 seats depending on your needs.
G2 rating
4.4 out of 5
Salesforce Service Cloud
Salesforce is a pioneer in the CRM space, and its Service Cloud solution certainly offers a lot for eCommerce brands.
Key Features
Workflow automation and macros
CRM
Omni-channel inbox
Automated case routing
AI call transcribing
Social customer service
Knowledge base
Telephony integration (call center)
Self-service portal
Reporting and dashboard
Integrations and API support
Pricing
There are four plans, ranging from $25 to $330 per seat per month
G2 rating
4.2 out of 5
Sprout Social
Sprout Social focuses on social media management and customer support. It's a great choice if most of your tickets are via social media. It can connect all your social networks, pull messages across multiple channels, and generate reports on response time and other metrics.
Key Features
Assign and tag tickets for real-time collaboration
View the complete conversation history for contextual understanding
Share contacts and internal notes with co-workers to improve resolution rates
Access real-time performance reports
Pricing
Starts at $249 per seat per month, while advanced plans cost up to $499.
G2 rating
4.4 out of 5
Hiver
Hiver can be a good bet if you use Google Workspace for customer service and want to plug the gaps. It is a ticketing tool (Google currently doesn't have one) with chat, email, phone, and messaging features, all backed by analytics and automation.
Integrate Hiver, and your team will be able to run the helpdesk from within your shared inboxes.
Key Features
Easy-to-use interface
Email templates
Automated reporting
Knowledge base
Self-service portal
Pricing
There are three monthly plans, ranging from $15 to $59 per seat, and a custom enterprise plan.
G2 rating
4.6 out of 5
Zoho Desk
Zoho Desk is another option with comprehensive multi-channel ticket management functions. It can be customized to suit a variety of eCommerce business models.
Key Features
Call routing to agents a customer may have talked to
Support for multiple languages
Self-service mobile portal
Sentiment analysis on tickets for improved customer experience and resolution rate
Pricing
There are four paid plans from $7 to $40, and a free plan with limited features.
G2 rating
4.4 out of 5
Freshdesk
Freshdesk may be last on our list, but it does have most customer support functions an eCommerce business might expect.
Key Features
Email to ticket conversion and aggregation across channels
Self-service
Reports and dashboards
Language support for over 20 languages
Pricing
Starts at $15 for the basic plan, while all-inclusive plans cost up to $99 per seat per month. There's a free plan, too.
G2 rating
4.4 out of 5
Read also: The 6 Best eCommerce Platforms for Startups
Conclusion
To identify the best eCommerce technologies your business needs, consider your present and future needs over a 5-year horizon. Don't shy away from free trials so you can test the waters before taking the leap.
If you're looking for a flexible, all-in-one solution covering everything from sales and marketing to customer support at an affordable price, why not test-drive EngageBay?
Sign up for our free plan, or check out our value plans today!