You don't have to be an established business to know how important it is to generate leads. Now, there are two ways you can attract new subscribers:
The second part is what we call lead magnets.
In this blog, we'll walk you through the different types of lead magnets, why you should use them to build your brand image, and how you can create lead magnets that convert.
What Are Lead Magnets?
If you enjoy watching a video rather than reading, here's the explainer video for our blog about lead magnets:
A lead magnet is a "freebie" such as an e-book or a cheat sheet or any other content upgrade that you offer your website visitors as an incentive in exchange for their contact information.
So, why do you need a lead magnet?

The lure of a free product is hard to resist. Generally, visitors are more inclined to share their email addresses than any other details, which is why lead magnets are the most effective method of building a mailing list.

For example, you can keep an e-book or a toolkit as your lead magnet.
When people enter their contact information such as their first name and email address and click the button on this type of lead magnet, they will receive a free download of the guide.

Websites will frequently deliver lead magnets in pop-ups, although we're seeing them more and more in blog posts, landing pages, Facebook ads, and even with Facebook Messenger chatbots.
Once people provide their email, you can send the lead magnet directly to their inbox.
Great lead magnets help to build trust and authority, and also help you target your opt-in subscribers with email marketing.
So, what are some good lead magnet examples?
Read also: The ABC's Of Email Marketing
5 Types Of Lead Magnets That Get Results
There are a lot of different kinds of lead magnets and you can create your own new types too, but we're sharing just five here because these ones have proved effective over decades of marketing efforts.
1. Guides or Reports
Industry reports are one of the most popular ways to get people to share their information with you.
For example, if you're a health & wellness business, you can offer a guide that details a week-long workout routine or diet plan. This way, you generate interest and offer value to the customer.
If your brand is built around marketing products, you can offer marketing guides like HubSpot does:
2. Ebooks
Ebooks are the best way to showcase your expertise without coming across as too salesy. You can provide detailed answers or solutions to a specific problem that your customers may be facing.
Do remember though: you want your ebook to be useful and actionable for the customer.
3. Case Studies
Case studies act as social proof by highlighting customer experiences and showing real results.
Generally, they're detailed reviews or success stories about a past client or customer. These success stories are incredibly important because they build customer trust in your brand and demonstrate your usefulness.
4. Toolkit or Resource Lists
Educators often offer free toolkits for sharing process overview and methods to help users put ideas into designs. Similarly, you will find many DIY kits for making craft items.
A toolkit is a list of resources that contain insider information, tips, and industry hacks.
At EngageBay, we share plenty of resource material to help our users find information easily.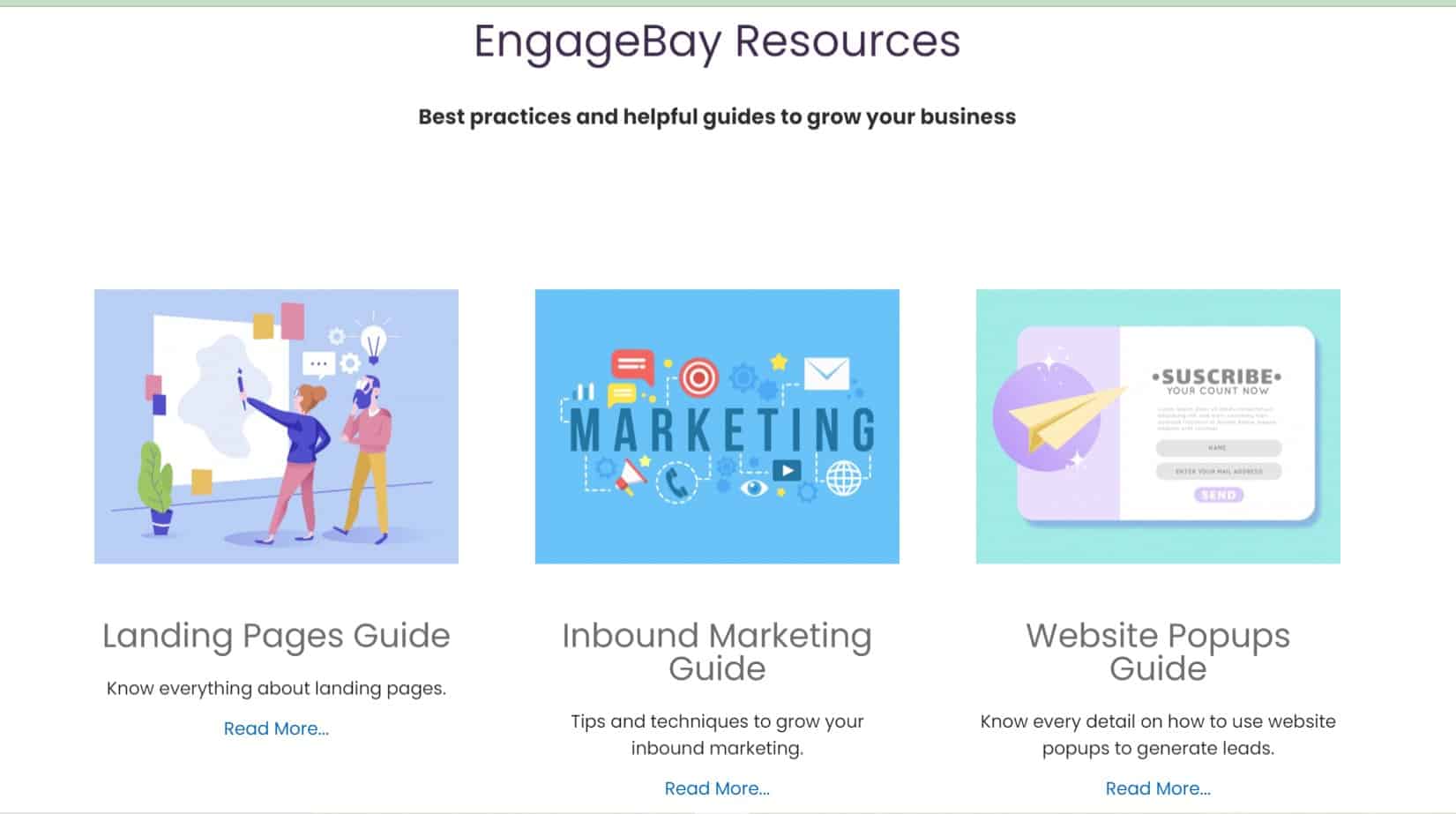 5. Free courses
You don't have to be an educator to create video tutorials or courses about your product. Visuals are an easy way to grab your visitor's attention.
That's why many companies are now using video visuals as their lead magnets.
For instance, a SaaS company can build an online course about a particular service or topic and send those videos to the inbox of those who signed up. Another option is to find B2B leads by scraping Google, use networking, etc.
They're instructional and helpful, and such lead magnets can convince your customers to sign up with you for the long term.

Why Do Marketers Use Lead Magnets?
Customer acquisition is possibly the hardest part of growing a business. It's very difficult to capture someone's attention, especially given the endless sea of content.
What does this have to do with lead magnets? A lead magnet is essentially an incentive that allows you to collect personal information by offering something useful in return.
A lead magnet ensures that you're only capturing interested leads — anybody who signs up for your newsletter, for example, has done so because they believe in the service you're providing. This is why small businesses need a lead magnet strategy.
The best lead magnets are those that give you an opportunity to continue nurturing a lead.
Here are 3 key reasons why you should consider using lead magnets in your marketing strategy:
Lead magnets help you build a strong brand image
Your early site visitors will not be eager to give up personal information. The reason is that they don't know you. Especially in the very beginning, they have one question on their minds: "What's in this for me?"
You need to make sure that you nurture the relationship, build trust, maybe even offer a free trial and prove you're an authority in your industry.
By providing free information, you're accomplishing a few things:
This helps you show your potential customers that you're not just trying to get their money.

You prove that you know what you're doing and how to help them.

It allows you to position yourself as an expert in your industry.
You can personalize and target your marketing with lead magnets
You don't have to create a generic lead magnet. You can offer special incentives or discounts based on which page visitors land on.
Alternatively, you can also create different lead magnets for different page categories.
Lead magnets are accessible and easy to understand
The content you're offering as a lead magnet should be specific to your visitor's needs, and should also be easily digestible.
If you're offering a case-study or an eBook, consider making it visually appealing. Include bullet points and flow charts to make the information as easy as possible.
The aim of the content is to provide instant gratification to your customer; the immediacy factor demonstrates the value you offer.
Read also: What is a Lead? Overcoming Obstacles in Sales and Marketing Alignment
How to Create Lead Magnets That Convert
Lead magnets don't have to be complex. If you're just starting out with creating a lead magnet funnel, then it's okay to keep it simple.
Here are a few questions to help you get started:

Who are your ideal customers?
If you want your lead magnets to be personalized and targeted, then you have to identify your audience base.
You don't have to iron out all the details just yet; as you start working on creating lead magnets, you will eventually have a solid idea of your buyer personas.
What are their pain points?
Think of some of the common obstacles your leads are experiencing. Your lead magnet should help them solve a problem.
For instance, if you're a personal trainer and you know that a lot of people struggle with finding time for the gym, your lead magnet might offer quick workouts that they can do at home with no equipment.
Don't make this about what you want them to know. Make it about what they want to know.
Your lead magnet should address something they care about and need help with.
How can you help them now?
You don't want to create a lead magnet that's going to solve people's problems six months down the line. If you want your lead magnets to convert, they need to provide instant gratification.
In our previous lead magnet example with the personal trainer, leads can opt in to receive that freebie and start exercising from home immediately, if they want.
Give your leads a quick and simple win.
What kind of content format would work best?
Once you've understood your customers and what their needs are, focus on which content format would work best.
Using our personal trainer example, cheat sheets and workout templates would do the trick because it provides immediacy.
The kind of content format you choose also depends on what the buyer's journey looks like. If they're still in the awareness stage, video demos or short pagers can help generate interest.
For more clarity, the below infographic lays out the correlation between content and lead generation.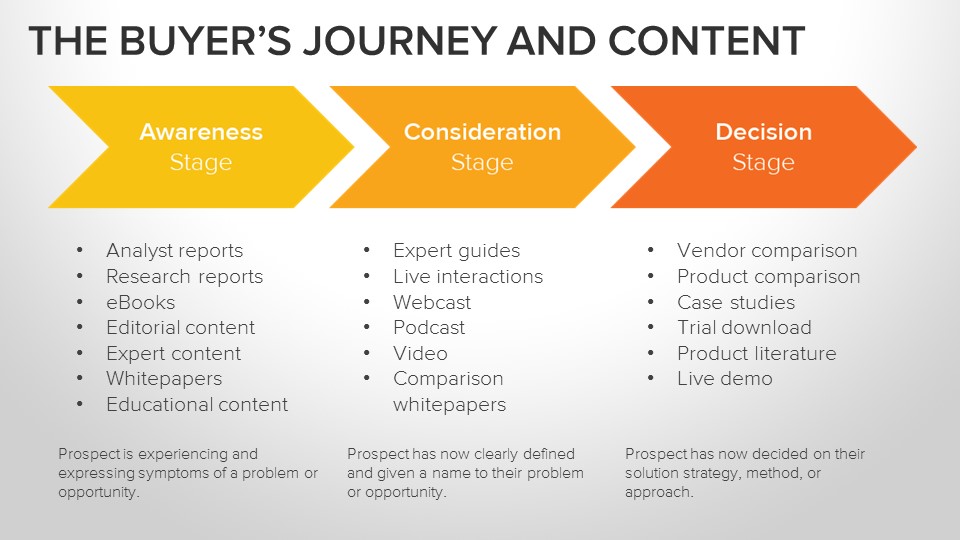 What action do you want your leads to take?
After creating a lead magnet and using it to grow your email list, the next step is to find out what you want to happen once someone finishes using your freebie.
Do you want them to schedule a free phone consultation? Or purchase something using a coupon code?
Your lead magnet should prompt recipients to take definite action.
This will help you further nurture your leads, move the relationship forward, and continue encouraging people to do business with you.
Read also: How to Build Incisive Lead Capture Pages
How Do You Launch Your Lead Magnet?
Creating the lead magnet is often the easiest part. It's getting people to sign up for the lead magnet that proves to be tricky.
Here are a few suggestions to help you get people to sign up for your lead magnets.
Promote it on social media
Once your lead magnet is ready, post the opt-in page across all your social media platforms.
If it's evergreen content, make a plan to promote it on a regular basis, even a few times a week.
Utilize all the features the various platforms offer
For instance, you can post on your Instagram feed, but don't forget the stories feature. IG Stories are a great way to put your content at the very top of people's feeds and increase its visibility.
It's a great way to build organic traffic to your website without spending the big bucks.
Send an email blast
We know we said you can use lead magnets to get new email addresses, but the people already on your list might very well be interested in the free or perceived value you're providing via the lead magnet.
This is also an effective way of ensuring a good brand recall. Send an email blast to old subscribers with new lead magnets and you have a good chance of cross-selling or upselling, at no or little cost.
Wrap Up
Not many businesses are taking full advantage of lead magnets. However, once you start thinking outside the box and get working on your lead magnet, the results might just blow you away.
Once you understand how lead magnets convert leads into paying customers, you'll definitely need a marketing automation platform that will keep up with all that work.
That's where we come in. EngageBay is perfect for small businesses looking to organize contact information, generate and manage leads, track sales deals, and build meaningful relationships.
Our customers love us, and we're sure you will too. Reach out to us and we'll set up a demo.